---
India To Not Join RCEP
---
On 4th November, 2019, during the 3rd Regional Comprehensive Economic Cooperation (RCEP) meeting in Bangkok (Thailand), India decided not to join the RCEPuntil significant outstanding issues were resolved.
Remaining 15 countries involved in the negotiation decided to sign the mega trade deal in 2020.
Negotiations for this agreement have been ongoing since 2013, with several countries, including India, trying to resolve problems with other countries with regard to tariffs.
Regional Comprehensive Economic Cooperation (RCEP)
RCEP is a trade deal that involved the 10 member countries of the Association of Southeast Asian Nations (ASEAN), and the five countries with which the ASEAN bloc has free trade agreements (FTA).
The ASEAN, which includes Brunei, Cambodia, Indonesia, Laos, Malaysia, Myanmar, the Philippines, Singapore, Thailand, and Vietnam, has FTAs with Australia, China, South Korea, Japan and New Zealand.
Purpose
To create an integrated market spanning all 16 countries, making it easier for products and services of each of these countries to be available across the region.
To boost economic growth and equitable economic development, advance economic cooperation and broaden and deepen integration in the region.
Significance
It was billed as the largest regional trading agreement ever these countries account for almost half of the world's population, contribute over a quarter of world exports, and make up around 30% of global Gross Domestic Product (the value of all goods and services produced in a year).
The deal would have created the world's largest trading bloc. These 16 countries account for about half of the world's population, 25 percent of global GDP, nearly a third (30 percent) of global trade and the 26 percent of world foreign direct investment flows (FDI).
Why India decided not to Join RCEP?
Below are the reasons which forced India to walk off the RCEP trade deal:
Economic Slowdown
India's economy is passing through a difficult time. The rate of GDP growth has been slowing down for five consecutive quarters, that is, since January-March 2018.
In such adverse scenario, a massive free trade pact like RCEP would have exposed the Indian businesses and agriculture to unequal competition from countries which are lurking like giant sharks in the export arena.
Trade Deficit
India has massive trade deficits with almost all economic powerhouses of the world. Of the 15 RCEP countries, India has serious trade deficits with at least 11.
India's trade deficit with these countries has almost doubled in the last five-six years - from $54 billion in 2013-14 to $105 billion in 2018-19.
Of India's $105 billion trade deficit with RCEP countries, China alone accounts for $53 billion, which is one of the major reasons for India not to join.
No Resistance against Import Surge
Signing RCEP could force India to cut duties on about 90 percent of the goods that are currently imported to India over the next 15 years as a result India will be flooded with cheaper imported goods, particularly from China, hitting hard its domestic market.
Concern over Non-Tariff Barriers
RCEP countries, like China have used non-tariff barriers in the past to prevent India from expanding its exports to the country.
Concern over Rules of Origin
Another issue is threat of circumvention of Rules of Origin due to tariff difference.India wanted strict rules of origin to prevent Chinese goods from flooding the country through member countries that may have lower or no duty levels.
Chinese garments are making their way into India through the duty-free route under the South Asia Free Trade Pact and the Duty-Free Quota-Free window from Bangladesh.
Issue over Base Year
India is opposed to the proposal that 2013 be treated as the base year for reducing tariffs, effectively implying that member countries should slash import duties on products to the level that existed in 2013.
India is pushing for 2019 as the base year, given that import duties on many products such as textiles and the electronic products have gone up in the last six years.
Lack of Market Access for India
There were no assurances on getting access to markets like China while the trade pact would have opened up India's market.
Most Favoured Nations
India also raised the unviability of Most Favoured Nation obligations where India would be forced to give similar benefits to RCEP countries that it gave to others.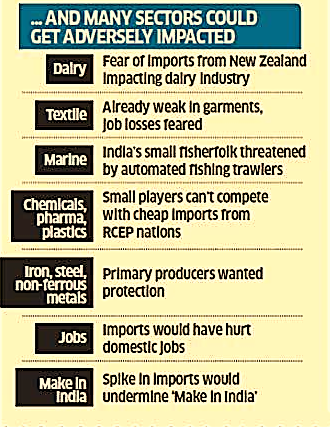 Source: ET
What India Wanted?
Auto- Trigger Mechanism
India wants an auto-trigger mechanism to be institutionalised in the pact which would serve as a kind of protective mechanism that a member country can invoke to safeguard in case of an unexpected flow of imports after RCEP comes into effect.
Ratchet Obligations
India wants exemptions built into the ratchet obligations as part of the pact. A ratchet obligation implies that a member country cannot raise tariffs once the pact comes into effect. An exemption would imply that a country will be able to erect restrictive measures later on grounds of protecting national interest.
Data Localisation
India wants all countries to have the rights to protect data. This would imply that countries can share data only where it is necessary to achieve a legitimate public policy objective or necessary in the country's opinion, for the protection of its essential security interests or national interests.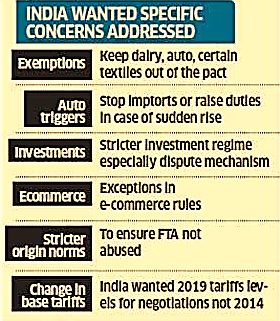 Source: ET
Way Forward
China needs greater access to Indian market to sustain its manufacturing industries. A failure to find a market will have cascading effect on Chinese economy.
RCEP has come up as a Chinese game plan to save its manufacturing industries from crumbling under their own weight. Several industrial players in India red-flagged the Chinese agenda of flooding the Indian market using the RCEP countries as a connecting network.
India, with its 1.3 billion population, offers the biggest free access market to the Chinese companies that are feeling the pinch of US-China trade war with Donald Trump administration taking on the manufacturing giant in the past one-and-a-half years.
Critics are also not confident that India would be able to take advantage of the deal, given its poor track record of extracting benefits from the FTAs with these countries. India's trade gap with these countries may widen if it signs the RCEP deal.
However, joining the RCEP would have given more substance to its Act East policy. The economic pillar of this policy has remained weak compared to those pertaining to political ties, strategic and security aspects and people to people relations.
Opting out of the RCEP implies there is need for greater exertion now on strengthening connectivity, trade and investment bilaterally.