---
National Industrial Corridor Development And Implementation Trust
---
Recently, the government approved development of following five industrial corridor projects to be implemented through National Industrial Corridor Development and Implementation Trust (NICDIT).
The government approved the expansion of the mandate of Delhi Mumbai Industrial Corridor Project Implementation Trust Fund (DMIC-PITF) and re-designated it as National Industrial Corridor Development and Implementation Trust (NICDIT).
National Industrial Corridor Development and Implementation Trust (NICDIT)
Established in 2017, NICDIT is an apex body under the administrative control of Department of Industrial Policy & Promotion (DIPP) for coordinated and unified development of all the five industrial corridors in the country.
Functions
It supports project development activities and appraisal, approval and sanction of projects as per extant delegation.
It channelize Government of India's funds as well as institutional funds while ensuring that the various corridors are properly planned and implemented keeping in view the broad national perspectives regarding industrial and city development.
Advantages
Holistic planning and development approach and sharing the learning from development of industrial corridors.
Enabling innovation in areas such as planning, design development and funding of such projects
Enhancing the share of manufacturing in the country, attract investment in manufacturing and service industry sectors.
Five Industrial Corridors
Five industrial corridor projects have been identified, planned and launched by the Government of India. These corridors are spread across India, with strategic focus on inclusive development to provide an impetus to industrialization and planned urbanization.
Objectives
Increasing overall share of manufacturing in GDP, leveraging the strenght of performing sectors.
Promoting high-tech and high value- added sectors to enhance overall economic prosperity.
Enhancing trade competitiveness penetration in the global production networks and Global Value Chains (GVC).
Driving inclusivity through gender parity and developing MSME capabilities.
| | | |
| --- | --- | --- |
| S.No. | Industrial Corridor | States |
| 1 | Delhi Mumbai Industrial Corridor (DMIC) | Uttar Pradesh, Haryana, Rajasthan, Madhya Pradesh, Gujarat, Maharashtra |
| 2 | Amritsar Kolkata Industrial Corridor (AKIC) | Punjab, Haryana, Uttar Pradesh, Uttarakhand, Bihar, Jharkhand, West Bengal |
| 3 | Chennai Bengaluru Industrial Corridor (CBIC) | Andhra Pradesh, Karnataka, Tamil Nadu, Kerala |
| 4 | East Coast Economic Corridor (ECEC) with Vizag Chennai Industrial Corridor (VCIC) as Phase-1 | West Bengal, Odisha, Andhra Pradesh, Tamil Nadu |
| 5 | Bengaluru Mumbai Industrial Corridor (BMIC) | Karnataka, Maharashtra |
Current Status of Industrial Corridors
Delhi Mumbai Industrial Corridor (DMIC)
Special Purpose Vehicles (SPVs) for all identified nodes/cities have been incorporated, trunk infrastructure works are nearing completion, land disposal policies have been finalized and the process of land allotment to investors has been initiated at the following locations:
Dholera Special Investment Region in Gujarat
Shendra-Bidkin Industrial Area in Maharashtra
Integrated Industrial Township Project at Greater Noida in Uttar Pradesh
Integrated Industrial Township Project 'VikramUdyogpuri' near Ujjain in Madhya Pradesh
Amritsar Kolkata Industrial Corridor (AKIC)
Perspective plan for the overall AKIC Corridor has been completed and one Integrated Manufacturing Cluster (IMC) site in following States has been finalized for further development:
Punjab (Rajpura-Patiala)
Uttarakhand (Prag-Khurpia Farms)
Uttar Pradesh (Bhaupur)
Bihar (Gamhariya)
Jharkhand (Barhi)
West Bengal (Raghunathpur)
Haryana (Saha)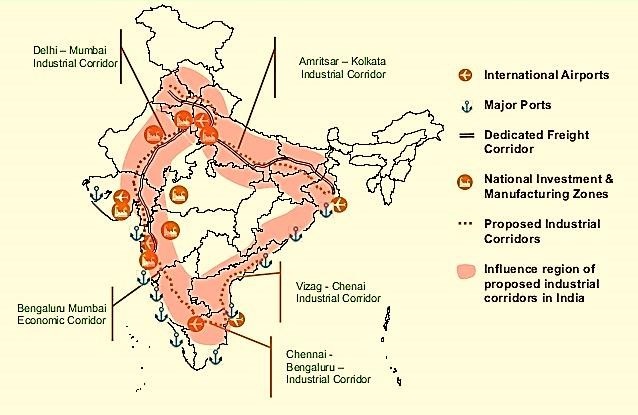 Chennai Bengaluru Industrial Corridor (CBIC)
Perspective plan for the overall corridor has been completed and following three nodes have been identified for further development:
Krishnapatnam (Andhra Pradesh)
Tumakuru (Karnataka)
Ponneri (Tamil Nadu)
A SPV for execution of the project at Krishnapatnam node in Andhra Pradesh has been incorporated. Detailed master planning and Preliminary Engineering activities for the Activation Area have been finalized and NICDIT in its meeting held on 30th August, 2019 considered the project proposal and recommended the same for seeking final approval from Cabinet Committee on Economic Affairs (CCEA).
Vizag Chennai Industrial Corridor (VCIC)
Government of Andhra Pradesh (GoAP) is implementing the VCIC project with ADB loan of US $631 million. Asian Development Bank (ADB) has carried out the initial project development activities for VCIC.
ADB has identified four nodes namely, Visakhapatnam, Chittoor, Donakonda and Machilipatnam for development. Amongst these, Visakhapatnam and Chittoor have been prioritized by the Government of Andhra Pradesh.
Bengaluru Mumbai Industrial Corridor (BMIC)
Perspective plan has been completed for the overall BMEC Project and Dharwad node in Karnataka has been identified as the priority node for further implementation.
NICDIT directed that project development works may not be undertaken for the time-being as it does not have any back-bone in terms of a Dedicated Freight Corridor and is quite distant from the coast.
Besides, Government of Maharashtra has not been able to finalize the nodes due to problems of land and water.
Significance of Industrial Corridors
Wheels of Progress: Industrial corridors recognize the interdependence of various sectors of the economy and offer effective integration between industry and infrastructure leading to overall socio-economic development. Industrial corridors lead to the creation of state-of-art infrastructure such as high-speed transportation (rail/road) networks, ports with advanced cargo handling equipment, modern airports, special economic regions/ industrial areas, logistic parks, etc. that are focused on fulfilling the requirements of the industry.
Boost to Manufacturing Sector: In each of these corridors, manufacturing will be a key economic driver and these projects are seen as critical in raising the share of manufacturing. Smart Industrial Cities are being developed along the Corridors. These cities are being developed to integrate the new workforce that will power manufacturing and will lead to planned urbanization.
Large Scale Employment: An industrial corridor is a package of infrastructure spending allocated to a specific geographical area, with the intent to stimulate industrial The promise of large-scale employment generation (both direct and indirect jobs) is a major driver of the corridors.
Economic Growth of States: The project will initiate a trend of reverse migration,attracting the young manpower from the state resorting to various manufacturing activities, including high-end engineering works within the respective states. The project is expected to trigger the overall economic growth of the States and its employment generation on a sustainable mode.
Reducing Logistic Costs: An industrial corridor is a multi-modal transport services that would pass through the states as main artery. Freight cargo from industrial and National Manufacturing and Investment Zones (NMIZ) located m on both sides of this main artery will be brought to the industrial corridor via rail and road feeder links that shall provide last mile connectivity. This will lower costs of logistics and enable firms to focus on their areas of core competence.
Push to Make in India: Programmes like Make in India, for instance, would get a push from upcoming industrial corridors in the country, attracting large-scale foreign investments leading to the economic growth of the country.
Increasing Social Integration: The corridors would provide jobs opportunities close to their homes and they would not have to migrate to far-off places thereby preserving family as an institution. This will also increase social integration in the country.
Challenges to Development of Industrial Corridors
Land Acquisition
Land acquisition is a state subject, and there have been issues with land acquisition in the corridor, which has delayed project implementations. Since the industrial corridor would cut across the length of the state, acquisition of land has been slow because of legal hurdles and the amount of compensation.
Massive investment in industrial corridor will pave the way for large human displacement and destruction of fertile agricultural land, posing serious threat to food security and other various social problems in the country.
Delay in Project Clearance
Any industrial activity in India requires multiple clearances right from concept to commission and industrial corridor is no immune to this.
Policy Bottlenecks
India has a much higher corporate tax rate compared to its neighboring countries such as Cambodia, Thailand and Vietnam. This makes India an unattractive investment destination compared to the competing countries.
Further, India has one of the highest import tariffs in the region which makes it challenging to establish global value chains.
Way Forward
The strategy of industrial corridors is poised to develop a sound industrial base,characterized by excellent infrastructure and uninhibited growth of manufacturing. However, all this would remain only rhetoric if stumbling blocks are not removed and issues plaguing industrial corridor projects are not resolved.
This requires a holistic approach and involvement of all the government departments, stakeholders such as farmers from whom land is to be acquired, manufacturers who would be setting units for production, transport operators, etc.