---
Andhra Pradesh Disha Bill - 2019
---
Recently, the Andhra Pradesh Legislative Assembly passed the Andhra Pradesh Criminal Law (Amendment) Act, 2019.
The proposed new law has been named as Disha Act Criminal Law (AP Amendment) Act, 2019, as a tribute to the veterinary doctor who was raped and murdered recently in neighboring Telangana.
Key Highlights of Disha Bill
Women and Children Offenders Registry
The bill envisages to establish, operate and maintain a register in electronic form, to be called the 'Women & Children Offenders Registry', which will be made public and available to law enforcement agencies.
Death Penalty for Rape Crimes
It has prescribed the death penalty for rape crimes where there is adequate conclusive evidence. Provision is given by amending Section 376 of the Indian Penal Code, 1860.
Reducing the Judgment Period
As per the Bill, the judgment will now have to be pronounced in 21 working days from date of offence in cases of rape crimes with substantial conclusive evidence.
The investigation shall be completed in seven working days and trial shall be completed in 14 working days.
Punishment for Sexual Offences against Children
It prescribes life imprisonment for other sexual offences against children.
New Sections 354F and Section 354G 'Sexual Assault on Children' is being inserted in the Indian Penal Code, 1860.
Punishment for Harassment through Social Media
A new Section 354E 'Harassment of Women' is being added in Indian Penal Code, 1860
In cases of harassment of women through email, social media, digital mode or any other form, the guilty shall be punishable with imprisonment up to two years on first conviction which may extend to four years on second and subsequent conviction.
Establishment of Exclusive Special Courts
It mandates the government to establish exclusive special courts in each district of the state to ensure speedy trial. These courts will exclusively deal with cases of offences against women and children including rape, acid attacks, stalking, voyeurism, social media harassment of women, sexual harassment and all cases under the POCSO Act.
Reduced Period of Disposal
The period for disposal of appeal cases has been reduced to three months. Amendments are being made in Section 374 and 377 of Code of Criminal Procedure Act, 1973.
Constitution of Special Police Teams
It mandates the government to constitute special police teams at the district level to be called District Special Police Team to be headed by DSP for investigation of offences related to women and children.
In addition, the government will also appoint a special public prosecutor for each exclusive special court.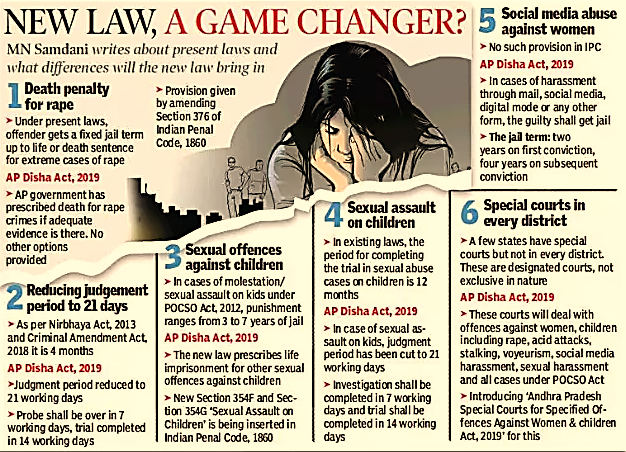 Source: ToI
How Disha Bill is different from present Legislations?
The government of India has launched a National Registry of Sexual offenders but the database is not digitized and is not accessible to the public.
Currently, provision for punishing an offender in a rape case is a fixed jail term leading to life imprisonment or the death sentence.
The existing judgment period as per the Nirbhaya Act, 2013 and Criminal Amendment Act, 2018 is 4 months (two months of investigation period and two months of trial period).
In cases of molestation/sexual assault on children under the POCSO Act, 2012, punishment ranges from a minimum of three years to maximum of seven years of imprisonment.
No provision exists in the Indian Penal Code for the punishment for harassment of women through social media.
At present, the period for disposal of appeal cases related to rape cases against women and children is six months.
Significance
Deterrent for Crimes: The new legislation will act as a deterrent for crimes against women and children across the state.
Strong Justice System:Further, it will make the criminal justice system tougher on an offender committing sexual crimes against women and children.
Speedy Trial: It will help hasten the trial process of crimes against women and children.
Skepticism over the Bill
The bill has evoked skepticism from the human rights activists and legal fraternity, who raised doubts over its efficiency in preventing crimes against women and its practicability.
Insufficient Workforce
Questions have been raised over the limited investigation and trial period as per the bill. The question is with 58 percent vacancies in subordinate judiciary and 25 percent vacancies in police officers; can Andhra Pradesh government complete any trial in 21 days?
Similarly, it has constituted special police teams from out of the existing strength, without adding a single post of police. With one-fourth vacancies, the police cannot perform any skillful or speedy investigation.
Burden of Pending Cases
The AP government has carved out special courts in each district, without allocating a single rupee or creating a single new post.
Further, already existing courts and judges are burdened with several hundreds of pending cases. The new act will only add burden to the judiciary system, further making it
Way Forward
Andhra Pradesh is the first state in the country to tighten the laws to punish the crooks to decrease the crime ratio on women, which is a welcome move and should be followed by other states across the country, in order to ensure the safety and integrity of women as well as children.