---
National Infrastructure Pipeline
---
On 31st December, 2019, the government unveiled Rs. 102 lakh crore of infrastructure projects, under National Infrastructure Pipeline (NIP), that will be implemented in the next five years as part of the government's spending push in the infrastructure sector.
Background
In his Independence Day-2019 speech, Prime Minister highlighted that Rs.100 lakh crore would be invested on infrastructure over the next five years including social and economic infrastructure projects.
To achieve this objective, a Task Force was constituted in September, 2019, to draw up the National Infrastructure Pipeline (NIP) for each of the years from FY 2019-20 to FY 2024-25.
The Task Force is chaired by Secretary, DEA with CEO (NITI Aayog), Secretary (Expenditure), Secretary of the Administrative Ministries, and Additional Secretary (Investments), DEA as members and Joint Secretary (IPF), DEA as Member Secretary.
Terms of Reference
To identify technically feasible and financially/ economically viable infrastructure projects that can be initiated in fiscals 2020 to 2025.
To estimate annual infrastructure investment/capital costs.
To guide the ministries in identifying appropriate sources of financing.
To suggest measures to monitor the projects so that cost and time overruns are minimized.
National Infrastructure Pipeline(NIP)
It is estimated that India would need to spend $4.5 trillion on infrastructure by 2030 to sustain its growth rate. The endeavour of the NIP is to make achieve this goal in an efficient manner.
The NIP would include greenfield and brownfield projects costing above Rs 100 crore eac
Other qualifications for inclusion in the pipeline for the current year will include availability of a DPR, feasibility of implementation, inclusion in the financing plan and readiness/availability of administrative sanction.
Each Ministry/ Department would be responsible for monitoring of projects so as to ensure their timely and within-cost implementation.
Vision
To meet the aspirations of the changing demographic profile, creating new and upgrading existing infrastructure is an imperative.
Infrastructure services that raise the quality of life and ease of living in India to global standards.

Focus Areas
The other major focus areas are roads (19%) and railways (13%), urban (16%) and rural (8%) infrastructure, and irrigation (8%).
Social infrastructure, including health and education, will get 3% of the capital expenditure, with digital communication and industrial expenditure each getting the same amount as well.
Agriculture and food processing infrastructure will get 1% of the planned capital expenditure.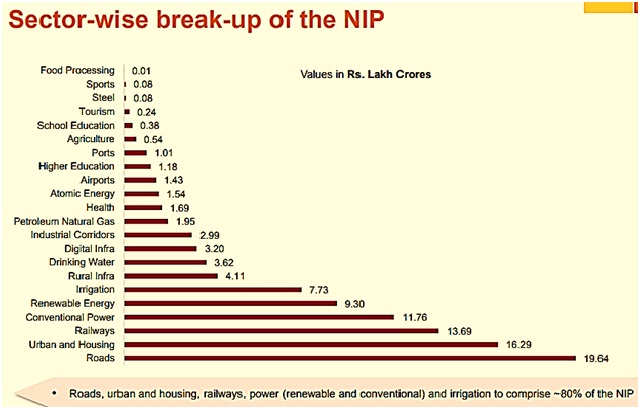 Impact
Economy
Well-planned NIP will enable more infra projects, grow businesses, create jobs, improve ease of living, and provide equitable access to infrastructure for all, making growth more inclusive.
Government
Well-developed infrastructure enhances level of economic activity, creates additional fiscal space by improving revenue base of the government, and ensures quality of expenditure focused in productive areas.
Developers
Provides better view of project supply, provides time to be better prepared for project bidding, reduces aggressive bids/ failure in project delivery, ensures enhanced access to sources of finance as result of increased investor confidence.
Banks/ financial institutions (FIs)/ Investors
Builds investor confidence as identified projects are likely to be better prepared, exposures less likely to suffer stress given active project monitoring, there by less likelihood of Non-Performing Assets(NPAs).
Way Forward
For faster growth to meet the target of $5 trillion economy by 2025, more supply-side reforms are needed. Creating new and upgrading existing infrastructure will be key to raising India's competitiveness and achieving this target.
It will specially be critical for the success of 'Make in India' program as manufacturing competitiveness critically depends on infrastructure. The supply additions through infrastructure development boost short-term as well as the potential rate of GDP growth.
Infrastructure creation is also labour absorbing, which boosts employment and income generation in the economy and further spurs domestic demand. Improved infrastructure capacities also create efficiency gains through improved logistics and networks, which would improve the competitiveness of the economy. This can help kick in a virtuous cycle of higher investments, growth and employment generation in the economy.