---
Pradhan Mantri Fasal Bima Yojana
---
Recently, Maharashtra has become the first state in the country to seamlessly integrate its land records with the web portal of the Pradhan Mantri Fasal Bima Yojana (PMFBY).
This integration has been rolled out during the 2019-20 rabi season, with farmers accessing their land details online at the enrollment centres.
Maharashtra presents an interesting scenario with farmers not opting for crop loans enrolling for the scheme with their own money. Farmers who opt for bank loans are automatically enrolled for the scheme.
Need
Taking advantage of the lack of stringent verification process, several cases of over-insurance (insurance of more land than in possession) as well as insurance of ineligible people has been noted in recent times.
Also there were instances of people insuring the same land parcel multiple times.
Impact
This integration will help make the process of enrollment for crop insurance easy as well as help plug the leaks in the process, leading to the better implementation of PMFBY.
Pradhan Mantri Fasal Bima Yojana (PMFBY)
Launched in 2016, PMFBY provides a comprehensive insurance cover against failure of the crop thus helping in stabilising the income of the farmers.
PMFBY replaced the National Agricultural Insurance Scheme (NAIS) and Modified National Agricultural Insurance Scheme (MNAIS).
The Weather-Based Crop Insurance Scheme (WBCIS) remains in place, though its premium rates have been made the same as in PMFBY.
State governments have the authority to decide whether they want PMFBY, WBCIS or both in their respective states.
Objectives
To provide insurance coverage and financial support to the farmers in the event of failure of any of the notified crop as a result of natural calamities, pests & diseases.
To stabilise the income of farmers to ensure their continuance in farming.
To encourage farmers to adopt innovative and modern agricultural practices.
To ensure flow of credit to the agriculture sector.
Salient Features
Coverage of Farmers: The scheme covers loanee farmers (those who have taken a loan), non-loanee farmers (on a voluntary basis), tenant farmers, and sharecroppers.
Coverage of Crops: Every state has notified crops (major crops) for the Rabi and Kharif It covers all Food & Oilseeds crops and Annual Commercial/Horticultural Crops.
Premium Rates: It fixes a uniform premium of 2 percent of the sum insured, to be paid by farmers for all Kharif crops, 5 percent of the sum insured for all Rabi crops, and 5 percent of sum insured for annual commercial and horticultural cropsor actuarial rate, which ever is less, with no limit on government premium subsidy.
Area-based Insurance Unit: It operates on the basis of 'Area Approach' i.e., Defined Areas for each notified crop for widespread calamities.Thus, all farmers in a particular area must pay the same premium and have the same claim payments.
Coverage of Risks: It aims to prevent sowing/planting risks, loss to standing crop, post-harvest losses and localised calamities. The sum insured is equal to the cost of cultivation per hectare, multiplied by the area of the notified crop proposed by the farmer for insurance.
Use of Innovative Technology: It recommends the use of technology in agriculture. For example, using drones to reduce the use of crop cutting experiments (CCEs), which are traditionally used to estimate crop loss; and using mobile phones to reduce delays in claim settlements by uploading crop-cutting data on apps/online.
Cluster Approach for Insurance Companies: For more effective implementation, a cluster approach is being adopted under which a group of districts with variable risk profiles will be allotted to an insurance company through competitive bidding for up to three year.
PMFBY comparison with NAIS and MNAIS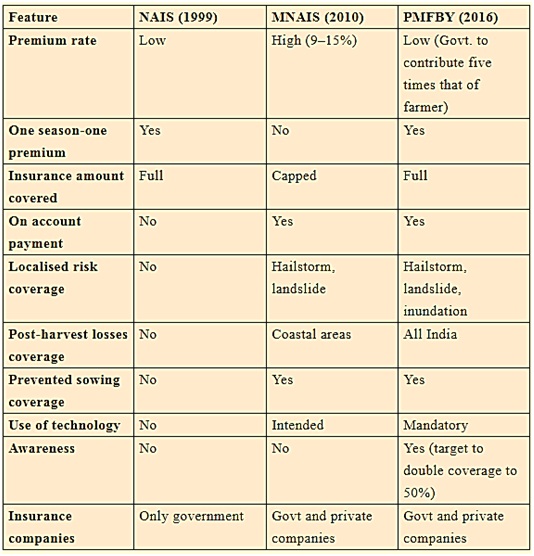 Source: orfonline
Challenges in PMFBY
Structural
One of the major challenges that remain is How to segregate insurance and disaster relief. Insurance products have a commercial basis whereas the disaster relief for small and marginal farmers has a social implication.
Lack of adequate databases for determining premiums and indemnities and lack of adequate infrastructure create constraints in implementing crop insurance in India, particularly in vulnerable and backward regions like Bundelkhand and Marathwada.
State Level Policy
Delayed Notification: Many state governments have diluted PMFBY guidelines in their respective state notification as per their own convenience, which goes against the spirit of PMFBY. Delay in notification mean that farmers could not avail claims for prevented sowing.
Sum Insured Lower than Scale of Finance (SoF): Though sum insured under the PMFBY is higher than in previous schemes, in many states sum insured is still far lower than the SoF. It seems that states have intentionally reduced the value of sum insured to decrease their part of subsidy to be paid for the premium. This significantly reduces the claim received by farmers, as only a fraction of cost of cultivation value is insured.
Delay in Claim Payments: Many state governments have failed to pay the subsidy premiums on time, as paying these premiums eat into their budgets for the sector. This leads to insurance companies delaying or not making claim payments.
Implementation
Wrong Premium Deduction: It is observed that in in many instances, premium was deducted by banks for non-notified crops. Insurance companies receive premiums from farmers, but farmers are not insured for non-notified crops.
Poor Capacity of Insurance Companies: Most of the Insurance companies involved lack manpower and infrastructure in rural areas. Insurance companies, especially private companies, have no functional office in tehsils and no agents are deployed at the block level, despite provision for it under PMFBY.
Farmers Not Provided Policy Documents: Farmers have no direct connection with insurance companies. Insured farmers receive no insurance policy document or receipt. Farmers usually are not even aware if their premiums have been deducted and crops insured. Premium deduction by banks without informing the farmer is a huge concern.
Lack of Coordination And Non-Existent Grievance Redressal Mechanism: There seems to be a clear lack of coordination between banks, insurance companies and nodal government departments (mainly the Agriculture Department).There is also poor coordination regarding grievance redressal. To whom should a farmer approach in the case of wrong premium deduction, non-payment of claim or fake crop-cutting experiments?
Gaps in Assessment of Crop Loss: Assessment of crop loss remains a major concern because the sample sizes in each village are not large enough to capture the scale and diversity of crop losses. In many cases, district or block level agricultural department officials do not conduct such sampling on ground and complete the formalities only on paper.
Corruption: There is huge scope of corruption during the implementation of the PMFBY like the previous insurance schemes.There is a nexus between insurance companies and the middlemen, depriving the farmers of their claim.
Poor Capacity to Deliver: There has been no concerted effort by the state government and insurance companies to build awareness of farmers on PMFBY. Insurance companies have failed to set-up infrastructure for proper implementation of PMFBY. There is still no direct linkage between insurance companies and farmers. Insured farmers receive no insurance policy document or receipt.
Suggestive Measures
Coverage of tenant and sharecropper farmers should increase.
All important crops should be covered under crop insurance. Diversification of crops and mixed farming should be promoted.
Incentivise groups of small farmers or women farmers and promote group insurance.
Robust assessment of crop loss should be done through capacity building of state governments, involvement of Panchayati Raj Institutions and farmers in loss assessment, auditing and multi-level checking to ensure credibility of data.
All PMFBY related data related to farmers must be available in the public domain and shared openly with farmers.
The clause addressing prevented sowing and post-harvest losses must be implemented appropriately by issuing state notifications prior to sowing.
Robust scheme monitoring and grievance redressal mechanism should be in place.