13 October: International Day for Disaster Risk Reduction
---
13 October: International Day for Disaster Risk Reduction
---
Observed annually on 13 October, the day celebrates how individuals are raising awareness about the importance of reining in the risks they face, as well as reducing their exposure to disasters.
This year, the theme for the International Day for Disaster Risk Reduction is "International co-operation for developing countries to reduce their disaster risk and disaster losses".
The theme highlights best practices and examples of international cooperation that have a positive impact on the lives of people who live in disaster-prone parts of the world i.e. reducing the numbers of people affected by man-made and natural hazards, in line with Target F of the Sendai Framework for Disaster Risk Reduction 2015-2030.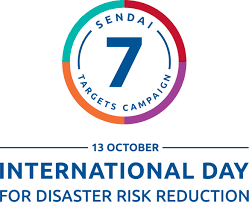 Global Target 'F' for the Year 2021 (Sendai Framework)
Out of the seven set targets for seven years (2016-2022), this year's target is towards "Substantially enhance international cooperation to developing countries through adequate and sustainable support to complement their national actions for implementation of this framework by 2030".
Global Initiative towards Disaster Risk
The Sendai Framework for Disaster Risk Reduction 2015-2030 (Sendai Framework) was the first major agreement of the post-2015 development agenda and provides Member States with concrete actions to protect development gains from the risk of disaster.
The Sendai Framework works hand in hand with the other 2030 Agenda agreements, including The Paris Agreement on Climate Change, The Addis Ababa Action Agenda on Financing for Development, the New Urban Agenda, and ultimately the Sustainable Development Goals.
It was endorsed by the UN General Assembly following the 2015 Third UN World Conference on Disaster Risk Reduction (WCDRR), and advocates for: The substantial reduction of disaster risk and losses in lives, livelihoods and health and in the economic, physical, social, cultural and environmental assets of persons, businesses, communities and countries.
It recognizes that the State has the primary role to reduce disaster risk but that responsibility should be shared with other stakeholders including local government, the private sector and other stakeholders.