Cabinet Clears Draft Bill for Linking Aadhaar & Voter ID
---
Cabinet Clears Draft Bill for Linking Aadhaar & Voter ID
---
On 15th December, 2021, the Union Cabinet cleared a bill on electoral reforms, news agency PTI reported.
The Election Commission has been pushing for key electoral reforms, including linking Aadhaar numbers to the electoral roll, making paid news an electoral offence, increasing the punishment for filing a false affidavit.
Key Provisions
It will amend the representation of people act and allow four qualifying dates in a year rather than one, for those who are above 18 years, to register as a voter.
The electoral law will be made "gender-neutral" for service voters.
It seeks to empower the EC to requisition premises for any purpose related to election.
It will allow the Election Commission to seed the Aadhaar number with electoral rolls on a voluntary basis.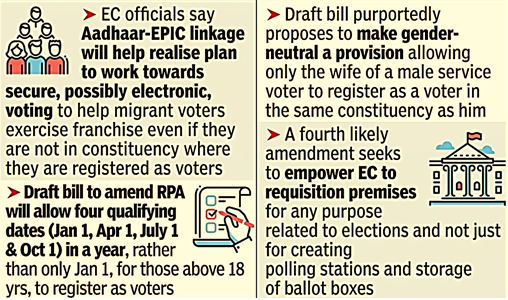 Impact
Check on Fake Voter ID: Aadhaar- voter id linkage will help to eliminate all the fake Voter ID Cards and put a check on the growing population of defunct and fake voters across the country.
Securing Electronic Voting: Further, it will help to work towards secure electronic voting for migrant workers.