Light Pollution & Migratory Birds

---
Light Pollution & Migratory Birds
---
Each year, World Migratory Bird Day is celebrated on two days - on the second Saturday of May and October.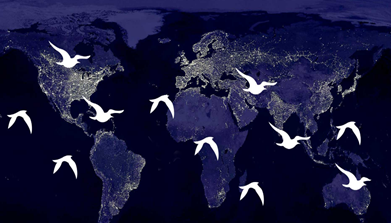 The Days are a way to reflect the cyclical nature of bird migration as well as the fact that there are varying peak migration periods in the northern and southern hemispheres.
Activities to mark the day were held globally under the theme 'Dim the Lights for Birds at Night'.
Light Pollution
Light pollution is increasing around the globe. More than 80 per cent of the world's population is currently estimated to live under a "lit sky".
The amount of artificial light on the Earth's surface is increasing by at least two per cent each year and could be much greater.
Impacts of Light Pollution on Birds
Light pollution is a significant and growing threat to wildlife, including many species of migratory birds.
Every year, light pollution contributes to the death of millions of birds.
It alters the natural patterns of light and dark in eco-systems.
It can change birds' migration patterns, foraging behaviours, and vocal communication.
Attracted by artificial light at night, particularly when there is low cloud, fog, rain or when flying at lower altitudes, migrating birds become dis-orientated and may end up circling in illuminated areas.
Depleted energy reserves put them at risk of exhaustion, predation, and fatal collision with buildings.
Conservation Value of Darkness
According to the Convention on the Conservation of Migratory Species of Wild Animals (CMS), "Natural darkness has a conservation value in the same way as clean water, air, and soil.
A key goal of World Migratory Bird Day 2022 is to raise awareness of the issue of light pollution and its negative impacts on migratory birds.
About CMS
The Convention on Migratory Species (CMS) is an environmental treaty of the United Nations and provides a global platform for the conservation and sustainable use of migratory animals and their habitats.