Tennis Great Naresh Kumar Passes Away
---
Tennis Great Naresh Kumar Passes Away
---
Naresh Kumar, the former tennis player who had reached the fourth round of Wimbledon in 1955, has passed away on 14th September 2022.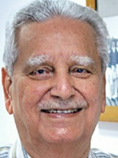 In Davis Cup, he represented India for eight consecutive years and later went on to become the captain.
He made it to the singles main draw at Wimbledon for nine consecutive years with his best coming in 1955 when he reached the pre-quarterfinals.
He also reached the third round of the French Open in 1958.
He did well in the doubles, reaching the Wimbledon quarterfinals in 1953, 1955 and 1958.
Kumar was the only tennis coach to have been awarded the Dronacharya Lifetime Achievement Award in 2000.
A recipient of Arjuna Award, Naresh Kumar became the first tennis coach to receive Dronacharya Lifetime Achievement Award in 2000.
He was also the second lawn tennis player, after Ramanathan Krishnan, to win the Arjuna Award, in 1962.