National Logistics Policy
---
National Logistics Policy
---
On17th September, 2022, the government released the National Logistics Policy.
Vision
To drive economic growth and trade competitiveness of the country through a truly integrated, seamless, efficient, reliable and cost-effective logistics network, leveraging best-in-class technology, processes and skilled manpower.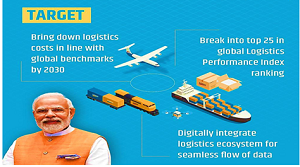 Key Objectives
Creating a single point of reference for all logistics and trade facilitation matters in the country which will also function as a knowledge and information sharing platform
Driving logistics cost as a % of GDP down from estimated current levels of 13-14% to 10% in line with best-in-class global standards and incentivize the sector to become more efficient by promoting integrated development of logistics
Creating a National Logistics e-marketplace as a one-stop marketplace.
Creating a data and analytics center to drive transparency and continuous monitoring of key logistics metrics
Encouraging industry, academia and government to come together to create a logistics Center of Excellence, and drive innovation in the logistics sector
Creating and managing on an ongoing basis, an Integrated National Logistics Action Plan which will serve as a master plan for all logistics-related development.
Providing an impetus to trade and hence economic growth by driving competitiveness in exports
Doubling employment in the logistics sector by generating additional 10-15 million jobs and focusing on enhancing skills in the sector and encouraging gender diversity
Policy Thrust Areas
Focusing on critical projects to drive an optimal modal mix and to enable first mile and last mile connectivity
Driving the development of Multi Modal Logistics Parks (MMLPs)
Driving interventions to reduce logistics costs and promote logistics efficiency for the movement of key commodities
Creating a single window Logistics e-marketplace
Setting up a Logistics Data and Analytics Center
Creating a Center of Trade Facilitation and Logistics Excellence (CTFL) and leveraging the expertise of multilateral agencies
Creating an Integrated National Logistics Action Plan and aligning with respective state development plans
Support strengthening of the warehousing sector
Enhancing transport and rolling stock infrastructure
Streamlining EXIM processes to promote trade competitiveness
Reducing dwell time for interstate cargo movement by road
Promoting standardization in the logistics sector
Ensuring seamless movement of goods at Land Customs Stations (LCS) and Integrated Check Points (ICP)
Benefits
The policy is expected to bring down the logistics cost, which is as high as 14-15 percent of India's GDP, to around 8 percent of GDP in the next five years.
It will also provide a roadmap to reduce India's high dependence on road transport for cargo movement and switch to a mix of rail, shipping, road, and air transport.
It will improve India's trade competitiveness, create more jobs, improve India's performance in global rankings and pave the way for India to become a logistics hub.