---
Asian Palm Oil Alliance
---
The apex edible oil industry associations from five major palm oil importing countries in Asia have come together for the first time to form an alliance -- Asian Palm Oil Alliance (APOA).
APOA was launched during the Globoil Summit at Agra on September 21. The summit is one of the World's Leading Edible Oils and Agri Trade Conference, Exhibitions & Awards.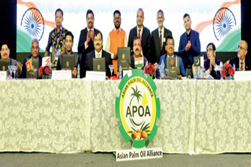 Countries under the Alliance
The alliance is between industry bodies of India, Pakistan, Sri Lanka, Bangladesh and Nepal.
In the coming year, the membership would be further expanded to include other select companies or industry organisations operating in the production or refining of palm oil across the continent.
Objective
The Alliance is expected to safeguard the economic and business interests of the palm oil consuming countries and create a level playing field for all fats and oils used in food, feed and oleochemicals in Asia. It will further work towards increasing the consumption of sustainable palm oil in member countries.
The alliance commits to work worldwide to ensure that palm oil is recognised as a high-quality, economical, and healthy vegetable oil and to change the negative image of palm oil.
Secretariat
The secretariat of the newly-formed alliance would initially be managed by The Solvent Extractors' Association (SEA) of India - India's edible oil industry body.
First President of Asian Palm Oil Alliance (APOA)
In the first general body meeting of the Alliance, Atul Chaturvedi, the President of SEA, was elected as the first Chairman.
Note: India is the largest importer of palm oil in Asia, accounting for 15% of global imports, followed by China (9%), Pakistan (4%) and Bangladesh (2%).