---
EK Janaki Ammal
---
The 125th birth anniversary of Edavalath Kakkat Janaki Ammal, a pioneering botanist and the first Indian woman to be awarded a PhD in the botanical sciences was observed on 4 November 2022.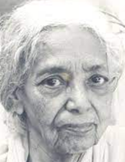 Janaki Ammal is known widely for her contributions to science – in the field of genetics, cytology, evolution, and more.
She was recently the inspiration for Savithri Preetha Nair, who wrote the scientist's biography 'Chromosome Woman, Nomad Scientist: E K Janaki Ammal, A Life 1897-1984'.
She worked on making several intergeneric and interspecific hybrids involving sugarcane and related grass species.
These works were highly significant, as she is believed to have been responsible for creating sugarcane hybrids that yielded sweeter sugar.
Along with C.D. Darlington, she authored 'The Chromosome Atlas of Cultivated Plants' in 1945 which contained her work on many species.
To honour her work, the Royal Horticultural Society named a variety of Magnolia blossoms after her – the Magnolia Kobus Janaki Ammal.