Naga Poet Temsüla Ao Passed Away

---
Naga Poet Temsüla Ao Passed Away
---
Temsüla Ao was a Naga poet, fiction writer, and ethnographer who passed away on 9 October 2022.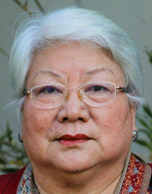 She had served in several key positions, including the chairperson of the Nagaland State Commission for Women.
She was awarded the Padma Shri award for her contribution to Literature and Education.
Her book 'Laburnum For My Head' received the Sahitya Akademi Award for English writing in the short story category.