'Villu Paatu' doyen Subbu Arumugam Passed Away

---
'Villu Paatu' doyen Subbu Arumugam Passed Away
---
Noted Indian musician, writer and Villupattu theatre art exponent Subbu Arumugam has passed away on 10 October 2022.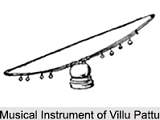 While villupaatu is performed in the temples of folk deities such as Sudalai Madan, Esakki Amman, and Mutharamman during kodai — festival during summer — Subbu Arumugam modernised the singing methods, the texts and introduced stories with social themes.
Subbu Arumugam was conferred with Padma Shri — India's fourth highest civilian award, by the Centre in 2021. Earlier, he was presented the Sangeetha Natak Akademi Award by the President of India. He was also honoured with Kalaimamani Award and Bharathi Award by the Tamil Nadu Government in 1975 and 2017 respectively.
Villu Paatu
Villu Paatu, also known as Villadichampaatu, is an ancient form of musical story-telling method performed in Southern India (Tamil Nadu and Kerala), where narration is interspersed with music. It is also practiced in North-East Sri Lanka.
This art form is popular among Nadar and Ezhava castes of erstwhile Travancore kingdom.
Simple tunes and verses make the story easy to follow.
The villu (bow), the age-old weapon of warriors - paradoxically lends itself to be used as a primary musical instrument (a musical bow) for the Villu Paatu artists.