Independent India's First Voter Shyam Saran Negi Passed Away

---
Independent India's First Voter Shyam Saran Negi Passed Away
---
Shyam Saran Negi, Independent India's first voter, passed away in Himachal Pradesh's Kinnaur on 5th November 2022. He was 105.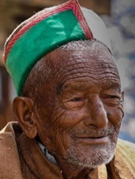 Negi, who first voted in 1952, had even cast his postal ballot vote for the 2022 Assembly elections just two days before his death.
In independent India's first General election, Negi cast his vote at Kalpa and became the first voter in free India.