Current News National Polity & Governance
National Education Policy-2020
---
On 29th July, 2020, the government approved the National Education Policy 2020, making way for large scale, transformational reforms in both school and higher education sectors.
The Cabinet has also approved the renaming of the Ministry of Human Resource Development to the Ministry of Education.
This policy will replace the National Policy on Education (NPE),1986.
Aim
It aims to pave way for transformational reforms in school and higher education systems in the country.
It aims for universalization of educationfrom pre-school to secondary level with 100 % Gross Enrolment Ratio (GER) in school education by 2030.
Evolution of Education Policy
University Education Commission (1948-49)
Secondary Education Commission (1952-53)
Education Commission (1964-66) under Dr. D.S. Kothari
National Policy on Education, 1968
42nd Constitutional Amendment,1976-Education in Concurrent List
National Policy on Education (NPE), 1986
NPE, 1986 Modified in 1992 (Program of Action, 1992)
S.R. Subramaniam Committee Report (27 May, 2016)
K. Kasturirangan Committee Report (31 May, 2019)
Important Highlights
School Education
Ensuring Universal Access at all Levels of School Education
NEP 2020 emphasizes on ensuring universal access to school education at all levels i.e. pre-school tosecondary.
Infrastructure support, innovative education centres to bring back dropouts into the mainstream.
Facilitating multiple pathways tolearning involving both formal and non-formal education modes.
Open learning for classes3,5 and 8 throughNational Institute of Open Schooling (NIOS).
About 2 crore out of school children will be brought back into mainstream under NEP 2020.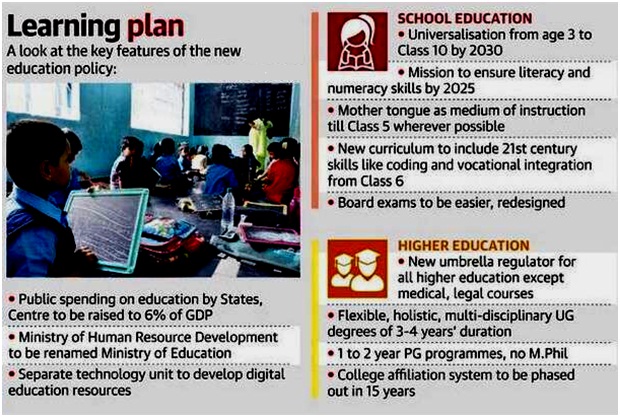 Early Childhood Care &Education with new Curricular and Pedagogical Structure
With emphasis on Early Childhood Care and Education, the 10+2 structure of school curricula isto be replaced by a 5+3+3+4 curricular structure corresponding to ages 3-8, 8-11, 11-14, and 14-18 years respectively.
This will bring the hitherto uncovered age group of 3-6 years under schoolcurriculum, which has been recognized globally as the crucial stage for development of mentalfaculties of a child.
The new system will have 12 years of schooling with three years ofAnganwadi/ pre schooling.
NCERT will develop a National Curricular and Pedagogical Framework for Early ChildhoodCare and Education (NCPFECCE) for children up to the age of 8.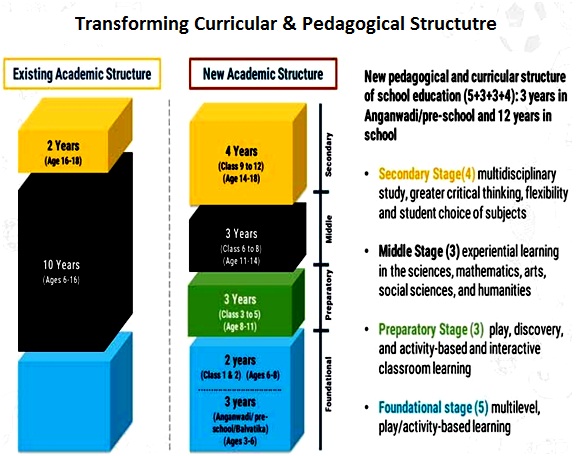 Attaining Foundational Literacy and Numeracy
NEP 2020 calls for setting up of a National Mission on Foundational Literacy andNumeracy.
States will prepare an implementation plan for attaining universalfoundational literacy and numeracy in all primary schools for all learners upto grade 3 by 2025.
ANational Book Promotion Policy is to be formulated.
Reforms in School Curricula and Pedagogy
There will be no rigid separations between arts and sciences,between curricular and extra-curricular activities, between vocational and academic streams.
A new and comprehensive National Curricular Framework for School Education, NCFSE2020-21, will be developed by the NCERT.
Multilingualism and the Power of Language
The policy has emphasized mother tongue/local language/regional language as the medium ofinstruction at least till Grade 5, but preferably till Grade 8 and beyond.
Indian SignLanguage (ISL) will be standardized across the country, and National and State curriculummaterials will be developed, for use by students with hearing impairment.
Assessment of Reforms
A new National Assessment Centre, PARAKH (Performance Assessment, Review, and Analysis of Knowledge for Holistic Development), will be set up as a standard-setting body.
Equitable and Inclusive Education
NEP 2020 aims to ensure that no child loses any opportunity to learn and excel because of thecircumstances of birth or background.
Special emphasis will be given on Socially andEconomically Disadvantaged Groups(SEDGs).
This includes setting up of Gender Inclusion Fund and also Special Education Zones for disadvantaged regions and groups.
Every state/district will be encouraged to establish "BalBhavans" as a special day-time boarding school, to participate in art-related, career-related, andplay-related activities.
Robust Teacher Recruitment and Career Path
Teachers will be recruited through robust, transparent processes. Promotions will be merit-based,with a mechanism for multi-source periodic performance appraisals and available progression,paths to become educational administrators or teacher educators.
A common National Professional Standards for Teachers (NPST) will be developed by the National Council forTeacher Education by 2022, in consultation with NCERT, SCERTs, teachers and expertorganizations from across levels and regions.
School Governance
Schools can be organized into complexes or clusters which will be the basic unit of governanceand ensure availability of all resources including infrastructure, academic libraries and a strongprofessional teacher community.
Standard-setting and Accreditation for School Education
NEP 2020 envisages clear, separate systems for policy making, regulation, operations andacademic matters. States/UTs will set up independent State School Standards Authority(SSSA).
The SCERT willdevelop a School Quality Assessment and Accreditation Framework (SQAAF) throughconsultations with all stakeholders.
Higher Education
NEP 2020 aims to increase the Gross Enrolment Ratio in higher education including vocationaleducation from 26.3% (2018) to 50% by 2035.
Holistic Multidisciplinary Education
The policy envisages broad-based, multi-disciplinary, holistic Under Graduate education withflexible curricula, creative combinations of subjects, integration of vocational education and multiple entry and exit points with appropriate certification.
UG education can be of 3 or 4years with multiple exit options and appropriate certification within this period.
An Academic Bank of Credit is to be established for digitally storing academic credits.
Multidisciplinary Education and Research Universities (MERUs), at par with IITs, IIMs, to beset up as models of best multidisciplinary education of global standards in the country.
The National Research Foundation will be created as an apex body for fostering a strongresearch culture and building research capacity across higher education.
Regulation
Higher Education Commission of India(HECI) will be set up as a single overarching umbrellabody for entire higher education, excluding medical and legal education.
HECI to have fourindependent verticals - National Higher Education Regulatory Council (NHERC) for regulation,General Education Council (GEC) for standard setting, Higher Education Grants Council(HEGC) for funding, and National Accreditation Council(NAC) for accreditation.
Rationalised Institutional Architecture
Higher education institutions will be transformed into large, well resourced, vibrantmultidisciplinary institutions providing high quality teaching, research, and communityengagement.
Affiliation of colleges is to be phased out in 15 years and a stage-wise mechanism is to beestablished for granting graded autonomy to colleges.
Teacher Education
A new and comprehensive National Curriculum Framework for Teacher Education, NCFTE2021, will be formulated by the NCTE in consultation with NCERT.
By 2030, the minimumdegree qualification for teaching will be a 4-year integrated B.Ed. degree.
Mentoring Mission
A National Mission for Mentoring will be established, with a large pool of outstandingsenior/retired faculty – including those with the ability to teach in Indian languages.
Open and Distance Learning
This will be expanded to play a significant role in increasing GER. Measures such as onlinecourses and digital repositories, funding for research, improved student services, credit-basedrecognition of Massive Open Online Courses (MOOCs), etc., will be taken to ensure it is at par with the highest quality in-classprogrammes.
Technology in Education
An autonomous body, the National Educational Technology Forum (NETF), will be created toprovide a platform for the free exchange of ideas on the use of technology to enhance learning,assessment, planning, administration.
Appropriate integration of technology into all levels ofeducation will be done to improve classroom processes, support teachers' professionaldevelopment, enhance educational access for disadvantaged groups and streamline educationalplanning, administration and management.
Promotion of Indian Languages
To ensure the preservation, growth, and vibrancy of all Indian languages, NEP recommendssetting an Indian Institute of Translation and Interpretation (IITI), National Institute (orInstitutes) for Pali, Persian and Prakrit, strengthening of Sanskrit and all language departmentsin HEIs, and use mother tongue/local language as a medium of instruction in more HEIprogrammes .
Professional Education
All professional education will be an integral part of the higher education system.
Stand-alonetechnical universities, health science universities, legal and agricultural universities, etc. will aim tobecome multi-disciplinary institutions.
Adult Education
Policy aims to achieve 100% youth and adult literacy.
Financing Education
The Centre and the States will work together to increase the public investment in education sectorto reach 6% of GDP at the earliest.

Significance
Built on the foundational pillars of Access, Equity, Quality, Affordability and Accountability, this policy is aligned to the 2030 Agenda for Sustainable Development.
NEP 2020 is precisely what India needs to dominate in the future decades of growth, and drive the education requirements of our young population.
Further, it aims to transform India into a vibrant knowledge society and global knowledge superpower by making both school and college education more holistic, flexible, multidisciplinary, suited to 21st century needs and aimed at bringing out the unique capabilities of each student.
Way Forward
Education infrastructure is one of the important parameters which also needs a massive boost from the government authorities.
The New Education Policy should have been implemented years ago to enable India's education system to catch up with that of other fast-developing nations in Asia.
The focus on light government regulation, multidisciplinary institutions and creating equivalence of vocational and academic streams are welcome, but these have been a part of other countries' education models for years.
It would have been good to have some more innovative ideas implemented like recognition of pathway/twinning programs with foreign universities, permission for for-profit firms to set up schools & colleges, allowing corporate CSR funding for primary research in universities and allowing universities to offer online degrees to outside their geographical jurisdiction.
Current News Indian Economy Banking & Finance
Pre-Packaged Deals In Insolvency And Bankruptcy Code
---
The Ministry of Corporate Affairs (MCA) has set up a committee to look into the possibility of including what are called "pre-packs" to offer faster insolvency resolution under the Insolvency and Bankruptcy Code (IBC).
Background
Since the start of the year 2019, the Government has been planning to introduce the concept of Pre-Package Insolvency Schemes in the Indian Insolvency & Bankruptcy Code (IBC).
Now due to COVID-19, the businesses all over the country are worst hit since the global economic slowdown of 2008-2009 and it is imperative that the Government would chalk out a more concrete plan for the implementation of this system.
Need
Slow progress in the resolution of distressed companies has been one of the key issues raised by creditors regarding the Corporate Insolvency Resolution Process (CIRP) under the IBC.
Under the IBC, stakeholders are required to complete the CIRP within 330 days of the initiation of insolvency proceedings.
About 'Pre-Packs'
It is an agreement for the resolution of the debt of a distressed company through an agreement between secured creditors and investors instead of a public bidding process.
A pre-pack process is carried out by the debtors who try to keep their entity afloat and try to negotiate with the creditors for a resolution of the debt. Therefore, if such a process fails, it can always lead to a creditor filing an application under Section 7 or 9 of the IBC and triggering insolvency.
The objectives are -
To obtain a better return to creditors than would be possible if the company were to be sold through an insolvency process (through the preservation of value that could otherwise be eroded because of a formal insolvency process);
To reduce professional costs associated with an insolvency process by streamlining the process;
To provide certainty of outcome to stakeholders (including creditors and the purchaser).
These objectives are aligned to the objectives of the corporate insolvency resolution process (CIRP).
Benefits
Retaining Business in the Hands of Existing Management: It can incentivise the existing management and promoters of the company to initiate the pre-pack proceedings before the occurrence of a default or at an earlier stage of default. It can help the business to retain its current management and would be agreed by the creditors as they generally agree to hold on to the existing management.
Better Return: In most cases it would provide a better return to the creditors. In a pre-pack scheme, the value would be determined beforehand which would yield better returns to the creditors.
Speedy & Cheaper Resolution: Pre-packs are usually a cheaper and less time-consuming method than the proper insolvency and bankruptcy proceedings. It reduces the legal cost involved in the formal procedure and also the insolvency professional cost.
Certainty of Outcomes: There is a surety of the outcome since the resolution plan has been discussed and finalized beforehand.This gives a lot of confidence to the creditors since they are assured of their money and helps put more faith in the Corporation Insolvency Resolution Process (CIRP).
Reducing Burden: If implemented in India, the pre-pack schemes will reduce the already burdened NCLT's as already there will exist a resolution plan.
Issues with Pre-pack
Reduced Transparency:The key issue of a pre-packaged insolvency resolution is the reduced transparency compared to the CIRP as financial creditors would reach an agreement with a potential investor privately and not through an open bidding process. This could lead to stakeholders such as operational creditors raising issues of fair treatment when financial creditors reach agreements to reduce the liabilities of the distressed company.
No Shield of Moratorium: Another major concern that may arise during the pre-pack scheme implementation is that it would not have the shield of moratorium like it is there when a case is admitted under Section 7 or 9 of IBC.
Biased towards Secured Creditors:One major criticism of pre-pack schemes is that it is more in the favour of secured creditors and neither do the operational creditors have much say in the negotiation nor they are given a fair share. This challenge has to be overcome if pre-pack schemes are to be implemented in India.
Way Forward
With the current Pandemic creating havoc in almost every industry, it is almost certain that a lot of companies would be pushed into insolvency in the coming times and there this scheme of pre-packaged deals, if introduced, may act as a catalyst in helping those companies survive.
It is expected and emphasized that if the pre-pack system is implemented well, it would lead to smoother implementation of resolution plans, would promote growth and keep the company as a going concern while retaining jobs and ensuring creditors receive the funds due to them.
Especially during these difficult financial times, it is imperative that such a system would only yield fruitful results and would have more pros than cons.
Current News National
Institutional Deliveries Increased But C-Section Remains A Concern: NSO
---
In India,Institutional Deliveries has increased but at the same time C-Section surgeries has also increased which is double the rate of global standards – a real concern to be addressed at the earliest.
The above findings were the result of the latest survey on the state of India's health conducted by the National Statistical Office in 2017-18.
Major Highlights
Institutional Deliveries
The proportion of women delivering a child in a hospital (or health care institution) has increased over the past two decades by nearly 73 percentage points in rural India and 37 percentage points in urban India.
At least nine of every 10 pregnant women now deliver a child in a hospital and thereby avail better health care facilities.
C-Section
Nearly every third woman who delivers a child in a hospital undergoes a caesarean-section or C-section surgery, which is a rate twice of what the international health care community considers ideal (The World Health Organisation considers the ideal rate for C-sections to be between 10% and 15%).
At 28.1%, the share of women delivering through a C-section has risen by nearly 25 percentage points in two decades from as low as 3.2% in 1995-96.
In government sector hospitals in rural India, less than 15% women give birth through surgery.
The C-section rate in government hospitals in the urban sector is nearly double at 26%.
Role of Private Sector Hospitals
The private sector hospitals are largely responsible for the high rate of C-sections in India.
About 29% of institutional births in India take place in a private sector hospital, but these hospitals conduct nearly 63% of all C-sections in the country. Government hospitals conduct nearly 70% of all deliveries but only 35% of all C-sections.
Private sector hospitals, a majority of births (54% in rural areas and 56% in urban areas) are conducted through a C-section, which is almost four times more than the ideal rate.
Worst affected States
At 69%, Telangana has the highest overall rate of C-sections in the country, 52.8% in government hospitals, highest among all states, and 87% in private sector hospitals, second highest in the country.
Among big states, the percentage point difference is the highest in Odisha where nearly 76% deliveries in private sector hospitals happen through a C-section compared to just 14% in government hospitals.
Current News National Polity & Governance
Restrictions On Public Procurement: Amending General Financial Rules 2017
---
On 24th July, 2020, the Government amended the General Financial Rules 2017 to enable imposition of restrictions on bidders from countries which share a land border with India on grounds of defence of India, or matters directly or indirectly related thereto including national security.
For this, Rule 144 of the General Financial Rules, 2017 entitled 'Fundamental principles of public buying' has been amended.
Reason for such Action
Chinese imports and investments have been facing intense scrutiny in India after a tense border standoff since the last month.
The decision has been taken to prevent the influx of Chinese products and investments into India, following the clashes between Indian and Chinese troops in Galwan Valley.
India is aiming at limiting trade links with China as part of policy to cut dependence on that country.
About the Amendments
Mandatory Registration
According to the new order, any bidder from countries sharing a land border with India will be eligible to bid in any procurement whether of goods, services or works only if the bidder is registered with the 'Competent Authority.'
The Competent Authority, in this case, is the Registration Committee constituted by the Department for Promotion of Industry and Internal Trade (DPIIT).
Political and security clearance from the Ministries of External and Home Affairs respectively will be mandatory.
Applicability
It will be applicable to all autonomous bodies, public sector banks and financial institutions, central public sector enterprises, public-private partnerships receiving financial support from the government or public sector undertakings, union territories and National Capital Territory (NCT) of Delhi and the linked agencies.
Invoking Provisions of Article 257(1)
The Central government has invoked the provisions of Article 257(1) of the Constitution, directing the state governments to implement this order for all public procurement.
For procurementby State Governments, a Competent Authority will be constituted by the states but political and security clearance will remain necessary.
Exceptions
Relaxation will be provided for the procurement of medical supplies for containment of COVID-19 global pandemic till December 31st, 2020.
Also, the order for prior registration will not apply for countries to which the Government of India extends lines of credit or provides development assistance, even if it shares a land border with India.
It does not apply to procurement by the private sector.
This order will also not apply to cases where orders have been placed or a contract has been concluded or letter of acceptance has been issued, but new tenders will be covered under this order.
Also, if the first stage of evaluation of qualifications has not been completed in the already invited tenders, bidders not registered under the new order will be treated as not qualified.
Impact
The move aimed at keeping Chinese companies out could hit sectors with heavy import content and dependence on supplies from China.
Infrastructure sectors such as power sector — particularly solar, telecom, highways — are likely to get impacted at different levels.
However, it will provide a major push to the government's Atmanirbhar Bharat Abhiyaan, making India self-reliant by curbing the dependency of import from China.
Previous Anti-China Measures
'Country of Origin' Made Mandatory on GeM
In June, 2002, the government made it mandatory for sellers on the Government e-Marketplace (GeM) portal to clarify the 'country of origin' of their goods when registering new products.
The GeM portal now allows buyers to reserve a bid for Class I local suppliers, or suppliers of those goods with more than 50 per cent local content.
Digital Strike: Banning Chinese App
In June, 2020, the government announced an interim ban on 59 apps with Chinese links including TikTok, ShareIt, UC Browser, CamScanner and WeChat citing "emergent threats" to the country's sovereignty and national security.
On 27th July, 2020, the government again banned 47 more Chinese apps that were clones of the 59 apps banned already.
Amending FDI Rules
In April, 2020, the government had amended the FDI rules mandating prior approval for investment by entities in countries that share land borders with India.
The move came days after China's central bank, the People's Bank of China (PBoC), raised its shareholding in Housing Development Finance Corporation (HDFC) to over one per cent.
General Financial Rules (GFRs)
GFRs are set of rules that deal with matters that involve public finances.
They were first issued in 1947 bringing together all the existing orders.
They are instructions that pertain to financial matters.
They lay down the general rules applicable to Ministries / Departments, and detailed instructions relating to procurement of goods are issued by the procuring departments broadly in conformity with the general rules, while maintaining flexibility to deal with varied situations.
Article 257(1)
It states that the executive power of every State shall be so exercised as not to impede or prejudice the exercise of the executive power of the Union.
It also authorises the Union to give such directions to a State as may appear to the Government of India to be necessary for that purpose.
In case, if the state failed to comply with (or to give effect to) any directions given by the Centre under Article 257(1), it will be lawful for the President to impose President's rule under Article 356.
Current News National
New Rules For E-Commerce Notified; 'Country Of Origin' Mandatory
---
The 'Consumer Protection (E-Commerce) Rules, 2020', was notified by the Ministry of Consumer Affairs, Food and Public Distributions on July 23, is part of the Consumer Protection Act, 2019.
The 'Consumer Protection (E-Commerce) Rules, 2020' will be applicable to all electronic retailers (e-tailers), registered in India or abroadbut offering goods and services to Indian consumers.
Major Provisions
The e-commerce players will have to display the total price of goodsand services offered for sale along with the break-up of other charges.
They are also required to mention the 'expiry date' of goods offered for sale and the 'country of origin' of goods and services.
Marketplaces, as well as sellers, would be required to have grievance officers who have to respond in a time-bound manner.
E-commerce players must display details about return, refund, exchange, warranty and guarantee, delivery and shipment, modes of payment, and grievance redressal mechanism, and any other similar information that may be required by consumers to make informed decisions.
False Reviews: e-commerce entities can't 'falsely represent themselves as a consumer and post reviews about goods and services or misrepresent the quality or the features of any goods and services'.
Advertisement and Promotion: e-commerce entities have to ensure that the advertisements for the marketing of goods and services are consistent with the actual characteristics, access and usage conditions of such goods or services.
How it will help Consumers and Govt.
The new norms aim to protect the rights of consumer by establishing authorities for timely and effective administration and settlement of consumers' disputes.
They require e-tailers to facilitate easy returns, address customer grievances and prevent discriminating against merchants on their platforms.
The new rules empower the central government to act against unfair trade practices in e-commerce, direct selling.
Current News National
Ministry Of Shipping Waives Off Waterways Usage Charges For Three Years
---
The Ministry of Shipping has waived of waterway usage charges for three years considering the Government of India's vision to promote inland waterways as a supplementary, eco-friendly and cheaper mode of transport.
Currently only 2% of total cargo traffic moves through waterways.
Benefits
This will attract the industries to use the national waterways for their logistical needs.
As the mode of transport is eco-friendly and cheaper, it will not only reduce the burden on other transport modes but also promote the ease of doing business.
Which organisation levies waterway usage charges?
Inland Waterways Authority of India (IWAI) levies the waterway usage charges.
Current News National
NASA's 'ASTHROS' Mission
---
The National Aeronautics and Space Administration (NASA) has started work on a new mission to send a telescope, on a football stadium-sized balloon, high into the stratosphere.
The telescope mission called Astrophysics Stratospheric Telescope for High Spectral Resolution Observations at Submillimeter-wavelengths (ASTHROS) is likely to be launched in December 2023 from Antarctica.
Aim of the Mission
To observe far-infrared light, or light with wavelengths much longer than what is visible to the human eye.
The mission will try to find answers about formation of giant stars in the galaxy.
Current News National
Third Unit Of KAP Sachieves 'Criticality'
---
The third unit of indigenously built Gujarat based Kakrapar Atomic Power Station or KAPS –3 has achieved 'criticality' - the condition when a nuclear reactor is ready for ongoing nuclear reaction or fission that generates energy.
It has generating capacity of 700 MWe.
Other two operational plants here having capacity of 220 MW each are - KAPS-1 (went critical in 1992) and KAPS-2 (attained criticality in 1995).
The fourth unit of the Kakrapar Atomic Power Station (KAPS-4) with 700 MWe capacity is to be commissioned by 2021.
All are pressurised water reactors with heavy water as moderator (PHWR).
What are PHWRs
PHWRs is a nuclear power reactors commonly using unenriched natural uranium as its fuel. It uses heavy water (Deuterium oxide D2O) as its coolant and moderator.
Why is India concentrating on PHWRs?
Of India's 22 commercial nuclear power reactors, there are 14 units of 220MW PHWRs each, making it one of the largest fleets of such reactors.
Even though the PHWRs are expensive, the Department of Atomic Energy persists with them because it lacks the expertise required to build and operate cheaper Light-Water Reactors (LWRs). The imported LWRs are more expensive than the domestically built PHWRs.
Nuclear Energy & India
Nuclear power is the fifth-largest source of electricity in India after coal, gas, hydroelectricity and wind power.
As of March 2018, India has 22 nuclear reactors in operation in 7 nuclear power plants, with a total installed capacity of 6,780 MW.
Which Organisation Operates Nuclear Reactors in India?
The Nuclear Power Corporation of India Ltd (NPCIL) is the only agency to operate such plants. The Department of Atomic Energy (DAE) is responsible for overseeing atomic energy policy in India.
Current News Science & Technology Health & Disease
Delhi's Serological Survey
---
Recently, the Ministry of Health and Family Welfare declared the results of a serological survey carried out in Delhi between 27th June and 10th July, 2020.
The survey included the IgG Enzyme-Linked Immunosorbent Assay (ELISA) test which estimates the proportion of the population exposed to SARS-CoV-2 infection.
The blood samples were collected from selected individuals after taking their written, informed consent, and their sera were then tested for IgG antibodies and infection using the ICMR-approved COVID KAVACH ELISA kit.
Key Findings of the Survey
Results of the sero-prevalence study show that on an average, across Delhi, the prevalence of IgG antibodies is 23.48 %.
The study also indicates that a large number of infected persons remain asymptomatic.
Nearly six months into the epidemic, only 23.48% of the people are affected in Delhi,which has several pockets of dense population.
This can be attributed to the proactive efforts taken by the Government toprevent the spread of infection including prompt lockdown,effective containment and surveillance measures, including contact tracing and tracking, as well as citizen's compliance had yielded benefits.
Looming Concerns
The government has said that results show that a significant proportion of the population is still vulnerable to contracting the novel coronavirus infection.
The 48% rate of sero-positivity cannot, however, be extrapolated over Delhi's entire population.
Serological Survey
A serological survey seeks to assess the prevalence of disease in a population by detecting the presence of specific antibodies against the virus.
A serological test is performed to diagnose infections and autoimmune illnesses.
It can also be conducted to check if a person has developed immunity to certain diseases.
The test indicates past infections (and which triggered an immune response), and is not used to detect active infections.
Benefit
Since it is not possible to test everyone in the population, serological studies are used as a tool to make an estimate of the extent of disease spread in the community.
Recent Sero-Survey
In April, 2020,the Indian Council of Medical Research (ICMR) had conducted a pilot sero-survey in 83 districts in 21 states.
The initial results, which are being peer-reviewed, indicate that the percentage of the general population that could have been infected in the past was 0.73 per cent, with urban areas showing a higher prevalence of 1.09 per cent.
Future Strategy
Since large proportion of the population is susceptible and infection can spread, non-pharmacological interventions such as physical distancing, use of face mask/cover, hand hygiene, cough etiquette must be followed strictly.
Containment measures need to continue with the same rigour.
Local lockdown measures need to continue as advised by the Central Government, especially in containment areas.
High risk groups, that includes elderly population, people with chronic morbidities, pregnant women and children less than 10 years of age need to be protected.
Efforts to limit the scale and spread of the disease will have to be continued by strong implementation of containment strategies by the states
The states cannot lower their guard and need to keep on implementing effective surveillance and containment strategies.
Current News National
NGT Directives On Ground Water Extraction
---
On 20th July, while hearing a plea seeking direction to check the depleting groundwater level in the country, a Bench of the National Green Tribunal (NGT) issued a slew of directions.
The Bench Preferred Sustainability over Development
The tribunal expressed unhappiness with the Central Ground Water Board's (CGWB) submission that the restriction on the extraction of groundwater in overexploited, and critical and semi-critical areas are likely to have an adverse impact on industrial production, employment opportunities and GDP of some states.
The green panel refused to review its order disallowing grant of ''No Objection Certificate'' to industries in Over-exploited, Critical and Semi-critical (OCS)areas and said exemptions for infrastructure projects, Micro, Small & Medium Enterprises or other industries or commercial purposes except drinking water will be against sustainable development and public trust doctrine.
Highlights of its Order
Environment Impact Assessment: A Must for Commercial Extraction
There must be no general permission for withdrawal of groundwater, particularly to any commercial entity, without environment impact assessment of such activity on individual assessment units in cumulative terms covering carrying capacity aspects by an expert committee.
Permission should not for Perpetuity
Permission for extraction should be for specified times and for specified quantities of water and not in perpetuity. Permission should as per Water Management Plans to be prepared, based on mapping of individual assessment units.
Transparency and Compliance
An annual review by independent and expert evaluation must audit and record ground water levels as well as compliance with the conditions of the permission.
Such audits must be published online for transparency and to track compliance and year-on-year change in ground water levels.
Swift action will be taken against those who fail the audit, including withdrawal of permission, blacklisting, initiation of prosecution and recovery of deterrent compensation.
The Water Management Plans, data on water availability or scarcity and policy of the CGWA must be uploaded on its website for transparency and public involvement in next three months.
Direction to Jal Shakti Ministry & CGWA
The Ministry of Jal Shakti and the Central Ground Water Authority (CGWA) have been asked to have a meaningful regulatory regime and institutional mechanisms for ensuring prevention of depletion and unauthorized extraction of ground water and sustainable management of groundwater in over-exploited, critical and semi-critical (OCS) areas.
Water Mapping of OCS Areas
Water mapping of all OCS assessment units to be carried out and Water Management Plans need to be prepared for all OCS assessment units in the country based on the mapping data, starting with overexploited blocks.
Impact Study
As per an earlier order, undertake an impact study in light of projected data for the next 50 years (in phased manner with action plan decade-wise).
Current News National Polity & Governance
Consumer Protection Act, 2019
---
The new Consumer Protection Act, 2019 came into force on 20th July, 2020.
It replaced the existing Consumer Protection Act, 1986, and in its overarching mandate, aims to provide a mechanism for the redressal of consumer complaints regarding defects in goods and deficiency in services, right down to the level of districts.
Background
The Consumer Protection Bill, 2019 was introduced in the Upper House of Parliament on July 8, 2019.
It was passed by the Lok Sabha on July 30, 2019 and Rajya Sabha on August 6, 2019. The Bill was then signed into law by President on August 9, 2019.
Salient Features of the Act
Covers E-Commerce Transactions
The New Act has widened the definition of 'consumer'.
The definition now includes any person who buys any goods, whether through offline or online transactions, electronic means, teleshopping, direct selling or multi-level marketing.
The earlier Act did not specifically include e-commerce transactions, and this lacuna has been addressed by the New Act.
Creation of Central Consumer Protection Authority
It proposes the establishment of a Central Consumer Protection Authority (CCPA) to promote, protect and enforce the rights of consumers, and make interventions in situations of unfair trade practices.
It will be empowered to -
conduct investigations into violations of consumer rightsand institute Complaints / Prosecution;
order recall of unsafe goods and services; and
order discontinuance of unfair trade practices andmisleading advertisements.
Rules on e-Commerce and Direct Selling
Now every e-commerce entity is required to provide information relating to return, refund, exchange, warranty and guarantee, delivery and shipment, modes of payment, grievance redressal mechanism, payment methods, security of payment methods, charge-back options, etc. including country of origin which are necessary for enabling the consumer to make an informed decision at the pre-purchase stage on its platform.
e-commerce platforms have to acknowledge the receipt of any consumer complaint within forty-eight hours and redress the complaint within one month from the date of receipt under this Act.
Simplifying Consumer Dispute Adjudication Process
Empowering the State and District Commissions to review their own orders.
Enabling a consumer to file complaints electronically and in consumer commissions that have jurisdiction over the place of his residence.
Video-conferencing for hearing and deemed admissibility of complaints if the question of admissibility is not decided within the specified period of 21 days.
Alternate Dispute Resolution Mechanism of Mediation
A complaint will be referred by a Consumer Commission for mediation, wherever scope for early settlement exists and parties agree for it.
Mediation will be held in the Mediation Cells to be established under the aegis of the Consumer Commissions.
There will be no appeal against settlement through mediation.
Product Liability
A manufacturer or product service provider or product seller to be responsible to compensate for injury or damage caused by defective product or deficiency in services.
Basis for product liability action -
Manufacturing defect
Design defect
Deviation from manufacturing specifications
Not conforming to express warranty
Failing to contain adequate instructions for correct use
Service provided-faulty, imperfect or deficient
Fee Exemption
A significant note for customers under this Act is that there will be no fee for filing cases up to Rs 5 lakh.
There are provisions for filing complaints electronically, credit of amount due to unidentifiable consumers to Consumer Welfare Fund (CWF).
Penalties for Misleading Advertisement
The CCPA may impose a penalty on a manufacturer or an endorser of up to Rs 10 lakh and imprisonment for up to two years for a false or misleading advertisement.
In case of a subsequent offence, the fine may extend to Rs 50 lakh and imprisonment of up to five years.
Penalty for Adulteration of Products/Spurious Goods
In case of the first conviction, a competent court may suspend any license issued to the person for a period of up to two years and in case of second or subsequent conviction, may cancel the license permanently.
Central Consumer Protection Council
It provided for constitution of the Central Consumer Protection Council, an advisory body on consumer issues, headed by the Union Minister of Consumer Affairs, Food and Public Distribution with the Minister of State as Vice Chairperson and 34 other members from different fields.
The Council, which has a three-year tenure, will have Minister-in-charge of consumer affairs from two States from each region- North, South, East, West, and NER.
Significance
Protecting Consumer Right
Earlier Consumer Protection Act, 1986, a single point access to justice was given, which was also time consuming.
The new Act has been introduced after many amendments to provide protection to buyers not only from traditional sellers but also from the new e-commerce retailers/platforms.
It will prove a significant tool in protecting consumer rights in the country.
Current News National
First Mega Food Park Of Mizoram
---
The Union Food Processing Minister Harsimrat Kaur Badal has virtually inaugurated Mizoram's first mega food park - Zoram Mega Food Park - which is expected to provide employment to 5,000 people and benefit about 25,000 farmers.
The Zoram Mega Food Park is located at Khamrang village in Kolasib district in Mizoram and is promoted by Zoram Mega Food Park Pvt Ltd.
Under the Mega Food Park Scheme, Government of India provides financial assistance uptoRs. 50.00 Crore per Mega Food Park project. Presently, 18 Mega Food Park Projects are under implementation in various states and 19 Mega Food Parks have already become functional in the States. 6 of them are in the North eastern region. Two MFPs in North eastern Region are operational at Assam and Mizoram.
Current News National
Nelson Mandela Prize 2020
---
The Nelson Mandela Prize for 2020 was awarded to Ms. Vardinoyannis from Greece and Dr.MorissandaKouyate from Guinea.
The inaugural 2015 Prize was awarded to Dr. Helena Ndume of Namibia and Mr. Jorge Fernando BrancoSampaio of Portugal.
Winners and their Work
Vardinoyannis from Greece, has been involved in the fight against child cancer, medical care of refugee children and other vulnerable social groups, human rights education, and the fight against human trafficking.
MorissandaKouyate from Guinea is a leading advocate on ending violence against women and girls in Africa. He initiated efforts to address violence against women with the African Union Commission, leading to the Maputo Protcol, Africa's regional instrument on ending violence against women. He carried out exceptional efforts in the fight against harmful traditional practices, particularly for the elimination of the Female Genital Mutilations.
About the Award
The United Nations Nelson Mandela Prize was established by the General Assembly to recognize the achievements of those who dedicate their lives to the service of humanity, by promoting the purposes and principles of the United Nations while honouring and paying homage to Nelson Rolihlahla Mandela's extraordinary life and legacy of reconciliation, political transition and social transformation.
It is awarded once every 5 years, commencing in 2015.
Only two laureates (one female and one male) are selected but not from the same geographic region.
The Prize is one of the ways the UN commemorates the life and legacy of Nelson Mandela, the first democratically-elected President of South Africa, and a life-long rights activist who was instrumental in ending the racist apartheid era in the country.
The UN observes Nelson Mandela International Day annually on 18th July.
Current News National
Consumer Protection Act, 2019 Comes Into Force
---
The Consumer Protection Act, 2019 came in to force from 20thJuly 2020.
The new Act will empower consumers and help them in protecting their rights through its various notified Rules and provisions like Consumer Protection Councils, Consumer Disputes Redressal Commissions, Mediation, Product Liability and punishment for manufacture or sale of products containing adulterant / spurious goods. It also brings in regulations towards e-commerce.
The Act includes establishment of the Central Consumer Protection Authority (CCPA) to promote, protect and enforce the rights of consumers.
Salient Features of CP Act 2019
Central Consumer Protection Authority (CCPA): It is empowered to
Conduct investigations into violations of consumer rights and institute Complaints/ Prosecution
Order recall of unsafe goods and services
Order discontinuance of unfair trade practices and misleading advertisements
Impose penalties on manufacturers/endorsers/publishers of misleading advertisements
Product Liability: A manufacturer or product service provider or product seller to be responsible to compensate for injury or damage caused by defective product or deficiency in services. The basis for product liability action includes: manufacturing defect; design defect; deviation from manufacturing specifications; not conforming to express warranty; failing to contain adequate instructions for correct use; service provided-faulty, imperfect or deficient.
Mediation: It is an Alternate Dispute Resolution (ADR) mechanism. There is no provision of appeal against settlement through mediation.
Simplified Dispute Resolution Process: The new Act provides for simplifying the consumer dispute adjudication process in the consumer commissions, which include, among others, empowerment of the State and District Commissions to review their own orders, enabling a consumer to file complaints electronically and file complaints in consumer Commissions that have jurisdiction over the place of his residence, videoconferencing for hearing and deemed admissibility of complaints if the question of admissibility is not decided within the specified period of 21 days.
Penalty for Adulteration of Products/Spurious Goods:The Act provides for punishment by a competent court for manufacture or sale of adulterant/spurious goods. The court may, in case of first conviction, suspend any licence issued to the person for a period of up to two years, and in case of second or subsequent conviction, cancel the licence.
Rules on e-Commerce and Direct Selling: Under this act every e-commerce entity is required to provide information relating to return, refund, exchange, warranty and guarantee, delivery and shipment, modes of payment, grievance redressal mechanism, payment methods, security of payment methods, charge-back options, etc. including country of origin which are necessary for enabling the consumer to make an informed decision at the pre-purchase stage on its platform. E-commerce platforms have to acknowledge the receipt of any consumer complaint within forty-eight hours and redress the complaint within one month from the date of receipt under this Act.
Current News National
India Is A Lower-Middle-Income Economy: A World Bank Classification
---
The World Bank has released its annual classification (for 2020-21) of countries according to their income levels.
Indiaremains in the classification as Lower-Middle-Income Economy.
The World Bank categorises the World's economies into four income groups low, lower-middle, upper-middle and high-income countries.
The classifications are updated each year on July 1 and are based on Gross National Income(GNI) per capita in current USD(using the Atlas method exchange rates) of the previous year.
Current News National Polity & Governance
US-India Strategic Energy Partnership
---
On July, 17, 2020, India and the USA have participated in a virtual ministerial meeting of the US-India Strategic Energy Partnership (SEP) to review progress, highlight major accomplishments, and prioritize new areas for cooperation.
India and the US are leading joint research and development (R&D) through Partnership toAdvance Clean Energy-Research (PACE-R) on smart grids and energy storage to increase resilience and reliability of the electric grid.
Major Outcomes of the Meeting
Enhancing Energy Security
A Memorandum of Understanding (Mou) has been signed to begin cooperation on Strategic Petroleum Reserves operation and maintenance, including exchange of information and best practices.
Harnessing Innovation
A public-private Hydrogen Task Force would be set up to help scale up technologies to produce hydrogen from renewable energy and fossil fuel sources.
They also signed an MOU to collaborate on India's first-ever Solar Decathlon India in 2021, establishing a collegiate competition to prepare the next generation of building professionals to design and build high efficiency buildings powered by renewables.
The two sides jointly launched collaboration between the U.S. DOE National labs and the Indian National Institutes as part of the newly launched South Asia Group for Energy (SAGE).
Modernising the Power System
It has been agreed to modernize the Distribution Sector through various reform measures for achieving reliable quality 24X7 power supply.
This will be achieved through increased private participation; enhancing consumer centricity; deployment of Smart Meters across India; and, establishing Smart Grid Knowledge Centre in India as a "Global Centre of Excellence" for Smart Grids.
The sides agreed to collaborate on advanced high-efficiency coal technologies with low-to-zero emissions through carbon capture, utilization, and storage (CCUS), focusing on USDOE's Coal FIRST (Flexible, Innovative, Resilient, Small, Transformative) initiative to develop 21st Century coal energy systems.
Enhancing Energy Efficiency
The United States and India have been working to enhance building an appliance efficiency through enhanced building codes, design and operation of smart buildings of the future, smart meters and demand side response, as well as retrofit of buildings to improve building performance, promote energy conservation, and improve in-door air quality.
Both sides are also working to enhance energy efficiency in the industrial sector and will work to advance a comprehensive energy management system in accordance with ISO50001.
In response to the COVID-19 pandemic, USAID and Energy Efficiency Services Ltd (EESL) jointly initiated a new activity, "Retrofit of Air Conditioning to Improve Air Quality for Safety and Efficiency" (RAISE) for healthy and energy efficient buildings. The initiative will be scaled in public sector buildings.
Promoting Energy Trade and Investment
The sides noted the significant increase in bilateral hydrocarbon trade since the establishment of SEP and affirmed to promote greater hydrocarbon trade between the two countries.
Through the US-India Natural Gas Task Force,S.and Indian industry forged new commercial partnerships on innovative projects and developed a series of policy and regulatory recommendations to support the Government of India's vision to increase the share of natural gas in India's energy sector.
Commitment to advance civil nuclear cooperation e. recent progress on the Westinghouse (USA's Electric Company) nuclear reactor project at Kovvada, Andhra Pradesh were also discussed.
Promoting Inclusive and Sustainable Economic Growth
USAID and NITI Aayog jointly launched the India Energy Modeling Forum to build a network of modeling community and its linkage with Government for analytical work and policy making exercise.
Empowering Women in the Energy Sector
USAID launched the South Asia Women in Energy (SAWIE) platform focused on the power sector and the sides are working to incorporate gender-focused activities across the technical pillars.
Strategic Energy Partnership (SEP)
Established in April 2018, SEP recognises the strategic importance of energy to the US-India bilateral relationship.
Build upon long-standing energy partnership, SEP sets the stage for meaningful engagements through robust government-to-government cooperation and industry engagement.
Focus Areas
It focuses on 4 pillars of cooperation -
Power and Energy Efficiency
Oil and Gas
Renewable Energy
Sustainable Growth
Through these pillars both countries are working to
strengthen and modernize the power grid and distribution utilities for clean, affordable, and reliable energy access;
improve efficiency, flexibility, and environmental performance in the power sector;
promote inclusive and sustainable economic growth through long-term energy development;
enhance energy security through oil and gas trade, and infrastructure investment;
advance the development, deployment, and integration of renewable energy;
expand access to finance for renewable energy projects; and
reduce market barriers to energy trade and investment.
India Energy Modeling Forum
In the joint working group meeting of the Sustainable Growth Pillar on July 2, 2020, an India Energy Modeling Forum was launched.
Sustainable Growth Pillar is an important pillar of India–US Strategic Energy Partnership co-chaired by NITI Aayog and USAID.
The SG pillar entails energy data management, energy modelling and collaboration on low carbon technologies as three key activities.
Aims and Objectives
Provide a platform to examine important energy and environmental related issues;
Improve cooperation between modelling teams, government, and knowledge partners, funders;
Facilitate exchange of ideas, ensure production of high-quality studies;
Identify knowledge gaps at different levels and across different areas; and
Build capacity of Indian institutions.
Current News National Polity & Governance
Issues Over Delimitation In The Northeast
---
A former legal advisor to the Election Commission (EC) has red-flagged the Centre's order setting up a Delimitation Commission for Arunachal Pradesh, Manipur, Assam and Nagaland, calling it "unconstitutional" and "illegal".
Chronology of Event
The last delimitation exercise, that started in 2002 and ended in 2008, had kept out Arunachal, Assam, Manipur and Nagalanddue to apprehensions over use of the 2001 Census.
The Delimitation Act of 2002 was amended on January 14, 2008, to empower the President to postpone the exercise in these states.
Subsequently, Parliament had decided that instead of creating another Delimitation Commission for the limited purpose of redrawing seat boundaries in the four northeastern states, the exercise there would be carried out by the EC.
Section 8A of the RP Act 1950 was introduced for this purpose.
In February, 2020, government rescinded a 2008 presidential order which had stalled the exercise by the Delimitation Commission in Assam, Nagaland, Arunachal Pradesh and Manipur.
Finally, in March, 2020, the Delimitation Commission headed by former Supreme Court judge RanjanaPrakash Desai was constituted to not only redraw constituencies in proportion to the population in the union territory of Jammu and Kashmir as per the 2011 Census under the J&K Reorganisation Act 2019, but also in these NE states but with 2001 Census data under the Delimitation Act of 2002.
Why the new Delimitation Commission has been called "illegal" and "unconstitutional"?
In 2008, after the President deferred delimitation, the Parliament decided that instead of creating another Delimitation Commission in future for the limited purpose of redrawing seat boundaries in the four northeastern states, the exercise there would be carried out by the EC.
The Representation of the People Act 1950 was amended, and Section 8A was introduced for this purpose.
The Law Ministry's notification of March, 2020, violates the Representation of the People Act, 1950.
Since the RP Act, 1950 clearly states that delimitation in the four northeastern states, when held, would fall within the EC's remit, the Centre should not have notified a separate Delimitation Commission for this purpose.
Hence, any delimitation exercise in these states by the new Delimitation Commission would be declared void by the courts and, subsequently, result in wastage of huge precious public funds.
Will delimitation change the number of seats in these states?
No, there is a freeze until 2026 on the number of LokSabha and Assembly seats in any state.
Delimitation will only redraw the boundaries of seats in each state, and can rework the number of reserved seats for SCs and STs.
However, because of exceptional past circumstances, Jammu & Kashmir's Assembly seats will now increase from 107 to 114, which is expected to increase Jammu region's representation.
Delimitation
It is the act of redrawing boundaries of LokSabha and Assembly seats to represent changes in population.
In this process, the number of seats allocated to a state may also change.
Objective
To provide equal representation for equal population segments.
A fair division of geographical areas, so that no political party has an advantage.
Process of Delimitation
Under Article 82, the Parliament enacts a Delimitation Act after every Census.
Under Article 170, States also get divided into territorial constituencies as per Delimitation Act after every Census.
Once the Act is in force, the Union government sets up a Delimitation Commission.
Past Commissions
The first delimitation exercise was carried out by the President (with the help of the Election Commission) in 1950-51.
The Delimitation Commission Act was enacted in 1952.
Delimitation Commissions have been set up four times — 1952, 1963, 1973 and 2002 under the Acts of 1952, 1962, 1972 and 2002.
There was no delimitation after the 1981 and 1991 Censuses.
Delimitation Commission
The Delimitation Commission is appointed by the President of India and works in collaboration with the Election Commission of India.
Composition
Retired Supreme Court judge, Chief Election Commissioner, Respective State Election Commissioners.
Functions
To determine the number and boundaries of constituencies to make population of all constituencies nearly equal.
To identify seats reserved for Scheduled Castes and Scheduled Tribes, wherever their population is relatively large.
Current News National
1st Woman PM Of Gabon
---
Rose Christiane OssoukaRaponda has been appointed as the first woman prime minister of Gabon. She succeeded Julien NkogheBekale.
Prior to holding this position, OssoukaRaponda served as Defence Minister since February 2019.
Current News National
Para-Badminton Player Ramesh TikaramPassed Away
---
Ramesh Tikaram, who is India's first para-badminton player to be honoured with the Arjuna award, died after battling with COVID-19.
Current News National
Noted Mathematician C. S. Seshadri Passed Away
---
S. Seshadri was an eminent Indian mathematician. He was the founder and Director-Emeritus of the Chennai Mathematical Institute and is known for his work in algebraic geometry. The Seshadri constant is named after him.
He was a recipient of the PadmBhushan in 2009, the third highest civilian honor in the country. Other major awards bestowed upon him are Shanti Swarup Bhatnagar Award, Srinivasa Ramanujan Medal, etc.
Current News National
Pak-China Agreement On Azad Pattan Hydel Project
---
Pakistan and China have signed an agreement for the 700 MW Azad Pattan hydel power project on the Jhelum River in Sudhnoti district of Pakistan occupied Kashmir (PoK).
The Azad Pattan project is one of five hydropower schemes on the Jhelum, the other four are Mahl, Kohala, Chakothi Hattian and Karot projects.
Azad Pattan, Kohala and Karot are being developed under the China Pakistan Economic Corridor (CPEC) framework.
India has protested the construction of dams and other infrastructure in PoK and Gilgit Baltistan, which are territories claimed by it as part of Jammu & Kashmir like the Diamer-Bhasha dam (on Indus river) in the Gilgit-Baltistan region of the PoK.
Current News National
Asteroid 2020ND
---
A gigantic and 'potentially hazardous' asteroid named as Asteroid 2020ND, measuring 170 metres will make a close approach to our planet.
The asteroid will come within just 0.034 astronomical units (AU) of the Earth on July 24.
An astronomical unit is equal to about 150 million kilometres or roughly the distance from the Earth to the Sun.
Potentially Hazardous Asteroids (PHAs) are currently defined based on parameters that measure the asteroid's potential to make threatening close approaches to the Earth. Specifically, all asteroids with a minimum orbit intersection distance (MOID) of 0.05 au or less and an absolute magnitude (H) of 22.0 or less are considered PHAs.
Current News National Social Issue & Social Justice
PRAGYATA Guidelines On Digital Education
---
On 14th July, 2020, the Ministry of Human Resource Development (MHRD) released guidelines on digital education titled 'PRAGYATA'.
The guidelines have been prepared by the National Council of Educational Research and Training (NCERT).
Meant for faculty and students, the guidelines include eight steps of online/digital learning i.e. Plan- Review- Arrange- Guide- Yak (talk)- Assign- Track- Appreciate.
These steps guide the planning and implementation of digital education step by step with examples.
Need for Such Guidelines
The ongoing COVID-19 pandemic has led to closure of schools and has impacted over 240 million children of the country who are enrolled in schools.
Further, extended school closures may cause loss of learning.
So in order to mitigate the impact of the pandemic, schools will not only have to remodel and reimagine the way teaching and learning, but will also need to introduce a suitable method of delivering quality education through a healthy mix of schooling at home and schooling at school.
Key Points
Priority Areas for Suggestions
The guidelines outlines suggestions for administrators, school heads, teachers, parents and students on the following areas:
Need assessment
Concerns while planning online and digital education like duration, screen time, inclusiveness, balanced online and offline activities etc level wise
Modalities of intervention including resource curation, level wise delivery etc.
Physical, mental health and wellbeing during digital education
Cyber safety and ethical practices including precautions and measures for maintaining cyber safety
Collaboration and convergence with various initiatives
Digital Access
Over 25 crore students across the country have been out of school since mid-March. The guidelines acknowledge that these students live in households which fall into different categories:
Those who have computers or smartphones with 4G internet access.
Those with smartphones but limited or no internet access.
Those with television with cable or DTH.
Those with a radio set or a basic mobile phone with FM radio.
And those with no communication devices at all.
Recommended Screen Time
For classes 1 to 8, it has recommended two online sessions of up to 45 minutes each while for classes 9 to 12, four sessions of 30-45 minutes duration have been recommended.
Survey Advised
It advises schools to first survey their own students before making decisions about the mode of teaching.
Synchronous & Asynchronous Teaching
There are two kinds of online learning and teaching that schools will need to balance based on the feasibility:
Synchronous: This is real-time teaching and learning that can happen collaboratively and at the same time with a group of online learners or even individually, and usually a teacher, or some method of instant feedback; examples are online teaching through video conference ,audio conference using satellite or telecommunication
Asynchronous: This is anytime, anywhere learning but not connected on real time, for example, emails, SMS, MMS, surfing e-content on DIKSHA, listening to radio, podcasts, watching TV channels, etc.
Cyber Safety and Privacy Measures
It recommends ethical practices including precautions and measures for maintaining cyber safety.
Physical Health and Mental Wellness
Adequate physical and mental health practices need to be adopted while pursuing digital education. Poor ergonomic practices, prolonged exposure to digital devices and lack of physical activities can have a negative impact on the physical and mental wellbeing of a person.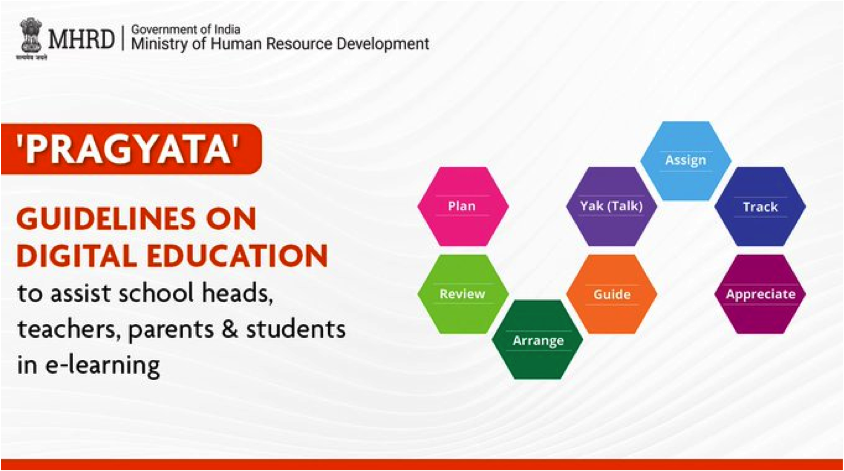 Significance
These guidelines on Digital/ Online Education provide a roadmap or pointers for carrying forward online education to enhance the quality of education.
The Guidelines emphasize the need to unify all efforts related to digital/ online/on-air education, benefitting school going children across the country.
This will help students, teachers, parents, heads and other stakeholders to learn online safety practices and provide a safe and secure digital learning environment.
National Initiatives for Digital Education and Teacher Preparation
PM e-Vidya Program
It was launched on 17th May, 2020. As a comprehensive initiative, PM eVIDYA envisions to unify all efforts related to digital/ online/on-air education, benefitting nearly 25 crore school going children across the country. The initiative includes:
DIKSHA- One Nation One Digital Platform
DIKSHA, a globally unique, made in India initiative for effective teaching and administration has increased its footprints manifold since the time of its inception. The primary audience of DIKSHA is students, teachers and parent communities due to the ability of DIKSHA to break the barrier of access and provide contextualized content in 18 languages.
TV Channels- SWAYAM PRABHA
SWAYAM PRABHA is a group of 32 DTH channels devoted to telecasting high quality educational programmes.
The programmes cover school education across grades providing modules for teacher's training as well as teaching and learning aids for children of India through 4 channels to help them understand the subjects better and help them in preparing for competitive examinations for admissions to professional degree programmes.
It focuses on providing one channel per grade with a sample weekly schedule to help teachers and students understand the modules to be emphasized upon during the week.
Radio and Community Radio
Mukt Vidya Vani (MVV) i.e. Open Education Radio facility will provision educational and informational content for better learning. The web radio will ensure learners with a stream of audio that can be paused/replayed.
Radio Vahini FM 91.2 MHz, the Community Radio Station of NIOS is a means of extending education to school dropouts, learners enrolled through ODL, urban women and to marginalized sections of the society with access to radio.
CBSE Podcasts: Shiksha Vaani is an audio-based learning initiative of CBSE and is available via Android App store. The podcasts cover various subjects of secondary and senior secondary level and are available in English and Hindi.
Special eContent for Visually and Hearing Impaired
NIOS offers content for specially abled students such as content in Indian sign language for hearing impaired learners and ePub and DAISY enabled 'talking books' for visually impaired learners.
Online Coaching
The Department of Higher Education has provisioned for online learning for preparation of competitive examinations to bridge the divide among the students due to private coaching.
Current News National
India Registers A Steep Decline In MMR
---
The Maternal Mortality Ratio (MMR) in India has declined to 113 in 2016-18 from 122 in 2015-17 and 130 in 2014-2016, according to the special bulletin on Maternal Mortality in India 2016-18, released by the Office of the Registrar General's Sample Registration System (SRS).
At 215, Assam has the highest MMR in the country.Kerala tops the ranking with the lowest MMR — 43 per one lakh live births. Maharashtra is placed second with a ratio of 46 per one lakh live births.
The MMR of various States according to the bulletin includes Assam (215), Bihar (149), Madhya Pradesh (173), Chhattisgarh (159), Odisha (150), Rajasthan (164), Uttar Pradesh (197) and Uttarakhand (99). The southern States registered a lower MMR — Andhra Pradesh (65), Telangana (63), Karnataka (92), Kerala (43) and Tamil Nadu (60).
Maternal Mortality
Maternal mortality in a region is a measure of reproductive health of women in the area. Many women in reproductive age-span die due to complications during and following pregnancy and childbirth or abortion.
As per World Health Organization, "Maternal death is the death of a woman while pregnant or within 42 days of termination of pregnancy, irrespective of the duration and site of the pregnancy, from any cause related to or aggravated by the pregnancy or its management but not from accidental or incidental causes".
One of the key indicators of maternal mortality is the Maternal Mortality Ratio (MMR) which is defined as the number of maternal deaths during a given time period per 100,000 live births during the same time period.
The target 3.1 of Sustainable Development Goals (SDG) set by United Nations aims at reducing the global maternal mortality ratio to less than 70 per 100,000 live births.
Current News National
Multidimensional Poverty Index 2020
---
The 2020 Global Multidimensional Poverty Index (MPI) data and publication "Charting pathways out of multidimensional poverty: Achieving the SDGs" released on 16 July 2020 by the Oxford Poverty and Human Development Initiative (OPHI) and the Human Development Report Office of the United Nations Development Programme (UNDP).
Multidimensional poverty encompasses the various deprivations experienced by poor people in their daily lives – such as poor health, lack of education, inadequate living standards, poor quality of work, the threat of violence, and living in areas that are environmentally hazardous, among others.
Key Findings
65 countries reduced their Multidimensional Poverty Index (MPI) value significantly in absolute terms. Those countries are home to 96 per cent of the population of the 75 countries studied for poverty trends.
Sierra Leone made the fastest progress in reducing their global MPI value.
India saw the most people moving out of multidimensional poverty – some 273 million people between 2005/6 and 2015/16.
Four countries — India, Armenia, Nicaragua and North Macedonia — have reduced their MPI by half or more in 5.5 to 10.5 years.
Three South Asian nations — India, Bangladesh and Nepal — were among the 16 fastest countries to reduce their MPI value.
Children show higher rates of multidimensional poverty: half of multidimensionally poor people (644 million) are children under the age of 18. One in three children is poor compared with one in six adults.
There is a negative, moderate but statistically significant correlation between the incidence of multidimensional poverty and the coverage of three doses of the diphtheria, tetanus and pertussis (DTP3) vaccine.
Current News National
PM Modi Delivers Keynote Address At ECOSOC
---
PM Narendra Modi virtually addressed the session of Economic and Social Council (ECOSOC) on 17th July on the occasion of 75th anniversary of the United Nations.
The theme of this year's high-level segment was 'Multilateralism after Covid19: What kind of UN do we need at the 75th anniversary'.
ECOSOC's inaugural presidency in 1946 was held by Sir RamaswamiMudaliar of India.
ECOSOC
The UN Charter established ECOSOC in 1945 as one of the six main organs of the United Nations.
The Economic and Social Council (ECOSOC), headquartered at New York, New York, United States is at the heart of the United Nations system to advance the three dimensions of sustainable development – economic, social and environmental.
It is the central platform for fostering debate and innovative thinking, forging consensus on ways forward, and coordinating efforts to achieve internationally agreed goals. It is also responsible for the follow-up to major UN conferences and summits.
Current News National
Vallarpadam Terminal To Be A Transshipment Hub
---
The central government is resolving various issues at the Vallarpadam Container Terminal to actualize the vision to make it atransshipment hub of India and a pioneer hub in South Asia.
Transshipment hub is the terminal at the port which handles containers, stores them temporarily and transfers them to other ships heading to onward destinations.
The Kochi International Container Transshipment Terminal (ICTT), locally known as the Vallarpadam Terminal, is located strategically on the Indian coastline. It successfully fulfills all the criteria which are needed to develop it as a transshipment hub.
Current News National
India's 1st Homemade Pneumonia Vaccine
---
The Drug Controller General of India (DCGI) has given its nod of approval for India's first indigenously developed vaccine against pneumonia. The vaccine has been developed and manufactured by the Serum Institute of India, Pune.
The Pneumococcal Polysaccharide Conjugate Vaccine (PPSV23) offers protection against 23 types of pneumonia-causing bacteria, which cause a range of infections including meningitis, bacteremia, pneumonia and blood infections.
Serum Institute conducted Phase I, Phase II and Phase III clinical trials of the Pneumococcal Polysaccharide Conjugate Vaccine in India and was successful. They also undertook clinical trials in the West African nation of The Gambia.
Current News National
CSL To Construct World's 1st Fully Automatic Electric Ferries
---
India's largest commercial shipbuilder Cochin Shipyard Ltd (CSL) has signed a contract to build the world's first fully automatic electric vessel for ASKO Maritime, Norway.
CSL will construct and supply two autonomous electric ferries to ASKO Maritime, with an option to build two more identical vessels.
The project, partially funded by the Norwegian Government, aimed at emission-free transport of goods across the Oslo fjord, inlet in Norway.
This Autonomous Electrical vessel project is an ambitious project in Norway partially funded by the Norwegian Government aimed at emission-free transport of goods across the Oslo fjord.
Once in operation, this vessel will create a new bench mark for the merchant shipping world in the field of Autonomous Vessels with Zero Carbon Emission.
Current News National
Maharashtra's First Woman Election Commissioner Passed Away
---
Former Indian Administrative Service officer and Maharashtra's first woman election commissioner NeelaSatyanarayan died of the coronavirus in Mumbai.
In 2009, Satyanarayan became the election commissioner of Maharashtra following a stint as the additional chief secretary of revenue.
Current News National
"CybHer" Campaign
---
The Women Safety Wing, Telangana State Police has launched a month long virtual "CybHer" campaign in association with the Legal Aid Centre and Symbiosis Law School, Hyderabad to tackle cybercrime against children and women in the state.
"CybHer" campaign will create awareness and offer proactive measures to help them stay alert and not become a victim of cyberattacks. It will focus on incidents of paedophile activity, sexual harassment of minors and young adults under the likeness of education activity online, malware and data theft of personal information.
Current News National
India & Bhutan Open New Trade Route
---
India and Bhutan opened a new trade route between Jaigaon in West Bengal and Ahlay, Pasakha in Bhutan to establish easy connectivity and to increase trade between India and Bhutan.
The new route for Pasakha Industrial Estate in Bhutan will decongest vehicular traffic along the Jaigaon-Phuentsholing route and boost bilateral trade & commerce. It is especially beneficial for the movement of heavy vehicles like trucks and industrial raw materials from India into Bhutan.
Current News Indian Economy Infrastructure
India Energy Modeling Forum
---
Recently, in the joint working group meeting of the Sustainable Growth Pillar, an India Energy Modeling Forum(IEMF) was launched.
Background
In March, 2019, the NITI Aayog and the United States Agency for International Development (USAID) organized the first workshop on development of the IEMF.
It has been envisaged as a pan-stakeholder platform for debating ideas, scenario-planning & discussing the India's energy future.
Sustainable Growth Pillar is an important pillar of India–US Strategic Energy Partnership co-chaired by NITI Aayog and USAID.
The SG pillar entails energy data management, energy modelling and collaboration on low carbon technologies as three key activities.
About IEMF
Aim
Provide a platform to examine important energy and environmental related issues;
Inform decision-making process to the Indian government;
Improve cooperation between modelling teams, government, and knowledge partners, funders;
Facilitate exchange of ideas, ensure production of high-quality studies;
Identify knowledge gaps at different levels and across different areas;
Build capacity of Indian institutions.
Composition
The forum would include knowledge partners, data agencies and concerned government ministries.
Coordination
NITI Aayog will initially coordinate the activities of the forum and finalizing its governing structure.
Significance
Energy modelling can play an important role in decision-making.
It particularly laid focus on bridging the rural-urban divide and factoring in energy pressures from the informal economy within models.
Energy Modelling Forum (EMF)
It was established at Stanford University (US) in 1976 to bring together leading experts and decisionmakers from government, industry, universities, and other research organizations to study important energy and environmental issues.
It seeks to improve the use of energy and environmental policy models for making important corporate and government decisions.
Guiding Goals: Three major goals guide this effort:
Harness the collective capabilities of multiple models to improve the understanding of important energy and associated environmental problems,
Explain the strengths and limitations of competing approaches to the problem, and
Provide guidance for future research efforts.
Energy Modeling
Energy modeling is a pre-construction, whole-building assessment of energy efficiency that uses computer programs for calculations.
A model of the entire building is created on a com That model is then run through computer simulations to show energy performance, usually for an entire year based on meteorological information.
Energy modeling accounts for all systems within a building and examines how they impact each other.
For instance, while a certain lighting system may be extremely bright, it may release excessive heat that the building's cooling system must offset in the summer months.
Beneficiaries
Building Owners: Energy modeling helps them maximize investment before construction.
Building Occupants: Energy modeling helps keep tenants comfortable throughout the year, while also cutting down on their energy bill costs.
Engineers: Energy modeling allows engineers to see important data all in one place, without referring to dozens of enormous, unwieldy spreadsheets.
Manufacturers: Those who create construction materials love energy modeling because it allows them to showcase their products' energy efficiency and long-term cost savings prior to construction.
Environment: Buildings hog a large portion of our energy expenditure. If every new building was optimized for energy efficiency with energy modeling, we could significantly cut our energy usage and carbon footprint.
Current News Indian Economy Infrastructure
Rewa Solar Project
---
Recently, the government inaugurated the 750 MW solar project in the Gurh tehsil of Rewa district , Madhya Pradesh.
It is Asia's largest solar power project.
The project has also received the World Bank Group President's Award for innovation and excellence and was included in the book 'A Book of Innovation: New Beginnings'.
About Rewa Solar Project
It comprises three solar generating units of 250 MW each located on a 500 hectare of land situated inside a solar park (total area 1500 hectare).
It was developed by the Rewa Ultra Mega Solar Limited (RUMSL), a Joint Venture Company of Madhya Pradesh UrjaVikas Nigam Limited (MPUVN), and Solar Energy Corporation of India (SECI), a Central Public Sector Undertaking.
This is the country's first solar project to receive funding from World Bank under its Clean Technology Fund (CTF).
Significance
Grid Parity Barrier: It is the first solar project in the country to break the grid parity barrier.
Payment Risk Reduction: Its payment security mechanism for reducing risks to power developers has been recommended as a model to other states by the Ministry of New and Renewable Energy.
Supplying Power to Institutional Customer: It is the first renewable energy project to supply an institutional customer outside the state, i.e. Delhi Metro, which will get 24% of energy from the project with the remaining 76% being supplied to the state DISCOMs of Madhya Pradesh.
Carbon Emission Reduction: In terms of environmental impact, the project would avoid 15 lakh tonnes of carbon dioxide emissions every year.
Achieving 100 GW Solar Capacity: The project also exemplifies India's commitment to attain the target of 175 GW of installed renewable energy capacity by the year 2022, including 100 GW of Solar installed capacity.
Current News National
Kris Gopalakrishnan Committee On Non-personal Data
---
A government committee headed by Infosys co-founder Kris Gopalakrishnan has suggested that non-personal data generated in the country be allowed to be harnessed by various domestic companies and entities. The nine-member committee, while releasing the draft report, has kept time till August 13 for the public to send suggestions.
It has also suggested setting up of a new authority which would be empowered to monitor the use and mining of such non-personal data.
What is non-personal data?
In its most basic form, non-personal data is any set of data which does not contain personally identifiable information. This in essence means that no individual or living person can be identified by looking at such data.
The government committee, which submitted its report has classified non-personal data into three main categories:
Public Non-Personal Data: All the data collected by government and its agencies such as census, data collected by municipal corporations on the total tax receipts in a particular period or any information collected during execution of all publicly funded works has been kept under the umbrella of public non-personal data.
Community Non-Personal Data:Any data identifiers about a set of people who have either the same geographic location, religion, job, or other common social interests will form the community non-personal data. For example, the metadata collected by ride-hailing apps, telecom companies, electricity distribution companies among others have been put under the community non-personal data category by the committee.
Private Non-Personal Data: It can be defined as those which are produced by individuals which can be derived from application of proprietary software or knowledge.
Current News National
India's 1st Cable-stayed Rail Bridge
---
The AnjiKhad Bridge (under construction) is India's first cable-stayed Rail Bridge connecting Katra and Reasi Section of Jammu–Baramulla line over Chenab River.
The bridge is a part of the Udhampur-Srinagar-Baramulla Rail Link (USBRL) project, which passes through the Young Himalayas.
Earlier, an arch bridge similar to the Chenab Bridge was proposed. Due to concerns regarding the geological stability of the region, the plan was abandoned.
It is being developed by Konkan Railway Corporation Limited (KRCL), a Government of India undertaking.
Current News International
World Population To Shrink: Lancet Study
---
A new analysis published in The Lancet has projected that the world population will peak much earlier than previously estimated. It projects the peak at 9.73 billion in 2064, which is 36 years earlier than the 11 billion peak projected for 2100 by last year's UN report World Population Prospects. For 2100, the new report projects a decline to 8.79 billion from the 2064 peak.
For India, the report projects a peak population of 1.6 billion in 2048, up from 1.38 billion in 2017. By 2100, the population is projected to decline by 32% to 1.09 billion.
Reasons for Fall
The sharper fall is due to the assumption that all women globally will have much higher access to contraception and education. This scenario will lead to a sharper reduction in the Total Fertility Rate, a metric that shows on average how many children a woman must have to keep replenishing the population. A TFR is lower than 2.1 leads to a decline in a country's population.
Challenges
There is a huge challenge to the economic growth due to a shrinking workforce, the high burden on health and social support systems of an ageing population.
Huge shifts in the global age structure, with an estimated 2.37 billion individuals over 65 years globally in 2100, compared with 1.7 billion under 20 years, underscoring the need for liberal immigration policies in countries with significantly declining working age populations.
Possible Solutions
Incentives to increase TFR, and using artificial intelligence as a path towards self-sufficiency.
Wealthy countries could counteract the impact of these changes through net migration of working-age adults from the countries with growing populations.
Current News Ecology & Environment
Forecasting Climatic Changes Through Magnetic Minerology
---
Scientists from the Indian Institute of Geomagnetism (IIG) have tracked Climate change by following the Paleomonsoonal pattern of the subcontinent by harnessing magnetic mineralogy, a technique that is faster and more accurate than existing methods.
The mineral magnetic studies have unraveled 4 regional climatic features encompassing the entire Indian subcontinent and 1 localized climatic event:

Higher monsoon precipitation in the western part of India was shown to be analogous with glacial melt in the Himalayas.
Weakening of monsoon was inferred in the Himalayas, and the hinterland of Arabian Sea analogically cold, and dry conditions were prevalent at Dhakuri, which led to the formation of loess deposits.
Monsoon intensification is deciphered in the western and eastern part of India with major implications in the hinterlands of the Arabian Sea and Bay of Bengal.
Holocene aridity and weakened monsoon was inferred to be prevalent across the subcontinent.
Localized feature of Younger Dryas cooling seems to be confined to just the upper reaches of the Himalaya.
Current News Ecology & Environment
Poba Reserve Forest To Become A Wildlife Sanctuary
---
The Govt. of Assam has announced the upgradation of Poba Reserve Forest, a vital biodiversity hotspot in Dhemaji district, as a wildlife sanctuary.
The terms 'Reserved Forests'&'Protected Forests' were introduced in India through Indian Forest Act, 1927 .
In reserved forests the activities like grazing, haunting etc. are generally banned unless permission is granted for a particular reason. But in case of protected forests, mostly all these activities are allowed unless banned specifically.
As per IFA 1927, any forest land or wasteland that is Govt. Property & hasn't been specified as reserved forest, can be declared as Protected Forest as per provisions of chapter(IV) under IFA, 1927.
The state govt. has the power to declare any Protected Forest to be Reserved Forests onwards (means state govt. is entitled with the power to do conversion as per provisions) by the official notification in Gazette.
Protected Forests are often upgraded to the status of Wildlife Sanctuaries & then to National Parks with increase in govt. funding and protection with each higher category.
News Crux Appointment & Resignation
Election Commissioner Ashok Lavasa
---
Election Commissioner Ashok Lavasa, who was next in the line to head the poll panel, has been appointed as vice president for Private Sector Operations and Public-Private Partnerships at the Asian Development Bank.
Lavasa would be only the second election commissioner to step down from the poll panel before completion of his term. The last time an election commissioner put in his papers was in 1973 when chief election commissioner Nagendra Singh was appointed a judge in the International Court of Justice at The Hague.
Lavasa succeeds Diwakar Gupta whose term ends on August 31.
Lavasa, would be in line to be appointed as the chief election commissioner when Sunil Arora completes his term if the government sticks to the tradition of appointing the senior-most commissioner to the top post. There is, however, no rule that requires the President to stick to this convention.
News Crux Appointment & Resignation
Chandrikapersad 'Chan' Santokhi
---
Indian-origin, Chandrikapersad 'Chan' Santokhi has been elected the president of South American country "Suriname". He will succeed Desi Bouterse, a former military strongman.
Suriname is a former Dutch colony where people of Indian descent make up the largest ethnic group comprising 27.4 per cent of the population.
News Crux Obituary
Suresh Amonkar Has Passed Away At 68
---
Former Goa health minister, Suresh Amonkar has passed away at 68 due to COVID-19 infection.
Current News National Polity & Governance
Gopalakrishnan Committee On Non-Personal Data Governance Framework
---
On 12th July, 2020, Kris Gopalakrishnan committee on Non-Personal Data Governance framework (NPD Committee) submitted its report to the government.
Background
The Committee was constituted by the Ministry of Electronics and Information Technology (MeitY) on 13th September, 2019 under the Chairmanship of Kris Gopalakrishnan (Co-Founder, Infosys).
It was formed based on the recommendations of the Justice BN Srikrishna committee on protection of personal data (PDP).
Need for a Governance Framework
The NPD committee noted that India is a large data market due to second highest population, with the second highest number of smartphone users and increasing internet penetration levels.
Some companies with the largest data pools have 'outsized, unbeatable techno-economic advantages' owing to first mover's advantage, network effects and enormous data volumes which have been collected over years. These act as entry barriers for startups and new companies.
Therefore, the NPD committee felt that the possibility of data monopolies resulting in power imbalance between few companies having access to large datasets accumulated in an unregulated environment on one side and Indian citizens, MSMEs and startups and Indian government on the other should not be risked.
Key Recommendations
Definition of NPD
NPD is defined as 'data that is not personal data, or when it is without any personally identifiable information'. Three categories of NPD have been recommended:
Public NPD: Data collected or generated by any government agency, and includes data collected during execution of all publicly funded works.
Private NPD: NPD collected by entities/persons other than governments through assets and processes privately owned by the entity/person. It includes derived/observed data collected through private effort, such as through use of algorithms or proprietary knowledge.
Community NPD: Data that pertains to a community of natural persons. It can include NPD about animate and inanimate things or phenomena. Such data shall not include private NPD. Examples cited include data collected by municipal corporations and public electric utilities. It also includes user information collected by telecom companies, e-commerce players, and ride-hailing platforms.
Sensitive NPD
It has recommended classification of NPD into general NPD, sensitive NPD and critical NPD- just like the classification of personal data under the PDP Bill.
The classification of NPD will be on the basis of the category of the underlying PD under the PDP Bill.
For example, all health-related NPD will be classified as sensitive NPD, as health data qualifies as SPD under the PDP Bill.
Consent Requirement
At the time of collecting the data principal's PD, the entity must take the data principal's consent for- (a) anonymising the data principal's data, and (b) for usage of anonymised data.
Different roles in the NPD ecosystem
The following different roles have been proposed in the NPD ecosystem-
Data principal: This is essentially the entity/individual to whom the collected data pertains. It will vary depending on the category of NPD. For example, in case of census data, the citizens will be the data principal. In case of vendor registration or vendor product information, the vendor will be the data principal.
Data custodian: The entity that undertakes collection, storage and processing of data, keeping in mind best interest of the data principal. It has a 'duty of care' to the concerned community to which the NPD pertains; this 'duty of care' will be defined through a defined set of obligations.
Data trustee: The data principal or community will exercise its rights through a data trustee. The NPD legislative framework will provide guidelines for who can act as an appropriate data trustee for a group/community. For a lot of community data, the corresponding govt. entity or community body may act as a data trustee.
Ownership of data
The committee adopted the notion of 'beneficial ownership/interest' of data, as many actors may have simultaneous ownership rights and privileges to data, due to the non-rivalrous nature of data.
Public NPD will be treated as a 'national resource'.
Introducing a new category of 'data businesses'
Entities involved in data collection or processing will be classified as 'data businesses' based on a certain threshold of data collected/processed.
If the data collection exceeds a certain threshold, the 'data business' entity will have to submit meta-data about data user and community from which data is collected, with details such as classification, closest schema, volume etc.
Sharing of NPD
There are various grounds specified for sharing of data, including national security, law enforcement, community use, policy development and better delivery of public services.
India should specify a new class of 'high value' or 'special public interest' datasets, which can include health, geospatial and transportation data.
NPD Regulatory Authority
The Authority will have the power to address market failures in terms of lack of information about the quantum and nature of actual NPD assets held by an entity, or harms arising from processing activities, including re-identification or discrimination.
It will also ensure a 'level playing field' with fair and effective competition in digital and data markets.
Suggestions Ensuring Compliance with Data Sharing
The report suggests various 'checks and balances' for ensuring compliance with data sharing and other requirements.
Other than the local storage requirements based on sensitivity of NPD, the report provides for an 'expert probing' measure.
The report also suggests that 'data spaces' can be created to promote intensive data-based research by various stakeholders.
It suggests setting up 'data and cloud innovation labs and research centres', which will act as physical environments/field validation centres where organizations will test and implement digital solutions.
The committee has also suggested an illustrative three-tiered system architecture covering safeguards, technology and compliance to enable data sharing. This includes the suggestion of a 'Policy Switch', which would enable a single digital clearing house for regulatory management of NPD.
Significance
The meta-data sharing by Data Business will spur innovation at an unprecedented scale in the country.
One of the associated key objectives is to promote and encourage the development of domestic industry and startups that can scale their data-based businesses.
The report suggests a data-sharing regulation to shift data's "economic benefits for citizens and communities in India" as well as help the government in policy making and service delivery.
The recommendations, if implemented, will help businesses create value of their data having an economic good, not just information.
The regulation of NPD will ensure: (a) provision of certainty for existing businesses; (b) creation incentives for new businesses; and (c) release of enormous untapped social and public value from data.
BN Srikrishna Committee on Protection of Personal Data
The Committee was constituted by the union government in July 2017, to deliberate on a data protection framework.
The Committee has submitted its Report and a draft Personal Data Protection Bill in July, 2018.
The Committee had examined a wide gamut of issues in relation to protection of personal data which found reflection in the draft Personal Data Protection Bill.
It also took cognizance of community data as relating to a group dimension of privacy and an extension of data protection framework.
It also felt that all such community data is relevant for understanding public behaviour, preferences and making decisions for the benefit of the community.
Current News National
Draft Transgender Persons (Protection Of Rights) Rules, 2020
---
The Ministry of Social Justice and Empowerment has come out with the draft Transgender Persons (Protection of Rights) Rules, 2020, and sought "objections and suggestions" within a 30-day period before the official gazetted notification.
The Transgender Persons (Protection of Rights) Act, 2019, was passed last year in Parliament amid criticism from transgender rights activists and protests by the LGBTQ community.
Major Points of the Draft Rules
After facing flak from the transgender community, the Centre has done away with the requirement of a medical examination for trans-persons applying for a certificate of identity. A District Magistrate would issue a transgender identity certificate and card based on an affidavit by the applicant, "but without any medical examination".
All educational institutions are to have a committee which transgender persons can approach in case of any harassment or discrimination.
The "appropriate government" is also required to take adequate steps to "prohibit discrimination in any government or private organisation or establishment, including in the areas of education, employment, healthcare, public transportation, participation in public life, sports, leisure and recreation and opportunity to hold public or private office," as per the rules.
States will be responsible for "timely prosecution of individuals" charged under Section 18 of the Act which proscribes offences against the transgender community and penalties therein. The offences would be punishable with imprisonment for six months upto two years, with a fine.
State governments will have to set up a Transgender Protection Cell under the District Magistrate and DGP to monitor cases of offences against transgender persons and implement Section 18.
State governments and UTs are to review all existing educational, social security, health schemes, welfare measures, vocational training, and self-employment schemes to include transgender persons to facilitate their access to government welfare measures.
The Rules also make it mandatory for all establishments, public and private, to have equal opportunity policies which include transgender persons and provide for facilities on their premises such as unisex toilets and equal opportunity for employment to transgender persons.
Current News National
Covid 19: TN Govt. To Undertake BCG Trial
---
The Tamil Nadu Government has approved the trial of BCG vaccines in elderly persons to study its impact in reducing the intensity of Covid-19.
The study will be coordinated by the Chennai based National Institute of Research in Tuberculosis.
BCG vaccine is originally intended for infants. It is aimed at removing the bacteria that causes tuberculosis. However, there is a growing belief that it may be useful in the fight against the virus SARSCoV2 also that causes Covid19.
Tentative results of a few preliminary studies show that countries administering the vaccine to their children have a comparative advantage over the others in tackling the Covid-19 pandemic. Therefore, the Indian Council for Medical Research ICMR asked the Tamil Nadu Government to approve launching such a study.
Current News National
"#Reimagine Campaign"
---
The United Nations Children's Fund (UNICEF) India joined hands with Federation of Indian Chambers of Commerce and Industry's (FICCI) Socio Economic Development Foundation (SEDF) to initiate UNICEF's "#Reimagine Campaign" for the support of most vulnerable populations and children during the ongoing COVID-19 response and its aftermath in India.

Current News International
US Bill On China's Oppressive Law Against Hong Kong
---
US President Donald Trump has signed a bill to impose sanctions on Chinese officials implementing oppressive law against Hong Kong.
The US law gives his administration powerful new tools to hold responsible the individuals and the entities involved in extinguishing Hong Kong's freedom.
Mr Trump has also signed an order to end preferential treatment for Hong Kong.
Hong Kong will now be treated the same as mainland China and there will be no preferential trade treatment Hong Kong has received for years.
China had recently imposed a new security law to bring an end to Hong Kong's special status, agreed under a 1984 pact between China and the UK. The former British colony was returned to Chinese rule in 1997 with a law protecting freedoms of speech, assembly and the press until 2047.
Current News Indian Economy Banking & Finance
15th India-EU Summit
---
The 15th India-European Union Summit was held virtually.
It was co-chaired by Prime Minister Narendra Modi, President of European Council Charles Michel and President of European Commission Ursula von der Leyen.
India and the European Union signed a civil nuclear agreement before the India-EU virtual summit.
Though India-EU summits discuss several topics, the major thrust has been working on a Broad-based Trade and Investment Agreement (BTIA) since 2007, but India's trade regime and regulatory environment remains comparatively restrictive that is why after several rounds of negotiations still there is no consensus on Free Trade Agreement.
Differences related to matters such as the level of FDI & market access, manufacture of generic drugs, greenhouse gas emissions, civil nuclear energy, farming subsidies, regulation & safeguards of the financial sector, cooperation on tax evasion, overseas financing of NGOs in India, trade controls, technology transfer restrictions and cooperation on embargoes (Russia) are the hurdles.
India-EU Economic Relations
The EU is India's largest trading partner, whilst India is the EU's 9th largest partner. The EU is the second-largest destination for Indian exports after the USA.
The EU's share in foreign investment inflows to India has more than doubled from 8% to 18% in the last decade, making the EU the first foreign investor in India. The EU's foreign direct investment stocks in India is also significant but way below to EU foreign investment stocks in China (€175 billion) or Brazil (€312 billion).
Some 6,000 European companies are present in India, providing directly 1.7 million jobs and indirectly 5 million jobs in a broad range of sectors. Indian companies invested over €50 billion in Europe since 2000.
Current News Indian Economy
State Of Food Security And Nutrition In The World 2020
---
The State of Food Security and Nutrition in the World 2020 (SOFI 2020) report presents the most recent and authoritative estimates of the extent of hunger, food insecurity and malnutrition around the world.
This year, the report includes a special focus on transforming food systems for affordable healthy diets.
The report has been brought out by five UN agencies- Food and Agriculture Organization (FAO), International Fund for Agricultural Development (IFAD), United Nations Children's Fund (UNICEF), World Food Programme (WFP), and the World Health Organization WHO).
Findings
Nearly 690 million people, or 8.9% of the world's population, went hungry in 2019, an increase of 10 million since 2018 and of nearly 60 million since 2014.
The hungry are most numerous in Asia, but expanding fastest in Africa.
Across the planet, the report forecasts, that the COVID-19 pandemic could push over 130 million more people into chronic hunger by the end of 2020.
In percentage terms, Africa is the hardest hit region and becoming more so, with 19.1 % of its people undernourished. At the current trends, by 2030, Africa will be home to more than half of the World's chronically hungry.
The Report on India
Undernourished Population: The number of undernourished people in India has declined by 60 million in over a decadethere were less stunted children but more obese adults in the country.
Progress towards ending Hunger and Malnutrition: The number of undernourished people in India declined from 249.4 million in 2004-06 to 189.2 million in 2017-19.In percentage terms, the prevalence of undernourishment in the total population in India declined from 21.7 % in 2004-06 to 14 % in 2017-19.
Stunting: The prevalence of stunting in children under 5 years of age in India declined from 47.8% in 2012 to 34.7% in 2019 or from 62 million in 2012 to 40.3 million in 2019.
Obesity: More Indian adults became obese between 2012 and 2016. The number of adults (18 years and older) who are obese grew from 25.2 million in 2012 to 34.3 million in 2016, growing from 3.1 % to 3.9 %.
Anaemic Women: The number of women of reproductive age (15-49) affected by anaemia grew from 165.6 million in 2012 to 175.6 million in 2016.
Breast Feeding: The number of infants 0-5 months of age exclusively breastfed grew from 11.2 million in 2012 to 13.9 million in 2019.
Current News Indian Economy
World Wildlife Crime Report 2020
---
The World Wildlife Crime Report 2020 has been released by the United Nations Office on Drugs and Crime (UNODC).
It emphasizes the threat that wildlife trafficking poses to nature and the biodiversity of the planet as well as to humans as trafficking of some wild species from their natural habitat has the potential for transmission of zoonotic diseases - those caused by pathogens that spread from animals to humans. Zoonotic diseases represent up to 75 per cent of all emerging infectious diseases and include SARS-CoV-2 that caused the COVID-19 pandemic.
The report notes that pangolins, which were identified as a potential source of coronaviruses, are the most trafficked wild mammals in the world, with seizures of pangolin scales having increased ten-fold between 2014 and 2018.
Current News National
SC Ruling On Reservations For Divyangjan
---
The Supreme Court, in a significant decision, confirmed that persons with disabilities are also socially backward and are entitled to the same benefits of relaxation as Scheduled Caste and Scheduled Tribe candidates in public employment and education.
SC upheld a 2012 judgment of the Delhi High Court in Anamol Bhandari vs. Delhi Technological University.
Current News National
PRAGYATA Guidelines
---
The Human Resource and Development Ministry has announced guidelines for digital education /online classes operationalised by schools amid the COVID pandemic.
The PRAGYATA guidelines include eight steps of digital learning that is, Plan- Review- Arrange- Guide- Yak (talk) - Assign- Track- Appreciate.
The Guidelines emphasize the need to unify all efforts related to digital, online education, benefitting school going children across the country. The initiative includes DIKSHA, SWAYAM Prabha, Radio Vahini and ShikshaVaani.
Screen Time: The HRD Ministry has suggested that the online classes for pre-primary students should not be for more than 30 minutes a day. For Classes 1st to 8th, it has suggested that not more than two online sessions of upto 45 minutes each should be conducted in a day. For the senior students, from class 9th to 12th, the Ministry has suggested to limit the online classes to a maximum of four sessions of upto 45 minutes each. . The guidelines have been issued keeping in mind the overall development of the students with an aim to cut down undue screen time.

Current News International
Iran Drops India From Chabahar Rail Project
---
Iran has dropped India from Chabahar rail project which comprises rail line from Chabahar port to Zahedan, along the border with Afghanistan.
The Iranian government cited delays from the Indian side in funding and starting the project.
Now, Iranian Railways will go ahead without India's assistance and utilize around $400 million from the Iranian National Development Fund.
Chabahar port is located on the Gulf of Oman and serves as the only oceanic port of Iran and consists of two separate ports named ShahidBeheshti and Shahid Kalantari.
Current News Indian Economy Banking & Finance
India Digitization Fund
---
Technology giant Google will invest $10 billion (₹75,000 crore) in India over the next five-seven years with a focus on digitising the economy and building India-first products and services.
The investment will focus on four areas important to digitization including:
Enabling affordable access and information for every Indian in their own language,
Building products and services that are deeply relevant to India's unique needs,
Empowering businesses in their digital transformation journey, and
Leveraging technology and AI for social good, in areas like health, education, and agriculture.
Current News Indian Economy Banking & Finance
US Remains India's Top Trading Partner
---
The US remained India's top trading partner for the second consecutive fiscal in 2019-20 according to the data of the Commerce Ministry.
The US is one of the few countries with which India has a trade surplus.
The trade gap between the countries has increased to $17.42 billion in 2019-20 from $16.86 billion in 2018-19.
In 2018-19, the US first surpassed China to become India's top trading partner.
The bilateral trade between India and China has dipped to $81.87 billion in 2019-20 from $87.08 billion in 2018-19. Trade deficit between the two neighbours have declined to $48.66 billion in 2019-20 from $53.57 billion in the previous fiscal.
The data also showed that China was India's top trading partner since 2013-14 till 2017-18. Before China, UAE was the country's largest trading nation.
Current News Science & Technology
Supercapacitor From Industrial Waste Cotton & Natural Seawater Electrolyte
---
In search of a cost-effective material for making affordable supercapacitor devices, scientists at ARCI have converted industrial waste cotton (Trash)into highly porous carbon fibers (Treasure) by activation process and then utilised the porous carbon fibers to make high-performance supercapacitor electrodes.
For the first time, natural seawater is explored as an environmentally friendly, cost-effective, scalable, and alternative aqueous electrolyte, which may replace the existing aqueous-based electrolytes for the economic fabrication of supercapacitor.
Supercapacitor is a next-generation energy storage device that has received extensive research attention owing to advantages such as high power density, long durability, and ultrafast charging characteristic as compared to conventional capacitors and lithium-ion batteries (LIB).
News Crux Awards In News
Theodore Von Karman Award
---
Kailasavadivoo Sivan, Chief of Indian Space Research Organisation(ISRO) has been selected for the most prestigious Theodore Von Karman Award of the International Academy of Astronautics (IAA), Paris, for the year 2020.
Prior to K Sivan, two Indians namely - KrishnaswamyKasturirangan and U.R. Rao - have been recipients of the award.
Von Karman Award is the highest distinction of the International Academy of Astronautics given annually to recognise outstanding lifetime achievements in any branch of science. The award was instituted in 1987 in memory of Dr Theodore Von Karman, universally respected and legendary aerospace scientist and founder and the First President of IAA.
News Crux Appointment & Resignation
Hemang Amin
---
The Board of Control for Cricket in India (BCCI) has appointed Hemang Amin as its interim chief executive officer (CEO). He will replace Rahul Johri who recently resigned.
News Crux Obituary
NagindasSanghvi
---
Veteran Gujarati journalist, columnist, writer and Padma Shri awardee NagindasSanghvi has passed away.
He had written many books on Mahatma Gandhi, Gujarat and other subjects.
Current News National
India Presents Second VNR 2020
---
NITI Aayog presented India's second Voluntary National Review (VNR) report 2020 titled 'Decade of Action: Taking SDGs from Global to Local' at the United Nations High-level Political Forum (HLPF) on Sustainable Development, 2020.
The HLPF is the foremost international platform for follow-up and review of progress on the 17 Sustainable Development Goals (SDGs).
The HLPF meets annually in July for eight days under the auspices of the Economic and Social Council (ECOSOC) of the UN.
The VNRs presented by Member States at the HLPF are a critical component of the review of progress and implementation of the 2030 Agenda and the SDGs.
The reviews are voluntary and state-led and are aimed at facilitating the sharing of experiences, including successes, challenges and lessons learned.
Current News National
India's First E-LokAdalat
---
Chhattisgarh State Legal Service Authority and the High Court organised India's first e-LokAdalat through video conferencing to ensure the administration of justice and to solve the financial crisis of the parties and lawyers amid COVID-19 pandemic.
LokAdalat is one of the alternative dispute grievance mechanisms or a forum where pending cases or disputes in the court of law are settled or compromised whereas e-lokadalat will be handled virtually.
LokAdalats have been given statutory status under the Legal Services Authorities Act, 1987. Under the said Act, the award (decision) made by the LokAdalats is deemed to be a decree of a civil court and is final and binding on all parties and no appeal against such an award lies before any court of law.
If the parties are not satisfied with the award of the LokAdalat though there is no provision for an appeal against such an award, but they are free to initiate litigation by approaching the court of appropriate jurisdiction by filing a case by following the required procedure, in exercise of their right to litigate.
Current News Indian Economy Banking & Finance
India: Second-Largest Foreign Investor In UK
---
India has become the second largest Foreign Direct Investor in the United Kingdom (UK) after the United States in 2019, by investing in 120 projects and creating 5,429 new jobs in the UK.
Current News Ecology & Environment
Decrease In Himachal's Snow Cover
---
A recent mapping of Himachal's snow cover has shown a marginal decrease in the total area which may affect the runoff patterns during the summers.
The report released by the State Centre on Climate Change, Himachal Pradesh Council for Science Technology and Environment (HIMCOSTE) said the decrease has been estimated at around 0.72 per cent of the total area under snow.
Most of the major rivers such as Chenab, Beas, Parvati, Baspa, Spiti, Ravi, Satluj and its perennial tributaries originating from the Himalayas depend upon the seasonal snow cover for their discharge dependability.
Besides this, the snow cover also helps in controlling the accumulation and ablation patterns of the glaciated regions in the state.
Ablation
The ice sheets lose material by several processes, including surface melting, evaporation, wind erosion (deflation), iceberg calving, and the melting of the bottom surfaces of floating ice shelves by warmer seawater. This process is called Ablation.
Current News Ecology & Environment
Golden Tiger
---
Recently, India's only 'Golden Tiger' was spotted in Assam's Kaziranga National Park.
A golden tiger, sometimes called a golden tabby tiger or strawberry tiger, is a tiger with a colour variation caused by a recessive gene. Like white tigers and black tigers, it is a colour form and not a separate subspecies.
Known for its blonde or pale-golden color and red-brown (not black) stripes, the golden tiger coloring comes from a recessive trait referred to as "wideband" which affects the production of black during the hair growth cycle.
Current News
'NadiVigyan'
---
To enlighten about the ancient form of health science- NadiVigyan and its fruitful benefits in curing various spinal disorders, Ministry of Tourism presented a webinar on 'NadiVigyan: A complete solution for spinal disorders' under DekhoApnaDesh webinar series.
This unusual topic is a part of our culture and heritage and tourism plays a major role in showcasing these traits of a country.
News Crux Appointment & Resignation
Lee Hsien Loong
---
The Results of Singapore's General Election 2020 were announced and the ruling Prime Minister Lee Hsien Loong's People's Action Party(PAP) won the election winning 83 seats out of 93 contested and Lee Hsien Loong was reinstated as the third Prime Minister of Singapore.
He is the son of Singapore's founding Leader, Lee Kuan Yew, first Prime Minister of Singapore who transformed the nation in his 31 year rule.

Current News National
Affordable Rental Housing Complexes For Urban Migrants / Poor
---
Ministry of Housing & Urban Affairs (MoHUA) has initiated an Affordable Rental Housing Complexes (ARHCs) for urban migrants/poor as a sub-scheme under Pradhan MantriAwasYojana (Urban).
Under the scheme, existing vacant government funded housing complexes will be converted in ARHCs through Concession Agreements for 25 years.
ARHCs will create new ecosystem in urban areas making housing available at affordable rent close to the place of work.
Investment under ARHCs is expected to create new job opportunities. ARHCs will cut down unnecessary travel, congestion and pollution.
News Crux Appointment & Resignation
Injeti Srinivas: 1st Chairman Of IFSCA
---
Former Corporate Affairs Secretary Injeti Srinivas has been appointed as the first chairman of International Financial Services Centres Authority (IFSCA), a unified authority for regulating all financial services, to be headquartered in Gujarat's Gandhinagar.
The IFSCA will regulate all financial services in international financial services centres (IFSCs) established under the Special Economic Zones Act, 2005.
Currently, banking, capital markets and insurance sectors in IFSC are regulated by multiple regulators, including the Reserve Bank of India (RBI), Securities and Exchange Board of India (SEBI), and Insurance Regulatory and Development Authority of India (IRDAI).
Composition of IFSCA
The authority, that came into effect from April 27, 2020, can have eight members and a chairman.
One member (ex-officio) each will be nominated by the RBI, SEBI, IRDAI and the Pension Fund Regulatory and Development Authority (PFRDA), according to the International Financial Services Centres Act, 2019.
Two members (ex-officio), from amongst the officials of the ministry dealing with finance, to be nominated by the central government and two other members to be appointed by the central government on the recommendation of a selection committee, according to the law.
Current News National
Rewa Solar Project
---
The 750 MW Solar Project set up at Rewa, Madhya Pradesh comprises of three solar generating units of 250 MW each.
The Rewa Solar Project was the first solar project in the country to break the grid parity barrier. Compared to prevailing solar project tariffs of approx. Rs. 4.50/unit in early 2017, the Rewa project achieved historic results: a first year tariff of Rs. 2.97/unit with a tariff escalation of Rs. 0.05/unit over 15 years and a levelized rate of Rs. 3.30/unit over the term of 25 years.
This project will reduce carbon emission equivalent to approx. 15 lakh ton of CO2 per year.
The Rewa Project has been acknowledged in India and abroad for its robust project structuring and innovations. It has also received World Bank Group President's Award for innovation and excellence and was included in the Prime Minister's "A Book of Innovation: New Beginnings".
The project is also the first renewable energy project to supply to an institutional customer outside the State, i.e. Delhi Metro, which will get 24% of energy from the project with remaining 76% being supplied to the State DISCOMs of Madhya Pradesh.
The Rewa Project also exemplifies India's commitment to attain the target of 175 GW of installed renewable energy capacity by the year 2022, including 100 GW of Solar installed capacity.
Current News International
US' New Visa Restrictions On China Over Access To Tibet
---
The US has announced new visa bans on senior Chinese officials involved in restricting access to foreigners to the sensitive region of Tibet and reaffirmed its support for "meaningful autonomy" for Tibetans.
The US Secretary of State Mike Pompeo announced this in pursuant to the Reciprocal Access to Tibet Act of 2018.
The Act was signed into law by President Donald Trump in December 2018. It calls for denying access to the US for Chinese officials known to be involved in restricting visits to Tibet.
Access to Tibetan areas is increasingly vital to regional stability, given the Chinese human rights abuses there, as well as Beijing's failure to prevent environmental degradation near the headwaters of Asia's major rivers.
Current News International
Maldives, Sri Lanka Eliminate Measles & Rubella
---
Maldives and Sri Lanka have become the first two countries in the South-East Asia region to eliminate both measles and rubella ahead of the 2023 target.
A country is verified as having eliminated measles and rubella when there is no evidence of endemic transmission for over three years by a well-performing surveillance system.
Member countries of WHO South-East Asia region had set 2023 as the target for elimination of measles and rubella.
Bhutan, DPR Korea and Timor-Leste are other countries in the region who have eliminated measles.
Current News Indian Economy Banking & Finance
Capital Infusion For Three Public Sector General Insurance Companies
---
The Union Cabinet has approved the capital infusion in the three Public Sector General Insurance Companies (PSGICs) namely Oriental Insurance Company Limited (OICL), National Insurance Company Limited (NICL) and United India Insurance Company Limited (UIICL).
The capital infusion will enable the three PSGICs to improve their financial and solvency position, meet the insurance needs of the economy, absorb changes and enhance the capacity to raise resources and improved risk management.
Current News Indian Economy Banking & Finance
15th FC & Health Financing
---
The Fifteenth Finance Commission, for the first time, will devote an entire chapter on health financing.
The High Level Committee on Health sector constituted by Fifteenth Finance Commission and the World Bank will dove-tail their study and analysis to come up with suitable recommendations for health sector.
The Government of India's spending on health through centrally sponsored schemes will also be studied in detail by the Commission before it gave its recommendations to the Union government.
Current News Ecology & Environment
Ministerial On Climate Action
---
The 4th edition of the virtual Ministerial on Climate Action was organised to give momentum to discussions on implementation of the Paris Agreement under the United Nations Framework Convention on Climate Change (UNFCCC).
The meeting was co-chaired by European Union, China and Canada.
India at the Ministerial
India reminded developed nations about their commitment towards extending financial and technological support to developing countries. It also highlighted the steps it has been taking and its achievements towards a clean climate:
Reduction in Emission:India has achieved reduction of 21% in emission intensity of its GDP between 2005 and 2014, thereby achieving its pre-2020 voluntary target.
Increase in Renewable Energy: India's renewable energy installed capacity has increased by 226% in last 5 years and stands more than 87 Gigawatt.
Increase in Non-fossil Energy: The share of non-fossil sources in installed capacity of electricity generation increased from 30.5% in March 2015 to 37.7% in May 2020 and has further announced the aspirational target of increasing our renewable energy capacity to 450 GW.
Clean Cooking Fuel: Provided 80 million LPG connections in rural areas, providing them with clean cooking fuel and healthy environment.
Forest Cover: India's total forest and tree cover is 8,07,276 sq. km. which is 24.56% of the total geographical area of the country;
Reduction of CO2:More than 360 million LED bulbs have been distributed under UJALA scheme, which has led to energy saving of about 47 billion units of electricity per year and reduction of 38 million tonnes of CO2 per year.
Cleaner Fuel: India has also leapfrogged from Bharat Stage-IV (BS-IV) to Bharat Stage-VI (BS-VI) emission norms by April 1, 2020 which was earlier to be adopted by 2024.
Coal Cess: India had levied a coal cess of INR 400/- as, part of one of the most explicit green initiatives & this is now subsumed under Goods and Services Tax(GST).
Smart Cities Mission:Under Smart Cities Mission, first-of-its-kind initiative – Climate Smart Cities Assessment Framework 2019 has been launched which intends to provide clear roadmap for cities and urban India towards combating climate change through adoption of both mitigation and adaptation measures.
Current News Ecology & Environment
Germany To Phase Out Of Coal, Nuclear Power
---
Germany will became the first industrialized country to phase out of both coal and nuclear energy.
The German parliament has approved a bill for shutting down the coal fired power plant by 2038. This phase out is a part of Germany's "energy transition" to reduce the use of fossil fuels and to support the use of renewable resources.
Germany closed its last coal mine in 2018 and committed to close its nuclear power plants by 2022.

Current News Ecology & Environment
DehingPatkai Wildlife Sanctuary To Become A National Park
---
The government of Assam has decided to upgrade the DehingPatkai Wildlife Sanctuary into a national park, located within the larger DehingPatkai Elephant Reserve.
The wildlife sanctuaries are protected areas which permit some activities such as grazing but national parks require complete protection status under the Wildlife Protection Act, 1972.
After upgradation, DehingPatkai will be the 6th national park in Assam others being Kaziranga, Nameri, Manas, Orang and Dibru-Saikhowa.

Current News Ecology & Environment
Golden Birdwing: India's Largest Butterfly
---
The Himalayan butterfly named "Golden Birdwing (Troidesaeacus)" has surpassed the "Southern Birdwing (Troidesminos)" after 88 years to become the largest butterfly in India.
The female species of the Golden Birdwing had a wingspan of 194 mm that is 4 mm larger than that of the Southern Birdwing with 190 mm wingspan while the largest wingspan in the male species of the Golden Birdwing was recorded during the study was of 106 mm.
The female Golden Birdwing was recorded from Didihat in Uttarakhand, the largest male was from the Wankhar Butterfly Museum in Meghalaya capital Shillong.
Current News Ecology & Environment
"SankalpParva"
---
The Ministry of Culture is celebrating 'SankalpParva' from 28th June to 12th July 2020, where Ministry expects all its Subordinate Offices, Academies, attached Institutionsand affiliated Institutions to plant trees in its campus or in the surroundings wherever it is possible.
The Ministry of Culture recommends to plant five trees which have been identified by Prime Minister and which represent the herbal heritage of our country - (i) "Bargad" (ii) "Awla" (iii) "Pepal" (iv) "Ashok" (v) "Bel".
State In News Himachal Pradesh
Himachal Pradesh: First State With 100% LPG Connections
---
Himachal Pradesh has become the first state in the country where 100% households have liquefied petroleum gas (LPG) connections.
State In News Haryana
Haryana State Employment Of Local Candidates Ordinance, 2020
---
Haryana state Cabinet has passed the draft "Haryana State Employment of Local Candidates Ordinance, 2020" to provide 75% reservation for the residents of Haryana in private sector jobs having salary of less than Rs 50,000 per month.
Employment providers which have more than 10 employees in its premises would be covered in this upcoming Act.
The law will have stringent rules for industries and firms that will try to hide information regarding employees.
Current News
Mongolian Kanjur
---
The Ministry of Culture has taken up the project of reprinting of 108 volumes of Mongolian Kanjur under the National Mission for Manuscripts (NMM).
The first set of five volumes of Mongolian Kanjur published under the NMM was presented to the President of India Shri Ram NathKovind on the occasion of Guru Purnima, also known as Dharma Chakra Day, on 4th July 2020.
Mongolian Kanjur, the Buddhist canonical text in 108 volumes is considered to be the most important religious text in Mongolia. In the Mongolian language 'Kanjur' means 'Concise Orders'- the words of Lord Buddha in particular. It is held in high esteem by the Mongolian Buddhists and they worship the Kanjur at temples and recite the lines of Kanjur in daily life as a sacred ritual.
The National Mission for Manuscripts was launched in February 2003 by the Government of India, under the Ministry of Tourism and Culture, with the mandate of documenting, conserving and disseminating the knowledge preserved in the manuscripts.
Current News Indian Economy
Sustainable Development Report 2020
---
The 2020 report (prepared by teams of independent experts at the Sustainable Development Solutions Network (SDSN) and the Bertelsmann Stiftung) has reviewed the performance of 193 UN Member States out of which 166 were ranked under SDG Index 2020. The index has been topped by Sweden.
The report outlines the likely short-term impacts of Covid-19 on the Sustainable Development Goals (SDGs) and describes how the SDGs can frame the recovery. The report also tracks progress by countries towards the SDGs.
According to the report, there will be severe negative impacts on most of the United Nations (UN)-mandated Sustainable Development Goals (SDGs) due to COVID-19 pandemic.
Negative Impact of COVID-19 on SDGs
SDG 1 (no poverty)
SDG 2 (zero hunger)
SDG 3 (good health and wellbeing)
SDG 8 (decent work and economic growth)
SDG 10 (reduced inequalities)
Immediate (Temporary) Relief to SDGs due to Covid-19
SDG 12 (responsible consumption and production)
SDG 13 (climate action)
SDG 14 (life below water)
SDG 15 (life on land)
Progress on the SDGs: Asian countries have progressed most on the SDGs since their adoption in 2015. Asian countries have also responded most effectively to the Covid-19 outbreak.
Suggested Approach to overcome such Crisis
The health, economic and social crises triggered by COVID-19 called for increased international collaboration and solidarity to support the most vulnerable countries.
Countries could cooperate on dissemination of the best practices rapidly, addressing hunger hotspots, ensuring social protection and promoting new drugs and vaccines.
SDGs&Six Broad Transformations:The SDGs are a collection of 17 global goals designed to be a "blueprint to achieve a better and more sustainable future for all".The SDG index frames the implementation of 17 SDG goals among UN member states in terms of six broad transformations- education and skills, health and wellbeing, clean energy and industry, sustainable land use, sustainable cities, and digital technologies.
The Report on India
India ranked at 117, with a score of 61.9 out of 100. It ranked below two South Asian nations — Pakistan and Afghanistan.
India faces major challenges in 10 of the 17 SDGs which include — zero hunger, good health, gender inequality among others. There are significant challenges in another three SDGs — no poverty (SDG 1), Life below water (SDG 14) and Life on land (SDG 15).
Current News Indian Economy
INFORM Risk Index 2020
---
INFORM - Index for Risk Management - is the first global, open-source tool for assessing the risk of humanitarian crises by country.
INFORM provides disaster risk profiles of 191 countries, and utilizes 50 different indicators related to the conditions that lead to crises and disasters.
The report is produced by the United Nations Office for the Coordination of Humanitarian Affairs (UN-OCHA) on behalf of all INFORM Partners.
INFORM, operates under European Commission (EU)
India has ranked at 31st place with an inform risk of 5.4, means risk of humanitarian crises and disasters.
Somalia with an inform risk of 8.9 topped the index.
News Crux Reports/Committee/Commission
K S Reddy Committee
---
The National Human Rights Commission (NHRC) has set up an 11-member expert committee headed by Dr K S Reddy, president of Public Health Foundation of India to study impact of coronavirus (Covid-19) on human rights of individuals, particularly marginalised and vulnerable sections of the society, together with migrant labourers & will also study the future response of the government.

News Crux Reports/Committee/Commission
IOA's New Visual Identity To Celebrate 100 Years Of Participation In Olympic Games
---
To mark the 100th year of Indian participation in the Olympic Games the Indian Olympic Association (IOA) adopted a new visual identity (Logo).
India first participated at the Olympic Games in 1900, with a lone athlete (Norman Pritchard) winning two medals- both silver- in athletics. The nation first sent a team to the Summer Olympic Games in 1920, and has participated in every Summer Games since then.
The previous institutional logo which drew its inspiration from the 'Star of India' hat was adopted during the period of British Raj in the Indian subcontinent and has been used since the formation of the IOA till date.
Current News National
Draft Rules For Code On Wages
---
The Union Labour and Employment Ministry has published the draft rules framed for the implementation of the Code on Wages Act, 2019, that guarantees minimum wages to all, defines how the wages will be calculated and prescribes a national floor-wage for all States.
It subsumes the Payment of Wages Act, 1936, the Minimum Wages Act, 1948, the Payment of Bonus Act, 1965 and the Equal Remuneration Act, 1976.
Major Provisions in the Draft
Working Hours: The normal working day shall comprise eight hours of work and one or more intervals of rest which in total shall not exceed one hour.
Calculation of Minimum Wage: The criteria for fixing the minimum rate of wages per day for employees include:
standard family of four (self, spouse and two children)
daily intake of 2700 calories per consumption unit,
10% expenditure on rent,
20% expenditure of fuel, electricity, and miscellaneous items, and
25% expenditure on education, medical requirements and contingencies.
Norms for Fixing Minimum Wage: Minimum wages will be calculated on the basis of the geographical area of employment and the skill category of an employee. For this purpose, the central government will divide the geographical area into three categories: metropolitan, non-metropolitan and rural areas.The occupations are also divided into four skill categories: unskilled, semi-skilled, skilled and highly skilled.
Current News National
ASEEM Portal
---
Union Ministry of Skill Development and Entrepreneurship has launched Aatamanirbhar Skilled Employee-Employer Mapping (ASEEM) portal to help skilled people find sustainable livelihood opportunities.
The portal will map details of workers based on regions and local industry demands and will bridge demand-supply gap of skilled workforce across sectors.
ASEEM portal will provide employers a platform to assess the availability of skilled workforce and formulate their hiring plans. It refers to all the data, trends and analytics which describe the workforce market and map demand of skilled workforce to supply.
The Artificial Intelligence-based platform will also provide real-time granular information by identifying relevant skilling requirements and employment prospects.
The ASEEM portal and App will have provision for registration and data upload for workers across job roles, sectors and geographies.
Current News National
India's 2018 Tiger Census Sets New Guinness Record
---
India's tiger estimation for the year 2018 has entered the record books as it was awarded the Guiness World Record for being the largest camera-trap wildlife survey.
In 2018, India had as many as 2,967 tigers (jumped from 2226 in 2014) in the wild, with more than half of them in Madhya Pradesh and Karnataka, according to that year's tiger estimation report.
Current News International
WHO Creates IPPR
---
The World Health Organization (WHO) has created an Independent Panel for Pandemic Preparedness and Response (IPPR) to evaluate the world's response to the COVID-19 pandemic.
The Panel will be co-chaired by former Prime Minister of New Zealand Helen Elizabeth Clark and former President of Liberia Ellen Johnson Sirleaf (2011 Nobel Peace Prize winner).

Current News Indian Economy Banking & Finance
WTO Dispute Settlement Body Sets Up Panel Against India's ICT Duties
---
The World Trade Organization (WTO) Dispute Settlement Body (DBS) has established a panel after the European Union (EU) has dragged India into the Dispute Settlement System of WTO for the second time against import duties on ICT (information and communication technology) products, including mobile phones, cameras, headphones and earphones, imposed by the country.
India is levying a fee upto 20 % on them & these charges will affect the EU's exports of 400 million euros annually.

Current News Indian Economy Banking & Finance
Tamil Nadu Tops Market Borrowings Among States
---
According to data from the Reserve Bank of India (RBI), Tamil Nadu has raised ₹30,500 crores in the fiscal 2020-21 and has topped market borrowings among States in the country.
Tamil Nadu has been followed by Maharashtra ₹25,500 crores (14%), Andhra Pradesh ₹17,000 crores (9%) and Rajasthan ₹17,000 crores (9%).
Current News Science & Technology
Moon Is More Metallic Than Thought Before
---
NASA's Lunar Reconnaissance Orbiter (LRO) spacecraft had found evidence that the Moon's subsurface might have greater quantities of metals such as iron and titanium than thought before. The metallic distribution was observed by the Miniature Radio Frequency (Mini-RF) instrument aboard the LRO.
The finding could aid in drawing a clearer connection between Earth and the Moon.
Current News Science & Technology
Accelerate Vigyan
---
To give more thrust on encouraging high-end scientific research and preparing scientific manpower in the country, the Science and Engineering Research Board (SERB) has launched a new scheme called 'Accelerate Vigyan' (AV).
The scheme has two components 'Abhyaas' and 'Sammohan'.
Abhyaas:It is an attempt to boost Research & Development in the country by enabling and grooming potential PG / PhD level students by developing dedicated research skills in selected areas through high-end workshops and research internships. It has two sub components:

Karyashala: High-end workshops and
Vritika: Research internships

Sammohan:It aims to encourage, aggregate and consolidate all scientific interactions in the country under one common roof. It has two sub components:

Sayonjika:It is an open-ended programme to catalogue capacity building activities in science and technology supported by all government funding agencies in the country.
Sangoshthi: It is designed to facilitate the scientific community to establish an interaction with other individuals and research groups to enhance knowledge exchange.
Current News Science & Technology
G4 EA H1N1
---
G4 EA H1N1, also known as the G4 swine flu virus is a swine influenza virus strain discovered in China.
The virus is a variant genotype 4 (G4) Eurasian avian-like (EA) H1N1 virus that mainly affects pigs, but there is some evidence of it infecting humans.
G4 EA H1N1 viruses possess all the essential hallmarks of being highly adapted to infect humans
Although there is no confirmed cases of human-to-human transmission.
The virus is related to the H1N1/09 strain responsible for the 2009 swine flu pandemic, and also distantly to the strain which caused the 1918 flu pandemic (both are H1N1 flu strains).
Current News Science & Technology
Phobos
---
Phobos is the innermost and larger of the two natural satellites of Mars, the other being Deimos.
Recently, The Mars Colour Camera (MCC) onboard ISRO's Mars Orbiter Mission has captured the image of Phobos, the closest and biggest moon of Mars.
Current News Science & Technology
ISRO To Launch Brazil's Amazonia-1 Satellite
---
Indian Space Research Organization (ISRO) will launch Brazil's Amazonia-1 satellite onboard the Polar Satellite Launch vehicle (PSLV) as a primary payload by August 2020.
This earth observation satellite has been locally designed and tested in Brazil.
News Crux Species In News
'SitanaDharwarensis'
---
A new species of a fan-throated lizard, Sitanadharwarensis, has been discovered from the barren lands of northern Karnataka's Bagalkot district.
The species belongs to the genus Sitana and derives its name from the Dharwar craton, a piece of the Earth's crust formed 3.6-2.5 billion years ago.

News Crux Persons In News
Vladimir Putin
---
The 78% Russian electorate have voted in favour of constitutional amendments that will allow 67 years old President Vladimir Putin to stay in power until 2036 e. until the age of 83.
His current term of 6 years will end in 2024. It means now, he will be re-elected twice under the constitutional amendments.
He is already the longest-serving leader in modern Russian history.

News Crux Appointment & Resignation
Jean Castex
---
Jean Castex has been appointed as the new Prime Minister of France.
He has replaced Edouard Philippe who resigned from the post ahead of a government reshuffle.
News Crux Appointment & Resignation
Gyanendro Ningombam
---
GyanendroNingombam has been named as the new Officiating President of Hockey India. He will replace MohdMushtaque Ahmad.
Ningombam had served as the Chief Executive Officer of Manipur Hockey during 2009-2014.
News Crux Appointment & Resignation
Indra Mani Pandey
---
Government of India has appointed, Indra Mani Pandey as the next Indian envoy to United Nations bodies and other international organisations in Geneva. He will represent India in more than 25 important organisation of the UN in Geneva.
The previous envoy to these UN bodies in Geneva was Rajiv K Chander who has completed his three-year-team.
News Crux Appointment & Resignation
NigarJohar: 1st Female Lt. General Of Pak Army
---
Pakistan Army has appointed Major General NigarJohar as 1st female lieutenant general. She is the 1st female officer to be promoted as Lieutenant General. The officer has been appointed as 1st female Surgeon General of Pak Army.
State In News Uttar Pradesh
UP Startup Policy 2020
---
The Uttar Pradesh (UP) Government has approved Uttar Pradesh Startup Policy 2020 to increase the job opportunities and employment in Uttar Pradesh by promoting the developing units in agriculture, health, power, education, tourism and transport sectors.
The policy aims at ensuring the position of UP within the top tier of the Centre's startup rankings; creating 100 incubators with at least one unit in each 75 districts; creating an ecosystem to promote 10,000 startups; setting up state of the art centres; and creating the largest incubator of India in Lucknow.
The validity of this policy is five years from the date of notification which is estimated to provide direct employment to more than 50,000 people and generate self -employment to around 1.5 lakh people.
The policy provides special focus, financial and incubation support on the startups in the Backward regions (Purvanchal and Bundelkhand regions).
State In News Odisha
BalaramYojana
---
After KALIA Yojana, the Odisha government has launched BalaramYojana to provide agricultural credit of Rs 1,040 crore to landless farmers who are facing hardships due to the coronavirus outbreak.
Around seven lakh landless cultivators will get benefit under the scheme in the next two years.
The scheme was designed in collaboration with the National Bank for Agriculture and Rural Development (NABARD).
News Crux Places In News
Sakteng Wildlife Sanctuary
---
Recently, China had objected to the grant for Sakteng Wildlife Sanctuary (SWS) in eastern Bhutan's Trashigang district bordering India and China, claiming that the location was disputed, during the virtual meeting of the Global Environment Facility (GEF).
The GEF Council gathered to decide on funding for various environmental projects across the world. The work programme was adopted, as the majority of the GEF council members supported Bhutan's view and the draft summary of the chair was approved by the council, despite objection from the Chinese council member.
Bhutan's western and middle sector (Jakarlung, PasamlungChumbi Valley) have been in dispute with China but, the eastern sector has not been part of the boundary talks and China had not claimed rights over Sakteng wildlife sanctuary earlier.
Current News Indian Economy
Global E-waste Monitor 2020
---
The third edition of the Global E-waste Monitor 2020 launched in July 2020.
China is the biggest contributor to e-waste with 10.1 million tonnes (mt) followed by the United States (US) with 6.9 mt and India with 3.2 mt at 2nd and 3rd rank respectively.
India is the only country in South Asia to draft legislation for e-waste.
The Global E-waste Monitor is a collaborative effort between the International Telecommunication Union (ITU), the Sustainable Cycles (SCYCLE) Programme currently co-hosted by the United Nations University (UNU) and the United Nations Institute for Training and Research (UNITAR), and the International Solid Waste Association (ISWA).
News Crux Miscellaneous
Elyments: India's First Social Media Super App
---
India's first social media super application 'Elyments'has been launched. The app was developed by Sumeru Software Solutions.
Itprovides free audio/video calls, and private/ group chats through vibrant feed.
The data of the users will be stored in India and will not be shared without permission of user.
News Crux Awards In News
P C Mahalanobis Award
---
Former RBI Governor C Rangarajan conferred with 1st P C Mahalanobis Award in Official Statistics for lifetime achievements for his contribution in providing solutions in the issues related to the estimation of national income.
The award has been instituted by the Ministry of Statistics and Programme Implementation (MoSPI) from 2020, and will henceforth be awarded annually for the outstanding and meritorious contribution of an individual for the development and promotion of official statistics.
News Crux Awards In News
PrerakDauurSamman
---
'PrerakDauurSamman' is a new category of award announced by the Ministry of Housing & Urban Affairs (MoHUA), as part of SwachhSurvekshan 2021.
The PrerakDauurSamman has five additional sub-categories namely, Divya (Platinum), Anupam (Gold), Ujjwal (Silver), Udit (Bronze) and Aarohi (Aspiring).
In SwachhSurvekshan 2020, cities were evaluated on the criteria of 'population category' but for 2021, they will be categorised on the basis of six select indicator wise performance criteria:



Segregation of waste into Wet, Dry and Hazard categories.
Processing capacity against wet waste generated.
Processing and recycling of wet and dry waste.
Construction and Demolition waste processing.
Percentage of waste going to landfills.
Sanitation status of cities.
News Crux Awards In News
2020 Commonwealth Short Story Prize
---
Kritika Pandey, the winner of Asian region prize has been declared as the overall winner of the 2020 Commonwealth Short Story Prize for her story, "The Great Indian Tee and Snakes".
Kritika is the second Indian to win the overall prize after Parashar Kulkarni in 2016.

News Crux Awards In News
Diana Award 2020
---
Freya Thakral, a 13 year old student of the British School, New Delhi received the 2020 Diana Award for her Recycler App, which she developed to connect users with waste-handlers as a measure to help the ragpickers of Delhi.
The award is presented annually on the birth anniversary of Princess Diana (UK).
News Crux Awards In News
INDBATT Wins UNIFIL Environment Award
---
An Indian battalion stationed with the United Nations Interim Force in Lebanon (UNIFIL) has won an environment award for a project that aims to decrease waste generation, reuse plastic, build green houses and compost pits.
UNIFIL's Indian Battalion (INDBATT) was adjudged first for a project that seeks to "increase awareness and decrease waste generation by planting seedlings in their positions and areas of responsibility, preventing littering, reusing plastic bottles, building green houses and building compost pits.
Sports In News Boxing
AIBA Ranking 2020 And India
---
The International Boxing Association (AIBA), Headquartered in Lausanne, Switzerland has released the world rankings 2020 for women's and men's boxing.
Indian amateur boxer & World championships silver medallist Amit Panghal has been ranked first in the world ranking of main elites of 52 kg weight category and Manju Rani has got the second place in women's rankings in 48 kg.
Sports In News Chess
G. Akash: India's 66th Grandmaster
---
Akash from Chennai, Tamil Nadu (TN) became the country's 66th Grandmaster.
The title was confirmed at the recent meeting of International Chess Federation (FIDE) Council.
Viswanathan became the first grandmaster from India in 1988.
Sports In News Cricket
Shashank Manohar
---
Shashank Manohar has stepped down as International Cricket Council(ICC) chairman after his two 2 year tenure (4 years). He is the first independent chairman.
His tenure ended on July 1, 2020. Deputy Chairman Imran Khwaja will take charge as interim chairman until the next chairman is elected.

Sports In News Athletics
NADA App
---
The Union Sports Ministry has launched the National Anti-Doping Agency's first mobile app named as "NADA App" which aims to bridge the gap between NADA and the athletes by offering easily-accessible information on various aspects of sport, prohibited substances as well as dope-testing.
The NADA app is expected to act as a one-stop guide for all anti-doping and medication related information.
It also offers comprehensive information on commonly-prescribed medicines.
PIB News National India
Star Rating Of Garbage Free Cities
---
The Ministry of Housing and Urban Affairs MOHUA) has announced results of Star rating of garbage free cities.
For the assessment year 2019-2020, a total of six cities have been certified as 5-Star (Ambikapur, Rajkot, Surat, Mysuru, Indore and Navi Mumbai), 65 cities as 3-Star and 70 cities as 1-Star.
The Star Rating Protocol was launched by the Ministry in January 2018 to institutionalize a mechanism for cities to achieve Garbage Free status, and to motivate cities to achieve higher degrees of cleanliness.
Star Rating Protocol for Garbage Free Cities - a comprehensive framework where each ward in every city must achieve a certain standard across 24 different components of solid waste management (SWM).
The performance of cities under the Star Rating Protocol is crucial as it carries significant weightage when it comes to their final assessment in Swachh Survekshan - the Ministry's annual cleanliness survey for urban India.
PIB News National India
'GOAL' Programme
---
The 'GOAL' – Going Online As Leaders Programme of the Ministry of Tribal Affairs (MoTA) in partnership with Facebook has been launched and is designed to provide mentorship to tribal youth with digital mode.
PIB News National India
Committee On Drug Regulatory System
---
A high-level committee of experts has been formed by the government to recommend reforms in India's drug regulatory system so that approval processes can be fast-tracked.
The committee is chaired by Rajesh Bhushan, the OSD (Officer on Special Duty) to the Union health minister.
PIB News National India
Migrant Workmen Act, 1979
---
A key piece of legislation governing inter-state migrants in India is the Inter-State Migrant Workmen (Regulation of Employment and Conditions of Service) Act, 1979.
The Act was enacted to prevent the exploitation of inter-state migrant workmen by contractors, and to ensure fair and decent conditions of employment.
Key Provisions
It is applicable to every establishment that employs five or more migrant workmen from other States; or if it had employed five or more such workmen on any day in the preceding 12 months.
The law requires all establishments hiring inter-state migrants to be registered, and contractors who recruit such workmen be licensed.
Contractors are obligated to provide details of all workmen to the relevant authority.
Migrant workmen are entitled to wages similar to other workmen, displacement allowance, journey allowance, and payment of wages during the period of journey.
Contractors are also required to ensure regular payment, non-discrimination, provisioning of suitable accommodation, free medical facilities and protective clothing for the workmen.
PIB News National Economy
Amendment To General Financial Rules
---
Government has notified amendments to General Financial Rules (GFR), 2017 to ensure that goods and services valued less than 200 crore rupees are being procured from domestic firms.
Henceforth global tenders will be disallowed in government procurement up to 200 crore rupees, as announced in the Aatmanirbhar Bharat Package. It is a big boost to domestic suppliers especially MSMEs.

PIB News National Economy
FDI In Defence Manufacturing
---
Foreign Direct Investment (FDI) limit in defence manufacturing under automatic route will be raised from 49 per cent to 74 per cent.
A list of weapons or their parts would no longer be imported and their indigenous production will be ensured within the country.
Government will notify year-wise timelines to ban such imports.
PIB News National Economy
Borrowing Limit Of States Increased From 3% Of GSDP To 5%
---
The Central Government has increased the borrowing limit of states from 3% of gross state domestic product (GSDP) to 5%.
But part of this borrowing will be linked to specific reforms in four areas:
Universalisation of 'One Nation One Ration card'
Ease of Doing Business
Power distribution, and
Urban Local Body revenues.
PIB News National Economy
E-RMB
---
China has started testing its digital currency named e- RMB in four major Chinese cities.
e-RMB is set to be the first digital currency operated by a major economy.
People's Bank of China (PBOC), the country's central bank will be the sole issuer of the digital currency.
This is part of China's Digital Currency Electronic Payment (DCEP) project which began in 2014.
The renminbi is the official currency of China, and one of the world's major reserve currencies. The yuan is the basic unit of the renminbi, but is also used to refer to the Chinese currency generally, especially in international contexts where "Chinese yuan" is widely used to refer to the Renminbi.
PIB News National Economy
New GI Tagged Articles
---
Arumbavur Wood Carvings (Tamil Nadu): The unique aspect of the Arambavur wood carvings is that the descriptions and designs are inspired from the work of temple architecture indigenous to the region. The art form also draws inspiration from mythology and mythical deities. The artisans are predominantly the Boyar community.
Thanjavur Netti Works (Thanjavur Pith Work):It is made from pith. The pith is obtained from netti, a hydrophyte plant called as Aeschynomene aspera. The artisans are skilled in this particular craft and this art is traditionally transferred from their forefathers. The lakes around Pudukottai (Pudukullam & Kallaperumbur lake) are surrounded with marshy land which favours the growth of the hydrophytic plant. The soil found in Thanjavur is favourable for the growth of the plant that is used for the production of pith handicraft based in Thanjavur. The notable works from Thanjavur Netti Works include models of the Brihadeeshwara Temple, Hindu idols, garlands, door hangings and show pieces used for decoration. The pith stems are found in and around the Thanjavur region and Mannargudi.
PIB News National World
'INDIA': Sign Of India-Uganda Friendship
---
India has built a state-of-the-art training facility for Ugandan defence forces.
The Indian Association Uganda (IAU), in association with the Indian Military Advisory and Training Team there, handed over a state-of-the-art military training facility to Uganda Peoples Defence Forces (UPDF).
The war game centre, named 'INDIA' has been funded by voluntary contributions from the Ugandans of Indian origin.
PIB News National World
Diamer-Basha Dam
---
China's state-run China Power and Pakistan army's commercial body Frontiers Works Organisation have signed an accord to construct the Dam on the River Indus in the northern Gilgit-Baltistan region, which borders China.
Diamer Bhasha Dam, probably the world's highest concertised dam, will stand at a height of 272m.
The Diamer-Bhasa Dam in PoK not only infringes upon India's sovereignty but can be an ecological disaster as there are 300 earthquakes on average in a single month at the proposed site. And this is not the only challenge as the reservoir of the dam is to be constructed on top of the Central Asian faultline.
India had objected to the construction of the dam repeatedly as it falls under Indian territory and can cause water shortage in Ladakh and the 200-sq km reservoir of the dam could flood 100 kms of the Karakoram highway, and the villages and farms of over 35,000 people could disappear. Tens of thousands of thousand-year old rock carvings could also vanish.
PIB News National World
Afghan Power-Sharing Deal
---
Afghan President Ashraf Ghani, and his political rival Abdullah Abdullah have signed a power-sharing agreement, which ended months of political discord triggered by last year's disputed presidential election.
According to the deal, Ghani will stay as the president while Abdullah will helm the High Council of National Reconciliation (HCNR) with executive authority and his team will have a 50 per cent share in the cabinet.
The HCNR has been mandated to lead future peace talks, including with the Taliban.
Ghani was declared the winner of Afghanistan's 2019 presidential polls in September by country's Election Commission, but his challenger, Abdullah, refused to accept the results and proclaimed victory for himself. After months of political uncertainty, Ghani was sworn in as the Afghan president on March 9, but Abdullah also declared himself the president the same day by holding his own oath-taking ceremony.
PIB News National World
German Challenge To Judiciary In The European Union
---
Recently, Germany's constitutional court ruled that the ECJ's (European Court of Justice) 2018 ruling was "ultra vires", meaning beyond the latter's legal authority.
In 2018, the ECJ had ruled that a EUR 2 trillion bond-buying scheme of the European Central Bank (ECB), aimed at reinvigorating the EU economy after the multi-year European debt crisis, was legal as per EU law.
The European Court of Justice (ECJ), a supranational institution, is a part Court of Justice of the European Union (CJEU), and is the European Union's Supreme Court in matters of EU law.
Founded in 1952 after the Treaty of Paris, the Luxembourg-based court ensures that EU law is interpreted and applied the same in every EU country, and ensures that countries and EU institutions abide by EU law. It settles legal disputes between national governments and EU institutions.
In terms of hierarchy, the national courts of member countries are understood to be below the ECJ in matters of EU law.
PIB News National World
US Bill To Delist Chinese Companies
---
The US Senate has passed a bill to delist Chinese companies from American stock exchanges.
The legislation requires companies to certify that they are not owned or controlled by a foreign government.
They would be required to submit to an audit that can be reviewed by the Public Company Accounting Oversight Board, which has been objected to by China.
PIB News National Science & Technology
Artemis Accords
---
NASA has laid out a new set of principles that it hopes will inform how states and private companies will interact on the Moon.
The new guidelines, called the Artemis Accords, seek "to create a safe and transparent environment which facilitates exploration, science, and commercial activities for the benefit of humanity".
The new agreement reiterates this: "International cooperation on Artemis is intended not only to bolster space exploration but to enhance peaceful relationships between nations. Therefore, at the core of the Artemis Accords is the requirement that all activities will be conducted for peaceful purposes, per the tenets of the Outer Space Treaty."
PIB News National Science & Technology
Solar Minimum
---
The sun is said to have reached into a state of 'solar minimum' as it has been more than 100 days since the sunspots are virtually not visible at all.
Solar minimum is the period of least solar activity in the 11-year solar cycle of the Sun. During this time, sunspot and solar flare activity diminishes, and often does not occur for days at a time.
It may cause health risks to astronauts travelling through space as the sun's magnetic field weakens and provides less shielding from these cosmic rays.
PIB News National Science & Technology
Arktika-M
---
Russia will launch its 1st satellite named Arktika-M to monitor the Arctic climate and environment later this year.
Russia`s Arktika-M remote-sensing and emergency communications satellites will gather meteorological data in the polar regions of the Earth, which will allow to improve weather forecasts and will enable scientists to better study climate change.
PIB News National Science & Technology
SpaceX' VisorSats
---
Elon Musk's company SpaceX has come out with a solution to the problem of its mega-constellation of Starlink satellites (to provide satellite Internet access) lighting up the night sky and irking astronomers.
A "sunshade" had been developed to address the problem. Dubbed VisorSat, the system is a set of darkened shades that can be deployed to keep the sun from glinting off the bright parts of each satellite.
The goal is to make the satellites invisible to the naked eye and minimise their impact on astronomy with a focus on ensuring that whatever impact they do have does not hinder the scientists' ability to make new discoveries.
PIB News National Science & Technology
R&D Statistics And Indicators 2019-20
---
The R&D Statistics and Indicators 2019-20 is based on the national S&T survey 2018.
It has been brought out by the National Science and Technology Management Information (NSTMIS), Department of Science and Technology (DST).
Major Findings
India's gross expenditure in R&D has tripled between 2008 & 2018.
Women participation in extramural R&D projects has increased significantly to 24% in 2016-17 from 13% in 2000-01 due to various initiatives undertaken by the Government in S&T sector.
Number of researchers per million population in India has increased to 255 in 2017 from 218 in 2015 and 110 in 2000.
India occupies 3rd rank in terms of number of Ph. D.'s awarded in Science and Engineering (S&E) after USA (39,710 in 2016) and China (34,440 in 2015).
During 2018, India was ranked at 3rd, 5th and 9th in scientific publication output as per the NSF, SCOPUS and SCI database respectively.
India is ranked at 9th position in terms of Resident Patent Filing activity in the world.
According to WIPO, India's Patent Office stands at the 7th position among the top 10 Patent Filing Offices in the world.
PIB News National Science & Technology
ANtarctic Impulsive Transient Antenna (ANITA)
---
It is an experiment by NASA involving an array of radio antennas attached to a helium balloon which flies over the Antarctic ice sheet at 37,000 meters.
The height is important here to shut out all other "noises" so that the ANITA antennas can "listen" to the cosmos and detect high-energy particles, known as neutrinos, which constantly bombard the planet.
Neutrinos are high-energy particles that pose no threat to us and pass through most solid objects without anyone even noticing. Neutrinos constantly bombard Earth and as per some estimates emerging from studies, 100 trillion neutrinos pass through your body every second!
Rarely do they interact with matter. But if they do smash into an atom, they produce a shower of secondary particles we can detect, which allows us to probe where they came from in the universe. ANITA detects neutrinos pinging in from space and colliding with matter in the Antarctic ice sheet.
Over the years, ANITA has detected a handful of "anomalous" events. Instead of the high-energy neutrinos streaming in from space, they seem to have come from a strange angle, through the Earth's interior, before hitting the detector. These findings can't be explained by our current understanding of physics.
PIB News National Science & Technology
UV Blaster
---
Defence Research and Development Organisation (DRDO) has developed an Ultra Violet (UV) Disinfection Tower for rapid and chemical free disinfection of high infection prone areas.
The equipment named UV blaster is a UV based area sanitiser designed and developed by Laser Science & Technology Centre (LASTEC), the Delhi based premier laboratory of DRDO with the help of M/s New Age Instruments and Materials Private Limited, Gurugram.
The UV Blaster is useful for high tech surfaces like electronic equipment, computers and other gadgets in laboratories and offices that are not suitable for disinfection with chemical methods. The product is also effective for areas with large flow of people such as airports, shopping malls, metros, hotels, factories, offices, etc.
The UV based area sanitiser may be used by remote operation through laptop/mobile phone using WiFi link.
This sanitiser switches off on accidental opening of room or human intervention. One more salient safety feature of the product is the key to arm operation.
PIB News National Ecology & Environment
Global Forest Resources Assessment 2020
---
The Global Forest Resources Assessment report has been released by the United Nations Food and Agriculture Organization (FAO).
The FRA 2020 has examined the status of, and trends in, more than 60 forest-related variables in 236 countries and territories in the period 1990–2020.
Major Findings
Forest area has declined all across the world in the past three decades.
The world lost 178 million hectare (mha) of forest since 1990, an area the size of Libya.
The rate of forest loss has also declined due to the growth of sustainable management.
The world's total forest area was 4.06 billion hectares (bha), which was 31 per cent of the total land area. This area was equivalent to 0.52 ha per person.
Africa had the largest annual rate of net forest loss in 2010–2020, at 3.9 mha, followed by South America, at 2.6 mha.
Asia had the highest net gain of forest area in 2010–2020, followed by Oceania and Europe.
The largest proportion of the world's forests were tropical (45 per cent), followed by boreal, temperate and subtropical.
PIB News National Ecology & Environment
Oil India To Explore Hydrocarbons In Dibru-Saikhowa National Park
---
The Union Ministry for Environment, Forest and Climate Change (MoEFCC) gave green clearance for the extension drilling and testing of hydrocarbons at seven locations by OIL under Dibru-Saikhowa National Park area in Assam's Tinsukia district.
The MoEFCC clearance comes close on the heels of the National Board of Wild Life's (NBWL) approval on April 17, allowing Coal India Limited to carry out opencast and underground coal mining in a portion of the Dehing Patkai Elephant Reserve in the state.
Spread over 340 square kilometres, Dibru-Saikhowa is one of the five national parks in the north-east region's most populous state. The park, which is also a biosphere reserve, is home to 36 mammal species including tiger, Gangetic dolphin, feral horses, etc. and 382 bird species.
OIL will not enter the Dibru-Saikhowa National Park area and operations will be conducted through extended reach drilling (ERD) technology. ERD is used to explore for hydrocarbon far from the surface or areas of the reservoir, which are otherwise difficult to access.
PIB News National Ecology & Environment
'Spinosaurus Aegyptiacus': 1st Known Aquatic Dinosaur
---
A team of scientists from various Universities of the United States have discovered a carnivorous (meat eating) swimming dinosaur named "Spinosaurus aegyptiacus" at the Kem Kem region of the Moroccan Sahara in North Africa.
Unlike other theropod dinosaurs, the 50-feet (15 meters) long Spinosaurus used its tail for swimming to actively hunt for prey in rivers.
Lived about 95 million years ago (Cretaceous period), spinosaurus was even longer than an adult Tyrannosaurus rex (T-rex).
PIB News National Ecology & Environment
African Swine Fever
---
Assam government is battlingthe contagious African Swine Fever (AFS), which has so far killed thousands of pigs in the state. It has also spread in Arunachal Pradesh.
This is the first time the disease has spread in India.
African swine feveris fatal for domestic pigs, with almost 100 per cent mortality rate. The disease spreads from animal to animal. There has not been an instance of humans contracting the disease.
ASF is a severe viral disease that affects wild and domestic pigs typically resulting in an acute haemorrhagic fever.
It is differentiated from Classical Swine Fever (CSF), whose signs may be similar to ASF, but is caused by a different virus for which a vaccine exists.
While ASF is lethal, it is less infectious than other animal diseases such as foot-and-mouth disease. But as of now, there is no approved vaccine, which is also a reason why animals are culled to prevent the spread of infection.
PIB News National Ecology & Environment
Uttarakhand Releases Report On Conservation Of Endemic, Threatened Floras
---
Uttarakhand has become the first state to release a unique report highlighting its conservation efforts to save over 1,100 rare plants from extinction.
Conservation of endemic species is considered to be particularly important as they exist in one geographical region only.
As per the report, the main aim of this project is also to promote conservation of plant species among the general public so as to end 'plant blindness', a term coined by US botanist Elisabeth Schussler and James Wandersee in 1998 – meaning inability to see or notice plants in one's own environment.
It is because of 'plant blindness' that most of the conservation efforts, public attention and funds are diverted into conservation of glamorous mega fauna species like tiger and elephants, there by completely neglecting plant conservation despite the fact that they play much more important ecological role.
PIB News National Ecology & Environment
IDEAthon On "The Future Of River Management'
---
The National Mission for Clean Ganga (NMCG) under the Ministry of Jal Shakti and National Institute of Urban Affairs (NIUA) organized an IDEAthon on "The future of River Management' to explore how the COVID-19 crisis can shape River Management strategies for the future.
The IDEAthon examined how the social angle of rivers can be leveraged on to address other crises. What lessons for river management has the pandemic taught us? And what response mechanisms are needed in the event of a river crisis?
National Mission for Clean Ganga had initiated this IDEAthon to garner more attention towards river management and also highlight the interconnectivity of Cities with the River.

PIB News National Ecology & Environment
Prey, Predator Estimation In TATR
---
A new prey and predator estimation in Tadoba Andhari Tiger Reserve (TATR) in Maharashtra has found the presence of 115 tigers and 151 leopards.
Tadoba Andhari Tiger Reserve is located in Chandrapur district in Maharashtra.
The reserve includes the Tadoba National Park and the Andhari Wildlife Sanctuary.
---