Current News Science & Technology Biotechnology
Philippines: First Country to approve Golden Rice for Planting
---
The Philippines has become the first country in the world to approve commercial cultivation of vitamin A-rich Golden Rice.
The Filipino variety of Golden Rice was developed by the Department of Agriculture-Philippine Rice Research Institute (DA-PhilRice) in partnership with the International Rice Research Institute (IRRI) to contain additional levels of beta-carotene, which the body converts into vitamin A.
According to IRRI, Golden Rice is genetically engineered to provide up to 50% of the estimated average requirement for vitamin A of young children.
Golden Rice has already received food safety approvals from regulators in Australia, New Zealand, Canada, and the United States of America but the Philippines is the first country to approve commercial cultivation.
About Golden Rice
Golden rice is a variety of rice (Oryza sativa) produced through genetic engineering to biosynthesize beta-carotene, a precursor of vitamin A, in the edible parts of rice.
It is intended to produce a fortified food to be grown and consumed in areas with a shortage of dietary vitamin A.
Golden rice differs from its parental strain by the addition of three beta-carotene biosynthesis genes. The parental strain can naturally produce beta-carotene in its leaves, where it is involved in photosynthesis. However, the plant does not normally produce the pigment in the endosperm, where photosynthesis does not occur.
In 2005, Golden Rice 2 was announced, which produces up to 23 times as much beta-carotene as the original golden rice.
News Crux Bill/Act/Amendment
NIFTEM Bill Passed by the Parliament
---
Parliament has passed the National Institutes of Food Technology, Entrepreneurship and Management Bill, 2021
With this, two educational institutes - National Institute of Food Technology Entrepreneurship and Management (NIFTEM), Kundli (Haryana) and Indian Institute of Food Processing Technology (IIFPT), Thanjavur (Tamil Nadu) under the Ministry of Food Processing Industries became Institutions of National Importance (INI).
This will provide these Institutes greater autonomy, so that they can start new and innovative courses, as well as help them to attract excellent faculty and students.
Current News Ecology & Environment Sustainable Developement
KASEZ: India's First Green Industrial City"
---
Kandla Special Economic Zone (KASEZ), the oldest export zone in the country, has become the "first green industrial city" in India to receive a platinum rating under IGBC Green Cities Rating for existing cities in the industrial cities category.
Initiatives that helped Kasez achieve this Status
Green Cover: Compared to the 25,000 trees in KASEZ in 2019, the 1000-odd acres have 3.5 lakh trees. Most of these trees have been planted post 2019, using the Miyawaki forestation method.
Bird and Tree Species: KASEZ managed to grow 68 species of trees and attract 28 varieties of birds— which were also audited and counted — on a piece of land that was once a salt pan with almost no vegetation.
Halting Growth of Salt Pan: The SEZ halted the growth of salt pan beyond Kandla. The planting of trees helped reduce salinity and improved the quality of top soil. The water became less saline and the growth of the trees improved. It also used water harvesting systems.
Productive use of Waste: Usage of worn clothing by KASEZ which is a hub of used clothing recycling industry for mulching during tree plantation.
Use of Plastic Waste: KASEZ used plastic waste to line the artificial water bodies created inside the area to prevent water seepage and mix with the saline water.
Energy Conservation: The SEZ's initiatives with solar energy and LED lighting were also among the factors that contributed to the IGBC rating.
News Crux Defence/Military Exercises
INDRA 2021 to be held at Volgograd (Russia)
---
12th Edition of Indo-Russia joint military Exercise INDRA 2021 will be held at Volgograd, Russia from 01 to 13 August 2021.
The exercise will entail conduct of counter terror operations under the United Nations mandate by a joint force against international terror groups.
The 11th edition of the exercise was held on 4th September 2020 in the Andaman Sea.
250 personnel from both the nations will form part of the exercise. The Indian Army contingent comprising of a Mechanised Infantry Battalion underwent rigorous training at different locations in India to refine their drills for participation in the joint exercise.
News Crux Defence/Military Exercises
Exercise Cutlass Express 2021
---
Indian Naval Ship Talwar is participating in Exercise Cutlass Express 2021, being conducted from 26 July 2021 to 06 August 2021 along the East Coast of Africa.
The exercise is an annual maritime exercise conducted to promote national and regional maritime security in East Africa and the Western Indian Ocean.
The 2021 edition of the exercise involves participation of 12 Eastern African countries, US, UK, India and various international organisations like International Maritime Organisation (IMO), United Nations Office on Drugs and Crime (UNODC), Interpol, European Union Naval Force (EUNAVFOR), Critical Maritime Routes Indian Ocean (CRIMARIO) and EUCAP Somalia.
Indian Navy is participating in the exercise in a 'trainer role'.
Current News Science & Technology New Technology
Indian Scientists Develop Self-Healing Materials
---
Researchers from the Indian Institute of Science Education and Research (IISER) Kolkata, teaming up with IIT Kharagpur, have developed piezoelectric molecular crystals that repair themselves from mechanical damages without need for any external intervention.
Piezoelectric crystals are a class of materials that generate electricity when it undergoes a mechanical impact.
The piezoelectric molecules developed by the scientists called bipyrazole organic crystals recombine following mechanical fracture without any external intervention, autonomously self-healing in milliseconds with crystallographic precision.
In these molecular solids, due to the unique property of generating electrical charges on mechanical impact, the broken pieces acquire electrical charges at the crack junction, leading to attraction by damaged parts and precise autonomous repair.
Sports In News Athletics
First Gold Medallist Skateboarding at Tokyo Olympics
---
Yuto Horigome of Japan claimed the first Olympic gold medal in skateboarding after the introduction of this game for the first time in Tokyo Olympics.
Sports In News Athletics
Momiji Nishiya: Japan's Youngest Gold Medallist in Olympics
---
Momiji Nishiya, the 13-year-old skateboarding player, became the youngest gold medallist from Japan as she won the women's street skateboarding event of the 2020 Olympics.
The youngest Olympian in the modern history of the games to win a medal was 10-year-old Dimitrios Loundras, a Greek gymnast who helped his team win a bronze medal in team parallel bars at the 1896 Athens Summer Games.
There is no universal minimum age for Olympians set by the International Olympic Committee, but individual sports have eligibility limits. Gymnasts, for example, must be 16 years old to compete at the Games, while boxers must have turned 18. Olympic skateboarding, notably, has no minimum age requirement.
Sports In News Badminton
Pramod Bhagat: Differently Abled Sportsman of the Year
---
Paralympic-bound shuttler Pramod Bhagat named Differently Abled Sportsman of the Year at Indian Sports Honour for 2019.
Bhagat won two gold medals and a bronze at the Dubai Para Badminton Tournament this year.
Founded in 2017, Indian Sports Honours are awards given annually by the RPSG Group in association with the Virat Kohli Foundation to outstanding sports personalities of India.
News Crux Obituary
Marathi poet Satish Kalsekar Passed Away
---
Renowned Marathi poet Satish Kalsekar has passed away on 24 July 2021.
Kalsekar was awarded with Sahitya Akademi Award in 2014 for his collection of essays 'Vachanaryachi Rojanishee'.
His popular collections of poems are 'Indriyopnishad', 'Sakshat' and 'Vilambit'.
News Crux Obituary
Bhageerathi Amma: Kerala's Oldest learner Passed Away
---
Kerala's oldest learner, Bhageerathi Amma has passed away on 22 July 2021 at the age of 107.
She returned to education at the age of 105.
She was honoured with the Nari Shakti Puraskar 2019.
News Crux Obituary
Bangladesh's Folk Musician Fakir Alamgir Passed Away
---
Folk music legend and freedom fighter Fakir Alamgir has passed away on 23 July 2021.
Singer, musician and songwriter, Fakir Alamgir was a leading exponent of Gono Sangeet or songs of the masses. He was known as a leading voice for the weaker sections of society.
He was a member of the cultural groups Kranti Shilpi Gosthi and Gono Shilpi Gosthi during the mass upsurge of 1969 against the Pakistani government.
He also worked with Swadhin Bangla Betar Kendra, the radio station which played a significant role during the liberation war of Bangladesh in 1971.
He was awarded the top literary award of Bangladesh Ekushey Padak in 1999 for his contribution to music.
News Crux Important Days/Weeks
Dharma Chakra Day 2021
---
On 'Asaadh Poornima' (July 24) Dharma Chakra Day 2021 was observed.
Dharma Chakra Day commemorates Buddha's first sermon to his first five ascetic disciples at the Deer Park, Rsipatana in the present day Sarnath near Varanasi, Uttar Pradesh.
The day is also celebrated by Buddhists all over the world as the day of Dharma Chakra Parvattana or "Turning of the Wheel of Dharma".
This day is also aptly observed as Guru Poornima by both Buddhists and Hindus as a day to mark reverence to their gurus.
Note: Dhamma Chakra Pravartan Din is observed on 14 October to commemorate the day when B. R. Ambedkar, embraced Buddhism with approximately 600,000 of his followers on Ashoka Vijaya Dashami on 14 October 1956 at Deekshabhoomi, Nagpur.
News Crux Important Days/Weeks
26 July: Kargil Vijay Diwas
---
On 26th July 2021, we are celebrating the 22nd year of Kargil Vijay Diwas.
Kargil Vijay Diwas is celebrated every year on July 26 since the year 1999, to mark India's victory over Pakistan in the Kargil conflict (infiltration of Pakistani Army and capturing Indian posts at high altitudes).
The Kargil War was fought for more than 60 days between May-July of 1999 in the Kargil district of Jammu and Kashmir along the Line of Control (LoC) and ended on 26th July.
India responded with 'Operation Vijay' (by Indian Army) and 'Operation White Sea' (Indian Air Force) to flush out Pakistani troops.
News Crux Appointment & Resignation
Ariel Henry becomes new PM and Acting President of Haiti
---
Ariel Henry has been sworn in as the new prime minister of Haiti.
He has also given the charge of acting president of Haiti since 20 July 2021 after Haiti's President Jovenel Moïse was assassinated.
Current News National Indian Art, Culture & Heritage
Kakatiya Rudreswara Temple: India's 39th 'World Heritage Site'
---
Telangana's Kakatiya Rudreswara Temple (popularly known as Ramappa temple), located at Palampet village in the newly formed Mulugu District has been inscribed by UNESCO as World Heritage Site.
It was declared at the World Heritage Committee's 44th session being organized at Fuzhou (China) from 16 to 31 July.
After this, India has 39 (31 are cultural, 7 are natural, and 1 is mixed) World Heritage Sites.
About Kakatiya Rudreswara Temple
The Rudreswara temple was constructed in 1213 AD during the reign of the Kakatiya Empire by Recharla Rudra, a general of Kakatiya king Ganapati Deva.
The presiding deity here is Ramalingeswara Swamy.
It is also known as the Ramappa temple, after the sculptor who executed the work in the temple for 40 years and probably the only temple in the country to be known by the name of its sculptor.
The temple is built with bricks that are so light that they can float on water. The bricks were believed to be made spongy using something like saw-dust.
The temple stands on a 6-feet high star-shaped platform with walls, pillars and ceilings adorned with intricate carvings which are the hallmarks of the Kakatiya sculptors.
The carvings -- mythical animals, female dancers - are considered as masterpieces of Kakatiya art.
Italian merchant and explorer Marco Polo had remarked that the Ramappa temple was the "brightest star in the galaxy of medieval temples of the Deccan."
Current News National Indian Art, Culture & Heritage
Liverpool stripped of 'World Heritage' Status
---
The English city of Liverpool was removed from UNESCO's list of world heritage sites on 21 July 2021 because new buildings undermined the attractiveness of its Victorian docks, making it only the third site to be removed from the prestigious list.
Liverpool was named a World Heritage Site by the United Nation's cultural organization in 2004, joining landmarks such as the Great Wall of China, the Taj Mahal, and the Leaning Tower of Pisa.
After a vote in China by members of its World Heritage Committee, UNESCO said the new buildings in Liverpool were undermining the city's "authenticity and integrity."
Liverpool was put on the heritage list in recognition of its role as one of the world's most important ports during the 18th and 19th centuries and for its architectural beauty.
The only other sites stripped previously of the title are a wildlife sanctuary in Oman in 2007 after poaching and habitat loss and the Dresden Elbe valley in Germany in 2009 when a four-lane bridge was built over the river.
The heritage label gives historic sites access to UN conservation funding as well as featuring in tourist guidebooks across the world.
Sports In News Weightlifting
Mirabai Chanu wins First Medal for India at Tokyo Olympics
---
Indian weightlifter Mirabai Chanu from Manipur won a Silver medal at the 2020 Tokyo Olympics in Women's 49 kg, securing India's first medal of the games.
She lifted a total of 202 kg to emerge second behind China's Hou Zhihui, who won the gold at 210 kg.
She is the first Indian lifter to win a silver medal at the Olympics and the second to win a medal after Karnam Malleswari's bronze in Sydney 2000.
She was awarded Rajiv Gandhi Khel Ratna and Padma Shri in 2018.
Sports In News Wrestling
Priya Malik wins Gold Medal at Cadet World Championship
---
Indian junior wrestler Priya Malik won a gold medal in the 73-kg category Cadet World Championship held in Budapest, Hungary.
The Cadet World Championship is a tournament where the best Greco-Roman, Freestyle and Women wrestlers worldwide below the age of 17 compete.
Priya had won gold at the Khelo India youth games in Pune in 2019.
Current News Science & Technology Health & Disease
UK registers Norovirus Outbreak
---
There is a Norovirus outbreak in the United Kingdom - a very contagious virus that causes vomiting and diarrhea also called "winter vomiting bug".
Concern: There are many different types of noroviruses. Infection with one type of norovirus may not protect one against other types. Though there is a possibility to develop immunity against certain types of norovirus, experts are not yet able to determine how long that immunity lasts.
Symptoms: Diarrhea, vomiting, nausea and stomach pain. It can cause inflammation of stomach or intestines - called acute gastroenteritis. Other symptoms include fever, headache and body aches.
Transmission: A person can contract norovirus by coming in direct contact of an infected person, consuming contaminated food or water and touching contaminated surfaces and then putting unwashed hands in mouth.
Treatment: There is no specific medicine for this virus. Only we can follow proper hand hygiene and drinking plenty of liquids to replace fluid lost from vomiting and diarrhea to help prevent dehydration.
PIB News Ecology & Environment
Steps taken by Govt. to protect Ground Water and Environment from Chemical Fertilizers
---
Soil Health Card Scheme: It is implemented to provide soil test based information on nutrient status to farmers along with recommendations on appropriate dosage of nutrients to be applied for improving soil health and fertility. Financial assistance is provided under Soil Health Card (SHC) for imparting farmer's trainings and field demonstrations on balanced use of fertilizers.
4Rs Approach: The Indian Council of Agricultural Research (ICAR) is recommending soil test based balanced and integrated nutrient management through conjunctive use of both inorganic and organic sources (manure, bio-fertilizers etc.) of plant nutrients with 4Rs approach i.e right quantity, right time, right mode and right type of fertilizer for judicious use of chemical fertilizers to prevent deterioration of soil health and contamination of groundwater. In addition, split application and placement of fertilizers, use of slow releasing N-fertilizers and nitrification inhibitors, growing leguminous crops and use of Resource Conservation Technologies (RCTs) are also advocated.
Awareness & Education: Government is focusing on creating awareness and educating the farmers about organic farming practices (including use organic sources of plants nutrients) under the Paramparagat Krishi Vikas Yojana (PKVY) and Mission Organic Value Chain Development of North Eastern Region (MOVCDNER) schemes. Awareness generation programs/workshop on various aspects of ground water including preventing ground water pollution and safe use of contaminated water are being conducted by Central Ground Water Board periodically.
PIB News National
Government initiatives for "Nasha Mukti" of Women
---
National Action Plan for Drug Demand Reduction: The Ministry of Social Justice and Empowerment implements the scheme of National Action Plan for Drug Demand Reduction (NAPDDR), under which there is a provision of providing Grant-in-Aid to drug de-addiction centres for female.
Nasha Mukt Bharat Abhiyaan: Ministry has launched Nasha Mukt Bharat Abhiyaan (NMBA) in 272 identified vulnerable districts with an aim to create awareness about ill effects of substance abuse. Under NMBA, nearly 1.5 Lakh women have been actively involved. Anganwadi & ASHA Workers, ANMs, Mahila Mandals & Women SHGs are some of the Women Groups actively participating in the Abhiyaan.
As of now, Ministry provides financial assistance to four de-addiction centers which provide services exclusively to women. The details of these centers is as under
Sneha Bhawan Imphal West, Manipur
United Voluntary Youth Council Churachandpur, Manipur
New life Home Society Aizwal, Mizoram
Sri Baba Trust and Foundation Bangalore
Current News Indian Economy
Performance of India on Digital and Sustainable Trade Facilitation
---
The United Nation's Economic and Social Commission for Asia Pacific's (UNESCAP) has released its latest Global Survey on Digital and Sustainable Trade Facilitation. India performed remarkably in this survey and jumped from 78.49% in 2019 to 90.32% in 2021.
The Global Survey on Digital and Sustainable Trade Facilitation is conducted every two years by UNESCAP. The 2021 Survey evaluated 143 economies including an assessment of 58 trade facilitation measures covered by the WTO's Trade Facilitation Agreement.
India Specific Findings
The Survey has highlighted India's significant improvement in the scores on all 5 key indicators, as follows:
Transparency: 100% in 2021 (from 93.33% in 2019)
Formalities: 95.83% in 2021 (from 87.5% in 2019)
Institutional Arrangement and Cooperation: 88.89% in 2021 (from 66.67% in 2019)
Paperless Trade: 96.3% in 2021 (from 81.48% in 2019)
Cross-Border Paperless Trade: 66.67% in 2021 (from 55.56% in 2019)
The Survey notes that India is the best performing country when compared to South and South West Asia region (63.12%) and Asia Pacific region (65.85%).
The overall score of India has also been found to be greater than many OECD countries including France, UK, Canada, Norway, Finland, etc. and the overall score is greater than the average score of EU.
India has achieved a 100% score for the Transparency index and 66% in the "Women in trade" component.
Factors behind India's Improvement
'Turant' Customs: CBIC has been at forefront of path breaking reforms under the umbrella of 'Turant' Customs to usher in a Faceless, Paperless and Contactless Customs by way of a series of reforms. This has had a direct impact in terms of the improvement in the UNESCAP rankings on digital and sustainable trade facilitation.
COVID-19 24*7 helpdesk for EXIM trade: Further, during the Covid19 pandemic, Customs formations have made all efforts to expedite Covid related imports such as Oxygen related equipments, life-saving medicines, vaccines etc. A dedicated single window COVID-19 24*7 helpdesk for EXIM trade was created on the CBIC website to facilitate quick resolution of issue(s) faced by importers.
About WTO's Trade Facilitation Agreement

WTO members concluded negotiations at the 2013 Bali Ministerial Conference on the landmark Trade Facilitation Agreement (TFA), which entered into force on 22 February 2017 following its ratification by two-thirds of the WTO membership.
The TFA contains provisions for expediting the movement, release and clearance of goods, including goods in transit.
It also sets out measures for effective cooperation between customs and other appropriate authorities on trade facilitation and customs compliance issues. It further contains provisions for technical assistance and capacity building in this area.
Current News Indian Economy
Production-linked Incentive (PLI) Scheme extended to Specialty Steel
---
The Union Cabinet has approved the Production Linked Incentive (PLI) Scheme for specialty steel. The duration of the scheme will be five years, from 2023-24 to 2027-28.
Expected Outcome
Investment & Capacity Addition: The scheme is expected to bring in investment of approximately Rs 40,000 crores and capacity addition of 25 MT for speciality steel.
Employment: The scheme will give employment to about 5,25,000 people of which 68,000 will be direct employment.
Why Speciality Steel
Speciality steel has been chosen as the target segment because out of the production of 102 million tonnes steel in India in 2020-21, only 18 million tonnes value added steel/speciality steel was produced in the country.
Apart from this out of 6.7 million tonnes of imports in the same year, approx. 4 million tonnes import was of specialty steel alone resulting in FOREX outgo of Approx. Rs. 30,000 crores.
By becoming Aatmanirbhar in producing speciality steel, India will move up the steel value chain and come at par with advanced steel making countries like Korea and Japan.
It is expected that the speciality steel production will become 42 million tonnes by the end of 2026-27. This will ensure that approximately 2.5 lakh crores worth of speciality steel will be produced and consumed in the country which would otherwise have been imported.
Similarly, the export of specialty steel will become around 5.5 million tonnes as against the current 1.7 million tonnes of specialty steel getting FOREX of Rs 33,000 crore.
About Speciality Steel
Specialty steel is value added steel wherein normal finished steel is worked upon by way of coating, plating, heat treatment, etc. to convert it into high value added steel which can be used in various strategic applications like Defence, Space, Power, apart from automobile sector, specialized capital goods, etc.
The five categories of specialty steel which have been chosen in the PLI Scheme are:
Coated/Plated Steel Products
High Strength/Wear resistant Steel
Specialty Rails
Alloy Steel Products and Steel wires
Electrical Steel
Sports In News Football
AIFF Awards 2020-21
---
The AIFF Player of the Year Awards are the annual football awards presented to the best footballers in India by the All India Football Federation (AIFF).
Sunil Chhetri (6 times) and Bala Devi (3 times) are the most awarded players in Men's and Women's category respectively.
Best Players 2020-21
Men's Player of the Year: Sandesh Jhingan (Jhinghan donned the national colours for the first time in 2015 and has made 40 international appearances since, including a crucial draw against Qatar in 2019. He had also won the AIFF Emerging Player Award in 2014 as well as the Arjuna Award last year).
Men's Emerging Footballer of the Year: Suresh Singh Wangjam from Manipur
Women's Footballer of the Year: Bala Devi (She received this award for the third time, having previously won it two years in a row in 2014 and 2015. Currently playing for the Rangers Women's FC in Scotland, she remains the first Indian woman footballer to sign a professional contract in Europe.
Women's Emerging Footballer of the Year: Manisha Kalyan (She is a former India U-17 and U-19 international player, made her senior national team debut against Hong Kong in 2019. She also received the Emerging Player of the Tournament award at the 2019-20 Hero Indian Women's League, where she played a key role in Gokulam Kerala FC's run to the title)
Sports In News Football
Maymol Rocky: Indian Women Head Coach Steps Down
---
After four years in charge of the Indian women's senior national team, head coach Maymol Rocky has stepped down from her role.
A former India international player, Maymol took over the reins as head coach in 2017 after a stint as the Assistant Coach and led the team to a number of international glories.
The Indian Women's National Team created history in November 2018 by making it through to the second round of the Olympic qualifiers for the first time ever, and won the title at the SAFF Women's Championship in 2019 and the gold medal at the South Asian Games in Nepal.
Sports In News Athletics
Ban Ki-moon re-elected as IOC Ethics Commission Chair
---
Former United Nations Secretary-General Ban Ki-moon was reelected for an additional four-year term as Chair of the International Olympic Committee (IOC) Ethics Commission at the 138th IOC Session.
The South Korean has held the position since 2017.
Sports In News Athletics
Brisbane to host 2032 Olympics
---
Brisbane was picked on 21 July 2021 to host the 2032 Olympics.
The Games will go back to Australia 32 years after the popular 2000 Sydney Olympics. Melbourne hosted the event in 1956.
Brisbane follows 2028 host Los Angeles and Paris will host in 2024.
Brisbane was the first winner in a new bidding format. It lets the IOC approach potential candidates and pick them uncontested before the previously mandated seven-year advance mandated other in Olympic contests.
The streamlined process was designed to cut campaign costs, give the IOC more control and remove the risk of vote-buying.
State In News Kerala
'Unnati' Scheme: No more dependency on MGNREGS
---
The Kerala Govt. has launched 'Unnati' scheme to reduce workers' dependency on MGNREGS and ensure jobs with better wages.
Finer Points of the Scheme
The 'Unnati' project will provide skill training to existing workers of the Mahatma Gandhi National Rural Employment Guarantee Scheme (MGNREGS).
Under the project, one adult member of a household which has completed 100 days of work under the MGNREGS will be provided training through the Rural Skill Division of the Ministry of Rural Development and the Krishi Vigyan Kendras of the Ministry of Agriculture.
The household from which a candidate will be selected for the training will continue to enjoy 100 days of work under the scheme.
A family member in the 18-35 age group from the household will be eligible for training under the Deen Dayal Upadhyaya Grameen Kaushalya Yojana (DDU-GKY).
In case of special groups, persons of up to 45 years of age can apply.
The person undergoing training will be paid a stipend as per the prevailing wage rate for a maximum period of 100 days. The person will be eligible for stipend on a minimum attendance of 75% of the training classes or the course attendance requirement, whichever is more.
Under the DDU-GKY, placement is also ensured following the training.
The Kudumbashree Mission (State Poverty Eradication Mission) of Kerala has been entrusted with the selection of beneficiaries under the project.
Current News Science & Technology Health & Disease
Monkey B Virus: First Death in China & there is no Vaccine for it
---
China has reported its first death by viral infection called the Monkey B virus after a veterinarian infected, after he dissected two dead monkeys.
About the Virus
Monkey B virus, also called the B virus (BV), was first discovered in 1932.
It is the only identified old-world-monkey herpesvirus, commonly called herpes B, herpesvirus simiae, and herpesvirus B, monkey B virus.
Transmission: It is transmitted by macaques, chimpanzees and capuchin monkeys. The Monkey B virus spreads when a person comes in contact with an infected monkey's tissues or fluid. Apart from that, it can also infect a person if he or she is bitten by an infected monkey. As of now, there has been only one case of person to person transmission. In the case of a Beijing-based male veterinarian, people who came in contact with him have had no symptoms and have tested negative for the virus.
Symptoms: The male vet who succumbed to the virus experienced nausea and vomiting, which appeared within 3 to 7 days. Other symptoms include fever and chills, headache, fatigue, body and muscle pain and neurological symptoms like memory problems, brain fog, etc. A person may start demonstrating symptoms "within one month of being exposed to a monkey with B virus infection, but could appear in as little as three to seven days."
Treatment: Currently, there are no vaccines available against the Monkey B virus. Experts have suggested fluid therapy as the only treatment for the virus.
Current News National Indian Art, Culture & Heritage
Pallava Era 'Hero Stone' discovered in Tamil Nadu
---
A group of local archaeology enthusiasts from Tamil Nadu have unearthed a Pallava era hero stone near Harur. It is the third in the line of hero stones discovered in the same location and bearing the name of Eachuvara Varaman, a Pallava ruler.
The hero stone is engraved with Tamil Brahmi script that speaks of the death of a lieutenant of one Vanaathiarasar, during a conflict and his death in the conflict.
Two more hero stones were recovered from the same area. An earlier hero stone bears the name "Paramthaayar, which literally would mean big family taking after the word "Param". The name was that of a clan chief, or chief of a pastoral land nurtured along river banks.
While all the three hero stones were attributed to the rule of Eachuvara Varman, the names in the hero stones is supposed to have been that of the local chiefs, who directly led the people.
The hero stones were erected valorising the martyrdom of those men, who had fought to claim pastoral lands in the conflicts that arose between clans that contested over pastoral lands in the area.
About Hero Stone
Hero Stone is a memorial commemorating the honorable death of a hero in battle.
Erected between the 6th century BC and the 18th century AD, hero stones are found all over India.
They often carry inscriptions displaying a variety of adornments, including bas relief panels, frieze, and figures on carved stone.
Usually they are in the form of a stone monument and may have an inscription at the bottom with a narrative of the battle.
About Pallava Dynasty
The Pallava dynasty was an Indian dynasty that existed from 275 CE to 897 CE, ruling a portion of southern India. They gained prominence after the eclipse of the Satavahana dynasty, whom the Pallavas served as feudatories.
Pallava Dynasty was founded by Simhavishnu in 560 A.D. Their capital was at Kanchipuram.
Pallavas became a major power during the reign of Mahendravarman I and Narasimhavarman I. Throughout their reign they were in constant conflict with both Chalukyas of Badami in the north and the Tamil kingdoms of Chola and Pandyas in the south. Pallavas were finally defeated by the Chola ruler Aditya I in the 9th century CE.
The territory of the Pallavas was known as Tundaka Visaya or Tundaka Rashtra.
Pallavas are most noted for their patronage of architecture, the finest example being the Shore Temple, a UNESCO World Heritage Site in Mamallapuram.
Chinese traveller Xuanzang visited Kanchipuram during Pallava rule and extolled their benign rule.
News Crux Obituary
Kottakkal Sivaraman who redefined Female Role in Kathakali - Passed Away
---
Noted Kathakali actor Kottakkal Sivaraman has passed away on 19 July 2021.
He portrayed female roles in Kathakali, the classical dance-drama from Kerala.
Sivaraman won the Central Sangeet Natak Akademi award.
Sports In News Chess
Vishwanathan Anand wins Sparkassen Chess Trophy
---
India's GM Viswanathan Anand won the Sparkassen Chess Trophy after playing out a draw in his fourth and final round 'No Castling' game against longtime rival Vladimir Kramnik of Russia.
The Indian maestro won the opening game of the series before the next three ended in stalemate.
'Castling' is not allowed in this format in an effort to make the game more interesting. Castling is a special move to protect the king and activate the rook. It is the only time in chess a player can move two pieces in one move.
The game was organized at Dortmund, Germany.
News Crux Miscellaneous
'Balika Panchayat': A Concept that will flourish
---
Inspired by the TV series, Balika Vadhu, the Kunariya village of Kutch district in Gujarat has come out with a unique idea of holding Balika Panchayat. The first-ever elections of this Balika Panchayat were successfully held recently.
This Panchayat will be run by the girls and for the girls.
The main aim of this initiative is to develop leadership qualities in the girls for future Panchayat polls.
Young females aged between 10 to 21 years contested elections for this unique Panchayat which will take up issues pertaining to adolescent girls and women in the village.
The Sarpanch of this progressive village also encouraged this and assured separate sitting arrangements for these girls and they will be given to use the budget of gender sensitivity.
Current News National National Security
Project 75 (I): RFP issued for Six Conventional Submarines
---
On July 20, 2021, the Ministry of Defence (MoD) has issued Request of Proposal (RFP) for the first acquisition programme under the Strategic Partnership Model for construction of six AIP fitted Conventional Submarines named Project 75(India) [P-75(I)] for the Indian Navy, on July 20, 2021.
Strategic Partners: The RFP was issued to shortlisted Strategic Partners (SPs) or Indian Applicant Companies for the project viz, M/s Mazagaon Dock Shipbuilders Limited (MDL) and M/s Larsen & Tubro (L&T). The shortlisted SPs to whom the RFP has been issued would be collaborating with any of the shortlisted Foreign OEMs.
Foreign OEMs: M/s Naval Group-France, M/s TKMS-Germany, M/s JSC ROE-Russia, M/s Daewoo Shipbuilding and Marine Engineering Co Ltd-South Korea and M/s Navantia-Spain.

Role of Foreign OEMs: The foreign OEMs will be the technology partner in the SP Model. They will enable SP for construction of submarines, achieving high levels of indigenization, and ToT (Transfer of Technology). These OEMs would enable setting up of dedicated manufacturing lines for these submarines in India by providing ToT for submarine design and other technologies and make India the global hub for submarine design and production.
About Project-75(I)
Project-75(I) envisages indigenous construction of six modern conventional submarines (including associated shore support, Engineering Support Package, training and spares package) with contemporary equipment, weapons & sensors including Fuel-Cell based AIP (Air Independent Propulsion Plant), advanced torpedoes, modern missiles and state of the art countermeasure systems.
News Crux Awards In News
National Logistics Excellence Awards Launched
---
With a view to turn the spotlight on the logistics sector, the Government on 19th July 2021 announced the launch of National Logistics Excellence Awards.
The awards are in two categories:
(i)the first group includes logistics infrastructure/service providers, and
(ii)second one is for various user industries.
The awards will highlight best practices including consolidation, process standardisation, technological upgrade, digital transformations, and sustainable practices.
Growth and Hindrances to India's Logistics Sector
While the Indian logistics sector has been growing at a CAGR of 10.5%, reaching approximately USD 215 billion in value in 2020, there are systemic, interconnected problems that must be addressed to enhance its efficiency.
Comprehensive logistics costs amount to almost 14% of India's GDP. Closing India's competitiveness gap vis-à-vis the global average of 8 percent, would make the Indian logistics sector advanced, organised and efficient, on par with global peers with the ambition of being amongst the top 25 countries in the global Logistics Performance Index (LPI).
News Crux Awards In News
UNDP Equator Prize 2021
---
The Equator Prize, organized by the Equator Initiative within the United Nations Development Programme (UNDP) is awarded biennially to recognize community efforts to reduce poverty through the conservation and sustainable use of biodiversity.
2021 Equator Prize awarded to 10 Indigenous and local solutions for people and planet.
Two communities from India bagged this year's prestigious UNDP Equator Prize, for their exceptional achievement in showcasing local, innovative, nature-based solutions for tackling biodiversity loss and climate change and achieving their local development goals.
The two winning organizations from India out of the ten winners globally are:
Aadhimalai Pazhangudiyinar Producer Company Limited: This 1,700-member cooperative, managed and run entirely by Indigenous people from the Nilgiri Biosphere Reserve in Southern India, has improved livelihoods across 147 villages by processing and marketing a diverse range of forest produce and crops.
Snehakunja Trust: Snehakunja Trust has protected sensitive wetland and coastal ecosystems in the Western Ghats and the Karnataka coast for 45 years. Restoring 375 hectares of mangroves, Snehakunja Trust is currently piloting the first blue carbon project in India.
News Crux Awards In News
Olympic Laurel Award to Muhammad Yunus
---
The Nobel Peace Prize (2006) winner Muhammad Yunus will be honoured with the 2nd Olympic Laurel Award on the opening day of the Tokyo Olympics on July 23, 2021.
He will be honoured for his special contribution to sports - he has created a social organisation called 'Yunus Sports Hub' that promotes the theory of development through sports.
He has also collaborated with the International Olympic Committee (IOC) on several projects, including educational elements of the IOC Young Leaders Programme, the 'Imagine' Peace Youth Camp and the Athlete365 Business Accelerator – the first comprehensive entrepreneurship programme to help Olympians with career transition.
Muhammad Yunus is a Bangladeshi social entrepreneur, banker, economist, and civil society leader. He was awarded the Nobel Peace Prize for founding the Grameen Bank and pioneering the concepts of microcredit and microfinance.
This Olympics honour was first given at the 2016 Rio Olympics. Kenyan Olympian and social changemaker Kip Keino received this honour at the Rio Olympics. He received the award for providing safe housing, schools and sports training for Kenyan children.
News Crux Obituary
John Woodcock: Noted Cricket Writer Passes Away
---
Former cricket writer and Wisden editor John Woodcock passed away on 18 July 2021.
John Woodcock was cricket correspondent of The Times from 1954 to 1988, continuing to write for the paper as a freelancer for two decades afterwards.
From 1981 to 1986 he also edited Wisden Cricketers' Almanack.
Woodcock was said to have watched more Test matches - over 400 - than anyone in the world, until he was overtaken by Richie Benaud.
During 1976-77 he travelled to India by Rolls-Royce, having completed the journey in 43 days with his friend and colleague Henry Blofeld.
News Crux Famous Books
'The India Story' by Bimal Jalan
---
Former RBI Governor Bimal Jalan's new book 'The India Story' - focuses on India's economic history and aims to provide lessons for the future of India's political economy.
He has previously written three books on various aspects of India's economic and political history, namely 'India Then and Now' (2020), 'India Ahead' (2018) and 'Politics Trumps Economics' (2012), the latter co-authored with economist Pulapre Balakrishnan.
News Crux Organisation In News
'Indian Institute of Heritage' to be set up at Noida
---
The Union Government has decided to set up the 'Indian Institute of Heritage' at Noida, Gautam Buddha Nagar.
This will impact higher education and research in the field related to rich Indian heritage and its conservation leading to Masters and Ph.D courses in History of Arts, Conservation, Museology, Archival Studies, Archaeology, Preventive Conservation, Epigraphy and Numismatics, Manuscriptology etc. as well as conservation training facilities to in-service employees and the students of the Indian Institute of Heritage.
The Institute is being set up as Deemed to be University by integrating Institute of Archaeology (Pt. Deendayal Upadhyaya Institute of Archaeology), School of Archival Studies under National Archives of India, New Delhi, the National Research Laboratory for Conservation of Cultural Property (NRLC), Lucknow, National Museum Institute of History of Art, Conservation and Museology (NMICHM) and Academic Wing of Indira Gandhi National Centre for the Arts (IGNCA), New Delhi. These shall become various schools of Institute.
PIB News Indian Economy
DAHD sets up Dairy Investment Accelerator
---
The Department of Animal Husbandry & Dairying (DAHD), Government of India, with a view to provide dedicated focus towards promoting & facilitating investments in the Indian Dairy sector, has setup Dairy Investment Accelerator under its Investment Facilitation Cell.
This Investment Accelerator is a cross functional team constituted to serve as the interface with investors. It shall provide support across the investment cycle:

Offering specific inputs for evaluation of investment opportunities
Addressing queries about application to govt. schemes
Connecting with strategic partners
Providing on-ground assistance with state departments & relevant authorities

The Dairy Investment Accelerator will work with DAHD to organize a series of events with global & local industry participants and one-on-one discussions with the investors to understand their perspectives, facilitate direct interactions with government officials and connects with other players in the industry.
Dairy Investment Accelerator is also generating awareness among investors about Animal Husbandry Infrastructure Development fund (AHIDF). AHIDF is one of the flagship schemes by DAHD, Government of India whereby Rs. 15,000 crore fund has been setup for offering financial support to entrepreneurs, private companies, MSME, Farmers Producers Organizations (FPOs), and Section 8 companies. Eligible entities can avail the benefits of the scheme to set up new units or expand existing units in areas of dairy processing & related value addition infrastructure, meat processing & related value addition infrastructure and Animal Feed Plant. The benefits available are:

3% interest subvention on loans
2-year moratorium with 6-year repayment period
INR 750 Cr credit guarantee
Current News National National Security
Navy gets Stabilized Remote Controlled Gun (SRCG)
---
Ordnance Factory Tiruchirappalli has handed over indigenously manufactured weapon named Stabilized Re-mote Controlled Gun (SRCG) fitted with 12.7mm M2 NATO standard machine gun to Indian Navy and Indian Coast Guard.
They are manufactured with transfer of technology agreement from Elbit Systems, Israel.
Primarily designed for marine applications, the weapon is equipped with sensors and has an automatic target tracking capacity. It will be mounted on warships and patrol boats and can remotely engage small boats, skiff and other small crafts with high accuracy both during day and night.
News Crux Important Days/Weeks
17 July: U Tirot Sing Day
---
The 186th death anniversary of the Khasi freedom fighter U Tirot Sing Syiem was observed on 17th July in Meghalaya as 'U Tirot Sing Day'.
He fought relentlessly to prevent Khasi Hills from falling into the hands of the British.
Tirot Sing fought with native weapons such as a sword and shield. He was shot at by the British and had to hide in a cave. He was eventually captured by the British in January 1833 and deported to Dhaka where he died on July 17, 1835.
News Crux Species In News
Caterpillar Slug: A new Invasive Species
---
According to a study, Purcell's hunter slug or caterpillar slug could become an invasive species attacking western and Peninsula India.
The slug (Laevicaulis haroldi– first described in 1980) entered India around 2010-2012 accidentally through international trade via Mumbai.
It has been listed as an endangered species and reportedly feeds on leaves and barks of mulberry plants.
News Crux Species In News
Vaquita Porpoise: A victim of "Cocaine of the Sea"
---
Recently, the vaquita (Phocoena sinus), the world's smallest and most endangered whale was in news due to the policy change of Mexico – it has given up on maintaining fishing-free zone to protect vaquita porpoise.
It is also known as "the panda of the sea" for the distinctive black circles around its eyes.
This species is found only in the Gulf of California (Sea of Cortez) region.
Conservation status of the species is 'Critically Endangered' with their numbers fewer than 15. It is the most critically endangered sea mammal on the planet.
Due to China's demand for the swim bladders, also known as 'maws,' from a giant Mexican fish called totoaba, fisherman use large gillnets to illegally fish for totoabas and vaquitas have become the victim of its by-catch.
The totoaba fish's swim bladders are called the "cocaine of the sea" for the money they fetch on the Chinese black market.
Inscribed on UNESCO's World Heritage List in 2005, the property of the Islands and Protected Areas of the Gulf of California was inscribed on the List of World Heritage in Danger in 2019 in light of the critical situation of the vaquita.
News Crux Awards In News
Cannes Film Festival 2021
---
The 74th annual Cannes Film Festival took place from 6 to 17 July 2021 in France.
Highlights
The Palme d'Or went to Titane, directed by Julia Ducournau; Ducournau became the second female director to win the award and the first to win not jointly with another director (in 1993 Jane Campion had won jointly with Chen Kaige).
The Honorary Palme d'Or was awarded to American actress and filmmaker Jodie Foster, and Italian filmmaker Marco Bellocchio.
The jury, presided by Spike Lee, presented the awards at the Closing Ceremony. Lee is the first Black person to ever lead Cannes' prestigious jury.
Major Awards
Palme d'Or: Julia Ducournau for Titane (France)
Grand Prix: Shared by Ashgar Farhadi for A Hero (Iran) and Juho Kuosmanen for Compartment No.6 (Finland)
Best Director: Leos Carax Annette (France)
Best Actress: Renate Reinsve for Worst Person in the World (Norway)
Best Actor: Caleb Landry Jones for Nitram (US)
State In News Assam
Assam Govt's Initiative towards Sportspersons
---
The Assam Government has decided to provide jobs to medal winners of Olympics, Asian and Commonwealth games, and National Games.
All those who won medals in National Games so far for Assam would be given Sports Pension by the State Government.
State In News Maharashtra
Maharashtra to issue Certificates using Blockchain Technology
---
Maharashtra State Board of Skill Development has decided to issue block chain based certificates to students.
Around 10 lakh digital certificates will be issued to diploma holders of eight educational years.
Singapore, Malta and Bahrain are the only countries using this technology.
According to technology provider Legit Doc's, each student will receive a "certficate_LegitDoc.zip" digital file containing the original PDF diploma certificate and its corresponding blockchain proof file. It can be verified within 10 seconds from anywhere around the world and does not require human intervention.
Sports In News Athletics
Tokyo Olympics 2020: The Indian Contingent
---
The Indian contingent in Tokyo will be 228-strong and would be participating across 18 events.
Archery
Deepika Kumari: India's biggest medal hope lies in Deepika Kumari. The 27-yearld from Ranchi is in fine form after winning three gold medals at the 2021 Paris World Cup. She is also the current World number one.
Tarundeep Rai, Atanu Das and Praveen Jadhav will be representing the men's team.
Athletics
Twenty-seven athletes will participate in the track and field events.
Men's Contingent
Javelin (Throw): Neeraj Chopra and Shivpal Singh
4x400m Relay: Amol Jacob, Rajiv Arokia, Muhammed Anas, Naganathan Pandi and Noah Nirmal Tom
300m Steeple Chase: Avinash Sable
400m Hurdles: MP Jabir
Long Jump: M Shreeshankar
Shot Put: Tejinderpal Singh Toor
20km Walk: Sandeep Kumar & Rahul Rohilla
50km Walk: Gurpreet Singh
Women's Contingent
100m & 200m Sprint: Dutee Chand
Discus Throw: Kamalpreet Kaur & Seema Antil Punia
Javelin Throw: Annu Rani
20km Walk: Priyanka Goswami, Bhawna Jat
4x400 Mixed Relay: Sarthak Bambri, Alex Antony, Revathi Veeramani, Subha Venkatesan and Dhanlakshmi Sekhar
Badminton
Men's Singles: B Sai Praneeth
Women's Singles: PV Sindhu
Men's Doubles: Satwiksairaj Rankireddy & Chirag Shetty
Boxing
Women's Category
Mary Kom (51Kg)
Simranjit Kaur (60Kg)
Lovlina Borgohain (69Kg)
Pooja Rani (75Kg)
Men's Category
Amit Panghal (52Kg)
Manish Kaushik (63Kg)
Vikas Krishnan (69Kg)
Ashish Kumar (75Kg)
Satish Kumar (91KG+)
Equestrian
Fencing
Golf
Men's: Anirban Lahiri and Udayan Mane
Women's: Aditi Ashok
Gymnastics
Hockey
Men's Squad: PR Sreejesh (GK), Harmanpreet Singh (DEF), Rupinder Pal Singh (DEF), Surender Kumar (DEF), Amit Rohidas (DEF), Birendra Lakra (DEF), Hardik Singh (MID), Manpreet Singh (MID), Vivek Sagar Prasad (MID), Nilakanta Sharma (MID), Sumit (MID), Shamsher Singh (FWD), Dilpreet Singh (FWD), Gurjant Singh (FWD), Lalit Kumar Upadhyay (FWD) and Mandeep Singh (FWD).
Women's Squad: Savita (GK), Deep Grace Ekka (DEF), Nikki Pradhan (DEF), Gurjit Kaur (DEF), Udita (DEF), Nisha Neha (MID), Sushila Chanu Pukhrambham (MID), Monika (MID), Navjot Kaur (MID), Salima Tete (MID), Rani (FWD), Navneet Kaur (FWD), Lalremsiami (FWD), Vandana Katariya (FWD) and Sharmila Devi (FWD).
Judo
Sushila Devi and Likmabam in the Women's extra light weight 48Kg category.
Rowing
Arjun Jut and Arvind Singh in the Men's light weight double sculls.
Sailing
Vishnu Saravan, KC Ganapathy, Varun Thakkar, Nethra Kumanan
Shooting
Men's Squad
10m Air Rifle: Divyansh Singh Panwar & Deepak Kumar
10m Air Pistol: Saurabh Chaudhary & Abhishek Verma
50m Rifle 3 Position: Sanjeev Rajput & Aishwary Pratap Singh Tomar
Skeet: Angad Vir Singh Bajwa & Mairaj Ahmad Khan
Women's Squad
10m Air Rifle: Apurvi Chandela & Elevenil Valarivan
10m Air Pistol: Manu Bhaker & Yashaswini Singh Deswal
25m Sports Pistol: Manu Bhaker & Rahi Sarnobat
50m Rifle 3 Position: Anjum Moudgil & Tejaswini Sawant
10m Air Rifle Mixed Squad: Divyansh Singh Panwar & Elavenil Valarivan, Deepak Kumar & Anjum Moudgil
10m Air Pistol Mixed Squad: Saurabh Chaudhary & Manu Bhaker, Abhishek Verma & Yashaswini Singh Deswal
Swimming
Men's Squad
Sajan Prakash (200m butterfly)
Srihari Nataraj (100m backstroke)
Women's Squad
Maana Patel (100m backstroke)
Table Tennis
Men's Singles: Sharath Kamal and G Sathiyan
Women's Singles: Manika Batra and Sutirtha Mukherjee
Mixed Doubles: Manika Batra and Sharath Kamal
Tennis
Women's Doubles: Sania Mirza and Ankita Raina
Weightlifting
Wrestling
Men's Squad: Ravi Kumar Dahiya (Freestyle, 57kg), Bajrang Punia (Freestyle, 65kg) and Deepak Punia (Freestyle, 86kg).
Women's Squad: Seema Bisla (Freestyle, 50kg), Vinesh Phogat (Freestyle 53kg), Anshu Malik (Freestyle 57kg) and Sonam Malik (Freestyle 62kg).
News Crux Obituary
Three-Time National Award-Winning Actor Surekha Sikri Passes Away
---
Veteran TV and Cinema actor Surekha Sikri died on 16th July 2021.
Sikri won the National Film Award for Best Supporting Actress thrice, for her roles in Tamas (1988), Mammo (1995) and Badhaai Ho (2018).
She was also awarded the Sangeet Natak Akademi Award.
News Crux Defence/Military Exercises
'Exercise Shield': To Curb Narcotics Smuggling
---
A tri-nation table top anti-narcotics and maritime search and rescue exercise, 'Exercise Shield', was held between Indian and Sri Lankan Navies and Maldives National Defence Force to share best practices and fine-tune procedures amid growing instances of narcotics smuggling in the region.
The table top exercise and simulation was held virtually on July 14 and 15 with the Indian Navy's Western Naval Command as the lead agency.
News Crux Important Days/Weeks
17 July: World Day for International Justice
---
The World Day for International Justice/ Day of International Criminal Justice is observed on July 17 every year to commemorate the historic adoption of the Rome Statute in 1998 and establishment of the International Criminal Court (ICC).
It marks the importance of fighting against impunity and bringing justice for the victims of war crimes, crimes against humanity, and genocide.
The International Criminal Court is an intergovernmental organization and international tribunal that sits in The Hague, Netherlands.
123 countries are States Parties to the Rome Statute of the International Criminal Court.
Note: The International Court of Justice (ICJ) also based in The Hague (Netherlands) is the principal judicial organ of the United Nations (UN). Its jurisdiction is different from ICC.The Court may entertain two types of cases: legal disputes between States submitted to it by them (contentious cases) and requests for advisory opinions on legal questions referred to it by United Nations organs and specialized agencies (advisory proceedings).
News Crux Web Portal & Apps
Ease of Living: Map Services integrated with "UMANG App"
---
The Ministry of Electronics & Information Technology (MeitY) has enabled map services in "UMANG App'' through an MOU with MapmyIndia.
The UMANG mobile app (Unified Mobile Application for New-age Governance) is a Government of India single, unified, secure, multi-channel, multi-platform, multi-lingual, multi-service mobile app, providing access to high impact services of various organizations (Central and State).
Benefits of this Move
Citizens will be able to find government facilities nearest to their location, such as mandis, blood banks and much more, at the click of a button.
They will also be able to see these on the most detailed and interactive street and village level maps of India, built by MapmyIndia.
Citizens will also be able to view the driving distance, get directions and turn by turn voice and visual guidance to locations, including traffic and road safety alerts during navigation.
Services already integrated with MapmyIndia
Mera Ration - Through UMANG, users can identify and navigate to the 'Nearest Fair Price Shops' as shops are visible in the form of pointers on MapmyIndia integrated map.
eNAM - Through UMANG, 'Mandi Near Me' service will help users to identify and navigate to the nearby mandis pointed on the map.
Damini - 'Damini Lightning Alerts' service is to provide lightning alerts to users by giving a visual of nearby areas where lightning has struck in the last few minutes. This alert mechanism provides the possibility of lightning strikes on map view.
Services which will be integrated soon
ESIC - Users can view ESIC centers such as hospitals/dispensaries on map view and navigate to them.
Indian Oil - Service is to locate nearby retail and distributors of Gas stations as well as fuel filling stations.
NHAI: Users can view the toll plazas and toll rates information while travelling.
National Crime Records Bureau (NCRB) provides information corresponding to nearby police stations on the map.
Pradhan Mantri Gram Sadak Yojana (Meri Sadak) will help users to raise complaints of damaged roads (under PMGSY) by selecting the road on MapmyIndia platform.
News Crux Web Portal & Apps
CPGRAMS App: First AI-based Application for Governance and Administration
---
On 15th July 2021, Defence Minister Rajnath Singh launched a first of its kind artificial intelligence (AI) based public grievance lodging application called Centralized Public Grievance Redress And Monitoring System (CPGRAMS).
The application has been launched with the combined efforts of the Defence research Development Organisation (DRDO) under the Ministry of Defence and IIT Kanpur.
The launch of the application marks the introduction of AI-based innovations into governance and administration in the country with an aim to improve grievance redressal in the Government.
About CPGRAMS
CPGRAMS is an online web-enabled system that primarily aims to enable submission of grievances by the aggrieved citizens from anywhere and anytime (24x7) basis to Ministries/ Departments/ Organisations who scrutinize and take action for speedy and favorable redress of these grievances.
Role of AI Tool
The AI tool developed as part of the initiative has the capability to understand the content of the complaint based on the contents therein. As a result, it can identify repeat complaints or spam automatically.
This application will have great use in understanding the nature of complaints, geographies from where they emanate, and policy changes that can be introduced to create systemic improvements to address these grievances.
Issues not taken up for Redress under CPGRAMS
Subjudice cases or any matter concerning judgment given by any court.
Personal and family disputes.
RTI matters.
Anything that impacts upon territorial integrity of the country or friendly relations with other countries.
Suggestions.
News Crux Obituary
Agra (India) born Pakistani President Passes Away
---
Mamnoon Hussain, the 12th President of Pakistan, who served from 2013 to 2018, has passed away.
He was first appointed Governor of Sindh in June 1999 but was removed from the post in October 1999 due to the 1999 military coup d'état.
Hussain was born in Agra in 1940 and migrated with his parents to Pakistan in 1947.
News Crux Important Days/Weeks
15 July: World Youth Skills Day
---
The World Youth Skills Day is observed on 15 July every year to celebrate the strategic importance of equipping young people with skills for employment, decent work and entrepreneurship.
The theme of World Youth Skills Day 2021 is "Reimagining Youth Skills Post-Pandemic".
In India, among other schemes, the Government has launched Skills India Mission in order to train over 40 crore Indians in different industry-related jobs. The vision is to create an empowered workforce by 2022 with the help of various schemes and training courses.
PIB News Ecology & Environment
India: World Leader in the Energy Transition
---
The Union Minister of Power and New and Renewable Energy, Shri RK Singh addressed the conference of Confederation of Indian Industry (CII) on "Aatmairbhar Bharat - Self Reliance for Renewable Energy Manufacturing". He stated that India had emerged as world leader in the Energy Transition.
Achievements
India had one of the fastest rates of growth of Renewable Energy capacity in the world.
India has pledged in COP-21 in Paris that by 2030; 40% of its power generation capacity will be from non-fossil fuel sources andhad already reached at 38.5% and if the capacity under installation is added, it comes to 48.5%.
India will continue to be a world leader in the coming years as well and as it has set a target of 450 GW of Renewable Energy capacity by 2030.
India had achieved universal access by connecting every village and every hamlet under Deen Dayal Upadhyay Gram Jyoti Yojana Scheme and connecting every household under Saubhagya Scheme.
It was the fastest and the largest expansion of access in the world.This had also resulted in the demand for electricity going up rapidly.
India has already touched 200 GW of demand even when the effects of COVID-19 was still there. The demand had crossed what it was during pre-COVID time and it is expected that electricity demand will continue to rise.This gives us the space for adding more Renewable Energy capacity.
Issues: Dumping
Some countries had been dumping solar cells and modules at very low price and harming our local industry.To prevent dumping it has been decided to impose customs duty on imported cells and modules so as to provide protection to Indian Industry from dumping.
The mechanism of ALMM (Approved List of Models and Manufacturers) will also provide protection to Indian Industries.
Other Initiatives: Green Hydrogen and Green Ammonia
India will also emerge as a leader in Green Hydrogen and Green Ammonia.
India proposes to green industry sectors to replace Grey Hydrogen (drawn from imported natural gas) with Green Hydrogen and for this it will come out with a Green Hydrogen Purchase Obligation for different sectors like petroleum and fertilizer. This will also provide huge demand for domestically manufactured solar and wind equipments as well as storage.
Green ammonia is made with hydrogen that comes from water electrolysis powered by alternative energy.
Support to Industries
Government proposes to come out with Rules and Regulations providing for easier Open Access for those industries which want to become green i.e. which want to rely on green energy for their functioning.Industry will be able to either set up green energy manufacturing capacity itself or through a developer and draw power from it through open access.The surcharge on open access will also be rationalized so as to ensure that open access is not saddled with unfair levies.
Current News National Indian Art, Culture & Heritage
Palaeolithic Cave Paintings found in Aravalli
---
Archaeologists have discovered cave paintings in Haryana that they believe belong to the Upper Palaeolithic age, which could potentially make them one of the oldest cave arts in the country.
The caves are in the Aravalli mountain ranges, just outside the national capital, near the region's only surviving patch of primary forest, a holy grove called Mangar Bani.
So far Bhimbetka in Madhya Pradesh is home to the oldest known cave art in India, dating back to the Mesolithic Age (around 10,000 years ago).
The Mangar cave art is 20,000-40,000 years old, according to archaeologists, but this is something that can be established through archaeological dating.
The Find: Paintings
Cave paintings comprising images of human figurines, animals, foliage, and geometric, some that have paled over time, but others that are still very visible.
Rock art and open-air ceremonial sites were also found.
About Colours of Painting
Most of the paintings are ochre, but some are white.
According to experts, cave paintings in white are usually from a later stage (early contemporary era), while Stone Age paintings are more often than not, ochre.
Stone Age paintings generally have red and ochre colours. Stones of these colour used to be available locally and inhabitants crushed the stones for preparing the colour for paintings.
Upper Paleolithic Age
The Upper Paleolithic Age began around 40,000 years ago and lasted till around 10,000 years ago.
Earlier Finds in this Area
Tools from the Palaeolithic Age have been identified earlier in parts of the Aravallis but, it is for the first time that cave paintings and rock art of a large magnitude have been found in Haryana.
The Aravallis demonstrate the earliest evidence of the Stone Age which we call the Lower Palaeolithic Acheulean culture.
News Crux Places In News
Spin Boldak
---
The Taliban militants have recently captured the strategic border crossing of Spin Boldak along the frontier with Pakistan.
Spin Boldak is a border town and the headquarters of Spin Boldak District in the southern Kandahar province of Afghanistan, next to the border with Pakistan.
It is linked by a highway with the city of Kandahar to the north, and with Chaman and Quetta in Pakistan to the south.
Spin Boldak has the second major port of entry between Afghanistan and Pakistan, the Wesh-Chaman border crossing. It is also a major transporting, shipping and receiving site between the two neighboring countries.
State In News Andhra Pradesh
Andhra Pradesh to give 10% Reservation for EWS
---
The Andhra Pradesh government has announced 10% reservation for the Kapu community and other Economically Weaker Sections (EWS) for appointments in the initial posts and services in the State government in accordance with the Constitution (103rd Amendment) Act, 2019.
The latest order practically annuls two laws enacted by the previous government in 2019 that split the 10 per cent EWS reservation into equal halves, with one half exclusively for the Kapu community, making it a sub-category under EWS.
The state government has, in fact, been implementing EWS reservation in education for the last two years following interim orders passed by the High Court in a writ petition.
Persons who are not covered under the existing scheme of reservations for Scheduled Castes, Scheduled Tribes and socially and educationally backward classes, with a gross family income below Rs 8 lakh per annum, will get the benefit of EWS reservation.
News Crux Species In News
India's First Monk Fruit (Siraitia grosvenorii) Cultivation Started in Kullu
---
The first ever monk fruit cultivation exercise in India has been started in Kullu, Himachal Pradesh, having suitable agroclimatic conditions. The plant prefers mountainous area with an annual mean temperature of about 16–20 °C and humid conditions.
The monk fruit (Siraitia grosvenorii), is known now throughout the world for its intensely sweet taste, and it has been used as a non-caloric natural sweetener.
This crop is cultivated only in China.
Monk Fruit gets its name from the Buddhist monks who first used it.
News Crux Scheme & Programme
'FASTER': SC Initiative to implement its Orders Swiftly
---
On 16 July 2021, Chief Justice of the Supreme Court of India N.V. Ramana announced a scheme called 'FASTER' or 'Fast and Secure Transmission of Electronic Records' by which the Supreme Court would instantly, directly, securely and electronically transmit bail and other orders to jail authorities, district courts and High Courts.
The Court took this initiative after people given bail by courts, even by the Supreme Court have to wait for days before prison authorities release them. Prison authorities who insist on receiving by hand the "authentic" hard copy of the bail order regardless of the fact that the personal liberty of people suffers.
The Bench asked State governments to file their reports about the Internet connectivity in their jails to prevent technical glitches in future.
News Crux Obituary
Pulitzer winner Indian Photojournalist Danish Siddiqui Passes Away
---
Noted Indian photojournalist Danish Siddiqui was killed on 16th July 2021 during a clash between the Afghan Special Forces and Taliban attackers in Spin Boldak district, which has a contentious international border crossing between Pakistan and Afghanistan.
Siddiqui was working for Reuters – a news agency.
In 2018, he became the first Indian alongside colleague Adnan Abidi to win the Pulitzer Prize for Feature Photography as part of the Photography staff of Reuters for documenting the Rohingya Refugee Crisis.
State In News Odisha
Orissa HC appoints Panel to assess Condition of Leprosy Patients
---
The Orissa High Court has appointed a committee of three lawyers to check the living condition of people with leprosy to understand their needs.
In 2006-2007, Odisha was declared "leprosy free" as per the World Health Organization (WHO) standards.
According to WHO, regions reporting 1 case per 10,000 of the population can be called leprosy-free.
Current News Science & Technology Health & Disease
'WHO' issues new Recommendations on Human Genome Editing
---
The World Health Organization has issued new recommendations on human genome editing.
Major Recommendations
Regulation and Creation of a Database: Among other things, it stressed the need for regulation and the creation of a database to track all forms of gene manipulation, providing a full overview, including pre-clinical research.
Whistleblower Mechanism: It also called for a "whistleblower mechanism"- this would enable people to alert the WHO if they have concerns about unethical and unsafe research into genome editing. The WHO could then demand that the country's authorities take action.
National and Regional Authorities: The expert committee also called on national and regional authorities to simplify the task of supervising and spotting worrying developments in genome editing by attributing consistent keywords to different types of research.
Gene Editing with Recent Technology
Gene editing has been revolutionised by the development of tools like CRISPR-Cas-9, which won its co-creators the Nobel Chemistry Prize last year and which can change the DNA of animals, plants, and micro-organisms with extreme precision.
Such developments carry huge potential benefits for diagnoses, treatment, and the prevention of genetic disorders, but have also have unsafe and unethical uses.
WHO Expert Group on Human Genome Editing
The WHO commissioned an expert group to study the implications of human gene editing back in 2018 after a Chinese scientist He Jiankui controversially claimed to have created the world's first genetically edited babies. He Jiankui's announcement that he had altered the DNA of twin girls in southern China by using molecular scissors – ostensibly to prevent them from contracting HIV — caused a global backlash.
Other violation was from Russia:Russian biologist, Denis Rebrikov in June 2019 announced he wanted to make similar use of Crispr — to help deaf parents have children without the disability — to which the UN health agency voiced alarm.
WHO's Caution
WHO chief Tedros Adhanom Ghebreyesus urged countries to bar any further work on so-called germline genome editing, which alters the genome of human embryos and can be passed on to subsequent generations, "until the technical and ethical implications have been properly considered". Scientists cautioned that the untested procedure was unethical and potentially dangerous.
Current News National Polity & Governance
Cabinet Committees Reconstituted after the reshuffle in Ministry
---
Under the Government of India (Transaction of Business) Rules, 1961, the Government has reconstituted Cabinet Committees recently after the reshuffle of ministry.
Why Cabinet Committees are formed?
Cabinet committees are established to reduce the workload of the Cabinet Ministers.
Types of Cabinet Committees
There are two types of cabinet committees - standing and ad-hoc.
Standing cabinet committees are permanent whereas ad-hoc cabinet committees are temporary and deals with special issues.
At present there are eight Cabinet committees:
Appointments Committee of the Cabinet
Cabinet Committee on Accommodation
Cabinet Committee on Economic Affairs
Cabinet Committee on Parliamentary Affairs
Cabinet Committee on Political Affairs
Cabinet Committee on Security
Cabinet Committee on Investment and Growth
Cabinet Committee on Employment and Skill Development
Note: In the recently formed committees (out of the eight), the Prime Minister is not a member of two committees - Cabinet Committee on Accommodation and Cabinet Committee on Parliamentary Affairs.
About Cabinet Committees
The Cabinet Committees are not mentioned in the Constitution.
They are established under the Government of India (Transaction of Business) Rules, 1961 under which the executive in India works.
These Rules emerge out of Article 77(3) of the Constitution, which states: "The President shall make rules for the more convenient transaction of the business of the Government of India, and for the allocation among Ministers of the said business."
The Prime Minister sets up different cabinet committees with selected members of the Cabinet and assigns specific functions to these committees.
The Prime Minister may even change the numbers of committees and modify the functions assigned to them.
If the Prime Minister is a member of any such committee, he acts as the head of the committee.
Current News Ecology & Environment Pollution
India's Single Largest Solar Park to come up at Rann of Kutch
---
NTPC Renewable Energy Ltd, a 100% subsidiary of NTPC will set up 4750 MW renewable energy park at Rann of Kutch in Khavada, Gujarat.
This will be India's largest solar park to be built by the largest power producer of the country.
NTPC REL has plans to generate green hydrogen on a commercial scale from this park.
Other recent major Initiatives by NTPC
Recently, NTPC has also commissioned India's largest Floating Solar of 10 MW (ac) on the reservoir of Simhadri Thermal Power Plant, Andhra Pradesh.
NTPC RE Ltd. has recently signed a MoU with UT, Ladakh and Ladakh Autonomous Hill Development Council (LAHDC) for the generation of green hydrogen and deployment on FCEV buses.
News Crux Appointment & Resignation
Sher Bahadur Deuba becomes Nepal's Prime Minister
---
On 13th July 2021, Nepali Congress President Sher Bahadur Deuba was appointed as Prime Minister for the fifth time.
Earlier, on 12th July 2021, the Supreme Court of Nepal overturned Prime Minister KP Sharma Oli's 21 May decision to dissolve the House of Representatives and ordered the appointment of Deuba.
News Crux Obituary
Member of 1983 World Cup Team Yashpal Sharma Passes Away
---
Cricketer Yashpal Sharma, who was a member of the India team that won the 1983 Cricket World Cup, passed away on 13 July 2021.
He served as India's national cricket selector from 2003 to 2006 and again became selector for the national team in 2008 and served until 2011. During his second tenure as selector, India won the 2011 Cricket World Cup.
He later served as the coach for Uttar Pradesh Ranji Team.
In 2014, he was appointed as the head of Delhi's cricket advisory committee.
Current News Science & Technology
Indian Scientists unfold the Puzzle of - How BR Regulates Cotyledon Unfolding
---
The scientists from the Indian Institute of Science Education and Research (IISER) Bhopal have identified a protein 'BBX32' that plays a critical role in plant growth regulation.
About 'BBX32'
Control the Timing of Seedling Emergence: The protein 'BBX32' is a B-box (BBX) protein (B-box play an important role in plant growth and development) that helps provide leads to control the timing of seedling emergence.
Benefits
As 'BBX32' help maximise proper seedling establishment, thereby enhancing crop yields in areas prone to heat waves during the Indian summer.
'BBX32' helps in plant growth regulation by keeping its first leaves folded until they emerge out of the soil and thus provide crucial aid in the seedling establishment process.
This protein is activated in the darkness by a steroid hormone in plants called Brassinosteroid (BR).
About Brassinosteroid (BR) Hormone & Cotyledon Opening
The steroid hormone Brassinosteroid was found about 25 years ago - keeps cotyledons folded in the dark.
Cotyledon opening is a key morphological change that occurs in seedlings during de-etiolation - a process in flowering plants grown in partial or complete absence of light.
BR inhibits the opening of the cotyledons in darkness while light promotes their opening.
The Riddle
How BR regulates cotyledon unfolding has remained relatively unknown.
Indian Scientists' Answer
Now, Indian scientists have that answer with 'BBX32'.
'BBX32' is regulated both by light and BR to the control cotyledon unfolding during the transition from dark to light.
Sports In News Cricket
ICC Player of the Month (June)
---
Women's: Sophie Ecclestone (England Left-arm spinner) – She is the second English female player to win the title after Tammy Beaumont (in February 2021).
Men's: Devon Conway (New Zealand opener) - He became the first New Zealand player to win the award.
News Crux Awards In News
Commonwealth Points of Light Award
---
Hyderabad's hunger activist Syed Osman Azhar Maqsusi, who has been feeding thousands of people every day as part of his food drive 'Hunger Has No Religion' was awarded a top UK award – Commonwealth Points of Light recently.
Maqsusi's NGO Sani Welfare Foundation has also taken the initiative to 4 other cities in the country- Bengaluru and Raichur in Karntaka, Cuttack in Odisha and Goalpara in Assam.
He had also started off the 'Do Roti' campaign where people in Hyderabad were encouraged to carry extra food when leaving their homes so that they could give it to people who might need them.
These awards are made by Queen Elizabeth II, as Head of the Commonwealth, to thank inspirational volunteers across the 53 Commonwealth nations for the difference they are making in their communities and beyond.
Current News Ecology & Environment
Moving towards 'Flex Engines'
---
The Union Govt. is in the process of making it mandatory for automobile manufacturers particularly the four wheelers and two wheelers to make flex engines.
About Flex Fuel Engines
A 'Flex-fuel engine' is an internal combustion engine that can run on more than one fuel and also a mixture. Typically, a blend of petrol and ethanol or methanol is used, and the engine is capable of automatically adjusting for any percentage of the blend, thanks to modifications like a fuel composition sensor and suitable ECU programming.
Several countries like USA, Canada and Brazil already have them .He said the cost of the vehicle remains the same whether it is petrol or Flex engine.
Benefits
It will address twin problems: Air Pollution and Crude Imports.
While ethanol does have lower energy content, it is generally better for the environment as these vehicles produce far lower emissions. Also, in general, whatever CO2 is released by a vehicle when ethanol is burned, gets offset by the CO2 captured during growing the crops.
Current status of ethanol Blending
Currently, petrol supplied in India is already blended with about 10-15 percent ethanol. However, with the current level of production this is not standard across the board.
Also, to further increase the levels of ethanol in the blend, engine modifications are required, thus requiring the auto industry to make suitable changes and get behind the initiative.
Issues to be watched
Ethanol is typically produced by fermenting crops like corn and sugarcane. However, while India is corn and sugar cane surplus, a careful assessment must be made to make sure that growing these crops for fuel does not take land away from actual food production, something that is already a concern in some countries that use a blend of ethanol and petrol.
Also what remains to be seen is how the industry reacts to this suggestion, given the strong push towards EVs.
Current News National Indian Art, Culture & Heritage
India returns Holy Relic of Queen St. Ketevan to Georgia
---
External Affairs Minister Dr S Jaishankar during his recent visit (first by an external affairs minister to Georgia, since the country's independence) to Georgia, returned one part of holy relic of Queen St Ketevan to Georgia.
One part of the holy relics still remains in India as a reminder of shared past of India and Georgia.
In 2017, at the request of the Georgian government, India sent the relics to Georgia for exhibition for six months. This loan of relics was extended for another six months. The relics returned to India on September 30, 2018.
The holy relics were preserved at the St. Augustine Church in Goa since the 17th century.
Her relics were taken to India by two devoted Augustinian monks who witnessed the last years of her life.
About Queen Ketevan
Ketevan (1560-1624) was the queen of Kakheti, a kingdom located in a region of eastern Georgia.
Kakheti was a small kingdom, which was nestled between two mighty Islamic empires: The Ottoman Empire (in present-day Turkey) and the Safavid empire (in present-day Iran).
She was killed at Shiraz, Iran, after prolonged tortures by the Safavid suzerains of Kakheti for refusing to give up the Christian faith and convert to Islam.
Queen Ketevan was canonised as a saint by the Georgian Orthodox Church shortly after her death.
Her place as a subject of veneration is attributed to her courageous stand against the demand for forcible conversion.
News Crux Obituary
Padma Awardee Ayurveda Practitioner PK Warrier Passes Away
---
Noted Ayurveda practitioner and chief Physician and Managing trustee of Arya Vaidya Sala, Kerala has passed away on 10th July 2021.
He was awarded with Padma Bhushan (2010), Padma Shri (1999), Dhanvantari Award (2010) and Kerala Sahitya Akademi Award (2008).
Now, P. Madhavankutty Varier, chief physician and trustee board member of Kottakkal Arya Vaidya Sala, has been elected managing trustee of the 119-year-old institution.
Sports In News Football
Italy wins Euro Cup 2020
---
Italy beat England 3-2 on penalties after the Euro 2020 final ended 1-1 following extra time at Wembley Stadium, England to secure their second European Championship title.
Awards

Player of the Tournament: Gianluigi Donnarumma (Italy) - The Player of the Tournament award was given to Gianluigi Donnarumma, the first goalkeeper to win the award.
Young Player of the Tournament: Pedri (Spain) - The Young Player of the Tournament award, open to players born on or after 1 January 1998, was given to Pedri.
Top Scorer: Cristiano Ronaldo (Portugal) - The "Alipay Top Scorer Trophy", given to the top scorer of the tournament, was awarded to Cristiano Ronaldo, who scored five goals and recorded one assist.
Sports In News Tennis
Wimbledon Championships 2021
---
The third Grand Slam of the year - Wimbledon Championships 2021 took place at the All England Lawn Tennis and Croquet Club in Wimbledon, London, United Kingdom.
Winners
Men's Singles: Novak Djokovic (Serbia) defended the Singles title as he claimed his 20th Grand Slam tournament title, defeating Matteo Berrettini (Italy) in the final. It was his sixth Wimbledon Tennis title and record of 20th Grand Slam trophy. Djokovic is now level with Roger Federer and Rafael Nadal in the list of most singles Grand Slam titles in men's history. Having already won the Australian Open and French Open this year, top seed Djokovic needs the Olympic gold medal and US Open title to become the first man to ever win a Golden Slam.
Women's Singles: The Ladies' Singles title was won by Ashleigh Barty (Australia), who defeated Karolína Plíšková (Czech Republic) in the final.
Men's Doubles: Croatian pair of Nikola Mektić and Mate Pavić won the title, defeating Marcel Granollers (Spain) and Horacio Zeballos (Argentina).
Women's Doubles: Hsieh Su-wei (Taiwan) and Elise Mertens (Belgium) won the title, defeating Russian pair of Veronika Kudermetova and Elena Vesnina.
Mixed Doubles: Neal Skupski (UK) and Desirae Krawczyk (USA) won the title, defeating British pair of Joe Salisbury and Harriet Dart.
Boys' Singles: Samir Banerjee - Indian origin Samir Banerjee, an American tennis player won the Boy's Singles at the Wimbledon 2021.
Current News National Polity & Governance
Uttar Pradesh Population (Control, Stabilisation, and Welfare) Bill, 2021
---
On World Population Day (11th July) the Uttar Pradesh State Law Commission released a draft of the Uttar Pradesh Population (Control, Stabilisation, and Welfare) Bill, 2021. It has invited suggestions on this Bill by 19 July 2021 from the public.
Need for such Bill
The draft of the population control bill says it is necessary to control and stabilise the population of the state for the promotion of sustainable development with more equitable distribution.
Aim
The Bill aims to revitalize efforts and provide for measures to control, stabilize and provide welfare to the population of the State by implementation and promotion of two-child norm and for matters connected therewith.
Regulation for those who fail to follow the Act (after implementation)
After the commencement of the Act, in contravention of two-child norm procreates more than two children shall be ineligible to the following:-

Contest elections to the local authority or any other body of the local self-government;
Apply for government jobs under the State Government;
Get promotion in government services;
Receive any kind of government subsidy.

Also, the regulation has provisions for

Limit of ration card units up to four.
Debarring from the benefit of Government-sponsored welfare schemes.
Some other Features of the Draft Bill
Reward: A couple living below the poverty line, having only one child and undergoes voluntary sterilization operation upon himself or spouse shall be eligible for payment from the Government for a one-time lump-sum amount of rupees eighty thousand if the single child is a boy, and rupees one lakh if the single child is a girl.
Education: It shall be the duty of the government to introduce a compulsory subject relating to population control in all secondary schools.
Provision of Contraceptives: It shall be the duty of the government to ensure that contraceptives are available at reasonable rates at all sub-health centres in the State.
Insurance for Post-Sterilization Pregnancy: The State Government shall as soon as possible after the commencement of this Act take steps for group insurance, at Government expense, of all qualified allopathic surgeons carrying on sterilization operations on men or women and of other staff and of hospital authorities concerned to cover claims for compensation to be paid to a couple where the woman operated on or the wife of the man operated on becomes pregnant even after such operation.
The Bill on Public Servants
Public servants under the control of the State Government who adopt the two-child norm by undergoing voluntary sterilization operation upon himself or spouse shall be given the following benefits:
Increment: Two additional increments during the entire service;
Subsidy: Towards the purchase of plot or house site or built house from Housing Board development Authority, as may be prescribed;
Rebate: On charges for utilities such as water, electricity, water, house tax, as may be prescribed; [also available for the general public];
Leave: Maternity or as the case may be, paternity leave of 12 months, with full salary and allowances; [also available for the general public];
Health Care: Free health care facility and insurance coverage to the spouse.
Current News Ecology & Environment
India's first Cryptogamic Garden
---
India's first cryptogamic garden housing nearly 50 species of lichens, ferns and fungi was inaugurated in Chakrata town of Uttarakhand's Dehradun district on 11 July 2021.
Cryptogamae means "hidden reproduction" referring to the fact that no seed, no flowers are produced. Thus, cryptogams represent the non-seed bearing plants.
Algae, bryophytes (moss, liverworts), lichens, ferns and fungi are the best-known groups of cryptogams that require moist conditions to survive.
Sports In News Football
Copa America 2021
---
Lionel Messi-led Argentina beat Neymar's Brazil 1-0 to win the Copa America final match, held at the Maracana Stadium in Rio de Janeiro.
With this win, Lionel Messi has secured his first major international trophy.
The 2021 Copa America was the 47th edition of the annual international men's football championship organised by South America's football ruling body CONMEBOL.
Current News Indian Economy Banking & Finance
Lic to have MD and CEO, Chairman Post Abolished
---
Life Insurance Corporation of India (LIC), which is gearing up to launch a mega initial public offering (IPO), will now have a Managing Director and Chief Executive Officer instead of an Executive Chairman on the pattern of public sector banking industry.
The changes have been made by the Department of Financial Services under the Finance Ministry by amending Life Insurance Corporation of India (Employees) Pension (Amendment) Rules. Various rules have been amended in the LIC Act to replace the post of chairman and create the position of CEO.
Both CEO and MD will be appointed by the central government.
Presently, MR Kumar is the LIC chairman, whose tenure was extended by another two years recently. Currently, LIC has four MDs.
Current News National Indian Art, Culture & Heritage
Kesaria Buddha Stupa:Largest in the World
---
Kesaria Buddha stupa in east Champaran district of Bihar has been recently in news due to waterlogging followed by floods.
It is regarded as the largest Buddhist stupa in the world.
The sputa's exploration had started in the early 19th century after its discovery led by Colonel Mackenzie in 1814. Later, it was excavated by General Cunningham in 1861-62 and in 1998 an ASI team led by archaeologist K.K. Muhammad had excavated the site properly.
The original Kesaria stupa is said to date back to the time of emperor Ashoka (circa 250 BCE) as the remains of an Ashokan pillar was discovered there.
The ASI has declared it a protected monument of national importance.
Current News International
'Bangabandhu Chair': Another Step towards Diplomatic Ties with Dhaka
---
The Indian Council for Cultural Relations (ICCR) will establish the 'Bangabandhu Chair' at the Delhi University to honour Bangladesh's founding father Sheikh Mujibur Rahman and to commemorate the 50th anniversary of the country's Liberation War as well as India's diplomatic ties with Dhaka.
Rahman is popularly called 'Bangabandhu' (friend of Bengal) by the people of Bangladesh.
The Chair will focus on the Indo-Bangladesh common cultural heritage and subjects like Anthropology, Buddhist Studies, Geography, History, Modern Indian Languages (including Bangla), Music and Fine Arts, Political Science, International Relations and Sociology.
Current News International
Supreme Court of Nepal orders Appointment of Deuba as Prime Minister
---
Nepal's Supreme Court on 12th July 2021 directed President Bidya Devi Bhandari to appoint Nepali Congress chief Sher Bahadur Deuba as prime minister and reinstate the dissolved House of Representatives for a second time in five months.
A five-member Constitutional Bench of the Supreme Court stated that President Bhandari's decision to dissolve the lower house upon a recommendation of Prime Minister K.P. Sharma Oli was an unconstitutional act.
President Bhandari had dissolved the 275-member lower house for the second time in five months on May 22 at the recommendation of Prime Minister Oli and announced snap elections on November 12 and November 19.
Oli, who is currently heading a minority government after losing a trust vote in the House, has repeatedly defended his move to dissolve the House of Representatives, saying some leaders of his party were attempting to form a "parallel government".
Current News Indian Economy Banking & Finance
Development Council for Cement Industry (DCCI)
---
The Department for Promotion of Industry and Internal Trade has established a 25 member Development Council for Cement Industry (DCCI) headed by Dalmia Bharat Group CMD Puneet Dalmia.
Mandate of the Council
It will suggest ways to eliminate waste, obtain maximum production, improve quality, reduce costs and promote standardization of products.
It will recommending measures for securing the full utilization of the installed capacity and for improving the working of the industry, particularly of the less efficient units; promote training of persons; and promoting or undertaking scientific and industrial research.
It would also work for standardization of accounting and costing methods and practice; and promoting the adoption of measures for increasing the productivity of labour, including measures for securing safer and better working conditions.
The council's functions also include promoting or undertaking inquiry as to materials and equipment and as to methods of production, management and labour utilization, including the discovery and development of new materials, equipment and methods.
Current News Science & Technology
Genome of Avicennia marina – a Salt tolerant Mangrove Species - Decoded
---
Indian scientists have for the first time achieved to bring out reference-grade whole genome sequence of a highly salt-tolerant and salt-secreting true-mangrove species, Avicennia marina.
About Avicennia marina
Avicennia marina is one of the most prominent mangroves species found in all mangrove formations in India.
It is a salt-secreting and extraordinarily salt-tolerant mangrove species that grows optimally in 75% seawater and tolerates >250% seawater.
It is among the rare plant species, which can excrete 40% of the salt through the salt glands in the leaves, besides its extraordinary capacity to exclude salt entry to the roots.
Significance of the Find
This study assumes significance as agriculture productivity globally is affected due to abiotic stress factors such as limited water availability and salinization of soil and water.
Availability of water is a significant challenge to crop production in dryland areas, accounting for ~40 percent of the world's total land area. Salinity, is prevalent in ~900 million hectares globally (with an estimated 6.73 million ha in India), and it is estimated to cause an annual loss of 27 billion USD.
The genomic resources generated in the study will pave the way for researchers to study the potential of the identified genes for developing drought and salinity tolerant varieties of important crop species of the coastal region that is significant for India with 7,500m of coastline and two major island systems.
About Mangroves
Mangroves are a unique group of species found in marshy intertidal estuarine regions and survive a high degree of salinity through several adaptive mechanisms.
Mangroves are important resources for the coastal region and are of great ecological and economic value.
They form a link between marine and terrestrial ecosystems, protect shorelines, provide habitat for a diverse array of terrestrial organisms.
Mangroves occur in the tropics and subtropics between latitudes 25° N and 25°S.
They require high solar radiation that helps to filter saline water through their roots. This explains why mangroves are confined to only tropical and subtropical coastal waters.
Since mangroves grow between the land and sea, they represent the best example of ecotone and are breeding ground for many commercially important fishes.
They contain a salt filtration system to deal with salt water immersion and wave action.
They possess pneumatophores (blind roots) to overcome the respiration problem in the anaerobic soil.
Mangroves show Viviparity mode of reproduction which means that seeds germinate in the tree itself before falling to the ground. This is an important adaptive mechanism to overcome the problem of germination in saline water.
News Crux Appointment & Resignation
Canada appoints First Indigenous Governor General
---
Canada on 6th July 2021 appointed the first Indigenous governor general in its 154-year history.
Mary Simon, the 30th Governor General will serve as the Queen Elizabeth II's representative in Canada.
Simon, an Inuit from northern Quebec and a former diplomat who has served as an ambassador for the Arctic, has been a champion for her people's rights.
The governor general's role is mainly ceremonial, but she is the queen's representative to Canada and she does have power, but in reality she follows the direction of the prime minister.
About Inuits: They are an Indigenous people, the majority of whom inhabit the northern regions of Canada. An Inuit person is known as an Inuk. The Inuit homeland is known as Inuit Nunangat, which refers to the land, water and ice contained in the Arctic region.
News Crux Obituary
Olympic Gold-Winning Hockey Legend Keshav Datt Passes Away
---
Two-time Olympic gold medallist in hockey, Keshav Datt has passed away on 7 July 2021.
He was a member of 1948 (London) and 1952 (Helsinki) Olympics.
At the 1948 Olympics India beat home team Britain 4-0 at the Wembley Stadium in London to win the first gold post-Independence.
At 1952 Helsinki Games, India beat Netherlands 6-1 in the summit clash to become the Olympic champions for the fifth consecutive time.
In his autobiography Goal, Dhyan Chand rated Datt as one of the finest half-backs of that time.
Current News Indian Economy Banking & Finance
Post Devolution Revenue Deficit Grant released to States
---
The Department of Expenditure, Ministry of Finance, has released the 4th monthly installment of Post Devolution Revenue Deficit (PDRD) Grant of Rs. 9,871.00 crore to the States on 7th July 2021.
About Post Devolution Revenue Deficit Grant
The Post Devolution Revenue Deficit Grant is provided to the States under Article 275 of the Constitution.
The grants are released as per the recommendations of the Fifteenth Finance Commission in monthly installments to meet the gap in Revenue Accounts of the States post devolution.
The Commission has recommended PDRD grants to 17 States during 2021-22.
Eligibility Criteria for States
The eligibility of States to receive this grant and the quantum of grant was decided by the Commission based on the gap between assessment of revenue and expenditure of the State after taking into account the assessed devolution for the financial year 2021-22.
States recommended for PDRD Grant
The states recommended for the PDRP Grant by the Fifteenth Finance Commission are - Andhra Pradesh, Assam, Haryana, Himachal Pradesh, Karnataka, Kerala, Manipur, Meghalaya, Mizoram, Nagaland, Punjab, Rajasthan, Sikkim, Tamil Nadu, Tripura, Uttarakhand and West Bengal.
Current News Indian Economy Banking & Finance
Exports of GI Certified Bhalia Wheat from Gujarat
---
The first shipment of Geographical Indication (GI) certified Bhalia variety of wheat was exported on 7th July to Kenya and Sri Lanka from Gujarat.
The GI certified wheat has high protein content and is sweet in taste.
The crop is grown mostly across Bhal region of Gujarat which includes Ahmadabad, Anand, Kheda, Bhavanagar, Surendranagar, Bharuch districts.
The unique characteristic of the wheat variety is that grown in the rainfed condition without irrigation and cultivated in around two lakh hectares of agricultural land in Gujarat.
Current News Science & Technology
dbGENVOC: World's First Database of Genomic Variants of Oral Cancer
---
DBT-National Institute of Biomedical Genomics (NIBMG), Kalyani an Autonomous Institute funded by the Department of Biotechnology, Government of India has created a database of genomic variations in oral cancer; the first of its kind in the world.
dbGENVOC is a browsable online database of GENomic Variants of Oral Cancer and is a free resource.
dbGENVOC is not just a catalogue of genomic variants, it has a built-in powerful search engine. It also allows a reasonable extent of statistical and bioinformatic analysis to be carried out online, including identifying variants in associated altered pathways in oral cancer.
The repository, which will be updated annually with variation data from new oral cancer patients from different regions of India and southeast Asia, has the potential to support advances in oral cancer research and will be a major step in moving forward from simply cataloguing variants to gain insight into their significance.
Oral cancer is the most prevalent form of cancer among men in India, largely fuelled by tobacco-chewing. Tobacco-chewing causes changes in the genetic material of cells in the oral cavity. These changes (mutations) precipitate oral cancer.
About NIBMG
The National Institute of Biomedical Genomics (NIBMG) has been established as an autonomous institution by the Government of India, under the aegis of the Department of Biotechnology.
This is the first institution in India explicitly devoted to research, training, translation & service and capacity-building in Biomedical Genomics. It is located in Kalyani, West Bengal, India, near Kolkata.
PIB News National
Modifications in CSS of Financing Facility under 'Agriculture Infrastructure Fund'
---
On 8th July 2021, the Union Cabinet gave its approval to the modifications in Central Sector Scheme of Financing Facility under 'Agriculture Infrastructure Fund'.
The modifications in the Scheme will help to achieve a multiplier effect in generating investments while ensuring that the benefits reach small and marginal farmers.
Changes brought to the Scheme
Eligibility has now been extended to State Agencies/APMCs, National & State Federations of Cooperatives, Federations of Farmers Producers Organizations (FPOs) and Federations of Self Help Groups (SHGs).
At present Interest subvention for a loan upto Rs. 2 crore in one location is eligible under the scheme. In case, one eligible entity puts up projects in different locations then all such projects will be now be eligible for interest subvention for loan upto Rs. 2 crore. However, for a private sector entity there will be a limit of a maximum of 25 such projects. This limitation of 25 projects will not be applicable to state agencies, national and state federations of cooperatives, federations of FPOs and federation of SHGs. Location will mean physical boundary of a village or town having a distinct LGD (Local Government Directory) code. Each of such projects should be in a location having a separate LGD code.
For APMCs, interest subvention for a loan upto Rs. 2 crore will be provided for each project of different infrastructure types e.g. cold storage, sorting, grading and assaying units, silos, etc. within the same market yard.
The period of financial facility has been extended from 4 to 6 years upto 2025-26 and overall period of the scheme has been extended from 10 to 13 upto 2032-33.
News Crux Appointment & Resignation
India's Latest Who's Who
---
Prime Minister
Narendra Modi
Portfolios: Ministry of Personnel, Public Grievances and Pensions; Department of Atomic Energy; Department of Space
Cabinet Ministers
Minister of Defence: Rajnath Singh
Minister of Home Affairs; and Minister of Cooperation: Amit Shah
Minister of Road Transport and Highways: Nitin Gadkari
Minister of Finance; and Minister of Corporate Affairs: Nirmala Sitharaman
Minister of Agriculture and Farmers Welfare: Narendra Singh Tomar
Minister of External Affairs: S Jaishankar
Minister of Tribal Affairs: Arjun Munda
Minister of Women and Child Development: Smriti Zubin Irani
Minister of Education; and Minister of Skill Development and Entrepreneurship: Dharmendra Pradhan
Minister of Petroleum and Natural Gas; and Minister of Housing and Urban Affairs:Hardeep Singh Puri
Minister of Environment, Forest and Climate Change; and Minister of Labour and Employment: Bhupender Yadav
Minister of Social Justice and Empowerment: Virendra Kumar Khatik
Minister of Minority Affairs: Mukhtar Abbas Naqvi
Minister of Rural Development; and Minister of Panchayati Raj: Shandilya Giriraj Singh
Minister of Ports, Shipping and Waterways; and Minister of AYUSH: Sarbananda Sonowal
Minister of Health and Family Welfare; and Minister of Chemicals and Fertilizers: Mansukh L Mandaviya
Minister of Heavy Industries: Mahendra Nath Pandey
Minister of Parliamentary Affairs; Minister of Coal; and Minister of Mines: Pralhad Joshi
Minister of Commerce and Industry; Minister of Consumer Affairs, Food and Public Distribution; and Minister of Textiles: Piyush Goyal
Minister of Civil Aviation: Jyotiraditya Scindia
Minister of Law and Justice: Kiren Rijiju
Minister of Information and Broadcasting; and Minister of Youth Affairs and Sports: Anurag Thakur
Minister of Fisheries, Animal Husbandry and Dairying: Parshottam Rupala
Minister of Jal Shakti: Gajendra Singh Shekhawat
Minister of Railways; Minister of Communications; and Minister of Electronics and Information Technology: Ashwini Vaishnav
Minister of Culture; Minister of Tourism; and Minister of Development of North Eastern Region: G Kishan Reddy
Minister of Micro, Small and Medium Enterprises: Narayan Rane
Minister of Steel: Ramchandra Pratap Singh
Minister of Food Processing Industries: Pashupati Nath Paras
Ministers of State
Sr No

Name of Minister

Portfolios

1

Shri Shripad Yesso Naik

Minister of State in the Ministry of Ports, Shipping and Waterways; and
Minister of State in the Ministry of Tourism

2

Shri Faggansingh Kulaste

Minister of State in the Ministry of Steel; and
Minister of State in the Ministry of Rural Development

3

Shri Prahalad Singh Patel

Minister of State in the Ministry of Jal Shakti; and
Minister of State in the Ministry of Food Processing Industries

4

Shri Ashwini Kumar Choubey

Minister of State in the Ministry of Consumer Affairs, Food and Public Distribution; and
Minister of State in the Ministry of Environment, Forest and Climate Change

5

Shri Arjun Ram Meghwal

Minister of State in the Ministry of Parliamentary Affairs; and
Minister of State in the Ministry of Culture

6

General (Retd.) V. K. Singh

Minister of State in the Ministry of Road Transport and Highways; and
Minister of State in the Ministry of Civil Aviation

7

Shri Krishan Pal

Minister of State in the Ministry of Power; and
Minister of State in the Ministry of Heavy Industries

8

Shri Danve Raosaheb Dadarao

Minister of State in the Ministry of Railways;
Minister of State in the Ministry of Coal; and
Minister of State in the Ministry of Mines

9

Shri Ramdas Athawale

Minister of State in the Ministry of Social Justice and Empowerment

10

Sadhvi Niranjan Jyoti

Minister of State in the Ministry of Consumer Affairs, Food and Public Distribution; and
Minister of State in the Ministry of Rural Development

11

Dr. Sanjeev Kumar Balyan

Minister of State in the Ministry of Fisheries, Animal Husbandry and Dairying

12

Shri Nityanand Rai

Minister of State in the Ministry of Home Affairs

13

Shri Pankaj Chaowdhary

Minister of State in the Ministry of Finance

14

Smt. Anupriya Singh Patel

Minister of State in the Ministry of Commerce and Industry

15

Prof. S. P. Singh Baghel

Minister of State in the Ministry of Law and Justice

16

Shri Rajeev Chandrasekhar

Minister of State in the Ministry of Skill Development and Entrepreneurship; and
Minister of State in the Ministry of Electronics and Information Technology

17

Sushri Shobha Karandlaje

Minister of State in the Ministry of Agriculture and Farmers Welfare

18

Shri Bhanu Pratap Singh Verma

Minister of State in the Ministry of Micro, Small and Medium Enterprises

19

Smt. Darshana Vikram Jardosh

Minister of State in the Ministry of Textiles; and
Minister of State in the Ministry of Railways

20

Shri V. Muraleedharan

Minister of State in the Ministry of External Affairs; and
Minister of State in the Ministry of Parliamentary Affairs

21

Smt. Meenakashi Lekhi

Minister of State in the Ministry of External Affairs; and
Minister of State in the Ministry of Culture

22

Shri Som Parkash

Minister of State in the Ministry of Commerce and Industry

23

Smt. Renuka Singh Saruta

Minister of State in the Ministry of Tribal Affairs

24

Shri Rameswar Teli

Minister of State in the Ministry of Petroleum and Natural Gas; and
Minister of State in the Ministry of Labour and Employment

25

Shri Kailash Choudhary

Minister of State in the Ministry of Agriculture and Farmers Welfare

26

Smt. Annpurna Devi

Minister of State in the Ministry of Education

27

Shri A. Narayanaswamy

Minister of State in the Ministry of Social Justice and Empowerment

28

Shri Kaushal Kishore

Minister of State in the Ministry of Housing and Urban Affairs

29

Shri Ajay Bhatt

Minister of State in the Ministry of Defence; and
Minister of State in the Ministry of Tourism

30

Shri B. L. Verma

Minister of State in the Ministry of Development of North Eastern Region; and
Minister of State in the Ministry of Cooperation

31

Shri Ajay Kumar

Minister of State in the Ministry of Home Affairs

32

Shri Devusinh Chauhan

Minister of State in the Ministry of Communications

33

Shri Bhagwanth Khuba

Minister of State in the Ministry of New and Renewable Energy; and
Minister of State in the Ministry of Chemicals and Fertilizers

34

Shri Kapil Moreshwar Patil

Minister of State in the Ministry of Panchayati Raj

35

Sushri Pratima Bhoumik

Minister of State in the Ministry of Social Justice and Empowerment

36

Dr. Subhas Sarkar

Minister of State in the Ministry of Education

37

Dr. Bhagwat Kishanrao Karad

Minister of State in the Ministry of Finance

38

Dr. Rajkumar Ranjan Singh

Minister of State in the Ministry of External Affairs; and
Minister of State in the Ministry of Education

39

Dr. Bharati Pravin Pawar

Minister of State in the Ministry of Health and Family Welfare

40

Bishweswar Tudu

Minister of State in the Ministry of Tribal Affairs; and
Minister of State in the Ministry of Jal Shakti

41

Shri Shantanu Thakur

Minister of State in the Ministry of Ports, Shipping and Waterways

42

Dr. Munjapara Mahendrabhai

Minister of State in the Ministry of Women and Child Development; and
Minister of State in the Ministry of AYUSH

43

John Barla

Minister of State in the Ministry of Minority Affairs

44

Dr. L. Murugan

Minister of State in the Ministry of Fisheries, Animal Husbandry and Dairying; and
Minister of State in the Ministry of Information and Broadcasting

45

Nisith Pramanik

Minister of State in the Ministry of Home Affairs; and
Minister of State in the Ministry of Youth Affairs and Sports

46

Rao Inderjit Singh

Minister of State (Independent Charge) of the Ministry of Statistics and Programme Implementation;
Minister of State (Independent Charge) of the Ministry of Planning; and
Minister of State in the Ministry of Corporate Affairs

47

Dr. Jitendra Singh

Minister of State (Independent Charge) of the Ministry of Science and Technology;
Minister of State (Independent Charge) of the Ministry of Earth Sciences;
Minister of State in the Prime Minister's Office;
Minister of State in the Ministry of Personnel, Public Grievances and Pensions;
Minister of State in the Department of Atomic Energy; and
Minister of State in the Department of Space
News Crux Obituary
Six time CM of Himachal Pradesh Virbhadra Singh Passes Away
---
Former Himachal Pradesh chief minister Virbhadra Singh has passed away on 8 July 2021.
The nine-time MLA and five-time MP, he served as Himachal Pradesh's chief minister for six times.
Current News Ecology & Environment
'BOLD' Initiative to fight Land Degradation & Desertification
---
A project named "Bamboo Oasis on Lands in Drought" (BOLD), first of its kind exercise in India was launched on 4th July 2021 from the tribal village Nichla Mandwa in Udaipur, Rajasthan.
The project has been launched as part of Khadi and Village Industries Commission (KVIC) "Khadi Bamboo Festival" to celebrate 75 years of independence "Azadi ka Amrit Mahotsav".
Aim of the Project
Project BOLD seeks to create bamboo-based green patches in arid and semi-arid land zones.
This unique scientific exercise is aimed at serving the combined national objectives of reducing desertification and providing livelihood and multi-disciplinary rural industry support.
It is also aimed at boosting Tribals' income and create infrastructure for Bamboo-based economy.
About the Program
5000 saplings of special bamboo species – Bambusa Tulda and Bambusa Polymorpha specially brought from Assam – have been planted over 25 bigha (16 acres approx) of vacant arid Gram Panchayat land.
In this way, KVIC also created a world record of planting the highest number of bamboo saplings on a single day at one location.
Why Bamboo?
Bamboos grow very fast and in about three years' time, they could be harvested.
Bamboos are also known for conserving water and reducing evaporation of water from the land surface, which is an important feature in arid and drought-prone regions.
Next Two Places where this will be Replicated
KVIC is set to replicate the Project at Village Dholera in Ahmedabad district in Gujarat and Leh-Ladakh region by August this year. Total 15,000 bamboo saplings will be planted before August 21.
Current News National Polity & Governance
Ministry of Co-Operation: A New Ministry to achieve Prosperity through Cooperation
---
On 6th July 2021, a separate 'Ministry of Co-operation' has been created by the Union Government for realizing the vision of 'Sahkar se Samriddhi' meaning prosperity through cooperation.
Need
In our country, a Co-operative based economic development model is very relevant where each member works with a spirit of responsibility.
Functions
This ministry will provide a separate administrative, legal and policy framework for strengthening the cooperative movement in the country.
It will help deepen Co-operatives as a true people based movement reaching upto the grassroots.
The Ministry will work to streamline processes for 'Ease of doing business' for co-operatives and enable development of Multi-State Co-operatives (MSCS).
Current News Indian Economy Education
NIPUN Bharat: Initiative towards Foundational Literacy and Numeracy
---
On 5th July 2021, the Department of School Education and Literacy, Ministry of Education launched National Initiative for Proficiency in Reading with Understanding and Numeracy (NIPUN Bharat).
Vision/Aim of this Mission
Foundational Literacy and Numeracy: The vision of NIPUN Bharat Mission aims at creating an enabling environment to ensure universal acquisition of foundational literacy and numeracy, so that every child achieves the desired learning competencies in reading, writing and numeracy by the end of Grade 3, by 2026-27.
NIPUN Bharat aims to cover the learning needs of children in the age group of 3 to 9 years.
NIPUN Bharat envisages making the experience of learning at the foundational stage Holistic, Integrated, Inclusive, Enjoyable, and Engaging.
Other Features
The unique feature is that the goals of the Mission are set in the form of Lakshya Soochi or Targets for Foundational Literacy and Numeracy.
Although, the overall aim is to achieve the desired learning outcomes by the end of grade 3, however, in order to generate greater awareness among the parents, community, volunteers etc. the Lakshyashas been developed from Balvatika to Grade 3.
The Laskhyas are based on the learning outcomes developed by the NCERT and international research and ORF studies. For example, a child should be able to read 45to 60 words per minute and at least 60 words per minute correctly by the end of Grade II and III respectively from an age appropriate unknown text with comprehension and clarity.
The success of NIPUN Bharat will primarily depend on teachers, so, there will be a special emphasis on capacity building of teachers. A special package for foundational literacy and Numeracy under NISHTHA is being developed by NCERT and around 25 lakh teachers teaching at pre-primary to primary grade will be trained this year on FLN.
Implementation
NIPUN Bharat will be implemented by the Department of School Education and Literacy and a five-tier implementation mechanism will be set up at the National- State- District- Block- School level in all States and UTs, under the aegis of the centrally sponsored scheme of Samagra Shiksha.
NEP Mandate & NIPUN
National Education Policy 2020 has laid down that attaining foundational literacy and numeracy for all children must become an immediate national mission. NIPUN initiative will complement that.
Sports In News Athletics
Indian Flag-bearers for Tokyo 2020
---
Olympics
Opening Ceremony: Mary Kom and Manpreet Singh
Indian Olympic Association have announced that 6-time world champion boxer M C Mary Kom and men's hockey team skipper Manpreet Singh will be India's flag bearers at the opening ceremony of the Tokyo Olympics on 23 July 2021.
Closing Ceremony: Bajrang Punia
Wrestler Bajrang Punia will be the flag bearer at the closing ceremony of the Tokyo Games on August 8, 2021.
Paralympics
Mariyappan Thangavelu
Top para high-jumper from Tamil Nadu, Mariyappan Thangavelu has been selected as flag-bearer of the Indian contingent in the Tokyo Paralympics.
He represented India in the 2016 Summer Paralympic games held in Rio de Janeiro in the men's high jump T-42 category, winning the gold medal in the finals.
Current News Indian Economy Banking & Finance
Department of Public Enterprises comes under Finance Ministry
---
The government has brought Department of Public Enterprises (DPE) under the Finance Ministry in a bid facilitate its ambitious disinvestment programme.
As per the gazette notification, these rules may be called the Government of India (Allocation of Business) Three Hundred and Sixty First Amendment Rules, 2021.
Earlier, DPE was part of Ministry of Heavy Industries and Public Enterprises.
With the addition, this will be the sixth department under the Finance Ministry. Others being

Department of Economic Affairs
Department of Expenditure
Department of Revenue
Department of Financial Services
Department of Investment and Public Asset Management
News Crux Persons In News
Nitin Gadkari becomes Brand Ambassador of Khadi Prakritik Paint
---
Micro, Small and Medium Enterprises, MSME Minister Nitin Gadkari has become Brand Ambassador of Khadi Prakritik Paint.
He will promote this paint across the country to encourage young entrepreneurs to take up the manufacturing of cow dung paint.
About 'Khadi Prakritik Paint'
It is cow dung based paint developed by the Khadi and Village Industries Commission.
The project is being developed by Kumarappa National Handmade Paper Institute, Jaipur (a KVIC unit).
An eco-friendly, non-toxic paint, called "Khadi Prakritik Paint" is a first-of-its-kind product, with anti-fungal, anti-bacterial properties.
Based on cow dung as its main ingredient, the paint is cost-effective and odorless, and has been certified by Bureau of Indian Standards.
The paint is free from heavy metals like lead, mercury, chromium, arsenic, cadmium and others.
News Crux Appointment & Resignation
Eight States get New Governors
---
Here is a list of new governors in eight states:
Goa: PS Sreedharan Pillai, Governor of Mizoram, has been transferred and appointed as Governor of Goa.
Tripura: Satyadev Narayan Arya, Governor of Haryana, has been transferred and appointed as Governor of Tripura.
Jharkhand: Ramesh Bais, Governor of Tripura, has been transferred and appointed as Governor of Jharkhand.
Karnataka: Union minister Thawarchand Gehlot has been appointed as the Governor of Karnataka.
Haryana: Bandaru Dattatraya, Governor of Himachal Pradesh, has been transferred and appointed as Governor of Haryana.
Mizoram: Hari Babu Kambhampati has been appointed as the Governor of Mizoram.
Madhya Pradesh: Mangubhai Chhaganbhai Patel has been appointed as the Governor of Madhya Pradesh.
Himachal Pradesh: Rajendra Vishwanath Arlekar is now the Governor of Himachal Pradesh
News Crux Obituary
Dadasaheb Phalke Awardee Dilip Kumar Passes Away
---
Noted Bollywood actor Dilip Kumar has passed away on 7th July 2021 at the age of 98.
He is referred to as the "Tragedy King" and credited for bringing a distinct form of 'method acting' technique to cinema.
Born Mohammed Yusuf Khan, Dilip Kumar debuted as an actor in the film Jwar Bhata (1944). Quila(1998) was his last film.
In a career spanning over five decades, he worked in over 65 films.
He is known for roles in films such as the romantic Andaz (1949), the swashbuckling Aan (1952), the social drama Daag (1952), the dramatic Devdas (1955), the comical Azaad (1955), the epic historical Mughal-e-Azam (1960), the social dacoit crime drama Gunga Jamuna (1961), and the comedy Ram Aur Shyam (1967).
Honours and Awards
He holds the record for most wins for the Filmfare Award (8) for 'Best Actor' and was also the inaugural recipient of the award.
Dadasaheb Phalke Award (1994)
Padma Bhushan (1991)
Nishan-e-Imtiaz (1998) by Pakistan
Padma Vibhushan (2015)
Current News Indian Economy Banking & Finance
Retail and Wholesale Trades come under MSMEs
---
On 2nd July 2021, the Minister of MSME and Road Transport and Highways Shri Nitin Gadkari has announced revised guidelines for MSMEs with inclusion of Retail and Wholesale trades as MSMEs.
This will strengthen MSMEs and make them engines for economic growth.
Benefits for the Retail and Wholesale Traders
Currently, 95 per cent of the retail industry in the country is MSMEs, and this move is set to benefit 13-14 million retailers in India.
Retail and wholesale trade will get benefit of priority sector lending under RBI guidelines.
They will be now allowed to register on Udyam Registration Portal.
Current News National National Security
'Indrajaal': India's First Drone Defence Dome
---
'Indrajaal' is India's 1st indigenous drone defence dome developed by Hyderabad-based Grene Robotics.
'Indrajaal' is capable of autonomously protecting an area of 1000-2000 sq km against aerial threats.
It protects the area by assessing and acting on aerial threats such as Unmanned Aerial Vehicles (UAVs) and Low- Radar Cross Section (RCS) targets.
Current News International
US places Pakistan and Turkey under 'Child Soldiers Prevention Act'
---
The United States has added Pakistan and Turkey along with some other countries to a list of countries that are implicated in the use of child soldiers over the past year.
Beginning October 1, 2021, and effective throughout Fiscal Year 2022, these restrictions will apply to the listed countries.
Pakistan
The US State Department said in its 2021 Trafficking in Persons (TIP) that Pakistan was among foreign governments identified during April 2020 to March 2021 that had "governmental armed forces, police, or other security forces, or government-supported armed groups that recruit or use child soldiers, as defined in the Child Soldiers Prevention Act."
This is the first time Pakistan has been put on the list.
Turkey
This is the first time a NATO member has been listed in the child soldier prevention act list.
Turkey was providing "tangible support" to the Sultan Murad division in Syria, a faction of Syrian opposition that Ankara has long supported and a group that Washington said recruited and used child soldiers.
Other Countries on this Year's List:Afghanistan, Iran, Iraq, Libya, Syria, Turkey and Yemen.
Major provisions of Child Soldiers Prevention Act
The CSPA prohibits assistance to governments that are identified in the list under the following authorities:
International Military Education and Training
Foreign Military Financing
Excess Defense Articles
Peacekeeping Operations
Issuance of licenses for direct commercial sales of military equipment to such governments
Exceptions: For some programs undertaken pursuant to the Peacekeeping Operations authority.
Current News Indian Economy Infrastructure
Plans for 'Freight Smart Cities' Unveiled
---
The Commerce Ministry's Logistics division has recently unveiled the concept of 'Freight Smart Cities' to improve the efficiency of urban freight and create an opportunity for reduction in the logistics costs.
Why Freight Smart Cities?

With growing urbanisation, requirements of rapid economic growth including e-commerce and associated first and last mile freight movements; increasing congestion, noise and sound pollution in the Indian cities is a menace affecting both public health and local economies.
To address the above issues the Logistics Division under the Ministry of Commerce and Industry has decided to work in a planned manner to improve the city freight movement.
This is all the more relevant as the demand for urban freight is expected to grow by 140 per cent over the next 10 years.
Final-mile freight movement in Indian cities is currently responsible for 50 per cent of total logistics costs in India's growing e-commerce supply chains. Improving city logistics would also enable efficient freight movement and bring down the logistics costs boosting all sectors of the economy.
The Plan
All the State Governments are asked to identify ten cities, to begin with, to be developed as Freight Smart Cities and also to set up institutional mechanism for the same involving the Government as well as private stake-holders like Logistics services providers, users and citizens.
The States/City Governments were asked focus on the quick-wins like developing peri-urban freight centres, night-time deliveries, developing truck routes, using Intelligent Transportation Systems & modern technologies, Promoting electrification of urban freight , Parcel delivery terminals etc.
Under the Freight Smart Cities initiative, city-level logistics committees would be formed. These committees would have related government departments and agencies at the local level, state and from the reacted central ministries and agencies. These would also include private sector from the logistics services and also users of logistics services. These committees would co-create City Logistics Plans to implement performance improvement measures locally.
From the ten cities to be identified on immediate basis, it is planned to expand the list to 75 cities in the next phase before scaling up throughout the country including all state capitals and cities that have more than one million populations. The list of cities to be taken up would however be finalised in consultation with the State governments.
News Crux Important Days/Weeks
1 July 2021: National Doctors' Day
---
Every year, July 1 is observed as National Doctors' Day in the memory of Dr Bidhan Chandra Roy, who had his birth and death anniversary on the same day.
The day, commemorated by Indian Medical Association (IMA), is dedicated to all the doctors and healthcare workers who have been serving people by risking their lives.
Dr Roy, former Chief Minister of Bengal, was known for his selfless service.
He played a great role in establishing several medical institutions.
For his outstanding contributions, he was also awarded the Bharat Ratna on February 4, 1961.
News Crux Appointment & Resignation
Shambhu Nath Srivastava appointed Chairman of IFUNA
---
Former Allahabad HC Judge Shambhu Nath Srivastava has been appointed Chairman of Indian Federation of United Nations Associations (IFUNA).
Justice Srivastava succeeds Mukul Sangma, a former chief minister of Meghalaya.
IFUNA is a non-profit organisation, affiliated to the Geneva-based World Federation of United Nations Associaions (WFUNA), to promote objectives of the United Nations and its specialised agencies in the country.
News Crux Persons In News
NITI Aayog CEO Amitabh Kant's Tenure Extended
---
The tenure of NITI Aayog Chief Executive Officer (CEO) Amitabh Kant has been extended by one year till June 30, 2022. This is for the third time that Kant's tenure has been extended.
He was first appointed as the CEO of the think tank on February 17, 2016, for a fixed two-year term.
Current News National National Security
7th Indian Ocean Naval Symposium (IONS)
---
The 7th edition of Indian Ocean Naval Symposium (IONS), a biennial event, was hosted by the French Navy at La Réunion from 28 June to 01 July 2021.
Admiral Karambir Singh, Chief of the Naval Staff, Indian Navy, participated virtually in the inaugural session.
About IONS
IONS, conceived by the Indian Navy in 2008, seeks to enhance maritime cooperation among Navies of the littoral states of the IOR by providing an open and inclusive forum for discussion of regionally relevant maritime issues that would lead to common understanding on the way ahead.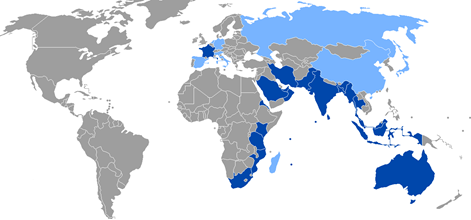 Dark Blue = Member States
Light Blue = Observers
The chairmanship of IONS has been held by India (2008-10), UAE (2010-12), South Africa (2012-14), Australia (2014-16), Bangladesh (2016-18) and Islamic Republic of Iran (2018-21). France has assumed the Chairmanship on 29 Jun 21 for a two-year tenure.
IONS Conclave of Chiefs (CoC) is the decision-making body at the level of Chiefs of Navies, which meets biennially. The CoC 2021 will be hosted by French Navy later this year.
News Crux Awards In News
Kuvempu Rashtriya Puraskar
---
The Sahitya Akademi Award (1985) winner Odia poet and novelist Dr. Rajendra Kishore Panda has been selected for the Kuvempu Rashtriya Puraskar, the national award instituted in memory of the late poet laureate, for 2020.
The award is given annually to a writer who has contributed in any of the languages recognised by the Constitution of India.
While the award is presented at Kuppalli, the birthplace of Kuvempu in Shivamogga district, on December 29 to mark his birth anniversary, the announcement for 2020 was delayed owing to the COVID-19 pandemic.
News Crux Obituary
K.V. Sampath Kumar
---
Editor of 'Sudharma', the only Sanskrit Daily in the world, K.V. Sampath Kumar has passed away on 30 June 2021.
Sampath Kumar's father Pandit Varadaraja Iyengar had launched 'Sudharma' in 1970. It is printed and published from Mysuru.
In 2020, he along with his wife was selected for the Padma Shri honour from the Government of India for his contribution to the field of Literature & Education.
Sports In News Athletics
Dutee Chand qualifies for Tokyo Olympics
---
Indian sprinter Dutee Chand has qualified for the upcoming Tokyo Games in both 100m and 200m races via the World Rankings quota.
Dutee's overall position of World No. 44 in 100m and world No. 51 in 200m was well within the ranks to make her eligible to fly to Tokyo.
Recently, Dutee created a new national record in the women's 100m with a time of 11.17 seconds in the Indian Grand Prix IV in Patiala, but she missed the Olympic qualification time by just 0.02 seconds.
Sports In News Athletics
Devendra Jhajharia wins Paralympic berth for Tokyo Olympics
---
Devendra Jhajharia, the 2016 Rio Paralympic champion in men's F-46 javelin throw category, improved his world record on way to winning berth for the Tokyo Paralympic Games during the two-day national selection trials that concluded in New Delhi.
He won two gold medals in the men's F-46 category at the Paralympics, sent the spear to a distance of 65.71m during the trial.
Sports In News Chess
Abhimanyu Mishra: Youngest ever Chess Grandmaster
---
Indian-origin American Abhimanyu Mishra has become the youngest-ever chess Grandmaster in the world after an event in Budapest on 30th June 2021.
He became a Grandmaster at 12 years, four months and 25 days and bettered the record of Sergey Karjakin of Russia.
Sports In News Cricket
Jharkhand's 3rd International Cricket Stadium
---
The Jharkhand State Cricket Association, affiliated with the Board of Control for Cricket in India (BCCI), has signed a lease agreement with Bokaro Steel Plant for the construction of an international cricket stadium.
BSL is a unit of Steel Authority of India Limited, and the first city of Maharatna to house an international cricket stadium.
Bokaro will become the third city in Jharkhand to have an International Cricket Stadium after Jamshedpur and Ranchi.
Bokaro Steel Plant will transfer 20.17 acres of its land to JSCA for 33 years, for the construction of Stadium.
The proposed stadium will also be the first stadium to be constructed in SAIL township.
Sports In News Cricket
Anshula Rao: First Indian Woman Cricketer to be punished for Doping
---
Madhya Pradesh allrounder Anshula Rao has become the first women cricketer to be handed a four-year ban by the National Anti-Doping Agency, after failing the dope test.
She was found guilty of consuming a banned anabolic steroid '19- Norandrosterone, on March 14 at Baroda in 2020.
Rao represents Madhya Pradesh in the domestic circuit, and was last seen playing cricket in the under-23 T20 tournament hosted by BCCI.
State In News Jammu And Kashmir
"HAUSLA- inspiring her growth": Women Entrepreneurship Program for J&K
---
"HAUSLA- inspiring her growth," is a comprehensive programme for catalyzing women entrepreneurship in Jammu and Kashmir.
Goal of this Initiative
The goal of the innovative initiative is to empower women as vital drivers of the overall development process in the UT by identifying and empowering role models, providing them with markets, networks, training, and continuous support, and subsequently building an ecosystem to inspire other local women entrepreneurs.
About the Programme
The programme has been created in a very scientific manner and that the broad contours include targeting women entrepreneurs in J&K who are already established in the field of self-employment, creating a channel for educated women to explore their options, and potential and then channel their business acumen, assisting them in overcoming challenges related to finances, legal, societal biases by focusing on their innate potential.
Knowledge about government promotion policies for women entrepreneurs would be disseminated, as well as access to enterprise education and training with a focus on business development, as well as connections to women enterprise networks, associations, business premises, and online marketplaces.
Gender Gap: Top Priority
The government's top priority is to reduce the gender gap among entrepreneurs, in a systemic manner, as well as to encourage women who are currently employed in a variety of professions, so that they, too, can participate in the 'Hausla' programme.
Current News Ecology & Environment
EU's Landmark Climate Law Enters into Force
---
The European Union's (EU) landmark climate law has entered into force on 28th June 2021.
Ministers from the 27 EU countries formally approved the deal except for Bulgaria, which abstained.
The climate law, adopted by the EU member states, makes the bloc's ambitious target of becoming climate neutral by 2050 legally binding.
It also requires cutting of net emission by at least 55 per cent by 2030 compared with the 1990 level and eliminate them by 2050.
Current News National
UDISE+ 2019-20 Report on School Education
---
Education Minister Ramesh Pokhriyal 'Nishank' released the Report on United Information System for Education Plus (UDISE+) 2019-20 for School Education in India.
Findings
Gross Enrolment Ratio: As per the report, Gross Enrolment Ratio at all levels of school education has improved in 2019-20 compared to 2018-19.
Pupil-Teacher Ratio: Improved at all levels of school education.
Enrolment of Girls: From primary to higher secondary, it has increased substantially by over 14 lakh in 2019-20 as compared to 2018-19.
Gender Parity Index: Between 2012-13 and 2019-20, the Gender Parity Index at both Secondary and Higher Secondary levels have improved.
Enrolment of Divyang Students: Increased by over 6.5 per cent over 2018-19.
Infrastructure: The UDISE report shows a remarkable improvement in the number of schools with functional electricity, with functional computers, internet facility in 2019-20 over the previous year.
Sanitation: Another major improvement is seen in the number of schools with hand wash facility. In year 2019-20, more than 90 per cent schools in India had hand wash facility as compared to around 36 per cent in 2012-13.
PIB News National
India Joins OECD/G20 Inclusive Framework Tax Deal
---
On 1 July 2021, majority of the members OECD/G20 Inclusive Framework on Base Erosion and Profit Shifting (including India) adopted a high-level statement containing an outline of a consensus solution to address the tax challenges arising from the digitalisation of the economy.
The proposed solution consists of two components:
Pillar One - which is about reallocation of additional share of profit to the market jurisdictions, and
Pillar Two -consisting of minimum tax and subject to tax rules.

Some significant issues including share of profit allocation and scope of subject to tax rules, remain open and need to be addressed. Further, the technical details of the proposal will be worked out in the coming months and a consensus agreement is expected by October.
The principles underlying the solution vindicates India's stand for a greater share of profits for the markets, consideration of demand side factors in profit allocation, the need to seriously address the issue of cross border profit shifting and need for subject to tax rule to stop treaty shopping.
India is in favour of a consensus solution which is simple to implement and simple to comply. At the same time, the solution should result in allocation of meaningful and sustainable revenue to market jurisdictions, particularly for developing and emerging economies. India will continue to be constructively engaged for reaching a consensus based ready to implement solution with Pillar one and Pillar two as a package by October and contribute positively for the advancement of the international tax agenda.
Current News International
WHO certifies China – 'Malaria-free'
---
China has been awarded a malaria-free certification from the World Health Organisation (WHO).
China is the first country in the WHO Western Pacific Region to be awarded a malaria-free certification in more than 3 decades. Other countries in the region that have achieved this status include Australia (1981), Singapore (1982) and Brunei Darussalam (1987).
Initiatives that worked for China
"523 Project": In 1967, the Chinese Government launched the "523 Project" – a nation-wide research programme aimed at finding new treatments for malaria. This effort, involving more than 500 scientists from 60 institutions, led to the discovery in the 1970s of artemisinin – the core compound of artemisinin-based combination therapies (ACTs), the most effective antimalarial drugs available today.
"1-3-7" Strategy: In recent years, the country further reduced its malaria caseload through a strict adherence to the timelines of the "1-3-7" strategy. The "1" signifies the one-day deadline for health facilities to report a malaria diagnosis; by the end of day 3, health authorities are required to confirm a case and determine the risk of spread; and, within 7 days, appropriate measures must be taken to prevent further spread of the disease.
Current News Indian Economy
Global Cybersecurity Index 2020
---
India jumped 37 places and ranked 10th in the Global Cybersecurity Index 2020 (GCI).
It was released by the International Telecommunication Union (ITU), the United Nations (UN) agency for information and communication technologies (ICT).
India has also secured the fourth position in the Asia Pacific region, underlining its commitment to cybersecurity.
The US topped the chart, followed by the UK and Saudi Arabia tied on the second position, while Estonia was ranked third in the index.
GCI assessment is done on the basis of performance on five parameters of cybersecurity including legal measures, technical measures, organisational measures, capacity development, and cooperation. The performance is then aggregated into an overall score.
Current News
Interactive Virtual Museum to Showcase Gallantry Award Winners
---
As the nation celebrates the 75th anniversary of its Independence, Ministry of Defence (MoD) has initiated a project to create an interactive virtual museum of the country's Gallantry award winners to honour the heroic deeds of the bravehearts of India.
MoD will implement the project, with no financial implications, in partnership with Society of Indian Defence Manufacturers (SIDM) and Confederation of Indian Industries (CII).
The virtual museum will be hosted by the Gallantry awards portal.
It will provide a 3D walk-through experience through a Gallery Building, Wall of Fame, an Awardee Gallery with their photos & profiles, a tour of War Memorials, etc.
In addition, there will be facility for the visitors to pay their respects by posting a tribute message.
News Crux Appointment & Resignation
Air Marshal Vivek Ram Chaudhari
---
Air Marshal Vivek Ram Chaudhari took charge as the Vice Chief of the Air Staff of the Indian Air Force on 1st July 2021 replacing Air Chief Marshal Harjit Singh Arora.
The Vice Chief of the Air Staff (VCAS) is the deputy to the Chief of the Air Staff of India and second-highest ranking officer of the Indian Air Force.
At present Air Chief Marshal Rakesh Kumar Singh Bhadauria is the Chief of the Air Staff.
News Crux Organisation In News
WIPO Initiative to protect Brand 'Khadi'
---
The World Intellectual Property Organization (WIPO), a specialized agency of the United Nations for brand protection across the world, has ordered a Delhi-based firm against using a domain name www.urbankhadi.com, which illegally uses the brand name "Khadi".
Other Recent Rulings to Protect the Brand
On June 4, Delhi High Court barred a Ghaziabad-based trader JBMR Enterprises from manufacturing and selling counterfeit Khadi Prakritik Paint.
On May 28, Delhi High Court restrained "Khadi Design Council of India" and "Miss India Khadi Foundation" from using "Khadi" brand name.
On May 3, an Arbitration Tribunal in Delhi had said that "Khadi" was not a generic name to be used by private individuals or firms while permanently restraining an individual from using the brand name Khadi.
In March this year, the Delhi High Court had also restrained a firm from using brand name Khadi and the Charkha symbol to sell its products under the name "IWEARKHADI".
About WIPO
Headquartered in Geneva, Switzerland, WIPO is the global forum for intellectual property (IP) services, policy, information and cooperation. It is a self-funding agency of the United Nations, with 193 member states.
Its mission is to lead the development of a balanced and effective international IP system that enables innovation and creativity for the benefit of all.
Its mandate, governing bodies and procedures are set out in the WIPO Convention, which established WIPO in 1967.
---