PIB News National India
Differently Abled People And Those Over 80 Years Of Age Put In Absentee Voters List
---
The Ministry of Law and Justice has amended the Conduct of Election Rules, 1961, on October 22, allowing senior citizens and disabled people in the absentee voter list.

Differently abled people and those over 80 years of age can now cast their vote through postal ballots.

The absentee voter refers to a vote cast by someone who is unable to go to the polling station. In both these categories there are people who are unable to reach the polling stations and thus are unable to cast their votes.

At present, voting through postal ballots is available to the armed forces and those on poll duty.

The poll officer will attest the absentee voter in the case of senior citizens and person with disability in the form 13A.
PIB News National India
CSCs To Start Telemedicine Services In Rural Areas
---
To bring down cost of treatment and to encourage Siddha and other systems of alternative medicine, such as homeopathy and ayurveda, Common Service Centres (CSCs) will now provide telemedicine services in collaboration with the Ministry of Ayush through video conferencing in rural areas.

To run this scheme, Ayush Ministry will arrange doctors for low-cost health services to rural people at their doorsteps.

For this service, CSCs will use BharatNet broadband network of the Department of Telecommunications (DoT).

The service will be first launched in Tamil Nadu and it will be extended in other states later.

Initially, the service will be available for free, but later there may be some nominal charges to recover the cost of service.
PIB News National India
New RTI Rules Notified
---
The Union government has notified new rules under the Right to Information Act.

It reduced the tenure of information commissioners from five years to three.

Gave the government the discretion to decide on "conditions of service" for which no express provisions are made in the rules.

The Chief Information Commissioner's salary has been fixed at Rs 2.5 lakh and an information commissioner's at Rs2.25 lakh.

The government had been given the "power to relax" the provisions of the rules.
PIB News National Economy
Kerala Bank
---
The Reserve bank of India (RBI) has approved merger of 13 District Co-operative Banks (DCBs) of Kerala with the Kerala State Co-operative Bank to form 'Kerala Bank'.
PIB News National Economy
Nifty Midcap150 Quality 50
---
NSE Indices has launched a quality-factor based smart-beta mid-cap index called Nifty Midcap150 Quality 50. The Nifty Midcap150 Quality 50 index includes the top 50 companies from its parent Nifty Midcap 150 index, selected based on their 'quality' scores.
PIB News National Economy
Youth Co: Lab Launched
---
On 4 November, 2019, Atal Innovation Mission (AIM), NITI Aayog and United Nations Development Programme (UNDP) India launched Youth Co:Lab which aims at accelerating social entrepreneurship and innovation in young India by recognizing young people as drivers of sustainable development.
It is a youth lab programme through which young entrepreneurs and innovators will get a chance to connect with governments, mentors, incubators and investors, who will help equip them with entrepreneurial skills.
The initiative will convene social innovation challenges at the national and sub-national level, which will invite young people in the age group of 18-29 years and start-ups to showcase their proposed ideas and solutions to tackle some of the region's biggest social challenges.
It will also convene a series of youth dialogues across several cities such as New Delhi, Hyderabad, Bangalore and Mumbai to promote entrepreneurship across India.
Aspiring entrepreneurs or nascent entrepreneurs (with less than three years of experience) can submit their ideas at Lab's website. Selected applicants will be invited for a national innovation challenge, where each winning start-up will get an opportunity to incubate and strengthen their ideas at the Atal Incubation Centres.
The first phase of Youth Co:Lab will focus on six SDGs:

SDG 5 (Gender Equality)
SDG 6 (Clean Water and Sanitation)
SDG 7 (Affordable and Clean Energy)
SDG 8 (Decent Work and Economic Growth)
SDG 12 (Sustainable Consumption and Production)
SDG 13 (Climate Action)

It was co-created in 2017 by UNDP and the Citi Foundation and is operational in 25 countries across the Asia Pacific region.
PIB News National World
Indio-French Strategy In Western Indian Ocean Region
---
India and France have taken concrete steps to firm up their strategic partnership in the western Indian Ocean, as part of their respective Indo-Pacific strategies.
Leaders of India, France and Vanilla Islands – consisting of Comoros, Madagascar, Mauritius and Seychelles in the western Indian Ocean – met for the first time in Reunion Islands (a French territory) for exploring economic and development partnership.
India, in partnership with France, is keen to focus on port development, blue economy, trade, connectivity, tourism, skill development, hospitality and healthcare in this resource-rich region. India is also eyeing gas deposits in the Mozambique Channel near Vanilla Islands.
While India has longstanding defence partnerships with Mauritius and Seychelles, its defence ties with Comoros and Madagascar are growing as part of India's Indo-Pacific outreach to ensure peace and stability.
India's mantra for the region 'SAGAR' stands for 'security and growth for all'. India could forge a strong economic partnership in the Indo-Pacific, especially around the Reunion."
PIB News National World
'Vanilla Islands'
---
Vanilla Islands is a grouping of six island nations in south-west Indian Ocean -Mayotte, Comoros, Mauritius, Seychelles, Reunion and Madagascar.
The term 'Vanilla' is used because these countries are known for their export of the flavouring substance Vanilla
PIB News National World
Comoros Accords Its Highest Civilian Honour On Naidu
---
The Vice president of India Venkaiah Naidu, during his recent visit to Comoros, was accorded its highest civilian honour 'The Order of the Green Crescent'.
The Vice President is the first to receive the honour from India.
India announced to extend a Line of Credit of over 60 million US Dollars to Comoros in the field of energy and maritime defence cooperation.
PIB News National World
OVL Finds Oil And Gas
---
State-owned ONGC Videsh Ltd (OVL) has discovered oil and gas in its exploration blocks in Colombia and Brazil respectively.
ONGC Videsh has recorded discoveries of oil in its onshore exploration block CPO-5, Colombia in the Llanos basin and major gas in the deep offshore exploration block BM-SEAL-4, Brazil in the Sergipe Alagoas Basin.
ONGC Videsh Ltd, the overseas arm of ONGC, has invested $28 billion in 41 projects across 20 countries and has probable reserves of 711.36 million tonnes of oil equivalent.
PIB News National World
'Bishwa Ijtema'
---
Bangladesh will hold the first phase of Bishwa Ijtema, the second largest congregation of Muslim community after Hajj, from January 10 to 12 next year in Dhaka. The second phase of the Ijtema will be held from January 17 to 19.
Bishwa Ijtema is an annual event which is held on the bank of the Turag river at Tongi on the outskirts of Dhaka since 1967.
Bishwa Ijtema means world congregation and it draws in Muslims from about 150 countries.
It is a gathering that focuses on prayer and meditation and is not open for political discussions.
PIB News National World
Operation Kayla Mueller
---
The operation that claimed the life of Islamic State leader Abu Bakr al-Baghdadi was named after 26-year-old Kayla Mueller, an American who was kidnapped by the extremist group and killed in 2015.
The world's most wanted terrorist was killed in an American air raid in northwest Syria.
PIB News National World
Operation Peace Spring
---
The 2019 Turkish offensive into north-eastern Syria, after the pull-out by the US troops, code-named by Turkey as Operation Peace Spring, is an ongoing cross-border military operation conducted by the Turkish Armed Forces and the Syrian National Army against the Syrian Democratic Forces and the Syrian Arab Army in northeastern Syria.
PIB News National Science & Technology
A Stable Form Of Plutonium Discovered
---
A new compound of plutonium (Pu) with an unexpected, pentavalent oxidation state — Pu (V) has been discovered by scientists.
The new compound is solid and stable, and may represent a transient phase in radioactive waste repositories.
They figured it as Pu (V), pentavalent plutonium, a never-observed-before form of the element.
Plutonium is an unstable element and is tricky to transport, store and dispose of, but the find could lead to new ways to tackle those problems.
PIB News National Science & Technology
GEMINI: An Aid To Fishermen
---
GEMINI (Gagan Enabled Mariner's Instrument for Navigation and Information) is a portable receiver linked to ISRO-satellites, that is "fail-proof" and warn fishermen of danger.
The Indian National Centre for Ocean Information Services (INCOIS), a Hyderabad institute collaborated with Accord, a private company, to develop this receiver.
GEMINI works on GAGAN developed by ISRO and the Airports Authority of India and is an India-made global positioning system and relies on the positioning system by ISRO's GSAT satellites.
With this device, fishermen outside the signal range of their phone companies can also access warnings and alerts.
PIB News National Science & Technology
'AISoft'
---
The Indian Institute of Technology, Madras (IIT-M) researchers have developed algorithms that enable novel applications for artificial intelligence (AI), machine learning and deep learning to solve engineering problems.
The researchers are going to establish a startup to deploy their AI Software called 'AISoft' to develop solutions to engineering problems in varied fields such as in thermal management, semiconductors, automobile, aerospace and electronic cooling applications.
AIsoft was used to solve thermal management problems and found to be nearly million-fold faster compared to existing solutions currently used in the field.
PIB News National Science & Technology
JE & Bluetongue Detection Kit
---
Indian Council of Agricultural Research (ICAR) - Indian Veterinary Research Institute (IVRI) under the 'Make in India' initiative, have developed two diagnostic kits:
Japanese Encephalitis (JE) ELISA Kit (IgM)
The kit is helpful for assessing the active infection of JE virus in the swine population which predicts the outbreak of JE in the humans.
As compared to the commercial kit available in the market at a price of Rs. 52,000; the ICAR-IVRI developed is available for the farmers at a minimal price of Rs. 5,000 only.
Each kit is meant for testing around 45 samples.
Bluetongue: Sandwich ELISA for detection of Antigen
With the help of the Kit, the Bluetongue Virus can be controlled with the vaccination of susceptible animals, vector control and quarantine of infected animals with the good management practices.
Apart from the vaccination, the early diagnosis and isolation of the infected animals are one of the commonly suggested preventive methods for controlling the spread of the disease.
Bluetongue (BT) Virus: The Bluetongue (BT) virus is an insect-transmitted viral disease of domestic and wild ruminants that includes the camelid species. The disease is widespread among the sheep, goats, cattle, buffaloes and camels in the country.
PIB News National Ecology & Environment
A Green Wall To Prevent Desertification
---
It is a 1,400km-long and 5km-wide green corridor all the way from Panipat in Haryana to Porbandar in Gujarat, at its conception stage.
The corridor will act as a barrier against the heat and dust that blows in from the west.
The Aravalli range, which separates western India's Thar Desert from the relatively green plains to its east, has lost so much green cover that it is losing its ability to act as a natural barrier.
It would be modelled on the so-called Great Green Wall of Africa that was envisioned to run from Djibouti in the continent's east to Senegal in its west.
PIB News National Ecology & Environment
29th BASIC Ministerial Meet On Climate Change
---
The 29th ministerial meeting of the BASIC (Brazil, South Africa, India and China) countries on Climate Change was held at Beijing, China.
BASIC countries have urged developed nations to adhere to the commitment made under the Paris Agreement and provide finance and technology to the developing world.
PIB News National Ecology & Environment
MOSAiC Expedition
---
The MOSAiC (Multidisciplinary drifting Observatory for the Study of Arctic Climate) project will take a modern research icebreaker laden with scientific instruments close to the North Pole in winter.
It will be the first year-round expedition into the central Arctic exploring the Arctic climate system.
It will contribute to a quantum leap in our understanding of the coupled Arctic climate system and its representation in global climate models.
The focus of MOSAiC lies on direct in-situ observations of the climate processes that couple the atmosphere, ocean, sea ice, biogeochemistry, and ecosystem.
Vishnu Nandan, a remote sensing scientist from Kerala will be the only Indian among 300 scientists all over the world aboard the multidisciplinary drifting observatory for the Study of Arctic Climate (MOSAiC) expedition.
PIB News National Ecology & Environment
Poba Reserved Forest
---
The Poba Reserved Forest will soon be a wildlife sanctuary.
MoEFCC has directed the Assam government to take necessary steps to declare the Poba reserve forest in the state's Dhemaji district a wildlife sanctuary.
PIB News National Ecology & Environment
Poison Fire Coral
---
Poison Fire Coral is one of world's deadliest fungi.
It was found recently in north Queensland, a long way from its usual home in Japan and Korea.
Poison fire coral, typically found on tree roots and in the soil, is the only known fungus whose toxins are absorbed through the skin.
Current News National Polity & Governance
The Chit Funds (Amendment) Bill, 2019
---
On 28th November, 2019, the Rajya Sabha passed the Chit Funds (Amendment) Bill, 2019, aimed at reducing the compliance burden on chit funds and protecting subscribers that primarily comprises economically weaker sections of the society.
The Bill was passed by Lok Sabha on

20

th

November, 2019.
It seeks to amend the Chit Funds Act, 1982, which regulates chit funds and prohibits a fund from being created without prior sanction of a state government.
Objectives
To facilitate orderly growth of the chit fund sector and streamline operations of collective investment schemes or chit funds
To remove bottlenecks being faced by the chit fund industry
To enable greater financial access to people
Need for Bill
To Protect Investor's Interest: The need to protect investor interest highlights the crucial role chit funds play in India's rural economy, providing people with access to funds and investment opportunities, especially in regions where banks and financial institutions do not have a presence.
Salient Features of the Bill
Substitution of Terms
The Bill substitutes the words chit amount, dividend and prize amount with gross chit amount, share of discount and net chit amount,
It has introduced words such as 'fraternity fund', 'rotating savings' and 'credit institution' to help these funds get an image makeover, and build a brand for them.
In addition, it recognizes chit funds under various names, including kuri, fraternity fund, rotating savings, credit institution.
Increase in Aggregate Amount of Chits
It proposes to increase the maximum amount of chit funds which may be collected by:
Individuals: from Rs. 1 lakh to Rs. 3 lakh
Firms: from Rs. 6 lakh to Rs. 18 lakh.
Presence of Subscribers through Video-Conferencing
It mandates that at least two subscribers must be present, either physically or via video-conferencing, when a chit is drawn.
Foreman's Commission
It proposes to raise the maximum commission of a foreman from 5% of the chit amount to 7%.
Further, the Bill allows the foreman a right to lien against the credit balance from subscribers. (A foreman is simply the manager of the chit fund)
Applicability
The principal Act does not apply to any chit started before it was enacted or to any chit where the amount is less than Rs 100.
The Bill seeks to remove the limit of Rs 100, and allows the state governments to specify the base amount over which the provisions of the Act will apply.
Impact
Ensuring Accountability and Transparency: The provision in the bill to allow subscribers to be present through video conferencing would increase transparency and accountability in managing chit funds.
Making Chit Funds Investor Friendly: It will help in safeguarding the people subscribing to the scheme as it provides for the chit fund operator to have secured deposit to the size of the scheme, thus making chit funds investor friendly.
Chit Funds
Chit fund is a traditional financing system practiced in India wherein a few people (known as members or subscribers) come together and invest a fixed amount every month for a fixed period.
It provides assistance to those who are looking at an alternate to money lenders and the stringent procedures followed by banks.
During the process of collection, any member can draw a lump sum through various ways like a lucky draw, an auction or a member can even fix a payout date based on a known expenditure.
Although the system exists in other parts of the world by the name Rotating Savings and Credit Association (ROSCA), India is the only country where its operations are governed by legislations.
Types of Chit Funds
In India there are three types of chit funds, namely:
Funds run by state governments;
Private registered chit funds; and
Unregistered chit funds.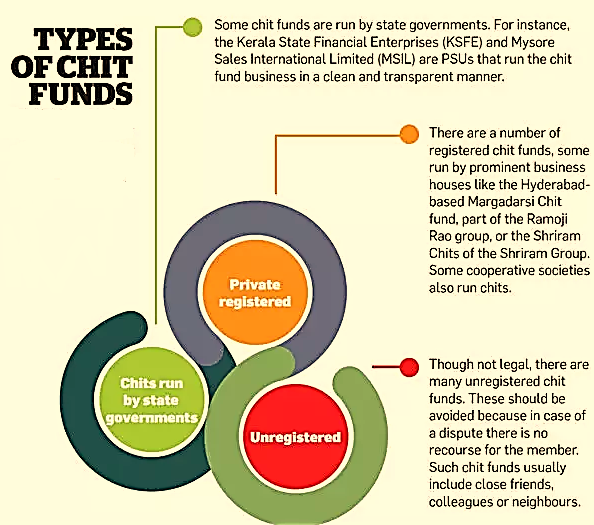 Source: ET
Difference between Chit Funds and Ponzi Schemes
Chit Funds or Chitty is a kind of a savings deposits which is done by a group of people. The concept is very similar to Kitty Parties which are organised by women to save some money for a particular community project. These chit funds can be managed by registered companies or it can also be organised by a group of people like family and friends. All the Chit Fund activities are regulated by the Chit Fund Act, 1982.
Ponzi schemes are a kind of pyramid scheme which operate on the "rob Peter to pay Paul" principle. It is a fraudulent investing scam promising high rates of return with little risk to investors.
Ponzi Schemes are basically structured in such a way that the money channeled from the investors go around and around in circles. This basically means that, the money collected from the investors is used to pay off the old investors.
These schemes basically function till the amount of money coming in from new investments is more than the money going out to pay the old investors. As long as this works the Ponzi scheme can function and the day the chain is reversed is the day it goes bust. For ex Saradha Scam of West Bengal was a Ponzi Scam, not Chit Fund Scam as popularized by media.
Advantages
Provides flexibility to borrow and save. One get a chance to borrow money (pot) just by paying first monthly installment.
Best option of finance for needy people, without any documents like IT returns, PAN card etc.
Chit fund is a good savings instrument and it can be a reliable source of funds in an emergency.
Intermediation cost is the lowest when compared to other instruments.
Disadvantages
Chit-funds do not offer any pre-determined or fixed returns.
Chances of fraud are high suppose foreman run away with corpus amount.
A winning subscriber may disappear after winning the first bid.
The subscriber may default and not ready to pay next installments.
High degree of risk with very little protection
Way Forward
Chit funds are popular among low-income group people as it offers them the opportunity to save and invest. It is an excellent tool to promote financial inclusion, if channelized in the right format.
However, archaic legislations have made it impossible for the chit fund industry to adopt technology and move to a system of e-auctions and e-payments because of the insistence of "physical presence" required as per Sections 16 of the Chit Fund Act.
It is high time that policymakers review their apathy for the chit fund industry to redesign and modernize the legislation that regulates this widely spread financial practice.
Current News National Polity & Governance
Sabrimala Review Petition
---
Recently, the Supreme Court agreed to hear the clutch 49 review petitions and all pending applications against its verdict allowing entry of women of all age groups into the Sabarimala temple.
However, the five-judge bench, comprising of CJI Ranjan Gogoi and Justices Rohinton Nariman, AM Khanwilkar, DY Chandrachud and Indu Malhotra, clarified that there would be no stay on its September 28, 2018.
Petitioners also plan to seek review of the recently delivered Babri Masjid-Ram Janmabhoomi and telecom revenue verdicts.
Review Petition
A decision of the Supreme Court can be reviewed in a Review Petition. Such review petition is filed before the same court, generally on very limited grounds, such as an error apparent on the face of the record.
Courts generally do not unsettle a decision in a review petition, unless there is a strong case.
Constitutional Provisions
Article 137 of the Constitution of India grants the Supreme Court the power to review and judgment or order pronounced by the Court.
This power is however subject to the Rules made by the Supreme Court under Article 145, as well as the provisions of any law enacted by Parliament.
Scope of Review
The court has the power to review its rulings to correct a patent error and not minor mistakes of inconsequential import.
When a review takes place, the law is that it is allowed not to take fresh stock of the case but to correct grave errors that have resulted in the miscarriage of justice.
The scope of the power of review was explained by the Court in Northern India Caterers (India) vs Lt. Governor Of Delhi (1979) wherein the Court held that a party is not entitled to seek a review of a judgment delivered by this Court merely for the purpose of a rehearing and a fresh decision in the case. If the attention of the Court is not drawn to a material statutory provision during the original hearing the Court will review its judgment.
The Court may also reopen its judgment if a manifest wrong has been done and it is necessary to pass an order to do full and effective justice.
Grounds to Seek Review Petition
In a 2013 ruling, the Supreme Court laid down three grounds for seeking a review of a verdict it has delivered-
The discovery of new and important matter or evidence which, after the exercise of due diligence, was not within the knowledge of the petitioner or could not be produced by him.
Mistake or error apparent on the face of the record.
Any other sufficient reason (any sufficient reason means a reason that is analogous to the other two grounds).
In Union of India v. Sandur Manganese & Iron Ores Ltd, 2013, the court laid down nine principles on when a review is maintainable.
Filing of Review Petition
According to Civil Procedure Code and the Supreme Court Rules, any person aggrieved by a ruling can seek a review.
However, the court does not entertain every review petition filed. It exercises its discretion to allow a review petition only when it shows the grounds for seeking the review.
Time-period to File Review Petition
Under Supreme Court Rules, 1999, suchpetition needs to be filed within 30 days from the date of judgement or order.
In certain circumstances, the court can condone a delay in filing the review petition if the petitioner can establish strong reasons that justify the delay.
Procedures Followed in the Court
According to the 1999 Rules, areview petitions is entertained without oral arguments by lawyers. Therefore, it is heard through circulation by the judges in their chambers.
Review petitions are also heard the same combination of judges who delivered the order or judgment that is sought to be reviewed.
If a judge has retired or is unavailable, a replacement is made keeping in mind the seniority of judges.
Incase if Review Petition Fails
As the court of last resort, the Supreme Court's verdict cannot result in a miscarriage of justice. The court has evolved the concept of a curative petition, which can be heard after a review is dismissed to prevent abuse of its process.
Curative Petition
A curative petition is the last judicial corrective measure which can be pleaded for in any judgment or decision passed by the Supreme Court which is normally decided by Judges in-chamber.
It is only in rare cases that such petitions are given an open-court hearing. Therefore, it is considered as the last and final option available for redressal of grievances.
The objective behind allowing such a petition is only to minimize any abuse of the processes of law and to cure gross miscarriage and lapses in the system of justice.
The concept of curative petition was first evolved by the Supreme Court in the matter of Rupa Ashok Hurra vs. Ashok Hurra (2002) where the question was whether an aggrieved party is entitled to any relief against the final judgement/ order of the Supreme Court after the dismissal of a review petition.
Current News Indian Economy Agriculture & Allied Sector
Golden Rice
---
Bangladesh is soon to announce the approval of golden rice for sale and use, making it first country in the world to embrace Golden Rice.
Bangladesh completed the confined field testing of golden rice at the Bangladesh Rice Research Institute (BRRI) in early 2017.
In Bangladesh, the rice is being developed by the Philippines-based International Rice Research Institute.
Researchers bred the beta-carotene genes into a rice variety named dhan 29, which is grown widely during the dry season in Bangladesh and contributes about 14% of the national harvest.
Opposition in Bangladesh
Bangladesh farmers and environment groups are angry over the government's decision to allow commercial cultivation of Golden Rice.
Activists fear that commercial cultivation would lead to the loss of Bangladesh's rich bio-diversity. This could further push for public acceptance of genetically-modified crops, eroding the food diversity, traditional seeds, as well as increase corporate control on local agriculture system.
They claim that in comparison to golden rice, sweet potato has more than 50 times more beta-carotene level. Further, sweet potatoes can be grown on even non-arable land in Bangladesh.
What is Golden Rice?
Golden Rice is conventional rice that has been genetically engineered to have high levels of beta-carotene, the precursor to vitamin A.
To create golden rice, scientists modified rice plants with beta-carotene genes from maize. By doing this, rice plants started to produce the rich orange-coloured pigment.
Timeline of Development
The search for a golden rice started off as a Rockefeller Foundation initiative in 1982.
The breakthrough was achieved in the year 1999, when two biologists Ingo Potrykus of the Institute of Plant Sciences in Switzerland and Prof Peter Beyer at Freiburg University in Germany, successfully developed the golden rice.
The first field trials of golden rice cultivars were conducted by Louisiana State University Agricultural Center in 2004.
Later, additional trials have been conducted in the Philippines and Taiwan, and in Bangladesh.
Varieties
The two versions of Golden Rice developed so far- Golden Rice 1 and 2, both Japonica (sticky, dryland) rices.
Need
According to the World Health Organization(WHO) estimate, about 250 million preschool children are affected by VAD and about 2.7 million children die because of the deficiency. In the given scenario, adoption of Golden Rice could prove to very beneficial to the populations in the developing countries.
Benefits
Conventional rice is naturally low in the pigment beta-carotene, which the body uses to make Vitamin A. Golden rice contains this, which is the reason for its golden colour.
Research has indicated that one cup of Golden Rice can provide up to 50 percent of the daily requirement of an adult for vitamin A.
The rice has the potential to reduce or eliminate much of the death and disease caused by Vitamin A deficiency(VAD), which is the leading cause of blindness among children and can also lead to death due to infectious diseases such as measles.
There are various economic benefits to be gained by countries that adopt Golden Rice. As Golden Rice tackles the issue of malnourishment, better public health allows for poor people to feel healthier and live longer, and therefore spend less on medical care; it can also increase unskilled labor productivity
Issues
Storage Issue
There has been storage issue with the Golden Rice as the beta-carotene in rice is unstable in the presence of oxygen. Thus, under normal storage conditions, the beta-carotene in Golden Rice grains will rapidly degrade.
Under tropical farming, storage, and household conditions, degradation may be faster stillthat may prove even more troublesome for the proposed nutritional benefits of Golden Rice than its initial low levels.
The Golden Rice should not be stored for more than three months after which it may lose its nutrients, making its consumption insignificant.
Quality and Quantitative Issue
In 2017, a study by Indian Council of Agricultural Science discovered abnormalities in golden rice traits, and lower productivity in its traits, both qualitatively (lower Vitamin-A content) and quantitively (yield wise).
Further, it has been noted that Golden Rice does not provide enough Vitamin A, 1.6 ug of vitamin A per gram of rice, as being claimed. One has to consume over 3300 grams of rice to achieve daily intake of Vitamin A. This amount would be too much for anyone living in areas that need the rice.
Furthermore Vitamin A is fat soluble, so one will need fat in his diet to be able to intake the vitamin A. Unfortunately, adequate protein and fat are not readily available in developing nations where the grain is targeted at. Therefore it brings the debate as to whether this grain will have the health benefits it sets out to achieve.
Ethical Issue
There have been raising concerns regarding the ethical implications of introducing Golden Rice.Is it fair to use developing nations as guinea pigs in this experiment?
So far no research or tests have been done to indicate the human health effects on consumption of this genetically modified crop. It could be deemed inhumane to mass produce a crop without knowing its full implications, possibly putting millions of people's lives at risk.
Furthermore, forcing this crop onto indigenous farmers changing their livelihoods and current methods of farming that they have been practicing for their entire lives also raises the ethical questions on the mass acceptance of this crop.
Golden Rice in India
In 2016, the then President of India, Pranab Mukherjee said that IARI has developed a genetically-modified golden rice enriched with pro-vitamin A along with other such crops.
In Bihar, a project called Development of Golden Rice is pushing golden rice for various agro-ecological zones. The Rajendra Agricultural University was given financial support o under the national agriculture development programme (Rashtriya Krishi Vikas Yojana).
Two ICAR research bodies, Indian Agricultural Research and National Plant Genomics Centre, were commissioned the research to develop a hybrid before the rice trait could be introduced in India - by cross breeding it with a local rice variety 'Swarna'.
The resulting plants were dwarf with pale green leaves and drastically reduced panicle size, grain number and yield as compared to the recurrent parent, Swarna.
International Rice Research Institute(IRRI)
IRRI is an independent, nonprofit, research and educational institute, founded in 1960 by the Ford and Rockefeller foundations with support from the Philippine government. The institute, headquartered in Los Banos, Philippines.
It is the world's premier research organization dedicated to reducing poverty and hunger through rice science; improving the health and welfare of rice farmers and consumers; and protecting the rice-growing environment for future generations.
IRRI is well known for its contribution to the "Green Revolution" movement in Asia during the late 1960s and 1970s.
Way Forward
Rice feeds half the world daily. In many countries, rice provides more than 60%, perhaps 80%, of calories daily. Vitamin A deficiency is widespread, and is particularly severe in those countries where rice is the staple food.
For these reasons, the leadership of the project to encourage and facilitate local adoption of Golden Rice has to pass from global to local. And local must include national level, and local government and village level organisation, and family organisation.
Current News Indian Economy Plan Policy
Transgender Persons (Protection Of Rights) Bill, 2019
---
On 26th November, 2019, the Rajya Sabha passed the Transgender Persons (Protection of Rights) Bill. The bill was passed by Lok Sabha on 5th August, 2019, following which it was moved for consideration in Rajya Sabha.
Aim
It seeks to provide a mechanism for social, economic and educational empowerment of transgender.
It aims at empowering the community by defining and protecting their rights, which is one of the priorities of the Social Justice and Empowerment Ministry in the first 100 days agenda of the second term of the current government.
Salient Features of the Bill
Defining the Term Transgender: A transgender is a person whose gender does not match with the gender assigned to that person at birth and includes trans-man or trans-woman (whether or not such person has undergone sex reassignment surgery or hormone therapy or laser therapy or such other therapy), person with inter-sex variations, gender-queer and person having such socio-cultural identities as 'kinner', 'hijra', 'aravani' and 'jogta'.
Right to Choose Identity: A person would have the right to choose to be identified as a man, woman or transgender, irrespective of sex reassignment surgery and hormonal therapy. It requires transgender persons to go through a district magistrate and district screening committee to get certified as a trans person and a revised certificate may be obtained only if the individual undergoes surgery to change their gender either as a male or a female.
Prohibition against Discrimination:The bill prohibits discrimination against a transgender person in areas such as education, employment, and healthcare. It directs the central and state governments to provide welfare schemes in these areas.
National Council for Transgender persons (NCT): It provides for the establishment of NCT with Union Minister for Social Justice as its Chairperson. The Council will advise the central government as well as monitor the impact of policies, legislation and projects with respect to transgender persons. It will also redress the grievances of transgender persons.
Key Changes Made
The 2018 Bill was resisted for outlawing begging, which made the trans community particularly vulnerable; this is because most of the trans population in India are compelled to take up begging owing to the lack of employment opportunities available to them.
This provision has been removed from the Bill, which now specifies the following offences:

compelling transgender persons to do forced or bonded labour (excluding compulsory government service for public purposes)
denial of use of a public place
removal from household, village or other place of residence
physical, sexual, verbal, emotional or economic abuse.
Impact of the Bill
Will Promote Inclusiveness: The Bill will benefit a large number of transgender persons, mitigate the stigma, discrimination and abuse against this marginalized section and bring them into the mainstream of society. This will lead to inclusiveness and will make the transgender persons productive members of the society.
Will Make Government Accountable: It will bring greater accountability on the part of the Central Government and State Governments/Union Territory Administrations for issues concerning Transgender persons. Also, it will make all the stakeholders also responsive and accountable for upholding the principles underlying the bill.
Challenges faced by Transgender
Social Exclusion and Discrimination:
Transgenders are often ousted by their own biological family or run away at an early age due to harassment. They are looked down by the society as a social misfitwith serious problems. Community humiliates the family for having a transgender child thereby preventing the social contact of the families with the community.
Gender identity often makes transgender a victim of stigmatization and exclusion by the society.
Illiteracy:
These are unable to access equal educational opportunities because of harassment, discrimination and even violence. They are forced to drop out of schools as Indian schools remain unequipped to handle children with alternative sexual identities
Poverty and Unemployment:
They end up begging on roads as they lack educational qualificationsand are unable to get jobs most often. Even if they are qualified, the job market is not ready to employ them due to the stigma attached with them.
The community is also forced into sex work. The one reason for being forced into sex work is because unavailability of livelihood resources. As a result of this they are pushed to lead their life in poverty or end up taking refuge in beggary and sex work.
Prone to Violence:
They are subjected to violence and mistreatment. These people, particularly transgender women face staggering levels of violence, high rates of murder and incarceration.
Health Issues:
Discrimination in India's healthcare system against transgender people remains widespread even though the new laws introduced earlier this year directed at providing them equal treatment. Anxiety due to the fear of being treated unfairly, worries about abuse and administrative hurdles are hindering many of the country's millions transgender people from seeking medical care.
Medical professionals themselves are responsible for causing "transphobia" to many; they remain largely unaware about gender identity issues.
According to India's National Aids Control Organisation (NACO), sex work makes this community a high-risk group for HIV.
Way Forward
Central as well as state governments both have adopted various measures from time to time which have helped to bring them on an equal footing with others. However, the need is to reorient the outlook of the society; no laws or measures adopted by the government can be effectively implemented until and unless the mindset is not changed and people are not willing to accept them as a part of the society.
The government should take steps for better education and employment of transgender which is important to ensure social justice to the community because every individual in this country has equal rights and privileges guaranteed by the constitution of India.
Current News Indian Economy Infrastructure
National Industrial Corridor Development And Implementation Trust
---
Recently, the government approved development of following five industrial corridor projects to be implemented through National Industrial Corridor Development and Implementation Trust (NICDIT).
The government approved the expansion of the mandate of Delhi Mumbai Industrial Corridor Project Implementation Trust Fund (DMIC-PITF) and re-designated it as National Industrial Corridor Development and Implementation Trust (NICDIT).
National Industrial Corridor Development and Implementation Trust (NICDIT)
Established in 2017, NICDIT is an apex body under the administrative control of Department of Industrial Policy & Promotion (DIPP) for coordinated and unified development of all the five industrial corridors in the country.
Functions
It supports project development activities and appraisal, approval and sanction of projects as per extant delegation.
It channelize Government of India's funds as well as institutional funds while ensuring that the various corridors are properly planned and implemented keeping in view the broad national perspectives regarding industrial and city development.
Advantages
Holistic planning and development approach and sharing the learning from development of industrial corridors.
Enabling innovation in areas such as planning, design development and funding of such projects
Enhancing the share of manufacturing in the country, attract investment in manufacturing and service industry sectors.
Five Industrial Corridors
Five industrial corridor projects have been identified, planned and launched by the Government of India. These corridors are spread across India, with strategic focus on inclusive development to provide an impetus to industrialization and planned urbanization.
Objectives
Increasing overall share of manufacturing in GDP, leveraging the strenght of performing sectors.
Promoting high-tech and high value- added sectors to enhance overall economic prosperity.
Enhancing trade competitiveness penetration in the global production networks and Global Value Chains (GVC).
Driving inclusivity through gender parity and developing MSME capabilities.
| | | |
| --- | --- | --- |
| S.No. | Industrial Corridor | States |
| 1 | Delhi Mumbai Industrial Corridor (DMIC) | Uttar Pradesh, Haryana, Rajasthan, Madhya Pradesh, Gujarat, Maharashtra |
| 2 | Amritsar Kolkata Industrial Corridor (AKIC) | Punjab, Haryana, Uttar Pradesh, Uttarakhand, Bihar, Jharkhand, West Bengal |
| 3 | Chennai Bengaluru Industrial Corridor (CBIC) | Andhra Pradesh, Karnataka, Tamil Nadu, Kerala |
| 4 | East Coast Economic Corridor (ECEC) with Vizag Chennai Industrial Corridor (VCIC) as Phase-1 | West Bengal, Odisha, Andhra Pradesh, Tamil Nadu |
| 5 | Bengaluru Mumbai Industrial Corridor (BMIC) | Karnataka, Maharashtra |
Current Status of Industrial Corridors
Delhi Mumbai Industrial Corridor (DMIC)
Special Purpose Vehicles (SPVs) for all identified nodes/cities have been incorporated, trunk infrastructure works are nearing completion, land disposal policies have been finalized and the process of land allotment to investors has been initiated at the following locations:
Dholera Special Investment Region in Gujarat
Shendra-Bidkin Industrial Area in Maharashtra
Integrated Industrial Township Project at Greater Noida in Uttar Pradesh
Integrated Industrial Township Project 'VikramUdyogpuri' near Ujjain in Madhya Pradesh
Amritsar Kolkata Industrial Corridor (AKIC)
Perspective plan for the overall AKIC Corridor has been completed and one Integrated Manufacturing Cluster (IMC) site in following States has been finalized for further development:
Punjab (Rajpura-Patiala)
Uttarakhand (Prag-Khurpia Farms)
Uttar Pradesh (Bhaupur)
Bihar (Gamhariya)
Jharkhand (Barhi)
West Bengal (Raghunathpur)
Haryana (Saha)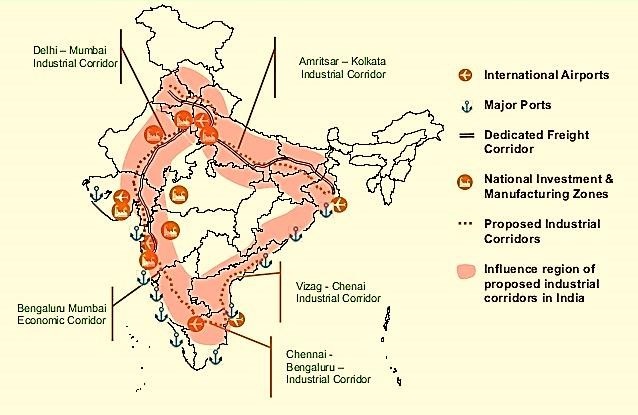 Chennai Bengaluru Industrial Corridor (CBIC)
Perspective plan for the overall corridor has been completed and following three nodes have been identified for further development:
Krishnapatnam (Andhra Pradesh)
Tumakuru (Karnataka)
Ponneri (Tamil Nadu)
A SPV for execution of the project at Krishnapatnam node in Andhra Pradesh has been incorporated. Detailed master planning and Preliminary Engineering activities for the Activation Area have been finalized and NICDIT in its meeting held on 30th August, 2019 considered the project proposal and recommended the same for seeking final approval from Cabinet Committee on Economic Affairs (CCEA).
Vizag Chennai Industrial Corridor (VCIC)
Government of Andhra Pradesh (GoAP) is implementing the VCIC project with ADB loan of US $631 million. Asian Development Bank (ADB) has carried out the initial project development activities for VCIC.
ADB has identified four nodes namely, Visakhapatnam, Chittoor, Donakonda and Machilipatnam for development. Amongst these, Visakhapatnam and Chittoor have been prioritized by the Government of Andhra Pradesh.
Bengaluru Mumbai Industrial Corridor (BMIC)
Perspective plan has been completed for the overall BMEC Project and Dharwad node in Karnataka has been identified as the priority node for further implementation.
NICDIT directed that project development works may not be undertaken for the time-being as it does not have any back-bone in terms of a Dedicated Freight Corridor and is quite distant from the coast.
Besides, Government of Maharashtra has not been able to finalize the nodes due to problems of land and water.
Significance of Industrial Corridors
Wheels of Progress: Industrial corridors recognize the interdependence of various sectors of the economy and offer effective integration between industry and infrastructure leading to overall socio-economic development. Industrial corridors lead to the creation of state-of-art infrastructure such as high-speed transportation (rail/road) networks, ports with advanced cargo handling equipment, modern airports, special economic regions/ industrial areas, logistic parks, etc. that are focused on fulfilling the requirements of the industry.
Boost to Manufacturing Sector: In each of these corridors, manufacturing will be a key economic driver and these projects are seen as critical in raising the share of manufacturing. Smart Industrial Cities are being developed along the Corridors. These cities are being developed to integrate the new workforce that will power manufacturing and will lead to planned urbanization.
Large Scale Employment: An industrial corridor is a package of infrastructure spending allocated to a specific geographical area, with the intent to stimulate industrial The promise of large-scale employment generation (both direct and indirect jobs) is a major driver of the corridors.
Economic Growth of States: The project will initiate a trend of reverse migration,attracting the young manpower from the state resorting to various manufacturing activities, including high-end engineering works within the respective states. The project is expected to trigger the overall economic growth of the States and its employment generation on a sustainable mode.
Reducing Logistic Costs: An industrial corridor is a multi-modal transport services that would pass through the states as main artery. Freight cargo from industrial and National Manufacturing and Investment Zones (NMIZ) located m on both sides of this main artery will be brought to the industrial corridor via rail and road feeder links that shall provide last mile connectivity. This will lower costs of logistics and enable firms to focus on their areas of core competence.
Push to Make in India: Programmes like Make in India, for instance, would get a push from upcoming industrial corridors in the country, attracting large-scale foreign investments leading to the economic growth of the country.
Increasing Social Integration: The corridors would provide jobs opportunities close to their homes and they would not have to migrate to far-off places thereby preserving family as an institution. This will also increase social integration in the country.
Challenges to Development of Industrial Corridors
Land Acquisition
Land acquisition is a state subject, and there have been issues with land acquisition in the corridor, which has delayed project implementations. Since the industrial corridor would cut across the length of the state, acquisition of land has been slow because of legal hurdles and the amount of compensation.
Massive investment in industrial corridor will pave the way for large human displacement and destruction of fertile agricultural land, posing serious threat to food security and other various social problems in the country.
Delay in Project Clearance
Any industrial activity in India requires multiple clearances right from concept to commission and industrial corridor is no immune to this.
Policy Bottlenecks
India has a much higher corporate tax rate compared to its neighboring countries such as Cambodia, Thailand and Vietnam. This makes India an unattractive investment destination compared to the competing countries.
Further, India has one of the highest import tariffs in the region which makes it challenging to establish global value chains.
Way Forward
The strategy of industrial corridors is poised to develop a sound industrial base,characterized by excellent infrastructure and uninhibited growth of manufacturing. However, all this would remain only rhetoric if stumbling blocks are not removed and issues plaguing industrial corridor projects are not resolved.
This requires a holistic approach and involvement of all the government departments, stakeholders such as farmers from whom land is to be acquired, manufacturers who would be setting units for production, transport operators, etc.
Current News Indian Economy Survey And Index
Annual Report On Road Accidents In India – 2018
---
On 19th November, 2019, the Ministry of Road Transport and Highway released the Road Accidents in India- 2018.
It is an annual publication brought out by the Transport Research Wing of the Ministry of Road Transport and Highways which reports on accidents, related deaths and injuries, calendar year-wise, based on information supplied by the Police Departments of States and UTs.
Major Findings
Increase in Road Accidents
Road accidents in the country have increased marginally by 0.46 % during 2018.
More than 1.5 lakh people lost their lives in road crashes in the country in 2018, registering an increase of 2.4% as compared to the year before, when there were 1.47 lakh fatalities.
Decrease Compound Annual Growth Rate of Accidents
The Compound annual growth rate of accidents as well as accident related deaths in the period 2010-2018 dropped drastically and was the least when compared with the previous decades, despite the very high rate of growth of automobiles.
National and State Highways Accidents
National Highways accounted for 2 percent of total road accidents and 35.7 per cent of deaths in 2018.
State Highways accounted for 2 percent and 26.8 percent of accidents and deaths respectively.
Type of Road Users Accident
In terms of accident related killings by type of road user, the number of Pedestrians killed accounted for 15%, the share of cyclists was 2.4% and that of two wheelers was 36.5%.
Together these categories explain 9% of the accident related killings and are the most vulnerable category quite in line with global trends.
Age-Group Related Accidents
During 2018, young adults in the age group of 18 - 45 years accounted for nearly 69.6 percent of road accident victims.
The working age group of 18 – 60 accounted for a share of 84.7 percent in the total road accident deaths.
Male More Prone to Accident
The share of males in number of total accident deaths was 86% while the share of females hovered around 14% in 2018.
State Scenario
The State of Tamil Nadu recorded the highest number of road accidentsin 2018 while the highest numbers reported as killed in 2018 were in the State of Uttar Pradesh.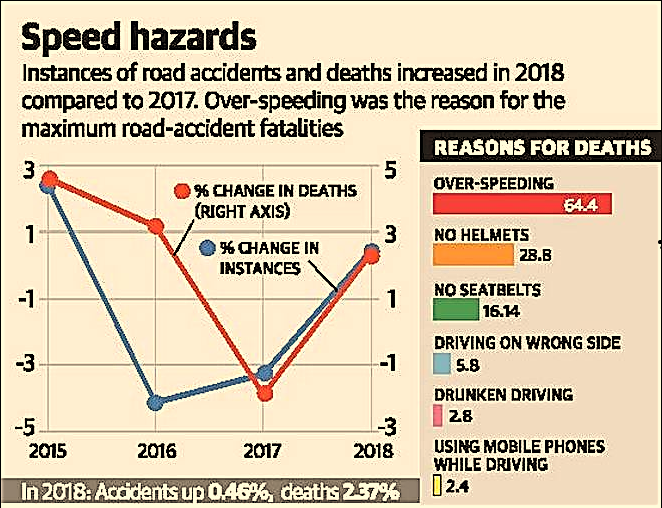 Source: The Hindu
Major Causes of Road Accidents
Overspeeding
It is the most common cause of deaths on roads in India, accounting for 64 percent of road deaths.
Drink Driving
Another common cause of road accidents in India. However, there has been a decline in drink driving cases by 14 percent between 2017 and 2018.
Non-uasge of Safety Gears
Non usage of safety devices such as helmets and seatbelts do not cause accidents but are critical for averting fatal and grievous injuries in an event road accident occurs.
Poor Enforcement Of Traffic Laws
India's traffic laws are stricter than those of other countries but these laws are not enforced.
India's enforcement of laws on speeding and drink driving are rated 3 and 4 out of 10, respectively, compared to 8 and 9 in China by the Global Road Safety Report 2018.
Poor Road Infrastructure
The problem of poorly constructed roads is long engraved in India, both in the rural as well rural areas.Potholes, roads under construction, poorly concreted speed breakers and down-and-out drainage system on the roads, improper warning signs are a cause of increasing accidents, deaths and health problems in the country.
Overloading
Vehicle overloading is another major cause of accidents in Indiawhich poses serioustraffic hazard, risking itself and other road users.
Weather
Adverse weather conditions such as heavy rain, thick fog and hail storm saffects both the road surface condition and the visibility of the motorist, thereby increasing the chances of accidents.
Government Initiatives towards Road Safety
Motor Vehicles Amendment Act- 2019
Motor Vehicles (Amendment) Act-2019 which amends the Motor Vehicles Act, 1988,came into force from 1st September, 2019.
The act is intended to bring reforms in the area of road safety, bring citizen facilitation, transparency, and reduce corruption with the help of information technology and removing intermediaries.
The Act will help strengthening the public transport, safeguard and protect Good Samaritan and bring in reforms in the insurance and compensation regime.
National Road Safety Policy-2017
It outlines various policy measures such as promoting awareness, encouraging safer road infrastructure including application of intelligent transport, enforcement of safety laws trauma care etc.
Mitigation Measures
Education and Awareness Measures
It relies on dissemination of road safety awareness and regulation through media and non-governmental organizations (NGOs).
The Ministry has been making various efforts to make road safety a social Movement. The Government has been undertaking various publicity measures in the form of telecasting on T.V, Radio, Cinema, printing calendars with road safety messages as also by conducting seminars &exhibitions on road safety with messages for various segments of road users viz. Pedestrians, cyclists, school children, heavy vehicle drivers, etc.
Engineering (both of roads and vehicles) Measures
High Priority has been accorded for identification and rectification of black spots (accidents prone spots on National Highways). Concerted efforts towards improvement of road safety through engineering measures on National Highways have been made.
Road Safety Audits
Detailed guidelines for taking up road safety audits on National Highways have been notified. Road Safety Audits at different stages have been made part and parcel of all road development projects on Engineering, Procurement and Construction (EPC) and Build, Operate, Transfer (BOT) modes.
Proper Enforcement of Road Safety Laws
Through Motor Vehicle Amendment act, 2019, government is avid regarding the enforcement of traffic rules, which are extremely important components of road safety and accident mitigation measures.
Way Forward
Expansion in road network, motorization and urbanization in the country has been accompanied by a rise in road accidents leading to road traffic injuries and fatalities as a majordevelopmental issue and a public health concernin India.
While India has less than 3 percent of the world's vehicles, it accounts for about 12 percent of the world's road deaths.
Containing road accidents needs to be a multi-sectoral effort that involves law enforcement, governance, (the issue of driving licenses and vehicle registration), engineering (appropriate road design) awareness raising and post-accident trauma care and management.
Current News National Social Issue & Social Justice
Mizoram Revokes Forest Rights Act
---
On November 19th, 2019, the Mizoram government passed a resolution revoking the implementation of the Scheduled Tribes and Other Traditional Forest Dwellers (Recognition of Forest Rights) Act, 2006 (FRA).
Mizoram had passed a resolution implementing the Act on October 29, 2009. The Act has been applicable in the state since December 21, 2009.
Using the special provisions guaranteed under the Article 371(G), the state government passed the resolution revoking the FRA.
Reason for Revoking
The Mizoram Government alleged that FRA directly encroached on the special status the state enjoyed under Article 371 (G) of the Constitution of India.
Another reason given by state government is regarding the stoppage of funds by the Union government since 2014-15 for the implementation FRA. Union Ministry of Tribal Affairs, in its Project Appraisal Committee meeting held on April 8, 2015, declined the state's proposal for Rs 10 lakh for the implementation of the Act in the state, following which the state never got funds for the same from the Centre.
Article 371 (G)
Article 371(G) of the Constitution gives special status to the state of Mizoram and provides that the Parliament cannot decide on the matters of religious and social practices of the Mizos, civil and criminal law of the land, land ownership transfer, and customary law procedure without the consent of the state assembly.
The provision came into effect in 1986 following the signing of the historic Mizo Accord between the Centre and the erstwhile underground Mizo National Front (MNF).
It grant special provision with respect to the State of Mizoram Notwithstanding anything in this Constitution,
(a) No Act of President in respect of
religious or social practices of the Mizos
Mizo customary law and procedure
administration of civil and criminal justice involving decisions according to Mizo customary law
ownership and transfer of land, shall apply to the State of Mizoram unless the Legislative Assembly of the State of Mizoram by a resolution so decides: Provided that nothing in this clause shall apply to any Central Act in force in the union territory of Mizoram immediately before the commencement of the Constitution (Fifty third Amendment) Act, 1986;
(b) the Legislative Assembly of the State of Mizoram shall consist of not less than forty members"
According to the 2017 State of Forest Report by the Forest Survey of India, around 20 percent of the total 5,641 square kilometres of the forest land in Mizoram is "Unclassed Forest" which is under Autonomous District Councils.(Note: A big chunk of forests in the state is owned by the Lai, Mara and Chakma Autonomous District Councils).
A significant part of forests that are traditionally controlled and managed by the community fall within this category of unclassed forest.
The area of unclassed forest is lowest in Mizoram, among all North Eastern states which meanthat the potential for FRA implementation is also the highest in the state.
Impact
With a major portion of the geographical area of Mizoram state under forest cover, and communities having ownership on those lands, revoking FRA can be seen as a means to keep the forest land with the forest departments for later diversion.
Forest Rights Act, 2006
The Scheduled Tribes and Other Traditional Forest Dwellers (Recognition of Forest Rights) Act, 2006, was enacted to protect the marginalised socio-economic class of citizens and balance the right to environment with their right to life and livelihood.
The Act grants legal recognition to the rights of traditional forest dwelling communities, partially correcting the injustice caused by the forest laws.
Eligibility Criteria for FRA
Any person belonging to a Scheduled Tribe can claim individual rights to live in and cultivate up to four hectares provided ,he occupied it and was dependent on it as of December 13, 2005. Non-tribals, in addition to this requirement, will have to prove their family's residence in the vicinity of the forest land for 75 years prior to December 2005.
The Gram Sabha is the concerned authority to initiate the processor determining the nature and extent of individual orcommunity forest rights or both that may be given to theforest dwelling Scheduled Tribes and other traditional forestdwellers within the local limits of its jurisdiction under the Act.
Special Rights Provided under FRA
Individual Forest Rights
Any person belonging to a Scheduled Tribe can claim rights to live in and cultivate up to four hectares provided she has occupied it and was depended on it as of December 13, 2005.
In case of a non-tribal, in addition to this requirement, she will have to prove her family's residence in the vicinity of the forest land for 75 years prior to December 2005.
Community Forest Rights
The Act recognises the rights of a gram sabha over forest land within the traditional boundaries of a village or seasonal use of landscape in case of pastoral communities. This allows the villagers to own and collect, use and dispose of minor forest produce besides timber and the right to use grazing land and water bodies, among others.
Community Forest Resource Rights
The most significant part of the Act, this rights give the gram sabha the right to protect and manage their forest. No project can come up in the forest nor can any conservation plan for the forest be carried out without the approval of the gram sabha.
Process of Recognition of Rights
On receipt of intimation from the Forest Rights Committee, the officials of the Forest and Revenue departments shall remain present during the verification of the claims and the verification ofevidences on the site and shall sign the proceedings with their designation, date and comments.
If any objections are made by the Forest or Revenue departments at a later date to a claimapproved by the Gram Sabha, for the reason that their representatives were absent during fieldverification, the claim shall be remanded to the Gram Sabha for re-verification by the committeewhere objection has been raised and if the representatives again fail to attend the verificationprocess the Gram Sabha's decision on the field verification shall be final.
Significance of FRA
The Act secures -
Community Rights or rights over common property resources of the communities in addition to their individual rights
Rights in and over disputed land Rights of settlement and conversion of all forest villages, old habitation, un-surveyed villages and other villages in forests into revenue villages
Right to protect, regenerate or conserve or manage any community forest resource which the communities have been traditionally protecting and conserving for sustainable use.
Right to intellectual property and traditional knowledge related to biodiversity and cultural diversity
Rights of displaced communities
Rights over developmental activities
Current News National Social Issue & Social Justice
Bharatiya Poshan Krishi Kosh
---
On 18th November, 2019, the Union Ministry of Women and Child Development (WCD) along with Bill Gates, co-chair of Bill & Melinda Gates Foundation launched the Bharatiya Poshan Krishi Kosh (BPKK), to address the menace of growing malnutrition in the country.
Aim
To reduce malnutrition through multi-sectoral results-based framework which includes agriculture, among women and children
To promote primary dietary practices
Need
Increasing Modern Food System: The advent of modern food systems has resulted in a loss of knowledge on and consumption of traditional and local nutrient-rich foods in favour of less nutritious industrialised and processed food products, leading to rise in health related issues in all age groups.
Lack of Diet Diversity: There is lack of diet diversity in the country, which is one of the major reasons for the prevailing malnutrition.
Rice and Wheat Dominance: In the last few decades, only two cereals- rice and wheat has been the mainstay of the Indian diet, over shadowing all other nutritional cereal grains.
About BPKK
The BPKK will serve as a repository of diverse crops across 128 agro-climatic zones in India for better nutritional outcomes.
In consultation with WCD Ministry and the foundation, the project team will select around 12 high focus states which are representative of the geographical, social, economic, cultural and structural diversities of India.
In each of the states or group of states the team will identify a local partner organization which has relevant work experience in Social and Behavior Change Communication (SBCC) and nutrition for developing the food atlas-Poshan Atlas.
Further, a five-point action programme has been proposed to make India nutrition secure-

To ensure calorie rich diet for women, expectant mothers and children
To ensure intake of proteins in the form of pulses to eradicate protein hunger in women and children
To eradicate hidden hunger due to deficiency of micro nutrients like vitamin A, vitamin B, Iron and Zinc
To ensure clean drinking water supply
To spread nutrition literacy in every village particularly in mothers with children less than 100 days' old

The five point action programme aligns with different Sustainable Development Goals (SDGs) such as SDG 2 (Zero Hunger), SDG 3 (Good Health and Well Being) and SDG 6 (Clean Water and Sanitation).
Poshan Atlas
The ministry along with the Harvard Chan School of Public Health and the Bill and Melinda Gates Foundation will document and evaluate promising regional dietary practices and the messaging around them and develop a India's First Poshan Atlas, under POSHAN Abhiyan, government's multi-ministerial convergence mission with the vision to ensure attainment of malnutrition free India by 2022.
Importance
The POSHAN atlas will map the crops and food grains grown in different regions of the country because the solution to tackling malnutrition lies in promoting regional cropping patterns and embracing local food that are rich in protein.
The information gained through the Atlas will be disseminated at the district level for implementation through cooperative tasks among all the stakeholders - farmers, food supply intermediaries and consumers
Significance
Guiding Force: It would serve as guiding force, propelling parents and communities to rethink on what to feed and what to consume.
Push for Behaviour Change: Awareness and knowledge about our crop diversity and regional variations in nutritious food will provide a nudge for behaviour change across the country propelling demand which, in turn, will provide opportunities to farmers and agro-processing units to address consumer needs.
Different Collaboration for Better Result: Further, the project would see government, academia, the scientific community, private sector and cultural groups join hands and take a major step towards finding local, workable solutions to be implemented at community levels.
Current News International International Trade & Treaties
USA Exiting The Paris Agreement
---
In first week of November, 2019, the Trump administration gave formal notice to the United Nations regarding United States withdrawal from the Paris Climate Agreement.
According to a US State Department, the withdrawal will take effect one year from delivery of the notification.
The United States would then be the only UN member country in the world that is no longer part of the agreement.
Background
Despite Trump's announcement in 2017 a formal move to withdraw from the 2015 pact had to wait till this year because of a provision in the Paris Agreement. The 2015 pact had lock in period of three years from the date of its entry into force—the Paris Agreement entered into force on November 4, 2016.
The notification begins the formal year long process for the US to withdraw from the agreement. This will mean that US will continue to be part of the discussions that is going to n held in December, 2019, in Madrid, Spain.
Reason for Exiting
During his 2016 presidential campaign, Donald Trump had said the Paris Agreement is unfair at the highest level to the USA interest.
The current government believes that the Paris Agreement undermines U.S. competitive edge and impairs both employment and traditional energy industries.
One key but quiet aspect of the Trump withdrawal that is raising more and more concern is the question of finance. Around $10bn is due to be paid in to the Green Climate Fund by the end of this year, with the US having already contributed $1bn under President Obama.
Due to shale gas evolution, the United States carbon emission has decreased in previous years, therefore it feels that there is not much requirement of further regulations.
Paris deal will be successful only when all the countries meet their intended nationally determined contributions (INDCs) but as the agreement is not legally binding, the other countries will enjoy flexibility while US will have to face serious regulations.
Paris Agreement
The Paris Agreement is a landmark environmental accord that was adopted in 2015 at the 21st Conference of Parties(CoP) of the United Nations Framework Convention on Climate Change (UNFCCC), to address climate change and its negative impacts.
The agreement went into force on 4th November, 2016.
As of November 2019, 195 UNFCCC members have signed the agreement, and 187 have become party to it
Aim
To strengthen the global response to the threat of climate change
Key Elements
To keep global temperatures well below 2.0C (3.6F) above pre-industrial times and endeavour to limit them even more, to 1.5C
To limit the amount of greenhouse gases emitted by human activity to the same levels that trees, soil and oceans can absorb naturally, beginning at some point between 2050 and 2100
To review each country's contribution to cutting emissions every five years so they scale up to the challenge
For rich countries to help poorer nations by providing "climate finance" to adapt to climate change and switch to renewable energy
Process for a Country to Exit Paris Agreement
According to the Article 28 of the agreement, a member can begin a formal withdrawal process no earlier than three years after the treaty enters into force.
Any such withdrawal shall take effect upon expiry of one year from the date of receipt by the Depositary of the notification of withdrawal, or on such later date as may be specified in the notification of withdrawal.
Possibility of USA returning to the Agreement
There is no bar on a country rejoining the Paris Agreement, giving an opportunity to USA to return to the agreement later.
Article 21 of the agreement states that a country that is not a party to the agreement can join it by submitting a formal notification, which will take effect 30 days later. This procedure is the same whether a country used to be a party and then withdrew, or is joining for the first time.
Impact of USA Withdrawal
The United States is the world's second largest emitter of greenhouse gases. As part of its commitment to the Paris Agreement, the United States had promised to reduce its emissions by 26 per cent to 28 per cent by the year 2025 from 2005 levels.
The move could seriously jeo pardise the world's objective of keeping the global temperature rise to within 2 degrees Celsius from pre-industrial times.
While exiting the Paris Agreement does not automatically mean the abandonment of this target or of any future action by the United States on climate change, it would no longer be committed to these actions.
The biggest impact might be on the financial flows to enable climate actions.The United States plays a preeminent role in mobilising financial resources globally, and its absence from the scene could seriously hamper that effort.
However, by withdrawing from the Paris Agreement, the U.S. gains itself more emission space and lower mitigation costs while squeezing other country's emission space and raising their mitigation costs and this will in turn make it more difficult and expensive to achieve the 2°C target of the Paris Agreement.
The US withdrawal will mean that other countries would have to step up their efforts to curb greenhouse emissions. This could mean increased pressure on developing countries such as China and India, the largest and third largest emitters.
Way Forward
For the international community, the exit of the U.S. opens an opportunity to galvanised climate leadership from other member states. Historically, the USA, along with the EU, has so far played a major role in pushing the climate agenda forward from Rio to Paris.
Even if the United States does rejoin the Paris Agreement in the future, other countries will remember that it unilaterally left an agreement that had global support and may well believe that the country could do so again in the future. America's reputation as a reliable international partner already has suffered damage that will take a long time to repair.
However, given the projected rapid increase in carbon emission from developing countries, climate leadership and action from these countries will be crucial in limiting global emission rate. Encouraging signs are seen from the two highest populated and greenhouse gas emitting countries — China and India,which are currently on track to overachieve their NDC pledges and further increase their targets.
In the last few years, China has managed to transform its image from grudging bargainer to silent torch bearer in climate action. It has the highest installed capacity in wind and solar power, introduced the world's largest carbon trading scheme and made credible commitments to strive for ecological civilization. India, on the other hand, is on its way to overshoot its NDC target of 40% renewable energy capacity addition by 2022. It has initiated the International Solar Alliance (ISA) of more than 120 countries for harnessing solar energy and is projected to play a key role in global climate governance in the coming years.
US withdrawal makes it more important for the remaining countries to show strong political commitment to collectively implementing the treaty.
Current News Indian Economy Organizations
11th BRICS Summit
---
The 11th BRICS Summit took place from 13th -14th November 2019 in Brasilia, Brazil, held under the theme - Economic Growth for an Innovative Future.
Brasilia Declaration was adopted by the BRICS member countries.
Major Highlights of Summit
The Summit focused on the following priorities:

Strengthening of the cooperation in Science, technology and innovation
Enhancement of the cooperation on digital economy
Invigoration of the cooperation on the fight against transnational crime, especially against organized crime, money laundry and drug traffic
Encouragement to the rapprochement between the New Development Bank (NDB) and the BRICS Business Council.

Need to Reform Multilateral Organisations: BRICS countries called for an urgent need to strengthen and reform the United Nations and other multilateral organisations, including the WTO and the IMF, to address the significant challenges being faced by the developing countries.
Obligation to Multilateralism: BRICS is committed to multilateralism, cooperation of sovereign states to maintain peace and security, advance sustainable development and ensure the promotion and protection of human rights and fundamental freedoms for all and build a brighter shared future for the international community.
Wider Role for Member Countries: Emphasizing on their commitment to shape a more fair, just, equitable and representative multipolar international order, the leaders underlined the imperative that international organisations be fully driven by member states and promote the interests of all.
Main Highlights of Brasilia Declaration
Global Trade Governance
The BRICS leaders reiterated their continuous support for the World Trade Organization (WTO).
It is critical that all WTO members avoid unilateral and protectionist measures, which run counter to the spirit and rules of the WTO.
Intra-BRICS Trade
The BRICS leaders acknowledged that trade expansion among BRICS members will further contribute to strengthening international trade flows.
It noted the progress achieved by the BRICS Customs Administrations regarding the draft BRICS Customs Mutual Administrative Assistance Agreement.
They also noted the importance of the implementation of the BRICS Authorized Economic Operator Program by the end of 2022.
In the development of trade relations, special attention has been accorded to the cooperation of the business communities of BRICS countries.
The Brasilia Declaration welcomes the holding of the BRICS Business Forum and the establishment of the BRICS Women Business Alliance.
Investment And Finance
The Declaration outlined the directions for the New Development Bank (NDB), the sole international organization established by the BRICS countries which will further contribute to the mobilization of resources for infrastructure and sustainable development projects in BRICS and otheremerging markets and dynamic economies (EMDEs).
To create a BRICS bond fundwhich involves the establishment of the BRICS Local Currency Bond Fund and continuous consideration of creating an alternative international payments system?
Regional Situations
To work together for peaceful settlement of disputes through political and diplomatic means, and recognize the role of the UN Security Council as bearing the primary responsibility for maintaining international peace and security
India's Proposals
India proposed the following actions during the 11th BRICS Summit-
Coalition for Disaster Resilient Infrastructure Initiative: India requested BRICS countries and NDB to join Coalition for Disaster Resilient Infrastructure initiative.
First Meeting of BRICS Water Ministers: Emphasizing the need of sustainable water management and sanitation, India proposed to hold the first meeting of BRICS Water Ministers in India.
Coalition in Health Field: Recalling about the recent Fit India Movement started in India, PM stressed to increase contacts and exchanges between the BRICS in the field of fitness and health.
Mutual Social Security Agreement: India suggested that the five countries together should also consider a Mutual Social Security Agreement, a move that would provide benefits of detachment, totalisation and portability to employees of the five nations.
BRICS
BRICS is an acronym for the grouping of the world's leading emerging economies, namely Brazil, Russia, India, China, and South Africa.
In 2001, the British Economist Jim O'Neill coined the term BRIC to describe the four emerging economies of Brazil, Russia, India and China.
The grouping was formalised during the first meeting of BRIC Foreign Ministers in New York in 2006.
In 2011, at the Sanya Summit, South Africa became part of the grouping, adding the "S" to the acronym, now BRICS.
The five BRICS countries are also members of G-20.
Significance
BRICS brings together five economies accounting for 42% of the world's population, 23% of the global GDP and an around 17% share of world trade.
Role of BRICS in the International Order
Important Global Pillar:
What makes BRICS important is the fact that with over 40 percent of the world's population in its fold, the combined output of these countries constitutes more than 20 percent of the world GDP. This means, the BRICS economies collectively have evolved into a strong economic force as reflected in the increasing share of BRICS in the world GDP, making it an important pillar of global order.
Financial Role:
What led to the relevance of BRICS in international order was the financial crisis of 2008, which raised skepticism and concerns over the dollar-dominated monetary system.The establishment of a New Development Bank is a part of general efforts on the part of the BRICS group to promote international development and reflects their understanding of where the priorities lie when it comes to promoting development.Such initiatives will open up to the developing world new resources, experiences, and an understanding of the priorities of emerging powers.
Role in International Peace and Security:
All BRICS countries are key UN members when it comes to maintaining international peace and security. Most of them make valuable contributions to UN peacekeeping operations by providing troops, training, or voting for supportive mandates. Besides peace operations, BRICS members consider the UN to be the most legitimate institution for adopting collective action for restoring and keeping peace such as preventive deployments and post-conflict peace-building.
In August, 2019, USA formally withdrew from Intermediate-Range Nuclear Forces (INF) which mandated the United States and the Soviet Union to eliminate and permanently forswear all of their nuclear and conventional ground-launched ballistic and cruise missiles.The decision has the potential to incite new armsrace. Here comes the relevance of BRICs, which can play a significant role in assuring world peace by playing an active role in dispute resolution, maintaining peace and stability.
Role in Poverty Reduction and Development:
Despite recession at the global level, BRICS countries accelerated economic growth, drove millions out of poverty and reducing international inequalities.The BRICS nations are leaders within their own regions and surrounded by a cluster of smaller neighbours. This also provides significant opportunities for the smaller neighbours to benefit from external growth and development.
Way Forward
Since its inception, BRICS has played a vital role both in practical as well as ideational terms in reforming the global financial system as well as in the norm setting processes with in world politics.
Looking ahead to the next decade, the BRICS countries, as an emerging international actor representing emerging and developing countries, will need to participate in global governance on the international stage with new cooperation structures and concepts.
BRICS is marching towards the next "golden decade," and science, technology and innovation are among the most important areas of cooperation. In order to achieve more success, it is necessary to take the following measures:
First of all, BRICS needs to identify the most important areas for cooperation. As science, technology and innovation cover many aspects related to the fourth industrial revolution as well as to a nation's economy, society and even military, it is better for BRICS to promote cooperation in the critical areas such as computer chips, fifth generation (5G) wireless technology and artificial intelligence (AI).
Secondly, in the process of cooperation, the principle of mutual consultation, contribution and shared benefits should be upheld. Only by adhering to this principle can BRICS nations make good use of their comparative advantages to keep up the momentum of cooperation and eliminate the barriers for technology transfers among themselves.
Thirdly, the financial issue needs to be dealt with in a proper way. R&D in the fields of science, technology and innovation is capital-intensive and requires significant funding. Therefore, the New Development Bank should set up an R&D fund to provide financial support for scientific and technological innovation cooperation among the BRICS countries.
Last but not least, BRICS should adopt an inclusive and open attitude towards other emerging economies. On the one hand, R&D is a trans-border activity; while on the other, many emerging economies outside of BRICS have progressed to a very high level in the fields of science, technology and innovation. So it is also essential for BRICS to start cooperating with non-BRICS countries.
Current News National Polity & Governance
CJI Comes Under The Ambit Of RTI Act: Supreme Court
---
On 13th November, 2019, in a historic judgment, the Supreme Court (SC) held that the office of Chief Justice of India is a public authority under the Right to Information (RTI) Act.
The Constitution Bench upheld the 2010 judgment of Delhi High Court which had held that RTI Act was applicable to CJI's office.
The five-judge bench of Chief Justice Ranjan Gogoi, Justice NV Ramana, Justice DY Chandrachud, Justice Deepak Gupta and Justice Sanjiv Khanna pronounced the verdict with a 3:2
Background
In November 2007, an RTI activist Subhash Chandra Aggarwal had filed an RTI in the Supreme Court seeking information on judges' assets but the information was denied. He then approached the Central Information Commission (CIC) which asked the apex court to disclose information on the ground that the Chief Justice of India's office comes within the ambit of the Act.
In January 2009, a plea was moved in the Delhi High Court (HC) against the CIC order but the same was upheld.
In January 2010, the Delhi HC had held that the office of the Chief Justice of India comes within the ambit of the Right to Information (RTI) law, saying judicial independence was not a judge's privilege, but a responsibility cast upon him.
In April 2019, the SC bench had reserved its verdict on the appeals.
What did SC Rule?
The Supreme Court has held that the office of the Chief Justice of India comes under the definition of 'public authority' as per the article 124 of the Constitution.
Right to Privacy is an important aspect and has to be balanced with transparency while deciding to give out information from the office of the Chief Justice of India.
The judiciary cannot function in total insulation as judges enjoy a constitutional post and discharge public duty.
Transparency and accountability should go hand-in-hand and increased transparency under RTI is no threat to judicial independence.However, RTI cannot be used as a tool of surveillance and that judicial independence has to be kept in mind while dealing with transparency.
Personal information of judges should only be divulged under RTI if such disclosure served the larger public interest.
The information about assets of judges and official communication during the process of elevation of judges to the Supreme Court are treated as confidential third-party information.
On the matter related to appointment of Judges, SC said that only names of judges recommended by the collegium can be disclosed, not the reasons.
The Bench, however, agreed, that the right to know under RTI was not absolute. The right to know of a citizenought to be balanced with the right to privacy of individual judges.
Right to Information (RTI) Act
RTI Act was promulgated in 2005 to promote transparency and accountability in the working of every public authority.
It is an initiative taken by Department of Personnel and Training, Ministry of Personnel, Public Grievances and Pensions to provide a– RTI Portal Gateway to the citizens for quick search of information on the details of first Appellate Authorities,PIOs etc. amongst others, besides access to RTI related information / disclosures published on the web by various Public Authorities under the government of India as well as the State Governments.
Objective
To empower the citizens,promote transparency and accountability in the working of the Government, contain corruption, and make our democracy work for the people in real sense
Impact
It is significant as it opens the doors to RTI requests that will test the frontiers of what has been a rather opaque system. Now, the office of the CJI will now entertain RTI applications under Section 2(f) of the RTI Act.The verdict emphasizes the balance Supreme Court needs between transparency and protecting its independence.
The disclosure of information can highlight areas where robust mechanisms of oversight and accountability are required.
It sends a strong signal to all democratic institutions to adhere to the twin principles of transparency and accountability underlining the RTI Act.
Way Forward
The hallmark of every democracy is accountability. Independence of judiciary doesn't mean independence from accountability. Every institution is accountable to another institution which is independent of itself. Independence of judiciary does not and cannot be forced to be interpreted as supremacy of judiciary.
The judiciary carries the trust of the people and is accountable to the people. It is the real guardian of the fundamental rights of the people. Hence an endorsement from the bench headed by CJI will give fillip to people's quest for transparency and accountability, necessary for the development as well as the social change of the country.
Current News National Polity & Governance
Maharashtra Placed Under President's Rule
---
On 12th November, 2019, the President approved a proclamation imposing President's Rule in Maharashtra, following a recommendation from Governor Bhagat Singh Koshyari.
The decision came after the Governor sent a report to the Union government saying President's Rule must be imposed since no party or alliance was in a position to provide a stable government in the state,after the State Assembly election in October, 2019. As for now, the State Assembly has been kept under suspended animation.
This 3rd time when the President's Rule is being imposed in Maharashtra since the formation of the state.
President's Rule
President's Rule implies the suspension of a state government and the imposition of direct rule of the Centre. This is achieved through the invocation of Article 356 of the Constitution by the President on the advice of the Union Council of Ministers. This is popularly known as 'President's Rule'. It is also known as 'State Emergency' or 'Constitutional Emergency'.
For the first time, the President's Rule was imposed in Punjab in 1951.
S. R. Bommai V. Union of India Case , 1994
The case of S. R. Bommai vs. Union of India is a very landmark case in the purview of the Indian Constitutional history relating to the proclamation of emergency under Article 356 of the Constitution.
The Centre State relationship and its efficiency had been dealt in a better manner in this case along with the issues relating to federalism and secularism as a part of basic structure of the Constitution.
The judgment attempted to curb blatant misuse of Article 356 of the Constitution of India, which allowed President's rule to be imposed on state governments.
Supreme Court's Verdict
The verdict concluded that the power of the President to dismiss a State government is not absolute.
The President should exercise the power only after his proclamation (imposing his/her rule) is approved by both Houses of Parliament. Till then, the Court said, the President can only suspend the Legislative Assembly by suspending the provisions of Constitution relating to the Legislative Assembly.
Article 365 should be invoked only as the last resort power given to President and when the State's Constitutional machinery had failed.
Also the Court made it clear that a Presidential Proclamation under Article 356 is subject to judicial review.
Significance of the Case
The case became one of the most cited whenever hung Assemblies were returned and parties scrambled to form a government.
It put an end to the arbitrary dismissal of State governments by a hostile Central government.
Constitutional Provisions
Provisions regarding the President's Rulefinds its mention in the Part XVIII of the Indian Constitutions:
Article 355 imposes a duty on the Centre to ensure that the government of every state is carried on in accordance with the provisions of the Constitution
Article 356 of the Constitution of India gives President of India the power to suspend state government and impose President's rule of any state in the country if "if he is satisfied that a situation has arisen in which the government of the state cannot be carried on in accordance with the provisions of the Constitution".
Ground for Imposition
President's rule is proclaimed in a state on account of failure of the constitutional machinery of that state. It gives the President power to assume control of the state in question.
Article 356 empowers the President to issue a proclamation; if he is satisfied a situation has arisen in which the government of a state cannot be carried on in accordance with the provisions of the Constitution. Notably, the president can act either on a report of the governor of the state or otherwise too (i.e. even without the governor's report).
It says that whenever a state fails to comply with or to give effect to any direction from the Centre, it will be lawful for the president to hold that a situation has arisen in which the government of the state cannot be carried on in accordance with the provisions of the Constitution.
Duration
A proclamation imposing President's Rule must be approved by both the Houses of Parliament within two months from the date of its issue.
If approved by both the Houses of Parliament, the President's Rule continues for six months. It can be extended for a maximum period of three years with the approval of the Parliament, every six months.
Revocation
A proclamation of President's Rule can be revoked through a subsequent proclamation in case the leader of a party produces letters of support from a majority of members of the Assembly, and stakes his claim to form a government. The revocation does not need the approval of Parliament.
Consequences
In the wake of State Emergency, the President can take up the functions of the state government and powers vested in the governor or any other executive authority in the state. He can declare that the powers of the state legislature are to be exercised by the Parliament.
The President dismisses the state council of ministers headed by the chief minister. The state governor, on behalf of the President, carries on the state administration with the help of the chief secretary of the state or the advisors appointed by the President. This is the reason why a proclamation under Article 356 is popularly known as the imposition of 'President's Rule' in a state.
Further, the President either suspends or dissolves the state legislative assembly. In this case, the Parliament passes the state legislative bills and the state budget.
It is to be noted thatany law made by the Parliament or president or any other specified authority continues to be operative even after the President's Rule. This means that the period for which such a law remains in force is not coterminous with the duration of the proclamation.
However, theconstitutional position, status, powers and functions of the concerned state high court remain same even during the President's Rule.
Recommendations of Major Committees on President's Rule
Sarkaria Commission (1983)
The President's Proclamation should include the 'reasons' as to why the State cannot be run as per the normal provisions of the Constitution.
As far as possible, the Centre should issue a warning to the State government before resorting to the use of Art. 356.
Art. 356 should be amended so that the President is empowered to dissolve the State Legislature only after approval by the Parliament.
Punchhi Commission (2007)
On the question of invoking Article 356, the Commission recommended suitable amendments to incorporate the guidelines set forth in the landmark judgment of the Supreme Court in S.R. Bommai V. Union of India (1994).
It commission recommended for "localising emergency provisions" meaning that localised areas- either a district or parts of a district to be brought under the rule instead of the whole state, without dissolving the state legislative assembly.
The duration of such an emergency provision should not be of duration of more than three months.
Way Forward
Article 356 gives the Centre ample powers to assert its rule over a state if the constitutional machinery fails and that state doesn't possess the means to regain the constitutional machinery.
The fundamental function of this article is to give more powers to the Centre and assist the state in times of dire crisis. But it has always been used to dissolve the state government governed by political rivals. It is perceived by many as a peril to the structure of democracy.
But at the same time, it is this article that comes to the rescue when there is genuine turmoil and breakdown of constitutional machinery. Guidelines provided by the Bommai judgment should be strictly adhered to ensure wise usage of this article.
After all, effectiveness of any law is entirely dependent on its proper enforcement in the proper perspective. Howsoever significant a law may be, it cannot serve the purpose, or it may not be prevented from being controversial unless and until it is implemented in its letter as well as spirit.
Current News National Polity & Governance
The Occupational Safety, Health And Working Conditions Code, 2019
---
Recently, the Standing Committee on Labour has invited suggestions on the Occupational Safety, Health and Working Conditions (OSH) Code, 2019.
Aim
To consolidate and amend the laws regulating the occupational safety, health and working conditions of the persons employed in establishments across the country.
Background
The OSH Code, 2019 was introduced in the Lok Sabha by the Ministry of Labour and Employment in July, 2019, pursuant to the Report of the Second National Commission on Labour on the Occupational Safety, Health and Working Conditions of the Workers.
It is one of the four codes that are part of the Centre's labour reforms agenda.
The four labour codes - on Wages, Industrial Relations, Social Security and Occupational Safety, and Health and Working Condition, intend to provide workers with wage security, social security, safety, health and grievance redress mechanisms.
The Code has been drafted after amalgamation, simplification and rationalisation of the relevant provisions of the 13 Central Labour Acts. After the enactment of the Code, all these Acts being subsumed in the Code will be repealed:

The Factories Act, 1948
The Mines Act, 1952
The Dock Workers (Safety, Health and Welfare) Act, 1986
The Building and Other Construction Workers (Regulation of Employment and Conditions of Service) Act, 1996
The Plantations Labour Act, 1951
The Contract Labour (Regulation and Abolition) Act, 1970
The Inter-State Migrant workmen (Regulation of Employment and Conditions of Service) Act, 1979
The Working Journalist and other News Paper Employees (Conditions of Service and Misc. Provision) Act, 1955
The Working Journalist (Fixation of rates of wages) Act, 1958
The Motor Transport Workers Act, 1961
Sales Promotion Employees (Condition of Service) Act, 1976
The Beedi and Cigar Workers (Conditions of Employment) Act, 1966
The Cine Workers and Cinema Theatre Workers Act, 1981.
Salient Features
Enhanced Coverage
It would be applicable to all establishments employing 10 or more workers, where any industry, trade, business, manufacture or occupation is carried on, including, IT establishments or establishments of service sector.
Threshold of applicability has been made uniform at 10 workers for all establishments except mines and dock where the Code would be applicable even with 1 worker.
Definition of Working Journalists and Cine worker have also been modified to include workers employed in electronic media and all forms of audio visual production.
National Occupational Safety and Health Advisory Board(NOSHAB)
It mandates for establishment NOSHAB which will be of tripartite nature, having the representation from trade unions, employer associations, and State governments. This will result in reduction in multiplicity of bodies/committees in various Acts and simplified and coordinated policy-making.
Single Registration Mechanism
It proposes one registration for an establishment instead of multiple registrations. This will create a centralized data base and promote ease of doing business. At present, separate registration is required to be obtained under 6 Acts.
Duties of Employers
These includes-
Providing ahazard free workplace
Providing free annual health examinations to employees.
Rights and duties of Employees
This includes-
Taking care of their own health and safety
Complying with the specified safety and health standards
Reporting unsafe situations to the inspector.
Every employee will have the right to obtain from the employer information related to safety and health standards.
Special Provisions for Factories
Government can declare any place wherein manufacturing process is being carried out as a factory, and for any persons working at such premises to be classified as workers.
As opposed to the earlier threshold of 30 women workers prescribed under the Factories Act, a creche facility is now required to be provided by all Establishments (including factories) where more than 50 workers are ordinarily employed.
Special Provisions for Women Employees
Women permitted to work beyond 7 PM and before 6 AM subject to the safety, holidays, working hours or any other condition as prescribed by appropriate government in respect of prescribed establishments, only after taking their consent for night work.
Special Provisions for Contract Labour
It introduced the concept of work specific license for contractors, if they do not meet the criteria to be prescribed by the Government for grant of license for supply of contract labour or for execution of work through contract labour.
Offences and Penalties
An offence that leads to the death of an employee will be punishable with imprisonment of up to two years, or a fine up to five lakh rupees, or both.
For any other violation where the penalty is not specified, the employer will be penalised with a fine between two and three lakh rupees.
If an employee violates provisions of the Code, he will be subject to a fine of up to Rs 10,000.
Impact
Providing Broad Legislative Framework: The Code provides basic broad legislative framework with enabling provisions for framing rules, regulations, standards, and bye-laws as per the requirements of different sectors. This would result in simple legislation with flexibility in changing the provisions in tune with emerging technologies and makes the legislation dynamic.
Ensuring Safety of Workforce: It promotes health, safety, welfare and better working conditions of workforce by enhancing the ambit of a dynamic legislation as compared to the existing sectoral approach limited to few sectors.
Resource Efficiency: It rationalises the compliance mechanism with one license, one registration and one return for the establishments under the ambit of the Code thereby saving resources and efforts of the employers. Thus it balances the requirements of worker and employer and is beneficial to both the constituents of the world of work.
Consolidation of Activities: It allows consolidation of activities commonly carried out prior to and during the operation of factories, such as building, construction or expansion of factories, etc., which is expected to help manufacturing companies as they can obtain a common registration and comply with the safety and welfare requirements of the Code, as opposed to duplicity of provisions under the Current Laws.
Criticism of OSH Code
Bharatiya Mazdoor Sangh (BMS)
The RSS-affiliated Bharatiya Mazdoor Sangh (BMS) has condemned the Code, denouncing it as as a "cut-and-paste job" with no universal application.
According to BMS, the safety provisions have been diluted and many of the burning issues with the Contract labour Act, Factories Act, journalists' law, transport workers law etc. have not been addressed.
Another objection is towards the absence of equal-wage-for-equal-work, as mandated by the Supreme Court and a universal principle for equity in the labour market that the trade unions have been demanding for long, in so far as contract labour is concerned.
Clause 22 of the Code provides discretionary power to the government to set up Safety Committee, while this is a statutory requirement for every hazardous unit under the Factories Act of 1948.
Clause 83 gives state government power to "prescribe" maximum permissible limits of workers' exposure to chemical and toxic substances, while the 'second schedule' of the Factories Act of 1948 specifies this.
Confederation of Indian Industry (CII)
According to CII, extending the provisions of the OSH Code to smaller enterprises will increase their costs and hurt margins, impacting the sector badly. It would also adversely affect expansion, which is seen to have a strong relationship to creation of new jobs.
As per the Factories Act, establishments must appoint welfare officers if they employ manpower of more than 500 persons. The Code cuts this to 250 employees, which would impose a high cost burden on MSMEs, now coming in this ambit.
Way Forward
Safety, Health, welfare and improved working conditions are pre-requisite for well-being of the worker and also for economic growth of the country as healthy workforce of the country would be more productive and occurrence of less accidents and unforeseen incidents would be economically beneficial to the employers also.
Codification is necessary to rationalise proximate labour laws, but this should not lead to bundling together of diverse and unique laws concerning disparately positioned categories of workers, which are yet to mature into meaningful pieces of legislation (for example, the law on building and construction workers) in their own right and hence need respective suitable amendments.
In view of widespread criticism against the Code, the government should address the concerns raised by various organisations and must ensure that the Code provides safer and healthier conditions of work to worker, instead exposingthem to greater risks.
Current News National Polity & Governance
Steel Scrap Recycling Policy
---
The Ministry of Steel on 8th November, 2019, came out with a Steel Scrap Recycling Policy in a bid to ensure quality scrap for the steel industry in India.
Aim
To reduce imports, conserve resources and save energy.
To help all stakeholders engaged in collection, dismantling, processing, and transportation in order to ensure the sustainable development of scrap-based steel industry.
Need for Policy
Non-Availability of Scrap: The availability of scrap is a major issue in India and in 2017 the deficit was to the tune of 7 million tons due to which the government had to import scrap worth Rs. 24,500 crores in 2017-18.
De-incentivising pre-2005 Vehicles: As per estimates, there are about 2 crore pre-2005 built vehicles that are plying on Indian roads and there is needs to be de-incentivise such vehicles in view of about 10 to 25 times higher pollution emission by them under the new emission norms. Even if those old vehicles are maintained properly, they will be polluting more with more emissions and will prove to be a hazard for road safety.
To Channelise Scrap Industry: With the increase in consumption of steel in the recent past and End of Life Vehicles (ELVs), the generation of scrap is likely to be increased considerably. This scrap has to be channelized so that the same can be utilized for steel production in an environmental friendly manner.
Key Points
To Promote Circular Economy
The policy envisions promoting circular economy in the steel sector. The high grade steel scrap shall be recycled to produce high grade steel again, to be used in the industries such as equipment manufacturing, automobiles and other downstream industries.
Hub and Spoke Working Model
A hub and the spoke model is promulgated in order to address the issue of collecting such end of life products for increasing scrap generation.
Structuring Formal and Informal Recycling Sector
Promotion of a formal and scientific collection, dismantling and processing activities for end of life products as well as structuring the informal recycling sector based on environmental and scientific fronts is mandated in the policy.
Extended Producer Responsibility(EPR)
Ministry of Road Transport and Highways (MoRTH) and the Department of Heavy Industries are working towards 'Extended Producer Responsibility' by requiring the vehicle manufacturers to incentivise scrapping of unfit vehicles in exchange for price discounts for purchase of new vehicles.
Creating Effective Treatment Mechanism
It aims to decongest the Indian cities from reuse of ferrous scrap, besides creation of a mechanism for treating waste streams and residues produced from dismantling and shredding facilities in compliance to Hazardous & Other Wastes (Management &Transboundary Movement) Rules, 2016 is proposed in the policy.
Evolving a Responsive Ecosystem
Development of an organized scrapping / shredding industry through a self- regulatory ecosystem based on a system of shared responsibility (SR) to beevolved, for collection, dismantling and disposal of ELVs, White Goods and otherscraps, involving all the key stakeholders such as aggregators, scrappingcenters, manufacturers (OEMs), owners and Government.
Impact of the Policy
Positive Impacts
Economic
The policy will help make India a producer of high quality ferrous scrap for quality steel production thus minimising the dependency on imports.The gap between demand and supply can be reduced in the future and the country may be self-sufficient by 2030.
It will help India emerging as a hub for automobile manufacturing as key raw material available from scrapping like steel,aluminium and plastic are bound to be recycled, bringing down automobile prices by 20-30 percent.
The use of every ton of scrap shall save 1.1 ton of iron ore, 630 kg of coking coal and 55 kg of limestone. There shall be considerable saving in specific energy consumption by 16-17%.
Operating on the 4+1 hub and spoke model, where 4 collection and dismantling centres were to cater to the 1 scrapprocessing centre then 400 jobs would be created by one such composite unit. And for 70 units producing a total of 7 MT of scrap the potential for employment generation would be of 2800 persons. If the country was to produce 70 MT, as if expected as per NSP 2017, the employment generation could be in the range of 3 lakh jobs.
The setting up of scrapping centres near highways, industrial corridors, railway sidingsand in the close proximity to Sagarmala project shall help in development ofmultimodal logistics parks.
Environment
The policy will contribute in adopting the principle of 6 Rs i.e. Reduce, Reuse, Recycle, Recover, Redesign and Remanufacture to avoid any adverse impact on the environment.
The saving in energy will help reduce the water consumption and Green House Gas (GHG) emission by 40% and 58% respectively.
It can contribute to promotion of the Swachh Bharat Abhiyan by developing recycling zones.
Negative Impacts
However, the policy comes at a time when countries worldwide are seeking an outlet for waste metals after China's tightening of mixed metal imports. It could result in a surge of mixed metal (unprocessed) scrap into India.
Employees in facilities that recycle metal scrap are exposed to a range of safety hazards associated with material handling methods, hazardsassociated with the metals themselves (as dust or fumes), and with thehazardous substances used to process or recover these metals, leading to several health related issues.
Challenges in Scrap Recycling
Following challenges, which adversely impact the areas of scrap metal supply, industry growth, pollution, quality, safety, revenue and transparency in different steps of steel scrap recycling.
Generation
Lack of definite guidelines for scrap classification (in line withInstitute of Scrap Recycling Industries (ISRI) or equivalent classification)
No definite criteria of defining "End of Life of Equipment" or " End of life Vehicle"
Rationalization of tax and duty structure
Quality of domestic scrap
Collection/Processing
Logistic issues as high transport cost may act as a deterrent for scrap movement within the country
Lack of regulations to handle contaminated waste and other hazardous items arising out of scrapping and shredding
E-Procurement of scrap and standardization of procurement policy for various government related departments / institutions
Lack of uniform standard and specifications for usage acrossindustries
Lack of storage guidelines for hazardous waste, non-ferrous and non-metallic waste
Lack of organized recycling zones
Usage
Lack of implementation of safety standards in melting process
Promotional schemes for firms for R &D on recycling process to develop better technologies/equipment
Disposal
Scrap residue sold to agent without verifying authorization certificate
Lack of authorized disposal sites (landfills) in all the major cities
Water and other waste generated during melting.
Way Forward
Steel is a material most conducive for circular economy as it can be used, reused and recycled infinitely.
In the National Steel Policy (NSP)-2017, the importance of scrap was realised. This Scrap Policy only promotes the role envisaged in the NSP-2017 to ensure scrap segregation (quality wise), collection, processing and recycling.
However, following China's toughened stand on waste material imports into the country since 2017, countries like Japan were finding alternative venues for its mixed metal scrap, which included places like Vietnam, Malaysia, and recently India.
After China, Japan was sending mixed metal scrap to Malaysia and Vietnam. But the governments there are making it difficult now too. In this changing scenario, India seems to be another preferable venue for dumping of mixed scarp metals.
Therefore, the government must ensure to set up a sound regulatory and management system in order to make India self-sufficient in scrap availability and make steel sector resource efficient, rather than turning India into a scrap dumping ground.
Current News Ecology & Environment Pollution
Wastelands Atlas – 2019
---
Recently, Ministry for Rural Development released the fifth edition of Wastelands Atlas – 2019, eight years after the last edition was published in 2011.
The Atlas has been prepared by the Department of Land Resources in collaboration with National Remote Sensing Centre (NRSC).
The changes in wastelands between 2008-09 and 2015-16 have been presented in the Atlas. Earlier, the Wasteland Atlas was published in the year 2000, 2005, 2010 & 2011.
Key Findings
India with 4% of total land area of the world is supporting 18% of the world's population.
The per capita availability of agriculture land in India is 0.12 ha whereas world per capita agriculture land is 0.29 ha.
The effort has resulted in estimating the spatial extent of wastelands for entire country to the tune of 55.76 Mha(16.96 % of geographical area of the country i.e. 328.72 Mha) for the year 2015-16 as compared to 56.60 Mha (17.21%) in the year 2008-09. During this period 45 Mha of wastelands are converted into non wastelands categories.
Majority of wastelands have been changed into categories of croplands (0.64 Mha),forest-dense / open (0.28 Mha), forest plantation (0.029 Mha),plantation (0.057 Mha) and industrial area (0.035 Mha)
Positive changes can be seen in wastelands in the states of Rajasthan, Bihar, Uttar Pradesh, Andhra Pradesh, Mizoram, Madhya Pradesh, Jammu & Kashmir and West Bengal.
There is a net conversion of 0.84 Mha (0.26%) of different wasteland categories in the country during 2008- 09 to 2015-16.
A reduction in wasteland area was observed in the categories of land with dense scrub, waterlogged and marshy land, sandy areas, degraded pastures / grazing land and gullied and / or ravenous land.
Significance
Providing Data about Unmapped Area: The Wastelands Atlas-2019 provides district and state wise distribution of different categories of wastelands area including mapping of about 12.08 Mha unmapped area of Jammu &Kashmir.
Boost to Wasteland Reclamation Schemes: Robust geospatial information on wastelands assumes significance and effectively helpful in rolling back the wastelands for productive use through various land development programmes.
Contribution to International Efforts: It can contribute to the globalresearch agenda operative in India on the implementation of the conservationagriculture and preservation of our natural resources and environment.
Tool to Climate Studies: Land degradation and data on the wastelands can also be used as an effective indicator in the climate change studies at the regional and global scales.
Wasteland
Wasteland is a degraded land which can be brought under vegetative cover, with reasonable effort, and which is currently under utilised and land which is deteriorating for lack of appropriate water and soil management or on account of natural causes.
Categories
Culturable Wasteland- The land which is has potential for the development of vegetative cover and is not being used due to different constraints of varying degrees, such as erosion, water logging, salinity etc.
Unculturable Wasteland- The land that cannot be developed for vegetative cover, for instance the barren rocky areas and snow covered glacier areas.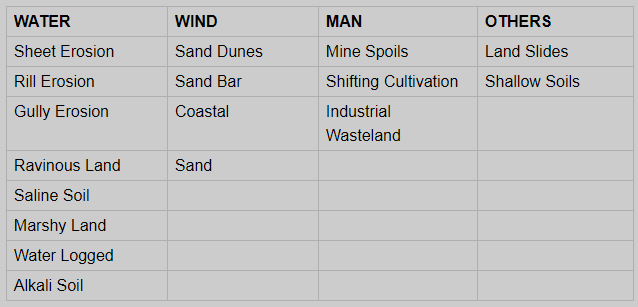 Wasteland based on Causative Agent
Cause of Increasing Wasteland
Increasing biotic pressure
Absence of adequate investments and appropriate management practices
High rate of Population growth and high incidence poverty in rural areas
Over-exploitation of National Resources
The break-down of traditional institutions for managing common property resources and failure of new institutions to fill the vacuum
Faulty land use practices
Reclamation of Wastelands:
The different methods used for the reclamation of wastelands are:
These lands can be brought under cultivation by using excess water and fertilizers. Afforestation and agronomical methods are used to conserve the soil, which help us to use it for agriculture.
Contour bunds are constructed which afford safe disposal of water of the catchment areas.
These lands can be used for settling the landless agricultural laborers.
Government Initiatives
National Wastelands Monitoring Project (NWMP)
Launched by the Ministry of Rural Development in 2006, it aims to providespatial information on wastelands with respect to their nature, magnitude of degradation, extent, spatial distribution of wasteland across the country.
Integrated Wastelands Development Programme (IWDP)
The basic objective IWDP is an integrated wastelands development based on village/micro watershed plans. These plans are prepared after taking into consideration the land capability, site condition and local needs of the people. The thrust of the scheme continues to be on development of wastelands.
The scheme also aims at rural employment besides enhancing the contents of people's participation in the wastelands development programmes at all stages, which is ensured by providing modalities for equitable and sustainable sharing of benefits and usufructs arising from such projects.
Drought Prone Area Programme(DPAP)
It focuses on the non-arable land and drainage lines for in-situ soil and moisture conservation programmeincludes agro- forestry, pasture development, horticulture and alternate land use.
The objective is of environmental protection and restoration of ecological balance through appropriate natural resource management technologies.
Desert Development Programme (DDP)
Objectives
To mitigate the adverse effects of desertification and adverse climatic conditions on crops, human and livestock population, combating desertification.
To restore ecological balance by harnessing, conserving and developing natural resources i.e. land, water, vegetative cover and rising land productivity.
​To implement developmental works through the watershed approach, for land development, water resource development and afforestation/pasture development.
Way Forward
The relentlessly increasing pressure of human and livestock population and the demands of urbanization and economic development have put a severe strain on our limited land resources with the result that the quality of land resources has been deteriorating threatening the ecological balance.
There is need to develop policies, which would result in the best use and sustainablemanagement of land and water resources so as to prevent land becoming degraded and waste in the light of country's food and livelihood security.
Addressing the threat will entail thinking outside the box, which could include focusing on wasteland reclamation to offset anticipated crop production losses.
Besides augmenting production, investments in wasteland reclamation can also help restore ecosystem services such as climate regulation and aesthetics, and also increase biodiversity.
In order to accelerate the progress under various schemes there is need for initiating actions, viz. peoples' participation and community organization need to be made very effective by building their capacity through structured training programs to ensure proper planning, implementation and monitoring that can achieve quantitative and qualitative objectives of the programmes.
Current News Indian Economy Survey And Index
Working Group On Core Investment Companies
---
On 6th November, 2019, Working Group (WG) on Core Investment Companies (CICs) submitted its final report to the Reserve bank of India (RBI).
The working Group was constituted by RBI under the chairmanship of former corporate affairs secretary Tapan Ray, to review the regulatory and supervisory framework applicable to
Objective
To strengthen the corporate governance framework of CICs.
Background
In August 2010, the Reserve Bank introduced a separate framework for the regulation of systemically important CICsrecognizing the difference in the business model of a holding company relative to other non-banking financial companies.
Over the years, corporate group structures have become more complex involving multiple layering and leveraging, which has led to greater inter-connectedness with the financial system through their access to public funds.
In September 2018, Infrastructure Leasing and Financial Company (IL&FS), a CIC with over 300 subsidiaries, defaulted on its payment following, was declared as non-performing or bad asset in the subsequent months.
In other few cases, it was found that the CIC had lent funds to group companies at zero percent rate of interest with bullet repayment of 3-5 years and without any credit appraisal.
Accordingly, as part of the Statement on Developmental and Regulatory Policies issued for the year 2019-20 on June 6, 2019, Reserve Bank announced to form a WG regarding the CICs. Finally, the WG was constituted in July, 2019.
Term of Reference
To examine the current regulatory framework for CICs in terms of adequacy, efficacy and effectiveness of every component.
To assess the appropriateness of and suggest changes to the current approach of the RBI towards registration of CICs including the practice of multiple CICs being allowed within a group.
To suggest measures to strengthen corporate governance and disclosure requirements for CICs.
To assess the adequacy of supervisory returns submitted by CICs and suggest changes therein.
To suggest appropriate measures to enhance RBI's off-site surveillance and on-site supervision over CICs.
Issues Identified by WG
Complex Group Structure: The Section 186 (1) of Companies Act, 2013 (which restricts the Group Structure to a maximum of two layers) is not applicable to NBFCs, which renders opacity to the groups in terms of ownership, controls and Related Party Transactions.
Multiple Gearing and Excessive Leveraging: A CIC can borrow (upto 5 times of its Adjusted Net Worth) to invest in the capital of other CICs in the group. The absence of restriction on the number of CICs that can exist in a group and non-deduction of capital of CICs for their exposures in group companies (including in step down CICs), creates scope for excessive leveraging.
Build-up of high leverage and other risks at group level: It deliberated on the issues pertaining to the aggregate leveragee. amount of borrowings raised by both financial and non-financial entities. It was observed that the standalone leverage of IL&FS was within the regulatory limit.However, when calculated at consolidated level it was considerably high as on March 2018.
Corporate Governance: Currently, Corporate Governance guidelines are not explicitly made applicable to CICs.
Review of Exempt Category and Registration: Currently, CICs with assets below the qualifying threshold (Rs. 100 crore asset size) or CICs without public funds do not requireRBI registration and hence are called "exempted" CICs.This nomenclature occasionally provided unintended credibility to such CICs, as 'exempted' by the RBI, and created scope for misrepresentation.
Off-site surveillance and on-site supervision over CICs: Currently, no off-site reporting requirement is prescribed for CICs. Also, submission of Statutory Auditors Certificate is not mandated in respect of CICs, unlike other NBFCs. Till recently on-site inspection of CICs was also not being conducted.
Major Recommendations
Restriction on Numbers of Layers
The number of layers of CICs in a group should be restricted to two. As such, any CIC within a group should not make investment through more than a total of two layers of CICs, including itself.
Adjusted Net Worth (ANW)
For ANW calculation, any capital contribution of the CIC to another step-down CIC (directly or indirectly) shall be deducted over and above the 10% of owned funds as applicable to other NBFCs. Further, step-down CICs may not be permitted to invest in any other CIC.
Constitution of Group Risk Management Committee (GRMC)
Every group having a CIC should have a GRMC, entrusted with the responsibilities of identifying, monitoring and mitigating risks at the group level, periodically reviewing the risk management frameworks within the group and articulating the leverage of the Group and monitoring the same.
Strengthening Governance
In order to strengthen governance, WG advocated the need for inducting independent directors,conducting internal audit and preparing consolidated financial statements and ring fencing boards of CICs by excluding employees/executive directors of group firms from its board.
Retention of Registration Criteria
It recommended retaining the current threshold of Rs 100crore asset size for registration as CIC.
But, the nomenclature of 'exempted' CIC should be discontinued by the RBI in all future communications.
RBI to Monitor Offsite Return and Onsite Inspection
It recommended that Offsite returns may be designed by the RBI and prescribed for the CICs on the lines of other NBFCs. Annual submission of Statutory Auditors Certificates may also be mandated along with Onsite inspection of the CICs conducted periodically.
Core Investment Companies (CICs)
These are Non-Banking Financial Company (NBFC) which carries on the business of acquisition of shares and securities and holds not less than 90% of its net assets in the form of investment in equity shares, preference shares, bonds, debentures, debt or loans in group companies.
Further investments in equity shares in group companies constitute not less than 60% of its net assets.
CIC with an asset size of less than Rs100 crore will be exempted from the requirementsof registration with RBI.
Due to systemic implications on account of access to public funds (such as funds raised through Commercial Paper, debentures, inter-corporate deposits and borrowings from banks/FIs), CICs having asset size of 100 crore or above are categorised as Systemically Important Core Investment Companies (CICs-ND-SI) and are required to obtain Certificate of Registration (CoR) from the RBI.
Current News National Polity & Governance
Global Value Chain
---
Opting out of the Regional Comprehensive Economic Partnership (RCEP), will likely result in India missing out on the regional and Global Value Chains (GVC) crisscrossing this region.
Due to the fragmented nature of global trade which is best captured in the phrase Global Value Chain, ignoring the RCEP might be a big mistake by India.
What is a Global Value Chain?
It is a chain of separate but inter-linked and coordinated activities, which can be undertaken within a single firm or be divided among multiple firms in different geographical locations to bring out a product or a service to complete production and delivery to final consumers.
According to the World Bank, "a GVC is the series of stages in the production of a product or service for sale to consumers. Each stage adds value, and at least two stages are in different countries.
For example, a bike assembled in France with parts from Germany, Italy, and Malaysia and exported to the Arab Republic of Egypt is a GVC.
So according to this definition, a country, sector, or firm participates in a GVC, if it engages in (at least) one stage in a GVC.
Difference between Value Chain and Global Value Chain
A value chain can be contained within a single geographic location or even a single firm (for ex.a fruit that is grown, packaged, sold and consumed within one country).
Value chains become "global" when their component activities are geographically dispersed across borders to multiple country locations.
The GVC Initiative is particularly interested in understanding value chains that are divided among multiple firms and spread across several locations, hence the term global value chain."
Importance of GVC
Tool to Economic Growth: GVCs are a powerful driver of productivity growth, job creation, and increased living standards. Countries that embrace GVC grow faster, import skills and technology, and boost employment.
Diversifying Country's Export Sector: It provides opportunities for developing countries to diversify their exports and intensify their integration into the global economy.
Access to International Market: Participation in GVCs provides important opportunities for firms to access international markets, absorb new technology, and rapidly expand their economies of scale.
Magnifying Trade Scenario: Itallows resources to flow to their most productive use, not only across countries and sectors, but also within sectors across stages of production. As a result, GVCs magnify the growth, employment, and distributional impacts of standard trade.
Boost to Development Process: With GVC-driven development, countries generate growth by moving to higher-value-added tasks and by embedding more technology and know-how in all their agriculture, manufacturing, and services GVCs provide countries the opportunity to leap-frog their development process.
Boon to Developing Countries: Global value chains have been a boon to developing countries because they make it easier for those countries to diversify away from primary products to manufactures and services.
India and GVC
India's integration with GVCs is among the lowest in G20 countries.
Compared with the ASEAN group of countries, India's GVC integration is far lower with a decline in both its backward (that is, import content of exports) and forward (domestic value added embodied in other country exports as a share of gross exports) GVC linkages.
Reasons for Low GVC Integration
Poor Trade Infrastructure
India still lags behind in trade infrastructures which not only increases cost and time of export operations but also it almost prohibit a country from participating in GVCs is not sufficiently known.
China, Japan, South Korea, Thailand and Malaysia have become part of GVCs through the quality trade infrastructure route. India could not as it does not meet the benchmarks for efficient entry/exit at the most ports/customs.
Small size of Small Basket Products
Ironically, 70 percent of India's export earnings come from the small basket products (Agri- based products). The small size of the global basket limits the potential for future growth. Also, most products face intense competition from low-cost countries such as Bangladesh and Vietnam.
A country that exports products that belong to the large basket will have higher chances to grow.
Weak Global Share
India has an insignificant presence in large basket products (Electronics, telecom, and high-end engineering products) that have become important in world trade. It contribute to 30 percent of India's export earnings.
India has a weak global export share in commodities such as mobile phones (0.19 per cent), integrated circuits (0.01 per cent), computers (0.04 per cent), solar-powered diodes, transistors (0.14 per cent), LCDs (0.04 per cent).
Way Forward
In current time, around 70 percent of the world trade is structured within GVCs of multinational corporations.Harnessing the potential of GVCs for broad-based economic development requires active and purposeful policies. It also requires an understanding of the characteristics and dynamics of GVCs across different regions and industries.
For many countries, especially developing and low-income countries, the ability to effectively insert themselves into GVCs is a vital condition for their development. This supposes an ability to access GVCs, to compete successfully and to "capture the gains" in terms of national economic development, capability building and generating more and better jobs to reduce unemployment and poverty.
To strengthen the benefits that countries obtain from participating in GVCs, it will need to support the upgrading process by strengthening the business environment, supporting investment in knowledge assets such as R&D and design, and fostering the development of important economic competencies, notably skills and management.
GVC participation leads to job creation in developing countries, provided it occurs with increased and high-skill based value addition. So, to gain a part of GVCs, countries like India need an education system based on skilldevelopment. As well as a competition policy enhancing rivalry, and a tax system and intellectual property laws encouraging investment.
GVC is a world-wide phenomenon. It works effectively when there is active participation from different economies in various stages of growth. It has a strong foundational link to roles, regulations, products and services, and processes across markets. So understanding it's functioning and assimilating it is crucial for countries like India, that are ready for next level of growth.
Current News National Polity & Governance
India To Not Join RCEP
---
On 4th November, 2019, during the 3rd Regional Comprehensive Economic Cooperation (RCEP) meeting in Bangkok (Thailand), India decided not to join the RCEPuntil significant outstanding issues were resolved.
Remaining 15 countries involved in the negotiation decided to sign the mega trade deal in 2020.
Negotiations for this agreement have been ongoing since 2013, with several countries, including India, trying to resolve problems with other countries with regard to tariffs.
Regional Comprehensive Economic Cooperation (RCEP)
RCEP is a trade deal that involved the 10 member countries of the Association of Southeast Asian Nations (ASEAN), and the five countries with which the ASEAN bloc has free trade agreements (FTA).
The ASEAN, which includes Brunei, Cambodia, Indonesia, Laos, Malaysia, Myanmar, the Philippines, Singapore, Thailand, and Vietnam, has FTAs with Australia, China, South Korea, Japan and New Zealand.
Purpose
To create an integrated market spanning all 16 countries, making it easier for products and services of each of these countries to be available across the region.
To boost economic growth and equitable economic development, advance economic cooperation and broaden and deepen integration in the region.
Significance
It was billed as the largest regional trading agreement ever these countries account for almost half of the world's population, contribute over a quarter of world exports, and make up around 30% of global Gross Domestic Product (the value of all goods and services produced in a year).
The deal would have created the world's largest trading bloc. These 16 countries account for about half of the world's population, 25 percent of global GDP, nearly a third (30 percent) of global trade and the 26 percent of world foreign direct investment flows (FDI).
Why India decided not to Join RCEP?
Below are the reasons which forced India to walk off the RCEP trade deal:
Economic Slowdown
India's economy is passing through a difficult time. The rate of GDP growth has been slowing down for five consecutive quarters, that is, since January-March 2018.
In such adverse scenario, a massive free trade pact like RCEP would have exposed the Indian businesses and agriculture to unequal competition from countries which are lurking like giant sharks in the export arena.
Trade Deficit
India has massive trade deficits with almost all economic powerhouses of the world. Of the 15 RCEP countries, India has serious trade deficits with at least 11.
India's trade deficit with these countries has almost doubled in the last five-six years - from $54 billion in 2013-14 to $105 billion in 2018-19.
Of India's $105 billion trade deficit with RCEP countries, China alone accounts for $53 billion, which is one of the major reasons for India not to join.
No Resistance against Import Surge
Signing RCEP could force India to cut duties on about 90 percent of the goods that are currently imported to India over the next 15 years as a result India will be flooded with cheaper imported goods, particularly from China, hitting hard its domestic market.
Concern over Non-Tariff Barriers
RCEP countries, like China have used non-tariff barriers in the past to prevent India from expanding its exports to the country.
Concern over Rules of Origin
Another issue is threat of circumvention of Rules of Origin due to tariff difference.India wanted strict rules of origin to prevent Chinese goods from flooding the country through member countries that may have lower or no duty levels.
Chinese garments are making their way into India through the duty-free route under the South Asia Free Trade Pact and the Duty-Free Quota-Free window from Bangladesh.
Issue over Base Year
India is opposed to the proposal that 2013 be treated as the base year for reducing tariffs, effectively implying that member countries should slash import duties on products to the level that existed in 2013.
India is pushing for 2019 as the base year, given that import duties on many products such as textiles and the electronic products have gone up in the last six years.
Lack of Market Access for India
There were no assurances on getting access to markets like China while the trade pact would have opened up India's market.
Most Favoured Nations
India also raised the unviability of Most Favoured Nation obligations where India would be forced to give similar benefits to RCEP countries that it gave to others.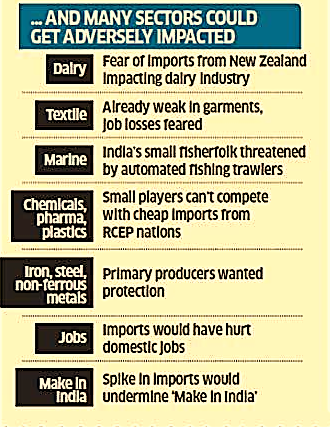 Source: ET
What India Wanted?
Auto- Trigger Mechanism
India wants an auto-trigger mechanism to be institutionalised in the pact which would serve as a kind of protective mechanism that a member country can invoke to safeguard in case of an unexpected flow of imports after RCEP comes into effect.
Ratchet Obligations
India wants exemptions built into the ratchet obligations as part of the pact. A ratchet obligation implies that a member country cannot raise tariffs once the pact comes into effect. An exemption would imply that a country will be able to erect restrictive measures later on grounds of protecting national interest.
Data Localisation
India wants all countries to have the rights to protect data. This would imply that countries can share data only where it is necessary to achieve a legitimate public policy objective or necessary in the country's opinion, for the protection of its essential security interests or national interests.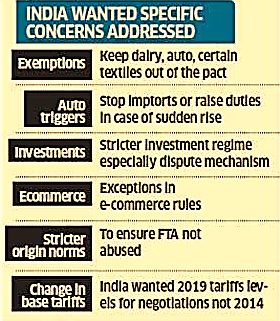 Source: ET
Way Forward
China needs greater access to Indian market to sustain its manufacturing industries. A failure to find a market will have cascading effect on Chinese economy.
RCEP has come up as a Chinese game plan to save its manufacturing industries from crumbling under their own weight. Several industrial players in India red-flagged the Chinese agenda of flooding the Indian market using the RCEP countries as a connecting network.
India, with its 1.3 billion population, offers the biggest free access market to the Chinese companies that are feeling the pinch of US-China trade war with Donald Trump administration taking on the manufacturing giant in the past one-and-a-half years.
Critics are also not confident that India would be able to take advantage of the deal, given its poor track record of extracting benefits from the FTAs with these countries. India's trade gap with these countries may widen if it signs the RCEP deal.
However, joining the RCEP would have given more substance to its Act East policy. The economic pillar of this policy has remained weak compared to those pertaining to political ties, strategic and security aspects and people to people relations.
Opting out of the RCEP implies there is need for greater exertion now on strengthening connectivity, trade and investment bilaterally.
Current News Indian Economy Plan Policy
Niti Aayog's Aspirational Districts Programme
---
Despite on a high economic growth trajectory, India still lags behind in terms of Human Development Index as well as reduction in the significant inter-state and inter-district variations in development.
To address both the issues, the Prime Minister launched the 'Transformation of Aspirational Districts Programme (ADP) in January, 2018.
Aspirational Districts Programme (ADP)
It aims to expeditiously improve the socio-economic status of 117 districts from across 28 states.
Driven primarily by the States, this initiative focuses on the strengths of each district, and prioritizes the attainable outcomes for immediate improvement.
NITI Aayog in partnership with the Government of Andhra Pradesh has created a dashboard - Champions of Change-Real-Time Monitoring Dashboard, for monitoring the real-time progress of the districts.
Objectives
Mapping of skill profile of the district
Appraisal of district skill ecosystem
Identifying district specific challenges and potential areas of support required in the district
Development of District Skill Development Plan through consultation process
Implementation support for the work plan to the districts
Core Principles
The three core principles of the programme are –

Convergence (of Central & State Schemes)
Collaboration (among citizens and functionaries of Central & State Governments including district teams)
Competition among districts
Focus Areas
The ADP focuses mainly on following themes- Health & Nutrition, Education, Agriculture & Water Resources, Financial Inclusion, Skill Development and Basic Infrastructure.
49 key performance indicators (KPIs) with 81 data points have been chosen to measure progress of the districts.
Focus Areas
Weight
Data-Points
No. of Indicators
Health & Nutrition
30%
31
13
Education
30%
14
08
Agriculture & Water Resources
20%
12
10
Financial Inclusion
5%
06
11
Skill Development
5%
10
Basic Infrastructure
10%
08
07

Source: NITI Aayog
Health & Nutrition: Main focus on antenatal care, postnatal care, gender parity, health of new-born, growth of children, contagious diseases, and health infrastructure.
Education: Focus on learning outcomes (transition rate from primary to upper primary, and subsequently to secondary schooling, average scores in mathematics and languages etc.), as well as infrastructural (toilet access for girls, drinking water, electricity supply) and institutional indicators (Right to Education, mandated pupil-teacher ratio)
Agriculture & Water Resources: Focus on outputs (yield, price realisation etc.), inputs (quality seed distribution, soil health cards), and institutional support (crop insurance, electronic markets, artificial insemination, animal vaccination).
Financial Inclusion:Focus on schemes such as Atal Pension Yojana, Pradhan Mantri Jeevan Jyoti Bima Yojana etc.), reach of institutional banking (number of accounts opened under Jan DhanYojana), and ease of institutional financing for small businesses (disbursement of Mudra loans).
Skill Development: Focus on skilling of youth, employment, and the skilling of vulnerable/marginalized youth under Pradhan Mantri Kaushal Vikas Yojana (PMKVY).
Basic Infrastructure: Focus on housing for all with drinking water, electricity, road connectivity, internet connected Gram Panchayats, and panchayats with Common Service Centres.
Analysis
The ADP brings together all levels of government, from central and state officers driving operations, to the district collectors implementing innovative measures on the ground. It also tracks progress through real-time data collection.
A critical aspect of the programme's approach is its focus on district-specific strengths and the identification of low-hanging fruit. In addition to tailoring interventions to districts, the programme is novel in four important ways:
The programme shifts the focus away from inputs and draws attention to socio-economic outcomes, such as learning and malnutrition, at the highest echelons of the government.
Through its large-scale efforts to collect, distill and disseminate data, the programme is grounded thoroughly in evidence. The NITI Aayog has created a dashboard to monitor real-time progress in the districts. The availability of the latest district-level statistics in the public domain is not only enhancing transparency and accountability, but it is also ensuring that policy actions are backed by evidence.
The ADP amplifies the government's belief that states and districts should have a greater voice in their development. It truly embodies India's shift toward cooperative federalism. The local, state and central governments work together to design, implement and monitor measures to drive development in the districts.
The programme is a collaborative effort between government, various foundations and civil society. Through partnerships with several voluntary organisations, the programme benefits from different perspectives, technical skills and on-the-ground experience. For example, NITI Aayog is working with Piramal Foundation to strengthen public systems particularly in health and education. Similarly, Tata Trusts, IDinsight, L&T, ITC and the Bill and Melinda Gates Foundation are also playing key roles in the programme. These public-private partnerships will help boost implementation of the programme.
Way Forward
In a diverse country like India, balanced growth is a prerequisite for overall development. ADP is a radical departure from the country's previous development strategies in its scale, scope and ownership. Implicit in the design of the programme is the fact that India's economy cannot sustain growth without improving human development for all its citizens.
ADP is a laboratory of various cutting-edge governance reforms which aims to address governance issues by using a combination of approaches: lifting levels of aspirations through a vision and district plan,adequate institutional arrangements and convergence in all stakeholders' efforts and above all, ranking based public competition among the districts by setting up a real-time monitoring mechanism.
The Government is committed to raising the living standards of its citizens and ensuring inclusive growth for all – "Sabka Saath Sabka Vikas". To enable optimum utilization of their potential, ADP focuses closely on improving people's ability to participate fully in the vibrant economy.
Current News Indian Economy Plan Policy
High Level Advisory Group (HLAG) Report
---
Recently, Ministry of Commerce and Industry released the report of the High Level Advisory Group (HLAG).
The HLAG was constituted in September, 2018, led by the economist Surjit S. Bhalla, to identify and pursue opportunities and address challenges in the current global trade scenario.
Members
Subramaniam Jaishankar, Rajeev Kher, Sanjeev Sanyal, Adil Zainulbhai, Harsha Vardhana Singh, Shekhar Shah, Vijay Chauthaiwale, Pulok Ghosh, Jayant Dasgupta, Rajiv K Luthra, Chandrajit Banerjee
Objective
To assess the global environment and make recommendations for boosting India's share and importance in global merchandise and services trade
Managing pressing bilateral trade relations and mainstreaming new age policy making.
Major Recommendations
EXIM Bank and Credit Insurance for Exports
Enhance capital base of the EXIM Bank by another INR 20,000 crores by 2022 and infusethe balance capital in a sustained manner.
Increase the Bank's borrowing limit to 20 times Net Owned Funds (the current limit is 10 times).
Enhance capital base of the Export Credit Guarantee Corporation (ECGC) by INR 350 crores.
Exempt the ECGC from Insurance Regulatory and Development Authority (IRDA) regulations.
To make Effective Corporate Tax Rates more Competitive
India should cut corporate tax rate to 22% (with exemptions). This will yield an effective corporate tax rate of 18%.
Policy Rates Alignment with Competitors
India should aim to bring down the cost of capital to the average of 10 best performing OECD countries.
Policy operation should now fully incorporate the technology of Direct Benefit Transfers (DBT).
To re-establish linking of government savings schemes to repo rates.
To Build a Comprehensive Export Strategy
Create a database that details the utilisation of various FTAs, RTAs, CEPAs etc.
Use big-data analytics for identifying items at the 4-digitHarmonised System(HS)level where India has an export advantage and building up domestic competitiveness in these products.
Strengthening Investment Promotion Agency (Invest India ++)
Make Invest India the centralised authority for issuing licenses and empower it to grant incentives in cases meeting pre-defined criteria
Create one apex trade promotion organization established as a separate entity (replacing DGFT,ITPO, TCPI).
Create a world-class 'war room' to realize single-window clearance.
Optimising Free Trade Agreements (FTA) Negotiations
Begin process of identifying and resolving non-tariff barriers which prevent Indian exports from accessing key importing nations – begin with major countries with which India has FTAs.
Undertake sectoral analysis to assess price competitiveness of Indian products in markets of choice to help better negotiate FTAs.
Launch a five-year program for negotiation of FTAs identified based on complementarity and long-term sustainability.
Issuing Elephant Bonds
By issuing Elephant Bonds, India could recover up to $500 billion of black money stashed overseas.
People declaring undisclosed income will be bound to invest 40% with a coupon rate of 5% for a period of 20-30 years. The fund will be utilised only for infrastructure projects.
Reforming the Financial Services Sector
Simplify regulatory and tax framework for foreign investment funds and individual investors to enable on-shoring of fund management activity of India.
India must Join RCEP
The panel favours India joining Regional Comprehensive Economic Partnership(RCEP)
India gains even more from joining the RCEP-like free trade area when the USA and China are indulging in bilateral trade war.
The report will strengthen the NarendraModi government's resolve to go ahead with negotiations for the proposed Regional Comprehensive Economic Partnership (RCEP).
Sector Specific Recommendations
Agriculture
Implementation of Model Agricultural Produce and Livestock Marketing Act, 2017, should be fast tracked.
Promote export of fruits and vegetables, instead of rice and cereals.
Facilitate FDI in agro-processing sector.
Build conformity assessment to international standards in fertiliser and pesticide use.
Pharmaceuticals, Biotechnology and Medical Devices
Appoint an empowered independent commission on Pharmaceuticals and Biotechnology to enable coordination among various entities.
Separate regulation of medical devices from that of drugs/cosmetics
Create a single ministry for the regulation of medical devices across the entire value chain.
Rectify the inverted duty structure on medical devices manufacturing in India.
Textiles and Garments
De-link Export Promotion Capital Goods (EPCG) Scheme from exports for the sector.
Fast-track disbursal of Technology Upgradation Fund Scheme (TUFS) subsidies.
Electronics
Shift from a tariff-based policy to an incentive-based policy for manufacturing of electronics.
Establish Industrial Parks which would cater to specific needs of the electronics manufacturing sector.
Tourism and Hospitality
Create a Pan-India Tourism Board to coordinate among various parts of government and industry.
Accord infrastructure status to tourism infrastructure.
Simplifying the medical visa regime
Create a Medical Tourism campaign to create awareness and build on India's brand as a medical value destination.
Significance
Pathway to Economic Growth:It shows the way forward for India to become an attractive investment destination by grasping all the opportunities available so that India is able to achieve the target of exports contributing $1 trillion to the gross domestic product (GDP).
Boosting Indian Export:The recommendations of the HLAG will help government doubling India's exports of goods and services from $500 billion in 2018 to over $1,000 billion in 2025.
Push to Significant Policies:The report is concerned with policies which are needed, macro and micro, regulatory and taxation, infrastructure development, bureaucratic interference and ease of doing business to get India to aggressively move towards its potential of export growth (and indirectly GDP growth).
Current News Science & Technology New Technology
From Cloud Computing To Edge Computing
---
According to a research, by 2025, companies will generate and process more than 75% of their data outside of traditional centralised data centres- that is, at the "edge" of the cloud.
Internet of Things (IoT) devices are generating vast volumes of dataand approximately 80 billion devices will be connected to the internet by 2025.
In this backdrop, cloud-based systems cannot handle the massive rush of data, which gives way to Edge Computing.
Edge Computing
Edge computing is a distributed, open IT architecture that features decentralised processing power, enabling mobile computing and Internet of Things (IoT) technologies. Here, data is processed by the device itself or by a local computeror server, rather than being transmitted to a data centre.
Simply put, edge computing enables data to be analysed, processed, and transferred at the edge of a network.
The idea is to analyse data locally, closer to where it is stored, in real-time without latency, rather than send it far away to a centralised data centre. However, only the relevant data or information is collected and then sent, rather than all of the data collected.
Edge computing plays a pivotal role as it brings computing power, control, storage and applications closer to end users.
For ex. whether anyone is streaming a video on Netflix or accessing a library of video games in the cloud, edge computing allows for quicker data processing and content delivery.
Difference with Fog Computing and Cloud Computing
The basic difference among the three lies in where the data processing takes place.
At the moment, the existing Internet of Things (IoT) systems perform all of their computations in the cloud using data centres.
Edge computing usually occurs directly on the devices to which the sensors are attached or a gateway device that is physically close to the sensors.That data doesn't need to be sent over a network as soon as it processed; only important data is sent, reducing the amount of data that travels over the network.
Fog computing moves the edge computing activities to processors that are connected to the local area network (LAN) or into the LAN hardware itself so they may be physically more distant from the sensors and actuators.
In cloud computing, data is collected and analyzed in some centralized location where developers and operators have more control over processing and system communications.


Benefits
Cost Effective: It allows for efficient data processing in that large amounts of data can be processed near the source, reducing Internet bandwidth usage. This both eliminates costs and ensures that applications can be used effectively in remote locations.
Reduces Latency: Edge computing reduces data latency and trips between networks and devices, allowing smart applications and devices to respond to data almost instantaneously, as its being created, eliminating lag time. This is critical for technologies such as self-driving cars.
Faster Response Time: The response times with edge computing is also faster, as it doesn't need to go to the cloud, thus reducing the time it takes to gather actionable insights from data.
Increased Data Security: Due to its ability to process data without ever putting it into a public cloud, edge computing adds a useful layer of security for sensitive data .It protects sensitive data and helps organisations have greater monitoring systems.
Uninterrupted Connectivity:It allows smart devices and manufacturing equipment to operate without disruption, even if they're offline or there's intermittent connectivity.
Works on Multiple Devices: whether devices are new or legacy, edge computing can covert communication protocols. This allows language from older devices to be converted into language that modern devices and the cloud can understand, which can also reduce new equipment costs.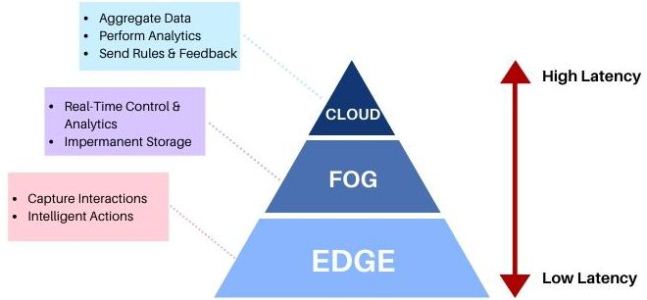 Applications
Field and Industrial IoT: Various sensors and other field devices across verticals like Manufacturing, Transportation, and Power are a prime candidate for Edge computing. These devices can be Energy Meters, Aircraft engines, Oil rigs, Scanners in Retail, Wind turbines, Connected cars, Radio-frequency identifications (RFIDs) in Supply chain, Robotics, etc.These are often characterized by applications that collect data from edge devices and analyze it for different business use cases – security management, predictive maintenance, performance or usage tracking, demand forecasting, etc.
Smart Cities and Architecture: Many cities across the globe are contending for the tag of a Smart City. IoT devices will make living in such cities easier for citizens. The use cases here range from municipalities providing faster urban services (repair of equipment), traffic management (to reduce gridlock), public safety and green energy provisioning.
Customer Experience in Retail and Hospitality: Customer sentiment data and social media data is collected and analyzed to improve customer experience. Data here is being captured by a kiosk or a Point of Sale (PoS) system or Terminal.
Facial and Image Recognition:As a way of identifying customers and reducing fraud in verticals such as Retail, Banking, and Entertainment.
Challenges
Edge computing sites are usually remote with limited or no on-site technical expertise. If something fails on-site you need to have an infrastructure in place that can be fixed easily by non-technical local labor and further managed centrally by a small number of experts located elsewhere.
Scaling out to many small sites can be more complicated than adding the equivalent capacity to a single core datacenter. The increased overhead of physical locations can be difficult for smaller companies to manage.
Site management operations need to be highly reproducible across all edge computing sites to simplify management, allow for easier troubleshooting and to prevent the configuration of software implemented in slightly different ways at each of the sites.
While edge computing offers greater control over information flows by constraining the data geographically, the physical security of the site is often much lower. This can lead to a greater risk of malicious or accidental situations (like a tripped cable).
Way Forward
With specialized hardware, software, and developer environments, edge computing is likely to increase operational reliability, enable real-time predictions, and improve data security. The much anticipated 5G service, which promises lower latency and enhanced coverage and responsiveness and quantum computing, which accelerates computation, may further increase edge computing's efficiency.
However, the efficient distribution of the processing needs across the network of edge devices will be a challenge. Also, efficient scheduling of tasks will become essential in avoiding system failure and optimizing machine learning. Over time, it is expected that more powerful processing chips with lower power requirements will be available, and then AI-based edge computing will really shine.
Current News Science & Technology Health & Disease
14th National Health Profile, 2019
---
On 30th October, 2019, Ministry of Health and family Welfare released the 14th National Health Profile (NHP)-2019 & its e-book (digital version).
Central Bureau of Health Intelligence (CBHI) has been publishing the National Health Profile since 2005 and its digital version since 2015.
Major Highlights of NHP, 2019
Life Expectancy
Life expectancy has increased from 49.7 years in 1970-75 to 68.7 years in 2012-16.
For the same period, the life expectancy for females is 70.2 years and 67.4 years for males.
There has been consistent decrease in the birth rate, death rate and natural growth rate in India since 1991 to 2017.
The population, however, continues to grow, as the decline in the birth rate is not as rapid as the decline in the death rate
Demographics
The survey found the high incidence of the young and economically active population.
27% of the total estimated population of 2016 were below the age of 14 years and majority (64.7%) of the population were in the age group of 15-59 years i.e. economically active, and 8.5% population were in the age group of 60-85 plus years.
Infant Mortality Rate (IMR)
IMR has declined considerably (33 per 1,000 live births in 2016), however differentials of rural (37) and urban (23) are still high.
Total Fertility Rate (TFR)
TFR for the country was 2.3 whereas in rural areas it was 2.5 and 1.8 in urban areas during 2016 as per the latest available information.
Communicable and Non- communicable Diseases
Under communicable diseases, maximum number of cases and deaths due to malaria has been reported in Chhattisgarh (77,140 cases and 26 deaths).
The overall prevalence of the disease has diminished in 2012 and 2013 but there was a slight increase in 2014 and 2015 before it started decreasing again from 2016.
On the non-communicable diseases (NCD), the survey notes that out of 6.51 crore patients who attended NCD clinics, 4.75% people are diagnosed with diabetes, 6.19% are diagnosed with hypertension, 0.3% are diagnosed with cardiovascular diseases, 0.10% are diagnosed with stroke and 0.26% are diagnosed with common cancers.
Major Concerns
Between 2009-10 and 2018-19, India's public health spend as a percentage of GDP went up by just 0.16 percentage points from 1.12% to 1.28% of GDP, and remains a far cry from the 2.5% GDP health spend that has been India's target for some years now.
The cost of treatment has been on rise in India and it has led to inequity in access to health care services.
There are wide disparities in the health spend of states.The Northeastern states had the highest and the Empowered Action Group (EAG) states plus Assam had the lowest average per capita public expenditure on health in 2015-16.EAG states are the eight socio-economically backward states of Bihar, Chhattisgarh, Jharkhand, Madhya Pradesh, Odisha, Rajasthan, Uttarakhand and Uttar Pradesh.
Impact
Key to Efficient Health System: This national reference document shall be of immense support to all concerned government departments & institutions, public sector enterprises, non-government organizations, policy makers, planners, administrators, managers, researchers and academicians for a strong and efficient health system in India.
Tool of Assessment: NHP – 2019 provides information regarding the significant progress has been made in the country for various health outcomes. This information is essential for health system policy development, governance, health research, human resource development, health education and training, service delivery and financing.
Way to Universal Health Coverage (UHC):It helps in understanding the goals, strengths and weaknesses and is also an important means to strategize area specific interventions in order to achieve universal health coverage.
Realization of Digital India Vision: The e-book of NHP-2019 is a step towards realizing government's vision of Digital India, as digital documents give us an opportunity for wider dissemination of information.
National Health Profile (NHP)
NHP, an annual publication of the CBHI, is an initiative which is at par with international standards of data publications.
It aims to provide relevant information for planning and decision making on an informed basis to the planners, policy makers, health administrators, research workers and others engaged in raising the health and socio-economic status of the community.
Objective
To create a versatile data base of health information of India and making it available to all stakeholders in the healthcare sector.
Major Indicators of NHP
The NHP highlights substantial health information under following major indicators-
Demography Indicators: It provides population statistics and vital statistics like size and growth of population, sex ratio, density,birth rate, death rate, and natural growth rate, life expectancy at birth, mortality and fertility rates.
Socio-Economic Indicators: It provides data on education, gender, poverty, housing, amenities, employment and other economic indicators.
Health Status Indicators: It provides incidence and prevalence of common communicable and non-communicable diseases, morbidity & associated mortality, health risks and performance of related national health programs in the country.
Health Finance Indicators: It provides an understanding of patterns of investments, expenditure, sources of funding and proportion of allocation vis-à-vis other total allocations.
Human Resources for Health: It provides an overview of availability of trained and specialized medical, nursing and paramedical personnel in the country. These also give an idea regarding regional distribution and disparities.
Health Infrastructure: It provides details of medical colleges, course, post graduate degree/diploma in medical and dental colleges, AYUSH Institutes, allopathic hospitals, hospital beds, Indian System of Medicine & Homeopathy hospitals, etc.
Significance
Delivering Quality Health Services: NHP provides relevant information to the planners, policy makers, health administrators, research workers and others engaged healthcare sector to take informed decisions, contributing to better and quality delivery of health services.
Contribution to National Health Policy: NHP contributes towards providing better universal and equitable healthcare to its people as envisaged in National Health Policy 2017, as it helps in informed decision making on policies and initiatives of various stakeholders in healthcare sector in the country.
Interoperability of Data: Following the standard coding from Family of International classification (FIC) in presenting the diseases, NHP will improve interoperability of the data internationally.
Central Bureau of Health Intelligence (CBHI)
Established in 1961, it is the health intelligence wing of the Director General of Health Services in the Ministry of Health, with the vision to have a strong Health Management Information System in entire country.
Mission
To strengthen Health Information system in each of the district in the country up to facility level for evidence based decision making in the Health Sector.
Family of International Classification (FIC)
FIC is maintained by World Health Organisation(WHO) through an international Network, which consists of a global range of collaborating centres and experts. This confers a worldwide consensus, targeting consistent, high quality health data for both national and international purpose.
WHO-FIC comprises the Reference Classifications, the Related Classifications and the Derived Classifications.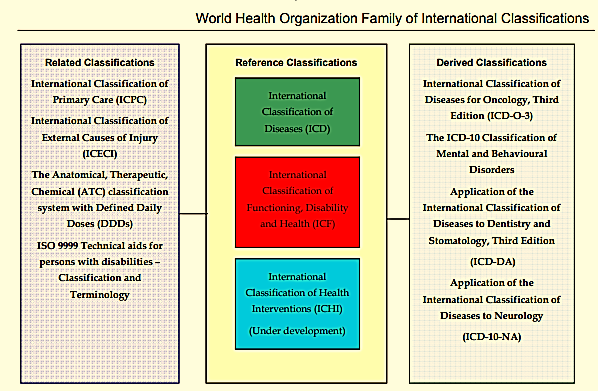 Source: WHO
Way Forward
For resource constraint country such as India, having comprehensive information on both public and private health sector is prerequisite for planning resource allocation. Generation and adoption of such evidence will help in driving judicious health resource planning and allocation to reduce the disparities and inequitiesin order toachieve the Universal Health Coverage.
An updated and reliable health database is the foundation of decision-making across all health system building blocks, and is essential for health system policy development and implementation, governance and regulation, health research, human resources development, health education and training, service delivery and financing.
It is important that larger policy decisions are taken based on latest and reliable information on the available healthcare resources, their deployment and trends that can address entrenched problem of health system with real time solutions.
---