Transforming Agrifood Systems with Forests
---
Recently, a report on deforestation, livestock grazing, and farmer field schools was published by the Food and Agriculture Organization (FAO) of the United Nations.
FAO has released the report at FAO-Global Landscapes Forum: Transforming agrifood systems with forests.
Key highlights of the Report
According to the FAO's Global Forest Resources Assessment 2022, 420 million hectares of forest have been destroyed worldwide over the past 20 years.

To reduce deforestation, which reached at 11 million ha per year between 2000 and 2010, forests are essential.

The report finds that the amount of food needed to feed the world's population will increase by 50% by 2050 compared to 2012.
Crop and animal production will require 165 to 600 million additional hectares of land, the majority of which is already covered by forests and other vital ecosystems.
Nearly 90% of global deforestation between 2000 and 2018 was caused by increased agricultural production.

This has a detrimental effect on related ecosystem services including biodiversity and carbon sequestration.
Major Recommendations of the Report
The need of the hour is to build sustainable global agrifood systems based on the synergies between agriculture and forests that provide a win-win outcome for both sectors.

Governments need to pay special attention to smallholder farmers, who produce roughly 35% of the world's food;
But they often live in poverty and cannot afford the costs or interruptions to income incurred through changing the way they work.

Properly integrated grazing can play a vital role in restoring degraded land with trees, halting desertification and improving wildfire prevention in drylands.
Drylands are home to about 25% of the global population, contain 50% of the world's livestock, 27% of the world's forests and are where about 60% of the world's food production takes place.
Silvopastrolism (combining animal grazing and trees) can also help enhance local community's food security and income by preventing land degradation.
As part of an integrated landscape approach utilizing agroforestry, landscape planners and decision-makers should consider livestock as part of the solution and carefully restore open tree cover (when tree cover is between 30 and 70%).
Governments worldwide must provide this coordination so that different sectors and stakeholders at all levels – international, national, regional and local – work towards shared goals.
Governments should create the legislative frameworks and provide financing and market conditions that favour approaches.
About Agroforestry
Agro forestry is a land use system that integrates trees, crops and animals in a way that is scientifically sound.
It integrates trees and shrubs on farmlands and rural landscapes to enhance productivity, profitability, diversity and ecosystem sustainability.
Importance of Agroforestry for India
Agroforestry meets almost half of the country's fuelwood needs, about two-thirds of the small timber demand, 70-80% of the plywood requirement, 60% of the raw material for the paper pulp industry, and 9-11% of the green fodder needs.
Agroforestry or tree-based farming is an established nature-based activity that can aid carbon-neutral growth.
Government's Initiatives to improve Agroforestry in India
India is the first country to adopt an agroforestry policy - National Agroforestry Policy (NAP) - to promote employment, productivity, and environmental conservation.
A tagline: "Har medh par ped" (trees on every field boundary) was launched with nearly ₹1,000 crore in 2016 to transform agroforestry into a national effort.
The Ministry of Agriculture and Farmers' Welfare merged the Sub-Mission on Agroforestry (SMAF) with the Rashtriya Krishi Vikas Yojana which deprived the agroforestry sector of its flagship implementation arm.
Oceans losing 'Memory'
---
Scientists, in a recent research paper 'Science Advances' came out with the fact that the world's oceans are losing their 'memories'.
The researchers discovered this phenomenon by examining the similarity in ocean surface temperature from one year to the next as a simple metric for 'Ocean Memory' and it was found almost as if the ocean is developing amnesia.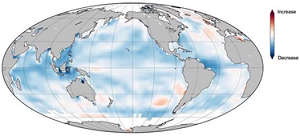 (Image Source: azocleantech.com)

What is 'Ocean Memory'?
'Ocean Memory' manifests in the form of the persistence of ocean conditions. It is measured by the year-to-year persistence of sea surface temperature anomalies.
Ocean Memory is also related to the thickness of the uppermost or surface layer of the Oceans. The Deeper layers beneath it have a greater heat content, which produces more thermal inertia, and it translates into memory. However, this layer of most oceans will get shallower over time as a result of the unabated anthropogenic (artificial) warming, which will decline the 'Ocean Memory'.
The surface water layer of oceans, nearly 50 meters in depth, is a shallower one compared to the colder deep water beneath. Despite being shallow, the large specific heat of the water in comparison to the atmosphere above results in relatively slow changes in the surface temperature even though there are fast fluctuations in the overlying atmosphere.
Temperature Anomaly & Role of Specific Heat
Specific heat is defined as the heat required to raise the temperature of a substance by one degree Celsius. This implies that a substance like water, having a large specific heat, would need more heat to raise its temperature by a degree. On the other hand, the atmosphere above the surface water of oceans has a relatively low specific heat and implies that a slight increase in heat would raise its temperature.
Causes of decline in Ocean Memory
The latest research suggests that the Ocean Memory is on the decline as a result of man-made climate change, meaning that the world's oceans will no longer show their persistence of conditions.
Other Processes Responsible for changes in 'Ocean Memory'
Other processes, such as changes in ocean currents and changes in the energy exchange between the atmosphere and ocean, also contribute to changes in Ocean Memory, but the shoaling of the mixed layer depth and resulting memory decline happens in all regions of the globe, and this makes it an important factor to consider for future climate predictions.
Climate Prediction & Ocean Memory
The Ocean Memory, the persistence of anomalous ocean conditions, has been an essential source of predictability in the climate system.
This Ocean amnesia, as the researchers termed it, is going to have significant challenges and impact on ocean predictions, ocean management, forecasting weather, and also predicting other extreme events owing to the fact that they depend on the persistence of ocean surface temperature as a source of predictability.
Apart from a decline in the Ocean Memory, the thinning of the mixed layers will also cause an increase in the random fluctuations of the sea surface temperature. Because of this, although the oceans will not show many variations from one year to the next, there will be changes in infractions of the helpful signals for predicting, and thus predictions will be seriously impacted.
Impact on Marine Ecosystems
Ocean Memory loss will not only have an impact on the predictability of physical variables but also can influence the management of sensitive marine ecosystems.
Reduced memory means less time in advance for a forecast to be made. This could hinder our ability to predict and prepare for ocean change, including marine heatwaves, which are known to have caused sudden and pronounced changes in ocean ecosystems around the world.
Fishery management considers the biological parameters for stock assessment by assuming a stable environment manifested in the recent past. Reduction in Ocean Memory may render such estimation grossly inaccurate. This also indicates an urgent need to develop new approaches in fishery management.
State of the World's Forests 2022
---
The State of the World's Forests (SOFO) 2022 report was released by the Food and Agriculture Organisation (FAO).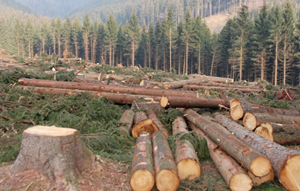 Major Findings of the Report
Loss of Forest
The world has lost 420 million hectares (mha), approximately 10.34 per cent of its total forest area in the last 30 years.
The 420 mha of forests have been lost between 1990 and 2020, due to deforestation, though forests cover 4.06 billion ha (31 per cent) of the earth's geographical area.
Declining Trend of Deforestation
The rate of deforestation was declining, 10 mha of forests were lost every year between 2015 and 2020. Earlier, some 47 mha of primary forests were lost between 2000 and 2020.
Concern for Forest in Tropics
Unless additional action is taken, an estimated 289 mha of forests would be deforested between 2016 and 2050 in the tropics alone, resulting in the emission of 169 GtCO2e.
Deforestation & Diseases
SOFO 2022, stated that 15 per cent of 250 emerging infectious diseases have been linked to forests. It further stated that 30 per cent of new diseases, reported since 1960, can be attributed to deforestation and land-use-change.
Deforestation, particularly in the tropics, has been associated with an increase in infectious diseases such as dengue fever and malaria.
Population Pressure
SOFO 2022 further stated that the world population is projected to reach 9.7 billion people by 2050, which will increase competition for land, as the demand for food for this large population will rise by 35 to 56 per cent by the 2050s.
The annual global consumption of all natural resources combined is expected to more than double from 92 billion tonnes in 2017 to 190 billion tonnes in 2060 due to increases in population size and affluence.
Biomass Extraction
It further stated that annual biomass extraction was expected to reach 44 billion tonnes by 2060, from 24 billion tonnes in 2017. Demand for forest-based biomass is expected to rise further, mainly due to construction and packaging.
Suggestions
Against the backdrop of the Glasgow Leaders' Declaration on Forests and Land Use and the pledge of 140 countries to eliminate forest loss by 2030 and to support restoration and sustainable forestry, the 2022 edition of The State of the World's Forests (SOFO) explores the potential of three forest pathways for achieving green recovery and tackling multidimensional planetary crises, including climate change and biodiversity loss.
Three Pathways to achieve Green Recovery:
Halting deforestation and maintaining forests.
Restoring degraded lands and expanding agroforestry.
Sustainably using forests and building green value chains.
IMD revises Long Period Average (LPA) of Rainfall
---
The India Meteorological Department (IMD), in its first prediction of this year's monsoon trends, has introduced a new benchmark figure based on 1971-2020 data, showing marginal decline in monsoon rains and overall annual showers in the country over the long period of time.
The new updated rainfall normal has been prepared based on data of 1971-2020 and will replace the existing rainfall normal based on 1961- 2010 with effect from the southwest monsoon season 2022.
Under the new 'rainfall normal' figure, all-India rainfall for the southwest (summer) monsoon is 87 cm, based on 1971-2020 data, as against the earlier normal figure of 88cm based on 1961-2010 period.
Till 2018, the IMD used 89cm, based on a 50-year average from 1951-2000, as the 'normal' rainfall benchmark for the monsoon season.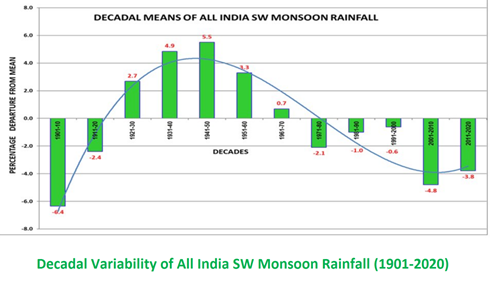 Long Period Average
Long Period Average (LPA) is the average rainfall recorded during the months from June to September, calculated during the 50-year period, and is kept as a benchmark while forecasting the quantitative rainfall for the monsoon season every year.
LPA Averages over the Decades
1951 to 2000: 89 cm
1961 to 2010: 88 cm
1971-2020: 87 cm
Why this Revision?
The revision is part of a periodic update on the normal rainfall figures.
The rainfall normal is prepared based on the data for the period of 50 years and is updated periodically once in every decade by incorporating the latest data from raingauge stations.
When a monsoon is considered 'normal'?
A monsoon is considered "normal" when rainfall falls between 96% and 104% of the LPA.
How the rainfall normal has been computed?
New rainfall normal has been computed using rainfall data of 4,132 rain gauge stations well distributed over the country, representing 703 districts.
How will be the monsoon for this year?
In its first-stage long range forecast for the 2022 southwest monsoon, the India Meteorological Department (IMD) has forecast normal rainfall for 4th year during the season.
No El Nino
The IMD does not expect an El Nino, a phenomenon associated with a warming of the Central Pacific and drying up of the rains over northwest India, the coming monsoon.
Currently La Nina conditions are prevailing over equatorial Pacific. The latest forecasts indicate it will continue during the monsoon.
Other Findings by IMD
State that receives maximum rainfall in southwest monsoon season: The IMD's findings, based on analysis of 50-year data, show that the Gujarat region receives maximum rainfall i.e. 96% of its annual rainfall in southwest monsoon season.
State that receives maximum rainfall in northeast monsoon season: Tamil Nadu receives maximum rainfall i.e. 48% of annual rainfall in northeast monsoon season (October-December) followed by 36% in southwest monsoon season.
Current Epoch of Southwest Monsoon
Presently the southwest monsoon is passing through a dry epoch which started in the decade of 1971-80.
The decadal average of all India SW monsoon rainfall for the decade 2011-20 is -3.8% (minus 3.8%) from the long-term mean.
The next decade i.e. 2021-30 is expected to come closer to neutral and southwest monsoon would enter into the wet epoch from the decade 2031-40 - an indication that the wet spell may increase the rainfall in future.
The IMD attributed decrease in average normal rainfall to "natural multi-decadal epochal variability of dry and wet epochs" of all India rainfall.
Dry Epoch vs. Wet Epoch
Dry Epoch: Normally, the realised monsoon rainfall remains below normal for most years in a decade during a dry epoch.
Wet Epoch: Rainfall is normal or above normal during most of the years in a decade when it is a wet epoch.
State Energy and Climate Index
---
NITI Aayog has launched the State Energy & Climate Index-Round I on 11th April 2022.
The State Energy & Climate Index (SECI) Round I ranks the states' performance on 6 parameters: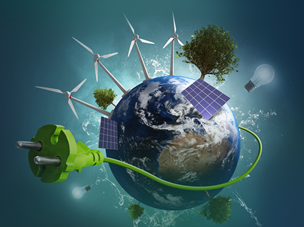 DISCOM's Performance
Access, Affordability and Reliability of Energy
Clean Energy Initiatives
Energy Efficiency
Environmental Sustainability; and
New Initiatives.
The parameters are further divided into 27 indicators.
Based on the composite SECI Round I score, the states and UTs are categorized into three groups: Front Runners, Achievers, and Aspirants.
The states have been categorized based on size and geographical differences as larger states, smaller states, and UTs.
Performance of States/UTs

Larger States

Smaller States

UTs

Top 3

1. Gujarat

2. Kerala

3.Punjab

1. Goa

2. Tripura

3. Manipur

1. Chandigarh

2. Delhi

3. Daman & Diu/Dadra & Nagar Haveli

Bottom 3

1. Jharkhand

2. Madhya Pradesh

3. Chhattisgarh

1. Meghalaya

2. Nagaland

3. Arunachal Pradesh

1. A&N Islands

2. Jammu & Kashmir

3. Lakshadweep
IPCC Sixth Assessment Report - 3rd Installment
---
On 4th April, 2022, the Intergovernmental Panel on Climate Change (IPCC) published the third installment of its Sixth Assessment Report (AR6). The report, prepared by the IPCC Working Group III (WG-III), focusses on the mitigation of climate change, i.e., the solutions necessary to halt global warming.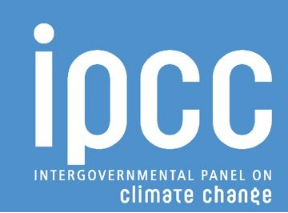 Key Highlights
1. Greenhouse Gas (GHG) Emissions
In 2019, global net anthropogenic GHG emissions were at 59 gigatonnes of carbon dioxide equivalent (GtCO2e), 54 per cent higher than in 1990. This emissions growth has been driven mainly by CO2 emissions from the burning of fossil fuels and the industrial sector, as well as methane emissions.
But the average annual rate of growth slowed to 1.3 per cent per year in the period 2010-19, compared to 2.1 per cent per year in the period 2000-09.
At least 18 countries have reduced GHG emissions for longer than 10 years on a continuous basis due to decarbonisation of their energy system, energy efficiency measures and reduced energy demand.
2. Least Developed Countries' Emissions
Carbon inequality remains pervasive as ever with Least Developed Countries (LDCs) emitting only 3.3 per cent of global emissions in 2019.
LDCs contributed less than 0.4 per cent of total historical CO2 emissions from fossil fuels and industry in the period 1850-2019.
3. Pledges to the Paris Agreement are Inadequate
Upon adding up the Nationally Determined Contributions (NDCs) announced by countries till October 2021, the IPCC finds that it is likely that warming will exceed 1.5 degrees Celsius in this century, thereby failing the Paris Agreement's mandate.
In its best-case scenario, known as the C1 pathway, the IPCC outlines what the world needs to do to limit temperatures to 1.5°C, with limited or no 'overshoot'.
To achieve the C1 pathway, global GHG emissions must fall by 43 per cent by 2030 compared to 2019 levels, amounting to 31 GtCO2e in 2030. And the use of coal, oil, and gas must decline by 95 per cent, 60 per cent and 45 per cent by 2050 compared to 2019.
4. Abundant and Affordable Solutions Exist
Widespread 'system transformations' are required across the energy, buildings, transport, land and other sectors, to achieve the 1.5°C target and this will involve adopting low-emission or zero carbon pathways of development in each sector. But solutions are available at affordable costs.
The costs of low emissions technologies have fallen continuously since 2010. Their deployment, or usage, has increased multiple fold since 2010.
The report states with "high confidence" that "several mitigation options, notably solar energy, wind energy, electrification of urban systems, urban green infrastructure, energy efficiency, demand side management, improved forest — and crop / grassland management and reduced food waste and loss, are technically viable, are becoming increasingly cost effective and are generally supported by the public".
Reducing fossil fuel use in the energy sector, demand management and energy efficiency in the industrial sector and adopting the principles of 'sufficiency' and efficiency in the construction of buildings are among the plethora of solutions outlined by the report.
5. Long-term Benefits of Cutting Emissions Outweigh Initial Costs
The IPCC states that low-cost climate mitigation options, i.e., those costing $100 per tCO2e or less, could halve global GHG emissions by 2030. In fact, the long-term benefits of limiting warming far outweigh the costs.
"Without taking into account the economic benefits of reduced adaptation costs or avoided climate impacts, global GDP would be just a few percentage points lower in 2050 if we take the actions necessary to limit warming to 2°C (3.6°F) or below, compared to maintaining current policies," according to the report.
6. Sufficient Global Capital and Liquidity Exist to Close the Gaps
Financial flows fall short of the levels needed to achieve the ambitious mitigation goals, however. The gaps are the widest for the agriculture, forestry, and other land uses (AFOLU) sector and for developing countries.
But the global financial system is large enough and "sufficient global capital and liquidity" exist to close these gaps, according to the IPCC.
Greater Maldive Ridge and Reconstructing Gondwanaland Break Up
---
In a recent study, an Indian researcher traced the tectonic evolution and the nature of the Greater Maldive Ridge (GMR) - a very crucial geodynamic features in the western Indian Ocean whose origin has been the centre of many a scientific debate.
The study can help reconstruct the original Gondwanaland break up and dispersal that led to present-day configuration of continents, continental fragments, and formation of ocean basins in the Indian Ocean.
The study provides new insights into the crustal architecture, isostatic compensation mechanism, and the tectonic evolution of the Greater Maldive Ridge.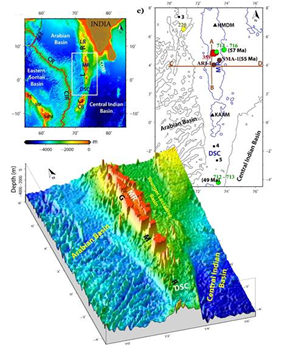 Maldive Ridge
The Maldive Ridge is an aseismic ridge that is not associated with earthquake activities.
This ridge, located in the western Indian Ocean, southwest of India, is not well investigated.
The Study
The study by the Indian Institute of Geomagnetism, Mumbai has chalked the possible geological cross-sections along the GMR for the first time with the help of satellite-derived high-resolution gravity data.
The researchers postulated that the GMR may be underlain by an oceanic crust. The results from their study can provide additional constraints in understanding the plate-tectonic evolution of the Indian Ocean, better.
The research work provides the crustal architecture and the state of gravitational equilibrium between Earth's crust and mantle (isostasy) of the Greater Maldive Ridge segment of the larger Chagos-Laccadive Ridge (CLR) system.
Their study, based mainly on the interpretation of gravity anomalies (small differences in the pull of gravity caused by the lateral variations of density within the subsurface) with broadband seismic and refraction seismic data, provided for the first time a three-dimensional picture of the variation of Moho along the Greater Maldive Ridge and the adjoining ocean basins.
The depth to the boundary between the earth's crust and the mantle or the Mohorovicic discontinuity (Moho) over the GMR was systematically mapped along with the finer variation of effective elastic thickness (Te) at the place.
Findings
IIG team found that Moho is deeper over the Maldive Ridge (MR) segment and shallows southwards in the Deep Sea Channel region (DSC). However, the effective elastic thickness (a proxy for the strength of the lithosphere) values were lower over the MR compared to DSC region.
Maldive Ridge and Deep Sea Channel region may probably be oceanic in nature with the presence of underplated materials associated with the Reunion hotspot volcanism.
The research suggests that Maldive Ridge might have formed in the close vicinity of the Mid-Oceanic Ridge (where creation of a new ocean floor occurs due to divergent motion of lithospheric plates or spreading centre). Meanwhile, the DSC region was under a long transform fault (offset between the spreading centres, which neither create nor destroy lithosphere), which hindered melt production and gave rise to gap between Chagos and Maldive Ridge during the Plume-ridge interaction.
(Source: PIB)
India State of Forest Report 2021
---
On 13 January 2022, the Union Ministry for Environment, Forest and Climate Change has released the biennial 'India State of Forest Report 2021' prepared by the Forest Survey of India (FSI).
The ISFR-2021 provides information on forest cover, tree cover, mangrove cover, growing stock, carbon stock in India's forests, forest fire monitoring, forest cover in tiger reserve areas, above ground estimates of biomass using SAR data & climate change hotspots in Indian forests.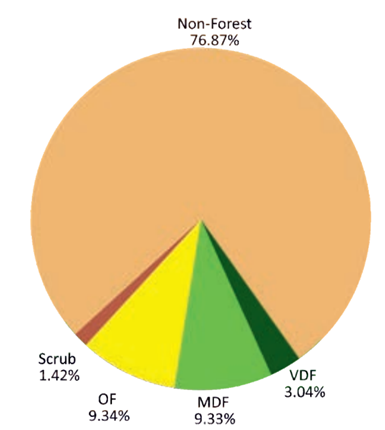 (OF: Open Forest; MDF: Moderately Dense Forest; VDF: Very Dense Forest)
Major Findings
Forest and Tree Cover
The total forest and tree cover of the country is 80.9 million hectare which is 24.62 per cent of the geographical area of the country.
Increase in Forest & Tree Cover: As compared to the assessment of 2019, there is an increase of 2,261 sq km in the total forest and tree cover of the country. Increase in forest cover has been observed in open forest followed by very dense forest.

Forest Cover: 1,540 sq km
Tree Cover: 721 sq km.

Top Three States Showing Increase in Forest Cover: Andhra Pradesh (647 sq km) followed by Telangana (632 sq km) and Odisha (537 sq km).
Area-wise Largest Forest Cover: Madhya Pradesh has the largest forest cover in the country followed by Arunachal Pradesh, Chhattisgarh, Odisha and Maharashtra.
Forest Cover as Percentage of Total Geographical Area: In terms of forest cover as percentage of total geographical area, the top five States are Mizoram (84.53%), Arunachal Pradesh (79.33%), Meghalaya (76.00%), Manipur (74.34%) and Nagaland (73.90%).
17 states/UT's have above 33 Percent of the Geographical Area Under Forest Cover: Out of these states and UT's, five states/UTs namely Lakshadweep, Mizoram, Andaman & Nicobar Islands, Arunachal Pradesh and Meghalaya have more than 75 per cent forest cover while 12 states/UTs namely Manipur, Nagaland, Tripura, Goa, Kerala, Sikkim, Uttarakhand, Chhattisgarh, Dadra & Nagar Haveli and Daman & Diu, Assam, Odisha, have forest cover between 33 per cent to 75 per cent.
Mangrove Cover
Total mangrove cover in the country is 4,992 sq km.
An increase of 17 sq Km in mangrove cover has been observed as compared to the previous assessment of 2019.
Top three states showing mangrove cover increase are Odisha (8 sq km) followed by Maharashtra (4 sq km) and Karnataka (3 sq km).
Carbon Stock
Total carbon stock in country's forest is estimated to be 7,204 million tonnes and there an increase of 79.4 million tonnes in the carbon stock of country as compared to the last assessment of 2019.
The annual increase in the carbon stock is 39.7 million tonnes.
The carbon stock refers to the amount of carbon stored in forests in the form of biomass, soil, deadwood and litter. More the carbon stock, higher would be the forest's capacity to absorb and sequester carbon dioxide (CO2), the main greenhouse gas in the atmosphere, through photosynthesis.
Forest Category & Cover
Very Dense Forest: All lands with tree canopy density of 70 percent and above.
Moderately Dense Forest: All lands with tree canopy density of 40 percent and more but less than 70 percent.
Open Forest: All lands with tree canopy density of 10 percent and more but less than 40 percent.
Scrub: Forest lands with canopy density less than 10 percent.
Non-forest: Lands not included in any of the above classes (includes water).
Some New Features of isfr 2021
Assessment of forest cover in the Tiger Reserves and Lion Conservation Areas: In the present ISFR 2021, FSI has included a new chapter related to the assessment of forest cover in the Tiger Reserves, Corridors and Lion conservation area of India.
Above Ground Biomass: A new initiative of FSI has also been documented in the form of a chapter, where the 'Above Ground Biomass' has been estimated. FSI, in collaboration with Space Application Centre (SAC), ISRO, Ahmedabad, initiated a special study for estimation of Above Ground Biomass (AGB) at pan-India level, using L- band of Synthetic Aperture Radar (SAR) data.
Mapping of Climate Change Hotspots in Indian Forests: FSI in collaboration of with Birla Institute of Technology & Science (BITS) Pilani, Goa Campus has performed a study based on 'Mapping of Climate Change Hotspots in Indian Forests'. The collaborative study was carried out with the objective to map the climatic hotspots over the forest cover in India, using computer model-based projection of temperature and rainfall data, for the three future time periods i.e. year 2030, 2050 and 2085.
Climate Change Performance Index (CCPI)
---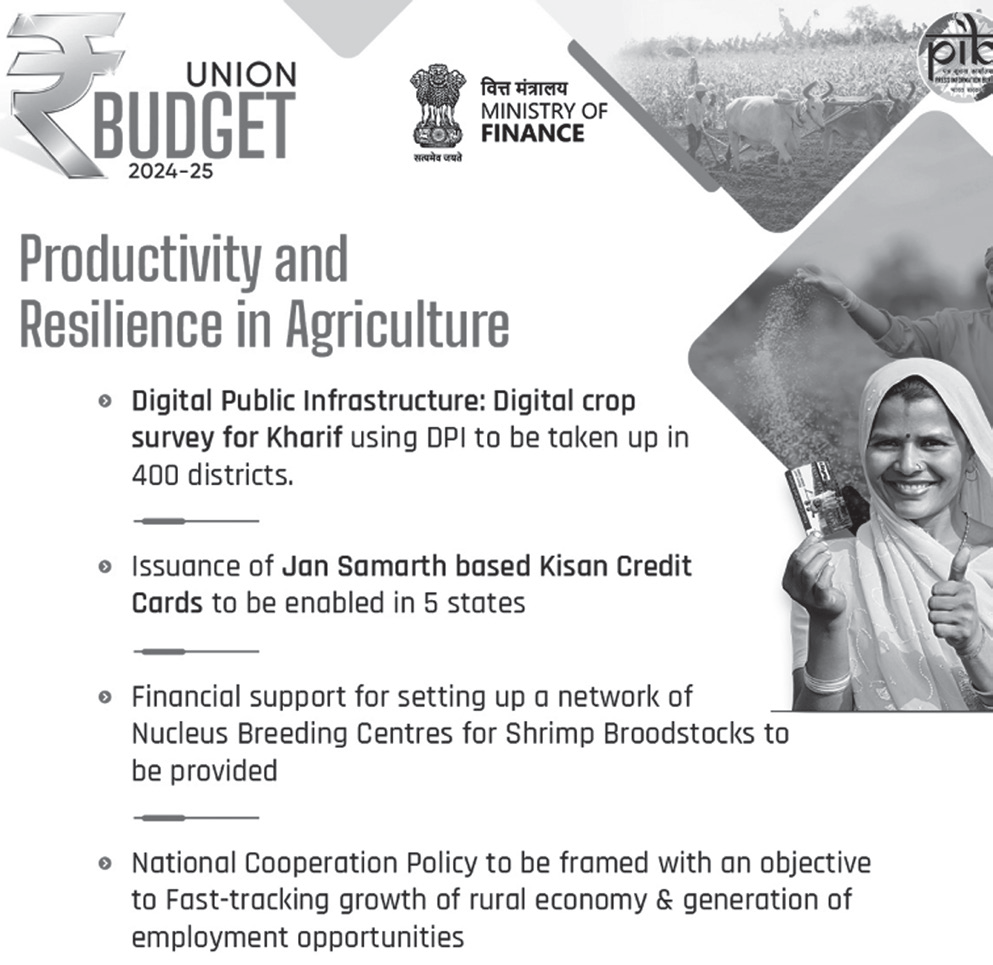 On 10th November 2021, Climate Change Performance Index (CCPI) 2022, published by German-watch along with Climate Action Network (CAN) and New Climate Institute, was released on the sidelines of the 26th session of the Conference of the Parties (CoP26) to the United Nations Framework Convention on Climate Change (UNFCCC).
The CCPI analyses and compares climate change mitigation efforts across 60 countries (plus EU as a whole) with the highest emissions. Together these countries account for 90 percent of global emissions.
Aim of the Index
The index aims to enhance transparency in international climate politics and enable comparison of mitigation efforts and progress made by individual countries.
Major Findings
Leaders: Denmark, Sweden, and Norway occupy ranks four through six in the new Climate Change Performance Index (CCPI) 2022. Places one to three again remain vacant because no country's measures thus far have been sufficient to achieve an overall 'very high' rating – none are following a path necessary to keep global warming within the 1.5°C limit.
Worst Performers: In the overall ranking, Australia, Kazakhstan, Russia, Saudi Arabia and South Korea are among the worst performers.
Best performers among G20 Countries: G20 Countries responsible for about 75% of the world's GHG emissions, shows the UK (7th), India (10th), Germany (13th), and France (17th) are four G20 countries among the high-performers.
Performance other big Emitters – China & the USA: China is the current biggest polluter and figured at 37th position, falling down three spots since last year, while the second highest current emitter -- US -- was at the 55th spot in the CCPI 2022.
The CCPI looks at four categories, with 14 indicators:
Greenhouse gas emissions (40 per cent of the overall score)
Renewable energy (20 per cent)
Energy use (20 per cent)
Climate policy (20 per cent)
India's Performance
India has retained its top 10 spot in the best performing countries for the third year in a row in the global Climate Change Performance Index (CCPI).
India maintained a strong performance like last year. The performance 'high' in the GHG emissions, energy use and climate policy categories, and medium in renewable energy.
India "is already on track to meet its 2030 emissions target (which is compatible with a well-below-2°C scenario), close to achieving its Nationally Determined Contribution (NDC) target of a 40% share for non-fossil fuel installed power capacity by 2030, and on course for a targeted 33–35% reduction in energy intensity by the same year" said the report.
Singhbhum Craton & Age of Emergence of Continents
---
Earth's first continents emerged from the oceans around 3.3–3.2 billion years ago — at least 700 million years earlier than previously thought, according to a study by researchers from Monash University, Australia.
They studied the sedimentary and igneous rocks of an ancient continental fragment in India called the Singhbhum Craton in today's Eastern India.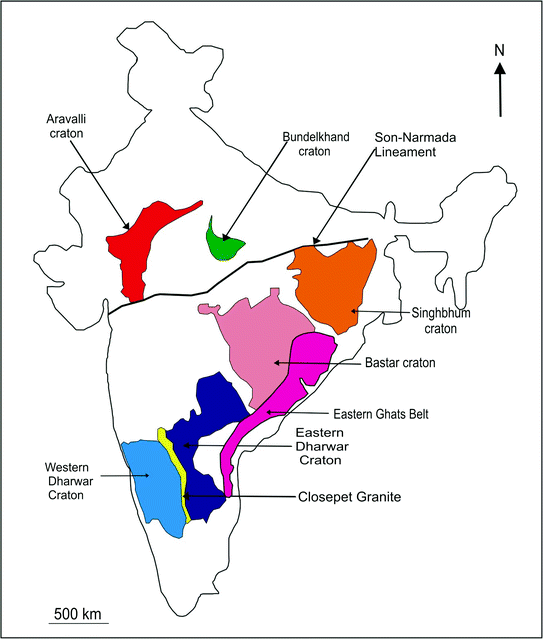 Zircon Dating
The researchers dated the age of each of the sandstones by studying microscopic grains of a mineral called zircon, which naturally contains tiny amounts of uranium that slowly decay into lead over geological periods of time.
By measuring the ratio of lead to uranium, it is possible to determine how long ago the zircon crystals formed.
The team's uranium–lead dating indicated that the ancient sandstones in the Singhbhum Craton were deposited around 3 billion years ago, making them some of the oldest-known beach deposits in the world.
How the Land Mass emerged from the Ocean
A unique feature of continents is their thick, buoyant crust, which allows them to float on top of Earth's mantle.
By around 3.2 billion years ago, according to researchers, the buoyant crust would have become thick enough to emerge from the oceans, forming one of the earliest landmasses.
Most ancient continents — the Singhbhum Craton included — are built up of granite, formed from the melting of pre-existing rocks at the base of the crust.
Analysis of the granitoids from the craton revealed a transition from predominantly sodium to a more potassium-based geochemistry in the period from around 3.53 to 3.1 billion years ago, indicating a progressive maturation of the crust.
Furthermore, the rocks become increasingly depleted in heavy rare earth elements and yttrium, which the team explain indicates that the granites were forming at greater pressures — more than tripling in the period from 3.5–3.25 billion years ago.
With these rocks forming at the bottom of the continental crust, this indicates an increase in the thickness of the Singhbhum Craton from around 20 to 28 miles over the same time-span.
By around 3 billion years ago, the continental crust of the Singhbhum Craton had grown to be about 50 kilometres [31 miles] thick, making it buoyant enough to begin rising above sea level,' the researchers explained.
Scientists believe that:
The subduction–collision processes of today's continents were not involved in the emergence of the first continents.
In fact, plate tectonics likely did not kick into action until around 2.94–2.78 billion years ago.
Other Findings
Sedimentary rocks of roughly this age are also present in the oldest cratons of Australia (the Pilbara and Yilgarn cratons) and South Africa (the Kaapvaal Craton).
Cratons
A craton is an old and stable part of the continental lithosphere, which consists of Earth's two topmost layers, the crust and the uppermost mantle.
Having often survived cycles of merging and rifting of continents, cratons are generally found in the interiors of tectonic plates; the exceptions occur where geologically recent rifting events have separated cratons and created passive margins along their edges.
They are characteristically composed of ancient crystalline basement rock, which may be covered by younger sedimentary rock. They have a thick crust and deep lithospheric roots that extend as much as several hundred kilometres into Earth's mantle.
Adaptation Gap Report 2021
---
The sixth edition of the UNEP Adaptation Gap Report was released recently under the title 'Adaptation Gap Report 2021: The Gathering Storm'.
AGR2021 provides an update on current actions and the emerging results of regional-level to national-level adaptation planning, finance and implementation worldwide.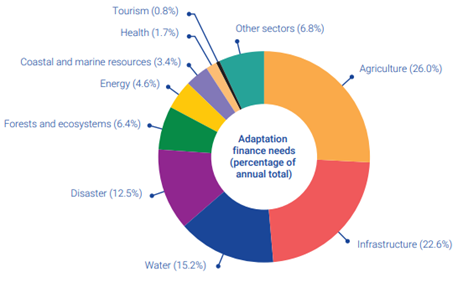 Status and Progress of Global Adaptation Planning, Finance and Implementation
Planning
Despite the COVID-19 pandemic, climate change adaptation is becoming increasingly embedded in policy and planning across the world.
Indicators of adequacy and effectiveness of adaptation planning show positive trends compared to 2020.
Financing
New estimates of the costs of adaptation and the estimated financial needs for adaptation from developing countries indicate higher values than previously reported.
The evidence suggests that the adaptation finance gap is larger than indicated in 2020 and widening.
There is an urgent need to scale up and further increase public adaptation finance both for direct investment and for overcoming barriers to private-sector adaptation.
Implementation
Implementation of adaptation actions is continuing to grow slowly worldwide, despite uncertainty about future trajectories.
Implementation levels must be further scaled up to avoid falling behind with managing climate risks, particularly in developing countries.
Outlook on the Global Progress of Adaptation
Overall, progress in national-level adaptation planning, finance and implementation worldwide generally continues to grow and may be partially accelerating, but further ambition is needed.
Despite encouraging trends, the rate and scale of adaptation progress at the national level is not enough to keep up with growing needs and tracking progress remains a challenge.
Growing climate risks require a step change in adaptation ambition.
'United in Science 2021' Report
---
A new climate change report (United in Science 2021) was released on 16th September 2021 shows that limiting global warming to 1.5 degrees Celsius will be impossible without immediate, large-scale emissions cuts.
The report, published by a range of UN agencies and scientific partners just weeks before the COP26 climate summit, said that climate change and its impacts were accelerating. And a temporary reduction in carbon emissions caused by the COVID-19 pandemic had done nothing to slow the relentless warming, the report found.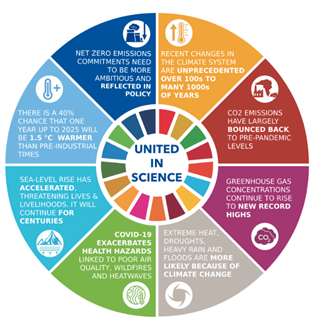 Key Findings of the Report
Greenhouse Gas Concentrations in the Atmosphere (Global Atmosphere Watch/WMO)
Concentrations of the major greenhouse gases – CO₂, CH₄ and N₂O – continued to increase in 2020 and the first half of 2021.
Overall emissions reductions in 2020 likely reduced the annual increase of the atmospheric concentrations of long-lived greenhouse gases, but this effect was too small to be distinguished from natural variability.
Reducing atmospheric methane (CH₄) in the short term could support the achievement of the Paris Agreement. This does not reduce the need for strong, rapid and sustained reductions in CO₂ and other greenhouse gases.
Global Carbon Budget – GCP (Global Carbon Project)
Fossil CO₂ emissions – coal, oil, gas and cement – peaked at 36.64 GtCO₂ in 2019, followed by an extraordinary drop of 1.98 GtCO₂ (5.6%) in 2020 due to the COVID-19 pandemic.
The drop in CO₂ emissions is temporary, and based on preliminary estimates, from January–May 2021 global emissions in the power, industry and residential sectors were already at the same level or higher than in the same period in 2019. Emissions from road transport remained about 6% lower.
Recent emissions trends of N₂O, the third most important greenhouse gas after CO₂ and CH₄, exceed the most greenhouse gases intense socioeconomic pathways used to explore future climate change.
Global Climate in 2017–2021 (WMO)
The global average mean surface temperature for the period from 2017–2021 is among the warmest on record, estimated at 1.06 °C to 1.27 °C above pre-industrial (1850–1900) levels.
In every year from 2017 to 2021, the Arctic average summer minimum and average winter maximum sea-ice extent were below the 1981–2010 long term average. In September 2020, the Arctic sea-ice extent reached its second lowest minimum on record.
2021 recorded devastating extreme weather and climate events – a signature of man-made climate change has been identified in the extraordinary North American extreme heat and west European floods.
Highlights of IPCC Climate Change 2021 - The Physical Science Basis for the Current State of Climate (IPCC)
It is unequivocal that human influence has warmed the atmosphere, ocean and land. Widespread and rapid changes in the atmosphere, ocean, cryosphere and biosphere have occurred.
The scale of recent changes across the climate system as a whole and the present state of many aspects of the climate system are unprecedented over many centuries to many thousands of years.
Human-induced climate change is already increasing the frequency and intensity of many weather and climate extremes in every region across the globe.
Heatwaves, Wildfires, and Air Pollution: Compounding and Cascading Climate Hazards to Health (WHO/WMO)
Rising temperatures are linked to increased heat-related mortality and work impairment, with an excess of 103 billion potential work hours lost globally in 2019 compared with those lost in 2000.
COVID-19 recovery efforts should be aligned with national climate change and air quality strategies to reduce risks from compounding and cascading climate hazards, and gain health co-benefits.
Sea- level and Coastal Impacts WCRP (WMO/IOC/ISC)
Global mean sea levels rose 20 cm from 1900 to 2018 and at an accelerated rate of 3.7+0.5 mm/yr from 2006 to 2018.
Even if emissions are reduced to limit warming to well below 2 °C, global mean sea level would likely rise by 0.3–0.6 m by 2100, and could rise 0.3–3.1 m by 2300.
Adaptation to this residual rise will be essential – adaptation strategies are needed where they do not exist – especially in low-lying coasts, small islands, deltas and coastal cities.
Global Climate in 2021–2025 – WMO Global Annual to Decadal Climate Update (Met Office/WMO/WCRP)
Annual global mean near-surface temperature is likely to be at least 1 °C warmer than pre-industrial levels (defined as the 1850–1900 average) in each of the coming five years and is very likely to be within the range 0.9 °C to 1.8 °C.
Over 2021–2025, high latitude regions and the Sahel are likely to be wetter than the recent past.
There is a 40% chance that average global temperature in one of the next five years will be at least 1.5 °C warmer than pre-industrial levels but it is very unlikely (~10%) that the 5-year mean temperature for 2021–2025 will be 1.5 °C warmer than pre-industrial levels.
Emissions Gap (United Nations Environment Programme – UNEP)
Five years after the adoption of the Paris Agreement, the emissions gap is as large as ever: global emissions need to be 15 GtCO₂e lower than current unconditional Nationally Determined Contributions (NDCs) imply for a 2 °C goal, and 32 GtCO₂e lower for the 1.5 °C goal.
The COVID-19 crisis offers only a short-term reduction in global emissions. It will not significantly reduce emissions by 2030 unless countries pursue an economic recovery that incorporates strong decarbonization.
The increasing number of countries committing to net-zero emission goals is encouraging, with about 63% of global emissions now covered by such goals. However, to remain feasible and credible, these goals urgently need to be reflected in near-term policy and in significantly more ambitious NDCs for the period to 2030.
---