---
Climate Adaptation Summit 2021
---
The Netherlands government hosted an online international Climate Adaptation Summit (CAS Online) on 25-26 January 2021.
CAS Online was built on the advances of the UN Climate Action Summit by showcasing pioneering solutions to the climate emergency, and sustaining momentum through to UNFCCC's COP26 in Glasgow in 2021.
What is Climate Change Adaptation
Climate Change Adaptation refers to adjustments in ecological, social, or economic systems in response to actual or expected climatic stimuli and their effects or impacts. It refers to changes in processes, practices, and structures to moderate potential damages or to benefit from opportunities associated with climate change.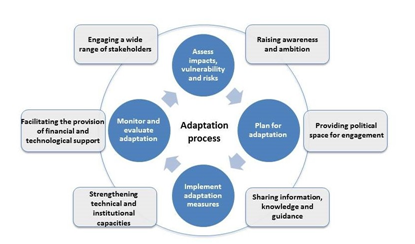 Adaptation Cycle under the UN Climate Change Regime
Why We Need Adaptation to Climate Change?
As climate change leads to an increase in the frequency and intensity of extreme weather, the need for effective early warnings and early action is an imperative.
According to the World Meteorological Organization, there have been more than 11,000 disasters due to weather, climate and water-related hazards over the past 50 years, at a cost of some US$ 3.6 trillion.
Extreme weather and climate-related hazards have also killed more than 410,000 people in the past decade, the vast majority in low and lower middle-income countries.
Although the global death toll has fallen, the poor remain disproportionately exposed.
One person in three is still not adequately covered by early warning systems, and risk-informed early approaches are not at the scale required, there is a need to work together to ensure full global coverage by early warning systems to help minimize these losses.
India at the Summit
Prime Minister Narendra Modi addressed the Climate Adaptation Summit 2021 and expressed India's views/ efforts towards adaptation:
The 'Climate Adaptation' is more significant today than ever before and that it is a key element of India's developmental efforts.
Clean Energy: India is targeting 450 gigawatt of renewable energy capacity by the year 2030.
Clean Fuel: India is providing clean cooking fuel to 80 million rural households.
Clean Water: India is connecting 64 million households to piped water supply.
Reduction of CO2 Emission: India is promoting LED lights and is saving 38 million tons of carbon dioxide emissions annually.
Paris Agreement: India will not just meet its Paris Agreement targets, but exceed them.
Reversal of Environmental Degradation: India will not just arrest environmental degradation but reverse it. India is going to restore 26 million hectares of degraded land by 2030.
Creation of New Capacities: India will not just create new capacities but make them an agent for global good.
Values: Our ancient scripture Yajurveda teaches us that our relationship with planet earth is that of a mother and her child. If we take care of mother earth, she will continue to nurture us.
Lifestyle: To adapt to Climate Change, our lifestyles must also adapt to this ideal. This sentiment should guide our way forward.
Adaptation Action Coalition: A New Global Climate Action Coalition
UK Prime Minister Boris Johnson announced a new international coalition - Adaptation Action Coalition - to tackle the impacts of climate change in his address to the Netherlands-hosted Climate Adaptation Summit, the first-ever global summit focused solely on adaptation and resilience.
Developed by the UK in partnership with Egypt, Bangladesh, Malawi, the Netherlands, Saint Lucia and the United Nations, the new coalition is aimed at working to turn international political commitments made through the United Nations Call for Action on Adaptation and Resilience into on-the-ground support for vulnerable communities.