---
Vijay Hazare Trophy 2021
---
Himachal Pradesh beat Tamil Nadu in the final to win their maiden Vijay Hazare Trophy title, at the Sawai Mansingh Stadium, Jaipur.
The game was decided under VJD Method due to bad light.
Player of the Match (final): Shubham Arora (Himachal Pradesh)
Player of the Tournament: Rishi Dhawan (Captain, Himachal Pradesh)
Mumbai were the defending champions.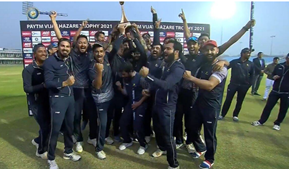 (Image Source: Indian Express)

About VJD Method
The VJD Method is used in Indian domestic cricket as a substitute for DLS Method (The Duckworth–Lewis–Stern method (DLS) is a mathematical formulation designed to calculate the target score (number of runs needed to win) for the team batting second in a limited overs cricket match interrupted by weather or other circumstances).
The VJD method was put together by V Jayadevan, a civil engineer from Kerala and first came into existence back in 2010 after BCCI decided to use it in domestic matches.
The International Cricket Council (ICC) reviewed the VJD method but rejected it in 2012
VJD vs DLS
The VJD system divides the innings into phases. It assumes a high scoring rate in the first few overs, considering fielding restrictions, assumes a drop in the rate in the middle overs, and assumes another rise in the slog overs. Another advantage that the VJD method has over the DLS method in terms of having a more humane way of calculating targets is that it considers two curves on the graph as opposed to the single curve on the DLS graph on which all calculations are made.