Blue Duke: State Butterfly of Sikkim
---
Blue Duke: State Butterfly of Sikkim
---
Sikkim Chief Minister Prem Singh Tamang on the occasion of World Environment Day (5 June 2022) declared Blue Duke the state butterfly.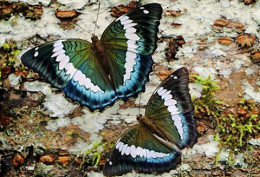 The Blue Duke represents Sikkim with its two unique colours blue representing the sky and white depicting the snow clad mountains of the Himalayas.
Of the 720 species of butterflies found in Sikkim, Blue Duke was selected as the state butterfly securing 57 per cent votes in a recent online poll conducted by the Forest Department.
Next to Blue Duke, Krishna Peacock got maximum votes to be declared as the State Butterfly of Sikkim.
Blue Duke, which goes by the scientific name Bassarona durga, is unique to Sikkim and the eastern Himalayas. It was discovered in the state in 1858.
Blue Duke is found at an altitude below 1500 metres in the Himalayas.
Blue Duke falls in Schedule 2 of the Wildlife Protection Act, 1972 and is a protected species in the Himalayas.