News Crux Miscellaneous
Renovation of Anang Tal
---
Recently, Minister of State for Culture Shri Arjun Ram Meghwal visits historic Anang Tal in Delhi.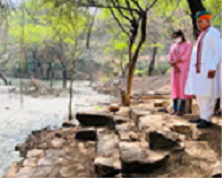 He instructed to finish the work of cleaning of Anang Tal and declare it a National Monument immediately.
The mini lake Anang Tal (Mehrauli, New Delhi) created in 1052 A.D by the founder king of Delhi Maharaja Anang Pal Tomar.
Anang Tal has a strong Rajasthan connection as Maharaja Anang Pal is known as nana (maternal grandfather) of Prithviraj Chauhan whose fort Rai Pithora is on the list of ASI.
News Crux Awards In News
UN 'Champion of the Earth' Lifetime Achievement Award
---
The British broadcaster Sir David Attenborough has been accorded the Champions of the Earth Lifetime Achievement Award for his dedication to research, documentation, and advocacy for the protection of nature and its restoration.

The UN Environment Programme's Champions of the Earth award is the UN's highest environmental honor. It is given in four categories: Policy leadership, Inspiration and action, Entrepreneurial vision, and Science and innovation.
News Crux Awards In News
28 April: International Girls in ICT Day
---
Every year, to encourage equal participation in ICT technologies, International Girls in ICT Day is celebrated on April 28.

For girls and young women to thrive in science, technology, engineering and mathematics (STEM) careers, they need safe and reliable access to the internet and digital tools. That's why, the International Telecommunication Union (ITU) - the United Nations specialized agency for information and communication technologies – ICTs has identified "Access and Safety" as the theme for Girls in ICT 2022.
News Crux Awards In News
28 April: World Day for Safety and Health at Work
---
The annual World Day for Safety and Health at Work on 28 April promotes the prevention of occupational accidents and diseases globally.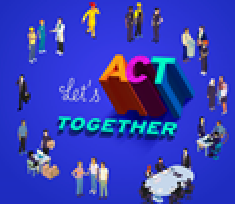 It is an awareness-raising campaign intended to focus international attention on the magnitude of the problem and on how promoting and creating a safety and health culture can help reduce the number of work-related deaths and injuries.
The World Day for Safety and Health at Work 2022 focuses on enhancing social dialogue towards a culture of safety and health.
News Crux Miscellaneous
Raisina Dialogue – 2022
---
The 7th Edition of the Raisina Dialogue is being organised in an in-person format over three days, 25-27 April 2022.
The Raisina Dialogue is India's flagship conference on geopolitics and geoeconomics, held annually since 2016.
It is organized by the Ministry of External Affairs in collaboration with the Observer Research Foundation (ORF).
The theme for the 2022 Edition is "Terra Nova: Impassioned, Impatient, and Imperilled".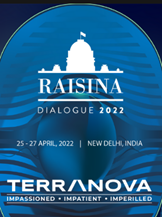 Six Thematic Pillars of Panel Discussion at Raisina Dialogue
Rethinking Democracy: Trade, Tech and Ideology
End of Multilateralism: A Networked Global Order?
Water Caucuses: Turbulent Tides in the Indo-Pacific
Communities Inc.: First Responders to Health, Development, and Planet
Achieving Green Transitions: Common Imperative, Diverging Realities
Samson vs Goliath: The Persistent and Relentless Tech Wars
News Crux Important Days/Weeks
25 April: World Malaria Day
---
Every year, 25th April is observed as 'World Malaria Day'.
This year's theme for the Day was "Harness innovation to reduce the global malaria disease burden and save lives."
This year, as a part of observation of the 'World Malaria Day', railway stations at New Delhi, Lucknow, Bhubaneswar and Nagpur were lit up.
Target for Malaria Elimination: India has set a goal of completely becoming a malaria-free nation by the year 2030.
Achievement: Government of India's efforts has resulted in 86.45% decline in Malaria cases and 79.16% reduction in Malaria related deaths in 2021 as compared to 2015. 124 districts in the country have reported 'zero malaria case''.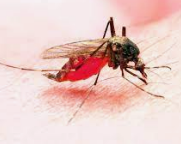 News Crux Important Days/Weeks
26 April: World Intellectual Property Day
---
World Intellectual Property Day is observed annually on April 26.
This year the theme of World Intellectual Property Day is "IP and Youth: Innovating for a Better Future".
The day is celebrated to raise awareness of the impact of how patents, copyright, trademarks and design affect our daily life. The role of intellectual property (IP) rights is used for encouraging, innovation and creativity in societies across the globe.

What is Intellectual Property?
Intellectual property (IP) refers to creations of the mind, such as inventions; literary and artistic works; designs; and symbols, names and images used in commerce.
How IP is protected?
IP is protected in law by, for example, patents, copyright and trademarks, which enable people to earn recognition or financial benefit from what they invent or create.
What are the types of Intellectual Property?
Intellectual property is an umbrella term used to describe creations of the human mind. For the purpose of intellectual property rights protection, IP can be categorised as the following:
Trademarks: This refers to any symbols, logos signs, words and/ or sounds that are unique to a product or business.
Copyrights: This is applicable to any published work such as books, art work, songs, web content and films, among others.
Patents: Any new invention that holds the potential being put to commercial use is protected from infringement or duplication by a patent.
Industrial Designs: These are features such as shape, pattern, ornament or composition applied to a product by an industrial process such as by chemical process or mechanical process.
Geographical Indicators: A name or sign used on certain products that marks the identity of a particular geographical location or origin is termed as a geographical indicator.
Indian Laws to Protect Intellectual Property
In India, intellectual property rights are protected by a host of laws and rules issued by the government from time to time. Primarily, intellectual property rights are protected by the following legislation and rules:
Trade Marks Act, 1999 and Trade Marks Rules of 2002 and 2017.
The Patents Act, 1970 (as amended in 2005), 2003 Patent Rules and 2016 Patent Amendment Rules
The Copyright Act, 1957.
The Designs Act, 2000, and Designs Rules, 2001
The Geographical Indications of Goods (Registration and Protection) Act, 1999
The Semiconductor Integrated Circuits Layout Design Act, 2000
The Protection of Plant Varieties and Farmers' Right Act, 2001
Globally TRIPS is an important Agreement
The Trade-Related Aspects of Intellectual Property Rights (TRIPS) Agreement, which came into effect on 1 January 1995, is to date the most comprehensive multilateral agreement on intellectual property.
News Crux Important Days/Weeks
23 April: World Book and Copyright Day
---
World Book Day, also known as World Book and Copyright Day, is observed every year on 23rd April.
Organised as an annual event by UNESCO (United Nations Educational, Scientific and Cultural Organization) ever since 1995, the day is dedicated to pay respect to renowned authors like William Shakespeare, Miguel Cervantes, and Inca Garcilaso de la Vega who died this day.
Theme: The theme for World Book and Copyright Day 2022 is "Read, so you never feel low".
World Book Capital: This year, the Mexican city of Guadalajara is taking up the mantle of World Book Capital, with a year-long programme that focuses on the role of books and reading in triggering social change, combating violence, and building a culture of peace.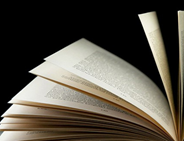 News Crux Important Days/Weeks
24 April: National Panchayati Raj Day
---
Every year, April 24 is observed as National Panchayati Raj Day by the Ministry of Panchayati Raj to celebrate the constitutional status accorded to the Panchayati Raj system in the country.
This annual celebration is done in order to commemorate the historic day on which the Constitutional Act (73rd Amendment) passed in 1992. However, the 73rd Constitutional Amendment came into force on April 24, 1993, and hence led to the formation of the Panchayati Raj system in India.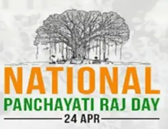 A Historic Background
In 1957, a Committee was formulated which focused on the evolution of the Panchayati Raj in India.
The committee was headed by Balwantrai Mehta and proposed a decentralised gram panchayat system consisting of Gram Panchayat at the village level, Block Panchayat or Panchayat Samiti at the intermediate level and Zilla Panchayat at the district level.
In 1959, Rajasthan became the first state in India to launch the Panchayati Raj while Andhra Pradesh became the second state to launch the system.
This Year's Observation
This year the main event of National Panchayati Raj Day was held at Palli Panchayat in Samba district of Jammu & Kashmir.
News Crux Obituary
M. Vijayan
---
Leading structural biologist Mamannamana Vijayan, who laid the foundations of protein crystallography in India, breathed his last on 24 April 2022.
He played a prominent role as part of Dorothy Hodgkin's team in the unravelling of the structure of insulin.
Vijayan was honoured with the Shanti Swarup Bhatnagar Prize in 1985 and the Padma Shri in 2004.

News Crux Obituary
Binapani Mohanty
---
Legendary Odia writer Binapani Mohanty has passed away on 24 April 2022.
Besides getting the Padma Shri in 2020, Mohanty received Sahitya Akademi Award, Sarala Samman, and Atibadi Jagannatha Das Sammana by Odisha Sahitya Akademi.
Collection of short stories 'Patadei' won her Sahitya Akademi in 1990. Its Hindi dramatisation 'Kashmakash', telecast on Doordarshan, in the late 1980s.

Current News National Social Issue & Social Justice
Dr. Ambedkar Centres of Excellence (DACE) Scheme
---
On 22nd April 2022, the Union Minister for Social Justice and Empowerment and Chairman of Dr. Ambedkar Foundation (DAF) launched the Dr. Ambedkar Centres of Excellence (DACE) Scheme from Banaras Hindu University.
The scheme will be implemented in 31 Central Universities across the country.
Aim
The DACEs are being set up to provide high quality free coaching facilities to the Scheduled Caste students for the Civil Services examinations, conducted by Union Public Service Commission (UPSC).
Finer Points of the Scheme
Under the DACE Scheme, a total of 100 seats will be sanctioned for coaching per centre.
Of the total sanctioned seats for coaching, 33% seats will preferably be given to the eligible female candidates of Scheduled Castes.
If eligible female candidates are not available in sufficient numbers for the coaching, the concerned University will allocate the vacant seats to the male/transgender candidates (SC Candidates only).
The coaching benefits, under the scheme, will only be utilized by a student once regardless of the number of chances he/she is entitled for a particular competitive examination.
It will be mandatory for a student to submit an affidavit to the University stating that he/she has not received any monetary benefit from any of the other schemes of Government of India, State/UTs or any funding agency.
The concerned University will widely publicize the scheme through open advertisement and make a public notice for a Common Entrance Test.
The students will be selected through an entrance test conducted by the University as per merit.
In order to conduct the coaching classes, the Universities will have to possess necessary infrastructure such as separate classrooms, Library, Hi-Speed Wi-Fi connectivity, and other requisite equipment etc.
Funding
Dr. Ambedkar Foundation (DAF) shall fund the entire expenditure incurred on the establishment of Dr. Ambedkar Centre for Excellence.
Rs. 75,000/- per annum / per student will be provided to the University for 100 students.
Total amount of Rs. 75.00 lakh per year would be provided to the University for running the Scheme.
Dr. Ambedkar Chairs
Dr. Ambedkar Foundation is running another Scheme called "Dr. Ambedkar Chairs" in Universities/Institutions all over the country.
Dr. Ambedkar Chairs aim to provide advanced Centres of learning in the premier universities and educational institutes, where academicians, scholars and students would enrich and advance studies and research to understand, assess, disseminate and implementthe ideas and thoughts of Dr. B.R. Ambedkar.
The Chairs also aim to conduct advanced research and teaching on the present and past of the deprived sections of Indian society to provide justice and empower them.
PIB News Indian Economy
'Fincluvation': Financial Inclusion Initiative by IPPB
---
India Post Payments Bank (IPPB), a 100% government owned entity under Department of Posts (DoP) announced the launch of Fincluvation – a joint initiative to collaborate with Fintech Startup community to co-create and innovate solutions for financial inclusion.
India made rapid strides in FINTECH space in Global Tech world with leading innovations like UPI, Aadhaar. Fincluvation is a step in this direction, an Industry first initiative to create a powerful platform to mobilize the start-up community towards building meaningful financial products aimed at financial inclusion.
Fincluvation will be a permanent platform of IPPB to co-create inclusive financial solutions with participating start-ups.

Fincluvation invites startups to Participate, Ideate, Develop and Market intuitive and tailored products and services that can be taken to the customers. Startups are encouraged to develop solutions aligned with any of the following tracks-

Creditization - Develop Innovative & Inclusive credit products aligned with the use cases of target customers and take them to their doorsteps through Postal network.
Digitization - Bring convenience through convergence of traditional services with Digital Payment Technologies such as making the traditional Money Order service as Interoperable Banking service.
Any Market-led solutions that can help solve any other problem relevant to IPPB and/or DoP in serving the target customers.
News Crux Defence
'INS Vagsheer': Sixth Scorpene Class Submarine Launched
---
Yard 11880 (INS Vagsheer), the sixth and last submarine of the Indian Navy's Kalvari class submarines of Project 75 was launched on 20 April 2022 at the Kanhoji Angre Wet Basin of Mazagon Dock Limited (MDL).
The six submarines were being built under Project-75 by the MDL under technology transfer from the Naval Group (France) under a $3.75 bn deal signed in October 2005. The first one, INSKalvari, was commissioned in December 2017; the second, INSKhanderi, in September 2019; the third, INSKaranj, in March 2021; and the fourth one, INS Vela, joined service last November. The 5th one, Vagir, was launched in November 2020 and is undergoing sea trials.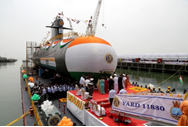 News Crux Important Days/Weeks
22 April: World Earth Day
---
The World Earth Day, also known as the International Mother Earth Day, is observed every year on April 22.
The day focuses on global climate crisis that is worsening with each passing day.
The theme of Earth Day 2022 is to 'Invest in our planet'.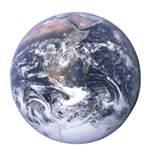 A Concerned World towards Mother Earth
In 1992, Agenda 21, the Rio Declaration on Environment and Development, and the Statement of principles for the Sustainable Management of Forests were adopted by more than 178 Governments at the Rio de Janeiro Earth Summit, the first major conference in which Sustainable Development was the main issue discussed by member states.
From then on, all efforts to conserve the environment experienced an exponential growth: the Earth Summit in Johannesburg in 2002; the declaration of 2008 as the International Year of Planet Earth; the UN official Mother Earth Day Declaration; Rio+20 - resulting in a focused political outcome document, which contains clear and practical measures for implementing sustainable development - and recently, the Climate Action Summit 2019 and COP25, both focusing on the achievement of the Paris Agreement.
News Crux Science & Technology
India's First Pure Green Hydrogen Plant Commissioned
---
On 20th April 2022, Oil India Limited (OIL) has commissioned India's first 99.999% pure Green Hydrogen pilot plant, with an installed capacity of 10 kg per day at its Jorhat Pump Station in Assam.
This is a first significant step towards Green Hydrogen Economy in India.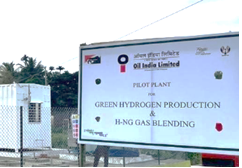 Finer Points
The plant produces Green Hydrogen from the electricity generated by the existing 500kW Solar plant using a 100 kW Anion Exchange Membrane (AEM) Electrolyser array.
The use of AEM technology is being used for the first time in India.
AEM Technology
Anion exchange membrane (AEM) water electrolysis is a hydrogen production method that is achieved with an AEM, using electricity.
One of the major advantages of AEM water electrolysis is the replacement of conventional noble metal electrocatalysts with low cost transition metal catalysts.
This plant is expected to increase its production of green hydrogen from 10 kg per day to 30 kg per day in future.
The company has initiated a detailed study in collaboration with IIT Guwahati on blending of Green Hydrogen with Natural Gas and its effect on the existing infrastructure of OIL.
The company also plans to study use cases for commercial applications of the blended fuel.
Green Hydrogen
Green hydrogen produced from water using renewable energy is recognised as the most promising energy carrier we have for fully replacing fossils fuels in many sectors.
Water Electrolysis Method & Storage of Renewable Energy in Green Hydrogen
Water electrolysis is the reaction of splitting water molecules into hydrogen and oxygen. It is an endothermic process, which means it can absorb and store energy in the form of chemical bonds in hydrogen. The reverse reaction of hydrogen and oxygen forming water molecules, on the other hand, is an exothermic reaction that releases energy to its surroundings.
Using the cycle of endothermal water electrolysis and subsequent exothermal water forming reactions, we can store renewable energy in green hydrogen – without fossil fuels and carbon dioxide emissions.
Current News National Social Issue & Social Justice
NITI Aayog and UNICEF India sign SoI on SDGs focusing on Children
---
On 21st April 2022, NITI Aayog and UNICEF India signed a Statement of Intent (SoI) on the Sustainable Development Goals (SDGs) with a focus on children.
The SoI seeks to formalize a framework of cooperation to launch the first report on the 'State of India's Children: Status and Trends in Multidimensional Child Development'.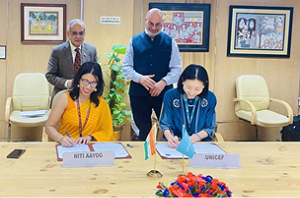 Aim
To analyze the status of children around critical child related SDGs to establish recent trends.
Finer Points of this Initiative
To achieve the child development priorities under the SDGs, UNICEF India and NITI Aayog are developing a comprehensive measure to understand the multidimensional attainments and deprivations among children.
Various parameters that will be considered are - health and nutrition, education, water and sanitation, household living standards; and protective environment.
Approach
This project will undertake a whole-of-society approach of involving all stakeholders ranging from Union Ministries, State Governments, Civil Society Organizations, and child rights collectives.
Benefit
This effort will contribute to the realization of India's commitments on the 2030 Agenda and provide a set of policy recommendations for concerted action in terms of accelerating progress towards the SDGs to 'leave no child behind' and achieving their holistic development.
India's Initiative: SDG India Index and Dashboard
This child-focused SDG initiative builds on India's effort of monitoring progress through the SDG India Index and Dashboard, brought out by the Niti Aayog - a unique data-driven initiative for triggering policy action.
Why focus on Children is Significant?
One in every third person in India is a child below the age of 18, while one in every fifth person is an adolescent between the ages of 10 to 19. This process looks forward to engaging with various stakeholders particularly children, adolescents and young people.
News Crux Appointment & Resignation
Lt Gen Manoj C Pande appointed as next Chief of Army Staff
---
Lt Gen Manoj C Pande, presently Vice Chief of the Army Staff, has been appointed as the next (29th) Chief of the Army Staff (COAS) with effect from the afternoon of April 30, 2022.
He will replace General MM Naravane.
He is the first engineer to become the Army Chief.
Currently, Admiral Hari Kumar is the Chief of Indian Navy and Air Chief Marshal Vivek Ram Chaudhari is the chief of Indian Air Force.

Current News Ecology & Environment Disaster Management
NATPOLREX: Oil Spill Preparedness Exercise
---
The eighth edition of National Level Pollution Response Exercise NATPOLREX was conducted by the Indian Coast Guard (ICG) off Mormugao harbour in Goa.
The event was attended by more than 85 participants from 50 agencies, including 29 observers from 22 friendly foreign countries and International Organisations, and two Coast Guard ships from Sri Lanka and Bangladesh.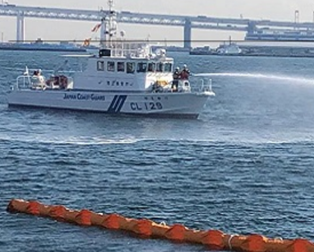 Objective
The objective of NATPOLREX-VIII was to enhance the preparedness and response capability of all the stakeholders in combating marine spills.
Aim
It aims at validating the procedures and guidelines as contained in the National Oil Spill Disaster Contingency Plan (NOS-DCP) at the national and regional levels under the aegis of SACEP MoU to which India is a member state.
Meeting Constitutional Mandate & International Laws
India is a party to the United Nations Convention on the Law of the Sea (UNCLOS) and has an obligation to protect and preserve the marine environment.
The Forty-second amendment to the Constitution of India obliges the State to endeavour to protect and improve the environment. This plan is a measure of fulfilment of the obligation on the State under the Law of the Sea Convention and the Constitution of India.
National Oil Spill Disaster Contingency Plan (NOS-DCP)
The NOS-DCP was originally promulgated in 1996 and subsequently updated to include additional information, latest update being in 2014.

The Indian Coast Guard is the designated national authority for oil spill response in Indian waters under the Plan.
SACEP
About: South Asia Co-operative Environment Programme (SACEP) is an inter-governmental organization, established in 1982 by the governments of South Asia to promote and support protection, management and enhancement of the environment in the region.
SACEP Member Countries: are Afghanistan, Bangladesh, Bhutan , India , Maldives , Nepal , Pakistan and Sri Lanka.
Secretariat: The Secretariat of SACEP is based in Colombo, Sri Lanka and is under the patronage of the Sri Lankan Government.
News Crux Defence/Military Exercises
Ex Kripan Shakti
---
In a show of jointmanship, the Army, Border Security Force (BSF), Sashastra Seema Bal (SSB) and the civil administration participated in Ex Kripan Shakti, conducted by the Army's Trishakti Corps at the Teesta Field Firing Firing Ranges (TFFR) near Siliguri in West Bengal.
This was an Integrated Fire Power Exercise aimed at synergising the capabilities of the Army and Central Armed Police Forces (CAPF) to fight an integrated battle.
While the Army's XXXIII or Trishakti Corps is headquartered at Sukna near Siliguri, the BSF manages the border with Bangladesh while the SSB is in charge of affairs along the country's boundaries with Nepal and Bhutan.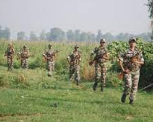 Sports In News Football
71st Senior National Basketball Championship
---
The 71st Senior National Basketball Championship for Men & Women was organized at Nehru Stadium, Chennai by Basketball Federation of India in association with Tamil Nadu Basketball Association from 3rd - 10th April 2022.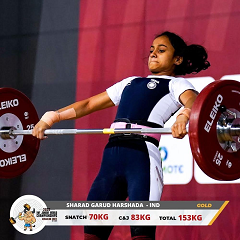 Champions
Men's: Tamil Nadu beat Punjab to win the men's title.
Women's: Indian Railways team won the title after defeating Telangana.
Sports In News Hockey
12th Hockey India Senior Men's National Championships
---
The 12th Hockey India Senior Men National Championship 2022 was held in Bhopal, Madhya Pradesh from 06 Apr, 2022 - 17 Apr, 2022.

In the final, Haryana beat Tamil Nadu 3-1 via penalties to win the title.
Haryana won the trophy for the first time since 2011.
News Crux Important Days/Weeks
17 April: World Hemophilia Day
---
World Hemophilia Day is observed on April 17 to raise awareness and understanding about hemophilia and other bleeding disorders.

The theme for 2022 World Hemophilia Day was "Access for All: Partnership. Policy. Progress. Engaging your government, integrating inherited bleeding disorders into national policy".
Hemophilia is a rare disorder in which the blood of the patient does not clot properly due to lack of blood-clotting proteins.
Current News Indian Economy Survey And Index
Extreme Poverty in India Eased 12.3 Percentage Points: WB Paper
---
Recently, a World Bank working paper was released titled 'Poverty in India Has Declined over the Last Decade But Not As Much As Previously Thought'.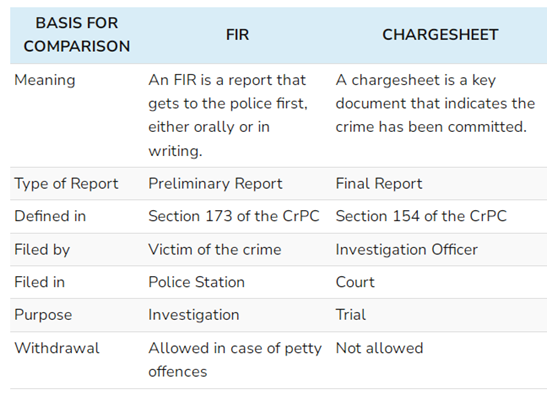 What the Paper said on Extreme Poverty in India?
Sharp Decline in Extreme Poverty: India's extreme poverty declined 12.3 percentage points lower in 2019 than in 2011 as poverty headcount rate has dropped from 22.5% in 2011 to 10.2% in 2019 with comparatively sharper decline in rural areas.
Faster Decline in Rural Areas: The poverty level in rural and urban areas declined by 14.7 and 7.9 percentage points, respectively, during the 2011-2019 period. While it eased to 11.6% in rural areas in 2019, the urban poverty level stood at 6.3%.
Small Landholding Sizes contributed Higher Growth: As per the study, farmers with small landholding sizes have experienced higher income growth. Real incomes for farmers with the smallest landholdings have grown by 10 percent in annualized terms between the two survey rounds [2013 and 2019] compared to a 2 percent growth for farmers with the largest landholding.
Consumption Inequality: Consumption Inequality rose during 1993-2011 but fell during 2011-2019.
How Extreme Poverty is Measured by WB
Since 2015, the World Bank has defined extreme poverty as people living on less than $1.90 a day, measured using the international poverty line.
This is the second working paper released this month after International Monetary Fund (IMF) that gauged poverty reduction in India.
What the IMF Paper says?
An IMF working paper recently suggested that extreme poverty in India was as low as 0.8% in 2019 and the country managed to keep it at that level in 2020 despite the pandemic, by resorting to food transfers through the Pradhan Mantri Garib Kalyan Yojana.
Data used for both the Studies
While the paper by IMF is based on data from the National Sample Survey Organisation's (NSSO's) consumption expenditure survey of 2011-12, the new one by World Bank has relied on the Consumer Pyramid Household Survey (CPHS) of the Centre for Monitoring Indian Economy (CMIE), which is conducted continuously at four-month intervals since its inception in 2014.
While the IMF estimated poverty reduction after the pandemic, the WB focussed on the scenario before the Covid outbreak.
WB Report's Significance for India
The World Bank's paper is significant as India has no official estimation of recent periods.
The last expenditure survey was released in 2011 by the National Sample Survey Organisation (NSSO), when the country had also released official estimates of poverty and inequality.
News Crux Obituary
Padma Shri awardee Musician Prafulla Kar Passed Away
---
Acclaimed musician from Odisha, Prafulla Kar has passed away on 17th April 2022.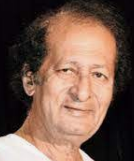 He was a master musician, singer, lyricist, writer all-in-one.
Considered a pioneer in giving a new identity to Odia music industry, Kar is credited to have given voice to around 70 hit Odia films and created numerous musical productions.
He was felicitated with India's fourth-highest civilian award, the Padma Shri in 2015 for his invaluable contribution to the field of art and music.
Kar was also a recipient of the prestigious Jaydev Award in 2004, Odisha's top award given to a personality for outstanding contribution to the growth and development of Odia cinema.
News Crux Important Days/Weeks
18 April: World Heritage Day
---
The International Day for Monuments and Sites, also known as World Heritage Day, is observed on 18th April.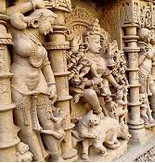 The theme for World Heritage Day 2022 is "Heritage and Climate".
To promote the Day, the Archaeological Survey of India, which maintains 3,693 monuments, has allowed free entry to centrally protected monuments on the occasion of World Heritage Day.
The entry is also free on International Women's Day on March 8 and World Heritage Week celebration on November 19.
Current News Indian Economy Banking & Finance
Asset Monetisation exceeds FY22 Target
---
The government garnered Rs. 96,000 crore under the National Monetisation Pipeline in FY22, surpassing the target of Rs. 88,000 crore.
The figure could touch Rs.1 lakh crore as data was still trickling in and was yet to be finalised.
The roads and highways sector monetised assets worth Rs. 23,000 crore, power sector garnered Rs.9,500 crore, coal mining generated Rs. 40,000 crore and mining of minerals fetched Rs. 18,700 crore, and railways added Rs. 900 crore.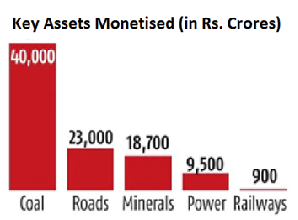 Targets for Monetization
FY23: Rs 1.62 trillion
FY24: Rs 1.79 trillion
FY25: Rs 1.67 trillion
What is Asset Monetisation?
Asset Monetisation involves creation of new sources of revenue by unlocking of value of hitherto unutilized or underutilized public assets. Internationally, it is recognized that public assets are a significant resource for all economies.
About National Monetisation Pipeline
The National Monetisation Pipeline was launched in August 2021.
It aims to unlock value in brownfield projects by engaging the private sector, transferring to them revenue rights and not ownership in the projects, and using the funds generated for infrastructure creation across the country.
The National Monetisation Pipeline (NMP) estimates an aggregate monetisation potential of Rs 6 lakh crores through core assets of the Central Government, over a period of four years from FY 2022 to FY 2025.
Current News Ecology & Environment
CA|TS Certification to three more Tiger Reserves
---
The Sathyamangalam Tiger Reserve in Tamil Nadu and Bandhavgarh and Pench Tiger Reserves in Madhya Pradesh have been conferred with the Conservation Assured Tiger Standards (CA|TS) international accreditation certificates.
The certificates were handed over to the officials from the three tiger reserves at Pakke Tiger Reserve in Arunachal Pradesh during the 20th National Tiger Conservation Authority (NTCA) meeting held recently.
With this, the total number of tiger reserves to get CA|TS certification becomes 17 as on date.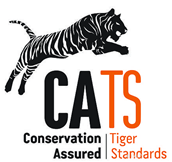 What is CA|TS?
CA|TS is a set of criteria which allows tiger sites to check if their management will lead to successful tiger conservation. CA|TS is organised under seven pillars and 17 elements of critical management activity.
CA|TS was developed by tiger and protected area experts. Officially launched in 2013, CA|TS is an important part of Tx2, the global goal to double wild tiger numbers by the year 2022.
The long-term goal of CA|TS is to ensure safe havens for tigers.
CA|TS Accredited Tiger Reserves in India

State
Tiger Reserve
Assam
Manas, Kaziranga and Orang
Madhya Pradesh
Satpura, Kanha, Panna, Bandhavgarh, Pench
Maharashtra
Pench
Bihar
Valmiki Tiger Reserve
Uttar Pradesh
Dudhwa
West Bengal
Sunderbans
Kerala
Parambikulam
Karnataka
Bandipur Tiger Reserve
Tamil Nadu
Mudumalai Tiger Reserve, Anamalai Tiger Reserve and Sathyamangalam Tiger Reserve
News Crux Awards In News
International Gandhi Award for Leprosy, 2021
---
Vice President M. Venkaiah Naidu conferred the International Gandhi Award for Leprosy, 2021 to Dr. Bhushan Kumar of Chandigarh and Sahyog Kushtha Yagna Trust, Gujarat.
The annual award was instituted by Gandhi Memorial Leprosy Foundation.
Both Dr. Bhushan Kumar and Sahyog Kushtha Yagna Trust have been working diligently to raise awareness about leprosy and in providing care to those afflicted with it.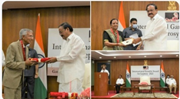 News Crux Defence
"Iron Beam": World's First Energy-based Weapons System
---
Israel has successfully tested the new "Iron Beam" laser-based interception system.
The "Iron Beam" is the "world's first energy-based weapons system" that uses a laser to shoot down incoming unmanned aerial vehicles (UAVs), rockets and mortars.
Israel uses Iron Dome as a missile defence system and recently it also tested the C-Dome - a naval variant of the Iron Dome.
While these systems are costly, the new Iron Beam will be cheaper with a "cost of $3.50 per shot".

Sports In News Hockey
FIH Junior Women's Hockey World Cup
---
The Netherlands lifted their fourth FIH Junior Women's Hockey World Cup title after beating Germany in the final at Potchefstroom, South Africa.
England defeated India 3-0 in the shoot-out after a 2-2 draw to claim the bronze medal in the third-place match.
News Crux Miscellaneous
Mumbai & Hyderabad recognised as 'Tree City of the World 2021'
---
The Arbor Day Foundation, in collaboration with the Food and Agriculture Organisation (FAO) of the United Nations, has declared Mumbai and Hyderabad as the 'Tree City of the World 2021'.
Mumbai is the second Indian city to hone the title after Hyderabad which bagged the title two years in a row.
They are now listed with 136 other cities from 21 countries recognised by the FAO across the world.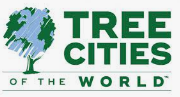 News Crux Important Days/Weeks
14 April: World Chagas Disease Day
---
The World Chagas Disease Day is observed on 14 April since 2020.
It is caused by the parasite Trypanosoma cruzi, which is transmitted to animals and people by insect vectors and is found only in the Americas (mainly, in rural areas of Latin America where poverty is widespread).
Chagas disease, also known as "silent or silenced disease", affects mainly poor people without access to health care or people without a political voice.
The disease progress slowly and often shows an asymptomatic clinical course. Without treatment, Chagas disease can lead to severe cardiac and digestive alterations and become fatal.
The day has been named after Carlos Ribeiro Justiniano Chagas, the Brazilian doctor who diagnosed the first case on 14 April 1909.

Current News Ecology & Environment Survey/Study/Report
IMD revises Long Period Average (LPA) of Rainfall
---
The India Meteorological Department (IMD), in its first prediction of this year's monsoon trends, has introduced a new benchmark figure based on 1971-2020 data, showing marginal decline in monsoon rains and overall annual showers in the country over the long period of time.
The new updated rainfall normal has been prepared based on data of 1971-2020 and will replace the existing rainfall normal based on 1961- 2010 with effect from the southwest monsoon season 2022.
Under the new 'rainfall normal' figure, all-India rainfall for the southwest (summer) monsoon is 87 cm, based on 1971-2020 data, as against the earlier normal figure of 88cm based on 1961-2010 period.
Till 2018, the IMD used 89cm, based on a 50-year average from 1951-2000, as the 'normal' rainfall benchmark for the monsoon season.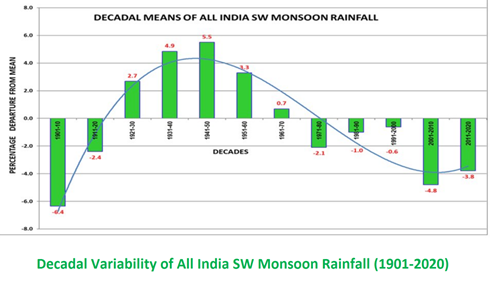 Long Period Average
Long Period Average (LPA) is the average rainfall recorded during the months from June to September, calculated during the 50-year period, and is kept as a benchmark while forecasting the quantitative rainfall for the monsoon season every year.
LPA Averages over the Decades
1951 to 2000: 89 cm
1961 to 2010: 88 cm
1971-2020: 87 cm
Why this Revision?
The revision is part of a periodic update on the normal rainfall figures.
The rainfall normal is prepared based on the data for the period of 50 years and is updated periodically once in every decade by incorporating the latest data from raingauge stations.
When a monsoon is considered 'normal'?
A monsoon is considered "normal" when rainfall falls between 96% and 104% of the LPA.
How the rainfall normal has been computed?
New rainfall normal has been computed using rainfall data of 4,132 rain gauge stations well distributed over the country, representing 703 districts.
How will be the monsoon for this year?
In its first-stage long range forecast for the 2022 southwest monsoon, the India Meteorological Department (IMD) has forecast normal rainfall for 4th year during the season.
No El Nino
The IMD does not expect an El Nino, a phenomenon associated with a warming of the Central Pacific and drying up of the rains over northwest India, the coming monsoon.
Currently La Nina conditions are prevailing over equatorial Pacific. The latest forecasts indicate it will continue during the monsoon.
Other Findings by IMD
State that receives maximum rainfall in southwest monsoon season: The IMD's findings, based on analysis of 50-year data, show that the Gujarat region receives maximum rainfall i.e. 96% of its annual rainfall in southwest monsoon season.
State that receives maximum rainfall in northeast monsoon season: Tamil Nadu receives maximum rainfall i.e. 48% of annual rainfall in northeast monsoon season (October-December) followed by 36% in southwest monsoon season.
Current Epoch of Southwest Monsoon
Presently the southwest monsoon is passing through a dry epoch which started in the decade of 1971-80.
The decadal average of all India SW monsoon rainfall for the decade 2011-20 is -3.8% (minus 3.8%) from the long-term mean.
The next decade i.e. 2021-30 is expected to come closer to neutral and southwest monsoon would enter into the wet epoch from the decade 2031-40 - an indication that the wet spell may increase the rainfall in future.
The IMD attributed decrease in average normal rainfall to "natural multi-decadal epochal variability of dry and wet epochs" of all India rainfall.
Dry Epoch vs. Wet Epoch
Dry Epoch: Normally, the realised monsoon rainfall remains below normal for most years in a decade during a dry epoch.
Wet Epoch: Rainfall is normal or above normal during most of the years in a decade when it is a wet epoch.
News Crux Important Days/Weeks
11 April: National Safe Motherhood Day
---
National Safe Motherhood Day is observed every year on April 11.
It is aimed at raising awareness about the care that a pregnant woman needs before, during, and after childbirth.
National Safe Motherhood Day also aims to help achieve the third Sustainable Development Goal (SDG), wherein countries have united to achieve a new target to accelerate the decline of maternal mortality by 2030.
The target of this SDG is to reduce the global MMR to less than 70 per 100,000 births.
India's maternal mortality ratio (MMR) has improved to 103 in 2017-19, from 113 in 2016-18. This is according to the special bulletin on MMR released by the Registrar General of India March 14, 2022.

Major Initiatives by the Govt.
To ensure safe motherhood for women, there have been many national initiatives started by the government. They include:
Pradhan Mantri Surakshit Matritva Abhiyan (PMSMA)
Janani Shishu Suraksha Karyakaram (JSSK)
News Crux Miscellaneous
HELINA: Successfully Flight Tested
---
On 11th April, 2022, indigenously developed helicopter launched Anti-Tank Guided Missile 'HELINA' was successfully flight tested at high-altitude ranges as part of user validation trials.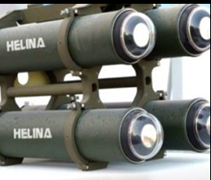 The flight trials were conducted from an Advanced Light Helicopter (ALH) and the missile was fired successfully engaging simulated tank target.
The missile is guided by an Imaging Infra-Red (IIR) Seeker operating in the Lock on Before Launch mode.
It is one of the most advanced anti-tank weapons in the world.
Current News National Polity & Governance
National Conference on Localisation of Sustainable Development Goals
---
The Vice President of India recently inaugurated National Stakeholders Conference on Localization of Sustainable Development Goals organized by the Ministry of Panchayati Raj.
The Ministry is organising the Iconic Week from 11th April to 17th April, 2022, to commemorate Azadi Ka Amrit Mahotsav (AKAM) as a Jan-Utsav in the spirit of Jan-Bhagidari.
The theme of Iconic Week is "Panchayaton ke Navnirman ka Sankalpotsav".
The Vice President released the Logo of Localisation of Sustainable Development Goals and Compendium of Joint Advisories to the States on Operationalisation of Localisation of Sustainable Development Goals and Compendium of Thematic Presentations.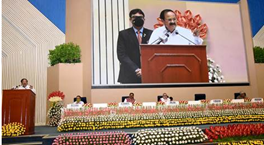 Key Highlights of the Vice President's Address
The Union Government and various States should facilitate the devolution of the 3 Fs, i.e., Funds, Functions and Functionaries to Panchayati Raj Institutions for efficient and effective functioning of local self-governments for the holistic development in rural areas and to achieve Sustainable Development Goals (SDGs).
The Rural Local Bodies have to be revitalised and rejuvenated by strengthening and empowering them.
People's participation is must for the development of the country. To make the country poverty free we must start with villages and provide connectivity, education, employment opportunity and entertainment for the development of villages and stop migration.
Given that nearly 70% of India is rural India (68.84% as per the 2011 census), attainment of Sustainable Development Goals at the national level will require actions at the grassroots level, i.e., at the Panchayat level.
The legal framework on the number of Gram Sabhas to be held in a year is necessary and needs to be formulated.
Called for people's participation in implementation of all the schemes and programmes at the grassroots level.
Stressed the need for concerted efforts from all stakeholders to ensure comprehensive and all-round development of the Panchayats and achieve various targets in local context.
Called for bringing all Panchayats onto e-GramSwaraj platform to meet the digital mission of governance.
Empowering villages is the crux of development. Panchayats have a pivotal role to play in integrated rural development by focusing on the 17 SDGs which are subsumed under nine themes to ensure poverty-free, clean, healthy, child-friendly, and socially secured well-governed villages.
Current News Indian Economy Infrastructure
National Time Release Study, 2022
---
Shri Vivek Johri, Chairman, Central Board of Indirect Taxes and Customs (CBIC), presented a set of Time Release Studies (TRS) conducted by the department.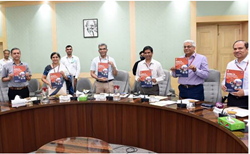 Time Release Studies
TRS are essentially a performance measurement tool for assessing the cargo clearance process of the international trade, as recommended by the World Trade Organization (WTO) under the Trade Facilitation Agreement (TFA) and the World Customs Organization (WCO).
It adopts average cargo release time, i.e. the time taken from the arrival of the cargo at the customs station to its eventual release for import or export, as the case may be.
About the Study
The National Time Release Study (NTRS) 2022 covered 15 major Customs formations, including four port categories - seaports, air cargo complexes (ACCs), inland container depot (ICDs) and integrated check posts (ICPs), which handle about 80 percent of the bills of entry (imports documents) and 70 percent of the shipping bills (export documents) and is based on the sample period between 1st – 7th January 2022.
Findings
The NTRS 2022 has reported further improvement in the average cargo release time for all the four port categories in 2022 over corresponding period of the previous year by 2 percent for ICPs to significantly higher 16 percent for ACCs.
For the sea cargo cleared through the sea port or inland container depots average release time has improved by 12 percent. With this improvement, the ICPs have achieved the National Trade Facilitation Action Plan (NTFAP) target release time to be achieved by 2023, whereas the other three port categories have reached 75 percent of NTFAP target.
Exports
In case of Exports, the Study noted that the documentary clearance of export consignments, measured by the time taken from arrival of the goods at the customs station to grant of Let Export Order has been significantly minimized, ranging from 4:04 hours in the case of ACCs to 47:41 hours in the case of ICDs. This time is within the differential NTFAP target for the four port categories.
However, the studies have found that on account of various logistics processes, the time taken in the eventual export after the regulatory clearance, takes long time – accounting from 60 percent of the total time in the case of integrated check post to 92 percent in the case of air cargo.
National Trade Facilitation Action Plan (NTFAP)
Trade facilitation is a key enabler of a country's economic development and national competitiveness. In the Indian context, trade facilitation has been a longstanding priority of the Government of India which has sought to proactively improve its business regulatory climate as part of the 'Make in India' initiative. India ratified the World Trade Organization's Trade Facilitation Agreement in April 2016, which subsequently came into force on 22nd February 2017.
Formulation of the National Trade Facilitation Action Plan 2017-2020 was an early measure by the Government of India to be an active facilitator of trade. The NTFAP was envisioned to be a live document which contained 96 specific measures assigned to stakeholders with indicative timelines for implementation.
Vision
To transform the cross-border clearance ecosystem through efficient, transparent, risk based, coordinated, digital, seamless and technology driven procedures which are supported by state-of-the-art seaports, airports, land border crossings, rail, road and other logistics infrastructure.
Goal
To bring down the overall cargo release time:
For Imports: Within 48 hours for Sea Cargo, Inland Container Depots and Land Customs Stations and 24 hours for Air Cargo.
For Exports: Within 24 hours for Sea Cargo, Inland Container Depots and Land Customs Stations and 12 hours for Air Cargo.
Objectives
Improve India's ranking on the Trading Across Borders indicator of the World Bank's Doing Business ranking under 50.
Reduction in cargo release time.
Enable paperless regulatory environment.
Establish transparent and predictable legal regime.
Improved investment climate through better infrastructure.
Current News Ecology & Environment Survey/Study/Report
State Energy and Climate Index
---
NITI Aayog has launched the State Energy & Climate Index-Round I on 11th April 2022.
The State Energy & Climate Index (SECI) Round I ranks the states' performance on 6 parameters: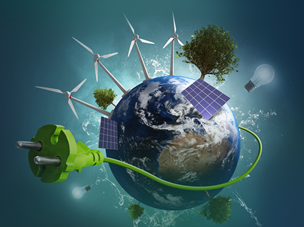 DISCOM's Performance
Access, Affordability and Reliability of Energy
Clean Energy Initiatives
Energy Efficiency
Environmental Sustainability; and
New Initiatives.
The parameters are further divided into 27 indicators.
Based on the composite SECI Round I score, the states and UTs are categorized into three groups: Front Runners, Achievers, and Aspirants.
The states have been categorized based on size and geographical differences as larger states, smaller states, and UTs.
Performance of States/UTs

Larger States

Smaller States

UTs

Top 3

1. Gujarat

2. Kerala

3.Punjab

1. Goa

2. Tripura

3. Manipur

1. Chandigarh

2. Delhi

3. Daman & Diu/Dadra & Nagar Haveli

Bottom 3

1. Jharkhand

2. Madhya Pradesh

3. Chhattisgarh

1. Meghalaya

2. Nagaland

3. Arunachal Pradesh

1. A&N Islands

2. Jammu & Kashmir

3. Lakshadweep
News Crux Scheme & Programme
AAI's 'AVSAR' Scheme: An Opportunity for SHGs
---
"AVSAR" (Airport as Venue for Skilled Artisans of the Region), is an initiative of Airport Authority of India (AAI), to encourage the talent of women, artisans and craftsmen and provide them with the right opportunities.
Under this scheme, the Airport Authority of India (AAI) will allocate space to Self Help Groups (SHGs) at its airports for selling/showcasing the self-made products of their region.
Under this scheme, an area of 100-200 square feet has been earmarked at each AAI operated airport.

News Crux Science & Technology
World's First Novel 3-Dose Vaccine against Rabies
---
Pharmaceutical major Cadila Pharmaceuticals has developed the world's first novel three-dose vaccine against rabies.
The three-dose vaccine, named as 'ThRabis', is a recombinant nano-particle based G protein vaccine which is prepared using Virus-like Particle technology.
The three-dose schedule is spread over only one week.
The new vaccine would prove to be a game-changer because all the existing rabies vaccines require five injections, spread over 28 days for eliminating the threat (of virus spread).

News Crux Important Days/Weeks
10th April: World Homeopathy Day
---
The World Homeopathy Day is celebrated each year on April 10 to pay tribute to homoeopathy and its contribution to the world of medicine.
The day is observed on the occasion of the birth anniversary of German physician Dr Christian Friedrich Samuel Hahnemann, the founder of homoeopathy.
This year's theme for the observance of World Homeopathy Day is 'People's Choice For Wellness.'

News Crux Awards In News
Saraswati Samman 2021
---
One of the most prestigious literary awards 'Saraswati Samman' for the year 2021 will be conferred on poet and litterateur Prof Ramdarash Mishra for his collection of poems 'Mein to Yahan Hun'.
In 'Mein to Yahan Hun', the poet brings to the fore different aspects of inner life, societal concerns, communalism, corruption, human perspectives, exploitation of the Dalits, disquieting urban cities, exuberance of the seasons and climatic concerns.
Born in Dumri village in Uttar Pradesh's Gorakhpur district, Mishra has excelled in different branches of Hindi literature.
In 1991, poet Harivansh Rai Bachchan was the first to receive this award.
In 2020, Sharankumar Limbale, a Marathi language author, poet and literary critic was given this award for his novel "Sanatan".

About the Award
The Saraswati Samman is an annual award instituted by KK Birla Foundation in 1991.
It is given for outstanding literary works (prose or poetry) in any of the 22 languages of India listed in Schedule VIII of the Constitution of India.
It is given to an Indian citizen and his works published within the last 10 years.
News Crux Important Days/Weeks
7 April: World Health Day
---
It is celebrated annually and each year draws attention to a specific health topic of concern to people all over the world.
The date of 7 April marks the anniversary of the founding of World Health Organisation (WHO) in 1948.
With the theme "Our planet, our health ", this year WHO focuses global attention on urgent actions needed to keep humans and the planet healthy and foster a movement to create societies focused on well-being.
WHO estimates that more than 13 million deaths around the world each year are due to avoidable environmental causes. This includes the climate crisis which is the single biggest health threat facing humanity. The climate crisis is also a health crisis.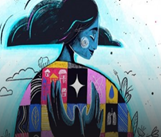 Current News International India And Its Bilateral Relations
India-Australia Economic Cooperation and Trade Agreement
---
On 2nd April, 2022, India and Australia signed the India-Australia Economic Cooperation and Trade Agreement (ECTA). The negotiations for India-Australia ECTA were formally re-launched on 30 September 2021 and concluded on a fast-track basis by the end of March 2022.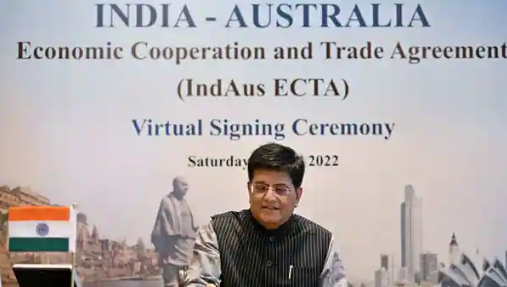 (Image Source: Livemint)

India-Australia ECTA: Salient Features
Areas of Cooperation
The Agreement encompasses cooperation across the entire gamut of bilateral economic and commercial relations between the two friendly countries, and covers areas like Trade in Goods, Rules of Origin, Trade in Services, Technical Barriers to Trade (TBT), Sanitary and Phytosanitary (SPS) measures, Dispute Settlement, Movement of Natural Persons,s Telecom, Customs Procedures, Pharmaceutical Products, etc.
Eight subject specific side letters covering various aspects of bilateral economic cooperation were also concluded as part of the Agreement.
Benefits
Boost to Bilateral Trade: The India-Australia ECTA will further cement the already deep, close and strategic relations between the two countries and will significantly enhance bilateral trade in goods and services, create new employment opportunities, raise living standards, and improve the general welfare of the peoples of the two countries.
The ECTA is expected to increase trade between the two sides to $45-50 billion over five years, from the current estimate of $27 billion, and create over 10 lakh additional job opportunities.
Institutional Mechanism: ECTA provides for an institutional mechanism to encourage and improve trade between the two countries.
Preferential Market Access: The ECTA between India and Australia covers almost all the tariff lines dealt in by India and Australia respectively.
India will benefit from preferential market access provided by Australia on 100% of its tariff lines. This includes all the labour-intensive sectors of export interest to India such as gems and jewellery, textiles, leather, footwear, furniture, food, and agricultural products, engineering products, medical devices, and automobiles.
On the other hand, India will be offering preferential access to Australia on over 70% of its tariff lines, including lines of export interest to Australia which are primarily raw materials and intermediaries such as coal, mineral ores and wines, etc.
Trade in Services: As regards trade in services, Australia has offered wide ranging commitments in around 135 sub sectors and Most Favoured Nation (MFN) in 120 sub sectors which cover key areas of India's interest like IT, ITES, Business services, Health, Education, and Audio visual.
On the other hand, India has offered market access to Australia in around 103 sub-sectors and Most Favoured Nation in 31 sub-sectors from the 11 broad service sectors such as 'business services', 'communication services', 'construction and related engineering services', and so on.
Annex on Pharmaceutical Products: Both sides have also agreed to a separate Annex on Pharmaceutical products under this agreement, which will enable fast track approval for patented, generic and biosimilar medicines.
India-Australia Bilateral Trade
India-Australia bilateral trade for both merchandise and services is valued at US$ 27.5 billion in 2021. India's merchandise exports to Australia grew 135% between 2019 and 2021.
India's exports consist primarily of a broad-based basket largely of finished products and were US$ 6.9 billion in 2021.
India's merchandise imports from Australia were US$ 15.1 billion in 2021, consisting largely of raw materials, minerals and intermediate goods.
Australia is the 17th largest trading partner of India and India is Australia's 9th largest trading partner.
Significance of India-Australia Bilateral Economic and Trade Relations
India and Australia have been each other's important trading partners. These excellent bilateral economic and commercial relations have continued to enhance and deepen over time.
Growing India-Australia economic and commercial relations contribute to the stability and strength of a rapidly diversifying and deepening bilateral relationship between the two countries.
Conclusion
The India-Australia Comprehensive Strategic Partnership initiated during the India-Australia Leaders' Virtual Summit held on 04 June 2020 is the cornerstone of our multi-faceted bilateral relations.
India and Australia are partners in the trilateral Supply Chain Resilience Initiative (SCRI) arrangement along with Japan which seeks to enhance the resilience of supply chains in the Indo-Pacific Region.
India and Australia are also members of the recently formed Quad, also comprising US, and Japan, to further enhance cooperation and develop partnership across several issues of common concerns.
Both countries enjoy a special partnership characterized by shared values of pluralistic, parliamentary democracies, Commonwealth traditions, expanding economic engagement, long standing people-to-people ties and increasing high level interaction.
News Crux Important Days/Weeks
5 April: National Maritime Day
---
The 59th National Maritime Day was celebrated on 5th April 2022.
The day is observed to mark the start of India's commercial shipping. On this day in 1919, a ship called SS Loyalty had travelled from Mumbai to London.
This year's theme for the celebration is 'Sustainable Shipping beyond Covid-19'.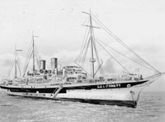 News Crux Appointment & Resignation
Vinay Kwatra appointed as the new Foreign Secretary
---
The Ambassador to Nepal Vinay Mohan Kwatra has been appointed as the next Foreign Secretary.
He is set to take over the position on April 30, the day present Foreign Secretary Harshvardhan Shringla retires.
The foreign secretary is the administrative head of the Ministry of External Affairs, and is the principal adviser to the minister of external affairs on all matters of policy and administration within the External Affairs Ministry.

Current News Ecology & Environment Survey/Study/Report
IPCC Sixth Assessment Report - 3rd Installment
---
On 4th April, 2022, the Intergovernmental Panel on Climate Change (IPCC) published the third installment of its Sixth Assessment Report (AR6). The report, prepared by the IPCC Working Group III (WG-III), focusses on the mitigation of climate change, i.e., the solutions necessary to halt global warming.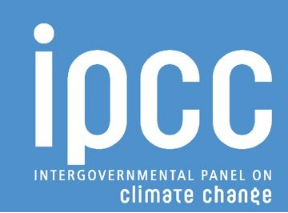 Key Highlights
1. Greenhouse Gas (GHG) Emissions
In 2019, global net anthropogenic GHG emissions were at 59 gigatonnes of carbon dioxide equivalent (GtCO2e), 54 per cent higher than in 1990. This emissions growth has been driven mainly by CO2 emissions from the burning of fossil fuels and the industrial sector, as well as methane emissions.
But the average annual rate of growth slowed to 1.3 per cent per year in the period 2010-19, compared to 2.1 per cent per year in the period 2000-09.
At least 18 countries have reduced GHG emissions for longer than 10 years on a continuous basis due to decarbonisation of their energy system, energy efficiency measures and reduced energy demand.
2. Least Developed Countries' Emissions
Carbon inequality remains pervasive as ever with Least Developed Countries (LDCs) emitting only 3.3 per cent of global emissions in 2019.
LDCs contributed less than 0.4 per cent of total historical CO2 emissions from fossil fuels and industry in the period 1850-2019.
3. Pledges to the Paris Agreement are Inadequate
Upon adding up the Nationally Determined Contributions (NDCs) announced by countries till October 2021, the IPCC finds that it is likely that warming will exceed 1.5 degrees Celsius in this century, thereby failing the Paris Agreement's mandate.
In its best-case scenario, known as the C1 pathway, the IPCC outlines what the world needs to do to limit temperatures to 1.5°C, with limited or no 'overshoot'.
To achieve the C1 pathway, global GHG emissions must fall by 43 per cent by 2030 compared to 2019 levels, amounting to 31 GtCO2e in 2030. And the use of coal, oil, and gas must decline by 95 per cent, 60 per cent and 45 per cent by 2050 compared to 2019.
4. Abundant and Affordable Solutions Exist
Widespread 'system transformations' are required across the energy, buildings, transport, land and other sectors, to achieve the 1.5°C target and this will involve adopting low-emission or zero carbon pathways of development in each sector. But solutions are available at affordable costs.
The costs of low emissions technologies have fallen continuously since 2010. Their deployment, or usage, has increased multiple fold since 2010.
The report states with "high confidence" that "several mitigation options, notably solar energy, wind energy, electrification of urban systems, urban green infrastructure, energy efficiency, demand side management, improved forest — and crop / grassland management and reduced food waste and loss, are technically viable, are becoming increasingly cost effective and are generally supported by the public".
Reducing fossil fuel use in the energy sector, demand management and energy efficiency in the industrial sector and adopting the principles of 'sufficiency' and efficiency in the construction of buildings are among the plethora of solutions outlined by the report.
5. Long-term Benefits of Cutting Emissions Outweigh Initial Costs
The IPCC states that low-cost climate mitigation options, i.e., those costing $100 per tCO2e or less, could halve global GHG emissions by 2030. In fact, the long-term benefits of limiting warming far outweigh the costs.
"Without taking into account the economic benefits of reduced adaptation costs or avoided climate impacts, global GDP would be just a few percentage points lower in 2050 if we take the actions necessary to limit warming to 2°C (3.6°F) or below, compared to maintaining current policies," according to the report.
6. Sufficient Global Capital and Liquidity Exist to Close the Gaps
Financial flows fall short of the levels needed to achieve the ambitious mitigation goals, however. The gaps are the widest for the agriculture, forestry, and other land uses (AFOLU) sector and for developing countries.
But the global financial system is large enough and "sufficient global capital and liquidity" exist to close these gaps, according to the IPCC.
Current News National
Criminal Procedure (Identification) Bill, 2022
---
On 4th April 2022, the Lok Sabha has passed the Criminal Procedure (Identification) Bill, 2022.
The Bill seeks to replace the Identification of Prisoners Act, 1920.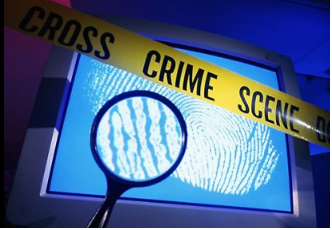 Why this Bill?
The Identification of Prisoners Act, 1920 has limitations in data collections as it allows police officers to collect certain identifiable information (fingerprints and footprints) of persons including convicts and arrested persons. But, with advances in technology other measurements such biological samples and behavioural attributes can be used for criminal investigations.
Key Features of the Bill
The Bill expands: (i) the type of data that may be collected, (ii) persons from whom such data may be collected, and (iii) the authority that may authorise such collection.
Data permitted to be Collected
Biological samples, and their analysis;
Behavioural attributes including signatures, handwriting; and
Examinations under sections 53 and 53A of CrPC (includes blood, semen, hair samples, and swabs, and analyses such as DNA profiling)
Persons whose Data to be Collected
Convicted or arrested for any offence. However, biological samples may be taken forcibly only from persons arrested for offences against a woman or a child, or if the offence carries a minimum of seven years imprisonment.
Persons detained under any preventive detention law.
On the order of Magistrate, from any person (not just an arrested person) to aid investigation.
Who may require/direct to collect Data
Officer in charge of a police station, or of rank Head Constable or above. In addition, a Head Warder of a prison.
Metropolitan Magistrate or Judicial Magistrate of first class. In case of persons required to maintain good behaviour or peace, the Executive Magistrate.
Storage of Data
The data to be stored in a central database.
The National Crime Records Bureau (NCRB) will be the central agency to maintain the records. It will share the data with law enforcement agencies. Further, states/UTs may notify agencies to collect, preserve, and share data in their respective jurisdictions.
The data collected will be retained in digital or electronic form for 75 years. Records will be destroyed in case of persons who are acquitted after all appeals, or released without trial. However, in such cases, a Court or Magistrate may direct the retention of details after recording reasons in writing.
Punishment for Resistance to give Data
Under the 2022 Bill, resistance or refusal to give data will be considered an offence of obstructing a public servant from doing his duty under Section 186 of IPC, attracting a jail term of three months or fine up to Rs 500 or both.
Current News Science & Technology Biotechnology
Change in Rules for Some Gene-Edited Plants and Organisms
---
The Union Ministry of Environment, Forests and Climate Change (MoEFCC) has notified key change in rules that will allow genome-edited plants or organisms without any "foreign" genes to be subjected to a different regulatory process than the one applied to genetically engineered products.
The changes will exempt two categories of genome-edited products — in which genes are tweaked (Technique- SDN 1 & SDN 2) but not inserted from another organism (Technique-SDN 3) — from being treated as transgenic products.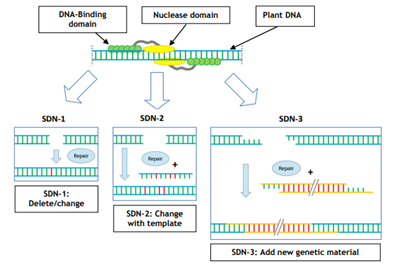 Process of Gene-editing
(Image Source: nbtplatform.org)
Finer Details
So, now who will regulate SDN1 and SDN 2 Gene-edited Plants?
Now, SDN1/SDN2 category plants will be initially regulated by Institutional Biosafety Committee (IBSC) / Review Committee on Genetic Manipulation (RCGM) under EPA Rules, 1989 and subsequently under the 'Seed Act' under the Ministry of Agriculture and Farmers Welfare—a unique duel regulatory system ensuring biosafety and benefits of technology.
Benefits for India after the recent Rule Change
With the notified change, India now has a separate regulatory process for such technologies that takes them out of the purview of Genetic Engineering Appraisal Committee or GEAC (It is the final technical body that certifies a GM product as safe for commercial release).
SDN1 and SDN2 genome-edited products free from exogenous introduced DNA be exempted from biosafety assessment in pursuance of rule 20 of the Manufacture, Use, Import, Export and Storage of Hazardous Microorganisms/Genetically engineered Organisms or Cells Rules 1989.
Some Key Concepts
SDN Technology
SDN stands for Site-directed Nuclease and refers to the practice of cleaving DNA strands to effect the subsequent genome editing.
The goal of SDN technology is to take advantage of the targeted DNA break and the host's natural repair mechanisms to introduce specific small changes at the site of the DNA break. The change can either be a small deletion, a substitution or the addition of a number of nucleotides. Such targeted edits result in a new and desired characteristic, such as enhanced nutrient uptake or decreased production of allergens.
Categories of Gene-editing
There are three categories of gene-editing: SDN1, SDN2 and SDN3.
SDN1 & SDN2: The first two (SDN1 & SDN2), which largely involve "knocking off" or "overexpressing" certain traits in a genome without any insertion of gene material from outside, will be covered by the new changes.
SDN3: The third (SDN3), which involves insertion of foreign genes, will be treated as GMO.
Benefits of SDN Technology
Site-Directed Nuclease technology can be used to precisely remove undesirable traits in plants –
such as anti-nutrients or allergens, in order to reduce environmental pollution or to enhance the
nutritional value of a crop.
It can also modify certain existing characteristics in a plant to respond to consumer needs such as enhanced shelf-life and improved taste or texture.
How Genome Edited Plants differ from Genetically Modified Organisms?
Genome edited plants allow for the generation of functional mutations in the recipient genome at specific targets.
In the case of SDN1 and SDN2, yield plants are free from any foreign DNA and remain indistinguishable from conventionally bred crops.
GM Crops in India
BT Cotton is India's only transgenic crop approved for commercial cultivation.
The three GM food crops - brinjal, mustard and potato – are awaiting permission for large-scale field trials and seed production. Brinjal is the first one to get geac approval but its commercial release has been banned in India due to an indefinite moratorium.
---