Current News Ecology & Environment
Rare Reversal Of Earth Overshoot Day
---
Earth Overshoot Day 2020 was observed on August 22, 2020.
Earth Overshoot Day is the date when the demands of biological resources and services of the year by humanity exceeds the generation capacity of Earth in that year.
The first Global Earth Overshoot Day campaign was launched in 2006.
Compared to 2019 ( which was July 29), the 2020 Earth Overshoot Day was postponed by three weeks to August 22 due to the rare reversal after the lockdown due to COVID-19 pandemic which caused a temporary decline in the carbon emission and wood harvesting and reduced humanity's footprint by 9.3 percent.
Current News Indian Economy Plan Policy
Mahila Kisan Sashaktikaran Pariyojna – Step Towards Feminization Of Agriculture
---
The Department of Rural Development, Ministry of Rural Development is implementing Mahila Kisan Sashaktikaran Pariyojana (MKSP) to empower women in agriculture by making systematic investments to enhance their participation and productivity.
Need For MKSP
Women in Agriculture are generally not able to access extension services and production assets like seed, water, credit, subsidy etc. As most of them are not recognized as farmers for want of ownership of land, they are not considered as beneficiaries of various government programmes/services.
The wage differentials between men and women being adverse to them, the situation are further aggravated. Some of the tasks performed by the women are not valued adequately and considered less important economically.
Further, due to multiple roles that a woman has to perform within the family and the farm, her access to knowledge and information, is constrained and therefore her opportunities get limited.
Mahila Kisan Sashaktikaran Pariyojna (MKSP)
Launched in 2010-11, MKSP is a sub-component of Deendayal Antyodaya Yojana-National Rural Livelihood Mission (DAY-NRLM).
To improve the present status of women in Agriculture, and to enhance the opportunities for her empowerment, MKSP recognizes the identity of "Mahila" as "Kisan" and strives to build the capacity of women in the domain of agro-ecologically sustainable practices.
Objectives
To create sustainable agricultural livelihoods opportunities for women in agriculture
To enhance the participation of women in agriculture in productive manner
To enhance the managerial capacities of women in agriculture for better management of bio-diversity
To improve the skills and capabilities of women in agriculture to support farm and non-farm-based activities.
To improve the capacities of women in agriculture to access the resources of other institutions and schemes with a convergence framework.
Salient Features
Focus Area
The focus of MKSP is on capacitating smallholders to adopt sustainable climate resilient agro-ecology.
It focuses mainly on two themes: Sustainable agriculture and enhance livelihood of Non-timber forest producers (NTFP).
Sustainable agriculture practices include Community Managed Sustainable Agriculture (CMSA), Non Pesticide Management (NPM), Zero Budget Natural Farming (ZBNF), Pashu-Sakhi model for doorstep animal care services.
Implementation Strategy
MKSP projects implemented by partners- Community based Organisations(CBOs) and NGOs.
Promoting sustainable models on agriculture, Livestock and targeting the Ultra-Poor
Creating social capital (Community Resource Persons/Pashu Sakhis/ Skilled extension workers)
Scaling up successful Ultra-Poor models with the help of the social capital
Funding
Ministry of Rural Development (MoRD) provides funding support of up to 75% (90% for North East and hill states) to the project submitted by the State Governments under MKSP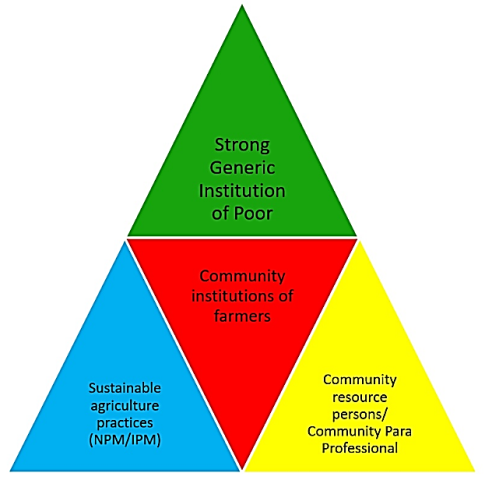 Significance
Skill Enhancement: The MKSP will enhance the skill base of the women in Agriculture to enable them to pursue their livelihoods on a sustainable basis.
Benefits to Vulnerable Women Group: The MKSP will strategize in a manner to target the Poorest of the Poor and most vulnerable women such as SC/ST, minorities, landless and the Primitive Tribal Groups.
Way Forward
Rural women play a significant and crucial role in agricultural development and allied fields including in the main crop production, livestock production, horticulture, post-harvest operations, agro/social forestry, fisheries, etc.
Rural women form the most productive work force in the economy of majority of the developing nations including India.
Maximum participation of women in agriculture will lead to the sustainable development agriculture, rural economy and the country on the whole.
Current News Indian Economy Survey And Index
Good Governance Index
---
On 25th December, 2019, on the occasion of Good Governance Day, the government launched Good Governance Index (GGI) to assess the state of governance in the country.
Objective
To provide quantifiable data to compare the state of governance in all States and Union territories.
To enable states and UTs to formulate and implement suitable strategies for improving governance and shift to result oriented approaches and administration.
Need for GGI
Till now, there was no uniform index to objectively assess the state of good governance in the states.
Background
In recent year, India has seen a resurgence in the spirit co­operative federalism. In the interest of furthering this spirit, the Government of India constituted a Group of Secretaries (GoS) on Governance who recommended developing of an index to gauge the performance of the states of India.
The Department of Administration Reform and Public Grievances (DARPG), Government of India partnered Centre for Good Governance (CGG), Hyderabad as its technical partner in its endeavor to prepare the Good Governance Index (GGI).
Draft GGI report was finalised by DARPG and circulated in November, 2018 to all Ministries/Departments and States and UTs for feedback/input.
About the GGI
The GGI consists of ten broad sectors and 50 indicators. These indicators are given different weightage under one governance sector to calculate the value.
The ten sectors are-agriculture and allied sectors, commerce and industries, human resource development, public health, public infrastructure and utilities, economic governance, social welfare & development, judicial and public security, environment and citizen-centric governance.
While identifying the governance sectors, a zero­based approach was adopted and guidance from existing frameworks was taken. Schedule VII (List II and III) of Indian Constitution (Article 246) and Sustainable Development Goals (SDGs) of United Nations were also considered.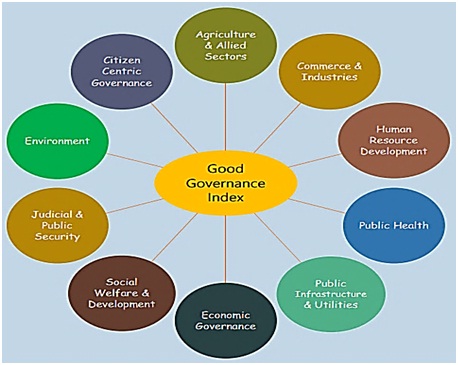 Major Findings
The states and union territories have been divided into three groups - big states, north-east and hill states, and union territories, for the rankings based on certain indicators separately.
Big States
Tamil Nadu (1st) bagged the top position in the composite ranking for good governance index (GGI), followed by Maharashtra (2nd) and Karnataka (3rd).
While Orissa (14th), Bihar (15th), Goa (16th), Uttar Pradesh (17th) and Jharkhand (18th) were categorised as poor performers.
North-East and Hill States
Himachal Pradesh topped the list followed by Uttrakhand and Tripura.
Meghalaya, Arunachal Pradesh and Nagaland are the least performing states.
Union Territories
In this category, Pondicherry, Chandigarh, and Delhi lead the ranking, with Lakshwadeep at the bottom of the Index.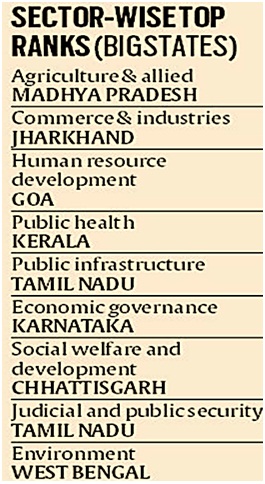 Source: IE
Significance
Tool of Assessment: The good governance index is a uniform tool across states to assess the status of governance and impact of various interventions taken up by the state government and union territories.
Providing Information: The intent of the index is to provide information, so that State Governments can act and improve upon for the well-being and overall development of the State. In addition, it would also provide some insights to Central Ministries and Departments to act in accordance.
Good Governance Day
Good Governance Day (GGD) is observed annually on 25th December to create awareness of accountability in government among the Indians.
National Good governance day was established in 2014 to honor former Prime Minister Atal Bihari Vajpayee by fostering awareness among the people of accountability in government.
Current News Indian Economy Infrastructure
Transformational Organisational Restructuring Of Indian Railways
---
On 24th December, 2019, the Union Cabinet approved a transformational organisational restructuring of the Indian Railways. The reforms announced are in continuation with the series of decisions under which the Railway Budget was merged with the Union Budget, delegation of powers to empower GMs and field officers, allowing competitive operators to run trains.
This reform has been undertaken with the overwhelming support and consensus of Railway officers, at a two-day conference "Parivartan Sangoshthi" held in Delhi on 7th and 8thDecember, 2019.
It is to be noted that restructuring of the Railway Board was also recommended by the Bibek Debroy Committee on Indian Railways in 2015.
Aim
To modernise and envisage smooth working of Indian Railways.
Need
Indian Railways is plagued with the menace of Departmentalism, which was marked by inefficiency in work, infighting over control of assets and resources and delay in decision making, ultimately hampering the operation of Indian Railways.
The government has lined up a massive infrastructure development plan of nearly Rs. 50 trillion to modernise the national transporter in the coming years, with an aim of improving safety, speed, and services.This requires speed and scale, and a unified, agile organisation to work single-mindedly on this task and capable of responding to challenges.
Proposed Major Reforms
Reduced Board Members
At present, the railway board includes eight members; member (rolling stock), member (traction), member (traffic), member (engineering), member (staff), member (material management), members (signal & telecom) and financial commissioner.
Now, there will be five members for Rolling Stock and Traction (engines, coaches, wagons, etc), Operations and Business Development, Finance, Infrastructure (track, signalling and telecom, etc).
The Railway Board—the apex decision making body of the Indian Railways—will be headed by a chairman, who will be the chief executive officer (CEO).
Single Cadre
Indian Railways will now have only one cadre –Indian Railway Service, instead of current eight services for various departments including Engineering, Traffic, Mechanical and Electrical.
Indian Railway Management Service (IRMS)
Existing eight Group A services of the Railways will be unified into a Central Service called Indian Railway Management Service (IRMS).
Creation of the new service will be done in consultation with DoPT and UPSC to facilitate recruitment in the next recruitment year.
The Railways will also now have just two departments -Railway Protection Force and Medical Service Department, with all its other departments coming under one Railway Management System.
The existing service of Indian Railway Medical Service (IRMS) to be consequently renamed as Indian Railway Health Service (IRHS).
Impact
End of Departmentalism
This reform will help in breaking a 150-year-old tradition of 'working in silos' that can remove departmental tussles, seen as a roadblock in operation of railways.
Unification of services will put an end to the departmentalism and promote smooth working of Railways, expedite decision making, create a coherent vision for organisation and promote rational decision making and will set the path of Indian Railways to a high growth trajectory.
Ensuring Transparency
The modalities and unification of the services will lead to fairness and transparency in the Indian Railways.
Making Railway Growth Engine of India
This historic reform will go a long way in achieving Government's vision of making Indian Railways the growth engine of India's vikas yatra.
Important Railways Committees
The unification of services had earlier been mooted by various committees for reforming Railways including - the Prakash Tandon Committee (1994), Rakesh Mohan Committee (2001), Sam Pitroda Committee (2012) and Bibek Debroy Committee (2015).
Bibek Debroy Committee – 2015
The Bibek Debroy Committee high level committee for - Mobilization of Resources for Major Railway Projects and Restructuring of Railway Ministry and Railway Board, was constituted in September, 2014 in order to prepare a blueprint for reforming Indian Railways. The committee submitted its report in June, 2015.
Major Recommendations
Railway Regulatory Authority of India (RRAI): It recommended setting up an overarching Railway Regulatory Authority of India (RRAI) as an independent regulatory body.
Moving to Standard Commercial Accounting: Transition to commercial accounting Indian Railways should shed its complicated accounting and move to standard commercial accounting by following principles and norms accepted nationally and internationally.
Technical and Non-Technical Services: It recommended to reorganize the present eight organized Group - A services in Indian Railways in two bigger groupings viz. technical and non-technical services.
Merging Railway Budget with Central Government Budget: A separate Railway budget should be phased out progressively and merged with the General Budget.
Focus on Core Activities: Indian Railways should focus on core activities to efficiently compete with the private sector. It will distance itself from non-core activities, such as running a police force, schools, hospitals and production and construction units
Raising Resources: An Investment Advisory Committee may be set up, consisting of experts, investment bankers and representatives of SEBI, RBI, IDFC andother institutions for raising resources for investment.
Sam Pitroda Committee - 2012
Expert Group on Modernisation of Indian Railways was constituted by the Railway Ministry under the Chairmanship of Sam Pitroda in September, 2011. The Expert Group submitted its report in February, 2012.
Major Recommendations
Mission mode approach for 15 focus areas – track and bridges, signaling, rolling stock, stations, dedicated freight corridors, High speed trains, review of existing and proposed projects, ICT, indigenous development, safety, funding and human recourses.
Development of 34 multi modal logistic parks.
To set up real time information system.
To attract private investment through PP models for freight terminals, high speed railway lines, leasing wagons, coach and loco manufacturing renewable energy generation etc.
Construction of Eastern and Western Freight Corridors.
Construction of high speed Railway line between Ahmedabad and Mumbai with a speed of 300 kmph.
Establish Indian Institute of Railway Research.
To offer Graduate programme in Railway Technology in IITs and Railway Management in IIMs.
Revamping accounting system on business lines.
Empower Zonal Railways in investment decision with accountability for return on capital, transport output, safety and profitability.
Current News National Polity & Governance
Second India-US 2+2 Dialogue
---
The second two-plus-two dialogue between India and the US took place on 18th December, 2019, in Washington during which the two countries made a comprehensive review of cross-cutting foreign policy and defence and security issues in bilateral ties.
Important Agreements
Industrial Security Annex (ISA)
The ISA to the India-U.S. General Security of Military Information Agreement (GSOMIA) will provide a framework for exchange and protection of classified military information between the U.S. and Indian defence industries.
It will enable greater industry-to-industry collaboration for co-production and co-development in the defence sector, in line with the GOI's objective of promoting Make in India in the defence sector.
It will open the door for U.S. defence companies to partner with the Indian private sector for several multi-billion dollar deals in the pipeline, especially the deal for fighter jets.
Finalisation of Defense Technology and Trade Initiative (DTTI)
DTTI will harmonise the two side's processes for identification, development and execution of projects under the DTTI.
This will enable expedited decision making and help to establish a standing mechanism for dialogue and exchanges between the U.S. and Indian defence companies and their governments on defense technology and industrial cooperation.
Coalition for Disaster Resilient Infrastructure (CDRI)
The United States has announced its commitment to being the founding member of the CDRI whose headquarters will be located in India.
Communications Compatibility and Security Agreement (COMCASA)
The two sides also took stock of the steps being taken to operationalise the foundational agreement COMCASA
COMCASA allows India to procure transfer specialised equipment for encrypted communications for US origin military platforms like the C-17, C-130 and P-8Is.
It will allow both sides to operate on the same communication systems, enabling an "interoperable" environment for militaries.
Tiger Triumph Exercise
Both the parties decided to hold the India-U.S. joint tri-services and amphibious exercise 'Tiger Triumph' on an annual basis.
The maiden exercise was held in November 2019 as a Humanitarian Assistance and Disaster Relief (HADR) to develop synergies between the tri-services of both countries in conducting HADR operations.
Science & Technology Agreement
Both the countries concluded the S&T agreement, which replaced the 2005 Agreement.
As part of the S&T Agreement both sides have agreed on a common framework on Intellectual Property Rights, consistent with national IPR policy.
Space Situational Awareness
Both sides have agreed to cooperate for exchange of information in Space Situational Awareness, including space debris and space traffic management.
The U.S. has established expertise in this field and possesses considerable SSA data, which will be of significant value in ensuring navigational safety of Indian space assets.
Water MoU
A Memorandum of Understanding (MoU) was signed between India's Ministry of Jal Shakti and the U.S. Geological Survey to promote technical cooperation in water resources management and water technology.
Both sides will be cooperating in the area of management of river basins, flood management and forecasting, water management, water quality, waste-water recycling and capacity building in testing and instrumentation.
Young Innovators Internship Programme (YIIP)
YIIP between India and the U.S. will create short-term internship opportunities in the U.S. for Indian students at post-secondary level or recent graduates, in key areas of scientific and economic endeavour.
It will provide networking opportunities for young entrepreneurs besides helping develop entrepreneurial skills.
Parliamentary Exchange
Both Governments hope to strengthen bilateral Parliamentary exchanges through facilitation of reciprocal visits by Parliamentarians from both countries.
Judicial Cooperation
Both the countries seek to expand their satisfactory and mutually beneficial cooperation in the area of counterterrorism jurisprudence to new areas of criminal jurisprudence including money laundering, drug trafficking etc.
Peacekeeping for Indo-Pacific Region
Both have agreed to deepen their bilateral cooperation in areas of defence, counter-terrorism and trade, and to work with like-minded countries for a free and open Indo-Pacific region.
This will help to counter the China which is flexing its muscle both in the South China Sea and East China Sea.
Basic Exchange and Cooperation Agreement (BECA)
Both countries agreed to continue discussions on BECA.
Once finalized, it will enable exchange of geo-spatial information between the two countries, enhancing the operational efficiency of the U.S. platforms currently being operated by India.
2+2 Dialogue
India and the United States of America established a 2+2 Ministerial dialogue in June 2017, in Washington DC, USA.
The first 2+2 dialogue was held in New Delhi in September, 2018.
It is the highest-level institutional mechanism between the two countries and provides for a review of the security, defence and strategic partnership between India and the United States.
Purpose
The India-US Strategic and Commercial Dialogue is an effort to generate sustainable economic growth, create jobs, improve business and investment climate, enhance livelihoods, and sustain the rules-based global order.
Significance
It has given has given a new height to bilateral defence partnership. The two sides are now engaging in a tri-service military exercise, enhancing coordination on the Indo-Pacific and even facilitating private sector collaboration in defence.
Current News National Polity & Governance
The Code On Social Security - 2019
---
Recently, the Code on Social Security, which is the last of the four labour codes, was introduced in Lok Sabha.
It proposes universalisation of social security benefits for the country's around 50 crore workforce, along with offerings such as medical, pension, death and disability benefits to them.
Aim
It seeks to amend and consolidate laws relating to the social security of employees, subsuming eight Central laws.
Eight Central Labour Laws
Employees' Compensation Act, 1923; Employees State Insurance Act, 1948, Employees Provident Funds and Miscellaneous Provisions Act, 1952; Maternity Benefit Act, 1961; Payment of Gratuity Act, 1972; Cine Workers Welfare Fund Act, 1981; Building and Other Construction Workers Cess Act, 1996 and Unorganised Workers Social Security Act, 2008, are to be subsumed under the new law.
Need
The unorganised sector, which accounts for a little over 80 per cent of India's total workforce, has largely been out of social security schemes as well as the ambit of labour regulations at present.
Key Features
Social Security to Unorganised Workers
Under the Code, the central government may notify various social security schemes for the benefit of unorganised workers. These include an Employees' Provident Fund (EPF) Scheme, an Employees' Pension Scheme (EPS), and an Employees' Deposit Linked Insurance (EDLI) Scheme.
Corporatization of EPFO and ESIC
The pension, insurance and retirement saving bodies including Employee Provident Fund Organisation (EPFO) and Employees State Insurance Corporation (ESIC), will be body corporate.
Different Applicability Thresholds
The Code specifies different applicability thresholds for the schemes. For example, the EPF Scheme will apply to establishments with 20 or more employees. The ESI Scheme will apply to certain establishments with 10 or more employees, and to all establishments which carry out hazardous or life-threatening work notified by the central government.
Social Security Organisations
The Code provides for the establishment of several bodies to administer the social security schemes. These include:

(i) a Central Board of Trustees, headed by the Central Provident Fund Commissioner, to administer the EPF, EPS and EDLI Schemes,

(ii) an Employees State Insurance Corporation, headed by a Chairperson appointed by the central government, to administer the ESI Scheme,

(iii) National and state-level Social Security Boards, headed by the central and state Ministers for Labour and Employment, respectively, to administer schemes for unorganised workers, and

(iv) State-level Building Worker's Welfare Boards, headed by a Chairperson nominated by the state government, to administer schemes for building workers.
Social Security Fund
It proposes to set up a social security fund using the funds available under corporate social responsibility (CSR), to provide welfare benefits such as pensions and death and disability benefits.
It also has a clause to make fixed-term contract workers eligible for gratuity after one year in place of the existing five years.
Benefits for Gig Workers
It empowers the government to frame schemes for providing social security to gig workers and platform workers who do not fall under the traditional employer-employee relation.
Maternity Benefits
It mandates to provide maternity benefit to the woman employees and compensation to the employees in case of the accidents while commuting from residence to place of work and vice-versa.
Special Purpose Vehicles
The Code also provides an enabling provision for constituting special purpose vehicles for the implementation of schemes for unorganised sector workers.
Inspections and Appeals Provisions
The appropriate government may appoint Inspector-cum-facilitators to inspect establishments covered by the Code, and advise employers and employees on compliance with the Code. Administrative authorities may be appointed under the various schemes to hear appeals under the Code.
It also specifies judicial bodies which may hear appeals from the orders of the administrative authorities. For example, industrial tribunals (constituted under the Industrial Disputes Act, 1947) will hear disputes under the EPF Scheme.
Offences and Penalties Provisions
The Code specifies penalties for various offences, such as: the failure by an employer to pay contributions under the Code after deducting the employee's share, punishable with imprisonment between one and three years, and fine of one lakh rupees, and falsification of reports, punishable with imprisonment of up to six months.
Impact
Transparency and Accountability: The codification will make the existing labour laws in sync with the emerging economic scenario; reduce the complexity by providing uniform definitions and reduction in multiple authorities under various Acts and bring transparency and accountability in enforcement of labour laws.
Boost to Labour Intensive Industries: This in turn would lead to ease of compliance, catalyzing the setting up of manufacturing units including boosting Labour intensive industries such as agriculture and manufacturing exports.
Employment and Formalisation: The code will ultimately lead to enhancement in employment opportunities as well as its formalisation along with ensuring safety, social security and welfare of workers.
Criticism
The Bill fails to appreciate that provision of meaningful social security on such a massive scale is beyond the capacity of any single ministry at any single level of government, and that social security has to be fundamentally rethought, instead of creating a patchwork drawn from different extant laws.
The code being hyped as 'Universal' is being criticized on the groundof the "lack of universal character" as the existing thresholds for applicability of Provident Fund, Employee's State Insurance , gratuity, maternity benefits etc., have not been removed.
The Code does not stipulate anything for sector specific social security schemes, making the huge workforce totally out of any social security arrangements.
The cess-related Act has been claimed to be subsumed by the code. But it remained absolutely silent about the management of the fund collected from the cess. On the social security benefits for construction workers, certain heads of social security benefits have been mentioned but on the details of the benefits, entitlement, calculation, mode of delivery,, the code remained absolutely silent leaving them totally at the disposal of state-level boards.
Way Forward
All in all, the SS Code lays out an array of wishful benefits, but there is no firm commitment in the provisions to actually provide them. What should have been spelt out as binding legislation which actually compels the government to provide the benefitsis left to the whims and fancies of executive power of the Central government.
Therefore, it is essential to rethink social security from top to bottom. It should be envisaged holistically, its different components delegated to different arms and agencies of the government at all levels, for the successful implementation of the Code across the country.
Current News Ecology & Environment Pollution
European Green Deal
---
On 11th December, 2019, European Commission presented European Green Deal- the most ambitious package of measures, which will enable European citizens and businesses to benefit from sustainable green transition.
The Deal covers all sectors of the economy, notably transport, energy, agriculture, buildings, and industries such as steel, cement, ICT, textiles and chemicals.
Aim
To transform the European Union (EU) into a fair and prosperous society, with a modern, resource-efficient and competitive economy.
To protect, conserve and enhance the EU's natural capital, and protect the health and well-being of citizens from environment-related risks and impacts.
Need
The European Union, which consists of 28 member countries, is together the third-largest emitter of greenhouse gases in the world after China and the United States.
Key Points of European Deal
Climate Neutral Europe
This is the overarching objective of the European Green Deal. The EU will aim to reach net-zero greenhouse gas emissions by 2050, a goal that will be enshrined in a 'Climate Law' to be presented in March 2020.
Increase Emission Reduction Target
In its climate action plan declared under the Paris Agreement, the EU was committed to making a 40 percent reduction in its emissions by 2030 compared to 1990 levels. But now it has decided to increase this reduction to at least 50 percent and work towards 55 percent.
Circular Economy
A new circular economy action plan will be tabled in March 2020, as part of a broader EU industrial strategy. It will include a sustainable product policy with "prescriptions on how we make things" in order to use less materials, and ensure products can be reused and recycled.
Building Renovation
This is meant to be one of the flagship programmes of the Green Deal. The key objective there is to "at least double or even triple" the renovation rate of buildings, which currently stands at around 1%.
Zero-pollution
Whether in air, soil or water, the objective is to reach a "pollution-free environment" by 2050. New initiatives there include a chemical strategy for a "toxic-free environment".
Revamping Ecosystems & Biodiversity
A new biodiversity strategy will be presented in March 2020, in the run-up to a UN biodiversity summit taking place in China in October, 2020.
It includes measures to tackle soil and water pollution as well as a new forest strategy.
New labelling rules will be tabled to promote deforestation-free agricultural products.
Farm to Fork Strategy
To be tabled in Spring 2020, the new strategy will aim for a "green and healthier agriculture" system. This includes plans to significantly reduce the use of chemical pesticides, fertilisers and antibiotics.
Transport
Electric vehicles will be further encouraged with an objective of deploying 1 million public charging points across Europe by 2025.
Sustainable alternative fuels – biofuels and hydrogen – will be promoted in aviation, shipping and heavy duty road transport where electrification is currently not possible.
Green Investment
TheEuropean Investment Bank (EIB), the EU's lending arm, decided to cease funding fossil fuel projects at the end of 2021 for the Europe's Climate Bank.
It requires funding parts of the European Green Deal policies with a Sustainable Europe Investment Plan in coming years.
Transition Fund
To "leave no-one behind," the Commission proposes a Just Transition Mechanism to help regions most heavily dependent on fossil fuels. It plans to mobilise €100 billion precisely targeted to the most vulnerable regions and sectors.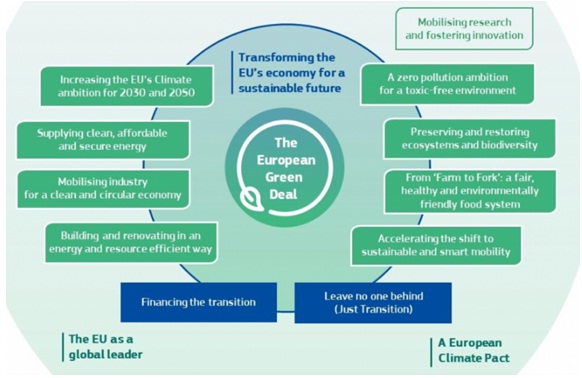 Impact
Providing a Roadmap: The Deal provides a roadmap with actions to boost the efficient use of resources by moving to a clean, circular economy and stop climate change, revert biodiversity loss and cut pollution.
Improving Environment: Initiatives to halt biodiversity will also bring indirect benefits by improving nature through restoration of ecosystems, planting trees, safeguarding carbon-rich ecosystems.
Improving Health & Well-Being: It contains specific actions that will directly improve the health and well-being of the public. The first of these are the actions to tackle pollution of air and water and pollution caused by hazardous chemicals.
Benefits to Consumers: Consumers will benefit from more sustainable products that are designed to be repairable, durable, recycled and use less energy. This can help reduce the lifetime costs of the products they buy. Additional and more accurate consumer information will also allow consumers to make better-informed decisions and thereby help to drive the transition to cleaner products and a healthier environment.
Boost to Business: The transition depicted in the Deal is an opportunity for business to modernise and become more competitive. With support from within the investment and innovation programmes of the Multi-annual Financial Framework, industry will be encouraged to develop new market-leading environmentally friendly technologies and sustainable solutions.
Way Forward
The EU is the largest economy in the world, so the decisions it makes as a collective reverberate throughout the world. The Deal is an integral part of Commission's strategy to implement the United Nation's 2030 Agenda and the sustainable development goals
To deliver the European Green Deal, there is a need to rethink policies for clean energy supply across the economy, industry, production and consumption, large-scale infrastructure, transport, food and agriculture, construction, taxation and social benefits.
However, the deal seems to be inadequate in itself to achieve the emission reductions that scientific assessments say would be required to save the world from catastrophic and irreversible impacts of climate change.
There has been nosignal from other big emitters, including large developing countries like China and India that they were considering immediate scaling up of their climate actions.
As long as many international partners do not share the same ambition as the EU, there is a risk of carbon leakage, either because production is transferred from the EU to other countries with lower ambition for emission reduction, or because EU products are replaced by more carbon-intensive imports.
If this risk materializes, there will be no reduction in global emissions, and this will frustrate the efforts of EU and its industries to meet the global climate objectives of the Paris Agreement.
Current News Indian Economy Plan Policy
Pradhan Mantri Matru Vandana Yojana
---
Recently, concerns have been raised over the Pradhan Mantri Matru Vandana Yojana (PMMVY) for its exclusionary nature. The scheme suffers from critical drawbacks in both design and implementation.
Underlying Issues with PMMVY
Lengthy Documentation
The lengthy documentation work includes filling up six documents totaling 32 pages - an application form to be filled for each of the three installments, an application for linking the Aadhaar card with bank account, another one for linking the Aadhaar card with post office account and a feedback form.
This tedious process led to exclusion of single women and young brides out of its purview.
Further, the documentation work is likely to result in many women living on the margins, such as sex workers, women in custody, migrant and those living in post-conflict situations unable to claim benefits even though they are most in need of monetary compensation.
First Child Criteria
The gaping loophole in the eligibility criteria is that benefits are only provided for the birth of the first child.
In a country with a Total Fertility Rate (TFR) of 2.33, the policy of restricting the scheme to just the first child is impractical to say the least and exclusionary when seen in totality.
Moreover, it makes no attempt to accommodate miscarriage or infant mortality. If an eight-month pregnant woman, who has already accessed the scheme, loses her child, she is not eligible for the second or third instalment for her next pregnancy.
Issues with Single Women
Registration for the scheme requires the beneficiary to provide her husband's Aadhaar details along with her own, affecting single women which include unwed mothers, deserted wives and widows.
Newly Wed Women
A newly wed woman expecting a child generally resides in her maternal home but to avail the benefits of PMMVY, she needs to provide proof of address of her marital home, whichagain proves a major challenge for her.
Younger Brides
The scheme require that the applicant has to be at least 19 years old also leaves out younger brides, who hesitate in getting their marriages registered as the legal age of marriage is 18 years.
30-35% first-time mothers are under the age of 18 years.
Corruption Issues
The scheme is infested with corruption issues, limiting its scope of proper implementation. The applicant women have to pay a hefty bribe during the application process at every level, which goes up to Rs. 500, with each of the three forms.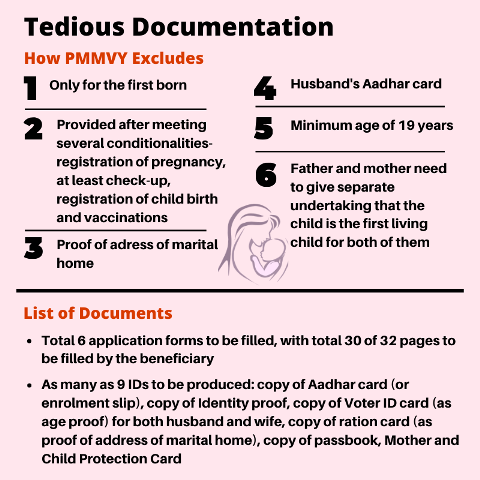 Pradhan Mantri Matru Vandana Yojana (PMMVY)
Launched in 2016, PMMVY is a maternity benefit program, which replaced the Indira Gandhi Matritva Sahyog Yojana (IGMSY).
It is a direct benefit transfer (DBT) scheme under which a cash incentive of Rs. 5000 would be provided directly in the account of Pregnant Women Lactating Mothers (PW&LM) for firstliving child of the family subject to their fulfilling specific conditions.
The eligible beneficiaries also receive cash incentive under Janani Suraksha Yojana (JSY). Thus, on an average, a woman gets Rs. 6,000.
Objective
Promoting appropriate practice, care and institutional service utilization during pregnancy, delivery and lactation.
Encouraging the women to follow (optimal) nutrition and feeding practices, including early and Exclusive breastfeeding for the first six months.
Providing cash incentives for improved health and nutrition to pregnant and lactating mother.
Target Beneficiaries
All Pregnant Women and Lactating Mothers, excluding PW&LM who are in regular employment with the Central Government or the State Governments or PSUs or those who are in receipt of similar benefits under any law for the time being in force.
All eligible Pregnant Women and Lactating Mothers who have their pregnancy on or after 01.01.2017 for first child in family.
The date and stage of pregnancy for a beneficiary would be counted with respect to her LMP date as mentioned in the MCP card.
Implementation
PMMVY is implemented using the platform of Anganwadi Services scheme of Umbrella Integrated Child Development Services (ICDS) under Ministry of Women and Child Development.
It is closely monitored by the central and state governments through PMMVY-CAS, a web based software application.
Inclusive Measures
Firstly, activists and grassroot workers involved must make a formal representation to the government, highlighting their concerns in order to make the scheme both inclusive and supportive.
Secondly, the government needs to review the scheme in order to make it universal by removing restrictions on the number of children as well as including all women, whether they are in the formal or informal sector, engaged in paid or unpaid wor
Thirdly, the sum promised should also be at least on par with minimum wages for women in self-employment, unpaid work, or working for less than minimum wages.
States Maternity Scheme
Two states- Tamil Nadu and Odisha, have not implemented the centrally sponsored scheme and has launched their own maternity schemes.
Dr. Muthulakshmi Reddy Maternity Benefit Scheme- Tamil Nadu
The scheme was launched in 1987, which aims to provide optimal nutrition for pregnant and lactating women and compensates the wage loss during pregnancy.
The first-of-its-kind scheme in the country initially provided an amount of Rs 300 to every woman below the poverty line to help cover the expenses incurred during childbirth.
As of now, the government has enhanced the financial support, providing a sum of Rs.14,000 in cash and a nutritional kit worth Rs 4,000 for the first two pregnancies.
Mamta Scheme- Odisha
It was launched by the state government in September, 2011 with an aim to reduce maternal and infant mortality by improving the health and nutrition of pregnant and lactating women.
Under this, a sum of Rs. 5,000 is being provided for the first two pregnancies of all women.
For vulnerable groups, like tribals, the money is given for even the third birth.
Current News National Polity & Governance
Dadra And Nagar Haveli And Daman And Diu (Merger Of Union Territories) Act, 2019
---
The Home Ministry announced on 19th December, 2019 that from 26th January, 2020, the the UTs of Daman and Diu, Dadra and Nagar Haveli will become a single union territory.
The Parliament passed the Dadra and Nagar Haveli and Daman and Diu (Merger of Union Territories) Bill, 2019 on 3rd December, 2019 and it was earlier passed by Lok Sabha on November 27, 2019.
The move comes after the landmark decision of bifurcating the State of Jammu and Kashmir into the Union Territories of Jammu and Kashmir and Ladakh.
Aim
To provide better delivery of services to the citizens of both the UTs by improving efficiency and reducing paper work
Key Proposals
It proposes to merge the Union Territory of Dadra and Nagar Haveli, which presently has only one district with the UT of Daman and Diu, which has two districts. The merged UT will be named as the- Union territory of Dadra and Nagar Haveli and Daman and Diu.
Vidhan Sabha will be established in the new UT, similar to the one in Pudducherry.
The Bill has been moved in furtherance of the "Minimum Government, Maximum Governance" policy.
Reasons for Merging
As per the Statement of Objects and Reasons annexed to the Bill, the two UTs share a lot in terms of administrative set up, history, language and culture.
The Administrator, Secretaries, and Heads of certain departments functions in both the Union territories on alternate days affecting their availability to people and monitoring functioning of subordinate staff.
Maintaining two separate secretariats and parallel departments not only burdened the State exchequer, but also leadsto lot of duplicacy, inefficiency and wasteful expenditure as well as manpower, impacting the overall development of both the UTs.
Minimum Government, Maximum Governance
It is the motto of the central government to achieve a citizen-friendly and accountable administration.
It aims to bring Government closer to citizens so that they become active participants in the governance process and reduce their time and efforts.
The idea of minimum government, maximum governance implies that smaller bureaucracy with more skilled people will be more efficient at delivering public services than a larger one.
A citizen friendly and accountable administration is the focus of the government. A series of steps to achieve this goal have been initiated. These include simplification of procedures, identification and repeal of obsolete/archaic laws/rules, identification and shortening of various forms, leveraging technology to bring in transparency in public interface and a robust public grievance redress system.
Simplification of procedures and processes in the Government in order to make the entire system transparent and faster is an important step for Good Governance.
Outcomes
On being merged, the newly formed UT will be allocated two seats in the Lok Sabha. Furthermore, jurisdiction of the High Court of Bombay will continue to extend to the proposed UT.
Being one UT will help in better management of cadres of various government employees.
Further, it will help to reduce administrative expenditure, uniformity in policies and effective monitoring of schemes and better implementation of developmental projects.
Dadar and Nagar Haveli
Capital: Silvassa
The U.T. of Dadra & Nagar Haveli is located on the western side of the foot hills of western Ghat, surrounded by Gujarat and Maharashtra. It consists of two pockets namely, Dadra and Nagar Haveli
The major river Daman ganga criss-cross the U.T. and drain into Arabian sea at
Between 1954 to 1961, Dadra and Nagar Haveli was administered by a citizen's council called the Varishta Panchayat of Free Dadra and Nagar Haveli. In 1961, it became a Union Territory.
However, the territory was merged with the Indian Union on 11 August, 1961, and since then, is being administered by the Government of India as a Union Territory.
The main tribes are Dhodia, Kokna and Varli with small groups of Koli, Kathodi, Naika and dubla scattered over the territory.
Daman and Diu
Capital: Daman
U.T. of Daman and Diu comprises two districts namely Daman and Diu. Both Districts are situated on western coast of India at a distance of about 700 kms, geographically separated by the Gulf of Khambhat.
Diu is island situated slightly off the coast of Kathiawad near the Port of Veraval in Gujarat while Daman is on main land near southern portion of Gujarat State.
After Liberation on 19th December, 1961 from Portuguese Rule of more than four centuries, Daman and Diu became a part of the T. of Goa, Daman and Diu under Government of India.
After delinking of Goa, which attained statehood, U.T. of Daman and Diu came into existence on 30th May, 1987.
Current News Indian Economy Survey And Index
Global Gender Gap Index – 2020
---
On 14th December, 2019, the World Economic Forum (WEF) published the Global Gender Gap Index-2020, which provides a comprehensive overview of the current state of the global gender gap and of efforts and insights to close it.
Aim
It aims to serve as a compass to track progress on relative gaps between women and men on health, education, economy and politics
About the Index
The Global Gender Gap Index was first introduced by the WEF in 2006 as a framework for capturing the magnitude of gender-based disparities and tracking their progress over time.
To be included in the Index, a country must have data available for a minimum of 12 indicators out of the 14 that compose the index.
The Index has been measuring the extent of gender-based gaps among four key dimensions-
Economic Participation and Opportunity: It contains three concepts the participation gap, the remuneration gap and the advancement gap.
Educational Attainment: This captures the gap between women's and men's current access to education through ratios of women to men in primary-, secondary- and tertiary-level education.
Health and Survival: It provides an overview of the differences between women's and men's health through the use of two indicators.
Political Empowerment: It measures the gap between men and women at the highest level of political decision-making through the ratio of women to men in ministerial positions and the ratio of women to men in parliamentary positions.
Key Findings
Global Specific Findings
Iceland is once again the most gender-equal country in the world for the 11th time in a row.
Iceland is followed by Norway (2nd), Finland (3rd) and Sweden (4th). Other economies in the top 10 include Nicaragua (5th), New Zealand (6th), Ireland (7th), Spain (8th), Rwanda (9th) and Germany (10th).
Yemen is ranked the worst (153rd).
On average, the eight regions assessed by the report have closed between 60.5% (the average score in Middle East and North Africa) and 76.7% (the average score in Western Europe).
North America is a few percentage points below Western Europe (72.9%) and Latin America and the Caribbean (72.2%) has almost caught up with Eastern Europe and Central Asia (71.3%). They are followed by East Asia and the Pacific (68.5%), Sub-Saharan Africa (68.2%) and South Asia (66.1%).
Globally, the average (population-weighted) distance completed to parity is at 6%, which is a further improvement since last edition.The political gender gap will take 95 years to close, compared to 107 years last year.
The largest gender disparity is reported in the Political Empowerment gap. Despite being the most improved dimension this year only 24.7% of the global Political Empowerment gap has been closed in 2020.
The second-largest gap is on Economic Participation and Opportunity; 57.8% of this gap has been closed so far, which represents a slight step back since last year.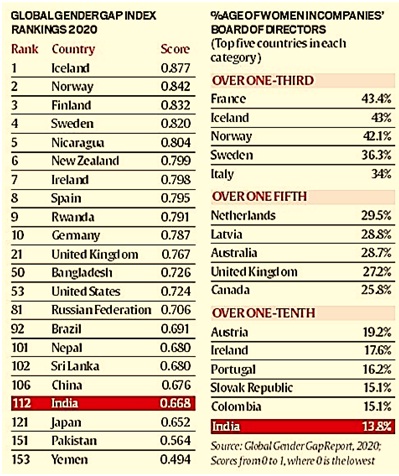 Source: IE
India Specific Findings
India has been ranked at 112th globally in terms of gender gap,below countries like China (106th), Sri Lanka (102nd), Nepal (101st), Brazil (92nd), Indonesia (85th) and Bangladesh (50th). This slip is attributed to the widening disparity in terms of women's health and survival and economic participation in the country.
India has improved to 18th place on political empowerment; it has slipped to 150th on health and survival, to 149th in terms of economic participation and opportunity and to 112th place for educational attainment.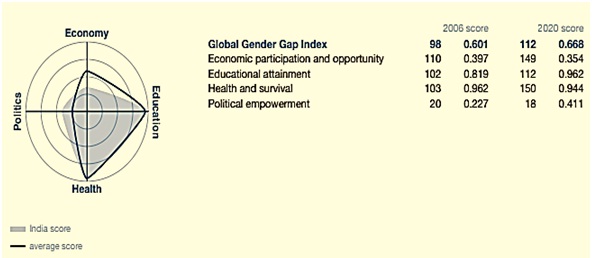 Source: WEF
Significance
Tool to Track Progress: It provides a comprehensive overview of the current state of the global gender gap and of efforts and insights to close it. The index offers a benchmarking tool to track progress and to reveal best practices across countries and subjects. Through this annual yardstick, stakeholders within each country are able to set priorities relevant in each specific economic, political and cultural context.
Providing Picture of Country's Legal and Social Framework: It highlights wide performance variation across countries, which not only allow users to understand how close each country has come to the equality benchmark in each of the four dimensions, but also provide a snapshot of the legal and social framework within which these outcomes are produced.
Providing Latest Research on Gender Equality:It highlight the strong correlation between a country's gender gap and its economic performance and summarizes some of the latest research on the case for gender equality.
Message to Policy-Makers:The report highlights the message to policy-makers that countries that want to remain competitive and inclusive will need to make gender equality a critical part of their nation's human capital development.\
World Economic Forum
Established in 1971 by Klaus Schwa, as a not-for-profit foundation and is headquartered in Geneva, Switzerland.
The Forum engages the foremost political, business, cultural and other leaders of society to shape global, regional and industry agendas.
Important Reports Published by WEF
Global Competitiveness Report
Global Risk Report
Global Travel and Tourism Report
Global Information Technology Report
Current News National Polity & Governance
Andhra Pradesh Disha Bill - 2019
---
Recently, the Andhra Pradesh Legislative Assembly passed the Andhra Pradesh Criminal Law (Amendment) Act, 2019.
The proposed new law has been named as Disha Act Criminal Law (AP Amendment) Act, 2019, as a tribute to the veterinary doctor who was raped and murdered recently in neighboring Telangana.
Key Highlights of Disha Bill
Women and Children Offenders Registry
The bill envisages to establish, operate and maintain a register in electronic form, to be called the 'Women & Children Offenders Registry', which will be made public and available to law enforcement agencies.
Death Penalty for Rape Crimes
It has prescribed the death penalty for rape crimes where there is adequate conclusive evidence. Provision is given by amending Section 376 of the Indian Penal Code, 1860.
Reducing the Judgment Period
As per the Bill, the judgment will now have to be pronounced in 21 working days from date of offence in cases of rape crimes with substantial conclusive evidence.
The investigation shall be completed in seven working days and trial shall be completed in 14 working days.
Punishment for Sexual Offences against Children
It prescribes life imprisonment for other sexual offences against children.
New Sections 354F and Section 354G 'Sexual Assault on Children' is being inserted in the Indian Penal Code, 1860.
Punishment for Harassment through Social Media
A new Section 354E 'Harassment of Women' is being added in Indian Penal Code, 1860
In cases of harassment of women through email, social media, digital mode or any other form, the guilty shall be punishable with imprisonment up to two years on first conviction which may extend to four years on second and subsequent conviction.
Establishment of Exclusive Special Courts
It mandates the government to establish exclusive special courts in each district of the state to ensure speedy trial. These courts will exclusively deal with cases of offences against women and children including rape, acid attacks, stalking, voyeurism, social media harassment of women, sexual harassment and all cases under the POCSO Act.
Reduced Period of Disposal
The period for disposal of appeal cases has been reduced to three months. Amendments are being made in Section 374 and 377 of Code of Criminal Procedure Act, 1973.
Constitution of Special Police Teams
It mandates the government to constitute special police teams at the district level to be called District Special Police Team to be headed by DSP for investigation of offences related to women and children.
In addition, the government will also appoint a special public prosecutor for each exclusive special court.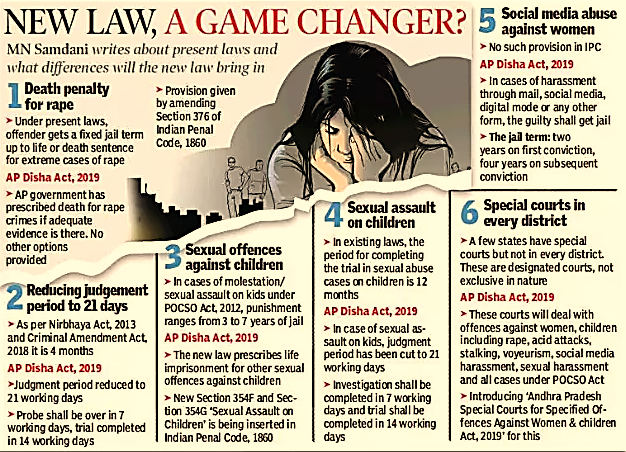 Source: ToI
How Disha Bill is different from present Legislations?
The government of India has launched a National Registry of Sexual offenders but the database is not digitized and is not accessible to the public.
Currently, provision for punishing an offender in a rape case is a fixed jail term leading to life imprisonment or the death sentence.
The existing judgment period as per the Nirbhaya Act, 2013 and Criminal Amendment Act, 2018 is 4 months (two months of investigation period and two months of trial period).
In cases of molestation/sexual assault on children under the POCSO Act, 2012, punishment ranges from a minimum of three years to maximum of seven years of imprisonment.
No provision exists in the Indian Penal Code for the punishment for harassment of women through social media.
At present, the period for disposal of appeal cases related to rape cases against women and children is six months.
Significance
Deterrent for Crimes: The new legislation will act as a deterrent for crimes against women and children across the state.
Strong Justice System:Further, it will make the criminal justice system tougher on an offender committing sexual crimes against women and children.
Speedy Trial: It will help hasten the trial process of crimes against women and children.
Skepticism over the Bill
The bill has evoked skepticism from the human rights activists and legal fraternity, who raised doubts over its efficiency in preventing crimes against women and its practicability.
Insufficient Workforce
Questions have been raised over the limited investigation and trial period as per the bill. The question is with 58 percent vacancies in subordinate judiciary and 25 percent vacancies in police officers; can Andhra Pradesh government complete any trial in 21 days?
Similarly, it has constituted special police teams from out of the existing strength, without adding a single post of police. With one-fourth vacancies, the police cannot perform any skillful or speedy investigation.
Burden of Pending Cases
The AP government has carved out special courts in each district, without allocating a single rupee or creating a single new post.
Further, already existing courts and judges are burdened with several hundreds of pending cases. The new act will only add burden to the judiciary system, further making it
Way Forward
Andhra Pradesh is the first state in the country to tighten the laws to punish the crooks to decrease the crime ratio on women, which is a welcome move and should be followed by other states across the country, in order to ensure the safety and integrity of women as well as children.
Current News Indian Economy Survey And Index
Human Development Report – 2019
---
On 9th December, 2019, United Nations Development Programme (UNDP) released the Human Development Report (HDR), 2019.
The HDR, 2019 entitled "Beyond income, beyond averages, beyond today: inequalities in human development in the 21st Century,"says that just as the gap in basic living standards is narrowing for millions of people, the necessities to thrive have evolved.
The 2019 Report retains all the composite indices from the family of human development indices—the Human Development Index (HDI), the Inequality
adjusted Human Development Index (IHDI), the Gender Development Index (GDI), the Gender Inequality Index (GII) and the Multidimensional Poverty Index (MPI).
Major Findings
Top and Worst Performers
Globally, Norway, Switzerland, Ireland occupied the top three positionson the 2019 Human Development Index (HDI respectively.
Germany is placed fourth along with Hong Kong, and Australia secured the fifth rank on the global ranking.
While, Niger, the Central African Republic, South Sudan, Chad and Burundi have the lowest scores in the HDI's measurement of national achievements in health, education and income.
India and its Neighbouring Countries Performance
India ranks 129 out of 189 countries on the 2019, HDI — up one slot from the 130th position last year i.e. 2018.
Between 1990 and 2018, India's HDI value increased by 50 percent (from 0.431 to 0.647), which places it above the average for countries in the medium human development group (0.634) and above the average for other South Asian countries (0.642).
Among India's neighbours, Sri Lanka (71) and China (85) are higher up the rank scale while Bhutan (134), Bangladesh (135), Myanmar (145), Nepal (147), Pakistan (152) and Afghanistan (170) were ranked lower on the list.
In the Gender Inequality Index (GII), India is at 122 out of 162 countries.China (39), Sri Lanka (86), Bhutan (99), Myanmar (106) were placed above India.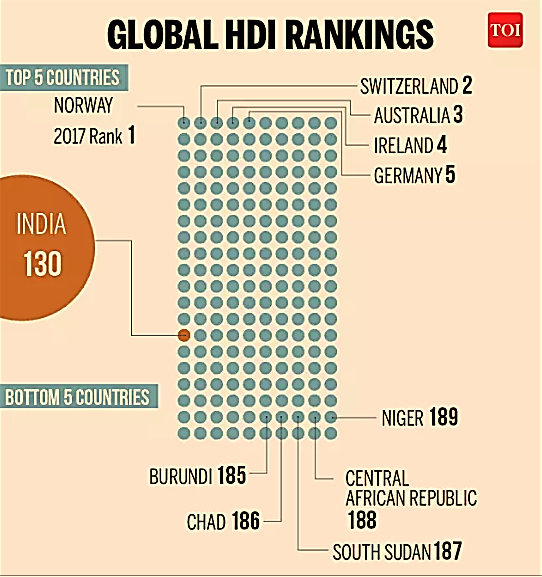 Source: ToI
Regional Performance
As per the report, South Asia was the fastest growing region in human development progress witnessing a 46% growth over 1990-2018, followed by East Asia and the Pacific at 43%.
Significance of Report
Focus on Inequalities: The HDR, 2019 is significant because it focuses on inequalities in development. It shows inequalities beyond income which exist in society. It gives us a much broader understanding of the factors shaping unequal life chances, from birth and through life.
Opening of New Generation of Inequalities: The report warns that new forms of inequalities will manifest in future through climate change and technological transformation which have the potential to deepen existing social and economic fault lines.
Sustainable Development Goals (SDGs) Still Too Far: It notes that the world is not on track to achieve gender equality by 2030 as per the UN's Sustainable Development Goals. With the current development scenario, it may take 202 years to close the gender gap in economic opportunity.
Focus on Gender Inequality: The report presents a new index indicating how prejudices and social beliefs obstruct gender equality, which shows that only 14% of women and 10% of men worldwide have no gender bias.
Human Development Index(HDI)
The HDI is a statistical tool used to measure a country's overall achievement in its social and economic dimensions. Nations that rank higher on this index have a higher level of education, a higher lifespan, and a higher gross national income per capita than nations with a lower score.
The HDI was first launched in 1990 and has been released annually ever since, with the exception of 2012.
Indicators
Longevity: It is measured by life expectancy at birth. Life expectancy at birth means how many years a newly born infant can hope to live in this world. This represents element of health in the Human Development Index (HDI).
Education or Knowledge: It is measured by the weighted average of adult literacy and mean years of schooling. For this 2/3rd weight is given to adult literacy and 1/3rd weight is given to the mean years of schooling.
Standard of Living: It is measured by real per capita income of a country at purchasing power parity (PPP) prices, which is, adjusted for purchasing power of currencies of different countries.
Significance
HDI is one of the best tools to keep track of the level of development of a country, as it combines all major social and economic indicators that are responsible for economic development.
Shortcomings
It omits several factors that can have a significant influence on quality of life, such as environmental degradation. Industrial pollution and deforestation, for example, can lead to complex health problems (e.g. lymphatic filariasis) or mental health conditions that do not necessarily have an impact on mortality rates but which can severely impair one's mobility or quality of living.
On the other hand, for estimating literacy rate, expected years of schooling by children at the entrance age is used which overstates the literacy rate as in many countries (including India) many children who join primary school later drop out at some stage.
Besides, human development index still does not take into account social, economic and political freedoms as well as human rights.
Current News Indian Economy Plan Policy
Accessible India Campaign
---
Recently, the Ministry of Social Justice and Empowerment extended the deadline for Accessible India campaign to March 2020 due to slow progress.
The original deadlines under the campaign was July, 2018, for conducting an accessibility audit of 25-50 of the most important government buildings in 50 cities and making them completely accessible.
Reasons
Under the campaign, the target of making 50% of all the government buildings of all the State capitals fully accessible has not been met yet.
Complete accessibility audit of 50% of government buildings and making them fully accessible in 10 most important cities/towns of States is still under development.
Accessible India Campaign (AIC)
Also known as Sugamya Bharat Abhiyan, it was launched by Department of Empowerment of Persons with Disabilities, in December, 2015, as a nation-wide Campaign for achieving universal accessibility for Persons with Disabilities (PwDs)or
Aim
To enable persons with disabilities to gain universal access.
To provide equal opportunity for development, independent living and participation in all aspects of life in an inclusive society.
To create an accessible physical environment that benefits everyone, not just persons with disabilities.
Components of AIC
Built Environment Accessibility
An accessible physical environment benefits everyone, not just persons with disabilities. Measures should be undertaken to eliminate obstacles and barriers to indoor and outdoor facilities including schools, medical facilities, and workplaces.
These include not only buildings, but also footpaths, curb cuts, and obstacles that block the flow of pedestrian traffic.
Transportation System Accessibility
Transportation is a vital component for independent living, and like others in society, PwDs rely on transportation facilities to move from one place to another.
The term transportation covers a number of areas including air travel, buses, taxis, and trains.
Information and Communication Eco-System Accessibility
Access to information creates opportunities for everyone in society and it refers to all information. People use information in many forms to make decisions about their daily lives.
This can range from actions such as being able to read price tags, to physically enter a hall, to participate in an event, to read a pamphlet with healthcare information, to understand a train timetable, or to view webpages.
Significance
With Accessible India Campaign, India has joined the rest of the world, as an inclusive society with universal accessibility, caring for its citizens, accessibility rights and independent living.
Physical accessibility related actions will initiate accessibility to education, employment and livelihood helping built a stronger nation.
Recent Developments towards AIC
Management Information System (MIS)
In September, 2019, Department of Empowerment of Persons with Disabilities (DEPwD) developed a Management Information System (MIS) for stakeholders of AIC.
The MIS portal will bring all the nodal ministries and States/UTs on a single platform for monitoring the progress being made against each target of AIC.
The portal will be useful in maintaining all the function on digital platform and capture data on a real-time basis.
Website Accessibility Project

In January, 2018, DEPwD initiated Website Accessibility Project for State Government/Union Territories under Accessible India Campaign through ERNET India, to make total 917 websites accessible to Divyangjans.
Rights of Persons with Disabilities Act – 2016
Enacted in December 2016, the act facilitates full acceptance of people with disability and ensures full participation and inclusion of such persons in the society.
Aim
To uphold the dignity of every PwD in the society and prevent any form of discrimination.
Salient Features
It defines PwD as any person with long-term physical, mental, intellectual, or sensory impairments which on interacting with barriers hinder effective and equal growth in the society.
The types of disabilities have been increased from existing 7 to 21 and the Central Government will have the power to add more types of disabilities.
Speech and Language Disability and Specific Learning Disability have been added for the first time.
Acid Attack Victims have been included.
Dwarfism, muscular dystrophy have has been indicated as separate class of specified disability.
The New categories of disabilities also included three blood disorders, Thalassemia, Hemophilia and Sickle Cell disease.
Significance
The Act is in line with the United National Convention on the Rights of Persons with Disabilities (UNCRPD), to which India is a signatory, since 2007. This will fulfill the obligations on the part of India in terms of UNCRD.
Further, it not only helps to enhance the Rights and Entitlements of Divyangjan but also provide effective mechanism for ensuring their empowerment and true inclusion into the society in a satisfactory manner.
United National Convention on the Rights of Persons with Disabilities (UNCRPD)
Adopted in December, 2006, UNCRPD is the first international treaty which identifies the rights of disabled people as well as the obligations in order to promote, protect and ensure those rights.
The Convention entered into force on 3rd May, 2008.
It is a benchmark document that works to ensure the enjoyment of human rights and fundamental freedoms by persons with disabilities.
Aim
To ensure that disabled people enjoy the same human rights as everyone else and that they can participate fully in society by receiving the same opportunities as others.
What is an Accessible Building?
An accessible building is one, where persons with disabilities have no barrier in entering it and using all the facilities therein.
This covers the built environment – services, steps and ramps, corridors, entry gates, emergency exits, parking – as well as indoor and outdoor facilities including lighting, signages, alarm systems and toilets.
Criteria
Identifying accessible buildings requires annual accessibility audits that determine if a building meets agreed upon standards.
Once a building is deemed fully accessible, an annual audit is not necessary, but should be required for any proposed changes to the structure or systems contained therein.
A full audit can then be done on a less frequent basis. Standards of accessibility should be as consistent as possible with international standards, such as those of the ISO, taking into account the local context.
In regards to the built environment, ISO 21542:2011, Building Construction –Accessibility and Usability of the Built Environment, delineates a set of requirements and recommendations concerning construction, assembly, components and fittings.
Current News National Polity & Governance
The Recycling Of Ships Act, 2019
---
On 13th December, 2019, the Recycling of Ships Bill, 2019 received the President's assent and became an Act. The government also decided to accede to the Hong Kong International Convention for Safe and Environmentally Sound Recycling of Ships, 2009 on 28th November, 2019.
When the Hong Kong International Convention comes into force, its provisions will be implemented under the provisions of the Recycling of Ships Bill, 2019 and rules and regulations framed there under.
Objective
To provide a boost to the ship-wrecking industry in India
Need for Bill
India is the leader in the global ship recycling industry, with a share of over 25% of the world's ship recycling industry. But the industry is plagued with issues like the safety of worker as well as the environment concerns.
Salient Features
Authorization of Recycling Facilities
Under the Bill, ship recycling facilities are required to be authorized and ships shall be recycled only in such authorized ship recycling facilities.
Ship-Specific Recycling Plan
The Bill also provides that ships shall be recycled in accordance with a ship-specific recycling plan. Ships to be recycled in India shall be required to obtain a Ready for Recycling Certificate in accordance with the Hong Kong Convention (HKC).
Restriction on Hazardous Material
It restricts and prohibits the use or installation of hazardous material, which applies irrespective of whether a ship is meant for recycling or not. Ships shall be surveyed and certified on the inventory of hazardous material used in ships.
Grace Period for Existing Ships
For new ships, such restriction on use of hazardous material will be immediate, that is, from the date the legislation comes into force, while existing ships shall have a period of five years for compliance.
However, restriction on use of hazardous material would not be applied to warships and non-commercial ships operated by Government.
Impact
Regularising Ship Recycling Industry: The bill will help to provide for the regulation of recycling of ships by setting certain international standards and laying down the statutory mechanism for enforcement of such standards.
Hong Kong International Convention for Safe and Environmentally Sound Recycling of Ships
Also known as the Hong Kong Convention (HKC), it was adopted at a Diplomatic Conference held in Hong Kong, in May 2009.
It was developed with input from International Maritime Organistaion(IMO) Member States and non-governmental organizations, and in co-operation with the International Labour Organization and the Parties to the Basel Convention on the Control of Transboundary Movements of Hazardous Wastes and their Disposal.
The Convention is yet come into force because it has not been ratified by 15 nations, representing 40 percent of the world merchant shipping by gross tonnage (capacity) and a maximum annual ship recycling volume of not less than 3 per cent of the combined tonnage of the countries.
As of now, Norway, Congo, France, Belgium, Panama, Denmark, Turkey, Netherland, Serbia, Japan, Estonia, Malta, Germany and India have acceded to the Convention.
Aim
To improve the health and safety of current ship breaking practices
To ensure safety of human health and the environment
Significance
Once entered into force, it will help address the concerns about working and environmental conditions in many of the world's ship recycling locations.
It will help in addressing the major issues related to hazardous substances such as asbestos, heavy metals, hydrocarbons, ozone depleting substances and others, which pose a grave threat to the environment.
Benefits to India
Boost to Ship Recycle Industry: Accession to HKC will provide boost to recycling sector as more ships will be allowed to come in from countries like Japan, Korea, to be recycled. At present, a lot of countries raise environment and safety issues related to the ship-wrecking industry in India.
Investment Opportunities: Being a world player in ship recycling, the move will allow global funds to come and invest in ship-recycling centres in India.
Green Recycling of Ships: It will help India to bring in global best practices followed in recycling industries, ensuring that the ships are dismantled in an environment-friendly and responsible manner.
Issues in Ship Recycling Industry in India
Safety Issues
Workers usually lack personal protective equipment and have little training, if at all. Inadequate safety controls, badly monitored work operations and high risk of explosions create very dangerous work situations.
Due to the absence of norms about the standard the vessel should be in when it arrives for scrapping, the vessel represents in itself a number of potential risks. Basic risk-reducing or eliminating measures are often ignored and ultimately accidents occur.
Lack of coordination for work procedures, the absence of facilities and the absence of safety control represent elements of risk causing bodily harm and injuries.
In addition, impunity for yard owners remains a serious concern. No yard owner has ever been held responsible for the death of a worker as they manage to put pressure on the law enforcers to quickly drop the charges.
Health Related Issues
On the shipbreaking beaches, asbestos fibers and flocks fly around in the open air, and workers take out asbestos insulation materials with their bare hands. Exposure to other heavy metals found in many parts of ships such as in paints, coatings, anodes and electrical equipment can result in cancers and also cause damage to blood vessels.
Workers spend their days slathered in mud contaminated with heavy metals and toxic paint particles that leach from the ships into the tidal flats.
Workers have very limited access to health services and inadequate housing, welfare and sanitary facilities further exacerbate the plight of the workers. Despite of thousands of workers deployed at a ship breaking site there is hardly any provision of doctors or clinics to meet any exigencies.
Waste Management Issues
Wastes generated by Ship breaking industry can be broadly classified into hazardous and non-hazardous wastes. Hazardous waste stream comprises of asbestos, Polychlorinated biphenyl (PCB), Polycyclic Aromatic Hydrocarbons (PAH), Tributyltin TBT, heavy metals etc.
Besides solid wastes, gases such as ammonia, chlorofluorocarbons (CFCs) from the air conditioning system, and inflammable gases may be present in pipelines of oil tankers. Although these wastes constitute only around 1% of dead weight of a ship, the total amount in millions of tonne, make these wastes difficult to handle, posing a major risk both to health and environment.
Environmental Issues
Water Pollution
Water body, primarily the marine environment gets polluted in terms of suspended solids, nitrates, phosphate, heavy metals, oil and grease from bilge water.
Oil spills, heavy metals like lead, mercury and organotins like Tributyltin (TBT) pose threat to marine ecosystem including birds and mammals, zooplanktons, phytoplanktons, etc.
Soil Pollution
Improperly handled heavy metals (lead, cadmium) found in paint chips, asbestos fibres and polychlorinated biphenyls (PCB) containing elements can become potential source of contamination of soil in the vicinity of the ship scrapping activity.
Air Pollution
The paints and coatings on a ship are generally flammable and contain toxic compounds such as PCBs, heavy metals (such as lead, cadmium, chromium, zinc and copper) and pesticides such as TBT.
Toxic smoke potentially carrying dioxins, furans and polycyclic aromatic hydrocarbons (PAHs) are generated when non-recyclable rubber pipes, broken electrical fixtures are burnt in open air.
Fine particulates generated during stripping of ship and release of CFCs from explosion of gases entrapped in refrigeration system or other explosive chemicals further contributes to air pollution from various ship breaking processes.
Way Forward
Ship breaking industry in India is a part of the global ship recycling practices. This industry, like others, has many challenges and opportunities. On one hand, ship breaking is a green process wherein a ship at end of its life cycle is being dismantled and each part is sent further for reuse, but on the other hand, the complex process of dismantling involves issues like labour safety and health and further it poses challenges on environment as well, which is a matter for criticism.
Despite all its drawbacks, theoretically, shipbreaking has many advantages – it promotes sustainable development by reducing the need for mining of natural resources and it contributes to production of steel which helps in generation of employment. With the back drop of sustainability issues, this industry has the potential to be the prime economic activity in India.
Current News Science & Technology Health & Disease
World Malaria Report – 2019
---
On 4th December, 2019, the World Health Organisation (WHO) released the World Malaria Report, 2019, which summarizes global progress in the fight against malaria up to the end of 2018.
This is the fourth world malaria report since the launch of the WHO Global technical strategy for malaria 2016–2030 (GTS).
It is based on information received from more than 80 countries and areas with ongoing malaria transmission.
Major Findings
Global Specific Findings
In 2018, an estimated 228 million cases of malaria occurred worldwide, compared with 251 million cases in 2010 and 231 million cases in 2017.
Most malaria cases in 2018 were in the World Health Organization (WHO) African Region (93%), followed by the WHO South-East Asia Region (SEAR- 3.4%) and the WHO Eastern Mediterranean Region (2.1%).
Six countries accounted for more than half of all malaria cases worldwide: Nigeria (25%), the Democratic Republic of the Congo (12%), Uganda (5%), and Côte d'Ivoire, Mozambique and Niger (4%).
The incidence rate of malaria declined globally between 2010 and 2018, from 71 to 57 cases per 1000 population at risk.
Plasmodium falciparum is the most prevalent malaria parasite in the WHO African Region,accounting for 99.7% of estimated malaria cases in 2018.
Plasmodiumvivax is the predominant parasite in the WHO Region of the Americas,representing 75% of malaria cases.
Globally, 53% of the vivax burden is in the WHO South-East Asia Region, with the majority being in India (47%).
Children aged under 5 years are the most vulnerable group affected by malaria. In 2018, theyaccounted for 67% of all malaria deaths worldwide.
High Burden to High Impact Approach
There were about 155 million malaria cases in the 11 high-burden-to-high-impact (HBHI) countries in 2018, compared with 177 million in 2010.
India and Uganda have received a special mention from WHO) for their substantial reduction in malaria cases in 2018 over the previous year.
India Specific Findings
In 2018, India saw a significant reduction – 2.6 million malaria cases – compared to 2017. Despite being the highest burden country of the WHO South-East Asia Region, India reduced its reported cases by half as compared with 2017.
Only seven out of 29 States and seven UTs accounted for 90 percent of the estimated cases in 2018.

Source: IE
Significance of Report
Providing Comprehensive Update: It provides a comprehensive update on global and regional malaria data and trends. The report tracks investments in malaria programmes and research as well as progress across all intervention areas: prevention, diagnosis, treatment, elimination and surveillance.
Tracking Roll Back Malaria (RBM): It also tracks a set of indicators outlined in the Roll Back Malaria (RBM) advocacy plan, Action and investment to defeat malaria 2016–2030, to eliminate the menace of malaria.
Highlighting Strategy against Malaria: The report highlights the various ways investment in the fight against malaria contributes to the SDGs and the aligned WHO "triple billion" targets of the 13th General Programme of Work (GPW13).
Initiatives towards Malarial Eradication
Global Initiatives
Global Technical Strategy(GTS) for Malaria, 2016–2030
Adopted by the World Health Assembly in May 2015, the GTS provides a comprehensive framework to guide countries in their efforts to accelerate progress towards malaria elimination.
The Strategy sets ambitious but achievable goals for 2030, including:

Reducing malaria case incidence by at least 90%
Reducing malaria mortality rates by at least 90%
Eliminating malaria in at least 35 countries
Preventing a resurgence of malaria in all countries that are malaria-free

The strategy was developed in close alignment with the RBM Partnership's Action and Investment to defeat Malaria 2016-2030 – for a malaria-free world to ensure shared goals and complementarity.
It emphasizes the need for universal coverage of core malaria interventions for all populations at risk and highlights the importance of using high-quality surveillance data for decision-making.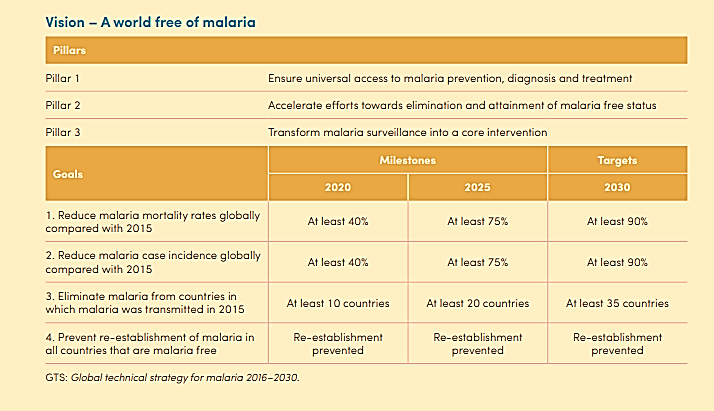 World's First Malaria Vaccine
In April, 2019, African country Malawi launched the World's first malaria vaccine,RTS,S/AS01 (RTS,S), developed by Glaxo Smith Kline (GSK).
The vaccine is a complementary malaria control tool - to be added to the core package of WHO-recommended measures for malaria prevention, including the routine use of insecticide-treated bed nets, indoor spraying with insecticides, and the timely use of malaria testing and treatment.
High Burden to High Impact
In May 2018, WHO along with RBM, called for an aggressive new approach- High Burden to High Impact, in order to accelerate progress against malaria.
It is a country-led response to reignite the pace of progress in the global malaria fight.
It aims to scale up prevention and treatment, and increase investment to protect vulnerable people from the deadly disease.
The plan support nations with most malaria cases and deaths and is based on four pillars-
galvanising national and global political attention to reduce malaria deaths
driving impact through the strategic use of information
establishing best global guidance, policies and strategies suitable for all malaria endemic countries
Implementing a coordinated country response.
E- 2020 Initiative
In 2016, WHO identified 21 countries, spanning 5 regions, that could defeat malaria by 2020, considering the likelihood of elimination across key criteria. Together, they form the E-2020 initiative.
This interactive map provides the latest information on progress and challenges in these 21 countries on their path towards malaria elimination.
Indian Initiatives
National Strategic Plan for Malaria Elimination (2017-22)
Launched in July, 2017, the plan gives year wise elimination targets in various parts of the country depending upon the endemicity of malaria in the next 5 years.
It involve strengthening malaria surveillance, establishing a mechanism for early detection and prevention of outbreaks of malaria, promoting the prevention of malaria by the use of Long Lasting Impregnated Nets (LLINs), effective indoor residual spray and augmenting the manpower and capacities for effective implementation for the next five years
Under this, elimination of malaria by 2022 has been envisaged for all 26 States including 15 low (Category 1) and 11 moderate (Category 2) transmission States/Union Territories.
National Framework for Malaria Elimination- 2016-2030
The framework, developedin line with the WHO Global Technical Strategy for Malaria 2016–2030 (GTS) and the Asia Pacific Leaders Malaria Alliance Malaria Elimination Roadmap, encompasses a vision to eliminate malaria from the country and contribute to improved health and quality of life and alleviation of poverty.
Aims
To Eliminate malaria (zero indigenous cases) throughout the entire country by 2030
Maintain malaria-free status in areas where malaria transmission has been interrupted and prevent re-introduction of malaria.
Plasmodium Genus
Malaria results from infection with single-celled parasites belonging to the Plasmodium genus.
Five species of Plasmodium are known to cause disease in humans: P. falciparum, P.vivax, P. ovale, P. malariae, and P. knowlesi.
Globally, Plasmodium falciparum and Plasmodium vivax account for the majority of cases of malaria.
While Plasmodium falciparum is responsible for more deaths, Plasmodium vivax is the most widespread of all of the malaria species, can cause severe, even fatalinfections and results in significant global morbidity and mortality.
Way Forward
Malaria is a disease of poverty which exerts an enormous economic and social burden on the affected population groups, individuals and communities. The burden of malaria is highest among the most disadvantaged populations, particularly children and pregnant women.
Global poverty and inequity are both a major cause and consequence of malaria. Efforts to prevent, control and eliminate malaria contribute toachieve the Sustainable Development Goals (SDGs) 3 - health and well-being for all.
Further, achieving a world free of malaria will be accelerated by the successful adoption of Universal Health Coverage (UHC), which would provide everyone, everywhere with accessible, affordable, and sustainable health services.
Current News Ecology & Environment Pollution
Torrefaction Technology
---
Pollution from stubble burning in winter is the key contributor to the sharp decline in air quality in northern India. In order to curb the menace of stubble burning, India is currently testing a Swedish technology — Torrefaction, that can convert rice stubble into bio-coal.
The Government of India, in association with Bioendev, (Swedish company) has funded a pilot project to set up a pilot plant at the National Agri-Food Biotechnology Institute in Mohali, Punjab to evaluate the feasibility of the technology.
What is Torrefaction Technology?
Torrefaction is a thermochemical pretreatment process at 200–300 °C in an environment with low oxygen, which transforms biomass into a relatively superior handling, milling, co-firing and clean renewable energy into solid biofuel (coal-like pellets).
Torrefaction technology enables processing various kinds of biomasses:
Woody biomass
Forrest residuals
Saw mill residuals (e.g. saw, dust, chips, bark)
Straw, grass
Parameters
The different parameters that influence the torrefaction process are (a) reaction temperature, (b) heating rate, (c) absence of oxygen, (d) residence time, (e) ambient pressure, (d) flexible feedstock, (e) feedstock moisture, and (f) feedstock particle size.
Process
Torrefaction carries devolatilisation, depolymerization and carbonization of lignocellulose components in order to generate bio-coal.
During this process, 70% of the mass is retained as a solid product, and retains 90 % of the initial energy content.

End Products of Torrefaction
Three different products are produced:
Brown to black uniform solid biomass, which is used for bioenergy applications
Condensable volatile organic compounds comprising water, acetic acid, aldehydes, alcohols, and ketones
Non-condensable gases like carbon dioxide, carbon monoxide and small amounts of methane.
Bio-Coal
Bio-Coal (briquette) is made from agricultural, wooden and forestry wastes by high compression process without adding any chemical, glue or binder.
It is thus 'binder-less' technology product resulting in 100% natural eco-friendly, pollution-free solid fuel. Biomass briquettes are a renewable source of energy and avoid adding fossil carbon to the atmosphere.
A popular biomass briquette takes a waste produce such as sawdust, groundnut shells, cotton stalk, castor seed shells etc. compresses it and then extrudes it to make a reconstituted log that can replace firewood and coal.
Advantages
Economic
Torrefied biomass is believed to be a superior solid fuel for combustion, especially when co-fired with coal due to its higher energy density and coal-like handling proper-ties. Typically during torrefaction, 70% of the mass is retained as a solid product, containing 90% of the initial energy content.
Torrefaction releases combustible gases that can be used to generate the required heat, making the process self-powering.
It addresses some of the difficulties which have hindered the large-scale utilisation of biomass feedstock, namely: low energy density and high water content.
Torrefied product is stable, brittle, easier to grind than the parent biomass material and less liable to biological degradation in storage.
These can be transported economically due to their high energy density. Compaction through pelletizing is suitable forlong hauls via open rail car and ocean vessel, reducing the transportation cost.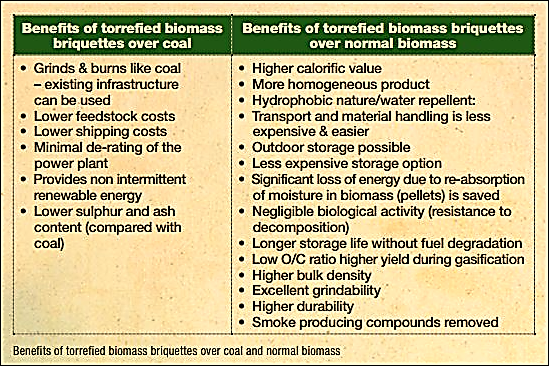 Environment
The main advantage of the torrefaction process is that obtained (in the form of pellets torrefied product on the main thermo technical characteristics is similar to coal, and can be used to coal replacement in different energy units. According to the content of harmful components and, above all, sulfur and heavy metals, from the total ash content and etc., torrefied product is preferable than modern energy coal.
Therefore, it provides an opportunity to replace a significant portion of the coal by torrefied product, thereby reducing the total ecological impact on the environment.
Way Forward
The potential of biomass as a replacement to fossil fuels leads to a number of issues, such as the increase in their price and environmental consequences due to their excessive harvesting and plantation, which leads to deforestation and a consequent decrease in biodiversity.
Widespread consumption of biomass could affect various ecosystems by creating negative impacts on the quality of water and soil and affecting food chains.
However, the torrefaction of biomass has proved to be an ideal process for improving the biomass characteristics as this energy source has proved to be a good alternative to theuse of fossil fuels.
Current News Indian Economy Plan Policy
Databank Of Independent Director Launched
---
On 2nd December, 2019, the Ministry of Corporate Affairs (MCA) launched the Independent Director's Databank in accordance with the provisions of the Companies Act, 2013.
Objective
Strengthening the institution of Independent Directors
Background
On 22nd October 2019, the MCA issued certain notifications relating to the creation and maintenance of the data bank for independent directors. These relates to the following:
Notification of the Companies (Creation and Maintenance of data bank of Independent Directors) Rules, 2019
Additional disclosure in board's report
Constitution of institute for data bank of independent directors
Compliances required by the independent directors
Need for Databank
In recent times, many individuals have come under the regulatory lens in connection with failure and default cases of the companies (for ex. Default of Infrastructure Leasing & Financial Services) where they were serving as independent directors.
These failures have given enough reason to believe that directors need to have greater awareness of their fiduciary responsibilities.
About the Databank
The Databank portal which has been developed and will be maintained by the Indian Institute for Corporate Affairs (IICA), is a first of its kind initiative from the Ministry
Section 150 of the Companies Act, 2013 provides that an independent director can be selected from a data bank maintained by anybody, institute or association, as may be notified by the Central Government.
It will serve as a comprehensive repository of existing as well as those eligible to be independent directors.
The data bank would contain names, addresses and qualifications of persons who are eligible and willing to act as independent directors.
The present independent directors are also required to pass a basic online proficiency self-assessment test which will available from March 2020.
MCA has realized the importance of strengthening the Institution of Independent Directors and enhancing its effectiveness by way of creating a pool of skilled professionals to act as Agents of Change.
Significance
Will provide a platform to individuals to help them acquire knowledge, develop new skills, assess their understanding, and apply best practices.
Will help in building capacities of Individuals by delivering eLearning courses on topics related to corporate governance, regulatory framework, financial prudence, and other important aspects.
Will help to create an eco-system of individuals looking for opportunities and corporate requiring to appoint independent directors.Companies may register them selves with the databank to search, select and connect with individuals who possess the right skills and attitude for being considered for appointment as independent directors.
Independent Directors (IDs)
An independent director is a non-executive director who does not have any pecuniary relationship with the company, its promoters, and senior management or affiliate companies, is not related to promoters or the senior management, and/or has not been an executive with the company in the three preceding financial years.
The Companies Act,1956 does not provide us the specific definition of an Independent Director.
The provisions relating to appointment of Independent directors are contained in Section 149 of the Companies Act, 2013 should be read along with Rule 4 and Rule 5 of the Companies (Appointment and Qualification of Directors) Rules, 2014.
Role
IDs should makeup at least two-thirds of the directors in the audit committees of listed companies to oversee the financial reporting process and disclosure of the company's financial information, ensure compliance with listing and other legal requirements, disclosure of related party transactions and qualification in the draft audit report, among other things.
They act as a guide to the company. Their roles broadly include improving corporate credibility and governance standards functioning as a watchdog, and playing a vital role in risk management.
Independent directors play an active role in various committees set up by company to ensure good governance.
Importance
IDs serve as an important Institution of corporate governance contributing significantly at the boards by bringing a diverse set of skills with an independent judgment on the significant issues.
IDs along with other directors on a board are an integral part of a company and are entrusted with the most crucial responsibility relating to the functionality and the overall governance of a company.
Companies Act, 2013
The Companies Act 2013 is the law covering incorporation, dissolution and the running of companies in India.
The Act came into force across India on 12th September 2013 and has a few amendments to the previous act of 1956.
The 2013 Act introduces significant changes in the provisions related to governance, e-management, compliance and enforcement, disclosure norms, auditors and mergers and acquisitions.
Objective
To consolidate and amend the law relating to companies.
Key Features
The maximum number of members (shareholders) permitted for a Private Limited Company is increased to 200 from 50.
One-Person company.
Section 135 of the Act which deals with Corporate Social Responsibility.
Company Law Tribunal and Company Law Appellate Tribunal.
Amendments
On July 31, 2019, the Ministry of Corporate Affairs introduced the Companies (Amendment) Act, 2019.
It aims to ensure more accountability and better enforcement to strengthen the corporate governance norms and compliance management in corporatesector as enshrined in the Companies Act, 2013.
Current News Indian Economy Survey And Index
Consumer Expenditure Survey
---
Recently, the Ministry of Statistics and Programme Implementation (MoSPI) decided not to release the results of the all-India Household Consumer Expenditure Survey conducted by the National Statistical Office (NSO) during 2017-2018.
It asserted that any findings from the survey that had been referred to in media reports were essentially "draft in nature".
Reason for withholding Data
A media leak has revealed that the 2017-18 Consumer Expenditure Survey the results had been withheld due to the adverse findings in the survey which showed consumer spending was falling.
There was a significant increase in the divergence in not only the levels in the consumption pattern but also the direction of the change when compared to the other administrative data sources like the actual production of goods and services.
Survey lacks ability to capture consumption of social services by households, especially on health and education.
According to the leaked version of the 2017-18 survey, the data revealed a decline in the Per Capita Consumer Expenditure(MPCE), making it the first such drop since 1972-73. In real terms (adjusted for inflation) the MPCE slid by 7% from Rs 1,501 in 2011-2012 to Rs 1,446 in 2017-2018.
Government's Response
MoSPI stated that there is a rigorous procedure for vetting of data and reports, which are produced through surveys. All such submissions, which come to the ministry, are draft in nature and cannot be deemed to be the final report.
Further, the government referred the matter to a Committee of experts which noted the discrepancies and came out with several recommendations including a refinement in the survey methodology and improving the data quality aspects on a concurrent basis. The recommendations of the Committee are being examined for implementation in future surveys.
Consumer Expenditure Survey
The CES is aquinquennial (recurring every five years) survey conducted by the government's National Sample Survey Office (NSSO) that is designed to collect information on the consumption spending patterns of households across the country, both urban and rural.
The last survey on consumer expenditure was conducted in the 68th round (July 2011 to June 2012).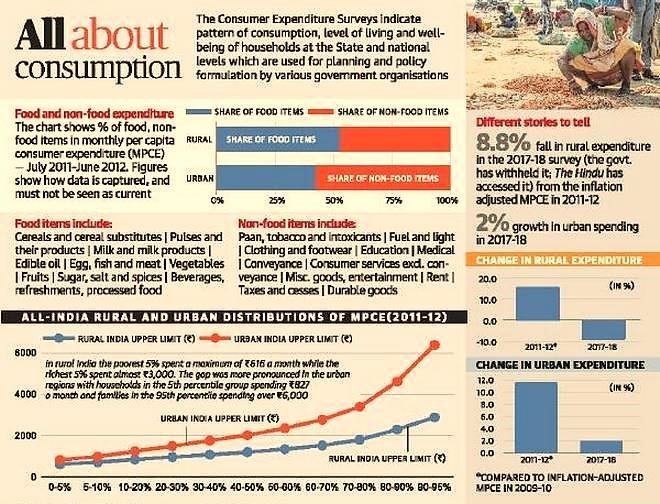 Source: The Hindu
Significance of CES
Estimation of Monthly Per Capita Consumer Expenditure: The data gathered in this survey reveals the average expenditure on goods (food and non-food) and services and helps generate estimates of household Monthly Per Capita Consumer Expenditure (MPCE) as well as the distribution of households and persons over the MPCE classes.
Assessing Living Standards and Growth: The estimates of monthly per capita consumption spending are vital in gauging the demand dynamics of the economy as well as for understanding the shifting priorities in terms of baskets of goods and services, and in assessing living standards and growth trends across multiple strata.
Important Analytical and Forecasting Tool: It is an invaluable analytical as well as forecasting tool for the policymakers to spot and address possible structural anomalies that may cause demand to shift in a particular manner in a specific socio-economic or regional cohort of the population. It is, in fact, used by the government in rebasing the GDP and other macro-economic indicators.
National Statistical Office (NSO)
The NSO is responsible for conduct of large scale sample surveys in diverse fields on All India basis. Primarily data are collected through nation-wide household surveys on various socio-economic subjects, Annual Survey of Industries (ASI), etc.
It also collects data on rural and urban prices and plays a significant role in the improvement of crop statistics through supervision of the area enumeration and crop estimation surveys of the State agencies. It also maintains a frame of urban area units for use in sample surveys in urban areas.
Final Word
If there were data quality issues, it would have been discovered long before the report was drafted. Even assuming severe inconsistencies in the data collected, the right course would have been to publish a report with the findings and the perceived limitations, which could have been of use to researchers.
There is still legitimate concern that the draft report must be published because the government has spent millions of rupees collecting the data and hence is obliged to publish it. The government's decision to with hold the survey's findings deprives policymakers of invaluable contemporary consumption data that would have helped drive their intervention strategies.
The next survey's findings,depending on when the Ministry decides to actually undertake it, 2020-21 or 2021-22 — would end up coming after 9 or 10 years after the 2011-12 round.
Further, India, as a subscriber to the International Monetary Fund's Special Data Dissemination Standard (SDDS), is obliged to follow good practices in four areas in disseminating macroeconomic statistics to the public- 1) the coverage, periodicity, and timeliness of data, 2) public access to those data, 3) data integrity, 4) data quality.
With the IMF's 'Annual Observance Report' for 2018 already having flagged concerns about India's delays in releasing economic data, India risks violating its SDDS obligations.
This suppression of essential data is terrible for accountability and for ensuring that citizens have the benefit of official data collection that is paid for with their taxes. It is also counterproductive for the government, which may be kept in the dark about actual trends in the economy and therefore not be able to devise appropriate policies. Undermining the objectivity and credibility of an independent statistical system is fundamentally against the national interest.
Current News Ecology & Environment Pollution
UNEP Emissions Gap Report – 2019
---
Recently, the United Nations Environment Programme (UNEP) released a report under the title- United Nations Gap Emissions Report-2019, which presents a grim assessment on the yawning gap between 'what countries have committed and what they actually require to do to limit greenhouse gas(GHG) targets'.
About the Report
The Report, tenth in series, provides an independent scientific assessment of how countries' climate pledges and actions are affecting the global greenhouse gas emissions (GHG) trend, comparing it with the emission reductions necessary to limit global warming in accordance with the Paris Agreement.
This year's report emphasizes the energy and transport sector, arguing that renewables and energy efficiency, together with electrification of end uses are key to driving down energy-related CO2 emissions.
It identifies six entry points for progressing towards closing the emissions gap through transformational change in the following areas:
Air pollution, air quality, health
Urbanization
Governance, education, employment
Digitalization
Energy- and material-efficient services for raising living standards
Land use, food security, bioenergy
Major Findings
GHG Emissions Continue To Rise
GHG emissions have risen at a rate of 1.5 percent per year in the last decade, stabilizing only briefly between 2014 and 2016. Total GHG emissions, including from land-use change, reached a record high of 55.3 Gt carbon dioxide(CO2) emission in 2018.
By 2030, emissions would need to be 25 percent and 55 percent lower than in 2018 to put the world on the least-cost pathway to limiting global warming to below 2˚C and 1.5°C respectively.
Top Emitters
The top four emitters (China, EU28, India and the United States of America) contributeto over 55 percent of the total GHG emissions over thelast decade excluding LUC, the top seven (including Japan,Russia and international transport) account for 65 percent, while G20 members contribute 78 percent.
Sectors that are the largest emitters- Energy>Industry>Forestry>Transport>Agriculture>Building.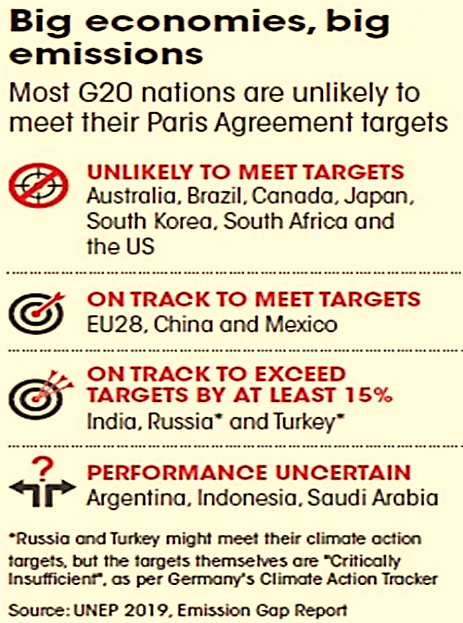 Net Zero Emission
Although the number of countries announcing net zero GHG emission targets for 2050 is increasing, only a few countries have so far formally submitted long-term strategies to the UNFCCC.
Five G20 members (the EU and four individual members) have committed to long-term zero emission targets, of which three are currently inthe process of passing legislation and two haverecently passed legislation. The remaining 15G20 members have not yet committed to zeroemission targets.
Large Emission Gap
The emissions gap is large. In 2030, annual emissions need to be 15 GtCO2e lower than current unconditional NDCs imply for the 2°C goal, and 32 GtCO2e lower for the 1.5°C goal.
Strengthening the Nationally Determined Contributions (NDCs)
Dramatic strengthening of the NDCs is needed in 2020. Countries must increase their NDC ambitions threefold to achieve the well below 2°C goal and more than fivefold to achieve the 1.5°C goal.
India's Recent Developments towards Emission Gap
India's NDC has three numeric targets for 2030: reduce emissions intensity by 33 percent to 35 percent from 2005 levels, achieve an installed power capacity of 40 percent from non-fossil fuel sources and create an additional carbon sink of 2.5–3.0 GtCO2e from forest and tree cover.
In 2018, renewable deployment exceeded conventional fuels, though is projected to remain short of the 175 GW target by 2022.
In addition, the National Clean Air Programme released in 2019 aims to reduce PM2.5 and PM10 concentrations by 25 per cent to 30 per cent, and provides additional motivation to shut down old coal power plants
India has simultaneously continued its efforts to broaden energy access. India reported the 100 per cent electrification of households in early 2019, with likely implications for the future of India's energy demand.
The Kisan Urja Suraksha evam Utthaan Mahabhiyan (KUSUM) scheme launched in early 2019 is aimed at promoting solar energy in rural areas with the target to install 26 GW of solar agricultural pumps by 2022.
India also released an India Cooling Action Plan in 2019 to provide cooling services while keeping their GWP minimal by reducing energy and refrigerant demand (MoEFCC 2019).
India has also begun deliberating policies to electrify public and private modes of transport. The second phase of the Faster Adoption and Manufacturing of (Hybrid &) Electric Vehicles (FAME) was launched in 2019, aiming to support the uptake of electric two-wheelers, three-wheelers, four-wheelers and buses, with projected cumulative savings of 7.2 MtCO2 emission.
India is also deliberating upon targets to ban sales of all fossil fuel powered two- threeand four-wheeler vehicles in the next decade.
India also aims to electrify all its broad gauge railway routes by 2021–2022.
Suggestive Measures for India
Plan the transition from coal-fired power plants
Develop an economy-wide green industrialization strategy towards zero-emission technologies
Expand mass public transit systems
Develop domestic electric vehicle targets working towards 100 percent new sales of zero-emission cars.
What is Emission Gap?
The Emissions Gap (also Commitment Gap), measures the gap between what we need to do and what we are actually doing to tackle climate change.
The gap is the difference between the low levels of emissions that the world needs to drop to, compared with the projected level of emissions based on countrie's current commitments to decarbonization.
Why is it important?
The gap is important because if we can't close it and meet the emissions reduction target, the world is going to face increasingly severe climate impacts worldwide.
It is important that policymakers, and their citizens, know what the gap is so that the commitments countries are making are sufficient to close the gap.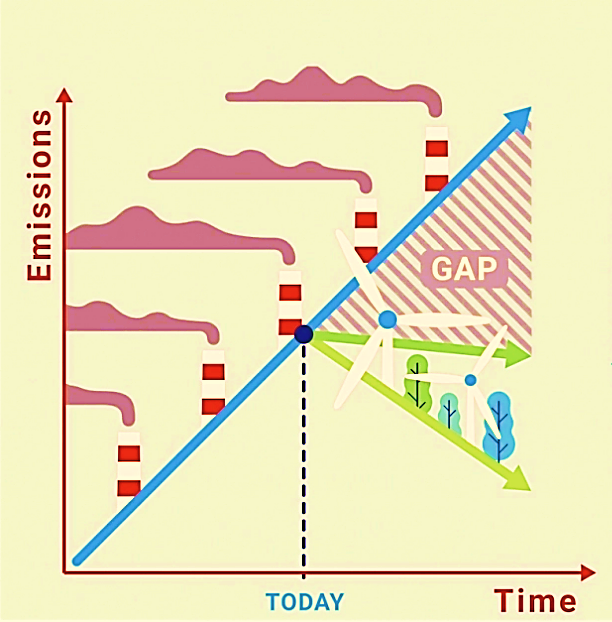 Way Forward
However, the report points thatclimate change can still be limited to 1.5°C. For this, the countries must increase their ambition immediately to close the emissions gap by strengthening emissions-reduction targets, as well as sectoral targets such as those related to renewable energy.Countries can commit to implementing their NDCs in line with achieving net-zero emissions by 2050.
Countries must realize the role of 'non-state actors' (such as companies and NGOs) and sub-nationals (state governments and city administrations) in achieving the global warming targets. It also calls for taxing of carbon to dissuade CO2 emitting activities.
If the multiple co-benefits associated with closingthe emissions gap are fully realized, the requiredtransition will contribute in an essential way toachieving the United Nations 2030 Agenda with its17 Sustainable Development Goals (SDGs).
---