Current News National Newsmakers
Sunil Chhetri
---
Indian footballer Sunil Chhetri has been chosen for FIFA campaign against Covid-19.

FIFA and the World Health Organization (WHO) have teamed up to combat the coronavirus by launching a new awareness campaign led by world-renowned footballers.

The 'Pass the message to kick out coronavirus' campaign promotes five key steps for people to follow to protect their health in line with WHO guidance, focused on handwashing, coughing etiquette, not touching your face, physical distance and staying home if feeling unwell.
Current News International International Relations
ANtarctic Impulsive Transient Antenna
---
In a significant breakthrough, a team of researchers have succeeded in finding "a fountain of high-energy particles erupting from the ice" in Antarctica which according to the researchers could be proof of a parallel universe.
ANtarctic Impulsive Transient Antenna or ANITA - an experiment maintained by researchers at NASA - has suddenly come into the limelight as the cosmic-ray shower that is key to the new discovery was a part of NASA's ANITA and Ice Cube experiment taking place in Antarctica.
What is ANITA?
Designed by world's premier space agency NASA, the ANITA instrument is a radio telescope which is used to detect ultra-high energy cosmic-ray neutrinos from a scientific balloon flying over Antarctica.
It is the first NASA observatory for neutrinos of any kind.
It involves an array of radio antennas attached to a helium balloon which flies over the Antarctic ice sheet at 37,000 meters.
To get a gauge of exactly how high is that, know that commercial flights fly almost a fourth of that height.
The height is important here to shut out all other "noises" so that the ANITA antennas can "listen" to the cosmos and detect high-energy particles, known as neutrinos, which constantly bombard the planet.
ANITA succeeded in detecting the 'fountain' of high-energy particles in 2006 and 2014 but the researchers initially thought them as background noise or glitches.
Different ways signals can reach ANITA as the device floats over Antarctica hanging from its balloon
How does ANITA detect Neutrinos?
The ANITA instrument <detects these ultra-high energy neutrinos by use of the Askaryan effect.
This effect predicts the production of a coherent radio emission from the cascade of particles produced in a high-energy particle interaction.
In order to detect this radio emission (Askaryan pulses) we need a radio transparent medium for the interaction to occur in - and lots of it since these interactions is rare.
Experimental Time Frame
ANITA-I launched from McMurdo, Antarctica in the summer of 2006–07.
ANITA-II, a modified instrument with 40 antennas, launched from McMurdo Station in the summer of 2008–2009.
ANITA-III, launched in December 2014.
ANITA-IV launched in December 2016, with a lighter overall build, tunable notch filters and an improved trigger system.
Neutrinos
A neutrino is a subatomic particle that is very similar to an electron, but has no electrical charge and a very small mass, which might even be zero.
Neutrinos are one of the most abundant particles in the universe.
These are affected only by a "weak" sub-atomic force of much shorter range than electromagnetism, and are therefore able to pass through great distances in matter without being affected by it.
Natural sources of neutrinos include the radioactive decay of primordial elements within the earth, which generate a large flux of low-energy electron-anti-neutrinos.
Askaryan Effect
It is the phenomenon whereby a particle traveling faster than the phase velocity of light in a dense dielectric (such as salt, ice or the lunar regolith) produces a shower of secondary charged particles which contain a charge anisotropy and thus emits a cone of coherent radiation in the radio or microwave part of the electromagnetic spectrum.
It is similar to the Cherenkov radiation.
It is named after Gurgen Askaryan, a Soviet-Armenian physicist who postulated it in 1962.
Current News Science & Technology Health & Disease
RT-LAMP Based Test For Coronavirus
---
As part of COVID-19 mitigation mission of Country, CSIR-IIIM, Jammu a constituent laboratory of CSIR has partnered with Reliance Industries Limited (RIL) to develop and scale-up a new Reverse Transcriptase-Loop Mediated Isothermal Amplification (RT-LAMP) based COVID-19 diagnostic kit.
It has been tested with a small number of patients samples and validating the kit on more number of patient samples is planned and will be done together with RIL.
COVID-19 RT-LAMP Test
COVID-19 RT-LAMP test is a nucleic acid based test carried out from nasal/throat swab sample from patients.
The test recipe has been developed and successfully demonstrated using synthetic templates.
Advantages
It is rapid (45-60 min), cost effective and accurate test.
RT-LAMP based COVID-19 kit components are easily available and these can be completely manufactured in India.
RT-LAMP test can be done in a single tube with minimal expertise in a very basic lab setup like mobile units / kiosks for testing at Airports, Railway Stations, Bus Stands and other public places.
The end detection of the test is a simple colored reaction, which is easily visible in UV light, and now is being modified such that it can be detected in regular light.
Impact
With the formal launch of the RT-LAMP based diagnostic test, the COVID-19 testing will not only be more rapid, cheap, easy and accessible but also would go a long way quickly isolating the infected individuals and mitigating the spread of virus.
Advantage over Polymerase Chain Reaction (PCR)
The standard test for COVID-19 so far has been the Polymerase Chain Reaction (PCR).
It is done after taking nasal or throat swabs of the patient, from which RNA is extracted and converted to DNA, which is then amplified before being checked for confirmation of the virus.
It takes up to nine hours. The long time is also because the swab is first screened to decide the family of the virus; if that confirms it is a coronavirus, a second test is done to ascertain if it is indeed the novel coronavirus SARS-CoV2.
Further, real-time PCR tests are expensive; they require highly trained manpower, costly instruments, and a relatively high-end lab and cannot be deployed at remote locations in quarantine centers, airports and railway stations, etc.
Current News International International Trade & Treaties
Open Skies Treaty
---
On 21st May, 2020, the United States announced its intention to withdraw from the Open Skies treaty (OST).
Reasons for Withdrawal
United States and Russia have long accused the other of breaching its terms.
For ex, in 2014, Moscow imposed an unpermitted 500-kilometer limit on flights over the strategically important enclave of Kaliningrad.
Russia also denied a U.S.-Canadian flight over its "Tsentr" military exercise in September 2019.
Washington declared Russia in violation of OST in 2017 and restricted Russian access to Hawaii and Alaska in retaliation.
Part of the reason is that US is able to obtain equally good or better data from its satellites. No other country can match US's satellite monitoring capabilities.
For the US, the OST is not particularly useful as an intelligence gathering tool, but the reality is that it was always intended as a confidence building and transparency measure.
As tensions between US and Russia have grown, US have become more interested in restricting transparency over its territory.
About Open Skies Treaty
First proposed in 1955 by former US President Dwight Eisenhower as a means to deescalate tensions during the Cold War, the landmark treaty was eventually signed in 1992 between NATO members and former Warsaw Pact countries following the demise of the Soviet Union.
The idea was to promote openness and transparency of military forces and activities by "mutual aerial observation".
It is aimed at building confidence and familiarity among the countries
The treaty entered into force on January 1st , 2002, and currently 34 states are party to the treaty while a 35th , Kyrgyzstan, has signed but not ratified it.
Key Points
Under the treaty, a member state can "spy" on any part of the host nation, with the latter's consent.
A country can undertake aerial imaging over the host state after giving notice 72 hours before, and sharing its exact flight path 24 hours before.
The information gathered, such as on troop movements, military exercises and missile deployments, has to be shared with all member states.
Only approved imaging equipment is permitted on the surveillance flights, and officials from the host state can also stay on board throughout the planned journey.
The Open Skies Consultative Commission (OSCC), comprised of representatives of all states-parties, is responsible for the implementation of the Open Skies Treaty.
Significance
The OST was signed in 1992, much before the advent of advanced satellite imaging technology which is currently the preferred mode for intelligence gathering.
Yet, surveillance aircraft provide key information that still cannot be gathered by satellite sensors, such as thermal imaging data.
Also, since only the US has an extensive military satellite infrastructure, other NATO members would have to rely on Washington to obtain classified satellite data, which would be more difficult to obtain compared to OST surveillance records that have to be shared with all members as a treaty obligation.

Impact of US Withdrawal
END of OST
There may be collateral costs of OST withdrawal; the treaty itself may survive without U.S. participation, but Washington's exit will diminish the agreement's value to Russia significantly.
Moscow's withdrawal would probably kill OST, ending a key source of intelligence for many NATO allies.
This unilateral U.S. move, taken over its allies' objections, is likely to damage NATO cohesion.
S. departure would also further weaken the international arms control architecture and be a further blow to any global sense of stability.
Uncertainty over Nuclear Related Treaties
The first is Intermediate-Range Nuclear Forces (INF). In August, 2019, US exited the INF treaty the West had signed with Russia citing distrust of the latter.
The US withdrawal from OST shows that the US may not renew the New Start Treaty due to expire in February 2021.
The second is the Comprehensive Test Ban Treaty which was concluded in 1996 but has not entered into force.
It prohibits countries from carrying out nuclear test explosions but earlier this year US voiced suspicions that both Russia and China were carrying out low yield nuclear tests in violation of the understanding on zero-yield threshold.
US has signed but not ratified the CTBT and there are indications that it may be planning to test.
Way Forward
The US should reconsider its intention to withdraw from the OST. Washington profits from this "military-to-military engagement tool" as it contributes to greater transparency and stability in the Euro-Atlantic region. While the intelligence and confidence building advantages are limited for the United States itself, they are very real for America's NATO Allies.
State Parties should return to full compliance with the treaty. They should remove all restrictions that they have unilaterally imposed on Open Skies flights.
In particular, parties should give consideration to the provisions on the implementation of status neutral confidence- and security-building measures (CSBMs).
European State Parties should make every effort to remain in the treaty, even if the United States withdraws.
According to Article XV.3 of the treaty, if the United States withdraws, Canada and Hungary must convene a conference of the States Parties no less than 30 days and no more than 60 days after they have received a withdrawal notice. Parties should adopt a position of maximum flexibility.
Should the United States withdraw from the Open Skies Treaty, remaining State Parties must make a determined effort to consider its effect on the treaty.
Current News Indian Economy Plan Policy
Pradhan Mantri Matsya Sampada Yojana
---
On 20th May, 2020, the Union Cabinet approved the Pradhan Mantri Matsya Sampada Yojana (PMMSY) - a scheme to bring about Blue Revolution through sustainable and responsible development of fisheries sector in India.
The PMMSY was announced recently in the third tranche of the Rs 20.97 lakh crore Atmanirbhar Bharat package by the government.
However, PMMSY first figured during the 2019-20 Budget, presented on July 5, 2019.
Need
The fish production in India during 2017-18 was estimated to be 12.60 million metric tonnes, of which nearly 65% came from the inland sector while about 50% of the total production was from culture fisheries.
Therefore, India's contribution was 6.3 per of the global fish production in the year 2017-18.
India exports more than 50 different kinds of fish and shellfish products to about 75 countries worldwide.
Aims and Objectives
Harnessing of fisheries potential in a sustainable, responsible, inclusive and equitable manner
Enhancing of fish production and productivity through expansion, intensification, diversification and productive utilization of land and water
Modernizing and strengthening of value chain - post-harvest management and quality improvement
Doubling fishers and fish farmers incomes and generation of employment
Enhancing contribution to Agriculture GVA and exports
Robust fisheries management and regulatory framework
Salient Features of PMMSY
Time Period
PMMSY will be implemented over a period of 5 years from FY 2020-21 to FY 2024-25 in all States/Union Territories.
Components
It will be implemented as an umbrella scheme with two separate Components namely (a) Central Sector Scheme (CS) and (b) Centrally Sponsored Scheme (CSS).
Central Sector Scheme (CS)
The entire project cost will be borne by the Central government (i.e. 100% central funding).
Central Sector Scheme Component (CSS)
The funding pattern for the Northeastern and Himalayan states will be 90% central share and 10% state share
For other states it will be 60% central share and 40% state share
For Union territories (with and without legislature) it will be 100% central share.
This component is segregated into Non-beneficiary oriented and Beneficiary orientated sub-components/activities under the following three broad heads:
Enhancement of Production and Productivity
Infrastructure and Post-harvest Management
Fisheries Management and Regulatory Framework
State Programme Units
A well-structured implementation framework would be established for effective planning and implementation of PMMSY.
This inter-alia includes creation of State Programme Units in all States/UTs & District Programme Units and Sub-District Programme Unit in high fisheries potential districts.
Cluster or Area-Based Approach
For optimal outcomes, 'Cluster or area-based approach' would be followed with requisite forward and backward linkages and end to end solutions.
Suitable linkages and convergence will be fostered with other centre and state government schemes wherever feasible.
Thrust to New Technologies
Thrust will be given for infusing new and emerging technologies like Re-circulatory Aquaculture Systems, Biofloc, Aquaponics, Cage Cultivation to enhance production and productivity, quality, productive utilization of waste lands and water for Aquaculture.
Special Focus
Special focus on Coldwater fisheries development and expansion of Aquaculture in Brackish Water and Saline Areas.
Focused attention would be given for fisheries development in Jammu and Kashmir, Ladakh, Islands, Northeast, and Aspirational Districts through area specific development plans.
Holistic Development
It envisages development of Coastal fisher communities in a holistic manner through integrated modern coastal fishing villages with necessary infrastructure.
Collectivization of fishers and fish farmers through Fish Farmer Producer Organizations (FFPOs) to increase bargaining power of fishers and fish farmers is a key feature of PMMSY.
Well-structured extension support services are envisaged under PMMSY.
Besides, large number of Fisheries Extension Services Centers would be set up in private space to create job opportunities to young professionals.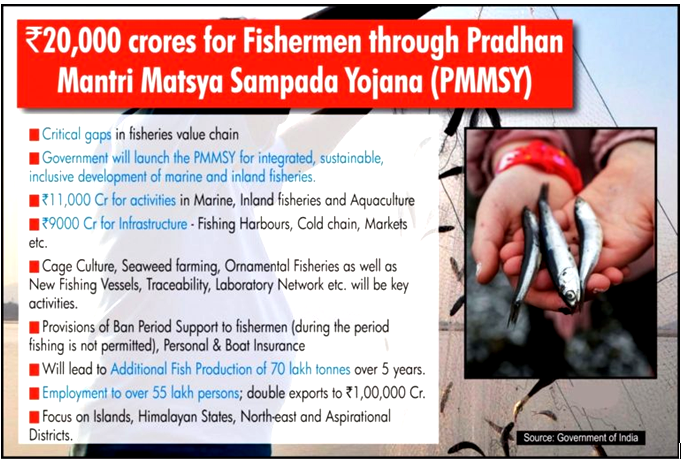 Major Impact
Addressing the critical gaps in the fisheries sector and realize its potential.
Augmenting fish production and productivity at a sustained average annual growth rate of about 9% to achieve a target of 22 million metric tons by 2024-25 through sustainable and responsible fishing practices.
Improving availability of certified quality fish seed and feed, traceability in fish and including effective aquatic health management.
Creation of critical infrastructure including modernisation and strengthening of value chain.
Creation of direct gainful employment opportunities to about 15 lakh fishers, fish farmers, fish workers, fish vendors and other rural/urban populations in fishing and allied activities and about thrice this number as indirect employment opportunities including enhancement of their incomes.
Boost to investments in fisheries sector and increase of competitiveness of fish and fisheries products.
Social, physical and economic security for fishers and fish workers.
Reduction of post-harvest losses from the reported 20-25% to about 10%.
Enhancement of the domestic fish consumption from about 5-6 kg to about 12 kg per capita.
Way Forward
Fisheries and aquaculture are an important source of food, nutrition, employment and income in India.
The Gross Value Added (GVA) of fisheries sector in the national economy during 2018-19 stood at Rs 2,12,915 crores (current basic prices) which constituted 1.24% of the total National GVA and 7.28% share of Agricultural GVA. T
The sector has immense potential to double the fishers and fish farmers' incomes as envisioned by government and usher in economic prosperity.
The scheme intends to address issues like low productivity in inland Aquaculture, disease, sustainability of marine fisheries, sanitary and phyto-sanitary matters that impact the competitiveness of India's exports along with global bench marking.
Current News National Miscellaneous
Coir Geo Textile
---
Coir Geo textiles will be used for construction of rural roads under the Pradhan Mantri Gram Sadak Yojana (PMGSY-III).
The project will be implemented by the National Rural Infrastructure Development Agency (NRIDA) under Union Ministry of Rural Development, Govt. of India.
Background
In March, 2020, the government had announced National Technical Textile Mission and the use of geo-textiles in highways, railways and ports were envisaged in the proposed mission.
Key Points
As per the PMGSY new technology guidelines for road construction, 15% length in each batch of proposals is to be constructed using new technologies.
Out of this 5% roads are to be constructed using Indian Road Congress (IRC) accredited technology. The IRC has now accredited coir Geo textiles for construction of rural roads.
As per these instructions, 5% length of the rural roads under PMGSY-III will be constructed using Coir Geo textiles.
1674 km road will be constructed using Coir Geo textiles in 07 states for which there will be a requirement of One Crore Sq. mtrs of coir Geo-textiles, estimated cost of which would come to Rs.70 Crore.
Impact
The decision will give a big boost to the coir industry especially in these difficult times of COVID-19 pandemic.
Geo Textile
Geo textiles are permeable fabrics which, when used in association with soil, have the ability to separate, filter, reinforce, protect, or drain.
Typically made from polypropylene or polyester, geotextile fabrics come in three basic forms: woven (resembling mail bag sacking), needle punched (resembling felt), or heat bonded (resembling ironed felt).
Applications
Geotextiles and related products have many applications and currently support many civil engineering applications including roads, airfields, railroads, embankments, retaining structures, reservoirs, canals, dams, bank protection, coastal engineering and construction site silt fences or geotube.
Usually geotextiles are placed at the tension surface to strengthen the soil.
These are also used for sand dune armoring to protect upland coastal property from storm surge, wave action and flooding.
Coir Geo Textiles
It a permeable fabric, natural, strong, highly durable, resistant to rots, moulds and moisture, free from any microbial attack, has finally been accepted as a good material for rural road construction.
Totally biodegradable, geo textiles help soil stabilisation and renew vegetation in varying slopes.
Benefits
100% Natural fibre, extracted from coconut husk
Adds organic material to soil
Promotes vegetative growth
Environmentally friendly
Tough, durable, versatile and resilient
High tear-strength resistance
Easy to install/maintain/ patch-up.
Follows the contour of the soil surface.
Hygroscopic properties (absorbing or attracting moisture from the air)
High tensile strength
Pradhan Mantri Gram Sadak Yojana-lll (PMGSY-III)
The Phase III was approved by the Cabinet during July 2019.
Under the PMGSY-III Scheme, it is proposed to consolidate 1,25,000 Km road length in the States.
The duration of the scheme is 2019-20 to 2024-25.
It involves consolidation of Through Routes and Major Rural Links connecting habitations to Gramin Agricultural Markets (GrAMs), Higher Secondary Schools and Hospitals.
The funds would be shared in the ratio of 60:40 between the Centre and State for all States except for 8 North Eastern states and Himachal Pradesh & Uttarakhand for which it is 90:10.
Selection of candidate roads based on the sum total of the marks obtained by particular road on the basis of parameters of population served, market, educational and medical facilities, etc.
Indian Roads Congress (IRC)
The IRC is the Apex Body of Highway Engineers in the country.
It was set up in December, 1934 on the recommendations of the Indian Road Development Committee best known as Jayakar Committee set up by the government with the objective of road development in India.
It provides a national forum for sharing of knowledge and pooling of experience on the entire range of subjects dealing with the construction and maintenance of roads and bridges.
Current News National Polity & Governance
Grant Of Domicile Certificate (Procedure) Rules 2020
---
On 18th May, 2020, the Jammu and Kashmir administration issued a notification defining the rules for issuing domicile certificates in the Union territory, which specify the conditions and the process to obtain the documents required to applying to jobs and avail other privileges restricted to residents in Jammu and Kashmir.
The new rules replace the previous J&K permanent resident rules.
Background
On 1st April, 2020, , eight months after abrogation of Articles 370 and 35A, the government notified a law, spelling out new domicile rules for Jammu and Kashmir and eligibility for employment in the region.
Under the law, the domiciles have been defined as those who have resided for a period of 15 years in the Union territory of Jammu and Kashmir, those have studied for a period of seven years and appeared in Class 10th /12th examination in educational institutions located in J&K.
Need
Previously such domicile certificates were issued by officers of the level of deputy commissioners and it involved passing through a labyrinth of procedures and shuffling back and forth between many offices.
In that sense, the new rules are intended to bypass the byzantine bureaucracy and offer an accelerated path towards acquiring the domicile for non-locals.
Domicile Certificate (Procedure) Rules 2020
West Pakistan Refugees (WPRs), safai karamcharis and children of women married outside Jammu and Kashmir shall also be now eligible for Domicile Certificate.
All migrants and their children who are registered with Relief and Rehabilitation Commissioner will be granted domicile certificate.
All people who have resided in the UT for 15 years, or have studied for seven years and appeared in class 10th or 12th examination in an educational institution in the region, and their children, are eligible for grant of domicile.
Kashmiri migrants can get the Domicile certificate on the production of either a PRC or certificate of registration of migrant.
Children of central government, All India service, bank and PSU, statutory body, and central university officials, who have served in Jammu of Kashmir for a total period of 10 years will also be eligible for domicile status.
Children of those residents of Jammu and Kashmir who reside outside the Union territory in connection with their employment of business or other professional or vocational reasons have also become eligible for grant of domicile status.
The domicile certificate has been made the basic eligibility criteria for appointment to any post under the Union Territory following amendments in the Jammu and Kashmir Civil Services (decentralization).
The certificate will be issued by the designated authority which in all cases is tehsildars or other officials that may be notified by the government.
Any officer not able to issue the certificate would be penalised ₹50,000. The amount would be recovered from his salary.
Impact
As a result of the new rules and procedure, West Pakistan Refugees (WPRs) including others who were earlier deprived shall also be now eligible for Domicile Certificate.
Further, the domicile rule makes all local government jobs available to non-natives, including those in police and administration, which means they will now be able to serve in such positions as station house officers and senior superintendents of police, etc.
As a result, the immediate implication of this change will most likely be reflected by the administrative set-up, which has so far been dominated by J&K natives.
Criticism
The regional parties rejected the J&K Reorganisation (Adaptation of State Laws) Order, 2020, and the J&K Grant of Domicile Certificate (Procedure) Rules 2020, saying it was aimed at changing the demography of the erstwhile State of J&K.
Describing it "unacceptable" and fraught "with widening the gap and inducing alienation", they stated that his order was aimed at disempowering the people of J&K and effecting a demographic change.
Current News National Social Issue & Social Justice
Initiatives To Boost Education Sector
---
On 17th May, 2020, the government announced several initiatives to boost education sector across the country.
Need
Investing in the human capital is equivalent to an investment in productivity and prosperity of the nation.
The present pandemic situation has presented new challenges and several opportunities for our education system.
Major Initiatives
PM e-VIDYA
A comprehensive initiative called PM e-VIDYA will be launched which unifies all efforts related to digital/online/on-air education. This will enable multi-mode access to education. It includes the following-
DIKSHA (one nation-one digital platform) which will now become the nation's digital infrastructure for providing quality e-content in school education for all the states/UTs.
TV (one class-one channel) where one dedicated channel per grade for each of the classes 1 to 12 will provide access to quality educational material.
SWAYAM online courses in MOOCS format for school and higher education.
IITPAL for IITJEE/NEET preparation.
Air through Community radio and CBSE Shiksha Vani podcast.
Study material for the differently abled developed on Digitally Accessible Information System (DAISY) and in sign language on NIOS website/ YouTube.
Manodarpan Initiative
This initiative is being launched to provide such support through a website, a toll-free helpline, national directory of counselors, interactive chat platform, etc.
This initiative will benefit all school going children in the country, along with their parents, teachers and the community of stakeholders in school education.
Expanding e-Learning in Higher Education
Government is expanding e-learning in higher education – by liberalizing open, distance and online education regulatory framework.
Top 100 universities will start online courses.
Also, online component in conventional Universities and ODL programmes will also be raised from present 20% to 40%.
This will provide enhanced learning opportunities to nearly 7 crore students across different colleges and Universities.
New National Curriculum and Pedagogical Framework
There is a need to promote critical thinking, creative and communication skills, along with experiential and joyful learning for the students focussing on learning outcomes.
Therefore, it has been decided to prepare a new National Curriculum and Pedagogical Framework for school education, teacher education and early childhood stage to prepare students and future teachers as per global benchmarks.
National Foundational Literacy and Numeracy Mission
This Mission will be launched, for ensuring that every child in the country necessarily attains foundational literacy and numeracy in Grade 3 by 2025.
For this, teacher capacity building, a robust curricular framework, engaging learning material – both online and offline, learning outcomes and their measurement indices, assessment techniques, tracking of learning progress, etc. will be designed to take it forward in a systematic fashion.
This mission will cover the learning needs of nearly 4 crore children in the age group of 3 to 11 years.
Impact
The host of initiative will help transform the education system and bring out holistic development of students of the country.
It will boost the access and equity in education and improve the gross enrolment ratio in the times to come.
Further, it will ensure learning for all, with equity, so as to cover all students at all levels of education and in all geographical locations, even in the remotest parts of the country.
Current News International WHO
Covid-19 Travel Bubble
---
Recently, the Baltic countries of Estonia, Latvia and Lithuania have opened their borders to one another, creating a coronavirus "travel bubble".
This is the first "travel bubble" in Europe since nations began shutting their borders earlier this year in response to the coronavirus outbreak.
In the Estonia-Latvia-Lithuania travel bubble, residents would be able to travel freely by rail, air, and sea without quarantine measures.
The three European Union (EU) states, who have launched this measure, have so far remained comparatively unscathed by the virus, recording less than 150 combined Covid-19 deaths as of May 17, 2020.
Need
The Baltic economies are expected to shrink by 8 percent this year.
Travel Bubble
Creating a travel bubble involves reconnecting countries or states that have shown a good level of success in containing the novel coronavirus pandemic domestically.
Such a bubble would allow the members of the group to rekindle trade ties with each other, and kick start sectors such as travel and tourism.
According to a report, potential travel bubbles among better-performing countries around the world would account for around 35 percent of the global GDP.
Such arrangements are especially being favoured by smaller countries, which are likely to benefit after being able to trade again with larger partners.
Mandate for Travel Bubble
Those wanting to enter this corridor from countries outside would first have to go into isolation for 14 days.
To be able to freely travel in the zone, one should not have travelled outside the three countries in the past 14 days, should not be infected with coronavirus, and should not have come in contact with anyone who has been coronavirus infected.
Other Countries to Start Travel Bubble
Australia and New Zealand reached an agreement to form a travel bubble between the two countries once it becomes safe to operate flights between them.
Both have had success in suppressing the pandemic domestically. Once it opens, the trans-Tasman zone will allow travel without a quarantine period.
China and South Korea, who have also enjoyed success in containing the outbreak, have launched a fast track channel for business travellers.
In the US, travel bubbles are being suggested to group states who are faring well against the pandemic, but constitutional challenges are also being cited as a possible roadblock for such plans.
Associated Challenge
The biggest challenge to re-opening international travel right now is the lack of consensus on the kind of protections needed to limit the risk of spreading Covid-19.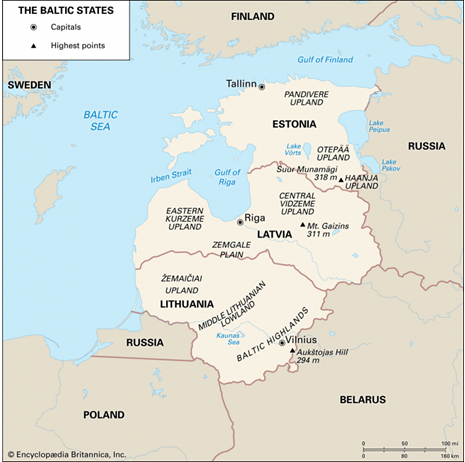 Significance
With the pandemic throwing both international and domestic trade and travel out of gear since earlier this year, such 'travel bubbles' are now being recommended to keep at least parts of the global economy afloat.
Travel bubble may prove useful as a model for other nations where tourism represents a large portion of GDP, and for airline and tour operators around the world that have seen their businesses collapse.
Baltic States
The Baltic States, also known as the Baltic countries, Baltic republics, Baltic nations, or simply the Baltics, is a geopolitical term, typically used to group the three sovereign states in Northern Europe on the eastern coast of the Baltic Sea: Estonia, Latvia, and Lithuania.
The Baltic States are bounded on the west and north by the Baltic Sea, which gives the region its name, on the east by Russia, on the southeast by Belarus and on the southwest by Poland and an exclave of Russia.
The three countries do not form an official union, but engage in intergovernmental and parliamentary cooperation.
The most important areas of cooperation between the three countries are foreign and security policy, defence, energy, and transportation.
All three countries are members of NATO, the eurozone, and the OECD, and are members of the European Union.
In 2020 and 2021, Estonia is also a non-permanent member of the United Nations Security Council.
All three are classified as high-income economies by the World Bank and maintain a very high Human Development Index.
All three countries are members of the New Hanseatic League, a group of Northern European countries in the EU formed to advocate a common fiscal position.
Current News International WHO
Disease Becoming Endemic
---
According to the World Health Organization (WHO), like HIV, the novel coronavirus could become endemic and "may never go away", and urged for a "massive effort" to contain the spread of COVID-19.
What is an endemic disease?
A disease is endemic when its presence or usual prevalence in the population is constant.
In simple terms, an endemic disease is "the constant presence of a disease or infectious agent within a given geographic area or population group; may also refer to the usual prevalence of a given disease within such an area or group."
Some examples of endemics include the chicken pox and malaria, where there are predictable numbers of cases every year in certain parts of the world.
What happens when a disease becomes endemic?
When epidemics become endemic, they become "increasingly tolerated" and the responsibility of protecting against it shifts from the government to the individual.
This means, rather than government agencies actively engaging in tracking and identifying cases, the individuals themselves will be responsible for managing risk from the disease and seeking care.
Further, the sociopolitical response to the disease may also change, with investment in the disease becoming institutionalised along with the disease-inducing behavioural changes in people.
Once people become aware of the risks of infection, they will alter their behaviour and mitigate the consequences.
Types of Endemic Diseases
Holoendemic Diseases: This infection is highly prevalent in the early years of life. The adult population does not show traces of diseases as much as children do. This kind of endemic disease affects mostly children .E.g. Malaria
Hyperendemic Diseases: These types of endemic diseases are constantly present at a high rate and are found among all age groups equally. E.g. Chicken Pox.

When does a disease become endemic?
One mathematical modelling published in the Journal of Epidemiology and Community Health states that if R0, which is the rate at which the virus is transmitted is equal to 1, then the disease is endemic.
When R0>1, it implies that the cases are increasing and that the disease will eventually become an epidemic.
If R0<1, it implies the number of cases of the disease are decreasing.
Here, R0 refers to the number of people infected by a person who has the disease.
What is the concern about an epidemic?
Epidemic diseases typically have higher mortality and morbidity than endemic diseases, owing to lack of clinical experience and knowledge, as well as innate pathogenicity.
Over time, effective prevention and treatment interventions emerge.
Epidemic vs. Pandemic
A simple way to know the difference between an epidemic and a pandemic is to remember the "P" in pandemic, which means a pandemic has a passport.
A pandemic is an epidemic that travels.
Epidemic vs. Endemic
An epidemic is actively spreading; new cases of the disease substantially exceed what is expected. More broadly, it's used to describe any problem that's out of control, such as "the opioid epidemic."
An epidemic is often localized to a region, but the number of those infected in that region is significantly higher than normal.
For example, when COVID-19 was limited to Wuhan, China, it was an epidemic. The geographical spread turned it into a pandemic.
Endemics, on the other hand, are a constant presence in a specific location.
Malaria is endemic to parts of Africa.
Ice is endemic to Antarctica.
Endemic vs. Outbreak
Going one step farther, an endemic can lead to an outbreak, and an outbreak can happen anywhere.
2019 dengue fever outbreak in Hawaii is as an example. Dengue fever is endemic to certain regions of Africa, Central and South America, and the Caribbean.
Mosquitoes in these areas carry dengue fever and transmit it from person to person. But in 2019 there was an outbreak of dengue fever in Hawaii, where the disease is not endemic.
It's believed an infected person visited the Big Island and was bitten by mosquitoes there.
The insects then transferred the disease to other individuals they bit, which created an outbreak.
Current News National National Security
Defence Testing Infrastructure Scheme
---
In order to give a boost to domestic defence and aerospace manufacturing, the government on 15th May, 2020, approved the launch of Defence Testing Infrastructure Scheme (DTIS) with an outlay of Rs 400 crore for creating state of the art testing infrastructure for this sector.
Objective
To promote indigenous defence production, with special focus on participation of MSMEs and Start Ups by bridging gaps in defence testing infrastructure in the country.
Background
The scheme, announced in August, 2019 under "Make in India", accorded high priority to development of manufacturing base of Defence and Aerospace sectors in the country to reduce dependence on imports.
Towards this, Government announced establishment of Defence Industrial Corridors (DICs) in Uttar Pradesh and Tamil Nadu.
Need
One of the main impediments for domestic defence production is lack of easily accessible state-of-the-art testing infrastructure.
Defence Testing Infrastructure is often capital intensive requiring continuous upgradation and it is not economically viable for individual defence industrial units to set up in-house testing facilities.
Key Points
The Scheme would run for the duration of five years and envisages setup six to eight new test facilities in partnership with private industry.
The projects under the Scheme will be provided with up to 75 percent government funding in the form of 'Grant-in-Aid'.
The remaining 25 percent of the project cost will have to be borne by the Special Purpose Vehicle (SPV) whose constituents will be Indian private entities and State Governments.
The SPVs under the Scheme will be registered under Companies Act 2013 and shall also operate and maintain all assets under the Scheme, in a self-sustainable manner by collecting user charges.
While majority of test facilities are expected to come up in the two DICs (one in Tamil Nadu and the other in Uttar Pradesh), the Scheme is not limited to setting up Test Facilities in the DICs only.
The guidelines specify the establishment of testing facilities for drones and Unmanned Aerial Vehicles (UAVs), radar, electronics/telecom equipment, rubber testing, noise and shock testing, specialised driving tracks, ship motion testing, ballistics and blast testing, and environmental test facilities.
Impact
The scheme is directed towards promoting indigenous defence capability, specifically amongst micro, small and medium enterprises (MSMEs) and start-ups.
Setting up of Defence Testing Infrastructure will provide easy access and thus meet the testing needs of the domestic defence industry.
This will help to reduce imports of military equipment and help make the country self-reliant.
Current News Indian Economy Plan Policy
Atmanirbhar Bharat Abhiyan
---
While addressing the nation on 12th May, , 2020, PM Narendra Modi announced an "Atmanirbhar Bharat Abhiyan" worth Rs 20 lakh crores ($265 billion) to tide over the economic downturn induced by the coronavirus crisis and emphasised on the need for India to become "self-reliant" as the pandemic sweeps across the world, paralysing economies in its wake.
Self-Reliant India Mission
In order to fulfill the dream of making the 21st century India's, the way forward is through ensuring that the country becomes self-reliant.
The mission is aimed towards cutting down import dependence by focusing on substitution while improving safety compliance and quality goods to gain global market share.
Five Pillars of a Self-Reliant India
A self-reliant India will stand on five pillars-
Economy, which brings in quantum jump and not incremental change
Infrastructure, which should become the identity of India
System, based on 21st century technology driven arrangements
Vibrant Demography, which is our source of energy for a self-reliant India
Demand, whereby the strength of our demand and supply chain should be utilized to full capacity.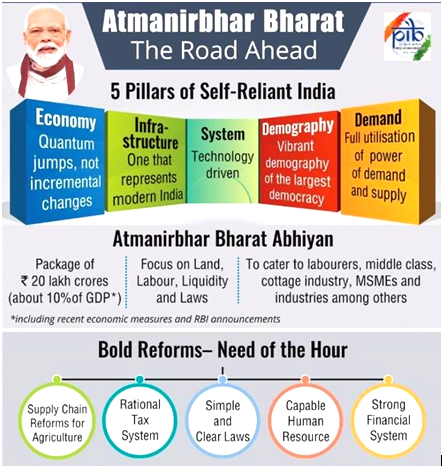 Atmanirbhar Bharat: COVID-19 Special Economic Package
The package, taken together with earlier announcements by the government during COVID crisis and decisions taken by RBI, is to the tune of Rs 20 lakh crore, which is equivalent to almost 10% of India's GDP.
The package will provide a much needed boost towards achieving 'Atmanirbhar Bharat'.
Key Points
The package will focus on land, labour, liquidity and laws.
It will cater to various sections including cottage industry, MSMEs, labourers, middle class, and industries, among others.
It will also focus on empowering the poor, labourers, migrants, etc., both from organized and unorganized sectors.
Emphasis has been given on the importance of local manufacturing, local market and local supply chains.
It's time to be vocal about the local products and help these local products become global.
Reforms towards Self-reliance
These reforms include –
supply chain reforms for agriculture,
rational tax system,
simple and clear laws,
capable human resource and
a strong financial system.
Impact
These reforms are expected to promote business, attract investment, and further strengthen Make in India.
Self-reliance will prepare the country for tough competition in the global supply chain, helping it to propel towards the goal of overall growth and development.
It will not only increase efficiency in various sectors but also ensure quality.
COVID-19 Stimulus Packages around the World
The US has committed to the largest rescue package by any country in pure dollar terms of USD 2.7 trillion but as percentage of GDP it trails behind Japan.
The US measures work out at an estimated 13 percent of GDP.
Japan has announced a package equivalent to 21.1 percent of its GDP.
It is followed by Sweden with a stimulus equal to 12 percent of its GDP and Australia (10.8 percent).
Germany has announced a spending of around USD 815 billion, equal to 10.7 percent of its GDP.
Spain and Italy have endured devastating coronavirus outbreaks, the size of stimulus packages are estimated to be 7.3 percent and 5.7 percent of GDP, respectively.
France announced a package equal to 9.3 per cent of its GDP.
Smaller countries like Luxembourg and Belgium have spent a fifth of their GDP on COVID-19 related stimulus measures, at 20.7 percent and 19.2 percent, respectively.

Way Forward
Atma Nirbhar Bharat resonates well with the core philosophy of ongoing Swadeshi, or being indigenous, and the PM's announcement was perceived as the first steps for reshaping this policy in keeping with their long-pending demand.
India would need to focus on six areas such as decentralising its policymaking; taking rural-centric decisions; keeping the poor at the core of its policies; moving away from jobless growth; formulating environment-friendly policies and also taking decisions that are rooted in swadeshi traditions.
To become truly self-reliant efforts must be made to not replicate the global work patterns that don't sit well with the traditional way of life and focus should be on ensuring that from raw material to the final production, the country relies only on its own resources.
Atmanirbhar Gujarat Sahay Yojana (Gujarat Self Reliant Scheme)
Taking Prime Minister's self-reliant India mission forward, the Gujarat government announced a scheme- Atmanirbhar Gujarat Sahay Yojna, on 14th May, 2002.
Aim
To benefit small businessmen and cross section of people falling under the lower middle income group.
Key Features
Rs. 1,00,000/- Loan provided Co-Operative Bank, Credit Society & District Bank
Only Based on Application done to bankers no additional documents submission
Unsecured Collateral Free Loan
The loan shall be available @ 2% Per Annum Interest Rate
6% Interest shall be borne by State Government
6-month Moratorium – No interest + Principal payable during that period
3 Years Loan Period
Quantum of Assistance:- 5000 Crore
Current News Ecology & Environment Agriculture & Allied Sector
Banning Use Of TB Drug On Crops
---
Recently, the Registration Committee (RC) under the Central Insecticides Board and Registration Committee (CIBRC) recommended banning the use of antibiotics streptomycin and tetracycline on various crops.
Need for Ban
Misuse on Various Crops: Although streptocycline use is allowed for eight crops by the CIBRC, it was found to be used on many more crops in practice across the country.
Indiscriminate Use: In the assessment carried out in agricultural farms of Delhi, Punjab and Haryana, CSE had found that streptocycline, a 90:10 combination of streptomycin and tetracycline, was being routinely and indiscriminately used by farmers in high doses in crops.
Antibiotic Resistance: Exposure to antibiotics can lead to development of antibiotic resistance in humans and animals.
Key Points
The committee recommended a complete ban with immediate effect on crops where other options were available for bacterial disease control.
The final report accepted the recommendation of the sub-committee on production, sale and use of streptomycin sulphate (9 percent) and tetracycline hydrochloride (1 per cent).
It recommended that streptomycin and tetracycline use be phased out by 2022-end for crops for which no alternatives were available.
Till then, the antibiotics could be used on crops strictly as per the label claim.
Suggested Measures
Antibiotics should not be used as pesticides for crops, but preserved for treatment of bacterial infections in humans.
It also acknowledged that diseases in crops can be managed by using integrated pest management and other practices.
Impact
With this ban / phase-out, misuse of streptomycin and tetracycline in crops for which it was not approved will be checked.
This will also help plug gaps such as registering them in the name of pesticides or using them in an unregulatory fashion in the absence of prescription.
Streptomycin
It is an aminoglycoside antibiotic derived from Streptomyces griseus with antibacterial activity.
It is on the World Health Organization's (WHO) List of Essential Medicines, the safest and most effective medicines needed in a health system.
The WHO classifies it as critically important for human medicine
Applications
It used to treat a number of bacterial infections.
This includes tuberculosis, Mycobacterium avium complex, endocarditis, brucellosis, Burkholderia infection, plague, tularemia, and rat bite fever
Pesticide
Streptomycin also is used as a pesticide, to combat the growth of bacteria beyond human applications.
It controls bacterial diseases of certain fruit, vegetables, seed, and ornamental crops.
Integrated Pest Management
Integrated Pest Management (IPM) is an effective and environmentally sensitive approach to pest management that relies on a combination of common-sense practices.
Also known as integrated pest control (IPC) is a broad-based approach that integrates practices for economic control of pests.
IPM aims to suppress pest populations below the economic injury level (EIL).
Applications
IPM is used in agriculture, horticulture, forestry, human habitations, preventive conservation and general pest control, including structural pest management, turf pest management and ornamental pest management.
Components
An IPM system is designed around six basic components-
Monitoring: This includes regular site inspections and trapping to determine the types and infestation levels of pests at each site.
Record-Keeping: A record-keeping system is essential to establish trends and patterns in pest outbreaks. Information recorded at every inspection or treatment should include pest identification, population size, distribution, recommendations for future prevention, and complete information on the treatment action.
Action Levels: Pests are virtually never eradicated. An action level is the population size which requires remedial action for human health, economic, or aesthetic reasons.
Prevention: Preventive measures must be incorporated into the existing structures and designs for new structures. Prevention is and should be the primary means of pest control in an IPM program.
Tactics Criteria: Under IPM, chemicals should be used only as a last resort only, but when used, the least-toxic materials should be chosen, and applied to minimize exposure to humans and all non-target organisms.
Evaluation: A regular evaluation program is essential to determine the success of the pest management strategies.
Central Insecticides Board & Registration Committee
It was set up by the Ministry of Agriculture and Farmers Welfare in the year 1970 to regulate the import, manufacture, sale, transport, distribution and use of insecticides.
It advises the Central Government and State Governments on technical matters arising out of the administration of Insecticides Act and to carry out the other functions assigned to the Board by or under Insecticides rules.
To import or manufacture any insecticide, registration is required at the Registration Committee.
Current News National Polity & Governance
Shekatkar Committee
---
Recently, the Defence Ministry has approved the proposal of Engineer-in-Chief of Military Engineering Services (MES) for optimisation of more than 9,300 posts in the basic and industrial workforce.
It is in line with the recommendations of the Committee of Experts, headed by Lt General Shekatkar, which had recommended measures to enhance combat capability and rebalance defence expenditure of the Armed Forces.
The recommendation was aimed at making MES an effective organisation with a leaner workforce, well equipped to handle complex issues in the emerging scenario in an efficient and cost effective manner.
Background
The 11-member committee, appointed by the late Defence Minister Manohar Parrikar in 2016, had made about 99 recommendations, from optimising defence budget to the need for a Chief of the Defence Staff.
Key Recommendations
According to a 2017 report, the Shekatkar Committee had recommended that India's defence budget should be in the range of 2.5 to 3 per cent of the GDP, keeping in mind possible future threats.
It had suggested the establishment of a Joint Services War College for training for middle-level officers, even through the three separate war colleges — Mhow, Secunderabad and Goa — could continue to train younger officers for their respective services.
It had also recommended that the Military Intelligence School at Pune be converted to a tri-service intelligence training establishment.
The report also focuses on optimisation of Signals establishments to include radio monitoring companies, corps air support signal regiments, air formation signal regiments, composite signal regiments, and merger of corps operating and engineering signal regiments.
It included restructuring of repair echelons in the Army to include base workshops, advance base workshops and static/station workshops in the field Army.
It also called for the closure of military farms and army postal establishments in peace locations, which is among the recommendations already implemented.
Current News National Polity & Governance
Dilution Of Labour Laws
---
As the economy struggles with the lockdown and thousands of firms and workers stare at an uncertain future, the states of Uttar Pradesh, Madhya Pradesh and Gujarat made key changes in the application of labour laws.
Labour is a concurrent subject under the Constitution of India, states can frame their own laws but need the approval of the Central government.
Need
These changes are being brought about to incentivise economic activity in the respective states.
To provide employment to workers who have migrated back to the state and to protect the existing employment, some flexibility has to be given to business and industry.
To bring about transparency in the administrative procedures and convert the challenges of a distressed economy into opportunities.
To increase the revenue of states which have fallen due to closure of industrial units during Covid-19 lockdown.
Changes Made
MADHYA PRADESH
Hire & Fire
Establishments with up to 100 workers can hire according to needs.
No registration for contractors with 50 labourers.
End of Inspector Raj
No factory inspection for 3 months
No inspection for firm with less than 50 workers
Third-party inspection allowed.
Easier Licenses and Registration
Registration and licenses to be issued in a day
Renewal of a factory license once in 10 years
startups need one time legislation; no renewal.
Shift Hours
Raised to 12 hours from 8 hours in factory
Overtime of up to 72 hours permitted; flexibility in changing shifts
Shops and establishments can operate from 6 am till midnight
UTTAR PRADESH
Industry exempted from all labour laws barring the following:
Building and Other Construction Workers' Act, 1996
Workmen Compensation Act, 1923
Bonded Labour System (Abolition) Act, 1976
A section of Payment of Wages Act to apply.
GUJARAT
New industrial establishments exempted from all labour laws barring the following:
Minimum Wages Act
Industrial Safety Rules
Employees' Compensation Act
Ordinance to roll out benefits that will be available for 1,200 days
100% online approvals within 15 days.
33,000 hectares set aside; land to be allocated in 7 days.
Impact
The relaxation of rigid and archaic labour laws by is expected to help restart economic activity, attract investments, and in the long create more jobs by ushering in labour market flexibility.
Will allow more factories to operate without following safety and health norms and give a free hand to new companies to "keep labourers in service as per their convenience".
No labour inspection or govt intervention.
No role of unions, leading to the smooth function of the industries.
These new reforms will promote ease of doing business in the state and will promote competition among states for reforms.
Criticism
The Bharatiya Mazdoor Sangh (BMS) has opposed the slew of changes in the labour laws by these states.
It has, however, attacked the relaxations as retrograde and warned of erosion of rights of workers.
These changes to the labour laws are violation of the international labour law conventions and it will create a situation where there is no rule of law.
Safety will be compromised as the provisions of the Factories Act will no longer be there.
The new labour law changes are also seen as a bane for the workers desperately looking for a job to end their financial nightmare.
Instead of providing protections to the most marginalised and vulnerable, as exposed by the covid crisis, and thus an opportunity to rectify the fractured economic system, these moves will further exacerbate the crisis for those who are worst affected by it.
Way Forward
Theoretically, it is possible to generate more employment in a market with fewer labour regulations.
However, as the experience of states that have relaxed labour laws in the past suggests, dismantling worker protection laws have failed to attract investments and increase employment, while not causing any increase in worker exploitation or deterioration of working conditions.
There is already too much unused capacity. Firms are shaving off salaries up to 40% and making job cuts. The overall demand has fallen.
According to the experts, instead of creating exploitative conditions for the workers, the government should have —partnered with the industry and allocated 3% or 5% of the GDP towards sharing the wage burden and ensuring the health of the labourers.
Indian Labour Laws
Estimates vary but there are over 200 state laws and close to 50 central laws. And yet there is no set definition of "labour laws" in the country.
Broadly speaking, they can be divided into four categories, shown in the image below.
The main objectives of the Factories Act, for instance, are to ensure safety measures on factory premises, and promote health and welfare of workers.
The Shops and Commercial Establishments Act, on the other hand, aims to regulate hours of work, payment, overtime, weekly day off with pay, other holidays with pay, annual leave, employment of children and young persons, and employment of women.
The Minimum Wages Act covers more workers than any other labour legislation.
The most contentious labour law, however, is the Industrial Disputes Act, 1947 as it relates to terms of service such as layoff, retrenchment, and closure of industrial enterprises and strikes and lockouts.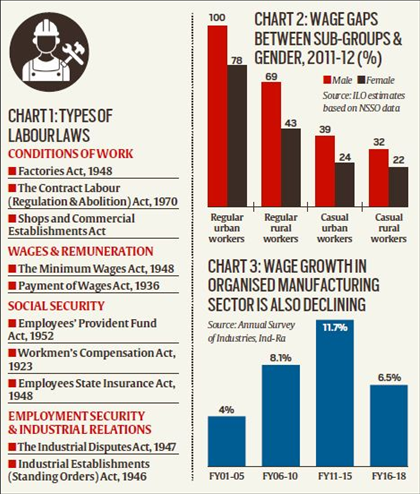 Source: Indian Express
Criticism of Labour Laws
Indian labour laws are often characterised as "inflexible". In other words, it has been argued that thanks to the onerous legal requirements, firms (those employing more than 100 workers) dither from hiring new workers because firing them requires government approvals.
Even the organised sector is increasingly employing workers without formal contracts. This, in turn, has constrained the growth of firms on the one hand and provided a raw deal to workers on the other.
Further, there are too many laws, often unnecessarily complicated, and not effectively implemented. This has laid the foundation for corruption and rent-seeking.
Current News Indian Economy Infrastructure
Report On Impact Of Energy Efficiency Measures
---
Recently the Ministry of Power and New & Renewable Energy released a report on the Impact of energy efficiency measures for the year 2018-19.
The report has been prepared by an Expert agency PWC Ltd, who was engaged by Bureau of Energy efficiency (BEE) for an independent verification.
Objective
To assess the impact of all the energy efficiency schemes/ programmes in India in terms of total energy saved and reduction in the amount of CO2 emissions in 2018-19.
Background
With a total energy consumption of 553.9 Million Tonnes of Oil Equivalent (Mtoe) 1 in 2017-18, India stood the third largest energy consumer in the world after United States of America and China.
India also ranks highest in terms of growth rate of energy consumption in the world.
India's energy consumption is expected to grow fastest among global economies and account for 11% of global energy demand by 2040.
As India, submitted its Nationally Determined Contributions (NDC) target to United Nations Framework Convention on Climate Change (UNFCCC), intending to reduce emission intensity of its GDP, the role of energy efficiency would be crucial in complying with those targets.
Key Findings
Implementation of various energy efficiency schemes have led to total electricity savings to the tune of 113.16 Billion Units in 2018-19, which is 9.39% of the net electricity consumption.
Energy savings (electrical + thermal), achieved in the energy consuming sectors (e. Demand Side sectors) is to the tune of 16.54 Mtoe, which is 2.84% of the net total energy consumption in 2018-19.
The Energy Intensity of India (at 2011-12 prices) decreased from 65.5 toe per crore rupees in 2011-12 to 55.8 toe/Cr Rupees in 2017-18.This decline is attributed to the services sector having a growing share of the economy, and deployment of energy efficiency programmes among other factors.
Industry sector has the highest contribution (49.17%) in the total energy savings while domestic sector has contributed to 33.34% of the total savings achieved during FY 18-19.
These efforts have also contributed in reducing 151.74 Million Tonnes of CO2 emissions, whereas last year this number was 108 Million Tonnes of CO2.
The study focuses on following schemes/programmes, viz. Perform, Achieve and Trade Scheme, Standards & Labeling Programme, UJALA Programme, ECBC – Commercial Buildings Programme, BEE Star rated buildings, Building Energy efficiency Programme, Corporate Average Fuel Economy (CAFE), FAME Scheme, BEE – SME Programme, GEF – UNIDO – BEE Project, GEF – World Bank Project, Agriculture Demand Side Management Programme, and Municipal Demand Side Management Programme.
Significance
The study assesses the resultant impact of current schemes at national as well as state level for the FY 2018-19 and compares it with a situation where the same were not implemented.
Energy Efficiency in India
Government of India has undertaken a two pronged approach to cater to the energy demand of its citizens while ensuring minimum growth in CO2 emissions, so that the global emissions do not lead to an irreversible damage to the earth system.
On one hand, in the generation side, the Government is promoting greater use of renewable in the energy mix mainly through solar and wind and at the same time shifting towards supercritical technologies for coal based power plants.
On the other side, efforts are being made to efficiently use the energy in the demand side through various innovative policy measures under the overall ambit of Energy Conservation Act 2001.
Towards Energy Efficiency
The Energy Conservation Act (EC Act) was enacted in 2001 with the goal of reducing energy intensity of Indian economy.
Bureau of Energy Efficiency (BEE) was set up as the statutory body on 1st March 2002 at the central level to facilitate the implementation of the EC Act. The Act provides regulatory mandate for: standards & labeling of equipment and appliances; energy conservation building codes for commercial buildings; and energy consumption norms for energy intensive industries.
Schemes to Promote Energy Conservation and Energy Efficiency
Standards and Labeling
The Bureau initiated the Standards and Labeling programme for equipment and appliances in 2006 to provide the consumer an informed choice about the energy saving and thereby the cost saving potential of the relevant marketed product.
The Corporate Average Fuel Consumption Standards (CAFC) for passenger cars has been notified on 30th January, 2014.
Energy Conservation Building Codes (ECBC)
It was developed by Govt. of India for new commercial buildings on 27th May 2007. ECBC sets minimum energy standards for new commercial buildings having a connected load of 100kW or contract demand of 120 KVA and above.
Currently, Voluntary Star Labelling programme for 4 categories of buildings (day use office buildings/BPOs/Shopping malls/Hospitals) has been developed and put in public domain.
National Mission for Enhanced Energy Efficiency (NMEEE)
It is one of the eight missions under the National Action Plan on Climate Change (NAPCC). NMEEE aims to strengthen the market for energy efficiency by creating conducive regulatory and policy regime and has envisaged fostering innovative and sustainable business models to the energy efficiency sector.
Perform Achieve and Trade Scheme (PAT)
It is a market based mechanism to enhance the cost effectiveness in improving the Energy Efficiency in Energy Intensive industries through certification of energy saving which can be traded.
Bachat Lamp Yojana (BLY)
It is a public-private partnership program comprising of BEE, Distribution Companies (DISCOMs) and private investors to accelerate market transformation in energy efficient lighting.
Unnat Jyoti by Affordable LEDs for All (UJALA)
It was launched in 2015 with a target of replacing 77 crore incandescent lamps with LED bulbs and to nullify the high-cost of LEDs that acted as a barrier previously in the adoption of energy-efficient systems.
The objective is to promote efficient lighting, enhance awareness on using efficient equipment that will reduce electricity bills and preserve the environment.
It is the world's largest domestic lighting project.
Current News Ecology & Environment Disaster Management
Vizag Gas Leak: Styrene Gas
---
On 7th May, 2020, a gas leak claimed at least 11 lives and affected thousands of residents in five villages in Visakhapatnam in Andhra Pradesh.
The source of the leak was a styrene plant owned by South Korean electronics giant LG, located at RRV Puram near Gopalapatnam, about 15 kms from the coast city.
What is Styrene?
Styrene, also known as ethenylbenzene, vinylbenzene, and phenylethene, is an organic compound with the chemical formula C6H5CH=CH2.
It is a derivative of benzene (C6H6).
Styrene is named after storax balsam, the resin of Liquidambar trees of the Altingiaceae plant family.
It occurs naturally in small quantities in some plants and foods (cinnamon, coffee beans, and peanuts) and in coal tar and vehicle exhaust.
It is stored in factories as a liquid, but evaporates easily, and has to be kept at temperatures under 20°C.
Industrial Production
The vast majority of styrene is produced from ethylbenzene and almost all ethylbenzene produced worldwide is intended for styrene production.
Applications
It is a flammable liquid that is used in the manufacturing of polystyrene plastics, fiberglass, rubber, and latex.
Styrene is the main raw material for synthesis of polystyrene, or (C8H8)n.
It is also used as an intermediate to produce copolymers — which are polymers derived from one or more species of monomers such as styrene.
What happens when exposed to styrene?
Styrene is regarded as a known carcinogen.
It is the mucous membrane that is mainly affected by exposure to styrene gas
Short-term exposure to the substance can result in respiratory problems, irritation in the eyes, irritation in the mucous membrane, and gastrointestinal issues.
Long-term exposure could drastically affect the central nervous system and lead to other related problems like peripheral neuropathy.
What are the symptoms?
Symptoms include headache, hearing loss, fatigue, weakness, difficulty in concentrating etc.
Animal studies, according to the EPA, have reported effects on the CNS, liver, kidney, and eye and nasal irritation from inhalation exposure to styrene.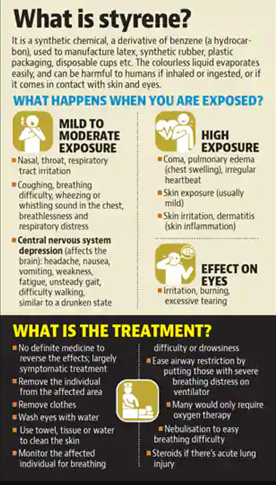 Source: HT
Safeguards against Chemical Disasters
At the time of the Bhopal gas tragedy, the Indian Penal Code (IPC) was the only relevant law specifying criminal liability for such incidents, reported PRS Legislative.
Soon after the tragedy, which had killed 2,000 people, the government passed a series of laws regulating the environment and prescribing and specifying safeguards and penalties. Some of these laws were:
Bhopal Gas Leak (Processing of Claims) Act, 1985, which gives powers to the central government to secure the claims arising out of or connected with the Bhopal gas tragedy. Under the provisions of this Act, such claims are dealt with speedily and equitably.
The Environment Protection Act, 1986, which gives powers to the central government to undertake measures for improving the environment and set standards and inspect industrial units.
The Public Liability Insurance Act, 1991, which is insurance meant to provide relief to persons affected by accidents that occur while handling hazardous substances.
The National Environment Appellate Authority Act, 1997, under which the National Environment Appellate Authority can hear appeals regarding the restriction of areas in which any industries, operations or processes or class of industries, operations or processes shall not be carried out or shall be carried out subject to certain safeguards under the Environment (Protection) Act, 1986.
National Green Tribunal, 2010, provides for the establishment of a National Green Tribunal for effective and expeditious disposal of cases related to environmental protection and conservation of forests.
Current News Science & Technology Health & Disease
African Swine Fever
---
The central government has advised authorities in Assam to go for culling of pigs affected by the African Swine Fever (ASF) after thousands were found to have died from the illness in the past several weeks.
Origin of Current Outbreak
As per the latest update issued by the UN Food and Agriculture Organisation (FAO), the current outbreak of ASF has affected China, Mongolia, Vietnam, Cambodia, Myanmar, the Philippines, Republic of Korea and Indonesia among others.
In China, the first ASF outbreak was confirmed in August 2018.
In Vietnam, the ASF outbreak was confirmed in February 2019.
Possibly, ASF came into India through Tibet into Arunachal Pradesh and then into Assam, the state with the highest population of pigs in the country.
About African Swine Fever (ASF)
ASF is a severe, highly-contagious hemorrhagic viral disease of domestic and wild pigs.
It is caused by a large DNA virus of the Asfarviridae family, which also infects ticks of the genus
It is a disease listed in the World Organisation for Animal Health (OIE) Terrestrial Animal Health Code and must be reported to the OIE.
It was first detected in Africa in the 1920s.
Transmission and Spread
Its routes of transmission include direct contact with an infected or wild pig (alive or dead), indirect contact through ingestion of contaminated material such as food waste, feed or garbage.
It can also be transmitted through biological vectors—soft ticks of the genus Ornithodoros where present.
The disease is characterised by the sudden deaths of pigs. Other manifestations of the disease include high fever, depression, anorexia, loss of appetite, haemorrhages in the skin, vomiting and diarrhoea among others.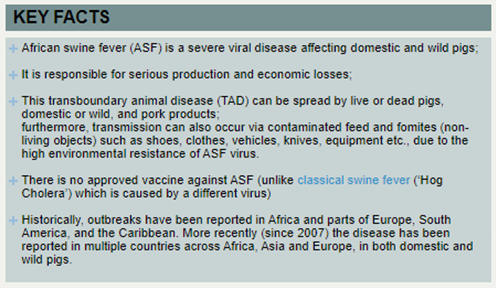 Difference from Swine Flu
Swine influenza or swine flu is a respiratory disease of pigs, which is caused by type A influenza virus that regularly causes outbreaks of influenza in pig populations.
While the swine flu causing virus leads to a high number of infections in pig herds, the disease is not as fatal and causes few deaths. Specific swine influenza vaccines are available for pigs.
Public Health Risk
African swine fever is not a risk to human health. While swine flu can spread from animals to humans, African swine fever does not and therefore is not a public health threat.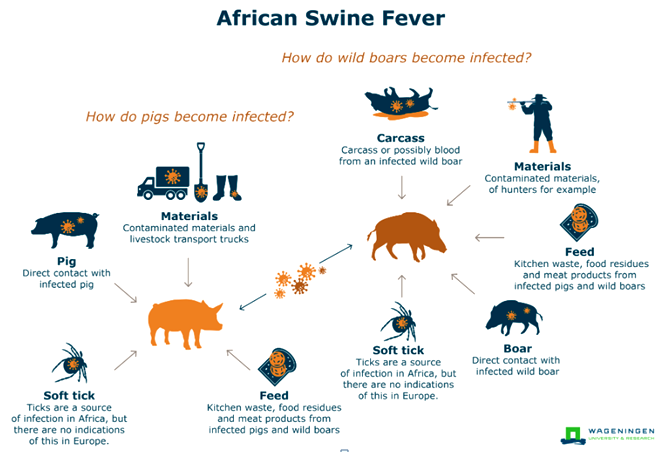 Assam Government Strategy to Deal with ASF
Since ASF has no vaccination, it is advisable that the infected pigs are culled. Culling is the only option but we are not doing that right now.
Currently, the dead pigs are undergoing deep burials, with salt and bleaching powder.
The authorities have advised all pig farmers to contain the spread through bio-security.
Current News Science & Technology Health & Disease
Silent Hypoxia
---
As medical practitioners around the world are busy treating people for Covid-19, many have reported a condition called 'silent' or 'happy' hypoxia, in which patients have extremely low blood oxygen levels, yet do not show signs of breathlessness.
The condition has puzzled medical practitioners, and many are now advocating for its early detection as a means to avoid a fatal illness called Covid pneumonia.
What is Hypoxia?
Hypoxia is a condition wherein there is not enough oxygen available to the blood and body tissues.
Hypoxia can either be generalised, affecting the whole body, or local, affecting a region of the body.
Normal arterial oxygen is approximately 75 to 100 millimetres of mercury (mm Hg), and normal pulse oximeter readings usually range from 95 to 100 per cent.
Complications
When levels fall below 90 percent, patients could begin experiencing lethargy, confusion, or mental disruptions because of insufficient quantities of oxygen reaching the brain.
Levels below 80 percent can result in damage to vital organs.
What is Silent Hypoxia?
It is a form of oxygen deprivation that is harder to detect than regular hypoxia.
In silent hypoxia, patients appear to be less in distress.
In many cases, Covid-19 patients with silent hypoxia did not exhibit symptoms such as shortness of breath or coughing until their oxygen fell to acutely low levels, at which point there was a risk of acute respiratory distress (ARDS) and organ failure.
Reason for Silent Hypoxia
The reason why people are left feeling breathless is not because of the fall in oxygen levels itself, but due to the rise in carbon dioxide levels that occur at the same time, when lungs are not able to expel this gas efficiently.
In patients with Covid pneumonia, the virus causes air sacs to fall, leading to a reduction in levels of oxygen.
However, the lungs initially do not become stiff or heavy with fluid, and remain "compliant" — being able to expel carbon dioxide and avoiding its buildup. Thus, patients do not feel short of breath.
Current News National MISCELLANEOUS
Native Fury
---
"Native Fury" is a biennial military exercise between the US Marines and UAE Emirati forces. The latest 2020 edition was conducted at Abu Dhabi.
Current News National MISCELLANEOUS
India, France Conduct Joint Patrols From Reunion Island
---
India and France have conducted joint patrols from the Reunion Island for the first time.

Reunion Island is a remote Indian Ocean island located between Madagascar and Mauritius. It is an overseas region of France.
Current News National MISCELLANEOUS
UK Apologises For Windrush Scandal
---
The UK Government has apologised for the Windrush Scandal which involved Windrush generation - the immigrants who came to the UK between 1948 and 1971 from Caribbean countries - being wrongly detained or deported.
The immigrants came at the invitation of the British government which was facing a labour shortage due to the destruction caused by World War II in a ship - named 'Windrush'.
Current News National MISCELLANEOUS
50 Years Of NPT
---
The Non-proliferation Treaty is an international treaty signed in 1968 and came into force in 1970.

The five permanent members (P5) of the UN Security Council issued a statement on the successful 50 years of the Nuclear Non-Proliferation Treaty (NPT) which came into force on March 5, 1970.

The treaty defines nuclear-weapon states as those that have built and tested a nuclear explosive device before 1 January 1967; these are the United States, Russia, the United Kingdom, France, and China.

The other nuclear armed states—India, Israel and Pakistan have not joined the treaty. Further, North Korea and South Sudan have also not signed the treaty.
Current News National MISCELLANEOUS
UN CSW Adopts Political Declaration On Women's Rights
---
The United Nations Commission on the Status of Women has adopted a political declaration to reaffirm the 1995 Beijing Declaration to achieve gender equality.

Beijing Declaration:

It was a resolution adopted by the United Nations (UN) at the Fourth World Conference on Women in 1995.

Commission on the Status of Women (CSW):

The Commission on the Status of Women (CSW) was established in 1946 as a functional commission of the United Nations Economic and Social Council (ECOSOC). It is the principal global intergovernmental body exclusively dedicated to the promotion of gender equality and the empowerment of women.
Current News National MISCELLANEOUS
Wasp 76b
---
It is an exoplanet (planet which orbits a star outside the solar system) named Wasp-76b where they suspect it rains iron instead of water.
Current News National MISCELLANEOUS
Hydroxychloroquine Now A Schedule H1 Drug
---
The government has notified hydroxychloroquine, an anti-malarial drug, under Schedule-H1 to regulate and restrict the sale and distribution of the drug.

The Drugs and Cosmetics Rules, 1945, under the Drugs and Cosmetics Act, 1940, provides for classification of drugs into different schedules.
Current News National MISCELLANEOUS
Torreites Sanchezi
---
The study of fossil shells of Torreites sanchez, an extinct mollusk species of rudist clam that lived during the Cretaceous period, some 70 million years ago, Earth spun 372 times a year 70 million years ago compared to the current 365.This means the day was 23½ hours long compared to 24 hours.

The mollusk used to grow fast laying down daily growth rings. The rings allowed the scientists to determine the number of days in a year and more accurately calculate the length of a day 70 million years ago.
Current News National MISCELLANEOUS
International Day Of Forests
---
International Day of Forests is celebrated every year on 21 March to raise awareness of the importance of all types of forests.

The theme for International Day of Forests 2020 is "Forests and Biodiversity".
Current News National MISCELLANEOUS
New Environment Impact Norm
---
Ministry of Environment, Forest and Climate Change has released draft EIA notification.

It proposes an update to Environment Impact Assessment (EIA) notification of 2006.

The current EIA specifies a "minimum of 30 days" for people to respond. The draft EIA notification gives a "minimum of 20 days" of notice period.

It also requires that the public-hearing process be wrapped up in 40 days, as opposed to the existing norm of 45 days.
Current News National MISCELLANEOUS
IOC: 1st Company To Supply BS-VI Fuel Across India
---
Indian Oil Corporation Limited has become 1st company to begin supply of BS-VI fuel across its 28,000 petrol pumps.

The Government of India has set 01st April 2020 as the deadline to start the supply of BS-VI emission compliant fuels.

BS (Bharat Satge)-VI grade fuel is the world's cleanest fuel containing just 10 parts per million of sulphur.
Current News National WORLD OF AWARDS
Abel Prize 2020
---
Hillel Furstenberg from Hebrew University of Jerusalem, Israel and Gregory Margulis from Yale University, the USA won the Abel Prize 2020 for their "pioneering use of methods from probability & dynamics in group theory, number theory and combinatorics".

The Abel Prize was established by the Norwegian government in 2002. The Norwegian Academy of Science and Letters gives the award.
Current News National WORLD OF AWARDS
Nari Shakti Puraskars 2020
---
Sixteen Nari Shakti Puraskars were presented this year by President Ram Nath Kovind on International Women's Day.
The Nari Shakti Puraskar is the country's highest civilian honour for women, and recognizes services towards the cause of women empowerment.
The Achievers and their Field of Work
Man Kaur: A centenarian sprinter. Dubbed as the "Miracle Mom from Chandigarh", 104-year-old Man Kaur started running when she was 91 years old.
Mohana Singh, Bhawana Kanth, and Avani Chaturvedi: IAF's first women fighter pilots
Padala Bhudevi and Bina Devi: Popular as the 'Mushroom Mahila' for popularising mushroom cultivation.
Arifa Jaan: An artisan from Kashmir she took up the task of the revival of the lost art of Numdha handicrafts. Numdha is a traditional felted Kashmir carpet, made by rolling and pressing wool by the application of moisture.
Chami Murmu: Hailed as the Lady Tarzan of Jharkhand, Chami Devi Murmu has been mobilizing women to plant Eucalyptus, Sal and Acacia trees, among others, to replenish the forests in Jharkhand that had been destroyed by the timber mafia.
Nilza Wangmo: She runs a restaurant in Alchi, near Leh town and is taking the Ladakh cuisine to the world.
Rashmi Urdhwareshe: An automotive research professional
Kalavati Devi: A lady mason, who acted as a driving force in reducing open defecation in the district of Kanpur. She went door to door to tell people about the ills of open defecation and has built over 4,000 toilets across the city and around it.
Tashi and Nungshi Malik: Tashi and Nungshi Malik from Uttrakhand were the first female twins to scale Mt Everest in 2013. They have climbed Mt Kilimanjaro, Africa in 2015 and Mt Vinson, Antarctica in 2014, Puncak Jaya in Australia in 2014 and Mt Elbrus in Europe in 2013.
Kaushiki Chakroborty: A Khayal and Thumri exponent and is one of the few people to keep Indian classical music alive.
Karthyayini Amma and Bhageerathi Amma: Karthyayini Amma scored 98 marks out of 100 in the 4th standard equivalency course under the Kerala Literacy Mission's Aksharalaksham scheme. Bhageerathi Amma has created history by becoming the oldest woman to sit for the same exam.
Current News National WORLD OF AWARDS
Zoya Akhtar
---
Indian filmmaker Zoya Akhtar has been honoured with IIFTC Tourism Impact Award 2020 for her outstanding contribution to world tourism through her cinema.

The 8th India International Film Tourism Conclave (IIFTC) was held in Mumbai, Maharashtra.
Current News National WORLD OF SPORTS
Olympic Games Tokyo 2020 Rescheduled
---
The Olympic Games Tokyo 2020 have been postponed by one year and will be held from 23 July to 8 August, 2021. The Olympic Games Tokyo 2020 were earlier scheduled to be held from 24 July to 9 August 2020.

The decision has been taken by the IOC amid the COVID-19 pandemic.
Current News National WORLD OF SPORTS
Two Indians Named In International Panel Of ICC Development Umpires
---
Vrinda Rathi and Janani Narayanan have been named in the International Panel of ICC Development Umpires.

Tamil Nadu's Janani Narayanan is a software engineer while, Vrinda Rathi of Mumbai is a former varsity player who has been umpiring in Indian domestic cricket from 2018.
Current News National WORLD OF SPORTS
Wimbledon Cancelled
---
Wimbledon organizers have cancelled the Wimbledon Championships 2020 due to the coronavirus pandemic.

This cancelation has happened for the first time since 1945 since World War II.

The French Open Tennis has been postponed due to the coronavirus pandemic and will take place from 20th September to 4th October.
Current News National WORLD OF AWARDS
Tiger Woods To Be Inducted Into World Golf Hall Of Fame In 2021 Class
---
American golfer Tiger Woods will be inducted into the World Golf Hall of Fame as part of the class of 2021.
The hall of fame, located in St. Augustine, Florida, released a statement saying Woods, winner of 15 major titles, will be inducted in the male competitor category.
Current News Indian Economy Survey And Index
Global Energy Review-2020
---
On 1st May, 2020, the International Energy Agency (IEA) released a report Global Energy Review, detailing the impact of Covid-19 on global energy demands and CO2 emissions.
Key Findings
Global Energy Scenario
Coal
Global coal demand was hit the hardest, falling by almost 8% compared with the first quarter of 2019.
Three reasons converged to explain this drop. China – a coal-based economy – was the country the hardest hit by Covid19; cheap gas and continued growth in renewables elsewhere challenged coal; and mild weather also capped coal use.
Oil
As a consequence of global lockdown measures,
Road transport in regions mobility – 57% of global oil demand – has declined at an unprecedented scale.with lockdowns in place has dropped between 50% and 75%, with global average road transport activity almost falling to 50% of the 2019 level by the end of March 2020.
Natural Gas
The impact of the pandemic on gas demand was more moderate, at around 2%, as gas-based economies were not strongly affected in the first quarter of 2020.
Renewable Energy
Renewable energy has so far been the energy source most resilient to Covid19 lockdown measures
Renewable electricity has been largely unaffected while demand has fallen for other uses of renewable energy and the total global use of renewable energy is expected to rise by 1 per cent by 2020.
Electricity
Lockdown measures have significantly reduced electricity demand, affecting in turn the power mix.
Increases in residential demand were far outweighed by reductions in commercial and industrial operations.
Demand reductions have lifted the share of renewables in electricity supply, as their output is largely unaffected by demand. Demand fell for all other sources of electricity, including coal, gas and nuclear power.
Nuclear
Global nuclear power generation fell by about 3% in Q1 2020 compared with Q1 2019, pulled down by electricity demand reductions.
For 2020, it is estimated that nuclear power declines by 2.5% from 2019 due to lower demand and delays for planned maintenance and construction of several projects.
Carbon Dioxide Emission
Carbon emissions were five percent lower than during the same time in 2019.
This year saw an 8 percent decline in coal emissions, 4.5 percent from oil and 2.3 per cent from natural gas.
Emissions declined the most in regions which were impacted the highest by the disease.
Overall, the emissions decline in 2020 could be 8 percent lower than in 2019, which would be the lowest level of emissions since 2010 and the largest level of emission reduction — six times larger than what was witnessed during the 2009 financial crisis, and twice as large as the combined total of all reductions witnessed since World War II.
Indian Energy Scenario
India, which is one of the IEA association countries, has seen a reduction in its energy demands by over 30 percent as a result of the nation-wide lockdown.
Moreover, in India, where "economic growth and power production are slowing significantly", the demand for coal will decline steeply.
Implications
The energy industry is feeling the financial impact throughout value chains, with most energy companies losing substantial revenues.
In effect, they are being hit twice, first by lower demand for their products – including oil, gas, coal and electricity – and again by lower prices for these products.
The smallest impact is on coal: as the supply chain is less affected by logistical constraints than oil and natural gas.
Low prices and low demand in all subsectors will leave energy companies with weakened financial positions and often strained balance sheets.
Business lines that are insulated to a degree from market signals, including those with renewable electricity projects, will emerge in the best financial position.
Across the energy sector, the Covid19 crisis will have a significant impact on investment. This could raise concerns about energy security because investment is necessary even if global energy demand takes a long time to return to the pre-crisis trajectory.
The Covid‑19 crisis is also influencing the path for clean energy transitions.
Suggestions for Policy Makers
Policymakers and regulators need to ensure that operational, maintenance and safety expenditures are prioritised and appropriately maintained.
Governments will play a major role in shaping the energy sector's recovery from the Covid‑19 crisis, just as they have long been in the driving seat in orienting energy investment.
In particular, the design of economic stimulus packages presents a major opportunity for governments to link economic recovery efforts with clean energy transitions – and steer the energy system onto a more sustainable path.
While the clean energy transitions and stimulus discussions are gathering momentum, a co-ordinated policy effort will be needed to harvest its opportunities and lead to a more modern, cleaner and more resilient energy sector for all.
International Energy Agency
The International Energy Agency is a Paris-based autonomous intergovernmental organization established in the framework of the Organisation for Economic Co-operation and Development (OECD) in 1974 in the wake of the 1973 oil crisis.
Its mission is guided by four main areas of focus: energy security, economic development, environmental awareness and engagement worldwide.
Members
Only the OECD member states can become members of the IEA. Except for Chile, Iceland, Israel, and Slovenia, all OECD member states are members of the IEA.
Currently, it has 30 members and 8 association countries.
Association countries
Brazil, China, India, Indonesia, Morocco, Singapore, South Africa and Thailand
Important Reports Published by IEA
Global Energy & CO2 Status Report
World Energy Outlook
World Energy Statistics
World Energy Balances
Energy Technology Perspectives
Current News National Newsmakers
Ranjan Gogoi
---
Former Chief Justice of India Ranjan Gogoi became a member of Rajya Sabha.

He was nominated to Rajya Sabha by the President of India Ram Nath Kovind.

Twelve

members are nominated to the Rajya Sabha

by the President of India for six-years term for their contributions towards arts, literature, sciences, and social services. This right has been bestowed upon the President according to the Fourth Schedule (Articles 4(1) and 80(2)) of the Constitution of India.
Current News National Newsmakers
Tedros Adhanom Ghebreyesus
---
The World Health Organisation's Director General Dr. Tedros Adhanom Ghebreyesus has become the public face of Global fight against the coronavirus.

He was elected in May 2017 as the WHO's first African director-general. Prior to this, Dr Tedros served as Ethiopia's Minister of Foreign Affairs from 2012–2016 and Health Minister from 2005-2012.

The World Health Organization (WHO), established on 7th April 1948, is a specialized agency of the United Nations that acts as a coordinating authority on international public health. It is headquartered at Geneva in Switzerland.
Current News National Newsmakers
Shivraj Singh Chouhan
---
Shivraj Singh Chouhan was sworn in as Chief Minister of Madhya Pradesh. He took oath for the fourth time as Chief Minister. Former Chief Minister of Madhya Pradesh Kamal Nath resigned just before the Supreme Court's deadline to prove his majority in a trust vote.
Current News National FACES ONLY IN MEMORY
Philip W. Anderson
---
Philip W. Anderson, was an American physicist (Anderson localization, Anderson Hamiltonian, Anderson orthogonality theorem), Nobel Prize laureate (1977).
Current News National FACES ONLY IN MEMORY
Satish Gujral
---
Noted Indian painter, sculptor, muralist and writer of the post-independent era Satish Gujral has passed away.
He was awarded the Padma Vibhushan, the second-highest civilian award of the Republic of India, in 1999.
His elder brother, Inder Kumar Gujral, was the Prime Minister of India between 1997 and 1998.
Current News National FACES ONLY IN MEMORY
Chandan Singh Rathore
---
Retired Air Vice Marshal Chandan Singh Rathore has passed away.

He was recipient of Maha Vir Chakra (MVC) and contributed during the Sino-India 1962 war and the 1971 Indo-Pak war.
Current News National FACES ONLY IN MEMORY
Nemai Ghosh
---
Noted Indian photographer and Padma Shri awardee in 2010, Nemai Ghosh has passed away. He is most known for working with Satyajit Ray.
Current News National FACES ONLY IN MEMORY
E. Harikumar
---
Malayalam novelist and short story writer E. Harikumar has passed away.

He was awarded Kerala Sahitya Akademi Award for anthology of short stories titled Dinosarinte Kutty (The Dinosaur's Baby).
Current News National FACES ONLY IN MEMORY
Tony Lewis
---
Tony Lewis, one of the men behind the Duckworth-Lewis-Stern method used in weather-affected limited overs cricket matches, has died.

Tony, alongside fellow mathematician Frank Duckworth, devised the Duckworth-Lewis method which was introduced in 1997 and adopted officially by the ICC (International Cricket Council) in 1999.
Current News National FACES ONLY IN MEMORY
Pradip Kumar Banerjee
---
Former Indian footballer who played as a striker for the Indian national football team has passed away.

He captained the national team and later on became the coach of the national team.

He was one of the first recipients of Arjuna Award, when the awards were instituted in 1961. He was awarded the prestigious Padma Shri in 1990 and was named Indian Footballer of the 20th century by IFFHS. In 2004, he was awarded the FIFA Order of Merit, the highest honour awarded by FIFA.
Current News National FACES ONLY IN MEMORY
Abdul Latif
---
Former India midfielder Abdul Latif, who was also a key member of bronze medal winning team at the 1970 Bangkok Asian Games has passed away.
Current News National FACES ONLY IN MEMORY
Hansraj Bhardwaj
---
Former Governor of Karnataka and Kerala Hansraj Bhardwaj has passed away.
He holds the record of having the second longest tenure in Law Ministry since independence, after Ashoke Kumar Sen.
Current News National FACES ONLY IN MEMORY
Joseph Lowery
---
Veteran US civil rights leader Joseph Lowery who helped in establishing the Atlanta-based Southern Christian Leadership Conference, passed away.

The Atlanta-based Southern Christian Leadership Conference, an African-American civil rights organisation was set up to promote racial equality.
Current News National FACES ONLY IN MEMORY
Beni Prasad Verma
---
Former Union Minister Beni Prasad Verma has passed away.

He served as the telecom minister, steel minister and was also a Lok Sabha member from 1996 to 2014. He also served as the Minister of State for Parliamentary Affairs during his career.
Current News National STATES IN NEWS
Centre For Internet Of Ethical Things
---
To bring together aspects of Artificial Intelligence (AI), Internet of Things (IoT) and Ethics on a single platform, Karnataka Government has decided to set up a Centre for Internet of Ethical Things in Bengaluru.

It is a collaboration with the World Economic Forum (WEF).
Current News National STATES IN NEWS
Hubli-Ankola Railway Project
---
The Government of Karnataka has approved the Hubballi-Ankola railway line project despite opposition by several members of the State Board of Wildlife.

The railway line passes through two major protected areas — Kali Tiger Reserve and Bedthi Conservation Reserve which are part of Western Ghats.

Kali Tiger Reserve comprises two important protected areas of the region namely Dandeli Wildlife Sanctuary and Anshi National Park.
Current News National STATES IN NEWS
Gujarat First State To Equip Police With Taser Guns
---
Gujarat has become the first state in India to introduce Taser Guns to its Police Force.

Taser Guns (electrical weapon) use compressed nitrogen to fire, by sending electricity through attached wires, which disrupt voluntary control of muscles.
Current News National Survey/Study/Report
Poshan Abhiyan: Andhra Pradesh Tops In Overall Implementation
---
NITI Aayog has released a report on the performance of States in the implementation of Poshan Abhiyan.

Andhra Pradesh ranked 1st in country for the overall implementation of Poshan Abhiyan.

Tamil Nadu topped the list of the states in terms of the number of participants in the programme.

The Prime Minister's Overarching Scheme for Holistic Nutrition or POSHAN Abhiyan or National Nutrition Mission was launched in 2018. It is implemented by the Ministry of Women and Child Development.

The scheme aims at achieving improvement in nutritional status of Children (0-6 years) and Pregnant Women and Lactating Mothers (PW&LM) in a time-bound manner and ensure attainment of malnutrition free India by 2022.
Current News National Survey/Study/Report
A New Era For Girls: Taking Stock Of 25 Years Of Progress
---
UNICEF along with Plan International and United Nations Women has released a report titled "A New era for girls: Taking stock on 25 years of progress".

The report is issued in the context of the Generation Equality campaign and to mark the 25th anniversary of the Beijing Declaration and Platform for Action.
Current News National Art/Culture/Heritage
Namda Traditional Art
---
Arifa Jan who revived a Kashmiri traditional art called 'Namda' was awarded Nari Shakti Puraskar and was also among the seven women who took control of the Prime minister's Twitter account.

Namda comes from the root word Namata (Sanskrit for woollen stuff). It is a local term used for felted wool floor coverings made out of coarse variety of wool.

The art consists of floral patterns which provide the themes for these masterpieces and flowers, leaves, buds and fruits are the essence of the designs.

It is practiced as a craft in several cultures especially the countries throughout Asia such as Iran, Afghanistan and several places in Ladakh, Kutch and Kashmir and Rajasthan in India.
Current News National Plan/Policy/Scheme
Three Schemes For Electronics Manufacturing In India
---
The Union Cabinet has approved three schemes to boost large-scale electronics manufacturing in India.

Electronics Manufacturing Clusters (EMC2.0) Scheme:

To create world class infrastructure along with common facilities and amenities through setting up of Electronics Manufacturing Clusters (EMCs) and Common Facility Centers (CFCs).

Scheme for Promotion of manufacturing of Electronic Components and Semiconductors (SPECS):

To offer financial incentive of 25% of capital expenditure for the manufacturing of goods that constitute the supply chain of an electronic product.

Production Incentive Scheme (PLI) for Large Scale Electronics Manufacturing:

To attract large investments in mobile phone manufacturing and specified electronic components, including assembly, testing, marking and packaging (ATMP) units.
Current News National Plan/Policy/Scheme
National Innovations In Climate Resilient Agriculture (NICRA)
---
The Government of India is implementing programmes such as National Innovations in Climate Resilient Agriculture (NICRA) to tackle the impact of climate change on agriculture.

It was launched by the Indian Council of Agricultural Research (ICAR) in 2011.

To enhance resilience of Indian agriculture to climate change and climate vulnerability through strategic research and technology demonstration.

The research on adaptation and mitigation covers crops, livestock, fisheries and natural resource management.

It consists of four components namely a) Strategic Research b) Technology Demonstration c) Capacity Building and d) Sponsored or Competitive Grants.
Current News National Notable Judicial Verdicts
Centre Can't Brand An Organisation As 'Political': SC
---
The Supreme Court of India has held that the central government cannot brand an organisation as political and deprive it of its right to receive foreign funds for using legitimate forms of dissent to aid a public cause.

The Court observed that an organisation which supports the cause of a group of citizens agitating for their rights without a political goal or objective cannot be penalised by being declared as an organisation of a political nature.

However, foreign funding could be stopped if an organisation took recourse to these forms of protest to score a political goal.
Current News National Notable Judicial Verdicts
Rights Of An Accused To Be Defended
---
The Karnataka High Court has observed that it is unethical and illegal for lawyers to pass resolutions against representing accused in court.
Constitutional Provisions for the the Rights of an Accused
Article 22(1): It gives the fundamental right to every person not to be denied the right to be defended by a legal practitioner of his or her choice.
Article 14: It provides for equality before the law and equal protection of the laws within the territory of India.
Article 39A: It is part of the Directive Principles of State Policy. It states that equal opportunity to secure justice must not be denied to any citizen by reason of economic or other disabilities, and provides for free legal aid.
Current News National National Security
NCTC & Cri-MAC
---
Union Minister for Home affairs has launched the Crime Multi Agency Centre (Cri-MAC) and National Cybercrime Training Centre (NCTC).
NCTC:

The National Cybercrime Training Centre (NCTC) is meant for professional quality eLearning services on cyber crime investigation on large scale to police officers, judges, prosecutors and other stakeholders.

Cri-MAC:

Crime Multi Agency Centre (Cri-MAC) aims to share information between various police forces on heinous crimes and other issues related to inter-state coordination.
Current News National MISCELLANEOUS
SAREX-2020
---
The Indian Coast Guard (ICG) has conducted the National level Search and Rescue Exercise (SAREX-2020) in Goa to test the efficiency of operations and coordination of the stakeholders involved in Search and Rescue in the Indian Ocean Region.
Current News National MISCELLANEOUS
Swavalamban Express
---
Small Industries Development Bank of India (SIDBI) has announced the start of Swavalamban Express- a train journey to promote budding business aspirants and entrepreneurs.
Current News Indian Economy Plan Policy
One Nation One Ration Card Scheme
---
On 1st May, 2020, the Central Government included Punjab, Uttar Pradesh, Bihar, Himachal Pradesh and Dadra and Nagar Haveli in 'one nation, one ration card' plan, taking the ration card portability to beneficiaries of the National Food Security Act in 17 states and UTs.
The move comes after the Supreme Court directed the Centre to consider whether it is feasible for it to implement the "one nation-one ration card" at this stage or not and take appropriate decision in this regard keeping in view the hardship caused by the lockdown.
12 States
The scheme was launched in January 2020 in 12 states—Andhra Pradesh, Goa, Gujarat, Haryana, Jharkhand, Kerala, Karnataka, Madhya Pradesh, Maharashtra, Rajasthan, Telangana and Tripura.
The rest of the country will be included in the portability scheme by June, 2020.
Impact
With this, the facility of national/inter-State portability will be available for nearly 60 Crore NFSA beneficiaries of 17 States/UT and they may lift their entitled quota of foodgrains from any Fair Price Shop (FPS) of their choice, anywhere in these 17 States/UT by using their same/existing ration card under 'One Nation One Ration Card' plan.
This is likely to benefit the migrant workers who have not been able to reach their hometown and have been stuck in different states during this period of lockdown.
About One Nation One Ration Card Scheme
Launched in July, 2019, the main objective of the scheme is to introduce nation-wide portability of ration card holders under National Food Security Act, 2013 (NFSA), to lift their entitlement foodgrains from any FPS in the country without the need to obtain a new ration card, by integrating the existing PDS systems/portals of States/UTs with the Central systems/portals, etc.
Key Points
Standard Format: Keeping in mind the various formats used by stats for the ration card, a standard format has been prepared for this purpose.
Bilingual Format: For national portability, the state governments have been asked to issue the ration card in bi-lingual format, wherein besides the local langauge, the other language could be Hindi or English.
Unique Member IDs: In the ration card being made, there will be a 10-digit standard ration card number, wherein the first two digits will be the state code, and the next two digits will be ration card numbers.
Besides this, a set of another two digits will be appended with the ration card number to create unique member IDs for each member of the household in a ration card.
Beneficiaries
Any legal citizen of India can apply for the ration card.
Children below 18 years of age (minors) are included under their parents' ration card. However, a user can apply for a separate ration card once they are above 18 years of age.
All ration cardholders and are currently eligible to get entitled food grains from fair price shops.
Benefits
No poor person or under privileged will be deprived of getting subsidised foodgrains under the food security scheme when they shift from one place to another.
It also card aims to remove the chance of anyone holding more than one ration to avail benefits from different states.
Challenges
Design and Implementation Challenges
The scheme will mostly assist seasonal and circular migrant workers to have better access to PDS, both, at source and destination.
The first hurdles will be to have exact data on the mobility of poor households migrating to work, locating intra- and inter-state destinations and sectors employing the workers. Especially, when a few members of a family that owns a ration card migrates for few months, reconciling the data at both locations would be a critical challenge.
Secondly, the domicile-based legislation for accessing government schemes and social security needs serious rethinking before making 'One Nation, One Ration Card' portable.
Thirdly, the scheme is based on two important guiding principles: Aadhar and digitalisation of ration cards. It is feared that both Aadhar and digital ration card may exclude either a person who migrates alone, or migrates with his family or the left-behind vulnerable family member who stays back in the village.
Infrastructure Challenges
Another challenge is related to the lack of electronic Point of Sale (ePoS).Currently, around 77% of FPSs operating across the country—have installed electronic Point of Sale (ePoS) machines.
But still big states like West Bengal and Bihar—that witness huge labour emigration, have been laggards in this regard, imposing a great barrier to the success of the scheme.
Corruption Issues
Every state has its own rules for Public Distribution System (PDS). If the scheme is implemented, it will further boost corruption in an already corrupted Public Distribution System.
The scheme will increase the woes of the common man and, the middlemen and corrupt PDS shop owners will exploit them.
The other challenge is ending duplication of ration cards, whereby a beneficiary is denied food grain since someone else took away the quota using a fake card.
National Food Security Act, 2013
Also known as the Right to Food Act, is an Act of the Parliament of India which aims to provide subsidized food grains to approximately two thirds of India's 1.2 billion people.
It was signed into law on 12 September 2013, retroactive to 5 July 2013.
It converts into legal entitlements for existing food security programmes of the Government of India. It includes the Midday Meal Scheme, Integrated Child Development Services scheme and the Public Distribution System.
Further, it recognises maternity entitlements.
The eligible person gets Rice @Rs. 3 per Kg, Wheat @Rs. 2 per Kg and Coarse Grains @Rs. 1 Kg per month subject to maximum 5Kg per month.
PIB News National Science & Technology
First Made-in-India COVID-19 Test Kit
---
Pune based biotechnology firm Mylab Discovery Solutions Pvt. Ltd. is the first Indian entity to get government approval for commercial manufacturing of their COVID-19 testing kit.
The product is named Mylab PathoDetect COVID-19 Qualitative PCR kit.
The COVID-19 test is based on reverse transcription-polymerase chain reaction (RT-PCR) which allows for detection even in the early stages of infection.
With the government's emphasis on 'Make in India', Biotechnology Industry Research Assistance Council (BIRAC) supported the company.
The kit was developed and evaluated in a record time of six weeks and costs nearly one-fourth of the currently procured kits. It can detect infection in 2.5 hours.
PIB News National Science & Technology
DST 's COVID-19 Task Force To Map Technologies
---
The Department of Science and Technology (DST) has set up a COVID 19 Task Force for mapping of technologies from R&D labs, academic institutions, startups, and MSMEs to scout for and fund nearly market-ready solutions in the area of diagnostics, testing, health care delivery, and equipment sup-plies.
These solutions include personal protective equipment (PPE), affordable kits for screening, ventilators and oxygenators, data analytics for tracking, monitoring, and controlling the spread of outbreak through AI and IoT based solutions.
The Task Force is to identify the most promising startups and help them rapidly scale up.
To this end, DST has invited two separate sets of proposals, one each under Science & Engineering Research Board (SERB) and Technology Development Board (TDB), to support scientific solutions and commercial manufacturing of both new and existing solutions.
PIB News National Science & Technology
CSIR-IHBT Develops Natural Hand Sanitizer
---
A team of scientists from CSIR-Institute of Himalayan Bioresource Technology (CSIR-IHBT) based in Palampur, Himachal Pradesh, has developed a new hand sanitizer.
The sanitizer has been made using natural flavours, active tea constituents and alcohol as per the guidelines of the World Health Organization (WHO).
Chemicals like parabens, triclosan, synthetic fragrance and phthalates have not been used in the product.
The technology has been transferred to a Palampur based company for commercial production and marketing in all major cities across the country.
PIB News National Science & Technology
IIT-Mandi To Establish Technology Innovation Hub
---
Under the National Mission on Interdisciplinary Cyber-Physical Systems (NM-ICPS), the Department of Science and Technology (DST) has sanctioned Rs 7.25 crore to the Indian Institute of Technology (IIT) Mandi to establish a Technology Innovation Hub (TIH).
The TIH will focus primarily on human-computer interaction (HCI) research with emphasis on design and development of technology interfaces and the study of interaction between humans and computers.
The hub will work towards developing a technology interface for challenges in the areas of cybersecurity, defence, healthcare, forensics, landslides, environment, air pollution, and agriculture.
TIH will also work on the development and evaluation of interfaces of IoT-based Cyber-Physical Sys-tems (CPS).
It will collaborate with other leading institutions and work in the areas of skill development and entrepreneurship.
PIB News National India
Nationwide "AYUSH Grid" To Connect All Hospitals And Laboratories
---
The Ministry of AYUSH has initiated steps to set up a nationwide digital platform called "AYUSH GRID" which aims to bring onboard all AYUSH facilities including hospitals and laboratories and to promote traditional systems of healthcare.
Ministry of AYUSH has conceptualized AYUSH GRID Project for digitalization of the entire AYUSH Sector.
Currently, Ministry has launched Pilot Projects like AYUSH Hospital Information Management System (A-HMIS), Tele-Medicine, Yogaloctaor Application, Bhuvan Application, Yoga Portal, Case Registry Portal, etc. and these projects will be co-opted in AYUSH GRID Project in future.
Ministry of AYUSH has also proposed to establish 12,500 AYUSH centres across the country for traditional system of healthcare and medicines by up gradation of existing State Government AYUSH dispensaries and Sub Health Centres by the year 2023-24. Total financial allocation proposed for the scheme is Rs. 3399.35 crores over the time period of five years.
PIB News National India
Pragyan Conclave 2020
---
"PRAGYAN CONCLAVE 2020", a two-day Indian Army International Seminar being organised by Centre for Land Warfare Studies (CLAWS), commenced on 04 Mar 2020 in New Delhi. The event brings together a cross-domain national and international experts to deliberate on the complex subject of 'Changing Characteristics of Land Warfare and its Impact on the Military'.
The seminar provided a platform for deliberations on emerging ideas, perspectives and narratives that define the 'New Age Warfare' which is increasingly witnessing a change in its character as well as battlespace with the usage of new 'means' to pursue the 'ends'.
PIB News National India
21st Edition Of Hunar Haat In Ranchi
---
Recently, Union Minister for Minority Affairs inaugurated the 'Hunar Haat' at Harmu Ground, Harmu Chowk in Ranchi (Jharkhand). This "Hunar Haat" was organised by Union Minority Affairs Ministry from 29th February to 08th March, 2020. This is for the first time that "Hunar Haat" was organised in Jharkhand. It was the 21st "Hunar Haat" of the Union Minority Affairs Ministry.
"Hunar Haat" is an effective mission which has been ensuring that the common people become a part of mainstream economic development. It has been providing market and opportunity to India's indigenous legacy of handmade art/crafts. It has proved to be magnificent platform to understand India's rich cultural heritage under one roof.
PIB News National India
IITFC Programme
---
The Ministry of Tourism, Government of India has launched the Incredible India Tourist Facilitators (IITF) Certification Programme, a Pan-India online learning program that is open to all, subject to fulfilment of eligibility criteria, and can be undertaken from anywhere in the country. The Programme aims at creating a pool of trained professionals for facilitating the visit of tourists at destinations across the country.
PIB News National World
Integrated Project For Source Sustainability And Climate Resilient Rain-Fed Agriculture In Himachal Pradesh
---
The Government of India, Government of Himachal Pradesh and the World Bank signed a US$80 million loan agreement to improve water management practices and increase agricultural productivity in selected Gram Panchayats (Village Councils) in Himachal Pradesh, a mountain state richly endowed with natural resources.
Key Features
The Integrated Project for Source Sustainability and Climate Resilient Rain-Fed Agriculture in Himachal Pradesh will be implemented in 428 Gram Panchayats in 10 districts benefiting over 400,000 smallholder farmers, women and pastoral communities.
The project will improve upstream water sources in forests, pastures and grasslands and ensure sufficient water is available for sustainable agriculture both in Himachal Pradesh and in downstream states.
The investment in downstream areas will augment the use of irrigation and help farmers shift from low-value cereal production to climate-resilient crop varieties and to higher-value fruit and vegetable production.
The US$80 million loan from the International Bank for Reconstruction and Development (IBRD) has a final maturity of 14.5 years including a grace period of five years.
PIB News National World
Myanmar President's Visit Marked By Signing Of 10 Agreements
---
India and Myanmar signed 10 agreements, including four aimed at boosting development of Rakhine state to facilitate the return of Rohingya refugees, during President U Win Myint's visit to the country.
Key Features
The two sides also announced the launch of a bus service between Imphal in Manipur and Mandalay in Myanmar from April 7 as part of efforts to improve connectivity and people-to-people contacts. Private operators on both sides have signed a memorandum of understanding (MoU) to launch the service.
Among the agreements, four MoUs are specific to Rakhine state and cover the construction of facilities such as an incinerator, seed storage houses and water supply systems, solar power systems for five townships, and construction of two roads and preschools.
Other MoUs cover cooperation in petroleum products, communications, and conservation of tigers and other wildlife.
PIB News National World
Female Labour-force Participation In India Drops To 24.8% In 2020
---
According to the United Nations Global Compact (UNGC) India study, India is the only country among the 153 surveyed countries where the economic gender gap is larger than the political gap.
Key Features
The study found that the female labour-force participation in India has declined from 34% in 2006 to 24.8% in 2020 and said that raising women's participation in the labour force to the same level as men can boost India's GDP by 27%.
Gender stereotypes and lack of infrastructure has traditionally sidelined women from core manufacturing functions. As a result, not many are able to reach leadership roles.
Companies need to ensure policies and procedures are made to adapt to various life changes in their employees, including maternity, changing care needs, dual career couples and continuity
Globally, 38.7% of employed women are working in agriculture, forestry and fisheries, but only 13.8% of landholders are women.
According to the study, it is the need of the hour that public policy and corporate policies incorporate various gender related barriers in India to ensure effective solutions.
PIB News National Economy
North East Venture Fund
---
North East Venture Fund(NEVF) has disbursed over Rs.18 crore to 12 start-ups till February,2020, as per the data provided in the Parliament.
NEVF was launched in 2017 by the North Eastern Development Finance Corporation Limited(NEDFi) in association with the Ministry of Development of North Eastern Region(M-DoNER).
Aim:To contribute to the entrepreneurship development of the NER and achieve attractive risk-adjusted returns through long term capital appreciation by way of investments in privately negotiated equity related investments.
It focuses on startups in five sectors namely a) food processing b) healthcare c) tourism d) aggregation of services and e) IT and IT-enabled services.
It is a close ended fund with capital commitment of Rs 100 crore.Each investment will be limited to a minimum of Rs.25 lakh and a maximum of Rs.10 crores with long term investment horizon of 4-5 years.
PIB News National Economy
MSME Sambandh And Udyam Sakhi Portal
---
Union Minister for Micro, Small & Medium Enterprises(MSME) has urged all the female entrepreneurs to take maximum benefits from various MSME portals like Sambandh and Udyam Sakhi Portal.
MSME Sambandh: This portal aims to help in monitoring the implementation of public procurement policy for micro and small enterprises.
Udyam Sakhi: It aims to encourage women entrepreneurs by creating business models revolving around low-cost products and services to resolve social inequities.
Other Important Portals for MSME Sector
MSME Samadhan: It empowers micro and small entrepreneurs across the country to directly register their cases relating to delayed payments.
MSME Sampark: It is a digital platform wherein jobseekers (passed out trainees/students of MSME Technology Centres) and recruiters get connected.
Udyami Mitra Portal: It was launched by Small Industries Development Bank of India (SIDBI) to improve accessibility of credit and handholding services to MSMEs.
PIB News National Economy
Committee To Review Fiscal Consolidation Roadmap Of The General Government
---
The Chairman of the Fifteenth Finance Commission, has constituted a Committee to review the fiscal consolidation roadmap of the general government
The Committee shall make recommendations on the definition of deficit and debt for the Central government, overall states, the General Government and public sector enterprises by considering all explicit and measurable liabilities of the sovereign and by bringing in consistency between the definition of debt (stock) and deficit (flow).
The Committee shall also lay down the principles for arriving at the debt of the general government debt and consolidated public sector with appropriate netting to avoid double-counting.
The Committee shall define contingent liabilities, provide quantifiable measures of such liabilities, wherever possible, and specify conditions under which "contingent" liabilities become "explicit" liabilities of the public sector.
Based on the above, the Committee shall recommend a debt and fiscal consolidation roadmap for FY21-FY25 for the Central Government, overall States and General Government and attempt building up scenarios for public sector enterprises.
PIB News National Ecology & Environment
Community Forest Resources
---
The Energy and Resource Institute (TERI) noted in a study that state-level guidelines must be created for sustainable resource usage in areas where community forest resource (CFR) rights are given under the Scheduled Tribes and Other Traditional Forest Dwellers (Recognition of Forest Rights) Act, 2006 (FRA). The study was commissioned by the Ministry of Tribal Affairs (MoTA) in February 2019.
Key Features
MoTA must issue broad guidelines and principles for implementation of CFRs, mentioning specific role of the state forest department, state tribal/social welfare department, revenue department and gram sabhas.
State governments should prepare state-specific guidelines on the basis of MoTA's guidelines.
MoTa should focus on capacity-building of gram sabha members, assessment of the biomass stock and biodiversity conservation.
Focus on capacity building programmes to educate various stakeholder government departments about the acts/schemes/policies.
The micro-plans prepared by gram sabha for their respective CFR should be a part of the working plans of forest division concerned, so that forest staff could facilitate the implementation of sustainable forest management.
PIB News National Ecology & Environment
COVID-19 Flattens Peak-hour Pollution
---
An analysis carried out by the Centre for Science and Environment has assessed hourly trend in PM2.5 and NO2 levels during the day before and after the lockdown and also on the day of the Janata curfew.
Key Features
As vehicles go off the road after the country-wide lockdown in the wake of the novel coronavirus disease (COVID-19) outbreak, the typical two humps of daily pollution coinciding with morning and evening traffic peak-hours have nearly flattened out in India's big cities.
As cities slow down to fight the pandemic, daily average levels of particulate matter of size less than 2.5 micron (PM2.5) and nitrogen dioxide (NO2) have reduced sharply from the pre-lockdown days by close to more than half in Delhi and the towns of the national capital region (NCR).
A similar trend is evident in other big cities including Mumbai, Kolkata, Bengaluru, Hyderabad and Chennai. But the impact of this overall declining trend is dramatic on daily peak-hour pollution.
This brings out the pronounced effect of traffic on hourly pollution trends. With traffic minimised, hourly trends have plummeted, reducing daily exposures to toxic vehicular pollution.
PIB News National Ecology & Environment
GreenCo Rating System
---
GreenCo Rating, developed by Confederation of Indian Industry (CII), has been acknowledged in India's Intended Nationally Determined Contribution (INDC) document, submitted to United Nations Framework Convention on Climate Change (UNFCCC) in 2015, as a proactive voluntary action of Indian industry / private sector towards combating climate change.
Key Features
Assessment and rating of major Workshops and Production Units of Indian Railways as Green Industrial Units started with 'GreenCo' certification in 2016-17.
It helps the industrial units in identifying and implementing various possible measures in terms of energy conservation, material conservation, recycling, utilisation of renewable energy, Green House Gases (GHG) reduction, water conservation, solid and liquid waste management, green cover etc. Increasing focus in these areas helps Railways in resource conservation and reduction in intensity of environmental impact.
---