Current News National
Jallikattu: India's Official Entry For Oscars 2021
---
Malayalam film Jallikattu, directed by Lijo Jose Pellissery, has been selected as India's official entry for the 'Best International Feature Film' category for the 93rd Academy Awards to be held in 2021.
Jallikattu is the third Malayalam film after Guru (1997) and Adaminte Makan Abu (2011) to be chosen as the country's official entry for the Oscars.
The film is based on writer S. Hareesh's acclaimed story 'Maoist'.
The selection has been made by a 14-member committee of the Film Federation of India from a shortlist of 26 films.
Last year, Zoya Akhtar's Gully Boy was sent as India's official entry to the 92nd Academy Awards.
So far no Indian film has won in this category but three films were nominated- Mother India (1957), Salaam Bombay (1988) and Lagaan (2001).
PIB News National
Draft Merchant Shipping Bill, 2020
---
The Ministry of Ports, Shipping and Waterways has issued a draft of the Merchant Shipping Bill, 2020 for public consultation.
It aims to repeal and replace the Merchant Shipping Act, 1958 (Act No. 44 of 1958) and the Coasting Vessels Act, 1838 (Act No. 19 of 1838).
The Merchant Shipping Bill, 2020 has been drafted, with the primary aim of promoting the growth of the Indian shipping industry by incorporating the best practices adopted by other advanced countries like the U.S., Japan, U.K., Singapore and Australia.
All up-to-date IMO Conventions / protocols, to which India is a party, have been adopted in it.
Adequate provisions are incorporated to ensure the safety and security of vessels, safety of life at sea, prevent marine pollution, provide for maritime liabilities and compensations, and ensure comprehensive adoption of India's obligations under International Conventions.
The envisioned advantages of the Merchant Shipping Bill, 2020 are following:
Promoting ease of doing business: The Bill does away with requirement of general trading license for Indian vessels.
Embracing digital technology: It enables electronic means of registration, and grants statutory recognition to electronic agreements, records, and log books, in addition to electronic licenses, certificates and payments.
Increasing tonnage and Vessel as a Tradable Asset: The Bill seeks to increase India's tonnage by widening the eligibility criteria for ownership of vessels and providing for the registration of bareboat charter cum demise, thereby increasing opportunities for international trade.
India as a Bankable Shipping Jurisdiction & avoidance of situations leading to wreck: The proposed Bill seeks to introduce for the first-time statutory framework for regulating maritime emergency response against maritime incidents. The provisions seek to provide for time effective implementation of response mechanisms in order to ensure that the same is prevented from becoming a wreck or other catastrophic event.
Welfare of Indian seafarers on abandoned vessels and safety of abandoned vessels: Provisions for repatriation of abandoned seafarers have been enhanced, in line with the MLC regulations.
Strengthening adjudication and predictability of claims: In order to strengthen the investigation and adjudication of claims arising out of collision of vessels, assessors may be tasked by the High Courts to present their findings on the degrees of fault of each vessel.
India as an Active Enforcement Jurisdiction: The Bill incorporates powers of the Director-General to take action against vessels that are unsafe, and pose a threat to safety of life at sea and environment, and includes a procedure for appeal from detention orders. The Bill also incorporates provisions that encourage active enforcement of pollution prevention standards and the Central Government has been granted the power to mandate compulsory insurance or such other financial security, for pollution damage.
Other Recent Initiatives to Overcome Archaic Colonial Laws
To replace all archaic colonial laws with modern and contemporary International laws, the Ministry of Ports, Shipping and Waterways recently issued two draft Bills for public consultation, namely 'Aids to Navigation Bill 2020' and 'Coastal Shipping Bill 2020'.
Major Port Authorities Bill 2020 is also under consideration of Rajya Sabha, which has been already passed by Lok Sabha in the last Parliament session.
Current News International
2020 Afghanistan Conference & Indian Initiative
---
Indian Foreign Minister S. Jaishankar, joined the two-day event, 2020 Afghanistan Conference, organized in Geneva, via video link.
The conference was co-hosted by the UN, the Afghanistan government, and the government of Finland.
India has signed an agreement with Afghanistan for the construction of the Shahtoot Dam, which will provide safe drinking water to two million residents of Kabul city.
Shahtoot Dam is a proposed dam in the Kabul river basin, one of the five river basins in Afghanistan.
India will also undertake more than 100 projects worth $80 million in Afghanistan.
Major Projects already Executed by India in Afghanistan
Delaram-Zaranj Road: It is a 218-km road between Delaram and Zaranj (on the Iranian border), which provides an alternative connectivity for Afghanistan through Iran.
Salma Dam: India–Afghanistan friendship dam (also known as the Salma dam).
Parliament Building: The Afghan Parliament building which was inaugurated in 2015.
India has undertaken more than 400 projects in all 34 provinces of the country and more than 65,000 Afghan students have come to study in India over the years.
Current News Ecology & Environment
Pilibhit Tiger Reserve:First Among 13 Tiger Range Countries To Get TX2Award
---
The Pilibhit Tiger Reserve (PTR) and the Uttar Pradesh Forest department have bagged the first-ever international award, TX2, for doubling the number of tigers in four years against a target of 10 years.
PTR is the first to receive the award among 13 tiger range countries.
It achieved this goal in just four years from 2014, when it had 25 tigers which went up to 65 in 2018.
The global target of doubling the tiger population was set in 2010 by the partners in TX2 award -- UNDP, Global Tiger Forum, International Union for Conservation of Nature, World Wide Fund for Nature, Conservation Assured/Tiger Standards and the Lion's Share.
No other tiger reserve among all the 13 tiger range countries could succeed in doubling the big cat population in a span of 10 years.
13 Tiger Range Countries
India, Bangladesh, Bhutan, Cambodia, China, Indonesia, Lao PDR, Malaysia, Myanmar, Nepal, Russia, Thailand and Vietnam.
TXProgramme
It is an initiative of the World Wide Fund for Nature (WWF) launched at the 2010 St Petersburg Tiger Summit.Under this programme, all 13 tiger range governments have committed to double the number of wild tigers by 2022.
What Initiative led to this achievement?
The success was achieved with rigorous patrolling with constant use of Monitoring System for Tigers-Intensive Protection and Ecological Status (M-STrIPE),
Stringent action against wildlife criminals and poachers.
Forest and grassland management.
Active participation of local people and forest department staff.
Current News Science & Technology
Chang'e-5 Mission: China's First Mission To Return Moon Samples
---
China has launched Chang'e-5 probe - its first mission to return moon samples.
China's Chang'e-5 probe is named after the Chinese Moon goddess who is traditionally accompanied by a white or jade rabbit.
The Chinese National Space Administration's (CNSA) lunar sample return mission is aimed at landing in the Mons Rumker region of the moon, where it will operate for one lunar day, which is two weeks long and return a 2 kg sample of the lunar rock possibly by digging about 2 metres deep into the surface of the Moon.
The mission comprises a lunar orbiter, a lander, and an ascent probe that will lift the lunar samples back into orbit and return them back to Earth.
Chang'e-5 comprises a robotic arm, a coring drill, a sample chamber and is also equipped with a camera, penetrating radar and a spectrometer.
News Crux Awards In News
National Fisheries Awards
---
The Department of Fisheries under the Ministry of Fisheries, Animal Husbandry and Dairying awarded best performing States, Organisations and Districts for 2019-20 for the first time on the occasion of the 'World Fisheries Day' (21 November).
Top States
Marine States: Odisha
Inland States: Uttar Pradesh
Hilly and NE States: Assam
Top Districts
Best Marine District: Krishna District, Andhra Pradesh
Best Inland District: Kalahandi, Odisha
Best Hilly and NE District: Nagaon, Assam
Top Organisations
Marine: Tamil Nadu Fisheries Development Corporation Ltd.
Inland: Telangana State Fishermen Cooperative Societies Federation Ltd.
Hilly Region: Assam Apex Cooperative Fish Marketing and Processing Federation Ltd.
State In News Tripura
Tripura Govt. Launched "Mukhyamantri Unnoato Godhan Prakalp"
---
The Government of Tripura has launched a 3-year plan to introduce sex-sorted artificial insemination of cattle under the Mukhyamantri Unnoto Godhan Prakalpa(MUGP) scheme.
It is aimed at making Tripura self-sufficient in milk production by ensuring that more cows are born through selective chromosome selection.
With this system, it is estimated to achieve 90% cow births, while the current conventional artificial insemination method has a varying mix of cow and bull births.
Earlier to Tirpura, Kerala, Haryana, Odisha and Maharashtra have adopted the sex sorted artificial insemination of livestock.
Current News National
IMO Recognizes Indian Navigation System (IRNSS)
---
The International Maritime Organisation (IMO) has recognized Indian Regional Navigation Satellite System (IRNSS) as a part of the World Wide Radio Navigation System (WWRNS).
Now India is the fourth country in the world to have its independent regional navigation satellite system recognised by IMO.
The other three countries that have its navigation systems recognised by the IMO are - US-owned Global Position System (GPS), Russia's Global Navigation Satellite System (GLONASS) and China's Beidou.
The Indian Regional Navigation Satellite System (IRNSS) is designed to provide accurate position information services to assist in the navigation of ships in Indian Ocean waters within the area of approximately 1,500 km from the Indian boundary (50°N latitude, 55°E longitude, 5°S latitude and 110°E longitude).
Current News International Bilateral, Regional And Global Groupings
Recent Naval Exercises Of India
---
SITMEX-20
The 2nd edition of India, Singapore and Thailand Trilateral Maritime Exercise SITMEX-20, was held during 21 to 22 November 2020 in Andaman Sea.
The first edition of SITMEX, hosted by Indian Navy, was conducted off Port Blair in September 2019.
The SITMEX series of exercises are conducted to enhance mutual inter-operability and imbibing best practices between Indian Navy, Republic of Singapore Navy (RSN) and Royal Thai Navy (RTN).
The 2020 edition of the exercise was hosted by RSN.
SIMBEX-20


Indian Navy (IN) will host the 27th edition of India - Singapore Bilateral Maritime Exercise SIMBEX-20 from 23 to 25 November 2020 in Andaman Sea.
The SIMBEX series of exercises between Indian Navy and Republic of Singapore Navy (RSN), being conducted annually since 1994.
CORPAT-2020
The 30th edition of India-Thailand Coordinated Patrol (CORPAT) has been concluded in the Andaman Sea close to the Strait of Malacca.
India and Thailand have been carrying out CORPAT along their International Maritime Boundary Line twice a year since 2005.
India's other military exercises with Thailand are Exercise MAITREE (Army) and Exercise SIAM BHARAT (Air Force).
Malabar 2020
Exercise Malabar is a trilateral naval exercise involving the United States, Japan and India as permanent partners. Australia was a part of the Malabar Naval exercise 2020.
This is the first time that all four navies of the Quad were in a joint exercise in 13 years.
Originally begun in 1992 as a bilateral exercise between India and the United States, Japan became a permanent partner in 2015.
The 24th edition (2020) of Malabar exercise was conducted in two phases, Phase-I was from 3 to 6 November near the coast of Visakhapatnam in the Bay of Bengal and the Phase-II was from 17 to 20 November in the Arabian Sea.
News Crux Summit, Seminars & Conferences
APEC Summit 2020
---
The Asia-Pacific Economic Cooperation (APEC) summit 2020 was held virtually which was chaired by Malaysian Prime Minister Tan Sri Muhyiddin Yassin.
The Asia-Pacific Economic Cooperation (APEC) is an inter-governmental forum for 21 member economies in the Pacific Rim that promotes free trade throughout the Asia-Pacific region.
To date, its 21-member countries are China, Vietnam, the Philippines, Japan, Russia, Papua New Guinea, Malaysia, Australia, Chile, Canada, New Zealand, South Korea, Singapore, Peru, Taiwan, Thailand, Brunei, Indonesia, Hong Kong, Mexico, and the US.
APEC is headquartered at Singapore.
India is not a member of APEC.
Current News Ecology & Environment
India: Only G20 Nation On Track To Meet 20C Global Warming Targets
---
India is the only "2°C compatible" country in the G20, according to the Climate Transparency Report released on 19 November 2020.
About the Report
The Climate Transparency Report (previously known as "Brown to Green Report")looks at how G20 countries are doing when it comes to climate action and transitioning to a net-zero economy.
The Climate Transparency Report not only helps these countries understand how much more they need to do, but also helps citizens in holding these governments accountable for implementing the Paris Agreement.
Major Findings
1.50C Global Warming Targets: No country is so far on track to meet the 1.50C global warming targets set in Paris in 2016 but some are performing a lot worse than others.
Status of Two Top Polluters: Two of the G20's top polluters, the United States and China, were found to be a long way off meeting the goals they set themselves as part of the agreement.
EU: The European Union isn't doing much better, as the report says current climate change policies aren't enough to meet its goal of 40 per cent emission reductions by 2030.
The Report on India
India is the only "2°C compatible" country in the G20, according to the Climate Transparency Report released on 19 November 2020.
The report pointed out that India is not on track for a 1.5 degree Celsius global warming targets set in Paris in 2016.
What it suggests for India
India can remove the price of distorting subsidies from coal through different fiscal policies. Redirecting the subsidies to renewable energy sources could lead to cost savings and improve the quality of air.
India needs to develop a roadmap for subsequent phasing out of coal and a just transition for workers and communities.
Since the transport sector contributes 14 per cent of energy related to carbon-dioxide emissions, the government can take this as an opportunity to boost the share of electric vehicles and meet its target of 30 per cent EVs by 2030.
The report suggested that India could become a global leader if it abandoned plans to build a new coal-fired power and phases out coal use for power by 2040.
Recent Initiatives by India
KUSUM Scheme: The report commended the expansion of solar investment into the agricultural sector through PM-KUSUM Scheme. The Pradhan Mantri Kisan Urja Suraksha evem Utthan Mahabhiyan scheme aims to develop 25GW of solar capacity by 2022.
Transition in Power Sector: The report applauded the acceleration of transition in the power sector. According to the report, the demand for coal is falling, and the development of new pipelines for power generation using coal is shrinking gradually.
A cause of Concern
The report criticized India's plan to liberalize new investment in coal mines. It said the decision sends the wrong signal that coal production will continue in the future as well. Coal production is on the rise in the country and on track to produce a record high of 700Mt of coal in 2020-21.
Current News Science & Technology
Two Indian Supercomputers In TOP500
---
Two Indian supercomputers have found place in a biennial ranking of supercomputers by TOP 50, released on 16th November 2020.
Param Siddhi, the high performance computing-artificial intelligence (HPC-AI) supercomputer established under National Supercomputing Mission (NSM) at C-DAC has achieved global ranking of 63.
Mihir: Another system - Mihir have been ranked 146th in the list.
Top 5 Supercomputers as on 16th November 2020
Fugaku (Japan): 415.5 petaflops
Summit (USA): 148.8 petaflops
Sierra (USA): 94.6 petaflops
Sunway TaihuLight (China): 93 petaflops
Selene (USA): 63.4 petaflops
Current News Science & Technology
World Antimicrobial Awareness Week 2020
---
The World Health Organization (WHO) is observing World Antimicrobial Awareness Week during 18 – 24 November 2020.
Aim
World Antimicrobial Awareness Week (WAAW) aims to increase awareness of global antimicrobial resistance (AMR) and to encourage best practices among the general public, health workers and policy makers to avoid the further emergence and spread of drug-resistant infections.
AMR
Antimicrobial Resistance (AMR) occurs when bacteria, viruses, fungi, and parasites resist the effects of medications, making common infections harder to treat and increasing the risk of disease spread, severe illness and death.
Antimicrobials are agents that are critical tools for fighting diseases in humans, animals and plants and include antibiotic, antiviral, antifungal and antiprotozoal medicines.
Multiple factors – including overuse of medicines in humans, livestock, and agriculture, as well as poor access to clean water, sanitation and hygiene – have accelerated the threat of antimicrobial resistance worldwide.
Current News International
Japan-Australia Reciprocal Access Agreement
---
Japan and Australia agreed on a breakthrough defence pact on 17th November 2020 allowing reciprocal visits for training and operations, and voiced concern over the disputed South China Sea, where China is extending its military influence.
It is Japan's first agreement covering foreign military presence on its soil since a Status of Forces Agreement (SOFA) in 1960 that allowed the United States to base warships, jets and troops in Japan as part of an alliance that Washington describes as the bedrock of regional security.
The Reciprocal Access Agreement strengthens defence ties between the two U.S. allies at a time when China is asserting its role in the region and the United States is going through a messy leadership transition.
The pact allows Japanese and Australian troops to visit each other's countries and conduct training and joint operations.
The two sides also agreed on the need for a framework to allow Japanese military to protect Australian forces if needed.
Current News Science & Technology
WHO Lists First Vaccine For Emergency Use
---
The World Health Organization (WHO) has listed Indonesia's nOPV2 vaccine as the first ever vaccine for emergency use.
The nOPV2 vaccine will be used to combat outbreaks of circulating vaccine-derived polio viruses (cVDPVs).
cVDPVs: These are rare and occur if the weakened strain of the poliovirus contained in the oral polio vaccine (OPV) circulates among under-immunised populations for a long time. If not enough children are immunised, the weakened strain can spread between individuals and genetically revert back to a form that can cause paralysis over time. Type 2 cVDPVs are currently the most prevalent form of the vaccine-derived virus.
Emergency Use Listing (EUL): The EUL procedure assesses the suitability of as yet unlicensed health products to combat health emergencies, such as polio or COVID-19. Numerous COVID-19 diagnostics have also received EUL but nOPV2 is the first vaccine.
Current News Indian Economy Plan Policy
Atmanirbhar Bharat 3.0
---
On 12th November 2020, Government launched Atmanirbhar Bharat 3.0 to boost Covid-hit economy
Aim
To boost job creation, provide liquidity support to stressed sectors and encourage economic activity in housing and infrastructure areas.
12 Key announcements under Aatmanirbhar Bharat 3.0
1. Atmanirbhar Bharat Rozgar Yojana
It aims to incentivise the creation of new employment opportunities during the COVID-19 recovery phase.
The scheme will be effective from 1st October, 2020 and operational till 30th June 2021.
Beneficiaries (new employees) under Scheme
Any new employee joining employment in EPFO registered establishments on monthly wages less than Rs.15000/.
EPF members drawing monthly wage of less than Rs.15000/- who made exit from employment during COVID Pandemic from 01.03.2020 to 30.09.2020 and is employed on or after 01.10.2020
Eligibility Criteria
Establishments registered with EPFO if they add new employees compared to reference base of employees as in September, 2020. Scheme to be operational till 30th June 2021-
Establishments, with up to 50 employees, would have to add a minimum of two new employees.
The organisations, with more than 50 employees, would have to add at least five employees.
Subsidy Support from Central Govt.
Establishments employing up to 1000 employees: Employee's contributions (12% of Wages) & Employer's contributions (12% of wages) totalling 24% of wages.
Establishments employing more than 1000 employees: Only Employee's EPF contributions (12% of EPF wages).
The subsidy support to get credited upfront in Aadhaar seeded EPFO Account (UAN) of eligible new employees.
2.Emergency Credit Line Guarantee Scheme
It is for MSMEs, businesses, MUDRA borrowers, and individuals (loans for business purposes).
Under this credit scheme, banks will be able to lend to stressed sectors from 26 sectors identified by the K.V. Kamath committee.
The new scheme will have a 1-year moratorium and 5 years of repayment.
3. Atmanirbhar Manufacturing Production-linked incentives for 10 Champion Sectors
10 more Champion Sectors will be covered under the Production Linked Incentives Scheme to help boost the competitiveness of domestic manufacturing.
Ten Sectors–Advance Cell Chemistry Battery, Electronic/Technology Products, Automobiles & Auto Components, Pharmaceuticals Drugs, Telecom & Networking Products, Textile Products, Food Products, High Efficiency Solar PV Modules, White Goods (ACs & LED) & Specialty Steel.
This will give a big boost to the economy, investment, exports and job creation.
4. PM Awas Yojana - Urban
A sum of Rs. 18000 crore is being provided for PMAY- Urban over and above Rs. 8000 crore already allocated this year.
This will help ground 12 Lakh houses and complete 18 Lakh houses, create additional 78 Lakh jobs and improve production and sale of steel and cement, resulting in a multiplier effect on the economy.
PMAY - Urban Mission was launched in 2015 with an intention to provide housing for all in urban areas by year 2022.
5. Support for Construction & Infrastructure – Relaxation of Earnest Deposit Money & Performance Security on Government Tenders
To provide ease of doing business and relief to contractors whose money otherwise remains locked up, performance security on contracts has been reduced from 5-10% to 3%.
It will also extend to ongoing contracts and Public Sector Enterprises.
EMD for tenders will be replaced by the Bid Security Declaration. The relaxations in the General Financial Rules will be in force till December 31, 2021.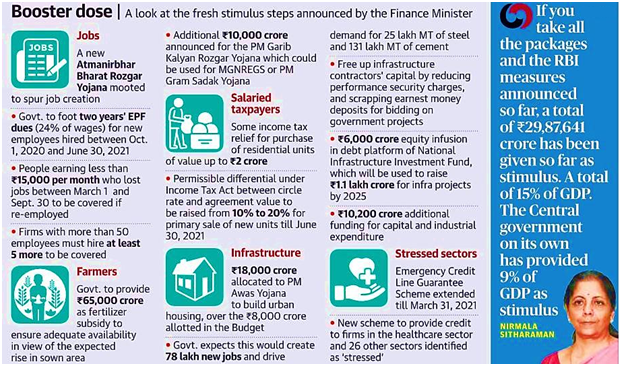 6. Income Tax relief for Developers & Home Buyers
The differential between circle rate and agreement value in real estate income tax under Section 43 CA of IT Act has been increased from 10% to 20%.
This is for the primary sale of residential units up to Rs 2 Crore (from date of announcement of this scheme, till June 30 2021).
Consequential Relief up to 20% shall also be allowed to buyers of these units under section 56(2)(x) of the IT Act for the said period.
Income Tax relief provides incentives to the middle class to buy homes.
7. The Platform for Infra Debt Financing
The government will make Rs 6,000 Crore equity investment in the debt platform of the National Investment and Infrastructure Fund (NIIF).
It will help NIIF provide a debt of Rs. 1.1 Lakh Crore for infrastructure projects by 2025.
8. Support for Agriculture
As fertilizer consumption is going up significantly, Rs. 65,000 Crore is being provided to ensure an increased supply of fertilizers to farmers to enable the timely availability of fertilizers in the upcoming crop season.
9. Boost for Rural Employment
An additional outlay of Rs.10, 000 Crore is being provided for PM Garib Kalyan Rozgar Yojana to provide rural employment.
This will help accelerate the rural economy.
10. Boost for Project Exports
Rs. 3,000 Crore boost is being provided to EXIM Bank for promoting project exports under Indian Development and Economic Assistance Scheme (IDEAS Scheme).
It will help EXIM Bank facilitate Lines of Credit development assistance activities and promote exports from India.
11. Capital and Industrial Stimulus
Rs.10, 200 Crore additional budget stimulus is being provided for capital and industrial expenditure on domestic defense equipment, industrial infrastructure, and green energy.
12. R&D Grant for COVID Vaccine
Rs. 900 Crore is being provided to the Department of Biotechnology for Research and Development of Indian COVID Vaccine.
Significance
These measures provided by the government reinforce the 'fiscal conservatism' ideology of the government — rather than large cash transfers, the growth philosophy centres around creating an ecosystem that aids domestic demand, incentivises companies to generate jobs and boost production, and simultaneously extends benefits to those in severe distress, be it firms or individuals.
Analysis
As per the government, the total stimulus announced by the Government and Reserve Bank of India (RBI) till date (including Atmanirbhar 1.0 and Atmanirbhar 2.0), to help the nation tide over the Covid-19 pandemic, works out to Rs. 29.87 lakh crore, which is 15% of national GDP.
Out of this, the stimulus worth 9% of GDP has been provided by the government.
While the fiscal stimulus has been small, monetary policy has been extremely accommodative.
The focus should extend from announcement of reforms to their effective implementation.
Also, nurturing an environment of policy certainty with regard to taxes, foreign direct investment rules and payment of dues to small businesses can have a meaningful impact on kick-starting the private capital spending cycle.
The economic rebound from the debilitating impact of the Covid-19 pandemic seems stronger than what most analysts had predicted.
The estimates for the fourth quarter gross domestic product (GDP) have already been upgraded by many institutions. The government will hope that the green shoots visible in the high-frequency data further translate into GDP uplift.
The measures announced under Atmanirbhar Bharat 3.0 – pragmatic and specific – should help towards that cause.
Current News Ecology & Environment
Lonar Lake And Sur Sarovar Accorded Ramsar Sites Tag
---
The Lonar Lake, the only crater lake of country in Maharashtra and Sur Sarovar, also known as Keetham Lake, in Agra, have been added to the list of recognised Ramsar sites.
Lonar Lake is an endorheic or closed basin, almost circular in shape, formed by a meteorite impact some 50,000 years ago, onto the basalt bedrock. It is high in salinity and alkalinity, as the lack of an outflow leads to a concentration of minerals as the lake water evaporates. It is the only crater lake in the country formed by the meteorite impact. Recently, the color of Lonar lake water had turned pink due to a large presence of the salt-loving "haloarchaea" microbes.
Sur Sarovar: Originally created to supply water to the city of Agra in the summer, the wetland soon became an important and rich ecosystem. The site's patchwork of habitat types provides refuge to resident and migratory birds, and more than 60 species of fish. The site is important for bird species that migrate on the Central Asian Flyway, with over 30,000 waterbirds known to visit the reservoir annually.
Recently, Kabartal in Bihar's Begusarai district and Asan Conservation Reserve in Dehradun were recognised as Ramsar Sites.
Now India has 41 wetlands, the highest in South Asia.
News Crux Awards In News
International Children's Peace Prize
---
The 2020 International Children's Peace Prize, organised by KidsRights, has been awarded to 17-year-old Sadat Rahman from Bangladesh for his work to stop cyber bullying of teens.
The prize was presented digitally by Malala Yousafzai, winner of the 2014 Nobel Peace Prize.
The International Children's Peace Prize is annually awarded to a child who has made a special effort to promote children's rights and better the situation of vulnerable children.
Last year, the prize was awarded to Greta Thunberg from Sweden and Divina Maloum from Cameroon.
The prize was launched by KidsRights during the 2005 World Summit of Nobel Peace Laureates at the Capitol in Rome, chaired by Mikhail Gorbachev. Since then, the prize has been presented every year by a Nobel Peace Laureate.
Current News International
15th East Asia Summit
---
The 15th East Asia Summit (EAS) was held virtually on 14th November 2020.
The Summit was chaired by the Prime Minister of Vietnam H.E. Nguyen Xuan Phuc in his capacity as ASEAN Chair. All the eighteen EAS countries participated in the virtual Summit.
External Affairs Minister Dr. S. Jaishankar represented India at the summit, which is generally represented by the Prime Minister.
Regional and international issues such as South China Sea, situation in Korean peninsula and Rakhine state were discussed. Besides the Ha Noi Declaration, the Summit also adopted four other Leaders' Statements on Marine Sustainability, Epidemics Prevention and Response, Women, Peace and Security, and Steady Growth of Regional Economy.
About EAS
Established in 2005, the EAS is a premier leaders-led forum for discussions on important strategic issues in the Indo-Pacific, and a leading confidence-building mechanism in the region.
The EAS is a regional grouping of 18 participating countries –10 ASEAN countries (Brunei, Cambodia, Indonesia, Lao PDR, Malaysia, Myanmar, Philippines, Singapore, Thailand and Vietnam), Australia, China, India, Japan, Republic of Korea, New Zealand, Russia and the US.
India is a founding member of the EAS.
The 18 members of the EAS together represent 54% of the world population and account for 58% of the global GDP.
Current News International
17th ASEAN-India Summit
---
The 17th ASEAN-India Summit was held virtually under the chairmanship of Nguyen Xuan Phuc, Prime Minister of Vietnam and current Chair of ASEAN.
Prime Minister of India Narendra Modi participated in this summit.
Highlights
Role of ASEAN in Act East Policy and SAGAR: India highlighted the centrality of ASEAN in India's Act East Policy and noted that a cohesive, responsive and prosperous ASEAN is central to India's Indo-Pacific Vision and contributes to Security And Growth for All in the Region (SAGAR).
IPOI: India noted importance of strengthening convergence between India's Indo-Pacific Oceans Initiative and the ASEAN Outlook on Indo-Pacific, to ensure a free, open, inclusive and rules-based Indo-Pacific region. India invited the ASEAN countries to cooperate on various pillars of India's Indo-Pacific Oceans Initiative (IPOI).
ASEAN Response Fund:India announced a contribution of US$ 1 million to the COVID-19 ASEAN Response Fund.
AITIGA: India called for an early review of ASEAN-India Trade in Goods Agreement (AITIGA), which is pending for a long time.
ASEAN Connectivity:India highlighted the importance of greater physical and digital connectivity between ASEAN and India and reiterated India's offer of US$ 1 billion Line of Credit to support ASEAN connectivity.
ASEAN-India Plan of Action for 2021-2025: The ASEAN leaders welcomed the adoption of the new ASEAN-India Plan of Action for 2021-2025.
South China Sea: The discussions covered regional and international issues of common interest and concern, including South China Sea and terrorism. The leaders affirmed the importance of maintaining and promoting peace, stability, safety and security in the South China Sea and ensuring freedom of navigation and over-flight.
UNCLOS: Both sides noted the importance of promoting a rules-based order in the region including through upholding adherence to international law, especially the UNCLOS.
About ASEAN
Association of Southeast Asian Nations (ASEAN) is a regional grouping that promotes economic, political, and security cooperation.
It was established on 8th August 1967 in Bangkok, Thailand with the signing of the ASEAN Declaration (Bangkok Declaration) by the founding fathers of ASEAN, namely Indonesia, Malaysia, Philippines, Singapore and Thailand.
Members of ASEAN: It has 10 members- Brunei, Cambodia, Indonesia, Laos, Malaysia, Myanmar, the Philippines, Singapore, Thailand, and Vietnam.
Current News National
Digital/Online Media Now Under Govt. Regulation
---
The Union Govt. has issued a notification on 9th November to bring digital/online media platforms and films and audio-visual programmes provided by online content providers within the ambit of the Ministry of Information and Broadcasting.
The 2nd Schedule of the Government of India (Allocation of Business) Rules, 1961 has been amended and will be called the Government of India (Allocation of Business) Three Hundred and Fifty Seventh Amendment Rules, 2020 for the same.
Two new entries - 22A and 22B - to the Second Schedule of the Rules inserted are:
Films and Audio Visual programmes made available by online content providers
News and Current Affairs on online platforms.
Why such Regulation?
Currently, there is no law or autonomous body governing digital content.
Online content providers and news platforms come under the legal framework of the Information Technology Act, 2000 but, unlike print and broadcast media, were not directly under any Ministry.
Since 2019, more than half-a-dozen cases have been filed in the Supreme Court and various high courts over "unregulated content" on OTT platforms.
Increasing OTT platform users as well as industry, hence the need for regulation for quality of content that should not hamper the social fabric of nation as well as mislead people.
What are OTT platforms?
It is a streaming media service offered directly to viewers via the Internet.Examples include Netflix, Amazon's Prime Video, Hotstar and others.
Current Regulating Bodies
At the moment, there is a mix of autonomous, government and self-regulatory bodies for entertainment and news providers, depending on the platform:
Print Media: Press Council of India, a statutory, quasi-judicial authority
Television news:News Broadcasting Standards Authority, a self-regulatory body
Films:Central Board of Film Certification, under the I&B Ministry
Television Entertainment: Broadcasting Content Complaints Council, an independent and self-regulatory body.
Advertising: Advertising Standards Council, a self-regulatory body.
Other Control Mechanisms
The Information & Broadcasting Ministry has a mechanism to penalize television channels for any violation of the programming and advertising codes under the Cable Television Network (Regulation) Act, 1995.
Complaints can be sent directly to the Ministry, or raised through the internal mechanism of the Electronic Media Monitoring Centre.
PIB News National Economy
PLI Scheme To 10 Key Sectors
---
The Union Cabinet has given its approval to introduce the Production-Linked Incentive (PLI) Scheme in the 10 key sectors for enhancing India's manufacturing capabilities and exports.
The PLI scheme across these 10 key specific sectors will make Indian manufacturers globally competitive, attract investment in the areas of core competency and cutting-edge technology; ensure efficiencies; create economies of scale; enhance exports and make India an integral part of the global supply chain.
Advance Chemistry Cell (ACC) Battery: ACC battery manufacturing represents one of the largest economic opportunities of the twenty-first century for several global growth sectors, such as consumer electronics, electric vehicles, and renewable energy. The PLI scheme for ACC battery will incentivize large domestic and international players in establishing a competitive ACC battery set-up in the country.
Electronic/Technology Products: India is expected to have a USD 1 trillion digital economy by 2025. Additionally, the Government's push for data localization, Internet of Things market in India, projects such as Smart City and Digital India are expected to increase the demand for electronic products. The PLI scheme will boost the production of electronic products in India.
Automobiles & Auto Components: The automotive industry is a major economic contributor in India. The PLI scheme will make the Indian automotive Industry more competitive and will enhance globalization of the Indian automotive sector.
Pharmaceuticals Drugs: The Indian pharmaceutical industry is the third largest in the world by volume and 14th largest in terms of value. It contributes 3.5% of the total drugs and medicines exported globally. India possesses the complete ecosystem for development and manufacturing of pharmaceuticals and a robust ecosystem of allied industries. The PLI scheme will incentivize the global and domestic players to engage in high value production.
Telecom & Networking Products: Telecom equipment forms a critical and strategic element of building a secured telecom infrastructure and India aspires to become a major original equipment manufacturer of telecom and networking products. The PLI scheme is expected to attract large investments from global players and help domestic companies seize the emerging opportunities and become big players in the export market.
Textile Products: MMF Segment and Technical Textiles: The Indian textile industry is one of the largest in the world and has a share of ~5% of global exports in textiles and apparel. But India's share in the manmade fibre (MMF) segment is low in contrast to the global consumptionpattern, which is majorly in this segment. The PLI scheme will attract large investment in the sector to further boost domestic manufacturing, especially in the MMF segment and technical textiles.
Food Products: The growth of the processed food industry leads to better price for farmers and reduces high levels of wastage. Specific product lines having high growth potential and capabilities to generate medium- to large-scale employment have been identified for providing support through PLI scheme.
High Efficiency Solar PV Modules: Large imports of solar PV panels pose risks in supply-chain resilience and have strategic security challenges considering the electronic (hackable) nature of the value chain. A focused PLI scheme for solar PV modules will incentivize domestic and global players to build large-scale solar PV capacity in India and help India leapfrog in capturing the global value chains for solar PV manufacturing.
White Goods (ACs & LED): White goods (air conditioners and LEDs) have very high potential of domestic value addition and making these products globally competitive. A PLI scheme for the sector will lead to more domestic manufacturing, generation of jobs and increased exports.
Speciality Steel: Steel is a strategically important industry and India is the world's second largest steel producer in the world. It is a net exporter of finished steel and has the potential to become a champion in certain grades of steel. A PLI scheme in Specialty Steel will help in enhancing manufacturing capabilities for value added steel leading to increase in total exports.
The above will be in addition to the already notified PLI schemes in the following sectors:
Mobile Manufacturing and Specified Electronic Components
Critical Key Starting materials/Drug Intermediaries and Active Pharmaceutical Ingredients
Manufacturing of Medical Devices.
PIB News National Defence
Vagir: India's 5th Stealth Submarine Under Project-75 Launched
---
The Indian Navy has launched Scorpene class submarine Vagir.
Indian Naval Ship (INS) Vagir is the fifth among the six Kalvari-class submarines being constructed by the public sector shipbuilder Mazagon Dock Ltd (MDL) in Mumbai.
The other vessels in the class are INS Kalvari, INS Khanderi, INS Karanj, INS Vela and INS Vagsheer. Of these Kalvari and Khanderi have been commissioned in 2017 and 2019, Vela and Karanj and undergoing sea trials, Vagir has now been launched and Vagsheer is under construction.
The submarines, designed by French naval defence and energy company DCNS, are being built as part of Indian Navy's Project-75 programme.
These submarines can undertake missions like anti-surface warfare, anti-submarine warfare, intelligence gathering, mine laying and area surveillance.
Vagir is named after the sand fish, a deadly deep sea predator of the Indian Ocean.
What are Scorpene-Class Submarines?
These are a class of diesel-electric attack submarines jointly developed by the French Direction des Constructions Navales (DCN) and the Spanish company Navantia, and now by Naval Group.
It features diesel propulsion and an air-independent propulsion (AIP) system.
What is Air-independent Propulsion (AIP)?
AIP is any marine propulsion technology that allows a non-nuclear submarine to operate without access to atmospheric oxygen.
It can augment or replace the diesel-electric propulsion system of non-nuclear vessels.
Project and Class of Ship/Submarine
Project: During the developmental stage of a ship or a submarine, specific projects are generally assigned a numerical character as a unique identifier to the project. For example,

P-75:The number 75 in Project 75 refers to such unique identifier which was assigned to a programme for series production of submarines in India. Based on the specifications drawn for Project 75, the Scorpene class submarine from France, chosen under the project, is being constructed at the Mazagon Dock Limited (MDL) in Mumbai.

Class: In a series production of the warship construction project, all ships/submarines of the series have common design characteristics and capabilities. The first ship of the serial construction project provides a class name to all warships in the project for common reference. The term 'class' in the Kolkata Class refers to a series of warships constructed under Project 15A which includes Indian naval ships INS Kolkata, INS Kochi and INS Chennai.
Similarly, all six submarines constructed under Project 75 are referred to as Kalvari Class of submarines.
Other examples of project and class references of Indian Naval Ships are as:

Project 15 Destroyers – Delhi Class (Delhi, Mysore, and Mumbai)
Project 16 Frigates – Godavari Class (Godavari, Ganga and Gomti)
Project 16A Frigates – Brahmaputra Class (Brahmaputra, Betwa and Beas)
Project 17 Stealth Frigates – Shivalik Class (Shivalik, Sahyadri and Satpura)
Project 28 Anti-Submarine Corvettes – Kamorta Class (Kamorta, Kadmatt, Kiltan and Kavaratti)
Current News International Bilateral, Regional And Global Groupings
Generalized System Of Preferences (GSP) Trade Privilege
---
India is likely to press Biden Administration for early restoration of the Generalized System of Preferences (GSP) trade privilege for India.
The privilege was withdrawn by outgoing President Donald Trump's administration in Washington DC in June, 2019.
Reason for Withdrawal
India has implemented a wide array of trade barriers that create serious negative effects on United States' commerce.Despite intensive engagement, India has failed to take the necessary steps to meet the GSP criterion.
The United States launched an eligibility review of India's compliance with the GSP market access criterion in April 2018.
India's termination from GSP follows its failure to provide the United States with assurances that it will provide equitable and reasonable access to its markets in numerous sectors.
Generalized System of Preferences (GSP)
GSP is a U.S. trade program designed to promote economic growth in the developing world by providing preferential duty-free entry of products from 129 designated beneficiary countries and territories.
GSP was instituted on January 1, 1976, by the Trade Act of 1974.
Under this, certain products can enter the United States duty-free if beneficiary developing countries meet the eligibility criteria established by its Congress.
GSP had expired on July 31, 2013, and was reauthorized on June 29, 2015 by the former President Obama.
Objective
To give development support to poor countries by promoting exports from them into the developed countries.
Criteria for GSP
The GSP criteria include, among others, respecting arbitral awards in favour of US citizens or corporations, combating child labour, respecting internationally recognised worker rights, providing adequate and effective intellectual property protection and providing the US with equitable and reasonable market access.
Countries can also be graduated from the GSP programme, depending on factors related to economic development.
Products Covered Under GSP
It includes agricultural products including animal husbandry, meat and fisheries and handicraft products. These products are generally the specialised products of the developing countries.
Difference between GSP and Trade Arrangement under WTO
Under the normal trade laws, the WTO members must give equal preferences to trade partners. There should not be any discrimination between countries.
This trade rule under the WTO is called the Most Favored Nation (MFN) clause. The MFN instructs non-discrimination that any favorable treatment to a particular country.
At the same time, the WTO allows members to give special and differential treatment to from developing countries (like zero tariff imports). This is an exemption for MFN. The MSP given by developed countries including the US is an exception to MFN.
Significance
GSP promotes sustainable development in beneficiary countries by helping these countries to increase and diversify their trade with the United States.
The GSP program provides additional benefits for products from least developed countries.
Current News International
New Peace Deal Between Armenia And Azerbaijan
---
Russia brokered a new peace deal between Armenia and Azerbaijan on November 10, to the two countries that have been in a military conflict for over six weeks over the disputed region of Nagorno-Karabakh in the South Caucasus.
The deal was signed by Russian President Vladimir Putin, Azerbaijani president Ilham Aliyev and Armenian Prime Minister Nikol Pashinyan.
Finer Points of the Deal
No military Adventure: All military operations are suspended.
Status quo: Both sides will now maintain positions in the areas that they currently hold, which will mean a significant gain for Azerbaijan as it has reclaimed over 15-20 per cent of its lost territory during the recent conflict.
Russian Peacekeepers: Russian peacekeepers will be deployed along the line of contact in Nagorno-Karabakh and along the Lachin corridor that connects the region to Armenia. These Russian peacekeepers with a force of roughly 2,000 will be deployed in the area for a period of five years.
Refugees/Prisoners/Internally Displaced People: Refugees and internally displaced persons will return to the region and the adjacent territories and the two sides will also exchange prisoners of wars and bodies.
New Corridor: A new corridor will be opened from Nakhchivan to Azerbaijan, which will be under Russian control.
Current News Ecology & Environment Agriculture & Allied Sector
Niti Aayog Releases Draft Model Act On Land Titles
---
NITI Aayog has released the draft model Act and rules for states for regulation on conclusive land titling.
Aim
To reduce litigations and ease the land acquisition process for infrastructure projects.
Salient Features
It provides state governments power to order for establishment, administration and management of a system of title registration of immovable properties.
Under the model Act, the land dispute resolution officer and land title appellate tribunal are one-shot institutions which will fade away as the work reduces.
Also, after three years of its notification, the register of title attains conclusivity without any external action. Conclusive land titles are guaranteed by the state for correctness and entail provision for compensation by the state in case of any dispute.
Any person aggrieved by an entry in the Record of Titles may file an objection before the Title Registration Officer within three years from the date of such notification.
Following this, the Title Registration Officer shall make an entry to that effect in Register of Titles and in the Register of Disputes and refer the case to the land dispute resolution officer.
A party aggrieved with an order of the land dispute resolution officer may file an appeal before the Land Titling Appellate Tribunal within 30 days of passing of such an order.
A special bench of High court shall be designated to deal with appeals against the orders passed by the Land Titling Appellate Tribunal.
Land Title
Land title is a document that determines the ownership of land or an immovable property.Having a clear land title protects the rights of the title holder against other claims made by anyone else to the property.
In India, land ownership is determined through various records such as sale deeds that are registered, property tax documents, government survey records, etc.
The current system of land records was inherited from the Zamindari system of pre-independence days. Currently, the rules for title of land, is provided by the Transfer of Property Act, 1882.
The primary law that regulates the registration of land related documents is Registration Act, 1908.
Issues with Land Title in India
Land Ownership in India is Presumptive
In India, land ownership is primarily established through a registered sale deed (a record of the property transaction between the buyer and seller).
Other documents used to establish ownership include the record of rights (document with details of the property), property tax receipts, and survey documents.
However, these documents are not a government guaranteed title to the property, but only a record of the transfer of property.
Therefore, land ownership in India, as determined by such sale deeds, is presumptive in nature, and subject to challenge.
Land Records are Poorly Maintained
Land records consist of various types of information (property maps, sale deeds) and are maintained across different departments at the district or village level.
These departments work in silos, and the data across departments is not updated properly.Hence, discrepancies are often noted in land records.
Therefore, in several records, the property documents do not match the position on the ground.
Poor land records also affect future property transactions. It becomes difficult and cumbersome to access land records when data is spread across departments and has not been updated.
One has to go back several years of documents, including manual records, to find any ownership claims on a piece of property.Such a process is inefficient and causes time delays.
Registration of Property is not Mandatory for all Transactions
Under the Registration Act, 1908, registration of property is not mandatory for all transaction
These include acquisition of land by the government, court decrees, land orders, heirship partitions, and property that is, leased for less than one year.
Since heirship partitions do not require registration, several property divisions are not recorded, and hence, do not correctly reflect who is in possession of the property.
This often leads to litigation related to rightful owner among heirs.
Government Initiative to Improve the System of Land Records
Around 1988-89, the central government started the Computerisation of Land Records scheme to computerise all land records. Other schemes to improve land records and administration that were introduced around the same time were the Strengthening of Revenue Administration and the Updating of Land Records schemes.
In 2008, all these schemes were merged into a centrally sponsored scheme, the National Land Records Modernization Programme (NLRMP).
The scheme has now been renamed as the Digital India Land Records Modernization Programme (DILRMP) and is a part of the Digital India initiative.
The scheme was changed into a Central Sector Scheme in April 2016.
Way Forward
While conclusive titling has been suggested as the solution to solve the problem around land records in India, several steps need to be completed before the government starts giving out guaranteed land titles.
These steps include-
amending laws across centre and states;
administrative changes at the state level that streamline the collection and maintenance of land data; and
ensuring that all data is regularly updated and easily accessible (on a digital platform).
Current News Ecology & Environment
Karnataka To Add Four Biodiversity Heritage Sites
---
The Karnataka Biodiversity Board has decided to declare four more areas in the State as biodiversity heritage sites. They are
Antaragange Betta in Kolar
Aadi Narayana Swamy Betta in Chickballapur
Mahima Ranga Betta in Nelamangala
Urumbi area on the Kumaradhara river basin in Dakshina Kannada
What are "Biodiversity Heritage Sites"?
"Biodiversity Heritage Sites" (BHS) are well defined areas that are unique, ecologically fragile ecosystems - terrestrial, coastal and inland waters and, marine having rich biodiversity comprising of any one or more of the following components:
Richness of wild as well as domesticated species or intra-specific categories.
High endemism.
Presence of rare and threatened species, keystone species, species of evolutionary significance.
Wild ancestors of domestic/cultivated species or their varieties.
Past pre-eminence of biological components represented by fossil beds and having significant cultural, ethical or aesthetic values and are important for the maintenance of cultural diversity, with or without a long history of human association with them.
Who declares a BHS
Under Section-37 of Biological Diversity Act, 2002 the State Government in consultation with local bodies may notify areas of biodiversity importance as Biodiversity Heritage Sites (BHS).
CBD, Biological Diversity Act, 2002 and BHS
The Convention on Biological Diversity (CBD), adopted at the Rio Earth Summit, 1992 is based on three fold objectives: conservation of biological diversity, sustainable use of its components and fair and equitable sharing of benefits arising out of the utilization of genetic resources.
The primary requirement for the first objective, as noted by CBD, is the in-situ conservation of ecosystems and natural habitats and the maintenance and recovery of viable populations of species in their natural surroundings.
To ensure in-situ conservation of biological diversity, every contracting party to the CBD is required to establish a system of Protected Areas (PA). PAs are geographical defined areas which are designated or regulated and managed to achieve specific conservation objectives
The CBD also mandates parties to develop guidelines for selection, establishment and management of such areas.
In order to fulfill the objectives of CBD, India enacted the Biological Diversity Act, 2002 (BD Act, 2002).
For its implementation, the BD Act, 2002 institutes a three tier structure: National Biodiversity Authority (NBA) at the apex level, State Biodiversity Boards (SBB) at state level and Biodiversity Management Committees (BMCs) at local body level.
One of the salient features of the Act with respect to in-situ conservation is conserve and develop areas of importance from the standpoint of biological diversity by declaring them as Biodiversity Heritage Sites (BHS).
The Act grants State Governments the power to notify areas of biodiversity importance as BHS and in consultation with the Central Government to frame rules for their management and conservation.
State In News Haryana
Haryana Clears Bill On Right To Recall Panchayat Member
---
The Haryana Assembly on 6th November passed the Haryana Panchayati Raj (Second Amendment) Bill, 2020.
Major Provisions
The Bill provides the right to recall members of Panchayati Raj institutions.
The Bill allows the recall of village sarpanches and members of the block-level panchayat samitis and district-level zilaparishads if they fail to perform.
To recall a sarpanch and members of the two bodies, 50% members of a ward or gram sabha have to give in writing that they want to initiate proceedings. This will be followed by a secret ballot, in which their recall will require two-third members voting against them.
Further, the Bill has provision of 50% reservation to women in these rural bodies.
The Bill also proposes 8% reservation to the "more disadvantaged" among the Backward Classes.
Current News Indian Economy Survey And Index
Escaping The Era Of Pandemics
---
On 29th October, 2020, the Intergovernmental Science-Policy Platform on Biodiversity and Ecosystem Services (IPBES) released a report which warns future pandemics will emerge more often, spread more rapidly, do more damage to the world economy and kill more people than COVID-19 unless there is a transformative change in the global approach to dealing with infectious diseases.
Major Findings
Pandemics Emerge from the Microbial Diversity Found in Nature
The majority (70%) of emerging diseases (e.g. Ebola, Zika, Nipah encephalitis), and almost all known pandemics (e.g. influenza, HIV/AIDS, COVID-19), are zoonoses – i.e. are caused by microbes of animal origin. These microbes 'spill over' due to contact among wildlife, livestock, and people.
Human Ecological Disruption, and Unsustainable Consumption Drive Pandemic Risk
The risk of pandemics is increasing rapidly, with more than five new diseases emerging in people every year, any one of which has the potential to spread and become pandemic.
Unsustainable exploitation of the environment due to land-use change, agricultural expansion and intensification, wildlife trade and consumption disrupts natural interactions among wildlife and their microbes, increases contact among wildlife, livestock, people, and their pathogens and has led to almost all pandemics.
Pathogens of wildlife, livestock and people can also directly threaten biodiversity, and emerge via the same activities that drive disease risk in people.
Reducing Anthropogenic Global Environmental Change May Reduce Pandemic Risk
Pandemics and other emerging zoonoses cause widespread human suffering, and likely more than a trillion dollars in economic damages annually.
The true impact of COVID-19 on the global economy can only be accurately assessed once vaccines are fully deployed and transmission among populations is contained.
Pandemic risk could be significantly lowered by promoting responsible consumption and reducing unsustainable consumption of commodities from emerging disease hotspots, and of wildlife and wildlife-derived products, as well as by reducing excessive consumption of meat from livestock production.
Land-Use Change, Agricultural Expansion, Urbanization Cause More than 30% of Emerging Disease Events
Land-use change is a globally significant driver of pandemics and caused the emergence of more than 30% of new diseases reported since 1960.
Land-use change includes deforestation, human settlement in primarily wildlife habitat, the growth of crop and livestock production, and urbanization.
Destruction of habitat and encroachment of humans and livestock into bio-diverse habitats provide new pathways for pathogens to spill over and increase transmission rates.
Trade and Consumption of Wildlife is a Globally Important Risk for Future Pandemics
Wildlife trade has occurred throughout human history and provides nutrition and welfare for peoples, especially the Indigenous Peoples and Local Communities in many countries.
About 24% of all wild terrestrial vertebrate species are traded globally.
International, legal wildlife trade has increased more than five-fold in value in the last 14 years and was estimated to be worth US$107 billion in 2019.
The USA is one of the largest legal importers of wildlife with 10-20 million individual wild animals (terrestrial and marine) imported each year, largely for the pet trade.
Illegal and unregulated trade and unsustainable consumption of wildlife as well as the legal, regulated trade in wildlife, have been linked to disease emergence.
Suggestive Measures
The report offers following policy options that would help to reduce and address pandemic risk:
Launching a high-level intergovernmental council on pandemic prevention to provide decision-makers with the best science and evidence on emerging diseases; predict high-risk areas; evaluate the economic impact of potential pandemics and to highlight research gaps. Such a council could also coordinate the design of a global monitoring framework.
Countries setting mutually-agreed goals or targets within the framework of an international accord or agreement – with clear benefits for people, animals and the environment.
Institutionalizing the 'One Health' approach in national governments to build pandemic preparedness, enhance pandemic prevention programs, and to investigate and control outbreaks across sectors.
Developing and incorporating pandemic and emerging disease risk health impact assessments in major development and land-use projects, while reforming financial aid for land-use so that benefits and risks to biodiversity and health are recognized and explicitly targeted.
Ensuring that the economic cost of pandemics is factored into consumption, production, and government policies and budgets.
Enabling changes to reduce the types of consumption, globalized agricultural expansion and trade that have led to pandemics – this could include taxes or levies on meat consumption, livestock production and other forms of high pandemic-risk activities.
Reducing zoonotic disease risks in the international wildlife trade through a new intergovernmental 'health and trade' partnership; reducing or removing high disease-risk species in the wildlife trade; enhancing law enforcement in all aspects of the illegal wildlife trade and improving community education in disease hotspots about the health risks of wildlife trade.
Valuing Indigenous Peoples and local communities' engagement and knowledge in pandemic prevention programs, achieving greater food security, and reducing consumption of wildlife.
Closing critical knowledge gaps such as those about key risk behaviors, the relative importance of illegal, unregulated, and the legal and regulated wildlife trade in disease risk, and improving understanding of the relationship between ecosystem degradation and restoration, landscape structure and the risk of disease emergence.
Significance
The report is published at a critical juncture in the course of the COVID-19 pandemic, at whichits long-term societal and economic impacts are being recognized.
It provides yet another piece of scientific evidence that our health and society are seriously endangered by the disruption of nature as a result of factory farming, global free trade, and the current system based on unlimited economic growth
This report embraces the need for transformative change and uses scientific evidence to identify policy options to prevent pandemics.
Intergovernmental Science-Policy Platform on Biodiversity and Ecosystem Services (IPBES)
It is an independent intergovernmental body established by States to strengthen the science-policy interface for biodiversity and ecosystem services for the conservation and sustainable use of biodiversity, long-term human well-being and sustainable development.
Established in Panama City, on 21 April 2012 by 94 Governments, it is not a United Nations body.
IPBES has a collaborative partnership arrangement with UNEP, UNESCO, FAO and UNDP. Its secretariat is hosted by the German government and located on the UN campus, in Bonn, Germany.
Current News Indian Economy Labor & Employment
SERB – POWER (Promoting Opportunities For Women In Exploratory Research)
---
The Union Minister for Science & Technology has launched a Scheme named -SERB-POWER (Promoting Opportunities for Women in Exploratory Research).
SERB is a statutory body under the Department of Science and Technology, GOI, established by an Act of the Parliament of India in 2009 (SERB ACT, 2008).
About the Scheme
The Scheme is an initiative of the Department of Science and Technology (DST).
It will have two components namely (i) SERB-POWER Fellowship (ii) SERB- POWER Research Grants.
SERB-POWER Fellowship
Targets - Women researchers in 35-55 years of age with a limit of up-to 25 Fellowships per year and not more than 75 at any point in time.
Fellowship – Rs. 15,000/- per month in addition to regular income; Research grant of Rs. 10 lakh per annum; and Overhead of Rs. 90,000/- per annum.
Duration - Three years, without the possibility of extension once in a career.
SERB- POWER Research Grants
This will empower women researchers by funding them under the following two categories:

Level I (Applicants from IITs, IISERs, IISc, NITs, Central Universities, and National Labs of Central Government Institutions): The scale of funding is up to 60 lakhs for three years.
Level II (Applicants from State Universities / Colleges and Private Academic Institutions): The scale of funding is up to 30 lakhs for three years.
Significance
The program is formulated to mitigate gender disparity in science and engineering research funding in various S&T programs in Indian academic institutions and R&D Laboratories.
SERB - POWER is specially designed to provide structured effort toward enhanced diversity in research to ensure equal access and weighted opportunities for Indian women scientists engaged in research and development activities.
It will empower women scientists and cultivate women friendly culture in our academic and research institutions and ensure more women in leadership positions in decision making bodies.
Current News International
UNGA Adopts Two India Sponsored Resolutions On Nuclear Disarmament
---
The First Committee of the United Nations General Assembly has adopted two India-sponsored resolutions on nuclear disarmament which aim to reduce risk of nuclear accidents and call for a prohibition on the use of nuclear weapons.
The two resolutions adopted include:
(i)Convention on the Prohibition of the Use of Nuclear Weapons
The resolution on Convention on the Prohibition of the Use of Nuclear Weapons was backed by a majority of UN Members and was tabled by India since 1982.
It calls for Conference on Disarmament to start negotiations on an international convention prohibiting the use or threat of use of nuclear weapons under any circumstances.
The aim is that a universal and legally binding agreement would generate the necessary global political will that can lead to the total elimination of nuclear weapons.
(ii)'Reducing Nuclear Danger' under the 'Nuclear weapons' cluster.
The resolution on Reducing Nuclear Danger which was tabled since 1998 puts focus on unintentional or accidental use of nuclear weapons and underscore the need for a review of nuclear doctrines.
The resolution asks for concrete steps to reduce such risks, including through de-alerting and de-targeting of nuclear weapons.
About UNGA First Committee
The UNGA First Committee deals with the issue of disarmament and works in close cooperation with the United Nations Disarmament Commission and the Geneva-based Conference on Disarmament, the other two bodies to deal with the nuclear issue.
Six Main Committees of Unga & their Mandate
First Committee (Disarmament & International Security)
Second Committee (Economic & Financial)
Third Committee (Social, Humanitarian & Cultural)
Fourth Committee (Special Political & Decolonization)
Fifth Committee (Administrative & Budgetary)
Sixth Committee (Legal)
Current News Ecology & Environment
La Niña Is Back After About A Decade: WMO
---
According to the World Meteorological Organization (WMO), La Niña is back in the central and eastern equatorial Pacific Ocean, after nearly a decade's absence.
It has the opposite impacts on weather and climate as El Niño, which is the warm phase of the El Niño Southern Oscillation (ENSO).
The cooling of these large ocean areas have a significant effect on the circulation of the atmosphere that's flowing over them. And the changes in the atmosphere in turn affect precipitation patterns around the world.
In India, La Niña means the country will receive more rainfall than normal, leading to floods.
WMO Predictions on its Effects
This is expected to result in sea surface temperatures between two and three degrees Celsius cooler than average.
The Horn of Africa will see below average rainfall, as will Central Asia.
Above-average rainfall for Southeast Asia, some Pacific Islands and the northern region of South America.
East Africa is forecast to see drier than usual conditions, which together with the existing impacts of the desert locust invasion, may add to regional food insecurity.
There is a 90 per cent chance of tropical Pacific sea surface temperatures remaining at La Niña levels for the remainder of the year, and a 55 per cent chance that this will continue through March next year.
No Respite from Heat
Although La Niña typically has a cooling effect on global temperatures, there's little chance that 2020 will buck the trend of increasingly warm years. That's because of all the heat trapped in our atmosphere by greenhouse gases.
Current News International
'Mission Sagar-II'
---
As part of 'Mission Sagar-II', Indian Naval Ship Airavat is engaged to supply food aid to Sudan, South Sudan, Djibouti and Eritrea.
It follows the first 'Mission Sagar' undertaken in May-June 2020, wherein India reached out to Maldives, Mauritius, Seychelles, Madagascar and Comoros, and provided food aid and medicines.
Mauritius, Madagascar, Comoros and Seychelles along with La Réunion are part of Indian Ocean Commission. India has recently become an observer to the Commission.
India is providing assistance to friendly foreign countries to overcome natural calamities and COVID-19 pandemic. This initiative is in line with the Prime Minister's vision of Security and Growth for All in the Region 'SAGAR' and highlights the importance accorded by India to relations with her maritime neighbours and further strengthens the existing bond.
PIB News National
"Strategic Policy & Facilitation Bureau (SPFB)": Policy Unit Of Ministry Of AYUSH
---
The Ministry of AYUSH and M/s Invest India will form a collaboration to set up a strategic policy unit called "Strategic Policy & Facilitation Bureau (SPFB)" to facilitate planned and systematic growth of the Ayush Sector and to make the Ayush systems future-ready.
This Bureau will support the Ministry in strategic and policy making initiatives that shall help pave the way to reach the full potential of the Sector and stimulate growth and investment.
As a partner in the project, M/S Invest India would collaborate extensively with the Ministry to frame the work plan of the Bureau and define its short-and long-term targets. Invest India would deploy highly trained and expert resources to implement and execute the plans of the Ministry of AYUSH.
The activities to be undertaken by the SPFB would include:
Knowledge Creation and Management,
Strategic & Policy-Making Support,
State Policy Bench marking: Undertaking State Policy bench marking to formulate uniform guidelines/regulations regarding AYUSH sector in India,
Investment Facilitation: Follow up and facilitation of investment cases and MoUs, and coordination among different Department, organisations and States.
Issue Resolution: Invest India would work with companies and other institutions on issue resolution across States and among various sub-sectors.

Some of the Specific Deliverables of Bureau would include project monitoring for Inter-Ministerial Groups, Skill Development Initiatives, setting up Strategic Intelligence Research Unit and initiating an Innovation Program.
The Ministry of AYUSH would assist the Bureau in responding to investment proposal, issue and queries and fund Invest India for undertaking activities assigned. The Ministry will also support the Bureau in building links with various stakeholders such as industry associations, affiliate bodies of Ministry and Industry representation.
Current News National
Kerala, Tamil Nadu And Goa - Best Governed States: PAI
---
The Public Affairs Index-2020 report was released on 30th October 2020 by a Bengaluru-based not-for-profit organisation Public Affairs Centre.
The annual report on governance considers three broad parameters — equity, growth and sustainability.
Former ISRO chairman, Dr K Kasturirangan, is the chairman of PAC.
Key Findings
Larger States: According to the report, Kerala topped the list in the category of large states followed by Tamil Nadu and Andhra Pradesh. Uttar Pradesh, Odisha and Bihar were at the bottom of the ranking.
Smaller States: In the small states category, Goa topped the list followed by Meghalaya, Himachal Pradesh and Sikkim. The worst performers in the index with negative points were Manipur, Delhi and Uttarakhand.
Union Territories: Chandigarh emerged at the top in the category of Union Territories followed by Puducherry and Lakshadweep. Dadra and Nagar Haveli, Andaman, Jammu and Kashmir and Nicobar were the worst performers.
Current News Ecology & Environment
Karbartal: 39th Ramsar Site Of India
---
Kabartal, also known as Kanwar Jheel covers 2,620 hectares of the Indo-Gangetic plains, in Begusarai district of the state of Bihar.
The site acts as a vital flood buffer for the region besides providing livelihood opportunities to the local communities.
As a habitat to biodiversity, the wetland supports about 165 plant, 394 animals and around 50 fish species.
Kabartal is also an important stopover along the Central Asian Flyway, with 58 migratory water birds using it as a wintering site.
Besides, critically endangered vultures including red-headed vulture and white-rumped vulture also use the site as a habitat.
After designating Asan Conservation Reserve (ACR), Dehradun, Uttarakhand and Kabartal Wetland, Begusarai, Bihar, as Ramsar sites, the total number of Ramsar Sites in India is 39, the highest in South Asia.
Current News Ecology & Environment
Panna Tiger Reserve Gets Into 'World Network Of Biosphere Reserves'
---
The United Nations Educational, Scientific and Cultural Organization (Unesco) has included Panna Tiger Reserve in its 'World Network of Biosphere Reserves' — the third in Madhya Pradesh after Pachmarhi and Amarkantak.
UNESCO has allotted the reserve as Biosphere Reserve status after it brought the tiger population back from zero to 54 within ten years. About ten years back, tigers were vanished from the reserve and then forest department re-introduced the big cats in its ambitious plan.
Other Indian biosphere reserves that are a part of the World Network of Biosphere Reserves, based on the UNESCO Man and the Biosphere (MAB) Programme list are:
| | | |
| --- | --- | --- |
| | Name | States/ UT |
| 1 | Nilgiri Biosphere Reserve | Tamil Nadu, Kerala and Karnataka |
| 2 | Gulf of Mannar Biosphere Reserve | Tamil Nadu |
| 3 | Sundarbans Biosphere Reserve | West Bengal |
| 4 | Nanda Devi Biosphere Reserve | Uttarakhand |
| 5 | Nokrek Biosphere Reserve | Meghalaya |
| 6 | Pachmarhi Biosphere Reserve | Madhya Pradesh |
| 7 | Simlipal Biosphere Reserve | Odisha |
| 8 | Great Nicobar Biosphere Reserve | Andaman & Nicobar Islands |
| 9 | Achanakmar-Amarkantak Biosphere Reserve | Chhattisgarh,Madhya Pradesh |
| 10 | Agasthyamalai Biosphere Reserve | Kerala and Tamil Nadu |
| 11 | Khangchendzonga National Park | Sikkim |
Current News Ecology & Environment
Habitat Loss Is A Serious Concern For Himalayan Brown Bears
---
A recent study by scientists of the Zoological Survey of India shows that Himalayan brown bear (Ursus arctos isabellinus) are in danger due to significant reduction in suitable habitat and biological corridors due to climate change.
The Himalayan brown bear is one of the largest carnivores in the highlands of Himalayas. It occupies the higher reaches of the Himalayas in remote, mountainous areas of Pakistan and India, in small and isolated populations, and is extremely rare in many of its ranges.
The study carried out in the Western Himalayas by scientists of ZSI, predicted a massive decline of about 73% of the bear's habitat by the year 2050.
The brown bear population is distributed significantly in western Himalaya and their status is 'Critically Endangered'according to IUCN Red List.
---