Current News National Polity & Governance
Fame India Scheme Phase-II
---
On 26th September, 2020, the government has sanctioned 670 electric buses and 241 charging stations to boost the electric mobility in the country under Phase-II of FAME India Scheme.
About FAME-India Scheme
The FAME(Faster Adoption and Manufacture of (Hybrid and) Electric Vehicles) was launched by the Ministry of Heavy Industries and Public Enterprises in 2015 to incentivize the production and promotion of eco-friendly vehicles including electric vehicles and hybrid vehicles.
It is a part of the National Electric Mobility Mission Plan.
The vehicles such as two wheelers, three wheelers, electric and hybrid cars and electric buses obtained the subsidy benefit of the scheme.
It also covers electric and Hybrid technologies like Mild Hybrid, Strong Hybrid, Plug in Hybrid & Battery Electric Vehicles
Two phases of FAME-India
Phase I: started in 2015 and was completed on March 31st, 2019
Phase II: started from April 1st, 2019, will be completed by March 31st, 2022
Focus Areas
Technology Development
Demand Creation
Pilot Projects
Charging Infrastructure
FAME Scheme-II
It aims to encourage faster adoption of electric and hybrid vehicles by way of offering upfront incentive on purchase of Electric Vehicles (EV) and by way of establishing necessary charging infrastructure for EV.
It offers incentives to manufacturers, who invest in developing electric vehicles and its components, including lithium-ion batteries and electric motors.
Impact
Pollution Control: Adoption of EVs in the country will help in addressing the issue of air pollution, due to the indiscriminate use of fossil fuels.
Sustainable Use of Fossil Fuels: It provide fuel security as it helps to lessen the dependency on fossil fuels thereby paving the path of sustainable and efficient use of fossil fuels.
National Electric Mobility Mission Plan(NEMMP)
The plan was launched by the Government of India in 2013 with the objective of achieving national fuel security by promoting electric and hybrid vehicles in the country.
There is an ambitious target to achieve 6-7 million sales of hybrid and electric vehicles year on year from 2020 onwards.
It is a composite scheme using different policy-levers such as-
-Demand side incentives to facilitate the acquisition of hybrid/electric vehicles.
-Promoting R&D in technology including battery technology, power electronics, motors, systems integration.
-Promoting charging infrastructure.
-Supply side incentives.
-Encouraging retro-fitment of on-road vehicles its hybrid kit.
PIB News National Bills/Acts
Some Important Bills, Passed By Houses Of Parliament In Monsson Session 2020
---
The Monsoon Session, 2020 of Parliament which commenced on 14th September, 2020 was scheduled to culminate on 1st October, 2020 but due to COVID-19 pandemic risks after transaction of essential business Lok Sabha and Rajya Sabha were adjourned sine-die on 23rd September, 2020 yielding 10 sittings spread over 10 days.
27 Bills were passed by both the Houses of Parliament which is best ever rate of passage of Bills per day i.e. 2.7 Bills.
All the 11 Ordinances which were promulgated during inter session were replaced by Acts of Parliament during the Monsoon Session, 2020.
The Farmers' Produce Trade and Commerce (Promotion and Facilitation) Bill, 2020 provides for the creation of an ecosystem where the farmers and traders enjoy the freedom of choice relating to sale and purchase of farmers' produce which facilitates remunerative prices through competitive alternative trading channels; to promote efficient, transparent and barrier-free inter-State and intra-State trade and commerce of farmers' produce outside the physical premises of markets or deemed markets notified under various State agricultural produce market legislations; and to provide a facilitative framework for electronic trading.
The Farmers (Empowerment and Protection) Agreement on Prices Assurance and Farm Services Bill, 2020 provides for a national framework on farming agreements that protects and empowers farmers to engage with agri-business firms, processors, wholesalers, exporters or large retailers for farm services and sale of future farming produce at a mutually agreed remunerative price framework in a fair and transparent manner.
The Essential Commodities (Amendment) Bill, 2020 will boost immediate investment in Agriculture sector, increase competition and enhance farmers' income.
EDUCATION SECTOR
The National Forensic Sciences University Bill, 2020 provides to establish and declare an institution to be known as the National Forensic Sciences University as an institution of national importance to facilitate and promote studies and research and to achieve excellence in the field of forensic science in conjunction with applied behavioural science studies, law, criminology and other allied areas and technology and other related fields.
The Rashtriya Raksha University Bill, 2020 proposes to establish the Rashtriya Raksha University and to declare it as an institution of national importance and to provide for its incorporation; University is proposed to be a multi-disciplinary University to create new knowledge through research and collaboration with different stakeholders and help to fulfil the need for a pool of trained professionals with specialised knowledge and new skill sets in various wings of policing, the criminal justice system and correctional administration. The University will have linkage with world class universities in other countries, which will be need based, for the purpose of exchange of contemporary research, academic collaboration, course design, technical know-how and training and skill development.
LABOUR SECTOR REFORMS
Three landmark Labour sector reform Bills were passed during the current session.
The Occupational Safety, Health and Working Conditions Code Bill, 2020 provides to amalgamate, simplify and rationalise the relevant provisions the laws regulating the occupational safety, health and working conditions of the persons employed in an establishment.
The Code on Social Security Bill, 2020 provides to amend and consolidate the laws relating to social security with the goal to extend social security to all employees and workers either in the organised or unorganised or any other sectors.
The Industrial Relations Code Bill, 2020 provides to consolidate and amend the laws relating to Trade Unions, conditions of employment in industrial establishment or undertaking, investigation and settlement of industrial disputes
COVID-19 RELATED LEGISLATIONS
Some Ordinances were promulgated to mitigate the effects arising out of Covid-19 pandemic though legislative means.
The Salary, Allowance and Pensions of Members of Parliament (Amendment) Bill, 2020 reduces the salary payable to Members of Parliament by 30% for a period of one year commencing 01.04.2020.
The Salaries and Allowances of Ministers (Amendment) Bill, 2020 reduces the sumptuary allowance payable to each Minister by thirty per cent for a period of one year commencing from the 1.4.2020.
The Epidemic Diseases (Amendment) Bill, 2020 intends to curb unprecedented acts of violence, including physical and mental harassment and damage to property during COVID-19 pandemic, and provides protection to healthcare service personnel.
The Insolvency & Bankruptcy Code (Second Amendment) Bill, 2020 provides to temporarily suspend initiation of corporate insolvency resolution process under the Code, initially for a period of six months or such further period, not exceeding one year from 25th March, 2020, to provide relief to companies affected by COVID-19 to recover from the financial stress without facing immediate threat of being pushed to insolvency proceedings.
HEALTH SECTOR
The Institute of Teaching and Research in Ayurveda Bill, 2020 proposes to merge three Ayurveda institutes namely (i) the Institute of Post Graduate Teaching and Research in Ayurveda, Jamnagar, (ii) Shree GulabkunverbaAyurvedMahavidyalaya, Jamnagar, and, (iii) the Indian Institute of Ayurvedic Pharmaceutical Sciences, Jamnagar into one institution by the name of Institute of Teaching and Research in Ayurveda. The Bill declares the Institute to be an institution of National Importance.
The National Commission for Indian System of Medicine Bill, 2020 will repeal the Indian Medicine Central Council Act, 1970 and provide for a medical education system which ensures: (i) availability of adequate and high quality medical professionals of Indian System of Medicine, (ii) adoption of the latest medical research by medical professionals of Indian System of Medicine, (iii) periodic assessment of medical institutions, and (iv) an effective grievance redressal mechanism.
The National Commission for Homeopathy Bill, 2020 will repeal the Homoeopathy Central Council Act, 1973 and provide for a medical education system which ensures: (i) availability of adequate and high quality homoeopathic medical professionals, (ii) adoption of the latest medical research by homoeopathic medical professionals, (iii) periodic assessment of medical institutions, and (iv) an effective grievance redressal mechanism.
ECONOMIC SECTOR/EASE OF DOING BUSINESS MEASURES
Some important legislations to address the economic requirements of the country were passed during the current session.
The Banking Regulation (Amendment)Bill, 2020 proposes to expand RBI's regulatory control over co-operative banks in terms of management, capital, audit and liquidation so as to provide for better management and proper regulation of co-operative banks and to ensure that the affairs of the co-operative banks are conducted in a manner that protects the interests of the depositors, by increasing professionalism, enabling access to capital, improving governance and ensuring sound banking through the Reserve Bank of India.
The Companies (Amendment) Bill, 2020 proposes to decriminalise minor procedural or technical lapses under the provisions of the Companies Act, 2013, into civil wrong; and considering the overall pendency of the courts, remove criminality in case of defaults, which can be determined objectively and which otherwise lack any element of fraud or do not involve larger public interest. In addition, to provide greater ease of living to corporates.
The Bilateral Netting of Qualified Financial Contracts Bill, 2020 facilitates to ensure financial stability and promote competitiveness in Indian financial markets by providing enforceability of bilateral netting of qualified financial contracts.
The Taxation and Other Laws (Relaxation of Certain Provisions) Bill, 2020 provides for relaxation of certain provisions of the specified Acts relating to direct taxes, indirect taxes and prohibition of Benami property transactions.
Current News Indian Economy Banking & Finance
Technology Vision For Cyber Security For Urban Co-operative Banks – 2020-2023
---
On 24th September, 2020, the Reserve Bank of India(RBI) released Cyber Security Vision Framework for Urban Cooperative Banks (UCBs).
Need
In recent time, the number, frequency and impact of cyber incidents/attacks have increased manifold in the financial sector including Urban Co-operative Banks (UCBs).
Therefore, it has, become essential to enhance the security posture of UCBs so as to prevent, detect, respond to and recover from cyber-attacks.
Mission
The framework aims at enhancing the cyber security posture of the UCB sector through a five-pillared strategic approach –GUARD
Governance Oversight
Utile Technology Investment
Appropriate Regulation and Supervision
Robust Collaboration
Developing IT and Cyber Security Skills Set
Mission – Specific Action Points
Governance Oversight
Focus on Board Oversight
The Board of Directors shall be ultimately responsible for the information security of the UCBs and shall play a proactive role in ensuring an effective IT (Information Technology) and IS (Information Security) governance.
IT Vision Document
UCBs could play a crucial role in strengthening financial inclusion.
Therefore, UCBs need to develop their own technology vision document outlining their plans to incorporate IT solutions into their business in a secure manner.
Utile Technology Investment
Creation of Fund for Implementation of Cyber Security Projects
Fund for cyber security projects may be created out of UCBs' annual net profits over a period of time.
Management of Business IT Assets
In order to have proper monitoring of life cycle of its IT assets, both hardware and software, UCBs shall venture to invest and upgrade their IT infrastructure.
Furthermore, a comprehensive process for Software License Management (SLM) shall be implemented by the UCBs.
Banking Services Availability
In order to avoid major operational disruptions, UCBs shall have a Business Continuity Plan (BCP).
The focus may be on prioritizing systems and processes in order to keep business operating smoothly and safely.
Appropriate Regulation and Supervision
Supervisory Reporting Framework
Considering the large number of UCBs, an effective supervision of UCBs will be setup to monitor compliance of UCBs with respect to cyber security guidelines.
Appropriate Guidance in Implementing Secure Practices
A uniform Cyber Security Hygiene document for all the cooperative banks shall be issued.
It shall cover various best practices such as Privilege access management, network segmentation,secure configuration and security incident.
Robust Collaboration
Forum to Share Best Practices
UCBs may explore the possibility of setting up a forum at State/regional level with stakeholders from various banks.
Adoption of Cloud Services
Cost effective technologies such as cloud based services may be used for implementing IT solutions and cyber security controls after taking appropriate risk assessment.
Developing IT and Cyber Security Skills Set
Imparting Technical Skills to manage IT and Cyber Security
Targeted skill-oriented training and certification programmes would be designed to impart technical skills to personnel for managing the risk of cyber security.
Steps would be taken to tap expertise available in various institutes/ universities across the country to provide such training in regional languages.
Providing Training for all UCBs on Cyber Security
Awareness training programmes would be imparted to all UCBs through various training institutes of the RBI and other such institutes approved by RBI.
The main objective is to communicate the cyber security challenges and regulatory expectations to the UCBs in local language for better understanding of the cyber security.
Significance
The implementation of the approach outlined in Technology Vision document will strengthen the cyber resilience ecosystem of the Urban Co-operative Banks.
Current News National
NIA Empowered To Probe Drug-Related Offences
---
The government has empowered the National Investigation Agency (NIA) to investigate offences under the Narcotic Drugs and Psychotropic Substances (NDPS) Act so that the agency need not rely on local police to unravel drug trade ties that emerge during counter-terrorism operations.
NIA officers of inspector rank and above have been vested with the same powers as an officer in charge of a police station under the 1985 NDPS law, as per a notification issued by the Revenue Department in the Ministry of Finance.
PIB News National Art/Culture/Heritage
Nrityanjali – An Online Film Festival On Indian Classical Dance And Maestros
---
'Nrityanjali', an online film festival on Indian Classical Dance and Maestros is scheduled to be showcased from 23rd to 25th September, 2020.
The first part of 'Nrityanjali' will showcase 10 films on the life and works of India's leading classical dancers.
It is an initiative of Films Division, Ministry of Information & Broadcasting.
Films/Documentaries to be showcased based on Noted Dancers
"Sitara Devi": A film on doyen of Kathak Dance, hailed as the Queen of Kathak by Rabindranath Tagore.
"Yamini Krishnamurthy": A film on the leading Bharat Natyam exponent who also excels in Odissi and Kuchipudi.
"Raja-Radha": A biographical film on the well-known Kuchipudi dancer-couple Raja and Radha Reddy, who gave new dimension to the traditional Kuchipudi.
"Guru Amubi Singh": A film on the grand patriarch of Manipuri dance -MaisnamAmubi Singh.
"A Luminous Jewel –Pt. BirjuMaharaj": A film that comprehensively depicts the life and art of PanditBirjuMaharaj, one of the greatest exponents of Kathak.
"KalamandalamGopi":It is on the art and life of eminent Kathakali artist, KalamandalamGopi.
"Padma": A biopic on the acclaimed Bharatanatyam dancer Dr. Padma Subramanyam.
"Kanak Rele": A biographical on the classical dance exponent-choreographer, Dr. Kanak Rele, who is internationally known as an exponent of MohiniAttam.
"Sonal": A biopic that documents the glorious career of eminent danseuse SonalMansingh, as a Bharatanatyam and Odissi dancer-choreographer and as one who is equally adept in other dance forms like Kuchipudi and Chhau.
"Dreamer - Swapna Sundari": A biographical film on SwapnaSundari, an exponent of Kuchipudi and Bharatanatyam.
Classical Dances of India
Indian Classical Dance is an umbrella under which various performing arts whose theory and practice can be traced to the Sanskrit text, Natya-Shastra, the foundational treatise by Bharata Muni.
The SangeetNatakAkademi currently confers classical status on eight Indian classical dance styles: Bharatanatyam (Tamil Nadu), Kathak (North, West and Central India), Kathakali (Kerala), Kuchipudi (Andhra Pradesh), Odissi (Odisha), Manipuri (Manipur), Mohiniyattam (Kerala), and Sattriya (Assam).
Current News National National Security
Official Secrets Act
---
On 14th September, 2020, a Delhi based journalist was arrested under Official Secrets Act for passing on information such as the deployment of Indian troops on the border to Chinese intelligence officers.
About Official Secrets Act (OSA)
The first Indian official secrets act was enacted in 1889 to suppress the voice of nationalist publications, which were opposing the British Government's policies.
It was amended during the time of Lord Curzon(1899-1904) in 1904.
Finally, 1904 act was replaced by The Indian Official Secrets Act of 1923 which brought within its ambit all matters of secrecy and confidentiality in governance in the country.
Scope of OSA
It broadly deals with two aspects:
Spying or espionage, covered under Section 3.
Disclosure of other secret information of the government, under Section 5.(The information could be any reference to a place belonging to or occupied by the government, documents, photographs, sketches, maps, plans, models, official codes or passwords).
Prosecution and Penalties
If found guilty, a person may get up to 14 years' imprisonment, a fine, or both.
A person prosecuted under this Act can be charged with the crime even if the action was unintentional and not intended to endanger the security of the state.
Significance
The law, applicable to government servants and citizens, provides the framework for dealing with espionage, sedition, and other potential threats to the integrity of the nation.
Criticism of OSA
In Contravention with Right to Information Act (2005)
For classifying a document, a government Ministry or Department follows the Manual of Departmental Security Instructions, 1994, not under OSA.
Also, OSA itself does not say what a "secret" document is. It is the government's discretion to decide what falls under the ambit of a "secret" document to be charged under OSA.
It has often been argued that the law is in direct conflict with the Right to Information Act, 2005.
Misuse by Authorities
Due to its unclear definition of "secret" documents or information, government authorities can misuse the Act by branding certain information or documents as official secrets as they deem fit.
Suggestions for Amending OSA
In 2006, the Second Administrative Reforms Commission (ARC) recommended that OSA be repealed, and replaced with a chapter in the National Security Act containing provisions relating to official secrets.
Further, in 2015, the government had set up a committee to look into provisions of the OSA in light of the RTI Act.
It submitted its report to the Cabinet Secretariat on June 16, 2017, recommending that OSA be made more transparent and in line with the RTI Act.
Recent Cases where OSA has been invoked
The most recent conviction under the Act came in 2018, when a Delhi court held former diplomat Madhuri Gupta, who had served at the Indian High Commission in Islamabad, guilty under the OSA. She was sentenced to jail for passing on sensitive information to Pakistan's intelligence.
Current News Indian Economy Banking & Finance
Fin CEN Files
---
FinCEN Files is a cross-border investigation based on secret documents that exposes how banks and regulators have failed the public by allowing dirty money to flow unchecked around the globe. It shows how politicians, crooks, and tycoons profit at the expense of governments and ordinary people.
The FinCEN Files are leaked documents from the Financial Crimes Enforcement Network (FinCEN), investigated by International Consortium of Investigative Journalists (ICIJ), and globally publicised on 20 September 2020.
The reports describe over 200,000 suspicious financial transactions valued at over US$2 trillion that occurred from 1999 to 2017 across multiple global financial institutions.
The documents appear to show that while both the banks and the United States Government had this financial intelligence, they did little to stop activities such as money laundering.
The information implicates financial institutions in more than 170 countries who played a role in the facilitation of money laundering and other fraudulent crimes.
What is FinCEN?
It is a bureau of the United States Department of the Treasury that collects and analyses information to combat money laundering, terrorism financing, evasion of economic sanctions and other financial crimes.
FinCEN collates suspicious activity reports (SARs), reports required to be filed by financial institutions when they suspect their clients are engaging in financial crime.
Unauthorized disclosure of a SAR is a US Federal criminal offense, as it could undermine or hamper ongoing investigations, and threaten the safety of financial institutions and those who file the SARs.
SARs are not evidence of a crime, but the FinCEN claims they provide vital information to the investigate crimes.
Who worked on the FinCEN Files investigation?
ICIJ, BuzzFeed News and 108 other media partners in 88 countries spent 16 months organizing and analyzing leaked documents, and obtaining hundreds of other confidential documents, court records, archives, public records, and interviews.
What is ICIJ?
The International Consortium of Investigative Journalists (ICIJ) is an independent, Washington, D.C.-based international network of more than 200 investigative journalists and 100 media organizations in over 70 countries.
Current News Science & Technology
FELUDA Test For Covid-19
---
It is an accurate and low-cost paper-based test strip to detect Covid-19 in less than 30 minutes.
It has been approved for commercial launch by the Drugs Controller General of India.
It is developed by a research team led by Debojyoti Chakraborty and SouvikMaiti of the Council of Scientific and Industrial Research (CSIR) and Tata Group.
Feluda uses indigenously developed CRISPR gene-editing technology to identify and target the genetic material of SARS-CoV2, the virus that causes Covid-19.
The Cas9 protein is barcoded to interact with the SARS-CoV2 sequence in the patient's genetic material. The Cas9-SARS-CoV2 complex is then put on the paper strip, where using two lines (one control, one test) makes it possible to determine if the test sample was infected with Covid-19.
FELUDA technically is an acronym and stands for FNCAS9 Editor Linked Uniform Detection Assay. And yes, it has been named after the famous fictional Bengali sleuth, Feluda, who popularly appeared in novels by author Satyajit Ray.
Current News Ecology & Environment Agriculture & Allied Sector
Agricultural Reform Bills
---
On 20th September, 2020, Rajya Sabha passed two farm reforms Bills- Farmer's Produce Trade and Commerce (Promotion and Facilitation) Bill, 2020, and the Farmers (Empowerment and Protection) Agreement of Price Assurance and Farm Services Bill, 2020.
About the Bills
Bill on Agriculture Market
Farmer's Produce Trade and Commerce(Promotion and Facilitation) Bill, 2020
Key Provisions
To create an ecosystem where farmers and traders enjoy the freedom to sell and purchase farm produce outside registered mandis under state's Agricultural Produce Market Committees (APMCs).
To promote barrier-free inter-state and intra-state trade of farmers' produce.
To reduce marketing/transportation costs and help farmers in getting better prices.
To provide a facilitative framework for electronic trading.
Impact
Ends the monopoly of traders.
Creating competition among buyers.
Yields better returns to farmers and raises incomes.
Farm produce can move freely from surplus to deficit regions.
Creates national market; high intimidation cost of mandis will end.
Consumer gets better and cheaper products.
Reasons for Opposition
States will lose revenue as they won't be able to collect 'mandi fees' if farmers sell their produce outside registered APMC markets.
What happens to 'commission agents' in states if entire farm trade moves out of mandis?
It may eventually end the minimum support price(MSP) based procurement system.
Electronic trading like in e-National Agriculture Market(e-NAM) uses physical 'mandi' structure. It will hamper the functionality and usefulness ofthe electronic trading portal.
Bill on Contract Farming
The Farmer (Empowerment and Protection) Agreement of Price Assurance and Farm Services Bill, 2020
Key Provisions
Farmers can enter into a contract with agribusiness firms, processors, wholesalers, exporters or large retailers for sale of future farming produce at a pre-agreed price.
Marginal and small farmers, with land less than five hectares, to gain via aggregation and contract (Marginal and small farmers account for 86% of total farmers in India).
To transfer the risk of market unpredictability from farmers to sponsors.
To enable farmers to access modern tech and get better inputs.
To reduce cost of marketing and boost farmer's income.
Farmers can engage in direct marketing by eliminating intermediaries for full price realization.
Effective dispute resolution mechanism with redressal timelines.
Impact
Farmers will have assured price before sowing.
Transfers market risk from farmer to sponsor.
Gives farmers access to high quality seeds, fertilisers, pesticides.
Will attract private investment in farming and link farms to global markets.
Reasons for Opposition
Farmers in contract farming arrangements will be the weaker players in terms of their ability to negotiate what they need.
The sponsors may not like to deal with a multitude of small and marginal farmers.
Being big private companies, exporters, wholesalers and processors, the sponsors will have an edge in disputes.
Government's Stand over the Bills
Accelerating Agricultural Growth:It will accelerate agricultural growth through private sector investment in building agricultural infrastructure and supply chains for Indian farm produce in national and global markets.
Strengthening Economy:The bills are aimed at creating employment opportunities and strengthening the economy.
e-NAM
Launched in April 2016, it is an online trading platform for agriculture produce aimed to help farmers, traders, and buyers with online trading and getting a better price by smooth marketing.
Advantages
For the farmers, it offers more options for sale. It would increase his access to markets through warehouse based sales and thus prevent the need to transport his produce to the mandi.
For the local trader, it offers the opportunity to access a larger national market for secondary trading.
Bulk buyers, processors, exporters, etc. benefit from being able to participate directly in trading at the local mandi/market level through the NAM platform, thereby reducing their intermediation costs.
It also facilitates the emergence of value chains in major agricultural commodities across the country and help to promote scientific storage and movement of agricultural goods.
Current News Indian Economy
India Ranked 116th In World Bank's Human Capital Index 2020
---
The World Bank has released the "The Human Capital Index 2020 Update: Human Capital in the Time of COVID-19"on September 16, 2020.
The 2020 Human Capital Index update includes health and education data for 174 countries - covering 98 per cent of the world's population - up to March 2020, providing a pre-pandemic baseline on the health and education of children, with the biggest strides made in low-income countries.
India has been placed at the 116th position among 174 countries in the Human Capital Index 2020. In 2018 India's rank was 115 out of 157 countries.
Singapore topped the Index followed by Hong Kong and Japan.
Current News Science & Technology
Sun Has Begun A New Solar Weather Cycle
---
The Solar Cycle 25 Prediction Panel, an international group of experts co-sponsored by NASA and National Oceanic and Atmospheric Administration (NOAA), announced that solar minimum occurred in December 2019, marking the start of a new solar cycle i.e. Solar Cycle 25.
What is Solar Cycle?
Our Sun is a huge ball of electrically-charged hot gas. This charged gas moves, generating a powerful magnetic field. The Sun's magnetic field goes through a cycle, called the solar cycle.Every 11 years or so, the Sun's magnetic field completely flips. This means that the Sun's north and south poles switch places. Then it takes about another 11 years for the Sun's north and south poles to flip back again.This is called solar cycle.
Tracking Solar Cycles through Sunspots
The solar cycle affects activity on the surface of the Sun, such as sunspots which are caused by the Sun's magnetic fields. As the magnetic fields change, so does the amount of activity on the Sun's surface.
One way to track the solar cycle is by counting the number of sunspots. The beginning of a solar cycle is a solar minimum, or when the Sun has the least sunspots. Over time, solar activity—and the number of sunspots—increases.
The middle of the solar cycle is the solar maximum, or when the Sun has the most sunspots. As the cycle ends, it fades back to the solar minimum and then a new cycle begins.
Effects of Solar Cycle
Giant eruptions on the Sun, such as solar flares and coronal mass ejections, also increase during the solar cycle. These eruptions send powerful bursts of energy and material into space.
This activity can have effects on Earth. For example, eruptions can cause lights in the sky, called aurora, or impact radio communications. Extreme eruptions can even affect electricity grids on Earth.
Prediction of Space Weather
Some cycles have maximums with lots of sunspots and activity. Other cycles can have very few sunspots and little activity. Scientists work hard to improve our ability to predict the strength and duration of solar cycles. These predictions can help them forecast these solar conditions, called space weather.
Forecasting of the solar cycle can help scientists protect our radio communications on Earth, and help keep satellites and astronauts safe, too.
Current News International WHO
'Serial Interval'in Managing COVID-19
---
According to a recent research paper published in the journal Science - China, which has now gone over a month without any locally transmitted Covid-19 cases, was able to contain Covid-19 due to its ability to manage the 'serial interval'.
About 'Serial Interval'
The serial interval is the duration between symptom onset of a primary case and symptom onset of secondary cases (contacts) generated by the primary case.
In simple terms, the serial interval is the gap between the onset of Covid-19 symptoms in Person A and Person B, who is infected by Person A.
Serial intervals can vary widely, especially for some lifelong diseases (HIV infection, Chickenpox, Herpes).
The serial interval for SARS was 7 days.
For COVID-19, a review of the published literature shows serial interval estimates to be 4-8 days
History
The term was first used by British physician William Pickles, who had initially referred to it as transmission interval with reference to a hepatitis epidemic in the United Kingdom during 1942-45.
Later, another British physician RE Hope Simpson used the term serial interval, defining it as the interval between successive illness onsets.
Factors on which Serial Interval Depends
The serial interval depends on other epidemiological parameters such as the incubation period, which is the time between a person's exposure to the virus and symptom onset, and the reproduction rate or R naught, the number of people who will be infected by one infected person.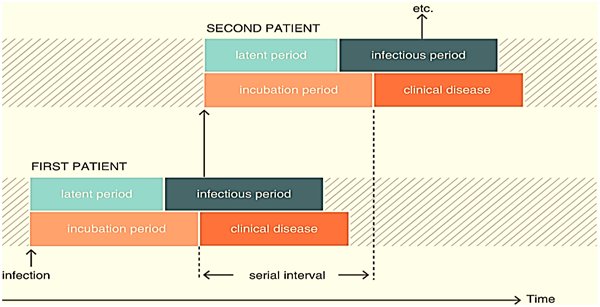 Source: Springer link
Significance
The serial interval helps to gauge the effectiveness of infection control interventions besides indicating rising population immunity and forecast future incidence.
Thus, the more quickly persons who contracted Covid-19 are identified and isolated, the shorter the serial interval becomes and cuts down opportunities for transmission of the virus.
To manage serial interval, a robust system of contact tracing, quarantine, and isolation protocols should be in place.
Examples
China
The serial interval in Wuhan came down from 7.8 days to 2.6 days between early January and early February.
Quarantining contacts within 1 day from symptom onset helped reduce Covid-19 transmission by 60 per cent.
South Korea
The serial interval in South Korea was estimated to be 3.63 days.
This was made possible due to aggressive contact tracing, quarantine, and isolation, thereby ensuring that infected patients, because they were isolated, could not infect any more people later in the infection cycle.
Other interventions such as suspension of intra- and intercity travel, and different forms of social distancing widely implemented in different Chinese cities kept the serial interval low.
News Crux Obituary
Noted Art Historian Kapila Vatsyayan Passed Away
---
Leading scholar of Indian classical dance, art, architecture and art history, Dr KapilaVatsyayan has passed away.
She was a former Member of Parliament and also served as Secretary to the Government in the Ministry of Education, where she was responsible for the establishment of a large number of national institutions of higher education.
Dr Vatsyayan served as the founding Director of the Indira Gandhi National Centre for the Arts.
He received many awards; notable among them are Padma Vibhushan (2011), SangeetNatakAkademi Fellowship (1970), Rajiv Gandhi National Sadbhavana Award (2000).
Current News Ecology & Environment
International Day For The Preservation Of The Ozone Layer
---
International Day for the Preservation of the Ozone Layer is observed on 16 September.
This day commemorates the drafting of The Montreal Protocol on Substances that Deplete the Ozone Layer.
On 16th September 2009, the Vienna Convention and the Montreal Protocol became the first treaties in the history of the United Nations to achieve universal ratification.
Theme for 2020 World Ozone Day: 'Ozone for life: 35 years of ozone layer protection'.
Current News National Plan/Policy/Scheme
Govt. Prepares Draft Of Electricity (Rights Of Consumers) Rules, 2020
---
Power Ministry has drafted rules providingfor rights of electricity consumers for the first time.
Some of the Provisionsinclude:
State Electricity Regulatory Commissions, SERCs will fix average number and duration of outages per consumer per year for DISCOMs.
Only two documents will be required for connection up to load of 10 KW and no estimation of demand charges will be required for loads up to 150 KW to expedite giving connection.
There will be a time period of not more than seven days in metro cities, 15 days in other municipal areas and 30 days in rural areas, to provide new connection and modify existing connection.
There will be option to pay bills in cash, cheque, debit cards and net banking but bills of Rs. 1,000 or more have to be paid online.
Current News International
India Joins Djibouti Code Of Conduct/ Jeddah Amendment As Observer
---
India has joined the Djibouti Code of Conduct/ Jeddah Amendment, DCOC/JA, as Observer.
DCOC/JA is a grouping on maritime matters comprising 18 member states adjoining the Red Sea, Gulf of Aden, the East Coast of Africa and Island countries in the Indian Ocean Region.
India has joined Japan, Norway, the UK and the US as Observers to the DCOC/JA.
The DCOC, established in January 2009, is aimed at repression of piracy and armed robbery against ships in the Western Indian Ocean Region, the Gulf of Aden and the Red Sea.
As an observer at the DCOC/JA, India is looking forward to working together with DCOC/JA member states towards coordinating and contributing to enhanced maritime security in the Indian Ocean Region.
Current News National Polity & Governance
Pesticides Management Bill-2020
---
According to the experts, the Pesticides Management Bill (PMB), 2020 will have a far-reaching impact on Indian agriculture and farmer's livelihood if it is passed in the current form.
Therefore, they have called for wider consultations on the Bill and asked to place it before a select committee.
The Insecticides Act, 1968 currently governs the registration, manufacturing, export, sale and use of pesticides in India.
About the Pesticides Management Bill-2020
It was introduced in Rajya Sabha in March, 2020. It seeks to regulate the manufacture, import, sale, storage, distribution, use, and disposal of pesticides, in order to ensure the availability of safe pesticides and minimise the risk to humans, animals, and environment.
The Bill seeks to replace the Insecticides Act, 1968.
Key Provisions
It will empower farmers by providing them with all the information about the strength and weakness of pesticides, the risk and alternatives. All information will be available openly as data in digital format and in all languages.
Any person who wants to import, manufacture, or export pesticides would have to register under the new Bill and provide all details regarding any claims, expected performance, efficacy, safety, usage instructions, and infrastructure available to stock that pesticide.
The information will also include details on the pesticide's potential effects on the environment.
It also includes the provision of compensating the farmers in case of losses due to the use of spurious or low quality of pesticides.
It mandates the Union Government to form a central fund to take care of the compensation.
The Billplans to regulate pesticides-related advertisements to check misleading claims by industries and manufacturers.
It also intends to promote organic pesticides.
Significance
The enforcement of the Pesticides Management Bill will strengthen the efforts of the program in reducing the use of pesticides and increase the use of safer registered pesticide and organic pesticides.
Further, it has the opportunity to clean up the food and farming system of our country, but needs to make the registration process more stringent for manufacturers.
Key Issues with PMB-2020
It would not allow the manufacture and export of pesticides not registered for use in India even if these are approved in other countries.
The present PMB will increase the import of formulations and will damage the export of agro-chemicals. This is directly against the demands presented by the Ashok Dalwai Committee, constituted in 2018 to promote domestic and indigenous industries and agricultural exports from India, which are missing from PMB, 2020.The committee had recommended reduction in import and dependence on imported formulations.
It gives powers to Registration Committee (RC) to subjectively review registration of a pesticide and then suspend, cancel or even ban its usage. This would be done without any scientific evaluation.Such scenarios can disrupt Indian farmers' functioning and productivity.
Further, it provides for re-registration of pesticides already registered under the erstwhile 1968 Act. This will bring instability in the pesticides industry across the country.
It lacks a provision for emergency usage approvals of pesticides during any pest-infestation emergency. This will leave crops vulnerable to locust attacks, which left a trail of destruction in some parts of India recently, besides other pests such as fall armyworm, bollworm, etc. It imposes broad liabilities on pesticide manufacturers without accounting for situations wherein liability arises from factors beyond their control.
Way Forward
In its present form, PMB has gaps that can directly impact the Centre's goal of doubling farmers' income by 2022.
By marginalizing the efficiencies of the domestic crop protection industry that has provided affordable and efficacious products to farmers – most of whom have small landholdings – PMB 2020 may further jeopardize farmers' livelihoods and create concerns around food security.
PMB provides a significant opportunity of reforming the agriculture sector by encouraging science-based solutions to problems faced by farmers and making agriculture more profitable and sustainable.
There is a need to have a competent body to ensure strong governance and to oversee and review the decisions of the Registration Committee (RC).This can be easily achieved by amending Section 23 and 24 and corresponding sections in PMB where RC gets to review its own decisions.
It is in the interest of the Indian farmers and the pesticides industry to have a transparent, stable and accountable legal regime.
In the best interests of the farmers' community, as well as society and industry at large, the Bill needs wider consultations within Parliament.
Ideally, it should be placed before a select committee of Parliamentarians for critical review and necessary changes addressing the needs of farmers, Indian agriculture and the pesticides industry.
This is imperative if India seeks to be Atmanirbhar (self-reliant) as a credible manufacturer and supplier of pesticides to the world while promoting food security objectives and generating employment opportunities for its people.
Pesticides Use in India
India is the fourth-largest producer of pesticides in the world, with the market segmentation tilted mainly towards insecticides, with herbicides on the increase in the recent past.
In the domestic market, Maharashtra, Uttar Pradesh, Punjab, and Haryana are among the states with the highest recorded consumption.
Maharashtra increased its pesticide consumption by 35.6 per cent between 2014-15 and 2018-19, while UP reported an increase of 14.17 per cent.
Pesticide consumption across the country grew by 13.07 per cent between 2014-15 and 2017-18.
Bio-pesticides accounted for only 10 percent of the total pesticides consumed, on an average.
There are 292 pesticides registered in the country, and it is estimated that there are around 104 pesticides that are continued to be produced/ used in India that have been banned in two or more countries in the world.
Current News International
Singapore Convention On Mediation Enters Into Force
---
The Singapore Convention on Mediation entered into force on 12th September, marking a significant development in international commercial dispute resolution.
The Convention, also known as the United Nations (UN) Convention on International Settlement Agreements Resulting from Mediation, is the first UN treaty to be named after Singapore.
Signatories: As of 1 September 2020, the Convention has 53 signatories, including the United States, China and India.
Ratification: Ecuador is the most recent country to ratify the Convention, joining Singapore, Fiji, Qatar, Saudi Arabia and Belarus, and bringing the number of countries who have ratified the Convention to six.
How it will benefit International Business
Businesses around the world will now have greater certainty in resolving cross-border disputes through mediation, as the Convention provides a more effective means for mediated outcomes to be enforced.
With the Convention in force, businesses seeking enforcement of a mediated settlement agreement across borders can do so by applying directly to the courts of countries that have signed and ratified the treaty, instead of having to enforce the settlement agreement as a contract in accordance with each country's domestic process.
The harmonised and simplified enforcement framework under the Convention translates to savings in time and legal costs, which is especially important for businesses in times of uncertainty, such as during the current COVID-19 pandemic.
With the Convention, businesses can rely on mediation as a dispute resolution option for their cross-border transactions, with greater certainty and assurance that their mediated outcomes are enforceable.
The conciliatory nature of mediation also helps to preserve commercial relationships despite the disputes.
Why Singapore?
As adoption of the Convention becomes more prevalent globally, it will also strengthen Singapore's position as an international dispute resolution centre and better serve the needs of international businesses that use Singapore as a base for their international commercial transactions. Over the years, Singapore has set up various institutions, including the Singapore International Arbitration Centre, Singapore International Mediation Centre, and Singapore International Commercial Court to provide a full suite of dispute resolution services for international commercial parties to resolve their disputes in Singapore.
Singapore had worked with the United Nations Commission on International Trade Law (UNCITRAL) and other UN member states and non-governmental organisations to contribute to the development of this important instrument.
PIB News National Science & Technology
Krishna-Godavari (KG) Basin: An Excellent Source Of Methane Hydrate
---
The Krishna-Godavari (KG) basin holds a massive reserve of methane hydrate and a rich source of cleaner natural gas, claims a study by the Pune-based Agharkar Research Institute (ARI) of the Science & Technology Ministry.
What are Methane Hydrates?
Methane hydrate also called 'Fire Ice' is a crystalline solid that consists of a methane molecule surrounded by a cage of interlocking water molecules. Methane hydrate is an "ice" that only occurs naturally in subsurface deposits where temperature and pressure conditions are favourable for its formation.
How Methane Hydratesareformed?
Methane hydrate is formed when hydrogen-bonded water and methane gas come into contact at high pressures and low temperatures in oceans.
Where Methane Hydrates are found?
They are found primarily on the edge of continental shelves where the seabed drops sharply away into the deep ocean floor.
Other areas where Methane Hydrate were found in India
They are also found near the coast of Andaman and Mahanadi.
KG Basin has Maximum Diversity
This study using molecular and culturing techniques revealed maximum methanogenic diversity in the KG basin, which is one of the prominent reasons to confirm it to be the extreme source of biogenic methane in comparison to the Andaman and Mahanadi basins.
What are Methanogens?
Methanogens are microorganisms that produce methane as a metabolic byproduct in hypoxic conditions.
Despite huge potential, why extraction is a challenge?
Quite apart from reaching them at the bottom of deep ocean shelves, not to mention operating at low temperatures and extremely high pressure, there is the potentially serious issue of destabilising the seabed, which can lead to submarine landslides.
A greater potential threat is methane escape. Extracting the gas from a localised area of hydrates does not present too many difficulties, but preventing the breakdown of hydrates and subsequent release of methane in surrounding structures is more difficult.
And escaping methane has serious consequences for global warming - recent studies suggest the gas is 30 times more damaging than CO2.
These technical challenges are the reason why, as yet, there is no commercial-scale production of methane hydrate anywhere in the world. But a number of countries are getting close.
Current News Indian Economy Survey And Index
Ranking Of States On Support To Startup Ecosystems
---
On 11th September, 2020, the Ministry of Commerce & Industry released the second edition of Ranking of States on Support to Startup Ecosystems-2019, conducted by the Department for Promotion of Industry and Internal Trade (DPIIT).
A total of 22 states and 3 Union Territories participated in the exercise, including four states from North East India.
Objectives
To help bring to fore progress made by the States/ UTs for promoting Startup ecosystem
To foster competitiveness & propel the States/ UTs to work proactively
To facilitate States/ UTs to identify, learn and replicate good practices
About States Startup Ranking 2019
Intervention Areas
The framework is spread across 7 areas of intervention with a total of 30 action points, as compared to the 38 action points in previous years' Ranking Framework.
7 Pillar wise Participation of States
It cover parameters such as Institutional Support, Simplifying Regulations, Ease in Public Procurement, Incubation Support, Seed Funding support, Venture Funding support, and Awareness and Outreach.
Categorization
To establish uniformity and ensure standardization in the ranking process, States and UTs have been divided into two groups.

Category X: All other States and UT of Delhi.
Category Y: All UTs except Delhi and all States in North East India except Assam.

For the purposes of Ranking, States are classified into 5 Categories:

Best Performers
Top Performers
Leaders
Aspiring Leaders
Emerging Startup Ecosystems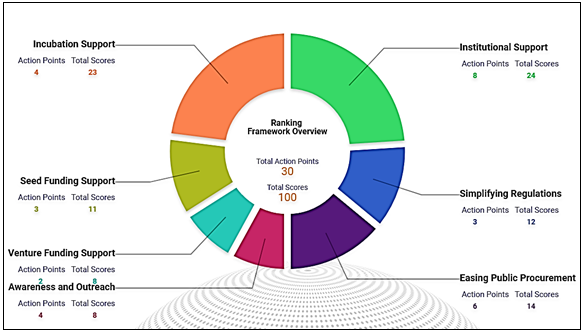 Source: DPIIT
Results
Category X
Best Performer: Gujarat (State), Andaman & Nicobar Islands (UT)
Top Performers: Karnataka and Kerala
Leaders: Bihar, Maharashtra, Odisha, Rajasthan, Chandigarh
Aspiring Leaders: Haryana, Jharkhand, Punjab, Telangana, Uttrakhand
Emerging Startup Ecosystem: Andhra Pradesh, Assam, Chhattisgarh, Delhi, Himachal Pradesh, Madhya Pradesh, Sikkim, Tamil Nadu, Uttar Pradesh
Category Y
Best Performer: Andaman and Nicobar Islands
Leader: Chandigarh
Aspiring Leader: Nagaland
Emerging Startup Ecosystems: Mizoram, Sikkim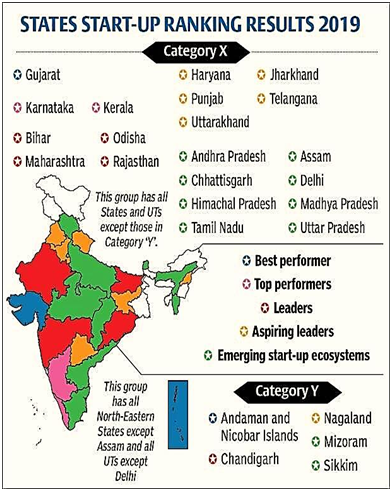 Source: DPIIT
Significance
The ranking will not help the states and UTs, but also the entrepreneurs, and will help in expansion of the startups and launching of new ventures.
Implemented as capacity development exercise, it will help to encourage mutual learning among all states and to provide support in policy formulation and implementation.
Startup
A startup venture could be defined as, a new business that is in the initial stages of operation, beginning to grow and is typically financed by an individual or small group of individuals.
An entity will be considered a startup if it fulfils overarching conditions mentioned below:
Entity Type
Incorporated as a private limited company (as defined in the Companies Act, 2013) or
Registered as a partnership firm (registered under section 59 of the Partnership Act, 1932) or
Registered as a limited liability partnership (under the Limited Liability Partnership Act, 2008) in India.
Age
10 years from date of incorporation.
Turnover
Must not exceed one hundred crore rupees in any fiscal year.
Nature of Activity
Given that the entity is working towards-
Innovation
Development or improvement of products or processes or services
Scalability
Job Creation
Wealth Creation
Opportunities for Startups
Indian markets provide numerous opportunities for startups.
India's Large Population: The population of India is a huge asset for the country. By 2020, it is expected that the working age population would surpass the non-working population. This unique demographic advantage will offer a great opportunity to any startup. Various infrastructure issues and the bottom- of the- pyramid market would provide huge opportunities for the startups.
Change of Mind Set of Working Class: Traditional career paths will be giving way to Indian startup space. Challenging assignments, good compensation packages would attract talented people to startups. Also, it is seen that several high-profile executives are quitting their jobs to start or work for startups.
Huge Investments in Startups: The startup ecosystem is getting substantial support from foreign and Indian investors, who have shown more faith in the industry and have provided funds to help these companies to grow leaps and bounds.
Government Initiatives: Government and semi-governmental initiatives are currently supporting startups through infrastructure, financial and technical assistance and easier compliance norms.
Startup Landscape in India
Some key outcomes of the India's startup growth story as on 31st March 2020 are as follows –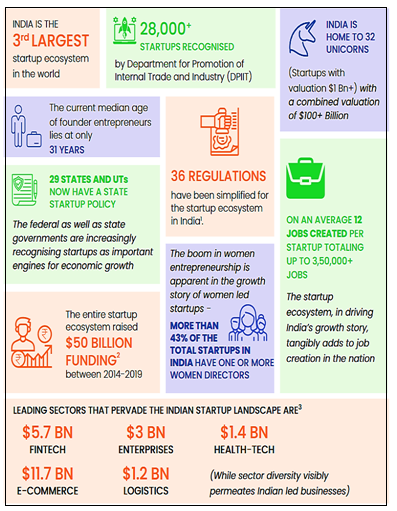 Source: DPIIT
Issues and Challenges of Startups
Dearth of Financial Resources:Availability of finance is critical for the startups and is always a problem to get sufficient amounts.Proper cash management is critical for the success of the startups. A recent report paints a gloomy picture with 85% of new company's reportedly underfunded indicating potential failure
Poor Revenue Generation: Several startups fail due to poor revenue generation as the business grows. As the operations increase, expenses grow with reduced revenues forcing startups to concentrate on the funding aspect. Therefore, the challenge is not to generate enough capital but also to expand and sustain the growth.
Supporting Infrastructure: Various support mechanisms that play asignificant role in the life cycle of startups which include incubators, science and technology parks, business development centers etc. Lack of access to such support mechanisms increases the risk of failure.
Lack of Awareness in Markets: Startups fail due to lack of attention to limitations in the markets. The environment for a startup is usually more difficult than for an established firm due to uniqueness of the product.
Complex Regulatory Environment: Starting a business requires a number of permissions from government agencies. Despite the perceptible change in recent years, it is still a challenge to register a company. Further, regulations pertaining to labor laws, intellectual property rights, dispute resolution etc. are rigorous in India.
Lack of Mentor ship:Lack of proper guidance and mentor ship is one of the biggest problems that exist in the Indian startup ecosystem. Most of startups have brilliant ideas and/or products, but have little or no industry, business and market experience to get the products to the market.
Lack of an Effective Branding Strategy:Absence of an effective branding strategy is another issue that prevents startups from flourishing. Branding is of paramount importance for startups as it gives an identity and occupies a space in the consumers' minds.
Recent Regulatory Reforms towards Startups
Ministry of Corporate Affairs has introduced the Companies Fresh Start Scheme in March 2020 to provide a first of its kind opportunity to Companies to make good any filing related defaults, irrespective of the duration of default, and make a fresh start as a fully compliant entity.
As part of the Government of India's Ease of Doing Business (EODB) initiative, the Ministry of Corporate Affairs has launched a new integrated Web Form christened 'SPICe+' replacing the existing SPICe form. SPICe+ would offer 10 services by 3 Central Govt Ministries & Departments (Ministry of Corporate Affairs, Ministry of Labour & Department of Revenue in the Ministry of Finance) and One State Government(Maharashtra), thereby saving as many procedures, time and cost for Starting a Business in India.
Introduction of Companies (Incorporation) 5th Amendment Rules, 2019, which provides for new regulations on resemblance with an existing company name, new categories of undesirable names of a company and list of words which can beused only after obtaining approval.
The Ministry of Corporate Affairs issued a notification in August 2019 increasing the period in which ESOPs could be granted to promoters and directors(holding more than 10% equity) of startups, from 5 years to 10 years from the date of incorporation and the rebyaligned the provisions of the Companies (Share Capital and Debentures).
Amendment in Section 54GB of Income Tax Act w.e.f 1 April 2020 (August 2019).
Amendment in Section 79 of the Income Tax Act (August 2019).
The investment made by Venture Capital Fund of Category-I Alternate Investment Fund(AIF) in a startup was exempted from the applicability of the provisions of section 56(2)(viib) of the IT Act. This exemption has been extended to all sub-categories of Category-I AIF and Category-II AIF via the introduction of "specified funds" in the said section (August 2019).
The Finance Act 2020 provides for amendment in section 80-IAC to provide for income tax exemption to eligible startups for a period of three consecutive assessment years out of ten years vis-à-vis the earlier norm of seven years such that the turnover does not exceed hundred crore rupees.
The Finance Act 2020 provides for amendment in section 80-IAC to provide for income tax exemption to eligible startups for a period of three consecutive assessment years out of ten years whose turnover does not exceedhundred crore rupees vis-à-vis the earlier norm of twenty-five crore rupees.
Amendment in the definition of a Startup: An entity shall be considered as a Startup upto a period of ten years from the date of incorporation/ registration and turnover of the entity for any of the financial years since incorporation/registration has not exceeded one hundred crore rupees. (February 2019).
Government Initiatives
Aatmanirbhar Bharat ARISE-Atal New India Challenge (ANIC) Program
Launched on 9th September, 2020, the Aatmanirbhar Bharat ARISE-Atal New India Challenge (ANIC) Program, launched by the government, is a national initiative to promote research & innovation and increase competitiveness of Indian startups and Micro, Small and Medium Enterprises (MSMEs).
AIM-iCREST
Launched by Atal Innovation Mission (AIM) in July, 2020, it is an Incubator Capabilities Enhancement program for a Robust Ecosystem focused on creating high performing Startups.
It has been designed to act as a growth support for AIM's Atal and Established Incubators across the country.
National Startup Advisory Council
Startup India
Announced by the government on 15th August 2015, the initiative aims to build a strong eco-system for nurturing innovation and Startups in the country that will drive sustainable economic growth and generate large scale employment opportunities.
To achieve the objectives of the Startup India initiative, an Action Plan for Startup India on 16th January 2016. The Action Plan comprises of 19 action items spanning across areas such as "Simplification and handholding", "Funding support and incentives" and "Industry academia partnership and incubation".
Make in India
Launched in 2014, its ultimate aim is to transform India into a global design and manufacturing hub. This initiative facilitates investments, skill development, encourages innovation, protect intellectual property rights to achieve this objective.
Mudra Yojna
Through this scheme, startups get loans from the banks to set up, grow and stabilize their businesses.
SETU (Self-Employment and Talent Utilization) Fund
Government has allotted Rs 1,000 Cr in order to create opportunities for self-employment and new jobs mainly in technology-driven domains.
E-Biz Portal
Government launched e-biz portal that integrates 14 regulatory permissions and licenses at one source to enable faster clearances and improve the ease of doing business in India.
Way Forward
Startups are currently an important asset that needs to be supported through fast-paced infrastructure growth. Additionally, the government must push banks and other financial institutions to give low-interest loans to innovative startups. These startups must be given free training so that they can survive the competitive market.
India has a huge demographic base. The lack of necessary skills and education are preventing India from realising the human capital's potential. Reforms in these aspects is a need of the hour.
As part collective initiative, the Centre and States would need to work together and build required infrastructure, dedicated system, pool of intellect and financial resources for all age groups.
Reforms must be made to the current restrictive legislative structure and regulatory norms in a way that allows the startups to flourish and develop across the country.
State In News Uttarakhand
Uttarakhand Gives Intelligence Tag To Vigilance Dept.: Now It Is Out Of RTI Purview
---
The Uttarakhand government has issued a notification to declare the state Vigilance Department as an "intelligence organisation", which in effect will exclude it from the purview of the Right to Information (RTI) Act.
Exemption in RTI Act
The 2nd schedule of the RTI Act provides a list of 26 organisations that are exempted from providing information on grounds of being intelligence and security organisations.
Section 24 of the Act states: "The Central government has the authority to amend the 2nd schedule from time to time, thereby adding, removing or substituting organisations present…. The state government has a similar authority and is authorised to exempt an intelligence and security organisation by issuing a notification in the official gazette."
It states that both the Centre and state governments are "required to present the said notification before their respective legislatures".
PIB News National
CSCAF 2.0 And 'Streets For People Challenge' Launched
---
CSCAF 2.0
The Ministry of Housing and Urban Affairs has launched the Climate Smart Cities Assessment Framework (CSCAF) 2.0, along with the 'Streets for People Challenge' under the Smart Cities Mission.
Objective
The objective of CSCAF is to provide a clear roadmap for cities towards combating Climate Change while planning and implementing their actions, including investments.
Why CSCAF
In the last decade, an increasing frequency of cyclones, floods, heat waves, water scarcity and drought-like conditions have had adverse impacts on many of our cities. Such extreme events and risks cause loss of life as well as impact the economic growth. In this context, CSCAF initiative intends to inculcate a climate-sensitive approach to urban planning and development in India.
Assessment Framework
The framework has 28 indicators across five categories namely; (i) Energy and Green Buildings, (ii) Urban Planning, Green Cover & Biodiversity, (iii) Mobility and Air Quality, (iv) Water Management and (v) Waste Management.
Implementing Agency
The Climate Centre for Cities under National Institute of Urban Affairs (NIUA) is supporting MoHUA in implementation of CSCAF.
Streets for People Challenge
The Streets for People Challenge is the response to the need for making our cities more walkable and pedestrian friendly.
The interventions can include inter alia creating pedestrian-friendly streets in high footfall areas, re-imagining under-flyover spaces, re-vitalizing dead neighbourhood spaces, and creating walking links through parks and institutional areas.
Fit India Mission, under Ministry of Youth Affairs and Sports, along with the India program of the Institute for Transport Development and Policy (ITDP) have partnered with the Smart Cities Mission to support the challenge.
Current News Indian Economy Banking & Finance
'Aatmanirbhar Bharat ARISE-Atal New India Challenges'Programme
---
The Centre on September 9 launched the Aatmanirbhar Bharat ARISE-Atal New India Challenges programme to support MSMEs and start-ups for making India innovative, resilient, tech-driven, and research and development (R&D)-oriented.
The NitiAayog's Atal Innovation Mission (AIM), in collaboration with ISRO and four ministries (defence, health and family welfare, housing and urban affairs, and food processing industries), will focus on challenges in 15 sectors through the programme.
The programme provides a great opportunity for the government to become the first buyer of indigenous Made in India technology solutions.
A grant-in-aid of up to Rs 50 lakh for 9-12 months have been earmarked for start-ups to develop a minimum usable prototype.
The AIM is a flagship initiative of the NitiAayog to promote innovation and entrepreneurship in the country, based on detailed study and deliberations on innovation and entrepreneurial needs of India in the years ahead.
Current News Ecology & Environment
Living Planet Report 2020
---
The Living Planet Report is published every two years by the World Wide Fund for Nature. It is based on the Living Planet Index and ecological footprint calculations.
The Living Planet Report is the world's leading, science-based analysis, on the health of our planet and the impact of human activity.
Key Findings
Our planet's wildlife populations have now plummeted by 68% since 1970 and there are no signs that this downward trend is slowing.
84% decline in population of freshwater species, including fish birds, amphibians and mammals - the starkest average population decline in any biome since 1970.
1/3 freshwater or riverine species threatened with extinction.
85% area under wetlands that has already been lost worldwide.
75 per cent of the Earth's ice-free land surface has already been significantly altered, most of the oceans are polluted.
The largest wildlife population loss, according to the Living Planet Index, has been in Latin America at an alarming 94 per cent.
Almost 90 per cent of global wetlands have been lost since 1700.
The report finds that India has lost nearly one-third of its natural wetlands to urbanisation, agricultural expansion and pollution over the last four decades.
14 out of 20 river basins in India are already water stressed and will be moving to extreme water scarcity by 2050.
Factors behind Planet's Vulnerability
Land-use change and the use and trade of wildlife
Species overexploitation (like overfishing)
Invasive species and diseases
Pollution and climate change
PIB News National
India Post Launched 'Five Star Villages' Scheme
---
The Department of Posts has launched a scheme called Five Star Villages, to ensure universal coverage of flagship postal schemes in rural areas of the country.
The scheme is being launched on pilot basis in Maharashtra; based on the experience here, it will be implemented nation-wide.
The scheme seeks to bridge the gaps in public awareness and reach of postal products and services, especially in interior villages.
All postal products and services will be made available and marketed and publicized at village level, under the Five Star Villages scheme. Branch offices will function as one-stop shop to cater all post office - related needs of villagers.
The schemes covered under the Five Star scheme include:
Savings Bank accounts, Recurrent Deposit Accounts, NSC / KVP certificates,
Sukanya Samridhi Accounts/ PPF Accounts,
Funded Post Office Savings Account linked India Post Payments Bank Accounts,
Postal Life Insurance Policy/Rural Postal Life Insurance Policy and
Pradhan Mantri Suraksha BimaYojana Account / Pradhan Mantri Jeevan JyotiBimaYojana Account.
Star Rating of Villages
If a village attains universal coverage for four schemes from the above list, then that village gets four-star status; if a village completes three schemes, then that village get three-star status and so on.
Scheme Implementation Team
The scheme will be implemented by a team of five GraminDakSevaks who will be assigned a village for marketing of all products, savings and insurance schemes of the Department of Posts. This team will be headed by the Branch Post Master of the concerned Branch Office.
Mail overseer will keep personal watch on progress of team on daily basis. The teams will be led and monitored by concerned Divisional Head, Assistant Superintendents Posts and Inspector Posts.
Campaign
The team of Gramin Dak Sevaks will conduct door-to-door awareness campaign on all schemes, covering all eligible villagers. Wide publicity will be given by displaying the information on notice board of Branch Office. Prominent places of targeted villages like Panchayat Offices, schools, village dispensaries, bus depots, and markets will also be used for advertising and pamphlets will be distributed. Small melas will be organized, considering COVID-19 safety guidelines.
Training and Monitoring
Required training and infrastructure, covering all schemes, would be provided to all branch offices in identified villages. The scheme progress and target achievement will be closely monitored at Circle, Regional and Divisional levels. Monthly progress will be reviewed by the Chief Post Master General.
Current News Indian Economy Banking & Finance
K V Kamath Committee Report On 'Resolution Framework For Covid-19 Related Stress'
---
On 7th September, 2020,the Reserve Bank of India (RBI) released a report by the K V Kamath Committee which was formed to make recommendations on the required financial parameters to be factored in the resolution plans under the 'Resolution Framework for Covid-related Stress', along with sector specific benchmark ranges for such parameters.
Key Highlights
The Committee recognizes that:

The Covid-19 pandemic has affected the best of companies.
These businesses were otherwise viable under pre-Covid-19 scenario.
Impact is pervasive across several sectors but with varying severity – mild, moderate and severe.

The committee has recommended financial parameters including aspects related to leverage, liquidity and debt serviceability.
It selected five parameters based on their relevance while considering the resolution plan(RP).These ratios would provide the requisite assessment framework for the RP. These include:

Total Outside Liability/Adjusted Tangible Net Worth (TOL/Adjusted TNW)
Total Debt/EBIDTA
Current Ratio
Debt Service Coverage Ratio (DSCR)
Average Debt Service Coverage Ratio (ADSCR)

It suggested financial ratios for 26 sectors which could be factored by lending institutions while finalising a resolution plan for a borrower. These sectors include aviation, hospitality, real estate which are some of the most stressed sectors in the economy due to the impact of Covid-19 pandemic.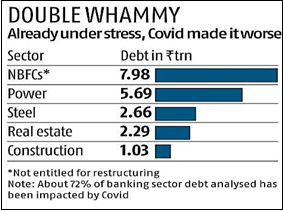 Source: Business Standard
Considering the large volume and the fact that only Standard assets are eligible under the proposed scheme, a segmented approach of bucketing these accounts under mild, moderate and severe stress, may ensure quick turnaround.
To complete this task simplified restructuring for mild and moderate stress may be prescribed. Severe stress cases would require comprehensive restructuring.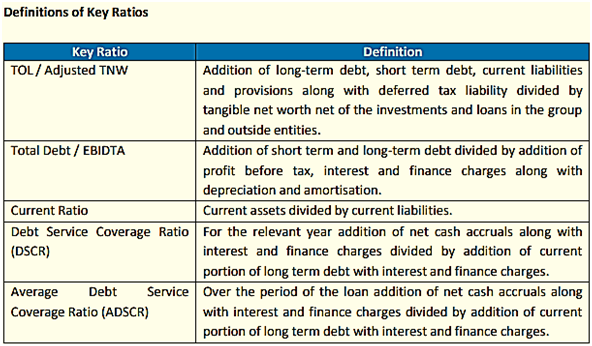 Key Recommendations on Sector Specific Parameters
The sector specific parameters may be considered as guidance for preparation of RP for a borrower in the specified sector.
The RP may be prepared based on the pre-Covid-19 operating and financial performance of the borrower and impact of Covid-19 on its operating and financial performance in Q1 and Q2FY21, to assess the cash-flows for FY21 / FY22 and subsequent years. In these financial projections, the threshold TOL/Adjusted TNW and Debt/ EBIDTA ratios should be metby FY23.
The other three threshold ratios should be met for each year of the projections starting from FY22. The base case financial projections need to be prepared as part of RP.
In respect of those sectors where the threshold parameters have not been specified by the Committee, lenders can make their own internal assessments for the solvency ratios i.e. TOL/Adjusted TNW and Total Debt/EBIDTA. However, the current ratio and DSCR shall be 1.0 and above, and ADSCR shall be 1.2 and above.
The Committee has uniformly proposed thresholds for current ratio, DSCR and ADSCR in most of the sectors.
The borrowers eligible under the current Framework are Standard Accounts and as such, they may require some time to restore their position to pre-Covid-19 levels.
As per the recommendations, the resolution process should be treated as invoked once lenders representing 75 percent by value and 60 percent of lenders agree to do so.
Analysis
According to the experts, the K V Kamath panel's loan recast recommendations are better than the erstwhile corporate debt restructuring (CDR) mechanism, but these may result in banks postponing recognition of stress through short-term relief.
The CDR was extensively used to suppress non-performing assets and had a success rate of as low as 15 percent.
The framework is for a limited time-period and stresses upon upfront heavy provisioning, stringent financial thresholds for eligibility and supervisory mechanism.
In the absence of an economic revival and sector-specific packages to be introduced by the government, the new mechanism will be "challenging" and may also end up induce uncertainty in the credit markets as banks focus on working out the recast plans in the limited window.
Stressed borrowers in real estate, traders, hotels/restaurants segments will be helped, but resolving stress in lumpy power and infrastructure sectors through this mechanism will be challenging without economic revival and sector-specific packages or initiatives by the government.
It is feared a "good portion" of the accounts which will be restructured will eventually turn non-performing and added that it gives a ""short-term relief" alone.
The framework is much broader than anticipated but leaves some scope for subjectivity as thresholds are to be met 2021-22 onwards based on base-case financial projections.
Current News Indian Economy
Kerala Most Literate State; Andhra Pradesh Worst Performer: NSO Survey
---
The report on 'Household Social Consumption: Education in India' as part of 75th round of National Sample Survey – from July 2017 to June 2018' provides for state-wise detail of literacy rate among the persons aged seven years and above.
There has often been a conjecture around South Indian states being more literate than the North, however, the latest data debunked that.
The report shows the southern state of Andhra Pradesh as the worst among all states in India in terms of literacy rate, even behind Bihar's 70.9%. While Andhra's literacy rate is at 66.4%, Telangana's is 72.8%, which worse than the national average of 77.7% and Karnataka's is 77.2%.
Findings
Best Performers
With 96.2 per cent literacy, Kerala has once again emerged as the most literate state in the country.
After Kerala, Delhi has the best literacy rate at 88.7 per cent, followed by Uttarkhand(87.6 per cent), Himachal Pradesh (86.6 per cent) and Assam at 85.9 per cent.
Worst Performers
Andhra Pradesh featured at the bottom with a rate of 66.4 per cent.
Rajasthan is the second worst performer with literacy rate at 69.7 per cent, followed by Bihar at 70.9 per cent, Telangana at 72.8 per cent, Uttar Pradesh at 73 per cent and Madhya Pradesh at 73.7 per cent.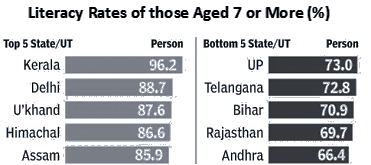 Overall Literacy Rate
The study has pegged the overall literacy rate in the country at about 77.7 per cent.
In rural areas, the literacy rate is 73.5 per cent
In urban areas,the literacy rate is 87.7 per cent
Gender-wise Literacy
At all-India level, the male literacy rate is higher at 84.7 per cent compared to 70.3 per cent among women.
The male literacy rate is higher than female literacy rate among all states. Even in the worst performing states, there was a considerable gap in male and female literacy rate.
In Rajasthan, the gap is widest as male literacy rate stood at 80.8 per cent compared to 57.6 per cent of females.
Bihar comes second after Rajasthan in Male to female literacy gap –where male literacy is at 79.7 per cent compared to 60.5 per cent of females.
In Kerala, the gap between male and female literacy is the thinnest at just 2.2 percentage points.


Other Findings
Digital Divide
In addition, the report revealed that nearly 4 per cent of rural households and 23 per cent of urban households among the sample size possessed a computer.
Nearly 24 per cent of persons aged 15-29 in rural areas can operate a computer while the same for urban areas is 56 per cent.
Nearly 35 per cent of persons aged between 15-29 years reported using the internet during the 30 days prior to date of the survey. In this regard, the proportion was 25 per cent in rural areas and 58 per cent in urban areas.
Current News Indian Economy Banking & Finance
Shapes Of Economic Recovery
---
The shapes of economic recovery is determined by both the speed and direction of GDP prints. This depends on multiple factors including fiscal and monetary measures, consumer incomes and sentiment.
Z-shaped recovery: It is the most-optimistic scenario in which the economy quickly rises like a phoenix after a crash. It more than makes up for lost ground (think revenge-buying after the lockdowns are lifted) before settling back to the normal trend-line, thus forming a Z-shaped chart.
V-shaped recovery: It isthe next-best scenario in which the economy quickly recoups lost ground and gets back to the normal growth trend-line.
U-shaped recovery: It is a scenario in which the economy, after falling, struggles and muddles around a low growth rate for some time, before rising gradually to usual levels.
W-shaped recovery: It is a serious situation - growth falls and rises, but falls again before recovering yet again, thus forming a W-like chart.
L-shaped recovery: Itis the worst-case scenario, in which growth after falling, stagnates at low levels and does not recover for a long, long time.
J-shaped recovery: It is a somewhat unrealistic scenario, in which growth rises sharply from the lows much higher than the trend-line and stays there.
Swoosh shaped recovery:It is similar to the Nike logo — in between the V-shape and the U-shape. Here, after falling, growth starts recovering quickly but then, slowed down by obstacles, moves gradually back to the trend-line.
Inverted square root shaped recovery: In this, there could a rebound from the bottom, the growth slows and settles a step down.
K Shaped Economic Recovery
As the economy struggles to shake off the pandemic effects, worries are growing that the recovery could look like a 'K'.
Essentially, the concept rests on the idea that while the fortunes of some in the economy have nearly or fully recovered (broadly defined), the fortunes of many are still declining, or at least failing to recover nearly as quickly.
K is reflective of the performance of the stock market — a sharp decline followed by sharply divergent pathways.
The rolling lockdowns due to Covid 19 have sent the economy into a tailspin. Growth in India, and indeed much of the world, is set to fall off a cliff in FY21.
That would be one where growth continues but is uneven, split between sectors and income groups.
K-shaped recovery means the growing gap between 'winners and losers'. An example in India is the stock market being healthy while millions have lost their jobs.
Why is it important?
The Indian economy was slowing down even before Covid hit, and the trouble has now been amplified manifold because of the lockdowns.
Experts predict a fall of up to 5 per cent in the GDP in FY-21. This is clearly a crisis situation, and our getting out of the hole will depend a great deal on the shape of the economic recovery that will hopefully follow.
Which Shape of Recovery is Favourable?
A Z- or at least V-shaped recovery would be the most preferable. If not, we should at least have a U-shaped recovery or a Swoosh to get back on our feet in a couple of years.
A W-shape will bring in much pain before the eventual gain, while an L-shape or the Inverted-square root will make a wreck of the growth train.
Sports In News Tennis
World No. 1 Novak Djokovic Disqualified From US Open
---
World No. 1 Novak Djokovic was disqualified from the US Open after striking a line judge with a ball during his fourth-round match.
This marked a stunning end to his 29-match winning streak and bid for an 18th Grand Slam title.
His departure means there is no male player left in the field who has won a Grand Slam singles title. Whoever emerges as champion will be the first first-time major trophy winner in men's tennis since 2014, when Marin Cilic won the US Open.
Current News Ecology & Environment
First Observation Of 'International Day Of Clean Air For Blue Skies'
---
The first-ever 'International Day of Clean Air for Blue Skies' was observed on September 7 following a resolution taken by the United Nations General Assembly (UNGA) on December 19, 2019.
The theme for 2020 is "Clean Air for All".
The day intends to emphasize on the ill-effects of air population and is a call to action against the environmental evil.
As per the United Nations, polluted air has a profound impact on both, the health of humans and the environment. From increasing the risk of lung cancer to causing permanent damage to the environment, air pollution is an evil that should not be overlooked.
Current News Indian Economy Banking & Finance
Andhra Pradesh Top State In Ease Of Doing Business
---
Andhra Pradesh has topped the country in the latest ease of doing business rankings, according to the State Business Reform Action Plan 2020 (State BRAP) ranks released on 5th September 2020.
Andhra Pradesh is followed by U.P. and Telangana at the second and third spots, respectively.
Ease of Doing Business (EODB) is a joint initiative by the Department for Promotion of Industries and Internal Trade (DPIIT) and the World Bank to improve the overall business environment in the States.
The State has stood first in the overall ranking of the State business process reforms undertaken during 2019.
The Business Reform Action Plan 2019 released by DPIIT contains a list of 80 reforms (187 reform action points) to be implemented by 19 State departments and Andhra Pradesh had achieved 100% compliance.
Current News Science & Technology
India Successfully Tests Indigenously Developed HSTDV
---
India has successfully flight tested Hypersonic Technology Demonstrator Vehicle (HSTDV) using indigenously developed scramjet propulsion system.
DRDO with this mission, has demonstrated capabilities for highly complex technology that will serve as the building block for Next Gen Hypersonic vehicles in partnership with industry.

News Crux Obituary
Kesavananda Bharati Passed Away
---
Kesavananda Bharati, the petitioner in the historic Fundamental Rights case which prevented the nation from slipping into a totalitarian regime, has passed away.
The "Kesavananda Bharati versus State of Kerala" case is unique. The case was heard by a Bench of 13 judges — the largest formed in the Supreme Court.
The Kesavananda Bharati judgment introduced

the Basic Structure doctrine which limited Parliament's power to make drastic amendments that may affect the core values enshrined in the Constitution like secularism and federalism.
The verdict upheld the power of the Supreme Court to judicially review laws of Parliament.
It evolved the concept of separation of powers among the three branches of governance — legislative, executive and the judiciary.
Current News International
Germany Joins 'Indo-Pacific'Club
---
Germany has joined the Indo-Pacific club to secure trade routes from aggressive China.
Germany has drafted guidelines as it formally adopted a strategy for the Indo-Pacific region.
The move makes it the second European nation after France to formally adopt a strategy for the Indo-Pacific region.
The strategy is designed to allow Germany to make an active contribution to shaping the international order in the Indo-Pacific.
The move by Germany augurs well for the Quad which is constituted by the United States, Japan, Australia, and India.

Current News Indian Economy Banking & Finance
Force Majeure Clause
---
A glimpse of the magnitude of the economic destruction wreaked was revealed at the 41st meeting of the Goods and Services Tax(GST) Council, where the shortfall in compensation cess for this year was estimated at around Rs 2.35 lakh crore.
The Finance Ministry revealed that the Centre would not be able to make good the shortfall.
Now, the businesses are looking towards a legal provision -the Force Majeure or "Act of God" clause that has its origins in the Napoleonic Code - to cut losses.
Back in February, 2020, the Ministry had issued an official memorandum clarifying that the pandemic "should be considered a case of natural calamity and FMC may be invoked, wherever considered appropriate".
About Force Majeure Clause
The term 'force majeure' has been defined in Black's Law Dictionary, as 'an event or effect that can be neither anticipated nor controlled'.
It is a contractual provision allocating the risk of loss if performance becomes impossible or impracticable, especially as a result of an event that the parties could not have anticipated or controlled.
Indian Jurisprudence on the Concept of Force Majeure
The concept has neither been defined nor specifically dealt with under the Indian statutes.
However, some reference can be found in Section 32 of the Indian Contract Act, 1872 (the "Contract Act")
It isalso mentioned in the 2017 Manual for Procurement of Goods issued by the Department of Expenditure.
Difference between an "Act of God" and "Force Majeure"
Generally, an "Act of God" is understood to include only natural unforeseen circumstances, whereas force majeure is wider in its ambit and includes both naturally occurring events and events that occur due to human intervention.
Situations Legally Qualify for Use of Force Majeure
War, riots, natural disasters or acts of God, strikes, introduction of new government policy imposing an embargo, boycotts, outbreak of epidemics and such situations are generally listed.
If an event is not described, then it is interpreted in a way that it falls in the same category of events that are described.
Incase Force Majeure Clause is Triggered
When the clause is triggered, parties can decide to break from their obligations temporarily or permanently without necessarily breaching the contract.
Companies in such situations use the clause as a safe exit route, sometimes in opportunistic ways, without having to incur the penalty of breaching the contract.
If a party to a contract believes that the other party has invoked the FMC in an unjustified situation, it can move court seeking performance of the contract.
Incase of Absence of FMC in Contract
In case a contract does not have a force majeure clause, there are some protections in common law that can be invoked by parties.
For example, the Indian Contract Act, 1872 provides that a contract becomes void if it becomes impossible due to an event after the contract was signed that the party could not prevent.
Court's View on FMC
Court rulings have established that force majeure cannot be invoked when performance of the contract has become difficult, but only when it has become impossible.
It looks into whether the party arguing impossibility of performance has tried all other avenues to fulfil its liabilities before invoking force majeure.
The court would look into specifics like whether a lockdown imposed to contain the pandemic locally prevented performance of the contract.
The court would also look into how unforeseen the cited circumstance really is when catalogued in the contract specifically.
In April, 2020, the Bombay High Court did not accept the force majeure argument in a case where the petitioner argued that Covid-19-related lockdowns had frustrated a contract for supply of steel.
Importance of FMC for Businesses
It can usually be found in various contracts such as power purchase agreements, supply contracts, manufacturing contracts, distribution agreements, project finance agreements, agreements between real estate developers and home buyers, etc.
This provision is important for businesses as it relieves the parties from performing their respective obligations and which are to be undertaken under the contract and consequential liabilities, during the period that force majeure events continue provided that the conditions for clause to become applicable (which have been discussed above) are met.
Global Examples of Invoking FMC
In China, where the Covid-19 outbreak originated, the Council for Promotion of International Trade is issuing force majeure certificates to businesses.
Also, it had recognised the 2002 SARS outbreak as a force majeure event.
Singapore enacted the Covid-19 (Temporary Measures) Act in April, 2020, to provide relief to businesses that could not perform their contractual obligations due to the pandemic.
TheParis Commercial Court in July, 2020, ruled that the pandemic could be equated to a force majeure event.
Model Code on FMC
The International Chamber of Commerce has developed a Model Code on the force majeure clause reflecting current international practice.
It says that the impediment triggering the operation of the force majeure clause must be beyond the party's reasonable control; and that it could not reasonably have been foreseen at the time of the conclusion of the contract; and that the effects of the impediment could not reasonably have been avoided or overcome by the affected party.
Current News National
ISRO's Chandrayaan 1 Spots Rusting On The Moon
---
By studying data from the Chandrayaan-1's Moon Mineralogy Mapper instrument (M3) built by the National Aeronautics Space Administration's (NASA) Jet Propulsion Laboratory (JPL), scientists think that the Moon may be rusting along the poles.
A Riddle
The occurrence of rust is a riddle because even though the Moon is known to have iron-rich rocks littered across the surface, it's not known for the presence of water and oxygen — two elements that need to interact with iron to create rust.
Explanation by the Researchers
Researchers at the National Aeronautics and Space Administration (NASA) believe that this could because Earth's own atmosphere.
Role of Earth's Atmosphere
The Puzzle of Oxygen
The Moon is constantly bombarded by solar particles coming off the Sun. Without an atmosphere to protect itself, the hydrogen should make it difficult for rust to form because Hydrogen is a reducer, it adds electrons to the material it touches. For iron to rust, it needs the opposite — an oxidiser which removes electrons instead.
Earth's magnetotail — the part of its magnetic atmosphere that extends away from the Sun — is capable of blocking out 99% of the solar wind aimed at the Moon when it's in its Full Moon phase.
That part of the lunar cycle gives iron on the Moon occasional windows of opportunity for rust to form.
Earth's magnetotail does more than just provide the Moon with a shield. During that interaction, some of the oxygen from the planet also gets transferred over. This was confirmed by Japan's Kaguya orbiter in 2007.
So, even though the Moon isn't rich in oxygen, it does have access to oxygen during the same window of opportunity when it's not being bombarded with hydrogen.
The Puzzle of Water
Even though the rest of the Moon is bone dry, its poles have long been suspected of hosting water. Albeit only in shadowed craters located on the far side of the Moon — far from where the rust has been detected.
Researchers propose that fast-moving dust particles, which regularly pelt the Moon, could release surface-borne water molecules and mix them with iron in the lunar soil. Compounding the interaction, the resulting heat from these impacts could increase the oxidation rate.

So if all three ingredients are in place — a Full Moon phase, water molecules and oxygen travelling from Earth — the perfect storm to create rust can in fact occur.

Questions still left Unanswered
Exactly how water is interacting with lunar rocks.
Why rusting is occurring on the far side of the moon, where it's blocked off from Earth's oxygen.
Current News National
Vinod Yadav: First CEO Of Restructured Railway Board
---
The Appointments Committee of the Cabinet has approved the appointment of the current chairman of the Railway Board V K Yadav as the first ever Chief Executive Officer (CEO) of the organisation as part of the government decision to restructure the Railway Board.
The corporatisation plan was part of a proposal clea­red by the Cab­inet in Decem­ber 2019 for ma­king the 115-year-old board leaner by cutting its strength from eight to five.
The Reconstituted Board
The board will now be headed by Yadav as chairman and CEO, and will have four others — Pradeep Kumar as member (infrastructure), P C Sharma as member (traction and rolling stock), P S Mishra as member (operations and business development), and ManjulaRangarajan as member (finance).
Other Notable Changes
IRHS: The Indian Railway Medical Service (IRMS) will be renamed the Indian Railway Health Service (IRHS).
IRMS: The process to merge eight railway-related wings into a single central service called the Indian Railway Management Service (IRMS) is underway.
Various Committees for Reforming Railways
The unification of services had earlier been mooted by various committees for reforming Railways including - the Prakash Tandon Committee (1994), Rakesh Mohan Committee (2001), Sam Pitroda Committee (2012) and Bibek Debroy Committee (2015).
Benefits of this Move
The restructuring will be a zero-cost exercise. Money will be saved because of the surrendered board posts, and by stopping duplication of works.
Current News National
Draft Data Empowerment And Protection Architecture (DEPA)
---
The government of India's policy think-tank NITI Aayog has released a draft for Data Empowerment and Protection Architecture (DEPA) draft for public consultation in order to seek opinion on the implementation of the framework, which is set to launch by 2020-end.
Aim
To empower individuals to control how their personal and financial data is used and shared.
To democratise access and enable portability of trusted financial and other data between service providers or other third-party institutions.
Provision of Consent Managers
The proposed framework has recommended setting up a 'Consent Manager' institution, which will ensure that individuals can provide their consent as per an innovative digital standard. These consent managers will also be responsible for protecting users' data rights.
Consent Manager can plug in to a network of information providers and users without setting up expensive, duplicative, and exclusive bilateral data sharing rails. And it ensures that data sharing occurs by default with granular, revocable, auditable, and secure consent.
These consent managers can compete to reach different customer segments with accessible and inclusive modes of obtaining consent. They will also be free to experiment with different business models.
DEPA to Boost Entrepreneurship, Financial Inclusion
DEPA would allow these MSMEs to get a digital footprint, which in turn, would enable them to access capital and other benefits like insurance and better financial management products. Even individual, without any digital footprint so far, will be able to access these benefits.
Current Initiatives towards DEPA
The government is currently running a pilot of DEPA in the health sector. The development comes after Prime Minister Narendra Modi, on August 15, launched the tech-based National Digital Health Mission (NDHM) to revolutionise the Indian health sector. It will pitch a more centralised and data-driven health sector that will work on the Aadhar-like model to share all confidential medical data such as prescriptions, diagnostic reports, discharge summaries and more.
Next in line is the telecom sector, following TRAI consultation report on privacy released in July 2018 and a workshop held by TRAI Chairman RS Sharma in August 2020 with industry players.
Why we need DEPA?
Lending companies use a host of mechanisms to obtain data about users from different sources and in particular, online lending companies acquire a lot of digital data about users from other financial service providers before underwriting loans. Health insurance companies need to obtain hospitalization and diagnostic data about patients for them to be able to make insurance payments and this data is shared by hospitals and labs, often in digital form, with such companies.
In these applications, it is essential that users provide consent to the service provider sharing data (the data provider) before they share data with the provider requesting access (the data consumer). It is also essential that privacy of the data be safeguarded i.e. to ensure the data is accessible only by the data consumer, only for a stipulated amount of time and only for a stipulated purpose, as consented to by the user. It is also desirable that all data sharing transactions be traceable and auditable in the future. Finally, the data sharing process itself should be easy, efficient and user-friendly.
Current News Ecology & Environment Pollution
UN Experts Flag Concerns On EIA Notification
---
Recently, a group of Special Rapporteurs to the United Nations has written to the Centre expressing concern over the proposed Environment Impact Assessment (EIA) notification 2020.
It has sought the government's response on how the provisions of the notification were consonant with India's "obligations under international law".
Vital Concerns raised by UN Special Rapporteurs
Under the Clauses 14 (2) and 26, the notification provide an exemption to a number of giant industries such as chemical manufacturing and petroleum merchandise, constructing, widening of nationwide highways, etc. from public consultation — as part of the environment impact assessment process.
The rapporteurs argued that the exemptions were unwarranted, particularly when there was a serious gas leak from (LG Polymers) chemical plant in Visakhapatnam on May 12, 2020 and oil gas blowout in Assam's Dibrugarh in June, 2020.
The draft notification doesn't require publication of data or holding of public session for tasks labelled by the Central authorities as 'involving strategic concerns'.
There is clause on "post-facto clearance" is worrisome. These are forprojects which began without acquiring the required environmental clearances or permissions.
Overall, it contradicts fundamental ideas associated to the environmental rule of regulationthat obstructed people's rights to a safe, clean and healthy environment.
Indian Government's Response over the Concerns
The government said that nothing in the proposed EIA, 2020 violated the UN Declaration of Human Rights and that the rapporteur's concerns were "misplaced".
The proposed EIA is still a draft and issued for public consultation and that there were several imperfections in the existing EIA that were to be amended in the new notification.
With regard to post-facto clearances, the violation of not taking prior approval would be punished as per law and projects that were already running would be considered only on merit.
UN Special Rapporteurs
They are independent experts working on behalf of the United Nations.
The mandate of the Special Rapporteur was created by the Human Rights Council to protect and promote freedom of opinion and expression, offline and online, in light of international human rights law and standards.
Furore over Draft Environment Impact Assessment Notification, 2020
The draft Environmental Impact Assessment (EIA) notification 2020 proposed by the Ministry of Environment, Forest and Climate Change has met with massive opposition.
Contentious Clauses in Draft EIA, 2020
Re-Categorisation of Projects: It re-categorises all the projects and activities related to the production of bulk drugs and intermediates for several ailments from 'A' category to 'B2' category.This re-categorisationwill seriously affect the environment, since these will be carried out without oversight.
Post-facto Approval: The new draft allows for post-facto approval for projects. It means that the clearances for projects can be awarded even if they have started construction or have been running phase without securing environmental clearances.It implies that those projects can also seek clearance that violate the Environment (Protection) Act, 1986 (EPA).
Reducing Public Participation: Numerous provisions of the new EIA also endanger the basic tenets of public participation. The period for public consultation has been reduced from 30 days to 20 days. Considering the socio-political context of the vulnerable population typically affected by 'development' projects, this reduction could literally exclude some groups of people from consultation.
Exemption of Strategic Projects: The introduction of the category of "strategic projects'', which has been clubbed with Defence projects, has also been a cause of concern — they do not require public consultation, and information need not to be made public.These points to excessive executive discretion.
Compliance Report Issue: The 2006 EIA required that the project proponent submit a report every six months, showing that they are carrying out their activities as per the terms on which permission has been given.However, the new draft requires the promoter to submit a report only once every year.During this period, certain irreversible environmental, social or health consequences of the project could go unnoticed because of the extended reporting time.
Exemption to Construction Projects up to 150,000 sq m: It also exempts up to 150,000 sq m construction projects from the assessment. These projects can now gain environment clearance after scrutiny by state-level expert appraisal committee. Earlier, the exemption was granted to construction projects of up to 20,000 sq. m or above.
Critical Analysis
Though established to safeguard the environment, the EIA process, argue activists, often achieved the opposite by offering a facade of legal paperwork for a range of de facto concessions enjoyed by industries.
For example, reports on project's potential (damaging) impact on the environment — the bedrock of the EIA process — are frequently shoddy and consultant agencies that prepare those reports for a fee are rarely held accountable.
Lack of administrative capacity to ensure compliance often renders long lists of clearance conditions meaningless.
On the other hand, developers complain that the EIA regime dampened the spirit of liberalisation, leading to red tape and rent-seeking. Delay in project clearance during the UPA-II rule became an election issue in 2014 when then prime ministerial candidate Narendra Modi hit out at the Congress by claiming that files did not move in the Environment Ministry till "Jayanthi tax" was paid.
The 2020 draft offers no remedy for the political and bureaucratic stronghold on the EIA process, and thereby on industries. Instead, it proposes to bolster the government's discretionary power while limiting public engagement in safeguarding the environment.
The government's actions on environmental regulation (as opposed to its bon mots and rhetoric) show that it considers it an impediment to the ease of doing business.
Conclusion
India is a party to the Rio declaration adopted by the United Nations Conference on Environment and Development (UNCED) in 1992, which enunciated a catalogue of environmental principles including sustainable development, precautionary principle, and EIA.
India is also party to the Convention on Biological Diversity (CBD) and United Nations Framework on Climate Change (UNFCCC), which contain a requirement to have a prior EIA in situations having a significant threat to the environment.
Weakening the EIA process is essentially anti-democratic. For affected communities, where seismic shifts in the local environment can threaten livelihoods, flood a valley or destroy a forest, public consultation is a referendum on existential threats.
The Environment Ministry must make sure that the final EIA draft does justice to the complex relations between environment, development and local communities that the public consultation process has brought to light.
The dilution of environmental standards in the EIA needs to be evaluated in the background of the robust environmental principles operating at the national and international levels.
Also, decisions that will lock-in carbon-intensive infrastructure in the long term need to be scrutinised, particularly in light of India's commitments under the Paris Agreement process.
The Environment Ministry needs to be clear about its role — its mandate is to create and sustain a regulatory framework that prevents the plunder of our natural resources, not actively accelerate the pace of environmental devastation.
As India is a highly vulnerable country, it should be the government's priority to ensure that regulatory approvals do not make parts of the country more vulnerable or adversely impact the adaptive capabilities of communities.
Environmental Impact Assessment(EIA)
It is a process of evaluating the likely environmental impacts of a proposed project or development, taking into account inter-related socio-economic, cultural and human-health impacts, both beneficial and adverse.
It prevents the proposed activity/project from being approved without proper oversight or taking adverse consequences into account.
UNEP defines EIA as a tool used to identify the environmental, social and economic impacts of a project prior to decision-making.
It aims to predict environmental impactsat an early stage in project planning and design, find ways and means to reduce adverse impacts, shape projects to suit the local environment and present the predictions and options to decision-makers.
Current News National Polity & Governance
Question Hour And Zero Hour
---
Recently, in view of ongoing pandemic and a truncated Monsoon Session, Parliament has notified that there will be no Question Hour during the Monsoon Session of Parliament and that Zero Hour will be restricted in both Houses.
Opposition MPs have criticised the move, saying they will lose the right to question the government.
Question Hour
During this hour Members of Parliament (MP) ask questions to ministers and hold them accountable for the functioning of their ministries.
The questions that MPs ask are designed to elicit information and trigger suitable action by ministries.
However, questions can also be asked to the private members (MPs who are not ministers).
Usually Question Hour is the first hour of a parliamentary sitting.
Regulation
Parliament has comprehensive rules for dealing with every aspect of Question Hour.
The presiding officers of the two houses are the final authority with respect to the conduct of Question Hour.
Types of Questions Asked
Starred Questions
These are Questions to which answers are desired to be given orally on the floor of the House during the Question Hour.
These are distinguished in the printed lists by asterisks.
The list of these questions is printed in green colour.
Unstarred Questions
These are Questions to which written answers are given by Ministers which are deemed to have been laid on the Table of the House at the end of the Question Hour.
The list of these questions is printed in white colour.
Short Notice Questions
Such questions can be asked orally in the House after the Question Hour or as the first item in the agenda where there is no Question Hour at a notice shorter than that prescribed for Starred and Unstarred Questions.
These must relate to a subject-matter considered by the Chairman to be of urgent public importance.
The list of these questions is printed in light pink colour.
Questions to Private Members
These questions are mentioned under Rule 40 of the Rules of Procedure and Conduct of Business in Lok Sabha.
A question may be addressed to a private member if the subject matter of the question relates to some bill, resolution for which that member is responsible.
The list of these questions is printed in yellow colour.
Frequency
Now, Question Hour in both Houses is held on all days of the session. But there are two days when an exception is made.
There is no Question Hour on the day the President addresses MPs from both Houses in the Central Hall.
Question Hour is not scheduled either on the day the Finance Minister presents the Budget.
Zero Hour
Zero Hour is an Indian parliamentary innovation. It does not find mention in the rules of procedure.
It is an informal tool available to the members to raise the matters without any prior notice.
It starts after Question Hour and lasts until the regular business is taken up. Thus, the time gap between the end of zero hour and beginning of regular business (agenda) of the house is called Zero hour.
Half an hour Discussion
Members have a right to get information from the Government on any matter of public concern by means of questions to Ministers.
When a member feels that the answer given to a question, Starred or Unstarred or Short Notice, is not complete or does not give the desired information or needs elucidation on a matter of fact, he may be allowed by the Speaker to raise a discussion in the House for half an hour.
The procedure is, therefore, termed as 'Half-an-Hour Discussion'.
Nature of Questions Asked
Parliamentary rules provide guidelines on the kind of questions that can be asked by MPs.
The question should also be related to an area of responsibility of the Government of India.
Questions should not seek information about matters that are secret or are under adjudication before courts.
It is the presiding officers of the two Houses who finally decide whether a question raised by an MP will be admitted for answering by the government.
Answering Procedure
To streamline the answering of questions raised by MPs, the ministries are put into five groups.
Each group answers questions on the day allocated to it.
This grouping of ministries is different for the two Houses so that ministers can be present in one house to answer questions.
Limitation to Number of Questions Asked
In Lok Sabha, until the late 1960s, there was no limit on the number of unstarred questions that could be asked in a day.
Now, Parliament rules limit the number of starred and unstarred questions an MP can ask in a day.
The total number of questions asked by MPs in the starred and unstarred categories are then put in a random ballot.
From the ballot in Lok Sabha, 20 starred questions are picked for answering during Question Hour and 230 are picked for written answers.
Significance
It is during the Question Hour that Members can ask questions on every aspect of administration and governmental activity.
Government policies in the national as well as international spheres come into sharp focus as the Members try to elicit pertinent information during the Question Hour.
It has helped to expose financial irregularities and brought data and information.
Recent Procedural Changes
The following procedural changes have been in force since the 5th session of the 15th Lok Sabha-
A 15-day notice period is now to be given to the minister to respond to a question in Parliament (concept of minimum and maximum notice duration has been removed). The notice duration used to be a minimum of 10 days or maximum of 21 days.
The Speaker now has the authority to direct answers to a starred question asked by a member in case of his or her absence on the day their name was called.
A member is now required to make a statement in the House correcting the reply given by him or her earlier, irrespective of whether the reply given pertained to a starred or unstarred or a short notice question.
The maximum questions, starred or unstarred, a member is now entitled to give is 10 per day.
Current News National
Global Innovation Index 2020: India Ranks In Top 50 Countries For 1st Time
---
The 2020 edition of the Global Innovation Index (GII) presents the latest global innovation trends and the annual innovation ranking of 131 economies.
The index is compiled by World Intellectual Property Organisation (WIPO) and released on 2nd September 2020.
The theme of this year's GII - Who Will Finance Innovation? - is timely given the human and global economic damage wreaked by the COVID-19 global pandemic.
India on GII 2020
India jumped four positions to rank at 48th since 2019 and for the first time ranked in the top 50 countries.
Moving up four positions since last year, India became the third most innovative lower middle economy in the world.
The jump can be attributed to newly available indicators and improvements in various areas of GII.
India ranks in the top 15 in indicators such as ICT services exports, government online services, graduates in science and engineering and R&D-intensive global companies.
The report added that due to universities like IIT Delhi and Bombay, IIS Bengaluru and other top scientific publications, India is the lower middle-income economy with the highest innovation.
Current News National Polity & Governance
'Mission Karmayogi' For Civil Services Reforms
---
On 2nd September, 2020, the Union Cabinet gave its approval for Mission Karmayogi, a National Programme for Civil Services Capacity Building (NPCSCB).
Aim
To standardise training, and create shared faculty and resources that would offer officers and government employees an opportunity to improve their performance.
To prepare the Indian Civil Servant for the future by making him more creative, constructive, imaginative, innovative, proactive, professional, progressive, energetic, enabling, transparent and technology-enabled.
Background
Capacity of Civil Services plays a vital role in rendering a wide variety of services, implementing welfare programs and performing core governance functions.
A transformational change in Civil Service Capacity is proposed to be affected by organically linking the transformation of work culture, strengthening public institutions and adopting modern technology to build civil service capacity with the overall aim of ensuring efficient delivery of services to citizens.
Salient Features
Coverage
It will cover 46 lakh Central government employees at all levels.
Citizen Centric Civil Service:
The fundamental focus is the creation of a 'citizen centric civil service' capable of creating and delivering services conducive to economic growth and public welfare.
'Mission Karmayogi' shifts the focus from "Rule based training to Role based training". Greater thrust has been laid on behavioural change.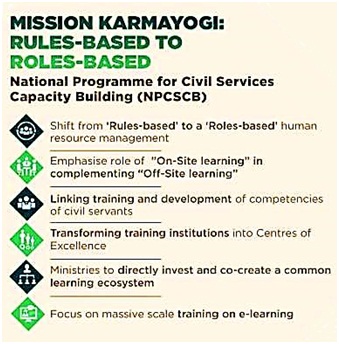 iGOT Karmayogi Platform
The Programme will be delivered by setting up an Integrated Government Online Training- iGOTKarmayogi Platform.
An appropriate monitoring and evaluation framework will also be put in place for performance evaluation of all users of the iGOT-Karmayogi platform so as to generate a dashboard view of Key Performance Indicators.
Special Purpose Vehicle (SPV)
A SPV will be set up as Section 8 – Not for Profit Company which will own and manage the iGOT-Karmayogi platform.
The SPV will own all Intellectual Property Rights on behalf of the Government of India.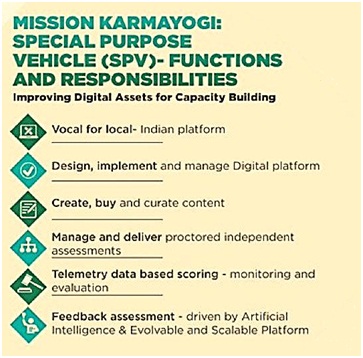 Public Human Resources Council
A Public Human Resources Council under the chairmanship of Prime Minister, with Union Ministers, Chief Ministers, eminent HR practitioners, national and international experts would oversee the entire capacity building exercise.
Capacity Building Commission
An expert body called Capacity Building Commission will be set up to harmonize training standards, create shared faculty and resources, and have supervisory role over all Central Training Institutions.
The Commission will also come out with an "Annual State of Civil Service Report".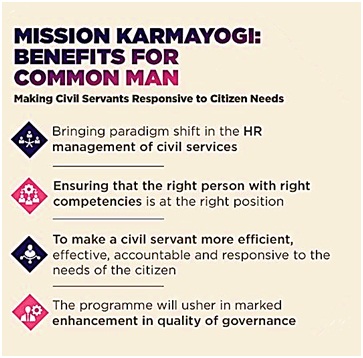 Significance
Improving Government's Human Resources: It will radically improve the government's human resource management practices and it will use state-of-the-art infrastructure to augment the capacity of civil servants.
Countering Existing Impediments: It will help in overcoming existing impediments like lack of lifelong & continuous learning environment, evolution of silos at department level preventing shared understanding of India's development aspirations and diverse and fragmented training landscape among others.
Value-Addition: It will provide a mechanism for continuous capacity building, a constant updating of the talent pool and also provide an equal opportunity of professional as well as personal growth and a stream of self-training for value addition at all levels.
Realising Vision of New India: The programme will also help in making the civil servants more professional, progressive, energetic, inculcating right attitude, technology-enabled which is aligned to the vision of a "New India".
Current News
Renati Cholas Era Inscription Unearthed In Andhra Pradesh
---
A rare inscription ofthe RenatiChola era engraved on a dolomite slab and shale has been unearthed in a remote village of Kadapa district of Andhra Pradesh.
The inscription was written in archaic Telugu which was readable in 25 lines -- the first side with eleven lines and the remaining on the other side. It was assigned to the 8th Century A.D., when the region was under the rule of Chola Maharaja of Renadu.
Deciphering the Inscription
The inscription seems to throw light on the record of a gift of six Marttus (a measuring unit) of land gifted to a person Sidyamayu, one of the Brahmins serving the temple at Pidukula village.
The last lines are indicative of the priority given to morality in those days."It says the people who safeguards this inscription for future generations will acquire the status of conducting AswamedhaYaga and those destroying it will incur sin equivalent to causing a death in Varanasi".
Renati Cholas
The Telugu Cholas of Renadu (also called as Renati Cholas) ruled over Renadu region, the present day Cuddapah district.
They were originally independent, later forced to the suzerainty of the Eastern Chalukyas. They had the unique honour of using the Telugu language in their inscriptions belonging to the 6th and 8th centuries.
The earliest of this family was Nandivarman (500 AD).
Current News Indian Economy
Farm Suicides Drop A Little In 2019; Maharashtra Leads Chart
---
The number of suicides by those engaged in the farm sector witnessed a marginal decline in 2019 as compared to 2018, with their share in the country's 1.39 lakh suicides too falling to 7.4% from 7.7% during the corresponding period as per the report on 'Accidental Deaths & Suicides in India' (ADSI) for the year 2019 released by National Crime Records Bureau (NCRB).
Maharashtra accounted for the highest share (38.2%) in suicides related to the farm sector in 2019, followed by Karnataka (19.4%), Andhra Pradesh (10%), Madhya Pradesh (5.3%) and Telangana/Chhattisgarh (4.9% each).
Interestingly, West Bengal, Bihar, Odisha, Uttarakhand, Manipur, Chandigarh, Daman & Diu, Delhi, Lakshadweep and Puducherry reported 'zero' suicides by farmers, cultivators and agricultural labourers in 2019.
Other Findings
Overall, the total suicides in the country rose 3.4% from 1.34 lakh in 2018 to 1.39 lakh last year.
Rate of suicides too (suicides per lakh of population) too went up from 10.2 to 10.4 in the corresponding period.
Family problems, marriage-related issues and illness together accounted for around 55% of the total suicides in the country.
While 70.2% of the suicide victims were male, 29.8% were women.
News Crux Obituary
India's First Female Cardiologist Passed Away
---
Dr S Padmavati, the first female cardiologist of the India, popularly known as 'God Mother of Cardiology' passed away on August 29 due to COVID-19 infection.
She was born in Burma (now Myanmar) in 1917, a year before the world was hit by the Spanish Flu pandemic. She had migrated to India in 1942 during the World War II.
In 1962, Dr Padmavati founded the All India Heart Foundation and went on to set up National Heart Institute in 1981 as a tertiary care modern heart hospital in Delhi.
For her achievements and contributions to development of cardiology in India, she was awarded Padma Bhushan in 1967 and Padma Vibhushan in 1992 by the Government of India.
PIB News National
Green Term Ahead Market (GTAM) In Electricity
---
On 1st September the Ministry of New & Renewable Energy launched pan-India Green Term Ahead Market (GTAM) in electricity.
It will accelerate renewable penetration pan-India also compliment Government of India's target of 175 GW RE Capacity by 2022.
Benefits of this Initiative
The introduction of GTAM platform would lessen the burden on RE-rich States and incentivize them to develop RE capacity beyond their own Renewable Purchase Obligations (RPO).
This would promote RE merchant capacity addition and help in achieving RE capacity addition targets of the country.
GTAM platform will lead to increase in number of participants in renewable energy
It will benefit buyers of RE through competitive prices and transparent and flexible procurement. It will also benefit RE sellers by providing access to pan- India market.
Mechanism of GTAM
Transactions through GTAM will be bilateral in nature with clear identification of corresponding buyers and sellers, there will not be any difficulty in accounting for RPO.
GTAM contracts will be segregated into Solar RPO & Non-Solar RPO as RPO targets are also segregated.
Further, within the two segments GTAM contracts will have Green Intraday, Day Ahead Contingency, Daily and Weekly Contracts
Green Intraday Contract & Day Ahead Contingency Contract – Bidding will take place on a 15-minute time-block wise MW basis.
Daily & Weekly Contracts – Bidding will take place on MWh basis. Both buyers and sellers can submit the bid, however the seller will provide profile in terms of 15-minute time block wise quantity (MW) along with the price (Rs/MWh). After the contract gets executed scheduling will take place as per the profile. In case of multiple buyers, the profile will get allocated on a pro-rata basis.
Price discovery will take place on a continuous basis i.e. price time priority basis. Subsequently, looking at the market conditions open auction can be introduced for daily & weekly contracts.
Energy scheduled through GTAM contract shall be considered as deemed RPO compliance of the buyer.
State In News Uttar Pradesh
'Major Dhyan Chand Vijaypath Yojana'
---
The Uttar Pradesh Govt. has launched 'Major Dhyan Chand Vijaypath Yojana' under which 19 International Players will get road connectivity to their homes.
The initial list includes 19 International Players from the state, and later on more players are expected to be added to the list.
The list includes Indian Cricketers Bhuvneshwar Kumar, Praveen Kumar, Piyush Chawla and Mohammad Kaif.
The UP State Govt. has also declared to name a road after Late Cricketer and Former Cabinet Minister Chetan Chauhan who passed away recently.

Current News Ecology & Environment
World's Largest Wetland Is Ablaze, But The Fire Is Often Invisible
---
Pantanal, the world's largest tropical wetland is burning with the worst fires in the last 15 years.
It sprawls across three South American countries—Bolivia, Brazil and Paraguay.
The region is a vast flood plain that normally fills with water during the rainy season, roughly from November to March. But the floods were lower than normal this year and a subsequent drought has left the area dangerously susceptible to fire.
In Brazil's Pantanal, the vegetation compacted under the marshy flood water during the wet season dries out as ponds and lagoons evaporate, leaving flammable deposits underground that can continue to smolder long after visible flames die down.
Firefighters across Brazil are battling raging towers of flames from the Amazon rainforest to the Cerrado savannah, but the fires beneath their feet are a particular challenge in the Pantanal.
The Pantanal in Brazil is a UNESCO World Heritage Siterenowned for its unique biodiversity.
News Crux Obituary
Former President Pranab Mukherjee Passes Away
---
Former President Pranab Mukherjee has passed away.
Mr Mukherjee served as 13th President of India from 2012 to 2017.
He also served as Union Minister of Finance, Defence, External Affairs and Commerce.
He was also Deputy Chairman of Planning Commission.
He was elected to Rajya Sabha five times and twice to Lok Sabha. He served as Leader of both houses of Parliament.
He was awarded India's highest civilian honour, the Bharat Ratna in 2019. Earlier he was awarded with Padma Vibhushan, India's second highest civilian award in 2008.
'The Dramatic Decade: The Indira Gandhi Years', 'The Turbulent Years: 1980–1996', 'The Coalition Years: 1996–2012' are some of the books penned by Pranab Mukharjee.
Sports In News Tennis
Bryan Brothers, Successful Doubles Pair In Tennis Retired
---
The Bryan Brothers - identical twins Robert Charles "Bob" Bryan and Michael Carl "Mike" Bryan, the most successful American doubles tennis players announced their retirement.
They won 16 Grand Slams, the 2012 Olympic gold medal and 2007 Davis Cup triumph among others.
They secured and held the top position of Men's doubles pair for a total of 438 weeks and 10 seasons (2003, 2005-2007, 2009-2014) as the No.1 team.

PIB News National Science & Technology
One-Step Laser-Based Fabrication To Prevent Rusting
---
Scientists from International Advanced Research Centre for Powder Metallurgy & New Materials (ARCI) have brought out a single-step method to develop super-hydrophobic functional surfaces that have ability to repel water. Such surfaces do not allow water to cling long enough to evaporate and leave behind residue.
This indigenous laser processing allows the fabrication of fast and flexible super-hydrophobic surfaces on a wide range of materials.
What is New?
By adjusting the laser processing parameters, in this method, it is possible to accurately control the structure pattern and precisely tailor the contact angle and the wetting properties of a variety of substrates. It is a robust, simple, fast, precise, and eco-friendly process and can be used to effectively fabricate robust super-hydrophobic surfaces and has high potential for large-scale application.
The Technique
In the single-step process developed by ARCI scientists, comprises surface modification using a femtosecond laser (lasers emitting light pulses with durations between a few femtosecondsand hundreds of femtoseconds, i.e. 10-15 of a second), non-thermal, and eco-friendly.
What is the Current Practice?
Currently, super-hydrophobic properties are achieved by developing rough surfaces and low surface free energy chemical coatings which are mostly two-step processes. The first step is to construct a rough surface by physical or chemical methods, and the second step involves chemical coatings of low surface free energy chemicals.
Drawbacks: However, these super-hydrophobic coating surfaces have many limitations, such as the use of fluorinated toxic reagent and poor mechanical stability.
Benefits
The efficient and straight forward strategy will encourage the scalability of the process both in terms of reducing the cycle time and applying the developed hierarchical micro-scale and nano-scale structures over large areas for practical applications in the prevention of corrosion, bacterial growth, and avoidance of repeated cleaning.
Eco-friendly self-cleaning surfaces that can protect biomedical and other applications from rusting and bacterial growth may soon be a reality with an ultrafast laser-based process that scientists have developed for fabrication of surfaces without use of coatings or additional surface treatment.
PIB News National Art/Culture/Heritage
"Hampi- Inspired By The Past; Going Into The Future"
---
The Ministry of Tourism organised their latest webinar titled 'Hampi- Inspired by the past; Going into the future' on 29th August 2020 under Dekho Apna DeshWebinar series.
Dekho Apna Desh Webinar Series is an effort to showcase India's rich diversity under Ek Bharat Shreshtha Bharat programme.
A UNESCO World Heritage site, Hampi's spectacular setting is dominated by river Tungabhadra, craggy hill ranges and open plains with widespread physical remains.
The sophistication of the varied urban, royal and sacred systems is evident from the more than 1600 surviving remains that include forts, riverside features, royal and sacred complexes, temples, shrines, pillared halls, mandapas, memorial structures, gateways, defence check posts, stables, water structures, etc.
Hampi's History
Its name is derived from Pampa which is the old name of the Tungabhadra River on whose banks the city is built.
Hampi was the last capital of the last great Hindu Kingdom of Vijayanagar.
In 1336 CE, the Vijayanagara Empire arose from the ruins of the Kampili kingdom. It grew into one of the famed Hindu empires of South India that ruled for over 200 years.
The Vijayanagara rulers fostered developments in intellectual pursuits and the arts, maintained a strong military and fought many wars with sultanates to its north and east. They invested in roads, waterworks, agriculture, religious buildings and public infrastructure.
Multi-Religious and Multi-Ethnic Site
The site used to be multi-religious and multi-ethnic; it included Hindu and Jain monuments next to each other.
Style of Architecture
The buildings predominantly followed South Indian Hindu arts and architecture dating to the Aihole-Pattadakal styles, but the Hampi builders also used elements of Indo-Islamic architecture in the Lotus Mahal, the public bath and the elephant stables.
Trade
Vijayanagara Empire flourished as it controlled cotton and spice trade routes of Southern India. Medival historians refer to Hampi as an important center of trade.
Fall of Glory
However, the glory of Vijayanagara was short lived. With the death of Krishnadevaraya, the combined armies of the five muslim kingdoms- Bidar, Golconda, Ahmednagar and Berar destroyed this might empire in 1565.
Noted Sites at Hampi
VirupakshaTemple: Important attractions of Hampi, include the 15th Century Virupaksha temple which is one of the oldest monuments of the town. The main shrine is dedicated to Virupaksha, a form of Lord Shiva.
Hemkunta Hill, south of the Virupaksha temple contains early ruins, Jain temples and a monolithic sculpture of Lord Narasimha, a form of Lord Vishnu. At the eastern end, there is the large Nandi in stone; on the southern side is the larger than life Ganesha. Large single stone carvings seem to have been the fashion of the day in Hampi, for there is a large image of Narasimha (6.7m high), the half lion half man incarnation of God, as well as a huge linga.
Vittal temple built in the 16th Century, and now a World Heritage monument. The carvings on this temple give an insight into the architectural splendor achieved by the artisans of VijayanagaraEmpire. The columns of the temple are so balanced that they have a musical quality.
Queen's bath, Hazara Rama temple, Lotus Palace, Elephant quarters are other attractions.
Mythological Sites
Anegundi village is also believed to be part of the mythical city of Kishkinda, home to the mighty Indian monkey God Hanuman.
Anjunadri, Hanuman's birthplace lies a few kilometers away from Anegundi.
Matanga Hill: As Rama and Lakshman continued their search for Sita, along the way they found this Matanga Hill where Sugriva lived with his Minister Jambavan and associate Hanuman.
---