G7 Agreement on Digital Trade and Data
---
On 22nd October 2021, at a London meet of Trade Ministers from the Group of Seven (G7) nations (United States, Japan, Germany, Britain, France, Italy and Canada), they came to an agreement on principles to govern cross-border data use and digital trade.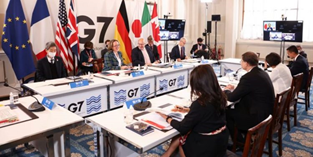 (Image Source: see.news)

Highlights
The deal sets out a middle ground between highly regulated data protection regimes used in European countries and the more open approach of the United States.
The agreement opposes digital protectionism and authoritarianism. Businesses should not be required or coerced to transfer technology or provide access to source code or encryption keys as a condition of market access. At the same time, governments must retain sufficient flexibility to pursue legitimate regulatory goals, including health and safety.
The principles covered open digital markets; cross border data flows; safeguards for workers, consumers, and businesses; digital trading systems; and fair and inclusive global governance.
A Concern for India
At the Meet, G7 Trade Ministers raised concern about situations where data localisation requirements are being used for protectionist and discriminatory purposes, as well as to undermine open societies and democratic values, including freedom of expression.
This assumes significance as India has been contemplating measures for data localisation - i.e. restricting the flow of data related to Indian users across the borders by storing and processing it within the country.
Treaty On The Prohibition Of Nuclear Weapons Enters Into Force
---
The Treaty on the Prohibition of Nuclear Weapons (TPNW) entered into force on 22nd January 2021.
So far, a total of 86 countries have signed the treaty and ratified by more than 60 countries, which complements existing disarmament measures like the Non-Proliferation Treaty (NPT).
Now, the Treaty on the Prohibition of Nuclear Weapons is a part of international law.
About TPNW
The TPNW is a significant milestone in the long and global effort to achieve a world free from nuclear weapons.
Basic Obligations
The Treaty on the Prohibition of Nuclear Weapons (TPNW) prohibits States Parties from developing, testing, producing, manufacturing, acquiring, possessing, or stockpiling nuclear weapons or other nuclear explosive devices.
Signatories are barred from transferring or receiving nuclear weapons and other nuclear explosive devices, control over such weapons, or any assistance with activities prohibited under the Treaty.
States are also prohibited from using or threatening to use nuclear weapons and other nuclear explosive devices.
States Parties cannot allow the stationing, installation, or deployment of nuclear weapons and other nuclear explosive devices in their territory.
States Parties are obligated to provide victim assistance and help with environmental remediation efforts.
Timeline
Adopted in New York: 7 July 2017
Opened for signature in New York: 20 September 2017
Entry into Force: 22 January 2021
Major Non-Parties to TPNW
India: India is neither a party nor supports the treaty. India did not participate in the negotiations on the TPNW and has consistently made it clear that it will not become a party to the treaty. India does not want be bound by any of the obligations that may arise from it. India believes that this treaty does not constitute or contribute to the development of customary international law; nor does it set any new standards or norms.
Other Nuclear-Weapon States: None of the nuclear weapons states (United States, Russia, Britain, China, France, India, Pakistan, North Korea and Israel) are party to the Treaty on Prohibition of Nuclear Weapons (TPNW).
NATO: Nato has refused to support the treaty.
Japan: The only state to actually suffer a nuclear weapons attack, also dissociated from the treaty, though it remains committed to full disarmament.
NPT – The Treaty that still Hangs in Balance
The 2017 Treaty on the Prohibition of Nuclear Weapons (TPNW) was negotiated with the purpose of strengthening the largely unimplemented disarmament pillar of the 1968 Treaty on the Non-Proliferation of Nuclear Weapons (NPT).
The Treaty on the Non-Proliferation of Nuclear Weapons, commonly known as the Non-Proliferation Treaty or NPT, is an international treaty whose objective is to prevent the spread of nuclear weapons and weapons technology, to promote cooperation in the peaceful uses of nuclear energy, and to further the goal of achieving nuclear disarmament and general and complete disarmament.
Why NPT is still not Implemented
Flawed nature of the NPT that divides the world into nuclear haves and have-nots.
Security dilemma which leads to nuclear arms race (as in the case of India and Pakistan developing nuclear weapons).
The perception (often true) that possession of nuclear weapons gives more prestige and respect in the international regime and a sense of security.
Unwillingness of nuclear weapon states to move towards complete time-bound nuclear disarmament.
Why India not a signatory to NPT?
NPT allows only those five nations manufactured and exploded a nuclear weapon before January 1, 1967 to retain their weapons after signing the treaty.
India opposes this discriminative disarmament policy and argues for the complete ban of nuclear weapons and hence, still not a signatory of the NPT.
Open Skies Treaty
---
On 21st May, 2020, the United States announced its intention to withdraw from the Open Skies treaty (OST).
Reasons for Withdrawal
United States and Russia have long accused the other of breaching its terms.
For ex, in 2014, Moscow imposed an unpermitted 500-kilometer limit on flights over the strategically important enclave of Kaliningrad.
Russia also denied a U.S.-Canadian flight over its "Tsentr" military exercise in September 2019.
Washington declared Russia in violation of OST in 2017 and restricted Russian access to Hawaii and Alaska in retaliation.
Part of the reason is that US is able to obtain equally good or better data from its satellites. No other country can match US's satellite monitoring capabilities.
For the US, the OST is not particularly useful as an intelligence gathering tool, but the reality is that it was always intended as a confidence building and transparency measure.
As tensions between US and Russia have grown, US have become more interested in restricting transparency over its territory.
About Open Skies Treaty
First proposed in 1955 by former US President Dwight Eisenhower as a means to deescalate tensions during the Cold War, the landmark treaty was eventually signed in 1992 between NATO members and former Warsaw Pact countries following the demise of the Soviet Union.
The idea was to promote openness and transparency of military forces and activities by "mutual aerial observation".
It is aimed at building confidence and familiarity among the countries
The treaty entered into force on January 1st , 2002, and currently 34 states are party to the treaty while a 35th , Kyrgyzstan, has signed but not ratified it.
Key Points
Under the treaty, a member state can "spy" on any part of the host nation, with the latter's consent.
A country can undertake aerial imaging over the host state after giving notice 72 hours before, and sharing its exact flight path 24 hours before.
The information gathered, such as on troop movements, military exercises and missile deployments, has to be shared with all member states.
Only approved imaging equipment is permitted on the surveillance flights, and officials from the host state can also stay on board throughout the planned journey.
The Open Skies Consultative Commission (OSCC), comprised of representatives of all states-parties, is responsible for the implementation of the Open Skies Treaty.
Significance
The OST was signed in 1992, much before the advent of advanced satellite imaging technology which is currently the preferred mode for intelligence gathering.
Yet, surveillance aircraft provide key information that still cannot be gathered by satellite sensors, such as thermal imaging data.
Also, since only the US has an extensive military satellite infrastructure, other NATO members would have to rely on Washington to obtain classified satellite data, which would be more difficult to obtain compared to OST surveillance records that have to be shared with all members as a treaty obligation.

Impact of US Withdrawal
END of OST
There may be collateral costs of OST withdrawal; the treaty itself may survive without U.S. participation, but Washington's exit will diminish the agreement's value to Russia significantly.
Moscow's withdrawal would probably kill OST, ending a key source of intelligence for many NATO allies.
This unilateral U.S. move, taken over its allies' objections, is likely to damage NATO cohesion.
S. departure would also further weaken the international arms control architecture and be a further blow to any global sense of stability.
Uncertainty over Nuclear Related Treaties
The first is Intermediate-Range Nuclear Forces (INF). In August, 2019, US exited the INF treaty the West had signed with Russia citing distrust of the latter.
The US withdrawal from OST shows that the US may not renew the New Start Treaty due to expire in February 2021.
The second is the Comprehensive Test Ban Treaty which was concluded in 1996 but has not entered into force.
It prohibits countries from carrying out nuclear test explosions but earlier this year US voiced suspicions that both Russia and China were carrying out low yield nuclear tests in violation of the understanding on zero-yield threshold.
US has signed but not ratified the CTBT and there are indications that it may be planning to test.
Way Forward
The US should reconsider its intention to withdraw from the OST. Washington profits from this "military-to-military engagement tool" as it contributes to greater transparency and stability in the Euro-Atlantic region. While the intelligence and confidence building advantages are limited for the United States itself, they are very real for America's NATO Allies.
State Parties should return to full compliance with the treaty. They should remove all restrictions that they have unilaterally imposed on Open Skies flights.
In particular, parties should give consideration to the provisions on the implementation of status neutral confidence- and security-building measures (CSBMs).
European State Parties should make every effort to remain in the treaty, even if the United States withdraws.
According to Article XV.3 of the treaty, if the United States withdraws, Canada and Hungary must convene a conference of the States Parties no less than 30 days and no more than 60 days after they have received a withdrawal notice. Parties should adopt a position of maximum flexibility.
Should the United States withdraw from the Open Skies Treaty, remaining State Parties must make a determined effort to consider its effect on the treaty.
USA Exiting The Paris Agreement
---
In first week of November, 2019, the Trump administration gave formal notice to the United Nations regarding United States withdrawal from the Paris Climate Agreement.
According to a US State Department, the withdrawal will take effect one year from delivery of the notification.
The United States would then be the only UN member country in the world that is no longer part of the agreement.
Background
Despite Trump's announcement in 2017 a formal move to withdraw from the 2015 pact had to wait till this year because of a provision in the Paris Agreement. The 2015 pact had lock in period of three years from the date of its entry into force—the Paris Agreement entered into force on November 4, 2016.
The notification begins the formal year long process for the US to withdraw from the agreement. This will mean that US will continue to be part of the discussions that is going to n held in December, 2019, in Madrid, Spain.
Reason for Exiting
During his 2016 presidential campaign, Donald Trump had said the Paris Agreement is unfair at the highest level to the USA interest.
The current government believes that the Paris Agreement undermines U.S. competitive edge and impairs both employment and traditional energy industries.
One key but quiet aspect of the Trump withdrawal that is raising more and more concern is the question of finance. Around $10bn is due to be paid in to the Green Climate Fund by the end of this year, with the US having already contributed $1bn under President Obama.
Due to shale gas evolution, the United States carbon emission has decreased in previous years, therefore it feels that there is not much requirement of further regulations.
Paris deal will be successful only when all the countries meet their intended nationally determined contributions (INDCs) but as the agreement is not legally binding, the other countries will enjoy flexibility while US will have to face serious regulations.
Paris Agreement
The Paris Agreement is a landmark environmental accord that was adopted in 2015 at the 21st Conference of Parties(CoP) of the United Nations Framework Convention on Climate Change (UNFCCC), to address climate change and its negative impacts.
The agreement went into force on 4th November, 2016.
As of November 2019, 195 UNFCCC members have signed the agreement, and 187 have become party to it
Aim
To strengthen the global response to the threat of climate change
Key Elements
To keep global temperatures well below 2.0C (3.6F) above pre-industrial times and endeavour to limit them even more, to 1.5C
To limit the amount of greenhouse gases emitted by human activity to the same levels that trees, soil and oceans can absorb naturally, beginning at some point between 2050 and 2100
To review each country's contribution to cutting emissions every five years so they scale up to the challenge
For rich countries to help poorer nations by providing "climate finance" to adapt to climate change and switch to renewable energy
Process for a Country to Exit Paris Agreement
According to the Article 28 of the agreement, a member can begin a formal withdrawal process no earlier than three years after the treaty enters into force.
Any such withdrawal shall take effect upon expiry of one year from the date of receipt by the Depositary of the notification of withdrawal, or on such later date as may be specified in the notification of withdrawal.
Possibility of USA returning to the Agreement
There is no bar on a country rejoining the Paris Agreement, giving an opportunity to USA to return to the agreement later.
Article 21 of the agreement states that a country that is not a party to the agreement can join it by submitting a formal notification, which will take effect 30 days later. This procedure is the same whether a country used to be a party and then withdrew, or is joining for the first time.
Impact of USA Withdrawal
The United States is the world's second largest emitter of greenhouse gases. As part of its commitment to the Paris Agreement, the United States had promised to reduce its emissions by 26 per cent to 28 per cent by the year 2025 from 2005 levels.
The move could seriously jeo pardise the world's objective of keeping the global temperature rise to within 2 degrees Celsius from pre-industrial times.
While exiting the Paris Agreement does not automatically mean the abandonment of this target or of any future action by the United States on climate change, it would no longer be committed to these actions.
The biggest impact might be on the financial flows to enable climate actions.The United States plays a preeminent role in mobilising financial resources globally, and its absence from the scene could seriously hamper that effort.
However, by withdrawing from the Paris Agreement, the U.S. gains itself more emission space and lower mitigation costs while squeezing other country's emission space and raising their mitigation costs and this will in turn make it more difficult and expensive to achieve the 2°C target of the Paris Agreement.
The US withdrawal will mean that other countries would have to step up their efforts to curb greenhouse emissions. This could mean increased pressure on developing countries such as China and India, the largest and third largest emitters.
Way Forward
For the international community, the exit of the U.S. opens an opportunity to galvanised climate leadership from other member states. Historically, the USA, along with the EU, has so far played a major role in pushing the climate agenda forward from Rio to Paris.
Even if the United States does rejoin the Paris Agreement in the future, other countries will remember that it unilaterally left an agreement that had global support and may well believe that the country could do so again in the future. America's reputation as a reliable international partner already has suffered damage that will take a long time to repair.
However, given the projected rapid increase in carbon emission from developing countries, climate leadership and action from these countries will be crucial in limiting global emission rate. Encouraging signs are seen from the two highest populated and greenhouse gas emitting countries — China and India,which are currently on track to overachieve their NDC pledges and further increase their targets.
In the last few years, China has managed to transform its image from grudging bargainer to silent torch bearer in climate action. It has the highest installed capacity in wind and solar power, introduced the world's largest carbon trading scheme and made credible commitments to strive for ecological civilization. India, on the other hand, is on its way to overshoot its NDC target of 40% renewable energy capacity addition by 2022. It has initiated the International Solar Alliance (ISA) of more than 120 countries for harnessing solar energy and is projected to play a key role in global climate governance in the coming years.
US withdrawal makes it more important for the remaining countries to show strong political commitment to collectively implementing the treaty.
India And Nuclear Supplier Group
---
Recently, while addressing a business gathering in the Bloomberg Global Business, New York, Indian Prime Minister made a pitch for India's membership of the Nuclear Suppliers Group (NSG).
About the Issue
While the U.S. and other countries support India's entry into the NSG, China has been blocking India's entry into the NSG which regulates the global nuclear commerce and has been insisting that only countries which have signed the Non-Proliferation Treaty (NPT) be allowed only to become members.
After the grand bargain following the nuclear detente with the US in 2005, India has gained substantially from the NSG waiver and partial safeguards agreement with the International Atomic Energy Agency (IAEA) in 2008 without signing the NPT.
What is Nuclear Suppliers Group (NSG)?
Established in 1975, the NSG consists of 48 states that have voluntarily agreed to coordinate their export controls to non-nuclear-weapon states. The NSG governs the transfers of civilian nuclear material and nuclear-related equipment and technology.
Aim
To prevent nuclear exports for commercial and peaceful purposes from being used to make nuclear weapons.
Background
India's explosion of a nuclear device in 1974 reaffirmed the fact that nuclear materials and technologies acquired under the guise of peaceful purposes could be diverted to build weapons. In response to India's action, Zangger Committee members established the NSG to further regulate nuclear-related exports.
The NSG first met in November 1975 in London, and is thus popularly referred to as the London Club.
Guidelines
The NSG Guidelines are consistent with various international, legally binding instruments in the field of nuclear nonproliferation. It consists of two parts-
Part I lists materials and technology designed specifically for nuclear use. These include fissile materials, nuclear reactors and equipment, and reprocessing and enrichment equipment.
Part II identifies dual-use goods; non-nuclear items with legitimate civilian applications that can also be used to develop weapons.
Criteria for NSG Membership
The ability to supply items (including items in transit) covered by the annexes to Parts 1 and 2 of the NSG Guidelines.
Adherence to the Guidelines and action in accordance with them.
Full compliance with the obligations of one or more of the following: the Treaty on the Non-Proliferation of Nuclear Weapons (NPT), the Treaties of Pelindaba, Rarotonga, Tlatelolco, Bangkok, or an equivalent international nuclear nonproliferation agreement.
Treaty on the Non-Proliferation of Nuclear Weapons (NPT)
The Treaty, which entered into force in March 1970, seeks to inhibit the spread of nuclear weapons.
Aim
Non-proliferation
Disarmament
Peaceful use of nuclear energy
Members: 190 countries. India, along with Israel, Pakistan, and South Sudan, have never signed the treaty.
Significance
It is regarded as the cornerstone of the global nuclear non-proliferation regime and an essential foundation for the pursuit of nuclear disarmament.
It is instrumental in preventing the spread of nuclear weapons, to further the goals of nuclear disarmament and general and complete disarmament, and to promote cooperation in the peaceful uses of nuclear energy.
Zangger Committee
The Zangger Committee was formed in the early 1970s to establish guidelines for implementing the export control provisions of the Nuclear Nonproliferation Treaty
The list of controlled items developed by the Zangger Committee is known as the Trigger List because export of those items triggers International Atomic Energy Agency (IAEA) safeguards. Examples of these items are plutonium, highly-enriched uranium (HEU), reactors, reprocessing and enrichment plants, and equipment and components for such facilities.
Expected Benefits of NSG Membership for India
Economic Benefits
Boost to Make in India Initiative: Access to technology and being allowed to produce nuclear equipment will give a boost to the Make in India program. That will boost economic growth in India, create more jobs and even lead to a whole new IT-industry segment that India can leverage.
Indigenous Production of Nuclear Equipments: NSG membership also means India can begin to commercially produce nuclear power equipment, which it can then even sell to other countries, contributing to its economy.
Environmental Benefits
Help in Meeting NDC under Paris Agreement: Entry to NSG club will help India to meet its commitments, including reducing greenhouse gas emission intensity of its GDP by 33-35 percent below 2005 levels by 2030, under its Nationally Determined Contributions (NDC), made at COP 21, Paris.
It will also help to ease India's dependency on fossil fuels to meet its domestic energy demand, which are major source to environmental pollutions.
Technological Benefits
Access to Technology: Membership to the NSG will essentially increase India's access to state-of-the-art technology from the other existing members of the group.
Equipped with latest technology, India would be able to build more advanced versions of its fast breeder reactors and even supply them to States without nuclear programs
Political Benefits
Helps in Exposing Pakistan: Besides, NSG membership will give India a chance to expose Pakistan's terrible proliferation record and it can prevent Pakistan from getting it, very similar to the manner in which China is blocking India from becoming a member.
Way Forward
India is moving towards clean energy including investment-intensive nuclear power for which NSG membership is crucial to building investor confidence.
Although the 2008 NSG waiver provided significant possibilities for India to engage in civilian nuclear trade with other countries, entry into the NSG will provide greater certainty and a legal foundation for India's nuclear regime and thus greater confidence for those countries investing billions of dollars to set up ambitious nuclear power projects in India.
As a member of the NSG, India can contribute to the underlying non-proliferation objectives and will also play an important role in the rule making process for nuclear commerce.
Retaliatory Import Tariffs On US Products
---
Why is it in News?
India extended the deadline to impose retaliatory import tariffs on 29 US products till June 16 from the earlier date of May 16 with a hope to resolve trade issues with the US and also because the US has not withdrawn the Generalised System of Preferences which was to happen in the beginning of May.
Background:
India had announced retaliatory tariffs worth $230 million on about 29 American goods in June 2018 as a comeback to imposition of penal tariffs on Indian steel and aluminium by the US. But India has since been postponing implementation of these duties hoping to resolve trade concerns.
Generalized System of Preferences (GSP):
The US had recently announced that it would be withdrawing the GSP benefits granted to India which offer duty-free access to the American market for more than 3,000 items from India.
The US wishes for India to tackle the 'price cap' matter for medical devices, extends greater market access for dairy and agricultural products and also lower high import tariffs for mobile phones.
WTO's Assessment Of Trade Policies
---
Why is it in News?
India hosted a two-day WTO ministerial meet of 16 developing and six least developed countries at New Delhi from 13 May-14 May. In the meeting India highlighted the issue of WTO's assessment of a country's services trade.
India's Stand:
India believes that the WTO's evaluation procedure of a country's 'services trade' policies is skewed towards developed countries and needs reform.
A study commissioned by the Commerce Ministry has found that the current assessment system, developed by the Organisation for Economic Co-operation and Development (OECD), has notable quantitative and qualitative shortcomings. It lists India very high in terms of restrictiveness.
Initiated in 2014, the Services Trade Restrictiveness Index (STRI) shows the Indian services sector as one of the most restrictive, specifically in policy areas like foreign entry but this finding seems surprising as FDI has been one area that has seen maximum liberalisation in India since 1991.
India has developed a new method to measure restrictiveness in the services trade that would not have a bias either for developed or developing countries.
India is trying to rally the support of other developing countries in the WTO i.e. China, Brazil, Indonesia, Turkey, and South Africa etc to reform this practise.
Geneva Convention
---
Why is it in News?
Geneva Convention came into the light when Pakistan had captured Wing Commander of India Abhinandan Varthaman.
What are the Geneva Conventions?
The 1949 Geneva Conventions are a set of international treaties that ensure that warring parties conduct themselves in a humane way with non-combatants such as civilians and medical personnel, as well as with combatants no longer actively engaged in fighting, such as prisoners of war, and wounded or sick soldiers.
All countries are signatories to the Geneva Conventions. There are four conventions, with three protocols added on since 1949.
Is it applicable only during the Wars?
The provisions of the conventions apply in peacetime situations, in declared wars, and in conflicts that are not recognized as war by one or more of the parties.
Does the case of Wg. Cmdr. Abhinandan Varthaman fall under the ambit of Geneva Conventions?
Yes, even if both the countries are not engaged in a declared war, provisions of Geneva conventions are still applicable as the Wing Commander is not charged on espionage (in case of espionage, Geneva Conventions do not apply). It must be noted that the Geneva Conventions covers a very broad range of issues.
What are Rights given to Prisoners of War (POW) under the Convention?
He must be protected against public insult treated humanely under all circumstances.
He shall not be subjected to physical or mental tortures.
The minimum conditions of detention have also been defined which includes accommodation, food, clothing, hygiene and medical care.
He shall not be forced to provide information of any kind.
Who Monitors the Release of POW?
International Committee of Red Cross acts as a mediator in the cases related to POW.
Source: IE
---