Current News
UNGA Adopts Resolution To Protect Religious Sites Across The World
---
The U.N. General Assembly adopted a resolution condemning damage and destruction of religious sites and asking the secretary-general to convene a global conference to spearhead public support for safeguarding places of religious heritage.
The resolution was proposed by Saudi Arabia and was co-sponsored by several other nations. The resolution states that it denounces any move to "forcibly convert any religious site".
Current News International Bilateral, Regional And Global Groupings
5th Joint Meeting Of The India-Japan Act East Forum
---
India and Japan held the fifth joint meeting of the India-Japan Act East Forum (AEF) on 28 January 2021 in New Delhi.
The AEF reviewed progress of ongoing projects in the North Eastern Region of India in various areas including connectivity, hydropower, sustainable development, harnessing of water resources, and skill development.
They discussed several new projects being undertaken under India-Japan bilateral cooperation and also exchanged views on cooperation in new areas such as healthcare, agro-industries and SMEs, bamboo value chain development, smart city, tourism and people-to-people exchanges.
About AEF
The AEF since its establishment in 2017 is streamlining India-Japan bilateral cooperation for the modernization of the North Eastern Region. AEF provides a platform for India-Japan collaboration in the North Eastern Region under India's "Act East Policy" and Japan's vision for a "Free and Open Indo-Pacific".
Current News Ecology & Environment
Sigur Plateau: A Corridor For Elephant And Tiger Genetic Diversity
---
Sigur Plateau is an ecologically fragile area, which connects the Western and the Eastern Ghats and sustains elephant and tiger populations and their genetic diversity.
It has the Nilgiri Hills on its southwestern side and the Moyar River Valley on its north-eastern side.
The Nilgiri Biosphere Reserve, which includes Sigur Plateau and the Nilgiri Hills, is part of the UNESCO World Network of Biosphere Reserves.
The Supreme Court on January 27 appointed conservationist Nandita Hazarika as Member of a Technical Committee of the National Elephant 2 Action Plan that includes former Madras High Court judge, Justice K. Venkatraman; and Praveen Bhargava, trustee of Wildlife First.
Indo-French Year of the Environment
The Union Environment Ministry launched the Indo-French Year of the Environment on 28th January 2021 along with Barbara Pompili, the French Minister for Ecological Transition.
The Indo-French Year of the Environment over the period 2021-2022 would be based on five main themes:

Environmental protection
Climate change
Biodiversity conservation
Sustainable urban development
Renewable energy
Energy efficiency
Implementing Agencies
French: From the French side, it will be implemented by the Ministry of Ecological Transition along with the Ministry of Europe and Foreign Affairs.
Indian: From the India, the projects will be coordinated by MoEFCC along with the Ministry of External Affairs, Ministry of Housing and Urban Affairs, Ministry of New and Renewable Energy. A joint screening committee will also be set up to finalise the calendar of the events for the Indo-French Year of the Environment.
Current News Science & Technology
Indo-Bangladesh Student Satellite
---
To celebrate 50 years of Indo-Bangladesh friendship, and the birth centenary of the Father of the Nation Bangabandhu Sheikh Mujibur Rahman, both countries have signed a memorandum of understanding (MoU) to design, make, and launch a satellite administered by students from both the countries.
Bangladesh side was represented by a global youth organization Global Law Thinkers Society, while the Indian side was represented by the Chennai-based Space Kidz India (SKI).
The 1U cube satellite is expected to carry temperature sensors and radiation counters, besides a camera that the team is planning to install. (The CubeSat is one of many types of satellites now found in space. It is one of the smallest; one "unit" is a compact 10 by 10 by 10cm cube and is commonly referred to as 1U).
The Indo-Bangladesh student satellite will be launched by Isro's Polar Satellite Launch Vehicle (PSLV).
Current News Indian Economy Infrastructure
India To Light Up Qutub Minar As A Sign Of Unity To Combat NTDs
---
On World Neglected Tropical Diseases Day, on 30th January 2021, more than 50 landmarks representing 25 nations across the world will be lit up to celebrate how far we have come together in beating NTDs. India too will proudly join these countries, by illuminating UNESCO world heritage site Qutub Minar.
Neglected Tropical Diseases (NTDs) include several parasitic, viral, and bacterial diseases that cause substantial illness for more than one billion people globally. Affecting the world's poorest people, NTDs impair physical and cognitive development, contribute to mother and child illness and death, make it difficult to farm or earn a living, and limit productivity in the workplace. As a result, NTDs trap the poor in a cycle of poverty and disease.
1 in 5 people around the world are affected by NTDs. India is home to the world's largest absolute burden of at least 11 of these major neglected tropical diseases. These diseases debilitate, disfigure, and can even be fatal to those affected.
News Crux Awards In News
Maha Vir Chakra Awarded To Col Santosh Babu
---
Colonel B Santosh Babu, the Commanding Officer of 16 Bihar Regiment, who lost his life during the Galwan Valley clash last year, was posthumously awarded with Maha Vir Chakra.
The Maha Vir Chakra is the second highest military decoration in India, after the Param Vir Chakra, and is awarded for acts of conspicuous gallantry in the presence of the enemy, whether on land, at sea or in the air.
Current News International International Trade & Treaties
Treaty On The Prohibition Of Nuclear Weapons Enters Into Force
---
The Treaty on the Prohibition of Nuclear Weapons (TPNW) entered into force on 22nd January 2021.
So far, a total of 86 countries have signed the treaty and ratified by more than 60 countries, which complements existing disarmament measures like the Non-Proliferation Treaty (NPT).
Now, the Treaty on the Prohibition of Nuclear Weapons is a part of international law.
About TPNW
The TPNW is a significant milestone in the long and global effort to achieve a world free from nuclear weapons.
Basic Obligations
The Treaty on the Prohibition of Nuclear Weapons (TPNW) prohibits States Parties from developing, testing, producing, manufacturing, acquiring, possessing, or stockpiling nuclear weapons or other nuclear explosive devices.
Signatories are barred from transferring or receiving nuclear weapons and other nuclear explosive devices, control over such weapons, or any assistance with activities prohibited under the Treaty.
States are also prohibited from using or threatening to use nuclear weapons and other nuclear explosive devices.
States Parties cannot allow the stationing, installation, or deployment of nuclear weapons and other nuclear explosive devices in their territory.
States Parties are obligated to provide victim assistance and help with environmental remediation efforts.
Timeline
Adopted in New York: 7 July 2017
Opened for signature in New York: 20 September 2017
Entry into Force: 22 January 2021
Major Non-Parties to TPNW
India: India is neither a party nor supports the treaty. India did not participate in the negotiations on the TPNW and has consistently made it clear that it will not become a party to the treaty. India does not want be bound by any of the obligations that may arise from it. India believes that this treaty does not constitute or contribute to the development of customary international law; nor does it set any new standards or norms.
Other Nuclear-Weapon States: None of the nuclear weapons states (United States, Russia, Britain, China, France, India, Pakistan, North Korea and Israel) are party to the Treaty on Prohibition of Nuclear Weapons (TPNW).
NATO: Nato has refused to support the treaty.
Japan: The only state to actually suffer a nuclear weapons attack, also dissociated from the treaty, though it remains committed to full disarmament.
NPT – The Treaty that still Hangs in Balance
The 2017 Treaty on the Prohibition of Nuclear Weapons (TPNW) was negotiated with the purpose of strengthening the largely unimplemented disarmament pillar of the 1968 Treaty on the Non-Proliferation of Nuclear Weapons (NPT).
The Treaty on the Non-Proliferation of Nuclear Weapons, commonly known as the Non-Proliferation Treaty or NPT, is an international treaty whose objective is to prevent the spread of nuclear weapons and weapons technology, to promote cooperation in the peaceful uses of nuclear energy, and to further the goal of achieving nuclear disarmament and general and complete disarmament.
Why NPT is still not Implemented
Flawed nature of the NPT that divides the world into nuclear haves and have-nots.
Security dilemma which leads to nuclear arms race (as in the case of India and Pakistan developing nuclear weapons).
The perception (often true) that possession of nuclear weapons gives more prestige and respect in the international regime and a sense of security.
Unwillingness of nuclear weapon states to move towards complete time-bound nuclear disarmament.
Why India not a signatory to NPT?
NPT allows only those five nations manufactured and exploded a nuclear weapon before January 1, 1967 to retain their weapons after signing the treaty.
India opposes this discriminative disarmament policy and argues for the complete ban of nuclear weapons and hence, still not a signatory of the NPT.
Current News Indian Economy Banking & Finance
Ministry Of Corporate Affairs Brings Amended CSR Rules Into Effect
---
The Ministry of Corporate Affairs has released a new order notifying the amendments in the CSR rules for companies.
The provisions of the 2019 Amendment to the Companies Act, 2013 pertaining to Corporate Social Responsibility (CSR) came into force on January 22.
These rules may be called the Companies (Corporate Social Responsibility Policy) Amendment Rules, 2021.
New Provisions
Every entity that intends to undertake any CSR activity will have to register itself with the Central Government by filing the form CSR-1 electronically with the Registrar of Companies, with effect from April 1, 2021.
Form CSR-1 shall be signed and submitted electronically by the entity and shall be verified digitally.
On the submission of the Form CSR-1 on the portal, a unique CSR Registration Number shall be generated by the system automatically.
Besides this, companies undertaking CSR activities will have to share:
Impact Assessment for big CSR projects.
Carry forward and set off of CSR expenditure Annual action plan for CSR by Board every year in addition to CSR policy.
Tweaks in reporting formats of Board Report.
Mandatory disclosure of CSR projects and activities on company website.
Capital Asset acquisition and its holding restricted to three bodies broadly.
In the event of the company failing to spend the earmarked two percent of net profits towards CSR, it will "have to specify the reasons for not spending the amount" and, unless the unspent amount relates to any ongoing project, transfer it to a government notified fund.
Current News
Cultural Display At Republic Day 2021
---
Sun Temple at Modhera
Gujarat showcased a replica of the Sun Temple at Modhera that depicted the Sabhamandap, part of the Sun Temple. Its 52 pillars denote 52 weeks of a Solar year.
The Sun Temple located at Modhera village of Mehsana district, Gujarat.
It is situated on the bank of the river Pushpavati.
It was built after 1026-27 CE during the reign of Bhima I of the Chaulukya dynasty.
The temple complex has three components: Gudhamandapa, the shrine hall; Sabhamandapa, the assembly hall and Kunda, the reservoir.
Shore Temple
Tamil Nadu's tableau depicted Shore Temple and other Monuments of Pallava Dynasty.
Shore Temple is one among a number of Hindu monuments at Mamallapuram (Mahabalipuram), on the Coromandel Coast of Tamil Nadu.
It was built probably in the reign of Narasimhavarman II, also known as Rajasimha (Pallava ruler).
It is built of cut stones rather than carved out of caves.
It has two shrines, one dedicated to Shiva and the other to Vishnu.
It has been built in Dravidian style.
The Mamallapuram monuments and temples, including the Shore Temple complex, were collectively designated a UNESCO World Heritage site in 1984.
Pang Lhabsol Festival
Sikkim tableau depicted the celebrations for Pang Lhabsol festival which is held on the 15th day of the 7th month of Tibetan Lunar Calendar every year, which according to English Calendar, falls somewhere between the August-September timeframe.
The festival is believed to have been started somewhere around 13th century under the reign of Chakdor Namgyal, the third Chogyal or Dharma King of the state.
The celebrations basically aim at paying homage to Mt. Kanchenjunga, the guardian deity of Sikkim which is believed to have been protecting this holy land since ages.
Besides, Pang Lhabsol also finds a special place in the hearts of people from the Bhutia and Lepcha communities who celebrate this day commemorating the oath of "Blood Brotherhood" taken by the chiefs of two communities under the witness of Mt. Kanchenjunga during the 15th century.
The colourful festival of Pang Lhabsol is replete with some elaborate rituals, prayers and thrilling dance performances by monks and lamas; amongst them the most famous and the one that keeps the visitors hooked to their positions is the awe-inspiring warrior dance called 'Pang-Toed Chaam' that aims at invoking the guardian deity, Mt. Kanchenjunga.
Vijayanagar - The City of Victory
Karnataka showcased the glory of Vijayanagara Empire (1336-1646) in a tableau at the 72nd Republic Day parade.
The Vijayanagara Empire was established in 1336 by brothers Harihara and Bukka Raya of the Sangama dynasty in the Deccan Plateau region in South India.
The tableau had a replica of the world's heritage site at Hampi, which was the seat of the empire, with statutes of Hindu gods Hanuman and Virupaksha.
The empire shot to prominence after its kings, especially Krishnadeva Raya, defeated the then Sultans of the region and resisted Islamic invasions.
Fine arts and literature flourished under the empire's patronage, as evident from the rich legacy of monuments, temples and palaces that stand out amid the ruins of Hampi.
Lepakshi Temple - Monolithic Rock Architecture
Andhra Pradesh showcased the rich monolithic rock architecture of Lepakshi temple.
Lepakshi is culturally and archaeologically significant as it is the location of shrines dedicated to Shiva, Vishnu and Veerabhadra which were built during the Vijayanagara Kings' period (1336–1646).
Besides the temple architecture, it also showcased the spectacular monolithic rock structure of Nandi, which is situated near the temple with 27ft in length and 15ft in height. The colossal structure is reportedly the biggest monolithic Nandi structure in India.
While the front side of the tableau showcased the Nandi structure, in the rear part, the architectural marvel of the temple main arches, pillar architecture of Lepakshi temple 'Mukha Mantapa', 'Arda Mantapa' or 'antarala' (ante chamber), 'Garbhagriha' or the sanctum sanctorum and 'Kalyana Mandapam' with 38 carved pillars were displayed.
Current News Ecology & Environment
India Could Experience Flash Droughts
---
A recent study has pointed out that India could experience more flash droughts by the end of this century.
What are Flash Droughts?
Flash droughts are those that occur very quickly, with soil moisture depleting rapidly. Normally, developing drought conditions take months, but these happen within a week or in two weeks' time.
Causes
Several factors including atmospheric anomalies, anthropogenic greenhouse gas emissions play an important role.
The ongoing climate change has caused a significant increase in global temperature and this can lead to more and more flash droughts in the coming years.
Implications
This increased frequency of flash droughts can have deleterious implications for crop production, irrigation demands and groundwater abstraction in India.
What can be done?
If we can meet the 'Paris Agreement' goals and limit global warming to well below 2 degrees C, the numbers and frequency of the projected flash droughts may go down.
Current News Indian Economy
Partnering For Racial Justice In Business: An WEF Initiative
---
The World Economic Forum has launched the Partnering for Racial Justice in Business initiative, which will see a coalition of organizations commit to building equitable and just workplaces for professionals with under-represented racial and ethnic identities.
The Partnering for Racial Justice in Business initiative has been designed to operationalize and coordinate commitments to eradicate racism in the workplace and set new global standards for racial equity in business. It also provides a platform for businesses to collectively advocate for inclusive policy change.
Three steps are required to join the initiative:
Racial and ethnic equity must be placed on the board's agenda
Companies must make at least one commitment towards racial and ethnic justice in their organizations
Companies must put a long-term strategy in place towards becoming an anti-racist organization

One of the initiative's starting points will be Black inclusion and addressing anti-Blackness.
The initiative originates from the World Economic Forum's New Economy and Society Platform, which is focused on building prosperous, inclusive and just economies and societies.
Tata Consultancy Services is one of the founding members of this coalition.
News Crux Awards In News
Padma Awards 2021
---
The President of India has approved conferment of 119 Padma Awards including 1 duo case (in a duo case, the Award is counted as one).
The awards comprise 7 Padma Vibhushan, 10 Padma Bhushan and 102 Padma Shri Awards.
29 of the awardees are women and the list also includes 10 persons from the category of Foreigners/NRI/PIO/OCI, 16 posthumous awardees and 1 transgender awardee.
About Padma Awards
Padma Awards - one of the highest civilian Awards of the country, are conferred in three categories, namely, Padma Vibhushan, Padma Bhushan and Padma Shri. The Awards are given in various disciplines/ fields of activities, viz.- art, social work, public affairs, science and engineering, trade and industry, medicine, literature and education, sports, civil service, etc.
The awards are announced on the occasion of Republic Day every year.
These awards are conferred by the President of India at ceremonial functions which are held at Rashtrapati Bhawan usually around March/ April every year.

'Padma Vibhushan' is awarded for exceptional and distinguished service;
'Padma Bhushan' for distinguished service of high order; and
'Padma Shri' for distinguished service in any field.
List of Awardees
Padma Vibhushan
Shri Shinzo Abe - Public Affairs - Japan
Shri S P Balasubramaniam (Posthumous) - Art - Tamil Nadu
Dr. Belle Monappa Hegde - Medicine - Karnataka
Shri Narinder Singh Kapany (Posthumous) - Science and Engineering - United States of America
Maulana Wahiduddin Khan - Others - Spiritualism - Delhi
Shri B. B. Lal Others - Archaeology - Delhi
Shri Sudarshan Sahoo - Art - Odisha
Padma Bhushan
Ms. Krishnan Nair Shantakumari Chithra - Art - Kerala
Shri Tarun Gogoi (Posthumous) - Public Affairs - Assam
Shri Chandrashekhar Kambara - Literature and Education - Karnataka
Ms. Sumitra Mahajan - Public Affairs - Madhya Pradesh
Shri Nripendra Misra - Civil Service - Uttar Pradesh
Shri Ram Vilas Paswan (Posthumous) - Public Affairs - Bihar
Shri Keshubhai Patel (Posthumous)- Public Affairs - Gujarat
Shri Kalbe Sadiq (Posthumous) Others - Spiritualism- Uttar Pradesh
Shri Rajnikant Devidas Shroff - Trade and Industry - Maharashtra
Shri Tarlochan Singh - Public Affairs - Haryana
Padma Shri
Art
Shri Gulfam Ahmed (Uttar Pradesh)
Shri Rama Swamy Annavarapu (Andhra Pradesh)
Shri Subbu Arumugam (Tamil Nadu)
Ms. Bhuri Bai (Madhya Pradesh)
Shri Radhe Shyam Barle (Chhattisgarh)
Shri Biren Kumar Basak (West Bengal)
Shri Peter Brook (United Kingdom)
Shri Gopiram Bargayn Burabhakat (Assam)
Shri Narayan Debnath (West Bengal)
Ms. Dulari Devi (Bihar)
Ms. Radhe Devi (Manipur)
Ms. Purnamasi Jani (Odisha)
Shri Parshuram Atmaram Gangavane (Maharashtra)
Matha B. Manjamma Jogati (Karnataka)
Shri Damodaran Kaithapram (Kerala)
Shri Maheshbhai & Shri Nareshbhai Kanodia (Duo) * (Posthumous) (Gujarat)
Shri K Kesavasamy (Puducherry)
Shri Ghulam Rasool Khan (Jammu and Kashmir)
Shri Lakha Khan (Rajasthan)
Shri Vinayak Vishnu Khedekar (Goa)
Ms. Lajwanti (Punjab)
Shri Ramachandra Manjhi (Bihar)
Shri Dulal Manki (Assam)
Shri Rewben Mashangva (Manipur)
Shri Kartar Paras Ram Singh (Himachal Pradesh)
Shri Kartar Singh (Punjab)
Shri K C Sivasankar (Posthumous) (Tamil Nadu)
Ms. Nidumolu Sumathi (Andhra Pradesh)
Shri K K Ramachandra Pulavar (Kerala)
Shri Kanaka Raju (Telangana)
Ms. Bombay Jayashri Ramnath (Tamil Nadu)
Shri Satyaram Reang (Tripura)
Shri Wayan Dibia (Indonesia)
Ms. Sanjida Khatun (Bangladesh)
Sports
Ms. P. Anitha (Tamil Nadu)
Ms. Mouma Das (West Bengal)
Ms. Anshu Jamsenpa (Arunachal Pradesh)
Shri Madhavan Nambiar (Kerala)
Ms. Sudha Hari Narayan Singh (Uttar Pradesh)
Shri Virender Singh (Haryana)
Shri K Y Venkatesh (Karnataka)
Literature and Education
Shri Prakasarao Asavadi (Andhra Pradesh)
Shri Dharma Narayan Barma (West Bengal)
Shri Sujit Chattopadhyay (West Bengal)
Shri Dadudan Gadhavi (Gujarat)
Shri Jai Bhagwan Goyal (Haryana)
Shri Jagadish Chandra Halder (West Bengal)
Shri Mangal Singh Hazowary (Assam)
Shri Namdeo C Kamble (Maharashtra)
Shri Rajat Kumar Kar (Odisha)
Shri Rangasami Lakshminarayana Kashyap (Karnataka)
Shri Chandrakant Mehta (Gujarat)
Ms. Usha Yadav (Uttar Pradesh)
Shri Chaman Lal Sapru (Posthumous) (Jammu and Kashmir)
Shri Arjun Singh Shekhawat (Rajasthan)
Shri Ram Yatna Shukla (Uttar Pradesh)
Ms. Mridula Sinha (Posthumous) (Bihar)
Shri Kapil Tiwari (Madhya Pradesh)
Shri Imran Shah (Assam)
Shri Balan Putheri (Kerala)
Shri Nanda Prusty (Odisha)
Shri Srikant Datar (United States of America)
Father Vallés (Posthumous), Spain
Shri Nicholas Kazanas (Greece)
Literature and Education- Journalism
Shri Roman Sarmah (Assam)
Shri Solomon Pappaiah (Tamil Nadu)
Social Work
Ms. Lakhimi Baruah (Assam)
Ms. Sangkhumi Bualchhuak (Mizoram)
Shri Jagdish Chaudhary (Posthumous), Uttar Pradesh
Shri Tsultrim Chonjor (Ladakh)
Ms. Shanti Devi (Odisha)
Chutni Devi (Jharkhand)
Ms. Prakash Kaur (Punjab)
Ms. Niru Kumar (Delhi)
Shri Shyam Sundar Paliwal (Rajasthan)
Shri Jitender Singh Shunty (Delhi)
Guru Maa Kamali Soren (West Bengal)
Shri Marachi Subburaman (Tamil Nadu)
Ms. Sindhutai Sapkal (Maharashtra)
Shri Girish Prabhune (Maharashtra)
Ms. Birubala Rabha (Assam)
Trade & Industry
Ms. Rajni Bector (Punjab)
Shri P Subramanian (Posthumous) (Tamil Nadu)
Ms. Jaswantiben Jamnadas Popat (Maharashtra)
Shri Sridhar Vembu (Tamil Nadu)
Public Affairs
Bijoya Chakravarty (Assam)
Col Quazi Sajjad Ali Zahir (Bangladesh)
Science and Engineering
Shri Rattan Lal (United States of America)
Others-Grassroots Innovation
Shri Ali Manikfan (Lakshadweep)
Others- Agriculture
Shri Nanadro B Marak (Meghalaya)
Shri Prem Chand Sharma (Uttarakhand)
Ms. Pappammal (Tamil Nadu)
Shri Chandra Shekhar Singh (Uttar Pradesh)
Medicine
Dr. Rattan Lal Mittal (Punjab)
Dr. Chandrakant Sambhaji Pandav (Delhi)
Dr. J N Pande (Posthumous), Delhi
Dr. Bhupendra Kumar Singh Sanjay (Uttarakhand)
Dr. Thiruvengadam Veeraraghavan (Posthumous), Tamil Nadu
Dr. Dhananjay Diwakar Sagdeo (Kerala)
Shri Ashok Kumar Sahu (Uttar Pradesh)
Dr. Krishna Mohan Pathi (Odisha)
Dr. Dilip Kumar Singh (Bihar)
PIB News Indian Economy
National Non-Communicable Disease Monitoring Survey (NNMS)
---
Union Health Minister released the 'National Non-communicable Disease Monitoring Survey (NNMS)', the largest comprehensive national Survey on risk factors and health systems preparedness of Non-Communicable Diseases (NCDs).
NNMS was conducted during the period of 2017 – 18.
The purpose of the survey was to collect reliable baseline data on key indicators (risk factors, select NCDs and health systems response) related to the National NCD monitoring framework and NCD Action Plan.
This is the first of its kind of a comprehensive survey on NCDs using standardised tools and methods, covering the age groups of 15-69 years, males and females residing in urban and rural areas of the country.
The survey covered a national sample of 600 primary sampling units from 348 districts in 28 States in collaboration with eleven reputed institutions across the country.
Key Findings
Risk Factors for NCDs: Two in five adults had three or more risk factors for NCDs.
The status of health system in responding to the disease burden is also underscored:
Use of Tobacco and Alcohol: One in every three adults and more than one-fourth proportion of men used any form of tobacco and consumed alcohol in past 12 months respectively.
Salt Intake: Average daily intake of salt was 8gms
Physical Activity: More than two in five adults and one in four adolescents were doing insufficient physical activity.
Obese: More than one in every four adults and 6.2% adolescents were overweight or obese.
BP & Blood Glucose: Almost three out of ten adults had raised blood pressure and 9.3% had raised blood glucose.
Current News Ecology & Environment
Climate Adaptation Summit 2021
---
The Netherlands government hosted an online international Climate Adaptation Summit (CAS Online) on 25-26 January 2021.
CAS Online was built on the advances of the UN Climate Action Summit by showcasing pioneering solutions to the climate emergency, and sustaining momentum through to UNFCCC's COP26 in Glasgow in 2021.
What is Climate Change Adaptation
Climate Change Adaptation refers to adjustments in ecological, social, or economic systems in response to actual or expected climatic stimuli and their effects or impacts. It refers to changes in processes, practices, and structures to moderate potential damages or to benefit from opportunities associated with climate change.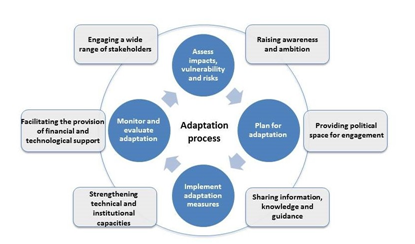 Adaptation Cycle under the UN Climate Change Regime
Why We Need Adaptation to Climate Change?
As climate change leads to an increase in the frequency and intensity of extreme weather, the need for effective early warnings and early action is an imperative.
According to the World Meteorological Organization, there have been more than 11,000 disasters due to weather, climate and water-related hazards over the past 50 years, at a cost of some US$ 3.6 trillion.
Extreme weather and climate-related hazards have also killed more than 410,000 people in the past decade, the vast majority in low and lower middle-income countries.
Although the global death toll has fallen, the poor remain disproportionately exposed.
One person in three is still not adequately covered by early warning systems, and risk-informed early approaches are not at the scale required, there is a need to work together to ensure full global coverage by early warning systems to help minimize these losses.
India at the Summit
Prime Minister Narendra Modi addressed the Climate Adaptation Summit 2021 and expressed India's views/ efforts towards adaptation:
The 'Climate Adaptation' is more significant today than ever before and that it is a key element of India's developmental efforts.
Clean Energy: India is targeting 450 gigawatt of renewable energy capacity by the year 2030.
Clean Fuel: India is providing clean cooking fuel to 80 million rural households.
Clean Water: India is connecting 64 million households to piped water supply.
Reduction of CO2 Emission: India is promoting LED lights and is saving 38 million tons of carbon dioxide emissions annually.
Paris Agreement: India will not just meet its Paris Agreement targets, but exceed them.
Reversal of Environmental Degradation: India will not just arrest environmental degradation but reverse it. India is going to restore 26 million hectares of degraded land by 2030.
Creation of New Capacities: India will not just create new capacities but make them an agent for global good.
Values: Our ancient scripture Yajurveda teaches us that our relationship with planet earth is that of a mother and her child. If we take care of mother earth, she will continue to nurture us.
Lifestyle: To adapt to Climate Change, our lifestyles must also adapt to this ideal. This sentiment should guide our way forward.
Adaptation Action Coalition: A New Global Climate Action Coalition
UK Prime Minister Boris Johnson announced a new international coalition - Adaptation Action Coalition - to tackle the impacts of climate change in his address to the Netherlands-hosted Climate Adaptation Summit, the first-ever global summit focused solely on adaptation and resilience.
Developed by the UK in partnership with Egypt, Bangladesh, Malawi, the Netherlands, Saint Lucia and the United Nations, the new coalition is aimed at working to turn international political commitments made through the United Nations Call for Action on Adaptation and Resilience into on-the-ground support for vulnerable communities.
News Crux Awards In News
Subhash Chandra Bose Aapda Prabandhan Puraskar 2021
---
For the year 2021, (i) Sustainable Environment and Ecological Development Society (in the institutional category) and (ii) Dr. Rajendra Kumar Bhandari (in the Individual category) have been selected for the Subhash Chandra Bose Aapda Prabandhan Puraskar for their excellent work in Disaster Management.
Sustainable Environment and Ecological Development Society (SEEDS) has done commendable work in building community resilience to disasters. It has been working towards disaster readiness, response, and rehabilitation, building local capacities and enabling risk reduction at the community level in different States of India.
Dr. Rajendra Kumar Bhandari is among the pioneers in India who laid the foundation of scientific studies on geo hazards in general and landslides in particular. He established India's first laboratory on landslide studies at CSIR-Central Building Research Institute (CBRI), and three other Centres.
About the Award
To recognize and honour the invaluable contribution and selfless service rendered by individuals and organizations in India in the field of Disaster Management, Government of India has instituted an annual award known as Subhash Chandra Bose Aapda Prabandhan Puraskar.
The award is announced every year on 23rd January, the birth anniversary of Netaji Subhash Chandra Bose.
The award carries a cash prize of Rs. 51 lakh and a certificate in case of an institution and Rs. 5 lakh and a certificate in case of an individual.
News Crux Awards In News
Nikhil Srivastava Wins Michael And Sheila Held Prize
---
Nikhil Srivastava, an Indian mathematician, has been named winner of the prestigious 2021 Michael and Sheila Held Prize along with two others for solving long-standing questions on the Kadison-Singer problem and on Ramanujan graphs.
Srivastava from the University of California, Berkeley, Adam Marcus, the Ecole polytechnique federale de Lausanne (EPFL) and Daniel Alan Spielman from Yale University will receive the 2021 Michael and Sheila Held Prize.
Srivastava, Marcus and Spielman solved long-standing questions on the Kadison-Singer problem and on Ramanujan graphs, and in the process uncovered a deep new connection between linear algebra, geometry of polynomials, and graph.
The Michael and Sheila Held Prize is presented annually and honours outstanding, innovative, creative, and influential research in the areas of combinatorial and discrete optimisation, or related parts of computer science, such as the design and analysis of algorithms and complexity theory.
The prize was established in 2017 by the bequest of Michael and Sheila Held.
The award is given by National Academy of sciences, USA.
Sports In News Hockey
ITBP Wins IHAI National Ice Hockey Championship
---
The Indo-Tibetan Border Police (ITBP) has won the Ice Hockey Association of India (IHAI) 10th National Ice Hockey Championship trophy after beating Ladakh in the finals.
The match was held at Gulmarg Ice Rink, Gulmarg Development Authority, Jammu and Kashmir (UT).
ITBP Ice Hockey team had won numerous tournaments in the region defeating all teams and became the National Ice Hockey Champions in 2019 as well.
Ladakh has been considered as the capital of Ice Hockey in India where local men and women play this game with great enthusiasm and the game is developing very fast in the region among local youth as well.
The Khelo India Ice Hockey Championship will also be organised at Ladakh.
State In News Rajasthan
'Ek Paudha Suposhit Beti Ke Naam': Nourishment Awareness Scheme Of Rajasthan
---
A new scheme called 'Ek Paudha Suposhit Beti Ke Naam' or 'a plant on the name of well-nourished daughter' has been started in Sirohi district, Rajasthan to make people aware about importance of nourishment of pregnant women and children.
Under this Scheme, on the birth of a girl child, a drumstick plant is being distributed by district administration.
This nutritional plant will be taken care of by family members of girl child.
Under this scheme nutrition gardens will be developed at the block and panchayat level.
Community-level programs will also be organized soon under this scheme.

PIB News Ecology & Environment
New Ant Species Discovered From Kerala
---
Two new species of a rare ant genus have been discovered in India.
The species of the ant genus Ooceraea found in Kerala, and Tamil Nadu add to the diversity of this rare genus. They differ from others of the same genus on the basis of the number of antennal segments.
One of them found in the Periyar Tiger Reserve of Kerala, has been named Ooceraea joshii, in honour of Prof. Amitabh Joshi, a distinguished evolutionary biologist from Jawaharlal Nehru Centre for Advanced Scientific Research (JNCASR).
The two new species, the first ones spotted with ten-segmented antennae among this rare genus, were discovered by a team led by Prof. Himender Bharti of Punjabi University, Patiala.
The genus is currently represented by 14 species of which eight possess nine-segmented antennae, while five possess eleven- segmented antennae and one species has recently been reported with eight-segmented antennae. In India, the genus was so far represented by two species with nine- and eleven-segmented antennae respectively.
The newly discovered ant species with ten segmented antennae discovered, establish an old world lineage that contains a species emerging as the only model organism among the ant subfamily.
PIB News National
51st IFFI: Awards And Accolades
---
The 51st edition of International Film Festival of India (IFFI) held its coveted award ceremony on the closing day of the festival in Goa at Shyama Prasad Mookerjee Stadium.
While Danish World War II drama 'Into the Darkness' won the Golden Peacock Award (Best Film), Tzu-Chuan Liu and Zofia Stafiej won the top acting honours.
51st IFFI jury chairman was Pablo Cesar of Germany.
Awards and Accolades

Golden Peacock Award (Best Film)
Into the Darkness, directed by Anders Refn won the Best Film (Golden Peacock) award.
The film chronicles the complex, emotional turmoil which the people of Denmark had to undergo, during the Nazi occupation of the country.
Silver Peacock Award
Best Actor (Male): Tzu-Chuan Liu (Taiwan), The Silent Forest
Best Actor (Female): Zofia Stafiej (Poland), I Never Cry
Best Director: Chen-Nien Ko (Taiwan), The Silent Forest
Other Awards
Best Debut Director Award: Cássio Pereira dos Santos (Brazil), Valentina
Special Mention Award: Kripal Kalita (Assam, India), Bridge

Indian film director Kripal Kalita from Assam has brought laurels to the country and the state after winning the IFFI 51 Special Mention Award for his Assamese film 'Bridge'.
'Bridge' reflects the life amidst hardships caused by annual floods in rural Assam.
The film tells the story of the annual phenomenon in the state, wherein the mighty Brahmaputra and its tributaries flood many villages and ruin cultivation.

Special Jury Award: Kamin Kalev (Bulgaria), February
Lifetime Achievement Award: Vittorio Storaro (Italy)
ICFT UNESCO Gandhi Award: '200 Meters'

Ameen Nayfeh's 2020 Arabic film '200 Meters' won the ICFT UNESCO Gandhi Award – for best reflecting Gandhiji's ideals of peace, tolerance & non-violence.
Indian Personality of the Year Award: Biswajit Chatterjee
Other Felicitations
Yesteryear actress Zeenat Aman and Bhojpuri superstar Ravi Kishen were felicitated for their contribution to films.
Current News
Risa, Rignai & Rikutu: Customary Tripuri Attaire
---
The government of Tripura is trying to weave the Risa into its policy for self-employment.
As of 2018, Tripura had 1,37,177 handloom weavers, according to the National Handloom Census, with 60 handloom clusters. However, only a handful of them exclusively work on traditional tribal handloom.
About Risa
Risa: It is one of the three parts of customary Tripuri female attire, the other two being the Rignai and Rikutu. It is essentially a customary handwoven cloth, is used as a head gear, stole, female
upper cloth or presented to honour a distinguished recipient. Adolescent Tripuri girls are first given Risa to wear when they reach 12-14 years in an event called 'Risa Sormani'. The event involves prayers to a Lampra god, where her elder women pray for her wellbeing throughout her life.

Rignai: It is primarily used to cover lower part of the body and literally translates into 'to wear'.
Rituku: It covers the upper half of the body, wrapping it all around. However, it is also used like a 'chunri' or a 'pallu' of the Indian saree. It is also used to cover the head of newly married Tripuri women.
News Crux Places In News
Jerenga Pothar: A Notable Chapter Of Ahom History
---
PM Narendra Modi addressed an event at Sivasagar's Jerenga Pothar, an open field where the legendary Joymati sacrificed her life for her husband in the 17th century.
Formerly known as Rangpur, Sivasagar was the seat of the powerful Ahom dynasty, who ruled Assam for six centuries (1228-1826).
From 1671 to 1681, the Ahom kingdom was undergoing a period of tumult under 'ministerial superiority', meaning the nobles and prime ministers were more important than the king, who were often puppets.
It was at this time that Sulikhpaa— also known as 'Lora Raja' or the boy prince — and his prime minister Laluksala Borphukan were tracking down, and killing, possible heirs, to ensure a clear passage to the throne.
Prince Godapani, Joymoti's husband, was next in line, but he escaped to the Naga Hills before Lora Raja and his men could capture him.
It was then that Lora Raja sought out Godapani's wife Joymoti, hoping she would tell him about his whereabouts "However, despite being tortured for days, tied to a thorny plant, in an open field, Joymoti refused to divulge any information. She died, sacrificing her life for her husband, who ultimately became the king, ushering in an era of stability and peace in Assam.
Current News Indian Economy
Global Risk Report 2021
---
The Global Risk Report 2021 has been released by the World Economic Forum in collaboration with Zurich Insurance, Marsh McLennan and SK Holdings.
The report cautions the world against the next imminent dangers.
The risks were categorized as Economic, Environmental, Geopolitical, Societal and Technological.
Infectious diseases pose the biggest livelihood and economic threat as witnessed during the novel coronavirus disease (COVID-19) pandemic, according to the Global Risks Report, 2021 released virtually by WEF on January 19.
Top Ten Likely Global Risks in 2021, According to the WEF
Extreme Weather: For the past five years, extreme weather conditions have been listed as the top global risk. Severe weather conditions like cold fronts, fires, floods, heatwaves, windstorms, etc., have been the reason for mass destruction across the world, impacting lives and economies.
Climate Action Failure: Climate action failure ranks high in the global risks list, not just by likelihood but also by the impact. Climate action failure is defined by the failure by governments, corporations and businesses to take up active climate change mitigation measures and help protect ecosystems and livelihoods around the world.
Human Environmental Damage: The third-largest threat is environmental damage caused by human activities. As the world progresses and commercialization spreads across the globe, man-made disasters have been beginning to be a massive threat to humanity.
Infectious Diseases: As the world continues to battle the deadly coronavirus pandemic, which has already claimed over 2 million lives, 'infectious diseases' continues to be a global risk. In fact, it ranks as the biggest risk by impact according to the WEF.
Biodiversity Loss: The loss of biodiversity is another big threat to humanity. The report defined biodiversity loss as "irreversible consequences for the environment, humankind, and economic activity, and a permanent destruction of natural capital, as a result of species extinction and/or reduction."
Digital Power Concentration: It is the concentration of power with a restricted few in the world, especially when it comes to digital assets, which could lead to "unequal private or public access".
Digital Inequality: As the world continues to rely heavily on digital and technological growth, unequal or fractured access to digital networks because of "unequal investment capabilities, lack of necessary skills in the workforce, insufficient purchase power, government restrictions and/or cultural differences" is another risk to the world.
Interstate Relations Fracture: The world in the future has to come together to face these risks, and thus, interstate relations fracture is another threat. Both interstate relations fracture and interstate conflict have been listed are the likely dangers.
Cybersecurity Failure: As dependency on digital increases, one of the biggest threats is cybersecurity failure. The world has already been witnessing a growing number of cyber attacks, as companies across the world reported massive breaches in 2020.
Livelihood Crisis: As markets and businesses continue to reel under the effects of the pandemic, unemployment, underemployment, lower wages, fragile contracts, erosion of worker rights were listed as the threats by the WEF.
Global Risk Horizon: Top Three Risk Scenarios

A. Clear and Present Dangers
Short-term (0 to 2 years) Risks
B.Knock-on Effects
Medium Term (3 to 5 years) Risks
C.Existential Threats
Long Term (5 to 10 years) Risks

Infectious diseases
Extreme Weather Events
Livelihood Diseases

IT Infrastructure Breakdown
Asset Bubble Burst
Price Instability

State Collapse
Weapons of Mass Destruction
Biodiversity losses
Current News Ecology & Environment
Karnataka's First Wolf Sanctuary
---
Karnataka will soon get its first Indian Grey Wolf sanctuary in Koppal district of Kalyana-Karnataka region.
Besides wolves, the area will also provide conservation of striped hyena, Indian fox, golden jackal and other fauna, the agenda copy added.
Melkote region in Karnataka is said to be the first protected area for wolves in the country. The Melkote Wolf Sanctuary was reportedly set up by the maharajas of Mysuru. However, there has been no documentation of wolves in the region for over a decade.
Other Conservation Initiatives
'Arsikere Sloth Bear Sanctuary': The Karnataka Wildlife Board is likely to take up a proposal to set up 'Arsikere Sloth Bear Sanctuary' in the state by including Hirekallu Gudda and adjoining areas.
Hesaraghatta: A long-pending proposal to declare Hesaraghatta — the last standing grassland ecosystem of Bengaluru — as a Conservation Reserve is also under consideration.
About Indian Grey Wolf
It is a subspecies of grey wolf that inhabits semi-arid and arid areas.
It inhabits the dry grassland regions of Deccan Plateau in pockets and prey on blackbucks and other herbivores.
It lacks the luxuriant winter coat as it lives in warmer conditions.
International Union for Conservation of Nature Status - Least Concern
Wildlife (Protection) Act of 1972 - Schedule I Part I.
Current News Ecology & Environment
Climate Change Will Alter Earth's Tropical Rain Belt
---
Future climate change will cause a regionally uneven shifting of the tropical rain belt -- a narrow band of heavy precipitation near the equator -- according to researchers at the University of California, Irvine and other institutions.
This development may threaten food security for billions of people.
Experts stressed that not all parts of the tropics will be affected equally. For instance, the rain belt will move north in parts of the Eastern Hemisphere but will move south in areas in the Western Hemisphere.
According to the study, a northward shift of the tropical rain belt over the eastern Africa and the Indian Ocean will result in future increases of drought stress in southeastern Africa and Madagascar, in addition to intensified flooding in southern India.
A southward creeping of the rain belt over the eastern Pacific Ocean and Atlantic Ocean will cause greater drought stress in Central America.
In Asia, projected reductions in aerosol emissions, glacier melting in the Himalayas and loss of snow cover in northern areas brought on by climate change will cause the atmosphere to heat up faster than in other regions.
The weakening of the Gulf Stream current and deep-water formation in the North Atlantic is likely to have the opposite effect, causing a southward shift in the tropical rain belt across the Western Hemisphere.
Current News Science & Technology
Indian Astrophysicists Spot UV-bright Stars In NGC 2808
---
Scientists from the Indian Institute of Astrophysics (IIA) have spotted rare hot UV-bright stars in the massive globular cluster NGC 2808 of our Milky Way Galaxy.
UV-bright stars have been distinguished from the relatively cooler main-sequence stars using images from Ultraviolet Imaging Telescope (UVIT) onboard satellite AstroSat- India's first multi-wavelength space satellite.
NGC 2808 is said to have at least five generations of stars, which exist in the late stages of evolution of a Sun-like star.
Old globular clusters, referred to as dinosaurs of the Universe, help to understand how stars evolve through various phases between their birth and death.
News Crux Survey/Index
India Innovation Index-2020
---
NITI Aayog has released the second edition of the India Innovation Index-2020.
Objective
The objective of the India Innovation Index is to scrutinize the innovation capacities and performance of Indian states.
The index provides an extensive framework for the constant evaluation of the innovation ecosystem of the 28 Indian states and 9 union territories.
The index intends to accomplish the following three functions:
Rank all states and union territories based on their index score
Identify opportunities and challenges
Assist in modifying governmental policies to foster innovation
Methodology
The India Innovation Index measures innovation inputs through 'Enablers' and innovation output as 'Performance.'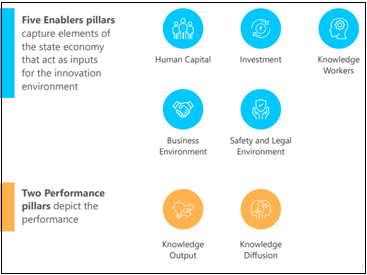 In the India Innovation Index-2020, the States and Union Territories have been divided into 17 Major States, 10 North-East and Hill States and nine Union Territories and Small States for effectively comparing their performance.
Performance of States/UTs
Major States: In the 2020 ranking, Karnataka retained its first position in the Major States category. Maharashtra moved one position higher and stood at 2nd spot while Tamil Nadu slid to 3rd position.
North East and Hill States: In the North East and Hill States category, Himachal Pradesh stands at first position followed by Uttarakhand and Manipur.
UTs/Small States: Delhi stands at the first position while Chandigarh retained its second spot in the Union Territories and small States category.
Overall Performance
Indian states have achieved an average score of 23.4 in the Innovation Index that ranges from a scale of 0 (worst-case scenario) to 100 (best-case scenario).
The score shows that India has immense scope for improvement in the space of innovation.
The 'Performance' score falling below 'Enablers' indicates that the innovation capabilities of the country are not utilised to their optimum level. For example, despite the high number of engineering graduates in the country, their low employability in the knowledge economy results in a level of Knowledge Output and knowledge diffusion that does not correspond with the level of human capital available to be leveraged for innovation. Besides the deficiency in knowledge workers, the low expenditure in R&D, higher education, science, technology and environment, and the lack of venture capital investment also thwart innovation in India.
Current News Ecology & Environment
India Home To Both Species Of Red Panda: ZSI
---
Scientists from the Zoological Survey of India (ZSI) have concluded that India is home to both the (sub) species — Himalayan red panda (Ailurus fulgens) and the Chinese red panda (Ailurus styani).
The Siang River in Arunachal Pradesh splits the red panda into these two phylogenetic species.
The red panda was considered a monotypic species till 2020 until the scientists studied its genetic make-up with respect to the geographical distribution and described the occurrence of the two species.
About Red Panda
The red panda is a mammal species native to the eastern Himalayas and south-western China.
Though it is considered an indicator species for ecological change, the red panda is shy, solitary and arboreal animal.
It primarily feeds on bamboo and avoids human presence.
It is listed as Endangered on the IUCN Red List because the wild population is estimated at fewer than 10,000 mature individuals.
The red panda is endemic to the temperate forests of the Himalayas, and ranges from the foothills of western Nepal to China in the east. In India, it is found in Sikkim, western Arunachal Pradesh, Darjeeling district of West Bengal and parts of Meghalaya.
PIB News Indian Economy
Modified Scheme To Enhance Ethanol Distillation Capacity
---
To achieve 20% blending by 2025 as well as to meet out the requirement of ethanol production capacity in the country, the Department of Food & Public Distribution has modified earlier scheme & notified the modified scheme for extending financial assistance to project proponents for enhancement of their ethanol distillation capacity or to set up distilleries for producing 1st Generation (1G) ethanol from feed stocks such as cereals (rice, wheat, barley, corn & sorghum), sugarcane, sugar beet etc. or converting molasses based distilleries to dual feedstock.
Under the scheme , Government would bear interest subvention for five years including one year moratorium against the loan availed by project proponents from banks @ 6% per annum or 50% of the rate of interest charged by banks whichever is lower for setting up of new distilleries or expansion of existing distilleries or converting molasses based distilleries to dual feedstock.
Objective of this Scheme
To boost agricultural economy
To reduce dependence on imported fossil fuel
To save foreign exchange on account of crude oil import bill
To reduce the air pollution
Benefits of Grain based Distilleries
Sugarcane and ethanol is produced mainly in three states viz. Uttar Pradesh, Maharashtra and Karnataka. Transporting ethanol to far flung States from these three states involves huge transportation cost.
By bringing new grain based distilleries in the entire country would result in distributed production of ethanol and would save a lot of transportation cost and thus prevent delays in meeting the blending target & would benefit the farmers across the country.
Targets (Now & Then)
The Government had fixed target of 10% blending of fuel grade ethanol with petrol by 2022 & 20% blending by 2030.
Now it has been proposed to prepone the 20% blending of ethanol with petrol by 2025.
Current News International
UN Human Rights Council's First-Ever Presidential Vote
---
The UN Human Rights Council elected Fiji's ambassador Nazhat Shameem Khan as its president in 2021after a diplomatic stand-off blocked the usual consensus decision.
The council's presidency rotates each year between the regions and the candidate is typically agreed upon by consensus within each regional group.
This year, though, the Asia-Pacific group due to take the helm failed to agree on a candidate -- or even on holding a vote within their group.
That meant the council, which for the first time in its 15-year history began the year with no president, was forced to hold unprecedented vote among all 47 members.
Current News International
Russia Withdraws From Open Skies Treaty
---
Russia has announced to withdraw from the Open Skies treaty citing "lack of progress" on maintaining the functioning of the treaty after the United States withdrew from it last year.
About OST
It is a post-Cold War defense accord signed soon after the dissolution of the Soviet Union in 1992 and came into force in 2002.
It allowed its nearly three dozen signatories to carry out short-notice flights over one another's territory to monitor potential military operations.
The pact allows its members to request copies of images taken during surveillance flights carried out by other members.
The country under surveillance is given 72-hours' warning ahead of a flight and 24-hours' notice of the flight path, to which it can suggest modifications.
Why USA left the Treaty?
Last year (in November) Washington left the treaty after accusing Russia of violations, including blocking flights over certain sites and forbidding surveys of military exercises.
Why did Russia leave after the US?
A contentious issue regarding Russia's compliance with the OST was its alleged reluctance to allow flights over Kaliningrad, its exclave in Eastern Europe that sits between NATO allies Lithuania and Poland.
Russia defended its position by saying that the restrictions were permissible under treaty rules, and gave the example of the US imposing similar limits on flights over Alaska.
After the US left the OST, Russia sought assurances from NATO allies who continued to remain on the treaty that they would not transfer data collected by their flights over Russia to Washington. In its statement, Russia said that these requests were not backed by the NATO members, prompting it to leave the treaty.
Major Arms Treaties abandoned by US in recent Past
Open Skies Treaty: The Open Skies pact is one of three major treaties Washington abandoned under the administration of outgoing President Donald Trump.
Joint Comprehensive Plan of Action (JCPOA): In 2018, the United States withdrew from the Joint Comprehensive Plan of Action (JCPOA), commonly known as the Iran deal, which curbed Tehran's nuclear program in return for an easing of international sanctions.
Intermediate-Range Nuclear Forces (INF) Treaty: Washington also pulled out from the Intermediate-Range Nuclear Forces (INF) Treaty with Russia, further straining already tense relations between Moscow and Washington that in recent years have reached their lowest point since the end of the Cold War. The INF Treaty was signed between the United States and the Soviet Union in 1987, in which both powers agreed to destroy two categories of lethal missile systems from their own stocks as a means to decelerate the nuclear arms race.
Last Arms Reduction Pact between USA and Russia
With President-elect Joe Biden due to step into office next week, one of the first challenges he will face in bilateral relations with Russia is negotiations over the extension of the New START treaty.
The accord, which is Washington's last remaining arms reduction pact with Moscow, is set to expire on February 5.
Current News National National Security
Defence Modernisation: Army To Get Indigenous SWITCH Drones
---
Towards modernization of Indian Defence forces, the Indian Army has struck a deal for SWITCH UAV from ideaForge Technology — especially for surveillance along LAC in Eastern Ladakh.
This is the biggest such order in terms of the contract value, for any Indian equipment manufacturer for drones.
ideaForge was incubated in 2007 at the Society for Innovation and Entrepreneurship (SINE) at IIT-B by four alumni members.
Based in Mumbai, currently, the company offers seven UAVs that are used in a range of applications including mapping, traffic management, surveillance, crowd management and security. Some of these drones are already in use by the armed forces.
About Switch UAV
The Switch UAV is a fixed-wing vertical take-off and landing UAV that can be deployed at high altitude and harsh environments for day and night surveillance in Intelligence, Surveillance and Reconnaissance (ISR) missions.
It is man-portable and has the highest time on target compared to any other UAV in its class.
Its features include:
Advanced flight time with a range of 15 km
Around 2.6m long and 1.8m wide and weighs less than 6.5 kg
Higher safety and simple operation with additional fail-safe redundancies
Used for long-duration operations harsh environments for day and night surveillance in Intelligence, Surveillance and Reconnaissance (ISR) missions
Current News Ecology & Environment
UNEP Adaptation Gap Report 2020
---
The UN Environment Programme (UNEP) has released the 2020 Adaptation Gap Report on 14th January 2021.
What is Adaptation?
Adaptation is adjustment in natural or human systems in response to actual or expected climatic stimuli or their effects, which moderates harm or exploits beneficial opportunities.
Adaptation is a key pillar of the Paris Agreement on Climate Change. It aims to reduce countries' and communities' vulnerability to climate change by increasing their ability to absorb impacts.
Overall Findings of the Report
Though countries have made progress in planning for climate change adaptation, there are significant financing shortfalls in getting them to the stage where they provide real protection against droughts, floods and rising sea levels.
Impact of the Adaptation Gap
Its impacts will intensify and hit vulnerable countries and communities the hardest, even if we meet the Paris Agreement goals of holding global warming this century to well below 2 degrees Celsius and pursuing 1.5 degree Celsius.
What can be done to close the Adaptation Gap?
According to the report, as temperatures rise and climate change impacts intensify, nations must urgently step up action to adapt to the new climate reality or face serious costs, damages and losses. Nations must take up the following steps:

Increase Adaptation Finance: Annual adaptation costs in developing countries are estimated at $70 billion, but the figure could reach up to $300 billion in 2030, and $500 billion in 2050. Almost three-quarters of nations have some adaptation plans in place, but financing and implementation fall "far short" of what is needed. Stepping up public and private finance for adaptation is urgently needed.
Strengthen Nature-based Solutions: Low-cost options reduce climate risks, restore and protect biodiversity, and bring benefits for communities and economies.
Pursue a green pandemic recovery and prepare to adapt.
Stepping up public and private finance for adaptation is, therefore, urgently needed.


Current News National National Security
IAF To Get 83 'Tejas' From HAL
---
The Union Cabinet has approved procurement of 73 LCA Tejas Mk-1A fighter aircrafts and 10 LCA Tejas Mk-1 Trainer aircrafts from Hindustan Aeronautics Limited (HAL).
Light Combat Aircraft Mk-1A
It is an indigenously designed, developed and manufactured state-of-the-art modern 4+ generation fighter aircraft.
This aircraft is equipped with critical operational capabilities of Active Electronically Scanned Array (AESA) Radar, Beyond Visual Range (BVR) Missile, Electronic Warfare (EW) Suite and Air to Air Refuelling (AAR).
It is the first "Buy (Indian-Indigenously Designed, Developed and Manufactured)" category procurement of combat aircrafts with an indigenous content of 50% which will progressively reach 60% by the end of the programme.
Current News National
'Khadi Prakritik Paint': India's First Cow Dung Paint
---
The Khadi and Village Industries Commission has developed India's first cow dung based paint.
The project is being developed by Kumarappa National Handmade Paper Institute, Jaipur (a KVIC unit).
An eco-friendly, non-toxic paint, called "Khadi Prakritik Paint" is a first-of-its-kind product, with anti-fungal, anti-bacterial properties.
Based on cow dung as its main ingredient, the paint is cost-effective and odorless, and has been certified by Bureau of Indian Standards.
Khadi Prakritik Paint is available in two forms – distemper paint and plastic emulsion paint.
The paint is free from heavy metals like lead, mercury, chromium, arsenic, cadmium and others.
It will be a boost to local manufacturing and will create sustainable local employment through technology transfer. This technology will increase consumption of cow dung as a raw material for eco-friendly products and will generate additional revenue to farmers and gaushalas.
This is estimated to generate additional income of Rs 30,000 (approx) per annum per animal to farmers/ gaushalas. Utilization of cow dung will also clean the environment and prevent clogging of drains.
Current News National
GSI Finds Vanadium In Arunachal Pradesh
---
Geological Survey of India (GSI) has found promising concentration of vanadium in the palaeo-proterozoic carbonaceous phyllite rocks in the Depo and Tamang areas of Arunachal Pradesh's Papum Pare district.
"Good prospects" of vanadium for a cumulative length of 15.5 km and an average thickness of 7m were found in the Deed, Saiya and Phop areas of Lower Subansiri district. Vanadium content was also found in the Pakro area of Pakke-Kesang district, Palin-Sangram in Kra Daadi, Kalamati in West Siang, Kalaktang in West Kameng and Kaying in Siang district.
Vanadium Deposits/Consumption
The largest deposits of vanadium are found in China, followed by Russia and South Africa.
India is a significant consumer of vanadium but is not a primary producer of the strategic metal.
India consumed 4% of about 84,000 metric tonnes of vanadium produced across the globe in 2017. China, which produces 57% of the world's vanadium, consumed 44% of the metal.
About Vanadium Metal
Vanadium is a chemical element with the symbol 'V' and atomic number 23.
It is a hard, silvery-grey, malleable transition metal.
The elemental metal is rarely found in nature, but once isolated artificially, the formation of an oxide layer (passivation) somewhat stabilizes the free metal against further oxidation.
Vanadium resists corrosion due to a protective film of oxide on the surface.
Applications
Most of the vanadium (about 80%) produced is used as ferrovanadium or as a steel additive. Mixed with aluminium in titanium alloys is used in jet engines and high speed air-frames, and steel alloys are used in axles, crankshafts, gears and other critical components. Vanadium alloys are also used in nuclear reactors because vanadium has low neutron-adsorption abilities and it does not deform in creeping under high temperatures.
Vanadium oxide (V2O5) is used as a catalyst in manufacturing sulfuric acid and maleic anhydride and in making ceramics. It is added to glass to produce green or blue tint. Glass coated with vanadium dioxide (VO2) can block infrared radiation at some specific temperature.
Apart from increasing fuel-efficiency in automotive and aviation industries due to its high strength-to-weight ratio, the metal forms the integral part of vanadium redox batteries that have the least ecological impact in energy storage.
PIB News National
NCAVES India Forum 2021
---
Natural Capital Accounting and Valuation of the Ecosystem Services (NCAVES) India Forum 2021 is being organised by the Ministry of Statistics and Programme Implementation (MoSPI) virtually over three separate days, on 14, 21, and 28 January 2021.
India is one of the five countries taking part in this project - the other countries being Brazil, China, South Africa and Mexico.
Implementing Agencies in India
In India, the NCAVES project is being implemented by the MoSPI in close collaboration with the Ministry of Environment, Forest and Climate Change (MoEF&CC) and the National Remote Sensing Centre (NRSC).
Collaboration
The NCAVES India Forum will be organized in collaboration with United Nations Statistics Division (UNSD), European Union and UN Environment.
About NCAVES
The NCAVES Project, funded by EU, has been jointly implemented by the United Nations Statistics Division (UNSD), the United Nations Environment Programme (UNEP) and the Secretariat of the Convention of Biological Diversity (CBD).
Natural Capital Accounting and Valuation of Ecosystem Services (NCAVES) can help integrate the concerns of sustainability and conserving the environment for future use while charting the course for economic development.
NCAVES Status of India
Since the work related to environment accounting in India is still in its early stages, primarily because of the large number of subjects to be covered under this domain, India would need a collaborative effort involving various stakeholders, including Line Ministries, state governments, multilateral organizations and research institutions for compiling a complete suite of accounts.
With a view to facilitate this collaboration and highlight the uses to which natural capital accounts can be put, especially in the areas of decision making and policy analysis, the ministry is conducting the NCAVES India Forum (in a virtual format).
Objectives
To present India's achievements in the domain of Natural Capital Accounting (NCA);
To prioritize the emerging opportunities for NCA in India;
To familiarize stakeholders with the work undertaken by the different international agencies in the area of NCA; and
To provide a platform to selected Research Institutions to present their research conducted in the valuation of ecosystem services.
Current News Indian Economy Banking & Finance
"Liberalised MSME AEO Package" For MSMEs
---
The Central Board of Indirect Taxes & Customs (CBIC) has taken a new initiative to introduce its flagship "Liberalised MSME AEO Package" for micro, small and medium enterprises (MSMEs).
Through this package, CBIC encourages all eligible MSMEs to avail advantages of faster Customs clearances for accredited stakeholders in the global supply chain viz. importers, exporters, logistic service providers, custodians, etc.
To attract MSMEs to become Authorised Economic Operators (AEOs) and avail the various benefits, the CBIC has relaxed the compliance criteria provided the MSMEs have a valid certificate from their line-Ministry.
The relaxed requirements allow MSMEs who have filed minimum 10 Customs clearance documents in one year and who have a clean compliance record over two years to apply for the scheme. The documentary requirements have also been appreciably simplified.
Benefits for AEOs
The approved AEOs derive various benefits including the facility of Direct Port Delivery (DPD) of imported containers, Direct Port Entry (DPE) of their Export Containers, high level of facilitation in customs clearance of their consignments thereby ensuring shorter cargo release time, exemption from bank guarantees, as well as a Client Relationship Manager at the customs port as a single point of interaction.
Current News Ecology & Environment
Management Effectiveness Evaluation Of National Parks And Wildlife Sanctuaries
---
The Ministry of Environment, Forest and Climate Change has released Management Effectiveness Evaluation (MEE) of 146 National Park and Wildlife Sanctuaries in the country.
The 143 National Parks and Wildlife Sanctuaries arranged in five regions viz. Northern, Southern, Eastern, Western and North-eastern for evaluation. The eastern region of India presents highest overall mean MEE Score of 66.12% and the Northern region represents the lowest mean MEE Score of 56%.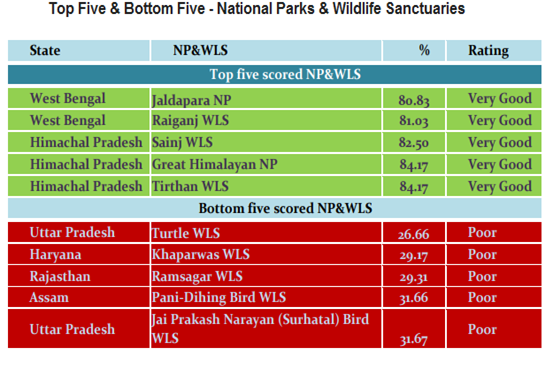 What is Management Effectiveness Evaluation (MEE)?
Protected area (PA) management effectiveness evaluation (MEE) is defined as the assessment of how well NP&WLS are being managed—primarily, whether they are protecting their values and achieving the goals and objectives agreed upon. The term 'management effectiveness' reflects three main themes of PA management:
Design issues relating to both individual sites and PA systems,
The adequacy and appropriateness of management systems and processes, and
Delivery of the objectives of NP&WLS, including conservation of values.
Assessment Process
The assessment process of India's National Park and Wildlife Sanctuaries was adopted from International Union for the Conservation of Nature (IUCN) World Commission on Protected Areas (WCPA) framework of Management Effectiveness Evaluation (MEE).
There are 30 ''Headline Indicators'' developed under six elements of MEE framework suitable in Indian context for evaluation.
Each ''Headline Indicator'' had four possible answers, ''poor'' (score 2.5), ''fair'' (score 5), ''good'' (score 7.5) and ''very good'' (score 10) to choose for evaluation. The total score would be 300 by including a maximum score of all questions.
The ratings are assigned in four categories, as Poor -– up to 40 per cent; Fair -- 41 to 59 per cent; Good -- 60 to 74 per cent; Very Good -– 75 per cent and above.
The assessment criteria and indicators look beyond the traditional concepts, include issues of animal welfare, husbandry and sustainability of resources and finance.
The Ministry of Environment, Forest and Climate Change also launched two other initiatives:
Management Effectiveness Evaluation of Indian Zoos (MEE-ZOO): This framework proposes guidelines, criteria and indicators for evaluation of zoos of the country in a manner which is discrete, holistic and independent. The MEE-ZOO exercise is moving towards developing highest standards in zoos across India and adhering to core values of accountability, transparency, innovation, use of technology, collaboration and integrity to achieve the mandate of conservation of endangered species.
MEE of Marine Protected Areas: A new framework for MEE of Marine Protected Areas jointly prepared by Wildlife Institute of India (WII) and the Ministry of Environment - will be a very useful document to implement.
Current News International
India To Chair 3 UNSC Committees
---
After India joined the Security Council as a non-permanent member for 2021-22, it has been asked to chair three important subsidiary bodies of the United Nations Security Council – the Taliban Sanctions Committee, the Counter-Terrorism Committee and the Libya Sanctions Committee.
1.Taliban Sanctions Committee
Also called the 1988 sanctions committee as it was formed through resolution number 1988 in 2011 by splitting the 1267 sanctions regime on al-Qaeda – amid growing concern worldwide at alarming levels of violence in Afghanistan that has been blamed on the Taliban.
2.Counter-Terrorism Committee
It will be chaired by India in 2022. The panel was formed in the aftermath of the 9/11 terror attacks in New York and that India had led it during its last stint as a non-permanent member of the UN Security Council during 2011-12. The chairing of this committee has special resonance of India, which has not only been in the forefront of fighting terrorism, especially cross-border terrorism, but has also been one of its biggest victims.
3.Libya Sanctions Committee
Also known as the 1970 Sanctions Committee, it is a "very important subsidiary body" of the Security Council that implements a sanctions regime, including a two-way arms embargo, assets freeze, travel ban and measures to prevent illicit export of petroleum. India will chair this committee at a "critical juncture, when there is international focus on Libya and on the peace process" in that country.
Advantage of the Chair
India's chairing the Taliban Sanctions Committee will make a difference as it will have the ability to set the agenda.
The Chair sets the agenda whereas member states can only make representations.
The chair can also take up unsolicited issues. That's the single-most important aspect of being the chair – the members may disagree but the chair can make a point by bringing an issue to the table.
Current News Ecology & Environment
SC-NBWL Approves Conservation Of Caracal
---
The Standing Committee of National Board of Wildlife (SC-NBWL) in its 60th meeting approved inclusion of Caracal, a medium size wild cat found in some parts of Rajasthan and Gujarat, into the list of 'critically endangered' species for taking up conservation efforts with financial support under Centrally sponsored Scheme-Development of Wildlife Habitat.
About Caracal
Caracal is a medium-sized wild cat, which is shy, nocturnal and native to Africa, the Middle East, Central Asia and India.
The Indian caracal is an 'endangered' animal and listed as a schedule-I species in the Wildlife Act, 1972.
Habitat: In India Caracals are mostly found in the tropical dry deciduous and tropical thorn and shrub forests of Central and Western India. A recent study concluded that caracals have most likely become extinct in Madhya Pradesh. These cats are seen occasionally in Rajasthan and Gujarat states though not common in either of the states.
Local Names: In Madhya Pradesh it is locally called as 'Shea-gosh' or 'siyah-gush'. The black tufted ears of this cat are one of its most distinguishing features. In Kutch dialect of Gujarat Caracals are locally referred to as 'Hornotro' which means killer of a Blackbuck whereas in Rajasthan it is known as 'JungleeBilao' or Wildcat.
Conservation Status: The International Union for Conservation of Nature (IUCN) lists the Caracal as "least concern" but in India they are "endangered".
Reason for Population Loss: Rapid loss of scrub and thorn habitat and unchecked human activates in the caracals habitat.
Advisory for Management of Human-Wildlife Conflict
The Standing Committee of National Board of Wildlife (SC-NBWL) in its 60th meeting held recently has approved the advisory for management of Human-Wildlife Conflict (HWC) in the country.
The advisory makes important prescriptions for the States/ Union Territories for dealing with Human-Wildlife conflict situations and seeks expedited inter-departmental coordinated and effective actions.
Finer Points of this Advisory
The advisory envisages empowering gram panchayats in dealing with the problematic wild animals as per the section 11 (1) (b) of Wild Life (Protection) Act, 1972.
Stresses on utilising add-on coverage under the Pradhan MantriFasalBimaYojna for crop compensation against crop damage due to HWC and augmenting fodder and water sources within the forest areas are some key steps envisaged to reduce HWC. Payment of a portion of ex-gratia as interim relief within 24 hours of the incident to the victim/family.
Prescribes inter-departmental committees at local/state level, adoption of early warning systems, creation of barriers, dedicated circle wise Control Rooms with toll free hotline numbers which could be operated on 24X7 basis; identification of hotspots and formulation and implementation of special plans for improved stall-fed farm animal, etc.
About NBWL
The National Board for Wildlife (NBWL) is constituted by the Central Government under Section 5 A of the Wildlife (Protection) Act, 1972 (WLPA).
The Standing Committee of NBWL considers proposals after a series of levels of scrutiny and has recommendations of the State Chief Wildlife Warden, State Government and the State Board for Wildlife.
During the meetings of SC-NBWL, the views of the expert members are taken into consideration before arriving at decisions.
Current News Indian Economy Banking & Finance
RBI Fully Operationalizes 'College Of Supervisors'
---
The Reserve Bank of India (RBI) is now fully operationalising a College of Supervisors (CoS) to further strengthen supervision over regulated entities.
Objective of CoS
To augment and reinforce supervisory skills among its regulatory and supervisory staff both at entry level and on a continuous basis.
To facilitate the development of unified and focused supervision by providing training and other developmental inputs to the concerned staff.
Composition of the CoS
The CoS will be headed by former deputy governor of RBI, N S Viswanathan and will have five other members.
The CoS will have a full-time Director supported by an Academic Advisory Council (AAC).Rabi Narayan Mishra, former Executive Director, RBI, has been appointed as the Director of CoS.
Function of AAC
The AAC will identify areas where skill building/up-skilling is required, plan and develop curricula of all programmes, benchmark the programmes with international standards/best practices, develop appropriate teaching methods, etc.
Current News International
41st GCC Summit Ends 'Qatar Diplomatic Crisis'
---
The 41st summit of the Gulf Cooperation Council (GCC) was held in Saudi Arabia's Al Ula town.
At the summit, in a breakthrough, members of the Arab quartet agreed to establish diplomatic ties with Qatar after three years and a half for funding terrorism.
About GCC
The Gulf Cooperation Council (GCC), headquartered at Riyadh, Saudi Arabia is a regional intergovernmental political and economic union consisting of all Arab states of the Persian Gulf - Bahrain, Kuwait, Oman, Qatar, Saudi Arabia, and the United Arab Emirates - except Iraq.
About Qatar Diplomatic Crisis
The Qatar diplomatic crisis was a diplomatic incident that began on 5 June 2017 when Saudi Arabia, the United Arab Emirates, Bahrain and Egypt severed diplomatic relations with Qatar citing its alleged support for terrorism.
Current News Indian Economy
Madhya Pradesh Rolls Out 'Launch Pad Scheme'
---
The Madhya Pradesh Govt. has started 'Launch Pad Scheme' for boys and girls coming out of child care institutions and having completed 18 years of age.
Objective
To provide such a platform to these youth, through which they will be able to become self-reliant by continuing their education and training.
Implementation
Under the launch pad scheme, 52 districts of the state have been divided into 5 clusters. Five divisional headquarters are being started in Indore, Sagar, Gwalior, Jabalpur and Bhopal.
Under this scheme, the District Administration will provide space to these youths for opening of coffee shops, stationery, photocopying, computer typing and DTP work.
An amount of Rs 6 lakh will be provided by the Women and Child Development Department for the installation of each launch pad.
These launch pads will be operated through non-governmental organizations.
Current News National
New Draft Bill On Cigarette & Tobacco
---
The government has drafted the Cigarettes and other Tobacco Products (Prohibition of Advertisement and Regulation of Trade and Commerce, Production, Supply, and Distribution) Amendment Act, 2020.
Finer Points of the Bill
Change in Age of Smoking: One of the major amendments is under Section 6, which has increased the legal age of smoking to 21. As per the amendment, "No person shall sell, offer for sale, or permit the sale of, cigarette or any other tobacco product - (a) to or by any person who is under twenty-one years of age, and in an area within a radius of one hundred meters of any educational institution."
Ban on Sale of Loose Cigarettes: The government has also sought to ban the sale of loose cigarettes. Section 7 is being amended to say, "Provided that the trade and commerce in a cigarette or any other tobacco product shall be in sealed, intact and original packaging".
Increase in Penalty: The government has also sought to increase the penalty for selling tobacco products to person under the legal smoking age from two years imprisonment and Rs 1,000 to seven years' imprisonment and up to Rs 1 lakh fine.
For Illicit Manufacturers: The bill also has a provision for coming down on the manufacturer and sale of illicit cigarettes and tobacco products, which can lead to 1-year jail and Rs 50,000 fine. The fine for manufacturing illicit cigarettes will lead to two years of jail and Rs 1 lakh fine. Also, the fine for smoking in restricted areas is being increased from Rs 200 to Rs 2,000.
Rules for Public Places: The Draft Bill bans designated smoking rooms at restaurants and airports, and increases penalties for flouting the rules at public places.
Current News Indian Economy Banking & Finance
RBI Introduces Legal Entity Identifier
---
The Reserve Bank of India on December 5, 2021 introduced the Legal Entity Identifier (LEI) for large value transactions over Rs 50 Crore in Centralised Payment Systems, which will be effective from April 1, 2021.
The 20-digit LEI number is used to uniquely identify parties to financial transactions worldwide while improving the quality and accuracy of financial data systems for better risk management post the global financial crisis.
Those seeking to obtain an LEI can reach out to any Local Operating Units (LOUs) accredited by the Global Legal Entity Identifier Foundation (GLEIF). In India, RBI has given the permit to Legal Entity Identifier India Ltd. (LEIL) to issue LEI under the Payment and Settlement Systems Act, 2007.
RBI Operationalizes PIDF Scheme to Boost Digital Payments
The Reserve Bank has operationalised Payments Infrastructure Development Fund to create 30 lakh new touch points every year for digital payments in Tier-3 to Tier-6 centres.
In June last year, the RBI had announced the creation of Payments Infrastructure Development Fund (PIDF).
The fund intended to subsidise deployment of payment acceptance infrastructure in Tier-3 to Tier-6 centres, with special focus on the north-eastern states.
An Advisory Council (AC), under the Chairmanship of RBI Deputy Governor BP Kanungo, has been constituted for managing the PIDF.
It will be operational for a period of three years from January 01, 2021, and may be extended for two more years, depending upon the progress.
The objective of PIDF is to increase the number of acceptance devices multi-fold in the country.
The Scheme is expected to benefit the acquiring banks/non-banks and merchants by lowering overall acceptance infrastructure cost.
Current News Science & Technology
South Korea's 'Artificial Sun' Breaks World Record
---
South Korea's magnetic fusion device, the Korea Superconducting Tokamak Advanced Research (KSTAR) has set a new world record for fusion.
It achieved a temperature of over 100 million degrees Celsius for 20 seconds.
The Sun burns at 15 million degrees Celsius. By comparison, the KSTAR was able to achieve a temperature of over 6.6 times more than that of Sun's.
The KSTAR has often been referred to as South Korea's "artificial sun".
It is a part of joint research conducted with Seoul National University and Columbia University of the US.
In December 2020 China powered up the HL-2M Tokamak reactor, which managed to heat plasma to a temperature of 150 million degrees Celsius but for about 10 seconds.
Why Fusion Devices are Future of Energy Source
Fusion devices mimic the same reactions that take place inside the Sun and could potentially provide a powerful and limitless source of clean energy by releasing massive amounts of energy that can be converted into electricity.
Unlike nuclear fission, it creates little radioactive waste and is considerably less dangerous, but is also more expensive.
Current News Science & Technology
National Metrology Conclave 2021
---
The Prime Minister of India delivered inaugural address at the National Metrology Conclave 2021.
He dedicated National Atomic Timescale and Bhartiya Nirdeshak Dravya Pranali to the Nation and laid the Foundation Stone of National Environmental Standards Laboratory.
The Conclave was organised by Council of Scientific and Industrial Research-National Physical Laboratory (CSIR-NPL), New Delhi, on its 75th year of inception.
The theme of the conclave is 'Metrology for the Inclusive Growth of the Nation'.
National Atomic Timescale
With the launch of National Atomic Timescale, India has achieved the accuracy level of 2.8 nano second and Indian Standard Time is matching the International Standard Time with the accuracy range of less than 3 nano second.
This will be a big help for organization like ISRO who are working with cutting edge technology. Modern technology related Banking, railways, defense, health, telecom, weather forecast, disaster management and many similar sectors will be benefited greatly from this achievement.
CSIR-NPL is India's timekeeper - it is authorized to realize and maintain the Indian Standard Time (IST) by an Act of Parliament.
Bhartiya Nirdeshak Dravya
Bharatiya Nirdeshak Dravya (BND) or Indian Reference Materials are developed by CSIR-National Physical Laboratory, India (NPLI) to ensure the quality of products in every manufacturing and consumer sector by providing SI traceable measurements and enhancing quality life of citizens through metrology. Reference materials (RM) play pivotal role in maintaining the quality infrastructure of any economy through testing and calibration with precise measurements traceable to SI units.
National Environmental Standards Laboratory
The National Environmental Standards Laboratory will aid self-reliance in the certification of ambient air and industrial emission monitoring equipment.
Current News Ecology & Environment
NCS Survey To Study Quakes In Delhi-NCR
---
The National Centre for Seismology (NCS), under the Ministry of Earth Sciences has started a geophysical survey over the Delhi region for accurate assessment of seismic hazards, following tremors in the NCR last year.
The NCS will also carry out analysis and interpretation of satellite imageries and geological field investigations for locating the faults in the Earth's surface.
Magneto-telluric (MT) is a geophysical method which is being used to understand geological structure and processes. MT is a natural time variation of the Earth's magnetic and electic fields to understand geological structure and processes.
These measurements are being conducted across three major seismic sources, namely the Mahendragarh-Dehradun Fault (MDF), Sohna Fault (SF) and Mathura Fault (MF).
This will help ascertain the presence of fluid, which generally enhances the possibility of triggering of earthquakes.
This survey is carried out in collaboration with the Wadia Institute of Himalayan Geology (WIHG), Dehradun.
Analysis and interpretation of satellite imageries and geological field investigations for locating the faults are also being carried out. The study is being conducted by the NCS in collaboration with Indian Institute of Technology (IIT), Kanpur.
Current News National
Toycathon 2021: A Step Towards Indigenous Toys
---
To reduce import of toys (currently India imports 80 per cent of toys) and making the country self-reliant in this sector, Toycathon 2021 has been launched.
Toycathon is an inter-Ministerial initiative of six Ministries wherein nine themes will be promoted under three tracks for junior level participants, senior level participants and start-ups & professional level.
This is a special kind of hackathon where students and teachers from schools and colleges, design experts, toy experts and startups will get together to crowd source ideas for developing toys and games that are based on Indian culture and ethos, local folklore and heroes, and Indian value systems.
The Toycathon is based on nine themes viz. Indian Culture, History, Knowledge of India and Ethos; Learning, Education and Schooling; Social and human values; Occupations & specific fields; Environment; Divyang ; Fitness and sport; Out of the box, creative and logical thinking and Rediscovering/redesigning traditional Indian toys.
The Toycathon will majorly focus on conceptualizing new and innovative toys using local material which are economical, affordable, safe, and environment friendly.
There will be two categories for the Toycathon - one is for online toys and another for physical toys.
News Crux Places In News
Renaming Of Aurangabad To Sambhaji Nagar: A Brief History Of Aurangabad
---
Recently, there is discussions/collusion towards renaming Aurangabad city in Maharashtra as Sambahji Nagar.
Originally called Khadki, the city in its present-day avatar was founded in 1610 by the Deccan-based military commander Malik Ambar (Nijamshahi dynasty), originally a slave from Ethiopia, who relentlessly fought against the Mughals.
Malik Ambar's son Fateh Khan later changed its name to Fatehnagar.
In 1636, Aurangzeb, who had not yet become the Mughal emperor, captured Fatehnagar and made it part of the Mughal empire.
In 1653, he renamed it Aurangabad, and it was made the regional capital of the Mughal Empire.
He tortured and later killed Chhatrapati Sambahji Maharaj, son of Maratha warrior Chhatrapati Shivaji Maharaj in Aurangabad where he lived until his death.
After the Mughals' hold over power weakened in the early 18th century, Aurangabad became part of the Hyderabad Nizams' territory.
It was part of the Bombay state briefly after India attained independence.
Since the formation of Maharashtra in 1960, Aurangabad has been a part of the state.
PIB News National
Reserve Bank Of India Introduces The RBI-Digital Payments Index
---
The Reserve Bank of India has constructed a composite Digital Payments Index (DPI) to capture the extent of digitisation of payments across the country.
The RBI-DPI comprises of 5 broad parameters that enable measurement of deepening and penetration of digital payments in the country over different time periods:
Payment Enablers (weight 25%)
Payment Infrastructure – Demand-side factors (10%)
Payment Infrastructure – Supply-side factors (15%)
Payment Performance (45%)
Consumer Centricity (5%)
Each of these parameters have sub-parameters which, in turn, consist of various measurable indicators. The major sub-parameters under each parameter are available here.
The RBI-DPI has been constructed with March 2018 as the base period, i.e. DPI score for March 2018 is set at 100.
The DPI for March 2019 and March 2020 work out to 153.47 and 207.84 respectively, indicating appreciable growth.
Going forward, RBI-DPI shall be published on RBI's website on a semi-annual basis from March 2021 onwards with a lag of 4 months.
PIB News National
Sagarmala Seaplane Services (SSPS)
---
Ministry of Ports, Shipping and Waterways is initiating the process of commencing operations of the Seaplane services, on the select routes, under a Special Purpose Vehicle (SPV) framework through prospective airline operators.
The project execution and implementation would be through Sagarmala Development Company Ltd (SDCL), which is under the administrative control of the Ministry.
The proposed Origin-Destination pairs under Hub and Spoke model include:
various islands of Andaman & Nicobar and Lakshadweep, Guwahati Riverfront & Umranso Reservoir in Assam, Yamuna Riverfront / Delhi (as Hub) to Ayodhaya, Tehri, Srinagar(Uttrakhand), Chandigarh and many other tourist places of Punjab & HP; Mumbai (as Hub) to Shirdi, Lonavala, Ganpatipule; Surat (as Hub) to Dwarka, Mandvi & Kandla; Khindsi Dam, Nagpur & Erai Dam, Chandrapur (in Maharashtra) and/or any other Hub & Spoke suggested by the Operator.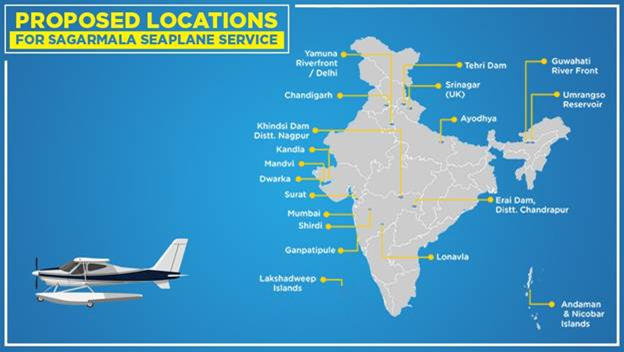 One such Seaplane Service is already in operation between Kevadia and Sabarmati Riverfront in Ahmedabad, which was inaugurated on 31st October 2020.
Current News Ecology & Environment
India To Be A Co-chair Of APAP
---
After successfully increasing population of tigers, lions and leopards through protecting their habitats, India will be the co-chair of the IUCN-supported Asia Protected Areas Partnership (APAP) for three years.
India will replace South Korea which held this position for three years till November, 2020.
In this capacity, it will assist other Asian countries in managing their protected areas.
The APAP is a regional platform to help governments and other stakeholders to collaborate for more effective management of protected areas (PA) in the region.
The APAP currently consists of 21 members from 17 countries including China, Japan, South Korea, Nepal, Bhutan, Sri Lanka and Bangladesh.
The APAP, formally launched at the IUCN World Parks Congress in Australia in 2014, is chaired by IUCN Asia and co-chaired by an APAP country member.
Current News Science & Technology
India's 40th Scientific Expedition To Antarctica
---
India has launched the 40th scientific expedition to Antarctica with a 43-member team embarking upon the Russian ice-class vessel MV Vasiliy Golovnin.
The National Centre for Polar and Ocean Research (NCPOR), which manages the entire Indian Antarctic program.
The expedition is aimed at supporting the ongoing scientific projects on climate change, geology, ocean observations, electric and magnetic flux measurements, environmental monitoring; resupplying of food, fuel, provisions and spare; and accomplishing the return of the winter crew.
The Indian Antarctic expeditions began in 1981 with the first trip consisting of a team of 21 scientists and support staff led by Dr SZ Qasim. Today, the Indian Antarctic programme has three permanent research base stations in Antarctica: Dakshin Gangotri, Maitri, and Bharati of which Maitri and Bharati are operational.
Arctic Expedition: For research in Arctic region, India launched its first scientific expedition in 2007. Indian Arctic station 'Himadri' is located at Ny Alesund, Spitsbergen Island, Norway and serves as a hub of Indian scientific investigations.
Current News Science & Technology
FSSAI Slashes Trans Fat Limit In Food
---
The Food Safety and Standards Authority of India (FSSAI) has slashed the amount of trans fatty acids allowed in oils and fats to 3 per cent from 5 per cent.
The FSSAI's new regulation says that the maximum limit of trans fatty acid shall not be more than 3 per cent by weight, on and from January 1, 2021, and not more than 2 per cent by weight, on and from January 1, 2022.
What are Trans Fats?
According to the World Health Organisation, trans-fat, or trans-fatty acids, are unsaturated fatty acids that come from either natural or industrial sources. Naturally occurring trans-fat comes from cows and sheep whereas industrially produced trans-fat are formed in an industrial process that adds hydrogen to vegetable oil, converting the liquid into a solid, resulting in 'partially hydrogenated oil'.
Why they are Dangerous
Hard to Metabolise: Trans fats have a specific chemical structure, that our body finds hard to metabolise and also trans fats have no physiological role to play in our body.
Increases Cholesterol: Trans fats increase 'bad' LDL cholesterol and triglycerides, and reduce 'good' HDL cholesterol, and can trigger diabetes, immune dysfunction and obesity among other things.
Increases Cardiovascular Diseases: The WHO estimates that every year, trans fat leads to more than 5,00,000 deaths worldwide, mostly from cardiovascular diseases.
Other Health Implications: Those who eat more trans-fat have higher levels of C-reactive protein (a biomarker for inflammation in the body). Further, trans-fat consumption is linked with poor memory and higher risk for dementia too.
News Crux Obituary
Warrior Who Secured Siachen Glacier For India Passes Away
---
Ace mountaineer Colonel Narendra 'Bull' Kumar, who helped India secure the Siachen Glacier, passed away.
Based mainly on his reconnaissance reports, the Indian Army went ahead with the mission to occupy the Siachen heights under 'Operation Meghdoot' in 1984.
To honour Col Kumar's immense contribution to the mission, an Army base in Siachen is named after him as 'Kumar Base'.
In 1965, Col Kumar was awarded Padma Shri and later Arjuna Award for the Everest expedition.
He is the only Colonel to this day with Param Vishisht Seva Medal (PVSM) distinction in all three services, which is generally accorded to Generals. He was also awarded Kirti Chakra and Ati Vishisht Seva Medal.
News Crux Obituary
Footballer Nikhil Nandy Passes Away
---
Former footballer Nikhil Nandy, who was a part of the Indian national team that finished fourth at the 1956 Melbourne Olympics has passed away.
The Nandy brothers — Nikhil Nandy along with two of his elder brothers Santosh Nandy and Anil Nandy – also hold the unique record of representing India in Olympics – the sole family in India where all three brothers went on to play in the Olympics. While Santosh Nandy and Anil Nandy represented India in 1948, Nikhil Nandy played in 1956.
News Crux Obituary
Hockey World Cup Winner Michael Kindo Passes Away
---
World class defender, former Indian hockey player Michael Kindo (from Rourkela, Odisha) has passed away.
He was part of the team that won the 1975 World Cup (Kuala Lumpur, Malaysia) beating arch-rivals Pakistan in the final; and bronze at the 1972 Olympic Games (Munich).
Kindo was bestowed with the Arjuna Award in 1972.
News Crux Awards In News
Tansen Samman
---
Renowned Indian Santoor player, Pandit Satish Vyas was conferred with the National Tansen Samman for 2020 by the Madhya Pradesh Government during the Tansen Music Festival held in Gwalior.
The festival is held every year to pay tributes to one of the greatest musicians in Indian history of classical music, Tansen, who was also one of the nine gems in the court of Mughal emperor Akbar.
Pandit Vidyadhar Vyas - Hindustani vocalist (Gwalior gharana) was given this award in 2019.
News Crux Appointment & Resignation
Dr. Harsh Vardhan Nominated As Member On The GAVI
---
Health and Family Welfare Minister Dr. Harsh Vardhan has been nominated a member on the GAVI Board by the Global Alliance for Vaccines and Immunisation.
He will represent India for two years starting from 2021 to 2023.
The GAVI Board oversees the operations of the Vaccine Alliance and monitors programme implementation.
News Crux Appointment & Resignation
Four Judges Elevated As Chief Justice Of High Courts
---
The President of India, in exercise of the power conferred by clause (1) of Article 217 of the Constitution of India, appointed the following Judges as Chief Justices of the High Courts :
Dr. Justice S. Muralidhar: Chief Justice of Odisha High Court
Kumari Justice Hima Kohli: Chief Justice of Telangana
Justice Pankaj Mithal: Chief Justice of Jammu and Kashmir and Ladakh High Court
Justice Sanjib Banerjee: Chief Justice of Madras High Court
News Crux Appointment & Resignation
Maj Gen Gautam Chauhan To Head Indian Army's Human Rights Cell
---
To look into the human rights issue and suggest means to better the track record of the force, Indian Army has appointed Maj Gen Gautam Chauhan as the first Additional Director General Human Rights.
He will work under the India Army Vice Chief Lieutenant General SK Saini.
Current News Ecology & Environment
India's 1st Pollinator Park Opened At Haldwani
---
To conserve various pollinator species, India's 1st Pollinator Park has been inaugurated at Haldwani in Nainital district, Uttarakhand by Peter Smetacek, a butterfly expert.
Pollination process occurs when pollen grains from the male part of one flower (anther- the part of a flower at the top of a stamen that produces pollen) are transferred to the female part (stigma- the top of the carpel where pollen is received) of another flower. Once pollination occurs, the fertilized flowers produce seeds, which enable the associated plant to reproduce and/or form fruit.
Birds, bats, butterflies, moths, flies, beetles, wasps, small mammals, and most importantly, bees are pollinators.
Concerns
Most of pollinator populations are in decline mostly due to a loss in feeding and nesting habitats, pollution, overuse of pesticides and insecticides, disease, and changes in climatic patterns.
The shrinking and shifting pollinator population will endanger our food security.
Current News Indian Economy Banking & Finance
Govt. Extends Benefit Of RoDTEP Scheme To All Export Goods
---
Government has decided to extend the benefit of the scheme for Remission of Duties and Taxes on Exported Products (RoDTEP) to all export goods with effect from 1 January 2021 to boost export.
The scheme will refund to exporters the embedded Central, State and local taxes that were so far not being given rebate or refunded.
The refund will be credited in the exporter's ledger account with Customs and used to pay Basic Customs duty on imported goods. The credits can also be transferred to other importers.
The RoDTEP rates will be notified shortly by the Department of Commerce, based on the recommendation of a Committee chaired by former Commerce and Home Secretary Dr. G.K. Pillai.
The final Report of the Committee is expected shortly.
An exporter desirous of availing the benefit of the RoDTEP scheme will have to declare his intention for each export item in the shipping bill or bill of export.
The notified rates, irrespective of the date of notification, shall apply with effect from 1st January, 2021 to all eligible exports of goods.
Current News National National Security
BEL To Supply Laser Dazzlers To Indian Navy
---
Bharat Electronics Limited (BEL) will supply Light Amplification by Stimulated Emission of Radiation Dazlers (Laser Dazzlers). These would be manufactured by BEL, Pune plant.
The Laser Dazzler is used as a non-lethal method for warning and stopping suspicious vehicles/boats/aircrafts/UAVs/pirates etc. from approaching secured areas during both day and night. It is capable of dazzle and thereby suppresses the person's/optical sensors' action with disability glare in case of non-compliance to orders. It disorient/ confuse/blind a person temporarily. It also dazzles and distracts aircraft/UAVs.
Laser dazzler technology was developed by Defence Research and Development Organisation (DRDO).
BEL to supply Lynx U2 Fire Control Systems for Indian Navy
Bharat Electronics Limited (BEL) will provide Lynx U2 Fire Control systems, designed and developed indigenously, for frontline warships of Indian Navy.
The LYNX U2 GFCS is a Naval Gun Fire Control System designed to acquire, track and engage targets amidst sea clutter. It is capable of accurately tracking air/surface targets, generating required target data for predicting weapon aiming points and engaging target. The target engagement is carried out with the medium/short range gun mounts like Russian AK176, A190 and AK630 and the SRGM available onboard ships.
Current News National
Light House Projects Under GHTC-India
---
On 1-1-2021, Prime Minister Narendra Modi laid the foundation stone of Light House Projects (LHPs) under Global Housing Technology Challenge (GHTC)-India at six sites across six States- Indore (Madhya Pradesh), Rajkot (Gujarat), Chennai (Tamil Nadu), Ranchi (Jharkhand), Agartala (Tripura) and Lucknow (Uttar Pradesh).
What are Light House Projects?
The LHPs showcase the best of new-age alternate global technologies, materials and processes in the construction sector for the first time in the country at such a large scale.
They are being constructed under GHTC-India, which envisage providing an ecosystem for adoption of innovative technologies in the housing construction sector in a holistic manner.
They comprise about one thousand houses at each location along with allied infrastructure facilities.
These projects will demonstrate and deliver ready to live houses at an expedited pace within twelve months, as compared to conventional brick and mortar construction, and will be more economical, sustainable, of high quality and durability.
They will serve as live laboratories for facilitating transfer of technology to the field and its further replication.
Global Housing Technology Challenge - India
Global Housing Technology Challenge - India (GHTC- India) is an initiative under the Pradhan Mantri Awas Yojana Urban (PMAY – U) by the Ministry of Housing and Urban Affairs to fast-track the construction of affordable housing and meet the target of constructing 1.2 crore houses by 2022 and to identify and mainstream a basket of innovative technologies from across the globe that are sustainable and disaster-resilient.
Sports In News Athletics
Paris 2024 Olympics: Gender Equality And Youth At The Heart
---
The Olympic Games Paris 2024, are centred on gender equality and youth.
While Olympic Games Tokyo will be the first gender equal Olympic Games, with an overall 48.8 per cent female participation, it will be further increased at Paris 2024, reaching the exact same number of male and female athletes for the first time in Olympic history.
This new flexibility is part of the reforms of Olympic Agenda 2020 which features the games' historic 100 percent gender equality in athlete quotas, more youth-focused events and reductions in athletes and events.
Main Features of Paris 2024's Olympic Programme Include:
Exactly 50 per cent male and female participation, following on from the gender equality already achieved for Tokyo 2020, which will have 48.8 per cent female participation.
Growth of mixed gender events, from 18 to 22, compared to Tokyo 2020.
Skateboarding, sport climbing, surfing and breaking confirmed as additional sports based on a proposal by Paris 2024.
Breaking will make its Olympic debut.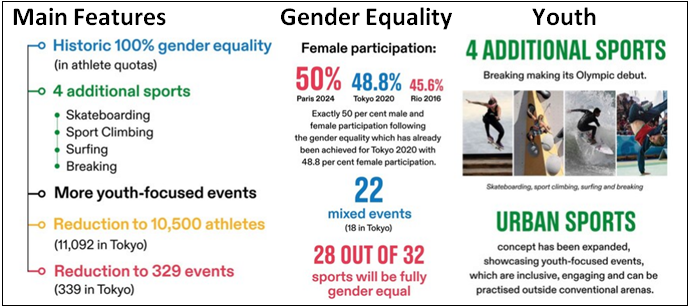 ---