Current News Ecology & Environment
Ordinance To Fix Air Quality In Delhi-NCR
---
The Union Government has come up with a law, through an Ordinance, for tackling air pollution in the Delhi-National Capital Region (NCR) and setting up a commission for it.
The President signed the ordinance on 29th October 2020 titled 'The Commission for Air Quality Management in National Capital Region and Adjoining Areas Ordinance, 2020'.
This commission for air quality management will replace the EPCA (environment pollution and prevention control authority) which was formed by the Supreme Court as the apex monitoring body in matters of pollution in the country.
This is the first time that the Centre has formed a legislative commission for air pollution.
Composition of the Commission
Against seven members of the Environment Pollution (prevention & control) Authority (EPCA), formed in 1998, which was dissolved, the new Commission will have 18 members, including a chairperson and secretary as well as eight associate members from different ministries.
Apart from seven central ministries, the commission will have also representation from five states, Central Pollution Control Board, Indian Space Research Organisation, NITI Ayog, pollution experts and NGOs.
The full-time chairperson and full-time members will be appointed by the central government.
The chairperson or members shall hold office for three years.
Why EPCA was dissolved?
The Environment Pollution (Prevention and Control) Authority (EPCA) was not a statutory body but drew legitimacy from the Supreme Court.
The EPCA was not, however, supported by a legal framework in the form of a law.
It did have the authority to issue fines or directions and guidelines to the governments in other states.
It had no state representatives, just two permanent members.
Authority of the Commission
The commission will have the authority to shut down or regulate water and electricity supply to industries or sites which cause air pollution.
It will also have the powers to seize and search under the Code of Criminal Procedure, 1973 and also issue a warrant.
The commission can slap a penalty of Rs 1 crore and/or five-year jail term to those flouting air pollution norms.
It will also have powers to inspect sites and investigate as well as carry out researches relating to air pollution.
It will provide a mechanism and the means to implement in NCR the National Clean Air Programme, National Air Quality Monitoring Programme and National Ambient Air Quality Standards.
The commission will also formulate parameters for air quality, emissions and discharge of environmental pollutants, including stubble burning and monitor its adherence.
Jurisdiction
It will have "exclusive jurisdiction" in the NCR on matters relating to air quality management.
It will co-ordinate with the states of Punjab, Haryana, Rajasthan, Delhi and Uttar Pradesh to plan, execute and monitor programmes for "prevention, control and abatement of air pollution."
Dispute Redressal
In case of any dispute with regard to the commission and its order, the case would be heard only at the National Green Tribunal.
News Crux Appointment & Resignation
Yashvardhan K. Sinha: New CIC
---
The Centre has cleared the appointment of Information Commissioner Yashvardhan K. Sinha as the new head of the Central Information Commission.
His predecessor Bimal Julka had completed his tenure as Chief Information Commissioner on August 26, after which the appellate body had been headless.
While the sanctioned strength of information commissioners in the central appellate body for RTI is 10, at present, with the latest appointments, it has six commissioners.
About CIC
The Central Information Commission is a Statutory Body, set up under the Right to Information Act in 2005.
The commission includes one chief information commissioner and not more than ten information commissioners who are appointed by the President of India on the recommendation of a committee consisting of the Prime Minister as Chairperson, the Leader of Opposition in the Lok Sabha and a Union Cabinet Minister to be nominated by the Prime Minister.
CIC hold the office for a term of 5 years from date on which he enters upon his office or till he attains the age of 65 years, whichever is earlier.
CIC is not eligible for reappointment.
Current News Science & Technology
EOS-01: ISRO's Earth Observation Satellite
---
Indian Space Research Organisation (ISRO) will launch its next earth observation satellite EOS-1 on November 07, 2020.
India's Polar Satellite Launch Vehicle in its 51st mission (PSLV-C49) will launch EOS-01 as primary satellite along with nine international customer satellites from Satish Dhawan Space Centre (SDSC) SHAR, Sriharikota.
EOS-01 is an earth observation satellite intended for applications in agriculture, forestry and disaster management support.
The customer satellites are being launched under commercial agreement with NewSpace India Limited (NSIL), Department of Space.
Sports In News Racing
Lewis Hamilton Surpasses Schumacher
---
Lewis Hamilton (Mercedes-Great Britain) has won the 2020 Portuguese Grand Prix, held at Algarve International Circuit, Portugal.
This is Hamilton's 8th win of the season and 92nd career race victory.
With this win, he has surpassed the record of 91 wins set by German great Michael Schumacher.
Current News Ecology & Environment
Action Plan For Vulture Conservation 2020-2025
---
National Board for Wildlife (NBWL) has approved an Action Plan for Vulture Conservation 2020-2025.
The new plan has laid out strategies and actions to stem the decline in vulture population, especially of the three Gyps species:
Oriental white-backed vulture (Gyps bengalensis)
Slender-billed vulture (Gyps tenuirostris)
Long-billed vulture (Gyps indicus)

Under this plan, five states (Uttar Pradesh, Tripura, Maharashtra, Karnataka and Tamil Nadu) will have vulture conservation and breeding centre each.
There will be established at least one vulture-safe zone in each state for the conservation of the remnant populations in that state.
Four rescue centres will be established in Pinjore (Haryana), Bhopal (Madhya Pradesh), Guwahati (Assam) and Hyderabad (Telangana).
National Board for Wildlife is a statutory Board constituted officially in 2003 under the Wild Life (Protection) Act, 1972. It is chaired by the Prime Minister of India.
News Crux Awards In News
GHE Wins 2020 UN Global Climate Action Award
---
The Global Himalayan Expedition (GHE), an Indian organisation is among the winners of the 2020 UN Global Climate Action Award.
GHE is one of the world's first organisations that leverage tourism and technology to help remote communities' access solar energy.
GHE conducts "Impact Expeditions" to remote Himalayan villages and uses a portion of the expedition fee to fund the capital cost of the hardware, transportation, installation and training of village-scale solar micro-grids.
Current News Ecology & Environment
Exercise Indian Ocean Wave 2020
---
UNESCO's (United Nations Educational, Scientific and Cultural Organization) Intergovernmental Coordination Group for Indian Ocean Tsunami Warning and Mitigation System (ICG/IOTWMS) conducted an Indian Ocean-wide mock Tsunami Drill – 'IOWave20' (Indian Ocean Wave2020) on October 6, 13 and 20, 2020.
In the Indian Ocean region, basin-wide tsunami exercises are held every two years.
The Exercise comprises three scenarios with simulated tsunami waves travelling across the ocean basin. The scenarios included Java trench on 6 October, Andaman trench on 13 October, and Makran trench on 20 October.
Current News International
India Assumes Chairmanship Of The Governing Body Of ILO
---
After 35 years, India has assumed the Chairmanship of the Governing Body of International Labour Organization, marking a new chapter in the 100 years of productive relationship between India and ILO.
Shri Apurva Chandra, Secretary (Labour and Employment) has been elected as the Chairperson of the Governing Body of the International Labour Organisation (ILO) for the period October 2020- June 2021.
The Governing Body (GB) is the apex executive body of the ILO which decides policies, programmes, agenda, budget and elects the Director-General.
At present ILO has 187 members.
Shri Apurva Chnadra will be presiding over the upcoming meeting of the Governing Body to be held in November 2020.
Current News Indian Economy
Access To Food Grossly Unequal: WFP Report
---
"The Cost of a Plate of Food-2020" released by United Nations World Food Programme (UN-WFP),Nobel Peace Prize winner of 2020, found in its study that access to food is grossly unequal throughout the world.
The report highlights the countries where a simple meal costs the most, when compared with people's incomes.
South Sudan is once again top of the list, with basic ingredients costing a staggering 186 percent of a person's daily income.
Seventeen of the top 20 countries featured in the index are in sub-Saharan Africa.
What is the major contributor of Hunger in many countries?
The report highlights conflict as a central driver for hunger in many countries, as it forced people from their homes, land and jobs, drastically reducing incomes and the availability of affordable food.
A Gloomy Scenario
The WFP estimates that the lives and livelihoods of up to 270 million people will be under severe threat in 2020, unless immediate action is taken to tackle the pandemic.
The Report on India
On an average, an Indian spends 3.5% of his/ her daily income for a plate of food as compared to 0.6% by an Individual from New York, United States (US).
The report has ranked 36 countries where India stood at 28th position.
Current News National Polity & Governance
National Authority For Recycling Of Ships
---
On 15th October, 2020, the Central Government notified the Directorate General (DG) of Shipping as National Authority for Recycling of Ships under the section 3 of the Recycling of Ships Act, 2019.
About National Authority for Recycling of Ships(NARS)
NARS will be set up in Gandhinagar, Gujarat.
The location of the office will benefit the Ship Recycling yard owners situated in Alang, Gujarat which is home to Asia's largest ship breaking and ship recycling industry in the world.
Functions
As an apex body, DG Shipping is authorized to administer, supervise and monitor all activities relating to Ship Recycling.
It will look after the sustainable development of the Ship Recycling industry, monitoring the compliance to environment-friendly norms and safety and health measures for the stakeholders working in the ship recycling industry.
It will be the final authority for the various approvals required by the Ship-Recycling yard owners and State Governments.
The Recycling of Ships Act, 2019
On 13th December, 2019, the Recycling of Ships Bill, 2019 received the President's assent and became an Act.
Key Features
It restricts and prohibits the use or installation of hazardous materials, which applies irrespective of whether a ships meant for recycling or not.
Restriction or prohibition on use of hazardous materials would not be applied to warships and non-commercial ships operated by the Government.
Ship recycling facilities are required to be authorized and ships shall be recycled only in such authorized ship recycling facilities.
The Act also provides that ships shall be recycled in accordance with a ship-specific recycling plan.
It imposes a statutory duty on ship recyclers to ensure safe and environmentally sound removal and management of hazardous wastes from ships.
Hong Kong Convention for Ship Recycling
Also known as the Hong Kong Convention (HKC), it was adopted at a Diplomatic Conference held in Hong Kong, in May 2009.
Under Ship Recycling Act, 2019, India has acceded to Hong Kong Convention for Ship Recycling under International Maritime Organization (IMO).
DG Shipping is India's representative in IMO and all the conventions of IMO are being enforced by DG Shipping.
Status of Recycling of Ships Industry in India
India is home to one of the largest ship breaking facilities in the world with over 150 yards along its coast.
On an average, close to 6.2 Million GT is scrapped in India every year, which accounts for 33% of the total scrapped tonnage in the world.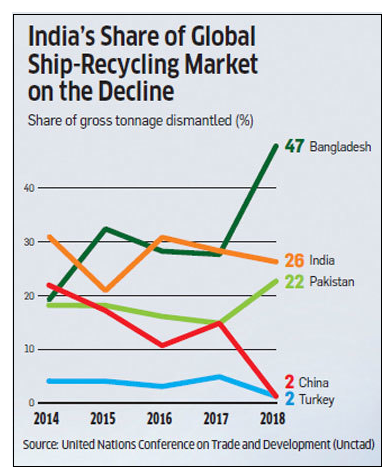 Issues with Ship Recycling Industry in India
Safety Issues
Inadequate safety controls, badly monitored work operations and high risk of explosions create very dangerous work situations.
Lack of coordination for work procedures, basic risk-reducing or eliminating measures are often ignored and ultimately accidents occur.
Health Related Issues
Exposure to other heavy metals found in many parts of ships such as in paints, coatings, anodes and electrical equipment can result serious health issues such as cancers.
Workers have very limited access to health services and inadequate housing, welfare and sanitary facilities which further exacerbate the plight of the workers.
Waste Management Issues
Management of solid wastes generated in ship breaking is a major concern in India.
Although these wastes constitute only around 1% of dead weight of a ship, the total amount in millions of tonne, make these wastes difficult to handle, posing a major risk both to health and environment.
Water Pollution
Water body, primarily the marine environment gets polluted in terms of suspended solids, nitrates, phosphate, heavy metals, oil and grease from bilge water.
Air Pollution
Various air pollutants like furans and polycyclic aromatic hydrocarbons (PAHs), fine particulates are released during the breaking process of ship.
It further contributes to air pollution from various ship breaking processes.
Way Forward
Given the current high human and environmental costs, it seems likely that ship owners and breakers, state mechanisms and international legislation will each need to continue to evolve and increase their cooperation to fill the gaps.
Ship owners from their side need to incorporate a sustainable social and ecological responsibility as well when it comes to the recycling of their vessels.
A well balanced global list of compliant facilities can only remain when the facilities on it receive a good and constant flow of end-of-life vessels.
With the back drop of sustainability issues, this industry has the potential to be the prime economic activity in India.
Current News Indian Economy
"Stacked Odds": UN Report On Modern Slavery
---
On the occasion of International Day of the Girl Child, 2020 (11 October), the United Nations(UN) released a report titled "Stacked Odds" that highlights the scenario around the globe on modern slavery.
What is Modern Slavery?
Modern slavery is defined as the recruitment, movement, harbouring or receiving of children, women or men through the use of force, coercion, and abuse of vulnerability, deception or other means for the purpose of exploitation.
Finer Points of the Report
At least 2.9 crore women and girls across the world are victims of modern slavery, which includes forced marriages, debt-bondage, forced labour, and domestic servitude.
One in every 130 females globally is living in modern slavery.
99 per cent of women/ girls are victims of forced sexual exploitation, 84 per cent are victims of forced marriage and 58 per cent are victims of forced labour.
Females are bigger victims of modern slavery as compared to males in Asia and Pacific (73 per cent), in Africa (71 per cent), in Europe and Central Asia (67 per cent) and in America (63 per cent).
Major Factors behind Modern Slavery according to the Report
Modern slavery is enabled by gender inequality and discrimination. For example, in many countries, girl children don't get access to medical care and education because of gender inequality, which pushes them to poverty.
What the Report Suggests to Nation States
The UN report suggested six points that must be included in the action plan to prevent the exploitation of women:

Governments of all nations must criminalise all forms of modern slavery by reforming laws.
Steps must be taken to abrogate child marriage.
Education for girl children must be put on priority.
Cultural norms must be challenged, such as male preference, restrictions on freedom of movement outside the home, and lack of control over finances and assets, which allow harmful and exploitative practices to continue.
Amending laws and policies that strip women of their rights, for example, inheritance rights, land ownership laws, and the Kafala system.
The governments must acknowledge the clear link between gender and risk of modern slavery in their gender and development programming and budgets.
Current News Science & Technology
Mars Opposition
---
On 13th October, Mars and the Sun lined up with Earth in the middle called Mars Opposition.
What is an Opposition in Astronomy?
At opposition – Earth is in the middle of a line between an outer planet and the Sun, we see the sun at one end of our sky and the opposition planet in the opposite direction.
When the Sun sets in the west, the planet is rising in the east. As the planet drops below the horizon, the Sun pops above it again: opposite.
Opposition for an outer planet happens when the Sun and that planet are exactly 180 degrees apart in the sky.
Planets that can be at Opposition
Oppositions can only happen for objects that are farther from the Sun than Earth is. We can see oppositions for Jupiter, Saturn, Uranus and Neptune about every year. They happen as Earth, in its much-faster orbit, passes between these outer worlds and the Sun.
We see oppositions of the planet Mars, too, but Martian oppositions happen about every 27 months because Earth and Mars are so relatively close together in orbit around the Sun; their orbits, and speeds in orbit, are more similar.
Planets that cannot be at Opposition
Venus and Mercury can never be at opposition as seen from Earth. Their orbits are closer to the Sun than Earth's, so they can never appear opposite the Sun in our sky. These inner planets always stay near the Sun, no more than 47 degrees from the Sun for Venus, or 28 degrees for Mercury, in our sky.
Why Mars Opposition Occurs only every Two Years?
Mars orbits the Sun once every 687 days, so roughly 2 years. We on Earth travel a much higher speed and only require 365 days to orbit.The Earth would lap Mars at some point during its orbit. Given that Mars is also orbiting, one trip around the Sun would not suffice, however. Only after 780 days will the Earth and Mars be aligned once again. An opposition!
News Crux Awards In News
Nobel Prize 2020 In Economic Sciences
---
Noted American economists Paul Milgrom and Robert Wilson have been awarded the 2020 Nobel Prize in economics for their contributions to 'auction theory'.
They have studied how auctions work. They have also used their insights to design new auction formats for goods and services that are difficult to sell in a traditional way, such as radio frequencies.
Robert Wilson developed the theory for auctions of objects with a common value – a value which is uncertain beforehand but, in the end, is the same for everyone. Examples include the future value of radio frequencies or the volume of minerals in a particular area. Wilson showed why rational bidders tend to place bids below their own best estimate of the common value: they are worried about the winner's curse – that is, about paying too much and losing out.
Paul Milgrom formulated a more general theory of auctions that not only allows common values, but also private values that vary from bidder to bidder. He analysed the bidding strategies in a number of well-known auction formats, demonstrating that a format will give the seller higher expected revenue when bidders learn more about each other's estimated values during bidding.
In the 1990s, the U.S. Federal Communications Commission put this theory to work to better allocate radio frequency bands to telecom and media companies. The agency previously allocated spectrum using licence applications and random lotteries.
By using Milgrom and Wilson's auction format, designed to counter the problems of uncertain values and the winner's curse, the new FCC spectrum auctions drove billions of dollars in sales over the next twenty years.
The format has since been adopted by other countries—including the United Kingdom, India, and Canada—to improve their allocation of not just radio frequency bands, but also other assets like carbon emission allowances.
In 2019, the award was shared by Indian-American economist Abhijit Banerjee, Esther Duflo and Michael Kremer. The trio was awarded for their experimental approach to alleviating global poverty. In 1998, Amartya Sen won Economics Nobel "For his contributions to welfare economics."
The prize for economics is officially known as the Sveriges Riksbank Prize in Economic Sciences. It was established by Sweden's Central Bank and has been awarded since 1969 in memory of industrialist Alfred Nobel.
Current News Indian Economy Survey And Index
The Commitment To Reducing Inequality Index-2020
---
On 7th October, 2020, Oxfam International along with the Development Finance International(DFI) published the third(previous two in 2017 and 2018) edition of The Commitment to Reducing Inequality Index(CRI) Index-2020.
About CRI-2020
It is a multidimensional index which ranks 158 countries on their policy performance to reduce inequality.
It primarily measures progress on tackling economic inequality, i.e. the gap betweenrich and poor
The index has three pillars and 19 different indicators, each of which relates to one policy area that has been found to be critical in reducing inequality: public services (previously known as spending); taxation; and labour.
Key Findings
World Specific Findings
Most of the countries near the top of the index are Organisation for Economic Co-operation and Development(OECD) countries.
With higher gross domestic products (GDP), they have much more scope to raise progressive tax revenues because they have more citizens and corporations with higher incomes.
Likewise, they have greater scope to spend those revenues on public services and social protection.
Norway tops the 2020 CRI Index, notably scoring top on labour rights.
At the bottom of the Index is South Sudan, which is new to the index and comes close to last on all three pillars.
Vietnam's response to the coronavirus pandemic has been among the best in the world.
The low ranking also reflects a failure of policy setting by the government for its citizens: for instance, South Sudan spends six times more on the military and on debt servicing than it does on vital public services, and it collects only around 15% of the tax that it should. This leads to failure to deliver on even the most basic of services.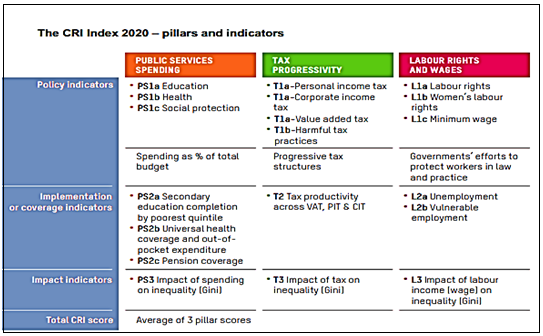 India Specific Findings
Ranked at 129 in the index, India's health budget is the fourth lowest in the world.
Just half of its population have access to even the most essential health services, and more than 70% of health spending is being met by people themselves, one of the highest levels in the world.
So far India's response to COVID-19 has been woeful, with huge numbers of deaths and millions of people forced into destitution.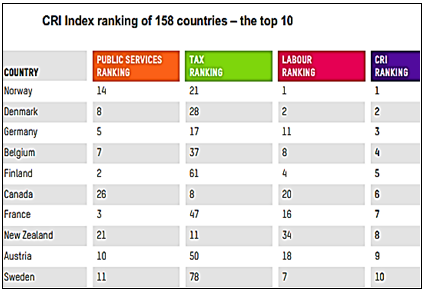 Fighting Inequality in the Time Of Covid-19
The index shows clearly how the majority of the world's countries were woefully unprepared for the coronavirus pandemic.
The coronavirus pandemic has magnified and increased inequalities across the world.
The poorest people are least able to isolate, to protect themselves. They are more likely to have pre-existing poor health, making them more likely to die.
Women are among the hardest hit economically, as they are more likely to be in precarious work and are also 70% of the world's health workers.
The crisis has also exacerbated racial inequality across the globe.
But, there have been significant expansions in health and social protection spending across the world.
Many countries have expanded worker rights and protections, particularly through short-time working, sick leave and unemployment benefit. But there have also been sharp rises in unemployment and underemployment, and increased attacks on workers' rights.
Role International Financial Institutions in Response to Pandemic
The International Monetary Fund (IMF) has disbursed US$88bn in support to 80 countries and has saved 28 countries $251m in debt servicing payments.
The World Bank has pledged US$160bn in emergency funding, mobilized US$6bn for its COVID-19 Fast Track Facility.

Recommendations
Urgent Government Action to Radically Reduce Inequality
In response to the coronavirus pandemic, governments must dramatically improve their efforts on progressive spending, taxation and workers' pay and protection as part of National Inequality Reduction Plans under SDG 10.
Spending on public services and social protection needs to be increased and its impact on coverage and inequality improved.
There also needs to be systematic tracking of public expenditures, involving citizens in budget oversight.
Workers need to receive living wages and have their labour rights better protected.
Women and girls especially need their rights to equal payand protection against sexual harassment and rape to be enforced including for vulnerable workers.
Inequality Policy Impact and Analysis
Governments, international institutions and other stakeholders should work together to rapidly improve data on inequality and related policies, and to regularly monitor progress in reducing inequality.
Coming Together to Fight Inequality
Governments and international institutions should come together in the fight against increasing inequality as a result of the coronavirus pandemic.
The most urgent policy measures include a global commitment and funding to ensure that COVID-19 vaccines will be free to all countries and expansion in social protection to protect workers in lower-income countries.
The international community must support them with Special Drawing Rights,debt relief and global solidarity taxes.
Sports In News Tennis
French Open 2020
---
The French Open is a Grand Slam tennis tournament played on outdoor clay courts. It was held at the Stade Roland Garros in Paris, France.
Major Titles
Women's Singles
Poland's IgaSwiatek defeated American Sofia Kenin to win the 2020 French Open for her first Grand Slam singles title.
The 19-year-old Swiatek, at 54 the lowest-ranked woman to capture the Roland Garros title in the modern era, beat her sixth-ranked opponent to win her country's first Grand Slam singles title.
Swiatek is the youngest women's French Open winner since Monica Seles lifted the trophy as an 18-year-old in 1992. She is the first teenage champion since Iva Majoli in 1997.
Swiatek became just the second unseeded women's Roland Garros champion in the Open era, joining Jelena Ostapenko who claimed the title three years ago.
Men's Singles
Rafael Nadal (Spain) beat Novak Djokovic (Serbia) to win his 20th Grand Slam title, equalling Roger Federer, and his 13th French Open title.
Rafael Nadal has won the most French Open titles, with thirteen (which is also a record for any player, male or female, in any one of the four major tournaments) and also holds the record for the most consecutive wins in the Open Era, with five from 2010 to 2014.
News Crux Awards In News
WFP Gets Nobel Peace Prize
---
The United Nations World Food Programme (WFP) was awarded the Nobel Peace Prize for the year 2020.
The agency was given the prize "for its efforts to combat hunger, for its contribution to bettering conditions for peace in conflict-affected areas and for acting as a driving force in efforts to prevent the use of hunger as a weapon of war and conflict".
The group provided assistance to close to 100 million people in 88 countries last year who were victims of acute food insecurity and hunger.
Last Year's Winner
Last year it went to Ethiopian Prime Minister Abiy Ahmed, whose peace deal with Eritrea ended a 20-year military stalemate following their 1998-2000 border war.
First Nobel Peace Prize
The first Nobel Peace Prize was given in 1901 to Henry Dunant (Switzerland) for his role in founding the International Committee of the Red Cross.
Youngest and Oldest Winner
The youngest laureate is Malala Yousafzai (Pakistan), who was 17 years old when she won in 2014 and the oldest recipient was Joseph Rotblat (Poland) who was given the award at the age of 87 in 1995.
Indians to win this Award
Mother Teresa was the first Indian to win the Nobel Peace Prize in 1979.
Kailash Satyarthi along with Malala Yousafzai won the Nobel Peace Prize in 2014.
Who awards the Nobel Peace Prize?
The Norwegian Nobel Committee (a 5-member committee appointed by the Norwegian Parliament) awards the Nobel Peace Prize.
Berit Reiss-Andersen is the current chairman of the Norwegian Nobel Committee.
About World Food Programme
Established in 1961, the World Food Programme (WFP) is the food-assistance branch of the United Nations and the world's largest humanitarian organization addressing hunger and promoting food security.
It is a priority of the World Food Programme to accomplish Sustainable Development Goal 2, one of the 17 Sustainable Development Goals established by the United Nations in 2015, which targets achieving "zero hunger" by 2030.
The World Food Programme was an active participant in the diplomatic process that culminated in May 2018 in the UN Security Council's unanimous adoption of Resolution 2417, which for the first time explicitly addressed the link between conflict and hunger.
WFP has its Headquarter at Rome, Italy and currently headed by David Beasley.
WFP initiatives in India
WFP has been working in India since 1963 and has transitioned from food distribution to providing technical assistance as India became self-sufficient in cereal production.
TPDS: At present, WFP is working to improve the government's targeted public distribution system (TPDS) to ensure that food reaches those that need it the most.
Midday Meal Programme: It is also working with the government to improve the nutritional value of the Midday Meal programme and is using its own software called the Vulnerability and Analysis Mapping to identify the most food insecure groups in the country.
ICDS: WFP has partnered with the government of Uttar Pradesh to set up over 200 supplementary nutrition production units to support distribution under the government's Integrated Child Development Services (ICDS) scheme that provides nutrition services to children below the age of six.
Annapurti: It is a WFP program approved by India to set up automatic grain dispensing machines at five locations across five states — Uttarakhand, Maharashtra, Karnataka, Uttar Pradesh and Haryana. These machines, expected to check malpractices in PDS distribution.
Mobile Storage Units (MSU): A "cost-effective solution for foodgrain storage" is running as a pilot in Odisha and Uttarakhand.
Current News Science & Technology
DRDO Successfully Flight Tests Anti-Radiation Missile (Rudram)
---
The Defence Research and Development Organisation conducted a successful flight test of the indigenously developed New Generation Anti-Radiation Missile (NGARM) also called the 'Rudram' at the Integrated Test Range (ITR) in Balasore, Odisha.
What are Anti-Radiation Missiles?
Anti-radiation missiles" are designed to detect, locate, and destroy enemy air defence radars; they are often carried by specialist aircraft that accompany airstrikes to perform the SEAD (Suppression of Enemy Air Defenses) mission.
This capability with other Countries
Now, India joined the likes of the United States, Russia, Brazil, China, United Kingdom and Iran who all have indigenous ARM missiles in their armoury.
About immediate Foes
Pakistan has bought MAR-1 Missiles from Brazil in 2008 and China has its own systems.
About NGARM
It is capable of striking radiation-emitting targets within a range of 250 km.
It hasa launch speed of up to 2 Mach, twice the speed of sound.
It has INS-GPS navigation with Passive Homing Head for the final attack.
The Passive Homing Head can detect, classify and engage targets over a wide band of frequencies as programmed.
Advantages
The specialised weapon is aimed to provide tactical air superiority in warfare.
Missile guidance and navigation toward its target while the missile is on course take place through continuous inputs from sensors and passive homing seeker technology.
Suppression of radar system will enable India's jets to carry out missions without having to worry about facing threats from radar-guided surface-to-air missiles.
Current News Ecology & Environment
Fishing Cat Designated As Ambassador Of Chilika Lake
---
Fishing cat, the only wild cat species in India has been designated as ambassador of Chilika Lake, India's oldest Ramsar site.
Fishing cats are mostly found in marshlands fringing the north and north-eastern sections of the lake.
The fishing cat is a Schedule I species and deserves conservation measures of the highest order in India, as with the tiger and elephant.
IUCN status of the fishing cat is 'Vulnerable'
The conservation of the species is a concern as the marshland and mangrove ecosystems, which are fishing cat habitat are on decline.
Current News Ecology & Environment Agriculture & Allied Sector
Vaibhav Summit On Precision Agriculture
---
On 5th October, 2020, Indian Council of Agricultural Research(ICAR) organized a session on "Sensors and Sensing for Precision Agriculture" as a part of the Vaishwik Bhartiya Vaigyanik (VAIBHAV) Summit 2020.
It aims at strengthening the S&T base for providing the impetus to endeavour of Aatma Nirbhar Bharat.
Key Points
The initiative sought to bring together the thought process, practices, R&D culture of Overseas and Indian scientists/academicians and develop a road map for translational research/academic culture for tangible output.
A total of 18 verticals have been identified for deliberation of which "Agro-economy and Food Security" deals directly with agriculture with several horizontals.
The horizontal on "Precision Agriculture" aims at discussing recent advances in the field on sensors, remote sensing, deep learning, artificial intelligence and IoT for monitoring and quantification of soil, plant and environment to enhance farm productivity with increased input use efficiency and environmental sustainability.
Precision Agriculture(PA)
It can be defined as a whole-farm management strategy that utilises information technology and that the aim of management is to improve production and minimise environmental impact.
It also refers to the farming system which in modern agriculture may include the supply chain from the farm gate to the consumer.
Need for PA in India
The decline in the total productivity, diminishing and degrading natural resources, stagnating farm incomes, lack of eco-regional approach, declining and fragmented land holdings, trade liberalization on agriculture, limited employment opportunities in non-farm sector, and global climatic variation have become major concerns in agricultural growth and development.
Therefore, the use of newly emerged technology adoption is seen as one key to increase agriculture productivity in the future.
Benefits
Enhances agricultural productivity and prevents soil degradation in cultivable land resulting in sustained agricultural development.
Help reducing excessive chemical usage in crop production.
Allow efficient use of water resources.
Applying sensing devices throughout the field will allow a continuous monitoring of the chosen parameters and offers real-time data to help inform decisions.
Provides opportunities for better resource management and hence reduce wastage of resources.
Challenges
Technology related Challenges
Precision farming requires some degree of competence in the use of software and hardware.Illiteracy among Indian farmers reduces technology adoption and trial possibilities.
The lack of awareness and absence of dedicated education of precision agriculture among farming communities is major obstacle for its adoption.
Lack of local technical expertise and assistance is another obstacle for precision agriculture.
Economy related Challenges
Indianagricultureispredominantlyfeaturedassmallandmarginallandholdings, which is major constraint in adoption of precision agriculture.
It's quite difficult and impractical to expect this segment to adopt high cost involvement technologies used in precision farming.
Further, PA involves highinitial cost which includes many expensive machine sand tools which are beyond the economic reach of small and marginal farmers.
Social and Behavioral related Challenges
Indian farming is predominated by age old farming practices.
The same agriculture practices are being carried out from generations. Resistance and rigidity are two major hurdles in adoption of precision farming.
Way Forward
The policy approach to promote precision agriculture at farm level-
Identify the niche areas for the promotion of crop specific precision farming.
Creation of multidisciplinary teams involving agricultural scientists in various fields, engineers, manufacturers and economists to study the overall scope of precision agriculture.
Provide complete technical backup support to the farmers to develop pilots or models, which can be replicated on a large scale.
Pilot study should be conducted on farmers'fields to show the results of precision agriculture implementation.
Evolve policy for efficient technology transfer and ensure complete end to end technical support to farmers.
Current News
Nobel Prize For Literature 2020
---
The 2020 Nobel Prize in Literature was awarded to the American poet Louise Glück 'for her unmistakable poetic voice that with austere beauty makes individual existence universal'.
Glück, the 16th woman to win the literature prize, has published 12 collections of poetry and several volumes of essays on poetry. Her writing is characterized by a striving for clarity and focuses on themes of childhood and family relationships.
Glück is a professor of English at Yale University in Connecticut. She made her debut in 1968 with "Firstborn," and won the Pulitzer Prize in 1993.
The first woman to win the Nobel Prize for literature was Selma Lagerlöf (Sweden) who won the prize in 1909.
The Nobel Prize in Literature is awarded by The Swedish Academy, Stockholm, Sweden.
Last year's decision to give the Nobel literature award to Peter Handke was deeply controversial, with critics calling it "shameful" because of his comments on the Yugoslav Wars and ties to former Serbian leader Slobodan Milošević, who was charged with war crimes.
Current News Science & Technology
Nobel Prize In Chemistry 2020
---
The Nobel Prize in Chemistry 2020 was awarded jointly to Emmanuelle Charpentier (France) and Jennifer A. Doudna (USA) "for the development of a method for genome editing."
Emmanuelle Charpentier and Jennifer A. Doudna have discovered one of gene technology's sharpest tools: the CRISPR/Cas9 genetic scissors. Using these, researchers can change the DNA of animals, plants and microorganisms with extremely high precision.
This technology has had a revolutionary impact on the life sciences, is contributing to new cancer therapies and may make the dream of curing inherited diseases come true.
Current News Ecology & Environment
'Dolphin Jalaj Safari'launched On 'Ganga River Dolphin Day'
---
To make make people aware of the biodiversity of Ganga river and importance of conserving India's national aquatic animal, the National Mission for Clean Ganga (NMCG) has launched Dolphin-based ecotourism programme - Dolphin Jalaj Safari at six locations i.e. Bijnor, Brijghat, Prayagraj and Varanasi in Uttar Pradesh, Kahalgaon (Bihar) and Bandel (West Bengal) along the country's national river on the occasion of the 'Ganga River Dolphin Day'.
India celebrates October 5 every year as the 'Ganga River Dolphin Day' as this day Ganga Dolphins were declared national aquatic animals in 2010.
Initiative for Promoting Ecotourism
'Ganga Praharis':The 'Ganga Praharis' - trained volunteers from among the local community working for cleanliness of Ganga - will take the tourists at these sites on boat rides to view Dolphin in the Ganga River.
'My Ganga My Dolphin': A new campaign, 'My Ganga My Dolphin', has been launched to conduct Dolphin census in 250 km stretch from Bijnor to Narora.
Other Recent Initiatives on Dolphin

As announced by the Prime Minister Narendra Modi on August 15, 2020, the Centre is also expected to launch 'Project Dolphin' soon to give a new impetus to the conservation and protection of the species in both riverine and marine ecosystems – the way India has been implementing conservation schemes for tigers and elephants under its dedicated 'Project Tiger' and 'Project Elephant' programmes.
About Ganga River Dolphin

The Ganges river dolphin has been recognized by the government of India as its National Aquatic Animal and is the official animal of the Indian city of Guwahati.
These are fresh water dolphins and are generally blind and catch their prey and moveusing bio-sonar method.
Conservation Status: Endangered as per IUCN
Habitat: The Gangetic River Dolphins are found in the Ganges-Brahmaputra-Meghna and Karnaphuli river system of India, Nepal and Bangladesh. In India, these Dolphins are sighted along deep river reaches in Assam, Bihar, Jharkhand, Madhya Pradesh, Rajasthan, Uttar Pradesh and West Bengal.
Indicator Species of River Ecosystems: Being an indicator species of river ecosystems, Gangetic River Dolphins play a vital role in providing valuable ecosystem services.
Vikramshila Gangetic Dolphin Sanctuary in Bhagalpur District of Bihar is the only Sanctuary for Gangetic dolphins.
Current News Ecology & Environment
India Gets Its First Ever Brand & Logo For Its Cotton On 2nd World Cotton Day
---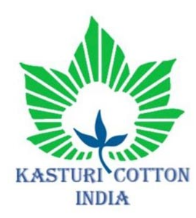 The Ministry of Textiles has launched the 1st ever Brand & Logo for Indian Cotton on 2nd World Cotton Day on 7th October. The Day was initiated by the Group of Cotton-4 countries namely Benin, Burkina Faso, Chad and Mali.
Now India's premium Cotton would be known as 'Kasturi Cotton' in the world cotton Trade.
The Kasturi Cotton brand will represent Whiteness, Brightness, Softness, Purity, Lustre, Uniqueness and Indianness.
Importance of Cotton in Indian Economy
Cotton is one of the principal commercial crops of India and it provides livelihood to about 6.00 million cotton farmers.
India is the 2nd largest cotton producer and the largest consumer of cotton in the world.
India produces about 6.00 Million tons of cotton every year which is about 23% of the world cotton.
India produces about 51% of the total organic cotton production of the world, which demonstrates India's effort towards sustainability.
Current News Ecology & Environment Biodiversity
Ecosystem Services
---
On 5th October, 2020, The Energy and Resources Institute (TERI)released an assessment according to which the annual economic value of ecosystem services provided by the Delhi Zoo works out to be Rs 426 crore.
The study was commissioned by the Central Zoo Authority (CZA).
Key Points
The ecosystem services constitute heads such as biodiversity conservation, employment generation, education and research, carbon sequestration and recreational and cultural contributions.
When one-time ecosystem services are considered, such as carbon storage, the surrogate value of land and land value of Delhi Zoo, their contribution climbs to nearly Rs55,209 crore.
Significance
The study is 'first-of-its-kind' in India which gave a "powerful baseline assessment" of the important ecosystem services provided by the zoo.
These estimates could be used to compute value provided by zoos across India.
Ecosystem Services
These are the benefits provided by ecosystems that contribute to making human life both possible and worth living.
Examples of ecosystem services include products such as food and water, regulation of floods, soil erosion and disease outbreaks, and non-material benefits such as recreational and spiritual benefits in natural areas.
As per the Millennium Ecosystem Assessment (MEA), 2005,ecosystem services are "the benefits people obtain from ecosystems".
Categorization
MEA categorizes ecosystem services in four main types-
Provisioning Services: These are the products obtained from ecosystems such as food, fresh water, wood, fiber, genetic resources and medicines.
Regulating Services: These are defined as the benefits obtained from the regulation of ecosystem processes such as climate regulation, natural hazard regulation, water purification and waste management, pollination or pest control.
Habitat Services: These highlight the importance of ecosystems to provide habitat for migratory species and to maintain the viability of gene-pools.
Cultural Services: Theseinclude non-material benefits that people obtain from ecosystems such as spiritual enrichment, intellectual development, recreation and aesthetic values.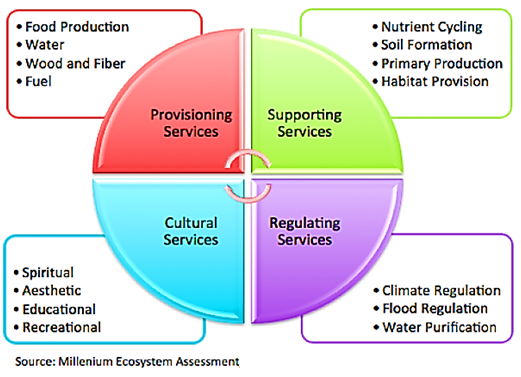 Millennium Ecosystem Assessment (MEA)
MEA is a major assessment of the human impact on the environment, called for by the United Nations Secretary-General Kofi Annan in 2000.
Objectives
To assess the consequences of ecosystem change for human well-being.
To study the scientific basis for action needed to enhance the conservation and sustainable use of those systems and their contribution to human well-being.
Current News National
New Rules For Postal Ballot
---
To make the procedure to opt for postal ballot more convenient for those above 80 years of age and people with disabilities, the Election Commission has come out with a set of new instructions.
If he/she opts for postal ballot, then the booth level officer will deliver the form required to opt for the postal ballot at the residence of all those aged above 80 and people with disabilities under his polling station. He will collect the filled-in form 12-D from the house of the elector within five days of the notification and deposit it with the returning officer forthwith.
The returning officer would deploy polling teams, which will deliver and collect the postal ballot on pre-informed dates and then deposit it with the returning officer.
It would be up to these two categories of voters to opt for postal ballot.
The voting will bevideographed to ensure transparency.
Postal Ballot Facility Entitled to Others
Members of the armed forces like the Army, Navy and Air Force, members of the armed police force of a state (serving outside the state), government employees posted outside India and their spouses are entitled to vote only by post. In other words, they can't vote in person. Voters under preventive detention can also vote only by post.
Special voters such as the President of India, Vice President, Governors, Union Cabinet ministers, Speaker of the House and government officers on poll duty have the option to vote by post. But they have to apply through a prescribed form to avail this facility.
Recently, the Law Ministry, at the Election Commission's behest, introduced a new category of 'absentee voters', who can now also opt for postal voting. These are voters employed in essential services and unable to cast their vote due to their service conditions. Currently, officials of the Delhi Metro Rail Corporation, Northern Railway (Passenger and Freight) Services and media persons are notified as absentee voters.
Note:Recently, senior citizens above the age of 65 and voters who test positive for COVID19 or are suspected to be COVID-affected were allowed to cast their vote by post.
News Crux Awards In News
Nobel Prize In Physiology Or Medicine
---
The Nobel Prize in Physiology or Medicine 2020 was awarded jointly to Harvey J. Alter (USA), Michael Houghton (UK) and Charles M. Rice (USA) "for the discovery of Hepatitis C virus."
Nobel Assembly at the Karolinska Institute gives away the Nobel Prize in Physiology or Medicine.
About Hepatitis C:Hepatitis C is a blood-borne virus and causes Hepatitis C disease which affects the liver.
Types of Hepatitis:There are five types (mainly) - A, B, C, D and E
What vaccines are available?
Vaccines are available for A, B, D and E but not for C
How does the virus spread?
Hepatitis A and E: Lack of food hygiene, contaminated water and sub-standard sanitary facilities.
Hepatitis B, C and D:Through blood, sperm and other body fluids.
News Crux Awards In News
Nobel Prize In Physics
---
Three scientists have won the 2020 Nobel Prize in physics for their work on blackhole formation and the discovery of a supermassive blackhole at the centre of our galaxy.
Roger Penrose (UK): A British mathematical physicist based at the University of Oxford, won his share (1/2) of the prize for using ingenious mathematical tools to prove that the formation of black holes are predicted by Einstein's general theory of relativity.
Reinhard Genzel (Germany) and Andrea Ghez (America):For their work in which they turned telescopes on our own galaxy and discovered there is a supermassive blackhole in the centre of the Milky Way.
Andrea Ghez is the fourth woman to win Nobel Prize in Physics.Marie Curie was the first woman to be awarded in 1903.
Nobel Prize in Physics and Chemistry is presented by the Royal Swedish Academy of Sciences.
State In News Gujarat
Digital Seva Setu Programme
---
Gujarat Government has announced Digital Seva Setu Programme for the rural areas.
The Digital Seva Setu has been initiated under the Bharat Net Project- an initiative to connect the Village Panchayats through 100 MBPS optical fibre network.
Under this programme, the citizens will be able to get benefit of about 20 types of pro-people services which will be provided at the village panchayat level by paying a nominal fee of Rs. 20.
The citizens can get various documents like duplicate ration card, income certificate, senior citizen certificate, caste certificate at their doorstep under this programme.
The government will also provide powers of affidavit to the TalatiMantri at the Village Panchayat level so that people in rural areas do not have to visit the notary offices in towns and cities.
PIB News National Ecology & Environment
National Wildlife Week 2020
---
Wildlife Week is celebrated all over the country in the month of October from 2nd to 8th October every year to protect animal life. It was first started in the year 1952.
Initiatives/ Events This Year
The government is working towards the upgradation and development of 160 Zoos in Public Private Partnership (PPP) across the country to encourage interaction between wildlife and humans, and help people observe and understand wildlife behaviour more closely.
A report of the Central Zoo Authority and The Energy and Resources Institute (CZA-TERI) titled "Economic valuation of ecosystem services, National Zoological Park, New Delhi" was released.The report highlights the importance of habitats such as zoos to human wellbeing and the need of replication across India.
The study first of its kind in India and perhaps the entire World, pegs the total annual economic value of the ecosystem services (biodiversity conservation, employment generation, carbon sequestration, education and research, recreational and cultural) at around 423 crore (2019-20) whereas, the total value of the one-time cost of services such as carbon storage and land value provided by the zoo is estimated to be around 55,000 crore.
The CZA-PraniMitra awards were given to encourage the zoo officers and staff towards working for captive animal management and welfare.
CZA which was established to oversee the functioning of Indian zoos and complement the wildlife conservation strategies through ex-situ measures, as on today recognizes around 160 zoo and rescue centers that enforce global standards in animal housing and welfare. Over 567 captive animal species (with 114 species under endangered category) with overall 56481 individual animals are currently housed in Indian zoos.
PIB News National Defence
Successful Flight Test Of SMART
---
Supersonic Missile Assisted Release of Torpedo (SMART) has been successfully flight tested on 5th Oct 2020 from Wheeler Island off the coast of Odisha.
SMART is a missile assisted release of lightweight Anti-Submarine Torpedo System for Anti-Submarine Warfare (ASW) operations far beyond Torpedo range.
This launch and demonstration is significant in establishing Anti-Submarine warfare capabilities.
Current News Indian Economy Survey And Index
Confronting Carbon Inequality
---
According to a new report titled- Confronting Carbon Inequality, by Oxfam and the Stockholm Environment Institute (SEI), the extreme carbon inequality in recent decades that has driven the world to the climate brink.
Major Findings
The Era of Extreme Carbon Inequality
The 25 years from 1990 to 2015 saw a rapid escalation of the climate crisis, as global annual carbon emissions grew by around 60%.
Around half the emissions of the richest 10% (24.5% of global emissions) are today associated with the consumption of citizens of North America and the EU, and around a fifth (9.2% of global emissions) with citizens of China and India.
The richest 10% of humanity accounted for 52% of the cumulative emissions, depleting the global carbon budget for 1.5C by nearly a third (31%).
The poorest 50%accounted for just 7% of cumulative emissions, and a mere 4% of the budget.
Carbon Inequality is driving the World to the Climate Brink
The world's poorest 3.5 billion people contribute little to carbon emissions but are most affected by climate impacts like floods, storms, and droughts.
Extreme carbon inequality is the result of political choices made over the past 20-30 years.
It is a direct consequence of our governments'decades long pursuit of unequal and carbon intensive economic growth.
Unequal Growth and Climate Justice
Unequal economic growth slows poverty reduction rates.
Unequal growth has another implication: it means that the global carbon budget is being rapidly depleted, not for the purpose of lifting all of humanity to a decent standard of living, but to a large extent to expand the consumption of a minority of the world's very richest people.
Women also often experience the impacts of climate change differently from men:whether walking further to collect water, being last to eat during droughts, or assuming most of the household caring responsibilities in the wake of extreme weather.
Tackling Carbon Inequality
To limit global heating to 1.5C, global average per capita emissions should be approximately 2.1t/year by 2030.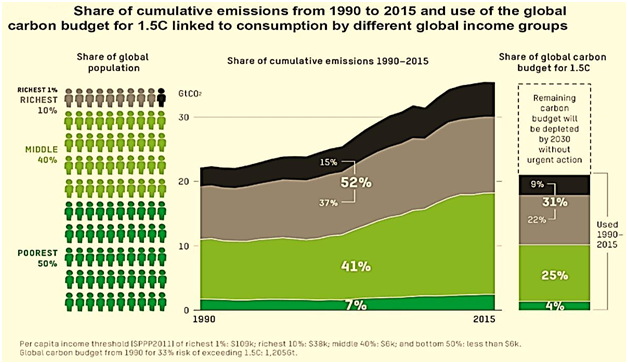 Recommendations for Economic Recovery from COVID-19
The right public policy measures, enacted now, can both cut the emissions and create healthier, more cohesive and resilient societies.
In addition to essential measures to rapidly shift energy supply to sustainable renewable sources, governments should consider:

Wealth taxes, luxury carbon taxes and wider progressive carbon pricing to fund the expansion of universal social services
Ending the tax-free status of aircraft fuel and tax breaks for company cars
Public investment to create decent job guarantees
Changing corporate governance to curtail company's short-termism
Setting science- and equity-based national targets to reduce carbon emission
Developing a wider set of gender-transformative indicators of economic progress beyond GDP, such as New Zealand's Wellbeing Budget
Incorporating principles of social dialogue at all levels to ensure the wellbeing of workers in affected industries, women, low-income and marginalized groups.
Current News International
Referendum On Independence In New Caledonia
---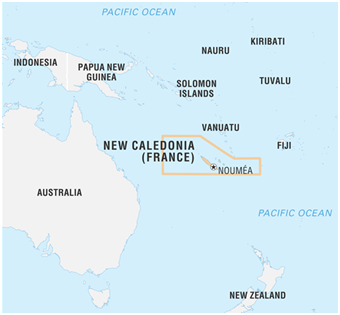 The French South Pacific territory of New Caledonia voted on 4th October in a referendum on independence.
The referendum is part of a carefully negotiated de-colonisation plan agreed in 1998, known as the Noumea Accord, designed to put an end to a deadly conflict between the mostly pro-independence indigenous Kanak population, and the descendants of European settlers known as "Caldoches".
It was the second time the tropical archipelago went to the polls to decide on its fate in two years, after a first referendum in 2018 resulted in the maintenance of the status quo with 56.7 per cent of the vote.
If independence is rejected, there is the option of another referendum by 2022 so long as the poll is requested by at least a third of the local legislature.
New Caledonia, situated between Australia and Fiji and sometimes called "The Pebble".It has been French since 1853.
If New Caledonia votes for independence, France would, after a transition period, hand over control.
The last former colonies to be given independence by France were Djibouti in 1977 and Vanuatu in 1980.
Current News National
Four Indian Women Win WWSF Prize
---
Subhadra Khaperde, Shabnam Shah, SaraswatiUike (Madhya Pradesh) and Nirmala Kujur (Chhattisgarh) are among the ten women leaders from across the globe who have been selected for the Women's World Summit Foundation (WWSF) Prize for Women's Creativity in Rural Life.
The WWSF's Prize for Women's Creativity in Rural Life (created in 1994 at the Beijing 4th World Conference on Women), annually awards creative and courageous rural women leaders and groups that help to advance and improve the quality of life in rural communities.
The WWSF is a Geneva-based non-profit organisation.
Current News National
Agnikul Cosmos Partners With Alaska Aerospace To Test Its Launch Vehicle
---
Chennai-based space startupAgnikul Cosmos has signed a memorandum of understanding (MoU) with Alaska Aerospace Corporation to test launch its launch vehicle -- Agnibaan -- from the Pacific Spaceport Complex - Alaska on Kodiak Island in the US.
Agnikul is building a small satellite rocket, Agnibaan capable of carrying up to 100 kg of payload to low Earth orbits up to 700 km.
Current News National
ICGS Kanaklata Barua Commissioned
---
A Fast Patrol Vessel (FPV) named ICGS KanaklataBaruawas commissioned into the Indian Coast Guard at Kolkata.
It is named after a teenage freedom fighter who was shot dead in Assam during the Quit India Movement.
It the fifth and last in a series of FPVs built by Garden Reach Shipbuilders and Engineers (GRSE) Ltd. The other four are ICGS Priyadarshini (named after Indira Gandhi), ICGS Annie Besant, ICGS Kamala Devi (after Kamala Devi Chattopadhyay), and ICGS Amrit Kaur.
PIB News National
Ambedkar Social Innovation & Incubation Mission (ASIIM)
---
The Union Ministry for Social Justice and Empowerment has launched the "Ambedkar Social Innovation and Incubation Mission (ASIIM)" to promote innovation and enterprise among SC students studying in higher educational institutions.
The ASIIM initiative will be implemented by the Venture Capital Fund for SCs (VCF-SCs) that has been created to provide concessional finance to the entities of the SC entrepreneurs.
Objectives of ASIIM
To promote entrepreneurship among the SC Youth with special preference to Divyangs.
To support (1,000) innovative ideas till 2024 through a synergetic work with the Technology Business Incubators (TBIs) set up by Department of Science and Technology.
To support, promote, hand-hold the start-up ideas till they reach commercial stage by providing liberal equity support.
To incentivise students with innovative mind-set to take to entrepreneurship with confidence.
PIB News National
Rules For Protection Of Good Samaritans
---
The Ministry of Road Transport and Highways has published the rules for the protection of Good Samaritans on 29th September 2020.
Finer Points
Good Samaritan shall be treated respectfully without any discrimination on the grounds of religion, nationality, caste or sex.
No police officer or any other person shall compel a Good Samaritan to disclose his/her name, identity, address or any such other personal details. However, he may voluntarily choose to disclose the same.
Every public and private hospital shall publish a charter in Hindi, English and vernacular language, at the entrance or other conspicuous location, and on their website, stating the rights of Good Samaritans under the Act and the rules made thereunder.
If a person has voluntarily agreed to become a witness in the case in which he has acted as a Good Samaritan, he shall be examined in accordance with the provisions of this rule, for which detailed guidelines and process has been mentioned in the rules.
Section 134A of Motor Vehicles (Amendment) Act, 2019
The Motor Vehicles (Amendment) Act, 2019, inserted a new section 134A, viz. "Protection of good Samaritans" which provides that a Good Samaritan shall not be liable for any civil or criminal action for any injury to or death of the victim of an accident involving a motor vehicle, where such injury or death resulted from the Good Samaritan's negligence in acting or failing to act while rendering emergency medical or non-medical care or assistance and that the Central Government may by rules provide for the procedure for questioning or examination of the Good Samaritan, disclosure of personal information of the Good Samaritan and such other related matters.
PIB News National
Tribes India E-Marketplace':Largest Market Of Tribal Products
---
The Ministry of Tribal Affairs has launched India's largest handicraft and organic products marketplace, Tribes India E-Marketplace (market.tribesindia.com) on the occasion of Gandhi Jayanti(October 2, 2020).
TRIFED under Ministry of Tribal Affairs will showcase the produce and handicrafts of tribal enterprises from across the country and help them market their produce/ products directly, is also a major leap towards the digitisation of tribal commerce.
PIB News National
Decade Of Healthy Ageing (2020-2030)
---
On International Day for Older Persons (1st October, 2020) that was observed under the theme "Pandemics: Do They Change How We Address Age and Ageing?", the Union Health Ministry has launched Decade of Healthy Ageing (2020-2030), a campaign aimed at mainstreaming issues related to the elderly and for deliberating upon ways to ensure better and effective delivery of services to them.
Under this campaign many activities will be undertaken throughout the year, aimed at mainstreaming issues related to elderly and to deliberate upon ways to ensure better and effective delivery of services, making full use of convergence mechanisms.
According to Population Census 2011, there are nearly 104 million elderly persons in India. It has increased from 5.5% in 1951 to 8.6% in 2011. And projected a rise upto 19% in 2050.
Some Recent initiatives towards Elders
LASI: The Ministry of Health & Family Welfare launched the Longitudinal Ageing Study in India (LASI) that will provide scientifically validated data on various issues of the elderly.
The Pradhan MantriVaya Vandana Yojana: To provide social security during old age.
Rashtriya Vayoshri Yojana (RVY): Under this scheme, aids and assistive living devices are provided to senior citizens belonging to BPL category who suffer from age-related disabilities.
Integrated Programme for Older Persons (IPOP): To improve the quality of life of older persons by providing basic amenities.
Indira Gandhi National Old Age Pension Scheme (IGNOAPS): Under this scheme, financial assistance is provided to person of 60 years and above and belonging to family living below poverty line.
Varishtha Pension BimaYojana (VPBY): It is a social security schemes for senior citizens intended to give an assured minimum pension on a guaranteed minimum return on the subscription amount.
Current News Indian Economy Plan Policy
Ambedkar Social Innovation And Incubation Mission
---
On 30th September, 2020, Ministry of Social Justice and Empowerment launched the Ambedkar Social Innovation and Incubation Mission (ASIIM) in order to promote innovation and enterprise in Schedule Caste (SC) students studying in higher educational institutions.
Objectives
To promote entrepreneurship among the SC Youth with special preference to Divyangs.
To support innovative ideas till 2024 through a synergetic work with the Technology Business Incubators (TBIs).
To support and promote the start-up ideas till they reach commercial stage by providing liberal equity support.
Need
There is a need to identify innovative ideas and provide focussed support to young entrepreneurs who are engaged in working on innovative and technology-oriented business ideas.
Key Points
Implementation
The ASIIM initiative will be implemented by the Venture Capital Fund for SCs (VCF-SCs).
Eligibility
Youth who have been identified by the TBIs.
Students who have been awarded under the Smart India Hackathon or Smart India Hardware Hackathon being conducted by Ministry of Education.
Innovative ideas focusing on the socio-economic development of the society identified in the TBIs.
Start-ups nominated and supported by corporates through Corporate Social Responsibility (CSR) funds.
Benefits
1,000 SC youth would be identified in the next 4 years with start-up ideas through the TBIs in various higher educational institutions.
Successful ventures would further qualify for venture capital funding of up to Rs. 5 Crore from the VCF-SCs.
This initiative will help promote innovation in the SC youth and would help them to become job-givers from job-seekers.
The mission would further give fillip to the 'Stand Up India' initiative of the government.
Venture Capital Fund For Scheduled Castes
It was launched in 2015 with an initial capital of Rs. 200 crore to encourage budding and existing entrepreneurs from Scheduled Castes (SCs).
Objectives
To promote entrepreneurship amongst the SCs
To provide concessional finance to the SC entrepreneurs
To increase financial inclusion for SC entrepreneurs and to motivate them for further growth of SC communities.
Current News National National Security
Defence Acquisition Procedure- 2020
---
On 28th September, 2020, the Defence Ministry unveiled the Defence Acquisition Procedure (DAP) – 2020.
The first Defence Procurement Procedure (DPP) was promulgated in the year 2002.
It has since been revised periodically to provide impetus to the growing domestic industry and achieve enhanced self-reliance in defence manufacturing.
The Defence Ministry had approved constitution of Main Review Committee under Chairmanship of DG (Acquisition) Shri Apurva Chandra in August, 2019 for preparation of DAP-2020.
Salient features of DAP -2020
Reservation in Categories for Indian Vendors
The policy reserves several procurement categories for indigenous firms.
DAP 2020 defines an "Indian vendor" as a company that is owned and controlled by resident Indian citizens, with foreign direct investment (FDI) not more than 49 per cent.
Enhancement of Indigenous Content
It promotes greater indigenous content in arms and equipment of the military procures, including equipment manufactured in India under licence.
In most acquisition categories, DAP-2020 stipulates 10 percent higher indigenisation than DPP 2016.
New Buy (Global–Manufacture in India) Category
This stipulates indigenisation of at least 50 percent of the overall contract value of a foreign purchase bought with the intention of subsequently building it in India with technology transfer.
Ease of Doing Business
One of the key focus areas of the review was to implement 'Ease of Doing Business' with emphasis on simplification, delegation and making the process industry friendly.
Design & Development
A separate dedicated chapter has been incorporated for acquisition of systems Designed and Developed by Defence Research and Development Organisation(DRDO), Defence Public Sector Undertakings (DPSUs) and Ordnance Factory Board (OFB).
Import Embargo List
The import embargo list of 101 items that the government promulgated last month has been specifically incorporated into DAP 2020. (An embargo is a government order that restricts commerce with a specified country or the exchange of specific goods.)
Offset Liability
The government has decided to remove the offset clause if the deal is done through inter-government agreement (IGA), government-to-government or an ab initio single vendor.
The offset clause requires a foreign vendor to invest a part of the contract value in India.
Significance
Boost to Atmanirbhar Bharat & Maker in India Initiative: Abhiy DAP 2020 has been aligned with the government's vision of the Atmanirbhar Bharat and empowering Indian domestic industry through Make in India initiative with the ultimate aim of turning India into a global manufacturing hub.
---