Current News National Polity & Governance
National Commission For Indian System Of Medicine Bill, 2019
---
On 30th January, 2020, the Union Cabinet approved the draft National Commission for Indian Systems of Medicine Bill, 2019.
The Bill seeks to repeal the Indian Medicine Central Council Act, 1970 and provide for a medical education system which ensures:
adoption of the latest medical research by medical professionals of Indian System of Medicine
periodic assessment of medical institutions
an effective grievance redressal mechanism
Impact
The proposed legislation will ensure necessary regulatory reforms in the field of Indian System of Medicine education.
The proposed regulatory structure will enable transparency and accountability for protecting the interest of the general public. The Commission will promote availability of affordable healthcare services in all parts of the country.
National Commission for Indian Systems of Medicine (NCISM)
The main objective of establishing NCISM is to promote equity by ensuring adequate supply of quality medical professionals and enforce high ethical standards in all aspects of medical services in Indian System of Medicine.
Composition
The NCISM will consist of 29 members, appointed by the central government.
A Search Committee will recommend names to the central government for the post of Chairperson, part time members, and presidents of the four autonomous boards set up under the NCISM.
Autonomous Boards
The Board of Ayurveda and the Board of Unani, Siddha, and Sowa-Rigpa: Responsible for formulating standards, curriculum, guidelines for setting up of medical institutions, and granting recognition to medical qualifications at the undergraduate and post graduate levels in their respective disciplines.
The Medical Assessment and Rating Board for Indian System of Medicine: It determine the process of rating and assessment of medical institutions and have the power to levy monetary penalties on institutions which fail to maintain the minimum standards It will also grant permission for establishing a new medical institution.
The Ethics and Medical Registration Board: It will maintain a National Register of all licensed medical practitioners of Indian System of Medicine, and regulate their professional conduct.
Functions of the NCISM
Framing policies for regulating medical institutions and medical professionals of Indian System of Medicine
Assessing the requirements of healthcare related human resources and infrastructure
Ensuring compliance by the State Medical Councils of Indian System of Medicine of the regulations made under the Bill
Ensuring coordination among the autonomous boards set up under the Bill
Advisory Council for Indian System of Medicine
The Council will be the primary platform through which the states/union territories can put forth their views and concerns before the NCISM. Further, the Council will advise the NCISM on measures to determine and maintain the minimum standards of medical education.
Indian System of Medicine
Initially, India System of Medicine recognises six systems of medicine Ayurveda, Siddha, Unani and Yoga, Naturopathy and Homoeopathy.
The Sowa-Rigpa medicine system has been recognized by Government of India (GoI) by amending the Indian Medicine Central Council (IMCC) Act, 2010.
The Ministry of AYUSH was formed on 9th November 2014 to ensure the optimal development and propagation of AYUSH systems of health care. Earlier it was known as the Department of Indian System of Medicine and Homeopathy (ISM&H) which was created in March 1995 and renamed as Department of Ayurveda, Yoga and Naturopathy, Unani, Siddha and Homoeopathy (AYUSH) in November 2003.
The government, in 2018, included Sowa-Rigpa into the acronym of AYUSH where the alphabet 'S' represents both — Siddha and Sowa-Rigpa.
Ayurveda
The word 'Ayurveda' has derived out of fusion of two separate words- 'Áyu' i.e. life and 'veda' i.e. knowledge.
The philosophy of Ayurveda is based on the theory of PanchaMahaBhutas(Five Primordial Elements) of which all the objects and living bodies are composed of.
The doctrine of Ayurveda aims to keep these structural and functional entities in a functional state of equilibrium which signifies good health (Swastha).
Yoga
The word "Yoga" comes from the Sanskrit word "yuj" which means "to unite or integrate."
Yoga is about the union of a person's own consciousness and the universal It is primarily a way of life, first propounded by Maharshi Patanjali in systematic form Yogsutra.
Naturopathy
Naturopathy is a system of natural treatment and also a way of life widely practiced, globally accepted and recognized for health preservation and management of illnesses without medicines.
It advocates living in harmony with constructive principles of Nature on the physical, mental, social and spiritual planes. It has great promotive, preventive, curative as well as restorative potentials.
Unani
As the name indicates, Unani system originated in Greece. The foundation of Unani system was laid by
The system is holistic in nature and takes into account the whole personality of an individual rather than taking a reductionist approach towards disease.
Siddha
The Siddha System of medicine is one of the ancient systems of medicine in India having its close bedd with Dravidian culture.
The term Siddha means achievements and Siddhars are those who have achieved perfection in medicine. The system is largely therapeutic in nature.
Homoeopathy
Homoeopathy was introduced as a scientific system of drug therapeutics by a German Physician, Dr. Christian Frederick Samuel Hahnemann in 1805.
Its strength lies in its evident effectiveness as it takes a holistic approach towards the sick individual through promotion of inner balance at mental, emotional, spiritual and physical levels.
Sowa-Rigpa
The term 'Sowa Rigpa' means 'Knowledge of Healing'.
It has been originated from Tibet and popularly practice in India, Nepal, Bhutan, China, Mongolia and Russia.
The principle medical text "rGyud-bZi" Chatush Tantra-a textbook of fundamental principles of Sowa-Rigpa is in Sanskrit language which was further translated into Bhoti language around 8th – 12th Century and further amended by Yuthok YontanGombo and other scholars of Trans Himalayan region according to the socio-climatic conditions.
Current News National National Security
Third Bodo Accord
---
On 27th January, 2020, the Union Home Ministry , the Assam government and Bodo groups — including all factions of the militant National Democratic Front of Bodoland (NDFB) and All Bodo Student's Union (ABSU)— signed the third Bodo accord,an agreement for peace and development paving the way for political and economic benefits for the Bodo community.
Bodo Issue
Bodo dissatisfaction started due to the resettlement of other communities on their land in Assam and the increasing pressure on the land.The Bodos wanted supremacy over the politics, economy and natural resources of their region.
The first organised demand for a Bodo state came in 1967-68 under the banner of the political party Plains Tribals Council of Assam.
The Bodo movement for a separate state became violent after the 1980s and was divided into three factions.
The first faction was led by the National Democratic Front of Bodoland (NDFB), which wanted a separate state for itself.
The second group is the Bodoland Tigers Force (BTF), which called for greater autonomy.
The third faction is the All BodoStudent's Union (ABSU), which sought a political solution while looking for a middle path.
In 1985, when the Assam Movement culminated in the Assam Accord, many Bodos saw it as essentially focusing on the interests of the Assamese-speaking community.
In 1987, the ABSU revived the Bodo statehood demand.
Bodo Community
The Bodo are a part of the greater Bodo-Kachari family of ethno linguistic groups spread across northeastern India and clustered strongly in Assam, along the eastern Duars.
Bodos are the single largest community among the notified Scheduled Tribes in Assam.
Traditionally, Bodos practiced Bathouism, which is the worshiping of forefathers, known as Obonglaoree.
In ancient Sanskrit literatures, Bodos were called as Kiratas and Mlecchas. Bodos were also formerly known as Rangtsa or Ramsa.
Important Clans of Bodos
Swarg-Aroi
Basumati-Aroi
Ramsa-Aroi
Previous Bodo Accords(Memorandum of Settlement)
The ABSU-led movement from 1987 culminated in first Bodo Accord in 1993, which paved the way for a Bodoland Autonomous Council (BAC), but ABSU withdrew its agreement and renewed its demand for a separate state.
The second Bodo Accord was signed in 2003 by the extremist group Bodo Liberation Tiger Force (BLTF), the Centre and the state. This led to the formation of Bodoland Territorial Council (BTC).
Bodoland Territorial Council (BTC)
The Bodoland Territorial Council was constituted under the Sixth Schedule to the Constitution of India in the year 2003.
The BTC has 46 executive members each looking after a specific area of control called Somisthi. The area under the BTC jurisdiction is officially called the Bodoland Territorial Area Districts (BTAD).
The BTAD consists of four contiguous districts - Kokrajhar, Baksa, Udalguri and Chirang(total 35% of Assam) — carved out of seven existing districts — Kokrajhar, Bongaigaon, Barpeta, Nalbari, Kamrup, Darrang and Sonitpu.
The BTAD and other areas mentioned under the Sixth Schedule of the Constitution have been exempted from the Citizenship (Amendment) Act, 2019.
Communities Residing in BTC Area
Bodos , Assamese , Bengalis, Koch-Rajbongshis, Rabhas, Garos , Adivasis, Muslims and Nepalies, etc.
Key Points of New Accord
The area under the jurisdiction of BTC, formed under the 2003 Accord, was called the Bodo Territorial Autonomous District (BTAD). From now, the BTAD will be known as Bodoland Territorial Region (BTR).
The government will set up a Bodo-Kachari Welfare Council for focused development of Bodo villages outside BTAD — which opens up a way to potentially address the needs of Bodos outside BTAD.
Source: Indian Express
As per the agreement, villages dominated by Bodos that were presently outside the BTAD would be included and those with non-Bodo population would be excluded.
Bodos living in the hills would be conferred a Scheduled Hill Tribe status.
It provides for more legislative, executive, administrative and financial powers to BTC; and amendments to the Sixth Schedule of the Constitution to "improve the financial resources and administrative powers of BTC".
Acoording to the 2020 agreement, the Government of Assam will notify Bodo language in Devanagri script as the associate official language in the state.
The accord does not have any provisions for a separate state. Instead, it seeks to "augment area and powers" of the existing Bodoland Territorial Council and "streamline its functioning".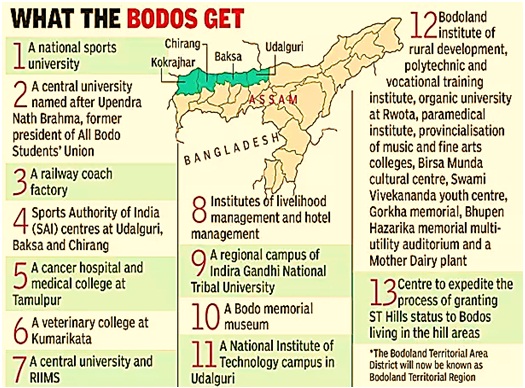 Source: ToI
Impact
End of Bodo Crisis: The signing of the agreement would end the 50-year-old Bodo crisis and help in ensuring lasting peace in the BTAD that had been torn apart by decades of violence and ethnic conflicts.
Protecting Bodo Culture: It would further protect and popularise the unique culture of the Bodo people. They will get access to a wide range of development-oriented initiatives.
Reaffirming Territorial Integrity: The accord will lead to transformative results for Bodosas it successfully brings together the leading stakeholders under one framework, reaffirming the territorial integrity of Assam.
Fulfilling Sab ka Saath, Sab ka Vikas, Sab ka Vishwas: The Accord is line with the Prime Minister's vision of 'Sab ka Saath, Sab ka Vikas, Sab ka Vishwas'.Those who were previously associated with armed resistance groups will now be entering the mainstream ushering in a new dawn of peace, harmony and togetherness contributingboth to state and nation's progress.
Way Forward
The latest accord brings an end to the Bodo politics. However,there are concerns that the latest settlement repeats a mistake of the previous twoaccords: it does not take on board the non-Bodo population of the area, who, in fact, form a majority in the area may lead to fresh power struggle in the area.
The lack of non-Bodo representation in these peace arrangements has meant that ethnic conflicts have continued despite them. In 2008, clashes between Bodos and Muslims of Bengali origin left more than 100 dead and displaced a lakh and a half.
The success of this new Accord will solely depend upon proper implementation of its changes and the cooperation between the Bodo and nonBodo communities.
Current News Science & Technology New Technology
Polycrack Technology
---
On 23rd January, 2020, Indian Railways commissioned the country's first governmental waste to energy plant in Mancheswar Carriage Repair Workshop at Bhubaneswar, Odisha under the East Coast Railway zone.
The plant will use Polycrack technology to process the scrap and convert waste into energy to produce light diesel oil in 24 hours.
This is the first such plant of the Indian Railways network and the third such plant across the country.
The first plant was a small one with a capacity of 50 kg a day set up by Infosys at Bangalore in 2011. The second came up at Moti Bagh in Delhi in 2014 and the third one was set up at Hindalco in 2019 with 50 kg capacity per batch.
Need
A big chunk of non-ferrous scrap is generated in Indian Railways workshops for which there is no efficient method of disposal and treatment. As a result, the scrap is sent to landfills, which is environmentally hazardous as its treatment is difficult.
What is Polycrack Technology?
Polycrack technology, the first patented heterogenous catalytic process, converts non-ferrous scraps into hydrocarbon liquid fuels, gas, carbon and water and doesn't require pre-segregation of waste for their processing.
Waste Used
All types of plastic
Petroleum sludge
Un-segregated MSW (Municipal Solid Waste) with moisture up to 50 percent,
e-waste, automobile fluff
Organic waste including bamboo, garden waste, jatropha fruit and palm bunch
Sludge from Edible Oil Industry
De-oiled Cake from Edible Oil Industry
Features
Polycrack's strength includes not requiring pre-segregation of waste, allowing waste as collected to be directly used. With a high moisture tolerance, drying of waste is not required.
The process is a closed cycle system and does not release dangerous pollutants into the atmosphere.
All constituents are converted into valuable energy thereby making it Zero Discharge Process.
The flammable, non-condensed gases are reused to supply the entire system with energy. The only emission comes from the combustion of gaseous fuels.
Gas generated in the process is re-used to provide energy to the system thereby making it self-reliant of its energy requirement and also bring down the operating cost.
Advantages
Fully automated system requires minimum man power.
Low capital cost and low operating cost.
Operates at around 450 degrees, making it a low temperature process when compared with other options.
Excellent air quality surrounding the plant.
Biological decomposition is not allowed as the Waste is treated as it is received.
The foot print of the WTE plant is small hence the area required for installing the plant is less when compared with conventional method of processing.
There is no atmospheric emission during the process unlike other conventional methods except for combustion gases which have pollutants less than the prescribed norms the world over.
Safe and efficient system with built-in safety features enables even an unskilled user to operate the machine with ease.
Waste to Energy
Waste-to-Energy (WTE) refers to a variety of treatment technologies that convert waste to electricity, heat, fuel, or other usable materials, as well as a range of residues including fly ash, sludge, slag, boiler ash, wastewater and emissions, including greenhouse gases.
It provides a safe, technologically advanced means of waste disposal that reduces greenhouse gases, generates clean energy and recycles metal.
It offers recovery of energy by conversion of non-recyclable materials through various processes including thermal and non-thermal technologies:
Thermal Technologies
Gasification
Pyrolysis
Thermal Depolymerization
PGP (Plasma Arc Gasification)
Non-thermal Technologies
Anaerobic Digestion
Mechanical biological treatment(MBT)
MBT + Anaerobic digestion
Ethanol Production
MBT to Refuse Derived Fuel
Benefits
Production and Use of Energy: Electricity and heat can be generated from waste, which provide an alternative and more environment-friendly source of energy.
Alternative to Fossil Fuels: Waste-to-energy is one of the most robust and effective alternative energy options to reduce CO2 emissions and replace fossil fuels.
Reduction of Waste Going to Landfill: Waste that would have normally gone to landfills is diverted to an energy processing unit thereby saving valuable land.
Help in Climate Change Mitigation: WTE is widely recognized as a technology that can help mitigate climate change. WTE facilities are the only form of energy generation that actually reduces greenhouse gases. When waste is delivered to a WTE facility, the methane that would have been generated if it were sent to a landfill is avoided.
Domestic Production of Energy: Plenty of waste is generated locally and hence there is no requirement of transportation of materials or this process from far out.
Benefit to Local Community and Economy: As waste to energy plants are generally setup locally it creates jobs, the local community benefits and materials are sourced locally.
Challenges
High Operating Cost: Effective waste management is expensive, often comprising 20 per cent to 50 % of municipal budgets.Despite all the subsidies, the electricity produced from WTE plants is the most expensive. Compared to Rs 3-4 per kWh from coal and solar plants, WTE plants sell electricity at about Rs 7/kWh.
Sustainability Issue: Most wastes sent to the WTE plants are un-segregated which impacts the power generation by the plant and leads to pollutants. Moreover, the leftover burnt material is not suitable for brick making, which then has to be disposed off in landfills, further increasing pollution.
Feasibility Issue: WTE plants do not get many buyers for the power they generate due to cheaper alternatives being available and high maintenance costs. This is because of a high capital cost, high operation & management expenses, low calorific value of the fuel used and the additional fuel used to burn the waste.
Health Issue: Because these plants have to handle a vast quantity of mixed waste, the housekeeping is extremely challenging leading to a lot of odour and visual pollution.
Current News National Polity & Governance
Andhra Pradesh Government To Abolish State Legislative Council
---
On 27th January, 2020, the Andhra Pradesh Assembly passed a resolution to abolish the state's Legislative Council, with 133 legislators of the ruling YSR Congress Party (YSRCP), which has 151 seats in the 175-member assembly, backing the decision.
Reasons behind the Move
The ruling government has taken the decision to abolish the upper house following the Telugu Desham Party (TDP) rejecting the bills passed by the Legislative Assembly.
The move comes after the main Opposition TDP, which has 27 members out of the total of 58 in the council, created a roadblock for the YSRCP in the council by sending the Andhra Pradesh Capital Region Development Authority Repeal Bill 2020 and the Andhra Pradesh Decentralisation and Inclusive Development of all Regions Bill 2020, to a select committee for further deliberation, after it was passed in the Assembly.
Earlier, it had rejected bills related to the introduction of English as a medium of instruction at government schools in the winter session held in December, 2019.
As there is no scope of YSR Congress getting a majority in the near future to get the bills passed smoothly, current government decided to abolish the council.
Andhra Pradesh Legislative Council
The Legislative Council of united Andhra Pradesh was created on July 1, 1958, and dissolved on May 31, 1985.
It was resurrected after 22 years, on March 30, 2007. Ironically, it was abolished the last time by N T Rama Rao, the founder of the TDP, after the Congress blocked all the government's decisions in the Council.
Legislative Council
India has a bicameral system i.e., two Houses of Parliament.
At the state level, the equivalent of the Lok Sabha is the Vidhan Sabha or Legislative Assembly; that of the Rajya Sabha is the Vidhan Parishad or Legislative Council.
Organisation
The power to create or abolish such a body in any state rests with Parliament, on the basis of an appropriate resolution being adopted by a two-thirds majority in the respective State Legislative Assembly.
This Act of Parliament is not to be deemed as an amendment of the Constitution for the purposes of Article 368 and is passed like an ordinary piece of legislation (i.e., by simple majority).
Constitutional Provisions
Under Article 168, states can have either one or two Houses of legislature.
Article 169 provides the choice of having a Vidhan Parishad to individual states.
Strength
Under Article 171, a Council cannot have more than a third of the number of MLAs in the state, and not less than 40 members.
It means that the size of the Council depends on the size of the Assembly of the concerned state.
Election
Unlike the members of the Legislative Assembly, the members of the Legislative Council are indirectly elected.
The members are elected in accordance with the system of proportional representation by means of a single transferable vote.
A third of the MLCs are elected by MLAs, another third by a special electorate comprising sitting members of local government bodies such as municipalities and district boards, 1/12th by an electorate of teachers, and another 1/12th by registered graduates. The remaining members are appointed by the Governor for distinguished services in various fields.
Duration
Like the Rajya Sabha, the Legislative Council is a continuing chamber, that is, it is a permanent body and is not subject to dissolution. But, one-third of its members retire on the expiration of every second year.
So, a member continues as such for six years. The vacant seats are filled up by fresh elections and nominations (by governor) at the beginning of every third year. The retiring members are also eligible for re-election and re-nomination any number of times.
Procedure for Dissolving
The state Cabinet will adopt a resolution and introduce it in the Assembly for adoption. Once the Assembly passes the Bill, it will be sent to the Union Home Ministry for placing before the Cabinet. The Union Cabinet has to adopt the Bill and place it before the Parliament for adoption in both the Houses.
Importance
The second House of the Legislature is considered important for two reasons-
One, to act as a check on hasty actions by the popularly elected House.
Second, to ensure that individuals who might not be cut out for the rough-and-tumble of direct elections too are able to contribute to the legislative process.
Argument against having Legislative Councils
The Constituent Assembly was divided on having a second chamber in the states.
Opposition to the idea of Legislative Councils is centered on three broad arguments: One, they can be used to park leaders who have not been able to win an election. Two, they can be used to delay progressive legislation. Three, they would strain state finances.
Comparison with Rajya Sabha
The Councils are less powerful than the Rajya Sabha, however. Unlike, the Rajya Sabha, which has substantial powers to shape non-financial legislation, Legislative Councils lacks a constitutional mandate to do so.
Also, unlike Rajya Sabha MPs, Members of the Legislative Council (MLCs) cannot vote in elections for the President and Vice President.
States having Legislative Council
Apart from Andhra Pradesh (58 members), five other states have Legislative Councils: Bihar (58), Karnataka (75), Maharashtra (78), Telangana(40) and Uttar Pradesh (100).
Jammu and Kashmir too had a Council, until the state was bifurcated into the Union Territories of J&K and Ladakh in October, 2019.
Current News National Polity & Governance
National Data And Analytics Platform
---
On 23rd January, 2020, NITI Aayog released its vision for the National Data and Analytics Platform (NDAP), with an aim to democratize access to public Government data through a world-class user experience.
The first version of National Data and Analytics Platform is proposed to be released in 2021.
Mission
Standardize data across multiple government sources.
Provide flexible analytics and make it easily accessible in formats.
Conducive for research, innovation, policy making and public consumption.
Need for NDAP
Availability of Rich Public Data: Government departments have digitised various processes and reporting requirements, which in turn are feeding into management information systems and interactive dashboards. This data is being used to track and visualise progress and make iterative improvements on the ground.
Making Data Easily Accessible: All public government data should be easily accessible to all stakeholders in a user-friendly manner. Further, data across sectors should be coherent to support analysis and dissemination. In addition, there should be easy access to the most recent data, published reliably.
Key Features
The NDAP proposes a simple, interactive, visual, and robust platform that will host various Central and state government datasets. The platform will be designed and optimised to the needs of policymakers, bureaucrats, researchers, innovators, data scientists, journalists, and citizens.
It will follow a user-centric approach and will enable data access in a simple and intuitive portal tailored to the needs of a variety of stakeholders.
The platform will be powered by a user friendly search engine, backed by seamless navigation, with a worldclass user interface. Data will be provided in a machine-readable format with customizable analytics. Dynamic visualisations will be generated based on user search terms.
Data will be sourced from different Central and State Ministries and Departments. This will be presented using a common schema, with clear definitions and narratives to help the user navigate the differences between similar data from different sources.
Governance
A high powered inter-ministerial steering committee under the chairmanship of Vice Chairman, NITI Aayog will be set up to provide direction, oversee progress, guide on data sources, and address various inter-ministerial issues on collating data.
A Technical Advisory Group consisting of sector and technology experts will be established to provide expert consultation. TAG will provide guidance on the development of the platform, management of data, and aligning the platform for user-needs.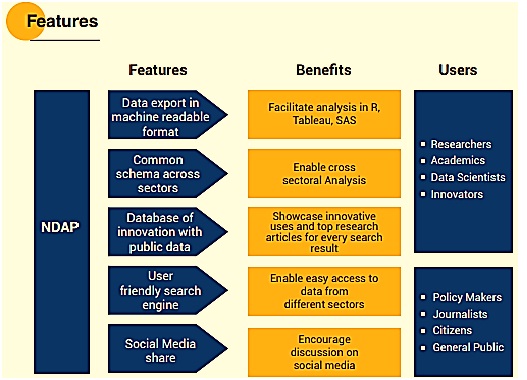 Source: NITI Aayog
Challenges
Data is Not Published in a User-Centric Manner
The current data formats are often not conducive for research and innovation. Many departments maintain public dashboards with visualizations and options to download data in analyzable formats. However, some datasets are only available in PDF, webpage or as an image, making it difficult for further analysis.
If this issue is resolved, researchers and data scientists will significantly save time and resources in cleaning and preparing government datasets for analysis.
Incoherency of Data Ecosystem
Ministries and Departments do not use a shared standard for common indicators. Attributes like region and time period defined differently. This makes it difficult for datasets to speak to each other and present a coherent picture. If we can solve this, many use-cases can emerge. For example, a District Magistrate can access data across all departments for their district, easily, in one platform.
Significance
One Stop Platform
NDAP will be a one-stop platform to utilize, analyse and visualise all published government datasets. It will be a critical tool in the hands of policy makers, researchers, journalists, and civil society leaders, enabling them to do their work better.
NDAP would encompass critical features such as allowing easy access to all the published datasets through a single platform and using cutting edge technology to enable analytics and visualization for drawing better insight. It willstrive to ensure that datasets are merged with each other using temporal and geographical identifiers.
Improving Socio-Economic Condition
NDAP has the potential to deepen our understanding of India's dynamic economy and social conditions. Thiswill in turn help improve the socio-economic condition of the people by making the government's actions more scientific and data-driven.
Current News Indian Economy Survey And Index
Corruption Perceptions Index – 2019
---
On 23rd January, 2020, Corruption Perceptions Index (CPI) was released by the Transparency International, which reveals that a majority of countries are showing little to no improvement in tackling corruption.
About the Index
First launched in 1995, the Corruption Perceptions Index has been widely credited with putting the issue of corruption on the international policy agenda.
The index ranks 180 countries and territories by their perceived levels of public sector corruption, according to experts and business people.
It uses a scale of zero to 100, where zero is highly corrupt and 100 is very clean. More than two-thirds of countries score below 50 on this year's CPI, with an average score of just 43.
The 2019 CPI draws on 13 surveys and expert assessments to measure public sector corruption in 180 countries and territories, giving each a score from zero (highly corrupt) to 100 (very clean).
Major Findings
Top Performers
The top countries are New Zealand and Denmark, with scores of 87 each, followed by Finland (86), Singapore (85), Sweden (85) and Switzerland (85).
Worst Performers
The bottom countries are Somalia, South Sudan and Syria with scores of 9, 12 and 13, respectively. These countries are closely followed by Yemen (15), Venezuela (16), Sudan (16), Equatorial Guinea (16) and Afghanistan(16).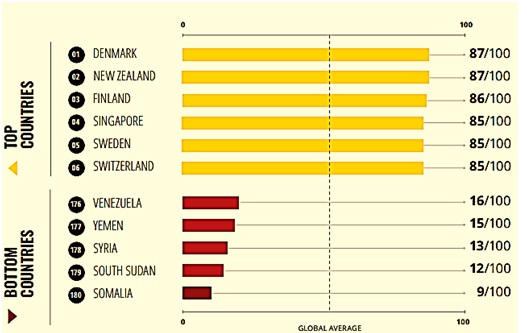 Source: Transparency International
Regional Findings and their Challenges
Americas Region
With an average score of 43 for the fourth consecutive year on the Corruption Perceptions Index (CPI), the Americas region fails to make significant progress in the fight against corruption.
Challenges
The region faces significant challenges from political leaders acting in their own self-interest at the expense of the citizens they serve.
Specifically, political party financing and electoral integrity are big challenges.
Asia-Pacific Region
A regional average of 45, after many consecutive years of an average score of 44, illustrates general stagnation across the Asia Pacific. Despite the presence of high performers like New Zealand (87), Singapore (85), Australia (77), Hong Kong (76) and Japan (73), the Asia Pacific region hasn't witnessed substantial progress in anti-corruption efforts or results.
India's ranking in the Corruption Perceptions Index (CPI-2019) has slipped from 78 to 80 compared to the previous year. Its score of 41 out of 100 remains the same.
Challenges
Many countries see economic openness as a way forward, however, governments across the region, continue to restrict participation in public affairs, silence dissenting voices and keep decision-making out of public scrutiny.
Opaque political financing, lobbying by corporate interests has caused control of corruption to fall in democracies like India and Australia, notes Transparency International.
Eastern Europe and Central Asia Region
With an average score of 35, this region is the second-lowest performing region on the CPI.
Challenges
Across the region, countries experience limited separation of powers, abuse of state resources for electoral purposes, opaque political party financing and conflicts of interest.
Middle East and North Africa Region
With the same average score of 39 as last year, there is little progress in improving control of corruption in the Middle East and North Africa region.
Challenges
The region faces significant corruption challenges that highlight a lack of political integrity.
Separation of powers is another challenge.
Sub-Saharan Africa
As the lowest-scoring region on the CPI, with an average of 32, Sub-Saharan Africa's performance paints a bleak picture of inaction against corruption.
Challenges
Across the region, money is used to win elections, consolidate power and further personal interests.
Tackling corruption in the context of fragile states presents unique challenges, as fragility is both a cause and an effect of any downward trends in development.
Western Europe & European Union
Fourteen of the top 20 countries in this year's CPI are from Western Europe and the European Union (EU), including nine countries from the EU alone.
Challenges
Issues of conflict of interest, abuse of state resources for electoral purposes, insufficient disclosure of political party and campaign financing, and a lack of media independence are prevalent in the region.
Most post-communist EU member states are struggling to address corruption effectively.
Recommendations
Transparency International recommends the following measures in order to prevent corruptions and foster the integrity of political systems:
Managing Conflicts of Interest: Governments should reduce the risk of undue influence in policy-making by tightening controls over financial and other interests of government officials.
Control Political Financing: In order to prevent excessive money and influence in politics, governments should improve and properly enforce campaign finance regulations. Political parties should also disclose their sources of income, assets and loans, and governments should empower oversight agencies with stronger mandates and appropriate resources.
Strengthen Electoral Integrity: For democracy to be effective against corruption, governments must ensure that elections are free and fair. Preventing and sanctioning vote-buying and misinformation campaigns are essential to rebuilding trust in government and ensuring that citizens can use their vote to punish corrupt politicians.
Regulate Lobbying Activities: Governments should promote open and meaningful access to decision-making and consult a wider range of groups, beyond well-resourced lobbyists and a few private interests. Lobbying activities should be public and easily accessible.
Tackle Preferential Treatment: Governments should create mechanisms to ensure that service delivery and public resource allocation are not driven by personal connections or are biased towards special interest groups at the expense of the overall public good.
Empower Citizens: Governments should protect civil liberties and political rights, including freedom of speech, expression and association. Governments should engage civil society and protect citizens, activists, whistleblowers and journalists in monitoring and exposing corruption.
Reinforce Checks and Balances: Governments must promote the separation of powers, strengthen judicial independence and preserve checks and balances.
Current News Indian Economy Survey And Index
Democracy Index-2019
---
On 22nd January, 2020, the Economist Intelligence Unit (EIU) released the Democracy Index under the title-A Year of Democratic Setbacks and Popular Protest.
Democracy Index
First published year 2006, Democracy Index provides a snapshot of the state of democracy worldwide for 165 independent states and two territories.
It based on the ratings for 60 indicators, grouped into five categories:

Electoral process and pluralism
Civil liberties
Functioning of government
Political participation
Political culture.

The category indexes are based on the sum of the indicator scores in the category, converted to a 0 to 10 scale. Adjustments to the category scores are made if countries do not score a 1 in the following critical areas for democracy:

Whether national elections are free and fair
The security of voters
The influence of foreign powers on government
The capability of the civil service to implement policies.

The index values are used to place countries within one of four types of regime:

Full democracies (scores of 8-10)
Flawed democracies ( score of 6 to 7.9)
Hybrid regimes (scores of 4 to 5.9)
Authoritarian regimes (scores below 4)
Key Findings
Worst Performance Since 2006
The average global score fell from 48 in 2018 to 5.44 (on a scale of 0-10). This is the worst score since the index was first produced in 2006.
The decline in the average global score was driven by sharp regressions in Latin America and Sub-Saharan Africa. Latin America was the worst-performing region in 2019.
The average score for Asia and Australasia, eastern Europe, North America and western Europe stagnated in 2019.
Almost one-half (48.4%) of the world's population live in a democracy of some sort, although only 5.7% reside in a full democracy.
Country Performance
The overall list was topped by Norway, followed by Iceland and Sweden, New Zealand and
Full Democracies
Three countries-Chile, France and Portugal, moved from the "flawed democracy" category to become "full democracies".
Other "full democracies" include Germany, the United Kingdom and France.
Flawed Democracies
The United States, with a score of 7.96 that is just below the benchmark for a "full democracy", is a "flawed democracy".
India, too, with a score of 7.23, find its place in the "flawed democracy" category, along with the Bangladesh (5.88).
Hybrid Regimes
Pakistan, with a score of 4.25, is categorised as a "hybrid democracy".
Authoritarian Regimes
China having score of 2.26 and North Korea (bottom-ranked with 1.08) are categorised as "authoritarian regimes".
SELECTED COUNTRIES, 2019

Country

Score

Rank

Norway

9.87

1

Iceland

9.58

2

Sweden

9.39

3

New Zealand

9.26

4

Germany

8.68

13

UK

8.52

14

France

8.12

20

United States

7.96

25

Israel

7.86

28

India

6.90

51

Brazil

6.86

52

Sri Lanka

6.27

69

Bangladesh

5.88

80

Nepal

5.28

92

Pakistan

4.25

108

Myanmar

3.55

122

Russia

3.11

134
Source: Indian Express
India's Performance
The world's biggest democracy slipped 10 places in the 2019 global ranking to 51st place.
India's overall score fell from 7.23 to 6.9, on a scale of 0-10, within a year (2018-2019) — the country's lowest since 2006.
The Index categorises India under "flawed democracies", countries that hold free and fair elections and where basic civil liberties are respected, but have significant weaknesses in aspects of democracy, such as problems in governance, an under developed political culture and low levels of political participation.
India was graded in electoral process and pluralism (8.67), government functioning (6.79), political participation (6.67), political culture (5.63) and civil liberties (6.76).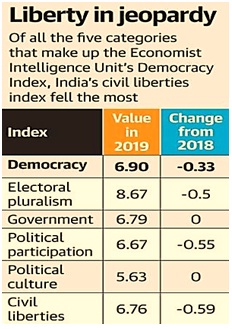 Source: The Hindu
Causes of Democratic Regression
The primary cause of the democratic regression was an erosion of civil liberties in the country. According to the report, the following events led to Democratic Regression in the country.
Revocation of the special status of Jammu and Kashmir with the repeal of Articles 370 and 35 and the various security measures that followed the bifurcation of the state including deployment of large number of troops, restriction of internet access and placing local leaders under house arrest.
The NRC exercise in Assam excluded 1.9 million people from the final list, and that the vast majority of people excluded from the NRC being Muslims.
According to the report, the Citizenship Amendment Act law has enraged the large Muslim population, stoked communal tensions and generated large protests in major cities, across the country.
Full Democracies
Countries in which not only basic political freedoms and civil liberties arerespected, but also tend to be underpinned by a political culture conducive to the flourishing of democracy. The functioning of government is satisfactory.
Media are independent and diverse. There is an effective system of checks and balances. The judiciary is independent and judicial decisions are enforced. There are only limited problems in the functioning of democracies.
Flawed Democracies
These countries also have free and fair elections and, even if there are problems (such as infringements on media freedom), basic civil liberties are respected.
However, there are significant weaknesses in other aspects of democracy, including problems in governance, an underdeveloped political culture and low levels of political participation.
Hybrid Regimes
Elections have substantial irregularities that often prevent them from being both free and fair. Government pressure on opposition parties and candidates may be common. Serious weaknesses are more prevalent than in flawed democracies—in political culture, functioning of government and political participation.
Corruption tends to be widespread and the rule of law is weak. Civil society is weak. Typically, there is harassment of and pressure on journalists and the judiciary is not independent.
Authoritarian Regimes
In these states, state political pluralism is absent or heavily circumscribed. Some formal institutions of democracy may exist, but these have little substance.
Elections, if they do occur, are not free and fair. There is disregard for abuses and infringements of civil liberties. Media are typically state-owned or controlled by groups connected to the ruling regime. There is repression of criticism of the government and pervasive censorship. There is no independent judiciary.
Current News Indian Economy Survey And Index
World Employment And Social Outlook-Trends 2020
---
On 20th January, 2020, the International Labour Organisation (ILO) released the World Employment and Social Outlook: Trends 2020 (WESO) report, which examines employment and social trends for the world as a whole and for each region, and analyses structural transformation and implications for future job quality.
The annual WESO report analyses key labour market issues, including unemployment, labour underutilisation, working poverty,income inequality, labour income share and factors that exclude people from decent work.
Major Highlights
Global Unemployment
More than 470 million people worldwide are currently unemployed or underemployed, warning that a lack of access to decent jobs was contributing to social unrest.
Global unemployment has been roughly stable for the last nine years but slowing global economic growth means that, as the global labour force increases, not enough new jobs are being generated to absorb new entrants to the labour market.
More than 60% of the global workforce currently works in the informal economy, often toiling for substandard wages and lacking basic social protections.
Declining Global Labour Income
Unequal access to decent work translates into high and persistent income inequalities.
In high income countries, the decreasing labour income of the self-employed, compared with that of employees, is a key driver of the aggregate decline.
Work Related Inequality
Persisting and substantial work-related inequalities and exclusion are preventing the people from finding decent work and better futures. This in turn, has profound and worrying implications for social cohesion.
Decent Work Deficit
Significant inequalities in access to decent work opportunities and outcomes continue to be a persistent feature of current labour markets. Decent work deficits are especially pronounced in the informal economy.
Gender Inequality
Contemporary labour markets also continue to be characterized by gender inequality. In 2019, the female labour force participation rate was just 47 percent, 27 percentage points below the male rate (at 74 percent). There is strong regional variation in gender disparities in access to employment.
Rising Working Poverty
In 2019, more than 630 million people— a fifth of the global working population lived in so-called working poverty, meaning they made less than $3.20 per day in purchasing power.
Trade Restrictions and Protectionism
The report cautions that intensifying trade restrictions and protectionism could have a significant impact on employment, both directly and indirectly.
Future Projection
According to the report, a moderate or extreme working poverty is expected to edge up in 2020-21 in developing countries, increasing the obstacles to achieving Sustainable Development Goal 1 on eradicating poverty everywhere by 2030.
Projected lower economic growth and the lack of inclusiveness are very likely to impair the ability of lower-income countries to reduce poverty and improve working conditions.
Significance
The report provides an overview of global and regional trends in employment, unemployment, labour force participation and productivity.
This report also presents the labour market situation and prospects of rural and urban workers, which is a key line of segmentation that divides the economic and social prospects among the world's workforce.
It also examines income and social developments, and provides an indicator of social unrest.
Way forward
Countries all over the world must ensure that economic growth and development occurs in a way that leads to the reduction of poverty and better working conditions in low-income countries, through structural transformation, technological upgrading and diversification.
International Labour Organization (ILO)
Headquarters: Geneva, Switzerland
The ILO is a United Nations agency, created in 1919, as part of the Treaty of Versailles that ended World War I, to reflect the belief that universal and lasting peace can be accomplished only if it is based on social justice.
It is devoted to promoting social justice and internationally recognized human and labour rights, pursuing its founding mission that social justice is essential to universal and lasting peace.
India is a founding member of the ILO and has been a permanent member of the ILO Governing Body since 1922.
Current News Indian Economy Survey And Index
Global Investment Trend Monitor Report
---
On 20th January, 2020, the United Nations Conference on Trade and Development (UNCTAD) released its Global Investment Trend Monitor Report.
Key Highlights
Global Foreign Direct Investment Trend
Global foreign direct investment (FDI) remained flat in 2019, a 1% decline from a revised $1.41 trillion in 2018. It was attributed to weaker macroeconomic performance and policy uncertainty for investors, including trade tensions.
FDI flows to developed countries remained at a historically low level, decreasing by a further 6%.
FDI to the European Union (EU) fell by 15%.
FDI increased by 16% in Latin America and the Caribbean
Africa continued to register a modest rise (+3%) while flows to developing Asia fell by 6%. Despite a decline, flows to developing Asia continued to account for one-third of global FDI in 2019.
There was zero-growth of flows to United States, which received USD 251 billion FDI in 2019, as compared to USD 254 billion in 2018.Despite this, the United States remained the largest recipient of FDI, followed by China and Singapore.
In West Asia, FDI flows declined by 16% in 2018.
FDI in South East Asia
South-East Asia continued to be the region's growth engine. It recorded a 10% increase in FDI to $60 billion.
The growth was driven by India, with a 16% increase in inflows. The majority went into services industries, including information technology.
Inflows into Bangladesh and Pakistan declined by 6% and 20% respectively.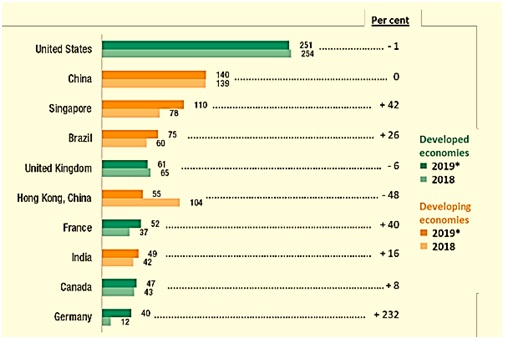 FDI Inflows by Region (2018 and 2019)
Source:UNCTAD
Cross-Border Mergers & Acquisitions (M&As)
As per the report, Cross-border M&As decreased by 40% in 2019– the lowest level since 2014. European M&A sales were halved due to slowdown in Eurozone growth and Brexit.
Deals targeting United States companies remained significant – accounting for 31% of total M&As.
The fall in global cross-border M&As sales was deepest in the services sector, followed by manufacturing and primary sector. In particular, sales of assets related to financial and insurance activities and chemicals fell sharply.
The decline in M&A values was driven also by a lower number of megadeals. In 2019, there were 30 megadeals above $5 billion compared to 39 in 2018.
Future Prospects: Growth with Significant Risks
FDI flows are still expected to rise moderately in 2020, as current projections show the global economy to improve some what from its weakest performance since the global financial crisis in 2009.
GDP growth, gross fixed capital formation and trade are projected to rise, both at the global level and, especially, in several large emerging markets.
However, significant risks persist, including high debt accumulation among emerging and developing economies, geopolitical risks and concerns about a further shift towards protectionist policies.
United Nations Conference on Trade and Development (UNCTAD)
Headquarters: Geneva, Switzerland
UNCTAD is a permanent intergovernmental body established by the United Nations General Assembly in 1964.
It is a part of the United Nations Secretariat dealing with trade, investment, and development issues.
The primary objective of UNCTAD is to formulate policies relating to all aspects of development including trade, aid, transport, finance and technology.
What is Foreign Direct Investment?
Foreign direct investment (FDI) is when a company takes controlling ownership in a business entity in another country.
FDI is when an individual or business owns 10% or more of a foreign company. If an investor owns less than 10%, the International Monetary Fund defines it as part of his or her stock portfolio.
With FDI, foreign companies are directly involved with day-to-day operations in the other country. This means they aren't just bringing money with them, but also knowledge, skills and technology.
Where is FDI made?
FDIs are commonly made in open economies that offer a skilled workforce and above-average growth prospects for the investor, as opposed to tightly regulated economies. FDI frequently involves more than just a capital investment. It may include provisions of management or technology as well.
The key feature of FDI is that it establishes either effective control of or at least substantial influence over the decision-making of a foreign business.
Types
Horizontal FDI: A horizontal foreign direct investment refers to the investor establishing the same type of business operation in a foreign country as it operates in its home country. For example, McDonald's opening restaurants in Japan would be considered horizontal FDI.
Vertical FDI: It is one in which different but related business activities from the investor's main business are established or acquired in a foreign country. For example, McDonald's could purchase a large-scale farm in Canada to produce meat for their restaurants.
Conglomerate: It is one where a company makes a foreign investment in a business that is unrelated to its existing business in its home country. An example of this would be if Virgin Group, which is based in the United Kingdom, acquired a clothing line in France.
Advantages
Increased Employment and Economic Growth
Human Resource Development
Improved Capital Flow
Increase in Exports
Development of Backward Areas
Access to Global Technological Developments
Exchange Rate Stability
Stimulation of Economic Development
Creation of a Competitive Market, Consumers Benefit
Disadvantages
Uncertainty in Government Policies
Loss of Domestic Investment
Unethical Access to Local Markets
Exploitation of the Resources of Host Countries
Profit Repatriation
Current News Indian Economy Survey And Index
First Global Social Mobility Report –2020
---
On 20th January, 2020, the World Economic Forum (WEF) released its first-ever Global Social Mobility Report to provide a much needed assessment of the current state of the paths to social mobility around the world.
Aim
It seeks to measure parameters necessary for creating societies where every person has the same opportunity to fulfill his potential in life irrespective of socio-economic background.
Need
Not with standing fast global growth, inequalities have been growing across the world. The rise of inequality has not only created massive social unrest but also adversely affected the global consensus on the kind of economic policies that countries follow.
Social mobility has become the pressing issue of modern life, and as the index highlights, while major improvements have been made in some areas, notably extreme poverty, in others, the situation is deteriorating.
About the Index
The WEF's Global Social Mobility Index assesses the 82 economies on "10 pillars" spread across the following five key dimensions of social mobility:

Health
Education (access, quality and equity, life-long learning)
Technology
Work (opportunities, wages, conditions)
Protection and Institutions (social protection and inclusive institutions)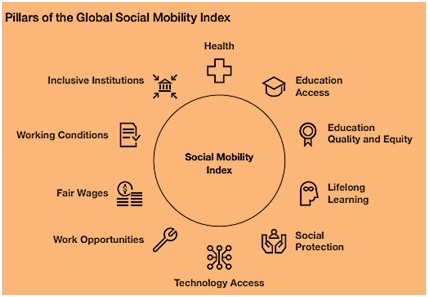 Source: WEF
Key Findings
Need for Social Mobility Agenda to Tackle Inequality
The Index shows that very few economies have the right conditions to foster social mobility and consequently income inequalities have become entrenched. On average, across key developed and developing economies, the top 10% of earners have nearly 3.5 times the income of the bottom 40%.
Greatest Global Challenges
Low wages, lack of social protection and poor lifelong learning systems are the greatest challenges globally.
In many countries, the root cause of low social mobility is related to economic development issues that go beyond income—namely, qualityof and access to education, access to work, poor working conditions and health disparities. Digital leapfrogging will not happen unless these issues are addressed decisively.
Fourth Industrial Revolution, Globalization and Technology
Globalization and the Fourth Industrial Revolution have generated significant benefits, but have also exacerbated inequalities. The Fourth Industrial Revolution, and with it, continuing and future disruption to labour markets, will likely compound differences in social mobility for those countries unprepared to take advantage of new opportunities.
Increasing Social Mobility
If countries included in this report were to increase their social mobility index score by 10 points, this would result in an additional GDP growth of 41% by 2030 in addition to vast social cohesion benefits.
Countries that adhere to the "stakeholder capitalism" model tend to perform better than countries with a focus on "shareholder value maximization" or "state capitalism".
Country Rankings
Top Performers
Denmark tops the rankings with a social mobility score of 85.2, closely followed by Finland (83.6), Norway (83.6), Sweden (83.5) and Iceland (82.7).
Low Performers
Cote d'Ivoire (82nd rank) is last on the Index preceded by Senegal, Cameron, Pakistan and Bangladesh.
Emerging Economies
Among the world's large emerging economies, the Russian Federation is the most socially mobile of the BRICS grouping, ranking 39th, with a score of 64 points, followed by the China (45th), Brazil (60th), India (76th) and South Africa (77th).
Top Gainer in Social Mobility
The economy with the most to gain is China, whose economy could grow by an extra USD 103 billion a year or USD 1 trillion dollars over the decade.
USA would make the second-largest gains, at USD 87 billion a year.
Next is India, followed by Japan, Germany, Russia, Indonesia, Brazil, the UK and France.
India's Performance
India is ranked at 76th out of 82 economies. It ranks 41st in lifelong learning and 53rd in working conditions.
The Areas of improvement for India include social protection (76th) and fair wage distribution (79th).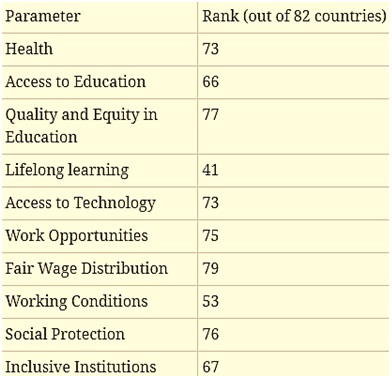 Source: Indian Express
Significance
Benchmarking Tool: The index benchmarks a country's ability to foster social mobility across its population. It measures the extent to which fundamental drivers—both old and new—of equality of opportunity are in place as well as the enabling environment factors that help translate these drivers into actual social mobility out comes.
Guidance to Policy-Makers: The Index is designed to equip policy-makers and other leaders seeking to take informed action on a reinvigorated social mobility agenda with a useful tool to identify areas for improving social mobility and promoting equally shared opportunities in their economies and societies.
Tool to Improve Social Mobility: It aims to point the way toward the need for establishing a new standard to identify priority policy actions and business practices focused on improving social mobility, as part of a global shift towards stakeholder capitalism and equitable and sustainable economies.
Suggestive Measures to Increase Social Mobility
Creating a New Financing Model
A new financing model for social mobility is necessary through taxation but must be complemented by a new mix of spending and tailored approaches.
Improving tax progressivity on personal income, policies that address wealth accumulation and broadly re-balancing the sources of taxation can support the social mobility agenda.
Forging a New Social Contract
Forging a new social contract that provides adequate social protection beyond full-time employment contracts is important across economies.
A new policy agenda aimed at creating holistic protections and support for all individuals irrespective of their status in employment is urgently needed.
Improving Education and Embracing Lifelong Learning
Countries should consider increasing their spending on education focusing on programmes targeted on disadvantaged children and the youth.
Improving Health Outcomes
Public investment in health has the potential to improve social mobility over the life course and across generations—for example, by cushioning income losses or necessary labour market changes when health issues arise.
Role of Businesses
Businesses should promote a culture of meritocracy based on performance, aptitude, potential and interest, and prevent any form of discrimination when hiring, developing and promoting talent.
Further more, paying fair wages and eliminating the gender pay gap will also be crucial to boost social mobility.
What is Social Mobility?
Social mobility can be understood as the movement in personal circumstances either "upwards" or "downwards" of an individual in relation to those of their parents. In absolute terms, it is the ability of a child to experience a better life than their parents.
On the other hand, relative social mobility is an assessment of the impact of socio-economic background on an individual's outcomes in life.
It can be measured against a number of outcomes ranging from health to educational achievement and income.
The concept was introduced by the Russian-born American sociologist and political activist Pitirim Sorokin in his book "Social and Cultural Mobility."
Dimensions of Social Mobility
Intra-generational Mobility: The ability for an individual to move between socio-economic classes within their own lifetime.
Intergenerational Mobility: The ability for a family group to move up or down the socio-economic ladder across the span of one or more generations.
Absolute Income Mobility: The ability for an individual to earn, in real terms, as much as or more than their parents at the same age.
Absolute Educational Mobility: The ability for an individual to attain higher education levels than their parents.
Relative Income Mobility: How much of an individual's income is determined by their parent's income.
Relative Educational Mobility: How much of an individual's educational attainment is determined by their parent's educational attainment.
Factors Responsible Social Mobility
Motivation: Each individual has a desire not only to have a better way of living but also to improve his social status. This desiremotivates and without such motivation social mobility is not possible.
Achievements and Failures: Remark able achievements affect status. For instance, instance,a poor man who has acquired wealth or anun known writer who has won a literary prize will improve his status.
Education: Education not only helps an individual to acquire knowledge and works like a passport to a higher prestige – occupational/ positional. Education facilitates upward mobility,where as lack of education can lead to downward mobility.
Skills and Training: Each society makes provision to impart skill and training to the younger generation. Skill and training facilitate in theim provement of social position, thus leading to social mobility.
Migration: People migrate from one place to another either dueto push or pull factors. Migration affects one's position and results in social mobility; it can be both ways – upward or downward.
Industrialization: The industrial revolution ushered new social system in which people were given status according to their ability and training. There fore, industrialization facilitates social mobility.
Urbanization: Urban settlements offer lots of work and educational facilities to people keeping aside their ascribed status. There fore, urbanization facilitates social mobility by removing those factors which hinder social mobility.
Legislation: Enactment of new laws also facilitates social mobility.Legislations like right to education to all, property rights to women and secularisation and so on help people to grab opportunities and prosper, therefore resulting in social mobility.
Current News Indian Economy Survey And Index
Market Study On E-commerce In India
---
On 8th January, 2020, the Competition Commission of India (CCI) released a Report under the title-Market Study on E-commerce in India.
The study was initiated by the CCI in April 2019 with a view to better understand the functioning of e-commerce in India and its implications for markets and competition.
The study covered the three broad categories of e-commerce in consumer goods (mobiles, lifestyle, electrical & electronic appliances, and grocery), accommodation services and food services.
Objective
To study market trends with a particular focus on emerging distribution methods and strategies in response to ecommerce
To understand business practices and contractual provisions in ecommerce, their underlying rationale and implications for competition
To identify impediments to competition, if any, relating to ecommerce
To ascertain enforcement and advocacy priorities for the Commission in e-commerce
Key Findings
Growing E-commerce Sector
India is the fastest growing market for the e-commerce sector growing at an annual rate of 51 percent, the highest in the world.
E-commerce in India has attracted investors from across the world.
Increasing Price Competition
The study points to an increased intensity of price competition across the categories studied.
On the one hand, consumers enjoy increased price transparency and the consequent ease of price-comparison, on the other hand it enables sellers to monitor competitor's prices on a real-time basis and use the same as an input in setting their own prices.
Strategic Response to e-Commerce
Businesses across sectors and at the various levels of supply chains were found to be gearing up to avail the opportunities of e-commerce while also equipping themselves to address the attendant challenges.
Role of Online Marketplace Platforms
The study reveals that third-party online marketplaces play a central role in e-commerce in India. An estimated 64% of digital retail trade in India is through online platforms.
While large brands/retailers own and manage popular stand alone websites, online commerce in India is driven largely bythird party platforms.
Competition Issues
Deep Discounts
Discounts can harm competition when used as an exclusionary device by enterprises with market power.
The concern raised by sellers/service providers with respect to discounts offered on/by marketplace platforms is threefold - i) discounts are discriminatory ii) discounts imposed by platforms in exercise of their superior bargaining power adversely affects the business models of the service providers iii) discounts push prices to below-cost levels in certain product categories and impair the offline small retailer's ability to compete.
Exclusive Agreements
Exclusive agreements raise potential competition concern when used as an exclusionary tactic to foreclose competition torivals or to impede entry.
Exclusive agreements may make rival platforms incur significant additional cost to induce the brands/service providers to give up the exclusive contract with the major platform.
Platform Parity Restrictions
Platform parity clauses imposed by incumbent platforms may serve as a barrier to entry by such low-cost platforms.
A review of the anti-trust literature on price parity clauses show that these restrictions can give rise to competition concerns.
Lack of Platform Neutrality
Lack of transparency in the platform's functioning and practices can on the one hand allow for possible distortion of competition on the platforms and on the other hand, consumer choice may not reflect consumer preference with perfect information.
The three elements, which according to the business users of the platforms are susceptible to manipulation/exploitation by platforms, are search results,seller's/service provider's data and user review/rating mechanisms.
Unfair Platform-to-Business Contract Terms
The study has also found that online platforms exercised superior bargaining position by imposing unfair contract terms on sellers, which led to growing unease and tensionin platform-business relations.
Recommended Transparency Measures
Search Ranking
Set out in the platforms terms and conditions, a general description of the main search ranking parameters, drafted in plain and intelligible language and keep that description up to date.
Collection, Use and Sharing of Data
Set out a clear and transparent policy on data that is collected on the platform, the use of such data by the platform and also the potential and actual sharing of such data with third parties or related entities.
User Review and Rating Mechanism
Adequate transparency over user review and rating mechanisms is necessary for ensuring information symmetry, which is a prerequisite for fair competition.
Adequate transparency to be maintained in publishing and sharing user reviews and ratings with the business users. Reviews for only verified purchases to be published and mechanisms to be devised to prevent fraudulent reviews/ratings.
Revision in Contract Terms
Notify the business users concerned of any proposed changes in terms and conditions. The proposed changes not to be implemented before the expiry of a notice period, which is reasonable and proportionate to the nature and extent of the envisaged changes and to their consequences for the business user concerned.
Discount Policy
Bring out clear and transparent policies on discounts, including inter alia the basis of discount rates funded by platforms for different products/suppliers and the implications of participation/non-participation in discount schemes.
Significance
The study has helped gather useful insights and information on the key features of e-commerce in India, the different business models of e-commerce players, and the various aspects of commercial arrangements between market participants involved in e-commerce.
In addition, it also provides an opportunity to learn from business enterprises on how they are responding to the advent of digital trade and has helped gauge the key parameters of competition in digital commerce.
Competition Commission of India (CCI)
CCI was established on 14 October, 2003, under the Competition Act, 2002 for the administration, implementation and enforcement of the Act, and was duly constituted in March 2009.
Objectives
To prevent practices having adverse effect on competition.
To promote and sustain competition in markets.
To protect the interests of consumers.
To ensure freedom of trade.
Current News Indian Economy Survey And Index
Women, Business And The Law 2020
---
On 15th January, 2020, the World Bank released a report - Women, Business and the Law 2020, which analyzes the laws and regulations affecting women's economic opportunity all over the world.
Goal
The ultimate goal is to encourage governments to reform laws that hold women back from working and doing business.
About the Women, Business and the Law
Women, Business, and the Law (WBL) is a World Bank Group project that collects unique data on the laws and regulations that restrict women's economic opportunities to improve gender equality.
WBL 2020, sixth in the series, measure 190 economies, track how laws affect women at different stages in their working lives and focusing on those laws applicable in the main business city.
It covers reforms in eight areas that are associated with women's economic empowerment, conducted from June 2017 to September 2019.
The indicators are used to build evidence of the relationship between legal gender equality and women's entrepreneurship and employment.
Eight Indicators
Mobility, Workplace, Pay, Marriage, Parenthood, Entrepreneurship, Assets, and Pension

Key Highlights
The global average score in 2019 is 2, up from 73.9 in 2017 but the overall pace of reform has been slow.
On average, women have just three-fourths of the legal rights afforded to men.
The areas of Workplace and Marriage saw many reforms, especially in the enactment of laws that protect women from violence. In the last two years, eight economies enacted legislation on domestic violence for the first time. Seven economies now have new legal protections against sexual harassment in employment.
Since 2017, forty economies have enacted 62 reforms enhancing gender equality.
Performance
Eight economies—Belgium, Canada, Denmark, France, Iceland, Latvia, Luxembourg and Sweden—score 100, meaning that women are on an equal legal standing with men across all eight indicators.
The economies that improved the most are Saudi Arabia, the United Arab Emirates, Nepal, South Sudan, Sao Tome and Principe, Bahrain, the Democratic Republic of Congo, Djibouti, Jordan, and Tunisia.
Region-wise Performance
Regional distribution patterns have remained unchanged since 2017. The Organisation for Economic Co-operation and Development (OECD) high income economies score the highest, followed by the Europe and Central Asia, Latin America and the Caribbean, and East Asia and the Pacific regions.
Economies in Sub-Saharan Africa have an average regional score of 69.9, while economies in South Asia score 62.3 on average.
Economies in the Middle East and North Africa have the lowest average score, 49.6.
By contrast, no economy in East Asia and the Pacific, Europe and Central Asia, or Latin America and the Caribbean is a top reformer.
India and its Neighbouring Countries
India is placed 117th among 190 countries. Maharashtra has eliminated restrictions on women's ability to work in jobs deemed dangerous.
Nepal, the economy with the third-largest improvement in the index, introduced a new labor law that makes women's entry into the labor market easier by prohibiting discrimination in employment.
Pakistan and Sri Lanka both increased the period of paid maternity leave to exceed 14 weeks.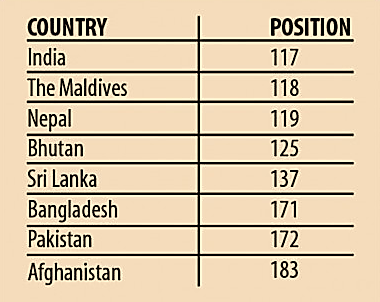 Limitations
Use of Standardized Assumptions
It reduces scope of data; only regulatory reforms in the areas measured can be systematically tracked.
Coverage of Largest Business City Only
In non-federal economies, women in rural areas and small towns could face more restrictive local legislation. Such restrictions are not captured by WBL.
Focus Only on Most Populous Group
WBL data focus on the most populous group, which may mean that restrictions that apply only to minority populations are missed.
Emphasis on Formal Sector
It is unable to reflect reality for women in the informal sector, which may be a significant population in some economies.
Significance
By examining the economic decisions women make as they go through different stages of their working lives and the pace of reforms, WBL makes an important contribution to research and policy discussions about the state of women's economic opportunities and empowerment all over the world.
Current News International WHO
Urgent Global Health Challenges For Next Decade
---
On 13th January, 2020, the World Health Organization (WHO) released a list of 13 urgent health challenges the world will face over next decade.
All the challenges included on the list are urgent, and several are interlinked and demand a response from more than just the health sector, including Governments, communities, and international agencies to work together in order to address the looming health challenges.
13 Health Challenges
1. Climate Crisis as a Health Crisis
The world's climate crisis has major health implications, with air pollution alone killing an estimated seven million people annually, while it causes more extreme weather events, exacerbates malnutrition and fuels the spread of infectious diseases such as malaria.
2. Health Care Delivery in Areas of Conflict and Crisis
In 2019, most disease outbreaks requiring the highest level of WHO response occurred in countries with protracted conflict.
There is continuation of a disturbing trend in which health workers and facilities are targeted.
3. Making Health Care Fairer
Persistent and growing socio-economic gaps result in major discrepancies in the quality of people's health. There is an 18-year difference between the life expectancy of people in low- and high-income countries, as well as significant differences in life expectancies among people living within the same countries and cities.
4. Access to Medicines
About one-third of the world's people lack access to medicines, vaccines, diagnostic tools and other essential health products. Limited access to these products fuel drug resistance and threaten people's lives and health.
5. Preventing Infectious Diseases
Infectious diseases like HIV, tuberculosis, viral hepatitis, malaria, neglected tropical diseases and sexually-transmitted infections will kill an estimated 4 million people in 2020, most of them poor.
6. Preparing for Epidemics
An airborne and highly infectious virus pandemic is inevitable. The countries around the world continue to spend more on responding to these emergencies than preparing for them.
This leaves countries unprepared for when another pandemic strikes and potentially threatens the lives of millions of people.
7. Protecting People from Unsafe Products
Nearly one-third of today's global disease burden is attributed to a lack of food, unsafe food, and unhealthy diets.
Further, there's been an increase in tobacco and e-cigarette use in most countries, raising additional health concerns.
8. Underinvestment in Health Workers
Chronic under-investment in the education and employment of health workers, coupled with a failure to ensure decent pay, has led to health worker shortages all over the world. This jeopardizes health and social care services and sustainable health systems.
An additional 18 million health workers, including nine million nurses and midwives, will be needed across the world by 2030.
9. Adolescent Safety
More than 1 million adolescents aged 10-19 years die every year due to road injury, HIV, suicide, lower respiratory infections, and interpersonal violence.
A number of factors including harmful alcohol use, unprotected sex, and lack of physical activity, increase the risks of these types of death.
10. Earning Public Trust
Public health is compromised by the uncontrolled dissemination of misinformation in social media, as well as through an erosion of trust in public institutions.
11. Harnessing New Technologies
Genome editing, synthetic biology and digital health technologies such as artificial intelligence can solve many problems, but also raise new questions and challenges for monitoring and regulation.
Without a deeper understanding of their ethical and social implications, these new technologies could harm the people they are intended to help.
12. Threat of Anti-Microbial Resistance
Anti-microbial resistance (AMR) has the potential to undo decades of medical advancements and has increased due to a number of factors, including limited access to quality and low-cost medications, unregulated prescription and use of antibiotics and poor infection prevention control.
13. Keeping Health Care Clean
Roughly one in four health facilities globally lack basic water services. The lack of these basics in health facilities leads to poor-quality care and an increased chance of infection for patients and health workers.
WHO's Course of Action towardsChallenges
Challenge 1
In 2020, WHO will work towards developing a set of policy options for governments to prevent or reduce the health risks of air pollution.
Challenge 2
WHO is working to save lives and prevent suffering by working with countries and partners to strengthen health systems, improve preparedness and expand the availability of long-term contingency financing for complex health emergencies.
Challenge 3
WHO is working with its partners to improve child and maternal care, nutrition, gender equality, mental health, and access to adequate water and sanitation.
It is calling for all countries to allocate 1% more of their gross domestic product to primary health care, to give more people access to the quality essential services they need, close to home.
Challenge 4
Coming year, WHO will sharpen its focus on priority areas for global access. These include fighting substandard and falsified medical products; enhancing the capacity of low-income countries to assure the quality of medical products through out the supply chain; and improving access to diagnosis and treatment for non-communicable diseases, including diabetes.
Challenge 5
There's an urgent need for greater political will and increased funding for essential health services; strengthening routine immunization; improving the quality and availability of data to inform planning, and more efforts to mitigate the effects of drug resistance.
Challenge 6
WHO is advising countries on evidence-based investments to strengthen health systems and infrastructure to keep populations safe when health emergencies strike.
Challenge 7
WHO is engaged in developing evidence-based public policies, investments and private sector reforms to reshape food systems, and provide healthy and sustainable diets.
Challenge 8
To trigger action and encourage investment in education, skills and jobs, the World Health Assembly has designated 2020 the 'Year of the Nurse and the Midwife'.
Challenge 9
In 2020, WHO will issue new guidance for policymakers, health practitioners and educators, called 'Helping Adolescents Thrive'. The aim is to promote adolescent's mental health and preventive measures towards better health.
Challenge 10
WHO is working with countries to strengthen primary health care, so people can access effective and affordable services easily, from people they know and trust, in their own communities.
Challenge 11
In 2019,WHO set up new advisory committees for human genome editing and digital health, bringing together the world's leading experts to review evidence and provide guidance.
Challenge 12
WHO, along with national and international authorities, is working to reduce the threat of AMR by addressing its root causes, while advocating for research and development into new antibiotics.
Challenge 13
WHO and its partners are currently working with 35 low and middle-income countries to improve the water, sanitation and hygiene conditions in their health facilities. The global goal is for all countries to have included WASH services in plans, budgets and implementation efforts by 2023 and by 2030 all health care facilities globally should have basic WASH services.
Current News National Polity & Governance
Insolvency And Bankruptcy Code (Amendment) Ordinance, 2019
---
The Insolvency and Bankruptcy Code (Amendment) Ordinance, 2019 was promulgated on December 28, 2019, which amended the Insolvency and Bankruptcy Code (IBC), 2016.
The Amendment Act has brought amendment, omission or addition in Sections 5(12), 5(15), 7, 11, 14, 16(1), 21(2), 23(1), 29A, 227, 239, 240. It also inserted a new Section 32A in the Code.
Objectives
To provide last mile funding to corporate debtor to prevent insolvency in case company goes into Corporate Insolvency Resolution Process (CIRP) or liquidation.
To provide immunity against prosecuting corporate debtor.
To prevent action against the property of corporate debtor or the successful resolution application subject to fulfillment of the conditions.
Key Changes Made
Proviso to Clause (12) of Section 5 of the Code has been omitted to clarify that the insolvency commencement date is the date on which an application for initiating Corporate Insolvency Resolution Process (CIRP) is admitted.
Section 7 of the Code has been amended to clarify minimum threshold for certain classes of financial creditors for initiating CIRP. It states that an application for initiating CIRP shall be filed jointly by not less than 100 of such creditors in the same class or not less than 10% of the total number of such creditors in the same class, whichever is less. For financial creditors who are allottees under a real-estate project, an application for initiating CIRP shall be filed jointly by not less than one hundred of such allottees under the same real estate project or not less than 10% of the total number of such allottees under the same real estate project, whichever is less.
Section 11 of the Code has been amended to clarify that a corporate debtor shall not be prevented from initiating CIRP against any other corporate debtor.
Section 14 of the Code has been amended to put a stay on the licenses, permits, concessions, clearances, etc. of the corporation. The above cannot be terminated, suspended or not renewed on the grounds of insolvency during the moratorium period. Additionally, the supply of goods and services critical to preserve and protect the value of the corporate debtor, such supply shall not be terminated.
Section 16 of the Code has been amended to provide that an insolvency resolution professional should be appointed on the date of admission of the application for initiation of CIRP.
Section 23 of the Code has been amended to enable the resolution professional to manage the affairs of the corporate debtor during interim period between the expiry of CIRP till the appointment of a liquidator.
A new Section 23A has been inserted to provide that the liability of a corporate debtor for an offence committed prior to the commencement of the CIRP shall cease under certain circumstances.
Impact
Preventing Unnecessary Admission of Cases: The amendment brings the much awaited changes needed in the insolvency sector. It clears the air on various aspects and provides relief to both corporate debtor as well as the creditors. The thresholds introduced will prevent admission of unnecessary cases to the insolvency court.
Removing Bottlenecks: The move will ensure in bringing about finality to the cost and litigation risks associated with a corporate debtor thereby removing hurdles being faced in many of the high value insolvency cases. This will result in streamlining the CIRP and will pave the way for better realization of assets for all the stakeholders.
Safeguarding Corporate Debtor: It will help to ring-fence the corporate debtor and property from offences committed by the previous management or promoters.
Ease of Doing Business: The Amendment is in consonance with the government's much celebrated aim of increasing the ease of doing business in India.
Boosting Bidders Confidence: By insulating the successful bidders of stressed assets from the wrongdoings of the earlier management, the ordinance aims at boosting the confidence of the potential bidders in the insolvency process.
Challenge against the Amendment
On 6th January, 2020, a writ petition has been filed by a group of home buyers in the Supreme Court challenging the IBC ordinance on the ground of arbitrariness.
The home-buyers alleged that the additions made to Section 7 regarding the requirement of minimum numbers was against fundamental rights guaranteed to the home buyers (financial creditors) under articles 14 and 21 of the Constitution as well as the very objective of the IBC.
The petitioner submits that the amendment ordinance is in the nature of 'remedy with no remedy' as it curtails the rights of an individual home buyer.
They also argue that the amendments discriminate between individual and corporate creditors by imposing the minimum thresholds on individuals but not on corporates, such as banks.
Way Forward
The Amendment focuses on a timely admission and completion of the insolvency process and has come as a much needed support for the potential buyers of stressed assets. The decision to protect third-party successful bidders from the illegalities committed by the earlier management will go a long way in restoring the spirit of the Code.
Current News Indian Economy Survey And Index
State Energy Efficiency Index -2019
---
Recently, the Union Power Ministry released the State Energy Efficiency Index 2019, which tracks the progress of Energy Efficiency (EE) initiatives in 36 states and union territories based on 97 significant indicators.
Objectives
Help drive EE policies and program implementation at state and local level.
Highlight best practices and encourage healthy competition among states.
Tracking progress in managing the state's and India's energy footprint.
Institutionalizing data capture and monitoring of energy efficiency activities by states.
Set a baseline for Efforts and provide a foundation to set state specific EE targets.
About the Index
The index is developed by Bureau of Energy Efficiency (BEE) in association with Alliance for an Energy Efficient Economy (AEEE).
The first such Index, the "State Energy Efficiency Preparedness Index 2018", was launched on 1st August, 2018.
The 2019 index incorporates qualitative, quantitative and outcome-based indicators to assess energy efficiency initiatives, programs and outcomes in five distinct sectors-buildings, industry, municipalities, transport, agriculture, and DISCOMs.
New indicators for this year include adoption of Energy Conservation Building Code (ECBC) 2017, energy efficiency in MSME clusters, etc.
The index also examines state's policies and regulations, financing mechanisms, institutional capacity, adoption of energy efficiency measures and energy savings achieved.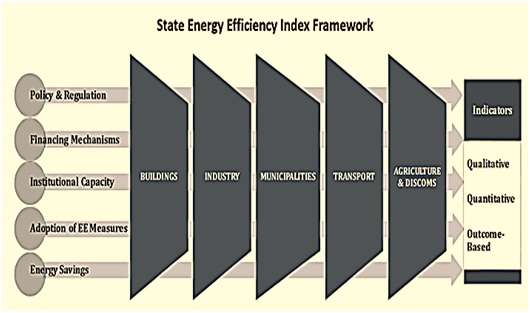 Key Highlights
Based on their efforts and achievements, states have been classified as 'Front Runner', 'Achiever', 'Contender' and 'Aspirant'.
The top performing states for 2019 Index- Haryana, Kerala and Karnataka, are in the 'Achiever' category.
Manipur, Jammu & Kashmir, Jharkhand and Rajasthan performed the worst in the Aspirant groups.
Since there isn't any 'Front Runner' state, it can be inferred that a lot more can be done at state level to realise energy savings from energy efficiency.
For a rational comparison, the States or Union Territories are grouped into four groups based on the aggregated Total Primary Energy Supply (TPES) required to meet the state's actual energy demand (electricity, coal, oil, gas, among others) across sectors.
Under four categories based on TPES, Haryana, Kerala, Karnataka, Maharashtra, Himachal Pradesh, Uttarakhand, Puducherry and Chandigarh have been evaluated as progressive states/UTs in the State Energy Efficiency Index 2019.
Three-Point Agenda for States
Based on the analysis of responses submitted by states this year, a three-point agenda is suggested for consideration by state agencies:
Proactive Role by States in Policy Formulation and Implementation
States must take an active authority to exercise powers under the Energy Conservation (EC) Act and start formulating supporting policies and implementation rules to shift the focus from "policies in place" to "policies successfully implemented".
Strengthening the Mechanism for Data Capture, Management and Public Availability of Data
State Designated Agencies (SDAs) should significantly enhance their engagement with state departments,DISCOMs and private sector organisations beyond one-time data collection. Doing so will enable effective implementation of EE programmes, enable SDAs to measure and monitor progress, and most importantly provide a feedback mechanism for modifications in EE programs and policies and setting of realistic targets.
Building a robust system for demand side energy consumption data collection and analysis at local and state level will also contribute significantly towards a national Energy Data Management System.
Enhancing the Credibility of EE Schemes
Ensuring the integrity of programs that have direct or indirect linkages with common consumers is significant to energy efficiency market transformation. States must demonstrate an approach which includes enforcement and compliance checks as well as independent monitoring and verification of savings, which is integral to all EE policies and programs.
Significance
The Index will help states to contribute towards national goals on energy security and climate action by helping drive Energy Efficiency policies and programmme implementation at the state and local level.
It will help in identification of potentially successful programmes (based upon best practices), and increase awareness amongst SDAs and other state entities. This would eventually lead to more budget allocation and monitoring of programmes at the state level, there by fostering development of the entire ecosystem, including increased staff dedicated to energy efficiency in the states.
Finally, the Index will help determine India's progress in managing energy footprint, whose criticality can not be overstated especially against the backdrop of India's commitment to the Paris Agreement.
Current News Indian Economy Infrastructure
First In-depth Review Of India's Energy Policies
---
On 10th January, 2020, International Energy Agency (IEA), in partnership with NITI Aayog, released the first in-depth review of India's energy policies.
This first in-depth review of India's energy policies examines the country's achievements in developing its energy sector as well as the challenges it faces in ensuring a sustainable energy future.
The IEA has been conducting in-depth peer reviews of its member countries energy policies since 1976. This is the first review carried out for India, which has been an IEA association country since March 2017.
Key Highlights
Significant Progress towards Affordable Cleaner Energy
The IEA report congratulates the Indian government on its outstanding achievements in extending citizens access to electricity, affordable efficient lighting and clean cooking in record time through historic schemes like SAUBHAGYA, UJALA and UJJWALA, while pursuing energy market reforms and the swift deployment of renewable technologies.
The report lauded the Indian government's effort to promote off-grid electrification solutions, including a shift toward using solar photovoltaics (PV) for cooking and charging batteries.
Major Energy Reforms Lead to Greater Efficiency
The IEA commends India for its continuous pursuit of market opening and greater use of market-based solutions through ambitious energy sector reforms. It welcomed the government's decisions to allow private-sector investment in coal mining, and to open up the country's oil and gas retail markets.
India now has the institutional framework it needs to attract more investment for its growing energy needs.
The IEA welcomed the reforms proposed by the Central Energy Regulatory Commission (CERC) and progress made to wards improved real-time markets.
India is Making Energy Security a Priority
IEA welcomed Indian government policies designed to conduct large-scale renewable energy auctions, opening up coal mining to private companies, and promoting access to oil and gas markets for foreign investors.
The report offers a wide range of recommendations for reforms in support of India's goal of promoting open and well-functioning energy markets in sectors such as coal, gas and electricity. These include building strong regulators to ensure non-discriminatory access, moving from state allocation to market pricing, and further rationalizing energy subsidies.
However, the IEA slammed India's natural gas pricing policy, saying linking domestic production to very low global reference prices has reduced incentives for producers to raise supplies.
Significant Progress towards Sustainable Development
India has made important progress towards meeting the United Nations Sustainable Development Goals (Goal 7) on delivering energy access.
The report highlights the achievements of India's energy policies and provides recommendations to support the government's goals of promoting well-functioning energy markets and boosting deployment of renewables.
India has been addressing energy-related environmental pollution including air, water, land, and waste issues.The government has been progressively strengthened rules to combat air pollution, and adopted the National Clean Air Programme (NCAP), which focuses on monitoring and enforcement.
Energy Technology and Innovation Enables "Make In India"
Energy research, development and deployment (RD&D) can be a strong enabler of India's energy policy goals while also contributing to broader national priorities such as the "Make in India" manufacturing initiative.
The government is strengthening its innovation efforts in a broad range of energy technology areas, including cooling, electric mobility, smart grids and advanced biofuels.
There has been a marked increase in clean energy RD&D funding, especially as India works to double its spending over five years under Mission Innovation.
However, funding efforts arespread both thinly and widely across the government and its public sector companies.
Key Recommendations for India's Energy Sector
Establish permanent energy policy co-ordination in the central government, with anoverarching national energy policy framework to support the development of a secure, sustainable and affordable energy system.
Continue to encourage investment in India's energy sector by:

ensuring full non-discriminatory access to energy transport networks
working with the states to implement power sector and tariff policy reforms with afocus on smooth integration of variable renewable energy and power system flexibility
moving from government allocation of energy supplies to allocation by market pricing
further rationalising subsidies and cross-subsidies.

Prioritise actions to foster greater energy security by:

reinforcing oil emergency response measures with larger dedicated emergency stocks and improved procedures, including demand-restraint action and proper analysis of risks by using oil disruption scenarios and capitalising on international engagement
strengthening the resilience of India's energy infrastructure, based on a robustanalysis of the water–energy nexus and cooling demand, notably when planning future investment.

Improve the collection, consistency, transparency and availability of energy data across the energy system at central and state government levels.
Adopt a co-ordinated cross-government strategy for energy RD&D, which enables impact-oriented measurement and dissemination of results.
Ensure India's international energy collaboration continues to be strong and mutually beneficial, highlighting the country's energy successes and supporting continued opportunities to learn from international best practices.
Significance of Report
The report provides insights into the rise of India in global energy markets. It analyses the full breadth of the country's energy sector and presents recommendations for strengthening energy policies in various areas.
This in-depth review aims to assist the government in meeting its energy policy objectives by setting out a range of recommendations in each area, with a focus on energy system transformation, energy security and energy affordability.
It also highlights a number of important lessons from the rapid development of India's energy sector that could help inform the plans of other countries around the world.
The report will help India to design implementation strategies to achieve secure and sustainable energy access for its citizens.
International Energy Agency (IEA)
Headquarters:Paris, France
IEA was created on 18th November 1974 by the Agreement on an International Energy Program (IEP Agreement).
It is an autonomous body within the Organization for Economic Co-operation and Development (OECD) framework.
The IEA works to ensure reliable, affordable and clean energy for its member countries and beyond.
The Agency's mandate has broadened to focus on the "3Es" of effectual energy policy: energy security, economic development, and environmental protection.
Members
Only the OECD member states can become members of the IEA. Except for Chile, Iceland, Israel, and Slovenia, all OECD member states are members of the IEA.
Currently, it has 30 member countries and 8 association countries.
Current News Indian Economy Survey And Index
National Strategy For Financial Inclusion
---
On 10th January, 2020, the Reserve Bank of India (RBI) released the five year (2019-24) National Strategy for Financial Inclusion (NSFI) with an objective to include all under formal access to finance - a key goal of the government.
The NSFI sets forth the vision and key objectives of the financial inclusion policies in India to help expand and sustain the financial inclusion process at the national level through a broad convergence of action involving all the stakeholders in the financial sector.
Aim
To provide access to formal financial services in an affordable manner.
To broaden the financial inclusion and promoting financial literacy and consumer protection.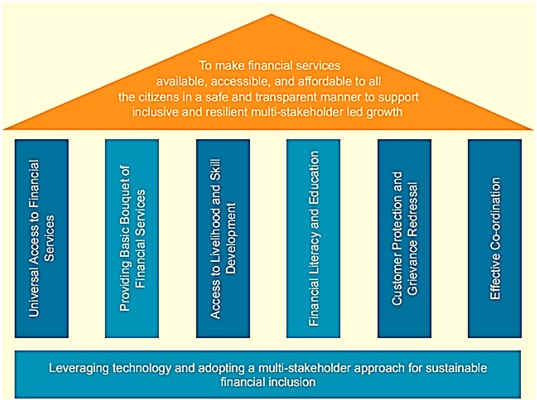 Strategic Pillars of National Strategy for Financial Inclusion
Recommendations
Universal Access to Financial Services
The digital infrastructure in the country needs to be expanded through better networking of bank branches, BC outlets, Micro ATM, PoS terminals and stable connectivity, etc. coupled with electricity. Efforts are needed to be undertaken through co-ordination with various stake holders to ensure creation of the requisite infrastructure for moving towards completely digital on-boarding of customers.
Encourage adoption and acceptance for digital payments and bringing people into the fold of formal financial system.
Some of the issues such as remuneration to the Business Correspondents (BCs), need for furnishing cash-based collaterals, cash management issues and lack of insurance for cash in transit which act as deterrents in smooth functioning of the BC network, need to be redressed by banks in a timely manner.
Providing Basic Bouquet of Financial Services
The banks may undertake periodic review of their existing products and adopt a customer centric approach while designing and developing financial products.
Ensure efficient delivery by leveraging on Fin-tech and BC network.
Initiate measures for capacity building of the BCs by encouraging and incentivizing them to acquire requisite certifications and enabling them to deliver a wide range of financial products.
Make the Public Credit Registry (PCR) fully operational so that authorised financial entities can leverage on the same for assessing credit proposals from all citizens.
Access to Livelihood and Skill Development
There should be convergence of objectives of the National Rural Livelihood and Urban Livelihood Missions to deepen financial inclusion through an integrated approach.
Inter-linkages may be developed between banks and other financial service providers with ongoing skill development, and livelihood generation programmes through RSETIs, NRLM, SRLM, Pradhan Mantri Kaushal Vikas Yojana, etc.
Financial Literacy and Education
Concerted efforts are needed to ensure coordination among the ground level functionaries Lead District Manager (LDM), District Development Manager (DDM) of NABARD, Lead District Officer (LDO) of RBI, District and Local administration, Block level officials, NGOs, SHGs, BCs, Farmers' Clubs, Panchayats, PACS, village level functionaries, etc. while conducting financial literacy programmes.
Customer Protection and Grievance Redressal
A robust customer grievance redressal mechanism at different levels helps banks in timely redressal of grievances.
Develop a portal to facilitate inter-regulatory co-ordination for redressal of customer grievance.
Effective Co-ordination
Strengthen the various fora under Lead Bank Scheme to ensure the achievement of the vision of the strategy at the ground level.
Leverage on the emerging developments in technology to promote effective stakeholder co-ordination by having in place a digital dashboard/ MIS monitoring.
Encourage decentralized approach to planning and development by creating a forum to actively involve Gram Panchayats/ Civil Society/ NGOs to accelerate financial inclusion using various tools like social audit.
What is Financial Inclusion?
Financial inclusion is defined as the process of ensuring access to financial services, timely and adequate credit for vulnerable groups such as weaker sections and low-income groups at an affordable cost.
It is also noteworthy to state that, seven of the seventeen United Nations Sustainable Development Goals (SDG) of 2030 view financial inclusion as a key enabler for achieving sustainable development world wide by improving the quality of lives of poor and marginalized sections of the society.
Causes of Financial Exclusion in India
Lack of surplus income
Not suitable to customer's requirements
Lack of requisite documents
Lack of awareness about the product
Lack of trust in the system
High transaction costs
Remoteness of service provider
Poor quality of services rendered
Challenges to Financial Inclusion
Despite the various measures that have been undertaken by various stakeholders in strengthening financial inclusion in the country, there are still critical gaps existing in the usage of financial services that require attention of policy makers through necessary co-ordination and effective monitoring.
Inadequate Infrastructure: Limited physical infrastructure, limited transport facility,inadequately trained staff, etc., in parts of rural hinterland and far-flung areas of the Himalayan and North-East regions create a barrier to the customer while accessing financial services.
Poor Connectivity: Still many regions in the country have poor connectivity tend to be left behind in ensuring access to financial services there by creating a digital divide. Certain communities are likely to be excluded where electricity is not available, hardware is in short supply or networks are limited.
Socio-Cultural Barriers: Prevalence of certain value system and beliefs in some sections of the population results in lack of favourable attitude towards formal financial services. There are still certain groups (especially women) who do not have the freedom and choice to access financial services because of cultural barriers.
Monopoly in Payment Infrastructure: Currently, majority of the retail payment products viz., CTS, UPI, IMPS, etc. are operated by National Payments Council of India (NPCI), a Section (8) Company promoted by a group of public, private and foreign banks. There is a need to have more market players to promote innovation and competition and to minimize concentration risk in the retail payment system from a financial stability perspective.
Security Concerns: Given the increasing reliance on technology to deliver banking services to customers, it is essential that adequate attention is paid to security, especially IT security. Security related issues resulting in frauds potentially undermine public confidence in the use of electronic payment products. Further, they could also lead to reputation risks.
Low Levels of Financial Literacy: A low level of financial literacy is often a hidden hurdle to bringing financial inclusion to the unbanked. Poor knowledge of how products work and their likely costs also reduce the likelihood of inclusion. The same issues may also prevent individuals from making full use of their existing products.
Way Forward
Financial inclusion is increasingly being recognized as a key driver of economic growth and poverty alleviation the world over. Access to formal finance can boost job creation,reduce vulnerability to economic shocks and increase investments in human capital.
Without adequate access to formal financial services, individuals and firms need to rely on their own limited resources or rely on costly informal sources of finance to meet their financial needs and pursue growth opportunities. At a macro level, greater financial inclusion can support sustainable and inclusive socio-economic growth for all.
PIB News National India
3rd Phase Of PMGSY
---
The government has launched Phase-3 of Pradhan Mantri Gram Sadak Yojana (PMGSY).
The Phase III involves consolidation of 'Through Routes' and 'Major Rural Links' connecting habitations to Gramin Agricultural Markets (GrAMs), Higher Secondary Schools and Hospitals.
Under the PMGSY-III Scheme, it is proposed to consolidate 1,25,000 Km road length in the States. The duration of the scheme is 2019-20 to 2024-25.
The funds would be shared in the ratio of 60:40 between the Centre and State for all States except for 8 North Eastern and 3 Himalayan States (Jammu & Kashmir, Himachal Pradesh & Uttarakhand) for which it is 90:10.
The Pradhan Mantri Gram Sadak Yojana (PMGSY) was launched by the Govt. of India to provide connectivity to unconnected habitations as part of a poverty reduction strategy.
PIB News National India
'Silver Line' Project
---
The Ministry of Railways has approved the 'Silver Line' project of Kerala government that aims to connect major districts and towns of the state with semi high-speed trains.
The corridor will be 532-km long and will be built away from the existing line between Thiruvananthapuram and Thrissur.
The Kerala Rail Development Corporation (K-Rail), a joint venture between the Ministry of Railways and the Kerala government to execute projects on a cost-sharing basis, will be the nodal agency.
PIB News National India
Future Skills PRIME
---
Future Skills PRIME is the next phase of the 'Future Skills' platform that was launched in 2018.
This expanded digital platform would be called Future Skills PRIME (Programme for Reskilling/ Upskilling of IT Manpower for Employability).
Now it is open to professionals from outside the IT industry as well, those who want to skill themselves in emerging technologies like artificial intelligence, virtual reality, Internet of Things, Big Data, cybersecurity, social and mobile and so on.
It is a joint venture program between the Ministry of Electronics and IT with National Association of Software and Services Companies (NASSCOM) to skill 412,000 professionals in the next three years.
PIB News National India
'Good Governance Index'
---
The Ministry of Personnel, Public Grievances & Pensions released, the 'Good Governance Index' on the occasion of Good Governance Day (December 25). The Day is observed on the birth anniversary of former Prime Minister Shri Atal Bihari Vajpayee.
The Good Governance Index is a uniform tool across States to assess the Status of Governance and impact of various interventions taken up by the State Government and UTs.
The objectives of GGI are to provide quantifiable data to compare the state of governance in all states and UTs, enable states and UTs to formulate and implement suitable strategies for improving governance and shift to result oriented approaches and administration.
The states and UTs are divided into three groups- Big States, North-East & Hill States and UTs.
The GGI takes into consideration ten sectors (Agriculture and Allied Sectors, Commerce & Industries Human Resource Development, Public Health, Public Infrastructure & Utilities, Economic Governance, Social Welfare & Development, Judicial & Public Security, Environment, Citizen-Centric Governance) on total 50 indicators.
Tamil Nadu, Himachal Pradesh and Pondicherry topped in the Composite Index in the Big States, North-East & Hill States and UTs respectively.
Sectors and Best Performers

Big States

North-East & Hill States

UTs

Agriculture and Allied Sectors

Madhya Pradesh

Mizoram

Daman & Diu

Commerce & Industries

Jharkhand

Uttarakhand

Delhi

Human Resource Development

Goa

Himachal Pradesh

Pondicherry

Public Health

Kerala

Manipur

Pondicherry

A&N Islands

Chandigarh

Public Infrastructure & Utilities

Tamil Nadu

Himachal Pradesh

Uttarakhand

Chandigarh

Economic Governance

Karnataka

Uttarakhand

Delhi

Social Welfare & Development

Chhattisgarh

Meghalaya

Daman & Diu

Judicial & Public Security

Tamil Nadu

Himachal Pradesh

Pondicherry

Environment

West Bengal

Himachal Pradesh

Chandigarh
PIB News National World
Global Refugee Forum
---
The first-ever Global Refugee Forum was held in Geneva with more than 770 pledges of support, covering areas such as protection, employment, and education, for refugees and the communities which have taken them in.
The Forum was a key element of the 'Global Compact on Refugees', which the international community signed in December 2018. It calls for Global Refugee Forums to be held every four years.
The Forum revealed a "decisive shift" towards long-term action to assist the more than 25.9 million people worldwide who have fled their homelands due to conflict, persecution or violence.
A stock-taking meeting will take place in two years, and the second Global Refugee Forum is scheduled for late 2023.
Global Compact on Refugees
On 17 December 2018, the United Nations General Assembly affirmed the Global Compact on Refugees, after two years of extensive consultations led by UNHCR with Member States, international organizations, refugees, civil society, the private sector, and experts.
The Global Compact on Refugees is a framework for more predictable and equitable responsibility-sharing, recognizing that a sustainable solution to refugee situations cannot be achieved without international cooperation.
It provides a blueprint for governments, international organizations, and other stakeholders to ensure that host communities get the support they need and that refugees can lead productive lives.
It constitutes a unique opportunity to transform the way the world responds to refugee situations, benefiting both refugees and the communities that host them.
Its four key objectives are to:
Ease the pressures on host countries;
Enhance refugee self-reliance;
Expand access to third-country solutions;
Support conditions in countries of origin for return in safety and dignity.
PIB News National World
Eight West African Nations Rename Common Currency To Eco
---
Eight West African countries have agreed to change the name of their common currency to 'Eco' and severed their earlier currency CFA Franc's links to former colonial ruler France.
Benin, Burkina Faso, Guinea-Bissau, Ivory Coast, Mali, Niger, Senegal and Togo currently use the currency. All the countries are former French colonies with the exception of Guinea-Bissau.
PIB News National World
China-Russia-Iran Trilateral Naval Exercise
---
China, Russia and Iran carried out a trilateral naval exercise in the Gulf of Oman, the first such move by the three countries in the volatile Middle East amid heightened tensions in the region after the Trump administration withdrew from a landmark nuclear pact with Tehran.
The Gulf of Oman borders Iran and Pakistan on the north, Oman on the south, the United Arab Emirates on the west and faces the Gujarat coast.
The Gulf of Oman is only a short distance away from the Strait of Hormuz, which has been a site of contention over the passage of oil tankers between Iran and some Western nations.
PIB News National World
Saudi Arabia: First Arab Nation To Take Over The G20 Presidency
---
Saudi Arabia became the first Arab nation to take over the G20 Presidency on December 1, 2019.
It has taken over from Japan and it will host the G20 Summit in its capital, Riyadh on November 21 and 22, 2020.
The G20 is an informal group of 19 countries (including India) and the European Union, with representatives of the International Monetary Fund and the World Bank.
PIB News National Science & Technology
EChO Network
---
EChO Network, a national program, has been launched to train a new generation of educators and students who can identify and solve problems in an interdisciplinary manner and who can listen to our natural world and tackle real-world problems in medicine, agriculture, ecology, and technology.
The initiative has drawn in partners from Government, industry and academia, with the Office of the Principal Scientific Adviser to the Govt. of India steering the program under the guidance of Prof. Shannon Olsson, Director, EChO Network. Bill and Melinda Gates Foundation, Hindustan Unilever Limited, RoundGlass, India Climate Collaborative, Ashoka Trust for Research in Ecology and the Environment (ATREE), and Centre for Cellular and Molecular Platforms (C-CAMP) are the founding partners of the EChO Network.
PIB News National Science & Technology
Tweezer Clock
---
This is a clock designed by researchers at California Institute of Technology and NASA-Jet Propulsion Laboratory (JPL) that will give more accurate and precise time than currently used atomic clocks.
Atomic clocks are used around the world to precisely tell time. Standard atomic clocks in use today, based on the atom cesium, tell time by "counting" radio frequencies.
The new clock design builds upon two types of optical atomic clocks already in use. The first type is based on a single trapped charged atom, or ion, while the second uses thousands of neutral atoms trapped in what is called an optical lattice.
Instead of using a collection of many atoms, the new design uses 40 atoms -- and those atoms are precisely controlled with laser tweezers.
PIB News National Science & Technology
Trastuzumab: WHO Approved First Biosimilar Medicine For Breast Cancer
---
The World Health Organization (WHO) prequalified its first biosimilar medicine – trastuzumab – for treatment of breast cancer. The medicine, supplied by Samsung Bioepis NL B.V. (Netherlands), was assessed by WHO and found comparable to the originator product in terms of efficacy, safety and quality.
Biosimilars: They are much less expensive versions of innovator biotherapeutics while keeping the same effectiveness. They are usually manufactured by other companies once the patent on the original product has expired.
Biotherapeutics: Biotherapeutics are pharmaceutical products derived from biological and living sources. They include therapeutic vaccines, blood, blood components, cells, gene therapies, tissues and other materials.
WHO Prequalification: Prequalification is a service provided by WHO to assess the quality, safety and efficacy of those products that address global public health priorities.
PIB News National Science & Technology
'Bibha' & 'Santamasa'
---
The International Astronomical Union (IAU) has named a star and its planet with Indian names:

Bibha or HD 86081 is a yellow-white dwarf star in the constellation Sextans. It is bigger and more massive than our Sun. The star has been named 'Bibha' in honour of a pioneering Indian woman scientist Bibha Choudhury, who discovered subatomic particle, pi-meson. 'Bhibha' also means "a bright beam of light" in Bengali.
Santamasa or HD 86081b is a planet revolving around 'Bibha' has been named as 'Santamasa' to reflect the cloudy nature of its atmosphere. 'Santamasa' is the Sanskrit term for 'clouded'.
PIB News National Science & Technology
CST-100 Starliner
---
The Boeing CST-100 Starliner (Crew Space Transportation) is a crew capsule manufactured by Boeing as its participation in NASA's Commercial Crew Development (CCDev) program. Its primary purpose is to transport crew to the International Space Station (ISS) and to private space stations.
A recent uncrewed test flight of Starliner experienced an anomaly that precluded a docking with the International Space Station and was recalled and landed safely in the New Mexico desert.
PIB News National Science & Technology
MMP7 & Hypertension
---
Indian Institute of Technology Madras researchers have found an association between a particular tissue-remodelling enzyme called 'MMP7' and risk of hypertension.
Hypertension, a common disease in India, is associated with remodelling of heart tissues. Matrix metalloproteinases (MMPs) play a crucial role in such hypertension-induced heart tissue remodelling, which results in alterations in the structural and mechanical support to blood vessels. This directly results in an increased risk for cardiovascular diseases.
MMPs are a group of enzymes that have been found to be associated with degradation of extracellular matrix proteins (that provide structural support to the cells), during regular tissue growth.
PIB News National Science & Technology
Protein That Repairs DNA
---
Researchers at the Indian Institute of Technology Hyderabad (IITH) have unravelled the mechanism of action of a protein (alkB homolog 3, or ALKBH3) that repairs damaged DNA.
PIB News National Science & Technology
SnowEx
---
It is a NASA campaign for a better understanding of how much water is contained in each winter's snowfall and how much will be available when it melts in the spring.
PIB News National Ecology & Environment
European Green Deal
---
The European Commission (an executive branch of the EU) has launched an ambitious roadmap termed the Green Deal at the CoP25, Madrid event that aims to make Europe the first carbon-neutral continent by 2050 by addressing environmental challenges while, at the same time, promoting an efficient use of resources.

PIB News National Ecology & Environment
Climate Change Performance Index 2020
---
India is among the top 10 nations (ranked 9th) for the first time as per the Climate Change Performance Index (CCPI) released at the CoP25 Madrid, Spain.
The CCPI 2020 results illustrate the main regional differences in climate protection and performance within the 57 evaluated countries and the EU.
Indicators: The ranking results are defined by a country's aggregated performance in 14 indicators within the four categories "GHG Emissions", "Renewable Energy" and "Energy Use", as well as on "Climate Policy".
Sweden leads the ranking on rank 4, followed by Denmark (5) and Morocco (6). The three countries are Chinese Taipei (59), Saudi Arabia (60) and the United States (61), rated low or very low across almost all categories.
Still no country performs well enough in all index categories to achieve an overall very high rating in the index. Therefore, once again the first three ranks remain empty.
Germanwatch, the NewClimate Institute and the Climate Action Network publish the Index annually.
PIB News National Ecology & Environment
Rhinos To Be Re-introduced In Uttarakhand
---
The Uttarakhand State Wildlife Board has cleared a proposal by the Wildlife Institute of India (WII) to introduce rhinoceroses in the Corbett Tiger Reserve (CTR) to boost tourism and revive the habits of species that survive on low-height grass. Rhinos were once found in the Terai grassland in the state and adjoining areas but were wiped out by poaching.
The geographical terrain and environmental conditions in CTR are suitable for rhinos. The ideal sites chosen in Corbett are valley habitats bounded on either side by the lower Himalayas (north), Shivalik Hills (south) and the Ramganga Reservoir (east), which would also act as natural barriers to rhino movement outside these area, there by minimising conflict with people.
PIB News National Ecology & Environment
IUCN Adds 1840 New Species To Red List
---
The International Union for the Conservation of Nature (IUCN) added 1,840 new species to its catalogue of plants and animals that risk extinction. The list now contains more than 30,000 species under threat of disappearing. The IUCN mentioned it was increasingly clear that climate change on its own was a growing threat.
The latest update was released at COP25 climate talks in Madrid.
PIB News National Ecology & Environment
'Swachchh Samundra NW-2019
---
It was an exercise conducted at sea off Vadinar in Gulf of Kutch by the Indian Coast Guard to reinforce the response mechanism for oil spill/pollution incidents and to fine-tune the actions required in such eventualities.
The Gulf of Kutch (GoK) region handles 70 per cent of the oil imported by India and 11 Single point Moorings (SPMs) out of total 27 SPMs i.e. 42 per cent in the country are located in this area.
PIB News National Ecology & Environment
More Plastic Pollution On Maharashtra Beaches Than K'taka, Goa
---
Beaches in Maharashtra are more polluted with microplastics and macroplastics than those in Goa and Karnataka, according to a study conducted by Goa-based National Institute of Oceanography (NIO).
The study has blamed plastic industries located near the shore and increased tourism activities for the pollution.
Plastics less than five millimeters in length are called 'microplastics' and the relatively larger particles, of more than 5 mm, are classified as 'macroplastics'.
Current News National Polity & Governance
Centre Opens Up Coal Sector
---
On 8th January, 2020, the Union Cabinet approved an ordinance to amend the Mines and Minerals (Development and Regulation) Act, 1957 and the Coal Mines (Special Provisions) Act, 2015, to open up coal mining in the country to non-coal companies while removing the end-use restrictions of the mining blocks in the country.
Objective
To attract investments and boost domestic coal production.
Need
At present, Section 11A of the Mines and Minerals Development and Regulation (MMDR) Act allows the government to auction coal and lignite mining licenses only to companies engaged in iron and steel, power and coal washery sectors. This restriction on end use has badly affected participation in the auctions of coal mines.
Despite having the world's fourth largest coal reserves, India imported 235 million tonnes (mt) of coal during 2018-19, of which 135mt valued at Rs171,000 crore could have been met from domestic reserves.
Only 29 coal blocks were auctioned since 2014, when the Supreme Court cancelled 214 coal blocks, due to end-user restrictions-meaning coal produced from them could be used only for the designated captive purpose only and not traded in the market.
The government aims at greater participation in commercial mining of coal and targets 1000 MT coal production by 2023.
Key Points
The ordinance will amend the current proviso in the law that allows only companies in coal mining to bid for mines. Any company meeting the minimum criteria will now be allowed to bid for mines.
It provides for the allocation of coal blocks for composite prospecting license-cum-mining lease and removes restrictions on its end-use.
It provides for doing away with the requirement of previous approval in cases where the allocation of blocks was made by the central government.
Impact
Ending Monopoly: The move will help create an efficient energy market, usher in competition and reduce coal imports, while also ending the monopoly of state-owned Coal India Ltd.
Making India Self-Reliant: In today's time when the Oil prices are very uncertain, this decision is path breaking in making India self-reliant.
Ease of Doing Business: It will contribute to the ease of doing business, the democratisation of the sector by opening it to anyone willing to invest.
Increased Investment and Employment: The removal of end-use restriction will allow anyone to participate in coal auction and attract large investment. Large investment will create jobs and set off demand in critical sectors such as mining equipment and heavy commercial vehicles.
Boost to Infrastructure: The government also aims to increase domestic coal production, bringing the steel prices down, which will help in boosting the infrastructure sector.
Access to Technology: The move will also help India gain access to sophisticated technology for underground mining used by global miners.
Improved Efficiency: Streamlining the auction process will also lead to greater efficiency and more effective outcomes. It will allow for seamless transfer of environment and forest clearance in operational mines. Shifting from a two-stage ascending forward online electronic auction to a single-stage sealed bid will help dampen aggressive bidding.
Criticism
The Centre of Indian Trade Unions (CITU) has criticized the government's decision. According to it, to end captive coal mining would be disastrous for the industries concerned including steel, power and aluminum.
The move has been termed as retrograde because decision to promulgate an ordinance to amend two laws concerning mining would remove the restriction of end-use so that foreign and domestic bidders for mine blocks could convert the natural resources into items for trade and export.
This would in turn, would expand the grip and control of foreign players with Indian private contractors as their junior partners, on the country's vital mineral resources, much to the detriment of national interests.
Issues with Coal Mining in India
Governance Issues
Coal mining in India is nationalized by law and the public sector Coal India Ltd (CIL) supplies more than 80% of India's domestic coal. While nationalization of the coal industry in 1973 helped to improve operating practices, labour safety and coal production, in more recent times led to concerns about the potential abuse of its dominant position by CIL by forcing its customers to accept severely one-sided supply agreements.
Majority of the coal projects have been halted and delayed due to issues in acquiring land and strict rules and regulations. At present, multiple clearances are required from the government for commencement of new opencast projects like site clearances formining lease, forestry clearance and environment clearance.
Another issue relates to the allocation of captive mines to end users. According to the Government, the objective of allocating captive coal blocks was not to maximize revenue but to rapidly increase coal production and reduce electricity tariffs. However, it neither imposed any conditions on coal block allottees to pass on the benefits of cheap coal to consumers, nor did it follow up diligently to ensure that development of these blocks progressed satisfactorily. There fore, neither did production increase nor did electricity tariffs come down.
The lack of account ability with respect to coal block allocations meeting their stated objectives and alleged favouritism in allocation of coal blocks at the cost of the general public and economic efficiency are illustrative of the problems faced by the coal sector.
Lack of transparency is another problem that plagues the sector. An example of this is the way 'linkages' or 'letters of assurance' of coal supply are granted to coal consumers such as power plants, based on which such consumers proceed with their plans.
Technology & Infrastructure Issues
Indian coal reserves continue to be classified using an outdated methodology. Absence of geophysical and geochemical data, use of obsolete and time consuming drilling equipment hinders the growth of mining sector. As a result; there is great uncertainty about economically extractable coal reserves in India.
One of the major issues being faced by the industry for the coal movement within India is transportation and infrastructure. Bottlenecks in domestic coal transportation and lack of proper road connectivity further increase the challenge. Also, availability of railway wagons and mismatch of demand and supply of wagons and coal off-take affects production capacity
Environmental Issues
Coal Mining has multiple adverse impacts on the environment: disturbance of the land resource, adverse effect on river channels and aesthetical deterioration of the landscape, Acid mine drainage from opencast as well as underground mines.
At the stage of mining, activities like drilling, blasting, excavation, construction of haul roads, movement of heavy earth moving machinery, etc. results in emissions of particulate matter and dust. These emissions cause significant human and social impacts by causing air pollution and ecological disturbances.
Degradation of land is perhaps the most serious impact of coal mining operations. Open cast mining causes a much greater degradation to land than underground mining.
Coal mining activities adversely degrades the quality of water by not only lowering the pH of the surrounding water resources but also by increasing the level of suspended particulate solid, total dissolved solids and some heavy metals.
Social Issues
Mining activities, in general, generate huge social costs in the form of displacement, loss of livelihood, and social exclusion.
As 90% of India's coal is produced from open-cast mines, this requires acquisition of large tracts of land – often from agricultural or tribal areas. This leads to lot of displacement and loss of livelihoods among the people, because though seemingly reasonable policies for compensation exist on paper, they are not implemented effectively.
Taken together, such socio-environmental practices lead to social distress and alienation of the local population. In turn, this leads to resistance to mining activities, and with local citizens become less willing to give up their land and mobilize them selves against such activities. This leads to complaints from coal companies about the difficulty of acquiring land for mining and hence the difficulty of increasing production to meet demand, in turn affecting the country's overall energy scenario and economic growth.
Current News National Polity & Governance
Scientific Social Responsibility
---
During the 107th Indian Science Congress, the Department of Science and Technology, spoke about the government's policy on implementing Scientific Social Responsibility (SSR).
Indian Science Congress (ISC)
The 107th ISC took place at the University of Agricultural Sciences, Bengaluru, from 3rd to 7th January, 2020, under the theme- Science and Technology: Rural Development.
ISC is organised by the Indian Science Congress Association (ISCA) every year in the first week of January.
ISCA owes its origin to the foresight and initiative of two British Chemists, namely, Professor J. L. Simonsen and Professor P.S. Mac Mahon.
The first meeting of the Congress was held from January 15-17, 1914 at the premises of the Asiatic Society, Calcutta, with Justice Sir Ashutosh Mukherjee, the then Vice-Chancellor of the Calcutta University, as President.
What is Scientific Social Responsibility?
It is the ethical obligation of knowledge workers in all fields of science and technology to voluntarily contribute their knowledge and resources to the widest spectrum of stakeholders in society, in a spirit of service and conscious reciprocity.
Here, knowledge workers include anyone who participates in the knowledge economy in the areas of human, social, natural, physical, biological, medical, mathematical, and computer/data sciences and their associated technologies.
Idea for SSR
The Constitution of India (Part-IV, Article 51A (h)) mandates for developing the scientific temper, humanism and spirit of enquiry as part of the fundamental duties of a citizen.
This idea has been carried forward in earlier science policies of India (Scientific Policy Resolution 1958, Technology Policy Statement 1983, Science and Technology Policy 2003 and Science Technology and Innovation Policy 2013) that propagate for taking the message and benefits of science to society and for bridging the gap between the two.
About SSR Policy
The Government of India, through the Department of Science and Technology has released a draft of the new Scientific Social Responsibility (SSR) Policy on 9 September, 2019, for public comments.
The Policy is intended to promote social responsibility in the scientific establishments on the lines of Corporate Social Responsibility (CSR).
Objectives
To harness the voluntary potential that is latent in the country's scientific community to strengthen science and society linkages so as to makescience and technology (S&T) ecosystem vibrant.
Developing a mechanism for ensuring access to scientific knowledge, transferring benefits of science to meet societal needs, promoting collaborations to identify problems and develop solutions.
Need for the Policy
The new India with its vibrant young populace requires a renewed emphasis on the integration of science and technology (S&T) with society at both the institutional and individual levels.
New initiatives such as Transformation of Aspirational Districts, Make in India, Swachh Bharat and Digital India, requiresan institutional mechanism facilitating easy access to resources and knowledge, leading to inclusive growth and development.
Salient Features
The policy would involve four different categories of stakeholders: beneficiaries, implementers, assessors and supporters (BIAS).
Under the proposed policy, individual scientists or knowledge workers will be required to devote at least 10 person-days of SSR per year for exchanging scientific knowledge to society.
It has proposed to give credit to knowledge workers or scientists for individual SSR activities in their annual performance appraisal and evaluation.
No institution would be allowed to outsource or sub-contract their SSR activities and projects.
Implementation Strategy
A central and nodal agency would be set up at DST to supervise, monitor and implement SSR activities in the country. Once formalized, the policy requires all the Central Government Ministries, State Governments and S&T institutions to make their own plans to implement Scientific Social Responsibility in India according to their mandate.
Every knowledge institution would prepare its implementation plan for achieving its SSR goals. All knowledge workers would be sensitized by their institutions about their ethical responsibility to contribute towards the betterment of society and the achievement of national developmental and environmental goals.
There should be an SSR monitoring system in each institution to assess institutional projects and individual activities. Each knowledge institution would publish an annual SSR report.
Envisioned Benefits of SSR
Expanding the domain of science and its benefits to the community. Encouraging students into science through handholding and nurturing their interest.
Providing training for skill development and upgrading scientific knowledge.
Helping Micro, Small & Medium Enterprises (MSMEs),Startups and informal sector enterprises in increasing their overall productivity.
Creating an opportunity for cooperation and sharing of S&T resources in laboratories with other researchers in universities and colleges.
Empowering women, disadvantaged and weaker sections society through scientific intervention.
Identification of best practices and success models on SSR for replication with multiplier effect in the country.
Significance
Making Scientific Institutions & Scientists More Responsible: It is an effort to make scientific institutions and individual scientists more responsible to society and other stakeholders, which may trigger social entrepreneurship and start-ups impacting S&T ecosystem and society. It would help strengthen the existing efforts of institutions in an organised and sustainable manner
Strengthening Science-Society Linkage: The policy envisages strengthening science-society linkages in an organic manner by building synergy among all the stakeholders so as to usher in a cultural change in the conduct of science forthe benefit of society at large in the country.
Transformative Role: It would play a transformative role in bringing scientific and innovative solutions to societal problems, uplifting the life standard of marginalized sections of society through capacity-building and skill development. It will also contribute in achieving Sustainable Development Goals, environmental goals and Technology Vision 2035.
Current News Indian Economy Agriculture & Allied Sector
Pradhan Mantri Fasal Bima Yojana
---
Recently, Maharashtra has become the first state in the country to seamlessly integrate its land records with the web portal of the Pradhan Mantri Fasal Bima Yojana (PMFBY).
This integration has been rolled out during the 2019-20 rabi season, with farmers accessing their land details online at the enrollment centres.
Maharashtra presents an interesting scenario with farmers not opting for crop loans enrolling for the scheme with their own money. Farmers who opt for bank loans are automatically enrolled for the scheme.
Need
Taking advantage of the lack of stringent verification process, several cases of over-insurance (insurance of more land than in possession) as well as insurance of ineligible people has been noted in recent times.
Also there were instances of people insuring the same land parcel multiple times.
Impact
This integration will help make the process of enrollment for crop insurance easy as well as help plug the leaks in the process, leading to the better implementation of PMFBY.
Pradhan Mantri Fasal Bima Yojana (PMFBY)
Launched in 2016, PMFBY provides a comprehensive insurance cover against failure of the crop thus helping in stabilising the income of the farmers.
PMFBY replaced the National Agricultural Insurance Scheme (NAIS) and Modified National Agricultural Insurance Scheme (MNAIS).
The Weather-Based Crop Insurance Scheme (WBCIS) remains in place, though its premium rates have been made the same as in PMFBY.
State governments have the authority to decide whether they want PMFBY, WBCIS or both in their respective states.
Objectives
To provide insurance coverage and financial support to the farmers in the event of failure of any of the notified crop as a result of natural calamities, pests & diseases.
To stabilise the income of farmers to ensure their continuance in farming.
To encourage farmers to adopt innovative and modern agricultural practices.
To ensure flow of credit to the agriculture sector.
Salient Features
Coverage of Farmers: The scheme covers loanee farmers (those who have taken a loan), non-loanee farmers (on a voluntary basis), tenant farmers, and sharecroppers.
Coverage of Crops: Every state has notified crops (major crops) for the Rabi and Kharif It covers all Food & Oilseeds crops and Annual Commercial/Horticultural Crops.
Premium Rates: It fixes a uniform premium of 2 percent of the sum insured, to be paid by farmers for all Kharif crops, 5 percent of the sum insured for all Rabi crops, and 5 percent of sum insured for annual commercial and horticultural cropsor actuarial rate, which ever is less, with no limit on government premium subsidy.
Area-based Insurance Unit: It operates on the basis of 'Area Approach' i.e., Defined Areas for each notified crop for widespread calamities.Thus, all farmers in a particular area must pay the same premium and have the same claim payments.
Coverage of Risks: It aims to prevent sowing/planting risks, loss to standing crop, post-harvest losses and localised calamities. The sum insured is equal to the cost of cultivation per hectare, multiplied by the area of the notified crop proposed by the farmer for insurance.
Use of Innovative Technology: It recommends the use of technology in agriculture. For example, using drones to reduce the use of crop cutting experiments (CCEs), which are traditionally used to estimate crop loss; and using mobile phones to reduce delays in claim settlements by uploading crop-cutting data on apps/online.
Cluster Approach for Insurance Companies: For more effective implementation, a cluster approach is being adopted under which a group of districts with variable risk profiles will be allotted to an insurance company through competitive bidding for up to three year.
PMFBY comparison with NAIS and MNAIS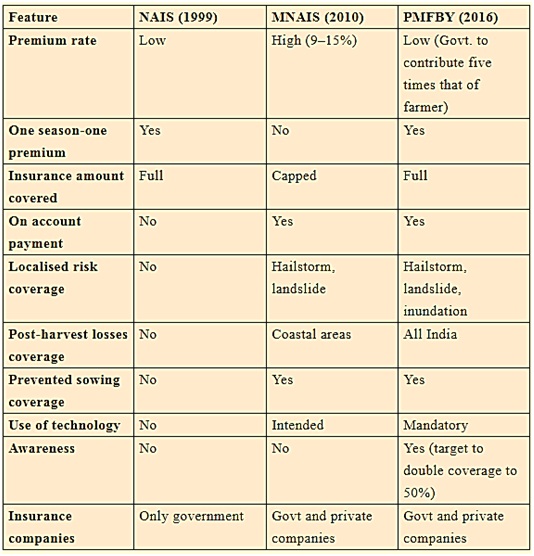 Source: orfonline
Challenges in PMFBY
Structural
One of the major challenges that remain is How to segregate insurance and disaster relief. Insurance products have a commercial basis whereas the disaster relief for small and marginal farmers has a social implication.
Lack of adequate databases for determining premiums and indemnities and lack of adequate infrastructure create constraints in implementing crop insurance in India, particularly in vulnerable and backward regions like Bundelkhand and Marathwada.
State Level Policy
Delayed Notification: Many state governments have diluted PMFBY guidelines in their respective state notification as per their own convenience, which goes against the spirit of PMFBY. Delay in notification mean that farmers could not avail claims for prevented sowing.
Sum Insured Lower than Scale of Finance (SoF): Though sum insured under the PMFBY is higher than in previous schemes, in many states sum insured is still far lower than the SoF. It seems that states have intentionally reduced the value of sum insured to decrease their part of subsidy to be paid for the premium. This significantly reduces the claim received by farmers, as only a fraction of cost of cultivation value is insured.
Delay in Claim Payments: Many state governments have failed to pay the subsidy premiums on time, as paying these premiums eat into their budgets for the sector. This leads to insurance companies delaying or not making claim payments.
Implementation
Wrong Premium Deduction: It is observed that in in many instances, premium was deducted by banks for non-notified crops. Insurance companies receive premiums from farmers, but farmers are not insured for non-notified crops.
Poor Capacity of Insurance Companies: Most of the Insurance companies involved lack manpower and infrastructure in rural areas. Insurance companies, especially private companies, have no functional office in tehsils and no agents are deployed at the block level, despite provision for it under PMFBY.
Farmers Not Provided Policy Documents: Farmers have no direct connection with insurance companies. Insured farmers receive no insurance policy document or receipt. Farmers usually are not even aware if their premiums have been deducted and crops insured. Premium deduction by banks without informing the farmer is a huge concern.
Lack of Coordination And Non-Existent Grievance Redressal Mechanism: There seems to be a clear lack of coordination between banks, insurance companies and nodal government departments (mainly the Agriculture Department).There is also poor coordination regarding grievance redressal. To whom should a farmer approach in the case of wrong premium deduction, non-payment of claim or fake crop-cutting experiments?
Gaps in Assessment of Crop Loss: Assessment of crop loss remains a major concern because the sample sizes in each village are not large enough to capture the scale and diversity of crop losses. In many cases, district or block level agricultural department officials do not conduct such sampling on ground and complete the formalities only on paper.
Corruption: There is huge scope of corruption during the implementation of the PMFBY like the previous insurance schemes.There is a nexus between insurance companies and the middlemen, depriving the farmers of their claim.
Poor Capacity to Deliver: There has been no concerted effort by the state government and insurance companies to build awareness of farmers on PMFBY. Insurance companies have failed to set-up infrastructure for proper implementation of PMFBY. There is still no direct linkage between insurance companies and farmers. Insured farmers receive no insurance policy document or receipt.
Suggestive Measures
Coverage of tenant and sharecropper farmers should increase.
All important crops should be covered under crop insurance. Diversification of crops and mixed farming should be promoted.
Incentivise groups of small farmers or women farmers and promote group insurance.
Robust assessment of crop loss should be done through capacity building of state governments, involvement of Panchayati Raj Institutions and farmers in loss assessment, auditing and multi-level checking to ensure credibility of data.
All PMFBY related data related to farmers must be available in the public domain and shared openly with farmers.
The clause addressing prevented sowing and post-harvest losses must be implemented appropriately by issuing state notifications prior to sowing.
Robust scheme monitoring and grievance redressal mechanism should be in place.
Current News National Polity & Governance
FAME Scheme-II
---
On 3rd January, 2020, in a bid to push electric vehicle (EV) adoption in the country, the government approved the setting of 2636 charging stations in 62 cities across 24 States/UTs under FAME India (Faster Adoption and Manufacturing of Electric Vehicles in India) scheme phase II.
Out of these 2636 charging stations, 1633 Charging Stations will be Fast Charging Stations and 1003 will be slow charging stations. With this, about 14000 Charging Stations will be installed across the selected cities.
About FAME Scheme-II
Launched in March, 2019,under National Electric Mobility Mission (NEMM), FAME-II aims to boost electric mobility and increase the number of EVs in commercial fleets, with an outlay of Rs. 10,000 Crore for a period of 3 years commencing from 1st April 2019.
The scheme is being implemented through the following verticals:
Demand Incentives
Establishment of networks of Charging Stations
Administration of Scheme including publicity, IEC (Information, Education and Communication) activities.
This phase mainly focuses on supporting electrification of public and shared transportation, and aims to support (through incentives) about 7000 e-buses, 500,000 electric three-wheelers (e-3W), 55,000 electric four-wheeler (e-4W) passenger cars and one million electric two-wheelers (e-2W).
Out of total budgetary support, about 86 percent of fund has been allocated for Demand Incentive so as to create demand for EVs in the country.
Objective
To encourage faster adoption of electric and hybrid vehicles by way of offering upfront incentive on purchase of Electric Vehicles (EV) and by way of establishing necessary charging infrastructure for EV.
Salient Features
Electrification of Public Transport: The emphasis will be on electrification of public transport that includes shared transport like 3- wheelers and buses and the demand incentives on operational expenditure mode for electric buses will be delivered through state/city transport corporations (STUs).
Incentives to Public & Private Vehicles: In three-wheeler and four wheeler segments, incentives will be applicable mainly on vehicles used for public transport or registered commercial purposes. In the two-wheeler segment, the focus will be on private vehicles.
Advancement of Lithium-ion Batteries: In order to encourage advance technologies, the benefits of the incentives will be extended to only those vehicles, which are fitted with advanced battery like lithium-ion battery and other new technology batteries.
National Electric Mobility Mission Plan (NEMMP)
Launched in 2013, NEMMP- 2020 is a National Mission document providing the vision and the roadmap for the faster adoption of EVs and their manufacturing in the country.
This plan has been designed to enhance national fuel security, to provide affordable and environmentally friendly transportation and to enable the Indian automotive industry to achieve global manufacturing leadership.
Under the NEMMP, there is an ambitious target to achieve 6-7 million sales of hybrid and electric vehicles by the year 2020.
Impact
Pollution Control: Adoption of EVs in the country will help in addressing the issue of air pollution, due to the indiscriminate use of fossil fuels.
Sustainable Use of Fossil Fuels: The scheme will provide fuel security as it helps to lessen the dependency on fossil fuels there by paving the path of sustainable and efficient use of fossil fuels.
Holistic Approach: It presents a more holistic approach as it not only touches upon critical technical issues such as battery cost & efficiency, charging infrastructure, etc. but also stresses upon the indigenization of the entire EV value chain.
Challenges Driving India's Electric Mobility Initiatives
Rising Crude Oil Imports - An Energy Security Challenge
India's oil import dependence has risen from 82.9 percent in 2017-18 to 83.7 percent in 2018-19.
The country's oil consumption grew from 184.7 million tonnes in 2015-16 to 194.6 million tonnes in the following year and 206.2 million tonnes in the year there after. In 2018-19, demand grew by 2.6 per cent to 211.6 million tonnes.
Rising Pollution Levels – An Environmental Challenge
India ranks as the third largest carbon emitting country in the world accounting for 6% of the global carbon dioxide emissions from fuel combustion.
According to the WHO Global Air Pollution Database, 14 out of the 20 most polluted cities of the world are in India.
Rising Population – A Sustainable Mobility Challenge
India's current population of 1.2 billion is expected to reach 1.5 billion by 2030. Out of the 1.5 billion people, 40% of the population is expected to live in urban areas compared to 34% of 2018 population projection.
The additional 6% population growth is likely to further add strain on the struggling urban infrastructure in the country, including a rise in demand for sustainable mobility solutions.
Recent Government's Efforts to Promote Electric Mobility
Tax initiatives to promote fully electric vehicles:

GST reduction on Fuel cell vehicles: 28% to 18%
GST reduction on Li-ion battery: 28% to 12%
Hybrid vehicles have been kept in the same category as luxurycars and will be taxed at the peak rate of 28% plus a cess of 15%.

Ministry of Power has allowed sale of electricity as 'service' for charging of electric vehicles. This would provide a huge incentive to attract investments into charging infrastructure.
Ministry of Road Transport Highways issued notification regarding exemption of permit in case of battery operated vehicles.
In March, 2019, the government launched the National Mission on Transformative Mobility and Battery Storage to promote clean, connected, shared, sustainable and holistic mobility initiatives.
Current News Indian Economy Plan Policy
Saansad Adarsh Gram Yojana
---
According to the Ministry of Rural Development, only 252 MPs have adopted gram panchayats under Phase-4 of Saansad Adarsh Gram Yojana(SAGY) -208 members of Lok Sabha and 44 members of Rajya Sabha.
Saansad Adarsh Gram Yojana
Also known as the Model Village Programme, it was launched on 11th October, 2014 on the birth anniversary of LokNayak Jai Prakash Narayan, in New Delhi.
The goal was to develop three Adarsh Grams by March 2019, of which one was to be achieved by 2016. There after, five such Adarsh Grams (one per year) will be selected and developed by 2024.
Aim
To translate Gandhi's vision of an ideal Indian village into reality
Main Objectives
To trigger processes which lead to holistic development of the identified Gram Panchayats
To substantially improve the standard of living and quality of life of all sections of the population through

improved basic amenities
enhanced human development
better livelihood opportunities
reduced disparities
access to rights and entitlements
wider social mobilization

To nurture the identified Adarsh Grams as schools of local development to train other Gram Panchayats
Approach
In order to achieve these objectives, SAGY would be guided by the following approach:
Leveraging the leadership, capacity, commitment and energy of the Members of Parliament (MP) to develop model Gram Panchayats (GP).
Engaging with and mobilizing the community for participatory local level development.
Converging different government programmes and private and voluntary initiatives to achieve comprehensive development in tune with people's aspirations and local potential.
Building partnerships with voluntary organisations, co-operatives and academic and research institutions.
Focusing on outcomes and sustainability.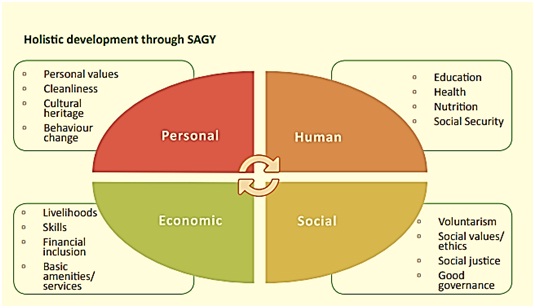 Progress till Date
In Phase-1 of SAGY, 703 MPs had adopted gram panchayats but that number went down to 497 in Phase-2 and 301 in Phase-3, showing a gradual decline in subsequent phases.
The latest data shows that more than six months after the formation of the 17th Lok Sabha, about two-thirds of the members of the Lower House are yet to select a gram panchayat under Phase-4.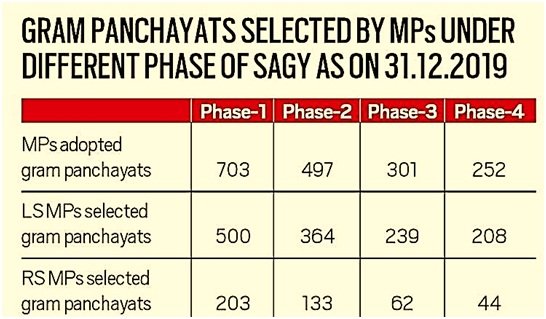 Source:India Express
Issues with SAGY
No Dedicated Fund
A major drawback is that there is no separate fund for this scheme by the government. MPs have to funnel money to adopted villages through the convergence of 21 ongoing schemes such as Indira Awaas Yojana for rural housing, Pradhan Mantri Gram Sadak Yojana, Mahatma Gandhi National Rural Employment Gurantee Act, etc. Lack of funds is the primary reason behind the low interest in the village adoption scheme.
Selection of Village:
According to the guidelines, an MP can select any village except his own village or his spouse's village. This makes very difficult for an MP to select the villages in his constituency and ignore the others.
However, in urban areas, even the selection of villages is a complicated process since most villages identified by MPs don't meet the SAGY guidelines.
Monitoring Issue
It has been difficult for MPs to monitor the on-ground development on a regular basis, in the absence of a platform where they can oversee the progress on different interventions, specified in the Village Development Plan (VDP) as well as irregular meetings of the district level committee.
Implementation Issue
While the SAGY talks about convergence and effective utilisation of available Central and state schemes, most MPs raise the point that it is extremely difficult to know about the provisions under each scheme and the structure and framework for its implementation on the ground.
Also in most cases, the VDP has not been prepared in accordance with the guidelines of the programme.
Lack of Coordination
Lack of coordination among different ministries, departments, schemes of central government, state government and the private sector is one of the major issues, further holding back MPs to adopt villages.
Lack of Participation
SAGY is meant to focus on community participation. In fact, it is plagued by the lack of participation of all sections of society, especially the marginalized and the aged group, limiting the scope of the scheme.
Way Forward
For meaningful change through SAGY, motivation of MP is crucial but proactiveness of the panchayat and villagers is also necessary. The government must work towards resolving the underlying issues with SAGY, in order to make the scheme holistic and achieve its desired goal of making the village of country, a model village.
Current News Indian Economy Survey And Index
India State Of Forest Report –2019
---
Recently, the ministry for Environment, Forest and Climate Change released the biennial "India State of Forest Report (ISFR)-2019, providing an assessment of the country's forest resources.
The report provides information on forest cover, tree cover, mangrove cover, growing stock inside and outside the forest areas, carbon stock in India's forests, Forest Types and Biodiversity, Forest Fire monitoring and forest cover in different slopes & altitudes.
Objectives
To monitor forest cover and changes therein at the National, State and District levels
To generate information on forest cover in different density classes and changes therein
To produce forest cover and other thematic maps derived from it for the whole country
To provide primary base layer for assessment of different parameters including growing stock, forest carbon
To provide information for international reporting
About the India State of Forest Report (ISFR)
The report is published by the Forest Survey of India (FSI) which has been mandated to assess the forest and tree resources of the country including wall-to-wall forest cover mapping in a biennial cycle.
Starting from1987, 15 assessments have been completed so far. ISFR 2019 is the 16th report in the series.
Major Findings
Total Forest Cover
The total forest cover of the country is 7,12,249sq km which is 21.67% of the geographical area of the country. The tree cover of the country is estimated as 95,027 sq km which is 2.89% of the geographical area.
The total Forest and Tree cover of the country is 8,07,276sq km which is 24.56% of the geographical area of the country.
It shows an increase of 3,976 sq km (0.56%) of forest cover, 1,212 sq km (1.29%) of tree cover and 5,188 sq km (0.65%) of forest and tree cover put together, at the national level as compared to the ISFR 2017.
Forest Cover in States
Area-wise Madhya Pradesh has the largest forest cover in the country followed by Arunachal Pradesh, Chhattisgarh, Odisha and Maharashtra.
The top five States in terms of increase in forest cover are Karnataka (1,025 sq km), Andhra Pradesh (990 sq km), Kerala (823 sq km), Jammu & Kashmir (371 sq km) and Himachal Pradesh (334 sq km).
In terms of forest cover as percentage of total geographical area, the top five States are Mizoram (85.41%), Arunachal Pradesh (79.63%), Meghalaya (76.33%), Manipur (75.46%) and Nagaland (75.31%).
Forest Cover in North East Region
Total forest cover in the North Eastern region is 1,70,541sq km, which is 65.05% of its geographical area. The current assessment shows a decrease of forest cover to the extent of 765 sq km (0.45%) in the region. Except Assam and Tripura, all the States in the region show decrease in forest cover.
Forest Cover in Hill and Tribal Districts
It shows an increase of 544 sq km (0.19%) in 140 hill districts of the country.
The current assessment shows a decrease of 741 sq km of forest cover within the RFA/GW in the tribal districts and an increase of 1,922 sq km outside.
Mangrove
Mangrove cover in the country has increased by 54 sq km (1.10%) as compared to the previous assessment.
Top three states showing mangrove cover increase are Gujarat (37 sq km) followed by Maharashtra (16 sq km) and Odisha (8 sq km).
Total Carbon Stock
The total carbon stock in country's forest is estimated 7,124.6 million tonnes and there an increase of 42.6 million tonnes in the carbon stock of country as compared to the last assessment of 2017. The annual increase in the carbon stock is 21.3 million tonnes, which is 78.2 million tonnes CO2 eq.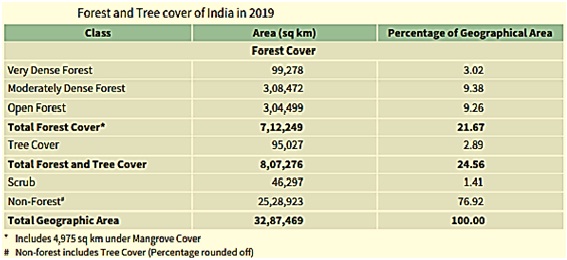 Wetlands
There are 62,466 wetlands covering 3.83% of the area within the Recorded Forest Area/Green Wash(RFA/GW) of the country.
The total number of wetlands located within the RFA/GW is 8.13%. Amongst the States, Gujarat has largest area of wetlands within RFA in the country followed by West Bengal.
Fire Prone Areas
Fire prone forest areas of different severity classes have been mapped in the grids of 5km x 5km based on the frequency of forest fires. The analysis reveals that 21.40% of the forest cover of the country is highly to extremely fire prone.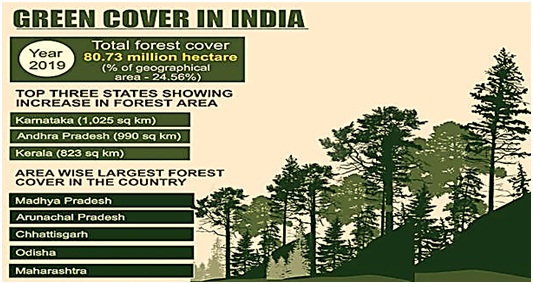 Forest Cover
Forest cover includes all tree patches which have canopy density more than 10% and area of 1 ha or more in size, irrespective of their legal status and species composition.
Recorded Forest Area
Recorded Forest Area is used for all such lands which have been notified as forest under any Government Act or Rules or recorded as 'forest' in the Government records. Recorded forest area mayor may not have forest cover.
Green Wash
The extent of wooded areas generally shown in light green colour on the Survey. The green wash has been used as substitute to RFA in respect of those States and UTs from where the usable digitized boundaries of recorded forest areas could not be made available to FSI.
Significance
It provides relevant information pertaining to each State such as biodiversity assessment, slope and altitude wise forest cover which would be very useful in formulating policies and strategies for conservation, management and enhancement of their forest and tree resources.
The report contains dedicated chapters on Bamboo Resources, Forest Fires, Carbon Stock, People and Forests and Forest Types and Bio-diversity. It will be of great relevance to the entire spectrum of stake holders from the policy makers, academicians, administrators, forest managers, and community based organizations to the citizens of the country at large.
In tune with the Government of India's vision of Digital India, FSI's assessment is largely based on digital data whether it is satellite data, vector boundaries of districts or data processing of field measurements.
Forest Survey of India (FSI)
Headquarters: Dehradun, Uttarakhand
Established in 1981, it is a premier national organization responsible for assessment and monitoring of the forest resources of the country on regular basis.
FSI succeeded the "Pre-investment Survey of Forest Resources" (PISFR), a project initiated in 1965 by Government of India with the sponsorship of FAO and UNDP.
The National Commission on Agriculture(1976), in its report recommended for the creation of a National Forest Survey Organization for a regular, periodic and comprehensive forest resources survey of the country leading to creation of FSI.
Current News Indian Economy Survey And Index
Niti Aayog's Sustainable Development Goals Index
---
On 30th December, 2019, NITI Aayog launched the second edition of the Sustainable Development Goals (SDG) India Index, which comprehensively documents the progress made by India's States and Union Territories towards achieving the 2030 SDG targets.
Objectives
Promote healthy competition and emulation among States & UTs within the framework of cooperative federalism.
About the SDG Index
The SDG India Index, first developed in 2018, was an attempt to present the achievements on the SDGs across the sub-national entities.
The SDG India Index has been developed in collaboration with the Ministry of Statistics and Programme Implementation (MoSPI), United Nations in India, and Global Green Growth Institute.
While the SDG Index- 2018 was based on 13 Goals, the SDG Index-2019 is based on 16 goals across 54 targets spread among 100 indicators based on national identified indicators and is also better aligned with the SDG National Indicator Framework.
A composite score was computed in the range of 0–100 for each State/UT based on its aggregate performance across 16 SDGs, indicating the average performance of every State/UT towards achieving 16 SDGs and their respective targets. If a State/UT achieves a score of 100, it signifies it has achieved the 2030 national targets. The higher the score of a State/UT, the closer it is towards achieving the targets.
Classification criteria based on SDG India Index score is as follows:

Aspirant: 0–49
Performer: 50–64
Front Runner: 65–99
Achiever: 100
Major Highlights
Overall India's Performance towards SDGs
India's composite score improved from 57 in 2018 to 60 in 2019-20 with major success in water and sanitation, power and industry.
India's ranking in terms of poverty has fallen from 54 points in 2018 to 50 points in 2019.
The maximum gains been made in Goals 6 (clean water and sanitation), 9 (industry, innovation, and infrastructure) and 7 (affordable and clean energy).
On two goals in particular — gender equality and zero hunger — far greater attention is required as the country's score on both is less than 50.
Further, India has slipped a point down, from 65 to 64 as far as economic growth goes.
State and UT's Performance
Kerala(70), Himachal Pradesh, Andhra Pradesh, Tamil Nadu and Telangana are the better performing States.
Bihar(50), Jharkhand, Arunachal Pradesh, Meghalaya and Uttar Pradesh are the bottom most States.
Chandigarh maintained its top spot among the UTs with a score of 70.
Uttar Pradesh, Odisha and Sikkim have shown maximum improvement, but states like Gujarat have not shown any progress vis-a-vis 2018 rankings.
In 2019 Index, five more states were included in the Front Runner category - Andhra Pradesh, Telangana, Karnataka, Sikkim and Goa.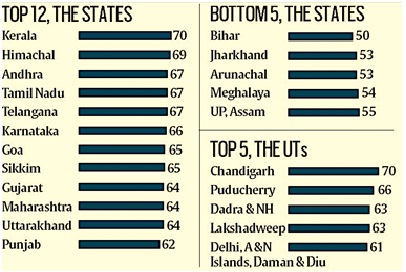 Source: IE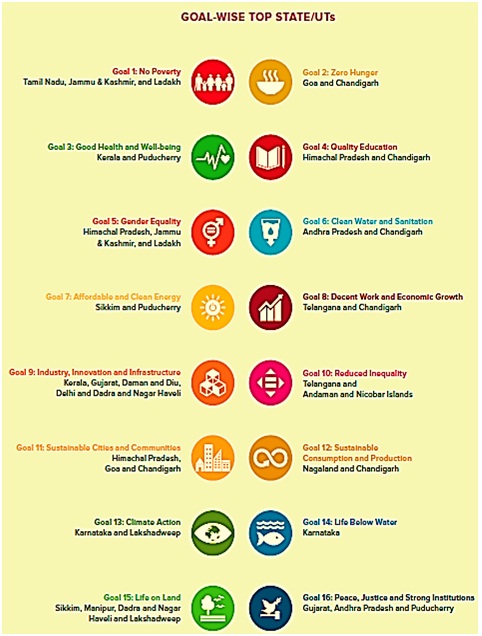 Source: NITI Aayog
Significance
Tool of Assessment: The Index serves as a useful instrument to judge the progress of the States/UTs in adopting and implementing the SDG agenda, where each State and Union Territory stands with regard to achieving the Sustainable Development Goals.
Help to Identify Priority Areas: It presents a more robust framework for measuring the progress on SDGs at the sub-national level and supports States and UTs to identify priority are as in which they need to invest and improve by enabling them to measure incremental progress.
Devising Better Strategy: It will help the states to sort out the reasons for differential performance and devise better strategies to achieve the SDGs by 2030.
In Alignment with Government's Mission: The Index acts as a bridge, aligning the SDGs with the Government's clarion call of Sabka Saath, Sabka Vikas, Sabka Vishwas, which embodies the five Ps of the global SDG movement - people, planet, prosperity, partnership and peace.
Limitations of the Index
The Index does not measure indicators of SDG 17 owing to the unavailability of suitable data at the State/UT level. However, a qualitative assessment of the progress under SDG 17 has been included.
Full set of the National Indicator Framework (NIF) could not be included due to the unavailability of data at State/ UT level.
The indicators and data from State/UT statistical systems and non-government sources have not been included, to ensure data comparability and uniformity across them.
While the latest values of the indicators have beenused, most of them are from between 2015 and 2018.
The indicator set for SDG India Index 2019-20 is larger (100 indicators) compared to SDG India Index 2018 (62 indicators), there fore the two indices arestrictly not comparable.
Way Forward
India, with the world's 17 percent of the population, faces multiple challenges in several sectors of development, be it health, nutrition, education, sanitation and infrastructure. However, these challenges also make India conducive for developing innovative solutions to address them and also provide a useful lens for solving similar problems in other parts of the world.
India is fully committed to achieving the Global Goals within the specified timelines. The country is well aware of the prospect that if India does not meet the SDGs, the world will be far from achieving them.
In this direction, the SDG Index is a powerful tool which offers excellent possibilities for the States/UTs to identify priority areas which demand action, facilitate peer learning, highlight data gaps, steering the country towards the achievement of SDGs.
Current News Indian Economy Infrastructure
National Infrastructure Pipeline
---
On 31st December, 2019, the government unveiled Rs. 102 lakh crore of infrastructure projects, under National Infrastructure Pipeline (NIP), that will be implemented in the next five years as part of the government's spending push in the infrastructure sector.
Background
In his Independence Day-2019 speech, Prime Minister highlighted that Rs.100 lakh crore would be invested on infrastructure over the next five years including social and economic infrastructure projects.
To achieve this objective, a Task Force was constituted in September, 2019, to draw up the National Infrastructure Pipeline (NIP) for each of the years from FY 2019-20 to FY 2024-25.
The Task Force is chaired by Secretary, DEA with CEO (NITI Aayog), Secretary (Expenditure), Secretary of the Administrative Ministries, and Additional Secretary (Investments), DEA as members and Joint Secretary (IPF), DEA as Member Secretary.
Terms of Reference
To identify technically feasible and financially/ economically viable infrastructure projects that can be initiated in fiscals 2020 to 2025.
To estimate annual infrastructure investment/capital costs.
To guide the ministries in identifying appropriate sources of financing.
To suggest measures to monitor the projects so that cost and time overruns are minimized.
National Infrastructure Pipeline(NIP)
It is estimated that India would need to spend $4.5 trillion on infrastructure by 2030 to sustain its growth rate. The endeavour of the NIP is to make achieve this goal in an efficient manner.
The NIP would include greenfield and brownfield projects costing above Rs 100 crore eac
Other qualifications for inclusion in the pipeline for the current year will include availability of a DPR, feasibility of implementation, inclusion in the financing plan and readiness/availability of administrative sanction.
Each Ministry/ Department would be responsible for monitoring of projects so as to ensure their timely and within-cost implementation.
Vision
To meet the aspirations of the changing demographic profile, creating new and upgrading existing infrastructure is an imperative.
Infrastructure services that raise the quality of life and ease of living in India to global standards.

Focus Areas
The other major focus areas are roads (19%) and railways (13%), urban (16%) and rural (8%) infrastructure, and irrigation (8%).
Social infrastructure, including health and education, will get 3% of the capital expenditure, with digital communication and industrial expenditure each getting the same amount as well.
Agriculture and food processing infrastructure will get 1% of the planned capital expenditure.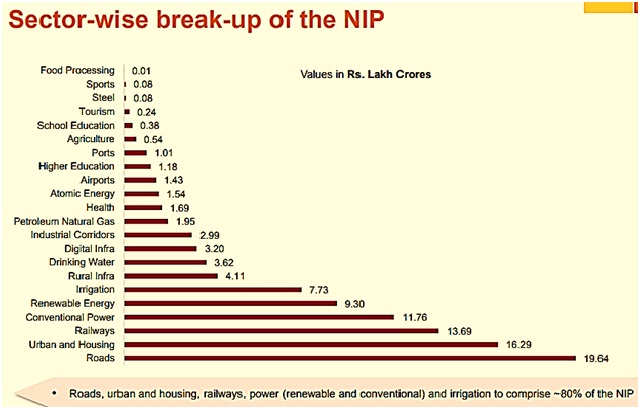 Impact
Economy
Well-planned NIP will enable more infra projects, grow businesses, create jobs, improve ease of living, and provide equitable access to infrastructure for all, making growth more inclusive.
Government
Well-developed infrastructure enhances level of economic activity, creates additional fiscal space by improving revenue base of the government, and ensures quality of expenditure focused in productive areas.
Developers
Provides better view of project supply, provides time to be better prepared for project bidding, reduces aggressive bids/ failure in project delivery, ensures enhanced access to sources of finance as result of increased investor confidence.
Banks/ financial institutions (FIs)/ Investors
Builds investor confidence as identified projects are likely to be better prepared, exposures less likely to suffer stress given active project monitoring, there by less likelihood of Non-Performing Assets(NPAs).
Way Forward
For faster growth to meet the target of $5 trillion economy by 2025, more supply-side reforms are needed. Creating new and upgrading existing infrastructure will be key to raising India's competitiveness and achieving this target.
It will specially be critical for the success of 'Make in India' program as manufacturing competitiveness critically depends on infrastructure. The supply additions through infrastructure development boost short-term as well as the potential rate of GDP growth.
Infrastructure creation is also labour absorbing, which boosts employment and income generation in the economy and further spurs domestic demand. Improved infrastructure capacities also create efficiency gains through improved logistics and networks, which would improve the competitiveness of the economy. This can help kick in a virtuous cycle of higher investments, growth and employment generation in the economy.
---