News Crux Defence
Keel laid for second 'Krivak' Class Frigate
---
The keel of the second frigate of the Krivak class stealth ships was laid on 18th June 2021.
The keel for the first ship was laid on January 29, 2021.
In October 2016, India and Russia signed an Inter-Governmental Agreement (IGA) for four Krivak or Talwar stealth frigates — two to be procured directly from Russia and two to be built by the GSL.
They are being built with technology transfer from Russia by Goa Shipyard Ltd. (GSL).
Keel laying is a major milestone activity in the construction of any ship symbolising formal commencement of the construction process.
News Crux Sports
Divyangta Khel Kendras to be opened in Five Places
---
The Ministry of Social Justice and Empowerment has announced to establish five Divyangta Khel Kendras in different parts of country.
The decision was taken after the interest towards the sports among the Divyangjan and their good performance in Paralympics.
One such facility will be opened in Ahmedabad.
News Crux Sports
Belgrade Open Swimming: India won 3 Gold Medals but missed Olympic Qualification
---
Indian swimming contingent won three gold, one Silver and one Bronze at the Belgrade Open Swimming competition, a FINA-accredited Olympic Qualifying event, but missed the qualifying mark to be a part of Tokyo Olympics.
India's Sajan Prakash won gold in the men's 200 meters butterfly event in the Belgrade Open Swimming competition, but narrowly missed qualifying for the Tokyo Olympic Games. He fell short of the 'A' qualification.
Srihari Nataraj won gold in men's 100m backstroke. His timing was, however, slower than the 'A' qualification.
Shoan Ganguli won the third gold medal for India, in the 400m medley. However, he has so far not overcome the 'B' qualification time.
Maana Patel won a Silver medal in the women's 50m backstroke.
Tanish Mathew settled for bronze in the men's 200m butterfly.
Six Indian swimmers, including Prakash, have achieved the 'B' qualification time in the 2019-2020 Olympic qualification cycle. 'A' qualification time guarantees an automatic berth.
Indian swimmers, particularly Nataraj and Prakash, will get a last chance to crack the 'A' qualification time next week in Rome.
News Crux Ecology & Environment
Conservation of Black Softshell Turtle
---
Hayagriva Madhava Temple in Assam that is revered by both Hindus and Buddhists has signed a memorandum of understanding with two green NGOs (Turtle Survival Alliance India and Help Earth), the Assam State Zoo-cum-Botanical Garden and the Kamrup district administration for the long-term conservation of the rare freshwater black softshell turtle or the Nilssonia nigricans.
The International Union for Conservation of Nature had in 2021 listed the turtle as "critically endangered".
It does not enjoy legal protection under the Indian Wildlife (Protection) Act of 1972.
It has traditionally been hunted for its meat and cartilage, traded in regional and international markets.
News Crux Science & Technology
WISA Woodsat: World's First Wooden Satellite
---
The European Space Agency (ESA) has planned to put the world's first wooden satellite, WISA Woodsat, on Earth's orbit by the end of this year.
The mission of the satellite is to test the applicability of wooden materials like plywood in spacecraft structures and expose it to extreme space conditions, such as heat, cold, vacuum and radiation, for an extended period of time.
It will be launched to space by the end of 2021 with a Rocket Lab Electron rocket from the Mahia Peninsula launch complex in New Zealand.
The satellite is designed and built in Finland.
News Crux Persons In News
UN Global Compact recognises Sumant Sinha as SDG Pioneer
---
The United Nations Global Compact has recognised Sumant Sinha, Chairman & MD of ReNew Power as one of ten 2021 SDG Pioneers.
SDG Pioneers are business leaders selected by the UN Global Compact for doing an exceptional job to advance the Sustainable Development Goals (SDGs) through the implementation of the UN Global Compact Ten Principles on human rights, environment, labor, and anti-corruption.
This honor comes in recognition of Sumant 's work to advance access to clean and affordable energy.
United Nations Global Compact
The United Nations Global Compact is a non-binding United Nations pact to encourage businesses and firms worldwide to adopt sustainable and socially responsible policies, and to report on their implementation.
The UN Global Compact is the world's largest corporate sustainability (a.k.a. corporate social responsibility) initiative with two objectives: "Mainstream the ten principles in business activities around the world" and "Catalyse actions in support of broader UN goals, such as the Millennium Development Goals (MDGs) and Sustainable Development Goals (SDGs)".
Current News National
World Refugee Day 2021
---
World Refugee Day is observed every year on June 20 to respect and honour the courage and resilience of refugees across the world.
This year the theme for World Refugee Day is 'Together we heal, learn and shine'.
The United Nations has stated that the coronavirus disease (Covid-19) pandemic has made it evident that we can only succeed by standing together. The UN has called for the greater inclusion of refugees in the healthcare system across the world.
Facts of Concern
According to the United Nations High Commissioner for Refugees (UNHCR), 82.4 million people worldwide were forcibly displaced by the end of 2020 as a result of persecution, conflict, violence, human rights violations or events seriously disturbing public order.
According to the latest UNHCR report on forced displacement, Turkey currently hosts 3.6 million refugees, the largest by a single country, followed by Columbia that shelters 1.8 million people, including people who fled Venezuela in the last few years.
The UNHCR report said, over two-thirds of the refugees worldwide come from just five countries, from Syria 6.6 million, Venezuela 3.7 million, South Sudan, 2.3 million and from Myanmar, 1.0 million.
At the end of 2020, a mammoth 82.4 million remained forcibly displaced worldwide due to persecution, conflict, violence or human rights violations. According to the UN, the COVID-19 pandemic slowed the rate of displacement, and thus the number of people seeking asylum remains high.
In 2020 alone, asylum-seekers submitted 1.1 million new claims.
More than 6 million refugees live in camps worldwide, as per the United Nations records.
Some Basic Definitions by UN
Refugees: A refugee is someone who fled his or her home and country owing to "a well-founded fear of persecution because of his/her race, religion, nationality, membership in a particular social group, or political opinion", according to the United Nations 1951 Refugee Convention. Many refugees are in exile to escape the effects of natural or human-made disasters.
Asylum Seekers: Asylum seekers say they are refugees and have fled their homes as refugees do, but their claim to refugee status is not yet definitively evaluated in the country to which they fled.
Internally Displaced Persons: Internally Displaced Persons (IDPs) are people who have not crossed an international border but have moved to a different region than the one they call home within their own country.
Stateless Persons: Stateless persons do not have a recognized nationality and do not belong to any country. Statelessness situations are usually caused by discrimination against certain groups. Their lack of identification — a citizenship certificate — can exclude them from access to important government services, including health care, education or employment.
Returnees: Returnees are former refugees who return to their own countries or regions of origin after time in exile. Returnees need continuous support and reintegration assistance to ensure that they can rebuild their lives at home.
UN Initiative towards Refugees: 1951 Refugee Convention and its 1967 Protocol
The 1951 Refugee Convention and its 1967 Protocol help protect them. They are the only global legal instruments explicitly covering the most important aspects of a refugee's life. According to their provisions, refugees deserve, as a minimum, the same standards of treatment enjoyed by other foreign nationals in a given country and, in many cases, the same treatment as nationals.
The 1951 Convention contains a number of rights and also highlights the obligations of refugees towards their host country. The cornerstone of the 1951 Convention is the principle of non-refoulement. According to this principle, a refugee should not be returned to a country where he or she faces serious threats to his or her life or freedom. This protection may not be claimed by refugees who are reasonably regarded as a danger to the security of the country, or having been convicted of a particularly serious crime, are considered a danger to the community.
The rights contained in the 1951 Convention include:
The right not to be expelled, except under certain, strictly defined conditions;
The right not to be punished for illegal entry into the territory of a contracting State;
The right to work;
The right to housing;
The right to education;
The right to public relief and assistance;
The right to freedom of religion;
The right to access the courts;
The right to freedom of movement within the territory;
The right to be issued identity and travel documents.
Some basic rights, including the right to be protected from refoulement, apply to all refugees. A refugee becomes entitled to other rights the longer they remain in the host country, which is based on the recognition that the longer they remain as refugees, the more rights they need.
India & UN Convention
India is not a signatory to the 1951 UN Convention or the 1967 Protocol. Nor does India have a refugee policy or a refugee law of its own.
This has allowed India to keep its options open on the question of refugees. The government can declare any set of refugees as illegal immigrants — as has happened with Rohingya despite the UNHCR verification — and decide to deal with them as trespassers under the Foreigners Act or the Indian Passport Act.
Current News Survey/Study/Index
Improvement in Sex Ratio at Birth (SRB): SRS 2019
---
The Registrar General of India has released the 2019 report of Civil Registration System (CRS) findings - "Vital Statistics of India based on the Civil Registration System".
About Sex Ratio
The Sex Ratio (Number of females per thousand males) at birth is an important indicator to map the sex differential of the population.
The World Health Organisation estimates that the natural sex ratio at birth is about 952 females to every 1,000 males.
Findings of the Report on SRB
In a huge improvement from the previous census, none of the State/UT has recorded Sex ratio at birth below 901.
Arunachal Pradesh had the highest ratio of 1,024 – though this was a steep fall from 1,047 in 2017 – followed by Nagaland and Mizoram, which recorded 1,001 and 975 respectively, a significant improvement from 948 and 964 in 2017. In Kerala, though the SRB was still a high 960, it has worsened from 965 in 2017. Similarly, in Himachal Pradesh, it has been steadily worsening and is now 918.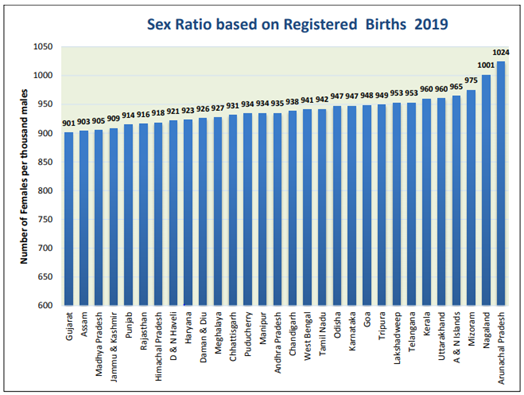 Punjab and Chandigarh, notorious for sex-selective abortions, showed significant improvement as did Odisha, where it went up from 930 to 947.
The lowest SRB was reported by Gujarat (901), Assam (903) and Madhya Pradesh (905), followed by Jammu & Kashmir (909).
Current News Survey/Study/Index
Global Peace Index 2021
---
The Global Peace Index (GPI) 2021 which ranked 163 independent states and territories according to their level of peacefulness was released by the Institute for Economics and Peace (IEP), Australia.
Highlights
This year's results show that the average level of global peacefulness deteriorated by 0.07 per cent.
Iceland remains the most peaceful country in the world, a position it has held since 2008. It is joined at the top of the index by New Zealand, Denmark, Portugal, and Slovenia.
Afghanistan is the least peaceful country in the world for the fourth consecutive year, followed by Yemen, Syria, South Sudan, and Iraq.
Eight of the ten countries at the top of the GPI are located in Europe.
The only non-European countries to make an appearance are New Zealand (2) and Canada (10).
South Asia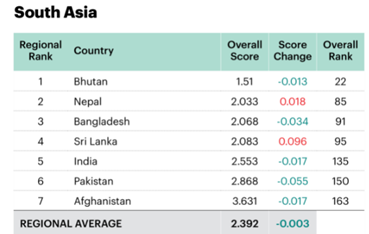 India has moved up two places from its previous year's ranking to become the 135th most peaceful country in the world and the 5th in the region.
Bhutan, Nepal and Bangladesh are the first, second, and third most peaceful countries respectively in this region.
Sri Lanka has slipped down 19 rungs from 2020, to become 95th globally in this year's rankings, and the 4th in South Asia.
Pakistan improved its rank by two notches to 150th globally and 6th in the region.
News Crux Appointment
Manoj Kumar Parida appointed as Chairman of NACWC
---
Senior Indian Administrative Service officer Manoj Kumar Parida was 17th June 2021 appointed as Chairman, National Authority Chemical Weapons Convention (NACWC).
NACWC has been established under the Chemical Weapons Convention Act, 2000 for implementing the provisions of the Convention on the Prohibition of the Development, Production, Stockpiling and Use of Chemical Weapons and on their Destruction.
The Chemical Weapons Convention (CWC), officially the Convention on the Prohibition of the Development, Production, Stockpiling and Use of Chemical Weapons and on their Destruction, is an arms control treaty administered by the Organisation for the Prohibition of Chemical Weapons (OPCW), an intergovernmental organization based in The Hague, The Netherlands.
Recently, India's Comptroller and Auditor General (CAG) was appointed as the External Auditor of the OPCW for the three-year term starting in 2021. India was also selected as the member of the Executive Council of the OPCW representing Asia Group for another two-year term during the OPCW Conference of State Parties.
News Crux Obituary
Champion of African Nationalism Kenneth Kaunda Passes Away
---
Kenneth David Kaunda, Zambia's founding president and a champion of African nationalism who spearheaded the fights to end white minority rule across southern Africa, has died on 17th June 2021 at the age of 97.
Kaunda came to prominence as a leader of the campaign to end colonial rule of his country, then known as Northern Rhodesia, and was elected the first president of Zambia in 1964.
During his 27-year rule, he gave critical support to armed African nationalist groups that won independence for neighboring countries including Angola, Mozambique, Namibia, South Africa and Zimbabwe.
Current News Awards
Indian Climate Activist gets UN Land for Life Award
---
Familial Forestry, an environmental conservation project by Rajasthan's Shyam Sunder Jyani, bagged the prestigious United Nations' Land for Life Award 2021.
United Nations Convention to Combat Desertification (UNCCD) announced the winner on June 17 2021 (World Day to Combat Desertification and Drought, observed with the theme "Restoration.Land.Recovery. We build back better with healthy land").
Through his project about 2.5 million trees have been planted in a time span of 15 years.
Two candidates had been shortlisted from India - the other being Jaggi Vasudev, popularly known as Sadguru, who has been campaigning for environmental cause for several years.
The Concept of Familial Forestry
Familial Forestry is a unique concept that relates a tree with a family, making it a green "family member."
Placing a family at the cornerstone of society, the concept ensures the success of any social campaign.
Familial Forestry means transferring the care of tree and environment in the family so that a tree becomes a part of the family's consciousness.
About the Award
Launched at the UNCCD COP (Conference of Parties) 10 in 2011, the Land for Life Award is considered as the world's highest reward regarding land conservation and restoration.
This year's theme for the award was "Healthy Land, Healthy Lives".
The award is given by the UN Convention to Combat Desertification (UNCCD).
The Land for Life Award ceremony will take place in August 2021 at the Eighth Kubuqi International Desert Forum in China. The award winner will also have an opportunity to present their work at the UNCCD Fifteenth Conference of the Parties UNCCD COP15.
About UNCCD
The UNCCD is one of the three Rio Conventions—along with the UN Framework Convention on Climate Change (UNFCCC) and the Convention on Biological Diversity (CBD).
The negotiation of the UNCCD was called for in Agenda 21, the programme of action adopted at the 1992 UN Conference on Environment and Development (UNCED, or Earth Summit).
The UNCCD was adopted in Paris, France on 17 June 1994, entered into force on 26 December 1996.
It is the only internationally legally binding framework set up to address the problem of desertification. It has 197 parties, making it near universal in reach.
News Crux Defence
IN–EUNAVFOR Joint Naval Exercise
---
For the first time, the Indian Navy participated in joint drills with the European Union Naval Force (EUNAVFOR) from 18 June 2021 to 19 June 2021, comprising warships from the French, Spanish and Italian navies in the Gulf of Aden.
The Indian Naval Ship Trikand, a mission deployed for anti-piracy operations, participated in the IN- EUNAVFOR joint naval exercise.
EUNAVFOR and the Indian Navy converge on multiple issues including counter piracy operations and protection of vessels deployed under the charter of World Food Programme (UN WFP).
Indian Navy and EUNAVFOR also have regular interaction through SHADE (Shared Awareness and De-confliction) meetings held annually at Bahrain.
About Gulf of Aden
The Gulf of Aden is located in the Middle East with Yemen to the north, Somalia to the south and the Arabian Sea to the east. It is connected to the Red Sea by the Bab el Mandab strait.
Somali pirates operate in the Gulf of Aden, one of the world's busiest shipping routes connecting Europe to Asia and the Middle East.
News Crux Important Days/Weeks
75th Goa Revolution Day
---
The 75th Goa Revolution Day was observed on 18th June 2021.
On 18th June 1946 at Margao, Dr Ram Manohar Lohia, and Dr Julião Menezes started the civil disobedience movement against Salazar, the Portuguese dictatorial regime which eventually resulted in Goa's liberation.
The territories of Goa, Daman and Diu were annexed to India with the armed action carried out by the Indian Armed Forces in December 1961- code named 'Operation Vijay'.
News Crux Obituary
'Flying Sikh' Milkha Singh Passes Away
---
Indian sprint legend 'Flying Sikh' Milkha Singh has passed away on 18th June 2021.
He was an Indian track and field sprinter who was introduced to the sport while serving in the Indian Army.
He was the only athlete to win gold in 400 meters race at the Asian Games as well the Commonwealth Games. He also won gold medals in the 1958 and 1962 Asian Games.
He represented India in the 1956 Summer Olympics in Melbourne, the 1960 Summer Olympics in Rome and the 1964 Summer Olympics in Tokyo.
He was awarded the Padma Shri, India's fourth-highest civilian honour, in recognition of his sporting achievements.
'The Race of My Life: An Autobiography' is the autobiography of Milkha Singh. The film Bhaag Milkha Bhaag is based on it.
Current News Science & Technology
China launched three Astronauts to its Space Station
---
On 17th June 2021 China launched three astronauts into space aboard Shenzhou-12, a spacecraft that will dock to the two modules launched earlier.
It will effectively become another piece of the space station, which is orbiting 242 miles, or 390 kilometers, above Earth. (The International Space Station is slightly higher at 248 miles.)
The Shenzhou, modeled on the Soviet-era Soyuz spacecraft, though larger, consists of three modules, including a re-entry craft that will bring the astronauts back to Earth.
A related spacecraft, Shenzhou-5, carried the first Chinese astronaut to space in 2003, making China the only country besides the United States and the Soviet Union and, its successor, Russia, to complete the feat independently.
China has since carried out five more crewed flights into orbit, the last in 2016.
The Crew
Maj. Gen. Nie Haisheng is the commander of the three crew mission, other two being Maj. Gen. Liu Boming and Col. Tang Hongbo.
Objective of the Mission
The crew of Shenzhou-12 is scheduled to spend the next three months in orbit. After that a second crew of three astronauts will replace them.
The station remains under construction, so the astronauts' main tasks will effectively be to continue to build it, installing equipment like cameras and testing various functions, including life support and waste management. They are scheduled to conduct two spacewalks as part of that effort.
About China's Space Station
The Chinese space station is named Tiangong (meaning Heavenly Palace).
It is placed in Low Earth Orbit between 340–450 km (210–280 mi) above the Earth. It is closer to earth than the International Space Station.
The core module of the station - Tianhe ("Harmony of the Heavens") was launched on 29 April 2021.
The construction of the station marks the third phase of the Tiangong program, building on the experience gained from its precursors, Tiangong-1 and Tiangong-2.
PIB News Art/Culture/Heritage
National Maritime Heritage Complex to come up at Lothal
---
On 16 June 2021, the Union Ministry of Ports, Shipping and Waterways (MoPSW) and Ministry of Culture (MoC) have signed a Memorandum of Understanding (MoU) for 'Cooperation in development of National Maritime Heritage Complex (NMHC) at Lothal, Gujarat'.
It will exhibit both the robust maritime history and vibrant coastal tradition of our country in one place.
NMHC would be developed in an area of about 400 acres with various unique structures such as National Maritime Heritage Museum, Light House Museum, Heritage Theme Park, Museum Themed Hotels & Maritime themed eco-resorts, Maritime Institute etc. which would be developed in a phased manner.
The unique feature of NMHC is the recreation of ancient Lothal city, which is one of the prominent cities of the ancient Indus valley civilization dating to 2400 BC. Apart from that, the evolution of India's Maritime Heritage during various eras would be exhibited through various galleries. NMHC would have pavilion for each coastal states and union territories to showcase the artifacts/maritime heritage of the respective states and union territories.
Various theme parks would be developed at NMHC such as Maritime & Naval Theme Park, Monuments Park, Climate Change Theme Park, Adventure & Amusement Theme Park through public-private partnership which would provide a complete tourist destiny experience to the visitors.
PIB News Ecology & Environment
Cold Desert Ladakh was actively Flooding during Post-Glacial Warming: Study
---
Scientists from Wadia Institute of Himalayan Geology at Dehradun have shown that the cold desert of Ladakh Himalaya once experienced large floods that rose much above the present-day river level. It implies that in the scenario of global warming, when the higher Himalaya regions are expected to respond dramatically, flood frequency in Ladakh may increase, which may call for serious urban and rural planning.
Large floods that naturally occur in major rivers of India fed by melting snow and glaciers and a continental scale precipitation regime of Indian Summer Monsoon (ISM) and Westerlies and East Asian Summer Monsoon (EASM) significantly modify the landscape and impact lives and economy of all that encroached into its geomorphic domain.
These floods are of various kinds and origin (Glacial/landslide lake outbursts, cloud bursts, excessively strong monsoon) and have different forcing factors and frequencies and therefore add large uncertainty in flood prediction models. An instrumental record of these floods is of ~100 years is not enough to understand the natural ramp of flood occurrences in the Himalayas, and therefore archive going deep into time is required.
Flood leaves a stack of fine sand and silts at places along its channel where the flood energy drastically reduces, for example, wider segments of river valleys, confluences, behind rock embayments which is called as Slack Water Deposits (SWDs). The SWDs were located at several locations along the Zanskar and Indus rivers, counted vertically for the number of floods, and were dated using technology called Optically Stimulated Luminescence (OSL) and Accelerator Mass Spectrometry of 14C. The flood deposits were also analysed for their source.
This analysis showed that the cold desert once experienced a large flood that rose to more than 30 m above the present-day river level. The active flood plains nearer to river were also utilized by Humans, possibly as camping sites and cooking as indicated by presence of hearths at several locations and levels of flood deposits.
The chronology of the flood deposits pointed towards three phases of increased flooding occurred in Ladakh after the period called Last Glacial Maximum (14–11, 10–8, and 7–4 (1000 years) or ka). These were times when due to warming, the Indian summer monsoon was active in Ladakh as well. The results also suggest that Ladakh floods are chronologically out-of-phase with those occurring in North-Eastern Himalayas and mainland China during the past 15 thousand years. This implies that the modern relationship between the ISM and EASM goes deep into more than 14 thousand years. Further, the rocks of Higher Himalayan Crystalline and Tethyan sequences equally act as hotspots of erosion in the regions during the flood phases.
The preliminary study of hearths suggested that there was an inbound migration of people along the mountain corridors of Ladakh after the Last Glacial Maximum when temperatures were relatively warmer, and hydrology of the region was supporting. According to the WIHG team, a detailed genomic and isotopic-based study of these anthropogenic relics may further help understand the geographical antiquity of migrating humans and the kind of food and vegetation they were living on.
PIB News Science & Technology
India's Deep Ocean Mission
---
On 16th June, the Cabinet Committee on Economic Affairs has approved the proposal of Ministry of Earth Sciences (MoES) on "Deep Ocean Mission", with a view to explore deep ocean for resources and develop deep sea technologies for sustainable use of ocean resources.
Deep Ocean Mission with be a mission mode project to support the Blue Economy Initiatives of the Government of India.
The Ministry of Earth Sciences (MoES) will be the nodal Ministry implementing this multi-institutional ambitious mission.
The Deep Ocean Mission consists of the following six major components:
1.Development of Technologies for Deep Sea Mining, and Manned Submersible:
A manned submersible will be developed to carry three people to a depth of 6000 metres in the ocean with suite of scientific sensors and tools. Only a very few countries have acquired this capability.
An Integrated Mining System will be also developed for mining Polymetallic Nodules from 6000 m depth in the central Indian Ocean.
The exploration studies of minerals will pave way for the commercial exploitation in the near future, as and when commercial exploitation code is evolved by the International Seabed Authority, an UN organization. This component will help the Blue Economy priority area of exploring and harnessing of deep sea minerals and energy.
2.Development of Ocean Climate Change Advisory Services
A suite of observations and models will be developed to understand and provide future projections of important climate variables on seasonal to decadal time scales under this proof of concept component. This component will support the Blue Economy priority area of coastal tourism.
3.Technological innovations for exploration and conservation of deep-sea biodiversity
Bio-prospecting of deep sea flora and fauna including microbes and studies on sustainable utilization of deep sea bio-resources will be the main focus. This component will support the Blue Economy priority area of Marine Fisheries and allied services.
4.Deep Ocean Survey and Exploration
The primary objective of this component is to explore and identify potential sites of multi-metal Hydrothermal Sulphides mineralization along the Indian Ocean mid-oceanic ridges. This component will additionally support the Blue Economy priority area of deep sea exploration of ocean resources.
5.Energy and freshwater from the Ocean
Studies and detailed engineering design for offshore Ocean Thermal Energy Conversion (OTEC) powered desalination plant are envisaged in this proof of concept proposal. This component will support the Blue Economy priority area of off-shore energy development.
6.Advanced Marine Station for Ocean Biology
This component is aimed as development of human capacity and enterprise in ocean biology and engineering. This component will translate research into industrial application and product development through on-site business incubator facilities. This component will support the Blue Economy priority area of Marine Biology, Blue trade and Blue manufacturing.
The Project will help in Technology Demonstration and Job Creation
The technologies required for deep sea mining have strategic implications and are not commercially available. Hence, attempts will be made to indigenise technologies by collaborating with leading institutes and private industries.
A research vessel for deep ocean exploration would be built in an Indian shipyard which would create employment opportunities. This mission is also directed towards capacity development in Marine Biology, which will provide job opportunities in Indian industries. In addition, design, development and fabrication of specialised equipment, ships and setting up of required infrastructure are expected to spur the growth of the Indian industry, especially the MSME and Start-ups.
Unique Maritime Position of India and Blue Economy
Oceans, which cover 70 per cent of the globe, remain a key part of our life. About 95 percent of Deep Ocean remains unexplored.
For India, with its three sides surrounded by the oceans and around 30 per cent of the country's population living in coastal areas, ocean is a major economic factor supporting fisheries and aquaculture, tourism, livelihoods and blue trade.
Oceans are also storehouse of food, energy, minerals, medicines, modulator of weather and climate and underpin life on Earth.
Considering importance of the oceans on sustainability, the United Nations (UN) has declared the decade, 2021-2030 as the Decade of Ocean Science for Sustainable Development.
India has a unique maritime position. Its 7517 km long coastline is home to nine coastal states and 1382 islands. The Government of India's Vision of New India by 2030 enunciated in February 2019 highlighted the Blue Economy as one of the ten core dimensions of growth.
News Crux Important Days/Weeks
17th June: World Day to Combat Desertification and Drought
---
World Day to Combat Desertification and Drought is observed on 17th June every year.
The day is celebrated to raise awareness of the presence of desertification and drought, and highlight methods of preventing desertification and recovering from drought.
The theme for this year's (2021) observation of the Day is "Restoration. Land. Recovery. We build back better with healthy land".
According to the United Nations, desertification does not just mean an expansion of existing deserts. It also refers to the overall declining productivity of land due to overexploitation and inappropriate land use by human activity. Poverty, political instability, deforestation, overgrazing, and bad irrigation practices can all lead to desertification and drought.
Current News International International Treaties & Agreements
NATO Summit 2021
---
The 31st formal meeting of the heads of state and heads of government of the North Atlantic Treaty Organization (NATO) was held in Brussels, Belgium, on 14 June 2021.
Major outcomes of the 2021 Summit
1.NATO Countries' Communique on China and Russia
The NATO members issued a communiqué highlighting the "threat" presented by Russia and the "challenges" posed by China.
"Russia's aggressive actions constitute a threat to Euro-Atlantic security," the communiqué read.
On China, the statement said: "China's growing influence and international policies can present challenges that we need to address together as an Alliance". The statement added that the NATO members "will engage China with a view to defending the security interests of the Alliance."
2.Cyber Attacks and Space Attacks qualify for Collective Defense
NATO leaders have officially recognized attacks in outer space and cyberspace as qualifying for collective defense.
This change comes as alliance leaders grow increasingly concerned about China's and Russia's aggressive actions in space.
Previously, the collective defense clause has only applied to traditional military areas of land, sea, and air.
Outer space attacks primarily refer to interference with NATO country satellites that support military navigation, communication and missile launch detection.
About NATO
The North Atlantic Treaty Organization, also called the North Atlantic Alliance, is an intergovernmental military alliance between 30 European and North American countries having its headquarters at Brussels, Belgium.
The organization implements the North Atlantic Treaty that was signed on 4 April 1949.
A key provision of the treaty, the so-called Article 5, states that if one member of the alliance is attacked in Europe or North America, it is to be considered an attack on all members. That effectively put Western Europe under the "nuclear umbrella" of the US.
NATO has only once invoked Article 5, on September 12, 2001 following the 9/11 attacks on the World Trade Center in the US.
The current Secretary General of NATO is Jens Stoltenberg – former Prime Minister of Norway.
The most recent member states to be added to NATO are Montenegro on 5 June 2017 and North Macedonia on 27 March 2020.
News Crux National
French Open 2021
---
The 2021 French Open (125th edition) was the 2nd Grand Slam tennis tournament after Australian Open and was played from 30 May to 13 June 2021 on outdoor clay courts at the Stade Roland Garros in Paris, France.
Rafael Nadal (Spain) was the four-time defending champion in men's singles, and Iga Świątek (Poland) was the defending champion in women's singles. They were defeated by Novak Djokovic (Serbia) and Maria Sakkari (Greece) respectively.
Major Winners: Single's Title
Men's Singles: Novak Djokovic
World No. 1 Novak Djokovic (Serbia) defeated Stefanos Tsitsipas (First Greek player to reach a Grand Slam Final) to clinch his 19th Grand Slam title.
He is now just one Slam short of equalling Rafael Nadal and Roger Federer's record of 20 Grand Slam titles.
Djokovic is now the first player in Open Era to have won each Grand Slam twice. Two Australian players - Roy Emerson and Rod Laver are the only two other players to win the four majors more than once. It hasn't happened since 1969 when Laver completed his second calendar Grand Slam.
Women's Singles: Barbora Krejčíková
Barbora Krejcikova (Czech Republic) won her maiden Grand Slam singles title at the French Open, beating Russia's Anastasia Pavlyuchenkova.
She also became the first Czech woman in 40 years to conquer Roland Garros after compatriot Hana Mandlikova who claimed the trophy in Paris in 1981.
Barbora Krejcikova also lifted the women's doubles trophy with compatriot Katerina Siniakova, beating Iga Swiatek (Poland) and Bethanie Mattek-Sands (USA).
Krejcikova became the first player to win both the women's singles and doubles title in Paris since French woman Mary Pierce completed the feat in 2000.
News Crux Sports
Vinoo Mankad inducted into the 'ICC Hall of Fame'
---
Former India all-rounder Vinoo Mankad was among 10 cricket icons inducted to the International Cricket Council (ICC) Hall Of Fame on 13th June 2021.
Mankad was among a special edition intake group to celebrate the history of Test cricket, and to coincide with the first ever ICC World Test Championship Final.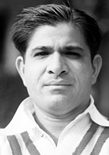 The Inductees
Early cricket era (pre-1918): Aubrey Faulkner (SA), Monty Noble (Aus)
Inter-war era (1918-1945): Learie Constantine (WI), Stan McCabe (Aus)
Post-war era (1946-1970): Ted Dexter (Eng), Vinoo Mankad (Ind)
ODI era (1971-1995): Desmond Haynes (WI), Bob Willis (Eng)
Modern era (1996-2015): Andy Flower (Zim), Kumar Sangakkara (SL)
News Crux International
UNSC Votes To Grant Antonio Guterres A Second Term
---
The UN Security Council has recommended Secretary-General Antonio Guterres for a second five-year term as chief of the world organisation beginning January 1, 2022.
Last month, India had conveyed its support to Guterres for his candidature as chief of the world body for a second term beginning January 2022.
News Crux International
Abdulla Shahid Elected President Of The 76th Session Of UNGA
---
Maldives' Foreign Minister Abdulla Shahid has been elected as President of the 76th session of the United Nations (UN) General Assembly.
The 193-member General Assembly voted on June 07, 2021, to elect the President, who will preside over the 76th session of the UN body that will start in September 2021.
Turkish Volkan Bozkır is the president of the 75th session of the UN General Assembly.
News Crux International
India Elected To ECOSOC
---
India along with 17 other countries has been elected to the United Nations Economic and Social Council (ECOSOC) for the 2022-24 term beginning on January 1, 2022.
India was elected in the Asia-Pacific States Category along with Afghanistan, Kazakhstan and Oman.
ECOSOC is one of the 6 main organs of the UN. It is the coordinating body for the economic and social work of UN agencies and funds.
ECOSOC's 54 members are elected for three-year terms by the General Assembly.
News Crux International
WHA Adopts 'World NTD Day'
---
Delegates at the 74th World Health Assembly unanimously adopted a proposal by the UAE to declare January 30 as 'World Neglected Tropical Diseases Day'.
Neglected Tropical Diseases (ntds) are a group of infections that are most common among marginalised communities in the developing regions of Africa, Asia and the Americas. They are caused by a variety of pathogens such as viruses, bacteria, protozoa and parasitic worms.
News Crux Appointment
Anup Chandra Pandey Elected As Election Commissioner
---
The Union government has appointed Anup Chandra Pandey as Election Commissioner.
Pandey has been appointed to the position left vacant by former Chief Election Commissioner Sunil Arora's retirement on April 12.
Chief Election Commissioner Sushil Chandra and Election Commissioner Rajiv Kumar are the other two members of the panel.
News Crux Awards
International Booker Prize 2021
---
'At Night All Blood is Black', written by David Diop and translated from French by Anna Moschovakis won the 2021 International Booker Prize.
The £50,000 prize will be split between David Diop and Anna Moschovakis, giving the author and translator equal recognition.
Born in 1966 in Paris, David Diop is the first French author to win the International Booker Prize.
The International Booker Prize is awarded every year for a single book that is translated into English and published in the UK or Ireland.
News Crux Awards
Pen Pinter Prize 2021
---
The celebrated Zimbabwean novelist Tsitsi Dangarembga has been announced the winner of this year's Pen Pinter Prize.
She was also shortlisted for the 2020 Booker Prize for her work, This Mournable Body.
The PEN Pinter Prize was established in 2009 in memory of Nobel-Laureate playwright Harold Pinter.
The prize is awarded annually to a writer of outstanding literary merit resident in the United Kingdom, the Republic of Ireland, the Commonwealth or the former Commonwealth.
The winning writer must, in the words of Pinter's Nobel Prize in Literature speech, casts an 'unflinching, unswerving' gaze upon the world and shows a 'fierce intellectual determination to define the real truth of our lives and our societies'.
News Crux Ecology & Environment
Dihing Patkai: 7th National Park Of Assam
---
The Government of Assam on 9th June 2021 notified Dihing Patkai as a National Park, four days after creating the 422-sq. km Raimona National Park in western Assam's Kokrajhar district.
Assam now has the third most National Parks after the 12 in Madhya Pradesh and nine in the Andaman and Nicobar Islands.
The five older National Parks in the State are Kaziranga, Manas, Nameri, Orang and Dibru-Saikhowa.
Kaziranga and Manas are UNESCO World Heritage Sites. They are also tiger reserves along with Nameri and Orang.
News Crux Ecology & Environment
Maharashtra To Give 'Heritage Tag' To Conserve Trees
---
The government of Maharashtra has decided to accord 'heritage' status to trees that are over 50 years old.
If these trees have to be cut, saplings corresponding to the age of the tree will have to be planted. Earlier, only one sapling had to be planted for cutting a tree, irrespective of its age.
The compensatory plantation will have to be done at the same location of the original tree or in a public place. The saplings will have to be 6-8 feet tall and they will be geo-tagged and maintained for seven years.
Local civic bodies will have to conduct a tree census every five years and maintain a record of heritage trees.
The policy also provides for up to Rs 1 lakh penalty for violations.
News Crux Sports
Sunil Chhetri: Second-Highest Active International Goal-Scorer
---
Indian Football team's captain Sunil Chhetri has surpasses Argentina's Lionel Messi and became the second-highest active international goal-scorer with 74 strikes.
He made this record in a joint preliminary qualifying round match for the 2022 FIFA World Cup and 2023 AFC Asian Cup.
Chhetri moved past Argentinian Messi's 72 goals when he scored two goals against Bangladesh in a qualifying match for the 2022 FIFA World Cup and 2023 AFC Asian Cup played at Qatar's capital Doha.
He is currently behind Portugal's Cristiano Ronaldo (103) in the active international goal-scorer list.
News Crux Obituary
Eminent Environmentalist Prof Radhamohan Passed Away
---
Eminent environmentalist Prof Radhamohan has passed away on 11th June 2021.
Prof Radhamohan and his daughter Sabarmatee were awarded India's fourth highest civilian honour, the Padma Shri, last year along for their contribution to the field of agriculture.
They had transformed 36 acres of a degraded land in Nayagarh district into a 'food forest', as was called by Prof Radhamohan, through soil and water conservation techniques.
An economics professor, he was appointed as the first State Information Commissioner (SIC) in 2005.
For his work on environment, the United Nations Environment Programme had conferred 'The Global Roll of Honour' on him. The Odisha government awarded him the highest civilian award 'Utkal Seva Samman' for dedicated public service.
News Crux Obituary
Olympian Surat Singh Passes Away
---
Olympian Surat Singh Mathur, the first from independent India to complete a marathon at the Olympics, passed away on 11 June 2021.
In the 1952 Helsinki Olympics, Mathur completed the marathon in the 52nd place.
He was a bronze medallist at the first Asian Games in 1951.
News Crux Obituary
Renowned Boxer 'Dingko Singh' Passes Away
---
Noted Indian boxer Ngangom Dingko Singh has passed away.
He won the King's cup in Bangkok in 1997 and won the Asian Games gold in the 1998 Bangkok Games.
He was a service personnel of the Indian Navy.
Dingko Singh was honored with the prestigious Arjuna Award in 1998 and later with the Padma Shri Award, the country's fourth-highest civilian award, in 2013.
Current News Science & Technology
New NASA Missions To Study Venus
---
NASA has selected two new missions to Venus, Earth's nearest planetary neighbour.
A part of NASA's Discovery Program, the missions aim to understand how Venus became an inferno-like world when it has so many other characteristics similar to ours – and may have been the first habitable world in the solar system, complete with an ocean and Earth-like climate.
The Two Missions
DAVINCI+
DAVINCI+ (Deep Atmosphere Venus Investigation of Noble gases, Chemistry, and Imaging) will measure the composition of Venus' atmosphere to understand how it formed and evolved, as well as determine whether the planet ever had an ocean.
The mission consists of a descent sphere that will plunge through the planet's thick atmosphere, making precise measurements of noble gases and other elements to understand why Venus' atmosphere is a runaway hothouse compared the Earth's.
It will return the first high resolution pictures of the unique geological features on Venus known as "tesserae," which may be comparable to Earth's continents, suggesting that Venus has plate tectonics.
This would be the first U.S.-led mission to Venus' atmosphere since 1978, and the results from DAVINCI+ could reshape our understanding of terrestrial planet formation in our solar system and beyond.
James Garvin of Goddard Space Flight Center in Greenbelt, Maryland, is the principal investigator. Goddard provides project management.
VERITAS
VERITAS (Venus Emissivity, Radio Science, InSAR, Topography, and Spectroscopy) will map Venus' surface to determine the planet's geologic history and understand why it developed so differently than Earth.
Orbiting Venus with a synthetic aperture radar, VERITAS will chart surface elevations over nearly the entire planet to create 3D reconstructions of topography and confirm whether processes such as plate tectonics and volcanism are still active on Venus.
VERITAS also will map infrared emissions from Venus' surface to map its rock type, which is largely unknown, and determine whether active volcanoes are releasing water vapor into the atmosphere.
Technology Demonstration with above two Missions
In addition to the two missions, NASA selected a pair of technology demonstrations to fly along with them. VERITAS will host the Deep Space Atomic Clock-2. The ultra-precise clock signal generated with this technology will ultimately help enable autonomous spacecraft maneuvers and enhance radio science observations.
DAVINCI+ will host the Compact Ultraviolet to Visible Imaging Spectrometer (CUVIS). CUVIS will make high resolution measurements of ultraviolet light using a new instrument based on freeform optics. These observations will be used to determine the nature of the unknown ultraviolet absorber in Venus' atmosphere that absorbs up to half the incoming solar energy.
News Crux Social Initiative
SAGE (Seniorcare Ageing Growth Engine) Initiative
---
The Ministry of Social Justice and Empowerment has launched the SAGE (Seniorcare Aging Growth Engine) initiative and SAGE portal for elderly persons on 4th June 2021.
SAGE programme and SAGE portal have been launched with a view to help such persons who are interested in entrepreneurship in the field of providing services for elderly care.
The SAGE portal will be a "one-stop access" of elderly care products and services by credible start-ups.
The start-ups will be selected on the basis of innovative products and services, which they should be able to provide across sectors such as health, housing, care centers, apart from technological access linked to finances, food and wealth management, and legal guidance.
On the recommendation of a committee set up for the purpose, upto Rs 1 crore will be given to Startups for elderly care.
News Crux States In News
Goa Govt. Constitutes State Planning Body "GIFT"
---
The Goa government has notified the formation of Goa Institution for Future Transformation (GIFT), a state planning body modelled on the lines of the Centre's NITI Aayog.
The Chairman of GIFT will be the Chief Minister (CM) of Goa (Current CM – Dr. Pramod Sawant).
It will assist, advise and guide the government on policy making, its formulation and implementation.
It will also help in monitoring sustainable development goals and evaluation of several development plans, programmes and schemes.
News Crux Ecology & Environment
Ethanol Blending Target Brought Forward
---
The government has brought forward the target date for achieving 20 per cent ethanol-blending with petrol by two years to 2023 to help reduce India's dependence on costly oil imports
Last year, the government had set a target of reaching 10 per cent ethanol-blending in petrol (10 per cent of ethanol mixed with 90 per cent of diesel) by 2022, and 20 per cent doping by 2030.
Earlier this year, the target for 20 per cent blending was brought forward to 2025.
And now, it has been further advanced to April 2023.
News Crux Science & Technology
'AmbiTAG': India's First Indigenous Temperature Data Logger
---
A first-of-its-kind Internet of Things (IoT) device – AmbiTag has been developed by the researchers at the IIT Ropar Technology Innovation Hub - AWaDH and its startup ScratchNest.
The device records real-time ambient temperature during the transportation of perishable products, body organs, and blood, vaccines, etc. The AmbiTag temperature data log advises the user whether the transported item is usable or the cold chain has been compromised during the transportation.
It generates an alert when the temperature goes beyond a pre-set limit. The recorded data can be retrieved in user-defined format by connecting the USB with any computer.
AmbiTag is a USB-shaped device that continuously records the temperature of its immediate surroundings from -40℃ to 80℃ in any time zone for a full 90 days on a single charge. Most of the similar devices available in the international market record data only for a duration of 30 - 60 days.
News Crux Obituary
T.M. Kaliannan: Last Surviving Member Of The Constituent Assembly, Passes Away
---
T.M. Kalliannan Gounder, the last surviving former member of the Indian Constituent Assembly, died at the age of 101.
He was reportedly the youngest member in the Constituent Assembly then and also a member of India's first provisional parliament.
News Crux Appointment
Arun Kumar Mishra: First Non-CJI NHRC Chief
---
Former Supreme Court judge Arun Mishra took charge as the eighth chairperson of the National Human Rights Commission on 2 June 2021.
Justice Mishra is the first non-CJI to be appointed to the NHRC chief post since the amendment of the Protection of Human Rights Act in 2019.
The Chairperson and Members of the Commission are appointed by the President on the basis of recommendations of a Committee comprising the Prime Minister as the Chairperson, the Speaker of Lok Sabha, the Home Minister, the leaders of the opposition in the Lok Sabha and Rajya Sabha and the Deputy Chairman of the Rajya Sabha as Members.
NHRC does not have any mechanism of investigation. In majority cases, it asks the concerned Central and State Governments to investigate the cases of the violation of Human Rights.
News Crux Social Inclusion
Expert Group On Fixation Of Minimum Wages And National Floor Wages
---
The Ministry of Labour & Employment Government has constituted an Expert Group to provide technical inputs and recommendations on fixation of Minimum Wages and National Floor Minimum Wages.
The Group has been constituted for a period of three years.
The Expert Group is chaired by Prof Ajit Mishra, Director, Institute of Economic Growth.
News Crux Health
WHO Names Covid-19 Variants
---
The World Health Organization (WHO) has announced Greek alphabetical labels to identify different strains of Covid-19 that have emerged across the world.
The WHO's decision to rename Covid variants came nearly three weeks after India objected to the B.1.617 variant being termed an "Indian variant" in media reports.
| | | |
| --- | --- | --- |
| Variants | Country of First Detection | Name |
| B.1.1.7 | UK | Alpha |
| B.1.351 | South Africa | Beta |
| B.1.617 | India | |
| B.1.617.1 | | Kappa |
| B.1.617.2 | | Delta |
The first such variant of concern, which first appeared in Britain and can be also known as B.1.1.7, will be known as the "alpha" variant.
The second, which turned up in South Africa and has been referred to as B.1.351, will be known as the "beta" variant.
A third variant that first appeared in Brazil will be called the "gamma" variant.
The variant B.1.617, first found in India, is split into sub-lineages, of which the B.1.617.1 variant of concern becomes 'Kappa'. The B.1.617.2 variant of interest is called 'Delta'.
News Crux Appointment
Justice Vikramjit Sen To Head Digital Media Content Regulatory Council
---
The Indian Broadcasting Foundation announced the appointment of Justice Vikramjit Sen as the Chairman of its newly formed self-regulatory body Digital Media Content Regulatory Council (DMCRC).
"The self-regulatory body is formed as per the mandate of the Information Technology (Intermediary Guidelines and Digital Media Ethics Code) Rules, 202.
IBF, the apex body of broadcasters, has also been renamed as Indian Broadcasting & Digital Foundation (IBDF) to expand to cover digital streaming platforms.
News Crux Defence
ICG OPV 'Sajag' Commissioned
---
Indian Coast Guard (ICG) Offshore Patrol Vessel (OPV) Sajag has been commissioned on May 29, 2021.
OPV Sajag is constructed by M/s Goa Shipyard Limited.
The concept of forming ICG came into being post 1971 war, when it was assessed that maritime borders are equally vital as land borders. The blueprint for a multi-dimension Coast Guard was conceived by the visionary Rustamji Committee.
The ICG was created through an Act of Parliament in 1978.
ICG is the 4th largest in the world.
News Crux Economy
IFFCO To Launch Nano Urea
---
Indian Farmers Fertiliser Cooperative (IFFCO) will launch Nano Urea in the market shortly.
500-ml Nano Urea, which costs 240 rupees, is equivalent to 45kg of normal urea.
Nano Urea is environment friendly and cuts the input cost of the farmers by 15 percent.
Apart from enriching the soil, this new product will increase yield by 15 to 20 percent.
The country needs 350 lakh metric tonnes of urea every year. Introduction of Nano urea is said to reduce the usage of ordinary urea used now, thereby saving 600 crore rupees subsidy given by the Government. The country's dependence on import of urea will also come down.
News Crux Awards
Three Indian Peacekeepers Honoured With Dag Hammarskjold Medal
---
3 Indian peacekeepers honoured posthumously with UN medal (Dag Hammarskjold Medal) for sacrifice in line of duty.
These three peacekeepers are among 129 military, police and civilian personnel selected for the honour from across the globe.
The Awardees
Corporal Yuvraj Singh: The Indian peacekeeper had served with the United Nations Mission in South Sudan (UNMISS).
Ivan Michael Picardo: The civilian peacekeeper had also served with the United Nations Mission in South Sudan (UNMISS).
Mulchand Yadav: The civilian peacekeeper had worked with the UN Assistance Mission in Iraq (UNAMI).
News Crux Art/Culture/Heritage
YUVA PM Scheme For Mentoring Young Authors
---
The Department of Higher Education under the Ministry of Education has launched 'YUVA- Prime Minister's Scheme for Mentoring Young Authors'.
YUVA stands for Young, Upcoming and Versatile Authors.
It is an Author Mentorship programme to train young and budding authors, below 30 years of age to promote reading, writing and book culture in the country, and project India and Indian writings globally.
The National Book Trust, India under the Ministry of Education will be the Implementing Agency for the scheme.
News Crux Science & Technology
NEERI Develops Saline Gargle RT-PCR Testing Method
---
Scientists of Nagpur-based National Environmental Engineering Research Institute (NEERI) under Council of Scientific and Industrial Research (CSIR) have developed a 'Saline Gargle RT-PCR Method' for testing COVID-19 samples.
The method has received approval from the Indian Council of Medical Research (ICMR).
As per the method, a patient is required to gargle a saline solution and spit into a simple collection tube. This sample in the collection tube is then taken to a laboratory where it is kept at room temperature in a special buffer solution prepared by Neeri. An RNA template is produced when this solution is heated. The solution is further processed for reverse transcription polymerase chain reaction (RT-PCR).
It is simple, fast, cost-effective, patient-friendly and comfortable; it also offers instant results (in three hours) and is well-suited for rural and tribal areas, given minimal infrastructure requirements.
The method is non-invasive and so simple that the patient herself can collect the sample.
Swab collection method requires time. Moreover, since it is an invasive technique, it is a bit uncomfortable for patients. Some time is lost also in the transport of the sample to the collection centre.
News Crux Sports
Asian Boxing Championship 2021
---
With 15 medals, the Indian boxing contingent achieved their best-ever show at the ASBC Asian Boxing Championships held in the UAE.
The 19-member Indian contingent concluded the campaign with the highest-ever 15 medals including 2 gold, 5 silver and 8 bronze.
All the boxers of the 10-member Indian women's team returned with a medal at the championships which were jointly hosted by the Boxing Federation of India (BFI) and UAE Boxing Federation.
Gold-medallists
Sanjeet Singh: Men's boxer Sanjeet Singh (91kg) won a gold medal against the Rio Olympic silver medallist Kazkhak boxer and three-time Asian champion Vassiliy Levit.
Pooja Rani: In the women's section, Pooja Rani (75kg) clinched her second successive gold medal in the championship after outpunching in-form Mavluda Movlonova of Uzbekistan. Pooja had won a gold medal in 2019 in the 81 kg category.
Silver-medallists
Amit Panghal and Shiva Thapa: Olympic-bound boxers Amit Panghal (52kg) and Shiva Thapa (64kg) ended their campaign with silver after suffering defeats in their respective finals matches.
Mary Kom: Five-time Asian Championships gold medallist Mary Kom (51kg) settled with a silver medal. Mary Kom - London Olympics bronze-medallist - lost to the two-time world champion Nazym Kyzaibay of Kazakhstan.
Lalbuatsaihi (64kg) suffered a 2-3 defeat against Milana Safronova of Kazakhstan to win a silver medal in her maiden outing at the Championships.
Anupama (+81kg) also grabbed a silver medal as she lost to Lazzat Kungeibayeva of Kazakhstan 2-3 in yet another nail-biting final.
Bronze-medallists
Vikas Krishan (69kg) and Varinder Singh (60kg) secured bronze medals in the men's section after losing their semi-final matches.
In the Women's category, Simranjit Kaur (60kg), Lovlina Borgohain (69kg), Jaismine (57kg), Sakshi Chaudhary (54kg), Monika (48kg) and Saweety (81kg) secured bronze medals.
---