News Crux Appointment & Resignation
Lt General (retd) Anil Chauhan
---
On 30th September 2022 Lt General (retd) Anil Chauhan assumed charge as the country's second Chief of Defence Staff (CDS).
The post has been vacant for over nine months since the death of the first CDS Gen Bipin Rawat in a chopper crash in December 2021.
This is the first instance since independence, of a three-star Lieutenant General rank officer taking over as a four-star General after retirement.
Lt Gen Chauhan (retd) is from the 11 Gorkha Rifles, the same regiment of Gen Rawat.
He was commissioned into the 11 Gorkha Rifles of the Indian Army in 1981 and has served a range of staff and operational appointments including that of Director General of Military Operations.
Gen Chauhan took over as the General Officer Commanding-in-Chief of Eastern Command in September 2019 which he held until his retirement from service on May 31, 2021.

About CDS
As per charter, the CDS is a four-star General with salary and perquisites equivalent to a Service Chief. The CDS is first among equals with respect to the three Service Chiefs.
The CDS heads the Department of Military Affairs (DMA), the fifth department created in the Ministry of Defence, as its Secretary.
He is also the Principal Military Adviser to Defence Minister and Permanent Chairman, Chiefs of Staff Committee (COSC).
Tenure: No tenure was defined by the Government in his appointment unlike for Service Chiefs. For instance, the tenure of Service Chiefs is 62 years of age or three years whichever is earlier, while the maximum age limit for the CDS is 65 years of age with no tenure defined.
News Crux Appointment & Resignation
R Venkataramani
---
The Centre has appointed R Venkataramani, Senior Advocate at Supreme Court, as the 15th Attorney General of India (AG).
He replaced K K Venugopal, whose tenure ended on 30th September 2022.

Current News Indian Economy Agriculture & Allied Sector
Asian Palm Oil Alliance
---
The apex edible oil industry associations from five major palm oil importing countries in Asia have come together for the first time to form an alliance -- Asian Palm Oil Alliance (APOA).
APOA was launched during the Globoil Summit at Agra on September 21. The summit is one of the World's Leading Edible Oils and Agri Trade Conference, Exhibitions & Awards.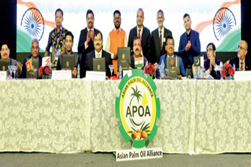 Countries under the Alliance
The alliance is between industry bodies of India, Pakistan, Sri Lanka, Bangladesh and Nepal.
In the coming year, the membership would be further expanded to include other select companies or industry organisations operating in the production or refining of palm oil across the continent.
Objective
The Alliance is expected to safeguard the economic and business interests of the palm oil consuming countries and create a level playing field for all fats and oils used in food, feed and oleochemicals in Asia. It will further work towards increasing the consumption of sustainable palm oil in member countries.
The alliance commits to work worldwide to ensure that palm oil is recognised as a high-quality, economical, and healthy vegetable oil and to change the negative image of palm oil.
Secretariat
The secretariat of the newly-formed alliance would initially be managed by The Solvent Extractors' Association (SEA) of India - India's edible oil industry body.
First President of Asian Palm Oil Alliance (APOA)
In the first general body meeting of the Alliance, Atul Chaturvedi, the President of SEA, was elected as the first Chairman.
Note: India is the largest importer of palm oil in Asia, accounting for 15% of global imports, followed by China (9%), Pakistan (4%) and Bangladesh (2%).
News Crux Miscellaneous
India's first Avalanche Monitoring Radar
---
The Indian Army and the Defence Geoinformatics and Research Establishment (DGRE) have jointly installed the Avalanche Monitoring Radar, first of its kind in India, at an altitude of 15,000 feet in north Sikkim.
Besides being used for detection of avalanches, this radar can also be employed to detect landslides.
This radar has the capability to detect avalanches within three seconds of their triggering and will assist in saving valuable life of troops and civilians as also vehicles in super high altitude areas.
The avalanche radar was made operational by Defence Research and Development Organisation's wing DGRE, which is involved in forecasting and mitigation of avalanche hazards faced by Indian Army in the Himalayan region.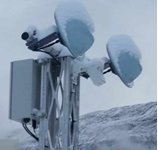 Working Principle/Features
The radar uses a series of short micro wave pulses which are scattered at the target and can detect an avalanche in less than three seconds.
The radar, which can permanently scan the targeted slope for avalanche release and track its path and its size in case it is triggered, can "see" through snow, fog as well as in the night, making it an all-weather solution and covers an area of two sq/km obviating the requirement to place additional instruments in dangerous avalanche prone areas.
The radar is also linked to an alarm system enabling automatic control and warning measures in case an avalanche is triggered. Images and videos of the event are automatically recorded for future analysis by the experts.
News Crux Awards In News
2022 Goalkeepers Global Goals Awards
---
As part of its annual Goalkeepers campaign, the Bill & Melinda Gates Foundation honoured four winners of its Goalkeepers Global Goals Awards this year.
The foundation recognized the work of four remarkable changemakers to advance progress towards the Sustainable Development Goals (SDGs) in their communities and around the world.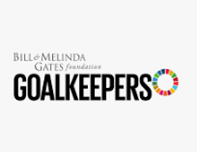 Awardees
Radhika Batra, co-founder of the nonprofit organization Every Infant Matters, which provides last-mile health solutions to disadvantaged children in India
Zahra Joya, a journalist from Afghanistan who founded and self-funded Rukhshana Media, an online news agency focused exclusively on covering issues that affect the women of Afghanistan.
Vanessa Nakate, a climate justice activist from Uganda and founder of the Africa-based Rise Up Movement and the Green Schools Project.
Ursula von der Leyen, president of the European Commission who has shown determination in leading both the EU and global response to the COVID-19 pandemic.
News Crux Awards In News
Dadasaheb Phalke Award, 2020
---
Renowned film actress, director and producer and an accomplished Indian classical dancer Ms Asha Parekh was awarded the Dadasaheb Phalke Award for the year 2020.
Starting her career as a child actor she made her debut as lead heroine in Dil Deke Dekho and has gone on to act in over 95 movies.
She has acted in celebrated films like Kati Patang, Teesri Manzil, Love in Tokyo, Aya Saawan Jhoom Ke, Aan Milo Sajna, Mera Gaon Mera Desh.
Ms Asha Parekh was conferred the Padma Shri in 1992. She has also served as the head of Central Board for Film Certification from 1998-2001.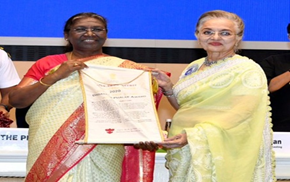 The Jury
The jury for the selection of 52nd Dadasaheb Phalke award consisted of five members from the film industry: Ms Asha Bhosle, Ms Hema Malini, Ms Poonam Dhillon, Shri T. S. Nagabharana, and Shri Udit Narayan.
About the Award
The Dadasaheb Phalke Award is India's highest award in the field of cinema.
Presented first in 1969, the award was introduced by the Government of India to commemorate Dadasaheb Phalke's contribution to Indian cinema. He is regarded as "the father of Indian cinema", who directed India's first full-length feature film, Raja Harishchandra (1913).
It is presented annually at the National Film Awards ceremony by the Directorate of Film Festivals, an organisation set up by the Ministry of Information and Broadcasting.
The award comprises a Swarna Kamal (Golden Lotus) medallion, a shawl, and a cash prize.
The first recipient of the award was actress Devika Rani (1969).
In 2019 it was awarded to Rajnikanth.
Current News National Study/Survey/Report/Index
Sample Registration System Statistical Report 2020
---
In a significant milestone, India has achieved landmark achievement in further reduction of child mortality rates.
As per the Sample Registration System (SRS) Statistical Report 2020 released on 22nd September 2022 by Registrar General of India (RGI), the country has been witnessing a progressive reduction in IMR, U5MR and NMR since 2014 towards achieving the Sustainable Development Goals (SDG) targets by 2030.
| | | | |
| --- | --- | --- | --- |
| INDICATOR | SRS 2014 | SRS 2019 | SRS 2020 |
| Crude Birth Rate (CBR) | 21.0 | 19.7 | 19.5 |
| Total Fertility Rate | 2.3 | 2.1 | 2.0 |
| Early Neonatal Mortality Rate (ENMR) – 0- 7 days | 20 | 16 | 15 |
| Neonatal Mortality Rate (NMR) | 26 | 22 | 20 |
| Infant Mortality Rate (IMR) | 39 | 30 | 28 |
| Under 5 Mortality Rate (U5MR) | 45 | 35 | 32 |
Major Findings of SRS Report 2020
1. Under 5 Mortality Rate (U5MR)
The U5MR for the country has shown significant decline of 3 points (Annual Decline Rate: 8.6%) from 2019 (32 per 1000 live births in 2020 against 35 per 1000 live births in 2019).
It varies from 36 in rural areas to 21 in urban areas.
U5MR for Female is higher (33) than male (31). There has been a decline of 4 points in male U5MR and 3 points in female U5MR during the corresponding period.
Highest decline of U5MR is observed in the State of Uttar Pradesh (5 points) and Karnataka (5 points)
2. Infant Mortality Rate (IMR)
IMR has also registered 2-point decline to 28 per 1000 live births in 2020 from 30 per 1000 live births in 2019 (Annual Decline Rate: 6.7%).
The Rural-Urban difference has narrowed to 12 points (Urban 19, Rural-31).
No gender differential has observed in 2020 (Male -28, Female - 28).
3. Neonatal Mortality Rate (NMR)
NMR has also declined by 2 points from 22 per 1000 live births in 2019 to 20 per 1000 live births in 2020 (Annual Decline Rate: 9.1%).
It ranges from 12 in urban areas to 23 in rural areas.
4. Crude Birth Rate (CBR)
At the National level during 2020 stands at 19.5 exhibiting a decline of 0.2 points over 2019. Among the bigger States/UTs, the maximum CBR has been reported in Bihar (25.5) and the minimum in Kerala (13.2). There has been a decline of 1.3 points in the CBR for the country from 2015 to 2020. The corresponding decline in rural CBR is 1.0 points and in urban CBR 0.9 points.
5. Crude Death Rate (CDR)
CDR for the country is 6.0 in 2020. The maximum CDR has been reported for Chhattisgarh (7.9) and the minimum for Delhi (3.6). During the last five years, the decline in National CDR has been to the tune of 0.5 points. The corresponding decline in female CDR is 0.7 points whereas in male CDR it is 0.3 points.
6. Sex Ratio at Birth (SRB)
SRB for the country has gone up by 3 points to 907 in 2018-20 from 904 in 2017-19. Kerala has reported the highest Sex Ratio at Birth (974) while Uttarakhand, the lowest (844).
7. Total Fertility Rate (TFR)
TFR for the country has come down to 2.0 in 2020 from 2.1 in 2019. During 2020, Bihar has reported the highest TFR (3.0) while Delhi,Tamil,Nadu and West Bengal have reported the lowest TFR(1.4).
Itis noteworthy that the replacement level TFR, viz. 2.1, has been attained at the national level, along with Delhi (1.4), Tamil Nadu (1.4), West Bengal (1.4), Andhra Pradesh (1.5), Himachal Pradesh (1.5), Jammu & Kashmir (1.5), Kerala(1.5), Maharashtra (1.5), Punjab (1.5), Telangana (1.5), Karnataka (1.6), Odisha(1.8), Uttarakhand (1.8), Gujarat (2.0), Haryana (2.0) and Assam (2.1).
At present, the TFR of a rural woman is 2.2 at the National level, which is higher than that of an urban woman (having a TFR of 1.6). During 2015-2020, there has been a decline of 0.3 point in TFR at the National level. There has been decline of 0.3 point in rural and 0.2 point in urban during the corresponding period.
Mortality Indicators (India) : Key Findings of SRS 2020

Crude Death Rate

6.0

Percentage of infant deaths to total deaths

9.1

Percentage of deaths of less than one week to total infant deaths

53.3

Under-five Mortality Rate

32

Infant Mortality Rate

28

Neo-natal mortality rate

20

Early neo-natal mortality rate

15

Late neo-natal mortality rate

5

Post neo-natal mortality rate

8

Peri-natal Mortality Rate

18

Still Birth Rate

3
States that achieved SDG Targets in Two Parameters
NMR
Six (6) States/ UT have already attained SDG target of NMR (<=12 by 2030): Kerala (4), Delhi (9), Tamil Nadu (9), Maharashtra (11), Jammu & Kashmir (12) and Punjab (12).
U5MR
Eleven (11) States/UT have already attained SDGs target of U5MR (<=25 by 2030): Kerala (8), Tamil Nadu (13), Delhi (14), Maharashtra (18), J&K (17), Karnataka (21), Punjab (22), West Bengal (22), Telangana (23), Gujarat (24), and Himachal Pradesh (24).
Current News Indian Economy Infrastructure
National Logistics Policy
---
On17th September, 2022, the government released the National Logistics Policy.
Vision
To drive economic growth and trade competitiveness of the country through a truly integrated, seamless, efficient, reliable and cost-effective logistics network, leveraging best-in-class technology, processes and skilled manpower.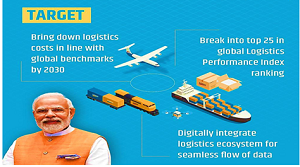 Key Objectives
Creating a single point of reference for all logistics and trade facilitation matters in the country which will also function as a knowledge and information sharing platform
Driving logistics cost as a % of GDP down from estimated current levels of 13-14% to 10% in line with best-in-class global standards and incentivize the sector to become more efficient by promoting integrated development of logistics
Creating a National Logistics e-marketplace as a one-stop marketplace.
Creating a data and analytics center to drive transparency and continuous monitoring of key logistics metrics
Encouraging industry, academia and government to come together to create a logistics Center of Excellence, and drive innovation in the logistics sector
Creating and managing on an ongoing basis, an Integrated National Logistics Action Plan which will serve as a master plan for all logistics-related development.
Providing an impetus to trade and hence economic growth by driving competitiveness in exports
Doubling employment in the logistics sector by generating additional 10-15 million jobs and focusing on enhancing skills in the sector and encouraging gender diversity
Policy Thrust Areas
Focusing on critical projects to drive an optimal modal mix and to enable first mile and last mile connectivity
Driving the development of Multi Modal Logistics Parks (MMLPs)
Driving interventions to reduce logistics costs and promote logistics efficiency for the movement of key commodities
Creating a single window Logistics e-marketplace
Setting up a Logistics Data and Analytics Center
Creating a Center of Trade Facilitation and Logistics Excellence (CTFL) and leveraging the expertise of multilateral agencies
Creating an Integrated National Logistics Action Plan and aligning with respective state development plans
Support strengthening of the warehousing sector
Enhancing transport and rolling stock infrastructure
Streamlining EXIM processes to promote trade competitiveness
Reducing dwell time for interstate cargo movement by road
Promoting standardization in the logistics sector
Ensuring seamless movement of goods at Land Customs Stations (LCS) and Integrated Check Points (ICP)
Benefits
The policy is expected to bring down the logistics cost, which is as high as 14-15 percent of India's GDP, to around 8 percent of GDP in the next five years.
It will also provide a roadmap to reduce India's high dependence on road transport for cargo movement and switch to a mix of rail, shipping, road, and air transport.
It will improve India's trade competitiveness, create more jobs, improve India's performance in global rankings and pave the way for India to become a logistics hub.
News Crux Miscellaneous
Cabinet approves addition of some Tribes to ST List
---
The Union Cabinet has approved the addition of some new tribes to the list of Scheduled Tribes, from Himachal Pradesh, Karnataka, Tamil Nadu, Uttar Pradesh and Chhattisgarh.
Himachal Pradesh: Hatti tribe -from the Trans-Giri area of Sirmour district.
Tamil Nadu: Narikoravan and Kurivikkaran hill tribes.
Chhattisgarh: Binjhia, who were listed as ST in Jharkhand and Odisha but not in Chhattisgarh. Also, the Cabinet approved synonyms for tribes like the Bharia (variations added include Bhumia and Bhuyian), Gadhwa (Gadwa), Dhanwar (Dhanawar, Dhanuwar), Nagesia (Nagasia, Kisan), and Pondh (Pond), among others.
Uttar Pradesh: Gond Community residing in 13 districts of Uttar Pradesh, under the ST list from the Scheduled Caste list. This includes the five subcategories of the Gond community (Dhuria, Nayak, Ojha, Pathari, and Rajgond).
Karnataka: The Cabinet approved 'Betta-Kuruba' as a synonym for the Kadu Kuruba tribe in Karnataka.
News Crux Art/Culture/Heritage
Varanasi: First-ever SCO Tourism and Cultural Capital
---
The city of Varanasi has been nominated as the first-ever SCO Tourism and Cultural Capital during the period 2022-2023 at the 22nd Meeting of Shanghai Cooperation Organization (SCO) Council of Heads of State in Samarkand, Uzbekistan on September 16, 2022.

The nomination of Varanasi as the first ever SCO Tourism and Cultural Capital will promote tourism, cultural and humanitarian exchanges between India and the SCO member Countries. It also underlines India's ancient civilizational links with Member States of SCO, especially the Central Asian Republics.
Under the framework of this major cultural outreach program, a number of events will be hosted in Varanasi during 2022-23, for which guests will be invited to participate from SCO Member States. These events are expected to attract Indologists, scholars, authors, musicians and artists, photo journalists, travel bloggers and other invited guests.
The regulations for nomination of the SCO Tourism and Cultural Capital were adopted at the Dushanbe SCO Summit in 2021 with an objective of promoting cooperation between the SCO Member States in the field of culture and tourism.
News Crux Places In News
India's first Swachh Sujal Pradesh
---
Union Jal Shakti Minister Gajendra Singh Shekhawat has declared Andaman and Nicobar Islands as India's first Swachh Sujal Pradesh.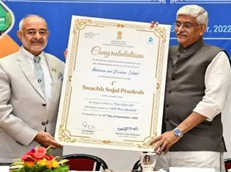 With this accomplishment, all villages on the Andaman and Nicobar Islands have received the Har Ghar Jal certification and have been verified as ODF plus open defecation free.
There are three important components of Sujal and Swachh state:
Safe and secure drinking water supply and management;
ODF Plus: ODF Sustainability and Solid and Liquid Waste Management (SLWM), and
Cross-cutting interventions like convergence, IEC, action planning, etc.
Sports In News Football
Durand Cup 2022
---
Bengaluru won their first-ever Durand Cup by defeating the debutants – Mumbai City by 2–1.

The final match took place at the Salt Lake Stadium in Kolkata.
The 131st edition of Durand Cup, the oldest football tournament in Asia, and also the first edition since it got recognised by Asian Football Confederation was held in three venues - West Bengal, Assam and Manipur.
Goa was the defending champion, having defeated Mohammedan in the 2021 final, but this time they couldn't progress beyond the group stage.
Major Awards
Golden Glove (Best Goalkeeper): Antonio Dylan (Odisha)
Golden Boot (Top Goal Scorer): Lallianzuala Chhangte (Mumbai City)
Golden Ball (Best Player): Greg Stewart (Mumbai City)
Sports In News Wrestling
World Wrestling Championships 2022
---
The World Wrestling Championships was held in Belgrade, Serbia.
Two Indian wrestlers won bronze medal each following repechage.

Men's
Indian wrestler Bajrang Punia became the only Indian to claim four medals at the World Wrestling Championships by clinching a bronze in the current edition, in Belgrade, Serbia.
It is Bajrang's third bronze at the worlds. The celebrated Indian wrestler had earlier won a bronze at in 2013, silver in 2018 and bronze in 2019.
Women's
Earlier, in the women's category Vinesh Phogat became the only Indian Woman to win 2 World Wrestling Championship Medals. She won a bronze medal in 53kg.
News Crux Reports/Committee/Commission
Kirit Parikh Committee for Reviewing of Gas Price Formula
---
The Ministry of Petroleum and Natural Gas has set up a committee under noted energy expert Kirit Parikh to review the current gas pricing formula for domestically-produced gas to ensure "a fair price to the end consumer".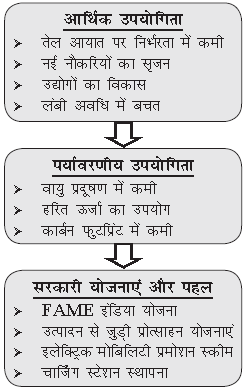 Reason for the Revision
Amid rising concerns over skyrocketing global natural gas prices jacking up energy and industrial costs, and derailing the efforts to contain inflation.
Possible Outcome
The next price revision is likely lead to a further rise in prices of gas from both the normal and the "difficult" fields, given that the benchmark global prices have remained elevated.
Though the committee has been asked to submit the report by the end of this month, its inputs won't be used for the next six-monthly revision of the domestic gas prices for the October 2022-March 2023 period.
Last Revision
In the last revision effective April 1, 2022, the price of natural gas from old and regulated fields was doubled to $6.1 per million British thermal unit (mBtu).
Price of gas produced from difficult fields like KG-D6 block operated by Reliance Industries-bp combine, was hiked from $6.13 earlier to 9.92/mBtu for the April-September 2022 period.
Current News Ecology & Environment Sustainable Developement
EU-India Green Hydrogen Forum
---
Recently, European Commissioner for Energy and India's Minister for Power and Renewable Energy inaugurated the first EU-India Green Hydrogen Forum.
The event was organized jointly by the Delegation of the European Union and the Ministry of New and Renewable Energy, in close cooperation with the Confederation of Indian Industry (CII) and Hydrogen Europe.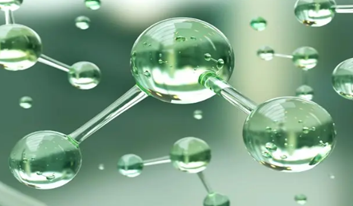 (Image Source: RE Global)

Context
The EU and India have a strong common interest in green hydrogen, from its energy security aspects to developing secure supply chains and competitive, rules-based markets.
The EU and India have set ambitious programmes and targets for wider adoption of green hydrogen. While India announced its National Hydrogen Mission last year, the EU launched the European Hydrogen Strategy in 2020.
India is a key strategic partner for the EU in energy and sustainable hydrogen.
The Forum
The Forum will serve as a platform to exchange best practices, policy frameworks and production and application technologies for renewable hydrogen as well as opportunities for EU-India cooperation in this area.
The forum will also delve into the potential for international hydrogen trade, the role of international standards, including sustainable transportation, the legal requirements for the certification of renewable hydrogen and research and innovation.
The European Union said it would be keen to explore with financing partners the possibility of building a pipeline of hydrogen projects in India, leveraging private sector investments in innovative technology under the framework of EU Global Gateway initiative.
Sports In News Football
India wins SAFF U-17 Championship 2022
---
India has won the SAFF U-17 Championship (4th title), defeating Nepal in the Final at the Racecourse International Stadium, in Colombo, Sri Lanka.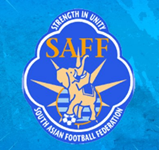 India was the defending champion. They have won previous season title by beating Nepal in 2019.
India's captain Vanlalpeka Guite was named the Most Valuable Player of the Tournament, while goalkeeper Sahil won the Best Goalkeeper awards.
Sports In News Wrestling
Vinesh Phogat: Only Indian Woman to win 2 World Wrestling Championship Medals
---
Star Indian wrestler Vinesh Phogat beat Sweden's Jonna Malmgren to win a bronze medal in 53kg at the World Wrestling Championships 2022 in Belgrade.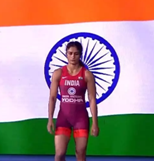 This is Vinesh's second medal at the Worlds after she won her maiden world medal in 2019.
She is the only Indian woman who had achieved this feat.
She made a qualification round exit at the hands of Mongolia's Khulan Batkhuyag. The eventual silver medallist triumphed in the bout 7-0 against Vinesh. However, luck favoured the Indian soon as she entered the bronze medal rounds via repechage.
Vinesh dominated the repechage rounds as she pinned two-time World Championship medallist Zhuldyz Eshimova of Kazakhstan in the first bout, followed by a walkover win over Azerbaijan's Leyla Gurbanova, to set up a final clash with reigning European champion Malmgren.
What is Repechage?
The word repechage comes from a French term, repecher. It means fish out or rescue. Generally, the rule allows competitors who have lost early to get a second chance. Wrestlers who lose in pre-quarterfinals or at a later stage get a chance to fight for bronze medals.
The idea behind the rule is that a good wrestler who loses out to a top rival early on should not suffer just because of the tough draw.
Wrestlers can enter the repechage round if an opponent they have lost to reaches the final. They fight on the basis of mini-draws that involve wrestlers of their respective halves. The losing semifinalists fight only in the bronze medal playoffs.
Apart from wrestling, the repechage system is used in several other disciplines including baseball, softball, beach volleyball, cycling, fencing, rowing, rugby, sailing, track and field athletics, taekwondo, and karate.
News Crux Obituary
Tennis Great Naresh Kumar Passes Away
---
Naresh Kumar, the former tennis player who had reached the fourth round of Wimbledon in 1955, has passed away on 14th September 2022.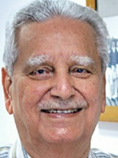 In Davis Cup, he represented India for eight consecutive years and later went on to become the captain.
He made it to the singles main draw at Wimbledon for nine consecutive years with his best coming in 1955 when he reached the pre-quarterfinals.
He also reached the third round of the French Open in 1958.
He did well in the doubles, reaching the Wimbledon quarterfinals in 1953, 1955 and 1958.
Kumar was the only tennis coach to have been awarded the Dronacharya Lifetime Achievement Award in 2000.
A recipient of Arjuna Award, Naresh Kumar became the first tennis coach to receive Dronacharya Lifetime Achievement Award in 2000.
He was also the second lawn tennis player, after Ramanathan Krishnan, to win the Arjuna Award, in 1962.
News Crux Important Days/Weeks
15 September: Engineer's Day
---
In India, Engineer's Day is observed on September 15 to honour Sir Mokshagundam Visvesvaraya - the first Civil Engineer in India. He was also the 19th Diwan of Mysore.

Along with India, Visvesvaraya's great works are also celebrated in Sri Lanka and Tanzania on September 15 as Engineer's day.
His books, "Reconstructing India" and "Planned Economy of India" were published in 1920 and 1934, respectively. He was awarded knight in 1915 while serving as the Diwan of Mysore, and received Bharat Ratna in 1955.
News Crux Important Days/Weeks
15 September: International Day of Democracy
---
The International Day of Democracy is celebrated on 15 September each year to promote and uphold the principles of democracy in every country.

This year, the Day is being observed with focus on the "importance of media freedom to democracy, peace, and delivering on the Sustainable Development Goals".
News Crux Miscellaneous
India's first Electronic Bank Guarantee (e-BG)
---
HDFC Bank, India's largest private sector bank, became the first bank in the country to issue an Electronic Bank Guarantee (e-BG) in partnership with National E-Governance Services Limited (NeSL).
e-BG has been developed in consultation with NeSL, CVC-CBI committee and IBA to simplify the process and eliminate the possibility of fraud and manipulation.
e-BG will be issued on the NeSL portal through an API-based digital workflow.
Earlier Method (Paper Based)
Paper-based bank guarantees takes 3-5 days to complete the process of physical pick up from the bank, courier to the beneficiary, stamp it and re-verify it. Besides there was no central repository for bank guarantees until now.
New Method (e-BG)
An Electronic Bank Guarantee or e-BG eliminates the physical documentation usually associated with a bank guarantee, and the e-BG becomes available in a digital form to the beneficiary.
Bringing in efficiency of time, eBG offers enhanced security. Physical stamping has been eliminated and replaced with eStamping and with eBG, the applicant and beneficiary can instantly view a bank guarantee on the NeSL portal.
Current News Indian Economy Infrastructure
e-FAST - India's First National Electric Freight Platform
---
On 8th September 2022, NITI Aayog, in collaboration with World Resources Institute (WRI), India, launched the country's first national electric freight platform – e-FAST India (Electric Freight Accelerator for Sustainable Transport – India).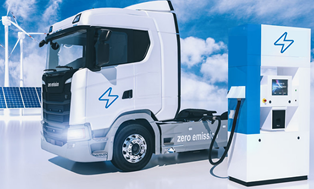 Supported by the World Economic Forum, CALSTART and RMI India, the platform brings different stakeholders together, from across the freight ecosystem.
Need for e-FAST – India: Decarbonisation & to Meet COP26 Commitments
The transport sector, which contributes almost 14% to India's total energy-related greenhouse gas (GHG) emissions, urgently needs a decarbonization master plan.
The transport sector is projected to have the fastest growing emissions among all other sectors and road freight transport is set to play a significant role in that growth.
Driven by rapid economic growth and consumption patterns in India, on-road freight heavy duty vehicles (HDVs) are expected to contribute 60% of the total transport sector emissions by 2050 by some projections.
India's ability to meet its COP26 commitments and newly formed NDCs depends on developing an effective road map for the decarbonization of its transport sector, particularly for road freight movement.
Aim of e-FAST - India
The platform aims to raise awareness on freight electrification bolstered by on-ground demonstration pilots and evidence-based research.
Benefits of this Platform
Innovative Solutions: It will help strengthen partnerships and identify and support innovative freight solutions.
Reduce Emission: Road freight is a high-impact area for reducing transport emissions. Expanding fleet sizes and operations, has its implications on greenhouse gas emissions. India being the third-largest truck market, after China and the United States, early adoption of zero-emission trucks would be instrumental in not only accelerating domestic climate imperatives but also in supporting global climate action.
Control Fuel Price Volatility: It will help control fuel price volatility.
Impetus to Electric Freight: It will also help in transition to electric freight. It will support scalable pilots and inform policies aimed at accelerating freight electrification in India.
Total Cost of Ownership (TCO) Evaluator: An Important Component of e-FAST - India
The launch of e-FAST India was followed with WRI India unveiling its Total Cost of Ownership (TCO) EValuator.
About TCO Evaluator
Performance Evaluator of Electric vs. other Variants: The TCO Evaluator is an intuitive excel-based application. It analyses cost components and performance parameters of light/medium/heavy-duty freight, and compares electric variants with its diesel/petrol/CNG counterparts, to identify their impact on TCO per km.
Insights to Policy Formulation: This comparison offers valuable insights to policy makers, fleet operators, manufacturers and owners.
Role of Freight Sector to Economy
The freight sector plays a key role in India's economy enabling the delivery of goods and critical resources.
During the COVID crisis, the freight sector sustained its growth, despite disruptions, ensuring a steady movement of essential goods and medical supplies across India.
Current News International Reports,Survey And Index
Global Estimates of Modern Slavery
---
The latest Global Estimates of Modern Slavery was published by the International Labour Organization (ILO), International Organization for Migration (IOM) and international human rights group Walk Free.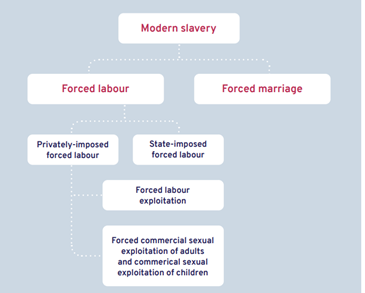 Major Findings
In 2021, some 50 million people were living in modern slavery: 28 million in forced labour and 22 million in forced marriages.
Compared to 2016 global estimates, 10 million more people were in modern slavery in 2021, with women and children disproportionately vulnerable.
Modern slavery occurs in almost every country in the world, and cuts across ethnic, cultural and religious lines.
More than half of all forced labour and a quarter of all forced marriages can be found in upper-middle income or high-income countries.
Eighty-six per cent of forced labour cases are found in the private sector, with forced commercial sexual exploitation representing 23 per cent – almost four out of five victims of whom are females.
State-imposed forced labour accounts for 14 per cent, of which nearly one in eight, or 3.3 million, are children.
More than half are in commercial sexual exploitation.
What is Modern Slavery?
It is a term used to describe situations of exploitative nature in which the person cannot refuse or leave due to threats, violence, deception, and abuse of power.
Modern slavery includes exploitative acts such as forced labour and debt bondage, forced marriage, and human trafficking.
Forms of Modern Slavery
Forced Marriage
In 2021, an estimated 22 million people were living in forced marriage, representing a 6.6 million increase over 2016 global estimates.
The true incidence of forced marriage, particularly involving children aged 16 and younger, is likely far greater than estimates capture since they are based on a narrow definition that excludes some child marriages. They are considered forced because a minor cannot legally consent to marry.
Forced marriages are highly context specific as they are linked to long-established patriarchal attitudes and practices.
The report shows that more than 85 per cent are driven by family pressure.
Based on regional population size, 65 per cent of forced marriages are found in Asia and the Pacific. Arab States have the highest prevalence, with 4.8 out of every 1,000 people in the region in a forced marriage.
Migrant Workers
Migrant workers are over three times more likely to be in forced labour than other adult workers.
While labour migration has a largely positive effect on individuals, households, communities and societies, irregular or poorly governed migration, or unfair and unethical recruitment practices render migrants particularly vulnerable.
What the Report Recommends for swiftly doing away with Modern Slavery?
Improving and enforcing laws and labour inspections; ending State-imposed forced labour; stronger measures to combat forced labour and trafficking; extending social protection, and strengthening legal protections, including raising the legal age of marriage to 18.
Addressing the increased risk of trafficking and forced labour for migrant workers, promoting fair and ethical recruitment, and greater support for women, girls and vulnerable individuals.
Reducing the vulnerability of migrants to forced labour and trafficking in persons depends first and foremost on national policy and legal frameworks that respect, protect, and fulfil the human rights and fundamental freedoms of all migrants – and potential migrants – at all stages of the migration process, regardless of their migration status.
All of society must work together to "reverse these shocking trends,' including through implementation of the Global Compact on Migration.
Global Compact on Migration
The Global Compact for Safe, Orderly and Regular Migration is the first intergovernmental agreement, prepared under the auspices of the United Nations, to cover all dimensions of international migration in a holistic and comprehensive manner.
It was adopted at an intergovernmental conference on migration in Marrakesh, Morocco on 10 December 2018.
The Global Compact is an important framework for improved migration governance that puts migrants and their human rights at the centre and that provides a significant opportunity to strengthen human rights protection for all migrants, regardless of status.
The Global Compact is grounded in international human rights law and reaffirms States' commitment to respecting, protecting, and fulfilling all human rights for all migrants. The Global Compact rests on the Universal Declaration of Human Rights and each of the nine core international human rights law instruments, and contains a Guiding Principle on human rights.
Law Related to Slavery in India
The Indian Slavery Act, 1843, also known as Act V of 1843 outlawed many economical transactions associated with slavery. The Act, banned slavery in India, made sale, and purchase of any person as a slave a punishable offence under the Indian Penal Code.
Article 23 of Indian Constitution also mandates Prohibition of Trafficking & Forced Labour. It says, "Traffic in human beings and begar and other similar forms of forced labour are prohibited and any contravention of this provision shall be an offence punishable in accordance with law."
Bonded labour is defined in the Bonded Labour System (Abolition) Act of 1976 as a system of forced or partly forced labour in which a debtor gets an advance of cash or kind in return for his labour or service to the creditor.
Constitutional & Legislative Provisions related to Trafficking in India
Trafficking in Human Beings or Persons is prohibited under the Constitution of India under Article 23 (1)
Immoral Traffic (Prevention) Act, 1956 (ITPA): It is the premier legislation for prevention of trafficking for commercial sexual exploitation.
Criminal Law (amendment) Act 2013: It has come into force wherein Section 370 of the Indian Penal Code has been substituted with Section 370 and 370A IPC which provide for comprehensive measures to counter the menace of human trafficking including trafficking of children for exploitation in any form including physical exploitation or any form of sexual exploitation, slavery, servitude, or the forced removal of organs.
Protection of Children from Sexual offences (POCSO) Act, 2012: It has come into effect from 14th November, 2012 is a special law to protect children from sexual abuse and exploitation. It provides precise definitions for different forms of sexual abuse, including penetrative and non-penetrative sexual assault, sexual harassment.
Other Acts/Provisions
Prohibition of Child Marriage Act, 2006
Bonded Labour System (Abolition) Act, 1976
Child Labour (Prohibition and Regulation) Act, 1986
Transplantation of Human Organs Act, 1994
Specific Sections in the IPC
Sections 372 and 373 deal with selling and buying of girls for the purpose of prostitution.
Legislation by State Govts.
State Governments have also enacted specific legislations to deal with the issue. (e.g. The Punjab Prevention of Human Smuggling Act, 2012)
News Crux Important Days/Weeks
14 September: Hindi Diwas
---
Hindi Diwas is celebrated on 14th September.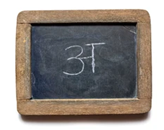 The day also marks the birthday of Beohar Rajendra Simha who played a crucial role in getting Hindi in Devanagari script approved as an official language of India. He was born on 14 September 1916.
Hindi is the third highest spoken language globally after English and Mandarin with over 65 crore speakers worldwide.
On September 14, 1949, the Constituent Assembly declared Hindi, written in the Devanagari script, as India's official language. To mark the significant date, India's first Prime Minister Jawaharlal Nehru declared the day as Hindi Diwas.
The Constituent Assembly's decision was later legalised in the Constitution on January 26, 1950.
News Crux Obituary
KN Singh: 22nd Chief Justice of India Passed Away
---
Former Chief Justice of India Kamal Narain Singh passed away on 8th September 2022.

Justice Narain had tenure of only 17 days (November 25, 1991 to December 12, 1991) as the CJI, making him the chief justice with the shortest tenure. He was the 22nd Chief Justice of India, with a term from.
News Crux Appointment & Resignation
M. N. Bhandari appointed as Chairman, Appellate Tribunal under SAFEMA
---
The Chief Justice of Madras High Court, Justice Munishwar Nath Bhandari (who is retiring on 12th September 2022) has been appointed as Chairman, Appellate Tribunal under the Smugglers and Foreign Exchange Manipulators Act (SAFEMA) for a period of four years, or till attaining the age of seventy years.

The order was issued by the Department of Revenue under the Ministry of Finance.
The Tribunal for Forfeiture of Property under the SAFEMA and the PMLA (Prevention of Money Laundering Act) Appellate Tribunal were merged in 2016 through the Finance Act, 2016.
News Crux Defence/Military Exercises
'Gagan Strike': A Joint Exercise by Army & Air Force
---
The Indian Army's Kharga Corps and the Air Force have conducted a four-day long joint exercise 'Gagan Strike' in Punjab.

The exercise comprised the deployment of attack helicopters as the aerial arm in support of ground forces carrying out drills, practising annihilation of enemy defences and deep penetration.
It also showcased precision firepower of the attack helicopters in coordination with ground forces' mechanised columns.
It validated the Apache 64E and Advanced Light Helicopter WSI as potent weapons delivery platforms.
News Crux Obituary
Archaeologist Braj Basi Lal Passed Away
---
Archaeologist B. B. Lal, who is considered as India's most senior archaeologist, has passed away on 10th September 2022.

He was trained by British archaeologist Sir Mortimer Wheeler at Taxila in 1944, after which he joined the Archaeological Survey of India and served it as Director-General from 1968 to 1972.
Born in 1921 in Uttar Pradesh's Jhansi, Lal worked extensively on archaeological sites associated with the Harappan civilisation and those said to be linked to the epic 'Mahabharata' in the 1950s.
He led excavation at Ramjanmabhoomi site and wrote of the 'pillar-base theory' and claimed to have found temple-like pillars which would have formed the foundation of the Babri Masjid.
He was awarded the Padma Bhushan in 2000 and Padma Vibhushan in 2021.
Current News National Indian Art, Culture & Heritage
3 Indian Cities in UNESCO Network of Learning Cities
---
Recently, three cities in India have joined the UNESCO Global Network of Learning Cities. These include two cities Thrissur and Nilambur in Kerala and Warangal in Telangana.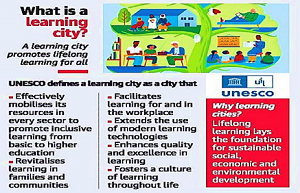 About the Cities
Thrissur - Cultural Capital of Kerala
Popularly known as the cultural capital of Kerala, Thrissur is home to academic and research institutions. It is also known for its jewellery industry, especially gold.
As a member of the UNESCOI GNLC, Thrissur hopes to contribute to the intellectual and peer learning processes, focusing on equitable access to learning for all, digital learning ecosystems and skills for sustainability.
Thrissur ticked UNESCO's check boxes in aspects of good practices, equity and inclusion among other factors. For eg, the presence of a MSME-Development Institute of India regional centre in Thrissur offers institutional support in promoting decent work and entrepreneurship through upskilling.
Nilambur- Kerala's Eco-Tourism Destination
It is a city with various socio-economic patterns marked by an urban and rural mix. The majority of the population depends on agriculture and allied industries.
The city offers free healthcare facilities to all citizens and utilizes health volunteers to provide door-to-door treatment for bedded patients. It also promotes first-aid training for students and young citizens.
Nilambur aims to promote sustainable development, gender equality, inclusivity and democracy through community ownership.
It also aims to ensure employment opportunities and UN Sustainable Development Goal (SDG) 2, 'zero hunger'.
Warangal- The Tourism Spot
The city is a major tourism venue, welcoming 3.2 million tourists every year. Warangal's economy is primarily composed of agricultural, industrial and service sectors.
The city promotes equity and inclusion, for which it has implemented several strategies, including Women and Child Welfare policy, Urban Policy, and the creation of an advisory committee to monitor and evaluate the impact of initiatives on marginalized groups.
About UNESCO Global Network of Learning Cities (GNLC)
Launched in 2013 by the UNESCO Institute for Lifelong Learning, the key objective of UNESCO GNLC is to promote social cohesion, economic development and sustainability in urban areas.
As part of this, the institute recognizes cities which promote lifelong learning among local communities and connects them with each other for knowledge transfer.
In 2019, UNESCO made Sustainable Development Goals part of its core policy framework and it was adopted as one of the key ingredients of UNESCO GNLC.
In line with this, the cities that are identified and inducted under Learning Network also have to comply with all 17 SDGs, especially SDG 4 ('Ensure inclusive and equitable quality education and promote lifelong learning opportunities for all') and SDG 11 ('Make cities and human settlements inclusive, safe, resilient and sustainable').
What is a Learning City?
According to UNESCO, a learning city is one that-
effectively mobilizes its resources in every sector to promote inclusive learning from basic to higher education;
revitalizes learning in families and communities;
facilitates learning for and in the workplace;
extends the use of modern learning technologies;
enhances quality and excellence in learning;
fosters a culture of learning throughout life.
News Crux Important Days/Weeks
7th September: International Day of Clean Air for blue skies
---
United Nations General Assembly has designated 7th September as the "International Day of Clean Air for blue skies" with an aim to raise awareness and to promote actions to improve air quality.

This year, it raises awareness on the urgency of strengthening national action and regional collaboration to improve air quality, with the global theme of "The Air We Share".
In India, the Union Ministry of Environment, Forest and Climate Change organized 3rd International Day of Clean Air for Blue Skies as 'Swachh Vayu Diwas ("Swachh Vayu Neel Gagan")' to raise awareness and facilitate actions to improve air quality under National Clean Air Programme (NCAP).
News Crux Obituary
Folk Artist Ram Chandra Manjhi Passes Away
---
The doyen of Bhojpuri folk theatre art "Launda Naach" and legendary artist Ram Chandra Manjhi passed away on 7th September 2022.

Manjhi was born in a riverine village Tujarpur in the Nagra block of Saran district in Bihar.
He was an oldest member of a troupe of great folk artist and Bhojpuri poet with the sobriquet "Shakespeare of Bhojpuri" Bhikhari Thakur.
He was awarded the Sangeet Natak Akademi Award in 2017 and was awarded Padma Shri in 2021.
Launda Naach
The Launda Naach is a prominent Bhojpuri folk art of Bihar comprising songs, dance, comedy, satire, parody and theatre.
In this art, men impersonate women wearing sari, blouse, long hair wig during the performance.
News Crux Appointment & Resignation
Liz Truss becomes 3rd Woman PM of UK
---
Mary Elizabeth Truss has been appointed as the Prime Minister of the UK.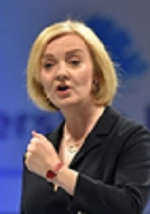 In the recently held election she defeated Rishi Sunak.
Truss had emerged as a contender for the prime ministerial role after her predecessor Boris Johnson agreed to step down.
The UK had two women Prime Ministers before Liz Truss:

Margaret Thatcher was the UK's first ever woman Prime Minister (1979-1990).
Theresa May was the UK PM from 2016-2019.
Current News National Plan/Policy
PM ScHools for Rising India
---
On 5th September, 2022 (National Teacher's Day), the Prime Minister announced a new initiative - PM SHRI Schools (PM ScHools for Rising India).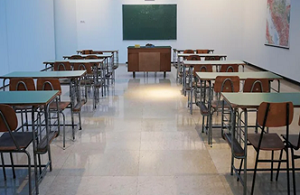 (Symbolic Image)

About the Scheme
This will be a new centrally sponsored scheme for upgradation and development of more than 14500 Schools across the country by strengthening the selected existing schools from amongst schools managed by Central Government/ State/ UT Government/ local bodies.
PM SHRI Schools will showcase all components of the National Education Policy 2020 and act as exemplar schools and also offer mentorship to other schools in their vicinity.
Aim of PM SHRI Schools
The aim of these schools wills not only be qualitative teaching, learning and cognitive development, but also creating holistic and well-rounded individuals equipped with key 21st century skills.
Features ofPM SHRI Schools
Pedagogy adopted in these schools will be more experiential, holistic, integrated, play/toy-based (particularly, in the foundational years) inquiry-driven, discovery-oriented, learner-centred, discussion-based, flexible and enjoyable.
Focus will be on achieving proficiency in learning outcomes of every child in every grade. Assessment at all levels will be based on conceptual understanding and application of knowledge to real life situations and will be competency-based.
Infra: These schools will be equipped with modern infrastructure including labs, smart classrooms, libraries, sports equipment, art room etc. which is inclusive and accessible.
Green School: These schools shall also be developed as green schools with water conservation, waste recycling, energy-efficient infrastructure and integration of organic lifestyle in curriculum.
Equitable, Inclusive and Joyful: They will provide leadership in their respective regions in providing high-quality education in an equitable, inclusive and joyful school environment that takes care of the diverse background, multilingual needs, and different academic abilities of children and makes them active participants in their own learning process as per the vision of NEP 2020.
Finance
Since this school is sponsored by the Centre, it will bear 60 per cent of the cost of implementation. The remaining 40 per cent will be borne by the state or UT. In Himachal Pradesh, Uttarakhand, Jammu and Kashmir and the northeast, the contribution of the Centre can go up to 90 per cent.
PIB News National
5th Rashtriya Poshan Maah 2022
---
The Ministry of Women and Child Development is celebrating the 5th Rashtriya Poshan Maah 2022 from 1st to 30th September 2022.
In the 5th Rashtriya Poshan Maah the aim is to convert Jan Andolan into Jan Bhagidari to fulfill the Hon'ble PM's vision of a Suposhit Bharat.
(Through Suposhit Bharat initiative, the Govt. intends to conceptualize, develop, pilot and scale up food-based nutrition interventions through food services at institutional food services' level, and street foods, school & college canteens. This will therapeutically address malnutrition and non-communicable diseases in the general population.)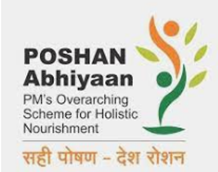 Objective of this year's Observation
This year, the objective is to trigger Poshan Maah through Gram Panchayats as Poshan Panchayats with key focus on "Mahila aur Swasthya" and "Bacha aur Shiksha".
Activities
The month long event will witness intensive activities across the country for awareness about nutrition at the ground level through sensitization drives, outreach programmes, identification drives, camps and fairs with special focus on pregnant and lactating women, children below six years and adolescent girls, in order to realise the vision of 'Swasth Bharat'.
At the Panchayat level, awareness activities will be conducted by local functionaries under the guidance of the concerned District Panchayati Raj Officers and CDPOs.
Poshan Panchayat Committees will work closely with field level workers (FLWs) – AWWs, ASHAs, ANMs – to support problem solving and enabling service delivery through Anganwadi Centres (AWCs), Village Health and Nutrition Day (VHNDs), and other relevant platforms to ensure all pregnant and lactating women, children below six years, and adolescent girls receive basic Integrated Child Development services.
Awareness drives on Anganwadi Services and good health practices will also be organised.
Growth Measurement Drives will be conducted to bring more beneficiaries under the ambit of Anganwadi Services. Growth Measurement drives under Swasth Balak Spardha will be conducted by States with the help of AWWs, AWHs, ASHA, district functionaries and agencies such as Lions Club, Rotary Club etc. Health camps for anemia check-ups will be especially organised at AWCs for adolescent girls.
Nutri-Gardens: Land will also be identified for Nutri-Gardens or Poshan Vatikas at or near Anganwadi Centres (AWCs).
Rainwater Harvesting: Special focus will be given on the importance of rainwater conservation among women at Anganwadi centers.
'Amma ki Rasoi': Under the State – level activities, 'Amma ki Rasoi' or Grandmother's Kitchen of traditional nutritious recipes will be organised.
Traditional Foods with Local Festivals: Extensive efforts will be made to link traditional foods with local festivals during the month and in tribal areas for healthy mother and child.
Toy-creation Workshop: A national level toy-creation workshop will also be organized to promote use of indigenous and local toys for learning in Anganwadi Centres.
POSHAN Abhiyaan is Government of India's flagship programme to improve nutritional outcomes for children under 6 years of age, pregnant women and lactating mothers.
Rashtriya Poshan Maah serves as a platform to bring focus to the discourse of nutrition and good health.
Launched by Hon'ble Prime Minister, POSHAN (Prime Minister's Overarching Scheme for Holistic Nutrition) Abhiyaan aims to address the challenge of malnutrition in a mission-mode.
Focusing on the aims of POSHAN Abhiyaan, Mission Poshan 2.0 (Saksham Anganwadi and Poshan 2.0) has been launched as an integrated nutrition support program to strengthen nutritional content, delivery, outreach and outcomes with focus on developing practices that nurture health, wellness and immunity to disease and malnutrition.
---