Current Affairs - Polity & Governance
Recently, in view of ongoing pandemic and a truncated Monsoon Session, Parliament has notified that there will be no Question Hour during the Monsoon Session of Parliament and that Zero Hour will be restricted in both Houses.
Opposition MPs have criticised the move, saying they will lose the right to question the government.
Question Hour
During this hour Members of Parliament (MP) ask questions to ministers and hold them accountable for the functioning of their ministries.
The questions that MPs ask are designed to elicit information and trigger suitable action by ministries.
However, questions can also be asked to the private members (MPs who are not ministers).
Usually Question Hour is the first hour of a parliamentary sitting.
Regulation
Parliament has comprehensive rules for dealing with every aspect of Question Hour.
The presiding officers of the two houses are the final authority with respect to the conduct of Question Hour.
Types of Questions Asked
Starred Questions
These are Questions to which answers are desired to be given orally on the floor of the House during the Question Hour.
These are distinguished in the printed lists by asterisks.
The list of these questions is printed in green colour.
Unstarred Questions
These are Questions to which written answers are given by Ministers which are deemed to have been laid on the Table of the House at the end of the Question Hour.
The list of these questions is printed in white colour.
Short Notice Questions
Such questions can be asked orally in the House after the Question Hour or as the first item in the agenda where there is no Question Hour at a notice shorter than that prescribed for Starred and Unstarred Questions.
These must relate to a subject-matter considered by the Chairman to be of urgent public importance.
The list of these questions is printed in light pink colour.
Questions to Private Members
These questions are mentioned under Rule 40 of the Rules of Procedure and Conduct of Business in Lok Sabha.
A question may be addressed to a private member if the subject matter of the question relates to some bill, resolution for which that member is responsible.
The list of these questions is printed in yellow colour.
Frequency
Now, Question Hour in both Houses is held on all days of the session. But there are two days when an exception is made.
There is no Question Hour on the day the President addresses MPs from both Houses in the Central Hall.
Question Hour is not scheduled either on the day the Finance Minister presents the Budget.
Zero Hour
Zero Hour is an Indian parliamentary innovation. It does not find mention in the rules of procedure.
It is an informal tool available to the members to raise the matters without any prior notice.
It starts after Question Hour and lasts until the regular business is taken up. Thus, the time gap between the end of zero hour and beginning of regular business (agenda) of the house is called Zero hour.
Half an hour Discussion
Members have a right to get information from the Government on any matter of public concern by means of questions to Ministers.
When a member feels that the answer given to a question, Starred or Unstarred or Short Notice, is not complete or does not give the desired information or needs elucidation on a matter of fact, he may be allowed by the Speaker to raise a discussion in the House for half an hour.
The procedure is, therefore, termed as 'Half-an-Hour Discussion'.
Nature of Questions Asked
Parliamentary rules provide guidelines on the kind of questions that can be asked by MPs.
The question should also be related to an area of responsibility of the Government of India.
Questions should not seek information about matters that are secret or are under adjudication before courts.
It is the presiding officers of the two Houses who finally decide whether a question raised by an MP will be admitted for answering by the government.
Answering Procedure
To streamline the answering of questions raised by MPs, the ministries are put into five groups.
Each group answers questions on the day allocated to it.
This grouping of ministries is different for the two Houses so that ministers can be present in one house to answer questions.
Limitation to Number of Questions Asked
In Lok Sabha, until the late 1960s, there was no limit on the number of unstarred questions that could be asked in a day.
Now, Parliament rules limit the number of starred and unstarred questions an MP can ask in a day.
The total number of questions asked by MPs in the starred and unstarred categories are then put in a random ballot.
From the ballot in Lok Sabha, 20 starred questions are picked for answering during Question Hour and 230 are picked for written answers.
Significance
It is during the Question Hour that Members can ask questions on every aspect of administration and governmental activity.
Government policies in the national as well as international spheres come into sharp focus as the Members try to elicit pertinent information during the Question Hour.
It has helped to expose financial irregularities and brought data and information.
Recent Procedural Changes
The following procedural changes have been in force since the 5th session of the 15th Lok Sabha-
A 15-day notice period is now to be given to the minister to respond to a question in Parliament (concept of minimum and maximum notice duration has been removed). The notice duration used to be a minimum of 10 days or maximum of 21 days.
The Speaker now has the authority to direct answers to a starred question asked by a member in case of his or her absence on the day their name was called.
A member is now required to make a statement in the House correcting the reply given by him or her earlier, irrespective of whether the reply given pertained to a starred or unstarred or a short notice question.
The maximum questions, starred or unstarred, a member is now entitled to give is 10 per day.
On 2nd September, 2020, the Union Cabinet gave its approval for Mission Karmayogi, a National Programme for Civil Services Capacity Building (NPCSCB).
Aim
To standardise training, and create shared faculty and resources that would offer officers and government employees an opportunity to improve their performance.
To prepare the Indian Civil Servant for the future by making him more creative, constructive, imaginative, innovative, proactive, professional, progressive, energetic, enabling, transparent and technology-enabled.
Background
Capacity of Civil Services plays a vital role in rendering a wide variety of services, implementing welfare programs and performing core governance functions.
A transformational change in Civil Service Capacity is proposed to be affected by organically linking the transformation of work culture, strengthening public institutions and adopting modern technology to build civil service capacity with the overall aim of ensuring efficient delivery of services to citizens.
Salient Features
Coverage
It will cover 46 lakh Central government employees at all levels.
Citizen Centric Civil Service:
The fundamental focus is the creation of a 'citizen centric civil service' capable of creating and delivering services conducive to economic growth and public welfare.
'Mission Karmayogi' shifts the focus from "Rule based training to Role based training". Greater thrust has been laid on behavioural change.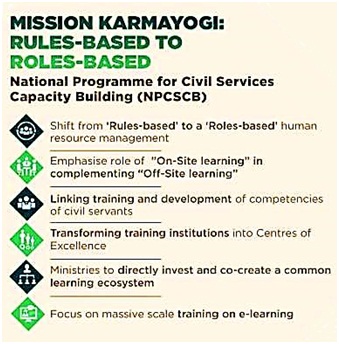 iGOT Karmayogi Platform
The Programme will be delivered by setting up an Integrated Government Online Training- iGOTKarmayogi Platform.
An appropriate monitoring and evaluation framework will also be put in place for performance evaluation of all users of the iGOT-Karmayogi platform so as to generate a dashboard view of Key Performance Indicators.
Special Purpose Vehicle (SPV)
A SPV will be set up as Section 8 – Not for Profit Company which will own and manage the iGOT-Karmayogi platform.
The SPV will own all Intellectual Property Rights on behalf of the Government of India.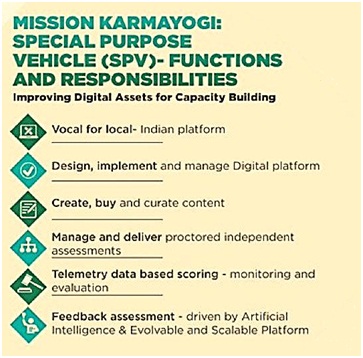 Public Human Resources Council
A Public Human Resources Council under the chairmanship of Prime Minister, with Union Ministers, Chief Ministers, eminent HR practitioners, national and international experts would oversee the entire capacity building exercise.
Capacity Building Commission
An expert body called Capacity Building Commission will be set up to harmonize training standards, create shared faculty and resources, and have supervisory role over all Central Training Institutions.
The Commission will also come out with an "Annual State of Civil Service Report".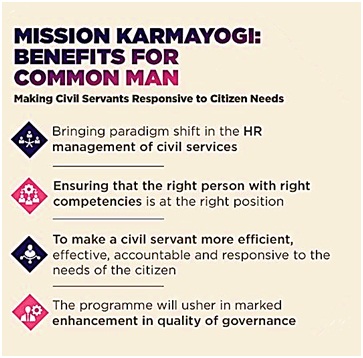 Significance
Improving Government's Human Resources: It will radically improve the government's human resource management practices and it will use state-of-the-art infrastructure to augment the capacity of civil servants.
Countering Existing Impediments: It will help in overcoming existing impediments like lack of lifelong & continuous learning environment, evolution of silos at department level preventing shared understanding of India's development aspirations and diverse and fragmented training landscape among others.
Value-Addition: It will provide a mechanism for continuous capacity building, a constant updating of the talent pool and also provide an equal opportunity of professional as well as personal growth and a stream of self-training for value addition at all levels.
Realising Vision of New India: The programme will also help in making the civil servants more professional, progressive, energetic, inculcating right attitude, technology-enabled which is aligned to the vision of a "New India".
The 6th National Handloom Day was celebrated on 7th August, 2020, to honour the handloom community, and acknowledge their contribution towards India's socio-economic development.
It aims to resolve to protect this heritage and to empower the workers in this sector.
The first National Handloom Day was organised in 2015 by the government in Chennai.
Significance
The handloom sector is one of the major symbols of the cultural heritage of India.
National Handloom Day seeks to highlight the contribution of handloom to the socioeconomic development of the country and increase income of the weavers.
It continues to be an important source of livelihood, especially for women, who form around 70% of the weavers or allied workers in the sector.
Reason to Choose 7th August
The Union government had declared 7thAugust as the National Handloom Day in July 2015 with the objective to generate awareness about the importance of handloom industry.
August 7 was chosen as the National Handloom Day to commemorate the Swadeshi Movement which was launched on this day in 1905 in the Calcutta Town Hall to protest against partition of Bengal by the British Government.
The movement had aimed at reviving domestic products and production processes.
Issues with Handloom Sector
Stigma of being Unorganized Sector
Primarily a household industry, the weavers are unorganized and the production pattern is mostly dispersed and decentralized and there are no marketing strategies in place, unlike in a cooperative sector.
Non Availability of Raw Material
The Fourth All India Handloom Census (2019-2020) cites raw material support needed by nearly 59.5 percent of weaver household. From cotton, silk, and woollen yarn to dyes, costs have increased and so has the shortage.
In 2015, concerns had been raised regarding shortage of cotton for weavers in Andhra Pradesh, Telangana and Maharashtra. The weavers had to travel long distances to get cotton added to their transportation costs. Besides, smaller weavers have been unable to buy in bulk leading to lower output of material.
Decreasing Credit Support
The Textile Association of India records that the budget allocation for the textile sector came down to Rs 4,831 crore in (2019-2020) from Rs 6,943 in the previous fiscal.
This also means that various schemes be it housing, subsidies, health insurance will affect the weaver too.
Quite often smaller weavers are at the mercy of money lenders, and suicides have made headlines in recent years.
Migration to Other Fields
With many traditional families moving to cities for jobs as labourers, weavers have been leaving the loom.
While the recent Handloom Census (2019-2020) records that there are nearly 31.44 lakh handloom households, and it has seen a rise from 27.83 lakh in the last census, the numbers are still dismal.
Poor Infrastructure
Since handloom manufacturing is carried on in the houses of weavers spread over a vast geographical area, it lacks the necessary infrastructure which is available in industrial estates. There are no separate sheds, water and power supply, technology support effluent treatment plants and waste management arrangements. The poor infrastructure affects the productivity, quality and cost.
Obsolete Technology
The handloom industry has been using age old technology and looms. These results into low productivity and high cost.
Lack of Awareness
The unawareness of weavers about market trends is also a reason of low demand of their articles, lack of market information to weavers by the government and illiteracy of the weavers are the responsible factor for this problem.
While there are nearly 13 government schemes currently for weavers, there's basically three per cent that is aware of the Weavers Health Insurance Scheme and only 10.5 per cent know of the credit waivers for loans that they can avail (Handloom Census 2019-2020).
Competition from Power Loom
Competition from Power loom is the major problem in marketing of handloom products.
This competition over the years has increased after the mushrooming of Power loom, and the power loom sector took several benefits in the name of handloom industry in relation to consumption of yarn, production of reserved items.
Welfare Schemes for Handloom Sector
Handloom Weavers Comprehensive Welfare Scheme
It is providing life, accidental and disability insurance coverage to handloom weavers/workers under the components Pradhan MantriJivanJyotiBimaYojana(PMJJBY), Pradhan Mantri Suraksha BimaYojana(PMSBY) and Converged Mahatma Gandhi BunkarBimaYojana(MGBBY).
National Handloom Development Programme (NHDP)
Components of NHDP
Education of Handloom Weavers and their Children: Ministry of Textiles has signed Memorandums of Understanding with Indira Gandhi National Open University (IGNOU) and National Institute of Open Schooling (NIOS) to secure educational facilities for the weavers and their families.
Weavers MUDRA Scheme: Under the Weavers Mudra Scheme, credit at concessional interest rate of 6% is provided to the handloom weavers.
Block Level Cluster: Introduced in 2015-16 as one of the components of NHDP. Financial assistance upto Rs.2.00 crore per BLC for various interventions such as skill upgradation, product development, etc.
HathkarghaSamvardhanSahayata (HSS): Introduced in 2016 to provide looms/accessories to the weavers. 90% of the cost of loom/accessory is borne by the Government of India while remaining 10% is borne by the beneficiary.
Handloom Marketing Assistance: Provide marketing platform to the handloom agencies/weavers to sell their products directly to the consumers.
India Handloom Brand:During the celebration of 7th August 2015 as National Handloom Day, 'India Handloom' Brand was launched for branding of high quality handloom products.
Comprehensive Handloom Cluster Development Scheme
It is implemented for development of Mega Handloom Clusters covering atleast 15000 to 25,000 handlooms.
Yarn Supply Scheme
This scheme is being implemented throughout the country to make available all types of yarn at Mill Gate Price.
Way Forward
With a view to promote this industry on a sustainable basis, it is deemed necessary to produce quality fabrics with new design for winning the trust and confidence of the customers.
In order to increase the number of active members in the society the Government can increase the wages of the weavers so that they will be motivated to work continuously.
The Government can organize training programmes to weavers with respect to weaving clothes of improved designs, so that through training they will be able to earn more wages and their economic conditions will improve.
Weavers must get the credit on soft terms as they are supposed to with the new initiatives like opening up of bank accounts, direct delivery of subsidies and digital governance.
In order to avoid the competition from mechanized sector the Government should insist the compulsory usage of handloom mark for all the products produced by Handloom Weavers Co-operative Societies.
There is a need to revamp the working of NHDC which is presently limited in nature as it is the only agency to support supply of yarn at subsidised prices.
There is a need to put an end to the process of advance payment and procuring material by the Primary Weaver Cooperative Societies (PWCS) and instead, the market may be opened up for the weavers for purchase of yarn.
The need for awareness, accessibility to markets and design R&D, easy access to raw material and better credit support can make a difference to weavers in different corners of the country. And then we can truly celebrate a National Handloom Day.
On 29th July, 2020, the government approved the National Education Policy 2020, making way for large scale, transformational reforms in both school and higher education sectors.
The Cabinet has also approved the renaming of the Ministry of Human Resource Development to the Ministry of Education.
This policy will replace the National Policy on Education (NPE),1986.
Aim
It aims to pave way for transformational reforms in school and higher education systems in the country.
It aims for universalization of educationfrom pre-school to secondary level with 100 % Gross Enrolment Ratio (GER) in school education by 2030.
Evolution of Education Policy
University Education Commission (1948-49)
Secondary Education Commission (1952-53)
Education Commission (1964-66) under Dr. D.S. Kothari
National Policy on Education, 1968
42nd Constitutional Amendment,1976-Education in Concurrent List
National Policy on Education (NPE), 1986
NPE, 1986 Modified in 1992 (Program of Action, 1992)
S.R. Subramaniam Committee Report (27 May, 2016)
K. Kasturirangan Committee Report (31 May, 2019)
Important Highlights
School Education
Ensuring Universal Access at all Levels of School Education
NEP 2020 emphasizes on ensuring universal access to school education at all levels i.e. pre-school tosecondary.
Infrastructure support, innovative education centres to bring back dropouts into the mainstream.
Facilitating multiple pathways tolearning involving both formal and non-formal education modes.
Open learning for classes3,5 and 8 throughNational Institute of Open Schooling (NIOS).
About 2 crore out of school children will be brought back into mainstream under NEP 2020.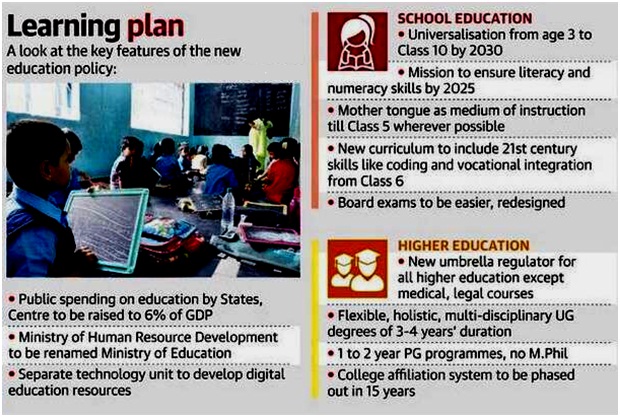 Early Childhood Care &Education with new Curricular and Pedagogical Structure
With emphasis on Early Childhood Care and Education, the 10+2 structure of school curricula isto be replaced by a 5+3+3+4 curricular structure corresponding to ages 3-8, 8-11, 11-14, and 14-18 years respectively.
This will bring the hitherto uncovered age group of 3-6 years under schoolcurriculum, which has been recognized globally as the crucial stage for development of mentalfaculties of a child.
The new system will have 12 years of schooling with three years ofAnganwadi/ pre schooling.
NCERT will develop a National Curricular and Pedagogical Framework for Early ChildhoodCare and Education (NCPFECCE) for children up to the age of 8.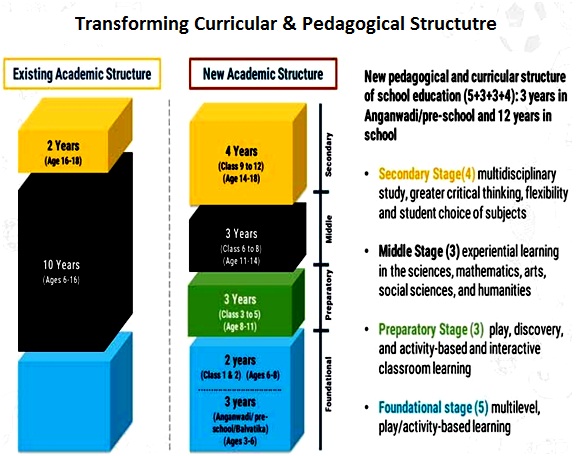 Attaining Foundational Literacy and Numeracy
NEP 2020 calls for setting up of a National Mission on Foundational Literacy andNumeracy.
States will prepare an implementation plan for attaining universalfoundational literacy and numeracy in all primary schools for all learners upto grade 3 by 2025.
ANational Book Promotion Policy is to be formulated.
Reforms in School Curricula and Pedagogy
There will be no rigid separations between arts and sciences,between curricular and extra-curricular activities, between vocational and academic streams.
A new and comprehensive National Curricular Framework for School Education, NCFSE2020-21, will be developed by the NCERT.
Multilingualism and the Power of Language
The policy has emphasized mother tongue/local language/regional language as the medium ofinstruction at least till Grade 5, but preferably till Grade 8 and beyond.
Indian SignLanguage (ISL) will be standardized across the country, and National and State curriculummaterials will be developed, for use by students with hearing impairment.
Assessment of Reforms
A new National Assessment Centre, PARAKH (Performance Assessment, Review, and Analysis of Knowledge for Holistic Development), will be set up as a standard-setting body.
Equitable and Inclusive Education
NEP 2020 aims to ensure that no child loses any opportunity to learn and excel because of thecircumstances of birth or background.
Special emphasis will be given on Socially andEconomically Disadvantaged Groups(SEDGs).
This includes setting up of Gender Inclusion Fund and also Special Education Zones for disadvantaged regions and groups.
Every state/district will be encouraged to establish "BalBhavans" as a special day-time boarding school, to participate in art-related, career-related, andplay-related activities.
Robust Teacher Recruitment and Career Path
Teachers will be recruited through robust, transparent processes. Promotions will be merit-based,with a mechanism for multi-source periodic performance appraisals and available progression,paths to become educational administrators or teacher educators.
A common National Professional Standards for Teachers (NPST) will be developed by the National Council forTeacher Education by 2022, in consultation with NCERT, SCERTs, teachers and expertorganizations from across levels and regions.
School Governance
Schools can be organized into complexes or clusters which will be the basic unit of governanceand ensure availability of all resources including infrastructure, academic libraries and a strongprofessional teacher community.
Standard-setting and Accreditation for School Education
NEP 2020 envisages clear, separate systems for policy making, regulation, operations andacademic matters. States/UTs will set up independent State School Standards Authority(SSSA).
The SCERT willdevelop a School Quality Assessment and Accreditation Framework (SQAAF) throughconsultations with all stakeholders.
Higher Education
NEP 2020 aims to increase the Gross Enrolment Ratio in higher education including vocationaleducation from 26.3% (2018) to 50% by 2035.
Holistic Multidisciplinary Education
The policy envisages broad-based, multi-disciplinary, holistic Under Graduate education withflexible curricula, creative combinations of subjects, integration of vocational education and multiple entry and exit points with appropriate certification.
UG education can be of 3 or 4years with multiple exit options and appropriate certification within this period.
An Academic Bank of Credit is to be established for digitally storing academic credits.
Multidisciplinary Education and Research Universities (MERUs), at par with IITs, IIMs, to beset up as models of best multidisciplinary education of global standards in the country.
The National Research Foundation will be created as an apex body for fostering a strongresearch culture and building research capacity across higher education.
Regulation
Higher Education Commission of India(HECI) will be set up as a single overarching umbrellabody for entire higher education, excluding medical and legal education.
HECI to have fourindependent verticals - National Higher Education Regulatory Council (NHERC) for regulation,General Education Council (GEC) for standard setting, Higher Education Grants Council(HEGC) for funding, and National Accreditation Council(NAC) for accreditation.
Rationalised Institutional Architecture
Higher education institutions will be transformed into large, well resourced, vibrantmultidisciplinary institutions providing high quality teaching, research, and communityengagement.
Affiliation of colleges is to be phased out in 15 years and a stage-wise mechanism is to beestablished for granting graded autonomy to colleges.
Teacher Education
A new and comprehensive National Curriculum Framework for Teacher Education, NCFTE2021, will be formulated by the NCTE in consultation with NCERT.
By 2030, the minimumdegree qualification for teaching will be a 4-year integrated B.Ed. degree.
Mentoring Mission
A National Mission for Mentoring will be established, with a large pool of outstandingsenior/retired faculty – including those with the ability to teach in Indian languages.
Open and Distance Learning
This will be expanded to play a significant role in increasing GER. Measures such as onlinecourses and digital repositories, funding for research, improved student services, credit-basedrecognition of Massive Open Online Courses (MOOCs), etc., will be taken to ensure it is at par with the highest quality in-classprogrammes.
Technology in Education
An autonomous body, the National Educational Technology Forum (NETF), will be created toprovide a platform for the free exchange of ideas on the use of technology to enhance learning,assessment, planning, administration.
Appropriate integration of technology into all levels ofeducation will be done to improve classroom processes, support teachers' professionaldevelopment, enhance educational access for disadvantaged groups and streamline educationalplanning, administration and management.
Promotion of Indian Languages
To ensure the preservation, growth, and vibrancy of all Indian languages, NEP recommendssetting an Indian Institute of Translation and Interpretation (IITI), National Institute (orInstitutes) for Pali, Persian and Prakrit, strengthening of Sanskrit and all language departmentsin HEIs, and use mother tongue/local language as a medium of instruction in more HEIprogrammes .
Professional Education
All professional education will be an integral part of the higher education system.
Stand-alonetechnical universities, health science universities, legal and agricultural universities, etc. will aim tobecome multi-disciplinary institutions.
Adult Education
Policy aims to achieve 100% youth and adult literacy.
Financing Education
The Centre and the States will work together to increase the public investment in education sectorto reach 6% of GDP at the earliest.

Significance
Built on the foundational pillars of Access, Equity, Quality, Affordability and Accountability, this policy is aligned to the 2030 Agenda for Sustainable Development.
NEP 2020 is precisely what India needs to dominate in the future decades of growth, and drive the education requirements of our young population.
Further, it aims to transform India into a vibrant knowledge society and global knowledge superpower by making both school and college education more holistic, flexible, multidisciplinary, suited to 21st century needs and aimed at bringing out the unique capabilities of each student.
Way Forward
Education infrastructure is one of the important parameters which also needs a massive boost from the government authorities.
The New Education Policy should have been implemented years ago to enable India's education system to catch up with that of other fast-developing nations in Asia.
The focus on light government regulation, multidisciplinary institutions and creating equivalence of vocational and academic streams are welcome, but these have been a part of other countries' education models for years.
It would have been good to have some more innovative ideas implemented like recognition of pathway/twinning programs with foreign universities, permission for for-profit firms to set up schools & colleges, allowing corporate CSR funding for primary research in universities and allowing universities to offer online degrees to outside their geographical jurisdiction.
On 24th July, 2020, the Government amended the General Financial Rules 2017 to enable imposition of restrictions on bidders from countries which share a land border with India on grounds of defence of India, or matters directly or indirectly related thereto including national security.
For this, Rule 144 of the General Financial Rules, 2017 entitled 'Fundamental principles of public buying' has been amended.
Reason for such Action
Chinese imports and investments have been facing intense scrutiny in India after a tense border standoff since the last month.
The decision has been taken to prevent the influx of Chinese products and investments into India, following the clashes between Indian and Chinese troops in Galwan Valley.
India is aiming at limiting trade links with China as part of policy to cut dependence on that country.
About the Amendments
Mandatory Registration
According to the new order, any bidder from countries sharing a land border with India will be eligible to bid in any procurement whether of goods, services or works only if the bidder is registered with the 'Competent Authority.'
The Competent Authority, in this case, is the Registration Committee constituted by the Department for Promotion of Industry and Internal Trade (DPIIT).
Political and security clearance from the Ministries of External and Home Affairs respectively will be mandatory.
Applicability
It will be applicable to all autonomous bodies, public sector banks and financial institutions, central public sector enterprises, public-private partnerships receiving financial support from the government or public sector undertakings, union territories and National Capital Territory (NCT) of Delhi and the linked agencies.
Invoking Provisions of Article 257(1)
The Central government has invoked the provisions of Article 257(1) of the Constitution, directing the state governments to implement this order for all public procurement.
For procurementby State Governments, a Competent Authority will be constituted by the states but political and security clearance will remain necessary.
Exceptions
Relaxation will be provided for the procurement of medical supplies for containment of COVID-19 global pandemic till December 31st, 2020.
Also, the order for prior registration will not apply for countries to which the Government of India extends lines of credit or provides development assistance, even if it shares a land border with India.
It does not apply to procurement by the private sector.
This order will also not apply to cases where orders have been placed or a contract has been concluded or letter of acceptance has been issued, but new tenders will be covered under this order.
Also, if the first stage of evaluation of qualifications has not been completed in the already invited tenders, bidders not registered under the new order will be treated as not qualified.
Impact
The move aimed at keeping Chinese companies out could hit sectors with heavy import content and dependence on supplies from China.
Infrastructure sectors such as power sector — particularly solar, telecom, highways — are likely to get impacted at different levels.
However, it will provide a major push to the government's Atmanirbhar Bharat Abhiyaan, making India self-reliant by curbing the dependency of import from China.
Previous Anti-China Measures
'Country of Origin' Made Mandatory on GeM
In June, 2002, the government made it mandatory for sellers on the Government e-Marketplace (GeM) portal to clarify the 'country of origin' of their goods when registering new products.
The GeM portal now allows buyers to reserve a bid for Class I local suppliers, or suppliers of those goods with more than 50 per cent local content.
Digital Strike: Banning Chinese App
In June, 2020, the government announced an interim ban on 59 apps with Chinese links including TikTok, ShareIt, UC Browser, CamScanner and WeChat citing "emergent threats" to the country's sovereignty and national security.
On 27th July, 2020, the government again banned 47 more Chinese apps that were clones of the 59 apps banned already.
Amending FDI Rules
In April, 2020, the government had amended the FDI rules mandating prior approval for investment by entities in countries that share land borders with India.
The move came days after China's central bank, the People's Bank of China (PBoC), raised its shareholding in Housing Development Finance Corporation (HDFC) to over one per cent.
General Financial Rules (GFRs)
GFRs are set of rules that deal with matters that involve public finances.
They were first issued in 1947 bringing together all the existing orders.
They are instructions that pertain to financial matters.
They lay down the general rules applicable to Ministries / Departments, and detailed instructions relating to procurement of goods are issued by the procuring departments broadly in conformity with the general rules, while maintaining flexibility to deal with varied situations.
Article 257(1)
It states that the executive power of every State shall be so exercised as not to impede or prejudice the exercise of the executive power of the Union.
It also authorises the Union to give such directions to a State as may appear to the Government of India to be necessary for that purpose.
In case, if the state failed to comply with (or to give effect to) any directions given by the Centre under Article 257(1), it will be lawful for the President to impose President's rule under Article 356.
The new Consumer Protection Act, 2019 came into force on 20th July, 2020.
It replaced the existing Consumer Protection Act, 1986, and in its overarching mandate, aims to provide a mechanism for the redressal of consumer complaints regarding defects in goods and deficiency in services, right down to the level of districts.
Background
The Consumer Protection Bill, 2019 was introduced in the Upper House of Parliament on July 8, 2019.
It was passed by the Lok Sabha on July 30, 2019 and Rajya Sabha on August 6, 2019. The Bill was then signed into law by President on August 9, 2019.
Salient Features of the Act
Covers E-Commerce Transactions
The New Act has widened the definition of 'consumer'.
The definition now includes any person who buys any goods, whether through offline or online transactions, electronic means, teleshopping, direct selling or multi-level marketing.
The earlier Act did not specifically include e-commerce transactions, and this lacuna has been addressed by the New Act.
Creation of Central Consumer Protection Authority
It proposes the establishment of a Central Consumer Protection Authority (CCPA) to promote, protect and enforce the rights of consumers, and make interventions in situations of unfair trade practices.
It will be empowered to -
conduct investigations into violations of consumer rightsand institute Complaints / Prosecution;
order recall of unsafe goods and services; and
order discontinuance of unfair trade practices andmisleading advertisements.
Rules on e-Commerce and Direct Selling
Now every e-commerce entity is required to provide information relating to return, refund, exchange, warranty and guarantee, delivery and shipment, modes of payment, grievance redressal mechanism, payment methods, security of payment methods, charge-back options, etc. including country of origin which are necessary for enabling the consumer to make an informed decision at the pre-purchase stage on its platform.
e-commerce platforms have to acknowledge the receipt of any consumer complaint within forty-eight hours and redress the complaint within one month from the date of receipt under this Act.
Simplifying Consumer Dispute Adjudication Process
Empowering the State and District Commissions to review their own orders.
Enabling a consumer to file complaints electronically and in consumer commissions that have jurisdiction over the place of his residence.
Video-conferencing for hearing and deemed admissibility of complaints if the question of admissibility is not decided within the specified period of 21 days.
Alternate Dispute Resolution Mechanism of Mediation
A complaint will be referred by a Consumer Commission for mediation, wherever scope for early settlement exists and parties agree for it.
Mediation will be held in the Mediation Cells to be established under the aegis of the Consumer Commissions.
There will be no appeal against settlement through mediation.
Product Liability
A manufacturer or product service provider or product seller to be responsible to compensate for injury or damage caused by defective product or deficiency in services.
Basis for product liability action -
Manufacturing defect
Design defect
Deviation from manufacturing specifications
Not conforming to express warranty
Failing to contain adequate instructions for correct use
Service provided-faulty, imperfect or deficient
Fee Exemption
A significant note for customers under this Act is that there will be no fee for filing cases up to Rs 5 lakh.
There are provisions for filing complaints electronically, credit of amount due to unidentifiable consumers to Consumer Welfare Fund (CWF).
Penalties for Misleading Advertisement
The CCPA may impose a penalty on a manufacturer or an endorser of up to Rs 10 lakh and imprisonment for up to two years for a false or misleading advertisement.
In case of a subsequent offence, the fine may extend to Rs 50 lakh and imprisonment of up to five years.
Penalty for Adulteration of Products/Spurious Goods
In case of the first conviction, a competent court may suspend any license issued to the person for a period of up to two years and in case of second or subsequent conviction, may cancel the license permanently.
Central Consumer Protection Council
It provided for constitution of the Central Consumer Protection Council, an advisory body on consumer issues, headed by the Union Minister of Consumer Affairs, Food and Public Distribution with the Minister of State as Vice Chairperson and 34 other members from different fields.
The Council, which has a three-year tenure, will have Minister-in-charge of consumer affairs from two States from each region- North, South, East, West, and NER.
Significance
Protecting Consumer Right
Earlier Consumer Protection Act, 1986, a single point access to justice was given, which was also time consuming.
The new Act has been introduced after many amendments to provide protection to buyers not only from traditional sellers but also from the new e-commerce retailers/platforms.
It will prove a significant tool in protecting consumer rights in the country.
On July, 17, 2020, India and the USA have participated in a virtual ministerial meeting of the US-India Strategic Energy Partnership (SEP) to review progress, highlight major accomplishments, and prioritize new areas for cooperation.
India and the US are leading joint research and development (R&D) through Partnership toAdvance Clean Energy-Research (PACE-R) on smart grids and energy storage to increase resilience and reliability of the electric grid.
Major Outcomes of the Meeting
Enhancing Energy Security
A Memorandum of Understanding (Mou) has been signed to begin cooperation on Strategic Petroleum Reserves operation and maintenance, including exchange of information and best practices.
Harnessing Innovation
A public-private Hydrogen Task Force would be set up to help scale up technologies to produce hydrogen from renewable energy and fossil fuel sources.
They also signed an MOU to collaborate on India's first-ever Solar Decathlon India in 2021, establishing a collegiate competition to prepare the next generation of building professionals to design and build high efficiency buildings powered by renewables.
The two sides jointly launched collaboration between the U.S. DOE National labs and the Indian National Institutes as part of the newly launched South Asia Group for Energy (SAGE).
Modernising the Power System
It has been agreed to modernize the Distribution Sector through various reform measures for achieving reliable quality 24X7 power supply.
This will be achieved through increased private participation; enhancing consumer centricity; deployment of Smart Meters across India; and, establishing Smart Grid Knowledge Centre in India as a "Global Centre of Excellence" for Smart Grids.
The sides agreed to collaborate on advanced high-efficiency coal technologies with low-to-zero emissions through carbon capture, utilization, and storage (CCUS), focusing on USDOE's Coal FIRST (Flexible, Innovative, Resilient, Small, Transformative) initiative to develop 21st Century coal energy systems.
Enhancing Energy Efficiency
The United States and India have been working to enhance building an appliance efficiency through enhanced building codes, design and operation of smart buildings of the future, smart meters and demand side response, as well as retrofit of buildings to improve building performance, promote energy conservation, and improve in-door air quality.
Both sides are also working to enhance energy efficiency in the industrial sector and will work to advance a comprehensive energy management system in accordance with ISO50001.
In response to the COVID-19 pandemic, USAID and Energy Efficiency Services Ltd (EESL) jointly initiated a new activity, "Retrofit of Air Conditioning to Improve Air Quality for Safety and Efficiency" (RAISE) for healthy and energy efficient buildings. The initiative will be scaled in public sector buildings.
Promoting Energy Trade and Investment
The sides noted the significant increase in bilateral hydrocarbon trade since the establishment of SEP and affirmed to promote greater hydrocarbon trade between the two countries.
Through the US-India Natural Gas Task Force,S.and Indian industry forged new commercial partnerships on innovative projects and developed a series of policy and regulatory recommendations to support the Government of India's vision to increase the share of natural gas in India's energy sector.
Commitment to advance civil nuclear cooperation e. recent progress on the Westinghouse (USA's Electric Company) nuclear reactor project at Kovvada, Andhra Pradesh were also discussed.
Promoting Inclusive and Sustainable Economic Growth
USAID and NITI Aayog jointly launched the India Energy Modeling Forum to build a network of modeling community and its linkage with Government for analytical work and policy making exercise.
Empowering Women in the Energy Sector
USAID launched the South Asia Women in Energy (SAWIE) platform focused on the power sector and the sides are working to incorporate gender-focused activities across the technical pillars.
Strategic Energy Partnership (SEP)
Established in April 2018, SEP recognises the strategic importance of energy to the US-India bilateral relationship.
Build upon long-standing energy partnership, SEP sets the stage for meaningful engagements through robust government-to-government cooperation and industry engagement.
Focus Areas
It focuses on 4 pillars of cooperation -
Power and Energy Efficiency
Oil and Gas
Renewable Energy
Sustainable Growth
Through these pillars both countries are working to
strengthen and modernize the power grid and distribution utilities for clean, affordable, and reliable energy access;
improve efficiency, flexibility, and environmental performance in the power sector;
promote inclusive and sustainable economic growth through long-term energy development;
enhance energy security through oil and gas trade, and infrastructure investment;
advance the development, deployment, and integration of renewable energy;
expand access to finance for renewable energy projects; and
reduce market barriers to energy trade and investment.
India Energy Modeling Forum
In the joint working group meeting of the Sustainable Growth Pillar on July 2, 2020, an India Energy Modeling Forum was launched.
Sustainable Growth Pillar is an important pillar of India–US Strategic Energy Partnership co-chaired by NITI Aayog and USAID.
The SG pillar entails energy data management, energy modelling and collaboration on low carbon technologies as three key activities.
Aims and Objectives
Provide a platform to examine important energy and environmental related issues;
Improve cooperation between modelling teams, government, and knowledge partners, funders;
Facilitate exchange of ideas, ensure production of high-quality studies;
Identify knowledge gaps at different levels and across different areas; and
Build capacity of Indian institutions.
A former legal advisor to the Election Commission (EC) has red-flagged the Centre's order setting up a Delimitation Commission for Arunachal Pradesh, Manipur, Assam and Nagaland, calling it "unconstitutional" and "illegal".
Chronology of Event
The last delimitation exercise, that started in 2002 and ended in 2008, had kept out Arunachal, Assam, Manipur and Nagalanddue to apprehensions over use of the 2001 Census.
The Delimitation Act of 2002 was amended on January 14, 2008, to empower the President to postpone the exercise in these states.
Subsequently, Parliament had decided that instead of creating another Delimitation Commission for the limited purpose of redrawing seat boundaries in the four northeastern states, the exercise there would be carried out by the EC.
Section 8A of the RP Act 1950 was introduced for this purpose.
In February, 2020, government rescinded a 2008 presidential order which had stalled the exercise by the Delimitation Commission in Assam, Nagaland, Arunachal Pradesh and Manipur.
Finally, in March, 2020, the Delimitation Commission headed by former Supreme Court judge RanjanaPrakash Desai was constituted to not only redraw constituencies in proportion to the population in the union territory of Jammu and Kashmir as per the 2011 Census under the J&K Reorganisation Act 2019, but also in these NE states but with 2001 Census data under the Delimitation Act of 2002.
Why the new Delimitation Commission has been called "illegal" and "unconstitutional"?
In 2008, after the President deferred delimitation, the Parliament decided that instead of creating another Delimitation Commission in future for the limited purpose of redrawing seat boundaries in the four northeastern states, the exercise there would be carried out by the EC.
The Representation of the People Act 1950 was amended, and Section 8A was introduced for this purpose.
The Law Ministry's notification of March, 2020, violates the Representation of the People Act, 1950.
Since the RP Act, 1950 clearly states that delimitation in the four northeastern states, when held, would fall within the EC's remit, the Centre should not have notified a separate Delimitation Commission for this purpose.
Hence, any delimitation exercise in these states by the new Delimitation Commission would be declared void by the courts and, subsequently, result in wastage of huge precious public funds.
Will delimitation change the number of seats in these states?
No, there is a freeze until 2026 on the number of LokSabha and Assembly seats in any state.
Delimitation will only redraw the boundaries of seats in each state, and can rework the number of reserved seats for SCs and STs.
However, because of exceptional past circumstances, Jammu & Kashmir's Assembly seats will now increase from 107 to 114, which is expected to increase Jammu region's representation.
Delimitation
It is the act of redrawing boundaries of LokSabha and Assembly seats to represent changes in population.
In this process, the number of seats allocated to a state may also change.
Objective
To provide equal representation for equal population segments.
A fair division of geographical areas, so that no political party has an advantage.
Process of Delimitation
Under Article 82, the Parliament enacts a Delimitation Act after every Census.
Under Article 170, States also get divided into territorial constituencies as per Delimitation Act after every Census.
Once the Act is in force, the Union government sets up a Delimitation Commission.
Past Commissions
The first delimitation exercise was carried out by the President (with the help of the Election Commission) in 1950-51.
The Delimitation Commission Act was enacted in 1952.
Delimitation Commissions have been set up four times — 1952, 1963, 1973 and 2002 under the Acts of 1952, 1962, 1972 and 2002.
There was no delimitation after the 1981 and 1991 Censuses.
Delimitation Commission
The Delimitation Commission is appointed by the President of India and works in collaboration with the Election Commission of India.
Composition
Retired Supreme Court judge, Chief Election Commissioner, Respective State Election Commissioners.
Functions
To determine the number and boundaries of constituencies to make population of all constituencies nearly equal.
To identify seats reserved for Scheduled Castes and Scheduled Tribes, wherever their population is relatively large.
On 12th July, 2020, Kris Gopalakrishnan committee on Non-Personal Data Governance framework (NPD Committee) submitted its report to the government.
Background
The Committee was constituted by the Ministry of Electronics and Information Technology (MeitY) on 13th September, 2019 under the Chairmanship of Kris Gopalakrishnan (Co-Founder, Infosys).
It was formed based on the recommendations of the Justice BN Srikrishna committee on protection of personal data (PDP).
Need for a Governance Framework
The NPD committee noted that India is a large data market due to second highest population, with the second highest number of smartphone users and increasing internet penetration levels.
Some companies with the largest data pools have 'outsized, unbeatable techno-economic advantages' owing to first mover's advantage, network effects and enormous data volumes which have been collected over years. These act as entry barriers for startups and new companies.
Therefore, the NPD committee felt that the possibility of data monopolies resulting in power imbalance between few companies having access to large datasets accumulated in an unregulated environment on one side and Indian citizens, MSMEs and startups and Indian government on the other should not be risked.
Key Recommendations
Definition of NPD
NPD is defined as 'data that is not personal data, or when it is without any personally identifiable information'. Three categories of NPD have been recommended:
Public NPD: Data collected or generated by any government agency, and includes data collected during execution of all publicly funded works.
Private NPD: NPD collected by entities/persons other than governments through assets and processes privately owned by the entity/person. It includes derived/observed data collected through private effort, such as through use of algorithms or proprietary knowledge.
Community NPD: Data that pertains to a community of natural persons. It can include NPD about animate and inanimate things or phenomena. Such data shall not include private NPD. Examples cited include data collected by municipal corporations and public electric utilities. It also includes user information collected by telecom companies, e-commerce players, and ride-hailing platforms.
Sensitive NPD
It has recommended classification of NPD into general NPD, sensitive NPD and critical NPD- just like the classification of personal data under the PDP Bill.
The classification of NPD will be on the basis of the category of the underlying PD under the PDP Bill.
For example, all health-related NPD will be classified as sensitive NPD, as health data qualifies as SPD under the PDP Bill.
Consent Requirement
At the time of collecting the data principal's PD, the entity must take the data principal's consent for- (a) anonymising the data principal's data, and (b) for usage of anonymised data.
Different roles in the NPD ecosystem
The following different roles have been proposed in the NPD ecosystem-
Data principal: This is essentially the entity/individual to whom the collected data pertains. It will vary depending on the category of NPD. For example, in case of census data, the citizens will be the data principal. In case of vendor registration or vendor product information, the vendor will be the data principal.
Data custodian: The entity that undertakes collection, storage and processing of data, keeping in mind best interest of the data principal. It has a 'duty of care' to the concerned community to which the NPD pertains; this 'duty of care' will be defined through a defined set of obligations.
Data trustee: The data principal or community will exercise its rights through a data trustee. The NPD legislative framework will provide guidelines for who can act as an appropriate data trustee for a group/community. For a lot of community data, the corresponding govt. entity or community body may act as a data trustee.
Ownership of data
The committee adopted the notion of 'beneficial ownership/interest' of data, as many actors may have simultaneous ownership rights and privileges to data, due to the non-rivalrous nature of data.
Public NPD will be treated as a 'national resource'.
Introducing a new category of 'data businesses'
Entities involved in data collection or processing will be classified as 'data businesses' based on a certain threshold of data collected/processed.
If the data collection exceeds a certain threshold, the 'data business' entity will have to submit meta-data about data user and community from which data is collected, with details such as classification, closest schema, volume etc.
Sharing of NPD
There are various grounds specified for sharing of data, including national security, law enforcement, community use, policy development and better delivery of public services.
India should specify a new class of 'high value' or 'special public interest' datasets, which can include health, geospatial and transportation data.
NPD Regulatory Authority
The Authority will have the power to address market failures in terms of lack of information about the quantum and nature of actual NPD assets held by an entity, or harms arising from processing activities, including re-identification or discrimination.
It will also ensure a 'level playing field' with fair and effective competition in digital and data markets.
Suggestions Ensuring Compliance with Data Sharing
The report suggests various 'checks and balances' for ensuring compliance with data sharing and other requirements.
Other than the local storage requirements based on sensitivity of NPD, the report provides for an 'expert probing' measure.
The report also suggests that 'data spaces' can be created to promote intensive data-based research by various stakeholders.
It suggests setting up 'data and cloud innovation labs and research centres', which will act as physical environments/field validation centres where organizations will test and implement digital solutions.
The committee has also suggested an illustrative three-tiered system architecture covering safeguards, technology and compliance to enable data sharing. This includes the suggestion of a 'Policy Switch', which would enable a single digital clearing house for regulatory management of NPD.
Significance
The meta-data sharing by Data Business will spur innovation at an unprecedented scale in the country.
One of the associated key objectives is to promote and encourage the development of domestic industry and startups that can scale their data-based businesses.
The report suggests a data-sharing regulation to shift data's "economic benefits for citizens and communities in India" as well as help the government in policy making and service delivery.
The recommendations, if implemented, will help businesses create value of their data having an economic good, not just information.
The regulation of NPD will ensure: (a) provision of certainty for existing businesses; (b) creation incentives for new businesses; and (c) release of enormous untapped social and public value from data.
BN Srikrishna Committee on Protection of Personal Data
The Committee was constituted by the union government in July 2017, to deliberate on a data protection framework.
The Committee has submitted its Report and a draft Personal Data Protection Bill in July, 2018.
The Committee had examined a wide gamut of issues in relation to protection of personal data which found reflection in the draft Personal Data Protection Bill.
It also took cognizance of community data as relating to a group dimension of privacy and an extension of data protection framework.
It also felt that all such community data is relevant for understanding public behaviour, preferences and making decisions for the benefit of the community.
On 21st June, 2022, in a significant judgment, the Supreme Court(SC) held that Secrecy of ballot is the cornerstone of free and fair elections.
Background
The judgment came on an appeal against the Allahabad High Court (HC) decision setting aside the voting of a no-confidence motion in a zila panchayat in Uttar Pradesh in 2018.
The High Court found that some of the panchayat members had violated the rule of secrecy of ballot.
The appellants in the SC contended that the principle of secrecy of ballots was not an absolute principle, and that voluntary waiver of the privilege was permissible.
They referred to Section 94 of the Representation of Peoples Act to state that voter can voluntarily chose to waive the secrecy of ballot.
Further, they argued that the HC has wrongly held that the voluntary waiver principle could not apply to the case in hand with respect to the members of the Zila Panchayat voting on a no confidence motion.
The SC referred to Section 28(8) of the Uttar Pradesh Kshettra Panchayat and Zila Panchayat Adhiniyam, 1961 and ordered a re-vote of the motion within the next two months, by the secret ballot system.
Key Points of SC Verdict
The Supreme Court has observed that the principle of secret ballot is an important postulate of constitutional democracy.
It is to be observed that one of the fundamental principles of election law pertains to the maintenance of free and fair elections, ensuring the purity of elections.
It referred to Section 94 of the Representation of People Act, which upholds the privilege of the voter to maintain confidentiality about her choice of vote.
It is the policy of law to protect the right of voters to secrecy of the ballot.
The choice of a voter should be free and the secret ballot system in a democracy ensures it.
Even a remote or distinct possibility that a voter can be forced to disclose for whom she has voted would act as a positive constraint and a check on the freedom to exercise of franchise.
However, a voter can also voluntarily waive the privilege of non-disclosure.
The privilege ends when the voter decides to waive the privilege and instead volunteers to disclose as to whom she had voted.
No one can prevent a voter from doing. Nor can a complaint be entertained from any, including the person who wants to keep the voter's mouth sealed as to why she disclosed for whom she voted.
Secret Ballot
The secret ballot, also known as Australian ballot, is a voting method in which a voter's choices in an election or a referendum are anonymous, forestalling attempts to influence the voter by intimidation, blackmailing, and potential vote buying.
The system is one means of achieving the goal of political privacy.
Representation of People's Act
The Parliament has enacted the Representation of the People Act (RPA), 1950 and Representation of the People Act, 1951.
Provisions of RPA, 1950
Seat allocation in the Lok Sabha and the Legislative Assemblies through direct elections.
The voters' qualifications for the elections.
The delimitation of constituencies for both Lok Sabha and Assembly elections. The extent of the constituencies would be determined by the Delimitation Commission.
Preparation of the electoral roll.
Provisions of RPA, 1951
All matters relating to the actual conduct of elections are governed by the provisions of the Representation of the People Act 1951.
Talks about corruption and other illegal activities related to elections.
The Act makes provisions for dispute redressal in matters connected to elections.
It specifies the qualifications and disqualifications for membership of the Houses.