NATPOLREX: Oil Spill Preparedness Exercise
---
The eighth edition of National Level Pollution Response Exercise NATPOLREX was conducted by the Indian Coast Guard (ICG) off Mormugao harbour in Goa.
The event was attended by more than 85 participants from 50 agencies, including 29 observers from 22 friendly foreign countries and International Organisations, and two Coast Guard ships from Sri Lanka and Bangladesh.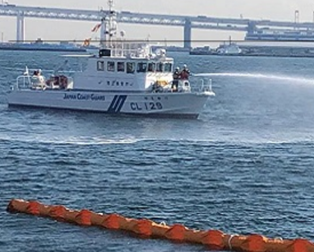 Objective
The objective of NATPOLREX-VIII was to enhance the preparedness and response capability of all the stakeholders in combating marine spills.
Aim
It aims at validating the procedures and guidelines as contained in the National Oil Spill Disaster Contingency Plan (NOS-DCP) at the national and regional levels under the aegis of SACEP MoU to which India is a member state.
Meeting Constitutional Mandate & International Laws
India is a party to the United Nations Convention on the Law of the Sea (UNCLOS) and has an obligation to protect and preserve the marine environment.
The Forty-second amendment to the Constitution of India obliges the State to endeavour to protect and improve the environment. This plan is a measure of fulfilment of the obligation on the State under the Law of the Sea Convention and the Constitution of India.
National Oil Spill Disaster Contingency Plan (NOS-DCP)
The NOS-DCP was originally promulgated in 1996 and subsequently updated to include additional information, latest update being in 2014.

The Indian Coast Guard is the designated national authority for oil spill response in Indian waters under the Plan.
SACEP
About: South Asia Co-operative Environment Programme (SACEP) is an inter-governmental organization, established in 1982 by the governments of South Asia to promote and support protection, management and enhancement of the environment in the region.
SACEP Member Countries: are Afghanistan, Bangladesh, Bhutan , India , Maldives , Nepal , Pakistan and Sri Lanka.
Secretariat: The Secretariat of SACEP is based in Colombo, Sri Lanka and is under the patronage of the Sri Lankan Government.
IMD Launches Climate Hazards and Vulnerability Atlas & Doppler Radars
---
On 14th January 2022, the India Meteorological Department (IMD) launched India's first Climate Hazards and Vulnerability Atlas and four Doppler Weather Radars.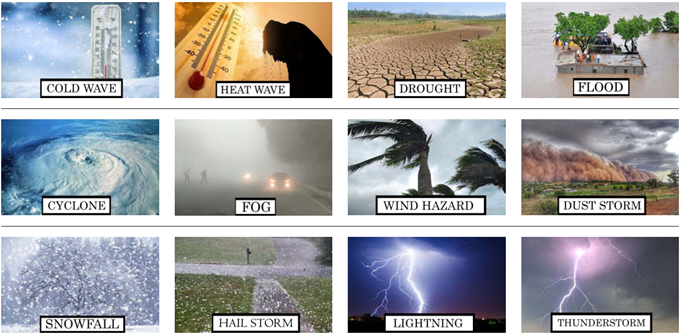 Climate Hazards and Vulnerability Atlas
The Climate Hazards and Vulnerability Atlas of India has been developed by the scientists at Climate Research and Services (CRS) office of the India Meteorological Department (IMD), Pune.
The Atlas is based on 12 extreme weather events and the risks they pose to the local population, livelihoods and economy of each district.
The atlas features extreme rainfall, drought, coldwave, heatwave, dust storms, hail storm, thunderstorm, cyclones, snowfall, lightning, winds and fog.
The atlas provides climate vulnerability information at district level on five types of hazards:
Cold Wave
Heatwave
Flood
Lightning
Snowfall
The atlas provides a range of vulnerability with risks ranging from nil, low, moderate, high and very high categories for every Indian district.
The atlas provides pie charts representing the percentage of districts and population affected by disastrous weather events in different vulnerability categories.
Benefits of this Atlas
The hazard and vulnerability atlas can be used as reference points to issue Impact Based forecasts with respect to different weather hazards. It can also be utilized as a guide in planning socio-economic activities and in preventing and mitigating disasters.
Doppler Weather Radars
IMD launched four new Doppler weather radars, one each in Mumbai, Delhi, Chennai, and Leh, to further improve the weather forecast system in these cities/region.
Now, the number of such radars in the country reached 33. The IMD's has plans to increase this to 90 for covering the entire country under the DWR network for better forecasting.
Special Feature the New Radars
The dual-polarization technology used in this radar will provide improved rainfall monitoring and hydrometeor classification by distinguishing between rain, snow, and hail.
This will also help in monitoring, nowcasting and short-range forecasting.
Vizag Gas Leak: Styrene Gas
---
On 7th May, 2020, a gas leak claimed at least 11 lives and affected thousands of residents in five villages in Visakhapatnam in Andhra Pradesh.
The source of the leak was a styrene plant owned by South Korean electronics giant LG, located at RRV Puram near Gopalapatnam, about 15 kms from the coast city.
What is Styrene?
Styrene, also known as ethenylbenzene, vinylbenzene, and phenylethene, is an organic compound with the chemical formula C6H5CH=CH2.
It is a derivative of benzene (C6H6).
Styrene is named after storax balsam, the resin of Liquidambar trees of the Altingiaceae plant family.
It occurs naturally in small quantities in some plants and foods (cinnamon, coffee beans, and peanuts) and in coal tar and vehicle exhaust.
It is stored in factories as a liquid, but evaporates easily, and has to be kept at temperatures under 20°C.
Industrial Production
The vast majority of styrene is produced from ethylbenzene and almost all ethylbenzene produced worldwide is intended for styrene production.
Applications
It is a flammable liquid that is used in the manufacturing of polystyrene plastics, fiberglass, rubber, and latex.
Styrene is the main raw material for synthesis of polystyrene, or (C8H8)n.
It is also used as an intermediate to produce copolymers — which are polymers derived from one or more species of monomers such as styrene.
What happens when exposed to styrene?
Styrene is regarded as a known carcinogen.
It is the mucous membrane that is mainly affected by exposure to styrene gas
Short-term exposure to the substance can result in respiratory problems, irritation in the eyes, irritation in the mucous membrane, and gastrointestinal issues.
Long-term exposure could drastically affect the central nervous system and lead to other related problems like peripheral neuropathy.
What are the symptoms?
Symptoms include headache, hearing loss, fatigue, weakness, difficulty in concentrating etc.
Animal studies, according to the EPA, have reported effects on the CNS, liver, kidney, and eye and nasal irritation from inhalation exposure to styrene.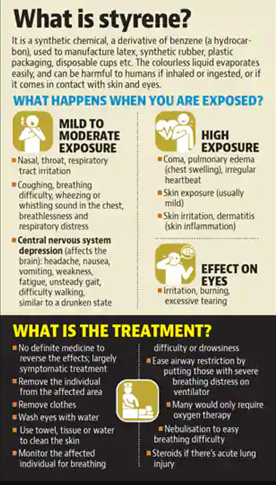 Source: HT
Safeguards against Chemical Disasters
At the time of the Bhopal gas tragedy, the Indian Penal Code (IPC) was the only relevant law specifying criminal liability for such incidents, reported PRS Legislative.
Soon after the tragedy, which had killed 2,000 people, the government passed a series of laws regulating the environment and prescribing and specifying safeguards and penalties. Some of these laws were:
Bhopal Gas Leak (Processing of Claims) Act, 1985, which gives powers to the central government to secure the claims arising out of or connected with the Bhopal gas tragedy. Under the provisions of this Act, such claims are dealt with speedily and equitably.
The Environment Protection Act, 1986, which gives powers to the central government to undertake measures for improving the environment and set standards and inspect industrial units.
The Public Liability Insurance Act, 1991, which is insurance meant to provide relief to persons affected by accidents that occur while handling hazardous substances.
The National Environment Appellate Authority Act, 1997, under which the National Environment Appellate Authority can hear appeals regarding the restriction of areas in which any industries, operations or processes or class of industries, operations or processes shall not be carried out or shall be carried out subject to certain safeguards under the Environment (Protection) Act, 1986.
National Green Tribunal, 2010, provides for the establishment of a National Green Tribunal for effective and expeditious disposal of cases related to environmental protection and conservation of forests.
National Disaster Management Authority (NDMA)
---
Why is it in News?
NDMA has played a pivotal role in minimising the catastrophe caused by Cyclone Fani.
About NDMA:
The NDMA is the apex statutory body for disaster management in India. It derives its powers and responsibilities from the Disaster Management Act, 2005.
It was established in 2009.
It is under the control of Ministry of Home Affairs (MHA).
The Prime Minister is its ex-officio chairman of NDMA.
NDMA equips and trains other government officials, institutions and the community in mitigation for and response during a crisis situation or a disaster.
It operates the National Institute of Disaster Management, which develops practices, delivers hands-on training and organizes drills for disaster management.
It also equips and trains disaster management cells at the state and local levels.
State Disaster Management Authority (SDMA) is headed by the respective Chief Minister.
Which all Disasters are catered to by the NDMA/SDMA?
NDMA/SDMA caters to both natural and man-made disasters which are listed below:
Man-made disasters:
Biological disaster
Chemical disaster
Nuclear & Radiological Disaster
Natural Disaster:
Floods
Earthquake
Cyclones
Urban floods
Tsunamis
Heat waves
---