'Aashwasan' Campaign under 'Tribal TB Initiative'
---
The Ministry of Tribal Affairs and TB division of Ministry of Health and Family welfare organized a national conclave on 24th August at the National Tribal Research Institute (NTRI), New Delhi to disseminate the learnings of the 100-day Aashwasan Campaign under 'Tribal TB Initiative'.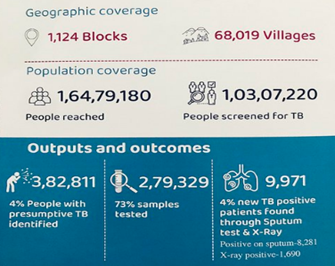 Tribal TB Initiative
It is a joint initiative of the Ministry of Tribal Affairs and Central TB Division, Ministry of Health, supported by USAID as technical partner and Piramal Swasthya as implementing partner.
Aashwasan Campaign
The Aashwasan Campaign started on 7th January this year for active case finding for TB in 174 tribal districts of India, under the ambit of the Tribal TB Initiative.
It was flagged off in Nandurbar District, Maharashtra.
The Initiative
Under the initiative, door-to-door screening for TB was undertaken covering 68,019 villages.
Based on verbal screening of 1,03,07,200 persons, 3,82,811 people were identified for Presumptive TB. Of these, 2,79,329 (73%) samples were tested for TB and 9,971 people were found to be positive for TB and put on treatment as per GoI protocols.
Findings
The data indicates that the tribal communities are more vulnerable to respiratory diseases and TB, compared to other population groups.
Charting Future Course
With the data which has emerged through the Aashwasan Campaign, Central TB Division will map TB hotspots and use that as the starting point.
75 high burden tribal districts have been selected for focused interventions in the coming months.
NAMASTE: National Action for Mechanised Sanitation Ecosystem
---
The Ministry of Social Justice and Empowerment (MoSJ&E) is preparing to undertake a nationwide survey to enumerate all people engaged in hazardous cleaning of sewers and septic tanks.
The enumeration exercise is part of the Union government's National Action Plan for Mechanised Sanitation Ecosystem (NAMASTE).
It will streamline the process of rehabilitating sanitation workers and eventually merge with and replace the Self-Employment Scheme for the Rehabilitation of Manual Scavengers (SRMS), which was started in 2007.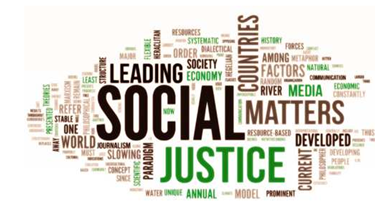 About NAMASTE
National Action for Mechanised Sanitation Ecosystem (NAMASTE) is a Central Sector Scheme of the Ministry of Social Justice and Empowerment (MoSJE) as a joint initiative of the MoSJE and the Ministry of Housing and Urban Affairs (MoHUA) that envisages safety and dignity of sanitation workers.
Outlay & Period of the Scheme: The scheme comes with an outlay of Rs. 360 crore for four years from 2022-23 to 2025-26.
Implementing Agency: National Safai Karamchari Financial Development Corporation (NSKFDC) would be implementing agency for NAMASTE.
Aim of the Scheme
NAMASTE aims to achieve the following outcomes:
Zero fatalities in sanitation work in India
All sanitation work is performed by skilled workers
No sanitation workers come in direct contact with human faecal matter
Sanitation workers are collectivized into SHGs and are empowered to run sanitation enterprises
All Sewer and Septic tank sanitation workers (SSWs) have access to alternative livelihoods
Strengthened supervisory and monitoring systems at national, state and ULB levels to ensure enforcement and monitoring of safe sanitation work
Increased awareness amongst sanitation services seekers (individuals and institutions) to seek services from registered and skilled sanitation workers
Coverage
In the first phase, five hundred cities (converging with AMRUT cities) will be taken up under NAMASTE.
The category of cities that will be eligible are:

All Cities and Towns with a population of over one lakh with notified Municipalities, including Cantonment Boards (Civilian areas),
All Capital Cities/Towns of States/ Union Territories (UTs)
Ten Cities from hill states, islands and tourist destinations (not more than one from each State).
Enumeration
NAMASTE envisages identifying the Sewer/Septic Tank Workers (SSWs) with a focus on informal workforce who are engaged in hazardous cleaning operations.
The database will enable MoSJE, NSKFDC and MoHUA (including DAY-NULM, SBM 2.0 and AMRUT) to reach to the SSWs and their families and provide them necessary support for collectivization, skill building and linking with social and financial benefits.
The Survey would be conducted by the City NAMASTE Managers and validated by the concerned ULB.
Assistance under the Scheme
Extending Insurance Scheme Benefits
Identified SSWs and their families will be covered under the Ayushyaman Bharat- Pradhan Mantri Jan Arogya Yojana (AB-PMJAY).
The premium for AB-PMJAY for those identified SSWs families who are not covered earlier shall be borne under NAMASTE.
Livelihood Assistance
The Action Plan will promote mechanization and enterprise development.
Funding: National Safai Karamchari Financial Development Corporation (NSKFDC) will provide funding support and subsidy (capital +interest) to the sanitation workers, SHGs of SSWs and private sanitation service organizations (PSSOs) to procure sanitation related equipment and vehicles under SUY for total mechanization of cleaning operations.
Livelihood Choices: Identified SSWs and their dependants will be given counseling on available livelihood choices and an opportunity to acquire alternative skills, if they so desire. Depending on their personal preference, a SSW may choose to continue working in the sanitation sector, thereby becoming eligible for receiving capacity building training. Alternatively, the worker may choose to explore an alternative livelihood option or an entrepreneurial venture. In case the workers decide to adopt an alternate livelihood of their choice, skilling and EDP support will be provided to these workers. The workers may start a new livelihood project as an individual or as a group interested in same option.
Saturation with Social Security Schemes' Benefits
The identified sanitation workers and their family members will be extended benefits of all the social security schemes being implemented by various departments in the area.
Governing Structure
The scheme will be governed by National NAMASTE Management Unit (NNMU) at the Centre as the apex body and in states there will be State Namaste Management Units (SNMUs). Further, at in cities City NAMASTE Monitoring Units (CNMUs) will carry out the implementation and other activities.
National NAMASTE Management Unit (NNMU)
Apex Body: At the apex of the structure will be the National NAMASTE Monitoring Unit (NNMU) under Managing Director, NSKFDC, which will report to concerned Division head in the MoSJE, Government of India.
Coordinating Body: A Technical Support Unit (TSU) consisting of team of IT Professional, Experts of implementation of similar programmes, SHG expert, IEC expert, Banking expert, etc., will be established in the NNMU to support the implementation of NAMASTE and facilitate coordination between MoSJE and MoHUA.
State Namaste Management Unit (SNMU)
Head - State Namaste Director: The State Govt. will decide a suitable officer to be designated as State Namaste Director to head State Namaste Management Unit (SNMU).
He will be assisted by: State NAMASTE Manager - to be deployed under the Scheme as per requirement.
City NAMASTE Monitoring Unit (CNMU)
Head- NAMASTE Nodal Officer: At the City level, City NAMASTE Monitoring Unit (CNMU) shall consist of NAMASTE nodal officer of the city to be designated by the concerned ULB
He will be assisted by: City NAMASTE Manager.
Paalan 1000 Campaign, Parenting App to Focus on Child Health
---
On 16th August 2022, the Union Minister of State for Health Bharati Pravin Pawar virtually launched the Early Childhood Development Conclave, Paalan 1000 National Campaign, and Parenting App in Mumbai.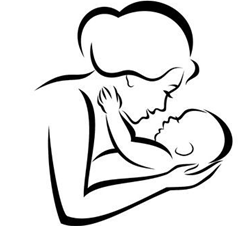 Paalan 1000 National Campaign
'Paalan 1000 - Journey of the First 1000 Days', focuses on the cognitive developments of children in the first 2 years of its life.
The campaign is centered on the fact that the first 1000 days of a child's life is when a platform is established for its physical, mental, emotional, cognitive and social health.
Paalan 1000 combines early years coaching for parents, families and other caregivers with services designed to meet families' basic needs. Infants and toddlers are shaped by their experiences – and those experiences are shaped by their caregivers. Caregivers are crucial for a strong start in the first years of life.
The programme is aligned the mission of the Rashtriya Bal Swasthya Karyakram (RBSK), emphasizing responsive care and focusing interventions on the first 1000 days.
Focus Area of PAALAN 1000

Cognitive development of children under 2 years is a major focus area of this PAALAN 1000.


It isfocused on the 6 principles:
Maximize Love,
Talk & Engage,
Explore through Movement and Play,
Read and Discuss Stories,
Mother's Engagement with the Child while Breastfeeding, and
Managing Stress and Staying Calm.
PAALAN 1000 Parenting App
It will provide caregiver with practical advice on what they can do in their everyday routine and will help resolving the various doubts of parents and will direct our efforts in the development of child.
Fact Sheet: India has taken rapid strides in reducing child mortality since 2014 from 45 per 1000 live births to 35 per 1000 live births in 2019.
Dr. Ambedkar Centres of Excellence (DACE) Scheme
---
On 22nd April 2022, the Union Minister for Social Justice and Empowerment and Chairman of Dr. Ambedkar Foundation (DAF) launched the Dr. Ambedkar Centres of Excellence (DACE) Scheme from Banaras Hindu University.
The scheme will be implemented in 31 Central Universities across the country.
Aim
The DACEs are being set up to provide high quality free coaching facilities to the Scheduled Caste students for the Civil Services examinations, conducted by Union Public Service Commission (UPSC).
Finer Points of the Scheme
Under the DACE Scheme, a total of 100 seats will be sanctioned for coaching per centre.
Of the total sanctioned seats for coaching, 33% seats will preferably be given to the eligible female candidates of Scheduled Castes.
If eligible female candidates are not available in sufficient numbers for the coaching, the concerned University will allocate the vacant seats to the male/transgender candidates (SC Candidates only).
The coaching benefits, under the scheme, will only be utilized by a student once regardless of the number of chances he/she is entitled for a particular competitive examination.
It will be mandatory for a student to submit an affidavit to the University stating that he/she has not received any monetary benefit from any of the other schemes of Government of India, State/UTs or any funding agency.
The concerned University will widely publicize the scheme through open advertisement and make a public notice for a Common Entrance Test.
The students will be selected through an entrance test conducted by the University as per merit.
In order to conduct the coaching classes, the Universities will have to possess necessary infrastructure such as separate classrooms, Library, Hi-Speed Wi-Fi connectivity, and other requisite equipment etc.
Funding
Dr. Ambedkar Foundation (DAF) shall fund the entire expenditure incurred on the establishment of Dr. Ambedkar Centre for Excellence.
Rs. 75,000/- per annum / per student will be provided to the University for 100 students.
Total amount of Rs. 75.00 lakh per year would be provided to the University for running the Scheme.
Dr. Ambedkar Chairs
Dr. Ambedkar Foundation is running another Scheme called "Dr. Ambedkar Chairs" in Universities/Institutions all over the country.
Dr. Ambedkar Chairs aim to provide advanced Centres of learning in the premier universities and educational institutes, where academicians, scholars and students would enrich and advance studies and research to understand, assess, disseminate and implementthe ideas and thoughts of Dr. B.R. Ambedkar.
The Chairs also aim to conduct advanced research and teaching on the present and past of the deprived sections of Indian society to provide justice and empower them.
NITI Aayog and UNICEF India sign SoI on SDGs focusing on Children
---
On 21st April 2022, NITI Aayog and UNICEF India signed a Statement of Intent (SoI) on the Sustainable Development Goals (SDGs) with a focus on children.
The SoI seeks to formalize a framework of cooperation to launch the first report on the 'State of India's Children: Status and Trends in Multidimensional Child Development'.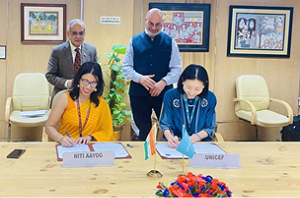 Aim
To analyze the status of children around critical child related SDGs to establish recent trends.
Finer Points of this Initiative
To achieve the child development priorities under the SDGs, UNICEF India and NITI Aayog are developing a comprehensive measure to understand the multidimensional attainments and deprivations among children.
Various parameters that will be considered are - health and nutrition, education, water and sanitation, household living standards; and protective environment.
Approach
This project will undertake a whole-of-society approach of involving all stakeholders ranging from Union Ministries, State Governments, Civil Society Organizations, and child rights collectives.
Benefit
This effort will contribute to the realization of India's commitments on the 2030 Agenda and provide a set of policy recommendations for concerted action in terms of accelerating progress towards the SDGs to 'leave no child behind' and achieving their holistic development.
India's Initiative: SDG India Index and Dashboard
This child-focused SDG initiative builds on India's effort of monitoring progress through the SDG India Index and Dashboard, brought out by the Niti Aayog - a unique data-driven initiative for triggering policy action.
Why focus on Children is Significant?
One in every third person in India is a child below the age of 18, while one in every fifth person is an adolescent between the ages of 10 to 19. This process looks forward to engaging with various stakeholders particularly children, adolescents and young people.
'Kanya Shikhsa Pravesh Utsav'
---
On 7th March 2022, the Ministry of Women and Child Development (MoWCD), in partnership with the Ministry of Education and UNICEF, launched a landmark campaign 'Kanya Shikhsa Pravesh Utsav' to bring back out of school adolescent girls in India to the formal education and/or skilling system.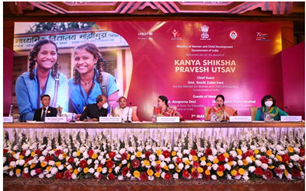 Objective
The campaign has been launched with the objective of enhancing enrolment and retention of girls between 11-14 years of age in school.
Finer Points of the Campaign
The initiative intends to build on the existing schemes and programmes like Schemes for Adolescent Girls (SAG), Beti Bachao Beti Padhao (BBBP) and National Education Policy (NEP) to work on a comprehensive system for out of school girls.
The campaign will be rolled out under the umbrella of MoWCD's BBBP initiative by targeting more than 400,000 out of school adolescent girls as primary beneficiaries.
Over 400 districts across all states will be funded under Beti Bachao Beti Padhao Scheme for outreach and awareness generation at grassroot level to sensitize communities and families to enrol adolescent girls in schools, over and above the funding from Samagra Shiksha Abhiyan and the Anganwadi workers (AWWs) will be further incentivised for counselling and referring out of school adolescent girls.
Inherited Property of Issueless Hindu Female Dying Intestate goes back to Source: SC
---
On 20th January 2022, the Supreme Court held that inherited property of a female Hindu dying issueless and intestate will either go to the heirs of her parents or husband.
The court also said that such daughters would get preference over other collateral members of the family such as sons and daughters of brothers of the deceased father.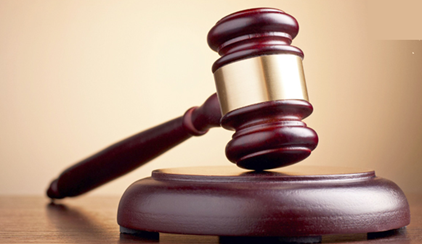 Major Point of the Ruling
If a female Hindu dies intestate without leaving any issue, then -
The property inherited by her from her father or mother would go to the heirs of her father;
The property inherited from her husband or father-in-law would go to the heirs of the husband.
If a property of a male Hindu dying intestate (without a will) is a self-acquired property or obtained in the partition of a coparcenary or a family property, then
The same would devolve by inheritance and not by survivorship, and a daughter of such a male Hindu would be entitled to inherit such property in preference to other collaterals (such as sons/daughters of brothers of deceased father).
Basic Aim of the Legislation: Property goes back to the Source
The basic aim of the legislature in enacting Section 15(2) is to ensure that inherited property of a female Hindu dying issueless and intestate, goes back to the source.
Upon whom the Act is Applicable
The Act lays down a uniform and comprehensive system of inheritance and applies, inter-alia, to persons governed by the Mitakshara and Dayabhaga Schools and also to those governed previously by the Murumakkattayam, Aliyasantana, and Nambudri Laws.
The Act applies to every person, who is a Hindu by religion in any of its forms including a Virashaiva, a Lingayat or a follower of the Brahmo, Pararthana or Arya Samaj and even to any person who is Buddhist, Jain, or Sikh by religion excepting one who is Muslim, Christian, Parsi or Jew by religion.
The Hindu Succession Act, 1956
The main scheme of this Act is to establish complete equality between male and female with regard to property rights and the rights of the female were declared absolute, completely abolishing all notions of a limited estate.
The Act brought about changes in the law of succession among Hindus and gave rights which were till then unknown in relation to women's property.
The legislative intent of enacting Section 14 (I) of the Act was to remedy the limitation of a Hindu woman who could not claim absolute interest in the properties inherited by her but only had a life interest in the estate so inherited.
Section 14 (I) in The Hindu Succession Act, 1956
Property of a female Hindu to be her absolute property—
Any property possessed by a female Hindu, whether acquired before or after the commencement of this Act, shall be held by her as full owner thereof and not as a limited owner.
Explanation: In this sub-section, "property" includes both movable and immovable property acquired by a female Hindu by inheritance or devise, or at a partition, or in lieu of maintenance or arrears of maintenance, or by gift from any person, whether a relative or not, before, at or after her marriage, or by her own skill or exertion, or by purchase or by prescription, or in any other manner whatsoever, and also any such property held by her as stridhana immediately before the commencement of this Act.
2nd Edition of Water Innovation Challenges
---
On 13th December, 2021, Atal Innovation Mission, NITI Aayog and the Royal Embassy of Denmark to India announced the second edition of water innovation challenges to address the global water woes through innovations as part of the Indo-Danish Bilateral Green Strategic partnership.
About Water Innovation Challenge
Water Innovation Challenge aims to identify innovative & next-gen solutions to solve proposed challenges in collaboration with corporate and public partners.
The challenge is being conducted under the partnership of AIM, NITI Aayog and Innovation Center Denmark (ICDK) under the aegis of the Denmark Embassy in India and the Denmark Technical University (DTU).
The initiative will engage young talents from leading universities across the nation and support them in building their skills and applying their technical disciplines and innovation capacity.
The challenge winners will get the opportunity to represent India at the International Water Congress 2022.
Significance
This will aid in catalysing global cross-sectorial learning environments, innovation & impact on SDGs.
Poor Utilisation of Funds in Beti Bachao, Beti Padhao Scheme
---
According to a latest report by the Committee on the Empowerment of Women, there has been poor utilisation of funds in the implementation of scheme in many States.
According to the report, almost 80 per cent of the funds for the scheme have been used for its advertising and not on sectoral interventions such as in health and education for women.
The committee further observed that out of a total of Rs 446.72 crore released during 2016- 2019, "a whopping 78.91% was spent only on media advocacy".
What is Beti Bachao, Beti Padhao Scheme?
Launched in January, 2015, it is a national initiative which aims to address the issue of the declining child sex ratio image (CSR).
This scheme is run jointly by the Ministry of Women and Child Development, the Ministry of Health and Family Welfare, and the Ministry of Human Resource Development.
Objectives
To prevent gender-biased sex selective elimination.
To ensure the protection and survival of the girl child.
Ensuring education and participation of the girl child.
Recommendation by the Committee
It recommended that the government should reconsider spending on advertisements and should focus on planned expenditure allocation for sectoral interventions in education and health.
Social workers must also be supported by local police, members of legislative assembly, and other influential people.
The campaign must extend to making parents, brothers and Indian be proud of a woman's autonomy.
It also must seek to educate men those women are their equal – not only at school but in every arena.
'She is a Changemaker' Programme for Women in Politics
---
To improve leadership skills of grassroot women political leaders, the National Commission for Women (NCW) has launched a pan-India capacity building programme - 'She is a Changemaker' for women representatives at all levels, gram panchayats to parliament members and political workers including office bearers of National/State political parties.
The capacity building programme will be undertaken in association with region-wise training institutes with an objective to undertake capacity building of women political leaders and improve their decision making and communication skills including, oration, writing, etc.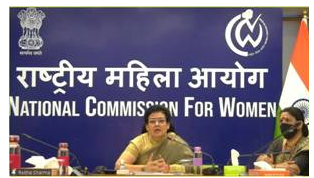 Reviewing Criteria for EWS Quota: Centre Forms Three-Member Committee
---
On 28 November 2021, the Ministry of Social Justice and Empowerment announced the formation of a three-member committee to review the criteria for Economically Weaker Section (EWS) reservations.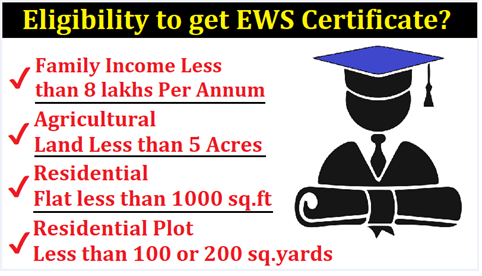 (Image Source: Sapost)

Need
The issue had arisen after NEET aspirants challenged notification dated July 29, 2021 which had announced a 27 per cent quota for OBCs and 10 per cent reservation for EWS in under the All-India Quota category.
SC on the Issue
On the issue i.e. 10 per cent reservation for EWS, the Supreme Court had questioned the government on how the figure of Rs 8 lakh had been arrived at as the maximum income limit for the EWS quota.
Response from the Govt.
The government had cited the Sinho Commission report of 2010 to push 10 per cent reservation for EWS.
The commission had, however, not explicitly recommended a quota for EWS but said that they should get access to welfare schemes.
In this regard, the government had submitted to the Supreme Court that it would revisit the Rs 8 lakh annual income criteria for EWS to be eligible for reservation benefits.
About the Committee
Mandate: The committee will examine various approaches followed in the country so far for identifying the economically weaker sections.
Composition of the Committee: The committee will comprise Former Finance Secretary Ajay Bhushan Pandey, Member Secretary ICSSR Prof VK Malhotra and Principal Economic Advisor to the Indian government Sanjeev Sanyal.
EWS Reservation
The 10% reservation was introduced through the 103rd Constitution Amendment and enforced in January 2019.
It added Clause (6) to Article 15 to empower the Government to introduce special provisions for the EWS among citizens except those in the classes that already enjoy reservation.
It allows reservation in educational institutions, both public and private, whether aided or unaided, excluding those run by minority institutions, up to a maximum of 10%.
It also added Clause (6) to Article 16 to facilitate reservation in employment. The new clauses make it clear that the EWS reservation will be in addition to the existing reservation.
Criteria to identify EWS
The main criterion is that those above an annual income limit of Rs. 8 lakh are excluded (income from all sources such as salary, business, agriculture and profession for the financial year prior to the application) of the family (applicants, their parents, siblings and minor children).
Possession of any of these assets, too, can take a person outside the EWS pool: five or more acres of agricultural land, a residential flat of 1,000 sq.ft. and above, a residential plot of 100 square yards and above in notified municipalities, and a residential plot of 200 square yards and above in other areas.
'Equality' to Women could reduce Malnourished People by 12-17%
---
Food systems worldwide depend on the labour of rural women.They raise and process crops, and prepare and distribute their products, ensuring that their families and communities are nourished.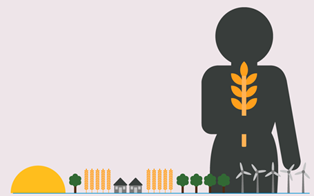 However, these same women often have less access to food, and suffer higher risk of hunger, malnutrition and food insecurity, when compared with men.
Discriminatory gender norms often see them eating last, or least, in the household, where they are also responsible for the greater share of unpaid caregiving and domestic work.
Improving the lives of rural women is key to fighting poverty and hunger. Giving women the same opportunities as men could rise agricultural productionby 2.5 to 4 per cent in the poorest regions and the number of malnourished people could be reduced by 12 to 17 percent.
Achieving gender equality and empowering women is not only the right thing to do but is a critical ingredient in the fight against extreme poverty, hunger and malnutrition.
This year's International Day of Rural Women (15 October), with the theme "Rural women cultivating good food for all" highlights the role of rural women in agricultural production and subsequent contribution towards fight against extreme poverty, hunger and malnutrition (critical role they play in feeding the world).
Contribution of Rural Women to Development
Women account for a substantial proportion of the agricultural labour force, including informal work, and perform the bulk of unpaid care and domestic work within families and households in rural areas. They make significant contributions to agricultural production, food security and nutrition, land and natural resource management, and building climate resilience.
On average, women make up more than 40 percent of the agricultural labour force in developing countries, ranging from 20 percent in Latin America to 50 percent or more in parts of Africa and Asia.
Smallholder agriculture produces nearly 80% of food in Asia and sub-Saharan Africa and supports the livelihoods of some 2.5 billion people.
Barriers Rural Women Face
Multi-Dimensional Poverty
Women and girls in rural areas suffer disproportionately from multi-dimensional poverty. While extreme poverty has declined globally, the world's 1 billion people, who continue to live in unacceptable conditions of poverty, are heavily concentrated in rural areas. Poverty rates in rural areas across most regions are higher than those in urban areas.
Discrimination/Exclusion
Access: Women farmers may be as productive and enterprising as their male counterparts but are less able to access land, credit, agricultural inputs, markets, and high-value agri-food chains and obtain lower prices for their crops. Women and girls in rural areas lack equal access to productive resources and assets, public services, such as education and health care, and infrastructure, including water and sanitation, while much of their labour remains invisible and unpaid, even as their workloads become increasingly heavy due to the out-migration of men.
Participation: Structural barriers and discriminatory social norms continue to constrain women's decision-making power and political participation in rural households and communities.
Exclusion: Globally, with few exceptions, every gender and development indicator for which data are available reveals that rural women fare worse than rural men and urban women and that they disproportionately experience poverty, exclusion, and the effects of climate change.
Quality of Life for Elderly Index
---
On 11th August 2021, 'Quality of Life for Elderly Index' was released by Dr Bibek Debroy, Chairman, Economic Advisory Council to the Prime Minister (EAC-PM).
The Index has been created by the Institute for Competitiveness at the request of EAC-PM and it sheds light on an issue often not mentioned- problems faced by the elderly.
The report identifies the regional patterns of ageing across Indian States and assesses the overall ageing situation in India.
The report presents a deeper insight into how well India is doing to support the well-being of its ageing population.
The Index framework includes four pillars and eight sub-pillars:
Four Pillars: Financial Well-being, Social Well-being, Health System and Income Security
Eight Sub-Pillars: Economic Empowerment, Educational Attainment & Employment, Social Status, Physical Security, Basic Health, Psychological Wellbeing, Social Security and Enabling Environment.
Key Highlights from the Report
The Health System pillar observes the highest national average, 66.97 at an all-India level, followed by 62.34 in Social Well-being. Financial Well-being observes a score of 44.7, which is lowered by the low performance of 21 States across the Education Attainment & Employment pillar, which showcases scope for improvement
States have performed particularly worse in the Income Security pillar because over half of the States have a score below the national average, i.e., 33.03 in Income Security, which is the lowest across all pillars. These pillar-wise analyses help States assess the state of the elderly population and identify existing gaps that obstruct their growth
Rajasthan and Himachal Pradesh are top-scoring regions in Aged and Relatively Aged States, respectively. Chandigarh and Mizoram are top-scoring regions in Union Territory and North-East States category. The Aged States refer to States with an elderly population of more than 5 million, whereas Relatively Aged States refer to States with an Elderly population of less than 5 million.
Utility of this Index
The index can help the nation identify areas that need improvement and grab the current opportunity to start putting positive changes in motion for the next decades.
The index also promotes healthy competition among States through fair rankings and highlights the pillars and indicators they can improve.
Using this index as a tool, the State governments and the stakeholders can identify the areas they need to work upon to provide their older generation with a comfortable life.
Category-wise Rankings of Quality of Life for Elderly Scores (Top 3)
Aged States (elderly population of more than 5 million)
States
Scores
Overall Ranking
Rajasthan
54.61
1
Maharashtra
53.31
2
Bihar
51.82
3
Relatively Aged States (elderly population of less than 5 million)
States
Scores
Overall Ranking
Himachal Pradesh
61.04
1
Uttarakhand
59.47
2
Haryana
58.16
3
North-Eastern States
States
Scores
Overall Ranking
Mizoram
59.79
1
Meghalaya
56.00
2
Manipur
55.71
3
Union Territories
States
Scores
Overall Ranking
Chandigarh
63.78
1
Dadra and Nagar Haveli
58.58
2
Andaman & Nicobar Islands
55.54
3
WCD Ministry Classified All Major Schemes Under 3 Umbrella Schemes
---
For effective implementation of various schemes and programmes of the Ministry of Women and Child Development, all major schemes of the Ministry have been classified under 3 umbrella schemes viz. Mission Poshan 2.0, Mission Vatsalya and Mission Shakti.
Mission Poshan 2.0: It aims at strengthening nutritional content, delivery, outreach, and outcome. Government has merged the Supplementary Nutrition Programme and Poshan Abhiyan to launch Mission POSHAN 2.0.
Mission Vastalya: This mission is aimed at safety and well-being of children.
Mission Shakti: The aim of this mission is to provide safety, security, and dignity to women.
S.No.
Umbrella Scheme
Schemes Included
1.
Saksham Anganwadi and POSHAN 2.0

Anganwadi Services
Poshan Abhiyan
Scheme for Adolescent Girls
National Creche Scheme

2.
Mission VATSALYA

Child Protection Services and Child Welfare Services

3.
Mission Shakti (Mission for Protection and Empowerment for Women)

SAMBAL (One Stop Centre, Mahila Police Volunteer, Women's Helpline/ Swadhar/ Ujjawala/ Widow Homes etc.)
SAMARTHYA (Beti Bachao Beti Padhao, Creche, Pradhan Mantri Matru Vandana Yojana/ Gender Budgeting/Research/
Amendments To Juvenile Justice (Care And Protection Of Children) Act, 2015
---
The Union Cabinet has approved Amendments to Juvenile Justice (Care and Protection of Children) Act, 2015. The amendments, once approved by Parliament, will strengthen Child Protection set-up to ensure best interest of children.
Aim of this Amendment
To increase the scrutiny of child care institutions and enhance the role of district magistrates to ensure the set-up works in the best interests of children.
Major Features of this Amendment
A.Priority to Role of DM/ADM
District Magistrates (DMs), Additional District Magistrates (ADMs) have been empowered to issue adoption orders under Section 61 of the JJ Act in order to ensure speedy disposal of cases and enhance accountability.
The district magistrates have been further empowered under the Act to ensure its smooth implementation as well as garner synergised efforts in favour of children in distress conditions.
The district child protection units will also function under the district magistrate.
B.Expansion of the Definition "Child in Need of Care"
Child victims of trafficking, drug abuse and those abandoned by their guardians will be included in the definition of "child in need of care" and protection under the amended law.
C.Streamlining Child Welfare Committees
Till now there was no specific direction to carry out a background check of people who are to become members of the Child Welfare Committees (CWC) as there is no such provision currently to check if a person has a case of girl child abuse against him. Now, before becoming a member of the CWC, background and educational qualification checks will be included.
Earlier, any organisation which wanted to run a child care institution would need to give its proposal to the state government but in the proposed amendments, before registration of a CCI, the DM will conduct its capacity and background check and then submit the recommendations to the state government. The DM can independently evaluate a specialised CWC, juvenile police unit and registered institutions.
A member of the child welfare committee has to mandatorily attend three-fourth the number of meetings after the amendments.
D.Additional Categorization of Offences
The amendments also categorise certain previously undefined offences as 'serious offences'.
At present, the Act has three categories of 'petty', 'serious' and 'heinous crimes'. One more category will be included of offences where the maximum sentence is more than 7 years but no minimum sentence is prescribed or a minimum sentence of less than 7 years is provided shall be treated as serious offences within the JJ Act.
PRAGYATA Guidelines On Digital Education
---
On 14th July, 2020, the Ministry of Human Resource Development (MHRD) released guidelines on digital education titled 'PRAGYATA'.
The guidelines have been prepared by the National Council of Educational Research and Training (NCERT).
Meant for faculty and students, the guidelines include eight steps of online/digital learning i.e. Plan- Review- Arrange- Guide- Yak (talk)- Assign- Track- Appreciate.
These steps guide the planning and implementation of digital education step by step with examples.
Need for Such Guidelines
The ongoing COVID-19 pandemic has led to closure of schools and has impacted over 240 million children of the country who are enrolled in schools.
Further, extended school closures may cause loss of learning.
So in order to mitigate the impact of the pandemic, schools will not only have to remodel and reimagine the way teaching and learning, but will also need to introduce a suitable method of delivering quality education through a healthy mix of schooling at home and schooling at school.
Key Points
Priority Areas for Suggestions
The guidelines outlines suggestions for administrators, school heads, teachers, parents and students on the following areas:
Need assessment
Concerns while planning online and digital education like duration, screen time, inclusiveness, balanced online and offline activities etc level wise
Modalities of intervention including resource curation, level wise delivery etc.
Physical, mental health and wellbeing during digital education
Cyber safety and ethical practices including precautions and measures for maintaining cyber safety
Collaboration and convergence with various initiatives
Digital Access
Over 25 crore students across the country have been out of school since mid-March. The guidelines acknowledge that these students live in households which fall into different categories:
Those who have computers or smartphones with 4G internet access.
Those with smartphones but limited or no internet access.
Those with television with cable or DTH.
Those with a radio set or a basic mobile phone with FM radio.
And those with no communication devices at all.
Recommended Screen Time
For classes 1 to 8, it has recommended two online sessions of up to 45 minutes each while for classes 9 to 12, four sessions of 30-45 minutes duration have been recommended.
Survey Advised
It advises schools to first survey their own students before making decisions about the mode of teaching.
Synchronous & Asynchronous Teaching
There are two kinds of online learning and teaching that schools will need to balance based on the feasibility:
Synchronous: This is real-time teaching and learning that can happen collaboratively and at the same time with a group of online learners or even individually, and usually a teacher, or some method of instant feedback; examples are online teaching through video conference ,audio conference using satellite or telecommunication
Asynchronous: This is anytime, anywhere learning but not connected on real time, for example, emails, SMS, MMS, surfing e-content on DIKSHA, listening to radio, podcasts, watching TV channels, etc.
Cyber Safety and Privacy Measures
It recommends ethical practices including precautions and measures for maintaining cyber safety.
Physical Health and Mental Wellness
Adequate physical and mental health practices need to be adopted while pursuing digital education. Poor ergonomic practices, prolonged exposure to digital devices and lack of physical activities can have a negative impact on the physical and mental wellbeing of a person.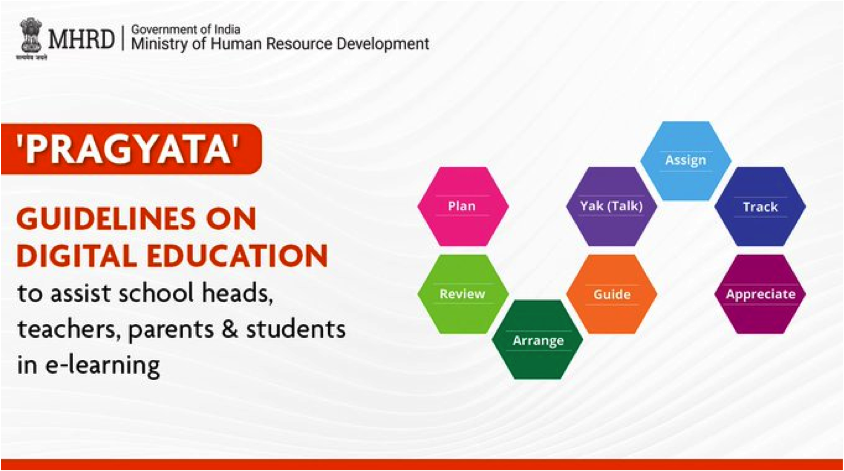 Significance
These guidelines on Digital/ Online Education provide a roadmap or pointers for carrying forward online education to enhance the quality of education.
The Guidelines emphasize the need to unify all efforts related to digital/ online/on-air education, benefitting school going children across the country.
This will help students, teachers, parents, heads and other stakeholders to learn online safety practices and provide a safe and secure digital learning environment.
National Initiatives for Digital Education and Teacher Preparation
PM e-Vidya Program
It was launched on 17th May, 2020. As a comprehensive initiative, PM eVIDYA envisions to unify all efforts related to digital/ online/on-air education, benefitting nearly 25 crore school going children across the country. The initiative includes:
DIKSHA- One Nation One Digital Platform
DIKSHA, a globally unique, made in India initiative for effective teaching and administration has increased its footprints manifold since the time of its inception. The primary audience of DIKSHA is students, teachers and parent communities due to the ability of DIKSHA to break the barrier of access and provide contextualized content in 18 languages.
TV Channels- SWAYAM PRABHA
SWAYAM PRABHA is a group of 32 DTH channels devoted to telecasting high quality educational programmes.
The programmes cover school education across grades providing modules for teacher's training as well as teaching and learning aids for children of India through 4 channels to help them understand the subjects better and help them in preparing for competitive examinations for admissions to professional degree programmes.
It focuses on providing one channel per grade with a sample weekly schedule to help teachers and students understand the modules to be emphasized upon during the week.
Radio and Community Radio
Mukt Vidya Vani (MVV) i.e. Open Education Radio facility will provision educational and informational content for better learning. The web radio will ensure learners with a stream of audio that can be paused/replayed.
Radio Vahini FM 91.2 MHz, the Community Radio Station of NIOS is a means of extending education to school dropouts, learners enrolled through ODL, urban women and to marginalized sections of the society with access to radio.
CBSE Podcasts: Shiksha Vaani is an audio-based learning initiative of CBSE and is available via Android App store. The podcasts cover various subjects of secondary and senior secondary level and are available in English and Hindi.
Special eContent for Visually and Hearing Impaired
NIOS offers content for specially abled students such as content in Indian sign language for hearing impaired learners and ePub and DAISY enabled 'talking books' for visually impaired learners.
Online Coaching
The Department of Higher Education has provisioned for online learning for preparation of competitive examinations to bridge the divide among the students due to private coaching.
Initiatives To Boost Education Sector
---
On 17th May, 2020, the government announced several initiatives to boost education sector across the country.
Need
Investing in the human capital is equivalent to an investment in productivity and prosperity of the nation.
The present pandemic situation has presented new challenges and several opportunities for our education system.
Major Initiatives
PM e-VIDYA
A comprehensive initiative called PM e-VIDYA will be launched which unifies all efforts related to digital/online/on-air education. This will enable multi-mode access to education. It includes the following-
DIKSHA (one nation-one digital platform) which will now become the nation's digital infrastructure for providing quality e-content in school education for all the states/UTs.
TV (one class-one channel) where one dedicated channel per grade for each of the classes 1 to 12 will provide access to quality educational material.
SWAYAM online courses in MOOCS format for school and higher education.
IITPAL for IITJEE/NEET preparation.
Air through Community radio and CBSE Shiksha Vani podcast.
Study material for the differently abled developed on Digitally Accessible Information System (DAISY) and in sign language on NIOS website/ YouTube.
Manodarpan Initiative
This initiative is being launched to provide such support through a website, a toll-free helpline, national directory of counselors, interactive chat platform, etc.
This initiative will benefit all school going children in the country, along with their parents, teachers and the community of stakeholders in school education.
Expanding e-Learning in Higher Education
Government is expanding e-learning in higher education – by liberalizing open, distance and online education regulatory framework.
Top 100 universities will start online courses.
Also, online component in conventional Universities and ODL programmes will also be raised from present 20% to 40%.
This will provide enhanced learning opportunities to nearly 7 crore students across different colleges and Universities.
New National Curriculum and Pedagogical Framework
There is a need to promote critical thinking, creative and communication skills, along with experiential and joyful learning for the students focussing on learning outcomes.
Therefore, it has been decided to prepare a new National Curriculum and Pedagogical Framework for school education, teacher education and early childhood stage to prepare students and future teachers as per global benchmarks.
National Foundational Literacy and Numeracy Mission
This Mission will be launched, for ensuring that every child in the country necessarily attains foundational literacy and numeracy in Grade 3 by 2025.
For this, teacher capacity building, a robust curricular framework, engaging learning material – both online and offline, learning outcomes and their measurement indices, assessment techniques, tracking of learning progress, etc. will be designed to take it forward in a systematic fashion.
This mission will cover the learning needs of nearly 4 crore children in the age group of 3 to 11 years.
Impact
The host of initiative will help transform the education system and bring out holistic development of students of the country.
It will boost the access and equity in education and improve the gross enrolment ratio in the times to come.
Further, it will ensure learning for all, with equity, so as to cover all students at all levels of education and in all geographical locations, even in the remotest parts of the country.
Mizoram Revokes Forest Rights Act
---
On November 19th, 2019, the Mizoram government passed a resolution revoking the implementation of the Scheduled Tribes and Other Traditional Forest Dwellers (Recognition of Forest Rights) Act, 2006 (FRA).
Mizoram had passed a resolution implementing the Act on October 29, 2009. The Act has been applicable in the state since December 21, 2009.
Using the special provisions guaranteed under the Article 371(G), the state government passed the resolution revoking the FRA.
Reason for Revoking
The Mizoram Government alleged that FRA directly encroached on the special status the state enjoyed under Article 371 (G) of the Constitution of India.
Another reason given by state government is regarding the stoppage of funds by the Union government since 2014-15 for the implementation FRA. Union Ministry of Tribal Affairs, in its Project Appraisal Committee meeting held on April 8, 2015, declined the state's proposal for Rs 10 lakh for the implementation of the Act in the state, following which the state never got funds for the same from the Centre.
Article 371 (G)
Article 371(G) of the Constitution gives special status to the state of Mizoram and provides that the Parliament cannot decide on the matters of religious and social practices of the Mizos, civil and criminal law of the land, land ownership transfer, and customary law procedure without the consent of the state assembly.
The provision came into effect in 1986 following the signing of the historic Mizo Accord between the Centre and the erstwhile underground Mizo National Front (MNF).
It grant special provision with respect to the State of Mizoram Notwithstanding anything in this Constitution,
(a) No Act of President in respect of
religious or social practices of the Mizos
Mizo customary law and procedure
administration of civil and criminal justice involving decisions according to Mizo customary law
ownership and transfer of land, shall apply to the State of Mizoram unless the Legislative Assembly of the State of Mizoram by a resolution so decides: Provided that nothing in this clause shall apply to any Central Act in force in the union territory of Mizoram immediately before the commencement of the Constitution (Fifty third Amendment) Act, 1986;
(b) the Legislative Assembly of the State of Mizoram shall consist of not less than forty members"
According to the 2017 State of Forest Report by the Forest Survey of India, around 20 percent of the total 5,641 square kilometres of the forest land in Mizoram is "Unclassed Forest" which is under Autonomous District Councils.(Note: A big chunk of forests in the state is owned by the Lai, Mara and Chakma Autonomous District Councils).
A significant part of forests that are traditionally controlled and managed by the community fall within this category of unclassed forest.
The area of unclassed forest is lowest in Mizoram, among all North Eastern states which meanthat the potential for FRA implementation is also the highest in the state.
Impact
With a major portion of the geographical area of Mizoram state under forest cover, and communities having ownership on those lands, revoking FRA can be seen as a means to keep the forest land with the forest departments for later diversion.
Forest Rights Act, 2006
The Scheduled Tribes and Other Traditional Forest Dwellers (Recognition of Forest Rights) Act, 2006, was enacted to protect the marginalised socio-economic class of citizens and balance the right to environment with their right to life and livelihood.
The Act grants legal recognition to the rights of traditional forest dwelling communities, partially correcting the injustice caused by the forest laws.
Eligibility Criteria for FRA
Any person belonging to a Scheduled Tribe can claim individual rights to live in and cultivate up to four hectares provided ,he occupied it and was dependent on it as of December 13, 2005. Non-tribals, in addition to this requirement, will have to prove their family's residence in the vicinity of the forest land for 75 years prior to December 2005.
The Gram Sabha is the concerned authority to initiate the processor determining the nature and extent of individual orcommunity forest rights or both that may be given to theforest dwelling Scheduled Tribes and other traditional forestdwellers within the local limits of its jurisdiction under the Act.
Special Rights Provided under FRA
Individual Forest Rights
Any person belonging to a Scheduled Tribe can claim rights to live in and cultivate up to four hectares provided she has occupied it and was depended on it as of December 13, 2005.
In case of a non-tribal, in addition to this requirement, she will have to prove her family's residence in the vicinity of the forest land for 75 years prior to December 2005.
Community Forest Rights
The Act recognises the rights of a gram sabha over forest land within the traditional boundaries of a village or seasonal use of landscape in case of pastoral communities. This allows the villagers to own and collect, use and dispose of minor forest produce besides timber and the right to use grazing land and water bodies, among others.
Community Forest Resource Rights
The most significant part of the Act, this rights give the gram sabha the right to protect and manage their forest. No project can come up in the forest nor can any conservation plan for the forest be carried out without the approval of the gram sabha.
Process of Recognition of Rights
On receipt of intimation from the Forest Rights Committee, the officials of the Forest and Revenue departments shall remain present during the verification of the claims and the verification ofevidences on the site and shall sign the proceedings with their designation, date and comments.
If any objections are made by the Forest or Revenue departments at a later date to a claimapproved by the Gram Sabha, for the reason that their representatives were absent during fieldverification, the claim shall be remanded to the Gram Sabha for re-verification by the committeewhere objection has been raised and if the representatives again fail to attend the verificationprocess the Gram Sabha's decision on the field verification shall be final.
Significance of FRA
The Act secures -
Community Rights or rights over common property resources of the communities in addition to their individual rights
Rights in and over disputed land Rights of settlement and conversion of all forest villages, old habitation, un-surveyed villages and other villages in forests into revenue villages
Right to protect, regenerate or conserve or manage any community forest resource which the communities have been traditionally protecting and conserving for sustainable use.
Right to intellectual property and traditional knowledge related to biodiversity and cultural diversity
Rights of displaced communities
Rights over developmental activities
Bharatiya Poshan Krishi Kosh
---
On 18th November, 2019, the Union Ministry of Women and Child Development (WCD) along with Bill Gates, co-chair of Bill & Melinda Gates Foundation launched the Bharatiya Poshan Krishi Kosh (BPKK), to address the menace of growing malnutrition in the country.
Aim
To reduce malnutrition through multi-sectoral results-based framework which includes agriculture, among women and children
To promote primary dietary practices
Need
Increasing Modern Food System: The advent of modern food systems has resulted in a loss of knowledge on and consumption of traditional and local nutrient-rich foods in favour of less nutritious industrialised and processed food products, leading to rise in health related issues in all age groups.
Lack of Diet Diversity: There is lack of diet diversity in the country, which is one of the major reasons for the prevailing malnutrition.
Rice and Wheat Dominance: In the last few decades, only two cereals- rice and wheat has been the mainstay of the Indian diet, over shadowing all other nutritional cereal grains.
About BPKK
The BPKK will serve as a repository of diverse crops across 128 agro-climatic zones in India for better nutritional outcomes.
In consultation with WCD Ministry and the foundation, the project team will select around 12 high focus states which are representative of the geographical, social, economic, cultural and structural diversities of India.
In each of the states or group of states the team will identify a local partner organization which has relevant work experience in Social and Behavior Change Communication (SBCC) and nutrition for developing the food atlas-Poshan Atlas.
Further, a five-point action programme has been proposed to make India nutrition secure-

To ensure calorie rich diet for women, expectant mothers and children
To ensure intake of proteins in the form of pulses to eradicate protein hunger in women and children
To eradicate hidden hunger due to deficiency of micro nutrients like vitamin A, vitamin B, Iron and Zinc
To ensure clean drinking water supply
To spread nutrition literacy in every village particularly in mothers with children less than 100 days' old

The five point action programme aligns with different Sustainable Development Goals (SDGs) such as SDG 2 (Zero Hunger), SDG 3 (Good Health and Well Being) and SDG 6 (Clean Water and Sanitation).
Poshan Atlas
The ministry along with the Harvard Chan School of Public Health and the Bill and Melinda Gates Foundation will document and evaluate promising regional dietary practices and the messaging around them and develop a India's First Poshan Atlas, under POSHAN Abhiyan, government's multi-ministerial convergence mission with the vision to ensure attainment of malnutrition free India by 2022.
Importance
The POSHAN atlas will map the crops and food grains grown in different regions of the country because the solution to tackling malnutrition lies in promoting regional cropping patterns and embracing local food that are rich in protein.
The information gained through the Atlas will be disseminated at the district level for implementation through cooperative tasks among all the stakeholders - farmers, food supply intermediaries and consumers
Significance
Guiding Force: It would serve as guiding force, propelling parents and communities to rethink on what to feed and what to consume.
Push for Behaviour Change: Awareness and knowledge about our crop diversity and regional variations in nutritious food will provide a nudge for behaviour change across the country propelling demand which, in turn, will provide opportunities to farmers and agro-processing units to address consumer needs.
Different Collaboration for Better Result: Further, the project would see government, academia, the scientific community, private sector and cultural groups join hands and take a major step towards finding local, workable solutions to be implemented at community levels.
Global Hunger Index – 2019
---
On 16th October, 2019, annual Global Hunger Index (GHI), a report jointly published by Irish aid agency Concern Worldwide and German NGO Welthungerhilfe was published.
The 2019 GHI - the 14th in series, presents a multidimensional measure of global, regional, and national hunger around the globe.
Major Highlights of the Report
India and Neighbouring Countries Findings
India is ranked 102 of 117 countries in the GHI, 2019, behind its neighbouring countries. Its GHI score has also decelerated — from 38.9 in 2005 to 32 in 2010 and then from 32 to 30.3 between 2010 and 2019, putting it in the serious hunger category.
The share of wasting among children in India rose from 16.5% in the 2008-2012 period to 8% in 2014-2018.
India's child wasting rate is extremely high at 20.8% - the highest wasting rate of any country in this report for which data or estimates were available.
India's child stunting rate, 37.9%, is also categorized as very high in terms of its public health significance.
However, India has shown improvement in other indicators such as the under-5 mortality rate, prevalence of stunting among children and prevalence of undernourishment owing to inadequate food.
The report also mentions the central government's Swachh Bharat programme.
Neighbouring countries like Nepal (73), Sri Lanka (66), Bangladesh (88), Myanmar (69) and Pakistan (94) are also in the serious hunger category, but have fared better at feeding its citizens than India, according to the report.
China (25) has moved to a low severity category and Sri Lanka is in the moderate severity category.
Global Findings
Out of 117 countries that were ranked, 43 countries have serious levels of hunger.
South Asia and Africa South of the Sahara are the regions with the highest 2019 GHI scores, at 29.3 and 28.4 respectively, indicating serious levels of hunger.
One African country, the Central African Republic, suffers from a level that is extremely alarming, while four countries—Chad, Madagascar, Yemen, and Zambia—suffer from levels of hunger that are alarming.
The GHI scores for Eastern Europe and the Commonwealth of Independent States, Latin America and the Caribbean, East and Southeast Asia, and the Near East and North Africa range from 6.6 to 13.3, indicating low or moderate hunger levels.
Seventeen countries, including Belarus, Ukraine, Turkey, Cuba and Kuwait, shared the top rank with GHI scores of less than five.
Global Hunger Index
The GHI scores are based on a formula that captures three dimensions of hunger—insufficient caloric intake, child undernutrition, and child mortality—using following four component indicators:

Undernourishment: The share of the population that is undernourished, reflecting insufficient caloric intake.
Child Wasting: the share of children under the age of five who are wasted (low weight-for-height, reflecting acute undernutrition.
Child Stunting: the share of children under the age of five who are stunted (low height-for-age, reflecting chronic undernutrition.
Child Mortality: the mortality rate of children under the age of five (partially reflecting the fatal synergy of inadequate nutrition and unhealthy environments).

The GHI ranks countries on a 100-point scale, with 0 being the best score (no hunger) and 100 being the worst, although neither of these extremes is reached in actuality.
Values less than 10.0 reflect low hunger; values from 10.0 to 19.9 reflect moderate hunger; values from 20.0 to 34.9 indicate serious hunger; values from 35.0 to 49.9 are alarming; and values of 50.0 or more are extremely alarming.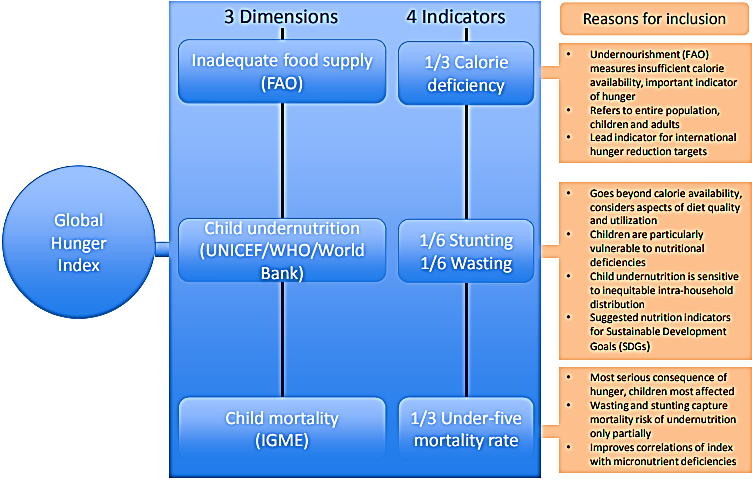 Source: ZEF
Significance
The Global Hunger Index (GHI) is a tool designed to comprehensively measure and track hunger at global, regional, and national levels.
It shows that while the world has made gradual progress in reducing hunger on a global scale since 2000, this progress has been uneven. Hunger persists in many countries, and in some instances progress is even being reversed. The GHI highlights where more action is most needed.
This year's report focuses on climate change, an increasingly relevant threat to the world's hungry and vulnerable people that requires immediate action.
Impact of Climate Change on Food Security
Climate change has direct and indirect negative impacts on food security and hunger through changes in food production and availability, access, quality, utilization, and stability of food systems.
Impacts on Food Production
Food production is likely to fall in response to higher temperatures, water scarcity, greater CO2 concentrations in the atmosphere, and extreme events such as heat waves, droughts, and floods.
.Climate change will also increasingly affect water resources for food production as it alters the rates of precipitation and evaporation as well as groundwater levels. At present, 1.8 billion people - just under one-quarter of the world population—live in water-stressed areas, and this number is expected to grow to about half of the world population by 2030.
Climate-related disasters, namely droughts, floods, and storms, account for 80 percent of all internationally reported disasters.
Impacts on Food Access
Climate change can affect food prices and consequently food access, impacting badly a major chunk of hunger ridden population around the world.
Given the high degree of cross-connectedness between global food systems, more frequent and extreme events in one region have the potential to disrupt the entire global food system.
Low-income countries are understandably deeply concerned about their food security and their capacity to adapt to climate change, especially given that low-income countries and vulnerable people cannot easily absorb or adjust to sudden shocks.
Impacts on Food Quality and Nutrition
Climate variability can also affect nutrition and food safety in several ways. Climate change may reduce production and thus reduce food availability even further. Alternatively, it may extend the lean season, thus exacerbating the negative effects on people's nutrition.
In addition, climate change can worsen the nutritional value of the food that is cultivated. Higher CO2 concentrations reduce the protein, zinc, and iron content of crops. As a result, by 2050 an estimated additional 175 million people could be deficient in zinc and an additional 122 million people could experience protein deficiencies. These impacts will be felt most keenly by people living in poverty, who depend heavily on plant sources for their nutrition.
Climate change will also affect other crops and food sources that are essential for good nutrition and food security.
Finally, erratic rainfall and higher temperatures affect the quality and safety of food. Higher rainfall intensity leads mold to grow on field crops, with some strains producing toxins, such as aflatoxins, that can lead to stunting among children.
Inadequate post-harvest management practices as the result of changing growing conditions lead not only to loss of food in terms of quantity but to a degradation in quality, including its nutritional value.
Impacts on Food Value Chain
A changing climate may worsen food losses in a global food system in which massive amounts of food are already lost or wasted.
Given that the current food system contributes 21–37 % of total net anthropogenic emissions, these losses exacerbate climate change without contributing to improved food security or nutrition.
It can exacerbate this situation in low- and middle-income countries. Changing rainfall patterns can make crops more vulnerable to pests and fungal infections, leading to losses in both food quantity and quality.
Way Forward
Climate change is affecting the global food system in ways that increase the threats to those who currently already suffer from hunger and under nutrition.
In this context, ending hunger and under nutrition demands large-scale action that seeks to address the inequities raised by climate change while staying within planetary boundaries.
It requires ambitious leadership showing that an alternative future, including adaptation and mitigation actions on a broad scale, is possible.
Global solidarity with the most climate-vulnerable communities and countries must be fostered, and high-income countries must take responsibility for mitigating causes and supporting low- and middle-income countries in adapting to these changes.
Furthermore, good governance, capacity building, participatory planning, and downward accountability are essential to help people and institutions negotiate and define measures that are fair and sustainable.
Achieving these goals will require a radical transformation that enables changes in both individual and collective behaviors and values and a fairer balance of political, cultural, and institutional power in society for the benefit of the food security and nutrition of all people.
International Day Of Older Persons
---
On 1st October, 2019, the International Day of Older Persons was observed by United Nations under the theme- The Journey to Age Equality.
Aim
To draw attention to the existence of old age inequalities and highlight intergenerational risk of increased old age inequalities.
To bring awareness to the urgency of coping with existing and preventing future old age inequalities.
To explore societal and structural changes in view of life course policies
To reflect on best practices, lessons and progress on the journey to ending older age inequalities and changing negative narratives and stereotypes involving old age.
Background
On December 14, 1990, the UN General Assembly made October 1 as the International Day of Older Persons. The International Day of Older Persons was observed for the first time on October 1, 1991.
The day is celebrated annually to recognize the contributions of older persons and to examine issues that affect their lives. This day provides anopportunity to acknowledge the contribution, wisdom, dignity and needs of our senior citizens and to rededicate our efforts to ensure their well-being.
Old Age Population Scenario
India has nearly 10 crore elderly people, constituting nearly 8.6% of the total population.
In the next couple of decades, their population is expected to increase manifold.A whopping 1.5 crore elderly Indians live alone, and 75% of them are women.
Between 2017 and 2030, the number of persons aged 60 years or over is projected to grow by 46 percent (from 962 million to 1.4 billion) globally.
Moreover, this increase will be the greatest and most rapid in the developing world.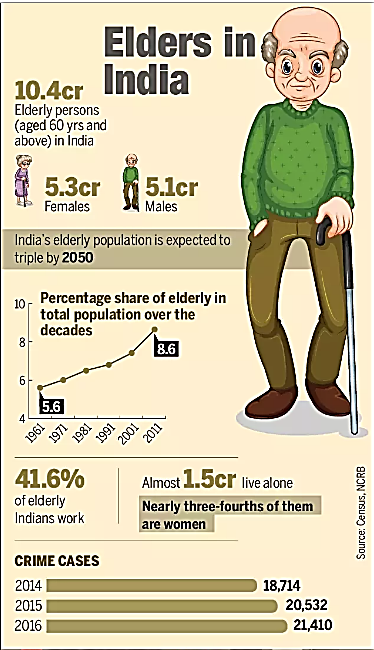 Source: ToI
Significance
Increasing Awareness:The International Day of Older Persons is an opportunity to highlight the important contributions that older people make to society and raise awareness of the opportunities and challenges of ageing in today's world
In align with Sustainable Development Goal:The 2019 theme is aligned with Sustainable Development Goal 10 (SDG 10) and focuses on pathways of coping with existing and preventing future old age inequalities.
Challenges Posed By Ageing Population
Economic Problems
A great anxiety in old age relates to financial insecurity. Economic factors definitely play a major role in generating care for elderly people. As many as 70% aged depend on othersfor their day-to-day maintenance. Thesituation is worse for elderly femaleswhere 85 – 87% are dependent either partially or fully.
Health Problems
Health problems are supposed to be the major concern of a society as older people are more prone to suffer from ill health than younger age groups. It is often claimed that ageing is accompanied by multiple illness and physical ailments.
The existing health care systems are not sufficient to meet the physical and health needs of the ageing population such as old age security, establishing old age homes, expanding geriatric services and liberalizing the welfare policy for older persons.
Lack of Social Support
The elderly in India are much more vulnerable because of the less government spending on social security system. The elderly in urban area rely primarily on hired domestic help to meet their basic needs in an increasingly-chaotic and crowded city. Social isolation and loneliness has increased aggravating the problems of old age people.
Crime against Senior People
The crime against elderly people is increasing day by day in our society, which has emerged as one the major problems faced by these people.
Prevalence of Abuse
Around 60% elders confirmed that elder abuse is prevalent in our society. Of those, who reported prevalence, 88% of them believed its existence is high. Nearly one-fourth (25%) elders have confirmedthey have been victim of abuse ever with no gender variation. The most common form of abusethey experienced was disrespect (56%), verbal abuse (49%) and neglect (33%).
Government Initiatives for Old Age Population
Pradhan Mantri Vaya Vandana Yojana (PMVVY)
Launched in 2017,it is a pension scheme for senior citizens which has been introduced by the government The aim of the scheme is to give senior citizens regular pension.
Rashtriya Vayoshri Yojana (RVY)
Launched in 2017 by the Ministry of Social Justice & Empowerment, the scheme is only available to those senior citizens who are below poverty line(BPL) category who suffer from age-related disabilities such as low vision, hearing impairment, loss of teeth and loco-motor disabilities.
Varishtha Pension Bima Yojana (VPBY)
VPBY was first launched in 2003 and then relaunched in 2014. Both are social security schemes for senior citizens intended to give an assured minimum pension on a guaranteed minimum return on the subscription amount.
Senior Citizens Savings Scheme (SCSS)
It is a deposit scheme introduced by the Government of India to provide guaranteed returns to senior citizens.
Integrated Programme for Senior Citizens (IPSC)
The main objective of the scheme is to improve the quality of life of the Senior Citizens by providing basic amenities like shelter, food, medical care and entertainment opportunities and by encouraging productive and active ageing through providing support for capacity building of State/ UT Governments/Non-Governmental Organizations (NGOs)/Panchayati Raj Institutions (PRIs) / local bodies and the community at large.
Maintenance and Welfare of Parents and Senior Citizens Act, 2007
It was enacted to ensure need based maintenance for parents and senior citizens and theirMaintenance of Parents/ senior citizens by children/ relatives made obligatory and justiciable through Tribunals, penal provision for abandonment of senior citizen, establishment of old age homes and adequate medical facilities and security for senior citizens.
Way Forward
Population ageing is poised to become one of the most significant social transformations of the 21st century.Older people have always played a significant role in society as leaders, caretakers and custodians of tradition. Yet they are also highly vulnerable, with many falling into poverty, becoming disabled or facing discrimination.
Empowering older persons in all dimensions of development, including promoting their active participation in social, economic and political life, is one way to ensure their inclusiveness and reduce inequalities.
National Conference On Criminal Activities And Radicalization In Jails
---
The Bureau of Police Research and Development(BPR&D) is organizing a two-day National Conference on 'Criminal Activities and Radicalization in Jails: Vulnerability of Inmates and Jail Staff and their Protection' on 12th and 13th September.
The conference was inaugurated at BPR&D Headquarters at Mahipalpur, New Delhi.
Key Issues Proposed
To understand various criminal activities at individual and gang levels and consider safety measures for vulnerable inmates and jail staff.
To analyze and formulate the security and protection standards for prison Staffs
To provide an inter-disciplinary platform for correctional personnel and experts to exchange and share their experiences on prison reforms.
Major Issues in Indian Prison
Overcrowding
Congestion in jails has been always a major source of concern. According to statistics available with the National Crime Record Bureau (NCRB) for 2016, over 19 lakh prisoners are lodged at the prisons — indicating that the prisons are overpopulated by around 50,000 inmates.
In some jails in Maharashtra, the occupancy rate is 276%. In Chhattisgarh, it is 233% while in Delhi, it is 226%.
Overcrowding strains prison infrastructure, hampers correctional services, spreads contagious diseases and leads to multiple problems for prison administration including larger incidence of indiscipline and violence, and diversion of prison staff for routine duties such as distribution food, security and guarding
Large Number of Undertrials
Undertrials prisoners are the main reason for overcrowded prisons. It is a reflection of the unduly long process that an accused goes through before being acquitted or convicted. According to NCRB, 2016, there were close to 4,33,000 people in prison at the end of 2016.Of these, 68% were Undertrials , or people who are yet to be found guilty of the crimes they are accused of.
Poor and Unhygienic Living Conditions
The overcrowding in the prisons leads itself to unsatisfactory living conditions. Although the several jails have reformed outlined earlier have focused on issues like diet, clothing and cleanliness, unsatisfactory living conditions continue in many prisons around the country.
The poor sanitary facilities, lack of decent health care increases the likelihood of health problems in prisons.
Staff Shortage
Lack of sufficient staff, especially medical staff is another issue in Indian prisons. An analysis of the sanctioned and actual posted staff strength in jails shows that the actual strength of the jail staff posted against the sanctioned strength in Jharkhand (29.7%), Uttarakhand (32.1%) and Bihar (34.8%) are much below the national average percentage (65.4%).
At all India level, there were 8 inmates for each jail staff in all jails in the country.
Corruption
Corruption by prison staff is common in prisons around the world. Given that the substantial power, for guards exercised over inmates, these problems are predictable, but the low salaries that guards are generally paid severely aggravate them. In exchange for special treatment, inmates supplement guards' salaries with bribes.
Deaths in Jails
Death of an inmate is a matter of serious concern for prison administration. According to the NCRB, the number of "unnatural" deaths in prisons, doubled between 2015 and 2016, from 115 to 231.
Torture and Sexual abuse
Custodial violence and torture continue to be major issues in Indian prisons. Third degree tortures within four walls of prison occur frequently and many times they remain unnoticed. These tortures makes victim to suffer mentally and physically and sometimes it gets long time for them to recover from that trauma.
Physical and sexual violence is a common scenario in prisons especially for women inmates, faced by inmates at the hands of authorities and other prisoners.
Inadequate security measures
Poor security measures and prison management often leads to violent clashes among inmates and resultant injury, death of the inmates. Also in such cases the prison infrastructure gets damaged further adding woes to prison conditions.
Insufficient Legal Aid
The absence of legal aid until the point of trial reduces greatly the value of the country's system of legal representation to the poor. The lawyers are not available at the point when many of them need such assistance.
Steps by Government
Model Prison Manual, 2016
It aims at bringing in basic uniformity in laws, rules and regulations governing the administration of prisons and the management of prisoners all over the country.
Key revisions in the new Manual include-
Access to free legal services
Additional provisions for women prisoners
Rights of prisoners sentenced to death
Modernisation& Prison computerization
Focus on after-care services
Organisational uniformity and increased focus on prison correctional staff
Inspection of Prisons
E-Prison Project, 2018
The Ministry of Home Affairs is supporting the States/UTs in implementing the E-Prisons project that aims to introduce efficiency in prison management through digitization.
The E-prisons project supplements the Prisoner Information Management system (PIMS), developed by National Informatics Centre, which provides a centralized approach for recording and managing prisoner information and generating different kinds of reports.
Important Committees for Prison Reforms
Mulla Committee: All India Committee on Jail Reforms (1980)
The basic objective of the Committee was to review the laws, rules and regulations keeping in view the overall objective of protecting society and rehabilitating offenders.
It recommended a total ban on the heinous practice of clubbing together juvenile offenders with hardened criminals in prisons.
Malimath Committee(2000)
It recommended admissibility of confessions made before a police officer as evidence in a court of law.
It also suggested constituting a National Judicial Commission and amending Article 124 to make impeachment of judges less difficult.
The panel had made 158 recommendations but these were never implemented.
Justice Amitava Roy Committee(2018)
In September, 2018, the Supreme Court formed a Committee on Prison Reforms chaired by former apex court judge, Justice Amitava Roy, to examine the various problems plaguing prisons in the country, from overcrowding to lack of legal advice to convicts to issues of remission and parole, with special focus on various issues concerning women prisoners.
Way Forward
Prison administration is an important element of criminal justice system in India. Though the prison falls under the state list under the constitution of India, yet the Central Government has been taking various steps from time to time in prison reforms and assisting the state in better prison administration.
The government should ensure public participation in correctional services which might prove critical for strengthening the efforts towards reformation of prisoners.
SC Issues Notice For Establishing Community Kitchens
---
Recently, the Supreme Court (SC) agreed to examine a plea that starvation deaths continue to eat into the right to life and dignity of social fabric and a "radical" new measure like community kitchens need to be set up across the country to feed the poor and the hungry.
According to the petition, State-funded community kitchens was not a novel concept in the country and it has urged National Legal Services Authority to formulate a scheme to further the provisions of Article 51A of the Constitution of India in order to mitigate deaths resulting from hunger, malnutrition and starvation.
It also referred to how Rajasthan's Annapurna Rasoi, Indira Canteens in Karnataka, Delhi's AamAadmi Canteen, Anna Canteen in Andhra Pradesh, Jharkhand Mukhyamantri Dal Bhat, Tamil Nadu's AmmaUnavagam and Odisha'sAhaar Centre were combating starvation and malnutrition crisis.
Current Scenario
According to the State of Food Security and Nutrition in the World, 2019, 194.4 million people are undernourished in India. By this measure 5% of the population is undernourished in India.
Food and Agriculture Report, 2018 stated that India houses 195.9 million of the 821 million undernourished people in the world, accounting for approximately 24% of the world's hungry. Prevalence of undernourishment in India is 8%, higher than both the global and Asian average.
According to theNational Health Survey (NHS),2017, approximately 19 crore people in the country were compelled to sleep on an empty stomach every night.
Moreover, approximately 4500 children die every day under the age of five years in our country resulting from hunger and malnutrition, amounting to over three lakh deaths every year owing to hunger, of children alone.
There are statistics available for malnutrition deaths in children and adults in the country;however, there is no official data available for death of persons owing to starvation.
Community Kitchens
Community kitchens are institutions that provide cheap or free nutritious food as a service to the general public usually run by religious institutions or by the state. These are viewed as a complement to the existing schemes of the Government for combating hunger and malnutrition in India.
Examples of Community Kitchen
Tamil Nadu's AmmaUnavagam: Launched by late J. Jayalalithaa's government in Tamil Nadu in 2013, it is a food subsidisationprogramme to provide low-cost quality meals to the public at large.
Anna Canteen, Andhra Pradesh: It was launched in 2018, where breakfast, lunch and dinner are served at Rs. 5 each to the poor and middle class people. However, it was closed down by the current ruling YSRCP government in August, 2019.
Annapurna Rasoi Scheme, Rajasthan: It was launched in 2016 to provide quality meal at cheap price to poor and needy on lines with Tamil Nadu Government's Amma canteens.
Odisha'sAhaar Centre: Launched in April 2015, the scheme guarantees cooked rice and dalma at Rs. 5 at places of public congregations in the urban areas.
Benefits of Community Kitchens
Employment Generation: One immediate benefits of CK is the creation of employment especially for women and other vulnerable sections of the society and help in breaking the cycle of constant of poverty. As a part of the Self Help Group(SHG) network, the women are helped to come together in groups to undertake safe livelihood activities so that they do not have to engage in manual labor to earn a living during this vulnerable period.
Measure to Food Security: The concept of CK will also act as a measure of food security for elderly and disabled and would effectively tackle the malnourishment in children.
Reduces Corruption: It helps in the elimination of the middle man which reduces the probability of corruption.
4th Edition Of Women Transforming India Awards
---
On 9th August, 2019, the central government think tank NITI Aayog under its Women Entrepreneurship Platform(WEP) launched the fourth edition of Women Transforming India (WTI) Awards 2019 following the theme 'Women and Entrepreneurship'.
WTI Awards is being organised in collaboration with the United Nations to recognise women entrepreneurs from across India. Facebook-owned chat messaging company WhatsApp has collaborated with NITI Aayog for WTI Awards 2019 and will be providing support amounting to $100K to the winners.
About Women Transforming India Award
It is one of the flagship events of NITI Aayog, launched in 2016 as an online contest.
Through a highly objective and rigorous selection process, women entrepreneurs doing motivational work from diverse sectors like Renewable Energy, Education, Sanitation, Art and Culture, Social Innovation and Impact, are recognized and felicitated.
Over 5,000 women entrepreneurs are registered on the platform, more than 30 partners and havea committed funding of over US$10mn for these startups.
Purpose:
The idea behind is to award and showcase exceptional women entrepreneurs who have struggled through and have challenged stereotypes through enterprises and initiatives that offer innovative solutions to cater to key development challenges and/or impact communities.
It recognizes women, who are flag bearers of the next wave of innovations and aims to connect them with potential business opportunities, through NITI Aayog's WEP.
Aim:
It aims to promote and support aspiring as well as established women entrepreneurs in India, assist and handhold them in their journey from starting to scaling up and expanding their ventures.
Significance:
The initiative is one of the government's continued efforts to support women entrepreneurship and provide better opportunities for them to grow their business with access to infrastructure, capital as well as mentorship.
It recognizes women entrepreneurs who are challenging and breaking stereotypes, through businesses and enterprises and are providing innovative developmental solutions to building a dynamic New India as well as the achievement of
Challenges for Women Entrepreneur:
Gender Inequality
In Indian society, the women have to deal with gender inequality at every level and stage of life. India has been a patriarchal society in the past where the role of women was relegated largely to domestic duties.
Even today, women have to continuously fight male egos, sexism and misogyny to prove their caliber and competence. They have to fight the notion that women cannot achieve what men can.
Despite rapid growth, existence of wide gender disparities hasnot seemed to decrease in the economic sphere. The outcome has been a dire waste of human potential,creating hindrance to the overall development. Though the situation is changing but there is still a long way to go before we achieve gender equality.
Social Stigma
Social barriers along with religion and caste also continue to come in the way of women with entrepreneurial ambitions, especially in rural and semi-urban areas. More importance is given to marriage and family life than career and social life in Indian society even today.
Inadequate Female Education and Skilled Training
Education is another major issue in women entrepreneurships. Due to a lack of education and that also qualitative education, women are losing awareness of bright business ventures, market knowledge and technologies, eventually things get scrap after some time.
Women, especially outside of the metros, did not have access to specialized training to hone their skills and abilities.
Limited Mobility
One of the major factors that has an implication on any business are the primary household responsibilities towards her family that a woman is expected to take up;this leads to division of time between the two worlds. Thus, her mobility is restricted.
Lack of Credit
Credit support is considered as the lifeblood for any entrepreneur, whether it is a big or small venture. Women generally do not have enough property that they can use them as resource for their ventures. So, the fund always remains a major constrain for them.
In addition, the banks and other financial institutions consider women as less creditworthy and discourage them from borrowing on the belief that they can at any time leave their hold on business. Thus, women ventures eventually fail in the beginning due to having a shortage of financial support.
Safety and Security Issues
In today's times, probably this is the biggest obstacle for women in India, making women hesitate to take on roles that demand long hours and interactions with a world of strangers.
The rising trend of social crime and the need for safety pushes everything down the priority list, hampering the growth and development of any initiative by women.
Government's Initiative for Promoting Women Entrepreneurs
Mudra Yojana for Women
It is for women who want to start a small enterprise such as a beauty parlour, tuition center, tailoring unit, etc. It is also useful for a group of women who want to startup together. It provides refinance support to Banks / MFIs / NBFCs for lending to micro units having loan requirement upto 10 lakh.
Trade Related Entrepreneurship Assistance and Development(TREAD) Scheme
It aims to empower women by providing credit to projects, conducting specific training and counselling, and eliciting information on related needs. The scheme provides for a government grant of upto 30 percent of the total project cost as appraised by lending institutions.
Mahila Udyam Nidhi Scheme
Offered by Small Industries Development Bank of India (SIDBI), this scheme provides financial assistance of up to Rs 10 lakh to set up a new small-scale venture. It also assists with upgrading and modernisation of existing projects.
Annapurna Scheme
This scheme applies to women entrepreneurs who have started a food catering unit. They can avail a loan of up to Rs 50,000 to purchase kitchen equipment such as utensils and water filters. A guarantor is required to secure the loan.
Stree Shakti Package For Women Entrepreneurs
It is offered to women who have majority ownership (over 50 percent) in a small business. The women also need to be enrolled in the Entrepreneurship Development Programmes (EDP) organised by their respective state agency.
Bhartiya Mahila Business Bank Loan
Under this, Bharatiya Mahila Bank provide a loan of upto Rs 20 crore for women business owners of manufacturing enterprises. Under the Credit Guarantee Fund Trust for Micro and Small Enterprises, there is no need for collateral for loans up to Rs 1 crore.
Udyogini Scheme
Women entrepreneurs between the ages of 18 and 45, who are involved in agriculture, retail and similar small businesses, can avail loans up to Rs 1 lakh under this scheme. Further, her family's annual income should be below Rs 45,000 in order to avail the loan.
Support to Training and Employment Programme for Women (STEP)
It intends to provide training in skills development to ensure employment opportunities to women and enable them to become self-employed entrepreneurs. Under this scheme, grants are provided to institutions and organisations (including NGOs) to impart training programme.
Way Forward
Women are the backbone of not just their own homes but also the economy of a nation. The effect of globalization and its upcoming riches are being indulged in as competitively as the menfolk in the country. And women entrepreneurs in India are being acknowledged and appreciated not just nationally but globally.
Yes, the challenges and hurdles exist, but women seem determined to overcome them. It is no wonder that Indian women entrepreneurs are now boldly going where they have never gone before.
India's Declining Total Fertility Rate
---
According to recently released Sample Registration System data of 22 states, Total Fertility Rate (TFR) for India has declined to 2.2 in 2017 after being stable at 2.3 between 2013 and 2016.
Total Fertility Rate (TFR)
TFR may be defined as average number of children that would be born to a woman if she experiences the current fertility pattern throughout her reproductive span (15-49 years).
The total fertility rate is a more direct measure of the level of fertility than the birth rate, since it refers to births per woman. This indicator shows the potential for population change in a country.
A TFR of about 2.1 children per woman is called replacement-level fertility, which means a population that is stable, neither rising nor falling.Population starts falling below this level.
Rural Vs Urban TFR
The TFR has more than halved in both urban and rural areas, falling even below the replacement level in the former where it is 1.7, down from 4.1 in 1971.
In rural areas, TFR has fallen from 5.4 to 2.4 during the same period. For rural areas, it varies from 1.6 in Delhi and Tamil Nadu to 3.3 in Bihar.
For urban areas, the variation is from 1.1 in Himachal Pradesh to 2.4 in Uttar Pradesh and Bihar. Of the 22 states, only six have a TFR of 2 or more in urban areas.
It goes below 2 in both urban and rural areas, where girls complete schooling and reduces further as they pass college. Bihar, with the highest TFR of 3.2, had the maximum percentage of illiterate women at 26.8%, while Kerala, where the literacy rate among women is 99.3%, had among the lowest fertility rates.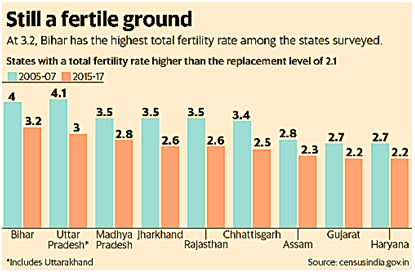 Age Group TFR
The 25-29 age groupsis the most fertile, except in Bengal, Chhattisgarh, Andhra Pradesh and Maharashtra, where it peaked between 20 and 24.
Only Jammu &Kashmirhits the peak after 30.
Reasons for Declining TFR
Increasing awareness(Access to information either via local healthcare workers or via other form of media)
Better education
Late marriage
Financially independent women
Better Access of Health care and reproductive health care
Rapid Pace of Urbanisation (Eliminating the need for more children to work in the Farms)
General dip in fertility levels due to health and lifestyle reasons
Indication for Government
India has entered into period of demographic dividend, which could spell faster economic growth and higher productivity.
As such, the government needs to engineer its policies to harness the opportunity. It must also formulate policies to take care of higher medical costs as the population ages and productivity shrinks.
As more people live away from their parents, India will also need to have an affordable social security system that provides pension to the elderly and takes care of their daily needs and medical expenses.
India's Demographic Dividend
Since 2018, India's working-age population (people between 15 and 64 years of age) has grown larger than the dependent population-children aged 14 or below as well as people above 65 years of age. This bulge in the working-age population is going to last till 2055, or 37 years from its beginning.
Demographic Dividend(DD)
The DD is the economic growth potential that can result from shifts in a population's age structure, mainly when the share of the working-age population (15 to 64) is larger than the non-working-age share of the population (14and younger, and 65 and older)
It is the name given by Harvard economists David Bloom and David Canning to the boost in economic growth that can result from changes in a country's population age structure.
How DD Increases Economic Growth?
It can increase economic growth through six channels-
Increasing Labour Force: The first channel is through the swelling of the labour force, as more people reach working age.
Increased Fiscal Space: The second channel is the increased fiscal space created by the demographic dividend to divert resources from spending on children to investing in physical and human infrastructure.
Rise in Women's Workforce:The third channel is the rise in women's workforce that naturally accompanies a decline in fertility, and which can be a new source of growth.
Increase in Savings Rate:The fourth is the increase in savings rate, as the working age also happens to be the prime period for saving.
Additional Boost to Savings: The fifth channel is an additional boost to savings that occurs as the incentive to save for longer periods of retirement increases with greater longevity.
Shift towards Middle Class Society:The sixth channel is a massive shift towards a middle-class society that is already in the making.
Way Forward
India has the advantage of a longer span of the demographic dividend due to the differences in the patterns in demographic transition across states.
The benefits of the demographic dividend can be reaped only if sufficient investments are made for basic infrastructure, health, educational attainment, and skill upgradationof the workforce, apart from the creation of sufficient numbers of suitable jobs to provide employment to the expanding workforce.
It is necessary that people in the working age are gainfully employed and that those working have proper education and skills so that they are productive in the workplace. Otherwise, the demographic dividend can also turn into a demographic burden.
Bombay HC Approves Reservations For Marathas
---
The Bombay High Court on 27 June, 2019 upheld reservation for Marathas in the State on the basis of the recommendations of Maharashtra State Backward Class Commission (MSBCC).
Relevance of the News: The news highlights the backwardness of the Maratha community and also the various aspects of the reservation law India.
Details of the Verdict:
The Bombay HC upheld the reservations for Maratha community in admissions in educational institutions and jobs in the State.
The court announced that the State legislature is adept to enact the Maharashtra State Reservation for Seats for Admission in Educational Institutions in the State and for appointments in the public services and posts under the State (for Socially and Educationally Backward Classes) SEBC Act, 2018, and the State legislative's competence is not in any way affected by the Constitution.
However, the court quashed the 16% quota set aside by the Act for Maratha community and revised it to 12% for education and 13% for jobs as proposed by MSBCC.
As per the court, the classification of Maratha community as backward by the Gaikwad Commission in November 2018 is justified under the test of reasonable classification permissible under Article 14 (equality before the law).
With this judgment the reservation in Maharashtra now stands at 70%, including 10% for economically weaker sections thus breaching the 50% quota limit set by the SC in the post-Mandal era.
The ruling will ignite similar demands in other states for example Jat reservations in Haryana etc.
High Court Justifies the 50% Breach in Limit:
The HC observed that in the Indira Sawhney case the SC laid certain conditions on the basis on which 50% limit can be breached. These conditions have been justified by the Gaikwad Commission in its report. Therefore, the breach of limit is valid in this case.
In the Indira Sawhney case the SC laid that the 50% limit of reservation can be crossed subject to availability of quantifiable and contemporaneous data reflecting backwardness, inadequacy of representation and without affecting the efficiency in administration.
Gaikwad Commission:
The commission was set up to recommend if Maratha community can be declared as socially and educationally backward.
It consisted of 11 members and was constituted in June 2018 and it submitted its report in November 2018.
The Commission in its recommendations declared the Maratha community as socially and educationally backward class of citizens (SEBC) and stated that the community has inadequate representation in the services under the State.
Kolam Tribes
---
Why is it in News?
Kolam tribals of Adilabad district are in fear again of someone casting an evil eye on them after the death of three children of the group. Earlier, the superstitious nature of the tribe often has villagers shifting locations.
About Kolam Tribals:
Kolam are a designated Scheduled Tribe in the Indian states of Andhra Pradesh, Chhattisgarh, Madhya Pradesh and Maharashtra.
They practice agriculture and have a patriarchal society.
Kolam tribals are listed as Particularly Vulnerable Tribal Group (PVTG) in the state of Maharashtra and Andhra Pradesh.
Kolam tribals speak Kolami language.
Other Tribal Groups in News:
Toda Tribe:
Toda people are a Dravidian ethnic group who live in the Nilgiri Mountains of Tamil Nadu.
The life of Toda people is dependent upon the Shola forest of the Nilgiri region. They worship mainly the forces of nature like hills, mountains etc.
They live in small thatched houses which are called dogles/munds, primarily built with bamboo, grass and cane.
'Pukhoor' is the hand embroidery craft of the Toda people that is mainly done by women. This embroidery of the tribe has been given the Geographical Indicator Tag.
Monpa Tribe:
The Monpa tribe is a major ethnic group of Arunachal Pradesh in northeastern India.
They are also one of the 56 officially recognized ethnic groups in China.
Monpa people are completely dependent upon the cattles/animals like sheep, yak etc. for their survival.
Their languages have usually been assumed to be a part of the Tibeto-Burman languages separate from the Tibetic cluster. They are written with the Tibetan alphabet.
Source: TH
Chenchu Tribes
---
Why is it in News?
Chenchus believe that domesticating Fox ushers an era of fortune to the tribe.
About Chenchus:
The Chenchus are a Particularly Vulnerable Tribal Group (PVTG are categorized by Ministry of Home Affairs), living in dense jungles spread across the states of Andhra Pradesh, Telangana and Odisha.
They are amongst the oldest aboriginals of South India.
The Chenchus speak the Chenchu language, which is of Dravidian origin.
They reside in the forest clad hills of Krishna River and forest of Nallamala (near Nagarjunsagar Srisailam Tiger Reserve)
They generally use axe and bows for their self defence.
Chenchus brew their own liquor called as 'Thummachakka' with acacia bark, mahua flower and jaggery, which they consume after a hunt.
Source:
TH
Konyak Dance & Konyak Tribes
---
Why is it in News?
On 5th April, 2019, around 4,700 Konyak Naga women came together in an attempt to set a Guinness World Record for the 'Largest Traditional Konyak Dance' in the world.
About Konyak Tribes:
Out of the 16 tribes of Nagaland, Konyak tribe is the major tribes of Nagaland and they mainly reside in the Mon District of Nagaland.
The distinguishing features of these tribes includes tattoos all over their body (chest, calves, forehead etc.) and pierced ears.
It has to be kept in mind that they are not only present in the states of Nagaland, but are present in states of Arunachal Pradesh and Assam too.
Festivals of Konyak Tribes:
It has been observed that UPSC has been asking about the fairs and festivals of the tribes which are in news therefore this segment becomes relevant for the prelims.
Festivals of Konyak Tribes are:
1. Aoleng Manyu Festival- a festival celebrated in the first week of April to welcome the spring. It is the biggest festival of the Konyaks.
2. 'Lao Ong Mo' Festival: It is the traditional harvest festival celebrated in the months of August/ September.
Source: IE, TH
Apatani & Ziro Valley
---
Why is it in News?
From 20-30th March, Myoko Festival is celebrated annually in the Ziro Valley by the Apatani Tribe.
About Apatani Tribe:
The Apatani, or Tanw, are a tribal group of people living in the Ziro Valley in the Lower Subansiri district of Arunachal Pradesh.
Apatanis have followed the tradition of facial modification/ tattooing by plugging their nose with wood (This plugging of nose is called 'Yaping'). This was done purposely to make women look unattractive to males of other tribes.
Religious Practice:
They worship the forces of nature i.e. Sun and the Moon.
Occupation of Apatani People:
The Apatanis are primarily into farming. They are famous for the sustainable and efficient methods that they have been following to cultivate rice. The farm lands are built on flat lands and therefore, wet rice cultivation is followed along with pisciculture. They don't use any machines or chemical fertilizers.
Seeing their sustainable method of coexistence Apatani cultural landscape has been put in tentative list of UNESCO World Heritage Sitein 2014 .
About Ziro Valley:
Ziro Valley lies tucked in the lower ranges of the Eastern Himalayas in the state of Arunachal Pradesh in north-east India.
It comprises of about 32 km2 of cultivable areas out of 1058 km2 of plateau, undulated by small hillocks.
Apatani tribes reside in this valley of Arunachal Pradesh.
Source: en.unesco.org, TH
Dongria Kondh
---
Why is it in News?
The Supreme Court has ordered the eviction of nearly 10 lakh forest dwellers whose claims has been rejected, but these tribal groups have decided to resist the order of SC.
About Dongria Kondh:
The Dongria Kondh people are members of the Kondhs, of the Munda ethnic group. They are primarily located in the Niyamgiri hills in the state of Odisha, but they are also found in the states of Telangana and Andhra Pradesh.
They sustain themselves from the resources of the Niyamgiri forests, practicing horticulture and shifting cultivation.
They consider themselves to be the royal descendants of Niyam Raja (Mountain God).
Niyam Raja Festival is celebrated with great pomp and show by these tribals.
The language spoken by these people is 'Kui'. They are one among the 75 PVTG declared by government.
About the Niyamgiri Hills:
Niyamgiri hills are one of the most pristine forest of India which spreads over 250 sq.km. under the Rayagada and Kalahandi District in south-west Odisha. It is bound by the Karlapat Wildlife Sanctuary on the north-west side and Kotgarh Wildlife Sanctuary on the north-east end.
Source: TH
---