Department of Fisheries Launch Matsya Sampada Jagrukta Abhiyan
---
On 15th September, 2023, the Matsya Sampada Jagrukta Abhiyan program was launched, marking the completion of three successful years of Pradhan Mantri Matsya Sampada Yojna (PMMSY).
Key Points
Objectives of the Campaign: Matsya Sampada Jagrukta Abhiyan aims to enhance outreach across India and ensure 'last-mile connectivity.'
The campaign will run for six months from September 2023 to February 2024, featuring 108 events.
It focuses on disseminating information and knowledge about the achievements of the Government of India over nine years, highlighting beneficiary success stories, and reaching 2.8 crore fish farmers and 3477 coastal villages.
Background: Pradhan Mantri Matsya Sampada Yojana (PMMSY) is the flagship scheme of the Department of Fisheries, Ministry of Fisheries, Animal Husbandry & Dairying, Government of India, launched on September 10, 2020, to promote the fisheries sector's growth.
PMMSY consolidates efforts from various schemes and initiatives to boost India's fisheries sector, contributing to income generation, employment, and technology infusion.
India Launches Unified Portal for Agricultural Statistics (UPAg)
---
On 15th September, 2023, India introduced the Unified Portal for Agricultural Statistics (UPAg), an innovative online platform developed by the Ministry of Agriculture and Farmers' Welfare (DA & FW), marking a significant milestone in agricultural data management.
Key Points
Reduced Search Costs: The UPAg Portal is envisioned as a public good, reducing search costs and enhancing access to reliable, detailed, and unbiased agricultural data.
Crop Estimates and Integration: The platform is designed to generate crop estimates and integrate with other systems that produce agriculture statistics, including price, trade, procurement, and stock data, according to an official statement.
Tackling Data Challenges: The Agriculture Ministry stated that the UPAg portal would address various challenges such as the absence of standardized data, unverified data, and scattered data.
Facilitating Data-Driven Decisions: The Agriculture Ministry stated that the UPAg initiative aims to offer real-time, standardized, and verified agricultural commodity data, enabling data-driven decision-making for policymakers, researchers, and stakeholders.
India and WOAH Partner to Strengthen Pandemic Preparedness with a One Health Approach
---
On September 11th and 12th, 2023, the Ministry of Fisheries, Animal Husbandry & Dairying, Government of India, along with the World Organisation for Animal Health (WOAH) conducted a multi-sectoral workshop titled "Risk-based management of spill over events in wildlife in India" in Hyderabad.
Key Points
Key Objectives of the Workshop: The workshop focused on four primary objectives:
Enhancing stakeholder knowledge about wildlife-origin disease risk analysis.
Conducting a comprehensive gap analysis of India's risk assessment and management.
Simulating disease spillover scenarios.
Fostering communication and awareness among relevant stakeholders.
Importance of Cross-Sectoral Collaboration: The workshop's conclusion emphasized the significance of adopting a One Health approach and promoting cross-sectoral collaboration for effective pandemic preparedness.
Global Collaboration for Pandemic Mitigation: The joint efforts of WOAH and the Government of India in this workshop demonstrate their commitment to building a safer, healthier, and more sustainable world in a context where the health of wildlife, domestic animals, and humans is interlinked.
First Global Symposium on Farmers' Rights Launched
---
On 12th September, 2023, the President of India officially opened the inaugural Global Symposium on Farmers' Rights in New Delhi.
Key Points
Symposium Organizers: The symposium is organized by the Secretariat of the International Treaty on Plant Genetic Resources for Food and Agriculture (International Treaty), under the Food and Agriculture Organization (FAO) in Rome.
India's Biodiversity: India, despite occupying only 2.4 percent of the world's land area, is home to 7-8 percent of recorded plant and animal species globally.
It boasts a vast agro-biodiversity, which has been a valuable resource for the global community.
Indian farmers have preserved local plant varieties, domesticated wild plants, and nurtured traditional varieties that have served as the foundation for crop breeding programs, ensuring food and nutritional security.
Significance of Farmers: The President acknowledged farmers as the foremost conservers of crop diversity, emphasizing their vital role in protecting and reviving various plant and species varieties essential to humanity.
Government Releases Report on 6th Census of Minor Irrigation Schemes
---
On 26th August, the Ministry of Jal Shakti, Department of Water Resources, River Development and Ganga Rejuvenation unveiled the findings of the 6th census on minor irrigation schemes.
Key Points:

Scheme Distribution: The country reports a total of 23.14 million minor irrigation (MI) schemes, with 94.8% being Ground Water (GW) schemes and 5.2% Surface Water (SW) schemes.
Groundwater and Surface Water Breakdown: Uttar Pradesh, Maharashtra, Madhya Pradesh, Tamil Nadu, and Telangana lead in Groundwater schemes, while Maharashtra, Karnataka, Telangana, Odisha, and Jharkhand excel in Surface Water schemes.
Scheme Types: GW schemes include dugwells, shallow tube wells, medium tube wells, and deep tube wells, while SW schemes comprise surface flow and surface lift schemes.
Increase in MI Schemes: The 6th census shows a rise of about 1.42 million MI schemes compared to the previous census.
National Growth: GW schemes increased by 6.9%, and SW schemes increased by 1.2% nationally.
Dominant Scheme Types: Dug-wells lead, followed by shallow tube-wells, medium tube-wells, and deep tube-wells.
Ownership and Usage: 97.0% of MI schemes are 'in use', 2.1% are 'temporarily not in use', and 0.9% are 'permanently not in use'.
Ownership Pattern: 96.6% of MI schemes are privately owned, with a higher share in GW schemes (98.3%) than SW schemes (64.2%).
Inclusion of Gender Data: For individually owned schemes, 18.1% are owned by women.
Finance Sources: Around 60.2% of schemes have a single source of finance, while 39.8% have multiple sources.
Single Source of Finance: Majority (79.5%) of schemes with a single source are financed by individual farmers' savings.
'A-HELP' Programme
---
Under the Azadi Ka Amrit Mahotsav, the Union Government launched the 'A-HELP' (Accredited Agent for Health and Extension of Livestock Production) initiative and an Infertility Camp in Gujarat, with a focus on empowering women and enhancing livestock productivity.
Key Points
Empowering Women and Livestock: The 'A-HELP' programme and Infertility Camp are poised to empower women, boost livestock productivity, and drive socio-economic progress.
Women as Agents of Change The 'A-HELP' programme engages women as trained agents to contribute to disease control, Rashtriya Gokul Mission (RGM) through artificial insemination, animal tagging, and livestock insurance.
Pashudhan Jagrati Abhiyaan: Aligned with the Azadi Ka Amrit Mahotsav, the Pashudhan Jagrati Abhiyaan emphasizes equipping farmers with knowledge and resources for livestock health, disease management, and animal infertility.
Workshops and Awareness Camps: State Veterinary Universities and Animal Husbandry Departments collaborate to conduct workshops and awareness camps.
Enhancing Livestock Well-being: The initiative provides essential nutritional supplements, mineral mixtures, dewormers, and medicines through collaboration with Indian Immunological Ltd.
Training Sessions: Practical training sessions for students aim to enhance scientific livestock management techniques, benefiting rural communities.
Socio-economic Impact and Department Vision: These efforts are expected to elevate rural communities' socio-economic prospects, reinforcing India's global livestock market presence.
Revolutionary IoT-based Soil Testing System "Bhu-Vision" Launched at ICAR-IIRR
---
On 3rd August, a groundbreaking advancement in agricultural technology, the IoT-based automated soil testing and agronomy advisory platform, Bhu-Vision (also known as KRISHI-RASTAA Soil Testing System), was officially introduced at ICAR-IIRR, Hyderabad.
Key Points:

Collaborative Effort: The technology, jointly developed by ICAR-IIRR and KrishiTantra, was manufactured by HiMedia Laboratories and marketed by BhoomiSeva (HCF Tech Services Pvt. Ltd.).
Efficient Testing: Bhu-Vision conducts 12 key soil parameter tests in just 30 minutes, providing quick and accurate results to farmers and stakeholders through mobile-based soil health cards.
Symbolic Handover: The launch featured the symbolic handover of 25 Bhu-Vision devices to ICAR-IIRR, demonstrating the partnership between technology providers and the institute.
Promising Future: The launch of Bhu-Vision marks a promising future for agricultural technology, contributing to the nation's soil health map and enhancing understanding of the agricultural landscape.
Indian Prime Minister Launches "Urea Gold" Coated with Sulphur
---
On 27th July, 2023, India's Prime Minister introduced "Urea Gold," a new variety of urea coated with sulphur, during an event in Rajasthan's Sikar, along with several other initiatives to support farmers in the state.
Key Points:

Urea Gold: Addressing Sulphur Deficiencies: Urea Gold is a novel type of urea that comes coated with sulphur, designed to tackle sulphur deficiencies in the soil.
It is hailed as an "innovative fertiliser," offering improved nitrogen use efficiency, reduced consumption, and enhanced crop quality compared to neem-coated urea.
Economical and Efficient: The slow-release mechanism of nitrogen due to sulphur coating provides plants with sustained nutrients.
The fertiliser's composition ensures less urea usage, while offering more nourishment to boost crop yield.
Added Humic Acid for Enhanced Longevity: Urea Gold incorporates added humic acid, further extending its effectiveness.
It is estimated that 15 kg of Urea Gold provides benefits equivalent to 20 kg of conventional urea, making it an efficient substitute for urea consumption.
Other Pro-Farmer Projects Launched: In addition to Urea Gold, Prime Minister also launched the 14th Instalment of PM KISAN Scheme and inaugurated various projects in the state.
He introduced the onboarding of 1500 Farmer Producer Organisations (FPOs) on Open Network for Digital Commerce (ONDC).
Dedication of PM Kisan Samriddhi Kendras (PMKSKs): During the event, PM dedicated 1.25 lakh PM Kisan Samriddhi Kendras (PMKSKs) to the nation. T
These centres aim to provide comprehensive support to farmers, offering information on agricultural inputs, testing facilities for soil, seeds, and fertilisers, as well as details about various government schemes.
Ministry of Agriculture Launches BHARAT Campaign
---
The Ministry of Agriculture & Farmers Welfare has launched the BHARAT (Banks Heralding Accelerated Rural & Agriculture Transformation) campaign. This campaign is part of the Agri Infra Fund (AIF) and aims to raise Rs 7200 crore to support agricultural and rural development initiatives.
Key Points:
Duration and Operational Period: The BHARAT campaign will run for one month, starting from July 15, 2023, to August 15, 2023.
Purpose of the AIF: The Agri Infra Fund (AIF) was introduced in July 2020 to offer comprehensive financial assistance to farmers, agri-entrepreneurs, FPOs (Farmer Producer Organizations), PACS (Primary Agricultural Credit Societies), Cooperatives, and SHGs (Self-Help Groups).
The fund's focus is on creating post-harvest management infrastructure and developing community farming assets across the nation.
Funds: A total of 1 Lakh Crore will be provided by banks and financial institutions as loans under the AIF, with an interest subvention of 3% per annum.
Credit Available: The Credit Guarantee Fund Trust for Micro and Small Enterprises (CGTMSE) scheme will offer credit guarantee support for loans up to Rs 2 crore.
Supervision: The AIF's functioning will be managed and monitored through an online Management Information System (MIS) platform. To ensure effective monitoring and feedback, National, State, and District level monitoring committees will be established.
Tenure of AIF operations: The AIF's operational period spans from FY2020 to FY2029 (10 years).
Five Agricultural Products of Kerala granted GI Tag
---
Recently in December, 2022 five agricultural products of Kerala- Attappady Attukombu Avara, Attappady Thuvara, Onattukara Ellu, Kanthalloor-Vattavada Veluthulli, and Kodungalloor Pottuvellari have been granted Geographical Indication (GI) status.
With the latest five GIs, 17 agricultural products of Kerala facilitated by the Kerala Agricultural University have received the GI status.
This achievement is the result of the team work of Kerala Agricultural University, Department of Agriculture, and farmer groups of the respective areas.
The unique features of the products, imparted by the agro-climatic conditions of the geographical area of their production, are the basis for getting geographical indication tag.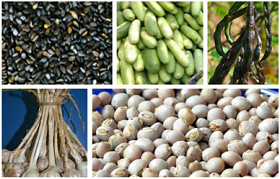 Other GIs Tags awarded
Adding to the present collection of Geographical Indications (GIs), nine new items, including -
Gamocha of Assam
Tandur red gram of Telangana
Raktsey Karpo apricot of Ladakh, and
Alibag white onion of Maharashtra
Highlights of the Agriculture Products
Attappady Attukombu Avara

(Beans)

It is curved like a goat's horn as its name indicates.
Its higher anthocyanin content compared to other dolichos beans imparts violet colour in the stem and fruits.
Anthocyanin is helpful against cardiovascular diseases along with its anti-diabetic properties.
The higher phenolic content of Attappady Attukombu Avara imparts resistance against pest and diseases, making the crop suitable for organic cultivation.

Attappady Thuvara

(Red Gram)

It is having seeds with white coat.
Compared to other red grams, Attappady Thuvara seeds are bigger and have higher seed weight.

Onattukara Ellu

(Sesame)

Onattukara Ellu and its oil are famous for its unique health benefits.
Relatively higher antioxidant content in Onattukara Ellu helps in fighting the free radicals, which destroy the body cells.
Also, the high content of unsaturated fat makes it beneficial for heart patients.

Kanthalloor-Vattavada Veluthulli

(Garlic)

Compared to the garlic produced in other areas, this garlic contains higher amount of sulphides, flavonoids, proteins and also rich in essential oil.
It is rich in allicin, which is effective against microbial infections, blood sugar, cancer, etc.

Kodungalloor Pottuvellari

(Snapmelon)

This snap melon, which is harvested in summer, contains high amount of Vitamin C.
Compared to other cucurbits, nutrients such as calcium, magnesium, fibre and fat content are also high in Kodungalloor Pottuvellari.
About GI Tag
Recognised by the World Trade Organization (WTO), GI is used to denote the geographical territory from where a product, be it agricultural produce, natural product, or manufactured.
It conveys the assurance of quality, distinctiveness, and attributes that are unique to that specific geographic region/place of origin.
India became a signatory to this convention, when, as a member of WTO, it enacted the Geographical Indications (Registration and Protection) Act, 1999, which came into effect on September 15, 2003.
To protect the GI of goods, a GI registry has been established to administer the GI of Goods (Registration and Protection) Act, 1999, under the Controller General of Patents, Designs & Trade Marks.
Asian Palm Oil Alliance
---
The apex edible oil industry associations from five major palm oil importing countries in Asia have come together for the first time to form an alliance -- Asian Palm Oil Alliance (APOA).
APOA was launched during the Globoil Summit at Agra on September 21. The summit is one of the World's Leading Edible Oils and Agri Trade Conference, Exhibitions & Awards.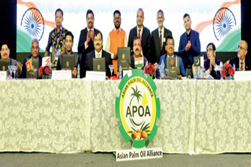 Countries under the Alliance
The alliance is between industry bodies of India, Pakistan, Sri Lanka, Bangladesh and Nepal.
In the coming year, the membership would be further expanded to include other select companies or industry organisations operating in the production or refining of palm oil across the continent.
Objective
The Alliance is expected to safeguard the economic and business interests of the palm oil consuming countries and create a level playing field for all fats and oils used in food, feed and oleochemicals in Asia. It will further work towards increasing the consumption of sustainable palm oil in member countries.
The alliance commits to work worldwide to ensure that palm oil is recognised as a high-quality, economical, and healthy vegetable oil and to change the negative image of palm oil.
Secretariat
The secretariat of the newly-formed alliance would initially be managed by The Solvent Extractors' Association (SEA) of India - India's edible oil industry body.
First President of Asian Palm Oil Alliance (APOA)
In the first general body meeting of the Alliance, Atul Chaturvedi, the President of SEA, was elected as the first Chairman.
Note: India is the largest importer of palm oil in Asia, accounting for 15% of global imports, followed by China (9%), Pakistan (4%) and Bangladesh (2%).
Natural Farming
---
Recently, the Prime Minister addressed a Natural Farming Conclave, organised in Surat, Gujarat.
About Natural Farming
It is a chemical-free alias traditional farming method.
It is considered as agroecology based diversified farming system which integrates crops, trees and livestock with functional biodiversity.
It is considered as a cost- effective farming practices with scope for raising employment and rural development.
It is known by various names like; Zero Budget Natural Farming, Prakrithik Krishi, Cow Based Natural Farming, Shashwat Kheti, Chemical Free Agriculture, etc.
Nature farming is derived from Mokichi Okada's philosophy of abandoning the use of all chemical fertilizers and pesticides.
In India, Natural farming is promoted as Bharatiya Prakritik Krishi Paddhati Programme (BPKP) under centrally sponsored scheme- Paramparagat Krishi Vikas Yojana (PKVY).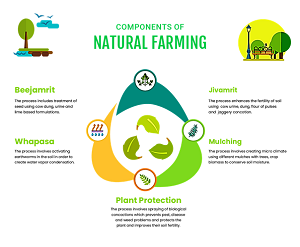 Benefits
Increase Yield
Natural Farming aims to increase yields by maximizing production factors like labour, soil, equipment and by avoiding the use of non-natural inputs like fertilizers, herbicides and pesticides.
Nutritious Crops
Natural farming provides food of good quality due to proper soil management.
The use of animal manure to improve the health of the soil supplies the crops with necessary nutrients like nitrogen, phosphorus, and potassium.
Boost to Farmers' Income
It aims to make farming viable and aspirational by increasing net incomes of farmers on account of cost reduction, reduced risks, similar yields, incomes from intercropping, increasing crop intensity along with availing fair price of the crop grown.
Preserve Biodiversity
Biodiversity can also be developed and nurtured through natural farming.
The place where natural farming operates is an ideal habitat for various species because it allows them to breathe clean air that makes them naturally healthy and resistant to illness.
Mitigate Climate Change
Natural farming fights against climate change.
Admittedly, the use of synthetically made fertilizers and pesticides to cultivate crops and livestock contributes a huge amount of greenhouse gases such as nitrous oxide, carbon dioxide, and methane.
Protect Water Quality
Aside from reducing the impact of climate change, natural farming can also improve the composition of water by decreasing the amount of preservatives which usually contaminates the water.
Organic Farming
It is a production system which avoids or largely excludes the use of synthetically compounded fertilizers, pesticides, growth regulators, genetically modified organisms and livestock food additives.
Similarities between Natural Farming And Organic Farming
Natural and organic both are chemical free and more or less poison free farming methods.
Both systems discourage farmers from using any chemical fertilizers, pesticides on plants and in all agricultural practices.
Both farming methods encourage farmers to use local breeds of seeds, and native varieties of vegetables, grains, pulses and other crops.
Organic and natural farming methods promote nonchemical and homemade pest control methods.
Difference between Natural Farming & Organic Farming
Cost: Organic farming is more expensive than natural farming because it requires using large amounts of organic fertilizers and manure on the land bought from those who sell them.
Effort: Organic farming wants activities such as mixing of manures or compost, plowing, and tilting whereas there is no plowing or tilting or fertilizers in natural farming. "In natural farming, decomposition of organic matter by microbes and earthworms is encouraged right on the soil surface itself, which gradually releases nutrients into the soil".
Environmental Impact: Organic farming has an effect on the surrounding environment while natural farming does not and it conforms to local biodiversity.
Cabinet Approves Implementation of PMKSY
---
Recently, the Union government approved the extension of the Pradhan Mantri Krishi Sinchayee Yojana (PMKSY) till 2026 — a move expected to help fund irrigation projects that will increase water supply across northern India.
As a part of the scheme, Accelerated Irrigation Benefit Programme (AIBP), Watershed Development and Har Khet ko Paani (HKKP) components have been extended for 2021-26.
About PMKSY
It was launched in 2015 as an umbrella scheme that provides central grants to the State Governments for specific activities.
Implementing Agency: Ministries of Agriculture, Water Resources, and Rural Development
Aim
To provide assured irrigation to cultivated areas.
To reduce wastage of water and improve water-use efficiency.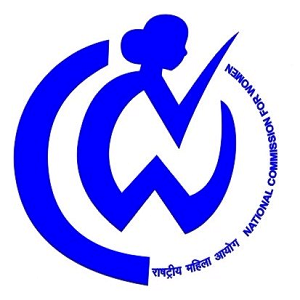 Components
Accelerated Irrigation Benefits Programme (AIBP)
Implementation: Department of Water Resources, River Development and Ganga Rejuvenation, Ministry of Jal Shakti.
Aim: It provides financial support to irrigation projects.
Watershed Development
Implementation: Department of Land Resources, Ministry of Rural Development
Aim: To regenerate ground water.
Per Drop More Crop
Implementation: Department of Agriculture and Farmers Welfare, Ministry of Agriculture & Farmers Welfare.
Aim: Promoting efficient water conveyance and precision water application devices.
"Dairy Sahakar" Scheme Launched
---
"Dairy Sahakar" scheme was launched at Anand, Gujarat on 31st October 2021 during the function organised by Amul for celebration of 75th Foundation Year of Amul.
The Dairy Sahakar with a total investment of Rs 5000 crore will be implemented by National Cooperative Development Corporation (NCDC) under Ministry of Cooperation, Government of India to realize the vision, "from cooperation to prosperity".
Under Dairy Sahakar, financial support will be extended by NCDC to eligible cooperatives for activities such as bovine development, milk procurement, processing, quality assurance, value addition, branding, packaging, marketing, transportation and storage of milk and milk products, exports of dairy products within the overall objectives of "Doubling the farmers' income" and Atmanirbhar Bharat".
There will also be a convergence with various schemes of Government of India and / or of State Government/UT Administration/ Development agencies/ bilateral/multilateral assistance/ CSR mechanism is encouraged.
The Department of Animal Husbandry and Dairying under Ministry of Fisheries, Animal Husbandry and Dairying, Government of India is also implementing various schemes for development of the Animal Husbandry and dairy sector. This Dairy Sahakar will supplement the existing efforts for strengthening the dairy sector in the country.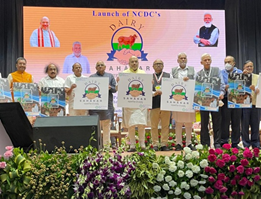 (Source: PIB)
Revamping of Pradhan Mantri Fasal Bima Yojana
---
Aiming to roll out an overhauled Pradhan Mantri Fasal Bima Yojana (PMFBY) from kharif 2022, the government has constituted a working group comprising officials from Centre, key crop-producing states and top executives of public sector insurance companies to suggest "sustainable, financial and operational models."
Need
The move comes after many states quit the scheme, defeating the objective of protecting farmers' income.
Aim
With a view to achieving sustainable underwriting capacities of insurers and rationalised premium pricing to cut subsidy burden on the government, the working group is expected to address the demand of an alternative model.
Issues with the Scheme
Premium
The Centre has identified a hardening of premium market, lack of sufficient participation in tenders, inadequate underwriting capacity of insurers as major issues that adversely impacted PMFBY during implementation of the scheme.
The premium to be paid by farmers is fixed at 1.5% of the sum insured for rabi crops and 2% for Kharif crops, while it is 5% for cash crops under PMFBY. The balance premium is split equally between the Centre and states. Many states have demanded their share of the premium subsidy be capped at 30% while some others demand the Centre to bear the entire subsidy.
Fall in Enrollment
According to provisional data of 19 states (excluding Karnataka), there is over 10% fall in enrollment of farmers under crop insurance during Kharif 2021 from last season's 1.68 crore. (Karnataka is not included since this year's Kharif data of the state is yet to be uploaded in the central portal).
Among major producing states namely Chhattisgarh, Madhya Pradesh, Maharashtra, Odisha, Rajasthan, Tamil Nadu and Uttar Pradesh the fall in enrollment is in the range of 2-75%.
Low Coverage
It is a concern as less than 12% of 14.6 crore land owning farmers are covered under crop insurance during kharif despite the fact that 52% of the country's farm land does not have assured irrigation facility and depends on monsoon.
Current Status of the Scheme in some States
Exits: Gujarat, Andhra Pradesh, Telangana, Jharkhand, West Bengal and Bihar exited the scheme, citing the cost of the premium subsidy to be borne by them.
Never Implemented: The state of Punjab has not implemented crop insurance scheme.
States with their own Schemes: Bihar, West Bengal and Andhra Pradesh have their schemes under which farmers do not pay any premium, but they receive a fixed amount of compensation in case of crop failure.
Why Revival of the Scheme is Important?
No other scheme than PMFBY will ensure a stable income during calamities.
It will also be a big setback for government's target to double farmers' income.
What will the Working Group do?
Work on Premium: The working group will find out reasons for high premium rates and suggest mechanism to rationalize them including the option of creating a risk pool.
Define Role of States: It will define role of state governments, as they are the implementing agencies.
Settlement of Claims: Other issues to be looked into by the group also include a detailed study on the feasibility to adopt suitable technology-based approaches for early settlement of claims by modifying traditional methodology of Crop Cutting Experiments (CCEs) for loss estimation.
About the Group
The newly formed group, headed by CEO of PMFBY (Ritesh Chauhan), will have principal secretaries (agriculture) of Maharashtra, Madhya Pradesh, Rajasthan, Gujarat, Assam, Tamil Nadu, Uttar Pradesh and Odisha as members.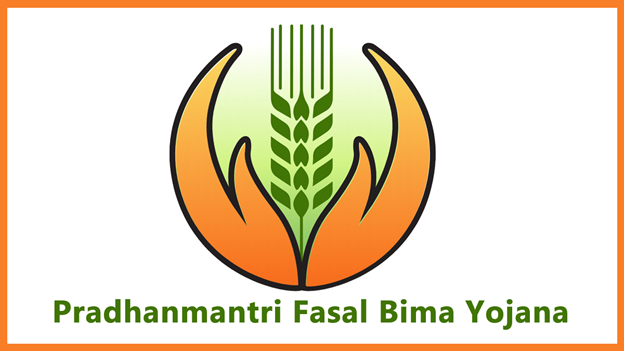 (Source: Financial Express)
'Kanyakumari Clove' Gets GI Tag
---
The clove grown in the hills of Kanyakumari district in Tamil Nadu has been awarded a geographical indication (GI).
Due to the moderate temperature prevailing in Kanyakumari district, the fragrances in the cloves evaporate in small quantities, thus making it possible to obtain concentrated essential oils.
The total production of cloves in India is 1,100 metric tons. Of this, 1,000 metric tons is produced in Tamil Nadu every year. Kanyakumari district alone produces 750 metric tons of cloves.
Cloves cultivated in Kanyakumari district are rich in Eugenol Acetate, a chemical that is highly available in essential oils.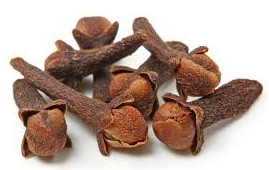 Assam's Rice Wine 'Judima' receives GI Tag
---
Assam's traditional Judima wine has been awarded the Geographical Indication (GI) tag.
It is made from rice and a certain herb and widely popular among the Dimasa tribals.
Judima is inseparable from the social and cultural life of the Dimasas.
This is the second product from the hill districts of Karbi Anglong and Dima Hasao to get GI tag after ginger of Karbi Anglong was awarded GI tag.
Judima is the first beverage from the Northeast to get this honour.
Naga Cucumber receives GI Tag
---
Nagaland's "sweet cucumber" was awarded a geographical identification (GI) tag as an agricultural product under provisions of The Geographical Indications of Goods (Registration and Protection) Act, 1999.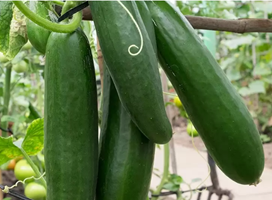 Source: thenortheasttoday.com
The cucumber is one of the most important crops in the Northeast region.
Nagaland has the fifth-highest cultivation of this fruit area-wise, and ranks third in production.
Speciality
Naga cucumber is recognised for its sweetness and unique green colour.
Naga cucumbers are juicy, soft, and sweet. They are grown completely organically.
Naga cucumbers are a kind of fruits that differ in taste, shape and sizes from those available in other areas.
They are low in calories but high in potassium and contain a high level of water and can serve as an alternative to consuming sports drinks.
Other GI Products from Nagaland
Naga Mircha
Naga Tree Tomato
Chakhesang Shawls
About GI Tag
The GI tag is an important sign used on products with a specific geographical origin and reputation and denotes the authenticity of not only the product, but the method in which it was produced.
The GI tag is meant to protect the truly unique traditions of communities from being appropriated by large industries, and thus allow these regions economic prosperity by manufacturing, producing, and marketing their traditional knowledge.
'Hathei Chilli' & 'Tamenglong' Orange of Manipur got GI Tag
---
The famous Hathei Chilli and Tamenglong Orange of Manipur have received the Geographical Index (GI) tag.
Manipur has been promoting these two produce by celebrating the Orange Festival every December and Sirarakhong Hathei festival every August for over a decade now.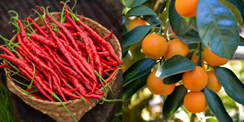 About the New GI Products
Tamenglong Orange: It is a unique fruit crop found mostly in Tamenglong district which contributes over 50% of the state's annual production. It is famous especially for its well-blended sweetness and acidic taste.
Hathei Chilli: It is one of the best varieties of chillies with a distinct flavour and colour, grown in Sirarakhong village in Ukhrul district.
Promotion Of Agroforestry In Silk Sector
---
The Ministry of Agriculture and Farmers Welfare on 7th March 2021 signed a Memorandum of Understanding (MoU) with the Central Silk Board under the Ministry of Textiles on a convergence model for the implementation of Agroforestry in the silk sector under the ongoing Sub-Mission on Agroforestry (SMAF) Scheme.
Aim
To incentivize the farmers to take up sericulture based Agroforestry models.
This linkage will add another dimension to agroforestry for faster returns to the growers as well as support the production of the range of silks that India is famous for.
About Sub-Mission on Agroforestry (SMAF)
The Department of Agriculture, Cooperation and Farmers Welfare (DAC & FW) has been implementing the Sub-Mission on Agroforestry (SMAF) since 2016-17 as part of the recommendation of the National Agroforestry Policy 2014. At present, the scheme is being implemented in 20 States and 2 UTs.
Aim of SMAF Scheme: SMAF aims to encourage farmers to plant multi-purpose trees together with the agriculture crops for climate resilience and an additional source of income to the farmers, as well as enhanced feedstock to inter alia wood-based and herbal industry.
There is a concerted effort to include medicinal, fruits, fodder, tree-borne oilseeds, lac host etc. in addition to the longer rotation timber species.
SMAF Scheme & Sericulture
The initiative of formalizing the collaboration in the sericulture sector is especially targeted for augmentation of sericulture host plants e.g. Mulberry, Asan, Arjuna, Som, Soalu, Kesseru, Bada Kesseru, Phanat, etc. to be cultivated both as block plantations and border or peripheral plantations on farmlands.
Benefits to Farmers: Planting sericulture based tree species on the farm bunds and rearing silkworms has the potential of creating additional income opportunities for farmers besides their regular source of income from agriculture activities.
Pradhan Mantri Fasal Bima Yojana
---
Recently, Maharashtra has become the first state in the country to seamlessly integrate its land records with the web portal of the Pradhan Mantri Fasal Bima Yojana (PMFBY).
This integration has been rolled out during the 2019-20 rabi season, with farmers accessing their land details online at the enrollment centres.
Maharashtra presents an interesting scenario with farmers not opting for crop loans enrolling for the scheme with their own money. Farmers who opt for bank loans are automatically enrolled for the scheme.
Need
Taking advantage of the lack of stringent verification process, several cases of over-insurance (insurance of more land than in possession) as well as insurance of ineligible people has been noted in recent times.
Also there were instances of people insuring the same land parcel multiple times.
Impact
This integration will help make the process of enrollment for crop insurance easy as well as help plug the leaks in the process, leading to the better implementation of PMFBY.
Pradhan Mantri Fasal Bima Yojana (PMFBY)
Launched in 2016, PMFBY provides a comprehensive insurance cover against failure of the crop thus helping in stabilising the income of the farmers.
PMFBY replaced the National Agricultural Insurance Scheme (NAIS) and Modified National Agricultural Insurance Scheme (MNAIS).
The Weather-Based Crop Insurance Scheme (WBCIS) remains in place, though its premium rates have been made the same as in PMFBY.
State governments have the authority to decide whether they want PMFBY, WBCIS or both in their respective states.
Objectives
To provide insurance coverage and financial support to the farmers in the event of failure of any of the notified crop as a result of natural calamities, pests & diseases.
To stabilise the income of farmers to ensure their continuance in farming.
To encourage farmers to adopt innovative and modern agricultural practices.
To ensure flow of credit to the agriculture sector.
Salient Features
Coverage of Farmers: The scheme covers loanee farmers (those who have taken a loan), non-loanee farmers (on a voluntary basis), tenant farmers, and sharecroppers.
Coverage of Crops: Every state has notified crops (major crops) for the Rabi and Kharif It covers all Food & Oilseeds crops and Annual Commercial/Horticultural Crops.
Premium Rates: It fixes a uniform premium of 2 percent of the sum insured, to be paid by farmers for all Kharif crops, 5 percent of the sum insured for all Rabi crops, and 5 percent of sum insured for annual commercial and horticultural cropsor actuarial rate, which ever is less, with no limit on government premium subsidy.
Area-based Insurance Unit: It operates on the basis of 'Area Approach' i.e., Defined Areas for each notified crop for widespread calamities.Thus, all farmers in a particular area must pay the same premium and have the same claim payments.
Coverage of Risks: It aims to prevent sowing/planting risks, loss to standing crop, post-harvest losses and localised calamities. The sum insured is equal to the cost of cultivation per hectare, multiplied by the area of the notified crop proposed by the farmer for insurance.
Use of Innovative Technology: It recommends the use of technology in agriculture. For example, using drones to reduce the use of crop cutting experiments (CCEs), which are traditionally used to estimate crop loss; and using mobile phones to reduce delays in claim settlements by uploading crop-cutting data on apps/online.
Cluster Approach for Insurance Companies: For more effective implementation, a cluster approach is being adopted under which a group of districts with variable risk profiles will be allotted to an insurance company through competitive bidding for up to three year.
PMFBY comparison with NAIS and MNAIS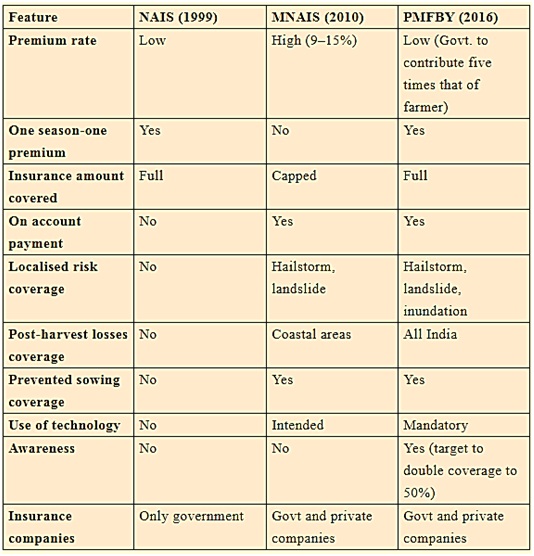 Source: orfonline
Challenges in PMFBY
Structural
One of the major challenges that remain is How to segregate insurance and disaster relief. Insurance products have a commercial basis whereas the disaster relief for small and marginal farmers has a social implication.
Lack of adequate databases for determining premiums and indemnities and lack of adequate infrastructure create constraints in implementing crop insurance in India, particularly in vulnerable and backward regions like Bundelkhand and Marathwada.
State Level Policy
Delayed Notification: Many state governments have diluted PMFBY guidelines in their respective state notification as per their own convenience, which goes against the spirit of PMFBY. Delay in notification mean that farmers could not avail claims for prevented sowing.
Sum Insured Lower than Scale of Finance (SoF): Though sum insured under the PMFBY is higher than in previous schemes, in many states sum insured is still far lower than the SoF. It seems that states have intentionally reduced the value of sum insured to decrease their part of subsidy to be paid for the premium. This significantly reduces the claim received by farmers, as only a fraction of cost of cultivation value is insured.
Delay in Claim Payments: Many state governments have failed to pay the subsidy premiums on time, as paying these premiums eat into their budgets for the sector. This leads to insurance companies delaying or not making claim payments.
Implementation
Wrong Premium Deduction: It is observed that in in many instances, premium was deducted by banks for non-notified crops. Insurance companies receive premiums from farmers, but farmers are not insured for non-notified crops.
Poor Capacity of Insurance Companies: Most of the Insurance companies involved lack manpower and infrastructure in rural areas. Insurance companies, especially private companies, have no functional office in tehsils and no agents are deployed at the block level, despite provision for it under PMFBY.
Farmers Not Provided Policy Documents: Farmers have no direct connection with insurance companies. Insured farmers receive no insurance policy document or receipt. Farmers usually are not even aware if their premiums have been deducted and crops insured. Premium deduction by banks without informing the farmer is a huge concern.
Lack of Coordination And Non-Existent Grievance Redressal Mechanism: There seems to be a clear lack of coordination between banks, insurance companies and nodal government departments (mainly the Agriculture Department).There is also poor coordination regarding grievance redressal. To whom should a farmer approach in the case of wrong premium deduction, non-payment of claim or fake crop-cutting experiments?
Gaps in Assessment of Crop Loss: Assessment of crop loss remains a major concern because the sample sizes in each village are not large enough to capture the scale and diversity of crop losses. In many cases, district or block level agricultural department officials do not conduct such sampling on ground and complete the formalities only on paper.
Corruption: There is huge scope of corruption during the implementation of the PMFBY like the previous insurance schemes.There is a nexus between insurance companies and the middlemen, depriving the farmers of their claim.
Poor Capacity to Deliver: There has been no concerted effort by the state government and insurance companies to build awareness of farmers on PMFBY. Insurance companies have failed to set-up infrastructure for proper implementation of PMFBY. There is still no direct linkage between insurance companies and farmers. Insured farmers receive no insurance policy document or receipt.
Suggestive Measures
Coverage of tenant and sharecropper farmers should increase.
All important crops should be covered under crop insurance. Diversification of crops and mixed farming should be promoted.
Incentivise groups of small farmers or women farmers and promote group insurance.
Robust assessment of crop loss should be done through capacity building of state governments, involvement of Panchayati Raj Institutions and farmers in loss assessment, auditing and multi-level checking to ensure credibility of data.
All PMFBY related data related to farmers must be available in the public domain and shared openly with farmers.
The clause addressing prevented sowing and post-harvest losses must be implemented appropriately by issuing state notifications prior to sowing.
Robust scheme monitoring and grievance redressal mechanism should be in place.
Golden Rice
---
Bangladesh is soon to announce the approval of golden rice for sale and use, making it first country in the world to embrace Golden Rice.
Bangladesh completed the confined field testing of golden rice at the Bangladesh Rice Research Institute (BRRI) in early 2017.
In Bangladesh, the rice is being developed by the Philippines-based International Rice Research Institute.
Researchers bred the beta-carotene genes into a rice variety named dhan 29, which is grown widely during the dry season in Bangladesh and contributes about 14% of the national harvest.
Opposition in Bangladesh
Bangladesh farmers and environment groups are angry over the government's decision to allow commercial cultivation of Golden Rice.
Activists fear that commercial cultivation would lead to the loss of Bangladesh's rich bio-diversity. This could further push for public acceptance of genetically-modified crops, eroding the food diversity, traditional seeds, as well as increase corporate control on local agriculture system.
They claim that in comparison to golden rice, sweet potato has more than 50 times more beta-carotene level. Further, sweet potatoes can be grown on even non-arable land in Bangladesh.
What is Golden Rice?
Golden Rice is conventional rice that has been genetically engineered to have high levels of beta-carotene, the precursor to vitamin A.
To create golden rice, scientists modified rice plants with beta-carotene genes from maize. By doing this, rice plants started to produce the rich orange-coloured pigment.
Timeline of Development
The search for a golden rice started off as a Rockefeller Foundation initiative in 1982.
The breakthrough was achieved in the year 1999, when two biologists Ingo Potrykus of the Institute of Plant Sciences in Switzerland and Prof Peter Beyer at Freiburg University in Germany, successfully developed the golden rice.
The first field trials of golden rice cultivars were conducted by Louisiana State University Agricultural Center in 2004.
Later, additional trials have been conducted in the Philippines and Taiwan, and in Bangladesh.
Varieties
The two versions of Golden Rice developed so far- Golden Rice 1 and 2, both Japonica (sticky, dryland) rices.
Need
According to the World Health Organization(WHO) estimate, about 250 million preschool children are affected by VAD and about 2.7 million children die because of the deficiency. In the given scenario, adoption of Golden Rice could prove to very beneficial to the populations in the developing countries.
Benefits
Conventional rice is naturally low in the pigment beta-carotene, which the body uses to make Vitamin A. Golden rice contains this, which is the reason for its golden colour.
Research has indicated that one cup of Golden Rice can provide up to 50 percent of the daily requirement of an adult for vitamin A.
The rice has the potential to reduce or eliminate much of the death and disease caused by Vitamin A deficiency(VAD), which is the leading cause of blindness among children and can also lead to death due to infectious diseases such as measles.
There are various economic benefits to be gained by countries that adopt Golden Rice. As Golden Rice tackles the issue of malnourishment, better public health allows for poor people to feel healthier and live longer, and therefore spend less on medical care; it can also increase unskilled labor productivity
Issues
Storage Issue
There has been storage issue with the Golden Rice as the beta-carotene in rice is unstable in the presence of oxygen. Thus, under normal storage conditions, the beta-carotene in Golden Rice grains will rapidly degrade.
Under tropical farming, storage, and household conditions, degradation may be faster stillthat may prove even more troublesome for the proposed nutritional benefits of Golden Rice than its initial low levels.
The Golden Rice should not be stored for more than three months after which it may lose its nutrients, making its consumption insignificant.
Quality and Quantitative Issue
In 2017, a study by Indian Council of Agricultural Science discovered abnormalities in golden rice traits, and lower productivity in its traits, both qualitatively (lower Vitamin-A content) and quantitively (yield wise).
Further, it has been noted that Golden Rice does not provide enough Vitamin A, 1.6 ug of vitamin A per gram of rice, as being claimed. One has to consume over 3300 grams of rice to achieve daily intake of Vitamin A. This amount would be too much for anyone living in areas that need the rice.
Furthermore Vitamin A is fat soluble, so one will need fat in his diet to be able to intake the vitamin A. Unfortunately, adequate protein and fat are not readily available in developing nations where the grain is targeted at. Therefore it brings the debate as to whether this grain will have the health benefits it sets out to achieve.
Ethical Issue
There have been raising concerns regarding the ethical implications of introducing Golden Rice.Is it fair to use developing nations as guinea pigs in this experiment?
So far no research or tests have been done to indicate the human health effects on consumption of this genetically modified crop. It could be deemed inhumane to mass produce a crop without knowing its full implications, possibly putting millions of people's lives at risk.
Furthermore, forcing this crop onto indigenous farmers changing their livelihoods and current methods of farming that they have been practicing for their entire lives also raises the ethical questions on the mass acceptance of this crop.
Golden Rice in India
In 2016, the then President of India, Pranab Mukherjee said that IARI has developed a genetically-modified golden rice enriched with pro-vitamin A along with other such crops.
In Bihar, a project called Development of Golden Rice is pushing golden rice for various agro-ecological zones. The Rajendra Agricultural University was given financial support o under the national agriculture development programme (Rashtriya Krishi Vikas Yojana).
Two ICAR research bodies, Indian Agricultural Research and National Plant Genomics Centre, were commissioned the research to develop a hybrid before the rice trait could be introduced in India - by cross breeding it with a local rice variety 'Swarna'.
The resulting plants were dwarf with pale green leaves and drastically reduced panicle size, grain number and yield as compared to the recurrent parent, Swarna.
International Rice Research Institute(IRRI)
IRRI is an independent, nonprofit, research and educational institute, founded in 1960 by the Ford and Rockefeller foundations with support from the Philippine government. The institute, headquartered in Los Banos, Philippines.
It is the world's premier research organization dedicated to reducing poverty and hunger through rice science; improving the health and welfare of rice farmers and consumers; and protecting the rice-growing environment for future generations.
IRRI is well known for its contribution to the "Green Revolution" movement in Asia during the late 1960s and 1970s.
Way Forward
Rice feeds half the world daily. In many countries, rice provides more than 60%, perhaps 80%, of calories daily. Vitamin A deficiency is widespread, and is particularly severe in those countries where rice is the staple food.
For these reasons, the leadership of the project to encourage and facilitate local adoption of Golden Rice has to pass from global to local. And local must include national level, and local government and village level organisation, and family organisation.
---