European Green Deal
---
On 11th December, 2019, European Commission presented European Green Deal- the most ambitious package of measures, which will enable European citizens and businesses to benefit from sustainable green transition.
The Deal covers all sectors of the economy, notably transport, energy, agriculture, buildings, and industries such as steel, cement, ICT, textiles and chemicals.
Aim
To transform the European Union (EU) into a fair and prosperous society, with a modern, resource-efficient and competitive economy.
To protect, conserve and enhance the EU's natural capital, and protect the health and well-being of citizens from environment-related risks and impacts.
Need
The European Union, which consists of 28 member countries, is together the third-largest emitter of greenhouse gases in the world after China and the United States.
Key Points of European Deal
Climate Neutral Europe
This is the overarching objective of the European Green Deal. The EU will aim to reach net-zero greenhouse gas emissions by 2050, a goal that will be enshrined in a 'Climate Law' to be presented in March 2020.
Increase Emission Reduction Target
In its climate action plan declared under the Paris Agreement, the EU was committed to making a 40 percent reduction in its emissions by 2030 compared to 1990 levels. But now it has decided to increase this reduction to at least 50 percent and work towards 55 percent.
Circular Economy
A new circular economy action plan will be tabled in March 2020, as part of a broader EU industrial strategy. It will include a sustainable product policy with "prescriptions on how we make things" in order to use less materials, and ensure products can be reused and recycled.
Building Renovation
This is meant to be one of the flagship programmes of the Green Deal. The key objective there is to "at least double or even triple" the renovation rate of buildings, which currently stands at around 1%.
Zero-pollution
Whether in air, soil or water, the objective is to reach a "pollution-free environment" by 2050. New initiatives there include a chemical strategy for a "toxic-free environment".
Revamping Ecosystems & Biodiversity
A new biodiversity strategy will be presented in March 2020, in the run-up to a UN biodiversity summit taking place in China in October, 2020.
It includes measures to tackle soil and water pollution as well as a new forest strategy.
New labelling rules will be tabled to promote deforestation-free agricultural products.
Farm to Fork Strategy
To be tabled in Spring 2020, the new strategy will aim for a "green and healthier agriculture" system. This includes plans to significantly reduce the use of chemical pesticides, fertilisers and antibiotics.
Transport
Electric vehicles will be further encouraged with an objective of deploying 1 million public charging points across Europe by 2025.
Sustainable alternative fuels – biofuels and hydrogen – will be promoted in aviation, shipping and heavy duty road transport where electrification is currently not possible.
Green Investment
TheEuropean Investment Bank (EIB), the EU's lending arm, decided to cease funding fossil fuel projects at the end of 2021 for the Europe's Climate Bank.
It requires funding parts of the European Green Deal policies with a Sustainable Europe Investment Plan in coming years.
Transition Fund
To "leave no-one behind," the Commission proposes a Just Transition Mechanism to help regions most heavily dependent on fossil fuels. It plans to mobilise €100 billion precisely targeted to the most vulnerable regions and sectors.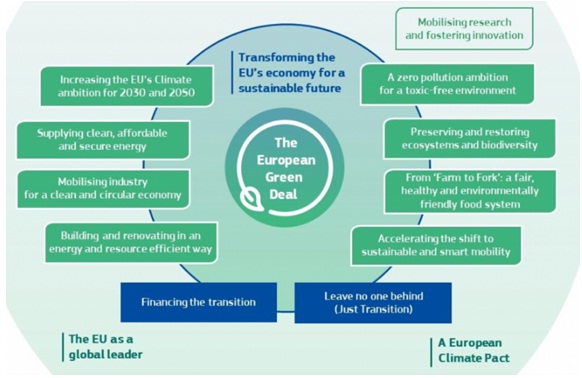 Impact
Providing a Roadmap: The Deal provides a roadmap with actions to boost the efficient use of resources by moving to a clean, circular economy and stop climate change, revert biodiversity loss and cut pollution.
Improving Environment: Initiatives to halt biodiversity will also bring indirect benefits by improving nature through restoration of ecosystems, planting trees, safeguarding carbon-rich ecosystems.
Improving Health & Well-Being: It contains specific actions that will directly improve the health and well-being of the public. The first of these are the actions to tackle pollution of air and water and pollution caused by hazardous chemicals.
Benefits to Consumers: Consumers will benefit from more sustainable products that are designed to be repairable, durable, recycled and use less energy. This can help reduce the lifetime costs of the products they buy. Additional and more accurate consumer information will also allow consumers to make better-informed decisions and thereby help to drive the transition to cleaner products and a healthier environment.
Boost to Business: The transition depicted in the Deal is an opportunity for business to modernise and become more competitive. With support from within the investment and innovation programmes of the Multi-annual Financial Framework, industry will be encouraged to develop new market-leading environmentally friendly technologies and sustainable solutions.
Way Forward
The EU is the largest economy in the world, so the decisions it makes as a collective reverberate throughout the world. The Deal is an integral part of Commission's strategy to implement the United Nation's 2030 Agenda and the sustainable development goals
To deliver the European Green Deal, there is a need to rethink policies for clean energy supply across the economy, industry, production and consumption, large-scale infrastructure, transport, food and agriculture, construction, taxation and social benefits.
However, the deal seems to be inadequate in itself to achieve the emission reductions that scientific assessments say would be required to save the world from catastrophic and irreversible impacts of climate change.
There has been nosignal from other big emitters, including large developing countries like China and India that they were considering immediate scaling up of their climate actions.
As long as many international partners do not share the same ambition as the EU, there is a risk of carbon leakage, either because production is transferred from the EU to other countries with lower ambition for emission reduction, or because EU products are replaced by more carbon-intensive imports.
If this risk materializes, there will be no reduction in global emissions, and this will frustrate the efforts of EU and its industries to meet the global climate objectives of the Paris Agreement.
UNEP Emissions Gap Report – 2019
---
Recently, the United Nations Environment Programme (UNEP) released a report under the title- United Nations Gap Emissions Report-2019, which presents a grim assessment on the yawning gap between 'what countries have committed and what they actually require to do to limit greenhouse gas(GHG) targets'.
About the Report
The Report, tenth in series, provides an independent scientific assessment of how countries' climate pledges and actions are affecting the global greenhouse gas emissions (GHG) trend, comparing it with the emission reductions necessary to limit global warming in accordance with the Paris Agreement.
This year's report emphasizes the energy and transport sector, arguing that renewables and energy efficiency, together with electrification of end uses are key to driving down energy-related CO2 emissions.
It identifies six entry points for progressing towards closing the emissions gap through transformational change in the following areas:
Air pollution, air quality, health
Urbanization
Governance, education, employment
Digitalization
Energy- and material-efficient services for raising living standards
Land use, food security, bioenergy
Major Findings
GHG Emissions Continue To Rise
GHG emissions have risen at a rate of 1.5 percent per year in the last decade, stabilizing only briefly between 2014 and 2016. Total GHG emissions, including from land-use change, reached a record high of 55.3 Gt carbon dioxide(CO2) emission in 2018.
By 2030, emissions would need to be 25 percent and 55 percent lower than in 2018 to put the world on the least-cost pathway to limiting global warming to below 2˚C and 1.5°C respectively.
Top Emitters
The top four emitters (China, EU28, India and the United States of America) contributeto over 55 percent of the total GHG emissions over thelast decade excluding LUC, the top seven (including Japan,Russia and international transport) account for 65 percent, while G20 members contribute 78 percent.
Sectors that are the largest emitters- Energy>Industry>Forestry>Transport>Agriculture>Building.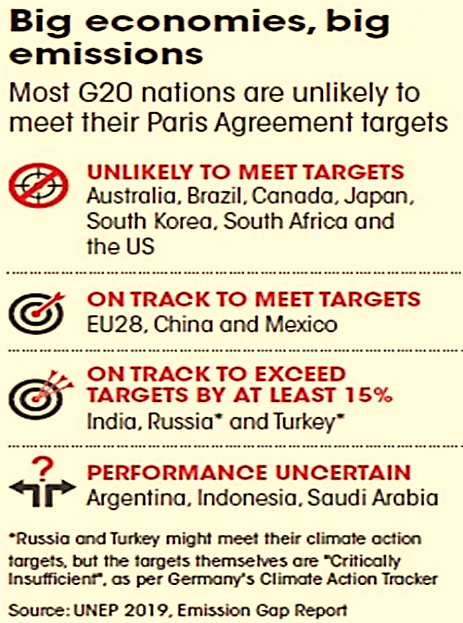 Net Zero Emission
Although the number of countries announcing net zero GHG emission targets for 2050 is increasing, only a few countries have so far formally submitted long-term strategies to the UNFCCC.
Five G20 members (the EU and four individual members) have committed to long-term zero emission targets, of which three are currently inthe process of passing legislation and two haverecently passed legislation. The remaining 15G20 members have not yet committed to zeroemission targets.
Large Emission Gap
The emissions gap is large. In 2030, annual emissions need to be 15 GtCO2e lower than current unconditional NDCs imply for the 2°C goal, and 32 GtCO2e lower for the 1.5°C goal.
Strengthening the Nationally Determined Contributions (NDCs)
Dramatic strengthening of the NDCs is needed in 2020. Countries must increase their NDC ambitions threefold to achieve the well below 2°C goal and more than fivefold to achieve the 1.5°C goal.
India's Recent Developments towards Emission Gap
India's NDC has three numeric targets for 2030: reduce emissions intensity by 33 percent to 35 percent from 2005 levels, achieve an installed power capacity of 40 percent from non-fossil fuel sources and create an additional carbon sink of 2.5–3.0 GtCO2e from forest and tree cover.
In 2018, renewable deployment exceeded conventional fuels, though is projected to remain short of the 175 GW target by 2022.
In addition, the National Clean Air Programme released in 2019 aims to reduce PM2.5 and PM10 concentrations by 25 per cent to 30 per cent, and provides additional motivation to shut down old coal power plants
India has simultaneously continued its efforts to broaden energy access. India reported the 100 per cent electrification of households in early 2019, with likely implications for the future of India's energy demand.
The Kisan Urja Suraksha evam Utthaan Mahabhiyan (KUSUM) scheme launched in early 2019 is aimed at promoting solar energy in rural areas with the target to install 26 GW of solar agricultural pumps by 2022.
India also released an India Cooling Action Plan in 2019 to provide cooling services while keeping their GWP minimal by reducing energy and refrigerant demand (MoEFCC 2019).
India has also begun deliberating policies to electrify public and private modes of transport. The second phase of the Faster Adoption and Manufacturing of (Hybrid &) Electric Vehicles (FAME) was launched in 2019, aiming to support the uptake of electric two-wheelers, three-wheelers, four-wheelers and buses, with projected cumulative savings of 7.2 MtCO2 emission.
India is also deliberating upon targets to ban sales of all fossil fuel powered two- threeand four-wheeler vehicles in the next decade.
India also aims to electrify all its broad gauge railway routes by 2021–2022.
Suggestive Measures for India
Plan the transition from coal-fired power plants
Develop an economy-wide green industrialization strategy towards zero-emission technologies
Expand mass public transit systems
Develop domestic electric vehicle targets working towards 100 percent new sales of zero-emission cars.
What is Emission Gap?
The Emissions Gap (also Commitment Gap), measures the gap between what we need to do and what we are actually doing to tackle climate change.
The gap is the difference between the low levels of emissions that the world needs to drop to, compared with the projected level of emissions based on countrie's current commitments to decarbonization.
Why is it important?
The gap is important because if we can't close it and meet the emissions reduction target, the world is going to face increasingly severe climate impacts worldwide.
It is important that policymakers, and their citizens, know what the gap is so that the commitments countries are making are sufficient to close the gap.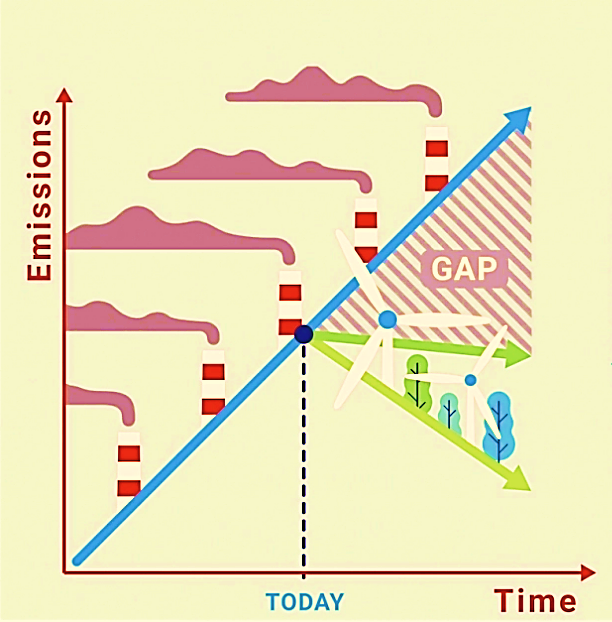 Way Forward
However, the report points thatclimate change can still be limited to 1.5°C. For this, the countries must increase their ambition immediately to close the emissions gap by strengthening emissions-reduction targets, as well as sectoral targets such as those related to renewable energy.Countries can commit to implementing their NDCs in line with achieving net-zero emissions by 2050.
Countries must realize the role of 'non-state actors' (such as companies and NGOs) and sub-nationals (state governments and city administrations) in achieving the global warming targets. It also calls for taxing of carbon to dissuade CO2 emitting activities.
If the multiple co-benefits associated with closingthe emissions gap are fully realized, the requiredtransition will contribute in an essential way toachieving the United Nations 2030 Agenda with its17 Sustainable Development Goals (SDGs).
IPCC Special Report On The Ocean And Cryosphere
---
On 25th September, 2019, the Intergovernmental Panel on Climate Change (IPCC) released a report under the name- 'Special Report on the Ocean and Cryosphere in a Changing Climate(SROCC)' which highlights the adverse changes taking place in oceans, glaciers and ice-deposits on land and sea due to the climate change.
The was prepared following an IPCC Panel decision in 2016 to prepare three Special Reports and follows the Special Reports on Global Warming of 1.5°C (SR1.5) released in October 2018, and on Climate Change and Land (SRCCL), released in August, 2019.
Major Findings of the Report
Sea level Rising:Global mean sea-level had increased by 16 cm between 1902 and 2015, and that the rate of increase had doubled of late. Between 2006 and 2015, global mean sea level recorded an average rise of 3.6 mm per year, which was more than double of 1.4 mm per year recorded in the first 90-year-period of the 20th century.
Shrinking Cryosphere:Over the last decades, global warming has led to widespread shrinking of the cryosphere, with mass loss from ice sheets and glaciers, reductions in snow cover and Arctic sea ice extent and thickness.Mass loss from the Antarctic ice sheet over the period 2007– 2016 tripled relative to 1997–2006.
Increasing Ocean and Marine Heat:Global ocean has warmed unabated since 1970 and has taken up more than 90% of the excess heat in the climate system.Since 1993, the rate of ocean warming has more than doubled. Also, the marine heat waves have doubled in frequency since 1982 and are increasing in intensity.
Ocean Acidification:The Ocean has taken up between 20–30% of total anthropogenic CO2 emissions since the 1980s causing the acidification of oceans.
Ocean Deoxygenation: A loss of oxygen has occurred from the surface to 1000 m due to climate change.
Intergovernmental Panel on Climate Change (IPCC)
Created in 1988 by the World Meteorological Organization (WMO) and the United Nations Environment Programme (UNEP), the objective of the IPCC is to provide governments at all levels with scientific information that they can use to develop climate policies.
Headquarters: Geneva, Switzerland
Number of Member Countries: 195
Cryosphere
It refers to frozen components of the Earth system that are at or below the land and ocean surface which include snow, glaciers, ice sheets, ice shelves, icebergs, sea ice, lake ice, river ice, permafrost and seasonally frozen ground.
Impact
Food and water security have been negatively impacted by changes in snow cover, lake and river ice, and permafrost in many Arctic regions.
Glacier retreat and snow cover changes have contributed to localized declines in agricultural yields in high mountain regions, including Hindu Kush Himalaya and the tropical Andes.
Negative impacts of cryosphere change on human health have included increased risk of food- and waterborne diseases, malnutrition and mental health challenges especially among Indigenous peoples.
Increasing ocean acidification and oxygen loss are negatively impacting two major upwelling systems: the California Current and Humboldt Current.
Decrease in oxygen level hasaltered ecosystem structure, with direct negative impacts on biomass production and species composition.
Ocean warming has contributed to an overall decrease in maximum catch potential, impacting the fishery sector round the world.
Marine heatwaves have already resulted in large-scale coral bleaching eventscausing worldwide reef degradation.
Coastal communities are exposed to multiple climate-related hazards, including tropical cyclones, extreme sea levels and flooding, marine heat waves, sea ice loss, and permafrost thawing.
Role of Ocean and Cryosphere in Earth System
Monitoring Earth's Heat Budget: The Ocean has a large capacity to store and release heat, effectively monitoring and regulatingthe Earth's energy budget.
Regulating Earth's Albedo: The reflective properties of snow and ice also play an important role in regulating climate, via the albedo effect. Increased amounts ofsolar energy are absorbed when snow or ice are replaced by less reflective land or ocean surfaces, resulting in a climate change feedback responsible for amplified changes.
Key to Hydrological Cycle:Water is exchanged between the ocean, the atmosphere, the land, and the cryosphere as part of the hydrological cycle driven by solar heating.
Carbon Sink: 92% of the carbon on Earth that is not locked up in geological reservoirs (e.g., in sedimentary rocks or coal, oil and gas reservoirs) resides in the oceans in the form of dissolved inorganic carbon. This represents a major control on atmospheric CO2 and makes the ocean and its carbon cycle one of the most important climate regulators in the Earth system.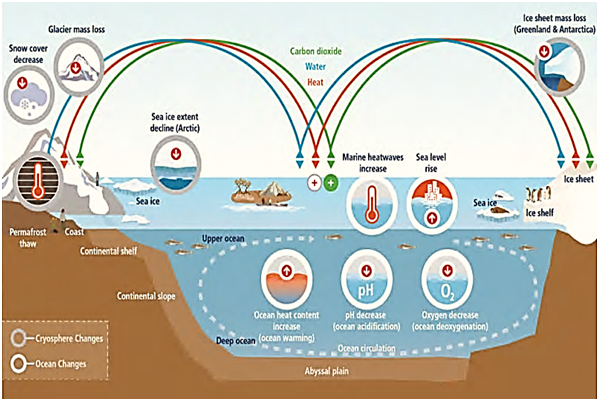 Source: IPCC
Significance of the Report
It provides new evidence for the benefits of limiting global warming to the lowest possible level – in line with the goal that governments set themselves in the 2015 Paris Agreement.
SROCC provides the best available scientific knowledge to empower governments and communities to take action, embedding that scientific knowledge on unavoidable change and plausible futures into their own context, to limit the scale of risks and climate impacts.
It is a key scientific input for world leaders gathering in forthcoming climate and environment negotiations, such as the UN Framework Convention on Climate Change Conference (COP25) in Chile in December, 2019.
Way Forward
Over the 21st century, the ocean is projected to transition to unprecedented conditions with increased temperatures, greater upper ocean stratification, further acidification, oxygen decline and altered net primary production.
Extreme El Nino and La Nina events are projected to likely increase in frequency in the 21st century with intensified drier or wetter responses in several regions across the globe.
Integrated water managementand ecosystem-based adaptationapproaches lower climate risks locally and provide multiple societal benefits.
Networks of protected areas help maintain ecosystem services, including carbon uptake and storage, and enable future ecosystem-based adaptations.
Restoration of vegetated coastal ecosystems, such as mangroves, tidal marshes could provide climate change mitigation through increased carbon uptake.
Ocean renewable energy can support climate change mitigation, and can comprise energy extraction from offshore winds, tides, waves, thermal and salinity gradient and algal biofuels.
Education and climate literacy, monitoring and forecasting, use of all available knowledge sources, sharing of data, information and knowledge, finance, addressing social vulnerability and equity, and institutional support are essential in mitigating climate change.
Utilization of multiple knowledge systems and regional climate information into decision making, and the engagement of local communities, Indigenous peoples, and relevant stakeholders will help in reducing the climate related changes.
Intensifying cooperation and coordination among governing authorities across scales, jurisdictions, sectors, policy domains and planning horizons can enable effective responses to changes in the ocean, cryosphere and to sea level rise.
Regional cooperation, including treaties and conventions can support adaptation actions, mitigating the effect of climate change.
The United Nations 2030 Sustainable Development Goals (SDGs) are all connected to varying extents with the ocean and cryosphere. Climate action (SDG13) would help limit the future ocean and cryosphere changes and reduce the associated risks including life below water, and clean water and sanitation.Limiting greenhouse gas emissions opens more options for effective adaptation leading towards the sustainable development.
UN Climate Action Summit-2019
---
On 23rd September, 2019, United Nation (UN) Secretary-General Antonio Guterres convened the Climate Action Summit in New York, to ramp up climate actions worldwide at the highest levels that will enable implementation of many of the goals of the 2030 Agenda for Sustainable Development.
Objective
To boost ambition and accelerate actions to implement the Paris Agreement on Climate Change.
Rising Concerns
Global emissions are reaching record levels.The last four years were the four hottest on record, and winter temperatures in the Arctic have risen by 3°C since 1990.
Sea levels are rising; coral reefs are dying with the life-threatening impact of climate change on health, through air pollution, heatwaves and risks to food security.
The impacts of climate change are being felt everywhere and are having very real consequences on people's lives.
Key Highlights of the Summit
The Summit focused on to develop ambitious solutions in six areas:

energy transition
climate finance and carbon pricing
industry transition
nature-based solutions
cities and local action
resilience

UN urged the world leaders to come with realistic plans to enhance their nationally determined contributions by 2020, in line with reducing greenhouse gas emissions by 45 percent over the next decade, and to net zero emissions by 2050.
Action Portfolios
The UN has prioritized the following action portfolios in order to ensure that the transformative actions in the real economy:
Finance: mobilizing public and private sources of finance to drive decarbonization of all priority sectors and advance resilience.
Energy Transition: increasing the effort in order to shift away from fossil fuels towards the renewable energy.
Industry Transition: Transforming industries such as oil and gas, steel, cement, and information technology
Nature-Based Solutions:To reduce emissions, increasing sink capacity and enhancing resilience within and across forestry, agriculture, oceans and food systems which can be done through biodiversity conservation, leveraging supply chains and technology.
Cities and Local Action: Advancing mitigation and resilience at urban and local levels, with a focus on new commitments on low-emission buildings, mass transport and urban infrastructure; and resilience for the urban poor.
Resilience and Adaptation: Advancing global efforts to address and manage the impacts and risks of climate change.
Mitigation Strategy: To generate momentum for ambitious Nationally Determined Contributions (NDCs) and long-term strategies to achieve the goals of the Paris Agreement.
Youth Engagement and Public Mobilization: To mobilize people worldwide to take action on climate change and ensure youth representation across all aspects of the Summit, including the six transformational areas.
Social and Political Drivers: To advance commitments in areas that affect people's well-being such as generating decent jobs, and strengthening climate adaptation strategies and protect workers and vulnerable groups.

Source: United Nations
New Initiatives by India
The Indian Prime Minister announced following two international initiatives at the UN Summit-
1. Leadership Group
India along with Sweden and supported by World Economic Forum launcheda platform- Leadership Group, which will provide opportunities for cooperation in the area of Technology innovation. This will help to develop low carbon pathways for industry.
2. Coalition for Disaster Resilient Infrastructure (CDRI)
India launched the global CDRI, which is an international partnership that will support countries- developed and developing- to build climate and disaster resilient infrastructure.
Aim
It aims to work towards a common goal of developing infrastructure that is resilient to climate change and disaster.
Need for CDRI
Increasing frequency of disasters underlines the urgency of investing in resilient infrastructure for low and middle income countries and not just high income countries.
Rising population and less predictable hazard patterns are putting both existing and new infrastructure under stress.
According to the Sendai Framework for Disaster Risk Reduction (SFDRR),every $1 spent in disaster risk reduction leads to gain of $7.The role of improved disaster resilience, especially of infrastructure is a key towards sustainable development.
About CDRI
Establishment of an International Coalition for Disaster Resilient Infrastructure (CDRI) was approved by the Cabinet in August, 2019 along with its supporting Secretariat Office in New Delhi.
It will serve as a platform where knowledge is generated and exchanged on different aspects of disaster and climate resilience of infrastructure.
The CDRI will have following functions:
Technical support and capacity development
Research and knowledge management
Advocacy and partnerships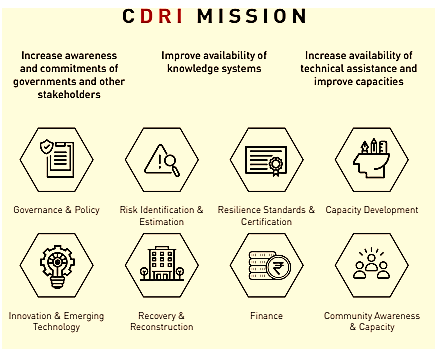 Significance of CDRI
Common Platform for Capacity Building: It will bring together technical expertise from a multitude of stakeholders by creating a mechanism to assist countries to upgrade their capacities and practices, with regard to resilient infrastructure development in accordance with their risk context and economic needs.
Protection to Vulnerable Sections: This initiative will benefit all sections of society especially economically weaker sections of society, women and children, are the most vulnerable to the impacts of disasters.
Benefit to Disaster Prone Areas: It will also benefit all areas with high disaster risk such as thenorth-eastern and Himalayan regions which are prone to earthquakes, coastal areas to cyclones and tsunamis and central peninsular region to droughts.
Sendai Framework
The Sendai Framework for Disaster Risk Reduction 2015–2030 was adopted at the Third United Nations World Conference on Disaster Risk Reduction, held from 14 to 18 March 2015 in Sendai, Miyagi, Japan.
It is the successor instrument to the Hyogo Framework for Action (HFA) 2005-2015: Building the Resilience of Nations and Communities to Disasters.
Aim
To strengthen social and economic resilience to ease the negative effects of climate change and man-made hazards.
Way Forward
Changes in Earth's atmospheric composition are a serious cause of concern for humanity as they impact weather and climate, human and ecosystem health, water supply and quality, agricultural production, and many socio-economic sectors.
Climate change is the defining issue of our time and now is the defining moment to do something about it. There is still time to tackle climate change, but it will require an unprecedented effort from all sectors of society.
The only realistic manner of limiting global warming to 5 degrees C is for developed countries to radically increase their goals and ambitions to reduce greenhouse gas emissions and to adhere to their commitments on climate financing. They must shoulder their historical responsibility and meet the needs of developing countries.
International Day For The Preservation Of The Ozone Layer
---
On 16th September, 2019, World Ozone Day was celebrated under the theme- 32 Years and Healing, to mark the day back in 1987 when the Montreal Protocol was signed.
World Ozone Day has been celebrated since 1994 and was established by the United Nations General Assembly. The day is mainly intended to spread awareness of the depletion of the Ozone Layer and search for solutions to preserve it.
Ozone Timeline
Vienna Convention
The Vienna Convention for the Protection of the Ozone Layer which is considered precursor to the Montreal Protocol was adopted in 1985.
It aimed to protect human health and the environment against the adverse effects resulting from modifications of the ozone layer.
It was followed shortly afterwards by the adoption of its Montreal Protocol on Substances that Deplete the Ozone Layer in 1987.
Montreal Protocol
Signed in 1987, it was the first step in international efforts to protect stratospheric ozone.
Under this, all parties have specific responsibilities related to the phase out of the different groups ozone depleting substances(ODS), control of ODS trade, annual reporting of data, national licensing systems to control ODS imports and exports, and other matters. Developing and developed countries have equal but differentiated responsibilities, but most importantly, both groups of countries have binding, time-targeted and measurable commitments.
The substances controlled by the treaty are listed in Annexes A (chlorofluorocarbons(CFCs)halons), B (other fully halogenated CFCs, carbon tetrachloride, methyl chloroform), C (Hydrochlorofluorocarbons, HCFCs), E (methyl bromide) and F (hydrofluorocarbons, HFCs).
Aim
With 197 nations party to the accord, it aims to protect the ozone layer by taking measures to control total global production and consumption of ODS, with the ultimate objective of their elimination on the basis of developments in scientific knowledge and technological information.
Universal Ratification
On 16th September 2009, the Vienna Convention and the Montreal Protocol became the first treaties in the history of the United Nations to achieve universal ratification.
Amendments to the Montreal Protocol
The London Amendment (1990): It changed the ODS emission schedule by requiring the complete phase out of CFCs, halons, and carbon tetrachloride by 2000 in developed countries, and by 2010 in developing countries. Methyl chloroform was also added to the list of controlled ODSs, with phase out in developed countries targeted in 2005, and in 2015 for developing countries.
The Copenhagen Amendment (1992): It significantly accelerated the phase out of ODSs and incorporated HCFCphase out for developed countries, beginning in 2004. Under this agreement, CFCs, halons, carbon tetrachloride, and methyl chloroform were targeted for complete phase out in 1996 in developed countries. In addition, methyl bromide consumption of methyl bromide was capped at 1991 levels.
The Montreal Amendment (1997): It included the phase out of HCFCs in developing countries, as well as the phase out of methyl bromide in developed and developing countries in 2005 and 2015, respectively.
The Beijing Amendment (1999):It tightened controls on the production and trade of HCFCs. Bromochloromethane was also added to the list of controlled substances with phase out targeted for 2004.
The Kigali Amendment (2016):It extended controls to phase down the production and consumption of HFCs because these substances were adopted by industries in moving away from ozone-depleting substances and they are potent greenhouse gases damaging to the earth's climate.
Impact of Montreal Protocol
It has helped successfully curbed 98% of ozone-depleting substances over the last three decades.
It has successfully put a stop to the use and emission of CFC (Chlorofluorocarbons) and other harmful gases that continuously worked on thinning the layer of ozone above Earth.
A very significant co-benefit is that it has - during period 1989-2013 - reduced cumulative CO2-eq. emissions by 135 billion tonnes.
HFCs replaced the CFCs, predominantly used in cooling appliances. Though the HFCs did not affect the ozone, they have actively added to global warming.
Kigali Amendment,2016
It was adopted by the 28th Meeting of Parties to the Montreal Protocol (MOP28) on 15 October 2016 in Kigali, Rwanda. The Amendment adds powerful greenhouse gases hydrofluorocarbons (HFCs) to the list of substances controlled under the Protocol and which are to be phased down.
It entered into force on 1stJanuary 2019, following ratification by 65 countries.
It divided the signatory parties into three groups as follow:
First Group: consists of developed economies like USA, UK and EU countries who will start to phase down HFCs by 2019 and reduce it to 15% of 2012 levels by 2036.
Second Group: consists of emerging economies like China, Brazil as well as some African countries who will start phase down by 2024 and reduce it to 20% of 2021 levels by 2045.
Third Group: consists of developing economies and some of the hottest climatic countries like India, Pakistan, Iran, Saudi Arabia who will start phasing down HFCs by 2028 and reduce it to 15% of 2024-2026 levels till 2047.
Significance
For the first time in the Montreal mechanism, developing countries got divided into different groups with different phasedown schedules.
It will ensure that the developed countries eliminate at least 85% of their HFCs from the baseline period of 2011-13 by the year 2036.
It is expected it would help to achieve about 90% of the objective of preventing 0.5 degree-Celsius temperature rise.
Through the Kigali Amendment, the Montreal Protocol takes responsibility for HFCs and plays a leading role in working towards an environmentally sustainable world where no one is left behind, consistent with the 2030 Agenda for Sustainable Development.
Ozone Layer
Ozone is created in the atmosphere when the sun's rays split oxygen molecules into single atoms. These atoms combine with nearby oxygen to form a three-oxygen molecule, called ozone.
The ozone layer is a region of high ozone concentration in the stratosphere, 20 to 30 kilometres above Earth's surface.
Ozone concentrations are measured in Dobson Units (DU).
Ozone Depleting Substances (ODS)
Manmade chemicals containing halogens were determined to be the main cause of ozone loss. These chemicals are collectively known as ozone-depleting substances (ODSs).
The most important are chlorofluorocarbons (CFCs), which at one time were widely used in air conditioners, refrigerators and aerosol cans. Other chemicals, such as hydrochlorofluorocarbons (HCFCs), halons, sterilants, carbon tetrachloride and methyl bromide also deplete the ozone layer.
How ODS is causing Harm to Ozone Layer?
When a CFC molecule reaches the stratosphere, it eventually absorbs UV radiation, causing it to decompose and release its chlorine atoms. One chlorine atom can destroy up to 100,000 ozone molecules.
Too many of these chlorine and bromine reactions disrupt the delicate chemical balance that maintains the ozone layer, causing ozone to be destroyed faster than it is created.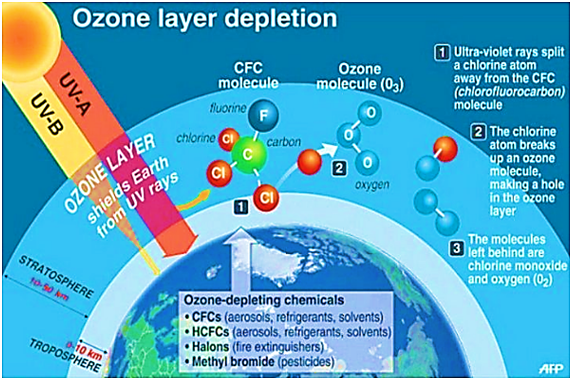 Importance of Ozone layer
Ozone in the stratosphere absorbs some of the Sun's biologically harmful ultraviolet radiation. Because of this beneficial role, stratospheric ozone is considered good ozone.
In contrast, excess ozone at Earth's surface that is formed from pollutants is considered harmful because it can be harmful to humans, plants, and animals.
The amounts of "good" stratospheric and "bad" tropospheric ozone in the atmosphere depend on a balance between processes that create ozone and those that destroy it. An upset in the ozone balance can have serious consequences for life on Earth.
UN Conference On Desertification
---
On 2nd September, 2019, the 14th Conference of Parties (COP-14) of the United Nations Convention to Combat Desertification (UNCCD) started in Greater Noida, Uttar Pradesh with the theme 'Restore Land to Sustain life'.
India, for the first time, being the global host fora 12 day (September 2 - September 13) COP-14, took over the COP Presidency from China for the next two years till 2021.
India is privileged to be among the select few countries to have hosted the COP of all three Rio conventions on climate change, biodiversity and land.
The COP 13 took place in September, 2017 in Ordos, Inner Mongolia, China.
Aim
It aims to help countries achieve Land Degradation Neutrality(LND) by delivering tools and resources that are fit for purpose.
Issues to be discussed
The conference will deliberate on the actions that the 197 partner countries need to take to combat desertification, reverse land degradation and to mitigate the effects of drought.
At the end of the conference, the member countries will sign the 'New Delhi Declaration', which will provide the pathway for future actions to meet the UNCCD goals for 2018-2030.
Rising Concerns about Land Degradation
Three out of every 4 hectares of land have been altered from their natural states and the productivity of about 1 in every 4 hectares of land is declining.
According to recently released report of Intergovernmental Panel on Climate Change (IPCC) on Climate Change and Land, an estimated 23% of total anthropogenic greenhouse gas emissions derive from Agriculture, Forestry and Other Land Use (AFOLU).
Globally over 1.3 billion people are trapped on degrading agricultural land.
Land degradation working in tandem with climate change and biodiversity loss may force up to 700 million people to migrate by 2050.
Over 1 million species on earth are on the verge of extinction, threatening global food security, largely due to habitat loss and land degradation.
Indian Scenario
India faces a severe problem of land degradation, or soil becoming unfit for cultivation. Nearly 30% of its land area, as much as the area of Rajasthan, Madhya Pradesh and Maharashtra put together, has been degraded through deforestation, over-cultivation, soil erosion and depletion of wetlands, according to a 2016 study by the Indian Space Research Organisation.
India has lost 1.6 million hectare of forest cover over 18 years to 2018, about four times the geographical area of Goa.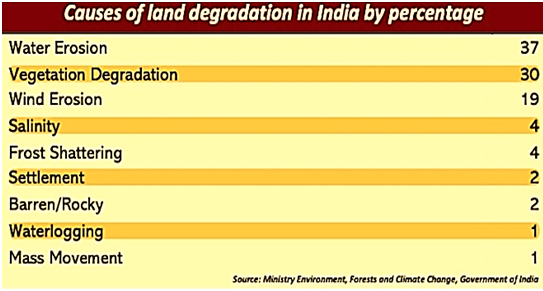 India's Commitment
At the previous edition of the COP, India had committed to restore 13 million hectares of degraded and deforested land by the year 2020, and an additional 8 million hectares by 2030.
India became part of the "Bonn Challenge", a global effort to bring 150 million hectares of the world's deforested and degraded land into restoration by 2020, and 350 million hectares by 2030.
In June, 2019, the environment ministry had launched a flagship project on enhancing capacity on Forest Landscape Restoration (FLR) and Bonn Challenge in India through a pilot phase of 3.5 years. The project, launched in partnership with Internationals Union for Conservation of Nature(IUCN), is being implemented in Haryana, Madhya Pradesh, Maharashtra, Nagaland, and Karnataka.
United Nations Convention to Combat Desertification (UNCCD)
Established in 1994, it is the sole legally binding international agreement linking environment and development to sustainable land management.
The Convention addresses specifically the arid, semi-arid and dry sub-humid areas, known as the drylands, where some of the most vulnerable ecosystems and peoples can be found.
The new UNCCD 2018-2030 Strategic Framework is the most comprehensive global commitment to achieve Land Degradation Neutrality (LDN) in order to restore the productivity of vast expanses of degraded land, improve the livelihoods of more than 1.3 billion people, and reduce the impacts of drought on vulnerable populations to build.
The Convention's 197 parties work together to improve the living conditions for people in drylands, to maintain and restore land and soil productivity, and to mitigate the effects of drought.
Bonn Challenge
The Bonn Challenge is a global effort to bring 150 million hectares of the world's deforested and degraded land into restoration by 2020, and 350 million hectares by 2030.
It was launched in 2011 by the Government of Germany and IUCN, and later endorsed and extended by the New York Declaration on Forests at the 2014 UN Climate Summit.
Underlying the Bonn Challenge is the forest landscape restoration (FLR) approach, which aims to restore ecological integrity at the same time as improving human well-being through multifunctional landscapes.
Land Degradation Neutrality (LDN)
LDN has been defined by the Parties to the Convention as: A state whereby the amount and quality of land resources, necessary to support ecosystem functions and services and enhance food security, remains stable or increases within specified temporal and spatial scales and ecosystems.
In 2015 the UNCCD introduced the new concept of Land Degradation Neutrality (LDN), which was later adopted as a target of Goal 15 of the SDGs.
It represents a paradigm shift in land management policies and practices. It is a unique approach that counterbalances the expected loss of productive land with the recovery of degraded areas.
It strategically places the measures to conserve, sustainably manage and restore land in the context of land use planning.
The objectives of LDN are to:

maintain or improve the sustainable delivery of ecosystem services
maintain or improve productivity, in order to enhance food security
increase resilience of the land and populations dependent on the land
seek synergies with other social, economic and environmental objectives
reinforce responsible and inclusive governance of land.
LDN indicators
The minimum set of indicators recommended for tracking progress towards LDN against a baseline are:

land cover
land productivity (metric: net primary productivity)
carbon stocks above and below ground (metric: soil organic carbon)
Impact
Increasing Drought:
By 2025, 1.8 billion people will experience absolute water scarcity, and 2/3 of the world will be living under water-stressed conditions.
By 2050, the demand for water is expected to increase by 50 percent. As populations increase, especially in dryland areas, more and more people are becoming dependent on fresh water supplies in land that are becoming degraded.
Food Insecurity:
12 million hectares of productive land become barren every year due to desertification and drought alone, which is a lost opportunity to produce 20 million tons of grain
Climate change could cause food insecurities in countries by affecting crop yields, decreasing their nutrient content and affecting the growth and productivity of pastoral animals. Cereal prices could rise up to 23% by 2050 due to climate change making it unaffordable for the poor
Water Insecurity
The increase in droughts and flash floods that are stronger, more frequent and widespread is destroying the land – the Earth's main fresh water store. Droughts kill more people than any other single weather-related catastrophe and conflicts among communities over water scarcity are gathering pace.
Over 1 billion people today have no access to water, and demand will increase by 30% by 2030.
Increasing Migration:
The number of international migrants worldwide has continued to grow rapidly over the past fifteen years reaching 244 million in 2015, up from 222 million in 2010 and 173 million in 2000.
Behind these numbers is the links between migration and development challenges, in particular, the consequences of environmental degradation, political instability, food insecurity and poverty and the importance of addressing the push and pull factors, and the root causes of irregular migration.
In rural areas where people depend on scarce productive land resources, land degradation is a driver of forced migration.
Threat to National Security:
40% of all intrastate conflicts in the past 60 years are linked to the control and allocation of natural resources. The exposure of more and more poor people to water scarcity and hunger opens the door to the failure of fragile states and regional conflicts.
Suggestive Measures
There are two types of solutions: One is conservation of wetlands, rangelands and mangroves which absorb huge stocks of GHGs like CO2 from the atmosphere.Second one is planting of trees, reforestation and afforestation.
Avoiding, reducing and reversing desertification would enhance soil fertility and increase carbon storage in soils and biomass while benefiting agricultural productivity and food security. Prevention of desertification is, however, preferable to attempts to restore degraded land.
Over 30% of food is wasted or lost globally, which contributes to 10% of total greenhousegases (GHG) emissions from human activities. A number of response options such as increased food productivity, dietary choices and food losses and waste reduction can reduce the demand for land conversion. This could free land and create opportunities for enhanced implementation of other strategies listed here.
Creation of windbreaks through afforestation, tree planting and ecosystem restoration programmes that can function as "green walls" and "green dams" that reduce dust and sandstorms and sand dune movement.
Way Forward
Protecting of land is a continuous process and this needs the involvement of all stakeholders. Land provides a host of ecosystem services like support for agriculture. It just means that land-related ecosystem services need to be sustained.
Our future economic growth, prosperity and well-being depend on protecting and restoring working landscapes.It is also necessary to recognize the role of women as agents of positive change. Evidence shows that when women are given equal opportunities and access to resources and decision-making, communities become more prosperous and more peaceful. Women's transformative potential can become the cornerstone for achieving LDN and fulfilling the 2030 Agenda for Sustainable Development.
---