India's First qHPV Vaccine against Cervical Cancer
---
The Drugs Controller General of India (DCGI) has granted market authorisation to Serum Institute of India (SII) to manufacture indigenously-developed India's first Quadrivalent Human Papillomavirus vaccine (qHPV) against cervical cancer.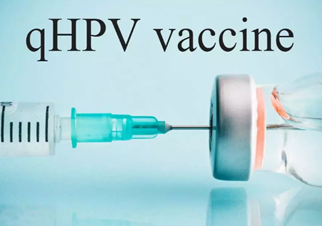 Cervical cancer is the second most frequent cancer among women between 15 and 44 years of age with a high death ratio in India.
The government advisory panel NTAGI had recently also approved the qHPV after reviewing the clinical trial data of the vaccine.
The qHPV vaccine CERVAVAC has demonstrated robust antibody response that is nearly 1,000 times higher than the baseline against all targeted HPV types and in all dose and age groups.
About Cervical Cancer
Cervical cancer is a type of cancer that takes place in cervix — the lower part of the uterus that connects to the vagina.
It's not exactly known what causes cervical cancer, but human papillomavirus (HPV) definitely plays a role.
Most cervical cancer cases are caused by the sexually transmitted HPV.
There are about 100 different strains of HPV. Only certain types cause cervical cancer. The two types that most commonly cause cancer are HPV-16 and HPV-18."
This means that being infected with HPV does not necessarily mean you have cervical cancer.
Importance of qHPV
Every year, 122,844 women are diagnosed with cervical cancer and 67,477 die from the disease.
Presently our country is fully dependent on foreign manufacturers for the HPV vaccine.
With the introduction of qHPV vaccine CERVAVAC, several lives could be saved with low cost treatment.
'Tomato flu' cases detected in Kerala
---
Cases of 'tomato flu' were recently reported from Kerala among children below 5 years of age.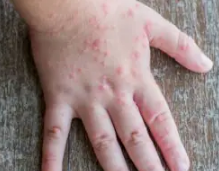 About Tomato flu
"Tomato flu is an unidentified fever. It is a viral disease that causes rashes or blisters, skin irritation and dehydration.
The flu gets its name from the red coloured blisters it causes.
Causes
The exact cause of the flu is being investigated. Further it is debated - whether the disease is a viral fever or an aftereffect of chikungunya or dengue fever.
Symptoms
Some of the most common symptoms include rashes, skin irritation and dehydration.
The flu has also caused nausea, stomach cramps, vomiting, diarrhoea, coughing, body ache, sneezing, runny nose, tiredness, and pain in joints.
Preventive Measures
Don't scratch the blisters caused by the flu as it can make it worse.
Take proper rest and hygiene.
Fluid intake must also be increased to counter dehydration.
Like other types of flu, tomato fever is also contagious. So if someone is infected, they need to be kept in isolation.
Data-Driven Research to Eradicate TB - "Dare2eraD TB"
---
On 24th March 2022 (World TB Day), the Union Govt. has launched Data-Driven Research to Eradicate TB - "Dare2eraD TB".
It is a joint initiative between the Ministry of Science & Technology and the Ministry of Health & Family Welfare, led by the Department of Biotechnology (DBT).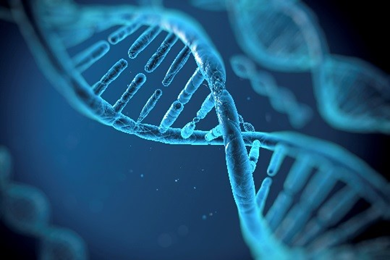 Dare2eraD TB will be the umbrella TB program of DBT comprising of following key initiatives-
InTGS - Indian Tuberculosis Genomic Surveillance Consortium;
InTBK Hub- Indian TB Knowledge Hub- Webinar Series;
Host Directed therapies against TB; and
Developing an evidence-based regimen for treating extra-pulmonary Tuberculosis.
About InTGS
Indian Tuberculosis Genomic Surveillance Consortium (InTGS) is proposed on lines of the Indian SARS-CoV-2 Genomic Consortia (INSACOG).
Key Objectives
Develop a central database of Mtb strains and mutations to guide TB care in India.
Understand the transmission dynamics of different Mtb strains.
Understand and identify the relationship between mutations in MTB genome and drug resistance & monitor the trend of drug resistant TB.
Understand pre-COVID and post-COVID changes in MTB strain and transmission dynamics in India
Suggest public health actions based on the analysis of genomic and epidemiological surveillance data, presence of co-morbid conditions.
About InTBK Hub
The InTBK Hub- Indian TB Knowledge Hub will be a Webinar series starting from World TB Day that will create Academia- Industry connect to discuss challenges and exchange ideas and carry forward open innovations between all TB stakeholders.
Why the focus on Whole Genome Sequencing?
Analysing the genomic data of the organism is essential as the Whole Genome Sequencing (WGS) is increasingly gaining traction as an important molecular tool for Tuberculosis surveillance.
Effective use of WGS technology would allow rapid identification of the origin and drug resistance (DR) profile of TB strains in the patients, which would, in turn facilitate treatment strategies for better control of TB transmission to reduce disease burden.
Nipah Virus
---
A boy infected with the Nipah virus has died in Kerala, a state already hit badly by Covid-19
About Nipah Virus(NiV) (Scientific name-Nipah henipavirus)
It is a type of RNA zoonotic virus (it is transmitted from animals to humans) and can also be transmitted through contaminated food or directly between people.
It is a member of the family Paramyxoviridae.
Given that NiV is genetically related to Hendra virus, another henipavirus known to be carried by bats.
Host
The animal host reservoir for NiV is the fruit bat (genus Pteropus), also known as the flying fox.
Transmission
Direct contact with infected animals, such as bats or pigs, or their body fluids (such as blood, urine or saliva)
Consuming food products that have been contaminated by body fluids of infected animals (such as palm sap or fruit contaminated by an infected bat)
Close contact with a person infected with NiV or their body fluids (including nasal or respiratory droplets, urine, or blood)
Symptoms
In infected people, it causes a range of illnesses from asymptomatic (subclinical) infection to acute respiratory illness and fatal encephalitis.
The virus can also cause severe disease in animals such as pigs, resulting in significant economic losses for farmers.
Diagnosis
Nipah virus infection can be diagnosed with clinical history during the acute and convalescent phase of the disease.
The main tests used are real time polymerase chain reaction (RT-PCR) from bodily fluids and antibody detection via enzyme-linked immunosorbent assay (ELISA).
Other tests used include polymerase chain reaction (PCR) assay, and virus isolation by cell culture.
Treatment
There are currently no drugs or vaccines specific for Nipah virus infection although WHO has identified Nipah as a priority disease for the WHO Research and Development Blueprint.
Intensive supportive care is recommended to treat severe respiratory and neurologic complications.
Outbreak
Nipah virus was first recognized in 1999 during an outbreak among pig farmers in, Malaysia. No new outbreaks have been reported in Malaysia since 1999.
It was also recognized in Bangladesh in 2001, and nearly annual outbreaks have occurred in that country since.
The disease has also been identified periodically in eastern India.
UK registers Norovirus Outbreak
---
There is a Norovirus outbreak in the United Kingdom - a very contagious virus that causes vomiting and diarrhea also called "winter vomiting bug".
Concern: There are many different types of noroviruses. Infection with one type of norovirus may not protect one against other types. Though there is a possibility to develop immunity against certain types of norovirus, experts are not yet able to determine how long that immunity lasts.
Symptoms: Diarrhea, vomiting, nausea and stomach pain. It can cause inflammation of stomach or intestines - called acute gastroenteritis. Other symptoms include fever, headache and body aches.
Transmission: A person can contract norovirus by coming in direct contact of an infected person, consuming contaminated food or water and touching contaminated surfaces and then putting unwashed hands in mouth.
Treatment: There is no specific medicine for this virus. Only we can follow proper hand hygiene and drinking plenty of liquids to replace fluid lost from vomiting and diarrhea to help prevent dehydration.
Monkey B Virus: First Death in China & there is no Vaccine for it
---
China has reported its first death by viral infection called the Monkey B virus after a veterinarian infected, after he dissected two dead monkeys.
About the Virus
Monkey B virus, also called the B virus (BV), was first discovered in 1932.
It is the only identified old-world-monkey herpesvirus, commonly called herpes B, herpesvirus simiae, and herpesvirus B, monkey B virus.
Transmission: It is transmitted by macaques, chimpanzees and capuchin monkeys. The Monkey B virus spreads when a person comes in contact with an infected monkey's tissues or fluid. Apart from that, it can also infect a person if he or she is bitten by an infected monkey. As of now, there has been only one case of person to person transmission. In the case of a Beijing-based male veterinarian, people who came in contact with him have had no symptoms and have tested negative for the virus.
Symptoms: The male vet who succumbed to the virus experienced nausea and vomiting, which appeared within 3 to 7 days. Other symptoms include fever and chills, headache, fatigue, body and muscle pain and neurological symptoms like memory problems, brain fog, etc. A person may start demonstrating symptoms "within one month of being exposed to a monkey with B virus infection, but could appear in as little as three to seven days."
Treatment: Currently, there are no vaccines available against the Monkey B virus. Experts have suggested fluid therapy as the only treatment for the virus.
'WHO' issues new Recommendations on Human Genome Editing
---
The World Health Organization has issued new recommendations on human genome editing.
Major Recommendations
Regulation and Creation of a Database: Among other things, it stressed the need for regulation and the creation of a database to track all forms of gene manipulation, providing a full overview, including pre-clinical research.
Whistleblower Mechanism: It also called for a "whistleblower mechanism"- this would enable people to alert the WHO if they have concerns about unethical and unsafe research into genome editing. The WHO could then demand that the country's authorities take action.
National and Regional Authorities: The expert committee also called on national and regional authorities to simplify the task of supervising and spotting worrying developments in genome editing by attributing consistent keywords to different types of research.
Gene Editing with Recent Technology
Gene editing has been revolutionised by the development of tools like CRISPR-Cas-9, which won its co-creators the Nobel Chemistry Prize last year and which can change the DNA of animals, plants, and micro-organisms with extreme precision.
Such developments carry huge potential benefits for diagnoses, treatment, and the prevention of genetic disorders, but have also have unsafe and unethical uses.
WHO Expert Group on Human Genome Editing
The WHO commissioned an expert group to study the implications of human gene editing back in 2018 after a Chinese scientist He Jiankui controversially claimed to have created the world's first genetically edited babies. He Jiankui's announcement that he had altered the DNA of twin girls in southern China by using molecular scissors – ostensibly to prevent them from contracting HIV — caused a global backlash.
Other violation was from Russia:Russian biologist, Denis Rebrikov in June 2019 announced he wanted to make similar use of Crispr — to help deaf parents have children without the disability — to which the UN health agency voiced alarm.
WHO's Caution
WHO chief Tedros Adhanom Ghebreyesus urged countries to bar any further work on so-called germline genome editing, which alters the genome of human embryos and can be passed on to subsequent generations, "until the technical and ethical implications have been properly considered". Scientists cautioned that the untested procedure was unethical and potentially dangerous.
Delhi's Serological Survey
---
Recently, the Ministry of Health and Family Welfare declared the results of a serological survey carried out in Delhi between 27th June and 10th July, 2020.
The survey included the IgG Enzyme-Linked Immunosorbent Assay (ELISA) test which estimates the proportion of the population exposed to SARS-CoV-2 infection.
The blood samples were collected from selected individuals after taking their written, informed consent, and their sera were then tested for IgG antibodies and infection using the ICMR-approved COVID KAVACH ELISA kit.
Key Findings of the Survey
Results of the sero-prevalence study show that on an average, across Delhi, the prevalence of IgG antibodies is 23.48 %.
The study also indicates that a large number of infected persons remain asymptomatic.
Nearly six months into the epidemic, only 23.48% of the people are affected in Delhi,which has several pockets of dense population.
This can be attributed to the proactive efforts taken by the Government toprevent the spread of infection including prompt lockdown,effective containment and surveillance measures, including contact tracing and tracking, as well as citizen's compliance had yielded benefits.
Looming Concerns
The government has said that results show that a significant proportion of the population is still vulnerable to contracting the novel coronavirus infection.
The 48% rate of sero-positivity cannot, however, be extrapolated over Delhi's entire population.
Serological Survey
A serological survey seeks to assess the prevalence of disease in a population by detecting the presence of specific antibodies against the virus.
A serological test is performed to diagnose infections and autoimmune illnesses.
It can also be conducted to check if a person has developed immunity to certain diseases.
The test indicates past infections (and which triggered an immune response), and is not used to detect active infections.
Benefit
Since it is not possible to test everyone in the population, serological studies are used as a tool to make an estimate of the extent of disease spread in the community.
Recent Sero-Survey
In April, 2020,the Indian Council of Medical Research (ICMR) had conducted a pilot sero-survey in 83 districts in 21 states.
The initial results, which are being peer-reviewed, indicate that the percentage of the general population that could have been infected in the past was 0.73 per cent, with urban areas showing a higher prevalence of 1.09 per cent.
Future Strategy
Since large proportion of the population is susceptible and infection can spread, non-pharmacological interventions such as physical distancing, use of face mask/cover, hand hygiene, cough etiquette must be followed strictly.
Containment measures need to continue with the same rigour.
Local lockdown measures need to continue as advised by the Central Government, especially in containment areas.
High risk groups, that includes elderly population, people with chronic morbidities, pregnant women and children less than 10 years of age need to be protected.
Efforts to limit the scale and spread of the disease will have to be continued by strong implementation of containment strategies by the states
The states cannot lower their guard and need to keep on implementing effective surveillance and containment strategies.
Rapid Antigen Test
---
Recently, the Indian Council of Medical Research (ICMR) approved the use of rapid antigen detection test in containment zones and healthcare settings in combination with the RT-PCR test.
The ICMR has allowed the use of antigen detection kits developed by the South Korean company S D Biosensor, which has a manufacturing unit in Manesar.
The kit, commercially called Standard Q COVID-19 Ag detection kit, comes with a with an inbuilt Covid antigen test device, viral extraction tube with viral lysis buffer and sterile swab for sample collection.
Rapid Antigen Detection Test for Covid-19
It is a test on swabbed nasal samples that detects antigens (foreign substances that induce an immune response in the body) that are found on or within the SARS-CoV-2 virus.
It is a point-of-care test, performed outside the conventional laboratory setting, and is used to quickly obtain a diagnostic result.
The test has to be performed onsite under strict medical supervision and maintaining the kit temperature between 2° and 30°C.
Rapid Antigen Test
It is a rapid diagnostic test suitable for point-of-care testing that directly detects the presence or absence of an antigen.
This distinguishes it from other medical tests that detect antibodies (antibody tests) or nucleic acid (nucleic acid tests), of either laboratory or point of care types.
Common examples-
Rapid strep tests (for streptococcal antigens)
Rapid influenza diagnostic tests (RIDTs) (for influenza virus antigens)
Malaria antigen detection tests (for Plasmodium antigens)
Antigens
An antigen is any substance that causes your immune system to produce antibodies against it.
An antigen may be a substance from the environment, such as chemicals, bacteria, viruses, or pollen.
Vaccines are examples of antigens in an immunogenic form, which are intentionally administered to a recipient to induce the memory function of adaptive immune system toward the antigens of the pathogen invading that recipient.
Difference from RT-PCR Test
Like RT-PCR, the rapid antigen detection test too seeks to detect the virus rather than the antibodies produced by the body.
While the mechanism is different, the most significant difference between the two is time.
RT-PCR test takes a minimum of 2-5 hours including the time taken for sample transportation. These specifications limit the widespread use of the RT-PCR test and also impede quick augmentation of testing capacity in various containment zones and hospital settings.
In a reliable rapid antigen detection test, the maximum duration for interpreting a positive or negative test is 30 minutes.
Accuracy of Rapid Antigen Test
The results revealed that the kit had a very high specificity, or the ability to detect true negatives, ranging between 99.3% and 100% at the two sites.
The sensitivity of the test, or its ability to detect true positives, ranged between 50.6% and 84%, depending upon the viral load of the patient.
The higher the ability to detect true negatives, the more reliable is any positive result.
A negative test result may occur if the level of an extracted antigen in a specimen is below the sensitivity of the test or if a poor quality specimen is obtained
A negative result may also occur if the concentration of antigen in a specimen is below the detection limit of the test or if the specimen.
Also, children tend to shed the virus for longer periods than adults, which may result in differences in sensitivity between adults and children.
Limitations
Antigen tests are very specific for the virus, but are not as sensitive as molecular PCR tests.This means that positive results from antigen tests are highly accurate, but there is a higher chance of false negatives, so negative results do not rule out infection.
With this in mind, negative results from an antigen test may need to be confirmed with a PCR test prior to making treatment decisions or to prevent the possible spread of the virus due to a false negative.
Further, once the sample is collected in the extraction buffer, it is stable only for one hour.
Therefore, the antigen test needs to be conducted at the site of sample collection in the healthcare setting.
RT-LAMP Based Test For Coronavirus
---
As part of COVID-19 mitigation mission of Country, CSIR-IIIM, Jammu a constituent laboratory of CSIR has partnered with Reliance Industries Limited (RIL) to develop and scale-up a new Reverse Transcriptase-Loop Mediated Isothermal Amplification (RT-LAMP) based COVID-19 diagnostic kit.
It has been tested with a small number of patients samples and validating the kit on more number of patient samples is planned and will be done together with RIL.
COVID-19 RT-LAMP Test
COVID-19 RT-LAMP test is a nucleic acid based test carried out from nasal/throat swab sample from patients.
The test recipe has been developed and successfully demonstrated using synthetic templates.
Advantages
It is rapid (45-60 min), cost effective and accurate test.
RT-LAMP based COVID-19 kit components are easily available and these can be completely manufactured in India.
RT-LAMP test can be done in a single tube with minimal expertise in a very basic lab setup like mobile units / kiosks for testing at Airports, Railway Stations, Bus Stands and other public places.
The end detection of the test is a simple colored reaction, which is easily visible in UV light, and now is being modified such that it can be detected in regular light.
Impact
With the formal launch of the RT-LAMP based diagnostic test, the COVID-19 testing will not only be more rapid, cheap, easy and accessible but also would go a long way quickly isolating the infected individuals and mitigating the spread of virus.
Advantage over Polymerase Chain Reaction (PCR)
The standard test for COVID-19 so far has been the Polymerase Chain Reaction (PCR).
It is done after taking nasal or throat swabs of the patient, from which RNA is extracted and converted to DNA, which is then amplified before being checked for confirmation of the virus.
It takes up to nine hours. The long time is also because the swab is first screened to decide the family of the virus; if that confirms it is a coronavirus, a second test is done to ascertain if it is indeed the novel coronavirus SARS-CoV2.
Further, real-time PCR tests are expensive; they require highly trained manpower, costly instruments, and a relatively high-end lab and cannot be deployed at remote locations in quarantine centers, airports and railway stations, etc.
African Swine Fever
---
The central government has advised authorities in Assam to go for culling of pigs affected by the African Swine Fever (ASF) after thousands were found to have died from the illness in the past several weeks.
Origin of Current Outbreak
As per the latest update issued by the UN Food and Agriculture Organisation (FAO), the current outbreak of ASF has affected China, Mongolia, Vietnam, Cambodia, Myanmar, the Philippines, Republic of Korea and Indonesia among others.
In China, the first ASF outbreak was confirmed in August 2018.
In Vietnam, the ASF outbreak was confirmed in February 2019.
Possibly, ASF came into India through Tibet into Arunachal Pradesh and then into Assam, the state with the highest population of pigs in the country.
About African Swine Fever (ASF)
ASF is a severe, highly-contagious hemorrhagic viral disease of domestic and wild pigs.
It is caused by a large DNA virus of the Asfarviridae family, which also infects ticks of the genus
It is a disease listed in the World Organisation for Animal Health (OIE) Terrestrial Animal Health Code and must be reported to the OIE.
It was first detected in Africa in the 1920s.
Transmission and Spread
Its routes of transmission include direct contact with an infected or wild pig (alive or dead), indirect contact through ingestion of contaminated material such as food waste, feed or garbage.
It can also be transmitted through biological vectors—soft ticks of the genus Ornithodoros where present.
The disease is characterised by the sudden deaths of pigs. Other manifestations of the disease include high fever, depression, anorexia, loss of appetite, haemorrhages in the skin, vomiting and diarrhoea among others.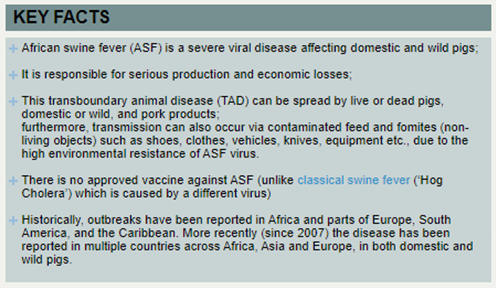 Difference from Swine Flu
Swine influenza or swine flu is a respiratory disease of pigs, which is caused by type A influenza virus that regularly causes outbreaks of influenza in pig populations.
While the swine flu causing virus leads to a high number of infections in pig herds, the disease is not as fatal and causes few deaths. Specific swine influenza vaccines are available for pigs.
Public Health Risk
African swine fever is not a risk to human health. While swine flu can spread from animals to humans, African swine fever does not and therefore is not a public health threat.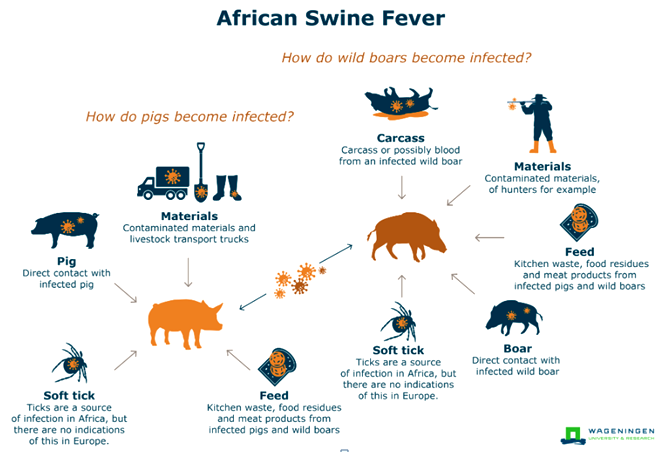 Assam Government Strategy to Deal with ASF
Since ASF has no vaccination, it is advisable that the infected pigs are culled. Culling is the only option but we are not doing that right now.
Currently, the dead pigs are undergoing deep burials, with salt and bleaching powder.
The authorities have advised all pig farmers to contain the spread through bio-security.
Silent Hypoxia
---
As medical practitioners around the world are busy treating people for Covid-19, many have reported a condition called 'silent' or 'happy' hypoxia, in which patients have extremely low blood oxygen levels, yet do not show signs of breathlessness.
The condition has puzzled medical practitioners, and many are now advocating for its early detection as a means to avoid a fatal illness called Covid pneumonia.
What is Hypoxia?
Hypoxia is a condition wherein there is not enough oxygen available to the blood and body tissues.
Hypoxia can either be generalised, affecting the whole body, or local, affecting a region of the body.
Normal arterial oxygen is approximately 75 to 100 millimetres of mercury (mm Hg), and normal pulse oximeter readings usually range from 95 to 100 per cent.
Complications
When levels fall below 90 percent, patients could begin experiencing lethargy, confusion, or mental disruptions because of insufficient quantities of oxygen reaching the brain.
Levels below 80 percent can result in damage to vital organs.
What is Silent Hypoxia?
It is a form of oxygen deprivation that is harder to detect than regular hypoxia.
In silent hypoxia, patients appear to be less in distress.
In many cases, Covid-19 patients with silent hypoxia did not exhibit symptoms such as shortness of breath or coughing until their oxygen fell to acutely low levels, at which point there was a risk of acute respiratory distress (ARDS) and organ failure.
Reason for Silent Hypoxia
The reason why people are left feeling breathless is not because of the fall in oxygen levels itself, but due to the rise in carbon dioxide levels that occur at the same time, when lungs are not able to expel this gas efficiently.
In patients with Covid pneumonia, the virus causes air sacs to fall, leading to a reduction in levels of oxygen.
However, the lungs initially do not become stiff or heavy with fluid, and remain "compliant" — being able to expel carbon dioxide and avoiding its buildup. Thus, patients do not feel short of breath.
Chitra GeneLAMP-N Test Kit
---
Sree Chitra Tirunal Institute for Medical Sciences and Technology, Trivandrum, an Institute of National Importance, of the Department of Science and Technology (DST), has developed a diagnostic test kit that can confirm COVID19 in 2 hours at low cost.
About Chitra GeneLAMP-N
The test kit, funded by the DST called Chitra GeneLAMP-N, is highly specific for SARS-CoV-2 N-gene and can detect two regions of the gene.
It will help ensure that the test does not fail even if one region of the viral gene undergoes mutation during its current spread.
Mode of Working
The confirmatory diagnostic test detects the N Gene of SARS- COV2 using reverse transcriptase loop-mediated amplification of viral nucleic acid (RT-LAMP).
The tests performed at NIV Alappuzha (authorized by ICMR) show that Chitra GeneLAMP- N has 100% accuracy and match with test results using RT-PCR.
The results can be read from the machine from the change in fluorescence.


Benefits
Current PCR kits in India enable detection of E gene for screening and RdRp gene for confirmation.
Chitra GeneLAMP-N gene testing will allow confirmation in one test without the need for a screening test and at much lower costs.
The cost of testing with the new device for LAMP testing and the test kit for 2 regions of N gene( including RNA extraction) will be less than Rs 1000/test for the laboratory.
The detection time is 10 minutes, and the sample to result time (from RNA extraction in swab to RT-LAMP detection time) will be less than 2 hours.
A total of 30 samples can be tested in a single batch in a single machine allowing a large number of samples to be tested each day.
The testing facility can be easily set up even in the laboratories of district hospitals with limited facilities and trained laboratory technicians.
Reverse Transcription Loop-mediated Isothermal Amplification (RT-LAMP)
Loop-mediated isothermal amplification (LAMP) is a single-tube technique for the amplification of DNA and a low-cost alternative to detect certain diseases.
RT-LAMP) combines LAMP with a reverse transcription step to allow the detection of RNA.
RT-LAMP is used in the detection of viruses.
This method is very effective in detecting viruses with an RNA genome (Group II, IV, and V based on the Baltimore Virus Classification system).
Advantages
This method is specifically advantageous because it can all be done quickly in one step.
There is no need for expensive thermocycling equipment that is necessary for other methods like PCR, which makes RT-LAMP very cost effective.
Post-Intensive Care Syndrome
---
Recently, various news reports in recent weeks have pointed out that for some Covid-19 patients who needed intensive care, the journey to recovery is a long one.
After leaving the ICU, they may suffer from what is known as post-intensive care syndrome (PICS), which can happen to any person who has been in the ICU.
What is post-intensive care syndrome?
PICS is defined as new or worsening impairment in physical (ICU-acquired neuromuscular weakness), cognitive (thinking and judgment), or mental health status arising after critical illness and persisting beyond discharge from the acute care setting.
It comprises impairment in cognition, psychological health and physical function of a person who has been in the ICU.
Further, such patients may experience neuromuscular weakness, which can manifest itself in the form of poor mobility and recurrent falls.
Psychological disability may arise in a person in the form of depression, anxiety and post-traumatic stress disorder (PTSD).
Causes
PICS may be induced if a person was on prolonged mechanical ventilation, experienced sepsis, multiple organ failure and a prolonged duration of "bed-restore deep sedation".
Nearly, 33 percent of the people on ventilators may develop ICU-acquired muscle weakness (ICUAW).
Along with this, 50 percent of those who develop sepsis and up to 50 percent of the patients who stay in the ICU for at least one week are also prone to ICUAW.
Further, after leaving the ICU, over 30-80 percent may develop problems related to cognitive function and other mental health issues, including difficulty in falling and staying asleep.
Symptoms
The most common PICS symptoms are generalised weakness, fatigue, decreased mobility, anxious or depressed mood, sexual dysfunction, sleep disturbances and cognitive issues.
These symptoms may last for a few months or many years after recovery.
Treatment
It is recommended that to avoid PICS, patients' use of deep sedation is limited and early mobility is encouraged, along with giving them "aggressive" physical and occupational therapy.
Further, patients should be given the lowest dose of pain medications when possible, and should be put on lung or cardiovascular rehabilitation treatments along with treatments for depression, anxiety and PTSD.
Pool Testing
---
Now with the number of cases spiking and the fear of community spread in some areas the Indian Council of Medical Research (ICMR), on 14th April, 2020, issued an advisory for using pooled samples for testing of COVID-19 across the country.
Objective
The objective is to increase the capacity of the laboratories to screen increased numbers of samples using molecular testing for COVID-19 for the purpose of surveillance.
About Pool Testing
In a pooled testing algorithm, samples of multiple individuals are put together in a tube and screened through the Polymerase Chain Reaction (PCR) test.
In case the pooled test turns out to be positive, individual samples are tested, which is referred to as pool de-convolution.
If there's no positive result, all individual samples in the pool are regarded as negative, resulting in substantial cost savings.
Criteria for Pool Testing
This method can be used in areas where the prevalence of COVID-19 is low, which means a positivity rate of less than two percent.
Pooling of sample is not recommended in areas or population with positivity rates of over five per cent.
According to the ICMR, more than two samples can be pooled together; the number should not exceed five samples to avoid sample dilution, which can lead to false negatives.
Samples of individuals with known contact with confirmed cases or healthcare workers should not be included in the pooled samples.
Deconvoluted testing (testing individual samples) is recommended if any of the pool is positive.
Benefits of Pool Testing
Cost and Resource Effective
It increases the capacity of testing and it saves a lot of resources — time, cost and manpower.
For instance, if a pooled sample consists of the samples of five individuals and it tests negative, the cost of four testing kits is saved and more number of people are covered with fewer resources.
But in case the sample tests positive, all individuals need to be tested separately.
Help in Tracking Community Transmission
Significantly, pooled screening can also help in tracking down the asymptomatic cases of the disease, thereby tracking community transmission.
Pre-Conception & Pre-Natal Diagnostic Techniques Act
---
Recently, a section of the media is speculating that the (Pre Conception and Pre Natal Diagnostic Techniques (PC&PNDT) Act 1994 has been suspended by the Ministry of Health and Family Welfare (MoHWF).
About the Issue
In view of the ongoing lockdown, due of COVID19 pandemic, the Health Ministry has issued a Notification dated April 4, 2020 to defer/suspend certain provisions under the PC&PNDT Rules 1996.
These Rules pertain to applying for renewal of registration if falling due in this` period, submission of reports by diagnostics centres by 5th day of the following month and submission of quarterly progress report (QPR) by the States/UTs.
There is no exemption (to the diagnostic centres) from compliance to theprovisions of the PC&PNDT Act.
So, the MoHFW has to clarify that it has not suspended the PC&PNDT Act, which prohibits sex selection before or after conception.
Pre-conception & Pre-natal Diagnostics Techniques (PC & PNDT) Act, 1994
It was enacted in response to the decline in Sex ratio in India, which deteriorated from 972 in 1901 to 927 in 1991.
In 1988, the State of Maharashtra became the first in the country to ban pre-natal sex determination through enacting the Maharashtra Regulation of Pre-natal Diagnostic Techniques Act.
At the national level the Pre-natal Diagnostic Techniques (Regulation and Prevention of Misuse) Act was enacted on September 20, 1994. This act came into force in the year 1996.
Objectives
To ban the use of sex selection techniques before or after conception
To prevent the misuse of pre-natal diagnostic techniques for sex selective abortion and to regulate such techniques
Provisions
Registration: All bodies under the PC & PNDT Act, 1994, namely Genetic Counselling Centres, Genetic Laboratories or Genetic Clinics cannot function unless registered.
Prohibitions: It prohibits sex selection before or after conception and misuse of pre-natal diagnostic techniques for determination of the sex of the foetus as also advertisements in relation to such techniques for detection or determination of sex.
Implementation: The Act is implemented through the following agencies -Central Supervisory Board (CSB); State Supervisory Boards (SSBs) and Union Territory Supervisory Boards (UTSBs); Appropriate Authority for the whole or a part of the State/Union Territory; State Advisory Committee (SAC) and Union Territory Advisory Committee (UTAC).
Maintenance & Preservation of Records: It deals elaborately with the maintenance and preservation of proper records. The records can help in establishing compliance while non-maintenance itself can give rise to a cause of action indicating probable misuse of diagnostic techniques.
Search, Seizure & Sealing Powers: It provides power to search any place suspected to be conducting pre-natal diagnostic techniques. The scope of the powers of the Appropriate Authorities are very wide and they are empowered with the powers of Civil Court for search, seizure and sealing the machines, equipments and records of the violators of law including sealing of premises and commissioning of witnesses.
Offences under the Act
Conducting or associating or helping in the conduct of PND techniques/tests in an un-registered unit.
Sex selection on a woman or a man or both or on any tissue, embryo, conceptus fluid or gametes derived from either or both of them.
Conducting a PND test for any purpose other than those mentioned as permissible in the Act.
Sale, distribution, supply, renting, allowance or authorization of use of any ultrasound machine or any other equipment capable of detecting sex of a foetus to non-registered units.
Advertisement or communication in any form on the availability of sex determination and sex selection in the form of services, medicines, or any kind of techniques, methods or ayurvedic medicines.
The offences under the Act are cognizable, non-bailable and non-compoundable.
Amendments
The Act was amended in 2003 to improve regulation of technology capable of sex selection.
With effect from February 14, 2003, due to the amendments, the Act is known as the Pre-conception and Pre-natal Diagnostic Techniques (Prohibition of Sex Selection) Act, 1994.
Implications of the Amendment
Amendment of the act mainly covered bringing the technique of pre conception sex selection within the ambit of the act
Bringing ultrasound within its ambit
Empowering the central supervisory board, constitution of state level supervisory board
Provision for more stringent punishments
Empowering appropriate authorities with the power of civil court for search, seizure and sealing the machines and equipments of the violators
Regulating the sale of the ultrasound machines only to registered bodies
Swasth Ke Sipahi
---
Pharmacists, popularly known as "Swasth ke Sipahi", of Pradhan Mantri Jan Aushadhi Kendra (PMJAK), are deliverying essential services and medicines at doorstep of patients and elderly under Pradhan Mantri Bhartiya Janaushadhi Pariyojana (PMBJP).
Working as part of PMJAK, they are extending essential services by making available quality generic medicines at affordable prices to the common People of the country and the elderly persons at their doorstep to fight Corona pandemic.
This is supporting the government's initiative of practicing social distancing in order to combat the COVID-19.
Pradhan Mantri Bhartiya Janaushadhi Pariyojana (PMBJP)
With a view to achieve the objective of making available quality generic medicines at affordable prices to all, 'Jan Aushadhi Scheme' was launched by the Government in November, 2008 across the country.
In September 2015, the 'Jan Aushadhi Scheme' was revamped as 'Pradhan Mantri Jan Aushadhi Yojana' (PMJAY).
In November, 2016, to give further impetus to the scheme, it was again renamed as "Pradhan Mantri Bhartiya Janaushadhi Pariyojana" (PMBJP).
Vision
To bring down the healthcare budget of every citizen of India through providing Quality generic Medicines at Affordable Prices.
Implementation
The Scheme is being implemented through an registered society namely Bureau of Pharma PSUs of India (BPPI) which is working under the administrative control of Department of Pharmaceuticals, Ministry of Chemicals & Fertilizer.
Salient Features
Ensure access to quality medicines.
Extend coverage of quality generic medicines so as to reduce the out of pocket expenditure on medicines and thereby redefine the unit cost of treatment per person.
Create awareness about generic medicines through education and publicity so that quality is not synonymous with only high price.
A public programme involving Government, PSUs, Private Sector, NGO, Societies, Co-operative Bodies and other Institutions.
Create demand for generic medicines by improving access to better healthcare through low treatment cost and easy availability wherever needed in all therapeutic categories.
Benefits
Will make available quality drugs at affordable prices through dedicated stores selling generic medicines which are available at lesser prices but are equivalent in quality and efficacy as expensive branded drugs.
Promote greater awareness about cost effective drugs and their prescription.
Make available unbranded quality generic medicines at affordable prices through public-private partnership.
Encourage doctors, more specifically in government hospital to prescribe generic medicines.
Enable substantial savings in health care more particularly in the case of poor patients and those suffering from chronic ailments requiring long periods of drug use.
Bhilwara Model: Coping With COVID-19
---
Almost two weeks into the nationwide lockdown, with the case count from the novel coronavirus disease still soaring up, the government is now looking forward to adopt the Bhilwara model as a containment strategy to curb the spread of new coronavirus in areas that have been identified as hotspots.
Bhilwara in Rajasthan was one of the early hotspots of the COVID-19 outbreak. The containment strategy was found to be successful in Bhilwara, and since then health officials in both Rajasthan and the Centre have been unofficially terming this specific containment plan as the "Bhilwara model".
About Bhilwara Model of COVID-19 Containment
It refers to the steps taken by the administration in Rajasthan's Bhilwara district to contain the disease, after it emerged as a hotspot for coronavirus positive cases.
Strategies Adopted under the Model
The Bhilwara model of containment worked in phases.
The first task was to isolate the district, second was screening strategy in city and rural areas and third was quarantine and isolation wards, followed by monitoring mechanism for rural areas.
Ruthless Containment
District and state-level officials toiled hard to ensure that community or cluster spread of the novel coronavirus, which would have wrecked havoc, did not happen in Bhilwara. For this, the state government deployed 3000 teams of health workers in the district.
For isolating the district, curfew was imposed in the district on the day the first case was reported. This was from March 20 to April 2, 2020.
During this period, essential services were exempted from the order.
Door to, door survey was started in order to map the positive cases, followed by the contact tracing.
The administration defined the containment zone of one km from the epicenter – the private hospital, whose doctors and staffs were the first ones to test positive – and a buffer zone of three km. Similar, containment and buffer zones were also created around the house of a positive patient.
A screening and testing centre was established at a hospital, which was dedicated as COVID hospital.
During this time, disinfection of the following was done on a daily basis: containment zone and buffer zone; locality of positive cases; all ambulances and police vehicles; screening centre and quarantine centre; collectorate, police line and public dealing offices; and city wards.
Borders Sealed
On the administrative front, strict measures were undertaken. The immediate step was to seal the boundaries and impose a curfew in entire city.
The district administration then acquired all hotels in the district and brought it under its jurisdiction. These hotels were turned into quarantine centres where nearly a thousand people were quarantined.
Total Lockdown
Meanwhile, lockdown restrictions, which were place since March 20, were tightened to curfew-like levels from April 3. Between March 20 and April 2, stores selling essential commodities were allowed to stay open.
However, on April 3, 2020, even these stores were ordered shut and only home delivery of essentials is currently allowed. And, nobody was permitted to venture out of their homes without prior permission.
Source: ToI
Challenges Faced by the Administration
The biggest challenge that the administration faced was containing the rising number of cases after the initial outbreak.
After the first case of COVID-19 was detected in the district, several other cases, mostly contact of the doctors and the infected hospital staff were reported with each passing day.
The government also had an uphill task ahead of them assembling the teams of doctors, auxiliary nurse and midwives and nursing students who went to conduct the house-to-house surveys.
Owing to the fact that Bhilwara, a thriving textile city with an estimated population of 30 lakh, it was also a difficult task for the government to strictly impose the curfew uniformly in all areas.
Implementing Bhilwara Model across the Country
The government has drawn a plan for containment of the virus in hotspots based on the steps taken in Bhilwara.
Geographical areas will be quarantined under this model.
Clusters of infections will be identified within the quarantined area and steps, which were taken in Bhilwara, will be taken in these clusters.
The Disaster Management Act of 2005 and the Epidemic Diseases Act of 1897 can be used to implement the model. CrPc and IPC sections can be used to book violators.
People will be checked for influenza-like symptoms. They will be monitored actively and tested.
Way Forward
India's fight against COVID-19 can only be tackled if it is decentralised down to the unit level and policy-makers let specific geographies and local dynamics decide how things could work best at a cluster.
The non-pharmaceutical intervention is the best way to contain the crisis given India's non-existent health infrastructure and Bhilwara has shown how to bring the virus out of hiding.
The faster we do it, the easier it will be for us to get back on the road to recovery and get the economy going.
National Teleconsultation Centre
---
On 28th March, 2020, the government launched the National Teleconsultation Centre (CoNTeC).
About CoNTeC
The project CoNTeC, an acronym for COVID-19 National Teleconsultation Centre, has been conceptualised by the Ministry of Health & Family Welfare and has been implemented by the All India Institute of Medical Sciences, New Delhi.
Mode of Operation
The CoNTeC is a Telemedicine Hub, wherein expert doctors from various clinical domains will be available 24x7 to answer the multifaceted questions from specialists from all over the country.
The modes of communication will include simple mobile telephony as well as two way video communications, using WhatsApp, Skype and Google Duo.
A single mobile number (+91 9115444155) can be dialled from anywhere in the coutnry/world by COVID-19 treating doctors to reach the CoNTeC which has six lines that can be used simultaneously at present.
The incoming calls will be picked up by the CoNTeC Managers, who will then handover the call to the appropriate expert doctors from the clinical domains as desired by the calling specialists managing the COVID-19 cases anywhere in the country.
Benefits
India is a vast country and technology can play a pivotal role for the medical assistance to reach the poor. With the present facility, the poor would be able to get benefit of consultation form the topmost doctors of the country.
Further, it will help to deliver the best possible treatment to the poorest of the poor of the country.
With the help of digital platform and technology, the public at large will get the benefit not only for COVID- 19 but other diseases also.
Rapid Test
---
In order to tackle suspicions of whether the novel coronavirus has spread into the community and if not prevent such a scenario, the Kerala government recently announced 'rapid tests' that will ensure speedy results within half an hour.
About Rapid Test
Essentially, a rapid test is conducted to determine whether there has been any kind of recent viral infection in a person's body.
When a pathogen enters a human body, specific antibodies are released as a response to the virus.
A rapid test can detect the presence of such antibodies in blood, serum or plasma samples quickly, indicating a viral infection.
Rapid testing is conducted usually to check for community transmission of a virus during an epidemic.
Indian Council of Medical Research Guidelines Regarding Rapid Test
The ICMR guidelines released on March 28th, 2020, clearly say the rapid antibody kits are not recommended for diagnosis of coronavirus infection.
It can only be a preliminary screening test. Positive test indicates exposure to SARS-CoV-2. Negative test does not rule out Covid-19 infection.
The person still has to be subjected to the polymerase chain reaction (PCR) test for confirmation of the SARS-CoV-2 virus.
Advantages of Rapid Test
It will help screen more people in a mass way on a daily basis and is much cheaper than the present RT-PCR testing method.
Moreover, it can be repeated when a patient is in isolation/quarantine to check IgG AB levels, which can reveal the extent of recovery.
Drawback
Even though a rapid test can be extremely helpful to check for community transmission during a global pandemic such as this, it is not a confirmatory test for SARS-CoV-2 that causes the coronavirus infection.
Rapid Test Vs Reverse Transcriptase Polymerase Chain Reaction
So far, India has used the reverse transcriptase polymerase chain reaction(RT-PCR ) test on nasal or throat swab samples of suspected patients to test for Covid-19.
The PCR test checks for the presence of the virus genetic material in an individual's blood. However, they can take anywhere between 12-24 hours to show results.
In comparison, the rapid antibody tests identify disease-fighting antibodies in blood samples and can deliver results in 45 minutes to two hours.
However, since antibodies are usually detectable only after around 7-10 days of being infected by the virus, such tests could throw up false negatives – an infected person may appear normal in the blood test.
Reverse Transcription Polymerase Chain Reaction (RT-PCR)
RT-PCR is a laboratory technique combining reverse transcription of RNA into DNA (in this context called complementary DNA or cDNA) and amplification of specific DNA targets using polymerase chain reaction (PCR).
It is primarily used to measure the amount of a specific RNA.
This is achieved by monitoring the amplification reaction using fluorescence, a technique called real-time PCR or quantitative PCR (qPCR).
Applications
RT-PCR is used in research laboratories to study gene expression, for example in experiments to distinguish exons from introns, and can be used clinically to diagnose genetic diseases and monitor drug therapy.

So, why is Kerala insisting for Rapid Test?
According to the Kerala government, while the rapid tests cannot determine if there is an active infection of the coronavirus, it will determine if there has been any viral infection in the recent past.
The use of the rapid tests in the community will also be able to help determine if there is any community transmission of the coronavirus disease.
It will help to identify those with suspected infection, put them under observation and if required, subject them to the PCR test for coronavirus confirmation.
Role Of Contact Tracing In Controlling COVID-19
---
As the number of coronavirus cases in India increases, authorities in different states are relying on contact tracing, a concept in epidemiology (the study of the distribution and determinants of health-related states or events).
The idea behind contact tracing is to stop the outbreak by breaking the transmission chains.
What is Contact Tracing?
It is defined as the identification and follow-up of persons who may have come into contact with an infected person.
It is an important part of epidemiologic investigation and active surveillance.
Contact tracing is not a novel concept and has been used as a method to track cases of the Ebola virus in Africa in 2014.
Who is a Contact?
Anyone who provided care for the suspect or confirmed case, including a health care worker (including those involved in cleaning, waste management, laboratory technicians, doctors) or family member, or anyone who had close physical contact; anyone who stayed at the same place (lived with, or visited).
Elements of Contact Tracing
According to WHO, contact tracing can be broken down into three steps:
Contact Identification
This involves identifying the contacts of the infected person by asking about the person's activities and those of people around them since the onset of illness.
In the case of the first positive COVID-19 patient from Chandigarh for instance, a chain of 119 people was traced directly or indirectly to the patient.
Contact Listing
This means listing all those people who came in contact with the infected person.
Efforts should be made to identify every listed contact and to inform them of their contact status, what it means, the actions that will follow, and the importance of receiving early care if they develop symptoms.
In some areas across India, authorities are releasing lists of those who are quarantined and are identifying their houses by putting quarantine posters in front of their houses.
Contact Follow-Up
It involves regular follow-ups with all the contacts to monitor for symptoms and test for signs of infection.
Digital Contact Tracing
It's a way to figure out if two people were in the same location at the same time, based on co-location tracking with the help of an app with a GPS-based location logger.
When a person is confirmed as having COVID-19, they donate their GPS data to the app's server. This gives a location trail of everywhere they've been for the last two weeks, but without revealing the person's identity.
Everyone else who uses the app can look at those trails to compare with their own to see if there was significant overlap, but they never have to share their trails.
Recent Example of Digital Contact Traciing
On 19th March, 2020, the Government of Singapore launched a mobile app called TraceTogether, to help support and supplement current contact tracing efforts in the nation-state in an effort to reduce the spread of COVID-19.

How can Contact Tracing help in Controlling the Coronavirus Outbreak?
Since everyone has many contacts, contact tracing is useful when there are only a few cases.
At this point, in many countries, we have so many cases that everyone would be contacted. This is essentially the lockdown — everybody isolates.
According to the Lancet, the feasibility of controlling the COVID-19 outbreak by using isolation of cases and contacts to control 90 percent of the outbreaks, 80 percent of contacts needed to be traced and isolated.
However, while a fifth of the world's population is currently isolated and under lockdown, it may not be feasible to trace contacts of all the infected patients given the scale of the current coronavirus outbreak, with over 4 lakh infected people.
Further, the study notes that in some scenarios, isolation alone would be unlikely to control the outbreak within a period of three months.
Conclusion
While contact tracing is an important step during a disease outbreak, it is insufficient alone in controlling it, requiring other interventions.
Rapid and effective contact tracing can reduce the initial number of cases, which would make the outbreak easier to control overall.
Effective contact tracing and isolation could contribute to reducing the overall size of an outbreak or bringing it under control over a longer time period.
Sanitizers And Mask Notified As Essential Commodities
---
In a bid to curb the transmission of Novel Coronavirus (COVID-19), the Central government on 13th March, 2020, declared masks and hand sanitizers to be "essential commodities" until June 30, 2020, by amending the schedule of the Essential Commodities (EC) Act 1955.
The move is seen as efforts to boost supply and prevent hoarding of these items in its fight to check spread of coronavirus disease.
However, it is important to note that the designation of masks and hand sanitisers as "essential commodities" does not mean that the government considers them to be 'essential', in the literal sense, in the fight against COVID-19.
Need
The government's order has come in the wake of reports of a shortage of these commodities and a sudden and sharp spike in their prices, and the alleged hoarding of stocks by manufacturers.
Key Points
Both masks (2ply & 3 ply surgical masks, N95 masks) and hand sanitisers have been brought under Essential Commodities Act, 1955, empowering States to regulate production, distribution and prices of these items and also crackdown on hoarding and black-marketing.
The Centre has also invoked Disaster Management Act to ensure price regulation and availability of these items.
Under the EC Act, state governments can ask manufacturers to enhance their production capacity of these items for augmenting supply.
State may take action against offenders under the EC Act and PBMMSEC Act (Prevention of Blackmarketing and Maintenance of Supplies of Essential Commodities Act) 1980.
The government has also issued an advisory under the Legal Metrology, in order to ensure sale of items at maximum retail prices (MRP).
Impact
Regulating Production and Distribution: The decision would empower the government and States/UTs to regulate production, quality and distribution of masks and hand sanitizers for smooth sale and availability of these items.
Curbing Black Marketing: It also empowers to carry out operations against speculators and those involved in over pricing and black marketing.
Enhancing Availability: It will enhance the availability of concerned items to the general people at reasonable prices.
What is Essential Commodity Act (ECA)?
Enacted in 1955, the act is used by the Government to regulate the production, supply and distribution of a whole host of commodities it declares 'essential' in order to make them available to consumers at fair prices.
What kinds of items are generally classified as essential commodities?
The list of items under the Act includes drugs, fertilisers, pulses and edible oils, and petroleum and petroleum products.
The Act empowers the central government to add new commodities to the list of Essential Commodities as and when the need arises, and to remove them from the list once the crisis is over or the situation improves.
How it works?
If the Centre finds that a certain commodity is in short supply and its price is spiking, it can notify stock-holding limits on it for a specified period.
The States act on this notification to specify limits and take steps to ensure that these are adhered to.
Anybody trading or dealing in a commodity, be it wholesalers, retailers or even importers are prevented from stockpiling it beyond a certain quantity.
A State can, however, choose not to impose any restrictions. But once it does, traders have to immediately sell into the market any stocks held beyond the mandated quantity. This improves supplies and brings down prices.
What is its significance?
The ECA gives consumers protection against irrational spikes in prices of essential commodities.
It helps government to crack down on hoarders and black-marketeers of such commodities.
It allows States to issue control orders related to dealer licensing, regulate stock limits and restrict movement of goods.
It also gives them power to confiscate the stock seized and impose punishments like imprisonment on the trader/dealer.
Limitations of ECA
Given that almost all crops are seasonal, ensuring round-the-clock supply requires adequate build-up of stocks during the season.
So, it may not always be possible to differentiate between genuine stock build-up and speculative hoarding.
Also, there can be genuine shortages triggered by weather-related disruptions in which case prices will move up. So, if prices are always monitored, farmers may have no incentive to farm.
With too-frequent stock limits, traders also may have no reason to invest in better storage infrastructure.
Also, food processing industries need to maintain large stocks to run their operations smoothly.
Stock limits curtail their operations. In such a situation, large scale private investments are unlikely to flow into food processing and cold storage facilities.
Recent Controversy with ECA
Recently, the Economic Survey-2020, released in January, 2020, pitched for scrapping of the ECA, stating the law is "anachronistic" that leads to harassment and is of no help in checking price volatility.
In July 2019, the NITI Aayog set up a panel of Chief Ministers to suggest agriculture reforms, whose mandate included possible amendments to the ECA.
However, just a few months later, in September 2019, the Centre invoked the Act's provisions to impose stock limits on onions after heavy rains wiped out a quarter of the kharif crop and led to a sustained spike in prices.
Reasons Given by Economic Survey
Price Volatility
Although the restrictions on both retail and wholesale traders were meant to prevent hoarding and enhance supply in the market, the Survey showed that there was actually an increase in price volatility and a widening wedge between wholesale and retail prices.
Hampering Creation of Infrastructure
The Act doesn't distinguish between food processors and wholesale/retail food chains that stock food. It hampers the creation of what's needed the most – storage and warehouse infrastructure in the agriculture space.
Burden on Administration
A considerable administrative effort goes into enforcement of this law assuming a minimum of 5 persons involved in a raid, citing that around 76,000 raids under the ECA were conducted in year 2019.
Tool of Harassment
Despite huge number of raids conducted under the ECA in 2019, the conviction rate was abysmally low. Further, raids have no impact on prices; the ECA only seems to enable rent-seeking and harassment.
World Malaria Report – 2019
---
On 4th December, 2019, the World Health Organisation (WHO) released the World Malaria Report, 2019, which summarizes global progress in the fight against malaria up to the end of 2018.
This is the fourth world malaria report since the launch of the WHO Global technical strategy for malaria 2016–2030 (GTS).
It is based on information received from more than 80 countries and areas with ongoing malaria transmission.
Major Findings
Global Specific Findings
In 2018, an estimated 228 million cases of malaria occurred worldwide, compared with 251 million cases in 2010 and 231 million cases in 2017.
Most malaria cases in 2018 were in the World Health Organization (WHO) African Region (93%), followed by the WHO South-East Asia Region (SEAR- 3.4%) and the WHO Eastern Mediterranean Region (2.1%).
Six countries accounted for more than half of all malaria cases worldwide: Nigeria (25%), the Democratic Republic of the Congo (12%), Uganda (5%), and Côte d'Ivoire, Mozambique and Niger (4%).
The incidence rate of malaria declined globally between 2010 and 2018, from 71 to 57 cases per 1000 population at risk.
Plasmodium falciparum is the most prevalent malaria parasite in the WHO African Region,accounting for 99.7% of estimated malaria cases in 2018.
Plasmodiumvivax is the predominant parasite in the WHO Region of the Americas,representing 75% of malaria cases.
Globally, 53% of the vivax burden is in the WHO South-East Asia Region, with the majority being in India (47%).
Children aged under 5 years are the most vulnerable group affected by malaria. In 2018, theyaccounted for 67% of all malaria deaths worldwide.
High Burden to High Impact Approach
There were about 155 million malaria cases in the 11 high-burden-to-high-impact (HBHI) countries in 2018, compared with 177 million in 2010.
India and Uganda have received a special mention from WHO) for their substantial reduction in malaria cases in 2018 over the previous year.
India Specific Findings
In 2018, India saw a significant reduction – 2.6 million malaria cases – compared to 2017. Despite being the highest burden country of the WHO South-East Asia Region, India reduced its reported cases by half as compared with 2017.
Only seven out of 29 States and seven UTs accounted for 90 percent of the estimated cases in 2018.

Source: IE
Significance of Report
Providing Comprehensive Update: It provides a comprehensive update on global and regional malaria data and trends. The report tracks investments in malaria programmes and research as well as progress across all intervention areas: prevention, diagnosis, treatment, elimination and surveillance.
Tracking Roll Back Malaria (RBM): It also tracks a set of indicators outlined in the Roll Back Malaria (RBM) advocacy plan, Action and investment to defeat malaria 2016–2030, to eliminate the menace of malaria.
Highlighting Strategy against Malaria: The report highlights the various ways investment in the fight against malaria contributes to the SDGs and the aligned WHO "triple billion" targets of the 13th General Programme of Work (GPW13).
Initiatives towards Malarial Eradication
Global Initiatives
Global Technical Strategy(GTS) for Malaria, 2016–2030
Adopted by the World Health Assembly in May 2015, the GTS provides a comprehensive framework to guide countries in their efforts to accelerate progress towards malaria elimination.
The Strategy sets ambitious but achievable goals for 2030, including:

Reducing malaria case incidence by at least 90%
Reducing malaria mortality rates by at least 90%
Eliminating malaria in at least 35 countries
Preventing a resurgence of malaria in all countries that are malaria-free

The strategy was developed in close alignment with the RBM Partnership's Action and Investment to defeat Malaria 2016-2030 – for a malaria-free world to ensure shared goals and complementarity.
It emphasizes the need for universal coverage of core malaria interventions for all populations at risk and highlights the importance of using high-quality surveillance data for decision-making.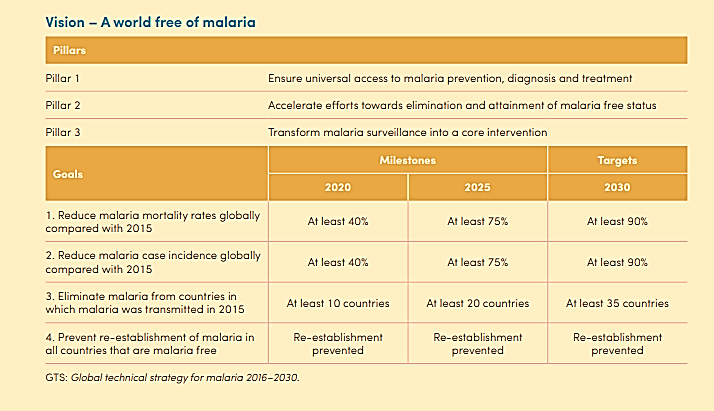 World's First Malaria Vaccine
In April, 2019, African country Malawi launched the World's first malaria vaccine,RTS,S/AS01 (RTS,S), developed by Glaxo Smith Kline (GSK).
The vaccine is a complementary malaria control tool - to be added to the core package of WHO-recommended measures for malaria prevention, including the routine use of insecticide-treated bed nets, indoor spraying with insecticides, and the timely use of malaria testing and treatment.
High Burden to High Impact
In May 2018, WHO along with RBM, called for an aggressive new approach- High Burden to High Impact, in order to accelerate progress against malaria.
It is a country-led response to reignite the pace of progress in the global malaria fight.
It aims to scale up prevention and treatment, and increase investment to protect vulnerable people from the deadly disease.
The plan support nations with most malaria cases and deaths and is based on four pillars-
galvanising national and global political attention to reduce malaria deaths
driving impact through the strategic use of information
establishing best global guidance, policies and strategies suitable for all malaria endemic countries
Implementing a coordinated country response.
E- 2020 Initiative
In 2016, WHO identified 21 countries, spanning 5 regions, that could defeat malaria by 2020, considering the likelihood of elimination across key criteria. Together, they form the E-2020 initiative.
This interactive map provides the latest information on progress and challenges in these 21 countries on their path towards malaria elimination.
Indian Initiatives
National Strategic Plan for Malaria Elimination (2017-22)
Launched in July, 2017, the plan gives year wise elimination targets in various parts of the country depending upon the endemicity of malaria in the next 5 years.
It involve strengthening malaria surveillance, establishing a mechanism for early detection and prevention of outbreaks of malaria, promoting the prevention of malaria by the use of Long Lasting Impregnated Nets (LLINs), effective indoor residual spray and augmenting the manpower and capacities for effective implementation for the next five years
Under this, elimination of malaria by 2022 has been envisaged for all 26 States including 15 low (Category 1) and 11 moderate (Category 2) transmission States/Union Territories.
National Framework for Malaria Elimination- 2016-2030
The framework, developedin line with the WHO Global Technical Strategy for Malaria 2016–2030 (GTS) and the Asia Pacific Leaders Malaria Alliance Malaria Elimination Roadmap, encompasses a vision to eliminate malaria from the country and contribute to improved health and quality of life and alleviation of poverty.
Aims
To Eliminate malaria (zero indigenous cases) throughout the entire country by 2030
Maintain malaria-free status in areas where malaria transmission has been interrupted and prevent re-introduction of malaria.
Plasmodium Genus
Malaria results from infection with single-celled parasites belonging to the Plasmodium genus.
Five species of Plasmodium are known to cause disease in humans: P. falciparum, P.vivax, P. ovale, P. malariae, and P. knowlesi.
Globally, Plasmodium falciparum and Plasmodium vivax account for the majority of cases of malaria.
While Plasmodium falciparum is responsible for more deaths, Plasmodium vivax is the most widespread of all of the malaria species, can cause severe, even fatalinfections and results in significant global morbidity and mortality.
Way Forward
Malaria is a disease of poverty which exerts an enormous economic and social burden on the affected population groups, individuals and communities. The burden of malaria is highest among the most disadvantaged populations, particularly children and pregnant women.
Global poverty and inequity are both a major cause and consequence of malaria. Efforts to prevent, control and eliminate malaria contribute toachieve the Sustainable Development Goals (SDGs) 3 - health and well-being for all.
Further, achieving a world free of malaria will be accelerated by the successful adoption of Universal Health Coverage (UHC), which would provide everyone, everywhere with accessible, affordable, and sustainable health services.
14th National Health Profile, 2019
---
On 30th October, 2019, Ministry of Health and family Welfare released the 14th National Health Profile (NHP)-2019 & its e-book (digital version).
Central Bureau of Health Intelligence (CBHI) has been publishing the National Health Profile since 2005 and its digital version since 2015.
Major Highlights of NHP, 2019
Life Expectancy
Life expectancy has increased from 49.7 years in 1970-75 to 68.7 years in 2012-16.
For the same period, the life expectancy for females is 70.2 years and 67.4 years for males.
There has been consistent decrease in the birth rate, death rate and natural growth rate in India since 1991 to 2017.
The population, however, continues to grow, as the decline in the birth rate is not as rapid as the decline in the death rate
Demographics
The survey found the high incidence of the young and economically active population.
27% of the total estimated population of 2016 were below the age of 14 years and majority (64.7%) of the population were in the age group of 15-59 years i.e. economically active, and 8.5% population were in the age group of 60-85 plus years.
Infant Mortality Rate (IMR)
IMR has declined considerably (33 per 1,000 live births in 2016), however differentials of rural (37) and urban (23) are still high.
Total Fertility Rate (TFR)
TFR for the country was 2.3 whereas in rural areas it was 2.5 and 1.8 in urban areas during 2016 as per the latest available information.
Communicable and Non- communicable Diseases
Under communicable diseases, maximum number of cases and deaths due to malaria has been reported in Chhattisgarh (77,140 cases and 26 deaths).
The overall prevalence of the disease has diminished in 2012 and 2013 but there was a slight increase in 2014 and 2015 before it started decreasing again from 2016.
On the non-communicable diseases (NCD), the survey notes that out of 6.51 crore patients who attended NCD clinics, 4.75% people are diagnosed with diabetes, 6.19% are diagnosed with hypertension, 0.3% are diagnosed with cardiovascular diseases, 0.10% are diagnosed with stroke and 0.26% are diagnosed with common cancers.
Major Concerns
Between 2009-10 and 2018-19, India's public health spend as a percentage of GDP went up by just 0.16 percentage points from 1.12% to 1.28% of GDP, and remains a far cry from the 2.5% GDP health spend that has been India's target for some years now.
The cost of treatment has been on rise in India and it has led to inequity in access to health care services.
There are wide disparities in the health spend of states.The Northeastern states had the highest and the Empowered Action Group (EAG) states plus Assam had the lowest average per capita public expenditure on health in 2015-16.EAG states are the eight socio-economically backward states of Bihar, Chhattisgarh, Jharkhand, Madhya Pradesh, Odisha, Rajasthan, Uttarakhand and Uttar Pradesh.
Impact
Key to Efficient Health System: This national reference document shall be of immense support to all concerned government departments & institutions, public sector enterprises, non-government organizations, policy makers, planners, administrators, managers, researchers and academicians for a strong and efficient health system in India.
Tool of Assessment: NHP – 2019 provides information regarding the significant progress has been made in the country for various health outcomes. This information is essential for health system policy development, governance, health research, human resource development, health education and training, service delivery and financing.
Way to Universal Health Coverage (UHC):It helps in understanding the goals, strengths and weaknesses and is also an important means to strategize area specific interventions in order to achieve universal health coverage.
Realization of Digital India Vision: The e-book of NHP-2019 is a step towards realizing government's vision of Digital India, as digital documents give us an opportunity for wider dissemination of information.
National Health Profile (NHP)
NHP, an annual publication of the CBHI, is an initiative which is at par with international standards of data publications.
It aims to provide relevant information for planning and decision making on an informed basis to the planners, policy makers, health administrators, research workers and others engaged in raising the health and socio-economic status of the community.
Objective
To create a versatile data base of health information of India and making it available to all stakeholders in the healthcare sector.
Major Indicators of NHP
The NHP highlights substantial health information under following major indicators-
Demography Indicators: It provides population statistics and vital statistics like size and growth of population, sex ratio, density,birth rate, death rate, and natural growth rate, life expectancy at birth, mortality and fertility rates.
Socio-Economic Indicators: It provides data on education, gender, poverty, housing, amenities, employment and other economic indicators.
Health Status Indicators: It provides incidence and prevalence of common communicable and non-communicable diseases, morbidity & associated mortality, health risks and performance of related national health programs in the country.
Health Finance Indicators: It provides an understanding of patterns of investments, expenditure, sources of funding and proportion of allocation vis-à-vis other total allocations.
Human Resources for Health: It provides an overview of availability of trained and specialized medical, nursing and paramedical personnel in the country. These also give an idea regarding regional distribution and disparities.
Health Infrastructure: It provides details of medical colleges, course, post graduate degree/diploma in medical and dental colleges, AYUSH Institutes, allopathic hospitals, hospital beds, Indian System of Medicine & Homeopathy hospitals, etc.
Significance
Delivering Quality Health Services: NHP provides relevant information to the planners, policy makers, health administrators, research workers and others engaged healthcare sector to take informed decisions, contributing to better and quality delivery of health services.
Contribution to National Health Policy: NHP contributes towards providing better universal and equitable healthcare to its people as envisaged in National Health Policy 2017, as it helps in informed decision making on policies and initiatives of various stakeholders in healthcare sector in the country.
Interoperability of Data: Following the standard coding from Family of International classification (FIC) in presenting the diseases, NHP will improve interoperability of the data internationally.
Central Bureau of Health Intelligence (CBHI)
Established in 1961, it is the health intelligence wing of the Director General of Health Services in the Ministry of Health, with the vision to have a strong Health Management Information System in entire country.
Mission
To strengthen Health Information system in each of the district in the country up to facility level for evidence based decision making in the Health Sector.
Family of International Classification (FIC)
FIC is maintained by World Health Organisation(WHO) through an international Network, which consists of a global range of collaborating centres and experts. This confers a worldwide consensus, targeting consistent, high quality health data for both national and international purpose.
WHO-FIC comprises the Reference Classifications, the Related Classifications and the Derived Classifications.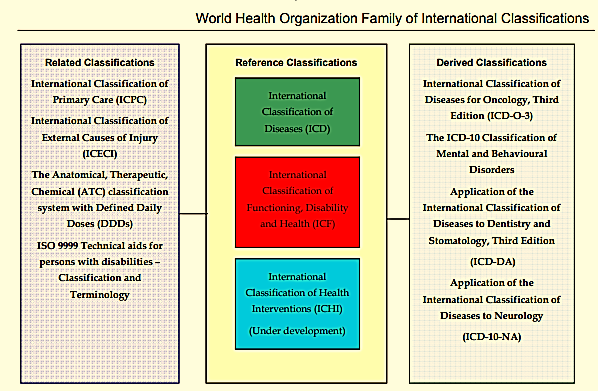 Source: WHO
Way Forward
For resource constraint country such as India, having comprehensive information on both public and private health sector is prerequisite for planning resource allocation. Generation and adoption of such evidence will help in driving judicious health resource planning and allocation to reduce the disparities and inequitiesin order toachieve the Universal Health Coverage.
An updated and reliable health database is the foundation of decision-making across all health system building blocks, and is essential for health system policy development and implementation, governance and regulation, health research, human resources development, health education and training, service delivery and financing.
It is important that larger policy decisions are taken based on latest and reliable information on the available healthcare resources, their deployment and trends that can address entrenched problem of health system with real time solutions.
Immunisation Coverage Rate
---
The current national full immunisationcoverage rate stands at 87 percent, still behind the target set under the Mission Indradhanush (MI) Programme.
However, MI has helped increased India immunisation coverage from 67% in 2014 to the 87% in till the current date.
According to government data, 260 lakh children are born every year and an estimated 31 lakh out of them would not receive complete rounds of vaccination in the first year of their life due to various reasons.
The Government will launch the second phase of nationwide immunisation drive, i.e. Intensified Mission Indradhanush 2.0, to mark the 25 years of Pulse polio programme.
Intensified Mission Indradhanush 2.0 aims to achieve at least 90% pan-India immunisation coverage by 2022.
Timeline of Immunization Programmes in India
Expanded Programme on Immunization (EPI)
The EPI was initiated in India in 1978 with the objective to reduce morbidity and mortality from diphtheria, pertussis, tetanus, poliomyelitis and childhood tuberculosis by providing immunization services to all eligible children and pregnant women by 1990. Measles vaccine was included when the EPI was accelerated by launching the Universal Immunization Programme (UIP) in 1985-86.
Universal Immunization Programme (UIP)
In 1985, the EPI was modified as UIP. It became a part of Child Survival and Safe Motherhood Programme in 1992 and is currently one of the key areas under National Rural Health Mission (NRHM) since 2005.
The program now consists of vaccination for 12 diseases- tuberculosis, diphtheria, pertussis (whooping cough), tetanus, poliomyelitis, measles, hepatitis B, diarrhoea, Japanese encephalitis, rubella, pneumonia (Heamophilus Influenza Type B) and Pneumococcal diseases (Pneumococcal Pneumonia and Meningitis).
Hepatitis B and Pneumococcal diseases were added to the UIP in 2007 and 2017 respectively.
Pulse Polio Programme (PPP)
With the global initiative of eradication of polio in 1988 following World Health Assembly resolution in 1988, Pulse Polio Immunization programme was launched in India in 1995.
It aimed to immunize children through improved social mobilization, plan mop-up operations in areas where poliovirus has almost disappeared and maintain high level of morale among the public.
Mission Indradhanush (MI)
It was launched in 2014 with aim to strengthen and re-energize the programme and achieve full immunization coverage for all children and pregnant women.
It aims to cover all those children by 2020 who are either unvaccinated, or are partially vaccinated against vaccine preventable diseases.
The diseases being targeted are diphtheria, whooping cough, tetanus, poliomyelitis, tuberculosis, measles, meningitis and Hepatitis B. In addition to these, vaccines for Japanese encephalitisand Haemophilusinfluenzae type B are also being provided in selected states.
MI has been implemented in low coverage pockets and has been expanded during (i) Intensified Mission Indradhanush (ii) Gram Swaraj Abhiyan and (iii) Expanded Gram Swaraj Abhiyaan.
Intensified Mission Indradhanush (IMI)
To further intensify the immunization program, the Intensified Mission Indradhanush (IMI) October, 2017.
It aims to reach each and every child up to two years of age and all those pregnant women who have been left uncovered under the routine immunisation program.
Constraints in Immunization Program
Huge Population
India vast population with relatively high growth rate is a barrier in itself. Approximately 27 million children are born in India each year – the largest birth cohort in the world – but less than 44% receive a full schedule of vaccinations.
Poor Social Mobilization
Poor populations and those with lower levels of education are most vulnerable to impacts of low levels of advocacy and communication. Low levels of awareness, communication and information sharing amongst frontline workers as well as poor human resource is another constrain in immunization program.
Insufficient and ineffective health communication along with lack of promotion or follow-up are two of the main health systemconstrains behind low coverage in immunization, preventing parents from initiating or following throughwith their child's vaccination schedule.
Poor Data Management
There are big gaps in quality of data being reported, its analysis and use for decision making and thus leading to inadequate information to support National Technical Advisory Group on Immunization (NTAGI) and UIP to design and implement strategies to improve immunization quality and coverage.
Inadequate surveillance data quality and reporting rates result in poor surveillance of vaccine preventable diseases(VPDs).There is lack of disease burden data on many important VPDs in India that results in the perception that the disease is not important public health problem.
Lack of baseline surveillance data also is a bottleneck in monitoring the impact of vaccination.
Weak Human Resource Capacity
The program suffers set back due to limited technical and operational human resource capacity and quality at various levels in UIP.
The lack of human resource capacity and poorly defined roles and responsibilities at various levels have a cascading effect on all other areas of program performance, including monitoring and evaluation, supply chain and logistics management, and strategic communications.
Lower quality of monitoring and supportive supervision of the program leads to reduced efficiency and effectiveness of interventions at all levels of programming.
Lack of Delineated Accountability Systems
A major problem is the lack of institutionalized and uniform accountability structures, focused on performance review at each administrative level i.e. central, state and district levels. Country has Multi Year Strategic Plan for UIP but its implementation is not monitored in absence of a monitoring and accountability structure.
Moreover, in absence of a robust system for data analysis, interventions and follow up these are not very effective.
Infrastructure Issues and Vaccine Logistics Management
There is limited cold chain infrastructure and capacity in many states – even for routine UIP vaccines.Infrastructure issues include poor infrastructure of vaccine stores and transportation systems. There is a lack of standards for vaccine stores at different levels and insufficient temperature monitoring system at all vaccines storage points from Government Medical Store Depots (GMSDs) to last cold chain point level, state, and regional stores.
There exist difficulties in procuring the right quality of cold chain equipment on time with adequate after sale support. There is a paucity of repair kits and spares cold chain technicians and inequitable cold chain point (last vaccine storage site) distribution.
Way Forward
A crucial step towards delivering 'Health for All' is building trust in vaccines and in the healthcare system. WHO recommends scaling advocacy efforts to improve understanding of the 'Value of Vaccines' and urgency of meeting the Global Vaccine Action Plan (GVAP) goals.
Community-based information provided by trusted sources can help address issues confronting vaccine hesitancy at large. Communities need to appreciate immunisation as their fundamental healthcare right, and not as government propaganda thrust upon them.
In order to achieve 100% immunisation rate in the country, it becomes imperative that all the available technologies for vaccine delivery are optimally used to improve efficiency.
In this regard, it is very encouraging to see the use of eVIN technology (electronic vaccine intelligence network) as an example of India leading the world in indigenously developed technology that digitises vaccine stocks and monitors the temperature of the cold chain through smartphone applications.
The road to achieving GVAP 2020 is through efficient vaccine delivery technologies that provide high and equitable coverage to the most under-served populations of the world.
One of the most crucial elements in building equitable and sustainable immunisation coverage is intensification of domestic financing. To meet the goals of India's UIP, improved financing will be essential not only to meet current targets but also to lower long-term healthcare costs.
Healthcare authorities should be encouraged to craft, defend and champion immunisation budgets while closely monitoring disbursements and immunisation programme activities, both at the national as well as the local level.
In addition, civil society organisations that can effectively advocate for greater commitment to vaccines and immunisations should be engaged proactively, and leveraged for increased effectiveness of delivery systems.
The future of healthcare lies in collaboration, innovative solutions and intelligent delivery designs. With a keen focus on the immunisation drive, the Centre is making remarkable progress in building a stronger healthcare environment across the country. And this will most certainly pave the way for a stronger and healthier India.
Country Cooperation Strategy 2019–2023
---
On 9th October, 2019, Ministry of Health & Family Welfare launched the 'WHO India Country Cooperation Strategy 2019–2023: A Time of Transition'.
Objectives
To aid Indian government towards achieving its health sector goals
To improve the health of country's population
To bring in transformative changes in the health sector
About India Country Cooperation Strategy
The India CCS is in alignment with the following –

WHO 13th General Programme of Work and its 'triple billion' targets
Sustainable Development Goals (SDGs)
WHO South-East Asia Region's eight Flagship Priorities.

CCS encapsulates the work of the United Nations Sustainable Development Framework for 2018–2022.
It defines how WHO can support the Ministry of Health & Family Welfare and other allied Ministries to drive impact at the country level.
It is build builds on other key strategic policy documents including India's National Health Policy 2017, Ayushman Bharat, National Viral Hepatitis programme and promotion of digital health amongst others.
Four areas for strategic cooperation of WHO with India:

Universal Health Coverage (UHC)
Health and wellness by addressing the determinants of health
Protection against health emergencies
India's global leadership in health
Significance
Providing Strategic Roadmap: CCS provides a strategic roadmap for WHO to work with the Government of India towards achieving its health sector goals, in improving the health of its population and bringing in transformative changes in the health sector.
Identifying Current Challenges: It helps India identifying the current and emerging health needs and challenges such as non-communicable diseases, antimicrobial resistance and air pollution.
India as a Role Model: It gives India a great to prove itself as a model to the world in initiatives such as digital health, access to quality medicines and medical products, comprehensive hepatitis control program and Ayushman Bharat.
Country Cooperation Strategy (CCS)
CCS is a medium-term vision for WHO's technical cooperation with a given Member State, and supports the country's national health policy, strategy or plan.
The CCS time frame is flexible to align with national cycles and processes. It is the basis for aligning WHO's collaboration with other United Nations bodies and development partners at the country level.
It summarizes:

main features of the country context in relation to health, development and cooperation with partners
WHO's main work priorities with the country in the medium term
key public health indicators, utilizing data from the WHO Global Health Observatory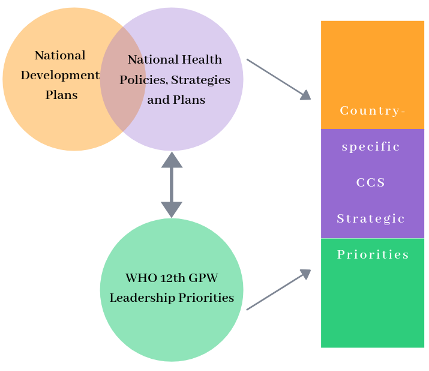 WHO Triple-Billion Target (TBT)
Announced in March, 2019, the TBT under WHO's 13th General Programme of Work (2019-2023) is a set of interconnected strategic priorities and goals to ensure healthy lives and promote well-being for all at all ages.
Aims
To provide a billion more people with universal health coverage
To protect another billion people from health emergencies
To provide a further billion with better health and well-being over the next five years.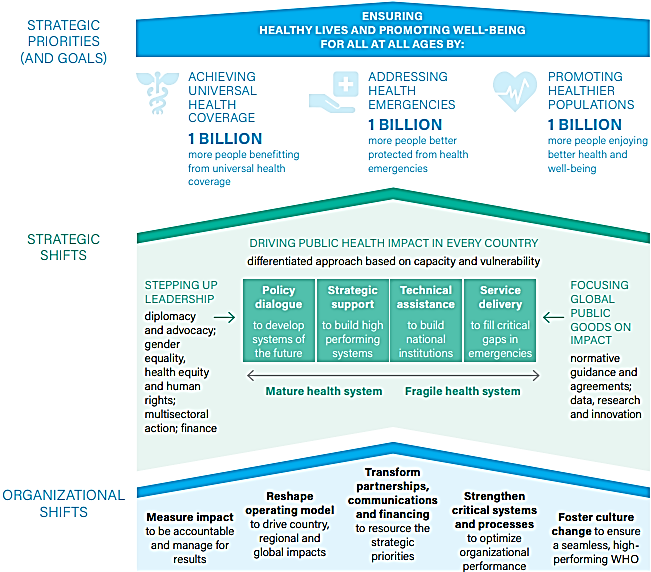 Source: WHO
WHO South-East Asia Region's Eight Flagship Priorities
In 2014, WHO, in consultation with the Member countries, identified seven flagship priorities while the eight priority was added in 2017.These priorities are as follows:

Achieving universal health coverage
Strengthening emergency response capacity
Reversing the non-communicable disease epidemics
Finishing off neglected tropical diseases
Combatting antimicrobial resistance
Preventing maternal, under-5 and neonatal deaths
Eliminating measles and controlling rubella
Eliminating tuberculosis by 2030
Way Forward
Besides the health priorities, focus needs to be given on other equally pertinent health areas of environmental and occupational health, accidents and road injuries, and good nutrition and food safety.
An inter-ministerial collaboration mechanism needs to be institutionalized wherein every ministry has a health section/department leading to the better and effective implementation of policies at every level.
The government should stress on the need for health to be made a people's movement where the positive health attitude is inculcated in everyone, and everyone takes responsibility of their own health through preventive and promotive health approach.
Burden Of Malnutrition
---
Recently, the India State-Level Disease Burden Initiative, led by Indian Council of Medical Research (ICMR), published the first comprehensive estimate of disease burden due to child and maternal malnutrition and the trends of its indicators in every State from 1990.
The estimates were produced as part of the Global Burden of Diseases, Injuries, and Risk Factors Study (GBD) 2017.
Major Findings of the Report
The death rate due to malnutrition in children under five years of age in India has dropped by two-thirds between 1990 and 2017, but still accounts for 68% of deaths in children of the age group.
The Disability-Adjusted Life Years (DALY) rate attributable to malnutrition in children varies 7-fold among the states — a gap between a high of 74,782 in Uttar Pradesh and a low of 11,002 in Kerala.
The prevalence of low birth weight in India was 21·4% in 2017. Among the malnutrition indicators, low birth weight(less than 2500 g) is the largest contributor to child deaths in India, followed by child growth failure which includes stunting, underweight, and wasting.
The prevalence of child stunting was 39.3% in India in 2017.
The prevalence of child underweight was 32·7% in India in 2017.
The prevalence of child wasting was 15·7% in India in 2017.
The prevalence of anaemia in women 15–49 years of age was 54·4% in India in 2017.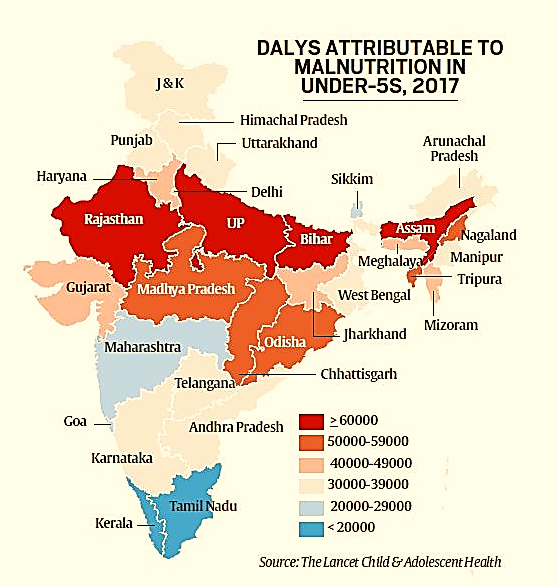 State-Level Disease Burden Initiative(SLDBI)
Launched in October 2015, it is collaboration between the Indian Council of Medical Research (ICMR), the Public Health Foundation of India (PHFI), Institute for Health Metrics and Evaluation (IHME), and senior experts and stakeholders currently from about 100 institutions across India.
Disability-Adjusted Life Years (DALY)
DALYs for a disease or health condition are calculated as the sum of the Years of Life Lost (YLL) due to premature mortality in the population and the Years Lost due to Disability (YLD) for people living with the health condition or its consequences.
DALY is the summary measure used to give an indication of overall burden of disease. One DALY represents the loss of the equivalent of one year of full health.
Significance
The finding in this report is an eye-opener for the government who is striving hard to address the menace of malnutrition across the country.
However, if the trends up to 2017 continue, the National Nutrition Mission (NNM)- 2022 and the WHO and UNICEF 2030 targets will not be achieved in most states of India.
Malnutrition
It refers to deficiencies, excesses or imbalances in a person's intake of energy and/or nutrients. It covers 2 groups of conditions:

Undernutrition: It includes stunting (low height for age), wasting (low weight for height), underweight (low weight for age) and micronutrient deficiencies or insufficiencies (a lack of important vitamins and minerals).
Overnutrition: Overconsumption of certain nutrients, such as protein, calories or fat, can also lead to malnutrition. This usually results in overweight or obesity.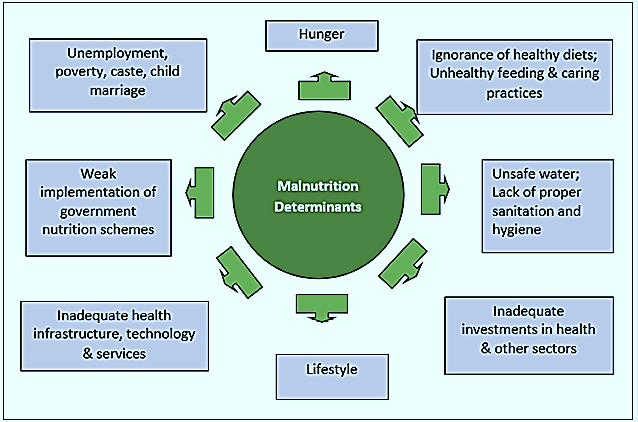 Government Measures towards Malnutrition
Prime Minister's Overarching Scheme for Holistic Nutrition (POSHAN Abhiyaan)
Launched in 2018, it is a multi-ministerial convergence mission with the vision to ensure attainment of malnutrition free India by 2022.
Its aim to ensure holistic development and adequate nutrition for pregnant women, mothers and children.
It targets to reduce stunting, under-nutrition, anaemia (among young children, women and adolescent girls) and reduce low birth weight by 2%, 2%, 3% and 2% per annum respectively.
Poshan Maah
To give momentum to POSHAN Abhiyan , 'National Council on India's Nutrition Challenges' on 24th July 2018 decided to celebrate the month of September now onward as Rashtriya Poshan Maah.
During this month activities related to nutrition awareness will be carried out by all the states/UTs up to the grass root level. OSHAN Maah has given a major impetus to the Abhiyaan.
Pradhan Mantri Matru Vandana Yojana (PMMVY)
Launched in 2017, It is maternity benefit scheme under which a cash incentive of 5000/- is provided directly to the Bank / Post Office Account of Pregnant Women and Lactating Mothers (PW&LM) for first living child of the family subject to fulfilling specific conditions relating to Maternal and Child Health.
It is implemented using the platform of Anganwadi Services scheme of Umbrella ICDS under Ministry of Women and Child Development.
National Food Security Act (NFSA), 2013
It gives legal entitlement to 67% of the population (75% in rural areas and 50% in urban areas) to receive highly subsidized foodgrains.
Under the Act, foodgrain is allocated @ 5 kg per person per month for priority households category and @ 35 kg per family per month for AAY families at a highly subsidized prices of Rs. 1/-, Rs. 2/- and Rs. 3/- per kg for nutri-cereals, wheat and rice respectively.
Mid-day Meal Scheme (MDMS)
The MDMS is a school meal programme of the Government of India designed to improve the nutritional status of school-age children nationwide.
In 2001 MDMS became a cooked Mid Day Meal Scheme under which every child in every Government and Government aided primary school was to be served a prepared Mid Day Meal with a minimum content of 300 calories of energy and 8-12 gram protein per day for a minimum of 200 days.
Integrated Child Development Scheme (ICDS)
Launched in 1975, ICDS is a unique early childhood development programme, aimed at addressing malnutrition, health and also development needs of young children, pregnant and nursing mothers.
International Initiative
In April 2016, the United Nations General Assembly adopted a resolution proclaiming the UN Decade of Action on Nutrition from 2016 to 2025. The Decade aims to catalyse policy commitments that result in measurable action to address all forms of malnutrition.
The aim is to ensure all people have access to healthier and more sustainable diets to eradicate all forms of malnutrition worldwide.
Goal 2 of the 2030 Sustainable Development agenda seeks to end hunger and all forms of malnutrition, and double agricultural productivity in the next 15 years. Ensuring this sustainable access to nutritious food universally will require sustainable food production and agricultural practices.
Way Forward
Nutrition is both a maker and a marker of development. Improved nutrition is the platform for progress in health, education, employment, empowerment of women and the reduction of poverty and inequality, and can lay the foundation for peaceful, secure and stable societies.
The governments along with the stakeholders involved, have to adopt a comprehensive and coordinated multi-sectoral approach which is formulated by taking into account the varied nature of local-level challenges.
In particular, attention needs to be paid on building neighbourhood health and nutrition profiles and carrying out interventions based on identified needs in order to deal effectively with the growing problems of malnutrition.
National Essential Diagnostics List
---
Recently, India has got its first National Essential Diagnostics List (NEDL) finalised by the Indian Council of Medical Research (ICMR).
Now, India has become the first country to compile such a list that would provide guidance to the government for deciding the kind of diagnostic tests that different healthcare facilities in villages and remote areas require.
About NEDL
World Health Organisation(WHO) released first edition of essential diagnostics list (EDL) in May 2018, which has been used as reference for development of NEDL. India's list has been customised and prepared as per landscape of India's health care priorities.
NEDL builds upon the Free Diagnostics Service Initiative and other diagnostics initiatives of the Health Ministry to provide an expanded basket of tests at different levels of the public health system.
The list also encompasses tests relevant for new programmes such as Health and Wellness Centres (HWCs) under the PradhanMantri Jan ArogyaYojana.
The list mentions 105 general laboratory testsfor a broad range of common conditions, 30 disease-specific tests such as for HIV, hepatitis, tuberculosis, and 24 imaging tests including X-rays, CT and MRI scans and ultrasound sonography
It is a complete list of diagnostic tests, medical devices and in-vitro diagnostic device (IVD) for all levels of health care – village level, primary, secondary and tertiary care.
Aim of NEDL
To bridge the current regulatory system's gap those do not cover all the medical devices and in-vitro diagnostic device (IVD).
To enhance accessibility to diagnostic tests and reduce out-of-pocket expenditure.
WHO Model List of Essential Medicines (EML)
The WHO Model List of Essential Medicines (EML), published by the World Health Organization (WHO), contains the medications considered to be most effective and safe to meet the most important needs in a health system.
The list has been updated every two years since 1977.
The current versions are the 21st WHO Essential Medicines List (EML) and the 7th WHO Essential Medicines List for Children (EMLc) updated in June 2019.
Need for NEDL
Non-affordability of Diagnostic Test: While affordability of diagnostics is a prime concern in low, middle-income countries like India, low cost, inaccurate diagnostics have made their way into the Indian market which has no place in the quality health care system.
Inadequate Lab Infrastructure: Absence of lab infrastructure or resources mainly in rural areas is another major concern, giving rise to serious health issues. The diagnostic laboratories sector in India is highly fragmented with standalone centres accounting for 45-50% of the market and organized ones having a 25-30% share.
Lack of Awareness:There is no stratification of labs and there is lack of awareness. People don't know the difference between an accredited lab and any other lab.
Significance
It would enable improved health care services delivery through evidence-based care, improved patient outcomes, effectiveutilisation of public health facilities; effective assessment of disease burden, disease trends, surveillance, and outbreak identification; and address antimicrobial resistance crisis too.
It will help India in achieving Sustainable Development Goal (SDG) 3.8 i.e. Universal Health Coverage (UHC).
It will help to set standard of requirement of minimum distance to a healthcare facility, equipments, skilled health workers, accessibility to diagnostic tests.
It will also help in reducing out-of-pocket expenditure by promoting research and development for new, appropriate and effective diagnostics.
Availability of quality assured diagnostics will also be helpful in optimal utilization of Essential Medicine List (EML).
Challenges in Implementing NEDL
Regulatory Challenges: The current regulatory systems do not cover all the medical devices and IVD. Thesystem is currently equipped to manage only the few notified devices. There is no set classification/classification system in current device rules for both notified and non-notified devicescategory for innovative products/ technologies and needs guidance from regulators tobring clarity on the category.
Inadequate Hospital Infrastructure: Indian hospitals are understaffed, overburdened and ill-with absence of high quality and required lab equipmentswhich would be a major hindrance in implementation of NEDL.
Shortage of Medical Professionals:There is acute shortage of trained professionals—microbiologists, pathologists, trained lab technicians. Without skilled professionals or advanced technology, achieving accurate diagnosis and effective prognosis will be a challenge.
Adoption by States: Adoption by States and harmonization with local standard diagnostic protocols andtreatment guidelines is another major challenge in the path of NEDL implementation.
Rural Areas Access: The access to diagnostics in remote areas and even in tier-2 and tier-3 cities is another challenge in providing quality and right diagnostic services.
Way Forward
If implemented in a phased manner, NEDL could potentially improve access to safe and effective diagnostic tests for patients. However, this needs a streamlined approach in synchrony with other changes being proposed, such as revision of Indian Public Health Standards (IPHS), HWCs and free diagnostic service initiative of the government.
Equitable accessibility, affordability and appropriate use of good quality diagnostics are integral to high quality health care. Diagnostics serve a key role in improving health and quality of life and the essential diagnostic list is important for developing countries like India that look at universal health care as one of their prime objectives.
National Digital Health Blueprint Released
---
On 16th July, 2019, the National Digital Health Blueprint (NDHB) was released by the government bringing in the National Digital Health Eco-system (NDHE) to guarantee the availability of healthcare services on large-scale.
A committee chaired by J Satyanarayana was constituted to devise an implementation framework for the National Digital Health Blueprint.
Vision of NDHB:
It encapsulates the goals of NHP 2017 and aims to leapfrog to the digital age by providing a wide range of digital health services.
It will support the quality of healthcare, Universal Health Coverage (UHC) in an efficient, accessible, inclusive, affordable, timely and safe manner through the provision of a wide range of data, information, and infrastructure services.
Objectives
·To Build State of Art Digital Health System: To establish state-of-the-art digital health systems, for managing the core digital health data, and the infrastructure required for its smooth exchange.
·Establishing National and Regional Registries: To establish National and Regional Registries, to create Single Source of Truth in respect of Clinical Establishments, Healthcare Professionals, Health Workers and Pharmacies.
·Creation of Personal Health Records: To create a system of Personal Health Records, based on international standards that can be easily accessible to the citizens and to the healthcare professionals and services providers, based on citizen-consent.
·Promotion of Health Application System: To promote development of enterprise-class health application systems with a special focus on addressing the Sustainable Development Goals related to the health sector.
·Adoption of Cooperative Federalism: To adopt the best principles of cooperative federalism while working with the States and Union Territories for the realization of the Vision.
·National Portability: To ensure National Portability in the provision of health sector for better and quality service delivery.
Issues in Healthcare System:
Lack of Awareness and Illiteracy: Lack of awareness is an issue which is faced in building access to healthcare. Poor educational status leads to non-utilization of limited health services and rise in preventable risk factors.
Lack of Access to Basic healthcare Services: Diagnosis and basic treatment is just not accessible to hundreds of millions of Indian, further aggravating the health issues.
Health Infrastructure: Infrastructure is another pain point in the Indian healthcare sector. The country witnesses serious resource shortage on both capital invested and manpower. Also, it faces a severe shortage of hospital beds, the ratio being 0.5 per 1000 population for India as compared to 2.3 for China, 2.6 for Brazil and 3.2 for the US. This ratio is much lower than the requirement of 1 bed per 1000 population as determined for the low-income countries by WHO.
Shortage of Health Workers: India faces the problem of acute shortages and inequitable distributions of skilled health workers as have many other low- and middle-income countries. It has 20.6 health workers per 10,000 people, less than the World Health Organisation's minimum threshold of 22.8. Despite the health sector employing five million workers in India it continues to have low density of health professionals with figures for the country being lower than those of Sri Lanka, China, Thailand, United Kingdom and Brazil, according to WHO.
Low Expenditure on Health Sector: India's per capita expenditure on health continues to be among the lowest in the world. In spite of various innovations in the healthcare sector, in line with India's continuous pursuit of reforms, the government remains short of its ambition to increase public health spending to 2.5% of GDP. At present, health spending is only 1.15-1.5% of GDP.
Low Penetration of Health Insurance: Health insurance low penetration causes further challenge towards access to healthcare. With 75 percent of the Indian population paying for healthcare services from their own pockets, it puts immense financial pressure.
Expensive Healthcare Services: Private sector is the dominant player in the healthcare arena in India. Obviously the costs of accessing health services are high since private companies work with the overriding aim of maximising profit, and health is big business in developing nations given the huge size of the potential market due to the population.
Recent Initiatives in Health Sector
Ayushman Bharat
Launched in 2018, it is an umbrella of two major health initiatives, namely Health and Wellness Centres (HWCs) and Pradhan Mantri Jan Arogya Yojna (PMJAY):
HWCs: It places people and communities at the center of the health care delivery system, making health services responsive, accessible and equitable.
PMJAY: it aims to provide healthcare cover to over 10 crore poor and vulnerable families up to Rs 5 lakh per family per year for secondary and tertiary care requiring hospitalization.
LaQshya- Labour Room Quality Improvement Initiative Guideline
Launched in 2018, it aims to reduce preventable maternal and newborn mortality, morbidity and stillbirths associated with the care around delivery in the Labour Room and Maternity Operation Theatre (OT) and ensure respectful maternity care.
National Health Policy(NHP) 2017
The major commitment of the NHP 2017 is raising public health expenditure progressively to 2.5% of the GDP by 2025. It envisages providing larger package of assured comprehensive primary healthcare through the Health and Wellness Centres. The Policy aims to attain the highest possible level of health and well-being for all at all ages through a preventive and promotive healthcare and universal access to quality health services without anyone having to face financial hardship as a consequence.
Intensified Mission Indradhanush
Launched in 2017, it aimed at reducing maternal and child mortality by reaching out to each and every child less than two years of age and all the pregnant women who are left uncovered under the routine immunization programme.
Significance:
The NDHB is in line with the vision of the Prime Minister to reach each individual of this country with services at their doorstep under Digital India Programme.
Under the Prime Minister's vision of Digital India, National Digital Health Eco-system (NDHE) can ensure availability and access of better healthcare services to everyone on a wider scale.
Quality Of 18 Pharma Companies'
---
The Bureau of Pharma PSUs of India (BPPI) has found 25 batches of drugs of 18 pharmaceutical companies to be of substandard quality since January 2018.
Relevance of the News: The news highlights the quality of drugs manufactured in India and the related regulatory mechanism.
More on the News:
As on February 8 this year, under the Pradhan Mantri Janaushadhi Pariyojana (PMBJP), the BPPI has entered into a contract with 146 pharmaceutical manufacturing companies for procuring generic medicines to be sold through dedicated retail outlets.
After procuring the affordable generic drugs from pharmaceutical companies, the BPPI, suppliesthese drugs to various Jan Aushadhi Kendras managed under the Pradhan Mantri Janaushadhi Pariyojana (PMBJP).
Out of 18 pharmaceuticals companies, 17 are private, one is a public sector unit (PSU) — Indian Drugs and Pharmaceuticals Limited (IDPL).
Pradhan Mantri Janaushadhi Pariyojana(PMBJP):
It is a campaign launched the government to provide quality medicines at affordable prices to the masses through special kendra's known as Pradhan Mantri Bhartiya Jan Aushadhi Kendra which have been set up to provide quality generic drugs at affordable prices.
The project is being implemented by Bureau of Pharma PSUs of India.
Encephalitis Claims 57 Lives In Bihar
---
Why is it in News?
Until 14 June 2019, the death toll of children due to suspected Acute Encephalitis Syndrome (AES) in Muzaffarpur went up to 57.
Relevance of the News: AES has proved to be a major public health hazard in India.
Outbreak in Bihar:
The death toll of children in Bihar from AES after consuming toxic lychee fruit has reached alarming levels this year.
The fruit was found to be infested with the virus and patients showed symptoms similar to AES. Children experienced sudden drop in blood sugar levels which caused their untimely death.
The state government has announced many emergency measures including provisioning of hospital beds for children, and six additional ambulances in affected areas.
Previously the state government attributed the cause of death of small children to hypoglycemia, or low blood sugar levels but experts have reported that "AES is a broader aspect of hypoglycemia".
The government hospital in the district is suffering from shortage of beds and healthcare capacity.
Acute Encephalitis Syndrome (AES):
AES, it is a neurological disorder which affects the brain and the limbic system when a specific strain of virus or a bacteria attacks the body.
Since the disease majorly inflames the vessels in the brain, it is also known as brain fever.
In the present outbreak, the virus from the lychee fruit entered the body and attacked the immune system as well as the brain.
AES spreads through contaminated surfaces like contaminated water, secretions and saliva of infected persons and mosquitoes etc.
Its symptoms include dizziness, headache, body aches, nausea, fever, fatigue, paralysis, seizures or twitching etc.
In India children are most vulnerable to this disease due to lack of nourishment, which leads to a mismatch in the blood sugar levels and decreases their immunity as well.
Shortage Of Healthcare Providers In India
---
Why is it in News?
According to a WHO database, India faces the problem of acute shortages and inequitable distributions of skilled health workers whose figures are lower than those of Sri Lanka, China, Thailand, United Kingdom and Brazil.
Relevance of the News:
The news highlights the status of health infrastructure of India.
Worst Hit States:
The health sector employs 5 million workers, yet India continues to have low density of health professionals putting the country into the "critical shortage of healthcare providers" category.
Bihar, Jharkhand, Uttar Pradesh and Rajasthan are the worst hit while Delhi, Kerala, Punjab and Gujarat compare favorably.
Health Workforce of India:
The health workforce in India comprises broadly eight categories, namely:
oDoctors (allopathic, alternative medicine);
oNursing and midwifery professionals;
oPublic health professionals (medical, non-medical);
oPharmacists; dentists; paramedical workers (allied health professionals);
oGrass-root workers (frontline workers) and support staff.
As per WHO:
Data on the prevalence of occupational vacancies in the health care system in India overall is scarce.
Government statistics for 2008, based on vacancies in sanctioned posts showed 18% of primary health centres were without a doctor, about 38% were without a laboratory technician and 16% were without a pharmacist.
India needs to design courses for different categories of non-physician care providers.
Competencies (and not qualification alone) should be valued and reform must be brought in regulatory structures to provide flexibility for innovations.
Source: TH
Zinc Deficiency In India
---
Why is it in News?
In a recent study by the Harvard School, it has been revealed that increase in Carbon dioxide level is one of the causes of Zinc deficiency in crops.
Causes of Zinc Deficiency in India:
1. Increase in carbon emission has led to change in nutritional profile of crops causing micronutrients deficiency.
2. People in India prefer rice over coarse grains, which is another cause leading to deficiency of Zinc.
3. Zinc deficiency is found more in southern states & north eastern states as rice is the staple food of these states (Zinc is found more in coarse grains and less in rice etc.)
Role played by Zinc:
Zinc is a micronutrient that helps in boosting immunity, helps cell growth, bone growth and is primarily important for pregnant & lactating women.
Source- Leguminous plants, coarse grains
Food Fortification:
It is a deliberate addition of one or more micronutrients to food.
Food fortification is a proven and effective strategy to meet the nutritional needs of a large number of people across various sections of the society.
Deficiency of micronutrients is referred to as 'Hidden Hunger'.
Fortified foods is marked with +F logo.
Benefits of Food Fortification:
Well planned food fortification can help advance overall health goals, starting with maternal health & child health.
Fortified foods can help fill the gaps, in need of speedy remedial nutrition. It prevents and eliminates the nutritional deficiencies.
Source: TH
---