ANtarctic Impulsive Transient Antenna
---
In a significant breakthrough, a team of researchers have succeeded in finding "a fountain of high-energy particles erupting from the ice" in Antarctica which according to the researchers could be proof of a parallel universe.
ANtarctic Impulsive Transient Antenna or ANITA - an experiment maintained by researchers at NASA - has suddenly come into the limelight as the cosmic-ray shower that is key to the new discovery was a part of NASA's ANITA and Ice Cube experiment taking place in Antarctica.
What is ANITA?
Designed by world's premier space agency NASA, the ANITA instrument is a radio telescope which is used to detect ultra-high energy cosmic-ray neutrinos from a scientific balloon flying over Antarctica.
It is the first NASA observatory for neutrinos of any kind.
It involves an array of radio antennas attached to a helium balloon which flies over the Antarctic ice sheet at 37,000 meters.
To get a gauge of exactly how high is that, know that commercial flights fly almost a fourth of that height.
The height is important here to shut out all other "noises" so that the ANITA antennas can "listen" to the cosmos and detect high-energy particles, known as neutrinos, which constantly bombard the planet.
ANITA succeeded in detecting the 'fountain' of high-energy particles in 2006 and 2014 but the researchers initially thought them as background noise or glitches.
Different ways signals can reach ANITA as the device floats over Antarctica hanging from its balloon
How does ANITA detect Neutrinos?
The ANITA instrument <detects these ultra-high energy neutrinos by use of the Askaryan effect.
This effect predicts the production of a coherent radio emission from the cascade of particles produced in a high-energy particle interaction.
In order to detect this radio emission (Askaryan pulses) we need a radio transparent medium for the interaction to occur in - and lots of it since these interactions is rare.
Experimental Time Frame
ANITA-I launched from McMurdo, Antarctica in the summer of 2006–07.
ANITA-II, a modified instrument with 40 antennas, launched from McMurdo Station in the summer of 2008–2009.
ANITA-III, launched in December 2014.
ANITA-IV launched in December 2016, with a lighter overall build, tunable notch filters and an improved trigger system.
Neutrinos
A neutrino is a subatomic particle that is very similar to an electron, but has no electrical charge and a very small mass, which might even be zero.
Neutrinos are one of the most abundant particles in the universe.
These are affected only by a "weak" sub-atomic force of much shorter range than electromagnetism, and are therefore able to pass through great distances in matter without being affected by it.
Natural sources of neutrinos include the radioactive decay of primordial elements within the earth, which generate a large flux of low-energy electron-anti-neutrinos.
Askaryan Effect
It is the phenomenon whereby a particle traveling faster than the phase velocity of light in a dense dielectric (such as salt, ice or the lunar regolith) produces a shower of secondary charged particles which contain a charge anisotropy and thus emits a cone of coherent radiation in the radio or microwave part of the electromagnetic spectrum.
It is similar to the Cherenkov radiation.
It is named after Gurgen Askaryan, a Soviet-Armenian physicist who postulated it in 1962.
Brexit
---
On 31st January, 2020, at the stroke of 11.00 pm, the United Kingdom (UK) ceased to be the member of the European Union (EU), allowing it to become the first country to leave the EU, after 47 years of membership.
In 1973, the UK joined the European Economic Community (EEC), the precursor to the European Union.
Background
The first public vote on Brexit happened on June 23, 2016, when 52 per cent of voters chose to leave the EU.
On 29th March, 2017 the UK formally notified the European Council of its intention to leave the EU by triggering of Article 50 of the Lisbon Treaty.
On 17th October, 2019, the European Council endorsed the Withdrawal Agreement as agreed by the negotiators of both sides. It also endorsed the revised political declaration on the framework of the future EU-UK relationship.
The Withdrawal Agreement Bill (WAB) became law on January 23, 2020 when it was passed all stages in Parliament and was given the Royal Assent. WAB gives the UK government provisions through which it can ratify the Brexit process.
As of February 1, 2020, a transition period has come into force under the terms of the exit deal.
Reasons for Brexit
Threat to British Sovereignty
One important reason for Brexit can be attributed to rise of nationalism. There's a growing distrust of multinational financial, trade, and defense organizations created after World War II.
Britons believe that these institutions no longer serve a purpose. Not only that these organizations take control away from individual nations. Mistrust and fear of losing control made Brexit a reasonable solution to them.
Changing Role of EU
Over the past few decades, a series of EU treaties have shifted a growing amount of power from individual member states to the central EU bureaucracy in Brussels. On subjects where the EU has been granted authority — like competition policy, agriculture, and copyright and patent law, etc., goes against the British interests as EU rules override national laws.
Immigration Issue
As EU's membership expanded, more Europeans, especially from poorer EU nations, started migrating to U.K. using the "freedom of movement" clause.
The eurozone has struggled economically, and workers from eurozone countries such as Ireland, Italy, and Lithuania (as well as EU countries like Poland and Romania that have not yet joined the common currency) have flocked to the UK in search of work.
Faced with rising immigration locals worried about their jobs and the erosion of the English way of life, Britons wanted their government to clamp down on immigration.
Economic Issue
The EU has failed to address the economic problems that had been developing since 2008 financial crisis and the Eurozone crisis of late 2009, which had fueled British intention of moving away from EU.
Further, Brexit will allow the UK to negotiate its own trade deals with other countries - something that would not have been possible remaining with EU.
Contribution to EU
The EU doesn't have the power to directly collect taxes, but it requires member states to make an annual contribution to the central EU budget. Currently, the UK's contribution is worth about £13 billion ($19 billion) per year, which is about $300 per person in the UK.
Although the funds are again used on Britain, the BREXIT supporters say, the money could be used more efficiently, if Britain is out of EU.
What Changes and What Remains the Same After Brexit?
Out of EU Politics
The UK leaves all of the European Union's political institutions. British ministers will no longer attend regular EU meetings, and the Prime Minister will no longer be an automatic attendee at EU Council summits, although he can still join if he is given a special invitation.
EU Rules Apply
During the transition period, the UK will continue to obey EU rules and make payments to the EU. If it is involved in a legal dispute with an EU member country, the European Court of Justice will continue to have the final say.
New Trade Equations
Out of the EU, Britain will have to build new trade relationships with countries outside the Union. While it was still in EU, Britain was not allowed to hold formal trade negotiations with countries such as the US and Australia. Now that it will have that freedom, Brexit supporters see that as a positive —Britain setting its own trade policy.
Passports
Now, the country will return to the blue passports it used to issue before adopting the EU design.
No Change
Travel: Flights, boats and trains will operate as they did while Britain was in the EU. Driving licences will continue to be accepted, as long as they are valid.
European Health Insurance Card: European Health Insurance Card will remain valid inside Britain, and in the EU countries, during the transition.
Freedom of Movement: During the transition, UK nationals will continue to live and work in European Union countries. EU nationals who want to live and work in the UK, too, can do so.
EU Budget: The UK will for now continue to contribute to the EU Budget. Existing schemes that are funded by EU grants will continue to be funded.
Transition Period
The transition period and other aspects of the UK's departure were agreed in a separate deal called the Withdrawal Agreement.
The period is meant to give both sides some breathing space while a new free trade agreement is negotiated.
This is needed because the UK will leave the single market and customs union at the end of the transition.
Aside from trade, many other aspects of the future UK-EU relationship will also need to be decided. For example:

Law enforcement, data sharing and security
Aviation standards and safety
Access to fishing waters
Supplies of electricity and gas
Licensing and regulation of medicines
US' Curbs On Trade With Iran Affects Indo-Afghan Trade
---
The Finance Minister announced the slashing of allocation for Iran's Chabahar port during the budget speech on 5th July, 2019.
Relevance of the News: It highlights the effect of reduced allocation for Chabahar port on India-Afghanistan trade and India-Iran relations.
Reduction in Allocation of Funds:
Government announced in the budget a reduction of allocation of funds for the development of Chabahar port by two-thirds.
The government had been allocating Rs 150 crore for the port each year for the past few years, but it has reduced this amount to Rs 45 crore this year.
This will affect India's trade with Afghanistan as Chabahar port is a major route for Indian goods going to Afghanistan and Central Asia.
The situation is of concern as Pakistan's airspace is also banned for a majority of flights to and from India.
A flight from Delhi to Kabul that used to take one-and-a-half hours now takes five hours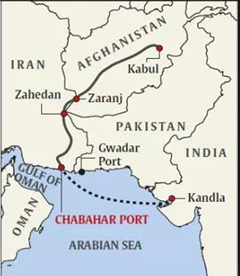 Effect of the Ban:
As a result of the ban, Afghan fruit and agricultural products that had made up a bulk of the cargo on flights between Kabul and Delhi are being shipped to other international markets.
In July last year, the former Afghan Ambassador to India had projected trade of "$2 billion between both countries by 2020". But with both air and sea routes restricted, as well as Pakistan's refusal to give Afghan trucks passage to the Wagah land route, trade may come to a standstill for now.
Asia-Pacific Group Supports India's UNSC Non-permanent Membership
---
India was unanimously supported by the Asia-Pacific group for its candidature of UN Security Council's (UNSC) non-permanent membership.
Relevance of the News: It highlights India's acceptability as a responsible representative of Asia-Pacific region among the group members. It gives a fillip to India's ambitions of becoming and its receptivity as a global leader.
India's Support from the Asia-Pacific Group:
All countries in the 55-member Asia-Pacific Group have unanimously supported India at the United Nations in support of its bid for a non-permanent seat at the UN Security Council (UNSC) for a two-year term in 2021-22.
India also received the support of Pakistan and China with whom it had been experiencing diplomatic challenges at the UN.
The Asia-Pacific Group had to nominate one of its members for the June 2020 elections to a non-permanent seat on the UNSC.
Afghanistan was a potential contender of India in the group but it withdrew its nomination in 2013 to support India because of its long-standing, close and friendly relations with India.
India has already held a non-permanent seat on the UNSC for seven terms with the last one expiring in 2012.
Future Course for India:
Having received the support of Asia-Pacific group, India now needs the vote of two-thirds of the 193 UN General Assembly members to win the non-permanent seat on the UNSC for which the elections would be held next year.
UNSC Non-permanent Membership:
The UNSC is composed of 5 permanent and 10 non-permanent members.
Each year, the General Assembly elects five non-permanent members (out of ten in total) for a two-year term.
Article 23 of the UN Charter contains the provisions related to the composition of the Security Council.
Rule 142-144 of the Rules of Procedure of the General Assembly concerns the Security Council elections.
The ten non-permanent seats are distributed on a regional basis:
o5 for African and Asian countries;
o1 for Eastern European countries;
o2 for Latin American and Caribbean countries;
o2 for Western European and other countries.
PM Narendra Modi And Xi Jinping Meet
---
Why is it in News?
The two leaders met in Bishkek, the capital of Kyrgyzstan, on 13 June where they will participate in the Shanghai Cooperation Organisation (SCO) summit.
Relevance of the News: The meeting between the two leaders and their deliberations mark an important event in India-China bilateral relations.
Highlights of the Meeting between two Leaders:
Both agreed to expedite the dialogue on the India-China boundary talks in order to reach at a fair solution to the issue.
Special Representatives have been asked to expedite the discussion in this regard for achieving reasonable and mutually acceptable solution.
The last round of talks were held in November 2018, when Ajit Doval of India and Wang Yi of China met in Chengdu, China for the 21st round of talks between the Special Representatives. The border dispute dates back to the 1962 India-China war and even after 21 rounds of talks results have not yielded.
Both leaders agreed that the approach to the border issue should be "constructive", keeping in mind the ties between both sides in the coming years.
Xi highlighted the need for regional cooperation and connectivity and hailed the Bangladesh-China-India-Myanmar (BCIM) economic corridor as an example for expanding the India-China ties, which had entered a "new phase" after the Wuhan informal summit.
The two sides agreed to celebrate the 70th anniversary of their diplomatic ties in a "fitting manner" by holding 70 events – 35 each – in both countries. India acknowledged Chinese efforts in getting Masood Azhar listed at the UN.
Wuhan Summit:
Wuhan summit was an informal and agendaless meeting between the Indian PM and Chinese President Xi Jinping held in 2018. It is of great significance as it marked the start of new India-China relations after the bilateral ties soured by the 73-day Doklam standoff.
By definition, informal summits lack the protocol and ceremony of formal ones, including delegation-level talks and a pre-set agenda for discussions.
Bangladesh-China-India-Myanmar (BCIM)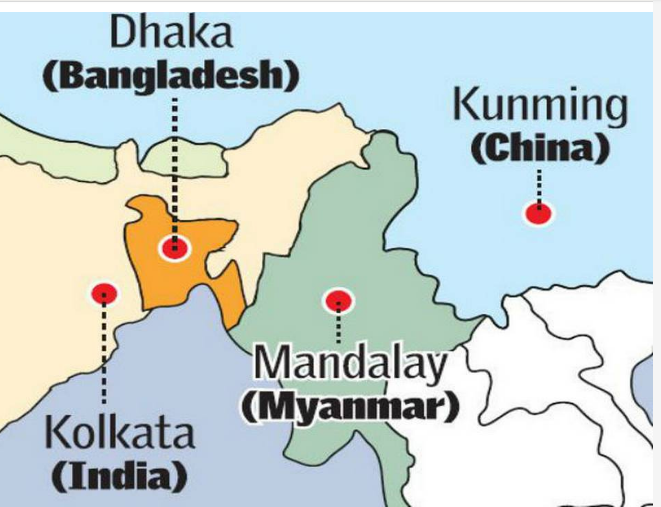 BCIM is a proposed multi-modal economic corridor which will be the first expressway between India and China and will pass through Myanmar and Bangladesh.
The corridor will cover 1.65 million square kilometers, encompassing China's Yunnan Province, Bangladesh, Myanmar and Bihar in Northern India through the combination of road, rail, water and air linkages in the region.
Its advantages will be accrued from greater market access for goods, services and energy, elimination of non-tariff barriers, better trade facilitation, joint exploration and development of natural resources.
It seeks to develop value and supply chains by translating comparative advantages into competitive advantages, and through closer people to people contact.
Earlier BCIM was a part of the Belt and Road Initiative, however recently it has been removed from the BRI by China after India's decision to not participate in the Second BRI Forum held last month.
Mi-24 Attack Helicopters To Afghanistan
---
Why is it in News?
India on 16th May handed over two Mi-24 attack helicopters to Afghanistan. These helicopters are a replacement for the four attack helicopters gifted by India to Afghanistan in 2015. Two more will be supplied to the Afghan Air Force (AAF). The helicopters were purchased from Belarus.
The Agreement:
The Mi-24 helicopters shall boost the capability of the AAF and enhance the effectiveness of the Afghan National Defence and Security Force in combating terrorism.
Under a tripartite agreement, India has agreed to purchase the attack helicopters from Belarus and supply them to Afghanistan.
Earlier, India had gifted four Mi-24 attack helicopters drawn from the inventory of the Indian Air Force and three Cheetal utility helicopters manufactured by Hindustan Aeronautics Limited (HAL).
India has been one of the largest donors to Afghanistan and has committed $3 billion in aid since 2001.
Varuna Exercise
---
Why is it in News?
The first part of the Indo-French joint naval exercise, Varuna 19.1, conducted off the Goa coast from 1st to 10th May 19.
About Varuna Exercise:
The bilateral naval exercise initiated in 1983 and christened as 'Varuna' in 2001, form a vital part of the Indo-French strategic partnership.
The Varuna exercise aims at developing interoperability between the two navies and fostering mutual cooperation by learning from each other's best practices to conduct joint operations.
The exercise underscores the shared interests and commitment of both nations in promoting maritime security.
The exercise will be conducted in two phases. The harbour phase at Goa would include cross-visits, professional interactions and discussions and sports events. The sea phase would comprise various exercises across the spectrum of maritime operations.
The second part, Varuna 19.2, is scheduled to be held at the end of May in Djibouti.
Source: PIB
Agent Orange
---
Why is it in News?
The US has launched a multi-million dollar clean-up operation at an air base in Vietnam it used to store the notorious chemical Agent Orange.
Brief Background:
During the Vietnamese war in 1960s, guerrillas supported by the Communist Party used to attack the US forces and hide in the canopy cover of plants and trees. This tactic created Pandora's Box of problem for the US forces.
To counter this, the US government used a herbicide called as 'Agent Orange' to destroy the plants and trees cover so that guerrillas can be taken head on.
This operation by the US force was part of 'Operation Ranch Hand'.
This chemical was not only carcinogenic but was accompanied with many diseases related to respiratory tracts, nervous system etc.
Chemical Composition of Agent Orange:
The active ingredient of Agent Orange is combination of 2,4-dichlorophenoxyacetic acid (also called as 2,4-D) and 2,4,5-Trichlorophenoxyacetic acid(also called as 2,4,5-T).
Agent Orange contains dioxin, which is one of the most toxic chemicals known to man and has been linked to increased rates of cancers and birth defects.
Source: BBC
International Fleet Review 2019
---
Why is it in News?
INS Kolkata and Shakti were scheduled to arrive at Qingdao, China from 21 to 26 April to participate in the International Fleet Review as part of 70th Anniversary celebrations of PLA (Navy).
About International Fleet Review (IFR) 2019:
International Fleet Review (IFR) is a parade of naval ships, aircraft and submarines, and is organised by nations to promote goodwill, strengthen cooperation and showcase their organisational capabilities.
IFR also serves as an ideal platform for world's navies to showcase their prowess and indigenous ship designing and ship building capabilities in a global/ international arena.
The Indian Navy would be represented in the IFR at Qingdao by indigenously built stealth guided missile destroyer INS Kolkata and fleet support ship INS Shakti.
INS Kolkata and INS Shakti:
INS Shakti- INS Shakti, a replenishment ship, is one of the largest tankers displacing over 27,000 tonnes and capable of carrying 15,000 tonnes of liquid cargo and over 500 tonnes of solid cargo including victuals and ammunition.
INS Kolkata- INS Kolkata is equipped with state-of-the-art weapons and sensors to address threats in all dimensions of naval warfare.
Source: PIB, TH, IE
Cassini-Huygens Mission
---
Why is it in News?
Data and images as obtained from Cassini-Huygens Mission have revealed that lakes of Titan (moon of Saturn) were filled with liquid hydrocarbons.
About Cassini-Huygens Mission:
Cassini–Huygens was an unmanned spacecraft sent to the planet Saturn.
It was launched by NASA in collaboration with European Space Agency and Italian Space Agency in 1997.
Cassini was the fourth space probe to visit Saturn and the first to enter orbit.
This mission was launched to study Saturn, its ring system and more importantly its Moon Titan.
The mission has two components:-
a)Cassini Component: Cassini was an orbiter which was launched to study Saturn and its atmosphere.
b)Huygens Component: Huygens was a probe that landed on Saturn's largest Moon Titan in 2005.
The mission ended in 2017 when Cassini spacecraft plunged into Saturn itself.
Key Findings from the Data & Images of Titan:
Lakes on earth are filled with liquid water but lakes of Titan are filled with liquid methane and ethane.
Scientists have analyzed that hydrocarbon reserves in lakes of Titan are almost 400 times more than the hydrocarbon reserves present on the Earth.
How come Methane & Ethane is present in Liquid form on Titan?
Methane and Ethane on Earth is present in gaseous form but on Titan it is present in liquid form as the climate is extremely cold on Titan.
Source: TH
Uighur/Uyghurs
---
Why is it in News?
China is using Artificial Intelligence to track its Uighur Muslim minority across the country.
About Uighurs:
The Uighurs is a Muslim ethnic minority mostly based in Xinjiang Province which is an autonomous region in People Republic of China similar to Tibet.
They make up around 45% of the population there.
Xinjiang Province of People's Republic of China is bordered by eight countries namely Mongolia, Russia, Kazakhstan, Kyrgyzstan, Tajikistan, Afghanistan, Pakistan and India.
Why there exists a Sense of Alienation among Uighurs?
They are culturally and religiously more close to their neighboring countries, so there exist an element of separatist tendencies among the masses.
Xinjiang Province is resource rich, but the resources have been exploited by the Chinese Government with no adequate development in the region which has intensified the alienation tendencies among the masses.
People in Xinjiang Province complain of discrimination and harsh treatment by security forces which have further created Pandora's Box of problems.
Source: Business Standard, TH
El Nino
---
Why is it in News?
The Indian Meteorological Department (IMD) has forecasted normal monsoon this year due to weakening of El Nino.
What is El Nino?
El Nino is an unusual warming of sea surface temperatures in equatorial Pacific Ocean, off the coast of Peru and Ecuador in South America.
El Nino is a Spanish word. The term El Nino basically means 'the child'. This is due to the fact that this current starts to flow around Christmas and hence the name referring to baby Christ.
The presence of the El Nino leads to an increase in sea-surface temperatures and weakening of the trade winds in the region.
During El Nino, the trade winds weaken or even reverse sometimes, thus warming the ocean. Further, the warmer waters lower air pressure across the central and eastern Pacific, weakening the pressure gradient that would normally force the trade winds from Tahiti toward Darwin (east to west).
Note: (Tahiti & Darwin are measuring stations for atmospheric pressure).
The weaker trade winds reduce the amount of surface water pushed to the west and the surface water stays warm and reinforces the weakened pressure gradient.
How is it Tracked?
There are a few acronyms which one comes across while tracking El Nino:
ENSO (El Nino Southern Oscillation) refers to the oscillation between the El Nino and the La Nina. ENSO shifts irregularly back and forth between El Nino and La Nina every two to seven years.
El Nino refers to the ocean component of ENSO. The Southern Oscillation part of the term ENSO refers to the atmospheric component: the shifting of atmospheric pressure between the central/eastern Pacific and the western Pacific. As the conditions of the ocean change, the atmosphere responds, and vice versa. The main indicators of these changes are pressure and temperature.
The Southern Oscillation Index:
The Southern Oscillation Index or SOI gives an indication of the development and intensity of El Nino or La Nina. Normally when the tropical eastern South Pacific Ocean experiences high pressure, the tropical eastern Indian Ocean experiences low pressure. But in certain years, there is a reversal in the pressure conditions and the eastern Pacific has lower pressure in comparison to the eastern Indian Ocean. This periodic change in pressure conditions is known as the Southern Oscillation or SO. The SOI is calculated on the basis of the atmospheric pressure differences between Tahiti (South Pacific Ocean) and Darwin (Australia), separated by 8,569 km. Sustained positive SOI values are indicative of La Nina conditions while negative values suggest El Nino conditions.
What happens during an El Nino?
El Nino has been found to impact almost half the world triggering droughts in Australia, India, southern Africa and floods in Peru, Ecuador, the United States, the Gulf of Mexico, and the Colorado River basin.
El-Nino has also been linked to drought and harvest failures on the African continent, devastating fires in the normally moist rainforests of the Indonesian archipelago, both drought and flood in Australia, damaging floods in the Americas, and unusually mild winters in Europe.
El Nino vis-à-vis India:
It is said to impact the south west monsoon in India, which accounts for over 70 % of the country's annual rainfall and irrigates over half of the crop land.
EI-Nino is used in India for forecasting long range monsoon rainfall. In 1990-91, there was a wild EI-Nino event and the onset of southwest monsoon was delayed over most parts of the country ranging from five to twelve days.
Due to recent El-Nino the monsoon ended up with a deficit of 14 per cent in 2015, the second consecutive drought year, and only the third such instance in the last 100 years.
Indian Ocean Dipole (IOD):
Indian Ocean mimics El Nino-La Nina in which the western and eastern basins of Indian Ocean warm up relative to each other every few years with associated impact on the monsoon. This phenomenon is referred to as Indian ocean Dipole (IOD).
Warming up of the West Indian Ocean boosts a prevailing monsoon, and vice-versa.
Indian monsoon depends upon not only El Nino La Nina but also IOD and other such ocean phenomena. As mentioned above, an IOD can either aggravate or weaken the impact of El Nino on Indian monsoon.
If there is a positive IOD, it can bring good rains to India despite of an El Nino year. For example, positive IOD had facilitated normal or excess rainfall over India in 1983, 1994 and 1997 despite an El Nino in those years. Similarly, during years such as 1992, a negative IOD and El Nino had cooperatively produced deficient rainfall.
Source: G. C. Leong
SpaceX
---
Why is it in News?
Due to strong winds in the upper atmosphere, SpaceX has postponed its first commercial flight.
About SpaceX:
It was founded by Elon Musk in 2002.
It has developed by Falcon 1 & Falcon 9 which are reusable launch vehicles.
In 2018, it became the first privately funded company to launch object into the solar orbit
In 2012, it became the first privately funded company to send a spacecraft to the International Space Station.
In 2017, it became the first privately funded company to have its reusable orbital Rocket(Falcon 9)
Source: TH, IE, space.com
Belt & Road Initiative (BRI)
---
Why is it in News?
Italy has signed up for the Belt & Road Infrastructure Summit in China.
What is BRI?
The Belt and Road Initiative (BRI) is an ambitious effort to improve regional cooperation and connectivity on a trans-continental scale. The initiative aims to strengthen infrastructure, trade, and investment links between China and some 65 other countries that account collectively for over 30 percent of global GDP, 62 percent of population, and 75 percent of known energy reserves.
The BRI consists primarily of the Silk Road Economic Belt, linking China to Central and South Asia and onward to Europe, and the New Maritime Silk Road, linking China to the nations of South East Asia, the Gulf Countries, North Africa, and on to Europe
What is BRI Membership?
It must be kept in mind that BRI is not a multilateral organization and signing the MOU simply means that country has given a green signal for China funded Infrastructure Projects.
BRI is also not a trade pact where rules & regulations will be clearly spelled. It is a Chinese centric project which is being designed, developed and implemented solely by China.
Why is joining of Italy seen as a Major Achievement by China?
EU and the other G7 Countries used to label Chinese BRI Initiative as a "Debt Trap" mechanism. Joining of Italy will increase the acceptability of China and will dilute the stand of EU & G7 Countries.
Why is India opposed to the BRI?
China Pakistan Economic Corridor which is a part of the BRI passes through Pakistan occupied Kashmir (POK); this initiative of China is an attack on India's sovereignty.
With BRI passing through POK, China has become a third party to the dispute.
India sees this initiative as an extension of 'String of Pearls' which intends to encircle India.
Is not joining BRI Wise?
If India will not join BRI, it will be surrounded by countries where Chinese influence exists; the best way is to become a part of the initiative and shape the imitative to our advantage.
Once India will join the BRI, it will open gateways to large and inaccessible markets for our competent private sectors.
As things stand, POK will not be reverted to India's possession, but joining the BRI will effectively give India access to the region.
Source:
TH
Chagos Archipelago
---
Why is it in News?
UK's claim of sovereignty over the Chagos Islands has been rejected by the UN court- International Court of Justice and has asked to return the ownership back to Mauritius.
Historical Background of Chagos Archipelago:
Mauritius gained its independence in 1968 from the UK, but in 1965 it signed an agreement in haste with UK that Chagos Archipelago will be a territory of the UK, fearing that not signing the agreement won't get them independence.
Diego Garcia and US:
The UK leased the Diego Garcia, a strategically important island of Chagos Archipelago to the US to make it their military base. This resulted in evacuation of 1500 people from that island and they were forced to settle in Mauritius.
Steps taken by Mauritius:
Mauritius approached the United Nations General Assembly (UNGA) in 2017 and opined that this is an act of colonialism as Diego Garcia was leased to a third country (US) and people were evacuated against their will. This matter was referred to the ICJ by UNGA.
What ICJ Opined?
ICJ opined that this act of leasing and evacuating was against the will of the people and UK does not have any claim on the Chagos Archipelago.
Role of India and how it reacted to this Dispute:
India voted in favour of Mauritus in the UNGA and due to cultural ties, India believes that it will be in position to convince Mauritius to lease this Diego Garcia again to US in a fresh bid as presence of US is must to curtail and contain China in Indian Ocean region.
Source: TH
Organisation Of Islamic Cooperation (OIC)
---
Why is it in news?
India was invited to be a Guest of Honour for the very 1st time at the OIC meet in Abu Dhabi held on 1-2nd March 2019.
About the OIC:
The Organisation of Islamic Cooperation is an international organization founded in 1969, as a result of criminal arson of Al-Aqsa Mosque in Jerusalem. It is a 57 member body (56 UN members + Palestine) with its headquarter at Jeddah, Saudi Arabia.
Objective of the OIC:
The organisation states that it is "the collective voice of the Muslim world" and works to "safeguard and protect the interests of the Muslim world in the spirit of promoting international peace and harmony."
Some Salient Features of the OIC:
It is the second largest inter-governmental organization after the United Nations.
The OIC has permanent delegations to the United Nations and the European Union.
Stand of the OIC vis-à-vis India:
It has been observed that policies of the OIC are pro-Pakistan and it supports Pakistan on the issues of Kashmir. In recent attacks on the terrorist camps in Pakistan-occupied Kashmir, it condemned the action of India which was not warranted.
Are the voices raised in favor of India for the OIC Membership?
Countries like Bangladesh and Turkey supports India's membership at the OIC, as they believe that India has 12% Muslims and this number is more than the population of many muslim majority countries.
Source: The Diplomat
---