22nd Law Commission of India
---
On 7th November 2022, the Union Govt. has constituted the 22nd Law Commission of India.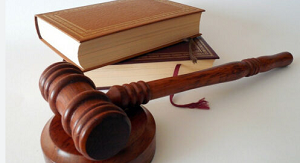 Composition
Chairman: Justice (retd.) Rituraj Awasthi, former Chief Justice of Karnataka High Court, will head the Law Commission of India.
Members (5): Justice KT Sankaran, Prof. Anand Paliwal, Prof. DP Verma, Prof.(Dr) Raka Arya and Shri M. Karunanithi
Mandate
The Commission shall, among other things, "identify laws which are no longer needed or relevant and can be immediately repealed; examine the existing laws in the light of Directive Principles of State Policy and suggest ways of improvement and reform and also suggest such legislations as might be necessary to implement the Directive Principles and to attain the objectives set out in the Preamble of the Constitution"; and "revise the Central Acts of general importance so as to simplify them and remove anomalies, ambiguities and inequities".
Tenure
An official release at the time of Cabinet clearance had said the Commission would have a tenure of three years from the date of publication of the Order of Constitution in the Official Gazette.
About Law Commission of India
The Law Ministry describes the Law Commission of India as an executive body that is constituted by a notification of the Government of India, with definite terms of reference to carry out research in the field of law.
The Commission makes recommendations to the Government (in the form of Reports) as per its terms of reference.
Brief History of the Commission
Pre-Independence
The first Law Commission was established during colonial rule in India, by the East India Company under the Charter Act of 1833, and was presided by Lord Macaulay.
After that, three more Commissions were established in pre-independent India.
After Independence
The first Law Commission of independent India was established in 1955.
The Chairman of this commission was Mr. M. C. Setalvad, who was also the First Attorney General of India.
The last chairman of the Law Commission (21st) was retired Supreme Court judge, Justice B.S. Chauhan, who completed his tenure on 31 August 2018.
Electricity (Amendment) Bill, 2022
---
The Electricity (Amendment) Bill 2022 was introduced in the Parliament on 8th August, 2022.
However, the Bill was later sent to the standing committee for further deliberation.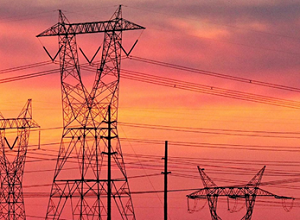 Background
The Electricity Act was passed by the Indian Parliament in 2003.
It covers issues related to the generation, distribution, transmission, and trading of power in the country.
Aim
It aims to bring reforms in India's power sector. It proposes certain amendments to the Electricity Act, 2003.
It seeks to delicense the power distribution and allow private sector companies to enter the sector and compete with state-owned firms.
Key Specifications of the Bill
Choice Options: The bill proposes a framework to allow consumers to choose between different service providers.
Electricity Contract Enforcement Authority:It provides for the formation of the Electricity Contract Enforcement Authority (ECEA), which will deal with contract-related disputes in the electricity sector.
Renewable Energy Sources: It requires all licensees to purchase or produce a minimum specified quantity from renewable energy sources as a percentage of their total electricity consumption.
Selection Committee: A selection committee would be constituted to appoint the chairperson and members of the Appellate Tribunal (APTEL), the central and state regulatory commissions (CERC, SERCs) and the ECEA, according to the bill.
Graded Revision in Tariff It also seeks to amend section 62 of the Act to make provisions vis-à-vis graded revision in tariff over a year besides mandatory fixing of maximum ceiling and minimum tariff by the appropriate commission. It provides for amending section 166 to strengthen the functions that will be discharged by the regulators.
Penalties:It proposes penalties in case of non-compliance by licensees in meeting the obligations.
Opposition of the Bill
The bill faces criticism that it would dilute the power of the states and shift it to the Centre and its agencies.
Critics further say the bill allows private players an easy entry into the electricity sector, thus granting them an undue advantage.
Farmers have expressed concerns that the government may move away from giving them subsidised power or shift to a new system where they would be required to pay first and claim the subsidy later.
National Conference on Localisation of Sustainable Development Goals
---
The Vice President of India recently inaugurated National Stakeholders Conference on Localization of Sustainable Development Goals organized by the Ministry of Panchayati Raj.
The Ministry is organising the Iconic Week from 11th April to 17th April, 2022, to commemorate Azadi Ka Amrit Mahotsav (AKAM) as a Jan-Utsav in the spirit of Jan-Bhagidari.
The theme of Iconic Week is "Panchayaton ke Navnirman ka Sankalpotsav".
The Vice President released the Logo of Localisation of Sustainable Development Goals and Compendium of Joint Advisories to the States on Operationalisation of Localisation of Sustainable Development Goals and Compendium of Thematic Presentations.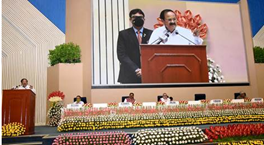 Key Highlights of the Vice President's Address
The Union Government and various States should facilitate the devolution of the 3 Fs, i.e., Funds, Functions and Functionaries to Panchayati Raj Institutions for efficient and effective functioning of local self-governments for the holistic development in rural areas and to achieve Sustainable Development Goals (SDGs).
The Rural Local Bodies have to be revitalised and rejuvenated by strengthening and empowering them.
People's participation is must for the development of the country. To make the country poverty free we must start with villages and provide connectivity, education, employment opportunity and entertainment for the development of villages and stop migration.
Given that nearly 70% of India is rural India (68.84% as per the 2011 census), attainment of Sustainable Development Goals at the national level will require actions at the grassroots level, i.e., at the Panchayat level.
The legal framework on the number of Gram Sabhas to be held in a year is necessary and needs to be formulated.
Called for people's participation in implementation of all the schemes and programmes at the grassroots level.
Stressed the need for concerted efforts from all stakeholders to ensure comprehensive and all-round development of the Panchayats and achieve various targets in local context.
Called for bringing all Panchayats onto e-GramSwaraj platform to meet the digital mission of governance.
Empowering villages is the crux of development. Panchayats have a pivotal role to play in integrated rural development by focusing on the 17 SDGs which are subsumed under nine themes to ensure poverty-free, clean, healthy, child-friendly, and socially secured well-governed villages.
Sealed Cover Jurisprudence
---
Recently, concerns have been raised over Kerala High Court's verdict to uphold the Information and Broadcasting Ministry's order that revoked the broadcasting licence of Malayalam news channel Media One after the Ministry of Home Affairs(MHA)denied it security clearance.
It is argued that the court's decision "was based on a 'sealed cover' envelope provided by the MHA, the contents of which were not shared" with Media One, which was a "gross violation" of the principles of natural justice.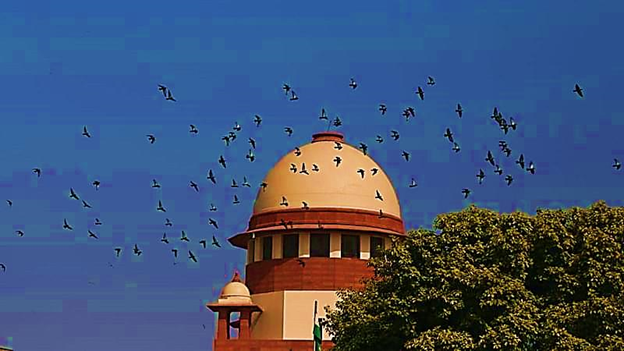 About Sealed Cover Jurisprudence
It is a practice used by the Supreme Court(SC) and sometimes lower courts, of asking for or accepting information from government agencies in sealed envelopes that can only be accessed by judges.
The SC derives its power to use it from Rule 7 of order XIII of the Supreme Court Rules and Section 123 of the Indian Evidence Act of 1872.
It is stated under the said rule that if the Chief Justice or court directs certain information to be kept under sealed cover or considers it of confidential nature, no party would be allowed access to the contents of such information, except if the Chief Justice himself orders that the opposite party be allowed to access it.
It also mentions that information can be kept confidential if its publication is not considered to be in the interest of the public.
As for the Evidence Act, official unpublished documents relating to state affairs are protected and a public officer cannot be compelled to disclose such documents.
Previous Instances of Sealed-Cover Jurisprudence by SC
Documents were examined in sealed cover in multiple prominent cases during the tenure of the former Chief Justice of India, Rajan Gogoi.
In the case pertaining to the controversial Rafale fighter jet deal, a Bench headed by Chief Justice Ranjan Gogoi in 2018, had asked the Centre to submit details related to deal's decision making and pricing in a sealed cover. This was done as the Centre had contended that such details were subject to the Official Secrets Act and Secrecy clauses in the deal.
In the matters related to the National Register of Citizens (NRC) in Assam, the supreme court mandated coordinator of the NRC, Prateek Hajela, was asked by the apex court to submit period reports in sealed cover, which could neither be accessed by the government nor the petitioners.
In the case where CBI's former director Alok Verma and the national agency's former special director Rakesh Asthana had made counter allegations of corruption against one another, the Supreme Court had asked the Central Vigilance Commission (CVC) to submit its preliminary report in a sealed cover.
In the 2014 BCCI reforms case, the probe committee of the cricket body had submitted its report to the Supreme Court in a sealed envelope, asking it not to make public the names of nine cricketers who were suspected of a match and spot fixing scam.
In the Bhima Koregaon case, in which activists were arrested under the Unlawful Activities Prevention Act, the Supreme Court had relied on information submitted by the Maharashtra police in a sealed cover.
Criticism
Critics contend that it is not favorable to the principles of transparency and accountability of the Indian justice system, standing in contrast to the idea of an open court, where decisions can be subjected to public scrutiny.
Besides, it is argued that not providing access to such documents to the accused parties obstructs their passage to a fair trial and adjudication.
Also, sealed covers are dependent on individual judges looking to substantiate a point in a particular case rather than common practice. This makes the practice ad-hoc and arbitrary.
Good Governance Week
---
The central government is celebrating Good Governance week from December 20 to December 26, 2021.
Every year 25th December is celebrated as 'Good Governance Day' to mark the birth anniversary of former Prime Minister Atal Bihari Vajpayee.
Objective
To translate the vision of the Prime Minister for Next Generation Administrative Reforms during the Amrit Kaal period across all Districts and Tehsils of India.
Theme
Key Points
It is being organized by the Department of Administrative Reforms and Public Grievances (DARPG) in collaboration with Ministry of External Affairs, Department of Promotion of Industry and Internal Trade, Department of Personnel & Training, Department of Pensions and Pensioners' Welfare and Ministry of Panchayati Raj and Rural Development is celebrating Good as part of Azadi Ka Amrit Mahotsav celebration.
A Nation-wide campaign for Redressal of Public Grievances and Improving Service Delivery will be held in all Districts, States, and Union Territories of India.
Over 700 Districts Collectors will be participating in "Prashasan Gaon Ki Aur" and during the weeklong event will visit Tehsil/Panchayat Samiti Headquarters to provide timely grievance redressal and improve service delivery.
Impact
The "Prashasan Gaon Ki Aur" campaign during the Good Governance Week will create a National Movement for good governance and inspire future generations.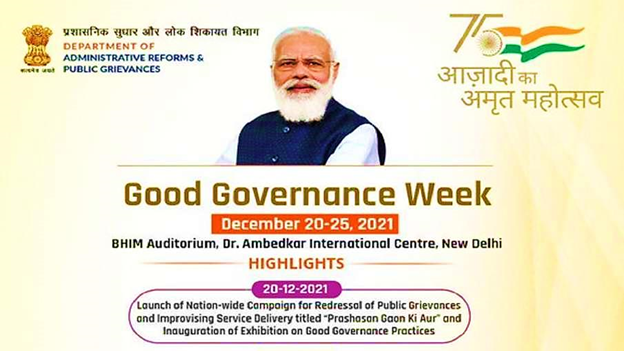 What is Good Governance?
Good Governance is an approach to government that is committed to creating a system founded in justice and peace that protects individual's human rights and civil liberties.
It can be used in several contexts such as corporate governance, international governance, national governance and local governance.
8 Major Characteristics of Good Governance
Participation

Rule of Law
Transparency
Responsiveness
Consensus Oriented
Equity and Inclusiveness
Effectiveness and Efficiency
Accountability
Benefits
Good Governance promotes the rule of law.
It ensures that political, social, and economic priorities are based on broad consensus in society and that the voices of the poorest and the most vulnerable are heard in decision making over the allocation of development resources.
The National Anti-Doping Bill 2021
---
Recently, the National Anti-Doping Bill, 2021 was introduced in Lok Sabha.
It seeks to prohibit doping in sports and establish a National Anti-Doping Agency, which will replace the existing National Anti-Doping Agency.
Key Features
Prohibition of Doping
Prohibits athletes, athlete support personnel and other persons from engaging in doping in sport.
Support personnel include the coach, trainer, manager, team staff, medical personnel, and other persons working with or treating or assisting an athlete.
National Anti-Doping Agency
The Bill provides for constituting this National Anti-Doping Agency as a body corporate.
It will be headed by a Director General appointed by the central government.
Functions of the Agency include: (i) planning, implementing, and monitoring anti-doping activities, (ii) investigating anti-doping rule violations, and (iii) promoting anti-doping research.
National Board for Anti-Doping in Sports
It establishes a National Board for Anti-Doping in Sports to make recommendations to the government on anti-doping regulation and compliance of international commitments on anti-doping.
The Board will oversee the activities of the Agency and issue directions to it.
The Board will consist of a Chairperson and two members appointed by the central government.
Exemptions
If any athlete requires a prohibited substance or method due to a medical condition, they may apply to the National Anti-Doping Agency for a therapeutic use exemption.
Consequences of Violations
Anti-doping rule violation by an individual athlete or athlete support personnel may result in: (i) disqualification of results including forfeiture of medals, points, and prizes, (ii) ineligibility to participate in a competition or event for a prescribed period, (iii) financial sanctions, and (iv other consequences as may be prescribed.
Dope Testing Laboratories
The existing National Dope Testing Laboratory will be deemed to be the principal dope testing laboratory.
The central government may establish more National Dope Testing Laboratories.
Biological Diversity (Amendment) Bill 2021
---
Recently, the Biological Diversity (Amendment) Bill, 2021 was introduced by the government.
The amendments seeks to facilitate access to biological resources and traditional knowledge by the Indian traditional medicine sector.
Key Amendments
Exempting AYUSH Practitioners: It exempts Ayush practitioners from intimating biodiversity boards for accessing biological resources or knowledge (Vaids and Hakims).
Research Promotion: Facilitates fast-tracking of research, simplify the patent application process.
Decriminalization: It seeks to decriminalise certain provisions in the chain of biological resources.
Foreign Investments: Seeks to bring more foreign investments in biological resources, research, patent and commercial utilisation, without compromising the national interest
Impact
It will help promoting the cultivation of medicinal plants and ancient Indian medicine by exempting Indians cultivating medicinal plants and manufacturing products using codified traditional knowledge from payment of Access and benefit sharing.
Cabinet Clears Draft Bill for Linking Aadhaar & Voter ID
---
On 15th December, 2021, the Union Cabinet cleared a bill on electoral reforms, news agency PTI reported.
The Election Commission has been pushing for key electoral reforms, including linking Aadhaar numbers to the electoral roll, making paid news an electoral offence, increasing the punishment for filing a false affidavit.
Key Provisions
It will amend the representation of people act and allow four qualifying dates in a year rather than one, for those who are above 18 years, to register as a voter.
The electoral law will be made "gender-neutral" for service voters.
It seeks to empower the EC to requisition premises for any purpose related to election.
It will allow the Election Commission to seed the Aadhaar number with electoral rolls on a voluntary basis.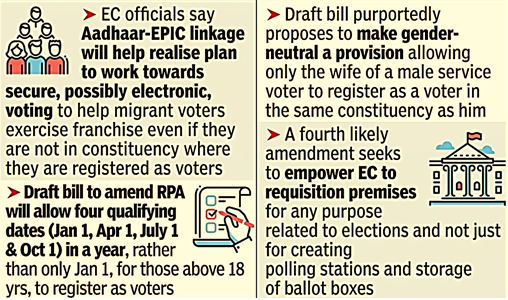 Impact
Check on Fake Voter ID: Aadhaar- voter id linkage will help to eliminate all the fake Voter ID Cards and put a check on the growing population of defunct and fake voters across the country.
Securing Electronic Voting: Further, it will help to work towards secure electronic voting for migrant workers.
Default Bail
---
The National Investigation Agency(NIA) has approached the Supreme Court against a Bombay High Court order granting statutory bail to advocate and activist Sudha Bharadwaj.
About Default Bail
Also known as statutory bail, this is a right to bail that accrues when the police fail to complete investigation within a specified period in respect of a person in judicial custody.
This is enshrined in Section 167(2) of the Code of Criminal Procedure(CrPC) where it is not possible for the police to complete an investigation in 24 hours, the police produce the suspect in court and seek orders for either police or judicial custody.
This section concerns the total period up to which a person may be remanded in custody prior to filing of charge sheet.
For most offenses, the police have 60 days to complete the investigation and file a final report before the court.
However, where the offense attracts death sentence or life imprisonment, or a jail term of not less than 10 years, the period available is 90 days.
At the end of this period, if the investigation is not complete, the court shall release the person "if he is prepared to and does furnish bail".
Principles Related To Default Bail
Right to seek 'default' bail is a fundamental right and an indefeasible part of right to personal liberty under the Constitution.
The stipulated period within which the charge sheet has to be filed begins from the day the accused is remanded for the first time.
It includes days undergone in both police and judicial custody, but not days spent in house-arrest.
A requirement for the grant of statutory bail is that the right should be claimed by the person in custody.
If the charge sheet is not filed within the stipulated period, but there is no application for bail under Section 167(2), there is no automatic bail.
Other Types of Bail
Regular Bail: It is a direction given by the Court (any Court within the country) to release a person who is already under arrest and kept in police custody. For such Bail, a person can file an application under Section 437 and 439 of the CrPC.
Anticipatory Bail: A direction issued to release a person on Bail even before the person is arrested. In this situation, there is apprehension of arrest and the person is not arrested before the Bail is granted.
Interim Bail: Bail granted for a temporary and short period by the Court till the application seeking Anticipatory Bail or Regular Bail is pending before a Court.
Narcotic Drugs and Psychotropic Substances (Amendment) Bill, 2021
---
Recently, Narcotic Drugs and Psychotropic Substances (Amendment) Bill, 2021 was passed by Lok Sabha.
About the Amendment
It seeks to replace the Narcotic Drugs and Psychotropic Substances (Amendment) Ordinance, 2021.
The Bill amends the Narcotic Drugs and Psychotropic Substances Act, 1985 to correct a drafting error in 2014 amendment.
Drafting Error: In 2014, the Act was amended and the clause number of the definition for such illicit activities was changed.However, the section on penalty for financing these illicit activities was not amended and continued to refer to the earlier clause number.The Bill amends the section on penalty to change the reference to the new clause number.This amendment will be deemed to have been in effect from May 1, 2014 (i.e., when the 2014 amendments came into effect).
New Protocol for Post-mortem Procedure
---
The Union Health Ministry has notified new protocol for post-mortem procedure.
After Sunset Clause
As per the new protocol, post-mortem can now be performed after sunset in hospitals having adequate infrastructure.
Video recording of post-mortem will be done for all post-mortem conducted in the night to rule out any suspicion.
Prohibitions
Cases under categories such as homicide, suicide, rape, decomposed bodies, suspected foul play should not be subjected for post-mortem during night unless there is a law and order situation.
Benefit
This move will promote organ donation and transplant.
Union Govt. brings Ordinances to Extend Tenure of CBI, ED Chiefs
---
The Government of India has promulgated two Ordinances to extend the tenure of Directors of Central Bureau of Investigation (CBI) and Enforcement Directorate (ED) up to 5 years. The chiefs of the central agencies currently have a two-year tenure.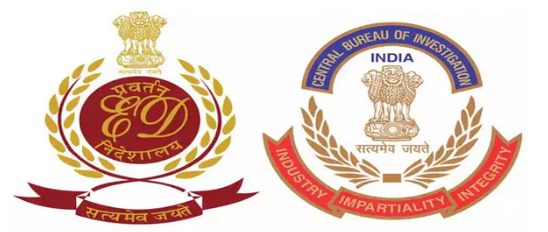 The Delhi Special Police Establishment (Amendment) Ordinance, 2021
The ordinance inserts the provision in DSPE Act that "Provided that the period for which the Director holds the office on his initial appointment may, in public interest, on the recommendation of the Committee under sub-section (1) of section 4A and for the reasons to be recorded in writing, be extended up to one year at a time." "Provided further that no such extension shall be granted after the completion of a period of five years in total including the period mentioned in the initial appointment".
Appointment of CBI Director: The Director CBI is selected on the basis of the recommendation of a committee consisting of the Prime Minister, the Chief of Justice of India and the Leader of Opposition.
The Central Vigilance Commission (Amendment) Ordinance 2021
"Provided that the period for which the Director of Enforcement holds the office on his initial appointment may, in public interest, on the recommendation of the Committee under clause (a) and for the reasons to be recorded in writing, be extended up to one year at a time.
"Provided further that no such extension shall be granted after the completion of a period of five years in total including the "period mentioned in the initial appointment".
Appointment of ED Director: The central government appoints the Director of ED on the recommendation of a committee chaired by the Central Vigilance Commissioner and members comprising of Vigilance Commissioners, Home Secretary, Secretary DOPT and Revenue Secretary.
Difference between Enforcement Directorate & CBI
Central Bureau of Investigation (CBI) examines the corruption and high profile cases related white collar crimes or crime which is required by the Central or State to CBI to look into whereas Enforcement Directorate or ED is committed to prevent money laundering offences.
The CBI operates under the Ministry of Personnel, Public Grievances and Pension whereas the ED is a part of Ministry of Finance.
Enforcement directorate cannot register a case on its own, it is required by the agencies such CBI or state police to register an offence based on which the an Enforcement Case Information Report is filed by Enforcement Directorate whereas the CBI can register a complaint on its own or by request of the Courts.
Draft Mediation Bill
---
On 5th November 2021, Government of India has released the Draft Mediation Bill for public consultation.
It is one of various policy initiatives of government for promotion and strengthening of Alternative Dispute Resolution (ADR) mechanisms.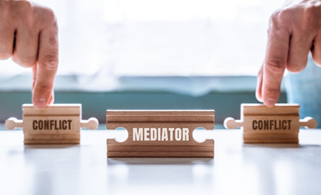 Main Features of the Bill
The draft Bill proposes for pre-litigation mediation and at the same time safeguards the interest of the litigants to approach the competent adjudicatory forums/courts in case an urgent relief is sought.
The successful outcome of mediation in the form of Mediation Settlement Agreement (MSA) has been made enforceable by law. Since the Mediation Settlement Agreement is out of the consensual agreement between the parties, the challenge to the same has been permitted on limited grounds.
The mediation process protects the confidentiality of the mediation undertaken and provides for immunity in certain cases against its disclosure.
The registration of Mediation Settlement Agreement has also been provided for with State/District/Taluk Legal Authorities within 90 days to ensure maintenance of authenticated records of the settlement so arrived.
It provides for establishment of the Mediation Council of India.
It provides for community mediation.
Pardoning Power of Governor
---
On 3rd August, 2021, the Supreme Court held that the Governor of a State can pardon prisoners; including death row ones, even before they have served a minimum 14 years of prison sentence.
What the Court Said?
The Governor's power to pardon overrides a provision in the Code of Criminal Procedure — Section 433A —which mandates that a prisoner's sentence can be remitted only after 14 years of jail.
The court noted that the sovereign power of a Governor to pardon a prisoner under Article 161 is actually exercised by the State government and not the Governor on his own.
The action of commutation and release can thus be pursuant to a governmental decision and the order may be issued even without the Governor's approval.
Pardoning Power of the President and Governor
President
Under the Article 72, the President shall have the power to grant pardons, reprieves, respites or remissions of punishment or to suspend, remit or commute the sentence of any person convicted of any offence -
in all cases where the punishment or sentence is by a Court Martial;
in all cases where the punishment or sentence is for an offence against any law relating to a matter to which the executive power of the Union extends;
in all cases where the sentence is a sentence of death.
Governor
Under the Article 161, the Governor of a State shall have the power to grant pardons, reprieves, respites or remissions of punishment or to suspend, remit or commute the sentence of any person convicted of any offence against any law relating to a matter to which the executive power of the State extends.
Difference between Pardoning Powers of President and Governor
The power differs in the following two ways:
(i)The power of the President to grant pardon extends in cases where the punishment or sentence is by a Court Martial but Article 161 does not provide any such power to the Governor.
(ii)The President can grant pardon in all cases where the sentence given is sentence of death but pardoning power of Governor does not extend to death sentence cases.
(However, the pardoning power of President is NOT absolute. It is governed by the advice of the Council of Ministers. If the Council of Ministers decides against any change, the President has no option but to accept it.)
Landmark Verdict on Pardoning Power
Epuru Sudhakar Case (2006)
In this case, the Supreme Court held that it is a well-set principle that a limited judicial review of exercise of clemency powers is available to the Supreme Court and High Courts.
Granting of clemency by the President or Governor can be challenged on the following grounds:
The order has been passed without application of mind.
The order is malafide.
The order has been passed on wholly irrelevant considerations.
Relevant material has been kept out of consideration.
The order is arbitrary.
Kehar Singh vs Union of India (1989)
The court held that the grant of pardon by the President is an act of grace and, therefore, cannot be claimed as a matter of right.
The power exercised by the President being exclusively of administrative nature, is not justiciable.
Maru Ram vs Union of India (1980)
Here, the court held that the power under Article 72 is to be exercised on the advice of the Central Government and not by the President on his own at his discretion. And that the advice of the Government is binding on him.
Conclusion
The pardoning power of Executive is very significant as it corrects the errors of judiciary. It eliminates the effect of conviction without addressing the defendant's guilt or innocence. The process of granting pardon is simpler but because of the lethargy of the government and political considerations, disposal of mercy petitions is delayed.
Therefore, there is an urgent need to make amendment in law of pardoning to make sure that clemency petitions are disposed quickly. There should be a fixed time limit for deciding on clemency pleas.
Types of Pardoning Powers of the President
Pardon: It removes both the sentence and the conviction and completely absolves the convict from all sentences, punishments and disqualifications.
Commutation: It denotes the substitution of one form of punishment for a lighter form. For example, a death sentence may be commuted to rigorous imprisonment, which in turn may be commuted to a simple imprisonment.
Remission: It implies reducing the period of sentence without changing its character. For example, a sentence of rigorous imprisonment for two years may be remitted to rigorous imprisonment for one year.
Respite: It denotes awarding a lesser sentence in place of one originally awarded due to some special fact, such as the physical disability of a convict or the pregnancy of a woman offender.
Reprieve: It implies a stay of the execution of a sentence (especially that of death) for a temporary period. Its purpose is to enable the convict to have time to seek pardon or commutation from the President.
Cabinet Committees Reconstituted after the reshuffle in Ministry
---
Under the Government of India (Transaction of Business) Rules, 1961, the Government has reconstituted Cabinet Committees recently after the reshuffle of ministry.
Why Cabinet Committees are formed?
Cabinet committees are established to reduce the workload of the Cabinet Ministers.
Types of Cabinet Committees
There are two types of cabinet committees - standing and ad-hoc.
Standing cabinet committees are permanent whereas ad-hoc cabinet committees are temporary and deals with special issues.
At present there are eight Cabinet committees:
Appointments Committee of the Cabinet
Cabinet Committee on Accommodation
Cabinet Committee on Economic Affairs
Cabinet Committee on Parliamentary Affairs
Cabinet Committee on Political Affairs
Cabinet Committee on Security
Cabinet Committee on Investment and Growth
Cabinet Committee on Employment and Skill Development
Note: In the recently formed committees (out of the eight), the Prime Minister is not a member of two committees - Cabinet Committee on Accommodation and Cabinet Committee on Parliamentary Affairs.
About Cabinet Committees
The Cabinet Committees are not mentioned in the Constitution.
They are established under the Government of India (Transaction of Business) Rules, 1961 under which the executive in India works.
These Rules emerge out of Article 77(3) of the Constitution, which states: "The President shall make rules for the more convenient transaction of the business of the Government of India, and for the allocation among Ministers of the said business."
The Prime Minister sets up different cabinet committees with selected members of the Cabinet and assigns specific functions to these committees.
The Prime Minister may even change the numbers of committees and modify the functions assigned to them.
If the Prime Minister is a member of any such committee, he acts as the head of the committee.
Uttar Pradesh Population (Control, Stabilisation, and Welfare) Bill, 2021
---
On World Population Day (11th July) the Uttar Pradesh State Law Commission released a draft of the Uttar Pradesh Population (Control, Stabilisation, and Welfare) Bill, 2021. It has invited suggestions on this Bill by 19 July 2021 from the public.
Need for such Bill
The draft of the population control bill says it is necessary to control and stabilise the population of the state for the promotion of sustainable development with more equitable distribution.
Aim
The Bill aims to revitalize efforts and provide for measures to control, stabilize and provide welfare to the population of the State by implementation and promotion of two-child norm and for matters connected therewith.
Regulation for those who fail to follow the Act (after implementation)
After the commencement of the Act, in contravention of two-child norm procreates more than two children shall be ineligible to the following:-

Contest elections to the local authority or any other body of the local self-government;
Apply for government jobs under the State Government;
Get promotion in government services;
Receive any kind of government subsidy.

Also, the regulation has provisions for

Limit of ration card units up to four.
Debarring from the benefit of Government-sponsored welfare schemes.
Some other Features of the Draft Bill
Reward: A couple living below the poverty line, having only one child and undergoes voluntary sterilization operation upon himself or spouse shall be eligible for payment from the Government for a one-time lump-sum amount of rupees eighty thousand if the single child is a boy, and rupees one lakh if the single child is a girl.
Education: It shall be the duty of the government to introduce a compulsory subject relating to population control in all secondary schools.
Provision of Contraceptives: It shall be the duty of the government to ensure that contraceptives are available at reasonable rates at all sub-health centres in the State.
Insurance for Post-Sterilization Pregnancy: The State Government shall as soon as possible after the commencement of this Act take steps for group insurance, at Government expense, of all qualified allopathic surgeons carrying on sterilization operations on men or women and of other staff and of hospital authorities concerned to cover claims for compensation to be paid to a couple where the woman operated on or the wife of the man operated on becomes pregnant even after such operation.
The Bill on Public Servants
Public servants under the control of the State Government who adopt the two-child norm by undergoing voluntary sterilization operation upon himself or spouse shall be given the following benefits:
Increment: Two additional increments during the entire service;
Subsidy: Towards the purchase of plot or house site or built house from Housing Board development Authority, as may be prescribed;
Rebate: On charges for utilities such as water, electricity, water, house tax, as may be prescribed; [also available for the general public];
Leave: Maternity or as the case may be, paternity leave of 12 months, with full salary and allowances; [also available for the general public];
Health Care: Free health care facility and insurance coverage to the spouse.
Ministry of Co-Operation: A New Ministry to achieve Prosperity through Cooperation
---
On 6th July 2021, a separate 'Ministry of Co-operation' has been created by the Union Government for realizing the vision of 'Sahkar se Samriddhi' meaning prosperity through cooperation.
Need
In our country, a Co-operative based economic development model is very relevant where each member works with a spirit of responsibility.
Functions
This ministry will provide a separate administrative, legal and policy framework for strengthening the cooperative movement in the country.
It will help deepen Co-operatives as a true people based movement reaching upto the grassroots.
The Ministry will work to streamline processes for 'Ease of doing business' for co-operatives and enable development of Multi-State Co-operatives (MSCS).
National Authority For Recycling Of Ships
---
On 15th October, 2020, the Central Government notified the Directorate General (DG) of Shipping as National Authority for Recycling of Ships under the section 3 of the Recycling of Ships Act, 2019.
About National Authority for Recycling of Ships(NARS)
NARS will be set up in Gandhinagar, Gujarat.
The location of the office will benefit the Ship Recycling yard owners situated in Alang, Gujarat which is home to Asia's largest ship breaking and ship recycling industry in the world.
Functions
As an apex body, DG Shipping is authorized to administer, supervise and monitor all activities relating to Ship Recycling.
It will look after the sustainable development of the Ship Recycling industry, monitoring the compliance to environment-friendly norms and safety and health measures for the stakeholders working in the ship recycling industry.
It will be the final authority for the various approvals required by the Ship-Recycling yard owners and State Governments.
The Recycling of Ships Act, 2019
On 13th December, 2019, the Recycling of Ships Bill, 2019 received the President's assent and became an Act.
Key Features
It restricts and prohibits the use or installation of hazardous materials, which applies irrespective of whether a ships meant for recycling or not.
Restriction or prohibition on use of hazardous materials would not be applied to warships and non-commercial ships operated by the Government.
Ship recycling facilities are required to be authorized and ships shall be recycled only in such authorized ship recycling facilities.
The Act also provides that ships shall be recycled in accordance with a ship-specific recycling plan.
It imposes a statutory duty on ship recyclers to ensure safe and environmentally sound removal and management of hazardous wastes from ships.
Hong Kong Convention for Ship Recycling
Also known as the Hong Kong Convention (HKC), it was adopted at a Diplomatic Conference held in Hong Kong, in May 2009.
Under Ship Recycling Act, 2019, India has acceded to Hong Kong Convention for Ship Recycling under International Maritime Organization (IMO).
DG Shipping is India's representative in IMO and all the conventions of IMO are being enforced by DG Shipping.
Status of Recycling of Ships Industry in India
India is home to one of the largest ship breaking facilities in the world with over 150 yards along its coast.
On an average, close to 6.2 Million GT is scrapped in India every year, which accounts for 33% of the total scrapped tonnage in the world.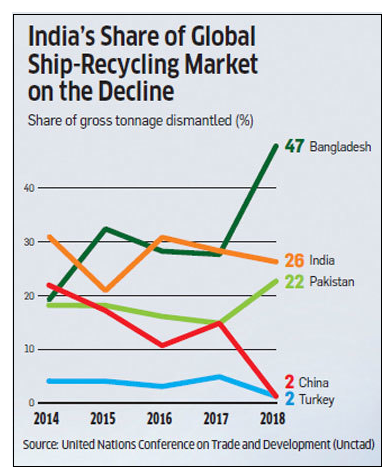 Issues with Ship Recycling Industry in India
Safety Issues
Inadequate safety controls, badly monitored work operations and high risk of explosions create very dangerous work situations.
Lack of coordination for work procedures, basic risk-reducing or eliminating measures are often ignored and ultimately accidents occur.
Health Related Issues
Exposure to other heavy metals found in many parts of ships such as in paints, coatings, anodes and electrical equipment can result serious health issues such as cancers.
Workers have very limited access to health services and inadequate housing, welfare and sanitary facilities which further exacerbate the plight of the workers.
Waste Management Issues
Management of solid wastes generated in ship breaking is a major concern in India.
Although these wastes constitute only around 1% of dead weight of a ship, the total amount in millions of tonne, make these wastes difficult to handle, posing a major risk both to health and environment.
Water Pollution
Water body, primarily the marine environment gets polluted in terms of suspended solids, nitrates, phosphate, heavy metals, oil and grease from bilge water.
Air Pollution
Various air pollutants like furans and polycyclic aromatic hydrocarbons (PAHs), fine particulates are released during the breaking process of ship.
It further contributes to air pollution from various ship breaking processes.
Way Forward
Given the current high human and environmental costs, it seems likely that ship owners and breakers, state mechanisms and international legislation will each need to continue to evolve and increase their cooperation to fill the gaps.
Ship owners from their side need to incorporate a sustainable social and ecological responsibility as well when it comes to the recycling of their vessels.
A well balanced global list of compliant facilities can only remain when the facilities on it receive a good and constant flow of end-of-life vessels.
With the back drop of sustainability issues, this industry has the potential to be the prime economic activity in India.
Fame India Scheme Phase-II
---
On 26th September, 2020, the government has sanctioned 670 electric buses and 241 charging stations to boost the electric mobility in the country under Phase-II of FAME India Scheme.
About FAME-India Scheme
The FAME(Faster Adoption and Manufacture of (Hybrid and) Electric Vehicles) was launched by the Ministry of Heavy Industries and Public Enterprises in 2015 to incentivize the production and promotion of eco-friendly vehicles including electric vehicles and hybrid vehicles.
It is a part of the National Electric Mobility Mission Plan.
The vehicles such as two wheelers, three wheelers, electric and hybrid cars and electric buses obtained the subsidy benefit of the scheme.
It also covers electric and Hybrid technologies like Mild Hybrid, Strong Hybrid, Plug in Hybrid & Battery Electric Vehicles
Two phases of FAME-India
Phase I: started in 2015 and was completed on March 31st, 2019
Phase II: started from April 1st, 2019, will be completed by March 31st, 2022
Focus Areas
Technology Development
Demand Creation
Pilot Projects
Charging Infrastructure
FAME Scheme-II
It aims to encourage faster adoption of electric and hybrid vehicles by way of offering upfront incentive on purchase of Electric Vehicles (EV) and by way of establishing necessary charging infrastructure for EV.
It offers incentives to manufacturers, who invest in developing electric vehicles and its components, including lithium-ion batteries and electric motors.
Impact
Pollution Control: Adoption of EVs in the country will help in addressing the issue of air pollution, due to the indiscriminate use of fossil fuels.
Sustainable Use of Fossil Fuels: It provide fuel security as it helps to lessen the dependency on fossil fuels thereby paving the path of sustainable and efficient use of fossil fuels.
National Electric Mobility Mission Plan(NEMMP)
The plan was launched by the Government of India in 2013 with the objective of achieving national fuel security by promoting electric and hybrid vehicles in the country.
There is an ambitious target to achieve 6-7 million sales of hybrid and electric vehicles year on year from 2020 onwards.
It is a composite scheme using different policy-levers such as-
-Demand side incentives to facilitate the acquisition of hybrid/electric vehicles.
-Promoting R&D in technology including battery technology, power electronics, motors, systems integration.
-Promoting charging infrastructure.
-Supply side incentives.
-Encouraging retro-fitment of on-road vehicles its hybrid kit.
Pesticides Management Bill-2020
---
According to the experts, the Pesticides Management Bill (PMB), 2020 will have a far-reaching impact on Indian agriculture and farmer's livelihood if it is passed in the current form.
Therefore, they have called for wider consultations on the Bill and asked to place it before a select committee.
The Insecticides Act, 1968 currently governs the registration, manufacturing, export, sale and use of pesticides in India.
About the Pesticides Management Bill-2020
It was introduced in Rajya Sabha in March, 2020. It seeks to regulate the manufacture, import, sale, storage, distribution, use, and disposal of pesticides, in order to ensure the availability of safe pesticides and minimise the risk to humans, animals, and environment.
The Bill seeks to replace the Insecticides Act, 1968.
Key Provisions
It will empower farmers by providing them with all the information about the strength and weakness of pesticides, the risk and alternatives. All information will be available openly as data in digital format and in all languages.
Any person who wants to import, manufacture, or export pesticides would have to register under the new Bill and provide all details regarding any claims, expected performance, efficacy, safety, usage instructions, and infrastructure available to stock that pesticide.
The information will also include details on the pesticide's potential effects on the environment.
It also includes the provision of compensating the farmers in case of losses due to the use of spurious or low quality of pesticides.
It mandates the Union Government to form a central fund to take care of the compensation.
The Billplans to regulate pesticides-related advertisements to check misleading claims by industries and manufacturers.
It also intends to promote organic pesticides.
Significance
The enforcement of the Pesticides Management Bill will strengthen the efforts of the program in reducing the use of pesticides and increase the use of safer registered pesticide and organic pesticides.
Further, it has the opportunity to clean up the food and farming system of our country, but needs to make the registration process more stringent for manufacturers.
Key Issues with PMB-2020
It would not allow the manufacture and export of pesticides not registered for use in India even if these are approved in other countries.
The present PMB will increase the import of formulations and will damage the export of agro-chemicals. This is directly against the demands presented by the Ashok Dalwai Committee, constituted in 2018 to promote domestic and indigenous industries and agricultural exports from India, which are missing from PMB, 2020.The committee had recommended reduction in import and dependence on imported formulations.
It gives powers to Registration Committee (RC) to subjectively review registration of a pesticide and then suspend, cancel or even ban its usage. This would be done without any scientific evaluation.Such scenarios can disrupt Indian farmers' functioning and productivity.
Further, it provides for re-registration of pesticides already registered under the erstwhile 1968 Act. This will bring instability in the pesticides industry across the country.
It lacks a provision for emergency usage approvals of pesticides during any pest-infestation emergency. This will leave crops vulnerable to locust attacks, which left a trail of destruction in some parts of India recently, besides other pests such as fall armyworm, bollworm, etc. It imposes broad liabilities on pesticide manufacturers without accounting for situations wherein liability arises from factors beyond their control.
Way Forward
In its present form, PMB has gaps that can directly impact the Centre's goal of doubling farmers' income by 2022.
By marginalizing the efficiencies of the domestic crop protection industry that has provided affordable and efficacious products to farmers – most of whom have small landholdings – PMB 2020 may further jeopardize farmers' livelihoods and create concerns around food security.
PMB provides a significant opportunity of reforming the agriculture sector by encouraging science-based solutions to problems faced by farmers and making agriculture more profitable and sustainable.
There is a need to have a competent body to ensure strong governance and to oversee and review the decisions of the Registration Committee (RC).This can be easily achieved by amending Section 23 and 24 and corresponding sections in PMB where RC gets to review its own decisions.
It is in the interest of the Indian farmers and the pesticides industry to have a transparent, stable and accountable legal regime.
In the best interests of the farmers' community, as well as society and industry at large, the Bill needs wider consultations within Parliament.
Ideally, it should be placed before a select committee of Parliamentarians for critical review and necessary changes addressing the needs of farmers, Indian agriculture and the pesticides industry.
This is imperative if India seeks to be Atmanirbhar (self-reliant) as a credible manufacturer and supplier of pesticides to the world while promoting food security objectives and generating employment opportunities for its people.
Pesticides Use in India
India is the fourth-largest producer of pesticides in the world, with the market segmentation tilted mainly towards insecticides, with herbicides on the increase in the recent past.
In the domestic market, Maharashtra, Uttar Pradesh, Punjab, and Haryana are among the states with the highest recorded consumption.
Maharashtra increased its pesticide consumption by 35.6 per cent between 2014-15 and 2018-19, while UP reported an increase of 14.17 per cent.
Pesticide consumption across the country grew by 13.07 per cent between 2014-15 and 2017-18.
Bio-pesticides accounted for only 10 percent of the total pesticides consumed, on an average.
There are 292 pesticides registered in the country, and it is estimated that there are around 104 pesticides that are continued to be produced/ used in India that have been banned in two or more countries in the world.
Question Hour And Zero Hour
---
Recently, in view of ongoing pandemic and a truncated Monsoon Session, Parliament has notified that there will be no Question Hour during the Monsoon Session of Parliament and that Zero Hour will be restricted in both Houses.
Opposition MPs have criticised the move, saying they will lose the right to question the government.
Question Hour
During this hour Members of Parliament (MP) ask questions to ministers and hold them accountable for the functioning of their ministries.
The questions that MPs ask are designed to elicit information and trigger suitable action by ministries.
However, questions can also be asked to the private members (MPs who are not ministers).
Usually Question Hour is the first hour of a parliamentary sitting.
Regulation
Parliament has comprehensive rules for dealing with every aspect of Question Hour.
The presiding officers of the two houses are the final authority with respect to the conduct of Question Hour.
Types of Questions Asked
Starred Questions
These are Questions to which answers are desired to be given orally on the floor of the House during the Question Hour.
These are distinguished in the printed lists by asterisks.
The list of these questions is printed in green colour.
Unstarred Questions
These are Questions to which written answers are given by Ministers which are deemed to have been laid on the Table of the House at the end of the Question Hour.
The list of these questions is printed in white colour.
Short Notice Questions
Such questions can be asked orally in the House after the Question Hour or as the first item in the agenda where there is no Question Hour at a notice shorter than that prescribed for Starred and Unstarred Questions.
These must relate to a subject-matter considered by the Chairman to be of urgent public importance.
The list of these questions is printed in light pink colour.
Questions to Private Members
These questions are mentioned under Rule 40 of the Rules of Procedure and Conduct of Business in Lok Sabha.
A question may be addressed to a private member if the subject matter of the question relates to some bill, resolution for which that member is responsible.
The list of these questions is printed in yellow colour.
Frequency
Now, Question Hour in both Houses is held on all days of the session. But there are two days when an exception is made.
There is no Question Hour on the day the President addresses MPs from both Houses in the Central Hall.
Question Hour is not scheduled either on the day the Finance Minister presents the Budget.
Zero Hour
Zero Hour is an Indian parliamentary innovation. It does not find mention in the rules of procedure.
It is an informal tool available to the members to raise the matters without any prior notice.
It starts after Question Hour and lasts until the regular business is taken up. Thus, the time gap between the end of zero hour and beginning of regular business (agenda) of the house is called Zero hour.
Half an hour Discussion
Members have a right to get information from the Government on any matter of public concern by means of questions to Ministers.
When a member feels that the answer given to a question, Starred or Unstarred or Short Notice, is not complete or does not give the desired information or needs elucidation on a matter of fact, he may be allowed by the Speaker to raise a discussion in the House for half an hour.
The procedure is, therefore, termed as 'Half-an-Hour Discussion'.
Nature of Questions Asked
Parliamentary rules provide guidelines on the kind of questions that can be asked by MPs.
The question should also be related to an area of responsibility of the Government of India.
Questions should not seek information about matters that are secret or are under adjudication before courts.
It is the presiding officers of the two Houses who finally decide whether a question raised by an MP will be admitted for answering by the government.
Answering Procedure
To streamline the answering of questions raised by MPs, the ministries are put into five groups.
Each group answers questions on the day allocated to it.
This grouping of ministries is different for the two Houses so that ministers can be present in one house to answer questions.
Limitation to Number of Questions Asked
In Lok Sabha, until the late 1960s, there was no limit on the number of unstarred questions that could be asked in a day.
Now, Parliament rules limit the number of starred and unstarred questions an MP can ask in a day.
The total number of questions asked by MPs in the starred and unstarred categories are then put in a random ballot.
From the ballot in Lok Sabha, 20 starred questions are picked for answering during Question Hour and 230 are picked for written answers.
Significance
It is during the Question Hour that Members can ask questions on every aspect of administration and governmental activity.
Government policies in the national as well as international spheres come into sharp focus as the Members try to elicit pertinent information during the Question Hour.
It has helped to expose financial irregularities and brought data and information.
Recent Procedural Changes
The following procedural changes have been in force since the 5th session of the 15th Lok Sabha-
A 15-day notice period is now to be given to the minister to respond to a question in Parliament (concept of minimum and maximum notice duration has been removed). The notice duration used to be a minimum of 10 days or maximum of 21 days.
The Speaker now has the authority to direct answers to a starred question asked by a member in case of his or her absence on the day their name was called.
A member is now required to make a statement in the House correcting the reply given by him or her earlier, irrespective of whether the reply given pertained to a starred or unstarred or a short notice question.
The maximum questions, starred or unstarred, a member is now entitled to give is 10 per day.
'Mission Karmayogi' For Civil Services Reforms
---
On 2nd September, 2020, the Union Cabinet gave its approval for Mission Karmayogi, a National Programme for Civil Services Capacity Building (NPCSCB).
Aim
To standardise training, and create shared faculty and resources that would offer officers and government employees an opportunity to improve their performance.
To prepare the Indian Civil Servant for the future by making him more creative, constructive, imaginative, innovative, proactive, professional, progressive, energetic, enabling, transparent and technology-enabled.
Background
Capacity of Civil Services plays a vital role in rendering a wide variety of services, implementing welfare programs and performing core governance functions.
A transformational change in Civil Service Capacity is proposed to be affected by organically linking the transformation of work culture, strengthening public institutions and adopting modern technology to build civil service capacity with the overall aim of ensuring efficient delivery of services to citizens.
Salient Features
Coverage
It will cover 46 lakh Central government employees at all levels.
Citizen Centric Civil Service:
The fundamental focus is the creation of a 'citizen centric civil service' capable of creating and delivering services conducive to economic growth and public welfare.
'Mission Karmayogi' shifts the focus from "Rule based training to Role based training". Greater thrust has been laid on behavioural change.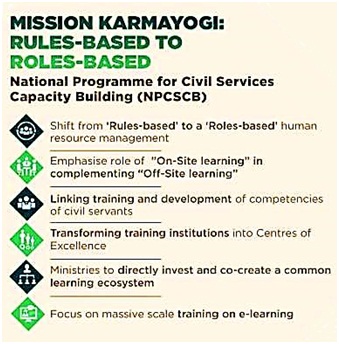 iGOT Karmayogi Platform
The Programme will be delivered by setting up an Integrated Government Online Training- iGOTKarmayogi Platform.
An appropriate monitoring and evaluation framework will also be put in place for performance evaluation of all users of the iGOT-Karmayogi platform so as to generate a dashboard view of Key Performance Indicators.
Special Purpose Vehicle (SPV)
A SPV will be set up as Section 8 – Not for Profit Company which will own and manage the iGOT-Karmayogi platform.
The SPV will own all Intellectual Property Rights on behalf of the Government of India.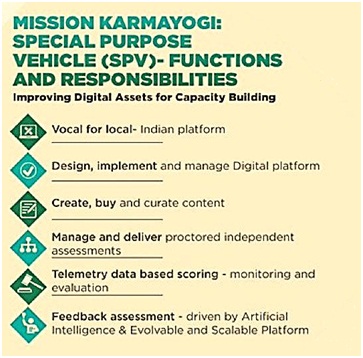 Public Human Resources Council
A Public Human Resources Council under the chairmanship of Prime Minister, with Union Ministers, Chief Ministers, eminent HR practitioners, national and international experts would oversee the entire capacity building exercise.
Capacity Building Commission
An expert body called Capacity Building Commission will be set up to harmonize training standards, create shared faculty and resources, and have supervisory role over all Central Training Institutions.
The Commission will also come out with an "Annual State of Civil Service Report".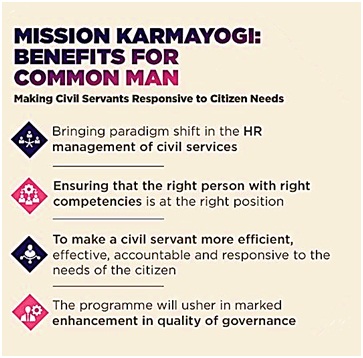 Significance
Improving Government's Human Resources: It will radically improve the government's human resource management practices and it will use state-of-the-art infrastructure to augment the capacity of civil servants.
Countering Existing Impediments: It will help in overcoming existing impediments like lack of lifelong & continuous learning environment, evolution of silos at department level preventing shared understanding of India's development aspirations and diverse and fragmented training landscape among others.
Value-Addition: It will provide a mechanism for continuous capacity building, a constant updating of the talent pool and also provide an equal opportunity of professional as well as personal growth and a stream of self-training for value addition at all levels.
Realising Vision of New India: The programme will also help in making the civil servants more professional, progressive, energetic, inculcating right attitude, technology-enabled which is aligned to the vision of a "New India".
National Handloom Day
---
The 6th National Handloom Day was celebrated on 7th August, 2020, to honour the handloom community, and acknowledge their contribution towards India's socio-economic development.
It aims to resolve to protect this heritage and to empower the workers in this sector.
The first National Handloom Day was organised in 2015 by the government in Chennai.
Significance
The handloom sector is one of the major symbols of the cultural heritage of India.
National Handloom Day seeks to highlight the contribution of handloom to the socioeconomic development of the country and increase income of the weavers.
It continues to be an important source of livelihood, especially for women, who form around 70% of the weavers or allied workers in the sector.
Reason to Choose 7th August
The Union government had declared 7thAugust as the National Handloom Day in July 2015 with the objective to generate awareness about the importance of handloom industry.
August 7 was chosen as the National Handloom Day to commemorate the Swadeshi Movement which was launched on this day in 1905 in the Calcutta Town Hall to protest against partition of Bengal by the British Government.
The movement had aimed at reviving domestic products and production processes.
Issues with Handloom Sector
Stigma of being Unorganized Sector
Primarily a household industry, the weavers are unorganized and the production pattern is mostly dispersed and decentralized and there are no marketing strategies in place, unlike in a cooperative sector.
Non Availability of Raw Material
The Fourth All India Handloom Census (2019-2020) cites raw material support needed by nearly 59.5 percent of weaver household. From cotton, silk, and woollen yarn to dyes, costs have increased and so has the shortage.
In 2015, concerns had been raised regarding shortage of cotton for weavers in Andhra Pradesh, Telangana and Maharashtra. The weavers had to travel long distances to get cotton added to their transportation costs. Besides, smaller weavers have been unable to buy in bulk leading to lower output of material.
Decreasing Credit Support
The Textile Association of India records that the budget allocation for the textile sector came down to Rs 4,831 crore in (2019-2020) from Rs 6,943 in the previous fiscal.
This also means that various schemes be it housing, subsidies, health insurance will affect the weaver too.
Quite often smaller weavers are at the mercy of money lenders, and suicides have made headlines in recent years.
Migration to Other Fields
With many traditional families moving to cities for jobs as labourers, weavers have been leaving the loom.
While the recent Handloom Census (2019-2020) records that there are nearly 31.44 lakh handloom households, and it has seen a rise from 27.83 lakh in the last census, the numbers are still dismal.
Poor Infrastructure
Since handloom manufacturing is carried on in the houses of weavers spread over a vast geographical area, it lacks the necessary infrastructure which is available in industrial estates. There are no separate sheds, water and power supply, technology support effluent treatment plants and waste management arrangements. The poor infrastructure affects the productivity, quality and cost.
Obsolete Technology
The handloom industry has been using age old technology and looms. These results into low productivity and high cost.
Lack of Awareness
The unawareness of weavers about market trends is also a reason of low demand of their articles, lack of market information to weavers by the government and illiteracy of the weavers are the responsible factor for this problem.
While there are nearly 13 government schemes currently for weavers, there's basically three per cent that is aware of the Weavers Health Insurance Scheme and only 10.5 per cent know of the credit waivers for loans that they can avail (Handloom Census 2019-2020).
Competition from Power Loom
Competition from Power loom is the major problem in marketing of handloom products.
This competition over the years has increased after the mushrooming of Power loom, and the power loom sector took several benefits in the name of handloom industry in relation to consumption of yarn, production of reserved items.
Welfare Schemes for Handloom Sector
Handloom Weavers Comprehensive Welfare Scheme
It is providing life, accidental and disability insurance coverage to handloom weavers/workers under the components Pradhan MantriJivanJyotiBimaYojana(PMJJBY), Pradhan Mantri Suraksha BimaYojana(PMSBY) and Converged Mahatma Gandhi BunkarBimaYojana(MGBBY).
National Handloom Development Programme (NHDP)
Components of NHDP
Education of Handloom Weavers and their Children: Ministry of Textiles has signed Memorandums of Understanding with Indira Gandhi National Open University (IGNOU) and National Institute of Open Schooling (NIOS) to secure educational facilities for the weavers and their families.
Weavers MUDRA Scheme: Under the Weavers Mudra Scheme, credit at concessional interest rate of 6% is provided to the handloom weavers.
Block Level Cluster: Introduced in 2015-16 as one of the components of NHDP. Financial assistance upto Rs.2.00 crore per BLC for various interventions such as skill upgradation, product development, etc.
HathkarghaSamvardhanSahayata (HSS): Introduced in 2016 to provide looms/accessories to the weavers. 90% of the cost of loom/accessory is borne by the Government of India while remaining 10% is borne by the beneficiary.
Handloom Marketing Assistance: Provide marketing platform to the handloom agencies/weavers to sell their products directly to the consumers.
India Handloom Brand:During the celebration of 7th August 2015 as National Handloom Day, 'India Handloom' Brand was launched for branding of high quality handloom products.
Comprehensive Handloom Cluster Development Scheme
It is implemented for development of Mega Handloom Clusters covering atleast 15000 to 25,000 handlooms.
Yarn Supply Scheme
This scheme is being implemented throughout the country to make available all types of yarn at Mill Gate Price.
Way Forward
With a view to promote this industry on a sustainable basis, it is deemed necessary to produce quality fabrics with new design for winning the trust and confidence of the customers.
In order to increase the number of active members in the society the Government can increase the wages of the weavers so that they will be motivated to work continuously.
The Government can organize training programmes to weavers with respect to weaving clothes of improved designs, so that through training they will be able to earn more wages and their economic conditions will improve.
Weavers must get the credit on soft terms as they are supposed to with the new initiatives like opening up of bank accounts, direct delivery of subsidies and digital governance.
In order to avoid the competition from mechanized sector the Government should insist the compulsory usage of handloom mark for all the products produced by Handloom Weavers Co-operative Societies.
There is a need to revamp the working of NHDC which is presently limited in nature as it is the only agency to support supply of yarn at subsidised prices.
There is a need to put an end to the process of advance payment and procuring material by the Primary Weaver Cooperative Societies (PWCS) and instead, the market may be opened up for the weavers for purchase of yarn.
The need for awareness, accessibility to markets and design R&D, easy access to raw material and better credit support can make a difference to weavers in different corners of the country. And then we can truly celebrate a National Handloom Day.
National Education Policy-2020
---
On 29th July, 2020, the government approved the National Education Policy 2020, making way for large scale, transformational reforms in both school and higher education sectors.
The Cabinet has also approved the renaming of the Ministry of Human Resource Development to the Ministry of Education.
This policy will replace the National Policy on Education (NPE),1986.
Aim
It aims to pave way for transformational reforms in school and higher education systems in the country.
It aims for universalization of educationfrom pre-school to secondary level with 100 % Gross Enrolment Ratio (GER) in school education by 2030.
Evolution of Education Policy
University Education Commission (1948-49)
Secondary Education Commission (1952-53)
Education Commission (1964-66) under Dr. D.S. Kothari
National Policy on Education, 1968
42nd Constitutional Amendment,1976-Education in Concurrent List
National Policy on Education (NPE), 1986
NPE, 1986 Modified in 1992 (Program of Action, 1992)
S.R. Subramaniam Committee Report (27 May, 2016)
K. Kasturirangan Committee Report (31 May, 2019)
Important Highlights
School Education
Ensuring Universal Access at all Levels of School Education
NEP 2020 emphasizes on ensuring universal access to school education at all levels i.e. pre-school tosecondary.
Infrastructure support, innovative education centres to bring back dropouts into the mainstream.
Facilitating multiple pathways tolearning involving both formal and non-formal education modes.
Open learning for classes3,5 and 8 throughNational Institute of Open Schooling (NIOS).
About 2 crore out of school children will be brought back into mainstream under NEP 2020.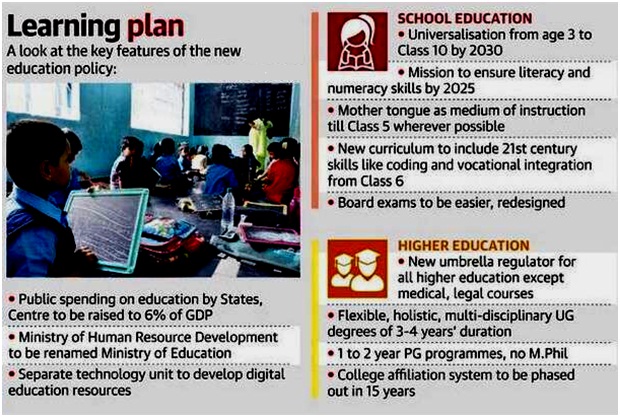 Early Childhood Care &Education with new Curricular and Pedagogical Structure
With emphasis on Early Childhood Care and Education, the 10+2 structure of school curricula isto be replaced by a 5+3+3+4 curricular structure corresponding to ages 3-8, 8-11, 11-14, and 14-18 years respectively.
This will bring the hitherto uncovered age group of 3-6 years under schoolcurriculum, which has been recognized globally as the crucial stage for development of mentalfaculties of a child.
The new system will have 12 years of schooling with three years ofAnganwadi/ pre schooling.
NCERT will develop a National Curricular and Pedagogical Framework for Early ChildhoodCare and Education (NCPFECCE) for children up to the age of 8.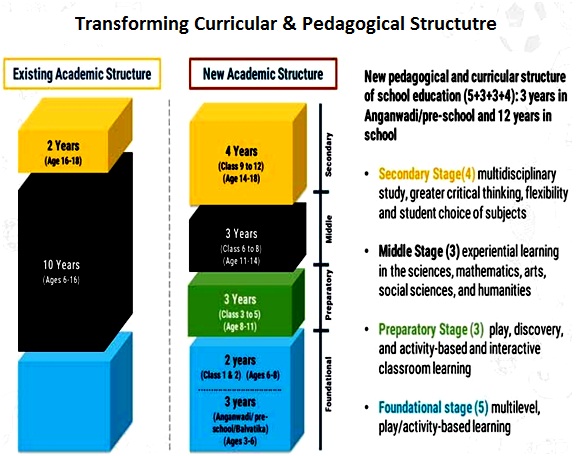 Attaining Foundational Literacy and Numeracy
NEP 2020 calls for setting up of a National Mission on Foundational Literacy andNumeracy.
States will prepare an implementation plan for attaining universalfoundational literacy and numeracy in all primary schools for all learners upto grade 3 by 2025.
ANational Book Promotion Policy is to be formulated.
Reforms in School Curricula and Pedagogy
There will be no rigid separations between arts and sciences,between curricular and extra-curricular activities, between vocational and academic streams.
A new and comprehensive National Curricular Framework for School Education, NCFSE2020-21, will be developed by the NCERT.
Multilingualism and the Power of Language
The policy has emphasized mother tongue/local language/regional language as the medium ofinstruction at least till Grade 5, but preferably till Grade 8 and beyond.
Indian SignLanguage (ISL) will be standardized across the country, and National and State curriculummaterials will be developed, for use by students with hearing impairment.
Assessment of Reforms
A new National Assessment Centre, PARAKH (Performance Assessment, Review, and Analysis of Knowledge for Holistic Development), will be set up as a standard-setting body.
Equitable and Inclusive Education
NEP 2020 aims to ensure that no child loses any opportunity to learn and excel because of thecircumstances of birth or background.
Special emphasis will be given on Socially andEconomically Disadvantaged Groups(SEDGs).
This includes setting up of Gender Inclusion Fund and also Special Education Zones for disadvantaged regions and groups.
Every state/district will be encouraged to establish "BalBhavans" as a special day-time boarding school, to participate in art-related, career-related, andplay-related activities.
Robust Teacher Recruitment and Career Path
Teachers will be recruited through robust, transparent processes. Promotions will be merit-based,with a mechanism for multi-source periodic performance appraisals and available progression,paths to become educational administrators or teacher educators.
A common National Professional Standards for Teachers (NPST) will be developed by the National Council forTeacher Education by 2022, in consultation with NCERT, SCERTs, teachers and expertorganizations from across levels and regions.
School Governance
Schools can be organized into complexes or clusters which will be the basic unit of governanceand ensure availability of all resources including infrastructure, academic libraries and a strongprofessional teacher community.
Standard-setting and Accreditation for School Education
NEP 2020 envisages clear, separate systems for policy making, regulation, operations andacademic matters. States/UTs will set up independent State School Standards Authority(SSSA).
The SCERT willdevelop a School Quality Assessment and Accreditation Framework (SQAAF) throughconsultations with all stakeholders.
Higher Education
NEP 2020 aims to increase the Gross Enrolment Ratio in higher education including vocationaleducation from 26.3% (2018) to 50% by 2035.
Holistic Multidisciplinary Education
The policy envisages broad-based, multi-disciplinary, holistic Under Graduate education withflexible curricula, creative combinations of subjects, integration of vocational education and multiple entry and exit points with appropriate certification.
UG education can be of 3 or 4years with multiple exit options and appropriate certification within this period.
An Academic Bank of Credit is to be established for digitally storing academic credits.
Multidisciplinary Education and Research Universities (MERUs), at par with IITs, IIMs, to beset up as models of best multidisciplinary education of global standards in the country.
The National Research Foundation will be created as an apex body for fostering a strongresearch culture and building research capacity across higher education.
Regulation
Higher Education Commission of India(HECI) will be set up as a single overarching umbrellabody for entire higher education, excluding medical and legal education.
HECI to have fourindependent verticals - National Higher Education Regulatory Council (NHERC) for regulation,General Education Council (GEC) for standard setting, Higher Education Grants Council(HEGC) for funding, and National Accreditation Council(NAC) for accreditation.
Rationalised Institutional Architecture
Higher education institutions will be transformed into large, well resourced, vibrantmultidisciplinary institutions providing high quality teaching, research, and communityengagement.
Affiliation of colleges is to be phased out in 15 years and a stage-wise mechanism is to beestablished for granting graded autonomy to colleges.
Teacher Education
A new and comprehensive National Curriculum Framework for Teacher Education, NCFTE2021, will be formulated by the NCTE in consultation with NCERT.
By 2030, the minimumdegree qualification for teaching will be a 4-year integrated B.Ed. degree.
Mentoring Mission
A National Mission for Mentoring will be established, with a large pool of outstandingsenior/retired faculty – including those with the ability to teach in Indian languages.
Open and Distance Learning
This will be expanded to play a significant role in increasing GER. Measures such as onlinecourses and digital repositories, funding for research, improved student services, credit-basedrecognition of Massive Open Online Courses (MOOCs), etc., will be taken to ensure it is at par with the highest quality in-classprogrammes.
Technology in Education
An autonomous body, the National Educational Technology Forum (NETF), will be created toprovide a platform for the free exchange of ideas on the use of technology to enhance learning,assessment, planning, administration.
Appropriate integration of technology into all levels ofeducation will be done to improve classroom processes, support teachers' professionaldevelopment, enhance educational access for disadvantaged groups and streamline educationalplanning, administration and management.
Promotion of Indian Languages
To ensure the preservation, growth, and vibrancy of all Indian languages, NEP recommendssetting an Indian Institute of Translation and Interpretation (IITI), National Institute (orInstitutes) for Pali, Persian and Prakrit, strengthening of Sanskrit and all language departmentsin HEIs, and use mother tongue/local language as a medium of instruction in more HEIprogrammes .
Professional Education
All professional education will be an integral part of the higher education system.
Stand-alonetechnical universities, health science universities, legal and agricultural universities, etc. will aim tobecome multi-disciplinary institutions.
Adult Education
Policy aims to achieve 100% youth and adult literacy.
Financing Education
The Centre and the States will work together to increase the public investment in education sectorto reach 6% of GDP at the earliest.

Significance
Built on the foundational pillars of Access, Equity, Quality, Affordability and Accountability, this policy is aligned to the 2030 Agenda for Sustainable Development.
NEP 2020 is precisely what India needs to dominate in the future decades of growth, and drive the education requirements of our young population.
Further, it aims to transform India into a vibrant knowledge society and global knowledge superpower by making both school and college education more holistic, flexible, multidisciplinary, suited to 21st century needs and aimed at bringing out the unique capabilities of each student.
Way Forward
Education infrastructure is one of the important parameters which also needs a massive boost from the government authorities.
The New Education Policy should have been implemented years ago to enable India's education system to catch up with that of other fast-developing nations in Asia.
The focus on light government regulation, multidisciplinary institutions and creating equivalence of vocational and academic streams are welcome, but these have been a part of other countries' education models for years.
It would have been good to have some more innovative ideas implemented like recognition of pathway/twinning programs with foreign universities, permission for for-profit firms to set up schools & colleges, allowing corporate CSR funding for primary research in universities and allowing universities to offer online degrees to outside their geographical jurisdiction.
Restrictions On Public Procurement: Amending General Financial Rules 2017
---
On 24th July, 2020, the Government amended the General Financial Rules 2017 to enable imposition of restrictions on bidders from countries which share a land border with India on grounds of defence of India, or matters directly or indirectly related thereto including national security.
For this, Rule 144 of the General Financial Rules, 2017 entitled 'Fundamental principles of public buying' has been amended.
Reason for such Action
Chinese imports and investments have been facing intense scrutiny in India after a tense border standoff since the last month.
The decision has been taken to prevent the influx of Chinese products and investments into India, following the clashes between Indian and Chinese troops in Galwan Valley.
India is aiming at limiting trade links with China as part of policy to cut dependence on that country.
About the Amendments
Mandatory Registration
According to the new order, any bidder from countries sharing a land border with India will be eligible to bid in any procurement whether of goods, services or works only if the bidder is registered with the 'Competent Authority.'
The Competent Authority, in this case, is the Registration Committee constituted by the Department for Promotion of Industry and Internal Trade (DPIIT).
Political and security clearance from the Ministries of External and Home Affairs respectively will be mandatory.
Applicability
It will be applicable to all autonomous bodies, public sector banks and financial institutions, central public sector enterprises, public-private partnerships receiving financial support from the government or public sector undertakings, union territories and National Capital Territory (NCT) of Delhi and the linked agencies.
Invoking Provisions of Article 257(1)
The Central government has invoked the provisions of Article 257(1) of the Constitution, directing the state governments to implement this order for all public procurement.
For procurementby State Governments, a Competent Authority will be constituted by the states but political and security clearance will remain necessary.
Exceptions
Relaxation will be provided for the procurement of medical supplies for containment of COVID-19 global pandemic till December 31st, 2020.
Also, the order for prior registration will not apply for countries to which the Government of India extends lines of credit or provides development assistance, even if it shares a land border with India.
It does not apply to procurement by the private sector.
This order will also not apply to cases where orders have been placed or a contract has been concluded or letter of acceptance has been issued, but new tenders will be covered under this order.
Also, if the first stage of evaluation of qualifications has not been completed in the already invited tenders, bidders not registered under the new order will be treated as not qualified.
Impact
The move aimed at keeping Chinese companies out could hit sectors with heavy import content and dependence on supplies from China.
Infrastructure sectors such as power sector — particularly solar, telecom, highways — are likely to get impacted at different levels.
However, it will provide a major push to the government's Atmanirbhar Bharat Abhiyaan, making India self-reliant by curbing the dependency of import from China.
Previous Anti-China Measures
'Country of Origin' Made Mandatory on GeM
In June, 2002, the government made it mandatory for sellers on the Government e-Marketplace (GeM) portal to clarify the 'country of origin' of their goods when registering new products.
The GeM portal now allows buyers to reserve a bid for Class I local suppliers, or suppliers of those goods with more than 50 per cent local content.
Digital Strike: Banning Chinese App
In June, 2020, the government announced an interim ban on 59 apps with Chinese links including TikTok, ShareIt, UC Browser, CamScanner and WeChat citing "emergent threats" to the country's sovereignty and national security.
On 27th July, 2020, the government again banned 47 more Chinese apps that were clones of the 59 apps banned already.
Amending FDI Rules
In April, 2020, the government had amended the FDI rules mandating prior approval for investment by entities in countries that share land borders with India.
The move came days after China's central bank, the People's Bank of China (PBoC), raised its shareholding in Housing Development Finance Corporation (HDFC) to over one per cent.
General Financial Rules (GFRs)
GFRs are set of rules that deal with matters that involve public finances.
They were first issued in 1947 bringing together all the existing orders.
They are instructions that pertain to financial matters.
They lay down the general rules applicable to Ministries / Departments, and detailed instructions relating to procurement of goods are issued by the procuring departments broadly in conformity with the general rules, while maintaining flexibility to deal with varied situations.
Article 257(1)
It states that the executive power of every State shall be so exercised as not to impede or prejudice the exercise of the executive power of the Union.
It also authorises the Union to give such directions to a State as may appear to the Government of India to be necessary for that purpose.
In case, if the state failed to comply with (or to give effect to) any directions given by the Centre under Article 257(1), it will be lawful for the President to impose President's rule under Article 356.
Consumer Protection Act, 2019
---
The new Consumer Protection Act, 2019 came into force on 20th July, 2020.
It replaced the existing Consumer Protection Act, 1986, and in its overarching mandate, aims to provide a mechanism for the redressal of consumer complaints regarding defects in goods and deficiency in services, right down to the level of districts.
Background
The Consumer Protection Bill, 2019 was introduced in the Upper House of Parliament on July 8, 2019.
It was passed by the Lok Sabha on July 30, 2019 and Rajya Sabha on August 6, 2019. The Bill was then signed into law by President on August 9, 2019.
Salient Features of the Act
Covers E-Commerce Transactions
The New Act has widened the definition of 'consumer'.
The definition now includes any person who buys any goods, whether through offline or online transactions, electronic means, teleshopping, direct selling or multi-level marketing.
The earlier Act did not specifically include e-commerce transactions, and this lacuna has been addressed by the New Act.
Creation of Central Consumer Protection Authority
It proposes the establishment of a Central Consumer Protection Authority (CCPA) to promote, protect and enforce the rights of consumers, and make interventions in situations of unfair trade practices.
It will be empowered to -
conduct investigations into violations of consumer rightsand institute Complaints / Prosecution;
order recall of unsafe goods and services; and
order discontinuance of unfair trade practices andmisleading advertisements.
Rules on e-Commerce and Direct Selling
Now every e-commerce entity is required to provide information relating to return, refund, exchange, warranty and guarantee, delivery and shipment, modes of payment, grievance redressal mechanism, payment methods, security of payment methods, charge-back options, etc. including country of origin which are necessary for enabling the consumer to make an informed decision at the pre-purchase stage on its platform.
e-commerce platforms have to acknowledge the receipt of any consumer complaint within forty-eight hours and redress the complaint within one month from the date of receipt under this Act.
Simplifying Consumer Dispute Adjudication Process
Empowering the State and District Commissions to review their own orders.
Enabling a consumer to file complaints electronically and in consumer commissions that have jurisdiction over the place of his residence.
Video-conferencing for hearing and deemed admissibility of complaints if the question of admissibility is not decided within the specified period of 21 days.
Alternate Dispute Resolution Mechanism of Mediation
A complaint will be referred by a Consumer Commission for mediation, wherever scope for early settlement exists and parties agree for it.
Mediation will be held in the Mediation Cells to be established under the aegis of the Consumer Commissions.
There will be no appeal against settlement through mediation.
Product Liability
A manufacturer or product service provider or product seller to be responsible to compensate for injury or damage caused by defective product or deficiency in services.
Basis for product liability action -
Manufacturing defect
Design defect
Deviation from manufacturing specifications
Not conforming to express warranty
Failing to contain adequate instructions for correct use
Service provided-faulty, imperfect or deficient
Fee Exemption
A significant note for customers under this Act is that there will be no fee for filing cases up to Rs 5 lakh.
There are provisions for filing complaints electronically, credit of amount due to unidentifiable consumers to Consumer Welfare Fund (CWF).
Penalties for Misleading Advertisement
The CCPA may impose a penalty on a manufacturer or an endorser of up to Rs 10 lakh and imprisonment for up to two years for a false or misleading advertisement.
In case of a subsequent offence, the fine may extend to Rs 50 lakh and imprisonment of up to five years.
Penalty for Adulteration of Products/Spurious Goods
In case of the first conviction, a competent court may suspend any license issued to the person for a period of up to two years and in case of second or subsequent conviction, may cancel the license permanently.
Central Consumer Protection Council
It provided for constitution of the Central Consumer Protection Council, an advisory body on consumer issues, headed by the Union Minister of Consumer Affairs, Food and Public Distribution with the Minister of State as Vice Chairperson and 34 other members from different fields.
The Council, which has a three-year tenure, will have Minister-in-charge of consumer affairs from two States from each region- North, South, East, West, and NER.
Significance
Protecting Consumer Right
Earlier Consumer Protection Act, 1986, a single point access to justice was given, which was also time consuming.
The new Act has been introduced after many amendments to provide protection to buyers not only from traditional sellers but also from the new e-commerce retailers/platforms.
It will prove a significant tool in protecting consumer rights in the country.
US-India Strategic Energy Partnership
---
On July, 17, 2020, India and the USA have participated in a virtual ministerial meeting of the US-India Strategic Energy Partnership (SEP) to review progress, highlight major accomplishments, and prioritize new areas for cooperation.
India and the US are leading joint research and development (R&D) through Partnership toAdvance Clean Energy-Research (PACE-R) on smart grids and energy storage to increase resilience and reliability of the electric grid.
Major Outcomes of the Meeting
Enhancing Energy Security
A Memorandum of Understanding (Mou) has been signed to begin cooperation on Strategic Petroleum Reserves operation and maintenance, including exchange of information and best practices.
Harnessing Innovation
A public-private Hydrogen Task Force would be set up to help scale up technologies to produce hydrogen from renewable energy and fossil fuel sources.
They also signed an MOU to collaborate on India's first-ever Solar Decathlon India in 2021, establishing a collegiate competition to prepare the next generation of building professionals to design and build high efficiency buildings powered by renewables.
The two sides jointly launched collaboration between the U.S. DOE National labs and the Indian National Institutes as part of the newly launched South Asia Group for Energy (SAGE).
Modernising the Power System
It has been agreed to modernize the Distribution Sector through various reform measures for achieving reliable quality 24X7 power supply.
This will be achieved through increased private participation; enhancing consumer centricity; deployment of Smart Meters across India; and, establishing Smart Grid Knowledge Centre in India as a "Global Centre of Excellence" for Smart Grids.
The sides agreed to collaborate on advanced high-efficiency coal technologies with low-to-zero emissions through carbon capture, utilization, and storage (CCUS), focusing on USDOE's Coal FIRST (Flexible, Innovative, Resilient, Small, Transformative) initiative to develop 21st Century coal energy systems.
Enhancing Energy Efficiency
The United States and India have been working to enhance building an appliance efficiency through enhanced building codes, design and operation of smart buildings of the future, smart meters and demand side response, as well as retrofit of buildings to improve building performance, promote energy conservation, and improve in-door air quality.
Both sides are also working to enhance energy efficiency in the industrial sector and will work to advance a comprehensive energy management system in accordance with ISO50001.
In response to the COVID-19 pandemic, USAID and Energy Efficiency Services Ltd (EESL) jointly initiated a new activity, "Retrofit of Air Conditioning to Improve Air Quality for Safety and Efficiency" (RAISE) for healthy and energy efficient buildings. The initiative will be scaled in public sector buildings.
Promoting Energy Trade and Investment
The sides noted the significant increase in bilateral hydrocarbon trade since the establishment of SEP and affirmed to promote greater hydrocarbon trade between the two countries.
Through the US-India Natural Gas Task Force,S.and Indian industry forged new commercial partnerships on innovative projects and developed a series of policy and regulatory recommendations to support the Government of India's vision to increase the share of natural gas in India's energy sector.
Commitment to advance civil nuclear cooperation e. recent progress on the Westinghouse (USA's Electric Company) nuclear reactor project at Kovvada, Andhra Pradesh were also discussed.
Promoting Inclusive and Sustainable Economic Growth
USAID and NITI Aayog jointly launched the India Energy Modeling Forum to build a network of modeling community and its linkage with Government for analytical work and policy making exercise.
Empowering Women in the Energy Sector
USAID launched the South Asia Women in Energy (SAWIE) platform focused on the power sector and the sides are working to incorporate gender-focused activities across the technical pillars.
Strategic Energy Partnership (SEP)
Established in April 2018, SEP recognises the strategic importance of energy to the US-India bilateral relationship.
Build upon long-standing energy partnership, SEP sets the stage for meaningful engagements through robust government-to-government cooperation and industry engagement.
Focus Areas
It focuses on 4 pillars of cooperation -
Power and Energy Efficiency
Oil and Gas
Renewable Energy
Sustainable Growth
Through these pillars both countries are working to
strengthen and modernize the power grid and distribution utilities for clean, affordable, and reliable energy access;
improve efficiency, flexibility, and environmental performance in the power sector;
promote inclusive and sustainable economic growth through long-term energy development;
enhance energy security through oil and gas trade, and infrastructure investment;
advance the development, deployment, and integration of renewable energy;
expand access to finance for renewable energy projects; and
reduce market barriers to energy trade and investment.
India Energy Modeling Forum
In the joint working group meeting of the Sustainable Growth Pillar on July 2, 2020, an India Energy Modeling Forum was launched.
Sustainable Growth Pillar is an important pillar of India–US Strategic Energy Partnership co-chaired by NITI Aayog and USAID.
The SG pillar entails energy data management, energy modelling and collaboration on low carbon technologies as three key activities.
Aims and Objectives
Provide a platform to examine important energy and environmental related issues;
Improve cooperation between modelling teams, government, and knowledge partners, funders;
Facilitate exchange of ideas, ensure production of high-quality studies;
Identify knowledge gaps at different levels and across different areas; and
Build capacity of Indian institutions.
Issues Over Delimitation In The Northeast
---
A former legal advisor to the Election Commission (EC) has red-flagged the Centre's order setting up a Delimitation Commission for Arunachal Pradesh, Manipur, Assam and Nagaland, calling it "unconstitutional" and "illegal".
Chronology of Event
The last delimitation exercise, that started in 2002 and ended in 2008, had kept out Arunachal, Assam, Manipur and Nagalanddue to apprehensions over use of the 2001 Census.
The Delimitation Act of 2002 was amended on January 14, 2008, to empower the President to postpone the exercise in these states.
Subsequently, Parliament had decided that instead of creating another Delimitation Commission for the limited purpose of redrawing seat boundaries in the four northeastern states, the exercise there would be carried out by the EC.
Section 8A of the RP Act 1950 was introduced for this purpose.
In February, 2020, government rescinded a 2008 presidential order which had stalled the exercise by the Delimitation Commission in Assam, Nagaland, Arunachal Pradesh and Manipur.
Finally, in March, 2020, the Delimitation Commission headed by former Supreme Court judge RanjanaPrakash Desai was constituted to not only redraw constituencies in proportion to the population in the union territory of Jammu and Kashmir as per the 2011 Census under the J&K Reorganisation Act 2019, but also in these NE states but with 2001 Census data under the Delimitation Act of 2002.
Why the new Delimitation Commission has been called "illegal" and "unconstitutional"?
In 2008, after the President deferred delimitation, the Parliament decided that instead of creating another Delimitation Commission in future for the limited purpose of redrawing seat boundaries in the four northeastern states, the exercise there would be carried out by the EC.
The Representation of the People Act 1950 was amended, and Section 8A was introduced for this purpose.
The Law Ministry's notification of March, 2020, violates the Representation of the People Act, 1950.
Since the RP Act, 1950 clearly states that delimitation in the four northeastern states, when held, would fall within the EC's remit, the Centre should not have notified a separate Delimitation Commission for this purpose.
Hence, any delimitation exercise in these states by the new Delimitation Commission would be declared void by the courts and, subsequently, result in wastage of huge precious public funds.
Will delimitation change the number of seats in these states?
No, there is a freeze until 2026 on the number of LokSabha and Assembly seats in any state.
Delimitation will only redraw the boundaries of seats in each state, and can rework the number of reserved seats for SCs and STs.
However, because of exceptional past circumstances, Jammu & Kashmir's Assembly seats will now increase from 107 to 114, which is expected to increase Jammu region's representation.
Delimitation
It is the act of redrawing boundaries of LokSabha and Assembly seats to represent changes in population.
In this process, the number of seats allocated to a state may also change.
Objective
To provide equal representation for equal population segments.
A fair division of geographical areas, so that no political party has an advantage.
Process of Delimitation
Under Article 82, the Parliament enacts a Delimitation Act after every Census.
Under Article 170, States also get divided into territorial constituencies as per Delimitation Act after every Census.
Once the Act is in force, the Union government sets up a Delimitation Commission.
Past Commissions
The first delimitation exercise was carried out by the President (with the help of the Election Commission) in 1950-51.
The Delimitation Commission Act was enacted in 1952.
Delimitation Commissions have been set up four times — 1952, 1963, 1973 and 2002 under the Acts of 1952, 1962, 1972 and 2002.
There was no delimitation after the 1981 and 1991 Censuses.
Delimitation Commission
The Delimitation Commission is appointed by the President of India and works in collaboration with the Election Commission of India.
Composition
Retired Supreme Court judge, Chief Election Commissioner, Respective State Election Commissioners.
Functions
To determine the number and boundaries of constituencies to make population of all constituencies nearly equal.
To identify seats reserved for Scheduled Castes and Scheduled Tribes, wherever their population is relatively large.
Gopalakrishnan Committee On Non-Personal Data Governance Framework
---
On 12th July, 2020, Kris Gopalakrishnan committee on Non-Personal Data Governance framework (NPD Committee) submitted its report to the government.
Background
The Committee was constituted by the Ministry of Electronics and Information Technology (MeitY) on 13th September, 2019 under the Chairmanship of Kris Gopalakrishnan (Co-Founder, Infosys).
It was formed based on the recommendations of the Justice BN Srikrishna committee on protection of personal data (PDP).
Need for a Governance Framework
The NPD committee noted that India is a large data market due to second highest population, with the second highest number of smartphone users and increasing internet penetration levels.
Some companies with the largest data pools have 'outsized, unbeatable techno-economic advantages' owing to first mover's advantage, network effects and enormous data volumes which have been collected over years. These act as entry barriers for startups and new companies.
Therefore, the NPD committee felt that the possibility of data monopolies resulting in power imbalance between few companies having access to large datasets accumulated in an unregulated environment on one side and Indian citizens, MSMEs and startups and Indian government on the other should not be risked.
Key Recommendations
Definition of NPD
NPD is defined as 'data that is not personal data, or when it is without any personally identifiable information'. Three categories of NPD have been recommended:
Public NPD: Data collected or generated by any government agency, and includes data collected during execution of all publicly funded works.
Private NPD: NPD collected by entities/persons other than governments through assets and processes privately owned by the entity/person. It includes derived/observed data collected through private effort, such as through use of algorithms or proprietary knowledge.
Community NPD: Data that pertains to a community of natural persons. It can include NPD about animate and inanimate things or phenomena. Such data shall not include private NPD. Examples cited include data collected by municipal corporations and public electric utilities. It also includes user information collected by telecom companies, e-commerce players, and ride-hailing platforms.
Sensitive NPD
It has recommended classification of NPD into general NPD, sensitive NPD and critical NPD- just like the classification of personal data under the PDP Bill.
The classification of NPD will be on the basis of the category of the underlying PD under the PDP Bill.
For example, all health-related NPD will be classified as sensitive NPD, as health data qualifies as SPD under the PDP Bill.
Consent Requirement
At the time of collecting the data principal's PD, the entity must take the data principal's consent for- (a) anonymising the data principal's data, and (b) for usage of anonymised data.
Different roles in the NPD ecosystem
The following different roles have been proposed in the NPD ecosystem-
Data principal: This is essentially the entity/individual to whom the collected data pertains. It will vary depending on the category of NPD. For example, in case of census data, the citizens will be the data principal. In case of vendor registration or vendor product information, the vendor will be the data principal.
Data custodian: The entity that undertakes collection, storage and processing of data, keeping in mind best interest of the data principal. It has a 'duty of care' to the concerned community to which the NPD pertains; this 'duty of care' will be defined through a defined set of obligations.
Data trustee: The data principal or community will exercise its rights through a data trustee. The NPD legislative framework will provide guidelines for who can act as an appropriate data trustee for a group/community. For a lot of community data, the corresponding govt. entity or community body may act as a data trustee.
Ownership of data
The committee adopted the notion of 'beneficial ownership/interest' of data, as many actors may have simultaneous ownership rights and privileges to data, due to the non-rivalrous nature of data.
Public NPD will be treated as a 'national resource'.
Introducing a new category of 'data businesses'
Entities involved in data collection or processing will be classified as 'data businesses' based on a certain threshold of data collected/processed.
If the data collection exceeds a certain threshold, the 'data business' entity will have to submit meta-data about data user and community from which data is collected, with details such as classification, closest schema, volume etc.
Sharing of NPD
There are various grounds specified for sharing of data, including national security, law enforcement, community use, policy development and better delivery of public services.
India should specify a new class of 'high value' or 'special public interest' datasets, which can include health, geospatial and transportation data.
NPD Regulatory Authority
The Authority will have the power to address market failures in terms of lack of information about the quantum and nature of actual NPD assets held by an entity, or harms arising from processing activities, including re-identification or discrimination.
It will also ensure a 'level playing field' with fair and effective competition in digital and data markets.
Suggestions Ensuring Compliance with Data Sharing
The report suggests various 'checks and balances' for ensuring compliance with data sharing and other requirements.
Other than the local storage requirements based on sensitivity of NPD, the report provides for an 'expert probing' measure.
The report also suggests that 'data spaces' can be created to promote intensive data-based research by various stakeholders.
It suggests setting up 'data and cloud innovation labs and research centres', which will act as physical environments/field validation centres where organizations will test and implement digital solutions.
The committee has also suggested an illustrative three-tiered system architecture covering safeguards, technology and compliance to enable data sharing. This includes the suggestion of a 'Policy Switch', which would enable a single digital clearing house for regulatory management of NPD.
Significance
The meta-data sharing by Data Business will spur innovation at an unprecedented scale in the country.
One of the associated key objectives is to promote and encourage the development of domestic industry and startups that can scale their data-based businesses.
The report suggests a data-sharing regulation to shift data's "economic benefits for citizens and communities in India" as well as help the government in policy making and service delivery.
The recommendations, if implemented, will help businesses create value of their data having an economic good, not just information.
The regulation of NPD will ensure: (a) provision of certainty for existing businesses; (b) creation incentives for new businesses; and (c) release of enormous untapped social and public value from data.
BN Srikrishna Committee on Protection of Personal Data
The Committee was constituted by the union government in July 2017, to deliberate on a data protection framework.
The Committee has submitted its Report and a draft Personal Data Protection Bill in July, 2018.
The Committee had examined a wide gamut of issues in relation to protection of personal data which found reflection in the draft Personal Data Protection Bill.
It also took cognizance of community data as relating to a group dimension of privacy and an extension of data protection framework.
It also felt that all such community data is relevant for understanding public behaviour, preferences and making decisions for the benefit of the community.
Secrecy Of Ballots
---
On 21st June, 2022, in a significant judgment, the Supreme Court(SC) held that Secrecy of ballot is the cornerstone of free and fair elections.
Background
The judgment came on an appeal against the Allahabad High Court (HC) decision setting aside the voting of a no-confidence motion in a zila panchayat in Uttar Pradesh in 2018.
The High Court found that some of the panchayat members had violated the rule of secrecy of ballot.
The appellants in the SC contended that the principle of secrecy of ballots was not an absolute principle, and that voluntary waiver of the privilege was permissible.
They referred to Section 94 of the Representation of Peoples Act to state that voter can voluntarily chose to waive the secrecy of ballot.
Further, they argued that the HC has wrongly held that the voluntary waiver principle could not apply to the case in hand with respect to the members of the Zila Panchayat voting on a no confidence motion.
The SC referred to Section 28(8) of the Uttar Pradesh Kshettra Panchayat and Zila Panchayat Adhiniyam, 1961 and ordered a re-vote of the motion within the next two months, by the secret ballot system.
Key Points of SC Verdict
The Supreme Court has observed that the principle of secret ballot is an important postulate of constitutional democracy.
It is to be observed that one of the fundamental principles of election law pertains to the maintenance of free and fair elections, ensuring the purity of elections.
It referred to Section 94 of the Representation of People Act, which upholds the privilege of the voter to maintain confidentiality about her choice of vote.
It is the policy of law to protect the right of voters to secrecy of the ballot.
The choice of a voter should be free and the secret ballot system in a democracy ensures it.
Even a remote or distinct possibility that a voter can be forced to disclose for whom she has voted would act as a positive constraint and a check on the freedom to exercise of franchise.
However, a voter can also voluntarily waive the privilege of non-disclosure.
The privilege ends when the voter decides to waive the privilege and instead volunteers to disclose as to whom she had voted.
No one can prevent a voter from doing. Nor can a complaint be entertained from any, including the person who wants to keep the voter's mouth sealed as to why she disclosed for whom she voted.
Secret Ballot
The secret ballot, also known as Australian ballot, is a voting method in which a voter's choices in an election or a referendum are anonymous, forestalling attempts to influence the voter by intimidation, blackmailing, and potential vote buying.
The system is one means of achieving the goal of political privacy.
Representation of People's Act
The Parliament has enacted the Representation of the People Act (RPA), 1950 and Representation of the People Act, 1951.
Provisions of RPA, 1950
Seat allocation in the Lok Sabha and the Legislative Assemblies through direct elections.
The voters' qualifications for the elections.
The delimitation of constituencies for both Lok Sabha and Assembly elections. The extent of the constituencies would be determined by the Delimitation Commission.
Preparation of the electoral roll.
Provisions of RPA, 1951
All matters relating to the actual conduct of elections are governed by the provisions of the Representation of the People Act 1951.
Talks about corruption and other illegal activities related to elections.
The Act makes provisions for dispute redressal in matters connected to elections.
It specifies the qualifications and disqualifications for membership of the Houses.
Grant Of Domicile Certificate (Procedure) Rules 2020
---
On 18th May, 2020, the Jammu and Kashmir administration issued a notification defining the rules for issuing domicile certificates in the Union territory, which specify the conditions and the process to obtain the documents required to applying to jobs and avail other privileges restricted to residents in Jammu and Kashmir.
The new rules replace the previous J&K permanent resident rules.
Background
On 1st April, 2020, , eight months after abrogation of Articles 370 and 35A, the government notified a law, spelling out new domicile rules for Jammu and Kashmir and eligibility for employment in the region.
Under the law, the domiciles have been defined as those who have resided for a period of 15 years in the Union territory of Jammu and Kashmir, those have studied for a period of seven years and appeared in Class 10th /12th examination in educational institutions located in J&K.
Need
Previously such domicile certificates were issued by officers of the level of deputy commissioners and it involved passing through a labyrinth of procedures and shuffling back and forth between many offices.
In that sense, the new rules are intended to bypass the byzantine bureaucracy and offer an accelerated path towards acquiring the domicile for non-locals.
Domicile Certificate (Procedure) Rules 2020
West Pakistan Refugees (WPRs), safai karamcharis and children of women married outside Jammu and Kashmir shall also be now eligible for Domicile Certificate.
All migrants and their children who are registered with Relief and Rehabilitation Commissioner will be granted domicile certificate.
All people who have resided in the UT for 15 years, or have studied for seven years and appeared in class 10th or 12th examination in an educational institution in the region, and their children, are eligible for grant of domicile.
Kashmiri migrants can get the Domicile certificate on the production of either a PRC or certificate of registration of migrant.
Children of central government, All India service, bank and PSU, statutory body, and central university officials, who have served in Jammu of Kashmir for a total period of 10 years will also be eligible for domicile status.
Children of those residents of Jammu and Kashmir who reside outside the Union territory in connection with their employment of business or other professional or vocational reasons have also become eligible for grant of domicile status.
The domicile certificate has been made the basic eligibility criteria for appointment to any post under the Union Territory following amendments in the Jammu and Kashmir Civil Services (decentralization).
The certificate will be issued by the designated authority which in all cases is tehsildars or other officials that may be notified by the government.
Any officer not able to issue the certificate would be penalised ₹50,000. The amount would be recovered from his salary.
Impact
As a result of the new rules and procedure, West Pakistan Refugees (WPRs) including others who were earlier deprived shall also be now eligible for Domicile Certificate.
Further, the domicile rule makes all local government jobs available to non-natives, including those in police and administration, which means they will now be able to serve in such positions as station house officers and senior superintendents of police, etc.
As a result, the immediate implication of this change will most likely be reflected by the administrative set-up, which has so far been dominated by J&K natives.
Criticism
The regional parties rejected the J&K Reorganisation (Adaptation of State Laws) Order, 2020, and the J&K Grant of Domicile Certificate (Procedure) Rules 2020, saying it was aimed at changing the demography of the erstwhile State of J&K.
Describing it "unacceptable" and fraught "with widening the gap and inducing alienation", they stated that his order was aimed at disempowering the people of J&K and effecting a demographic change.
Shekatkar Committee
---
Recently, the Defence Ministry has approved the proposal of Engineer-in-Chief of Military Engineering Services (MES) for optimisation of more than 9,300 posts in the basic and industrial workforce.
It is in line with the recommendations of the Committee of Experts, headed by Lt General Shekatkar, which had recommended measures to enhance combat capability and rebalance defence expenditure of the Armed Forces.
The recommendation was aimed at making MES an effective organisation with a leaner workforce, well equipped to handle complex issues in the emerging scenario in an efficient and cost effective manner.
Background
The 11-member committee, appointed by the late Defence Minister Manohar Parrikar in 2016, had made about 99 recommendations, from optimising defence budget to the need for a Chief of the Defence Staff.
Key Recommendations
According to a 2017 report, the Shekatkar Committee had recommended that India's defence budget should be in the range of 2.5 to 3 per cent of the GDP, keeping in mind possible future threats.
It had suggested the establishment of a Joint Services War College for training for middle-level officers, even through the three separate war colleges — Mhow, Secunderabad and Goa — could continue to train younger officers for their respective services.
It had also recommended that the Military Intelligence School at Pune be converted to a tri-service intelligence training establishment.
The report also focuses on optimisation of Signals establishments to include radio monitoring companies, corps air support signal regiments, air formation signal regiments, composite signal regiments, and merger of corps operating and engineering signal regiments.
It included restructuring of repair echelons in the Army to include base workshops, advance base workshops and static/station workshops in the field Army.
It also called for the closure of military farms and army postal establishments in peace locations, which is among the recommendations already implemented.
Dilution Of Labour Laws
---
As the economy struggles with the lockdown and thousands of firms and workers stare at an uncertain future, the states of Uttar Pradesh, Madhya Pradesh and Gujarat made key changes in the application of labour laws.
Labour is a concurrent subject under the Constitution of India, states can frame their own laws but need the approval of the Central government.
Need
These changes are being brought about to incentivise economic activity in the respective states.
To provide employment to workers who have migrated back to the state and to protect the existing employment, some flexibility has to be given to business and industry.
To bring about transparency in the administrative procedures and convert the challenges of a distressed economy into opportunities.
To increase the revenue of states which have fallen due to closure of industrial units during Covid-19 lockdown.
Changes Made
MADHYA PRADESH
Hire & Fire
Establishments with up to 100 workers can hire according to needs.
No registration for contractors with 50 labourers.
End of Inspector Raj
No factory inspection for 3 months
No inspection for firm with less than 50 workers
Third-party inspection allowed.
Easier Licenses and Registration
Registration and licenses to be issued in a day
Renewal of a factory license once in 10 years
startups need one time legislation; no renewal.
Shift Hours
Raised to 12 hours from 8 hours in factory
Overtime of up to 72 hours permitted; flexibility in changing shifts
Shops and establishments can operate from 6 am till midnight
UTTAR PRADESH
Industry exempted from all labour laws barring the following:
Building and Other Construction Workers' Act, 1996
Workmen Compensation Act, 1923
Bonded Labour System (Abolition) Act, 1976
A section of Payment of Wages Act to apply.
GUJARAT
New industrial establishments exempted from all labour laws barring the following:
Minimum Wages Act
Industrial Safety Rules
Employees' Compensation Act
Ordinance to roll out benefits that will be available for 1,200 days
100% online approvals within 15 days.
33,000 hectares set aside; land to be allocated in 7 days.
Impact
The relaxation of rigid and archaic labour laws by is expected to help restart economic activity, attract investments, and in the long create more jobs by ushering in labour market flexibility.
Will allow more factories to operate without following safety and health norms and give a free hand to new companies to "keep labourers in service as per their convenience".
No labour inspection or govt intervention.
No role of unions, leading to the smooth function of the industries.
These new reforms will promote ease of doing business in the state and will promote competition among states for reforms.
Criticism
The Bharatiya Mazdoor Sangh (BMS) has opposed the slew of changes in the labour laws by these states.
It has, however, attacked the relaxations as retrograde and warned of erosion of rights of workers.
These changes to the labour laws are violation of the international labour law conventions and it will create a situation where there is no rule of law.
Safety will be compromised as the provisions of the Factories Act will no longer be there.
The new labour law changes are also seen as a bane for the workers desperately looking for a job to end their financial nightmare.
Instead of providing protections to the most marginalised and vulnerable, as exposed by the covid crisis, and thus an opportunity to rectify the fractured economic system, these moves will further exacerbate the crisis for those who are worst affected by it.
Way Forward
Theoretically, it is possible to generate more employment in a market with fewer labour regulations.
However, as the experience of states that have relaxed labour laws in the past suggests, dismantling worker protection laws have failed to attract investments and increase employment, while not causing any increase in worker exploitation or deterioration of working conditions.
There is already too much unused capacity. Firms are shaving off salaries up to 40% and making job cuts. The overall demand has fallen.
According to the experts, instead of creating exploitative conditions for the workers, the government should have —partnered with the industry and allocated 3% or 5% of the GDP towards sharing the wage burden and ensuring the health of the labourers.
Indian Labour Laws
Estimates vary but there are over 200 state laws and close to 50 central laws. And yet there is no set definition of "labour laws" in the country.
Broadly speaking, they can be divided into four categories, shown in the image below.
The main objectives of the Factories Act, for instance, are to ensure safety measures on factory premises, and promote health and welfare of workers.
The Shops and Commercial Establishments Act, on the other hand, aims to regulate hours of work, payment, overtime, weekly day off with pay, other holidays with pay, annual leave, employment of children and young persons, and employment of women.
The Minimum Wages Act covers more workers than any other labour legislation.
The most contentious labour law, however, is the Industrial Disputes Act, 1947 as it relates to terms of service such as layoff, retrenchment, and closure of industrial enterprises and strikes and lockouts.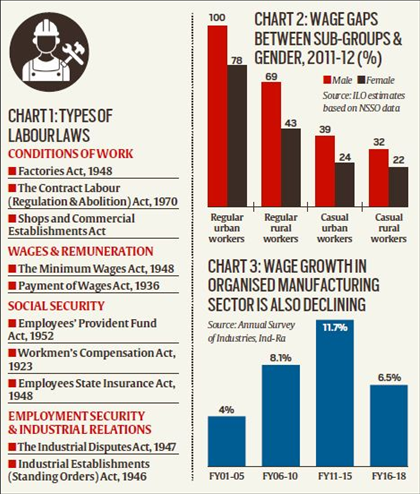 Source: Indian Express
Criticism of Labour Laws
Indian labour laws are often characterised as "inflexible". In other words, it has been argued that thanks to the onerous legal requirements, firms (those employing more than 100 workers) dither from hiring new workers because firing them requires government approvals.
Even the organised sector is increasingly employing workers without formal contracts. This, in turn, has constrained the growth of firms on the one hand and provided a raw deal to workers on the other.
Further, there are too many laws, often unnecessarily complicated, and not effectively implemented. This has laid the foundation for corruption and rent-seeking.
Lockdown Withdrawal In 3 Phases
---
An expert committee, under chairmanship of former chief secretary K Abraham, appointed by Kerala government to review Covid-19 nationwide lockdown has suggested a phased relaxation of the lockdown to contain COVID-19 for areas outside the seven hotspot districts in the state from April 15, 2020.
The committee has also come up with health-related and non-health-related objectives for the withdrawal strategy and steps for management of hotspots and vulnerable population.
Strategy Adopted
According to the committee, the phased withdrawal is sustainable only if there is a steady recovery and decline in the number of cases leading to initial flattening of the infection curve and then gradual tapering of the curve to zero infection cases.
Lockdown relaxation to be provided in 3 phases-
Phase I
For qualifying for Phase 1 relaxation, there has to be not more than one new case in the district for the entire week prior to the date of review on April 14, 2020.
No increase more than 10% of the number of persons under home surveillance in the district
No hotspots of COVID-19 anywhere in the district as identified by the Health Department are the other criteria fixed.
Restrictions & Relaxations
No outdoor travelling without face masks, occupancy of government vehicles should be restricted to two persons per vehicle excluding the driver, vehicles carrying frontline care workers or other public servants should not exceed the seating capacity of the vehicle.
Only one person per house will be allowed to go out at a time for a specific purpose and for not more than 3 hours at a time.
Any person above age of 65 years with history of co-morbidity or undergoing any treatment for cancer or major ailments will not be permitted to go out.
Phase II
A district will qualify for Phase II relaxation at the time of second review only if there is no more than one new case for the entire fortnight prior to the date of review.
Not more than a 5% increase in the number of persons under home surveillance from the date of the previous review and no infection hotspots are the additional criteria.
Restrictions & Relaxations
Autos and Taxis may be allowed but restricted to one and three passengers, respectively.
Travelling by bus for short distance within a city or town may be permitted but with one person per seat.
Activities under National Rural Employment Guarantee Act, 2005 (NREGA) to be allowed with protocols like use of masks and sanitisers.
All Micro, Small and Medium Enterprises (MSMEs) shall be allowed to reopen.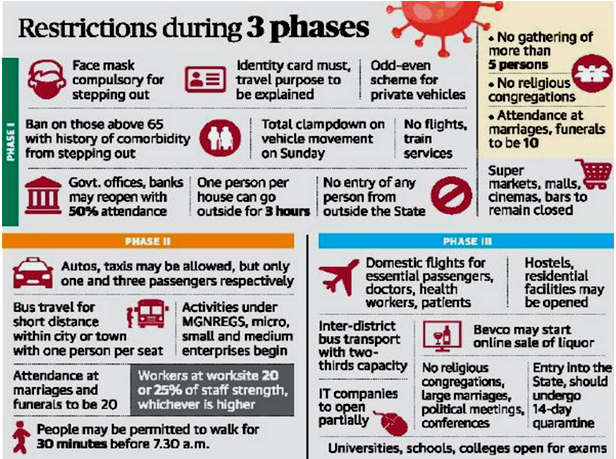 Source: The Hindu
Phase III
A district will qualify for Phase III relaxation only if there is no new case of infection in that district for the fortnight prior to the date of review.
In addition, a decrease of more than 5% of the number of persons under home surveillance in the district from the date of the previous review and no hotspots anywhere in the district are needed.
Restrictions & Relaxations
Inter-district bus transport may be allowed with two-third capacity with maintaining social distancing protocols.
Domestic flights for doctors, health workers, patients etc.
International trips and travelling from other parts of India should not be allowed till full relaxation of the lockdown.
For educational sector, universities, schools and colleges shall be instructed to open for examination holding purpose.
Religious congregations in and outside worship places, weddings, political meetings or conferences or cultural gatherings shall continue to be prohibited during this phase.
Salary Cut And Suspension Of MPLADS
---
As a part of Government's continued efforts to contain spread of COVID 19, the Union Cabinet on 6th April, 2020, decided to cut in the salaries of all Members of Parliament and not to operate Members of Parliament Local Area Development Scheme (MPLADS) for two years (2020-21 and 2021-22).
These funds will be used to strengthen Government's efforts in managing the challenges and adverse impact of COVID19 in the country
Key Points
The Cabinet approved an ordinance to amend the Salaries, Allowances and Pension of Members of Parliament Act, 1954.
It will cut the salaries of Members of Parliament (MPs) by 30%, effective from 1st April 2020.
The consolidated amount of MPLAD Funds for 2 years – Rs 7,900 crores – will go to Consolidated Fund of India.
The amendment will only cut MPs' salaries, not allowances or the pensions of ex-MPs.
About MPLAD Scheme
Launched during the Narasimha Rao Government in 1993, the objective is to enable the Members of Parliament (MP) to suggest and get executed developmental works of capital nature based on locally felt needs with emphasis on creation of durable assets.
The Ministry of Rural Development initially administered the scheme. Since October 1994, it has been transferred to the Ministry of Statistics and Programme Implementation (MoSPI).
Funds Allotted
The MPs were entitled to recommend works to the tune of Rs. 1 crore annually between 1994-95 and 1997-98, after which the annual entitlement was enhanced to Rs. 2 crore.
The UPA government in 2011-12 raised the annual entitlement to Rs 5 crore per MP.
Salient Features
In the case of Lok Sabha, the scheme is implemented in the districts falling within the constituency of the concerned
In the case of Rajya Sabha, the MP can suggest works in one or more districts within the State from which he is elected.
As far as the nominated MPs are concerned, they can suggest works anywhere in India.
It recommend MPs to suggest works costing at least 15 percent of their MPLADS entitlement for the year for areas inhabited by Scheduled Caste population and 7.5 per cent for areas inhabited by ST population.
In case there is insufficient tribal population in the area of Lok Sabha Member, they may recommend this amount for the creation of community assets in tribal areas outside of their constituency but within their State of election.
The scheme can be converged in individual/stand-alone projects of other Central and State Government schemes provided such works of Central/State Governments Schemes are eligible under MPLADS.
Types of Recommended Work
Key Priority Sectors: Drinking water facility, education, electricity facility, non-conventional energy resources, healthcare and sanitation, irrigation facilities, railways, roads, pathways and bridges, sports, agriculture and allied activities, self-help group development, urban development.
Works Prohibited: construction of office and residential buildings for public and private agencies, land acquisition or paying compensation, naming assets after individuals, grants or loans to state/central relief fund, assets for individual benefits, works on lands belonging to religious groups, execution of works in unauthorized colonies.
Implementation
To implement their plans in an area, MPs have to recommend them to the District Authority of the respective Nodal District.
The District Authorities then identify Implementing Agencies which execute the projects.
The respective District Authority is supposed to oversee implementation, and has to submit monthly reports, audit reports, and work completion reports to the Nodal District Authority.
All recommended eligible works should be sanctioned within 75 days from the date of receipt of the recommendation, after completing all formalities.
The District Authority shall, however, inform MPs regarding rejection, if any, within 45 days from the date of receipt of recommendations, with reasons thereof.
Issues with MPLADS
Corruption Issue
There have been cases of widespread corruption and misappropriation of funds. In a lot of cases, private contractors (which are not permitted) are engaged to implement the works.
Also, there have been instances where expenditure has been incurred on works which are prohibited under the scheme.
Transparency and Accountability Issue
Lack of transparency and accountability in the execution of this scheme has come in for adverse comment from a variety of institutions, including the National Commission to Review the Working of the Constitution (NCRWC), the Second Administrative Reforms Commission and the Comptroller and Auditor-General General of India.
There are large amounts of unspent balances rising over the years, low utilisation of funds and an expenditure bias towards a particular sector.
However, despite the severe indictment of this scheme from various quarters, there has been no visible effort by Parliament to stop the misuse of funds and to remove the anomalies.
Implementation Issue
There are weaknesses in the process of sanction. The District Authorities tend to execute works without receiving any recommendations from MPs concerned or on the recommendation of the representatives of the MPs rather than the MPs themselves.
Further, there are lapses on the monitoring and supervision front, with the District Authorities failing to inspect the required number of sanctioned works as well as in sending regular monitoring reports.
Sustainability Issue
There have been charges that the scheme goes against the spirit of the 73rd and the 74th Amendment, with MPs enjoying the privilege of an uninterrupted yearly flow of funds to do the work which local bodies are better placed to deliver.
The constitutionality of the scheme has also been questioned, with the argument that the scheme erodes the notion of separation of powers, as the legislator directly becomes the executive.
In 2002, the National Commission to Review the Working of the Constitution recommended immediate discontinuation of the MPLAD scheme on the ground that it was inconsistent with the spirit of federalism and distribution of powers between the centre and the state.
Suggestive Measures for Effective Implementation
There needs to be a greater focus on regular monitoring by the District Authorities.
Implementing agencies could involve the local community in the voluntary supervision of works.
Since maintenance of public assets is where the system breaks down, arrangements can be made for the maintenance of assets or maintenance can be outsourced.
In order to better assess the needs of the constituents, surveys can be conducted across the constituency. For this purpose, NGOs and local community can be involved.
For the scheme to be more effective, an impact assessment study should be undertaken at the constituency level, on a yearly basis, to assess the benefits of the works implemented to the community at large.
To tackle the issue of large unspent balances which have accumulated and are rising over the years, fund can be made lapsable. This way funds lying unused can be put to other uses.
Thrust areas could be also modified so as to reflect the needs of the constituency, rather than taking a generic view.
National Security Act
---
Recently, the Madhya Pradesh government invoked the National Security Act (NSA), 1980, against four persons accused of instigating residents of a locality to pelt stones and chase away health workers.
Similarly, an order was passed by the Uttar Pradesh government to detain under any person under the NSA, who are found guilty of attacking police and other officials.
About National Security Act (NSA), 1980
The NSA is an act that empowers the government to detain a person if the authorities are satisfied that he/she is a threat to national security or to prevent him/her from disrupting public order.
The goal is to prevent the individual from committing a crime.
History
The first preventive detention rule was passed by government of Prime Minister Jawaharlal Nehru when it enacted the Preventive Detention Act of 1950.
The NSA is a close iteration of the 1950 Act.
After the Preventive Detention Act expired on December 31, 1969, the then Prime Minister, Indira Gandhi, brought in the controversial Maintenance of Internal Security Act (MISA) in 1971 giving similar powers to the government.
Finally, NSA was promulgated on September 23, 1980, during the Indira Gandhi government.
Constitutional Provisions
Article 22 (3) (b): It allows for preventive detention and restriction on personal liberty for reasons of state security and public order.
Article 22(4): It states that no law providing for preventive detention shall authorise the detention of a person for a longer period than three months unless: An Advisory Board reports sufficient cause for extended detention.
The 44th Amendment Act of 1978 reduced the period of detention without obtaining the opinion of an advisory board from three to two months.
However, this provision has not yet been brought into force, hence, the original period of three months still continues.
Grounds for Preventive Detention of a Person
Acting in any manner prejudicial to the defence of India, the relations of India with foreign powers, or the security of India.
Regulating the continued presence of any foreigner in India or with a view to making arrangements for his expulsion from India.
Preventing them from acting in any manner prejudicial to the security of the State or from acting in any manner prejudicial to the maintenance of public order or from acting in any manner prejudicial to the maintenance of supplies and services essential to the community it is necessary so to do.
Key Provisions
Time Period for Detention
Under the Act, an individual can be detained without a charge for up to 12 months; the state government needs to be intimated that a person has been detained under the NSA.
A person detained under the Act can be held for 10 days without being told the charges against them.
Appeal
The detained person can appeal before a high court advisory board but they are not allowed a lawyer during the trial.
Criticism of the Act
Denial of Basic Rights
In the normal course, if a person is arrested, he or she is guaranteed certain basic rights.
Additionally, Article 22(1) of the Constitution says an arrested person cannot be denied the right to consult, and to be defended by, a legal practitioner of his choice.
But none of these rights are available to a person detained under the NSA.
A person could be kept in the dark about the reasons for his arrest for up to five days and in exceptional circumstances not later than 10 days.
Even when providing the grounds for arrest, the government can withhold information which it considers to be against public interest to disclose.
The arrested person is also not entitled to the aid of any legal practitioner in any matter connected with the proceedings before an advisory board, which is constituted by the government for dealing with NSA cases.
No Recorded Figure
The National Crime Records Bureau (NCRB), which collects and analyses crime data in the country, does not include cases under the NSA in its data as no FIRs are registered.
Hence, no figures are available for the exact number of detentions under the NSA.
Way Forward
According to the experts, the governments sometimes use NSA as an extra-judicial power.
India's parliament and judiciary must revisit the NSA to close any loopholes that permit law enforcement to abuse constitutional and statutory rights.
Invest India Business Immunity Platform
---
The Invest India Business Immunity Platform (BIP) is working 24X7 as a comprehensive resource to help businesses and investors get real-time updates on India's active response to COVID-19 (Coronavirus).
About BIP
Launched on 21st March, 2020, the BIP is the active platform for business issue redressal, with a team of dedicated sector experts who respond to queries at the earliest.
This dynamic and constantly updating platform keeps a regular track on developments with respect to the virus, provides latest information on various central and state government initiatives, gives access to special provisions, and answers and resolves queries through emails and on WhatsApp.
BIP has launched 'Joining the Dots' campaign to procure essential healthcare supplies.
It is also facilitating matchmaking to fill the demand-supply shortages of essential equipment to combat COVID-19.
About Invest India
Invest India was formed in 2009 under Section 25 of the Companies Act 1956 for promotion of foreign investment with 49% equity of the then Department of Industrial Policy and Promotion(now renamed as Department for Promotion of Industry and Internal Trade (DPIIT), Ministry of Commerce and Industry and 51% shareholding by FICCI. The current shareholding pattern of Invest India is 51 % of Industry Associations (i.e. 17% each of FICCI, CII & NASSCOM) and the remaining 49% of Central and 19 State Governments.
As the national investment promotion and facilitation agency, it focuses on sector-specific investor targeting and development of new partnerships to enable sustainable investments in India.
It facilitates and empowers all investors under the 'Make in India' initiative to establish, operate and expand their businesses in India.
Projects Being Handled by Invest India
Proactive Investor Targeting: Invest India identifies target companies across focus sectors from target markets looking to initiate investment into India or further expansion in India.
Handholding Support: Invest India creates vital differentiation and an invaluable service offering of guidance, handholding, problem solving and facilitation for investors.
Bilateral CEO Forums: Invest India takes up the responsibility of acting as the nodal point for investment related issues/ recommendations and help action investment specific resolutions raised at the CEOs Forums.
Country – Sector Outreach: Invest India proactively contributes to national and regional policy development by planning Country/Sector interactions.
Strategic Investment Research Unit: It shapes India's investment landscape and drives a step change in the quality and quantity of FDI.
Harnessing Information & Communication Technology for FDI: Invest India scales up use of technology for investment targeting and facilitation.
Working with State Investment Promotion Agencies: It plays a central role in ensuring that FDI is on the agenda of all State agencies, State Governments and stakeholders.
Startups: The Department for Promotion of Industry and Internal Trade with the help of Invest India aims to empower Startups to grow through innovation and design through this initiative.
Accelerating Growth of New India's Innovations (AGNIi): It aims to support the ongoing efforts to boost the innovation ecosystem in the country by connecting innovators across industry.
India Investment Grid: It is an online platform to showcase investment opportunities in India to global investors. The platform is looked after by Invest India.
Lockdown And Epidemic Diseases Act, 1897
---
On 24th March, 2020, Government announced a 21-day countrywide lockdown effective from midnight in order to contain the spread of Coronovirus-COVID-19.
Those violating the lockdown orders can face legal action under the Epidemic Diseases Act (EDA), 1897, which lays down punishment as per Section 188 of the Indian Penal Code (IPC), 1860, for flouting such orders.
Epidemic Disease Act, 1897
The Epidemic Diseases Act was enacted on February 4, 1897, to stop the spread of the bubonic plague outbreak in Bombay (now Mumbai).
Using powers conferred by the Act, colonies authorities would search suspected plague cases in homes and among passengers, with forcible segregations, evacuations, and demolitions of infected places.
Provisions of the EDA Act
The Act consists four sections, aims to provide for the better prevention of the spread of Dangerous Epidemic Diseases.
First Section
It describes all the title and extent, the second part explains all the special powers given to the state government and centre to take special measures and regulations to contain the spread of disease.
Second Section
It has a special subsection 2A empowers the central government to take steps to prevent the spread of an epidemic, especially allowing the government to inspect any ship arriving or leaving any post and the power to detain any person intending to sail or arriving in the country.
Third Section
It provides penalties for disobeying any regulation or order made under the Act. These are according to Section 188 of the Indian Penal Code (Disobedience to order duly promulgated by public servant).
Fourth Section
This section deals with legal protection to implementing officers acting under the Act.
Section 188 of IPC
It states that any person who disobeys an order given by a public servant will be punished with imprisonment upto 1 month.
Thus, the Epidemic Diseases Act combined with Section 188 of IPC can result in 6 months imprisonment.
Besides, the IPC itself has enough standalone provisions to punish those who indulge in negligent acts which are likely to spread infectious diseases or those who break quarantine.
To be punishable under Section 188, the order has to be for public purposes by public functionaries. An order made in a civil suit between two parties does not fall under this Section.
Under Section 188, there two offences:
Disobedience to an order lawfully promulgated by a public servant, If such disobedience causes obstruction, annoyance or injury to persons lawfully employed. Punishment: Simple Imprisonment for 1 month or fine of Rs 200 or both.
If such disobedience causes danger to human life, health or safety, etc.Punishment: Simple Imprisonment for 6 months or fine of Rs 1000 or both.
According to the First Schedule of the Criminal Procedure Code (CrPC), 1973, both offences are cognizable, bailable, and can be tried by any magistrate.

Recent Implementation of EDA Act
In 2018, the district collector of Gujarat's Vadodara issued a notification under the Act declaring the Khedkarmsiya village in Waghodia taluka as cholera-affected after many people complained of symptoms of the disease.
In 2015, to deal with malaria and dengue in Chandigarh, the Act was implemented and controlling officers were instructed to ensure the issuance of notices and challans of Rs 500 to offenders.
In 2009, to tackle the swine flu outbreak in Pune, Section 2 powers were used to open screening centres in civic hospitals across the city, and swine flu was declared a notifiable disease.
Scope for Misuse
While it helps contain epidemics, the Act can also be misused.
In 1897, for instance, freedom fighter Bal Gangadhar Tilak was imprisoned for 18 months under this Act for his newspaper Kesari's anti-establishment coverage of the plague, according to The Indian Express newspaper.
Limitations of EDA Act
There is no clear definition of whether an epidemic is "dangerous" on the basis of the magnitude of the problem, the severity of the problem, the age of the population affected or its potential to spread internationally.
There is no explicit reference pertaining to the ethical aspects or human rights principles during a response to an epidemic.
The Act is purely regulatory in nature and lacks a specific public health focus.
It does not describe the duties of the government in preventing and controlling epidemic.
The Act emphasises the power of the government, but is silent on the rights of citizens. It has no provisions that take the people's interest into consideration.
The Act is not in line with the contemporary scientific understanding of outbreak prevention and response, but only reflects the scientific and legal standards that prevailed at the time when it was framed.
For example, the Act placestoo much emphasis on isolation or quarantine measures, but is silent on the other scientific methods of outbreak prevention and control, such as vaccination, surveillance and organised public health response.
Need of the Hour
The Act was formulated about 123 years ago and thus has major limitations in this era of changing priorities in public health emergency management.
The factors leading to the emergence and spread of communicable diseases have also changed over the years.
Some of the factors that need to be addressed now are the increasing rates of international travel,more extensive use of air travel compared to sea travel, greater migration within states, increased urbanisation, man-made ecological changes, changing climatic conditions, breakdown of public health measures and biosafety lapses.
The Epidemic Diseases Act needs modifications in the changing scenario. For example, it is too oriented towards travel by ship and silent on "air travel", which was uncommon at that time.
The epidemiological concepts used in relation to the prevention and control of epidemic diseases have also changed over time.
Way Forward
The political scenario in the country and Centre-state relationships have changed.The Act, as such, is not sufficient to deal with the prevention and control of communicable disease in the current situation.
There is a need to strengthen legal frameworks to prevent and control the entry, spread and existence of communicable diseases in India.
There is a need for an integrated, comprehensive, actionable and relevant legal provision for the control of outbreaks in India that should be articulated in a rights-based, people-focused and public health-oriented manner.
US-Taliban Pact
---
On 29th February, 2020, the US and Taliban signed an agreement for "Bringing Peace to Afghanistan", which will enable the US and NATO to withdraw troops in the next 14 months and to facilitate intra-Afghan dialogue in Oslo (Norway) starting from 10th March, 2020.
India attended the signing ceremony which was held in Doha, Qatar.
Key Elements of the Pact
Troops Withdrawal: The US will draw down to 8,600 troops in 135 days and the NATO or coalition troop numbers will also be brought down, proportionately and simultaneously.
Counter-terrorism Assurances: The main counter-terrorism commitment by the Taliban is that it will not allow any of its members, other individuals or groups, including al-Qaeda, to use the soil of Afghanistan to threaten the security of the United States and its allies.
Sanctions Removal: UN sanctions on Taliban leaders to be removed by three months (by May 29, 2020) and US sanctions by August 27, 2020.
Prisoner Release: The US-Taliban pact says up to 5,000 imprisoned Taliban and up to 1,000 prisoners from "the other side" held by Taliban "will be released" by 10th March, 2020.
Ceasefire: The agreement states that, ceasefire will be simply "an item on the agenda" when intra-Afghan talks start and indicates actual ceasefire will come with the "completion" of an Afghan political agreement.

Source: The Hindu
Challenges
There are still many issues remain to be worked out during intra-Afghan negotiations, including sharing power, disarming and reintegrating Taliban fighters into society, and determining the future of the country's democratic institutions and constitution.
The process could be complicated by a weak central government, afflicted by ethnic, sectarian, and tribal differences, which may descend into open conflict and might start the next round of civil war, hampering the peace deal.
At the same time, experts say the Taliban is stronger now than at any point in the last eighteen years. It earns millions of dollars from opium poppy cultivation and the illegal drug trade. Some analysts are also worried that rank-and-file Taliban fighters might not abide by a peace deal.
Impact on Afghanistan
The U.S. withdrawal will invariably weaken the Kabul government, altering the balance of power both on the battlefield and at the negotiating table.
The Taliban have got what they wanted: Troops withdrawal, removal of sanctions, and release of prisoners. This has also strengthened Pakistan, Taliban's benefactor, and the Pakistan Army and the ISI's influence appears to be on the rise.
Further, the social change brought about by two decades of US presence in Afghanistan — human rights, female emancipation, entertainment — could be in peril.
The future for the people of Afghanistan is uncertain, and will depend on how Taliban honours its commitments and whether it goes back to the mediaeval practices of its 1996-2001 regime.
Impact on India
The Taliban perceived India as a hostile country, as India had supported the anti-Taliban force Northern Alliance in the 1990s.
India never gave diplomatic and official recognition to the Taliban when it was in power during 1996-2001.
The peace deal holds strategic and geopolitical implications for the country, which has invested billions of dollars in Afghanistan.
The decision to withdraw precipitously from Afghanistan is likely to have far-reaching consequences for India – an increase in Taliban's influence in Afghanistan could negatively impact the security situation in the restive Kashmir valley.
Further, the pact is silent on other terrorist groups — such as anti-India groups like Lashkar-e-Toiba or Jaish-e-Mohammed. Again, India, not being an US ally, is not covered under this pact.
The deal also holds significance in terms of the strained relations with Pakistan which has interests in the region.
With US withdrawal from Afghanistan, Pakistan will indeed become an important player. And India's security in the region would be far more vulnerable than it is today.
Way Forward
The withdrawal of US forces has the probability of the creation of vacuum in the region and possibility of filling the void by terrorists and extremists.
US, along with other stakeholders in the region like India, Russia and Chinashould be prepared for a long-term diplomatic engagement with Afghanistan, which will involve simultaneously strengthening the country's political mainstream and integrating the Taliban within it.
The challenges ahead are formidable. There is hope, but skepticism runs deeper.
Central Consumer Protection Authority
---
Recently, the government announced to establish a Central Consumer Protection Authority (CCPA)by the first week of April, 2020.
About Central Consumer Protection Authority
The authority is being constituted under Section 10(1) of The Consumer Protection Act,2019. The Act replaced The Consumer Protection Act, 1986, and seeks to widen its scope in addressing consumer concerns.
The CCPAaims to protect the rights of the consumer by cracking down on unfair trade practices, and false and misleading advertisements that are detrimental to the interests of the public and consumers.
The new Act recognizes offences such as providing false information regarding the quality or quantity of a good or service, and misleading advertisements.
It also specifies action to be taken if goods and services are found "dangerous, hazardous or unsafe".
Possible Structure of CCPA
The proposed authority will be a lean body with a Chief Commissioner as head, and only two other commissioners as members — one of whom will deal with matters relating to goods while the other will look into cases relating to services.
It will be headquartered in the National Capital Region of Delhi but the central government may set up regional offices in other parts of the country.
The CCPA will have an Investigation Wing,headed by a Director General. District Collectors.
Powers
The CCPA will have following powers to inquire or investigate into matters relating to violations of consumer rights or unfair trade practices suomotu, or on a complaint received, or on a direction from the central government.
Power to Recall the Goods
Under Section 20 of the Consumer Protection Act, the proposed authority will have powers to recall goods or withdrawal of services that are "dangerous, hazardous or unsafe; pass an order for refund the prices of goods or services so recalled to purchasers of such goods or services; and discontinuation of practices which are unfair and prejudicial to consumer's interest".
Power to Issue Directions
Section 21 of the new Act defines the powers given to the CCPA to crack down on false or misleading advertisements.
If the CCPA is satisfied after investigation that any advertisement is false or misleading and is harmful to the interest of any consumer, the CCPA may issue directions to the trader, manufacturer, endorser, advertiser, or publisher to discontinue such an advertisement, or modify it in a manner specified by the authority, within a given time.
Further, it can file complaints of violation of consumer rights or unfair trade practices before the Consumer Disputes Redressal Commission at district, state and national level.
It will issue safety notices to alert consumers against dangerous or hazardous or unsafe goods or services.
Power to Impose Penalties
It may also impose a penalty up to Rs 10 lakh, with imprisonment up to two years, on the manufacturer or endorser of false and misleading advertisements.
The penalty may go up to Rs 50 lakh, with imprisonment up to five years, for every subsequent offence committed by the same manufacturer or endorser.
CCPA may ban the endorser of a false or misleading advertisement from making endorsement of any products or services in the future, for a period that may extend to one year. The ban may extend up to three years in every subsequent violation of the Act.
For manufacture, selling, storage, distribution, or import of adulterated products, the penalties are:
If injury is not caused to a consumer, fine up to Rs 1 lakh with imprisonment up to six months
If injury is caused, fine up to Rs 3 lakh with imprisonment up to one year
If grievous hurt is caused, fine up to Rs 5 lakh with imprisonment up to 7 years
In case of death, fine of Rs 10 lakh or more with a minimum imprisonment of 7 years, extendable to imprisonment for life.
Power to Search and Seizure Power
While conducting an investigation after preliminary inquiry, CCPA's Investigation Wing will have the powers to enter any premise and search for any document or article, and to seize these.
For search and seizure, the CCPA will have similar powers given under the provisions of the Code of Criminal Procedure, 1973.
Significance
Protecting the interest of consumers is paramount for the government and the establishment of a central authority and initiating action as a class comes as an additional mode of relief which can be exercised along with individual consumers filing complaints to address their grievances.
Inner Line Permit
---
Recently, Tribal organizations in Meghalaya again started demanding the Inner Line Permit (ILP) system for restricting the entry of outsiders into the State. These demands have turned into violent protests across the state.
The demand for Inner Line Permit in Meghalaya has been a demand for the last more than two decades and Khasi Students' Union (KSU) has been leading it from the front.
About ILP
The Inner Line Permit is an official travel document that allows Indian citizens to stay in an area under the ILP system.
The document is currently required by visitors to Arunachal Pradesh, Manipur, Nagaland and Mizoram.
The ILP is issued by the concerned state government and can be availed through applying online or in person.
The permits issued are mostly of different kinds, provided separately for tourists, tenants and for other purposes.
The document states the dates of travel and specifies the particular areas in which the ILP holder can travel. It's illegal for the visitor to overstay the time granted in the permit.
Need for ILP
To preservation of indigenous culture and tradition.
To prevent illegal migrants and encroachment by outsiders.
Background
In 1873, under the Bengal Eastern Frontier Regulation Act, the British, in a bid to protect the Crown's (commercial) interests, framed regulations restricting the entry and regulating the stay of outsiders in designated areas. The Act was brought in to prevent "British subjects" (Indians) from trading within these regions.
However, after partition in 1950, the Indian government replaced "British subjects" with "Citizen of India" and retained the ILP to protect the interests of the indigenous tribal communities of the Northeast.
Provision for Foreigners
An ILP is only valid for domestic tourists. For foreign tourists provisions include:
Manipur: No permit is required. But have to register them.
Mizoram: No permit is required. But need to register.
Nagaland: No permit is required. However, they need to register.
Arunachal Pradesh: Tourists need a Protected Area Permit (PAP) or Restricted Area Permit (RAP) from the Ministry of Home Affairs, Government of India.
Should Meghalaya be brought under ILP?
ILP means a lot to the tribals in Meghalaya given the pressure on their economy among others.
The locals believe the migration of illegal immigrants to the state could be checked only through the ILP.
Influx is perceived as dangerous because it could upset the fragile demographic balance of the tribals of Meghalaya.
ILP and CAA Connection
The Citizenship Act enables non-Muslim refugees (Hindus, Jains, Sikhs, Buddhists, Parsis and Christians) from Pakistan, Bangladesh and Afghanistan who arrived in the country before December 31, 2014, to obtain Indian citizenship.
Although the rest of mainland India is protesting the Act for being anti-Muslim, for the northeast, the worry is entirely different. If the Act is implemented without the ILP, then the beneficiaries under CAA will become Indian citizens and will be allowed to settle anywhere in the country.
However, the implementation of ILP bars the refugees from settling in the states under the ILP system.
Assam and Tripura have been up in arms against the Act because these states share the longest borders with Bangladesh and have been subjected to the highest influx of Bengali-speaking undocumented refugees since the partition.
Further, the Northeast is home to 238 indigenous tribes that constitute 26 percent of the region's population and the tribal leaders state that continued influx of Bengali-speaking refugees will threaten their identity.
Delimitation Commission For Jammu & Kashmir
---
In a move that will pave the way for assembly elections in the Union Territory of Jammu & Kashmir (J&K), the Centre has begun the process of fresh delimitation of assembly seats as well as readjustment of boundaries of parliamentary constituencies.
Based on a request from the Ministry of Legislative Affairs (MLA), Chief Election Commissioner (CEC) has nominated Election Commissioner Sushil Chandra as his representative in the proposed Delimitation Commission for J&K.
Prior to 2019, the State of Jammu and Kashmir had a bicameral legislature with a Legislative Assembly (lower house) and a Legislative Council (upper house). The Jammu and Kashmir Reorganisation Act, passed by the Parliament of India in August 2019, replaced this with a unicameral legislature while also reorganised the state into a union territory.
Need
Even though the population in Jammu has increased over the years, Kashmir continues to have a disproportionately larger share of Assembly constituencies. This has effectively meant that only a party strong in Kashmir Valley is able to lead the state government.
History of Delimitation in Jammu & Kashmir
Delimitation of Jammu & Kashmir's Lok Sabha seats is governed by the Indian Constitution, but delimitation of its Assembly seats (before special status was abrogated) was governed separately by the Jammu & Kashmir Constitution and Jammu and Kashmir Representation of the People Act, 1957.
As far as delimitation of Lok Sabha seats is concerned, the last Delimitation Commission of 2002 was not entrusted with this task. Hence, J&K parliamentary seats remain as delimited on the basis of the 1971 Census.
The last time a delimitation exercise took place in the state was also under President's Rule, as far back as 1995 in extremely difficult circumstances by Justice KK Gupta Commission.
Further, the government headed by Farooq Abdullah, in 2002, pushed for a freeze on delimitation till 2026 by amending the J&K Representation of the People Act, 1957, and Section 47(3) of the Constitution of J&K.
Composition of the Commission
According to Section 3 of the Delimitation Commission Act, 2002, the Delimitation Commission appointed by the Centre has to have three members:

A serving or retired judge of the Supreme Court as the chairperson
The Chief Election Commissioner or Election Commissioner nominated by the CEC
The State Election Commissioner as ex-officio member
Tasks Assigned
The delimitation panel will determine the assembly constituencies into which the UT shall be divided; the extent of such constituencies and which of these shall be reserved for SCs/STs.
It is also tasked with adjustment of boundaries and description of the extent of parliamentary constituencies in each UT.
Increase in Seat
According to the Act, the number of seats in the Assembly of J&K would be increased from 107 to 114 after delimitation, on the basis of the 2011 Census.
Notably, 24 of the total seats in J&K remain perennially vacant as they are allotted to Pakistan-occupied Kashmir (PoK).
The Lok Sabha will have five seats from the UT of J&K, while Ladakh will have one seat.
What is Delimitation?
Delimitation literally means the act or process of fixing limits or boundaries of territorial constituencies in a country or a province having a legislative body.
The job of delimitation is assigned to a high power body. Such a body is known as Delimitation Commission or a Boundary Commission.
Objective
To provide equal representation to equal segments of a population.
It also aims at a fair division of geographical areas so that one political party doesn't have an advantage over others in an election.
Constitutional Provision
Under Article 82 of the Constitution, the Parliament by law enacts a Delimitation Act after every census. After coming into force, the Central Government constitutes a Delimitation Commission, comprising of a retired Supreme Court judge, the Chief Election Commissioner and the respective State Election Commissioner.
Process of Delimitation
The Commission is also tasked with identifying seats reserved for Scheduled Castes and Scheduled Tribes; these are where their population is relatively large. All this is done on the basis of the latest Census and, in case of difference of opinion among members of the Commission, the opinion of the majority prevails.
After hearing the public, it considers objections and suggestions and carries out changes, if any, in the draft proposal.
The final order is published in the Gazette of India and the State Gazette and comes into force on a date specified by the President.
Delimitation Commissions Till Now
So far, Delimitation Commissions have been constituted 4 times :

in 1952 under the Delimitation Commission Act, 1952
in 1963 under Delimitation Commission Act, 1962
in 1973 under Delimitation Commission Act, 1972
in 2002 under Delimitation Commission Act, 2002.

There was no delimitation after the 1981 and 1991 Censuses.
Significance
Delimiting electoral boundaries can have major consequences for the voters, political groups and communities of interest residing within these constituencies as well as for the representatives elected to serve these constituencies. Ultimately, the election outcome and the political composition of the legislature may be affected by the constituency boundaries.
A failure to recognize the importance of the electoral boundary, delimitation process, and its impact can have serious ramifications: If stakeholders suspect that electoral boundaries have been unfairly manipulated – benefiting some groups at the expense of others – this will affect the credibility and the legitimacy of the election process and its outcome.
To sum up, delimitation is an integral part of the drive to achieve effective representation and governance in a democracy. The fewer the constraints it operates within, the more it will be able to contribute to this objective.
Direct Tax Vivad Se Vishwas Bill, 2020
---
On 5th February, 2020, the Finance Minister introduced The Direct Tax Vivad se Vishwas (from dispute to trust) Bill, 2020, in order to provide for a mechanism to settle disputed tax cases across the country.
However, on suggestions received during the post-budget industry consultation, the Union Cabinet decided to introduce amendments with a view to increase its scope to cover litigations pending in various debt recovery tribunals (DRTs). With the amendments made, the scheme now includes coverage of search and seizure cases where the recovery is up to Rs 5 crore.
It is to be noted that, Sabka Vishwas Scheme was brought in to reduce litigation in indirect taxes in 2019, which resulted in settling over 1,89,000 cases.
Aim
Resolving direct tax related disputes in a speedy manner.
Need
According to the Finance Ministry, at present there are as many as 4,83,000 direct tax cases, having collective amount of nearly 9 lakh crore worth, pending in various appellate forums i.e. Commissioner (Appeals), Income Tax Appellate Tribunal (ITAT), High Courts and Supreme Court. The idea behind the scheme is to reduce litigation in the direct tax arena.
Salient Features
Wide Coverage
It has provisions to cover tax disputes pending at the level of Commissioner (appeals), Income Tax Appellate Tribunals (ITAT), High Courts and the Supreme Court.
Resolution Mechanism
Under the proposed scheme, taxpayers willing to settle disputes shall be allowed a complete waiver of interest and penalty if they pay the entire amount of tax in dispute by March 31 this year, following which a 10 per cent additional disputed tax shall have to be paid over and above the tax liability.
In case the tax dispute is over penalty, interest or fee, the settlement amount payable is 25% of the dues if paid before the end of March, 2020, beyond which the same shall be enhanced to 30 %.
Immunity to Appellant
Once a dispute is resolved, the designated authority cannot levy interest or penalty in relation to that dispute. Further, no appellate forum can make a decision in relation to the matter of dispute once it is resolved. Such matters cannot be reopened in any proceeding under any law, including the IT Act.
Revival of Disputes
The declaration filed by an appellant will become invalid if: (i) its particulars are found to be false, (ii) he violates any of the conditions referred to in the IT Act, or (iii) he seeks any remedy or claim in relation to that dispute. Consequently, all proceedings and claims withdrawn based on the declaration will be deemed to have been revived.
Disputes Not Covered
The proposed mechanism will not cover certain disputes. These include disputes: (i) where prosecution has been initiated before the declaration is filed, (ii) which involve persons who have been convicted or are being prosecuted for offences under certain laws (such as the Indian Penal Code), or for enforcement of civil liabilities, and (iii) involving undisclosed foreign income or assets.
Sabka Vishwas (Legacy Dispute Resolution) Scheme, 2019
Introduced in 2019, the scheme aims to resolve all disputes relating to the erstwhile Service Tax and Central Excise Acts, as well as 26 other Indirect Tax enactments (now subsumed under Goods and Services Tax). Hence, the term 'legacy'.
Components
Dispute Resolution Component: It is aimed at liquidating the legacy cases of Central Excise and Service Tax that are subsumed in GST and are pending in litigation at various forums.
Amnesty Component: It offers an opportunity to the taxpayers to pay the outstanding tax and be free of any other consequence under the law.
Benefits
Taxpayers can pay the outstanding tax amounts due and be free from any other consequences under the Law.
Taxpayers will get substantial relief in the form of full waivers of interest, penalties and fines.
There will be complete amnesty from prosecution proceedings.
Impact
Revenue Generation: The scheme will reduce the litigation expenditure for the government and at the same time, may help in generating revenue.
Criticism
However, the Bill has been criticized on two grounds:
Using Hindi Words in Scheme Name: On use of Hindi words in its name, it is argued that this was government's way to impose Hindi on the non-Hindi speakers. Some political parties objected to its name, saying that the name of Bills should be in English, considering the diversity of languages used by the population in the country.
Violation of Fundamental Right: The Bill is criticized for treating both honest and dishonest people on equal footing. The Bill endorses the idea of exempting the defaulting taxpayers of their penalty and interest on the aggregate amount and getting away with the payment of the disputed tax alone. This violates the fundamental right to equality since it is arbitrary and treats equals unequally which leads to an unreasonable classification.
Way Forward
With the new scheme, the government hopes to recover a big chunk of money involved in direct tax litigation in a swift and simple way, while offering the taxpayers the relief of not having to fight the case endlessly. For a government that is staring at a big shortfall in revenues, especially tax revenues, the scheme makes a lot of sense.
Medical Devices Notified As Drug
---
On 11th February, 2020, the Ministry of Health and Family Welfare notified changes in the Medical Devices Rules, 2017, bringing a range of products from instruments to implants to even software intended for medical use in human beings or animals under the purview of the Drugs and Cosmetics Act,1940.
The ministry, through a gazette notification, also released the Medical Devices Amendment Rules, 2020, for mandatory registration of medical devices.
The changes made will be effective from 1st April, 2020.
Aim
To ensure all medical devices in the Indian market follow safety and quality standards.
Background
The country's highest advisory body on technical issues related to drugs and medical devices, the Drugs Technical Advisory Board (DTAB), had in April 2019 recommended that all medical devices should be notified as drugs under the Drugs and Cosmetics Act.
Need for Such Move
Past few years, the health sector has been at the centre of attention following revelations about faulty hip implants marketed by pharma major Johnson & Johnson. This has caused major embarrassment to the government, too, as it exposed the lack of regulatory teeth when it came to medical devices.
Presently, only 23 categories of medical devices are regulated under the Act.
Key Changes
Wider Coverage
It will cover all devices, including instruments, apparatus, appliance, implant, material or other articles -whether used alone or in combination, including software or an accessory - intended by its manufacturer to be used especially for human beings or animals.
Host of Devices
A list of 37 devices has been drawn up including syringes, needles, stents, catheters, intraocular lenses, intravenous cannulae, prosthetic replacements, ligatures, sutures, staplers, condoms, blood bags, nebulizers, blood pressure monitoring machines and digital thermometers.
Online Documentation & Identification
The manufacturer or importer will have to upload the generic name, model number, intended use, class of medical device, material of construction, dimensions, shelf life and brand name on the online portal of the Central Drugs Standard Control Organisation (CDSCO).
Timeline for Various Classes of Medical Devices
Further, the notification also provides timelines for medical devices that will be notified under the Act with effect from April 1 - the low to moderate risk category A and B devices from 30 months after the notification and moderate to high risk category C and D devices 42 months onwards. Upon the expiry of these time periods, all provisions of the Medical Devices Rules 2017 will apply to the respective devices.
Central Drugs Standard Control Organisation (CDSCO)
CDSCO under Directorate General of Health Services, Ministry of Health & Family Welfare, is the National Regulatory Authority (NRA) of India.
CDSCO along with state regulators, is jointly responsible for grant of licenses of certain specialized categories of critical Drugs such as blood and blood products, I. V. Fluids, Vaccine and Sera.
Functions: Under the Drugs and Cosmetics Act, CDSCO is responsible for approval of New Drugs, Conduct of Clinical Trials, laying down the standards for Drugs, control over the quality of imported Drugs in the country and coordination of the activities of State Drug Control Organizations.
Risk-Based Classifications for Medical Devices
CDSCO has classified the medical devices according to the risks associated

Class A (Low Risk) - Absorbent cotton wools, surgical dressing, alcohol swabs
Class B(Low Moderate Risk) - Thermometer, BP monitoring device, disinfectants
Class C(Moderate High-Risk) - Implants, hemodialysis catheter
Class D(High Risk) - Angiographic guide wire, heart valve
Expected Impact
Ensuring Accountability and Transparency: It will make medical device companies accountable for quality and safety of their products being provided across the country. The temporary registration application for devices that are currently unregulated will now become regulated ensuring transparency, leading to better growth of the medical device industry.
Criticism
According to the Association of Indian Medical Device Industry (AIMED), the move is going to impact small manufacturers as it would not be sustainable for them to hire a qualified quality management system(QMS) manager with biomedical engineering for quality check.
Almost all low-risk Class A category products like orthopaedic collars and pillows, spectacles and wheel-chairs and stretchers, etc, are made by MSMEs. Most small manufacturers can't comply with and have qualified regulatory staff to meet the Medical Device and Diagnostic Rules (MDR) Schedule 5.
However, the hi-tech diagnostic imaging sector is dominated by large players and will be the least impacted.
Further, under the Drugs Act, any non-conformity to guidelines can be treated as a criminal offence by any drug inspector at his discretion and hauled before a court and there is no risk proportionate penalties.
The Surgical Manufacturers and Traders Association, another body that represents wholesale traders and MSME device manufacturers, has also criticised the government's move, saying it may lead to the closure of thousands of small and micro units and impact consumers by way of high prices as imports will become multiple times costlier.
Way Forward
On the whole, the move is a positive step. However, consumer groups remained sceptical about the ability of the Central Drugs Standard Control Organisation to regulate devices under the wider scope.
There is need for comprehensive reforms to strengthen the regulatory mechanism in relation to patients' safety, which includes guidelines for the approval of devices including clinical investigation requirements, oversight of marketing and promotion, putting in place a robust and functioning system of adverse event reporting accessible to the public, rules for voluntary and statutory recalls, and patient compensation scheme.
Special Category Status
---
Recently, the Andhra Pradesh government urged the Central government to grant Special Status Category (SCS) to Andhra State as being promised earlier by the Centre.
Background
Andhra Pradesh was promised Special Category Status by the Congress government, which was at the Centre during the state bifurcation, and by the BJP during the course of its 2014 election campaign. The then ruling government promised special category status would be extended to Andhra Pradesh for five years to help put the state on a firmer footing.
Other than Andhra Pradesh, Bihar, Odisha, Rajasthan and West Bengal are demanding the status of special category.
Why Andhra Pradesh is demanding Special Category Status?
Andhra sought special category status on the grounds that it was at a disadvantage, since it would lose a significant amount of revenue as a result of Hyderabad going to Telangana.
Why the Central Government is denying Andhra SCS demand?
The 14th Finance Commission, tabled in Parliament in February 2015, did away with the distinction between states with SCS and other states and instead recommended a higher share of taxes — 42% instead of 32% — for states and revenue-deficit grants for those states in need, like Andhra. It meant that SCS had ceased to exist so there was no question of granting Andhra the status.
Recently, the 15th Finance Commission, in its interim report for 2020-21, has made it clearly that the special category status demand remained entirely in the domain of the Union government, which can take an appropriate decision after due consideration.
Further, despite the disadvantage of losing Hyderabad, an information technology and pharma hub, in the bifurcation, Andhra has grown at nearly 10% annually between 2013-14 and 2017-18, compared with Telangana's 8.6%, and is estimated to have a fiscal deficit of 2.8% in 2018-19, compared with Telangana's 3.5%.
What is Special Category Status?
Special Category Status (SCS) is a classification given by Centre to assist in the development of those states that face geographical and socio-economic disadvantages like hilly terrains, strategic international borders, economic and infrastructural backwardness, and non-viable state finances.
The Constitution does not include any provision for categorisation of any State in India as a Special Category Status (SCS) State.
Historical Background
The concept of a special category status was first introduced in 1969 when the fifth Finance Commission sought to provide certain disadvantaged states with preferential treatment in the form of central assistance and tax breaks, establishing special development boards, reservation in local government jobs, educational institutions, etc.
This formula was named after the then Deputy Chairman of the Planning Commission, Dr Gadgil Mukherjee and is related to the transfer of assistance to the states by centre under various schemes.
Initially, three states; Assam, Nagaland and Jammu & Kashmir were granted special status but from 1974-1979, five more states were added under the special category. These include Himachal Pradesh, Manipur, Meghalaya, Sikkim and Tripura.
In 1990, with the addition of Arunachal Pradesh and Mizoram, the states increased to 10. The state of Uttarakhand was given special category status in 2001.
But after the dissolution of the planning commission and the formation of NITI Aayog in 2015, the recommendations of the 14th Finance Commission were implemented which meant the discontinuation of the Gadgil formula-based grants.
Note: Jammu and Kashmir (J&K) enjoyed a special status as per Article 370 and also Special Category Status. But now that Article 35A has been scrapped and it has become a union territory with legislature, SCS doesn't apply to J&K anymore.
Criteria for SCS
Hilly and difficult terrain
Geographical isolation
Low population density or sizeable share of tribal population
Strategic location along borders with neighbouring countries
Economic and infrastructural backwardness
Economic and infrastructure backwardness
Non-viable nature of state finances

Benefits under SCS
Economic Benefits
The central government allocates 30 percent of its plan expenditure to special category states while the remaining 70 percent goes to other states.
In the case of the centrally-sponsored schemes (CSS) and external aid, special category States get 90 percent as grant and 10 percent as loan. For general category States, it is 30 percent grant and 70 percent loan.
Unspent funds don't lapse and get carried forward in the case of special category States while they lapse in the case of non-special category States.
Tax Benefits
The central government offers a host of tax benefits for the new industrial units set up in the special category States.
They include capital investment subsidy, income tax exemption for five years, interest subsidy, comprehensive insurance subsidy, central excise duty exemption and transport subsidy.
Further, these states avail the benefit of debt-swapping and debt relief schemes.
Special Provisions
The Part XXI of the Constitution consists of articles on Temporary, Transitional and Special Provision to states listed in Articles 371 and 371(A-J).
These set of provisions were incorporated into the Constitution by Parliament through amendments under Article 368, which lays down the power of the Parliament to amend the Constitution and procedure therefor.

Article 371 - Maharashtra and Gujarat
Article 371 A - Nagaland
Article 371 B - Assam
Article 371 C - Manipur
Article 371 D - Andhra Pradesh
Article 371 E - Establishment of Central University in Andhra Pradesh
Article 371 F - Sikkim
Article 371 G - Mizoram
Article 371 H - Arunachal Pradesh
Article 371 I - Goa
Article 371 J - Karnataka
Way Forward
The Andhra Pradesh and other State's government demanding for SCS should explore other options to put their state on faster development, put its finances in order in order to develop their respective states, rather than sticking to and crying over the SCS.
States must understand their industrial strengths and create a policy environment to leverage their exclusive resources instead of relying on Centre's support.
Lucknow Declaration
---
The first India-Africa Defence Minister's Conclave was held on 6th February, 2020, on the sidelines of the ongoing Def Expo 2020 (5th to 9th February) in Lucknow.
During the conclave, India, along with counterparts from 12 African nations and heads of delegations from 38 other African countries adopted the Lucknow Declaration.
Background
India and African nations had previously adopted declarations during the India-Africa Forum Summit in New Delhi in April 2008, India-Africa Forum Summit-II in Addis Ababa in May 2011 and the Third India-Africa Forum Summit, held in Delhi in October 2015 and the India-Africa Framework for Strategic Cooperation.
All these declarations had worked to strengthen the multi-faceted partnership between India and Africa.
Major Highlights of the Declaration
Peace and Security
Emphasizing the need for peace and security in both India and African region, the countries committed to continue their collaboration in the fields conflict prevention, resolution, management and peace building through-

exchange of expertise and training
strengthening regional and continental early warning capacities and mechanisms
enhancing the role of women in peace keeping and propagating the culture of peace.

In this regard, establishment of the African Union's International Centre for Conflict Resolution, Peace keeping and Peace building in Cairo as a major contribution to peace and security in Africa has been lauded by the countries.
Terrorism
Stating that terrorism is a major threat in the region, the declaration urged all the signatories' countries to take resolute action in rooting out terrorism in all its forms and manifestations, terrorist safe havens and infrastructure, disrupting terrorist networks and eliminating financing channels and halting cross-border movement of terrorists.
This must be done by enhancing cooperation and coordination between Africa and India to combat terrorism in all its forms and manifestations and to combat transnational crime.
In order to strengthen the UN Counter-Terrorism mechanisms and to ensure strict compliance with the UN Security Council sanctions regime on terrorism, it was urged that international community to envisage the adoption of Comprehensive Convention on International Terrorism in the United Nations General Assembly.
Maritime Security
It emphasized to strengthen the Maritime security across both the region as it is a pre-requisite for the development of Blue and Ocean economy.
It was decided to increase mutual cooperation in securing sea lines of communication, preventing maritime crimes, disaster, piracy, illegal, unregulated and unreported fishing through sharing of information and surveillance.
Indo-Pacific Region
Regarding the aligning views of India and the African nations on the importance of the Indo-Pacific, the declaration stated that all member countries to encourage enhanced cooperation between India and Africa on the evolving concept of Indo-Pacific.
It welcomed the African Union (AU) vision for peace and security in Africa that coincides with India's vision of Security and Growth for all in the Region (SAGAR).
Defence Cooperation
The countries called for deeper cooperation in the domain of defence industry including through investment, joint ventures in defence equipment software, digital defence, research & development, provisioning of defence equipment, spares and their maintenance on sustainable and mutually beneficial terms.
The leaders also appreciated the initiation of Africa -India Field Training Exercises (AFINDEX) and agreed to further strengthen cooperation in defence preparedness and security.
Africa-India Joint Field Training Exercise (AFINDEX)
First ever AFINDEX between the Indian Army and 17 African nations was conducted in Pune, Maharashtra, from March 18 to 27 March, 2019.
Participants: Contingents of the 17 African Nations i.e. Benin, Botswana, Egypt, Ghana, Kenya, Mauritius, Mozambique, Namibia, Niger, Nigeria, Senegal, South Africa, Sudan, Tanzania, Uganda, Zambia and Zimbabwe along with a contingent of Maratha Light Infantry (Jangi Paltan).
African Union (AU)
AU is a continental body consisting of the 55 member states that make up the countries of the African Continent. It was officially launched in 2002 as a successor to the Organisation of African Unity (1963-1999).
Vision: An Integrated, Prosperous and Peaceful Africa, driven by its own citizens and representing a dynamic force in the global arena.
Agenda 2063
AGENDA 2063 is Africa's blueprint and master plan for transforming Africa into the global powerhouse of the future.
The AU adopted the agenda in 2015 with the aim of having a roadmap for a strong, peaceful, integrated and prosperous Africa by 2063, 100 years after the establishment of AU's predecessor, the Organization for African Unity (OAU) It is the continent's strategic framework that aims to deliver on its goal for inclusive and sustainable development and is a concrete manifestation of the pan-African drive for unity, self-determination, freedom, progress and collective prosperity pursued under Pan-Africanism and African Renaissance.
Impact
The Lucknow Declaration will provide a major impetus to the India-Africa relation and will further help both the region to deal effectively against the critical challenges such as terrorism and extremism, piracy, human trafficking, drug trafficking, weapon smuggling, etc. and maintaining order and peace across both the regions.
Importance of Africa
Africa is a continent on the move, characterised by rapid economic growth, rising educational and health standards, increasing gender parity, and expanding infrastructure and connectivity.
In recent years, the African continent has been accorded top priority in Indian foreign and economic policy; there has been an unprecedented intensification of political engagemen.t
A resurging Africa and a rising India can give a strong impetus to South-South Cooperation, especially when it comes to addressing challenges in areas like clean technology, climate-resilient agriculture, maritime security, connectivity, and Blue economy.
On Economy side. African subcontinent provides a good market for Indian companies of different sectors whether it is automobile, IT or defence sector.
Trade between Africa and India has increased more than eight-fold from USD 7.2 billion in 2001 to USD 59.9 billion in 2017, accounting for over 8 percent of India's total trade.
To meet its energy security, India sources nearly 18% of its crude oil and also LNG requirement mostly from the West African region.
Primary commodities and natural resources account for around 75 percent of Africa's total exports to India.
In the perspective of geopolitics, having these 54 African nations as allies in the United Nations is favourable to India as these nations might support in passing any resolution.
Purified Terephthalic Acid
---
In the Budget 2020, the government announced abolition of anti-dumping duty on the import of Purified Terephthalic Acid (PTA) from seven countries, providing a huge relief to polyester industry.
It is to be noted that Mono Ethylene Glycol (MEG), another raw material used in the manufacturing of polyester, is currently the subject of another anti-dumping duty investigation initiated by Directorate General of Trade Remedies (DGTR) recently.
Objective
To make domestic market more competitive
Need for Abolition
PTA is a critical input for textile fibres and yarns, and its easy availability at competitive prices is desirable to unlock immense potential in the textile sector, which is a significant employment generator in the country.
PTA attracts anti-dumping duty ranging between $27 and $160 per tonne, depending upon the country of origin and the country often faces shortage of PTA that curtail the capacity utilization of the polyester segment industry.
Reasons for Imposing Anti-Duty
The anti-dumping duty on PTA was imposed after two domestic manufacturers, MCC PTA India Corp Pvt Ltd and Reliance Industries Ltd, approached the DGTR in October 2013.
The companies, which submitted that they accounted for over 50% of the domestic PTA industry, had argued that some countries had been exporting the product to India at prices lower than its value in their own domestic markets.
In its final findings, the DGTR,found that Purified Terephthalic Acid has been exported to India from China, Iran, Indonesia, Malaysia and Taiwan below its normal value which has resulted in dumping.
Following an investigation, DGAD imposed anti-dumping duties on PTA imported from South Korea and Thailand in 2014 and 2015, and from China, Indonesia, Taiwan, Iran and Malaysia in 2015 and 2016.
Dumping
Dumping is a process where a company exports a product at a price lower than the price it normally charges in its own home market.
This is an unfair trade practice which can have a distortive effect on international trade.
Parameters to Access Dumping
There are two fundamental parameters used for determination of dumping- the normal value and the export price.
Both these elements have to be compared at the same level of trade, generally at ex-factory level, for assessment of dumping.
Anti-Dumping Duty
An anti-dumping duty is a protectionist tariff that a domestic government imposes on foreign imports that it believes are priced below fair market value.
Thus, the purpose of anti-dumping duty is to rectify the trade distortive effect of dumping and re-establish fair trade.
The first Indian Anti-dumping legislation came into existence in 1985 when the Customs Tariff (Identification, Assessment and Collection of duty or Additional duty on Dumped Articles and for Determination of Injury) Rules, 1985 were notified.
Anti-dumping and anti-subsidies & countervailing measures in India are administered by the Directorate General of Anti-dumping and Allied Duties (DGAD) functioning in the Dept. of Commerce in the Ministry of Commerce and Industry.
While DGAD recommends the duty, the Finance Ministry imposes it.
Controversy over Imposition of Anti-Duty
Against Government's Vision: Companies using PTA to manufacture polyester products claimed that the move went against the government's vision of making the textiles sector a globally competitive industry.
Cost Ineffective: The companies had alleged that the product's cost had become more expensive domestically, which made their own products pricier and less attractive for their domestic and international buyers. This had led to a drop in exports of some of these products during 2014-16, and an increase in imports of the products they had been producing, as there was no safeguard against imports of cheaper versions of these downstream polyester-based products.
Unable to Cater Domestic Demand: The domestic industry had argued that domestic PTA producers had not only been unable to ramp up capacity to cater to demand for the product, shutdowns of their manufacturing facilities once a year for maintenance purposes had also led to shortages of the raw material. PTA users claim that they had not been manufacturing as much polyester as they were capable of, operating at 70% of their capacity at any given time.
Impact
Enhance Global Competitiveness
The removal of the anti-dumpting duty would greatly help the country to enhance the global competitiveness, boost exports and also enable the domestic manufacturers to compete with the cheaper imports.
Boost to Domestic Users
It will help attract imports from China and South-East Asia and might create competition in the market. This would be a boost for PTA users and the entire man-made fibre textiles and clothing segment.
It could open up the manmade fibre value chain, benefiting technical textiles, home furnishing, the sportswear industry, sarees and dress materials.
Setting Standard Price
Abolition of anti-dumping duty will bring polyester price in India on a par with international price, which is considered the future engine of growth for the Indian textile industry.
Purified Terephthalic Acid (PTA)
PTA is a very important raw material as is it a precursor to mostly vastly used plastics polyethylene terephthalate (PET), poly butyl terephthalate (PBT), polyester fibers and is produced by oxidizing paraxylene.
It is a crucial raw material used to make various products, including polyester staple fibre and spun yarn. Some sportswear, swimsuits, dresses, trousers, curtains, sofa covers, jackets, car seat covers and bed sheets have a certain proportion of polyester in them.
Properties
Excellent weathering
Resistance towards chemicals & stains
Hard & Flexible
Good glass transition temperature range
Efficient powder flow & fluidizing characteristics
National Commission For Indian System Of Medicine Bill, 2019
---
On 30th January, 2020, the Union Cabinet approved the draft National Commission for Indian Systems of Medicine Bill, 2019.
The Bill seeks to repeal the Indian Medicine Central Council Act, 1970 and provide for a medical education system which ensures:
adoption of the latest medical research by medical professionals of Indian System of Medicine
periodic assessment of medical institutions
an effective grievance redressal mechanism
Impact
The proposed legislation will ensure necessary regulatory reforms in the field of Indian System of Medicine education.
The proposed regulatory structure will enable transparency and accountability for protecting the interest of the general public. The Commission will promote availability of affordable healthcare services in all parts of the country.
National Commission for Indian Systems of Medicine (NCISM)
The main objective of establishing NCISM is to promote equity by ensuring adequate supply of quality medical professionals and enforce high ethical standards in all aspects of medical services in Indian System of Medicine.
Composition
The NCISM will consist of 29 members, appointed by the central government.
A Search Committee will recommend names to the central government for the post of Chairperson, part time members, and presidents of the four autonomous boards set up under the NCISM.
Autonomous Boards
The Board of Ayurveda and the Board of Unani, Siddha, and Sowa-Rigpa: Responsible for formulating standards, curriculum, guidelines for setting up of medical institutions, and granting recognition to medical qualifications at the undergraduate and post graduate levels in their respective disciplines.
The Medical Assessment and Rating Board for Indian System of Medicine: It determine the process of rating and assessment of medical institutions and have the power to levy monetary penalties on institutions which fail to maintain the minimum standards It will also grant permission for establishing a new medical institution.
The Ethics and Medical Registration Board: It will maintain a National Register of all licensed medical practitioners of Indian System of Medicine, and regulate their professional conduct.
Functions of the NCISM
Framing policies for regulating medical institutions and medical professionals of Indian System of Medicine
Assessing the requirements of healthcare related human resources and infrastructure
Ensuring compliance by the State Medical Councils of Indian System of Medicine of the regulations made under the Bill
Ensuring coordination among the autonomous boards set up under the Bill
Advisory Council for Indian System of Medicine
The Council will be the primary platform through which the states/union territories can put forth their views and concerns before the NCISM. Further, the Council will advise the NCISM on measures to determine and maintain the minimum standards of medical education.
Indian System of Medicine
Initially, India System of Medicine recognises six systems of medicine Ayurveda, Siddha, Unani and Yoga, Naturopathy and Homoeopathy.
The Sowa-Rigpa medicine system has been recognized by Government of India (GoI) by amending the Indian Medicine Central Council (IMCC) Act, 2010.
The Ministry of AYUSH was formed on 9th November 2014 to ensure the optimal development and propagation of AYUSH systems of health care. Earlier it was known as the Department of Indian System of Medicine and Homeopathy (ISM&H) which was created in March 1995 and renamed as Department of Ayurveda, Yoga and Naturopathy, Unani, Siddha and Homoeopathy (AYUSH) in November 2003.
The government, in 2018, included Sowa-Rigpa into the acronym of AYUSH where the alphabet 'S' represents both — Siddha and Sowa-Rigpa.
Ayurveda
The word 'Ayurveda' has derived out of fusion of two separate words- 'Áyu' i.e. life and 'veda' i.e. knowledge.
The philosophy of Ayurveda is based on the theory of PanchaMahaBhutas(Five Primordial Elements) of which all the objects and living bodies are composed of.
The doctrine of Ayurveda aims to keep these structural and functional entities in a functional state of equilibrium which signifies good health (Swastha).
Yoga
The word "Yoga" comes from the Sanskrit word "yuj" which means "to unite or integrate."
Yoga is about the union of a person's own consciousness and the universal It is primarily a way of life, first propounded by Maharshi Patanjali in systematic form Yogsutra.
Naturopathy
Naturopathy is a system of natural treatment and also a way of life widely practiced, globally accepted and recognized for health preservation and management of illnesses without medicines.
It advocates living in harmony with constructive principles of Nature on the physical, mental, social and spiritual planes. It has great promotive, preventive, curative as well as restorative potentials.
Unani
As the name indicates, Unani system originated in Greece. The foundation of Unani system was laid by
The system is holistic in nature and takes into account the whole personality of an individual rather than taking a reductionist approach towards disease.
Siddha
The Siddha System of medicine is one of the ancient systems of medicine in India having its close bedd with Dravidian culture.
The term Siddha means achievements and Siddhars are those who have achieved perfection in medicine. The system is largely therapeutic in nature.
Homoeopathy
Homoeopathy was introduced as a scientific system of drug therapeutics by a German Physician, Dr. Christian Frederick Samuel Hahnemann in 1805.
Its strength lies in its evident effectiveness as it takes a holistic approach towards the sick individual through promotion of inner balance at mental, emotional, spiritual and physical levels.
Sowa-Rigpa
The term 'Sowa Rigpa' means 'Knowledge of Healing'.
It has been originated from Tibet and popularly practice in India, Nepal, Bhutan, China, Mongolia and Russia.
The principle medical text "rGyud-bZi" Chatush Tantra-a textbook of fundamental principles of Sowa-Rigpa is in Sanskrit language which was further translated into Bhoti language around 8th – 12th Century and further amended by Yuthok YontanGombo and other scholars of Trans Himalayan region according to the socio-climatic conditions.
Andhra Pradesh Government To Abolish State Legislative Council
---
On 27th January, 2020, the Andhra Pradesh Assembly passed a resolution to abolish the state's Legislative Council, with 133 legislators of the ruling YSR Congress Party (YSRCP), which has 151 seats in the 175-member assembly, backing the decision.
Reasons behind the Move
The ruling government has taken the decision to abolish the upper house following the Telugu Desham Party (TDP) rejecting the bills passed by the Legislative Assembly.
The move comes after the main Opposition TDP, which has 27 members out of the total of 58 in the council, created a roadblock for the YSRCP in the council by sending the Andhra Pradesh Capital Region Development Authority Repeal Bill 2020 and the Andhra Pradesh Decentralisation and Inclusive Development of all Regions Bill 2020, to a select committee for further deliberation, after it was passed in the Assembly.
Earlier, it had rejected bills related to the introduction of English as a medium of instruction at government schools in the winter session held in December, 2019.
As there is no scope of YSR Congress getting a majority in the near future to get the bills passed smoothly, current government decided to abolish the council.
Andhra Pradesh Legislative Council
The Legislative Council of united Andhra Pradesh was created on July 1, 1958, and dissolved on May 31, 1985.
It was resurrected after 22 years, on March 30, 2007. Ironically, it was abolished the last time by N T Rama Rao, the founder of the TDP, after the Congress blocked all the government's decisions in the Council.
Legislative Council
India has a bicameral system i.e., two Houses of Parliament.
At the state level, the equivalent of the Lok Sabha is the Vidhan Sabha or Legislative Assembly; that of the Rajya Sabha is the Vidhan Parishad or Legislative Council.
Organisation
The power to create or abolish such a body in any state rests with Parliament, on the basis of an appropriate resolution being adopted by a two-thirds majority in the respective State Legislative Assembly.
This Act of Parliament is not to be deemed as an amendment of the Constitution for the purposes of Article 368 and is passed like an ordinary piece of legislation (i.e., by simple majority).
Constitutional Provisions
Under Article 168, states can have either one or two Houses of legislature.
Article 169 provides the choice of having a Vidhan Parishad to individual states.
Strength
Under Article 171, a Council cannot have more than a third of the number of MLAs in the state, and not less than 40 members.
It means that the size of the Council depends on the size of the Assembly of the concerned state.
Election
Unlike the members of the Legislative Assembly, the members of the Legislative Council are indirectly elected.
The members are elected in accordance with the system of proportional representation by means of a single transferable vote.
A third of the MLCs are elected by MLAs, another third by a special electorate comprising sitting members of local government bodies such as municipalities and district boards, 1/12th by an electorate of teachers, and another 1/12th by registered graduates. The remaining members are appointed by the Governor for distinguished services in various fields.
Duration
Like the Rajya Sabha, the Legislative Council is a continuing chamber, that is, it is a permanent body and is not subject to dissolution. But, one-third of its members retire on the expiration of every second year.
So, a member continues as such for six years. The vacant seats are filled up by fresh elections and nominations (by governor) at the beginning of every third year. The retiring members are also eligible for re-election and re-nomination any number of times.
Procedure for Dissolving
The state Cabinet will adopt a resolution and introduce it in the Assembly for adoption. Once the Assembly passes the Bill, it will be sent to the Union Home Ministry for placing before the Cabinet. The Union Cabinet has to adopt the Bill and place it before the Parliament for adoption in both the Houses.
Importance
The second House of the Legislature is considered important for two reasons-
One, to act as a check on hasty actions by the popularly elected House.
Second, to ensure that individuals who might not be cut out for the rough-and-tumble of direct elections too are able to contribute to the legislative process.
Argument against having Legislative Councils
The Constituent Assembly was divided on having a second chamber in the states.
Opposition to the idea of Legislative Councils is centered on three broad arguments: One, they can be used to park leaders who have not been able to win an election. Two, they can be used to delay progressive legislation. Three, they would strain state finances.
Comparison with Rajya Sabha
The Councils are less powerful than the Rajya Sabha, however. Unlike, the Rajya Sabha, which has substantial powers to shape non-financial legislation, Legislative Councils lacks a constitutional mandate to do so.
Also, unlike Rajya Sabha MPs, Members of the Legislative Council (MLCs) cannot vote in elections for the President and Vice President.
States having Legislative Council
Apart from Andhra Pradesh (58 members), five other states have Legislative Councils: Bihar (58), Karnataka (75), Maharashtra (78), Telangana(40) and Uttar Pradesh (100).
Jammu and Kashmir too had a Council, until the state was bifurcated into the Union Territories of J&K and Ladakh in October, 2019.
National Data And Analytics Platform
---
On 23rd January, 2020, NITI Aayog released its vision for the National Data and Analytics Platform (NDAP), with an aim to democratize access to public Government data through a world-class user experience.
The first version of National Data and Analytics Platform is proposed to be released in 2021.
Mission
Standardize data across multiple government sources.
Provide flexible analytics and make it easily accessible in formats.
Conducive for research, innovation, policy making and public consumption.
Need for NDAP
Availability of Rich Public Data: Government departments have digitised various processes and reporting requirements, which in turn are feeding into management information systems and interactive dashboards. This data is being used to track and visualise progress and make iterative improvements on the ground.
Making Data Easily Accessible: All public government data should be easily accessible to all stakeholders in a user-friendly manner. Further, data across sectors should be coherent to support analysis and dissemination. In addition, there should be easy access to the most recent data, published reliably.
Key Features
The NDAP proposes a simple, interactive, visual, and robust platform that will host various Central and state government datasets. The platform will be designed and optimised to the needs of policymakers, bureaucrats, researchers, innovators, data scientists, journalists, and citizens.
It will follow a user-centric approach and will enable data access in a simple and intuitive portal tailored to the needs of a variety of stakeholders.
The platform will be powered by a user friendly search engine, backed by seamless navigation, with a worldclass user interface. Data will be provided in a machine-readable format with customizable analytics. Dynamic visualisations will be generated based on user search terms.
Data will be sourced from different Central and State Ministries and Departments. This will be presented using a common schema, with clear definitions and narratives to help the user navigate the differences between similar data from different sources.
Governance
A high powered inter-ministerial steering committee under the chairmanship of Vice Chairman, NITI Aayog will be set up to provide direction, oversee progress, guide on data sources, and address various inter-ministerial issues on collating data.
A Technical Advisory Group consisting of sector and technology experts will be established to provide expert consultation. TAG will provide guidance on the development of the platform, management of data, and aligning the platform for user-needs.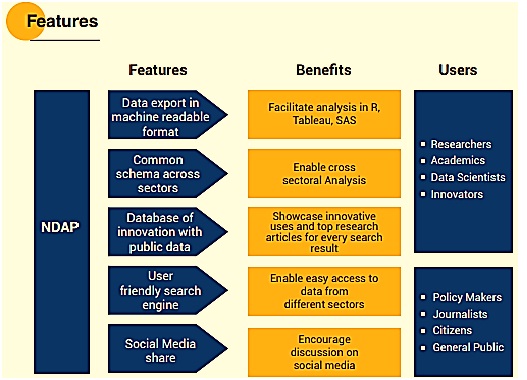 Source: NITI Aayog
Challenges
Data is Not Published in a User-Centric Manner
The current data formats are often not conducive for research and innovation. Many departments maintain public dashboards with visualizations and options to download data in analyzable formats. However, some datasets are only available in PDF, webpage or as an image, making it difficult for further analysis.
If this issue is resolved, researchers and data scientists will significantly save time and resources in cleaning and preparing government datasets for analysis.
Incoherency of Data Ecosystem
Ministries and Departments do not use a shared standard for common indicators. Attributes like region and time period defined differently. This makes it difficult for datasets to speak to each other and present a coherent picture. If we can solve this, many use-cases can emerge. For example, a District Magistrate can access data across all departments for their district, easily, in one platform.
Significance
One Stop Platform
NDAP will be a one-stop platform to utilize, analyse and visualise all published government datasets. It will be a critical tool in the hands of policy makers, researchers, journalists, and civil society leaders, enabling them to do their work better.
NDAP would encompass critical features such as allowing easy access to all the published datasets through a single platform and using cutting edge technology to enable analytics and visualization for drawing better insight. It willstrive to ensure that datasets are merged with each other using temporal and geographical identifiers.
Improving Socio-Economic Condition
NDAP has the potential to deepen our understanding of India's dynamic economy and social conditions. Thiswill in turn help improve the socio-economic condition of the people by making the government's actions more scientific and data-driven.
Insolvency And Bankruptcy Code (Amendment) Ordinance, 2019
---
The Insolvency and Bankruptcy Code (Amendment) Ordinance, 2019 was promulgated on December 28, 2019, which amended the Insolvency and Bankruptcy Code (IBC), 2016.
The Amendment Act has brought amendment, omission or addition in Sections 5(12), 5(15), 7, 11, 14, 16(1), 21(2), 23(1), 29A, 227, 239, 240. It also inserted a new Section 32A in the Code.
Objectives
To provide last mile funding to corporate debtor to prevent insolvency in case company goes into Corporate Insolvency Resolution Process (CIRP) or liquidation.
To provide immunity against prosecuting corporate debtor.
To prevent action against the property of corporate debtor or the successful resolution application subject to fulfillment of the conditions.
Key Changes Made
Proviso to Clause (12) of Section 5 of the Code has been omitted to clarify that the insolvency commencement date is the date on which an application for initiating Corporate Insolvency Resolution Process (CIRP) is admitted.
Section 7 of the Code has been amended to clarify minimum threshold for certain classes of financial creditors for initiating CIRP. It states that an application for initiating CIRP shall be filed jointly by not less than 100 of such creditors in the same class or not less than 10% of the total number of such creditors in the same class, whichever is less. For financial creditors who are allottees under a real-estate project, an application for initiating CIRP shall be filed jointly by not less than one hundred of such allottees under the same real estate project or not less than 10% of the total number of such allottees under the same real estate project, whichever is less.
Section 11 of the Code has been amended to clarify that a corporate debtor shall not be prevented from initiating CIRP against any other corporate debtor.
Section 14 of the Code has been amended to put a stay on the licenses, permits, concessions, clearances, etc. of the corporation. The above cannot be terminated, suspended or not renewed on the grounds of insolvency during the moratorium period. Additionally, the supply of goods and services critical to preserve and protect the value of the corporate debtor, such supply shall not be terminated.
Section 16 of the Code has been amended to provide that an insolvency resolution professional should be appointed on the date of admission of the application for initiation of CIRP.
Section 23 of the Code has been amended to enable the resolution professional to manage the affairs of the corporate debtor during interim period between the expiry of CIRP till the appointment of a liquidator.
A new Section 23A has been inserted to provide that the liability of a corporate debtor for an offence committed prior to the commencement of the CIRP shall cease under certain circumstances.
Impact
Preventing Unnecessary Admission of Cases: The amendment brings the much awaited changes needed in the insolvency sector. It clears the air on various aspects and provides relief to both corporate debtor as well as the creditors. The thresholds introduced will prevent admission of unnecessary cases to the insolvency court.
Removing Bottlenecks: The move will ensure in bringing about finality to the cost and litigation risks associated with a corporate debtor thereby removing hurdles being faced in many of the high value insolvency cases. This will result in streamlining the CIRP and will pave the way for better realization of assets for all the stakeholders.
Safeguarding Corporate Debtor: It will help to ring-fence the corporate debtor and property from offences committed by the previous management or promoters.
Ease of Doing Business: The Amendment is in consonance with the government's much celebrated aim of increasing the ease of doing business in India.
Boosting Bidders Confidence: By insulating the successful bidders of stressed assets from the wrongdoings of the earlier management, the ordinance aims at boosting the confidence of the potential bidders in the insolvency process.
Challenge against the Amendment
On 6th January, 2020, a writ petition has been filed by a group of home buyers in the Supreme Court challenging the IBC ordinance on the ground of arbitrariness.
The home-buyers alleged that the additions made to Section 7 regarding the requirement of minimum numbers was against fundamental rights guaranteed to the home buyers (financial creditors) under articles 14 and 21 of the Constitution as well as the very objective of the IBC.
The petitioner submits that the amendment ordinance is in the nature of 'remedy with no remedy' as it curtails the rights of an individual home buyer.
They also argue that the amendments discriminate between individual and corporate creditors by imposing the minimum thresholds on individuals but not on corporates, such as banks.
Way Forward
The Amendment focuses on a timely admission and completion of the insolvency process and has come as a much needed support for the potential buyers of stressed assets. The decision to protect third-party successful bidders from the illegalities committed by the earlier management will go a long way in restoring the spirit of the Code.
Centre Opens Up Coal Sector
---
On 8th January, 2020, the Union Cabinet approved an ordinance to amend the Mines and Minerals (Development and Regulation) Act, 1957 and the Coal Mines (Special Provisions) Act, 2015, to open up coal mining in the country to non-coal companies while removing the end-use restrictions of the mining blocks in the country.
Objective
To attract investments and boost domestic coal production.
Need
At present, Section 11A of the Mines and Minerals Development and Regulation (MMDR) Act allows the government to auction coal and lignite mining licenses only to companies engaged in iron and steel, power and coal washery sectors. This restriction on end use has badly affected participation in the auctions of coal mines.
Despite having the world's fourth largest coal reserves, India imported 235 million tonnes (mt) of coal during 2018-19, of which 135mt valued at Rs171,000 crore could have been met from domestic reserves.
Only 29 coal blocks were auctioned since 2014, when the Supreme Court cancelled 214 coal blocks, due to end-user restrictions-meaning coal produced from them could be used only for the designated captive purpose only and not traded in the market.
The government aims at greater participation in commercial mining of coal and targets 1000 MT coal production by 2023.
Key Points
The ordinance will amend the current proviso in the law that allows only companies in coal mining to bid for mines. Any company meeting the minimum criteria will now be allowed to bid for mines.
It provides for the allocation of coal blocks for composite prospecting license-cum-mining lease and removes restrictions on its end-use.
It provides for doing away with the requirement of previous approval in cases where the allocation of blocks was made by the central government.
Impact
Ending Monopoly: The move will help create an efficient energy market, usher in competition and reduce coal imports, while also ending the monopoly of state-owned Coal India Ltd.
Making India Self-Reliant: In today's time when the Oil prices are very uncertain, this decision is path breaking in making India self-reliant.
Ease of Doing Business: It will contribute to the ease of doing business, the democratisation of the sector by opening it to anyone willing to invest.
Increased Investment and Employment: The removal of end-use restriction will allow anyone to participate in coal auction and attract large investment. Large investment will create jobs and set off demand in critical sectors such as mining equipment and heavy commercial vehicles.
Boost to Infrastructure: The government also aims to increase domestic coal production, bringing the steel prices down, which will help in boosting the infrastructure sector.
Access to Technology: The move will also help India gain access to sophisticated technology for underground mining used by global miners.
Improved Efficiency: Streamlining the auction process will also lead to greater efficiency and more effective outcomes. It will allow for seamless transfer of environment and forest clearance in operational mines. Shifting from a two-stage ascending forward online electronic auction to a single-stage sealed bid will help dampen aggressive bidding.
Criticism
The Centre of Indian Trade Unions (CITU) has criticized the government's decision. According to it, to end captive coal mining would be disastrous for the industries concerned including steel, power and aluminum.
The move has been termed as retrograde because decision to promulgate an ordinance to amend two laws concerning mining would remove the restriction of end-use so that foreign and domestic bidders for mine blocks could convert the natural resources into items for trade and export.
This would in turn, would expand the grip and control of foreign players with Indian private contractors as their junior partners, on the country's vital mineral resources, much to the detriment of national interests.
Issues with Coal Mining in India
Governance Issues
Coal mining in India is nationalized by law and the public sector Coal India Ltd (CIL) supplies more than 80% of India's domestic coal. While nationalization of the coal industry in 1973 helped to improve operating practices, labour safety and coal production, in more recent times led to concerns about the potential abuse of its dominant position by CIL by forcing its customers to accept severely one-sided supply agreements.
Majority of the coal projects have been halted and delayed due to issues in acquiring land and strict rules and regulations. At present, multiple clearances are required from the government for commencement of new opencast projects like site clearances formining lease, forestry clearance and environment clearance.
Another issue relates to the allocation of captive mines to end users. According to the Government, the objective of allocating captive coal blocks was not to maximize revenue but to rapidly increase coal production and reduce electricity tariffs. However, it neither imposed any conditions on coal block allottees to pass on the benefits of cheap coal to consumers, nor did it follow up diligently to ensure that development of these blocks progressed satisfactorily. There fore, neither did production increase nor did electricity tariffs come down.
The lack of account ability with respect to coal block allocations meeting their stated objectives and alleged favouritism in allocation of coal blocks at the cost of the general public and economic efficiency are illustrative of the problems faced by the coal sector.
Lack of transparency is another problem that plagues the sector. An example of this is the way 'linkages' or 'letters of assurance' of coal supply are granted to coal consumers such as power plants, based on which such consumers proceed with their plans.
Technology & Infrastructure Issues
Indian coal reserves continue to be classified using an outdated methodology. Absence of geophysical and geochemical data, use of obsolete and time consuming drilling equipment hinders the growth of mining sector. As a result; there is great uncertainty about economically extractable coal reserves in India.
One of the major issues being faced by the industry for the coal movement within India is transportation and infrastructure. Bottlenecks in domestic coal transportation and lack of proper road connectivity further increase the challenge. Also, availability of railway wagons and mismatch of demand and supply of wagons and coal off-take affects production capacity
Environmental Issues
Coal Mining has multiple adverse impacts on the environment: disturbance of the land resource, adverse effect on river channels and aesthetical deterioration of the landscape, Acid mine drainage from opencast as well as underground mines.
At the stage of mining, activities like drilling, blasting, excavation, construction of haul roads, movement of heavy earth moving machinery, etc. results in emissions of particulate matter and dust. These emissions cause significant human and social impacts by causing air pollution and ecological disturbances.
Degradation of land is perhaps the most serious impact of coal mining operations. Open cast mining causes a much greater degradation to land than underground mining.
Coal mining activities adversely degrades the quality of water by not only lowering the pH of the surrounding water resources but also by increasing the level of suspended particulate solid, total dissolved solids and some heavy metals.
Social Issues
Mining activities, in general, generate huge social costs in the form of displacement, loss of livelihood, and social exclusion.
As 90% of India's coal is produced from open-cast mines, this requires acquisition of large tracts of land – often from agricultural or tribal areas. This leads to lot of displacement and loss of livelihoods among the people, because though seemingly reasonable policies for compensation exist on paper, they are not implemented effectively.
Taken together, such socio-environmental practices lead to social distress and alienation of the local population. In turn, this leads to resistance to mining activities, and with local citizens become less willing to give up their land and mobilize them selves against such activities. This leads to complaints from coal companies about the difficulty of acquiring land for mining and hence the difficulty of increasing production to meet demand, in turn affecting the country's overall energy scenario and economic growth.
Scientific Social Responsibility
---
During the 107th Indian Science Congress, the Department of Science and Technology, spoke about the government's policy on implementing Scientific Social Responsibility (SSR).
Indian Science Congress (ISC)
The 107th ISC took place at the University of Agricultural Sciences, Bengaluru, from 3rd to 7th January, 2020, under the theme- Science and Technology: Rural Development.
ISC is organised by the Indian Science Congress Association (ISCA) every year in the first week of January.
ISCA owes its origin to the foresight and initiative of two British Chemists, namely, Professor J. L. Simonsen and Professor P.S. Mac Mahon.
The first meeting of the Congress was held from January 15-17, 1914 at the premises of the Asiatic Society, Calcutta, with Justice Sir Ashutosh Mukherjee, the then Vice-Chancellor of the Calcutta University, as President.
What is Scientific Social Responsibility?
It is the ethical obligation of knowledge workers in all fields of science and technology to voluntarily contribute their knowledge and resources to the widest spectrum of stakeholders in society, in a spirit of service and conscious reciprocity.
Here, knowledge workers include anyone who participates in the knowledge economy in the areas of human, social, natural, physical, biological, medical, mathematical, and computer/data sciences and their associated technologies.
Idea for SSR
The Constitution of India (Part-IV, Article 51A (h)) mandates for developing the scientific temper, humanism and spirit of enquiry as part of the fundamental duties of a citizen.
This idea has been carried forward in earlier science policies of India (Scientific Policy Resolution 1958, Technology Policy Statement 1983, Science and Technology Policy 2003 and Science Technology and Innovation Policy 2013) that propagate for taking the message and benefits of science to society and for bridging the gap between the two.
About SSR Policy
The Government of India, through the Department of Science and Technology has released a draft of the new Scientific Social Responsibility (SSR) Policy on 9 September, 2019, for public comments.
The Policy is intended to promote social responsibility in the scientific establishments on the lines of Corporate Social Responsibility (CSR).
Objectives
To harness the voluntary potential that is latent in the country's scientific community to strengthen science and society linkages so as to makescience and technology (S&T) ecosystem vibrant.
Developing a mechanism for ensuring access to scientific knowledge, transferring benefits of science to meet societal needs, promoting collaborations to identify problems and develop solutions.
Need for the Policy
The new India with its vibrant young populace requires a renewed emphasis on the integration of science and technology (S&T) with society at both the institutional and individual levels.
New initiatives such as Transformation of Aspirational Districts, Make in India, Swachh Bharat and Digital India, requiresan institutional mechanism facilitating easy access to resources and knowledge, leading to inclusive growth and development.
Salient Features
The policy would involve four different categories of stakeholders: beneficiaries, implementers, assessors and supporters (BIAS).
Under the proposed policy, individual scientists or knowledge workers will be required to devote at least 10 person-days of SSR per year for exchanging scientific knowledge to society.
It has proposed to give credit to knowledge workers or scientists for individual SSR activities in their annual performance appraisal and evaluation.
No institution would be allowed to outsource or sub-contract their SSR activities and projects.
Implementation Strategy
A central and nodal agency would be set up at DST to supervise, monitor and implement SSR activities in the country. Once formalized, the policy requires all the Central Government Ministries, State Governments and S&T institutions to make their own plans to implement Scientific Social Responsibility in India according to their mandate.
Every knowledge institution would prepare its implementation plan for achieving its SSR goals. All knowledge workers would be sensitized by their institutions about their ethical responsibility to contribute towards the betterment of society and the achievement of national developmental and environmental goals.
There should be an SSR monitoring system in each institution to assess institutional projects and individual activities. Each knowledge institution would publish an annual SSR report.
Envisioned Benefits of SSR
Expanding the domain of science and its benefits to the community. Encouraging students into science through handholding and nurturing their interest.
Providing training for skill development and upgrading scientific knowledge.
Helping Micro, Small & Medium Enterprises (MSMEs),Startups and informal sector enterprises in increasing their overall productivity.
Creating an opportunity for cooperation and sharing of S&T resources in laboratories with other researchers in universities and colleges.
Empowering women, disadvantaged and weaker sections society through scientific intervention.
Identification of best practices and success models on SSR for replication with multiplier effect in the country.
Significance
Making Scientific Institutions & Scientists More Responsible: It is an effort to make scientific institutions and individual scientists more responsible to society and other stakeholders, which may trigger social entrepreneurship and start-ups impacting S&T ecosystem and society. It would help strengthen the existing efforts of institutions in an organised and sustainable manner
Strengthening Science-Society Linkage: The policy envisages strengthening science-society linkages in an organic manner by building synergy among all the stakeholders so as to usher in a cultural change in the conduct of science forthe benefit of society at large in the country.
Transformative Role: It would play a transformative role in bringing scientific and innovative solutions to societal problems, uplifting the life standard of marginalized sections of society through capacity-building and skill development. It will also contribute in achieving Sustainable Development Goals, environmental goals and Technology Vision 2035.
FAME Scheme-II
---
On 3rd January, 2020, in a bid to push electric vehicle (EV) adoption in the country, the government approved the setting of 2636 charging stations in 62 cities across 24 States/UTs under FAME India (Faster Adoption and Manufacturing of Electric Vehicles in India) scheme phase II.
Out of these 2636 charging stations, 1633 Charging Stations will be Fast Charging Stations and 1003 will be slow charging stations. With this, about 14000 Charging Stations will be installed across the selected cities.
About FAME Scheme-II
Launched in March, 2019,under National Electric Mobility Mission (NEMM), FAME-II aims to boost electric mobility and increase the number of EVs in commercial fleets, with an outlay of Rs. 10,000 Crore for a period of 3 years commencing from 1st April 2019.
The scheme is being implemented through the following verticals:
Demand Incentives
Establishment of networks of Charging Stations
Administration of Scheme including publicity, IEC (Information, Education and Communication) activities.
This phase mainly focuses on supporting electrification of public and shared transportation, and aims to support (through incentives) about 7000 e-buses, 500,000 electric three-wheelers (e-3W), 55,000 electric four-wheeler (e-4W) passenger cars and one million electric two-wheelers (e-2W).
Out of total budgetary support, about 86 percent of fund has been allocated for Demand Incentive so as to create demand for EVs in the country.
Objective
To encourage faster adoption of electric and hybrid vehicles by way of offering upfront incentive on purchase of Electric Vehicles (EV) and by way of establishing necessary charging infrastructure for EV.
Salient Features
Electrification of Public Transport: The emphasis will be on electrification of public transport that includes shared transport like 3- wheelers and buses and the demand incentives on operational expenditure mode for electric buses will be delivered through state/city transport corporations (STUs).
Incentives to Public & Private Vehicles: In three-wheeler and four wheeler segments, incentives will be applicable mainly on vehicles used for public transport or registered commercial purposes. In the two-wheeler segment, the focus will be on private vehicles.
Advancement of Lithium-ion Batteries: In order to encourage advance technologies, the benefits of the incentives will be extended to only those vehicles, which are fitted with advanced battery like lithium-ion battery and other new technology batteries.
National Electric Mobility Mission Plan (NEMMP)
Launched in 2013, NEMMP- 2020 is a National Mission document providing the vision and the roadmap for the faster adoption of EVs and their manufacturing in the country.
This plan has been designed to enhance national fuel security, to provide affordable and environmentally friendly transportation and to enable the Indian automotive industry to achieve global manufacturing leadership.
Under the NEMMP, there is an ambitious target to achieve 6-7 million sales of hybrid and electric vehicles by the year 2020.
Impact
Pollution Control: Adoption of EVs in the country will help in addressing the issue of air pollution, due to the indiscriminate use of fossil fuels.
Sustainable Use of Fossil Fuels: The scheme will provide fuel security as it helps to lessen the dependency on fossil fuels there by paving the path of sustainable and efficient use of fossil fuels.
Holistic Approach: It presents a more holistic approach as it not only touches upon critical technical issues such as battery cost & efficiency, charging infrastructure, etc. but also stresses upon the indigenization of the entire EV value chain.
Challenges Driving India's Electric Mobility Initiatives
Rising Crude Oil Imports - An Energy Security Challenge
India's oil import dependence has risen from 82.9 percent in 2017-18 to 83.7 percent in 2018-19.
The country's oil consumption grew from 184.7 million tonnes in 2015-16 to 194.6 million tonnes in the following year and 206.2 million tonnes in the year there after. In 2018-19, demand grew by 2.6 per cent to 211.6 million tonnes.
Rising Pollution Levels – An Environmental Challenge
India ranks as the third largest carbon emitting country in the world accounting for 6% of the global carbon dioxide emissions from fuel combustion.
According to the WHO Global Air Pollution Database, 14 out of the 20 most polluted cities of the world are in India.
Rising Population – A Sustainable Mobility Challenge
India's current population of 1.2 billion is expected to reach 1.5 billion by 2030. Out of the 1.5 billion people, 40% of the population is expected to live in urban areas compared to 34% of 2018 population projection.
The additional 6% population growth is likely to further add strain on the struggling urban infrastructure in the country, including a rise in demand for sustainable mobility solutions.
Recent Government's Efforts to Promote Electric Mobility
Tax initiatives to promote fully electric vehicles:

GST reduction on Fuel cell vehicles: 28% to 18%
GST reduction on Li-ion battery: 28% to 12%
Hybrid vehicles have been kept in the same category as luxurycars and will be taxed at the peak rate of 28% plus a cess of 15%.

Ministry of Power has allowed sale of electricity as 'service' for charging of electric vehicles. This would provide a huge incentive to attract investments into charging infrastructure.
Ministry of Road Transport Highways issued notification regarding exemption of permit in case of battery operated vehicles.
In March, 2019, the government launched the National Mission on Transformative Mobility and Battery Storage to promote clean, connected, shared, sustainable and holistic mobility initiatives.
Second India-US 2+2 Dialogue
---
The second two-plus-two dialogue between India and the US took place on 18th December, 2019, in Washington during which the two countries made a comprehensive review of cross-cutting foreign policy and defence and security issues in bilateral ties.
Important Agreements
Industrial Security Annex (ISA)
The ISA to the India-U.S. General Security of Military Information Agreement (GSOMIA) will provide a framework for exchange and protection of classified military information between the U.S. and Indian defence industries.
It will enable greater industry-to-industry collaboration for co-production and co-development in the defence sector, in line with the GOI's objective of promoting Make in India in the defence sector.
It will open the door for U.S. defence companies to partner with the Indian private sector for several multi-billion dollar deals in the pipeline, especially the deal for fighter jets.
Finalisation of Defense Technology and Trade Initiative (DTTI)
DTTI will harmonise the two side's processes for identification, development and execution of projects under the DTTI.
This will enable expedited decision making and help to establish a standing mechanism for dialogue and exchanges between the U.S. and Indian defence companies and their governments on defense technology and industrial cooperation.
Coalition for Disaster Resilient Infrastructure (CDRI)
The United States has announced its commitment to being the founding member of the CDRI whose headquarters will be located in India.
Communications Compatibility and Security Agreement (COMCASA)
The two sides also took stock of the steps being taken to operationalise the foundational agreement COMCASA
COMCASA allows India to procure transfer specialised equipment for encrypted communications for US origin military platforms like the C-17, C-130 and P-8Is.
It will allow both sides to operate on the same communication systems, enabling an "interoperable" environment for militaries.
Tiger Triumph Exercise
Both the parties decided to hold the India-U.S. joint tri-services and amphibious exercise 'Tiger Triumph' on an annual basis.
The maiden exercise was held in November 2019 as a Humanitarian Assistance and Disaster Relief (HADR) to develop synergies between the tri-services of both countries in conducting HADR operations.
Science & Technology Agreement
Both the countries concluded the S&T agreement, which replaced the 2005 Agreement.
As part of the S&T Agreement both sides have agreed on a common framework on Intellectual Property Rights, consistent with national IPR policy.
Space Situational Awareness
Both sides have agreed to cooperate for exchange of information in Space Situational Awareness, including space debris and space traffic management.
The U.S. has established expertise in this field and possesses considerable SSA data, which will be of significant value in ensuring navigational safety of Indian space assets.
Water MoU
A Memorandum of Understanding (MoU) was signed between India's Ministry of Jal Shakti and the U.S. Geological Survey to promote technical cooperation in water resources management and water technology.
Both sides will be cooperating in the area of management of river basins, flood management and forecasting, water management, water quality, waste-water recycling and capacity building in testing and instrumentation.
Young Innovators Internship Programme (YIIP)
YIIP between India and the U.S. will create short-term internship opportunities in the U.S. for Indian students at post-secondary level or recent graduates, in key areas of scientific and economic endeavour.
It will provide networking opportunities for young entrepreneurs besides helping develop entrepreneurial skills.
Parliamentary Exchange
Both Governments hope to strengthen bilateral Parliamentary exchanges through facilitation of reciprocal visits by Parliamentarians from both countries.
Judicial Cooperation
Both the countries seek to expand their satisfactory and mutually beneficial cooperation in the area of counterterrorism jurisprudence to new areas of criminal jurisprudence including money laundering, drug trafficking etc.
Peacekeeping for Indo-Pacific Region
Both have agreed to deepen their bilateral cooperation in areas of defence, counter-terrorism and trade, and to work with like-minded countries for a free and open Indo-Pacific region.
This will help to counter the China which is flexing its muscle both in the South China Sea and East China Sea.
Basic Exchange and Cooperation Agreement (BECA)
Both countries agreed to continue discussions on BECA.
Once finalized, it will enable exchange of geo-spatial information between the two countries, enhancing the operational efficiency of the U.S. platforms currently being operated by India.
2+2 Dialogue
India and the United States of America established a 2+2 Ministerial dialogue in June 2017, in Washington DC, USA.
The first 2+2 dialogue was held in New Delhi in September, 2018.
It is the highest-level institutional mechanism between the two countries and provides for a review of the security, defence and strategic partnership between India and the United States.
Purpose
The India-US Strategic and Commercial Dialogue is an effort to generate sustainable economic growth, create jobs, improve business and investment climate, enhance livelihoods, and sustain the rules-based global order.
Significance
It has given has given a new height to bilateral defence partnership. The two sides are now engaging in a tri-service military exercise, enhancing coordination on the Indo-Pacific and even facilitating private sector collaboration in defence.
The Code On Social Security - 2019
---
Recently, the Code on Social Security, which is the last of the four labour codes, was introduced in Lok Sabha.
It proposes universalisation of social security benefits for the country's around 50 crore workforce, along with offerings such as medical, pension, death and disability benefits to them.
Aim
It seeks to amend and consolidate laws relating to the social security of employees, subsuming eight Central laws.
Eight Central Labour Laws
Employees' Compensation Act, 1923; Employees State Insurance Act, 1948, Employees Provident Funds and Miscellaneous Provisions Act, 1952; Maternity Benefit Act, 1961; Payment of Gratuity Act, 1972; Cine Workers Welfare Fund Act, 1981; Building and Other Construction Workers Cess Act, 1996 and Unorganised Workers Social Security Act, 2008, are to be subsumed under the new law.
Need
The unorganised sector, which accounts for a little over 80 per cent of India's total workforce, has largely been out of social security schemes as well as the ambit of labour regulations at present.
Key Features
Social Security to Unorganised Workers
Under the Code, the central government may notify various social security schemes for the benefit of unorganised workers. These include an Employees' Provident Fund (EPF) Scheme, an Employees' Pension Scheme (EPS), and an Employees' Deposit Linked Insurance (EDLI) Scheme.
Corporatization of EPFO and ESIC
The pension, insurance and retirement saving bodies including Employee Provident Fund Organisation (EPFO) and Employees State Insurance Corporation (ESIC), will be body corporate.
Different Applicability Thresholds
The Code specifies different applicability thresholds for the schemes. For example, the EPF Scheme will apply to establishments with 20 or more employees. The ESI Scheme will apply to certain establishments with 10 or more employees, and to all establishments which carry out hazardous or life-threatening work notified by the central government.
Social Security Organisations
The Code provides for the establishment of several bodies to administer the social security schemes. These include:

(i) a Central Board of Trustees, headed by the Central Provident Fund Commissioner, to administer the EPF, EPS and EDLI Schemes,

(ii) an Employees State Insurance Corporation, headed by a Chairperson appointed by the central government, to administer the ESI Scheme,

(iii) National and state-level Social Security Boards, headed by the central and state Ministers for Labour and Employment, respectively, to administer schemes for unorganised workers, and

(iv) State-level Building Worker's Welfare Boards, headed by a Chairperson nominated by the state government, to administer schemes for building workers.
Social Security Fund
It proposes to set up a social security fund using the funds available under corporate social responsibility (CSR), to provide welfare benefits such as pensions and death and disability benefits.
It also has a clause to make fixed-term contract workers eligible for gratuity after one year in place of the existing five years.
Benefits for Gig Workers
It empowers the government to frame schemes for providing social security to gig workers and platform workers who do not fall under the traditional employer-employee relation.
Maternity Benefits
It mandates to provide maternity benefit to the woman employees and compensation to the employees in case of the accidents while commuting from residence to place of work and vice-versa.
Special Purpose Vehicles
The Code also provides an enabling provision for constituting special purpose vehicles for the implementation of schemes for unorganised sector workers.
Inspections and Appeals Provisions
The appropriate government may appoint Inspector-cum-facilitators to inspect establishments covered by the Code, and advise employers and employees on compliance with the Code. Administrative authorities may be appointed under the various schemes to hear appeals under the Code.
It also specifies judicial bodies which may hear appeals from the orders of the administrative authorities. For example, industrial tribunals (constituted under the Industrial Disputes Act, 1947) will hear disputes under the EPF Scheme.
Offences and Penalties Provisions
The Code specifies penalties for various offences, such as: the failure by an employer to pay contributions under the Code after deducting the employee's share, punishable with imprisonment between one and three years, and fine of one lakh rupees, and falsification of reports, punishable with imprisonment of up to six months.
Impact
Transparency and Accountability: The codification will make the existing labour laws in sync with the emerging economic scenario; reduce the complexity by providing uniform definitions and reduction in multiple authorities under various Acts and bring transparency and accountability in enforcement of labour laws.
Boost to Labour Intensive Industries: This in turn would lead to ease of compliance, catalyzing the setting up of manufacturing units including boosting Labour intensive industries such as agriculture and manufacturing exports.
Employment and Formalisation: The code will ultimately lead to enhancement in employment opportunities as well as its formalisation along with ensuring safety, social security and welfare of workers.
Criticism
The Bill fails to appreciate that provision of meaningful social security on such a massive scale is beyond the capacity of any single ministry at any single level of government, and that social security has to be fundamentally rethought, instead of creating a patchwork drawn from different extant laws.
The code being hyped as 'Universal' is being criticized on the groundof the "lack of universal character" as the existing thresholds for applicability of Provident Fund, Employee's State Insurance , gratuity, maternity benefits etc., have not been removed.
The Code does not stipulate anything for sector specific social security schemes, making the huge workforce totally out of any social security arrangements.
The cess-related Act has been claimed to be subsumed by the code. But it remained absolutely silent about the management of the fund collected from the cess. On the social security benefits for construction workers, certain heads of social security benefits have been mentioned but on the details of the benefits, entitlement, calculation, mode of delivery,, the code remained absolutely silent leaving them totally at the disposal of state-level boards.
Way Forward
All in all, the SS Code lays out an array of wishful benefits, but there is no firm commitment in the provisions to actually provide them. What should have been spelt out as binding legislation which actually compels the government to provide the benefitsis left to the whims and fancies of executive power of the Central government.
Therefore, it is essential to rethink social security from top to bottom. It should be envisaged holistically, its different components delegated to different arms and agencies of the government at all levels, for the successful implementation of the Code across the country.
Dadra And Nagar Haveli And Daman And Diu (Merger Of Union Territories) Act, 2019
---
The Home Ministry announced on 19th December, 2019 that from 26th January, 2020, the the UTs of Daman and Diu, Dadra and Nagar Haveli will become a single union territory.
The Parliament passed the Dadra and Nagar Haveli and Daman and Diu (Merger of Union Territories) Bill, 2019 on 3rd December, 2019 and it was earlier passed by Lok Sabha on November 27, 2019.
The move comes after the landmark decision of bifurcating the State of Jammu and Kashmir into the Union Territories of Jammu and Kashmir and Ladakh.
Aim
To provide better delivery of services to the citizens of both the UTs by improving efficiency and reducing paper work
Key Proposals
It proposes to merge the Union Territory of Dadra and Nagar Haveli, which presently has only one district with the UT of Daman and Diu, which has two districts. The merged UT will be named as the- Union territory of Dadra and Nagar Haveli and Daman and Diu.
Vidhan Sabha will be established in the new UT, similar to the one in Pudducherry.
The Bill has been moved in furtherance of the "Minimum Government, Maximum Governance" policy.
Reasons for Merging
As per the Statement of Objects and Reasons annexed to the Bill, the two UTs share a lot in terms of administrative set up, history, language and culture.
The Administrator, Secretaries, and Heads of certain departments functions in both the Union territories on alternate days affecting their availability to people and monitoring functioning of subordinate staff.
Maintaining two separate secretariats and parallel departments not only burdened the State exchequer, but also leadsto lot of duplicacy, inefficiency and wasteful expenditure as well as manpower, impacting the overall development of both the UTs.
Minimum Government, Maximum Governance
It is the motto of the central government to achieve a citizen-friendly and accountable administration.
It aims to bring Government closer to citizens so that they become active participants in the governance process and reduce their time and efforts.
The idea of minimum government, maximum governance implies that smaller bureaucracy with more skilled people will be more efficient at delivering public services than a larger one.
A citizen friendly and accountable administration is the focus of the government. A series of steps to achieve this goal have been initiated. These include simplification of procedures, identification and repeal of obsolete/archaic laws/rules, identification and shortening of various forms, leveraging technology to bring in transparency in public interface and a robust public grievance redress system.
Simplification of procedures and processes in the Government in order to make the entire system transparent and faster is an important step for Good Governance.
Outcomes
On being merged, the newly formed UT will be allocated two seats in the Lok Sabha. Furthermore, jurisdiction of the High Court of Bombay will continue to extend to the proposed UT.
Being one UT will help in better management of cadres of various government employees.
Further, it will help to reduce administrative expenditure, uniformity in policies and effective monitoring of schemes and better implementation of developmental projects.
Dadar and Nagar Haveli
Capital: Silvassa
The U.T. of Dadra & Nagar Haveli is located on the western side of the foot hills of western Ghat, surrounded by Gujarat and Maharashtra. It consists of two pockets namely, Dadra and Nagar Haveli
The major river Daman ganga criss-cross the U.T. and drain into Arabian sea at
Between 1954 to 1961, Dadra and Nagar Haveli was administered by a citizen's council called the Varishta Panchayat of Free Dadra and Nagar Haveli. In 1961, it became a Union Territory.
However, the territory was merged with the Indian Union on 11 August, 1961, and since then, is being administered by the Government of India as a Union Territory.
The main tribes are Dhodia, Kokna and Varli with small groups of Koli, Kathodi, Naika and dubla scattered over the territory.
Daman and Diu
Capital: Daman
U.T. of Daman and Diu comprises two districts namely Daman and Diu. Both Districts are situated on western coast of India at a distance of about 700 kms, geographically separated by the Gulf of Khambhat.
Diu is island situated slightly off the coast of Kathiawad near the Port of Veraval in Gujarat while Daman is on main land near southern portion of Gujarat State.
After Liberation on 19th December, 1961 from Portuguese Rule of more than four centuries, Daman and Diu became a part of the T. of Goa, Daman and Diu under Government of India.
After delinking of Goa, which attained statehood, U.T. of Daman and Diu came into existence on 30th May, 1987.
Andhra Pradesh Disha Bill - 2019
---
Recently, the Andhra Pradesh Legislative Assembly passed the Andhra Pradesh Criminal Law (Amendment) Act, 2019.
The proposed new law has been named as Disha Act Criminal Law (AP Amendment) Act, 2019, as a tribute to the veterinary doctor who was raped and murdered recently in neighboring Telangana.
Key Highlights of Disha Bill
Women and Children Offenders Registry
The bill envisages to establish, operate and maintain a register in electronic form, to be called the 'Women & Children Offenders Registry', which will be made public and available to law enforcement agencies.
Death Penalty for Rape Crimes
It has prescribed the death penalty for rape crimes where there is adequate conclusive evidence. Provision is given by amending Section 376 of the Indian Penal Code, 1860.
Reducing the Judgment Period
As per the Bill, the judgment will now have to be pronounced in 21 working days from date of offence in cases of rape crimes with substantial conclusive evidence.
The investigation shall be completed in seven working days and trial shall be completed in 14 working days.
Punishment for Sexual Offences against Children
It prescribes life imprisonment for other sexual offences against children.
New Sections 354F and Section 354G 'Sexual Assault on Children' is being inserted in the Indian Penal Code, 1860.
Punishment for Harassment through Social Media
A new Section 354E 'Harassment of Women' is being added in Indian Penal Code, 1860
In cases of harassment of women through email, social media, digital mode or any other form, the guilty shall be punishable with imprisonment up to two years on first conviction which may extend to four years on second and subsequent conviction.
Establishment of Exclusive Special Courts
It mandates the government to establish exclusive special courts in each district of the state to ensure speedy trial. These courts will exclusively deal with cases of offences against women and children including rape, acid attacks, stalking, voyeurism, social media harassment of women, sexual harassment and all cases under the POCSO Act.
Reduced Period of Disposal
The period for disposal of appeal cases has been reduced to three months. Amendments are being made in Section 374 and 377 of Code of Criminal Procedure Act, 1973.
Constitution of Special Police Teams
It mandates the government to constitute special police teams at the district level to be called District Special Police Team to be headed by DSP for investigation of offences related to women and children.
In addition, the government will also appoint a special public prosecutor for each exclusive special court.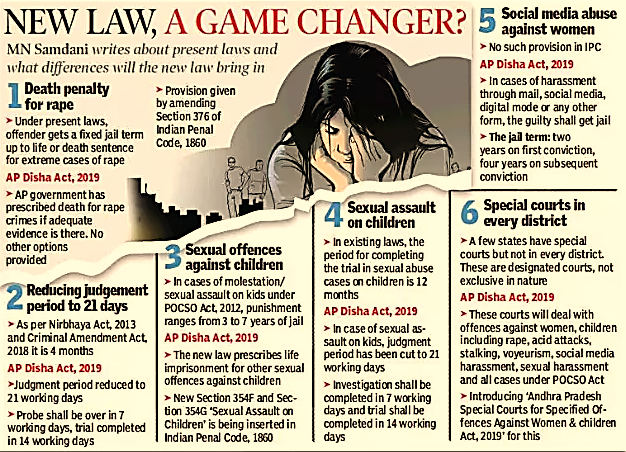 Source: ToI
How Disha Bill is different from present Legislations?
The government of India has launched a National Registry of Sexual offenders but the database is not digitized and is not accessible to the public.
Currently, provision for punishing an offender in a rape case is a fixed jail term leading to life imprisonment or the death sentence.
The existing judgment period as per the Nirbhaya Act, 2013 and Criminal Amendment Act, 2018 is 4 months (two months of investigation period and two months of trial period).
In cases of molestation/sexual assault on children under the POCSO Act, 2012, punishment ranges from a minimum of three years to maximum of seven years of imprisonment.
No provision exists in the Indian Penal Code for the punishment for harassment of women through social media.
At present, the period for disposal of appeal cases related to rape cases against women and children is six months.
Significance
Deterrent for Crimes: The new legislation will act as a deterrent for crimes against women and children across the state.
Strong Justice System:Further, it will make the criminal justice system tougher on an offender committing sexual crimes against women and children.
Speedy Trial: It will help hasten the trial process of crimes against women and children.
Skepticism over the Bill
The bill has evoked skepticism from the human rights activists and legal fraternity, who raised doubts over its efficiency in preventing crimes against women and its practicability.
Insufficient Workforce
Questions have been raised over the limited investigation and trial period as per the bill. The question is with 58 percent vacancies in subordinate judiciary and 25 percent vacancies in police officers; can Andhra Pradesh government complete any trial in 21 days?
Similarly, it has constituted special police teams from out of the existing strength, without adding a single post of police. With one-fourth vacancies, the police cannot perform any skillful or speedy investigation.
Burden of Pending Cases
The AP government has carved out special courts in each district, without allocating a single rupee or creating a single new post.
Further, already existing courts and judges are burdened with several hundreds of pending cases. The new act will only add burden to the judiciary system, further making it
Way Forward
Andhra Pradesh is the first state in the country to tighten the laws to punish the crooks to decrease the crime ratio on women, which is a welcome move and should be followed by other states across the country, in order to ensure the safety and integrity of women as well as children.
The Recycling Of Ships Act, 2019
---
On 13th December, 2019, the Recycling of Ships Bill, 2019 received the President's assent and became an Act. The government also decided to accede to the Hong Kong International Convention for Safe and Environmentally Sound Recycling of Ships, 2009 on 28th November, 2019.
When the Hong Kong International Convention comes into force, its provisions will be implemented under the provisions of the Recycling of Ships Bill, 2019 and rules and regulations framed there under.
Objective
To provide a boost to the ship-wrecking industry in India
Need for Bill
India is the leader in the global ship recycling industry, with a share of over 25% of the world's ship recycling industry. But the industry is plagued with issues like the safety of worker as well as the environment concerns.
Salient Features
Authorization of Recycling Facilities
Under the Bill, ship recycling facilities are required to be authorized and ships shall be recycled only in such authorized ship recycling facilities.
Ship-Specific Recycling Plan
The Bill also provides that ships shall be recycled in accordance with a ship-specific recycling plan. Ships to be recycled in India shall be required to obtain a Ready for Recycling Certificate in accordance with the Hong Kong Convention (HKC).
Restriction on Hazardous Material
It restricts and prohibits the use or installation of hazardous material, which applies irrespective of whether a ship is meant for recycling or not. Ships shall be surveyed and certified on the inventory of hazardous material used in ships.
Grace Period for Existing Ships
For new ships, such restriction on use of hazardous material will be immediate, that is, from the date the legislation comes into force, while existing ships shall have a period of five years for compliance.
However, restriction on use of hazardous material would not be applied to warships and non-commercial ships operated by Government.
Impact
Regularising Ship Recycling Industry: The bill will help to provide for the regulation of recycling of ships by setting certain international standards and laying down the statutory mechanism for enforcement of such standards.
Hong Kong International Convention for Safe and Environmentally Sound Recycling of Ships
Also known as the Hong Kong Convention (HKC), it was adopted at a Diplomatic Conference held in Hong Kong, in May 2009.
It was developed with input from International Maritime Organistaion(IMO) Member States and non-governmental organizations, and in co-operation with the International Labour Organization and the Parties to the Basel Convention on the Control of Transboundary Movements of Hazardous Wastes and their Disposal.
The Convention is yet come into force because it has not been ratified by 15 nations, representing 40 percent of the world merchant shipping by gross tonnage (capacity) and a maximum annual ship recycling volume of not less than 3 per cent of the combined tonnage of the countries.
As of now, Norway, Congo, France, Belgium, Panama, Denmark, Turkey, Netherland, Serbia, Japan, Estonia, Malta, Germany and India have acceded to the Convention.
Aim
To improve the health and safety of current ship breaking practices
To ensure safety of human health and the environment
Significance
Once entered into force, it will help address the concerns about working and environmental conditions in many of the world's ship recycling locations.
It will help in addressing the major issues related to hazardous substances such as asbestos, heavy metals, hydrocarbons, ozone depleting substances and others, which pose a grave threat to the environment.
Benefits to India
Boost to Ship Recycle Industry: Accession to HKC will provide boost to recycling sector as more ships will be allowed to come in from countries like Japan, Korea, to be recycled. At present, a lot of countries raise environment and safety issues related to the ship-wrecking industry in India.
Investment Opportunities: Being a world player in ship recycling, the move will allow global funds to come and invest in ship-recycling centres in India.
Green Recycling of Ships: It will help India to bring in global best practices followed in recycling industries, ensuring that the ships are dismantled in an environment-friendly and responsible manner.
Issues in Ship Recycling Industry in India
Safety Issues
Workers usually lack personal protective equipment and have little training, if at all. Inadequate safety controls, badly monitored work operations and high risk of explosions create very dangerous work situations.
Due to the absence of norms about the standard the vessel should be in when it arrives for scrapping, the vessel represents in itself a number of potential risks. Basic risk-reducing or eliminating measures are often ignored and ultimately accidents occur.
Lack of coordination for work procedures, the absence of facilities and the absence of safety control represent elements of risk causing bodily harm and injuries.
In addition, impunity for yard owners remains a serious concern. No yard owner has ever been held responsible for the death of a worker as they manage to put pressure on the law enforcers to quickly drop the charges.
Health Related Issues
On the shipbreaking beaches, asbestos fibers and flocks fly around in the open air, and workers take out asbestos insulation materials with their bare hands. Exposure to other heavy metals found in many parts of ships such as in paints, coatings, anodes and electrical equipment can result in cancers and also cause damage to blood vessels.
Workers spend their days slathered in mud contaminated with heavy metals and toxic paint particles that leach from the ships into the tidal flats.
Workers have very limited access to health services and inadequate housing, welfare and sanitary facilities further exacerbate the plight of the workers. Despite of thousands of workers deployed at a ship breaking site there is hardly any provision of doctors or clinics to meet any exigencies.
Waste Management Issues
Wastes generated by Ship breaking industry can be broadly classified into hazardous and non-hazardous wastes. Hazardous waste stream comprises of asbestos, Polychlorinated biphenyl (PCB), Polycyclic Aromatic Hydrocarbons (PAH), Tributyltin TBT, heavy metals etc.
Besides solid wastes, gases such as ammonia, chlorofluorocarbons (CFCs) from the air conditioning system, and inflammable gases may be present in pipelines of oil tankers. Although these wastes constitute only around 1% of dead weight of a ship, the total amount in millions of tonne, make these wastes difficult to handle, posing a major risk both to health and environment.
Environmental Issues
Water Pollution
Water body, primarily the marine environment gets polluted in terms of suspended solids, nitrates, phosphate, heavy metals, oil and grease from bilge water.
Oil spills, heavy metals like lead, mercury and organotins like Tributyltin (TBT) pose threat to marine ecosystem including birds and mammals, zooplanktons, phytoplanktons, etc.
Soil Pollution
Improperly handled heavy metals (lead, cadmium) found in paint chips, asbestos fibres and polychlorinated biphenyls (PCB) containing elements can become potential source of contamination of soil in the vicinity of the ship scrapping activity.
Air Pollution
The paints and coatings on a ship are generally flammable and contain toxic compounds such as PCBs, heavy metals (such as lead, cadmium, chromium, zinc and copper) and pesticides such as TBT.
Toxic smoke potentially carrying dioxins, furans and polycyclic aromatic hydrocarbons (PAHs) are generated when non-recyclable rubber pipes, broken electrical fixtures are burnt in open air.
Fine particulates generated during stripping of ship and release of CFCs from explosion of gases entrapped in refrigeration system or other explosive chemicals further contributes to air pollution from various ship breaking processes.
Way Forward
Ship breaking industry in India is a part of the global ship recycling practices. This industry, like others, has many challenges and opportunities. On one hand, ship breaking is a green process wherein a ship at end of its life cycle is being dismantled and each part is sent further for reuse, but on the other hand, the complex process of dismantling involves issues like labour safety and health and further it poses challenges on environment as well, which is a matter for criticism.
Despite all its drawbacks, theoretically, shipbreaking has many advantages – it promotes sustainable development by reducing the need for mining of natural resources and it contributes to production of steel which helps in generation of employment. With the back drop of sustainability issues, this industry has the potential to be the prime economic activity in India.
The Chit Funds (Amendment) Bill, 2019
---
On 28th November, 2019, the Rajya Sabha passed the Chit Funds (Amendment) Bill, 2019, aimed at reducing the compliance burden on chit funds and protecting subscribers that primarily comprises economically weaker sections of the society.
The Bill was passed by Lok Sabha on

20

th

November, 2019.
It seeks to amend the Chit Funds Act, 1982, which regulates chit funds and prohibits a fund from being created without prior sanction of a state government.
Objectives
To facilitate orderly growth of the chit fund sector and streamline operations of collective investment schemes or chit funds
To remove bottlenecks being faced by the chit fund industry
To enable greater financial access to people
Need for Bill
To Protect Investor's Interest: The need to protect investor interest highlights the crucial role chit funds play in India's rural economy, providing people with access to funds and investment opportunities, especially in regions where banks and financial institutions do not have a presence.
Salient Features of the Bill
Substitution of Terms
The Bill substitutes the words chit amount, dividend and prize amount with gross chit amount, share of discount and net chit amount,
It has introduced words such as 'fraternity fund', 'rotating savings' and 'credit institution' to help these funds get an image makeover, and build a brand for them.
In addition, it recognizes chit funds under various names, including kuri, fraternity fund, rotating savings, credit institution.
Increase in Aggregate Amount of Chits
It proposes to increase the maximum amount of chit funds which may be collected by:
Individuals: from Rs. 1 lakh to Rs. 3 lakh
Firms: from Rs. 6 lakh to Rs. 18 lakh.
Presence of Subscribers through Video-Conferencing
It mandates that at least two subscribers must be present, either physically or via video-conferencing, when a chit is drawn.
Foreman's Commission
It proposes to raise the maximum commission of a foreman from 5% of the chit amount to 7%.
Further, the Bill allows the foreman a right to lien against the credit balance from subscribers. (A foreman is simply the manager of the chit fund)
Applicability
The principal Act does not apply to any chit started before it was enacted or to any chit where the amount is less than Rs 100.
The Bill seeks to remove the limit of Rs 100, and allows the state governments to specify the base amount over which the provisions of the Act will apply.
Impact
Ensuring Accountability and Transparency: The provision in the bill to allow subscribers to be present through video conferencing would increase transparency and accountability in managing chit funds.
Making Chit Funds Investor Friendly: It will help in safeguarding the people subscribing to the scheme as it provides for the chit fund operator to have secured deposit to the size of the scheme, thus making chit funds investor friendly.
Chit Funds
Chit fund is a traditional financing system practiced in India wherein a few people (known as members or subscribers) come together and invest a fixed amount every month for a fixed period.
It provides assistance to those who are looking at an alternate to money lenders and the stringent procedures followed by banks.
During the process of collection, any member can draw a lump sum through various ways like a lucky draw, an auction or a member can even fix a payout date based on a known expenditure.
Although the system exists in other parts of the world by the name Rotating Savings and Credit Association (ROSCA), India is the only country where its operations are governed by legislations.
Types of Chit Funds
In India there are three types of chit funds, namely:
Funds run by state governments;
Private registered chit funds; and
Unregistered chit funds.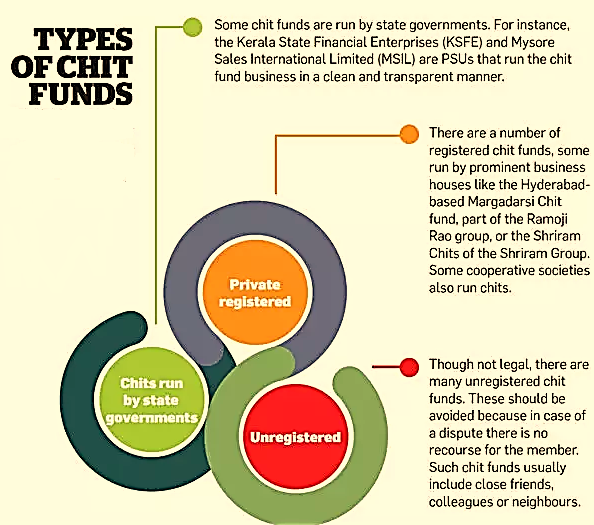 Source: ET
Difference between Chit Funds and Ponzi Schemes
Chit Funds or Chitty is a kind of a savings deposits which is done by a group of people. The concept is very similar to Kitty Parties which are organised by women to save some money for a particular community project. These chit funds can be managed by registered companies or it can also be organised by a group of people like family and friends. All the Chit Fund activities are regulated by the Chit Fund Act, 1982.
Ponzi schemes are a kind of pyramid scheme which operate on the "rob Peter to pay Paul" principle. It is a fraudulent investing scam promising high rates of return with little risk to investors.
Ponzi Schemes are basically structured in such a way that the money channeled from the investors go around and around in circles. This basically means that, the money collected from the investors is used to pay off the old investors.
These schemes basically function till the amount of money coming in from new investments is more than the money going out to pay the old investors. As long as this works the Ponzi scheme can function and the day the chain is reversed is the day it goes bust. For ex Saradha Scam of West Bengal was a Ponzi Scam, not Chit Fund Scam as popularized by media.
Advantages
Provides flexibility to borrow and save. One get a chance to borrow money (pot) just by paying first monthly installment.
Best option of finance for needy people, without any documents like IT returns, PAN card etc.
Chit fund is a good savings instrument and it can be a reliable source of funds in an emergency.
Intermediation cost is the lowest when compared to other instruments.
Disadvantages
Chit-funds do not offer any pre-determined or fixed returns.
Chances of fraud are high suppose foreman run away with corpus amount.
A winning subscriber may disappear after winning the first bid.
The subscriber may default and not ready to pay next installments.
High degree of risk with very little protection
Way Forward
Chit funds are popular among low-income group people as it offers them the opportunity to save and invest. It is an excellent tool to promote financial inclusion, if channelized in the right format.
However, archaic legislations have made it impossible for the chit fund industry to adopt technology and move to a system of e-auctions and e-payments because of the insistence of "physical presence" required as per Sections 16 of the Chit Fund Act.
It is high time that policymakers review their apathy for the chit fund industry to redesign and modernize the legislation that regulates this widely spread financial practice.
Sabrimala Review Petition
---
Recently, the Supreme Court agreed to hear the clutch 49 review petitions and all pending applications against its verdict allowing entry of women of all age groups into the Sabarimala temple.
However, the five-judge bench, comprising of CJI Ranjan Gogoi and Justices Rohinton Nariman, AM Khanwilkar, DY Chandrachud and Indu Malhotra, clarified that there would be no stay on its September 28, 2018.
Petitioners also plan to seek review of the recently delivered Babri Masjid-Ram Janmabhoomi and telecom revenue verdicts.
Review Petition
A decision of the Supreme Court can be reviewed in a Review Petition. Such review petition is filed before the same court, generally on very limited grounds, such as an error apparent on the face of the record.
Courts generally do not unsettle a decision in a review petition, unless there is a strong case.
Constitutional Provisions
Article 137 of the Constitution of India grants the Supreme Court the power to review and judgment or order pronounced by the Court.
This power is however subject to the Rules made by the Supreme Court under Article 145, as well as the provisions of any law enacted by Parliament.
Scope of Review
The court has the power to review its rulings to correct a patent error and not minor mistakes of inconsequential import.
When a review takes place, the law is that it is allowed not to take fresh stock of the case but to correct grave errors that have resulted in the miscarriage of justice.
The scope of the power of review was explained by the Court in Northern India Caterers (India) vs Lt. Governor Of Delhi (1979) wherein the Court held that a party is not entitled to seek a review of a judgment delivered by this Court merely for the purpose of a rehearing and a fresh decision in the case. If the attention of the Court is not drawn to a material statutory provision during the original hearing the Court will review its judgment.
The Court may also reopen its judgment if a manifest wrong has been done and it is necessary to pass an order to do full and effective justice.
Grounds to Seek Review Petition
In a 2013 ruling, the Supreme Court laid down three grounds for seeking a review of a verdict it has delivered-
The discovery of new and important matter or evidence which, after the exercise of due diligence, was not within the knowledge of the petitioner or could not be produced by him.
Mistake or error apparent on the face of the record.
Any other sufficient reason (any sufficient reason means a reason that is analogous to the other two grounds).
In Union of India v. Sandur Manganese & Iron Ores Ltd, 2013, the court laid down nine principles on when a review is maintainable.
Filing of Review Petition
According to Civil Procedure Code and the Supreme Court Rules, any person aggrieved by a ruling can seek a review.
However, the court does not entertain every review petition filed. It exercises its discretion to allow a review petition only when it shows the grounds for seeking the review.
Time-period to File Review Petition
Under Supreme Court Rules, 1999, suchpetition needs to be filed within 30 days from the date of judgement or order.
In certain circumstances, the court can condone a delay in filing the review petition if the petitioner can establish strong reasons that justify the delay.
Procedures Followed in the Court
According to the 1999 Rules, areview petitions is entertained without oral arguments by lawyers. Therefore, it is heard through circulation by the judges in their chambers.
Review petitions are also heard the same combination of judges who delivered the order or judgment that is sought to be reviewed.
If a judge has retired or is unavailable, a replacement is made keeping in mind the seniority of judges.
Incase if Review Petition Fails
As the court of last resort, the Supreme Court's verdict cannot result in a miscarriage of justice. The court has evolved the concept of a curative petition, which can be heard after a review is dismissed to prevent abuse of its process.
Curative Petition
A curative petition is the last judicial corrective measure which can be pleaded for in any judgment or decision passed by the Supreme Court which is normally decided by Judges in-chamber.
It is only in rare cases that such petitions are given an open-court hearing. Therefore, it is considered as the last and final option available for redressal of grievances.
The objective behind allowing such a petition is only to minimize any abuse of the processes of law and to cure gross miscarriage and lapses in the system of justice.
The concept of curative petition was first evolved by the Supreme Court in the matter of Rupa Ashok Hurra vs. Ashok Hurra (2002) where the question was whether an aggrieved party is entitled to any relief against the final judgement/ order of the Supreme Court after the dismissal of a review petition.
CJI Comes Under The Ambit Of RTI Act: Supreme Court
---
On 13th November, 2019, in a historic judgment, the Supreme Court (SC) held that the office of Chief Justice of India is a public authority under the Right to Information (RTI) Act.
The Constitution Bench upheld the 2010 judgment of Delhi High Court which had held that RTI Act was applicable to CJI's office.
The five-judge bench of Chief Justice Ranjan Gogoi, Justice NV Ramana, Justice DY Chandrachud, Justice Deepak Gupta and Justice Sanjiv Khanna pronounced the verdict with a 3:2
Background
In November 2007, an RTI activist Subhash Chandra Aggarwal had filed an RTI in the Supreme Court seeking information on judges' assets but the information was denied. He then approached the Central Information Commission (CIC) which asked the apex court to disclose information on the ground that the Chief Justice of India's office comes within the ambit of the Act.
In January 2009, a plea was moved in the Delhi High Court (HC) against the CIC order but the same was upheld.
In January 2010, the Delhi HC had held that the office of the Chief Justice of India comes within the ambit of the Right to Information (RTI) law, saying judicial independence was not a judge's privilege, but a responsibility cast upon him.
In April 2019, the SC bench had reserved its verdict on the appeals.
What did SC Rule?
The Supreme Court has held that the office of the Chief Justice of India comes under the definition of 'public authority' as per the article 124 of the Constitution.
Right to Privacy is an important aspect and has to be balanced with transparency while deciding to give out information from the office of the Chief Justice of India.
The judiciary cannot function in total insulation as judges enjoy a constitutional post and discharge public duty.
Transparency and accountability should go hand-in-hand and increased transparency under RTI is no threat to judicial independence.However, RTI cannot be used as a tool of surveillance and that judicial independence has to be kept in mind while dealing with transparency.
Personal information of judges should only be divulged under RTI if such disclosure served the larger public interest.
The information about assets of judges and official communication during the process of elevation of judges to the Supreme Court are treated as confidential third-party information.
On the matter related to appointment of Judges, SC said that only names of judges recommended by the collegium can be disclosed, not the reasons.
The Bench, however, agreed, that the right to know under RTI was not absolute. The right to know of a citizenought to be balanced with the right to privacy of individual judges.
Right to Information (RTI) Act
RTI Act was promulgated in 2005 to promote transparency and accountability in the working of every public authority.
It is an initiative taken by Department of Personnel and Training, Ministry of Personnel, Public Grievances and Pensions to provide a– RTI Portal Gateway to the citizens for quick search of information on the details of first Appellate Authorities,PIOs etc. amongst others, besides access to RTI related information / disclosures published on the web by various Public Authorities under the government of India as well as the State Governments.
Objective
To empower the citizens,promote transparency and accountability in the working of the Government, contain corruption, and make our democracy work for the people in real sense
Impact
It is significant as it opens the doors to RTI requests that will test the frontiers of what has been a rather opaque system. Now, the office of the CJI will now entertain RTI applications under Section 2(f) of the RTI Act.The verdict emphasizes the balance Supreme Court needs between transparency and protecting its independence.
The disclosure of information can highlight areas where robust mechanisms of oversight and accountability are required.
It sends a strong signal to all democratic institutions to adhere to the twin principles of transparency and accountability underlining the RTI Act.
Way Forward
The hallmark of every democracy is accountability. Independence of judiciary doesn't mean independence from accountability. Every institution is accountable to another institution which is independent of itself. Independence of judiciary does not and cannot be forced to be interpreted as supremacy of judiciary.
The judiciary carries the trust of the people and is accountable to the people. It is the real guardian of the fundamental rights of the people. Hence an endorsement from the bench headed by CJI will give fillip to people's quest for transparency and accountability, necessary for the development as well as the social change of the country.
Maharashtra Placed Under President's Rule
---
On 12th November, 2019, the President approved a proclamation imposing President's Rule in Maharashtra, following a recommendation from Governor Bhagat Singh Koshyari.
The decision came after the Governor sent a report to the Union government saying President's Rule must be imposed since no party or alliance was in a position to provide a stable government in the state,after the State Assembly election in October, 2019. As for now, the State Assembly has been kept under suspended animation.
This 3rd time when the President's Rule is being imposed in Maharashtra since the formation of the state.
President's Rule
President's Rule implies the suspension of a state government and the imposition of direct rule of the Centre. This is achieved through the invocation of Article 356 of the Constitution by the President on the advice of the Union Council of Ministers. This is popularly known as 'President's Rule'. It is also known as 'State Emergency' or 'Constitutional Emergency'.
For the first time, the President's Rule was imposed in Punjab in 1951.
S. R. Bommai V. Union of India Case , 1994
The case of S. R. Bommai vs. Union of India is a very landmark case in the purview of the Indian Constitutional history relating to the proclamation of emergency under Article 356 of the Constitution.
The Centre State relationship and its efficiency had been dealt in a better manner in this case along with the issues relating to federalism and secularism as a part of basic structure of the Constitution.
The judgment attempted to curb blatant misuse of Article 356 of the Constitution of India, which allowed President's rule to be imposed on state governments.
Supreme Court's Verdict
The verdict concluded that the power of the President to dismiss a State government is not absolute.
The President should exercise the power only after his proclamation (imposing his/her rule) is approved by both Houses of Parliament. Till then, the Court said, the President can only suspend the Legislative Assembly by suspending the provisions of Constitution relating to the Legislative Assembly.
Article 365 should be invoked only as the last resort power given to President and when the State's Constitutional machinery had failed.
Also the Court made it clear that a Presidential Proclamation under Article 356 is subject to judicial review.
Significance of the Case
The case became one of the most cited whenever hung Assemblies were returned and parties scrambled to form a government.
It put an end to the arbitrary dismissal of State governments by a hostile Central government.
Constitutional Provisions
Provisions regarding the President's Rulefinds its mention in the Part XVIII of the Indian Constitutions:
Article 355 imposes a duty on the Centre to ensure that the government of every state is carried on in accordance with the provisions of the Constitution
Article 356 of the Constitution of India gives President of India the power to suspend state government and impose President's rule of any state in the country if "if he is satisfied that a situation has arisen in which the government of the state cannot be carried on in accordance with the provisions of the Constitution".
Ground for Imposition
President's rule is proclaimed in a state on account of failure of the constitutional machinery of that state. It gives the President power to assume control of the state in question.
Article 356 empowers the President to issue a proclamation; if he is satisfied a situation has arisen in which the government of a state cannot be carried on in accordance with the provisions of the Constitution. Notably, the president can act either on a report of the governor of the state or otherwise too (i.e. even without the governor's report).
It says that whenever a state fails to comply with or to give effect to any direction from the Centre, it will be lawful for the president to hold that a situation has arisen in which the government of the state cannot be carried on in accordance with the provisions of the Constitution.
Duration
A proclamation imposing President's Rule must be approved by both the Houses of Parliament within two months from the date of its issue.
If approved by both the Houses of Parliament, the President's Rule continues for six months. It can be extended for a maximum period of three years with the approval of the Parliament, every six months.
Revocation
A proclamation of President's Rule can be revoked through a subsequent proclamation in case the leader of a party produces letters of support from a majority of members of the Assembly, and stakes his claim to form a government. The revocation does not need the approval of Parliament.
Consequences
In the wake of State Emergency, the President can take up the functions of the state government and powers vested in the governor or any other executive authority in the state. He can declare that the powers of the state legislature are to be exercised by the Parliament.
The President dismisses the state council of ministers headed by the chief minister. The state governor, on behalf of the President, carries on the state administration with the help of the chief secretary of the state or the advisors appointed by the President. This is the reason why a proclamation under Article 356 is popularly known as the imposition of 'President's Rule' in a state.
Further, the President either suspends or dissolves the state legislative assembly. In this case, the Parliament passes the state legislative bills and the state budget.
It is to be noted thatany law made by the Parliament or president or any other specified authority continues to be operative even after the President's Rule. This means that the period for which such a law remains in force is not coterminous with the duration of the proclamation.
However, theconstitutional position, status, powers and functions of the concerned state high court remain same even during the President's Rule.
Recommendations of Major Committees on President's Rule
Sarkaria Commission (1983)
The President's Proclamation should include the 'reasons' as to why the State cannot be run as per the normal provisions of the Constitution.
As far as possible, the Centre should issue a warning to the State government before resorting to the use of Art. 356.
Art. 356 should be amended so that the President is empowered to dissolve the State Legislature only after approval by the Parliament.
Punchhi Commission (2007)
On the question of invoking Article 356, the Commission recommended suitable amendments to incorporate the guidelines set forth in the landmark judgment of the Supreme Court in S.R. Bommai V. Union of India (1994).
It commission recommended for "localising emergency provisions" meaning that localised areas- either a district or parts of a district to be brought under the rule instead of the whole state, without dissolving the state legislative assembly.
The duration of such an emergency provision should not be of duration of more than three months.
Way Forward
Article 356 gives the Centre ample powers to assert its rule over a state if the constitutional machinery fails and that state doesn't possess the means to regain the constitutional machinery.
The fundamental function of this article is to give more powers to the Centre and assist the state in times of dire crisis. But it has always been used to dissolve the state government governed by political rivals. It is perceived by many as a peril to the structure of democracy.
But at the same time, it is this article that comes to the rescue when there is genuine turmoil and breakdown of constitutional machinery. Guidelines provided by the Bommai judgment should be strictly adhered to ensure wise usage of this article.
After all, effectiveness of any law is entirely dependent on its proper enforcement in the proper perspective. Howsoever significant a law may be, it cannot serve the purpose, or it may not be prevented from being controversial unless and until it is implemented in its letter as well as spirit.
The Occupational Safety, Health And Working Conditions Code, 2019
---
Recently, the Standing Committee on Labour has invited suggestions on the Occupational Safety, Health and Working Conditions (OSH) Code, 2019.
Aim
To consolidate and amend the laws regulating the occupational safety, health and working conditions of the persons employed in establishments across the country.
Background
The OSH Code, 2019 was introduced in the Lok Sabha by the Ministry of Labour and Employment in July, 2019, pursuant to the Report of the Second National Commission on Labour on the Occupational Safety, Health and Working Conditions of the Workers.
It is one of the four codes that are part of the Centre's labour reforms agenda.
The four labour codes - on Wages, Industrial Relations, Social Security and Occupational Safety, and Health and Working Condition, intend to provide workers with wage security, social security, safety, health and grievance redress mechanisms.
The Code has been drafted after amalgamation, simplification and rationalisation of the relevant provisions of the 13 Central Labour Acts. After the enactment of the Code, all these Acts being subsumed in the Code will be repealed:

The Factories Act, 1948
The Mines Act, 1952
The Dock Workers (Safety, Health and Welfare) Act, 1986
The Building and Other Construction Workers (Regulation of Employment and Conditions of Service) Act, 1996
The Plantations Labour Act, 1951
The Contract Labour (Regulation and Abolition) Act, 1970
The Inter-State Migrant workmen (Regulation of Employment and Conditions of Service) Act, 1979
The Working Journalist and other News Paper Employees (Conditions of Service and Misc. Provision) Act, 1955
The Working Journalist (Fixation of rates of wages) Act, 1958
The Motor Transport Workers Act, 1961
Sales Promotion Employees (Condition of Service) Act, 1976
The Beedi and Cigar Workers (Conditions of Employment) Act, 1966
The Cine Workers and Cinema Theatre Workers Act, 1981.
Salient Features
Enhanced Coverage
It would be applicable to all establishments employing 10 or more workers, where any industry, trade, business, manufacture or occupation is carried on, including, IT establishments or establishments of service sector.
Threshold of applicability has been made uniform at 10 workers for all establishments except mines and dock where the Code would be applicable even with 1 worker.
Definition of Working Journalists and Cine worker have also been modified to include workers employed in electronic media and all forms of audio visual production.
National Occupational Safety and Health Advisory Board(NOSHAB)
It mandates for establishment NOSHAB which will be of tripartite nature, having the representation from trade unions, employer associations, and State governments. This will result in reduction in multiplicity of bodies/committees in various Acts and simplified and coordinated policy-making.
Single Registration Mechanism
It proposes one registration for an establishment instead of multiple registrations. This will create a centralized data base and promote ease of doing business. At present, separate registration is required to be obtained under 6 Acts.
Duties of Employers
These includes-
Providing ahazard free workplace
Providing free annual health examinations to employees.
Rights and duties of Employees
This includes-
Taking care of their own health and safety
Complying with the specified safety and health standards
Reporting unsafe situations to the inspector.
Every employee will have the right to obtain from the employer information related to safety and health standards.
Special Provisions for Factories
Government can declare any place wherein manufacturing process is being carried out as a factory, and for any persons working at such premises to be classified as workers.
As opposed to the earlier threshold of 30 women workers prescribed under the Factories Act, a creche facility is now required to be provided by all Establishments (including factories) where more than 50 workers are ordinarily employed.
Special Provisions for Women Employees
Women permitted to work beyond 7 PM and before 6 AM subject to the safety, holidays, working hours or any other condition as prescribed by appropriate government in respect of prescribed establishments, only after taking their consent for night work.
Special Provisions for Contract Labour
It introduced the concept of work specific license for contractors, if they do not meet the criteria to be prescribed by the Government for grant of license for supply of contract labour or for execution of work through contract labour.
Offences and Penalties
An offence that leads to the death of an employee will be punishable with imprisonment of up to two years, or a fine up to five lakh rupees, or both.
For any other violation where the penalty is not specified, the employer will be penalised with a fine between two and three lakh rupees.
If an employee violates provisions of the Code, he will be subject to a fine of up to Rs 10,000.
Impact
Providing Broad Legislative Framework: The Code provides basic broad legislative framework with enabling provisions for framing rules, regulations, standards, and bye-laws as per the requirements of different sectors. This would result in simple legislation with flexibility in changing the provisions in tune with emerging technologies and makes the legislation dynamic.
Ensuring Safety of Workforce: It promotes health, safety, welfare and better working conditions of workforce by enhancing the ambit of a dynamic legislation as compared to the existing sectoral approach limited to few sectors.
Resource Efficiency: It rationalises the compliance mechanism with one license, one registration and one return for the establishments under the ambit of the Code thereby saving resources and efforts of the employers. Thus it balances the requirements of worker and employer and is beneficial to both the constituents of the world of work.
Consolidation of Activities: It allows consolidation of activities commonly carried out prior to and during the operation of factories, such as building, construction or expansion of factories, etc., which is expected to help manufacturing companies as they can obtain a common registration and comply with the safety and welfare requirements of the Code, as opposed to duplicity of provisions under the Current Laws.
Criticism of OSH Code
Bharatiya Mazdoor Sangh (BMS)
The RSS-affiliated Bharatiya Mazdoor Sangh (BMS) has condemned the Code, denouncing it as as a "cut-and-paste job" with no universal application.
According to BMS, the safety provisions have been diluted and many of the burning issues with the Contract labour Act, Factories Act, journalists' law, transport workers law etc. have not been addressed.
Another objection is towards the absence of equal-wage-for-equal-work, as mandated by the Supreme Court and a universal principle for equity in the labour market that the trade unions have been demanding for long, in so far as contract labour is concerned.
Clause 22 of the Code provides discretionary power to the government to set up Safety Committee, while this is a statutory requirement for every hazardous unit under the Factories Act of 1948.
Clause 83 gives state government power to "prescribe" maximum permissible limits of workers' exposure to chemical and toxic substances, while the 'second schedule' of the Factories Act of 1948 specifies this.
Confederation of Indian Industry (CII)
According to CII, extending the provisions of the OSH Code to smaller enterprises will increase their costs and hurt margins, impacting the sector badly. It would also adversely affect expansion, which is seen to have a strong relationship to creation of new jobs.
As per the Factories Act, establishments must appoint welfare officers if they employ manpower of more than 500 persons. The Code cuts this to 250 employees, which would impose a high cost burden on MSMEs, now coming in this ambit.
Way Forward
Safety, Health, welfare and improved working conditions are pre-requisite for well-being of the worker and also for economic growth of the country as healthy workforce of the country would be more productive and occurrence of less accidents and unforeseen incidents would be economically beneficial to the employers also.
Codification is necessary to rationalise proximate labour laws, but this should not lead to bundling together of diverse and unique laws concerning disparately positioned categories of workers, which are yet to mature into meaningful pieces of legislation (for example, the law on building and construction workers) in their own right and hence need respective suitable amendments.
In view of widespread criticism against the Code, the government should address the concerns raised by various organisations and must ensure that the Code provides safer and healthier conditions of work to worker, instead exposingthem to greater risks.
Steel Scrap Recycling Policy
---
The Ministry of Steel on 8th November, 2019, came out with a Steel Scrap Recycling Policy in a bid to ensure quality scrap for the steel industry in India.
Aim
To reduce imports, conserve resources and save energy.
To help all stakeholders engaged in collection, dismantling, processing, and transportation in order to ensure the sustainable development of scrap-based steel industry.
Need for Policy
Non-Availability of Scrap: The availability of scrap is a major issue in India and in 2017 the deficit was to the tune of 7 million tons due to which the government had to import scrap worth Rs. 24,500 crores in 2017-18.
De-incentivising pre-2005 Vehicles: As per estimates, there are about 2 crore pre-2005 built vehicles that are plying on Indian roads and there is needs to be de-incentivise such vehicles in view of about 10 to 25 times higher pollution emission by them under the new emission norms. Even if those old vehicles are maintained properly, they will be polluting more with more emissions and will prove to be a hazard for road safety.
To Channelise Scrap Industry: With the increase in consumption of steel in the recent past and End of Life Vehicles (ELVs), the generation of scrap is likely to be increased considerably. This scrap has to be channelized so that the same can be utilized for steel production in an environmental friendly manner.
Key Points
To Promote Circular Economy
The policy envisions promoting circular economy in the steel sector. The high grade steel scrap shall be recycled to produce high grade steel again, to be used in the industries such as equipment manufacturing, automobiles and other downstream industries.
Hub and Spoke Working Model
A hub and the spoke model is promulgated in order to address the issue of collecting such end of life products for increasing scrap generation.
Structuring Formal and Informal Recycling Sector
Promotion of a formal and scientific collection, dismantling and processing activities for end of life products as well as structuring the informal recycling sector based on environmental and scientific fronts is mandated in the policy.
Extended Producer Responsibility(EPR)
Ministry of Road Transport and Highways (MoRTH) and the Department of Heavy Industries are working towards 'Extended Producer Responsibility' by requiring the vehicle manufacturers to incentivise scrapping of unfit vehicles in exchange for price discounts for purchase of new vehicles.
Creating Effective Treatment Mechanism
It aims to decongest the Indian cities from reuse of ferrous scrap, besides creation of a mechanism for treating waste streams and residues produced from dismantling and shredding facilities in compliance to Hazardous & Other Wastes (Management &Transboundary Movement) Rules, 2016 is proposed in the policy.
Evolving a Responsive Ecosystem
Development of an organized scrapping / shredding industry through a self- regulatory ecosystem based on a system of shared responsibility (SR) to beevolved, for collection, dismantling and disposal of ELVs, White Goods and otherscraps, involving all the key stakeholders such as aggregators, scrappingcenters, manufacturers (OEMs), owners and Government.
Impact of the Policy
Positive Impacts
Economic
The policy will help make India a producer of high quality ferrous scrap for quality steel production thus minimising the dependency on imports.The gap between demand and supply can be reduced in the future and the country may be self-sufficient by 2030.
It will help India emerging as a hub for automobile manufacturing as key raw material available from scrapping like steel,aluminium and plastic are bound to be recycled, bringing down automobile prices by 20-30 percent.
The use of every ton of scrap shall save 1.1 ton of iron ore, 630 kg of coking coal and 55 kg of limestone. There shall be considerable saving in specific energy consumption by 16-17%.
Operating on the 4+1 hub and spoke model, where 4 collection and dismantling centres were to cater to the 1 scrapprocessing centre then 400 jobs would be created by one such composite unit. And for 70 units producing a total of 7 MT of scrap the potential for employment generation would be of 2800 persons. If the country was to produce 70 MT, as if expected as per NSP 2017, the employment generation could be in the range of 3 lakh jobs.
The setting up of scrapping centres near highways, industrial corridors, railway sidingsand in the close proximity to Sagarmala project shall help in development ofmultimodal logistics parks.
Environment
The policy will contribute in adopting the principle of 6 Rs i.e. Reduce, Reuse, Recycle, Recover, Redesign and Remanufacture to avoid any adverse impact on the environment.
The saving in energy will help reduce the water consumption and Green House Gas (GHG) emission by 40% and 58% respectively.
It can contribute to promotion of the Swachh Bharat Abhiyan by developing recycling zones.
Negative Impacts
However, the policy comes at a time when countries worldwide are seeking an outlet for waste metals after China's tightening of mixed metal imports. It could result in a surge of mixed metal (unprocessed) scrap into India.
Employees in facilities that recycle metal scrap are exposed to a range of safety hazards associated with material handling methods, hazardsassociated with the metals themselves (as dust or fumes), and with thehazardous substances used to process or recover these metals, leading to several health related issues.
Challenges in Scrap Recycling
Following challenges, which adversely impact the areas of scrap metal supply, industry growth, pollution, quality, safety, revenue and transparency in different steps of steel scrap recycling.
Generation
Lack of definite guidelines for scrap classification (in line withInstitute of Scrap Recycling Industries (ISRI) or equivalent classification)
No definite criteria of defining "End of Life of Equipment" or " End of life Vehicle"
Rationalization of tax and duty structure
Quality of domestic scrap
Collection/Processing
Logistic issues as high transport cost may act as a deterrent for scrap movement within the country
Lack of regulations to handle contaminated waste and other hazardous items arising out of scrapping and shredding
E-Procurement of scrap and standardization of procurement policy for various government related departments / institutions
Lack of uniform standard and specifications for usage acrossindustries
Lack of storage guidelines for hazardous waste, non-ferrous and non-metallic waste
Lack of organized recycling zones
Usage
Lack of implementation of safety standards in melting process
Promotional schemes for firms for R &D on recycling process to develop better technologies/equipment
Disposal
Scrap residue sold to agent without verifying authorization certificate
Lack of authorized disposal sites (landfills) in all the major cities
Water and other waste generated during melting.
Way Forward
Steel is a material most conducive for circular economy as it can be used, reused and recycled infinitely.
In the National Steel Policy (NSP)-2017, the importance of scrap was realised. This Scrap Policy only promotes the role envisaged in the NSP-2017 to ensure scrap segregation (quality wise), collection, processing and recycling.
However, following China's toughened stand on waste material imports into the country since 2017, countries like Japan were finding alternative venues for its mixed metal scrap, which included places like Vietnam, Malaysia, and recently India.
After China, Japan was sending mixed metal scrap to Malaysia and Vietnam. But the governments there are making it difficult now too. In this changing scenario, India seems to be another preferable venue for dumping of mixed scarp metals.
Therefore, the government must ensure to set up a sound regulatory and management system in order to make India self-sufficient in scrap availability and make steel sector resource efficient, rather than turning India into a scrap dumping ground.
Global Value Chain
---
Opting out of the Regional Comprehensive Economic Partnership (RCEP), will likely result in India missing out on the regional and Global Value Chains (GVC) crisscrossing this region.
Due to the fragmented nature of global trade which is best captured in the phrase Global Value Chain, ignoring the RCEP might be a big mistake by India.
What is a Global Value Chain?
It is a chain of separate but inter-linked and coordinated activities, which can be undertaken within a single firm or be divided among multiple firms in different geographical locations to bring out a product or a service to complete production and delivery to final consumers.
According to the World Bank, "a GVC is the series of stages in the production of a product or service for sale to consumers. Each stage adds value, and at least two stages are in different countries.
For example, a bike assembled in France with parts from Germany, Italy, and Malaysia and exported to the Arab Republic of Egypt is a GVC.
So according to this definition, a country, sector, or firm participates in a GVC, if it engages in (at least) one stage in a GVC.
Difference between Value Chain and Global Value Chain
A value chain can be contained within a single geographic location or even a single firm (for ex.a fruit that is grown, packaged, sold and consumed within one country).
Value chains become "global" when their component activities are geographically dispersed across borders to multiple country locations.
The GVC Initiative is particularly interested in understanding value chains that are divided among multiple firms and spread across several locations, hence the term global value chain."
Importance of GVC
Tool to Economic Growth: GVCs are a powerful driver of productivity growth, job creation, and increased living standards. Countries that embrace GVC grow faster, import skills and technology, and boost employment.
Diversifying Country's Export Sector: It provides opportunities for developing countries to diversify their exports and intensify their integration into the global economy.
Access to International Market: Participation in GVCs provides important opportunities for firms to access international markets, absorb new technology, and rapidly expand their economies of scale.
Magnifying Trade Scenario: Itallows resources to flow to their most productive use, not only across countries and sectors, but also within sectors across stages of production. As a result, GVCs magnify the growth, employment, and distributional impacts of standard trade.
Boost to Development Process: With GVC-driven development, countries generate growth by moving to higher-value-added tasks and by embedding more technology and know-how in all their agriculture, manufacturing, and services GVCs provide countries the opportunity to leap-frog their development process.
Boon to Developing Countries: Global value chains have been a boon to developing countries because they make it easier for those countries to diversify away from primary products to manufactures and services.
India and GVC
India's integration with GVCs is among the lowest in G20 countries.
Compared with the ASEAN group of countries, India's GVC integration is far lower with a decline in both its backward (that is, import content of exports) and forward (domestic value added embodied in other country exports as a share of gross exports) GVC linkages.
Reasons for Low GVC Integration
Poor Trade Infrastructure
India still lags behind in trade infrastructures which not only increases cost and time of export operations but also it almost prohibit a country from participating in GVCs is not sufficiently known.
China, Japan, South Korea, Thailand and Malaysia have become part of GVCs through the quality trade infrastructure route. India could not as it does not meet the benchmarks for efficient entry/exit at the most ports/customs.
Small size of Small Basket Products
Ironically, 70 percent of India's export earnings come from the small basket products (Agri- based products). The small size of the global basket limits the potential for future growth. Also, most products face intense competition from low-cost countries such as Bangladesh and Vietnam.
A country that exports products that belong to the large basket will have higher chances to grow.
Weak Global Share
India has an insignificant presence in large basket products (Electronics, telecom, and high-end engineering products) that have become important in world trade. It contribute to 30 percent of India's export earnings.
India has a weak global export share in commodities such as mobile phones (0.19 per cent), integrated circuits (0.01 per cent), computers (0.04 per cent), solar-powered diodes, transistors (0.14 per cent), LCDs (0.04 per cent).
Way Forward
In current time, around 70 percent of the world trade is structured within GVCs of multinational corporations.Harnessing the potential of GVCs for broad-based economic development requires active and purposeful policies. It also requires an understanding of the characteristics and dynamics of GVCs across different regions and industries.
For many countries, especially developing and low-income countries, the ability to effectively insert themselves into GVCs is a vital condition for their development. This supposes an ability to access GVCs, to compete successfully and to "capture the gains" in terms of national economic development, capability building and generating more and better jobs to reduce unemployment and poverty.
To strengthen the benefits that countries obtain from participating in GVCs, it will need to support the upgrading process by strengthening the business environment, supporting investment in knowledge assets such as R&D and design, and fostering the development of important economic competencies, notably skills and management.
GVC participation leads to job creation in developing countries, provided it occurs with increased and high-skill based value addition. So, to gain a part of GVCs, countries like India need an education system based on skilldevelopment. As well as a competition policy enhancing rivalry, and a tax system and intellectual property laws encouraging investment.
GVC is a world-wide phenomenon. It works effectively when there is active participation from different economies in various stages of growth. It has a strong foundational link to roles, regulations, products and services, and processes across markets. So understanding it's functioning and assimilating it is crucial for countries like India, that are ready for next level of growth.
India To Not Join RCEP
---
On 4th November, 2019, during the 3rd Regional Comprehensive Economic Cooperation (RCEP) meeting in Bangkok (Thailand), India decided not to join the RCEPuntil significant outstanding issues were resolved.
Remaining 15 countries involved in the negotiation decided to sign the mega trade deal in 2020.
Negotiations for this agreement have been ongoing since 2013, with several countries, including India, trying to resolve problems with other countries with regard to tariffs.
Regional Comprehensive Economic Cooperation (RCEP)
RCEP is a trade deal that involved the 10 member countries of the Association of Southeast Asian Nations (ASEAN), and the five countries with which the ASEAN bloc has free trade agreements (FTA).
The ASEAN, which includes Brunei, Cambodia, Indonesia, Laos, Malaysia, Myanmar, the Philippines, Singapore, Thailand, and Vietnam, has FTAs with Australia, China, South Korea, Japan and New Zealand.
Purpose
To create an integrated market spanning all 16 countries, making it easier for products and services of each of these countries to be available across the region.
To boost economic growth and equitable economic development, advance economic cooperation and broaden and deepen integration in the region.
Significance
It was billed as the largest regional trading agreement ever these countries account for almost half of the world's population, contribute over a quarter of world exports, and make up around 30% of global Gross Domestic Product (the value of all goods and services produced in a year).
The deal would have created the world's largest trading bloc. These 16 countries account for about half of the world's population, 25 percent of global GDP, nearly a third (30 percent) of global trade and the 26 percent of world foreign direct investment flows (FDI).
Why India decided not to Join RCEP?
Below are the reasons which forced India to walk off the RCEP trade deal:
Economic Slowdown
India's economy is passing through a difficult time. The rate of GDP growth has been slowing down for five consecutive quarters, that is, since January-March 2018.
In such adverse scenario, a massive free trade pact like RCEP would have exposed the Indian businesses and agriculture to unequal competition from countries which are lurking like giant sharks in the export arena.
Trade Deficit
India has massive trade deficits with almost all economic powerhouses of the world. Of the 15 RCEP countries, India has serious trade deficits with at least 11.
India's trade deficit with these countries has almost doubled in the last five-six years - from $54 billion in 2013-14 to $105 billion in 2018-19.
Of India's $105 billion trade deficit with RCEP countries, China alone accounts for $53 billion, which is one of the major reasons for India not to join.
No Resistance against Import Surge
Signing RCEP could force India to cut duties on about 90 percent of the goods that are currently imported to India over the next 15 years as a result India will be flooded with cheaper imported goods, particularly from China, hitting hard its domestic market.
Concern over Non-Tariff Barriers
RCEP countries, like China have used non-tariff barriers in the past to prevent India from expanding its exports to the country.
Concern over Rules of Origin
Another issue is threat of circumvention of Rules of Origin due to tariff difference.India wanted strict rules of origin to prevent Chinese goods from flooding the country through member countries that may have lower or no duty levels.
Chinese garments are making their way into India through the duty-free route under the South Asia Free Trade Pact and the Duty-Free Quota-Free window from Bangladesh.
Issue over Base Year
India is opposed to the proposal that 2013 be treated as the base year for reducing tariffs, effectively implying that member countries should slash import duties on products to the level that existed in 2013.
India is pushing for 2019 as the base year, given that import duties on many products such as textiles and the electronic products have gone up in the last six years.
Lack of Market Access for India
There were no assurances on getting access to markets like China while the trade pact would have opened up India's market.
Most Favoured Nations
India also raised the unviability of Most Favoured Nation obligations where India would be forced to give similar benefits to RCEP countries that it gave to others.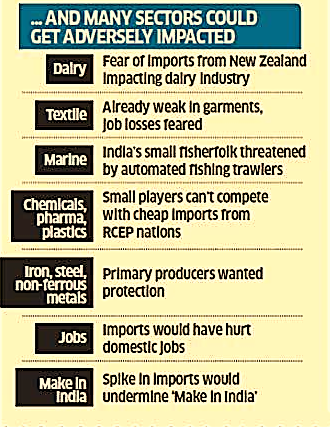 Source: ET
What India Wanted?
Auto- Trigger Mechanism
India wants an auto-trigger mechanism to be institutionalised in the pact which would serve as a kind of protective mechanism that a member country can invoke to safeguard in case of an unexpected flow of imports after RCEP comes into effect.
Ratchet Obligations
India wants exemptions built into the ratchet obligations as part of the pact. A ratchet obligation implies that a member country cannot raise tariffs once the pact comes into effect. An exemption would imply that a country will be able to erect restrictive measures later on grounds of protecting national interest.
Data Localisation
India wants all countries to have the rights to protect data. This would imply that countries can share data only where it is necessary to achieve a legitimate public policy objective or necessary in the country's opinion, for the protection of its essential security interests or national interests.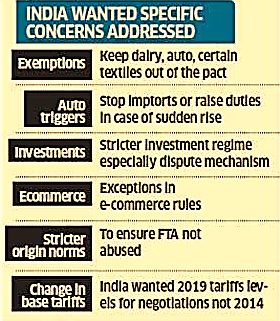 Source: ET
Way Forward
China needs greater access to Indian market to sustain its manufacturing industries. A failure to find a market will have cascading effect on Chinese economy.
RCEP has come up as a Chinese game plan to save its manufacturing industries from crumbling under their own weight. Several industrial players in India red-flagged the Chinese agenda of flooding the Indian market using the RCEP countries as a connecting network.
India, with its 1.3 billion population, offers the biggest free access market to the Chinese companies that are feeling the pinch of US-China trade war with Donald Trump administration taking on the manufacturing giant in the past one-and-a-half years.
Critics are also not confident that India would be able to take advantage of the deal, given its poor track record of extracting benefits from the FTAs with these countries. India's trade gap with these countries may widen if it signs the RCEP deal.
However, joining the RCEP would have given more substance to its Act East policy. The economic pillar of this policy has remained weak compared to those pertaining to political ties, strategic and security aspects and people to people relations.
Opting out of the RCEP implies there is need for greater exertion now on strengthening connectivity, trade and investment bilaterally.
Committee Of Secretaries (CoS)
---
On 29th October, 2019, the government constituted aCommittee of Secretaries (CoS) to study financial stress being faced by the telecom sector in the country.
The Committee, headed by the Cabinet Secretary Rajiv Gauba and representatives from the ministries of finance, law and telecom, is expected to submit recommendations in a time-bound manner.
Objective
To examine the financial stress of the telecom sector and recommend measures to mitigate it.
To look at ways of creating a favourable investment environment for the sector.
Background
The Government's move came in the backdrop of Supreme Court's order on the calculation of Aggregate Gross Revenue (AGR) in favour of the government.
Following the order, the telcos may have to pay the government Rs. 1.42 lakh crore within three months. This came as a huge blow to the industry that is already reeling under a debt of about Rs. 4 lakh crore.
The top court rejected the definition of adjusted gross revenue (AGR) proposed by telecom operators that excluded revenue from non-core telecom operations such as rent, dividend and interest income, marking the end of a 14-year-long legal tussle between the department of telecommunications (DoT) and operators.
While the dispute over the definition of AGR has been on since 1999, the important aspects are the Annual License Fee (LF) of 8 percent and Annual Spectrum Usage Charges (SUC) of about 1-6 percent of AGR payout to be made by the TSP (along with interest and penalties), which are likely to throw the TSPs into a debt trap.
Current Issues in Telecom Sector
Noting the gross revenue of the industry had fallen between 2017-18 and 2018-19, the price of data for the customer at an average of Rs 8 per GB, the lowest in the world.
Additionally, the average revenue per user per month has declined from Rs 174 in 2014-15 to Rs l13 in 2018-19.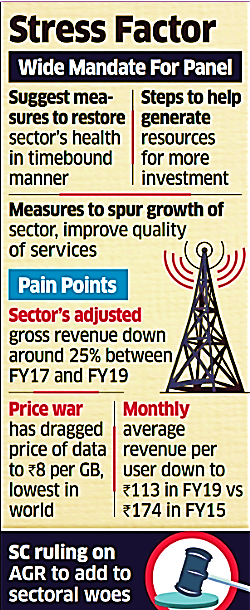 Source: ET
Issues to Consider
The Committee will work out a relief package for the telecom sector in order to mitigate the impact of the more than Rs.1.4 lakh crore that the telcos may need to pay the exchequer.
Will look into the demand of telcos for deferment of spectrum auction payment dues for the years 2020-21 and 2021-22 in order to ease cash flow.
Will review various demands made by the industry, reduction in spectrum usage charges and the Universal Service Obligation Fund (USOF) charges.
Aggregate Gross Revenue(AGR)
AGR is the usage and licensing fee that telecom operators are charged by the DoT.
It is divided into spectrum usage charges and licensing fees, pegged between 3-5 percent and 8 percent respectively.
As per DoT, the charges are calculated based on all revenues earned by a telco– including non-telecom related sources such as deposit interests and asset sales.
Spectrum Usage Charges (SUC)
SUC is payable by the licensees providing mobile access services, as a percentage of their AGR.
It is payable as per the spectrum slabs/ rates notified by the Government from time to time.
Universal Service Obligation Fund (USOF)
The National Telecom Policy (NTP), 1999, provided that the resources for meeting the Universal Service Obligation (USO) were to be generated through a Universal Access Levy (UAL), at a prescribed percentage of the revenue earned by the telecom licensees to be decided in consultation with the TRAI.
USOF was established in 2002, under the DoT, to provide subsidies to ensure information and communication technology services being provided to everyone across India, especially in the rural and remote areas.
The Indian Telegraph (Amendment) Act, 2003gave statutory status to the Universal Service Obligation Fund (USOF).
As per the Indian Telegraph Act 1885 (as amended in 2003, 2006 and 2008), the Fund is to be utilized exclusively for meeting the Universal Service Obligation.
Telecom Regulatory Authority of India (TRAI) Suggestions
TRAI is expected to examine prescribing a minimum charge for voice and data services to ensure long-term viability and robust financial health of the sector.
It has suggested that USOF charges - paid to make telcos take their services to rural areas- be 3 percent, and not 5 percent.
Suggestion by Telecoms
Telcoshave suggested that both sides- the government and telcos -enter a bipartite agreement about the amount to be paid and a plan on how it can be paid. It offered to pay only the disputed dues without the high penalty and interest.
It suggested a staggering payment schedulewhich is more than three months.
To provide relief in the future by reducing the license fee.
To adjust the input tax credit is available with the government in order to provide relief as for now.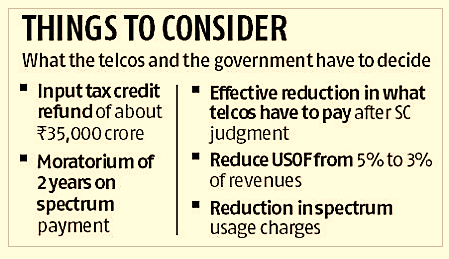 Source: Business Standard
Way Forward
The government has fast-tracked reforms in the telecom sector and continues to be proactive in providing room for growth for telecom companies.
Considering the current situation, faced by the telecom sector, the government is considering a floor price for telecom services as part of the relief measures proposed for the industry.
Further, help and support extended to telecom service providers (TSPs) with regard to duties, levies, and installments will enable them to have better cash flows and investible surplus for the orderly growth of the sector.
The newly constituted panel can give an immediate relief package to ensure financial viability of both the operatorsas well sector.
Task Force To Prepare National Action Plan On Human Rights
---
Recently, the government decided to constitute a task force to prepare a National Action Plan on Human Rights (NAPHR) as mandated under the UN Human Rights Council's (UNHRC) Universal Periodic Review (UPR).
Aim
The move is aimed to improve India's human rights records.
Background
In UPR-1 and UPR-3, UN recommended that India should have NAPHR covering issues such as the rights to health, education, food security, and housing; aspects related to custodial justice; and measures against the trafficking of women and children
In the third UPR of UN in 2017, India accepted 152 out of 250 recommendations on human rights pertaining to sustainable development goals related to eliminating poverty, access to safe drinking water, sanitation and improving protection for women and
India refused to accept some recommendations, including those related to the Armed Forces Special Powers Act and the Foreign Contribution Regulation Act.
About Task Force
The task force will have 10-20 members and it will examine the plans of other countries before preparing its final draft.
It will include the Union Home Ministry and the National Human Rights Commission (NHRC), with representations from other Ministries, including Social Justice and Health.
Apart from these, civil society organisations will also be consulted at a later stage.
Impact
Strengthening Social Justice System: Once implemented, NAPHR will help mitigate the criticism India faces at international level when it comes to its human rights record as well as strengthen the social justice system.
Strengthening of Human Rights Institutions: The move will help to establish a stronger administration of justice, strengthening of human rights institutions, and linking of rights with development.
National Human Rights Commission (NHRC)
Headquarters: New Delhi
It was established on 12 October, 1993, under the Protection of Human Rights Act (PHRA), statute, 1993.
It is in conformity with the Paris Principles, adopted at the first international workshop on national institutions for the promotion and protection of human rights held in Paris in October 1991.
The NHRC is an embodiment of India's concern for the promotion and protection of human rights.
United Nations Human Rights Council (UNHRC)
Headquarters: Geneva, Switzerland
Created by the United Nations General Assembly on 15 March 2006, it is an inter-governmental body within the United Nations system made up of 47 States responsible for the promotion and protection of all human rights around the globe.
It replaced the former United Nations Commission on Human Rights.
It holds regular sessions three times a year, in March, June, and September.
Institution-Building Package of UNHRC
In 2007, the Council adopted its Institution-building package to guide its work and set up its procedures and mechanisms. It includes-

Universal Periodic Review (UPR) Mechanism: It serves to assess the human rights situations in all United Nations Member States.
Advisory Committee: This serves as the Council's think tank providing it with expertise and advice on thematic human rights issues.
Complaint Procedure: It allows individuals and organizations to bring human rights violations to the attention of the Council.
Universal Periodic Review (UPR)
The UPR is a unique process which involves a periodic review of the human rights records of all 193 UN Member States.
It is a state-driven process which provides an opportunity for all States to declare what actions they have taken to improve the human rights situations in their countries and to overcome challenges to the enjoyment of human rights.
It is designed to prompt, support, and expand the promotion and protection of human rights on the ground.
Goal
Improvement of the human rights situation in every country with significant consequences for people around the globe.
To provide technical assistance to States and enhance their capacity to deal effectively with human rights challenges and to share best practices in the field of human rights among States and other stakeholders.
Review Mechanism
The reviews are conducted by the UPR Working Group which consists of the 47 members of the Council; however any UN Member State can take part in the discussion/dialogue with the reviewed States.
Each State review is assisted by groups of three States, known as "troikas", who serve as rapporteurs.
The documents on which the reviews are based are:

Information provided by the State under review, which can take the form of a "national report".
Information contained in the reports of independent human rights experts and groups, known as the Special Procedures, human rights treaty bodies, and other UN entities.
Information from other stakeholders including national human rights institutions and non-governmental organizations.
Cycles of the UPR: A review cycle is a four-and-half year period within which all UN Member states' human rights records are reviewed. The working group convenes three two-weeks sessions per year, or 14 sessions over the course of an entire cycle.

First Cycle: 2008-2011
Second Cycle: 2012-2016
Third Cycle: 2017-2021
Significance
Addressing Human Rights Concern: It is designed to ensure equal treatment for every country when human rights situations are assessed with the ultimate aim of improving them and addressing violations.
Equal Treatment for All: It is a significant innovation which is based on equal treatment for all countries which also includes a sharing of best human rights practices around the globe.
Tamil Nadu Electric Vehicle Policy 2019
---
Recently, the Tamil Nadu Government introduced its first-ever electric vehicle (EV) policy.
The Tamil Nadu Electric Vehicle Policy, 2019, provides for various concessions to manufacturers of e-vehicles.
Tamil Nadu, known as the Detroit of South India, accounts for 6.4% of the electric vehicles sold in the country as of July 31, 2019.
Aim
To promote electric mobility in the state
To build a comprehensive Electric Vehicle(EV) ecosystem
Objectives
To create a robust infrastructure for electric vehicles, including adequate power supply and network of charging points.
To create a pool of skilled workforce for the Electric Vehicle industry.
To recycle and reuse used batteries and dispose of the rejected batteries in an environment-friendly manner to avoid pollution.
To create a conducive environment for the EV industry and research institutions to focus on cutting-edge research in Electric Mobility technologies.
To promote E-Mobility and green mobility innovation for automotive and shared mobility by providing the ecosystem and infrastructure.
Key Features of the Policy
Host of Services: Various incubation services will be offered in the form of office space, common facilities and mentoring support in order to encourage start-ups in the EV sector.
Establishment of EV Parks: The government will set up exclusive EV parks in major auto-manufacturing hubs and also in areas that have the potential to attract EV investments. These EV parks will enable the creation of a vendor ecosystem that will serve original equipment manufacturers (OEMs).
Creation of EV Venture Fund: An EV Venture Capital Fund will be created to offer financial support to EV start-ups to enable them to scale up their business.
Exemption from Electricity Tax:EV-related and charging infrastructure manufacturing units will be provided 100% exemption on electricity tax till December 2025.
Subsidy on Land Cost: It offers to provide investors a 50 percent subsidy on the land cost if the investment is made to obtain land from government agencies in southern districts, while in other districts it is just 15 percent, valid till 2022.
Higher Capital Subsidy Provision for EV Manufacturers:The government will provide a higher capital subsidy of 20% of the eligible investment over 20 years in cases where units are engaged in making EV batteries.
Impact
New Job Opportunities:It is expected to attract massive investment of Rs.50,000 crore in the state and will help to create 1.5 lakh new jobs.
Making Tamil Nadu EV Hub:It will help the Tamil Nadu state in emerging as a leader in the EV space.
Boost to Vision 2023: It will provide a major boost to the Tamil Nadu government Vision 2023 initiative which aims to develop various infrastructure projects in six major sectors viz. energy, transport, industrial and commercial infrastructure, urban infrastructure and services, agriculture and human development.
Central Government Initiative for EV
1. National Electric Mobility Mission Plan (NEMMP) 2020
Launched in 2013, NEMMP is a National Mission document providing the vision and the roadmap for the faster adoption of electric vehicles and their manufacturing in the country.
Under the NEMMP 2020, there is an ambitious target to achieve 6-7 million sales of hybrid and electric vehicles by the year 2020.
Aim
To enhance national fuel security
To provide affordable and environmentally friendly transportation
To enable the Indian automotive industry to achieve global manufacturing leadership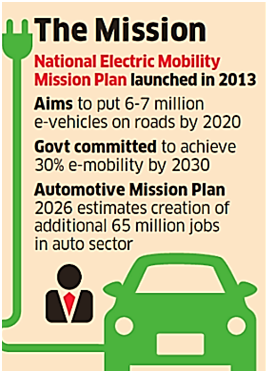 Source: The Economic Times
2. Faster Adoption and Manufacturing of (Hybrid &) Electric Vehicles in India (FAME) Scheme
As part of the NEMMP 2020, Department of Heavy Industry formulated FAME Scheme in 2015 to promote manufacturing and sustainable growth of electric and hybrid vehicle in the country.
FAME-I
Started in 2015 and was completed on March 31st, 2019.
It focused on four essential areas namely (i) Demand Creation, (ii) Technology Platform, (iii) Pilot Project and (iv) Charging Infrastructure.
FAME-II
Started from April 1st, 2019, will be completed by March 31st, 2022.
The emphasis will be on electrification of public transport that includes shared transport; demand incentives on operational expenditure mode for electric buses will be delivered through state/city transport corporations (STUs).
Significance of the FAME Scheme
It will encouragefaster adoption of Electric and hybrid vehicle by way of offering upfront Incentive on purchase of Electric vehicles and also by way of establishing a necessary charging Infrastructure for electric vehicles.
It will help in addressing the issue of environmental pollution and fuel security.
Need for Adoption of EV in India
Climatic Change: The concern of rapid global temperature increase has created the need for a reduction in the use of fossil fuels and the associated emissions. Adoption of EV will help India to cut its GHG emissions intensity by 33% to 35% percent below 2005 levels by 2030.
Increasing Pollution in Cities: Economic development, especially in emerging economies, is creating a wave of urbanization as rural populations move to cities in search of employment. While urbanization is an important component of the process of economic development, it also stresses upon the energy and transport infrastructure leading to congestion and pollution. According to a recent study by WHO, India is home to 14 out of 20 most polluted cities inthe world. Electric vehicles (EVs) can improve the environment by reducing concentrations of pollutants released from fossil fuels.
Less Dependency on Fossil Fuels:India depends largely on oil imports to meet its energy needs. The percentage of oil import is likely to reach 92% of the total demand by 2020.High import dependence along with continuously increasing prices of oil poses a serious challenge for India's future energy security. Switching to EV will make India less dependent on fossil fuels, providing a major thrust to its economy.
Way Forward
The Indian Electric Vehicle Industry could cumulatively add about $300 billion by 2030 according to NITI Aayog. This is a massive opportunity for a wide range of Indian businesses-both large and small, and in all main value chain sectors -manufacturing, trading and services.
A successful transition to electric vehicles will significantly improve India's energy security;improve its balance of payment position creating a growth-friendly environment for the economy and make Indian cities, which top the pollution charts, more liveable.
Bamboonomics: Tribal Movement To Promote Tribal Enterprise
---
Recently, Union Ministry for Tribal Affairs launched the biggest tribal movement to promote tribal enterprise through Bamboonomics in the country under the 4P1000 initiative.
The event was held on the concluding day of the 14th session of the United Nations Convention to Combat Desertification (UNCCD), Noida, Uttar Pradesh.
Aim
To provide job security to the tribal population for their better growth and development.
About Bamboonomics
The initiative is launched under the Central government's Entrepreneurship Development Programme (EDP) through bamboo cultivation project under Pradhan Mantri Van Dhan scheme. The initiative has been launched jointly with a German company named
Two high-powered committees chaired by Tribal Cooperative Marketing Federation (TRIFED) will monitor the on-ground delivery of the bamboo project and linkages at the national and international level.
TRIFED will integrate its Pradhan Mantri Van Dhan Yojna (PMVDY) with this new global environmental intervention termed as TRIFED's Initiative to Combat Desertification (TICD).
It proposed a business model to supplement the income of tribal community.
Van Dhan Yojana(VDY)
Launchedin 2018, it is an initiative targeting livelihood generation for tribal population by harnessing the wealth of forest i.e. Van Dhan.
Implementation of VDY is through Van Dhan Kendras. Selection of a place for setting up of a Van Dhan Kendra is dependent upon the area's potential and availability of land to be provided by the State Government.
Aim
It aims to tap into the traditional knowledge and skill sets of tribal people by adding technology and Information Technology for upgradation of output at each stage and to convert the tribal wisdom into a remunerative economic activity.
It seeks to promote and leverage the collective strength of tribal people to achieve a viable scale.
Impact
The Van Dhan Vikas Kendras is important milestone in economic development of tribals involved in collection of Marketing of Minor Forest Produce (MFP) by helping them in optimum utilization of natural resources and provide sustainable MFP-based livelihood in MFP-rich districts.
4P1000 Initiative
It was launched by France on 1 December 2015 at the COP 21, consists of federating all voluntary stakeholders of the public and private sectors (national governments, local and regional governments, companies, trade organisations, NGOs, research facilities, etc.) under the framework of the Lima-Paris Action Plan (LPAP).
Aim
To increase the soil organic matter content and carbon sequestration, through the implementation of agricultural practices adapted to local environmental, social and economic conditions, as proposed in particular by the agro-ecology, agroforestry, conservation agriculture or landscape management.
Significance
It will help stakeholders to move towards a productive, highly resilient agriculture, based on the appropriate management of lands and soils, creating jobs and incomes hence ensuring sustainable development.
Ecological Importance of Bamboo
Bamboo has a higher carbon sequestration potential compared to other trees and can help restore fertility of degraded land. It is a pioneering plant and can be grown in soil damaged by overgrazing and poor population.
It is a natural water control barrier. It's wide spread root system and large canopy helps in reducing rain runoff, thus preventing massive soil erosion.
Impact of Bamboonomics
The importance of indigenous community in combating desertification and for environmental upgradation is crucial as the tribal community has lived in a very eco-friendly manner for generations in and around the forest areas and they have never degraded the forest lands. So, their expertise and experience should be taken into consideration.
The initiative will involve the tribal community of India for rehabilitating the degraded land without compromising the income of the poor in the garb of environmentally friendly development.
Challenges Faced by Tribals
Loss of Control over Natural Resources
Tribal people survival depends on the land they have lived in harmony with for generations and by taking away forest lands for industries and plantation forestry instead of preserving natural species that provide livelihood to these people, the government is depriving them of the basic means of livelihood.
Poverty
Majority of tribes live under poverty line. Primary occupations, lack of resources and industrialization, derogated social and economic life, illiteracy are the various factors related to it. It gives rise to other problems like malnutrition, high crime and death rate, physical and psychological disorders,etc.
Health Issues
Malnutrition is the most common health problem among tribals. In addition, they are prone to variety of communicable diseases such as tuberculosis, malaria, etc.
Displacement and Rehabilitation Issues
Tribal are usually the most affected amongst the displaced due to government plan such as construction of dam or industries. Displacement further increases their poverty due to loss of land, home, jobs, food insecurity, and loss of access to common property assets, mortality and social isolation.
Cultural Issues
The tribal culture is entirely different from the way of life of the civilized people which make them suspicious towards the civilized people. They are clinging tenaciously to their customs and traditions which is also a major hindrance in their growth and development. Further, the cultural gap is hindering the integration of the tribal people into the mainstream of the national life of India.
Way Forward
There are ample numbers of state government and central government schemes under which the funds flow to the tribal welfare. But, still the basic facilities like health, education, accessibility and livelihood has remained the major challenge in the tribal areas.
There is a need to take up massive awareness creation activities among the tribal to make them realise their development potential, which is the way forward for the tribal development.
Timeline Extension On Draft NREP, 2019
---
On 26th August, 2019, the Ministry of Environment, Forest and Climate Change, acknowledging the progress that has been made to implement Draft National Resource Efficiency Policy (NREP), 2019, extended the timeline to invite comments on it till 24.09.2019.
Draft National Resource Efficiency Policy
The Draft NREP envisions a future with environmentally sustainable and equitable economic growth, resource security, healthy environment (air, water and land), and restored ecosystems with rich ecology and biodiversity.
Aim
It aims to implement resource efficiency across all resources including both biotic and abiotic resources, sectors and life cycle stages.
Guiding Principles
Reduce primary resource consumption to sustainable levels, in keeping with achieving the Sustainable Development Goals
Create higher value with less material through resource efficient and circular approaches
Minimize waste creation and loss of embedded resources at the end-of-life of products
Ensure security of material supply and reduce import dependence for essential materials
Create employment opportunities and business models beneficial to the cause of environment protection and restoration
Salient Features of NREP
It mandates setting up of National Resource Efficiency Authority
(NREA) to drive the agenda of resource efficiency across the country. An inter-ministerial National Resource Efficiency Advisory Board (NREAB) will provide necessary guidance on the aspects critical to the implementation of resource efficiency across all sectors.
Establish resource efficiency targets(based on 6Rs principles) for material recycling, reuse and landfilling targets for various sectors, in order to steer the country towards the circular economy.
Set standards and guidelines for reuse of secondary raw materials to address concerns regarding material quality, for product design to make products more durable, make use of secondary materials, and easy to repair and/or recycle.
Create and maintain database of material use and waste generated, recycled and landfilled, across various sectors and life cycle stages and across different regions (states/zones). To this purpose NREA will design database templates which will be fed in by concerned government agencies.
Establish audit mechanisms with deterrent penal provisions regulated by law, which will be undertaken by the concerning government agencies.
Provide training and capacity building to key actors responsible for undertaking or overseeing resource efficiency plans and strategies.
Resource Efficiency (RE)
It is a strategy to achieve the maximum possible benefit with least possible resource Fostering resource efficiency aims at governing and intensifying resource utilization in a purposeful and effective way.
It is the ratio between a given benefit or result and the natural resources use required for it.
Circular Economy (CE)
It is an alternative to the traditional linear economy in which resources are kept in use for as long as possible, extracting the maximum value, recovering and regenerating products and materials at the end of each service life.
Circular Economy along with RE are important goals and central principles for achieving sustainable development.
6Rs Principles
These principles arekey to drive resource efficiency and refer to:
Reduce
Reuse
Recycle
Refurbish
Redesign
Remanufacture
Need For Resource Efficiency in India
Economic growth and development in India over the last two decades has brought decline in poverty rates, increased urbanization and has put tremendous demand for various goods and services.
In the endeavor for economic growth, natural resources have been largely indiscriminately exploited, adversely impacting the environment and biodiversity.
Current Scenario
India's resource extraction of 1580 tonnes/acre is much higher than the world average of 450 tonnes/acre.
Low material productivity compared to global average.
3rd highest CO2 emitter, making it responsible for 6.9% of global CO2 emissions.
Highest water withdrawal globally for agriculture.
30% of land undergoing degradation.
High import dependency of many critical raw materials. For ex- India imports more than 80% of the oil that is processed in the economy and about 85% of its coking coal demand.
Recycling rates below international benchmarks- for packaging paper (27%); plastics(60 %) and metals(20-25%). In Scandinavian countries, the average recycling rates have reached 90 %.
Benefits of Resource Efficiency
It brings about multiple benefits along the three dimensions of sustainable development - economic, social and environmental.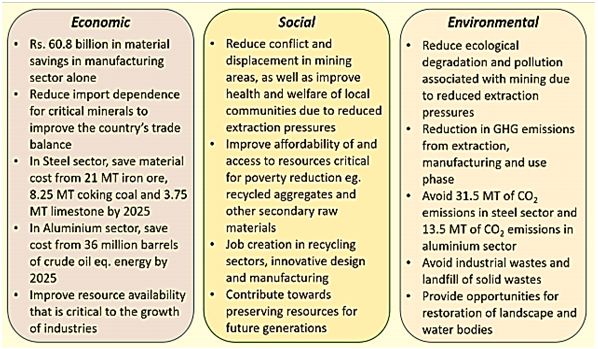 Government's Role towards Resource Efficiency
NITI Aayog in collaboration with the European Union delegation to India released the Strategy on Resource Efficiency in 2017. The strategy aims to promote resource efficiency in India.
Besides, the government should:

Set-up in house resource efficiency institution(resource efficiency cell) in their ministry/region to work and coordinate the tasks on resource efficiency in their concerned sector/region.
Implement the resource efficiency strategies, for their concerned sector/region.
Develop and implement policy instruments and enabling regulatory frameworks for resource efficiency in their concerned sector and/or region.
Facilitate b relevant datasets for their concernedsector/region.
Facilitate setting-up of infrastructure for recovery and recycling eg. setting-up of Material Recycling Zones (MRZs) that co-locate recyclers and end use producers with common facilities and shared infrastructure.
Institutionalize product labelling requirements that include relevant information about product with information on its safe usage and disposal.
Implement green public procurement that includes procurement of product manufactured from recycled scrap materials, use of recycled materials etc.
Implement waste segregation at sources in all its offices, residential areas and other establishments.
Incentivise production and consumption of resource efficient products through appropriate fiscal incentives in order to correct for market failures.
Way Forward
Natural resources form the backbone of any economic development. Resources not only help in meeting our basic needs, but also fulfill human aspirations for a better quality of life, higher standards of living.
Enhancing resource efficiency and promoting the use of secondary raw materials has emerged as a strategy for ensuring that the potential trade-off between growth and environmental well-being can be minimized.
Owing to current grim situation, the NREP, 2019 seeks to create a facilitative and regulatory environment to mainstream resource efficiency across all sectors by fostering cross-sectoralcollaborations, development of policy instruments, action plans and efficient implementation and monitoring frameworks.
Motor Vehicles (Amendment) Act, 2019 Passed
---
On 9th August, 2019, the President gave assent to the Motor Vehicles (Amendment) Bill 2019, in an attempt to regulate and improve road safety across the country.
The new act replaces the Motor Vehicles Act, 1988.
Aim:
It aims to make Indian roads safer, reduce corruption and use technology to overhaul the country's transportation system.
Need for the Amendment:
According to the road transport and highways ministry,maximum road accidents in the world occurred in India. Nearly half a million accidents are reported in India every year resulting in loss of precious lives.
Salient Features of the Act:
National Transportation Policy: It empowers the government to develop a National Transportation Policy, for establishing a framework for grant of transport permits. The Policy will help:
Establishing a planning framework for road transport
Developing a framework for grant of permits
Specifying priorities for the transport system, among other things.
Road Safety Board: It provides for creation of Road Safety Board for advising on matters relating to road safety.
National Register of Driving License: It will comprise licence data from through out the country to make transfer of vehicles across states easier and weed out fake DLs.
Hit and Run Scheme: The compensation payable for victims in 'hit and run' out of the scheme fund under Section 161 has been raised to Rs. 2 lakhs in case of death, and Rs. 50,000/- in case of bodily injury, from Rs.25,000 and Rs.12,500 respectively.
Manufacturer to Recall Defective Vehicles: It enables Central Government to issue directions to manufacture to recall vehicle or components in cases of defects reported by such percentage of users as notified, or by any testing agency or by any other source.
Liability of Contractor in Case of Faulty Road Design: It imposes liability on contractor, concessionaire or designated authority when their failure to follow prescribed design and standards results in death or injury.
Liability of Guardians in Case of Accidents by Juveniles: It imposes liability on guardian or the owner of the vehicle responsible for an accident caused by a juvenile, with a fine of Rs 25,000 with 3 years of imprisonment
Motor Vehicle Accident Fund: The Fund is to be utilized for giving immediate relief to victims of motor accidents, and also hit and run cases. The compensation paid out of the fund shall be deductible from the compensation which the victim may get in future from the Tribunal.
Power of Central Government to Frame Schemes for Inter-State Permits: As per the present Act, the power to make scheme for inter-state transportation of goods or passengers is an exclusive domain of the states. The new actempowers the Central Government to make schemes for national, multi-modal and inter-state transportation of goods or passengers. Further, in the event of any conflict between the schemes made by the Central Government and schemes made by two or more States, the schemes made by Central Government will prevail.
Protection of Good Samaritans: It makes provision for protection of Good Samaritans from unnecessary trouble or harassment from civil or criminal proceedings and empowers Central Government to frame Rules for their protections.
Significance:
It is an effort to overhaul the country's transportation laws by addressing crucial issues such as road safety, reducing deaths due to road accidents, imposing stiffer penalties on violation of rules, and weeding out corruption, thereby transforming India's road transport system.
It will help the government to meet its international commitments under the Brasilia Declaration of 2015(under which the government intends to reduce traffic fatalities by 50% by 2020)and the UN Sustainable Development Goals (SDG 3.6).
Hurdles to Road Safety in India:
Civilians Irresponsibility and Negligence Attitude:Its only human factor that contribute significantly to increasing number of road accidents in India. Drunken driving is one of the major reasons causing road traffic accidents largely among commercial vehicle drivers on highways. Reckless, over speeding, absence of seats belts, use of mobile phone increases the chance of fatal injuries for car occupants from near zero to almost 100%.
Awful Condition of Roads:Another reason for road accidents in India is pathetic conditions of the road. Most of them have potholes, without road signs or under construction for a long period. All these lead to road accidents. Roads are built without giving much consideration to its functionality.
Vehicle Design below International Standard:Indian vehicles design as well as safety normsdo not match up to the International Standards, leading to increasing number of road related casualties.
Improper Implementation of Road Safety Standards:Mostly Indian road are not well informed with the markings and signals.Most of the primary and secondary traffic signals are either not functioning as per the prescribed standards or wrongly installed. Road barriers and other related equipments are seen dwindling here and there on the roads. According to a study by Institute of Road Traffic Education (IRTE) in Delhi, about 75% of road signs did not meet requirements under the Indian Roads Congress (IRC) Code and the insertion of a regulatory or warning sign with another colour board
Lack of Emergency Services:Indian roads lack any provision for emergency services. In case of an accident there is no provision for first aid treatment near the intersections. Victims have to cost their lives as due to unavailability of doctors and hospitals nearby.
Government Initiatives Towards Road Safety
National Road Safety Policy(2017)
It outlines various policy measures such as promoting awareness, encouraging safer road infrastructure including application of intelligent transport, enforcement of safety laws trauma care etc.
National Road safety Council
The Government has constituted the National Road Safety Council as the apex body to take policy decisions in matters of road safety.
4 'E's Strategy:
The Ministry of Road Transport & Highway (MoRTH) has formulated a multi-pronged strategy to address the issue of road safety based on 4 'E's viz.Education, Engineering (both of roads and vehicles), Enforcement and Emergency Care. Based on this, a draft action plan has been shared with the states.
30th National Road Safety Week(4th – 10th February-2019):
In February, 2019, 30th National Road Safety Week was observed.A host of initiatives were launched on this occasion, aimed at generating awareness and sensitizing people about safe road usage.
SurakshaYatra - a motor car rally from Rajghat in New Delhi was flagged off to commemorate the 150th Birth Anniversary of Mahatma Gandhi. The flag off was also part of an event to launch the 30th National Road Safety.
Dash Board for Road Accident Data of India and States: This will be available on the website of the Road Ministry. People can access road accident related data and other information from this Dash Board.
Swachha Safar and SurakshitYatra: It is a set of comic books on road safety produced by Uber and Amar Chitra Katha were also released on this These comic books are aimed at creating awareness on the issue among children in an informal format that they can relate to.
iSafe Campaign: The Safer India(ISafe) Challenge, 2019, is a 9 month long championship held annually, with the aim to reduce the deaths caused due to road accidents to half by 2020. It is an initiative of Indian Road Safety Campaign and MoRTH, held for colleges all across India.iSAFE aims to spread awareness among the youth and at the same time make use of them as a resource to create awareness among the nation.
National Highway Accident Relief Service Scheme:
Under this scheme, state governments are provided cranes and ambulances and the National Highways Authority of India (NHAI) also provides ambulances at a distance of every 50 km on its completed stretches.
Brasilia Declaration on Road Safety, 2015
The Brasilia Declaration which was hosted by Brazil in November 2015 in Brasilia, Brazil, also co-sponsored by WHO, is a call to rethink transport policies in order to advice more sustainable modes of transport such as walking, cycling and using public transport.
It underline strategies to secure the safety of all road users, specially by improving laws and administration; making roads safer through infrastructural modifications; making sure that vehicles are equipped with life-saving technologies; and strengthening emergency trauma care systems.
It encourages WHO and partners to smooth the way for the development of targets to lower road casualties, and keep up with the definition and use of indicators linked to the SDG targets related to road safety.
Vision Zero
Started in Sweden in 1997, Vision Zero is a multi-national road traffic safety project that aims to achieve a highway system with no fatalities or serious injuries in road traffic.
It is an approach wherein responsibility for transport safety is shared between individual transport system users and system designers (the entities that shape the system, such as the automotive industry, lawmakers and infrastructure owners).
Way Forward:
Road safety is an issue that requires a multi-pronged solution. Recognition of road safety as the joint responsibilityof decision makers and road users, coupled with political action and legislative reform at all levels of government will be essential to bring about long-term improvement.
Such changes, accompanied by increased participation from the civil society and private players can push India to achieve its target of 50 percent reduction in road traffic fatalities in the foreseeable future.
Time is ripe to rethink our strategies to overcomechallenges and focus on creating a road safety revolutionin the country. There is a need for political commitmentlike 'Swacch Bharat' to ensure this road safety revolutiontowards a 'Suraksha Bharat'.
National Medical Commission Act, 2019
---
On 8th August, 2019, the President gave assent to the National Medical Commission (NMC) Bill, 2019.
With this, it repealed the Indian Medical Council Act, 1956 that led to the formation of the Medical Council of India (MCI).
Aim
To provide for a medical education system that improves access to quality and affordable medical education,ensures availability of adequate and high quality medical professionals in all parts of the country.
To promote national health goal and equitable and universal healthcare that encourages community health perspective across the country.
Background
Medical Council of India (MCI) was dissolved in 2010 following corruption charges against its president Ketan Desai by the Central Bureau of Investigation (CBI).
An earlier version of this Bill was introduced in the 16thLokSabha, which got lapsed at the end of the term of the LokSabha.
Key Features of the Bill
Establishment of National Medical Commission(NMC): ANMC will be set up in place of MCI that will have responsibilities such as approving and assessing medical colleges, conducting common MBBS entrance and exit examinations and regulating medical course fees. The Commission shall consist of the following persons to be appointed by the Central Government, namely:
a Chairperson
ten ex officio Members
twenty-two part-time Members
State Medical Council: States will establish their respective State Medical Councils within three years. These Councils will have a role similar to the NMC, at the state level.
Establishment of Autonomous Board: It proposes to set up four autonomous boards under the supervision of the NMC. Each board will consist of a President and four members (of which two members will be part-time), appointed by the central government (on the recommendation of a search committee). These bodies are:

The Under-Graduate Medical Education Board
The Post-Graduate Medical Education Board
The Medical Assessment and Rating Board
The Ethics and Medical Registration Board

National Exit Test (NEXT): It proposes a common final-year MBBS examination, known as NEXT, for admission to post-graduate medical courses and for obtaining a license to practice medicine, which will also serve as a screening test for foreign medical graduates. Currently, foreign students with MBBS degrees are automatically entitled to practice in India.
Fee Regulation:It proposes to regulate the fees and other charges of 50 percent of the total seats in private medical colleges and deemed universities.
Community Health Providers:It provides for the NMC to grant limited license to certain mid-level practitioners called community health providers, connected with the modern medical profession to practice medicine. These mid-level medical practitioners may prescribe specified medicines in primary and preventive healthcare.
Need for National Medical Commission
MCI not fulfilling its Responsibilities: According to the 92th report (2016) of the Parliamentary Standing Committee on Health and Family Welfare, the MCI has repeatedly been found short of fulfilling its mandated responsibilities.
Inefficient Current Model of Medical Education: The current model of medical education is not producing the right type of health professionals that meet the basic health needs of the country because medical education and curricula are not integrated with the needs of our health system.
Incompetence Medical Practitioners: Many of the products coming out of medical colleges are ill-prepared to serve in poor resource settings like Primary Health Centre and even at the district level. Further, medical graduates lack competence in performing basic health care tasks like conducting normal deliveries.
Increasing Instances of Unethical Practice and Corruption: Be it in urban or rural areas, the malpractices in medical profession in India is continuously increasing day by day. Hundreds and thousands of cases happen every day in Indian medical profession, where doctors, on whom patients blindly trust, make fool out of patients.
Significance
Help to Curb Corruption: It may prove helpful in fighting corruption, which had affected MCI.Unlike MCI, the members of NMC will have to declare their assets at the time of assuming office and when they leave. They will also have to submit a conflict of interest declaration.
Availability of More Practitioners: Also, the World Health Organization prescribes a doctor to patient ratio of 1:1,000, but as reports indicate, India is far from achieving that target. Allowing Community Health Providers to practise medicine is likely to plug this shortage to some extent.
Multiple Benefits: It will help reduce the burden on students, ensure probity in medical education, bring down costs of medical education, simplify procedures, ensure quality education, and provide wider access to people to quality healthcare.
Why is the NMC Act being protested by the Medical Fraternity?
The Indian Medical Association(IMA) has raised concerned over license being provided to 5 lakhs non-medical persons or Community Health Providers to practice modern medicine. According to the IMA, this may open the door for persons with inadequate training in modern medicine to practice, putting patients at risk and lowering standards of healthcare.
It has been termed as 'anti-poor and anti-public' since making NEXT mandatory before NEET can reduce the chances of people from economically weaker section entering the medical sector.
The Act allows the commission to frame guidelines for determination of fees and all other charges in respect of 50 percent of seats in private medical institutions and deemed to be universities. This increases the number of seats for which private institutes will have the discretion to determine fees. At present, in such institutes, state governments decide fees for 85 per cent of the seats.
Another objection is regarding the power it grants to the central government to give policy and other directives to the NMC and its autonomous boards which will be binding and final. This is contradictory to the very concept of autonomy of the four boards. The central government has also been empowered to give directives to state governments for implementing provisions of the act, which will also be binding, reflecting the anti-federal character of the Bill.
Inter-State River Water Disputes (Amendment) Bill, 2019
---
On 31st July, 2019, the LokSabha passed a bill designed to speed up the resolution of long-festering inter-state water disputes by establishing a single central tribunal in place of the numerous existing ones.
Objective
The Bill aims at amending the Inter State River Water Disputes Act, 1956 to make the adjudication of inter-state river water disputes more efficient and smooth.
Background
In 2002, the 1956 Act was amended with a target of five years for resolution of any river water dispute. However, the purpose of moving forward with the amendment was not fulfilledowing to the extensions given to the tenure of tribunals.
A bill similar to this was brought to LokSabha in 2017 which was then referred to the standing committee, but the draft law lapsed as the term of the 16th LokSabha had ended.
Key Features of the Bill
Provision for Single Tribunal: A key feature of the Inter-State River Water Disputes Amendment Bill, 2019 is the constitution of a single tribunal with different benches, and the setting up of strict timelines for adjudication.
Two-Tier Resolution Mechanism: Itputs forward a provision for a two-tier dispute resolution mechanism. When a dispute emerges, it would be referred to a Dispute Resolution Committee (DRC) which is to be headed by a secretary-level officer of the central government along with experts from relevant fields. If cases where the committee fails, the dispute will move to a centralised (single standing) tribunal with various benches - instead of the multiple tribunals that currently exist.
All the existing tribunals would be dissolved with the setting up of such a tribunal to which all the pending cases will be transferred to it.
Appointments: The tribunal would have a chairman, a vice-chairman and six members - three judicial and three experts. They would be appointed by the central government on the recommendation of a selection committee, which would comprise of the Prime Minister, Chief Justice of India and ministers for law and justice and Jal Shakti.
Retirement: The term of office of the chairperson and vice-chairperson would be five years or until the age of 70 years. That of the other members would be co-terminus with adjudication of dispute or until 67 years.
Time Limit: The maximum time allowed for the DRC would be one-and-half years, for the tribunal three years and for reconsideration another one-and-half years - taking the total to six years.There would be no requirement of publication of the tribune's report.
Basin-Wise Data:It also provides for a transparent data collection system at the national level for each river basin, the lack of which has been felt for a long time.
Need for Such Amendment
Much Delay in Award: The existing tribunals dealing with inter-state river water disputes are legendary for the time they take to give awards. Under the 1956 Act, nine tribunals have so far been set up. Only four of them have given their awards. One of these disputes, over Cauvery waters between Karnataka and Tamil Nadu, took 28 years to settle. The Ravi and Beas Waters Tribunal was set up in April 1986 and it is still to give the final award.
According to the Ministry of Water Resources, River Development and Ganga Rejuvenation, there are five major causes for the delays:
No strict time limit for adjudication as the central government kept extending tenure of the tribunals indefinitely, even though they were to resolve disputes within 5 years
No limit for publishing the report of a tribunal
no upper limit for retirement of the chairperson or other members
In case of any vacancy, the Chief Justice of India to nominate a person which took time and caused considerable delays
Absence of data on river basins.

Increasing Inter-water Disputes:The Statement of Objects and Reasons of the Bill says the number of inter-state water disputes is on the rise due to an increase in demand for more water by states. Though the existing Inter-State River Water Disputes Act of 1956 provides for a legal framework to address such disputes, it suffers from many drawbacks, which this Bill seeks to address.
Saving of Manpower and Money as Well:The multiplicity of tribunals has led to an increase in bureaucracy, delays, and possible duplication of work. The replacement of five existing tribunals with a permanent tribunal is likely to result in a 25 per cent reduction in staff strength, from the current 107 to 80, and a saving of Rs 4.27 crore per year.
Significance
It seeks to streamline the adjudication of such disputes and make the present legal and institutional architecture robust to overcome these challenges.
The timely resolution of river water disputes will bring development of both the states as well as the country.
Constitutional Provision for Inter State Water Disputes
Article 131: It which deals with the Supreme Court's exclusive jurisdiction to adjudicate disputes between States is not an unrestricted one.
Article 262: It states that the Parliament may by law provide for the adjudication of any dispute or complaint with respect to the use, distribution or control of the waters of, or in, any inter-State river or river valley.
Entry 17 of State List: deals with water i.e. water supply, irrigation, canal, drainage, embankments, and water storage and water power.
Entry 56 of Union List: empowers the Union Government for the regulation and development of inter-state rivers and river valleys to the extent declared by Parliament to be expedient in the public interest.
Inter-State Water Disputes and States Involved
Narmada Water Dispute- Gujarat, Maharashtra, Madhya Pradesh and Rajasthan
Mahi River Dispute- Gujarat, Rajasthan and Madhya Pradesh
Ravi and Beas Water Dispute- Punjab, Haryana, Himachal Pradesh, Rajasthan, Jammu and Kashmir and Delhi
Cauvery Water Dispute- Tamil Nadu, Kerala and Karnataka
Krishna Water Dispute- Maharashtra, Karnataka and Andhra Pradesh
Godavari River Water Dispute- Andhra Pradesh, Odisha, Chhattisgarh, Karnataka, Madhya Pradesh
Reasons for Water Disputes
Uneven Distribution of Water Resources: Some of the states having more flowing of rivers and they have enough water for their irrigation and the production of electricity, while some lack in water resources. Due to the uneven distribution of water resources some of the states are going to deficient of water and they will depend on the available resources.
Variation of rainfall and Frequent Drought: There has been a consistent drop in the average seasonal rainfall India receives during the summer monsoon months of July-August, resulting in frequent drought across the India. This, in turn, gives rise to more demand for water, ultimately leading to water disputes among the states.
Dam Construction: Construction of more dams across the river also creates disputes among the states. Because of these dams, downstream regions will not get water for irrigation projects and multi-purpose projects. Due to this demand for the river water increases and generates the disputes among the states.
Way Forward
Water disputes have humanitarian dimensions which include agrarian problems that are worsened by drought and monsoon failures. There must be a sense of responsibility in states to consider these aspects. The disputes should be depoliticised and there must be political will to make the institutional mechanisms work, contributing to overall development of country.
Nagaland Govt. Constitutes Commission For RIIN
---
On July, 27th, 2019, the Nagaland Government constituted a commission to frame the modalities of creating the Register of Indigenous Inhabitants of Nagaland (RIIN).
The commission shall have access to all records and documents that may be relevant to the subject and shall also be free to associate any government official or any person as it may deem fit for successful completion of the task assigned.
The Commission is required submit its report within three months.
Members
It included headed by retired Chief Secretary Banuo Z. Jamir as chairman and T. Kiheto Sema and S. Chingwang Konyak as members.
Justice (Retd.) Zelre Angami will function as the advisor to the Commission.
The Home Commissioner and the Commissioner Nagaland will be ex-officio members of the panel.
Objectives
To chalk out modalities for the RIIN exercise.
To study and examine all issues related to the exercise and submit its recommendations to government.
Issues like eligibility criteria to be an indigenous inhabitant, relevant authority to authenticate claims, place of registration and nature of documents needed to substantiate claims will be studied and finalised by the commission.
Register of Indigenous Inhabitants of Nagaland (RIIN)
In June, 2019, the Nagaland Government decided to set up a Register of Indigenous Inhabitants of Nagaland (RIIN) with the aim of preventing fake indigenous inhabitant's certificates. The RIIN will be the master list of all indigenous inhabitants of the state.
The government began the process of preparing the RIIN on July 10, 2019.
Only those whose names figure in the RIIN will be issued indigenous inhabitant certificates and all other certificates would become invalid after the preparation of the final register.
However, the Nagaland government has put on hold the enrolments for the Register of Indigenous Inhabitants of Nagaland (RIIN) as it announced the formation of a three-member commission to study the exercise amid concerns by civil society groups and political parties.
Objectives
The RIIN would provide protection to genuine citizens who are permanent settlers of Nagaland and non-Nagas will not be harassed during preparation of the list of indigenous citizens.
It will help identify the citizens who settled in Nagaland prior to December 1, 1963, the day it became a full-fledged State.
How will the list be prepared?
The RIIN list will be based on an extensive survey. It will involve official records of indigenous residents from rural and (urban) wards and would be prepared under the supervision of the district administration.
Designated teams of surveyors will be formed within seven days from the date of publication of the notification, and thereafter these teams will be sent across each village and ward.
How will the survey be done?
The designated teams comprising Sub-Divisional Officers (SDO), Block Development Officers (BDO), Headmasters and other nominated members, will make a list of indigenous inhabitants in the state.
The database will note each family's original residence, current residence as well as the concerned Aadhaar numbers.
What will the unique identity look like?
Based on the adjudication and verification, a list of indigenous inhabitants will be finalised and each person will be given a unique ID. The final list or the RIIN will be created and its copies will be placed in all villages and ward. Electronic copies of the list will also be stored in the State Data Centre.
A mechanism or electronic and SMS-based authentication will be put in place. All indigenous inhabitants of the state would be issued a barcoded and numbered Indigenous Inhabitant Certificate. The process will be conducted across Nagaland and will be done as part of the online system of Inner Line Permit (ILP), which is already in force in Nagaland.
Inner Line Permit (ILP)
ILP is an official travel document issued by the Government of India to grant inward travel of an Indian citizen into a protected area for a limited period. Visitors are not allowed to purchase property in these regions.
It is obligatory for Indians residing outside those states to obtain permission prior to entering the protected areas.
Currently, the Inner Line Permit is operational in Arunachal Pradesh, Mizoram and
The document has been issued under the Bengal Eastern Frontier Regulation, 1873 and the conditions and restrictions vary from state to state.
Aim
It aims to regulate movement to certain areas located near the international border of India.
How will the RIIN be updated?
Once the RIIN is finalised, no fresh indigenous inhabitant certificates will be issued except to newborn babies born to the indigenous inhabitants of Nagaland.
What about those excluded from the list?
In case anyone who is left out of the RIIN, he/she will need to file an application before Home Commissioner who will get the matter verified and take necessary action for updating the RIIN if needed.
Challenges to RIIN Initiative
Definition of Indigenous Inhabitants:
One the major challenge is to decide the indigeneity of the inhabitant because there is no clear definition of who is an indigenous inhabitant; although the State has 16 recognised tribes. Attempts to arrive at a conclusion have failed because of a Naga customary law that allows adoption of other communities.
An example is that of the Gurkhas who settled in the State before December 1963. They have been recognised as indigenous.
Cut-off Date Issue:
Though the official notification on RIIN has not mentioned a cut-off date to compile the proposed register, the authorities in Nagaland have till date issued indigenous inhabitant certificates using December 1, 1963 as the cut-off date.
Since 1977, to be eligible to obtain a certificate of indigenous inhabitants of Nagaland, a person has to fulfill either of the below conditions:

the person must be settled permanently in Nagaland prior to December 1, 1963
his or her parents or legitimate guardians were paying house tax prior to the cut-off date (December 1, 1963)
the applicant, or his/her parents or legitimate guardians, acquired property and a patta (land certificate) prior to this cut-off date

If the Nagaland government goes ahead with a compilation of RIIN with this cut-off date, then all Naga people who have migrated to the State from the neighbouring States of Assam, Manipur and Arunachal Pradesh and elsewhere in India after this day will have to be excluded.
Adopted non-Naga Children:
The compilation of RIIN involves the complexities of deciding on the claims of the children of non-Naga fathers as well as non-Naga children adopted by Naga parents.In such case, all Naga people who have migrated to the State after this day will have to be excluded.These include migrants from the neighbouring Assam, Manipur and Arunachal Pradesh and elsewhere in India.
Inner Line Permit Issue:
As the Nagaland government has begun a consultation process on RIIN, it will be under pressure to de-link the work of streamlining the ILP mechanism from the proposed register.
The RIIN proposal may require large numbers of non-indigenous inhabitants to obtain an ILP to carry out day-to-day activities.Notably, most of them are migrated ones from other States and have been carrying out trade, business and other activities for decades. It will hit the economy of the state.
Further, the complexities that may arise in streamlining the ILP mechanism due to non-issuance of domicile certificates or permanent residence certificates to a large number of non-Naga, non-indigenous inhabitants could also make the task even more difficult for the Nagaland government.
Protection Of Human Rights (Amendment) Bill, 2019
---
On 19th July, 2019, the Lok Sabha passed the Protection of Human Rights (Amendment) Bill, 2019. The Bill amends the Protection of Human Rights Act, 1993.
Objective:
The proposed amendments will enable both the Commission as well as the State Commissions to be more compliant with the Paris Principles concerning its autonomy, independence, pluralism and wide-ranging functions in order to effectively protect and promote human rights.
Salient Features of the Bill:
·Supreme Court Judge: It provided that a person who has been the Chief Justice of India, or a Judge of the Supreme Court will be the chairperson of the National Human Right Commission (NHRC). As per the 1993 Act, only a person who has been the Chief Justice of India can be made the NHRC chairperson.
·High Court Judge: It proposes to enable any person who has been a judge of a High Court to be the chairperson of State Human Right Commission (SHRC).
·Human Right Experts to be Member: It provides for two persons having knowledge of human rights to be appointed as members of the NHRC.
·Provision of Women Member: It increases the number of members from two to three and that of three members of the commission; at least one will be a woman.
·Reduction of Term of Office: It reduces the term of office of chairpersons and members of NHRC and SHRC to three years or till the age of seventy years, whichever is earlier. The 1993 Act states that the chairperson and members of the NHRC and SHRC will hold office for five years or till the age of seventy years, whichever is earlier.
·Reappointment Provisions: It also allows for the reappointment of chairpersons of the NHRC and SHRCs.
·Members from Various Commissions: It also provided to include Chairperson of the National Commission for Backward Classes, Chairperson of the National Commission for Protection of Child Rights and the Chief Commissioner for Persons with Disabilities as deemed Members of the Commission.
·Powers of Secretary-General: It allows the Secretary-General and Secretary to exercise all administrative and financial powers (except judicial functions), subject to the respective chairperson's control.
·Union Territories: Now the central government may confer on a SHRC human rights functions being discharged by Union Territories. Functions relating to human rights in the case of Delhi will be dealt with by the NHRC.
Impact:
The amendment will ensure transparency in the appointment of chairman and members of the commission and better performance of functions and duties.
Human Rights Issues in India:
Custodial Violence
Custody death, torture in custody and custodial rape has been subjects of much concern. The incidence of custody deaths demonstrates more undeniably the brutalisation of the processes of law enforcement by the police and armed forces.
Project Displacement
Project displacement for the construction of large dams or for power projects, for instance, has led to protest movements directly involving the affected people. Human rights issues that arise include displacement, rehabilitation, impoverishment that results from displacement, for e.g. Narmada Bachao Andolan was started in 1985 to stop indigenous people being deprived of their land and livelihood.
Refugees Human Rights Issue
India is not a signatory to the 1951 Refugee Convention and also it does not have a domestic legislation in place. Despite this, it continues to be a host to the largest number of refugees across South East Asia. India has adopted an ad hoc administrative policy to accord protection to refugees ever since independence. This poses problems of human right abuses of refugees, lack of basic amenities and discrimination between refugees themselves, for e.g. ongoing crisis over Rohingya refugees from Myanmar. The exclusion of asylum-seekers and refugees adds up to violation of India's duty under customary international law, which restricts governments from returning people to a territory where they are vulnerable to serious human rights violations.
Right over Resources
The 2006 Forest Rights Act gave tribal's right to live on and protect the land that they had been cultivating within forest boundaries. But in February 2019, the Supreme Court ordered the eviction of more than a million forest-dwelling and tribal families across 16 states, depriving them from their rights over forest resources.The next Supreme Court hearing in the case will be on 24 July, 2019, when the court may once again order the eviction of millions of people. This comes at a time when India's tribal peoples are facing an unprecedented assault on their rights.
Sexual Harassment at Workplace
Sexual harassment at workplace is a universal issue whether it be a developed nation or a developing nation or an underdeveloped nation, cruelties and abuse against women is common everywhere. It is seen to be occurring more with women as they are viewed as the most vulnerable section of the society. Registered cases of sexual harassment at Indian workplaces increased 54% from 2014 to 2017. Sexual harassment violates the fundamental right of a woman to gender equality under Article 14 of the Constitution of India and her right to life and live with dignity under Article 21 of the Constitution.
Fake Encounters (Extra-judicial killings)
In India, extra-judicial killings by the police or the security forces are called encounter killings. The killing by the state forces is most often declared to be defensive, cases of attempted murder and other related offences are registered against the victims, and the cases closed without further investigation.
Recently, in January, 2019, the officials from the Office of the High Commissioner for United Nations Human Rights (OCHR) raised concerns on extra judicial killing by Uttar Pradesh police. Most of the cases which the OHCHR has raised with the Indian government pertain to Muslim victims.
Child Rights Issues
According to the UNICEF, there are about 10.1 million children employed in child labour in India today. That amounts to nearly 13% of our workforce, or in other words, 1 in every 10 worker in India is a child; a child who is promised protections under the Indian Law, and guaranteed education and mid-day meals, till the age of 14 is being robbed off their rights.
Prisons Related Issues
The conditions in jails, solitary confinement, the inhuman treatment of prisoners, overcrowding of prisons are some of serious issues that have been raised repeatedly against human rights violation.
Recently released NCRB data in May, 2019, presents a pathetic condition of Indian prisons and prisoners. According to it, the number of unnatural deaths in prisons doubled between 2015 and 2016; the rate of suicide among prisoners also increased by 28%. A phenomenal rise in the number of people held under administrative (or 'prevention') detention laws in Jammu and Kashmir (a 300% increase) was also noted.
Minorities Rights Violation
Religious minorities, especially Muslims, have come under increasing threat of harassment and violence in recent years. Mobs have lynched many people from marginalized groups throughout India, especially Muslims often over suspicions of cow slaughter and religious fundamentalism.
Cabinet Approves Banning Of Unregulated Deposit Schemes Bill, 2019
---
On 10th July, 2019, the Cabinet approved the Banning of Unregulated Deposit Schemes Bill, 2019, replacing the Banning of Unregulated Deposit Schemes Ordinance introduced in February, 2019.
Aim:
It aims at plugging gaps in existing laws and giving powers to the government to prohibit companies from taking such funds from the public.
Salient Features of Bill:
Banning Provision: It bans deposit takers from promoting, operating, issuing advertisements or accepting deposits in any unregulated deposit scheme.
Obligation on Deposit Taker: It has provisions to impose an obligation on the deposit taker, pursuant to a regulated deposit scheme, not to commit any fraudulent default in the repayment or return of the deposit.
Defines Three Different Types of Offences:
Running of Unregulated Deposit Schemes
Wrongful inducement in relation to Unregulated Deposit Schemes
Fraudulent default in Regulated Deposit Schemes
Creation of Competent Authority: It provides for appointment senior government officials or a competent authority that can attach assets or properties and subsequently realize the assets towards repaying depositors.
Punishment and Repayments: It prescribes severe punishment and heavy fines for offenders. It also provides adequate provisions for repayment of deposits in cases where such schemes manage to raise deposits illegally.
Creation of Online Database: It calls for creation of online database for collection and sharing of information on deposit-taking activities in the country.
Need for Such a Scheme:
Absence of Regulatory Framework: The menace of increasing Ponzi schemes across the country has exposed the inadequacy of the existing legal and regulatory framework in ensuring that entities that run and manage such schemes are held accountable.
Rising Number of Fraud Cases: In the past four years, 146 cases of illegal deposits had been investigated by the Central Bureau of Investigation, 56 by the Enforcement Directorate, 32 cases involving 223 companies by the Ministry of Corporate Affairs and the Serious Fraud Investigation Office and 978 cases were referred to various investigating enforcement agencies by the State Coordination Committees.
Indeed, one of the factors that led to the introduction of the Banning of Unregulated Deposits Scheme was the controversies in relation to Ponzi schemes such as Rose Valley and Saradha scam in West Bengal.
What is a Ponzi Scheme?
A typical Ponzi scheme involves the operator collecting a large amount of money from investors and paying them returns from their own money or the money collected from subsequent investors, rather than from profit earned by the person or the entity operating such a scheme.
The basic idea of the scheme is to gain continuous flow of money by attracting new clients. The scheme falls when this flow of money is stopped. So, the company lured people to invest by promising them to multiply their money in a short span of time.
It is named after Charles Ponzi who became notorious for using the technique in the early 1920s. He duped thousands of people into investing in a postage stamp speculation scheme.
Impact:
Curbing the Illicit Deposits Activities: It will help tackle the menace of illicit deposit taking activities in the country, which at present are exploiting regulatory gaps and lack of strict administrative measures to dupe poor and vulnerable people of their hard earned money.
Boosting Investor's Confidence: With such banning and regulatory framework, it will further help boosting the confidence of investors in dealing with deposit schemes across the country.
Centre Rejects UP Government's Move To Shift 17 OBC's To SC List
---
On 2nd July 2019, Union Minister for Social Justice and Empowerment said in the Rajya Sabha that shifting of 17 Other Backward Classes (OBCs) to the Schedule Caste list is unconstitutional, and a transgression of Parliament's jurisdiction.
Relevance of the News: The news clarifies the procedure for shifting of backward classes into the reserved lists.
Details of the News:
In June 2019 the UP government directed District Magistrates and Commissioners to issue caste certificates to the 17 OBCs, Kashyap, Rajbhar, Dhivar, Bind, Kumhar, Kahar, Kewat, Nishad, Bhar, Mallah, Prajapati, Dhimar, Batham, Turha, Godia, Manjhi and Machua.
UP government's decision refers to an order of the Allahabad High Court (dated March 29, 2017) which laid that "in the event, any caste certificates are issued pursuant to the order impugned, those certificates shall be subject to the outcome of the writ petition."
But the Union Minister disapproved the UP government's decision to issue caste certificates to these communities terming it neither appropriate nor "constitutional".
It is the Parliament's prerogative to remove an SC, ST or OBC caste from one group and include in another.
Article 341(1) of the Constitution prescribes the procedure for regarding castes as "Scheduled Castes"
Under Article 341(2) of the Constitution, the power to make changes in the SC list lies only with Parliament.
Similar Attempts in the Past:
Similar attempts in the past have been rejected by the SC. In 2005, the Mulayam government amended the Uttar Pradesh Public Services Act, 1994, to include 17 OBC castes in the SC list. The Allahabad High Court quashed the amendment, terming it unconstitutional, since only Parliament has the power to make such an inclusion.
Another attempt by the Akhilesh government in 2013 met a similar fate.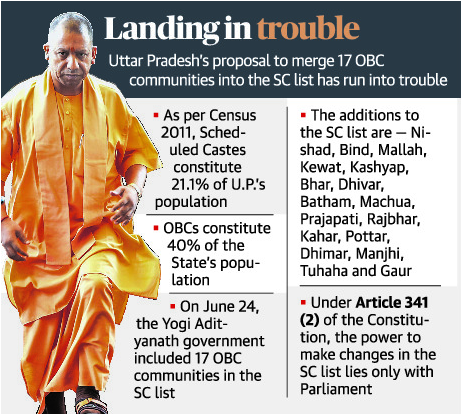 Nagaland Plans To Implement NRC
---
Nagaland on 29th June announced starting of its own National Register of Citizens (NRC).
Relevance of the News: The news highlights the importance of NRC and its gradual acceptability among other states.
Nagaland Notification:
Nagaland Home Commissioner R. Ramakrishnan issued a notification for the setting up of the Register of Indigenous Inhabitants of Nagaland (RIIN).
RIIN is aimed at preparing a master list of all indigenous peoples in Nagaland and curbing the fake indigenous inhabitant certificates issued to people.
Once the process is complete the database would be updated with latest photographs and other details every five years.
There would be a complete ban on issue of fresh indigenous inhabitant certificates once the final RIIN is notified.
The process of Nagaland NRC:
Designated teams will move out to villages and urban wards from July 10, less than a month before Assam is to publish the final NRC.
There is a 60-day deadline for collecting information on locals and non-locals. This exercise will be monitored by the Home Monister.
Claims and objections can be filed for a period of 30 days, i.e. on or before October 10, 2019. Once new genuine indigenous inhabitants are issued certificates and RIIN is notified, all existing indigenous inhabitants certificates issued by any authority will become invalid.
The list will be prepared under the supervision of each district administration. Only those persons who names will figure in the RIIN will be issued indigenous inhabitant certificate.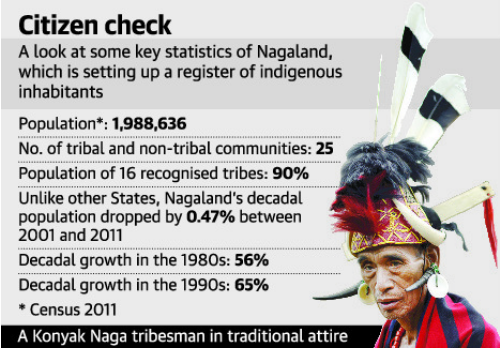 Aadhaar Bill Re-introduced In The Parliament
---
Aadhaar and Other Laws (Amendment) Bill 2019, has been re-introduced in the parliament by Law Minister Ravi Shankar Prasad.
Aadhaar and Other Laws (Amendment) Bill 2019:
The proposed amendments to Aadhaar Act 2016 will:
Provide for voluntary use of Aadhaar number in physical or electronic form by authentication or offline verification with the consent of Aadhaar number holder.
It will also pave the way for use of alternate virtual identity number to keep hidden the actual Aadhaar number of the person.
It seeks to allow entities to perform authentication only when they are compliant with the standards of privacy and security defined by the UIDAI.
The amendment will also prevent denial of services for refusing to, or being unable to, undergo authentication.
Give a child an option to exit from the biometric ID programme on attaining 18 years of age.
Impose stiff penalties for violation of norms set for the use of Aadhaar and violation of privacy. A civil penalty of up to Rs 1 crore on violation of provisions, and additional fine of up to Rs 10 lakh per day in case of regular non-compliance.
Unauthorised use of identity information by a requesting entity would be punishable with imprisonment of up to three years with a fine that may extend to Rs 10,000 or in case of a company with a fine of up to Rs 1 lakh.
Punishment for unauthorised access to the Central Identities Data Repository as well as data tampering is proposed to be extended to 10 years each from the current three years.
The proposed Bill will replace the ordinance already in place issued in March 2019.
Opposition to the Amendment bill:
Various oppositions have been raised to the provisions of the amendment act, which include:
The bill allows private companies to access data without laying safeguards for data protection as mandated by Supreme Court thus infringing the Right to Privacy of citizens.
The Data Protection Bill should be passed either simultaneously with the Bill or before the amendment bill is passed.
The amendment contravenes the Supreme Court's judgement that restricted the use of Aadhaar for only such things which have the colour of a subsidy and which are paid out of the Consolidated Fund of India. The amendment allows Aadhaar to be used for verification, phone connections etc.
PM Calls For 'One Nation One Election'
---
The Prime Minister had called for an all-party meet on 'one nation, one election'.
Relevance of the News: It highlights the concept of one election for the country i.e. simultaneous elections for centre, states and local bodies.
One Nation One Election:
Ahead of the first session of the 17th Lok Sabha, PM addressed leaders of the Opposition at an all-party meeting. All party meeting is convened at the beginning of every session to ensure smooth functioning of the parliament.
The meeting has been called to discuss "one nation, one election" issue along with other issues of national importance.
Simultaneous elections refer to holding elections to Lok Sabha, State Legislative Assemblies, Panchayats and Urban local bodies simultaneously, once in five years.
Challenges Associated with Simultaneous Elections:
Achieving political consensus for this idea seems to be difficult.
Regional parties will be more opposed to the idea than national parties because there is always a tendency for voters to vote the same party in power in the state and at the Centre in case the Lok Sabha polls and the state elections are held together.
If implemented the plan will get disrupted every time a state assembly is dissolved in the midst of 5 years which will again distort the alignment of centre and state elections.
MOSPI Will Set Up 'National Data Warehouse'
---
Why is it in News?
The Ministry of Statistics and Programme Implementation (MoSPI) has proposed to set up a 'National Data Warehouse' wherein big data analytical tools will be leveraged to further improve the quality of macro-economic aggregates. The ministry is also redrafting the National Policy on Official Statistics (NPOS).
Relevance of the News: Data security and authenticity is an important part of national security and economic data security of India which is a part of Paper 3 in UPSC Mains.
More on the News:
On the issue of restructuring in official statistics system, the Ministry is giving an increased focus on Data Quality and Assurance by repositioning the existing data processing personnel.
MoSPI, in an order on May 23, had cleared the merger of NSSO and CSO under National Statistical Office (NSO).
The ministry also said that efforts are underway to evolve a legislative framework under which the National Statistical Commission (NSC) may function with independence and give holistic guidance for improving the national statistical system.
India has adopted the United Nations Fundamental Principles of Official Statistics (FPOS) in May, 2016. The reforms being undertaken in MoSPI are in consonance with these principles as also the various recommendations of the NSC.
National Data Warehouse:
MoSPI is working to collate all the official statistics in a National Data Warehouse.
There will be a repository vault where all statistical information like surveys and administrative systems will be collected.
This prime project will streamline the availability of data across departments, ministries, sectors and state governments and everyone will have access to same set of data.
The data warehouse would work as a central repository of all the statistical data collected various ministries, UTs and state governments.
Quick Response (QR) Code Vs. Barcode
---
Why is it in News?
The government is now looking to make a quick response (QR) code-based payment method using the Unified Payments Interface (UPI) mandatory for all shops and establishments beyond a certain threshold.
What is QR Code?
QR code (Quick Response code) is a two-dimensional (matrix) machine-readable bar code made up of black and white square. This code stores the information in horizontal and vertical direction.
The QR code can be deciphered by a camera, smart phone etc.
How is QR Code better than Bar Code?
Barcode only holds information in the horizontal direction, a QR can do so vertically as well, and hence QR code is capable of carrying 100 times more information than a barcode.
A QR code is capable of being read in 360 degrees, from any direction, thus eliminating any interference and negative effects from backgrounds.
QR code generally has an error margin of 7-30%, which means that even if the QR code is tampered to an extent it can be deciphered easily. Due to this reason QR codes are extensively used by the sellers.
QR codes have different images to be included, hence chances of uniqueness is increased and gives designer more flexibility.
Source: Economic Times
Returning Officer (RO)
---
Why is it in News?
The role of Returning Officer has become an "Apple of Discord" among the political parties in the General Elections of 2019.
Returning Officer:
A Returning Officer is responsible for overseeing the election in a constituency, or sometimes in two constituencies, as directed by the Election Commission (EC).
The EC appoints the Returning Officer and Assistant Returning Officer for a constituency in consultation with the governments of the State or Union Territory as the case may be.
Role of RO is mentioned in Part IV of Representation of People Act 1951.
The EC can designate or nominate the same person to be returning officer for more than one constituency.
Duties of Returning Officer:
The Returning Officer's duties include accepting and scrutinizing nomination forms, publishing the affidavits of candidates, allotting symbols to the contesting candidates, preparing the list of contesting candidates, preparing the EVMs and VVPATs, training polling personnel, designating counting centres, and counting the votes and declaring the result.
Source: TH
Office Of Prime Minister
---
Why is it in News?
Due to the 2019 General Elections, Office of Prime Minister is often seen in the news.
Office of Prime Minister:
Article 75 states that the Prime Minister (PM) shall be appointed by the President.
The Constitution does not contain any procedure for the selection and appointment of the PM in India.
The term of the PM is not fixed and he holds the office during the pleasure of President, however this does not mean that the President can dismiss the PM any time. So long as the PM enjoys the support of majority of MPs in the Parliament, he can't be dismissed.
Related Facts:
The PM is the chairman of NITI Aayog, National Development Council, CSIR, Inter-state Council, National Integration Council, National Ganga Mission, National Water Commission, National Board for Wildlife, etc.
Source: Indian Polity by M. Laxmikanth
Puducherry And The Role Of LG
---
Why is it in News?
The Madras High Court has opined that Lieutenant Governor (LG) cannot interfere in day to day affairs of the government.
Some Background:
Article 239 of Indian Constitution deals with the administration of a Union Territory.
Article 239A deals with the administration of Puducherry.
Article 239AA deals with the administration of Delhi.
What was the Issue between the CM of Puducherry & LG?
CM of Puducherry complained that the LG is running a parallel government which is an insult to the people of Puducherry, as democratically elected government is being considered as an outcaste by the LG office and her secretariat.
Are the Constitutional Provisions for Delhi & Puducherry the Same?
No, Puducherry Assembly has power to legislate on all the matters while Legislative Assembly of Delhi can legislate on all the matters except- Land, Police and Public Order. So, Puducherry Assembly has more powers as compared to the Delhi Legislative Assembly.
Salient Points of Madras High Court Judgment:
LG is a nominal head only.
There exists the supremacy of legislature over the LG of Puducherry.
Government secretaries and officials shall take order and report to Chief Minister and not the LG in day to day affairs.
LG cannot promulgate an ordinance against the wishes of the Council of Ministers of Puducherry.
Governance of Union Territory (UT):
Chief Minister and his Council of Ministers (COM) are appointed by the President.
In matters of difference of opinion between LG & COM, LG shall refer the matter to the President and act accordingly.
In matters of concurrence of opinion between LG & COM, LG shall proceed as per the advice of Council of Ministers.
CM of UT is appointed by the President and not the Lieutenant Governor.
Source: TH, IE
Independent Candidates
---
Why is it in News?
Due to 2019 being the year for General Elections, issues related to 'Independent Candidates' is frequently seen in the news.
Who is an Independent Candidate?
An independent candidate is one who contests polls without being affiliated to any political party.
Independents often support policies that are different from major political parties.
More and more independents have been contesting Lok Sabha elections since the first general election of 1951-52, but the number of winners has been decreasing. The vote percentage polled by them has also been decreasing.
How are Independent Candidates different from Candidates of Political Parties?
As per Representation of People Act 1951, a candidate of a political party needs only one proposer for filing the nomination but an independent candidate needs 10 proposers from the same constituency to file his/her nomination.
Candidate from political parties contest elections on their party symbol but independent candidates are allowed to choose 3 free symbols listed by the Election Commission.
Can an Independent Candidate join any Political Party after Winning?
As per the Xth schedule, an independent candidate cannot join any party after he wins the election as it will amount to defection.
What is the Stand of Law Commission on the issue of Independent Candidates?
In its 255th report, the Law Commission of India sparked a debate when it recommended that independent candidates be barred from contesting elections as 'they are either not serious or contest elections just to confuse the voters.'
Source: TH, Constitution of India (D.D. Basu), Indian Polity M. Laxmikanth
Dissolution Of Lok Sabha
---
Why is it in News?
Due to ongoing General Elections the term 'Dissolution of Lok Sabha' is frequently seen in the news.
What is Dissolution of Lok Sabha?
In India, the Lok Sabha has a five-year term, but can be dissolved earlier.
According to Article 83 (2) of the Constitution, completion of five years from the first day of its meeting amounts to dissolution of the lower house.
In this case, an election is held to elect the new Members of Parliament. The lower house can also be dissolved earlier by the President on the advice of the Prime Minister. It can also be dissolved if the President feels that no viable government can be formed after the resignation or fall of a regime.
What will happen to the Bills in case of Dissolution?
1. Bills pending in Lok Sabha will lapse; it is immaterial whether it originated in Lok Sabha or Rajya Sabha.
2. Bills passed by Lok Sabha but pending in Rajya Sabha will also lapse in case of dissolution.
Related Facts:
Parliament consists of Lok Sabha, Rajya Sabha & the President.
To give effect to any International Treaty, Parliament can make law to any state or whole of India without the consent of state.
The duration of Lok Sabha is 5 years and is mentioned in the Constitution.
The duration of Rajya Sabha is 6 years and is fixed by the Law of Parliament under Represenation of People Act, 1951.
The age for Lok Sabha is 25 years and that of Rajya Sabha is 30 years.
Election to Rajya Sabha is made through votes of Members of Legislative Assembly which is by single transferable proportional representation.
During National Emergency, the life of Lok Sabha can be extended any number of times (but 1 year at a time).
Under Article 99, Constitution authorizes the President to administer the oath of the new parliamentarians, but Pro-tem speaker discharges that duty on his behalf.
Kamal Nath (Present Chief Minister of MP) was the Pro-Tem speaker during the oath of new parliamentarians in the 16th Lok Sabha elections.
Source: TH, Indian Polity (M Laxmikanth)
National Green Tribunal (NGT)
---
Why is it in News?
The National Green Tribunal (NGT) has sought report on waste tyres used in factories.
About NGT:
The NGT was established on October 18, 2010 under the National Green Tribunal Act, 2010, passed by the Central Government.
It draws inspiration from the India's constitutional provision of Article 21, which assures the citizens of India the right to a healthy environment.
The stated objective of the Central Government was to provide a specialized forum for effective and speedy disposal of cases pertaining to environment protection, conservation of forests and for seeking compensation for damages caused to people or property due to violation of environmental laws or conditions specified while granting permissions.
Principal Bench of the NGT has been established in the National Capital - New Delhi, with regional benches in Pune (Western Zone Bench), Bhopal (Central Zone Bench), Chennai (Southern Bench) and Kolkata (Eastern Bench).
Who can become a Member of NGT?
The Chairperson of the NGT is a retired Judge of the Supreme Court; other judicial members are retired judges of High Courts.
Each bench of the NGT will comprise of at least one Judicial Member and one Expert Member. Expert members should have a professional qualification and a minimum of 15 years experience in the field of environment/forest conservation and related subjects.
Powers of NGT:
The NGT has the power to hear all civil cases relating to environmental issues and questions that are linked to the implementation of laws listed in Schedule I of the NGT Act. These include the following:
1.The Water (Prevention and Control of Pollution) Act, 1974,
2.The Water (Prevention and Control of Pollution) Cess Act, 1977,
3.The Forest (Conservation) Act, 1980,
4.The Air (Prevention and Control of Pollution) Act, 1981,
5.The Environment (Protection) Act, 1986,
6.The Public Liability Insurance Act, 1991,
7.The Biological Diversity Act, 2002
The NGT has not been vested with powers to hear any matter relating to the Wildlife (Protection) Act, 1972, the Indian Forest Act, 1927 and various laws enacted by States relating to forests, tree preservation etc.
Review and Appeal:
Under Rule 22 of the NGT Rules, there is a provision for seeking a review of a decision or order of the NGT. If this fails, an NGT order can be challenged before the Supreme Court within 90 days.
Is there a bar on Civil Courts to hear/take up cases under the 7 Specified Laws in Schedule I of the NGT Act?
Yes. With the enactment of the NGT Act, Civil courts cannot hear matters related to environmental issues under the 7 laws which the NGT is empowered to deal with.
Environmental Pollution (Prevention and Control) Authority (EPCA):
EPCA is apex court (Supreme Court) mandated body tasked with taking various measures to tackle air pollution in the National Capital Region.
It was notified in 1998 by Environment Ministry under Environment Protection Act, 1986.
The EPCA also assists the apex court in various environment-related matters in the region.
Graded Response Action Plan (GRAP):
A graded response lays down stratified actions that are required to be taken as and when the concentration of pollutant increase beyond the threshold decided by the Authority.
The plan was prepared by the Supreme Court-mandated Environment Pollution Control Authority (EPCA).
E.g.- Ifthe level of PM 2.5 or PM 10 crosses 100 micrograms per cubic metre (µg/m³) then the environmental authorities shall go for a mechanized sweeping, water-sprinkling, ban on old diesel vehicles etc. to bring the pollutant level back to normal.
Source: moef.gov.in, TH, conservationindia.org
Suresh Mathur Committee
---
Why is it in News?
IRDAI (Insurance Regulatory & Development Authority) has formed a panel under Dr. Suresh Mathur to look into the Microinsurance Framework.
About the Committee:
IRDAI has constituted a 13 member committee under IRDAI Executive Chairman Dr. Suresh Mathur to look into the regulatory framework of microinsurance and recommend measures to boost the demand of such microinsurances.
Composition of the Committee:
It will have members from IRDAI, insurers' representatives from life, general and health insurance companies in the public and private sectors, NGOs etc.
What will this Committee do?
The 13-member panel has been tasked with suggesting product designs with customer-friendly underwriting, including easy premium payment methods and simple claims settlement procedures. It will also look into the Microinsurance Framework within India and abroad and suggest the changes that can be incorporated.
RTI And RBI
---
Why is it in News?
The Supreme Court has given RBI a last chance to withdraw a November 2016 Disclosure Policy and abide by the Right to Information Act.
About RBI:
Reserve Bank of India was established on 1st April, 1935.
Reserve Bank of India is the central banking institution, which regulates the monetary policy of the Indian rupee, under the Reserve Bank of India Act, 1934.
RBI is not a commercial bank.
RBI is the lender of last resort for banks, it looks into the exchange rate of Indian currencies, regulates commercial banks etc.
What is RBI's Argument against not abiding by the RTI Act?
RBI has cited Section 8 of the RTI Act, which exempts the Public Authority to release the information in public domain if it can hamper the state's economic interest. RBI was pointing that disclosure of sensitive information regarding the annual financial reports of banks will erode the faith of customer in the banking system which can have detrimental effect on the health of the Indian economy.
Another argument of RBI was that it gets sensitive information of the banks because of its fiduciary relationship (i.e. mutual trust), so disclosure of such information will lead to breach of trust of the banks.
Under RBI Act 1934, sensitive information of banks is confidential and shall not be leaked out.
How Supreme Court countered the Arguments of RBI?
SC opined that withholding information is valid (under Section 8 of RTI) only if it serves the larger public interest, disclosure of information will bring in the discipline and this will serve the public interest as compared to hiding the information.
SC also opined that RBI gets information from banks because of being a regulator and not because of Fiduciary relationship.
SC opined that disclosure of information in public domain will usher in an era of transparency & accountability which is the key to functioning of any institution.
Right to Information (RTI):
As per the RTI Act 2005, every citizen has the right to receive a timely response from the government for any information that is sought by them with respect to the functioning of the government.
RTI is a fundamental right under Article 19(1) of the Indian constitution.
Under the RTI, every citizen is empowered to:
Seek information / ask questions to the government
Request for copies of government documents
Inspect government documents and works etc.
Section 8 of the RTI Act deals with the exemptions under RTI Act.
Central Information Commission (CIC):
Composition of CIC- As per RTI Act, CIC consist of the Chief Information Commissioner and such number of Central Information Commissioners not exceeding 10.
Appointment- Section 12(3) of the RTI Act 2005 provides for the following:
i.The Prime Minister, who shall be the Chairperson of the committee;
ii.The Leader of Opposition in the Lok Sabha; and
iii.A Union Cabinet Minister to be nominated by the Prime Minister
Duration of the Office:
Section 13 of the RTI Act 2005 provides that the Chief Information Commissioner shall hold office for a term of five years from the date on which he enters upon his office and shall not be eligible for reappointment; MPs, MLA etc. are not eligible for the office of CIC.
Powers of CIC/ICs:
CIC has the power of Civil Court (like summoning etc.) when it deals with the matters related to code of Civil Procedure, and its decisions are final and binding on the party.
Source: TH, IE, Livemint
Banking Ombudsman
---
Why is it in News?
Complaints to RBI Ombudsman have increased by 25% in the financial year 2018.
About Banking Ombudsman:
It is a quasi-judicial body that was made under Section 35A of Banking Regulation Act, 1949. It was later streamlined by the Banking Ombudsman Scheme, 2006.
Its main function is to plug the deficiency in the banking sector and provide customer with a platform to deal with their grievances.
The service provided by Ombudsman is free of cost.
Jurisdiction of Banking Ombudsman:
All Scheduled Commercial Banks
Regional Rural Banks
Urban Cooperative Banks
Deposit taking Non Banking Financial Companies (NBFCs)
Non deposit taking NBFCs with assets more than Rs. 100 crore.
Who can be appointed as Ombudsman?
The Banking Ombudsman actually is a senior official (in the rank of General Manager or Chief General Manager) appointed by the RBI to redress customer complaints against pitfalls in the stipulated banking services covered by the Banking Ombudsman Scheme.
The duration of the office is 3 years.
He is eligible for reappointment.
When can Customer Approach the Ombudsman?
The RBI has listed around 25 areas where the customers can raise complaints with the Banking Ombudsman. Some of them are non-payment/ inordinate delay in the payment or collection of cheques, drafts, bills etc.
The customer can approach the Ombudsman only if the complaints in the notified areas by RBI is not taken seriously by the banks like:
oIf the issue is not sorted by banks within 30 days.
oIf the customer is not satisfied with the bank action on the issue concerned.
oIf the bank rejects the complaint outrightly etc.
The decision of Ombudsman is not final and binding as the aggrieved party can approach tribunals if he is not satisfied with the decision of the Ombudsman.
The service provided by the Ombudsman is free of cost.
The Banking Ombudsman can consider complaints from Non-Resident Indians having an account in India.
Non-Banking Financial Companies (NBFC):
A NBFC is a company registered under the Companies Act, 1956. It engages in the business of:
oLoans and advances
oAcquisition of shares/stocks/bonds/debentures/securities issued by Government or local authority or other marketable securities of a like nature
oLeasing, hire-purchase, insurance business, chit business, etc.
It, however, does not include any institution whose principal business is that of:
oagriculture activity
oindustrial activity
opurchase or sale of any goods (other than securities)
oproviding any services and sale/purchase/construction of immovable property
NBFC does not go for Demand Deposits and they don't form the part of payment & settlement system.
Deposit insurance facility of Deposit Insurance and Credit Guarantee Corporation is not available to depositors of NBFCs, unlike in case of banks.
All NBFCs are not regulated by RBI; different NBFCs are regulated by different regulators.
NBFCs with assets greater than Rs. 500 crore are called 'Systemically Important NBFCs'. IL&FS is a systemically important NBFC.
At present more than 1200 NBFCs are operating in India.
NBFCs are also called as 'Shadow Banking System'.
Source: TH, Livemint
None Of The Above (NOTA)
---
Why is it in News?
Due to the ongoing General Elections, NOTA is frequently seen in the news.
What is NOTA?
The NOTA option allows the voter to register a negative opinion about the candidates. In 2009 Lok Sabha Elections, the Election Commission demanded for the NOTA option on the EVMs but the government was against the demand.
But in 2013, the Supreme Court gave the right to the voters to register a negative opinion in the form of NOTA.
Before NOTA, how did a Voter Register a Negative Vote?
Earlier, in order to cast a negative ballot, a voter had to inform the presiding officer at the polling booth but the NOTA option now doesn't require the involvement of the presiding officer. The button of NOTA is available at the bottom of all the EVMs.
What was the Need of having NOTA?
The Supreme Court upheld the right of voters to reject all candidates contesting in the elections claiming it would go a long way in cleansing the political system of the country, as the parties will be compelled to give a candidate of repute to the voters.
Is NOTA an effective tool?
NOTA does have some negative aspects, but it has positive impacts too.
Example: In 2018, Madhya Pradesh Vidhan Sabha Elections, 1.4 percent of the total voters opted for NOTA, and 22 candidates lost by the margin of the votes which was less compared to the votes polled for NOTA. Such situations may gradually force the parties to give good candidates to the voters.
What if the Maximum Votes are cast for NOTA?
Even if the maximum numbers of votes are cast for NOTA, the candidate getting the most of the remaining votes would be declared a winner as in India we follow first-past-the-post electoral system. But, negative voting will force the parties to ponder on the quality of candidates which they are giving to the voters.
Is the NOTA Concept applicable to Elections in Rajya Sabha & Legislative Council?
The concept of NOTA is applicable in cases of Direct Elections, Elections to Rajya Sabha and Legislative Council is of indirect type.
Source:
TH, PRS blog
Tendered Vote
---
Why is it in News?
Officials allowed some people to caste tendered votes in Tamil Nadu during second phase of the General Elections.
What is a Tendered Vote?
According to the Conduct of Elections Rules, 1961, a voter is allowed to cast a 'tendered vote' where someone else representing to be a particular voter has already cast that vote.
The presiding officer may allow the actual voter to vote, if the person is able to prove his or her identity. They would be provided a ballot paper to mark symbol and it would be placed in a cover specially kept for the purpose.
The ballot paper provided to the voter will have an endorsement (i.e. signature) of the Presiding Officer.
Related Facts:
Tender votes are conducted through ballot paper and not the Electronic Voting Machine (EVM).
It is also applicable in the elections to the council of states.
Nodal officer for tendered vote is the Presiding Officer of the booth.
Concept of Proxy Voting in India:
Concept of proxy voting (voting through representative) was introduced in the Lok Sabha and State Assembly Election of 2003.
Under proxy voting, a registered voter can delegate his power to vote to a representative of his choice.
Under Section 8 of Representation of the People Act 1951, only people from armed forces of State, Centre or person employed under Government of India and posted outside the country are allowed to vote via proxy.
In order to be a proxy (representative) for an interested voter one need not to be a registered voter of that constituency, he simply needs to be an ordinary resident of that constituency.
Overseas citizens are not allowed to vote via proxy.
Source: TH
Voter Verifiable Paper Audit Trail Machines (VVPAT)
---
Why is it in News?
Major opposition parties have decided to approach the Supreme Court for the demand of verification of at least 50% of VVPAT machines with EVMs.
Relevance of Topic for Prelims 2019:
Due to the frequent issues and objections involved with EVMs & VVPAT, candidates are expected to know about facts related to VVPAT.
About VVPAT:
Voter Verifiable Paper Audit Trial (VVPAT) is an independent system attached to an EVM that allows the voters to verify that their votes are cast as intended.
Voters can see the printout but not take it out; VVPAT helps him in verifying that his vote was registered correctly.
Rule 49A of the Conduct of Elections Rules, 1961, provides that every EVM shall have a control unit and a balloting unit. Under this provision, the Election Commission of India has provided for the VVPATs in the election process.
How it Works?
When a vote is cast, a slip is printed on the VVPAT printer containing the serial number, name and symbol of the candidate voted.
This remains visible to the voter through a transparent window for 7 seconds.
Thereafter, this printed slip automatically gets cut and falls into a sealed drop box.
VVPAT's use thermal printers and print lasts for around 5years.
These slips can be used for tallying by the ECI in later stage of time if needed.
Who makes VVPAT?
VVPATs are made by only two public sector units namely- Bharat Electronics Limited (BEL) and Electronics Corporation of India Limited (ECIL) in consultation with experts from Election Commission of India.
When was VVPAT first used?
VVPATs were first used in the by-election for the 'Noksen Assembly' seat in Nagaland in 2013.
In the 2019 Lok Sabha elections, VVPATs are being used in all the constituencies and all the EVMs.
Why is the ECI opposed to 50% verification of VVPATs?
As per ECI, this whole process will lead to delay in the result declaration by minimum 6 days.
ECI has opined that this will unnecessarily create infrastructural burden and wastage of manpower & resources of the organisation and country as a whole.
About Electronic Voting Machine (EVM):
EVMs are standalone machines that are designed to connect Ballot Unit, Control Unit & VVPATs through a cable wire system.
There is no mechanism in EVMs to communicate with any device through wireless communication or any radio frequency.
Source: eci.gov.in, TH
Electoral Bonds
---
Why is it in News?
The Supreme Court has passed an interim order directing the political parties to provide complete information to the Election Commission of India in sealed cover regarding the donations received through Electoral Bonds.
What is an Electoral Bond?
An electoral bond is designed to be a bearer instrument like a promissory note - in effect, it will be similar to a bank note that is payable to the bearer on demand and free of interest.
It can be purchased by any citizen of India or a body incorporated in India.
Tax deductions can be provided to the people who are funding these electoral bonds.
Note: Although it is being referred to as a bond, but please do keep in mind that it will not carry an interest.
Denominations of Electoral Bond:
The bonds will be issued in multiples of Rs. 1,000, Rs. 10,000, Rs. 1 lakh, Rs. 10 lakh and Rs. 1 crore and will be available at specified branches of State Bank of India.
They can be bought by the donor with a KYC-compliant account.
Donors can donate the bonds to their party of choice which can then be cashed in via the party's verified account within 15 days.
Who all are eligible to get Electoral Bonds?
As per provisions of the scheme, only the registered political parties which have secured not less than one per cent (1%) of the votes polled in the last Lok Sabha elections or the State Legislative Assembly are eligible to receive the electoral bonds.
Who issues Electoral Bonds?
Department of Economic Affairs, Ministry of Finance promulgated Electoral Bond Scheme in 2018 via section 31(3) of Reserve Bank of India Act, 1934.
What were the Amendments done to bring the Electoral Bonds?
Changes were made to bring the Electoral Bond Scheme in the following acts:
Representation of People Act, 1951.
Income Tax Act, 1961
Companies Act, 2013
RBI Act, 1934
Foreign Contribution Regulation Act 2010.
Why Electoral Bonds are being criticized?
Earlier, any donations above Rs. 20,000 was to be recorded by political parties with the name of the donor, but after introduction of electoral bonds, political parties can accept donations in cash below Rs. 2,000 only. Any donation above Rs. 2,000 has to be taken through electoral bonds/ cheque. Since electoral bonds don't have the name of donors in it, it is likely to promote opacity in the system.
Earlier, only those companies can donate to political parties who are at least 3 years old and the cap was to the tune of 7.5% of the average net profit in three preceding years but with the coming of electoral bonds the cap of 7.5% has been removed.
Now, any company can donate any amount of cash through electoral bonds, this loophole can be easily exploited by the shell companies.
These shell companies can be formed just for the political funding and thus it will promote opacity and corruption in the electoral process.
Earlier, donations to the political parties by foreign entity was banned, but with the amendments done to Foreign Contribution Regulation Act, 2010, foreign companies with majority stake in India can donate to the political parties. The major concern is that these big corporate bodies can interfere in the policy making of the Government at a later stage.
Source: eci.gov.in, Financial Express, TH
Central Drug Standard Control Organization
---
Why is it in News?
CDSCO has asked the manufacturers to inform the general public about the ill effects of popular antibiotics.
About CDSCO:
The Central Drugs Standard Control Organization (CDSCO) is the Central Drug Authority for discharging functions assigned to the Central Government under the Drugs and Cosmetics Act.
It comes under the Directorate General of Health Services, Ministry of Health & Family Welfare.
It is a national regulating authority of India.
Major Functions of CDSCO:
CDSCO looks into the regulatory control over the import of drugs, approval of new drugs and clinical trials, meetings of Drugs Consultative Committee (DCC) and Drugs Technical Advisory Board (DTAB) etc.
Source: TH, cdsco.gov.in
World Bank
---
Why is it in News?
David Robert Malpass, an American economic analyst and former government official has been appointed as the World Bank President. He was nominated by the President of USA, Donald Trump.
About the World Bank:
The World Bank is an international financial institution that provides loans to countries of the world for capital projects.
It is the outcome of Bretton Woods Conference (1944). Even International Monetary Fund (IMF) is the outcome of Bretton Woods Conference; hence World Bank & IMF are commonly referred to as the 'Bretton Woods Twin'.
As of November 2018, the largest recipients of the World Bank loans were India ($859 million in 2018) and China ($370 million in 2018).
There is a tacit agreement between US & the European countries that President of the World Bank will be an American and the President of IMF will be a European.
Structure of the World Bank:
1. Board of Governors- All the 189 member countries are represented by their Finance Ministers and it meets once in a year. The broad policy decisions of the World Bank are taken by the Board of Governors.
2. Executive Directors- There are 25 Executive Directors, out of which five executive directors are appointed by five largest share holders of the World Bank (US, Japan, China, Germany & UK) and remaining 20 executive directors are elected by other member countries.
It looks into the day to day affairs of the World Bank.
3. President of World Bank- He is selected by the executive directors. He has tenure of 5 years and is responsible for the overall working of World Bank.
What is the Difference between the World Bank Group and the World Bank?
World Bank group consists of the following organizations:
International Bank for Reconstruction and Development (IBRD) - It gives loans to middle income countries and poor countries.
International Development Association (IDA) - It assists the poorest countries of the world.
International Finance Corporation (IFC) - It supports private enterprise in developing countries by giving them loans.
Multilateral Investment Guarantee Agency (MIGA) - It encourages investment in developing countries by assuring them that their investment will not go bad due to political issues or crisis.
International Centre for the Settlement of Investment Disputes (ICSID) - It handles the dispute related to investment in foreign territory.
The IBRD & IDA are collectively called as the World Bank, while all the five organizations are called as the World Bank Group.
Note: India is a member of all the above institutions of the World Bank Group except ICSID.
Why is India not a member of ICSID?
The Indian Government believes that companies/organizations shall exhaust all the options available in the territory of India to deal with the matters of dispute.
Involvement of other organizations will amount to breach of the sovereignty of India.
Source: TH

Forex Swap
---
Why is it in News?
RBI, for the 1st time, has resorted to forex swap mechanism to adjust the liquidity in the market.
What is Foreign Exchange (forex) Swap?
Under this mechanism, RBI will buy $ 5 billion from the banks in lieu of rupees and after 3 years banks will have to again buy that $ 5 billion from the RBI.
Example- Say RBI buys $ 1 billion from Bank X, then after 3 years Bank X will have to buy $ 1 Billion from RBI.
But why does RBI want to pump Liquidity in the System?
Whenever Lok sabha electios are arriving, the demand for money increases which may lead to liquidity crunch in the market.
Various corporates will start paying Advance Tax in this fiscal year which is another factor that will demand liquidity in the economy.
Due to the recent IL&FS crisis, there is negative sentiment in the market; by forex swap, RBI wants to make the money easily available to businessman and corporates.
Once RBI buys the dollar to the tune of $5 billion, it will lead to sudden boost in the forex reserves of RBI which can have positive impact in the exchange market.
In recent times, Indian economy has seen the surge in Foreign Portfolio Investments (FIIs) which has led to appreciation of the currency, so by buying dollars, RBI wants to counter the appreciation of currency.
What happens when Currency Appreciates?
The moment currency appreciates, the exports will become costlier and this will have a direct impact on our Current Account Deficit & Forex reserves.
Thumb Rule- Depreciated currency favours Exporters and Appreciated currency deters exporters.
Why did RBI not resort to tools like Open Market Operations & Repo Rate Reduction to adjust the Liquidity?
RBI has already used the tool of Repo Rate Reduction but it has not led to significant monetary transmissions.
So far as Open Market Operations (OMO) is concerned, RBI has pumped Rs. 2.8 lakh crore through OMO. Therefore, RBI has already exhausted its tools available in the kitty and has now resorted to Forex swap.
Will this move have any Negative Impact on the Economy?
Yes. Once the Government pumps liquidity in the system, it means money is easily available to the people i.e. the demand for the items will increase, leading to inflation.
Some related Terminology:
Open Market Operation (OMO)
It is a tool of RBI, by which it adjusts the liquidity in the system through the purchase & sale of government securities.
Repo Rate
It is also called as the 'Policy Rate', which is the rate levied upon the commercial banks when they take money from RBI for a short duration of time. If RBI takes the loans from the banks the rate at which it gets is called as the 'Reverse Repo Rate'. Usually Reverse Repo is at 1% lower than the Repo Rate.
Source: TH, Financial Express
Small Farmer's Agribusiness Consortium (SFAC)
---
Why is it in News?
The Government has stated that the SFAC has a predominant role to play in achieving the target of doubling of farmers' income by 2022.
About SFAC:
SFAC was established as an autonomous society by the Government of India (Ministry of Agriculture & Farmers' Welfare) in 1994. It is also registered as a Non Banking Financial Company (NBFC) which is regulated by the RBI.
SFAC is an exclusive society focused on increasing incomes of small and marginal farmers through aggregation and development of agribusiness.
How does SFAC help the Farmers in Increasing their Income?
It helps the farmers' by linking them to the global and domestic value chains. It also provides training, credit, technology to the farmers and promotes investment.
SFAC also offers schemes like the Equity Grant and Credit Guarantee Fund Scheme to Farmer Producer Organization (FPO) to improve availability of working capital and development of business activities.
Point to Remember for Prelims:
e-NAM is a platform that provides for a single unified market for agricultural products with much higher price discovery for farmers. It is SFAC that is entrusted upon to implement this e-NAM facility.
Source:
TH, PIB
Lokpal & Lokayuktas
---
Why is it in News?
P. C. Ghose was recently chosen as the 1st Lokpal of India.
About Lokpal:
The term 'Lokpal' was first coined by Laxmi Mall Singhvi in 1968.
A Lokpal is a statutory body and an anti-corruption authority or ombudsman who represents public interest. The idea of an ombudsman is borrowed from Sweden.
Lokpal & Lokayukta Act 2013 lays the guidelines about the Jurisdiction of Lokpal in India.
Why was Lokpal the need of Hour in India?
On Corruption Perception Index, India was ranked at 78 among 180 countries in 2018. Thus it is quite evident that corruption has become endemic to India and an independent agency was needed to weed out that malaise.
Appointment of Lokpal:
Lokpal is appointed by the President on the recommendation of a committee headed by Prime Minister which includes the Chief Justice of India, Speaker, Lok Sabha and Leader of Opposition, Lok Sabha and an eminent Jurist as its member.
At present Mukul Rohatgi is occupying the place of the eminent Jurist in the committee.
Lokpal at the centre will consist of a Chairperson along with 8 other members. Out of 9 members, 50% have to be judicial members and 50% of the members shall be from SC, ST, women, OBC, minorities.
Salaries & Allowances of Lokpal:
Salaries, allowances and service conditions of the Lokpal chairperson will be the same as that for the Chief Justice of India.
For other members, these will be the same as that for a Judge of the Supreme Court.
All expenses of Lokpal will be charged on the Consolidated Fund of India.
Tenure:
Tenure of Lokpal and its member is 5 years or 70 years of age, whichever is earlier.
Who all does the Act cover?
Lokpal will have Jurisdiction from the Prime Minister, ministers and MPs, to group A, B, C and D employees of the central government.
Also covered are chairpersons, members, officers and directors of any board, corporation, society, trust or autonomous body either established by an Act of Parliament or wholly or partly funded by the Centre.
It also covers any society or trust or body that receives foreign contribution above Rs. 10 lakh.
What happens when a Charge is made against the Prime Minister?
The Act does not allow a Lokpal inquiry if the allegation against the Prime Minister relates to international relations, external and internal security, public order, atomic energy and space.
Complaints against the Prime Minister are not to be probed unless the full Lokpal bench considers the initiation of an inquiry and at least two-thirds of the members approve it.
Such an inquiry against the Prime Minister (if conducted) is to be held in camera and if the Lokpal comes to the conclusion that the complaint deserves to be dismissed, the records of the inquiry are not to be published or made available to anyone.
How is the Inquiry done by Lokpal?
The Lokpal may, after receiving a complaint against any public servant, order a preliminary inquiry (to be completed within 90 days) or investigation by any agency.
After receiving the report of the preliminary inquiry, the Lokpal may order an investigation by any agency or departmental proceedings or any other appropriate action against the concerned public servants by the competent authority, or it can order closure of the proceedings.
Removal of Lokpal:
For the removal of Lokpal, a petition signed by 100 MPs shall be moved to the President and if after the enquiry of Supreme Court, Lokpal is found guilty, he can then be removed by the President on the grounds of misbehaviour.
Reappointment:
Lokpal is not eligible for reappointment, but Lokpal members can become the Chairperson if the tenure is left (If they have age less than 70 years).
Critical Analysis:
Lokpal & Lokayukta Act states that states shall have Lokayuktas within 1 year; this dictate itself is an encroachment in the legislative domain of states.
Under the ambit of Lokpal, there is a narrow niche of officers who will come under its domain, maximum officers will be under the ambit of Lokayuktas and most of the states have no lokayuktas. Hence, the only way out is to take States on board and then only it can be effectively implemented.
Source:
TH, IE
Real Estate Investment Trust (REIT)
---
Why is it in News?
Real Estate Company 'Embassy Office Parks REIT" will be the first company to set up a Real Estate Investment Trust in India with plans to raise Rs 4,500 crore.
About REIT:
A REIT is a company that owns, operates or finances income-producing real estate.
It is modeled after mutual funds, i.e. money is pooled from the retail investors and is invested in the real estate sector.
How much is the Minimum Money that can be invested?
As per the recent SEBI guidelines, the minimum money that can be invested in the REIT is Rs. 2 Lakhs.
How does REIT Operate?
REIT invests that pooled money into the real estate sector. 80% of the money has to be invested in completed projects and rent yielding assets.
Remaining 20% of the money can be invested in government securities (G-Sec) or other developmental projects.
Why has SEBI put such Stringent Norms on the operation of REIT?
Real Estate sector has got a bad name due to the delay in delivery of the projects, cost overrun etc.; this has made SEBI put stringent norms so that money of the investors is not fettered in the low yielding and risky projects and that maximum money shall be invested in the completed projects.
But how does REIT earn Profit?
REIT invests the pooled money through experts in the offices, restaurants, housing etc. and they earn money through rents, capital gains etc.
SEBI has made mandatory that 90% of the dividend shall be distributed to the investors.
How can REIT be of help to the Real Estate Sector?
REIT mode of investment is an alternative form of investment that gives avenues to the investors who used to purchase houses/ flats for the sake of investment; now they can get their money invested through REIT.
REIT will finance the Real Estate Sector which is starving for funds due to recent IL&FS crisis.
REIT will be listed on stock exchange which will allow its share to be traded too. Thus investors will get a new area to trade upon.
Source: TH
Election Commission Of India (ECI)
---
Why is it in News?
The dates for the General Elections 2019 have been announced by the ECI.
About ECI:
ECI is an autonomous, constitutional authority responsible for administering Union and State election processes in India. The body administers elections to the Lok Sabha, Rajya Sabha, State Legislative Assemblies in India, and the offices of the President and Vice President in the country. Article 324 of the Indian Constitution deals with ECI.
Appointment & Tenure:
The President appoints Chief Election Commissioner (CEC) and other Election Commissioners. CEC has tenure of six years, or up to the age of 65 years, whichever is earlier.
At present, the ECI is a three member body including the Chief Election Commissioner.
Salary & Allowances:
The expenditure incurred by the ECI is not charged on Consolidated Fund of India (as in case of CAG or Supreme Court); rather it is voted by the parliament.
Chief Election Commissioner (CEC) and Election Commissioners (EC) enjoy the same status and receive salary and perks as available to Judges of the Supreme Court of India.
What happens if there is a Difference of Opinion on any Issue between CEC & ECs?
It must be kept in mind that there is no provision of Veto for CEC; the decision is taken by the majority of votes.
Is there any Provision available for Removal of CEC/EC?
CEC can be impeached in the same way as the judges of Supreme Court, i.e. he can be impeached by a special majority in both the houses of Parliament.
ECs can be removed by the President (no impeachment is required for ECs) on the recommendations of CEC.
What are the ways by which ECI can be made Sturdier and Robust in its Functioning?
The expenditure incurred by ECI is not charged on Consolidated Fund of India (CFI), rather it is voted by the Parliament which leads to conflict of interest as it has to depend on the government for its budget. The best way to provide more teeth to ECI is to charge its expenditure on CFI.
There is no qualification prescribed for the post of CEC/ ECs, due to which it has become the sweet spot to oblige the pliant retired bureaucrats by the government. The need of the hour is to prescribe the qualification for the posts.
Source: TH
Model Code Of Conduct (MCC)
---
Why is it in News?
Due to the coming General Elections, Election Commission of India (ECI) has convened an all party meeting to discuss the MCC.
Aim of MCC:
It aims to provide a level playing field to all the contestants of the election.
Historical Background of MCC:
In 1960, the State Administration of Kerala decided that they will neither use state machinery during elections nor will resort to any activity that will amount to bribing. Seeing this, ECI thought that this model of moral behaviour during elections can be replicated on an all India basis and ECI first implemented this model during the 1979 elections.
This MCC document was revised and got its present form under the stewardship of then ECI chairman Shri T.N.Seshan.
What is MCC?
The model code refers to a set of norms laid down by the Election Commission of India, with the consensus of political parties.
It is not statutory. It spells out the dos and don'ts for elections. Political parties, candidates and polling agents are expected to observe the norms, on matters ranging from the content of election manifestos, speeches and processions, to general conduct, so that free and fair elections take place.
When is the MCC enforced?
The code comes into force on the announcement of the poll schedule and remains operational till the election results are declared.
What are Provisions under MCC?
No appeals shall be made to vote on the basis of caste, religion etc.
Ministers shall not combine their official visit with election visit.
No new policy shall be announced.
No personal attacks shall be made; criticism shall be done on policies etc.
If MCC has no Legal Backing then how does it enforce its Provisions?
Say, a person asks for a vote on the basis of religion or caste, then this act is dealt with the provisions mentioned in the Representation of People Act 1951. Act of bribery is dealt with the provisions under IPC etc.
But if the government announces a new scheme, then there is no tool available with the ECI to curtail that move as it does not having any legal backing in such a case. Seeing this, some experts believe that provisions of MCC are enforced by Moral Authority of Leaders and hence sometimes it is called as the Moral Code of Conduct.
Is Legal Backing to MCC Need of the Hour?
Undoubtedly, legal backing will provide more teeth to ECI in enforcing the provisions of MCC, but at the same time it will delay the whole process as matters will start going to the courts.
Thus after 2012, ECI has stopped asking for legal backing for MCC.
Source: TH
Insurance Regulatory And Development Authority (IRDA) Of India
---
Why is it in News?
IRDAI and National Health Agency has joined hands for the Ayushman Bharat Scheme.
About IRDAI:
The Insurance Regulatory and Development Authority of India (IRDAI) is an autonomous, statutory body tasked with regulating and promoting the insurance and re-insurance industries in India.
It was created on the recommendations of the Malhotra Committee and is headquartered at Hyderabad.
IRDAI was constituted by an Act of Parliament i.e. The Insurance Regulatory and Development Authority Act, 1999
Insurance is listed in Union List in the 7th schedule of the Indian Constitution.
Source: TH
Permanent Residence Certificate (PRC)
---
Why is it in News?
Recent situation in Arunachal Pradesh was tensed due to PRC given to six non-Arunachal Pradesh Scheduled Tribe communities.
What is PRC?
PRC is a legal document that a state gives to its citizen as a proof that they are the permanent residents of that state.
Why PRC has become an 'Apple of Discord' in Arunachal Pradesh?
Deoris, Sonowal Kacharis, Morans, Adivasis and Mishings were demanding Permanent Residence Certificate as they have been staying in the state of Arunachal Pradesh for decades. Other locals believe that they shall not be granted PRC as they are not the natives of Arunachal Pradesh but belong to neighboring state of Assam (most of these tribes have been given ST status in Assam).
What are the Benefits if one gets PRC?
In Arunachal Pradesh, PRC is a must for ration card and these tribals need rations for their sustenance.
PRC is required to avail the reservations in jobs, educational institutions etc.
Committee dealing with PRC:
A Joint High Power Committee headed by Nabam Rebia- consisting of civil society members and student organizations had been looking into the matters of PRC.
Source: IE
Island Development Agency (IDA)
---
Why is it in News?
Recently, four islands in Andaman and three islands in Lakshadweep have been identified for seaplane operations. Also, private sector participation has been invited for tourism-based projects.
The Island Development Agency (IDA):
The IDA was constituted in 2017 under the aegis of Ministry of Home Affairs to look into the holistic development of islands.
Home Minister of India is its chairman and CEO of NITI Aayog (Amitabh Kant at present) acts as its convener.
Other members of IDA include Secretary- Tourism, Tribal affairs, Home secretary, Secretary Ministry of Environment and Cabinet secretary.
NITI Aayog has been mandated with the task to steer the holistic development of the islands in sustainable manner.
Which of the Islands have been selected for Seaplane operations?
Islands of Andaman: Swaraj dweep, Shaheed Dweep, Hutbay and Long Island
Islands of Lakshdweep: Kavaratti, Agatti and Minicoy
Some Renamed Islands of Andaman:
As a tribute to Subhash Chandra Bose, the government had renamed three islands of A&N in December 2018- Ross Island was renamed as 'Netaji Subhash Chandra Bose Dweep'. The Neil Island was renamed as Shaheed Dweep and the Havelock Island as Swaraj Dweep.
Source: TH
Central Information Commission (CIC)
---
Why is it in news?
Recently, Supreme Court has noted that there exists an official bias in favor of government employees in the appointment of Chief Information Commissioner and other Information Commissioners (IC)
Composition of CIC:
As per the RTI Act, CIC consists of the Chief Information Commissioner and not more than 10 Information Commissioners (IC).
Appointment:
Section 12(3) of the RTI Act 2005 provides for the appointment of CIC & other ICs:
(i) The Prime Minister, who shall be the Chairperson of the committee;
(ii) The Leader of Opposition in the Lok Sabha; and
(iii) A Union Cabinet Minister to be nominated by the Prime Minister will look into the appointment process.
Duration of the Office:
Section 13 of the RTI Act 2005 provides that the Chief Information Commissioner shall hold office for a term of five years from the date on which he enters upon his office and shall not be eligible for reappointment: MPs, MLA etc. are not eligible for the office of CIC.
Powers of CIC/ICs:
CIC has the power of a civil court (like summoning etc.) when it deals with the matters related to code of civil procedure, and its decisions are final and binding on the party.
Dr Anoop Satpathy Committee
---
Why is it in News?
Expert committee headed by Dr. Anoop Satpathy has submitted its report on the methodology adopted for determining the National Minimum Wage for the Country
Need of fixing the Minimum National Wage:
At present India has no National Minimum Wage and the economists are of the view that India does not have the problem of jobs but has a wage problem (i.e.- people do get jobs, but are not paid as per their skills).
Recommendations of Committee:
The committee has recommended different minimum wages for different regions of the country seeing the local socio-economic factors.
It has recommended the minimum wages keeping in mind the need of 2400 calories along with 50 grams of proteins and 30 grams of fat requirement.
It has recommended that minimum wages must be adjusted with the CPI (Consumer Price Index) every 6 months.
The committee has recommended Rs 375/day as minimum wage.
---