National Logistics Policy
---
On17th September, 2022, the government released the National Logistics Policy.
Vision
To drive economic growth and trade competitiveness of the country through a truly integrated, seamless, efficient, reliable and cost-effective logistics network, leveraging best-in-class technology, processes and skilled manpower.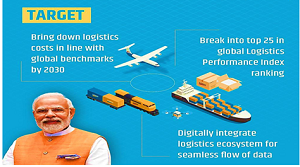 Key Objectives
Creating a single point of reference for all logistics and trade facilitation matters in the country which will also function as a knowledge and information sharing platform
Driving logistics cost as a % of GDP down from estimated current levels of 13-14% to 10% in line with best-in-class global standards and incentivize the sector to become more efficient by promoting integrated development of logistics
Creating a National Logistics e-marketplace as a one-stop marketplace.
Creating a data and analytics center to drive transparency and continuous monitoring of key logistics metrics
Encouraging industry, academia and government to come together to create a logistics Center of Excellence, and drive innovation in the logistics sector
Creating and managing on an ongoing basis, an Integrated National Logistics Action Plan which will serve as a master plan for all logistics-related development.
Providing an impetus to trade and hence economic growth by driving competitiveness in exports
Doubling employment in the logistics sector by generating additional 10-15 million jobs and focusing on enhancing skills in the sector and encouraging gender diversity
Policy Thrust Areas
Focusing on critical projects to drive an optimal modal mix and to enable first mile and last mile connectivity
Driving the development of Multi Modal Logistics Parks (MMLPs)
Driving interventions to reduce logistics costs and promote logistics efficiency for the movement of key commodities
Creating a single window Logistics e-marketplace
Setting up a Logistics Data and Analytics Center
Creating a Center of Trade Facilitation and Logistics Excellence (CTFL) and leveraging the expertise of multilateral agencies
Creating an Integrated National Logistics Action Plan and aligning with respective state development plans
Support strengthening of the warehousing sector
Enhancing transport and rolling stock infrastructure
Streamlining EXIM processes to promote trade competitiveness
Reducing dwell time for interstate cargo movement by road
Promoting standardization in the logistics sector
Ensuring seamless movement of goods at Land Customs Stations (LCS) and Integrated Check Points (ICP)
Benefits
The policy is expected to bring down the logistics cost, which is as high as 14-15 percent of India's GDP, to around 8 percent of GDP in the next five years.
It will also provide a roadmap to reduce India's high dependence on road transport for cargo movement and switch to a mix of rail, shipping, road, and air transport.
It will improve India's trade competitiveness, create more jobs, improve India's performance in global rankings and pave the way for India to become a logistics hub.
e-FAST - India's First National Electric Freight Platform
---
On 8th September 2022, NITI Aayog, in collaboration with World Resources Institute (WRI), India, launched the country's first national electric freight platform – e-FAST India (Electric Freight Accelerator for Sustainable Transport – India).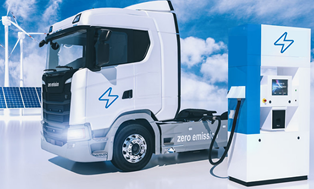 Supported by the World Economic Forum, CALSTART and RMI India, the platform brings different stakeholders together, from across the freight ecosystem.
Need for e-FAST – India: Decarbonisation & to Meet COP26 Commitments
The transport sector, which contributes almost 14% to India's total energy-related greenhouse gas (GHG) emissions, urgently needs a decarbonization master plan.
The transport sector is projected to have the fastest growing emissions among all other sectors and road freight transport is set to play a significant role in that growth.
Driven by rapid economic growth and consumption patterns in India, on-road freight heavy duty vehicles (HDVs) are expected to contribute 60% of the total transport sector emissions by 2050 by some projections.
India's ability to meet its COP26 commitments and newly formed NDCs depends on developing an effective road map for the decarbonization of its transport sector, particularly for road freight movement.
Aim of e-FAST - India
The platform aims to raise awareness on freight electrification bolstered by on-ground demonstration pilots and evidence-based research.
Benefits of this Platform
Innovative Solutions: It will help strengthen partnerships and identify and support innovative freight solutions.
Reduce Emission: Road freight is a high-impact area for reducing transport emissions. Expanding fleet sizes and operations, has its implications on greenhouse gas emissions. India being the third-largest truck market, after China and the United States, early adoption of zero-emission trucks would be instrumental in not only accelerating domestic climate imperatives but also in supporting global climate action.
Control Fuel Price Volatility: It will help control fuel price volatility.
Impetus to Electric Freight: It will also help in transition to electric freight. It will support scalable pilots and inform policies aimed at accelerating freight electrification in India.
Total Cost of Ownership (TCO) Evaluator: An Important Component of e-FAST - India
The launch of e-FAST India was followed with WRI India unveiling its Total Cost of Ownership (TCO) EValuator.
About TCO Evaluator
Performance Evaluator of Electric vs. other Variants: The TCO Evaluator is an intuitive excel-based application. It analyses cost components and performance parameters of light/medium/heavy-duty freight, and compares electric variants with its diesel/petrol/CNG counterparts, to identify their impact on TCO per km.
Insights to Policy Formulation: This comparison offers valuable insights to policy makers, fleet operators, manufacturers and owners.
Role of Freight Sector to Economy
The freight sector plays a key role in India's economy enabling the delivery of goods and critical resources.
During the COVID crisis, the freight sector sustained its growth, despite disruptions, ensuring a steady movement of essential goods and medical supplies across India.
Swift Development of Modern Multi Modal Logistics Parks under Bharatmala Pariyojna
---
A tripartite agreement for swift development of modern Multi Modal Logistics Parks (MMLPs) under Bharatmala Pariyojna across the country was signed by the National Highways Logistics Management Limited (NHLML), Inland Waterways Authority of India (IWAI) and Rail Vikas Nigam Limited (RVNL).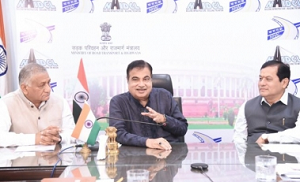 Objective
The objective of the agreement is to centralize freight consolidation and reduce logistics cost from 14 per cent to less than 10 per cent of GDP at par with International Standards.
Benefit
This is an effect for a swift, efficient, economical and environment friendly logistics movement across the country.
It will provide seamless modal shift, MMLPs will ensure that cargo is swapped or shifted from and to Waterways, Dedicated Freight Corridors and Road Transport. This is building the Nation through Gati Shakti.
About Multi Modal Logistics Parks
MMLP will be a freight handling facility with rail and road accessibility, comprising of container terminals, cargo terminals (bulk, break-bulk), warehouses, cold storage, facilities for mechanised material handling and value-added services such as customs clearance with bonded storage yards, quarantine zones, testing facilities and warehousing management services etc. along with other associated facilities.
Strengthening MSMEs in Pharmaceutical Sector: Three Schemes Launched
---
The government has recently launched three schemes to strengthen Micro, Small and Medium Enterprises (MSMEs) in the pharmaceutical sector.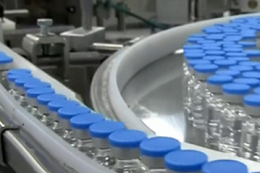 The chemicals and fertilisers ministry rolled out the schemes under the banner of 'Strengthening Pharmaceuticals Industry' (SPI).
The schemes provide for credit linked capital and interest subsidy for technology upgradation of MSME units in pharmaceutical sector, as well as support of up to Rs 20 crore each for common facilities, including research centre, testing labs and ETPs, in pharma clusters.
SIDBI will be the project management consultant for implementing the scheme.
The Schemes
PTUAS
The Pharmaceutical Technology Upgradation Assistance Scheme (PTUAS) would facilitate pharmaceutical MSMEs with proven track record to upgrade their technology.
The scheme has provisions for a capital subsidy of 10 per cent on loans up to a maximum limit of Rs 10 crore with a minimum repayment period of three years or interest subvention of up to 5 per cent (6 per cent in case of units owned by SC/ST) on reducing balance basis.
API-CF
Assistance to Pharma Industries for Common Facilities Scheme (API-CF) would strengthen the existing pharmaceutical clusters' capacity for sustained growth.
It provides for an assistance of up to 70 per cent of the approved project cost or Rs 20 crore, whichever is less.
In case of Himalayan and north-east region, the grant-in-aid would be Rs 20 crore per cluster or 90 per cent of the project cost, whichever is less.
PMPDS
Pharmaceutical and Medical Devices Promotion and Development Scheme (PMPDS) would involve preparation of study reports on topics of importance for the Indian pharma and medical device industry.
The scheme is aimed at creating a database of pharma and medical device sectors.
Green Energy Open Access Rules 2022: Major Reform to promote Renewable Energy
---
In order to further accelerate our ambitious renewable energy programmes, with the end goal of ensuring access to affordable, reliable, sustainable and green energy for all, Green Open Access Rules, 2022 have been notified on 06.06.22.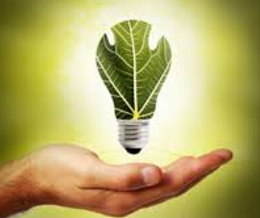 These rules are notified for promoting generation, purchase and consumption of green energy including the energy from Waste-to-Energy plants.
The notified Rules enable simplified procedure for the open access to green power. It will enable faster approval of Green OA, Uniform Banking, Voluntary purchase of RE power by commercial & industrial consumers, Applicability of OA charges, etc.
Commercial and Industrial consumers are allowed to purchase green power on voluntarily basis.
Captive Consumers can take power under Green Open Access with no minimum limitation.
Discom Consumers can demand for supply of Green power to them.
Salient Features of the Rules
Addresses to Small Consumers: The Green Open access is allowed to any consumer and the limit of Open Access Transaction has been reduced from 1 MW to 100 kW for green energy, to enable small consumers also to purchase renewable power through open access.
Certainty on Open Access Charges: Provide certainty on open access charges to be levied on Green Energy Open Access Consumers which includes transmission charges, wheeling charges, cross-subsidy surcharge and standby charges. Cap on increasing of cross-subsidy surcharge as well as the removal of additional surcharge, not only incentivise the consumers to go green but also address the issues that have hindered the growth of open access in India.
Transparency in the approval process of the open access application. Approval to be granted in 15 days or else it will be deemed to have been approved subject to fulfilment of technical requirements. It will be through a national portal.
Determination of Green Tariff: The tariff for the green energy shall be determined separately by the Appropriate Commission, which shall comprise of the average pooled power purchase cost of the renewable energy, cross-subsidy charges if any, and service charges covering the prudent cost of the distribution licensee for providing the green energy to the consumers.
Streamlines Approval Process: The Rules will help to streamlining the overall approval process for granting Open Access including timely approval, to improve predictability of cash flows for renewable power producers. It will also bring Uniformity in the application procedure.
Banking of surplus green energy with the distribution licensee mandated.
Uniformity: There shall be a uniform renewable purchase obligation, on all obligated entities in area of a distribution licensees. It has also included the Green Hydrogen/Green Ammonia for fulfilment of its RPO.
Green Certificates: Consumers will be given the green certificates if they consume green power.
Relief from Surcharges: Cross subsidy surcharge and additional surcharge shall not be applicable if green energy is utilized for production of green hydrogen and green ammonia.
National Time Release Study, 2022
---
Shri Vivek Johri, Chairman, Central Board of Indirect Taxes and Customs (CBIC), presented a set of Time Release Studies (TRS) conducted by the department.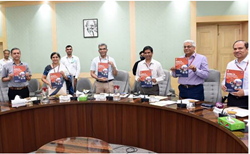 Time Release Studies
TRS are essentially a performance measurement tool for assessing the cargo clearance process of the international trade, as recommended by the World Trade Organization (WTO) under the Trade Facilitation Agreement (TFA) and the World Customs Organization (WCO).
It adopts average cargo release time, i.e. the time taken from the arrival of the cargo at the customs station to its eventual release for import or export, as the case may be.
About the Study
The National Time Release Study (NTRS) 2022 covered 15 major Customs formations, including four port categories - seaports, air cargo complexes (ACCs), inland container depot (ICDs) and integrated check posts (ICPs), which handle about 80 percent of the bills of entry (imports documents) and 70 percent of the shipping bills (export documents) and is based on the sample period between 1st – 7th January 2022.
Findings
The NTRS 2022 has reported further improvement in the average cargo release time for all the four port categories in 2022 over corresponding period of the previous year by 2 percent for ICPs to significantly higher 16 percent for ACCs.
For the sea cargo cleared through the sea port or inland container depots average release time has improved by 12 percent. With this improvement, the ICPs have achieved the National Trade Facilitation Action Plan (NTFAP) target release time to be achieved by 2023, whereas the other three port categories have reached 75 percent of NTFAP target.
Exports
In case of Exports, the Study noted that the documentary clearance of export consignments, measured by the time taken from arrival of the goods at the customs station to grant of Let Export Order has been significantly minimized, ranging from 4:04 hours in the case of ACCs to 47:41 hours in the case of ICDs. This time is within the differential NTFAP target for the four port categories.
However, the studies have found that on account of various logistics processes, the time taken in the eventual export after the regulatory clearance, takes long time – accounting from 60 percent of the total time in the case of integrated check post to 92 percent in the case of air cargo.
National Trade Facilitation Action Plan (NTFAP)
Trade facilitation is a key enabler of a country's economic development and national competitiveness. In the Indian context, trade facilitation has been a longstanding priority of the Government of India which has sought to proactively improve its business regulatory climate as part of the 'Make in India' initiative. India ratified the World Trade Organization's Trade Facilitation Agreement in April 2016, which subsequently came into force on 22nd February 2017.
Formulation of the National Trade Facilitation Action Plan 2017-2020 was an early measure by the Government of India to be an active facilitator of trade. The NTFAP was envisioned to be a live document which contained 96 specific measures assigned to stakeholders with indicative timelines for implementation.
Vision
To transform the cross-border clearance ecosystem through efficient, transparent, risk based, coordinated, digital, seamless and technology driven procedures which are supported by state-of-the-art seaports, airports, land border crossings, rail, road and other logistics infrastructure.
Goal
To bring down the overall cargo release time:
For Imports: Within 48 hours for Sea Cargo, Inland Container Depots and Land Customs Stations and 24 hours for Air Cargo.
For Exports: Within 24 hours for Sea Cargo, Inland Container Depots and Land Customs Stations and 12 hours for Air Cargo.
Objectives
Improve India's ranking on the Trading Across Borders indicator of the World Bank's Doing Business ranking under 50.
Reduction in cargo release time.
Enable paperless regulatory environment.
Establish transparent and predictable legal regime.
Improved investment climate through better infrastructure.
J&K: First UT to be integrated with National Single Window System
---
Jammu & Kashmir became the first Union Territory to be onboarded the National Single Window System (NSWS). This marks a major leap in Ease of Doing Business (EoDB) in the Union Territory.
NSWS is linked with India Industrial Land Bank (IILB) which hosts 45 industrial parks of J&K. This will help Investors to discover available land parcels in J&K.

National Single Window System
National Single Window System (NSWS) is a one-stop-shop portal, and a medium of convenient and efficient online Government-to-Business (G2B) services to the business community, which reduces the complexity in obtaining information and services related to starting businesses in India and deals with various approvals, registrations and permits.
NSWS will eliminate the need for investors to visit multiple platforms/offices to gather information and obtain clearances from different stakeholders.
Currently 142 central approvals can be applied through the NSWS portal.
14 States/UTs onboarded on NSWS include Andhra Pradesh, Goa, Gujarat, Himachal Pradesh, Jammu & Kashmir, Karnataka, Madhya Pradesh, Maharashtra, Odisha, Punjab, Tamil Nadu, Telangana, Uttar Pradesh, and Uttarakhand.
Patna-Pandu Water Connectivity: 'Gateway of NE'
---
A Merchant Vessel, MV Lal Bahadur Shastri, carrying food grains from Bihar's Patna to Guwahati's Pandu was recently flagged off.
This 2,350 km voyage will open a new gate to the 'Gateway of North East' (Assam) and ensure seamless waterways connectivity to North Eat Region through Ganga and Brahmaputra rivers.
This route from Patna can prove to be a viable alternative to the conventional mode of movement of foodgrains and goods for the North-East region.
For seamless navigation to the North-East region, 2 stretches of Indo-Bangladesh Protocol (IBP) route are being developed with Bangladesh.
The 25-30 days voyage will be an integrated Inland Water Transport (IWT) movement via National Waterway-1 (River Ganga), NW-97 (Sunderbans), Indo-Bangladesh Protocol (IBP) route and NW-2 (river Brahmaputra).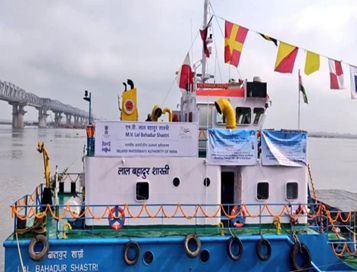 Kalughat Intermodal Terminal
The foundation stone of an intermodal terminal at Kalughat of Bihar was recently unveiled.
Inland Waterways Authority of India (IWAI) Terminal at Kalughat is located on river Ganga at Saran District in Bihar and the terminal is directly connected to NH 19.
The planned intermodal terminal at Kalughat will provide a boost to the region's socio-economic development and create multiple job opportunities.
This will also help decongest the roads of North Bihar and provide an alternative route for the transportation of cargo in this area.
BIS completes 75 Years
---
Bureau of Indian Standards (BIS) has completed 75 glorious years of its existence on 6th January 2022.
Through its core activities of Standardization and Certification, BIS has been contributing to national economy from past 75 years.
Both the Nation and BIS will be completing 100 years in 2047.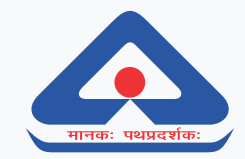 About BIS
The Bureau of Indian Standards (BIS) is the National Standards Body of India under Department of Consumer affairs, Ministry of Consumer Affairs, Food & Public Distribution, Government of India.
It is established by the Bureau of Indian Standards Act, 2016 which came into effect on 12 October 2017.
The Minister in charge of the Ministry or Department having administrative control of the BIS is the ex-officio President of the BIS.
Functions of BIS
BIS is the National Standard Body of India for the harmonious development of the activities of standardization, marking and quality certification of goods and for matters connected therewith or incidental thereto.
BIS has been providing traceable and tangible benefits to the national economy in a number of ways – providing safe reliable quality goods; minimizing health hazards to consumers; promoting exports and imports substitute; control over proliferation of varieties etc. through standardization, certification and testing.
A Brief History of ISI/BIS
The Institution of Engineers (India) prepared the first draft of the Constitution of an Institution which could take up the task of formulation of National Standards. This lead to the Department of Industries and Supplies issuing a memorandum on 3rd September 1946, formally announcing the setting up of an organization called the 'Indian Standards Institution (ISI).
ISI came into being on the 6th January 1947 and in June 1947 Dr. Lal C. Verman took over as its first Director.
Bureau of Indian Standards (BIS) came into existence, through an Act of Parliament dated 26th November 1986, on 1st April 1987, with a broadened scope and more powers; taking over the staff, assets, liabilities and functions of erstwhile ISI.
National Standards Body of India
A new Bureau of Indian Standards (BIS) Act 2016 was notified on 22 March 2016, has been brought into force with effect from 12 October 2017. The Act establishes the Bureau of Indian Standards (BIS) as the National Standards Body of India.
City with Most Sustainable Transport System
---
Kerala has won the award for the 'city with the most sustainable transport system'.
The award will be presented on October 29 at Delhi, by Union Minister for Housing and Urban Affairs Hardeep Singh Puri
It has been given in recognition of the projects implemented — like Kochi Metro, Water Metro and e-mobility — to enhance the transport facilities in the city of Kochi.
The formation of the Kochi Open Mobility Network, which digitized and integrated various transport facilities, also helped to win the award.
The award is given in recognition of the transport facilities in various states and Union Territories of India.
'PFC' accorded "Maharatna" Status
---
On 12th October 2021, state-owned Power Finance Corporation Ltd (PFC) accorded the 'Maharatna' Status by Govt. of India.
Incorporated in 1986, PFC is the largest Infrastructure Finance Company today, exclusively dedicated to Power Sector under the administrative control of the Ministry of Power.
Maharatna CPSEs
Bharat Heavy Electricals Limited
Bharat Petroleum Corporation Limited
Coal India Limited
GAIL (India) Limited
Hindustan Petroleum Corporation Limited
Indian Oil Corporation Limited
NTPC Limited
Oil & Natural Gas Corporation Limited
Power Grid Corporation of India Limited
Steel Authority of India Limited
Power Finance Corporation Ltd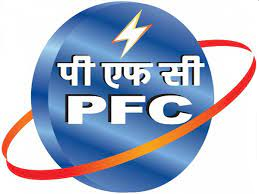 JNPT starts Dwarf Containers Train Service
---
On 20th September 2021, the dwarf container train service started from Jawaharlal Nehru Port Trust (JNPT).
With this, the first consignment of laden Dwarf containers from Dwarf container depot (DCD) at the port was moved by train to ICD Kanpur.
The Indian Railways introduced first commercial service to run double-stack dwarf containers on trains in 2018 and the first freight train was flagged off on July 7 from Western Railway's Rajkot railway station.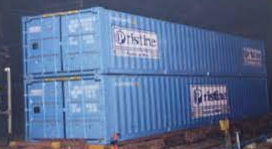 Benefits of Dwarf Containers
Cost Advantage: Rail movement of EXIM cargo through double stacked dwarf containers would offer competitive cost advantage to the EXIM community, resulting in an increase in port cargo traffic via rail route.
Logistical Edge: The 'Dwarf Containers' are lesser in height by 660 mm than normal ISO containers, giving them a logistical edge.
More Reach: The Low height of dwarf container loaded on trailers can pass through rural, semi urban and urban roads, through limited height subways & level crossing in electrified sections.
Carry More Volume: The 'Dwarf' containers provide a 67% increase in volume when double-stacked and can carry a weight of 71 tons, against 40 tons by an ISO container.
Discount: Indian Railways has offered 17% discount on haulage cost compared to double stack ISO container trains, resulting in an overall 33% discount to shippers making Indian Railways competitive.
Thus, the rail movement of cargo through Dwarf containers has the potential to lower the EXIM logistics costs, making Indian exports globally competitive.
National Monetisation Pipeline: Unlocking Value in Brownfield Projects
---
On 23rd August 2021, Union Minister for Finance and Corporate Affairs launched a four year (FY2022-FY2025) National Monetisation Pipeline (NMP) worth Rs 6 lakh crore to unlock value in brownfield projects by engaging the private sector, transferring to them the rights but not the ownership in projects; and using the funds for infrastructure creation across the country.
The pipeline has been developed by NITI Aayog, in consultation with infrastructure line ministries, based on the mandate for 'Asset Monetisation' under Union Budget 2021-22.
The NMP period has been kept co-terminus with the remaining period of the National Infrastructure Pipeline (NIP).
Need
Developed in the backdrop of the unprecedented Covid-induced economic and fiscal shocks, NMP lists out assets and asset classes, under various infrastructure ministries, which will be monetised over a period of time.
India is transitioning from an agrarian economy to a service sector economy giving a boost to urbanization and hence creating a need for a robust infrastructure.
India needs to spend about US$ 1.4 Tn on Infrastructure to reach the target GDP of US$ 5 Tn by 2024-25.
The National Infrastructure Pipeline (NIP) unveils the infrastructure projects across various states which will receive the expected funding of US$ 1.4 Tn over the next 5 years.
Key Objectives of NMP
The end objective of this initiative is to enable 'infrastructure creation through monetisation' wherein the public and private sector collaborate, each excelling in their core areas of competence, so as to deliver socio-economic growth and quality of life to the country's citizens. Also,
serve as a medium-term roadmap for the line ministries and agencies,
provide medium-term visibility to investors on infrastructure assets pipeline,
provide a platform for ministries to track asset performance, and
bring in greater efficiency and transparency in public assets management.
Top Five Sectors for Monetization
The top 5 sectors (by estimated value) capture ~83% of the aggregate pipeline value. These top 5 sectors include: Roads (27%) followed by Railways (25%), Power (15%), oil & gas pipelines (8%) and Telecom (6%).
Sector wise Monetisation Pipeline over FY 2022-25 (Rs crore)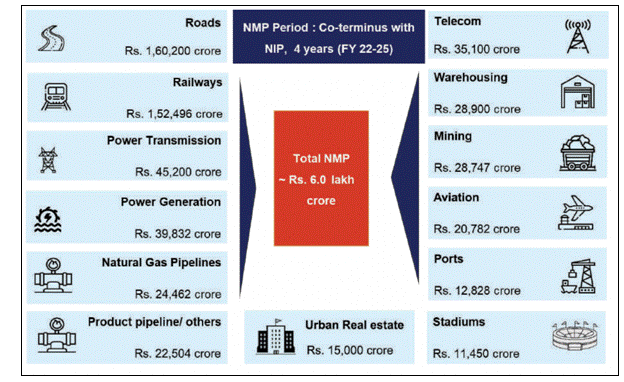 Highlights
This pipeline will only include brownfield assets owned by the government, and will not include land assets of the government.
This will monetize government's existing asset base and use the proceeds to boost infrastructure.
Under the newly announced National Monetisation pipeline, government assets covers about 14% of Centre's outlay and NMP covers over 20 asset classes and 12 line ministries.
Centre to incentivise States to monetise their assets

Incentives to be given as 50-year interest-free loans.
Upto Rs 5,000 crore already budgeted in the current year.
If the states divest a PSU, they will receive 100% as financial assistance.
If they monetize the asset, they will receive 33% of that amount.
If states list a public company in the stock markets, the government will be give them 50% of that amount.

Roads, railways and power to be priority sectors

Rs 1.6 lakh crore worth national highways of NHAI.
Rs 67,000 crore worth transmission lines from Power Grid.
Rs 32,000 crore worth Hydro, Solar, and Wind projects from NHPC, NTPC, and Neyveli Lignite.
400 stations, about 150 trains, tracks and woodshed worth Rs 1.5 lakh crore.
Plans for 'Freight Smart Cities' Unveiled
---
The Commerce Ministry's Logistics division has recently unveiled the concept of 'Freight Smart Cities' to improve the efficiency of urban freight and create an opportunity for reduction in the logistics costs.
Why Freight Smart Cities?

With growing urbanisation, requirements of rapid economic growth including e-commerce and associated first and last mile freight movements; increasing congestion, noise and sound pollution in the Indian cities is a menace affecting both public health and local economies.
To address the above issues the Logistics Division under the Ministry of Commerce and Industry has decided to work in a planned manner to improve the city freight movement.
This is all the more relevant as the demand for urban freight is expected to grow by 140 per cent over the next 10 years.
Final-mile freight movement in Indian cities is currently responsible for 50 per cent of total logistics costs in India's growing e-commerce supply chains. Improving city logistics would also enable efficient freight movement and bring down the logistics costs boosting all sectors of the economy.
The Plan
All the State Governments are asked to identify ten cities, to begin with, to be developed as Freight Smart Cities and also to set up institutional mechanism for the same involving the Government as well as private stake-holders like Logistics services providers, users and citizens.
The States/City Governments were asked focus on the quick-wins like developing peri-urban freight centres, night-time deliveries, developing truck routes, using Intelligent Transportation Systems & modern technologies, Promoting electrification of urban freight , Parcel delivery terminals etc.
Under the Freight Smart Cities initiative, city-level logistics committees would be formed. These committees would have related government departments and agencies at the local level, state and from the reacted central ministries and agencies. These would also include private sector from the logistics services and also users of logistics services. These committees would co-create City Logistics Plans to implement performance improvement measures locally.
From the ten cities to be identified on immediate basis, it is planned to expand the list to 75 cities in the next phase before scaling up throughout the country including all state capitals and cities that have more than one million populations. The list of cities to be taken up would however be finalised in consultation with the State governments.
6 Years of Urban Transformation: Infra in Numbers
---
The Ministry of Housing and Urban Affairs (MoHUA) recently commemorated 6 years of the three transformative Urban Missions - Smart Cities Mission (SCM), Atal Mission for Urban Rejuvenation and Urban Transformation (AMRUT) and Pradhan Mantri Awas Yojana-Urban (PMAY-U), which were launched by Prime Minister Shri Narendra Modi, on 25th June, 2015.
Highlights of Achievements
1.12 crore houses sanctioned and over 83 lakh houses grounded under PMAY-U
16 lakh families benefitted from PMAY-U's Credit Linked Subsidy Scheme (CLSS)
Government investment under PMAY-U created around 689 crore person days of employment translating into around 246 lakh jobs
Affordable Rental Housing Complexes scheme under PMAY-U for urban migrants/ poor has elicited remarkable response on ground
So far, 105 lakh household water tap connections and 78 lakh sewer/ sepatage connections provided under AMRUT Mission
88 lakh streetlights replaced with energy efficient LED lights leading to energy savings of 193 crore units
84.6 lakh tons carbon footprint reduced through various initiatives under AMRUT, as per TERI
70 cities have developed and operationalised Integrated Command and Control Centres (ICCCs) under Smart Cities Mission
310 Smart Road projects, 57 Smart Solar Projects and 101 Smart Water Projects completed
WHO Names Covid-19 Variants
---
The World Health Organization (WHO) has announced Greek alphabetical labels to identify different strains of Covid-19 that have emerged across the world.
The WHO's decision to rename Covid variants came nearly three weeks after India objected to the B.1.617 variant being termed an "Indian variant" in media reports.
| | | |
| --- | --- | --- |
| Variants | Country of First Detection | Name |
| B.1.1.7 | UK | Alpha |
| B.1.351 | South Africa | Beta |
| B.1.617 | India | |
| B.1.617.1 | | Kappa |
| B.1.617.2 | | Delta |
The first such variant of concern, which first appeared in Britain and can be also known as B.1.1.7, will be known as the "alpha" variant.
The second, which turned up in South Africa and has been referred to as B.1.351, will be known as the "beta" variant.
A third variant that first appeared in Brazil will be called the "gamma" variant.
The variant B.1.617, first found in India, is split into sub-lineages, of which the B.1.617.1 variant of concern becomes 'Kappa'. The B.1.617.2 variant of interest is called 'Delta'.
'Infrastructure' Status For Convention Centres
---
The Finance Ministry has granted 'Infrastructure' status for exhibition and convention centres that is expected to ease bank financing for such projects.
The benefits available as 'infrastructure' projects would only be available for projects with a minimum built-up floor area of 1,00,000 square metres of exclusive exhibition space or convention space or both combined. This includes primary facilities such as exhibition centres, convention halls, auditoriums, plenary halls, business centres, meeting halls etc.
As of now, the major projects under way in the sector are backed by the government – the International Exhibition-cum-Convention Centres at Dwarka as well as Pragati Maidan in the capital.
The infrastructure tag no longer involves significant tax breaks but would help such projects get easier financing from banks.
Last August, the government had added affordable rental housing projects to the list of sectors recognised as infrastructure.
India Energy Dashboards (Version 2.0)
---
The India Energy Dashboards Version 2.0 was launched on 12 April 2021 by NITI Aayog.
India Energy Dashboards (IED) is an endeavour to provide single-window access to the energy data for the country. Energy data published/provided by Central Electricity Authority, Coal Controller's Organisation, and Ministry of Petroleum and Natural Gas is compiled in the Dashboards.
NITI Aayog launched the Version 1.0 in May 2017.
National Policy For Rare Diseases 2021
---
Health Minister Dr. Harsh Vardhan has approved the "National Policy for Rare Diseases 2021" on 30th of March.
The Rare Diseases Policy aims to lower the high cost of treatment for rare diseases with increased focus on indigenous research with the help of a National Consortium. Increased focus of research and development and local production of medicines will lower the cost of treatment for rare diseases.
The policy also envisages creation of a national hospital based registry of rare diseases so that adequate data is available for definition of rare diseases and for research and development.
The Policy also focuses on early screening and prevention through primary and secondary health care infrastructure such as Health and Wellness Centres and District Early Intervention Centres.
The Policy also aims to strengthen tertiary health care facilities for prevention and treatment of rare diseases by designating 8 health facilities as Centre of Excellence. These Centres will also be provided one-time financial support of up to 5 crore rupees for upgradation of diagnostics facilities.
A provision for financial support up to 20 lakh rupees under the Umbrella Scheme of Rastriya Arogya Nidhi is proposed for treatment of those rare diseases that require a one-time treatment. Beneficiaries of such financial assistance would not be limited to BPL families. The benefit will be extended to about 40 percent of the population, who are eligible under Pradhan Mantri Jan Arogya Yojana.
Udan 4.1 Launched
---
To further enhance regional air connectivity, the Centre has launched the 4.1 round of the RCS-Udan scheme.
Some operational flexibilities are extended to Airlines under the Udan 4.1 to ensure suitable operation models to connect smaller cities or airstrips.
New routes are proposed under 'Sagaramala Seaplane Services'.
Operations under Non Scheduled Operator's Permit (NSOP) will be allowed for seaplane, fixed-wing aircraft, Helicopters for RCS routes awarded under Udan 4.1.
Till date, 325 routes and 56 airports including 5 heliports and 2 Water Aerodromes have been operationalised under the Udan scheme.
India's First Forest Healing Centre Inaugurated
---
The first forest healing centre of India has been inaugurated at Ranikhet in Kalika Uttarakhand.
The centre has been developed by the Research Wing of Uttarakhand Forest Department.
It draws inspiration from Japanese technique of forest bathing (shinrin-yoku) and ancient Indian traditions and that basic theme is, "be silent, go slow, think less and feel more."
It involves many activities like forest walking, tree-hugging, forest meditation and sky gazing.
How Forest Environs good for Health
Because of typical molecular vibration patterns of trees, tree-hugging has a beneficial impact on the increase in the level of feel-good hormones like oxytocin, serotonin and dopamine, creating the pleasant effect.
Pine Forest & Health
This healing centre has been established in a pine-dominated forest as it has been found in various studies that coniferous like Pine trees emit certain oil compounds to safeguard themselves from various microbes and pathogens, which are called phytoncides. It has been found in various researches that these compounds help to multiply natural killer (NK) cells in our blood, which help in fighting infections and cancerous growth and enhance overall immunity.
Other activities in this Healing Forest
Forest Meditation: Another important activity in this healing centre is forest meditation which is distinct from the traditional meditation system of controlling thoughts or concentrating the awareness on some particular point. This practice is based more on immersing oneself in silence and the ambience of the forest without making any extra effort.
Sky Gazing: It involves having a gaze at the swaying canopy above and the ever-changing sky. This uncommon view offers a new perspective as well as deep relaxation.
FSSAI Caps Trans Fatty Acids In Food
---
The FSSAI has amended its rules to put a cap on trans fatty acids (TFAs) in food products just after it tightened the norms for oils and fats.
Food products in which edible oils and fats are used as an ingredient shall not contain industrial trans fatty acids more than 2% by mass of the total oils/fats present in the product, on and from 1st January, 2022.
In December, the FSSAI had capped TFAs in oils and fats to 3% by 2021, and 2% by 2022 from the current levels of 5%.
About Trans Fatty Acids
Trans fatty acids are created in an industrial process that adds hydrogen to liquid vegetable oils to make them more solid, increase shelf life of food items and for use as an adulterant as they are cheap. They are present in baked, fried and processed foods as well as adulterated ghee which becomes solid at room temperature. They are the most harmful form of fats as they clog arteries and cause hypertension, heart attacks and other cardiovascular diseases.
WHO Targets & India
As per the World Health Organisation (WHO), approximately 5.4 lakh deaths take place each year globally because of intake of industrially produced trans fatty acids. The WHO has called for the elimination of industrially-produced trans fatty acids from the global food supply by 2023.
FSSAI is reaching this goal a year sooner than the WHO deadline i.e. 2022.
Mega Investment Textiles Parks Scheme
---
The Centre has proposed a Scheme of Mega Investment Textiles Parks (MITRA) to enable textile industry to become globally competitive, attract large investments, boost employment generation, and exports.
This will create world-class infrastructure with plug-and-play facilities to create global promoters in exports.
MITRA will be launched in addition to the Production Linked Incentive (PLI) Scheme.
Seven textile parks will be established over a period of three years.
Along with the PLI Scheme, MITRA will lead to increased investments and enhanced employment opportunities.
During the Union Budget 2021-22, Union Finance and Corporate Affairs Minister Nirmala Sitharaman announced of bringing nylon chain on a par with polyester and other man-made fibres.
India To Light Up Qutub Minar As A Sign Of Unity To Combat NTDs
---
On World Neglected Tropical Diseases Day, on 30th January 2021, more than 50 landmarks representing 25 nations across the world will be lit up to celebrate how far we have come together in beating NTDs. India too will proudly join these countries, by illuminating UNESCO world heritage site Qutub Minar.
Neglected Tropical Diseases (NTDs) include several parasitic, viral, and bacterial diseases that cause substantial illness for more than one billion people globally. Affecting the world's poorest people, NTDs impair physical and cognitive development, contribute to mother and child illness and death, make it difficult to farm or earn a living, and limit productivity in the workplace. As a result, NTDs trap the poor in a cycle of poverty and disease.
1 in 5 people around the world are affected by NTDs. India is home to the world's largest absolute burden of at least 11 of these major neglected tropical diseases. These diseases debilitate, disfigure, and can even be fatal to those affected.
India Energy Modeling Forum
---
Recently, in the joint working group meeting of the Sustainable Growth Pillar, an India Energy Modeling Forum(IEMF) was launched.
Background
In March, 2019, the NITI Aayog and the United States Agency for International Development (USAID) organized the first workshop on development of the IEMF.
It has been envisaged as a pan-stakeholder platform for debating ideas, scenario-planning & discussing the India's energy future.
Sustainable Growth Pillar is an important pillar of India–US Strategic Energy Partnership co-chaired by NITI Aayog and USAID.
The SG pillar entails energy data management, energy modelling and collaboration on low carbon technologies as three key activities.
About IEMF
Aim
Provide a platform to examine important energy and environmental related issues;
Inform decision-making process to the Indian government;
Improve cooperation between modelling teams, government, and knowledge partners, funders;
Facilitate exchange of ideas, ensure production of high-quality studies;
Identify knowledge gaps at different levels and across different areas;
Build capacity of Indian institutions.
Composition
The forum would include knowledge partners, data agencies and concerned government ministries.
Coordination
NITI Aayog will initially coordinate the activities of the forum and finalizing its governing structure.
Significance
Energy modelling can play an important role in decision-making.
It particularly laid focus on bridging the rural-urban divide and factoring in energy pressures from the informal economy within models.
Energy Modelling Forum (EMF)
It was established at Stanford University (US) in 1976 to bring together leading experts and decisionmakers from government, industry, universities, and other research organizations to study important energy and environmental issues.
It seeks to improve the use of energy and environmental policy models for making important corporate and government decisions.
Guiding Goals: Three major goals guide this effort:
Harness the collective capabilities of multiple models to improve the understanding of important energy and associated environmental problems,
Explain the strengths and limitations of competing approaches to the problem, and
Provide guidance for future research efforts.
Energy Modeling
Energy modeling is a pre-construction, whole-building assessment of energy efficiency that uses computer programs for calculations.
A model of the entire building is created on a com That model is then run through computer simulations to show energy performance, usually for an entire year based on meteorological information.
Energy modeling accounts for all systems within a building and examines how they impact each other.
For instance, while a certain lighting system may be extremely bright, it may release excessive heat that the building's cooling system must offset in the summer months.
Beneficiaries
Building Owners: Energy modeling helps them maximize investment before construction.
Building Occupants: Energy modeling helps keep tenants comfortable throughout the year, while also cutting down on their energy bill costs.
Engineers: Energy modeling allows engineers to see important data all in one place, without referring to dozens of enormous, unwieldy spreadsheets.
Manufacturers: Those who create construction materials love energy modeling because it allows them to showcase their products' energy efficiency and long-term cost savings prior to construction.
Environment: Buildings hog a large portion of our energy expenditure. If every new building was optimized for energy efficiency with energy modeling, we could significantly cut our energy usage and carbon footprint.
Rewa Solar Project
---
Recently, the government inaugurated the 750 MW solar project in the Gurh tehsil of Rewa district , Madhya Pradesh.
It is Asia's largest solar power project.
The project has also received the World Bank Group President's Award for innovation and excellence and was included in the book 'A Book of Innovation: New Beginnings'.
About Rewa Solar Project
It comprises three solar generating units of 250 MW each located on a 500 hectare of land situated inside a solar park (total area 1500 hectare).
It was developed by the Rewa Ultra Mega Solar Limited (RUMSL), a Joint Venture Company of Madhya Pradesh UrjaVikas Nigam Limited (MPUVN), and Solar Energy Corporation of India (SECI), a Central Public Sector Undertaking.
This is the country's first solar project to receive funding from World Bank under its Clean Technology Fund (CTF).
Significance
Grid Parity Barrier: It is the first solar project in the country to break the grid parity barrier.
Payment Risk Reduction: Its payment security mechanism for reducing risks to power developers has been recommended as a model to other states by the Ministry of New and Renewable Energy.
Supplying Power to Institutional Customer: It is the first renewable energy project to supply an institutional customer outside the state, i.e. Delhi Metro, which will get 24% of energy from the project with the remaining 76% being supplied to the state DISCOMs of Madhya Pradesh.
Carbon Emission Reduction: In terms of environmental impact, the project would avoid 15 lakh tonnes of carbon dioxide emissions every year.
Achieving 100 GW Solar Capacity: The project also exemplifies India's commitment to attain the target of 175 GW of installed renewable energy capacity by the year 2022, including 100 GW of Solar installed capacity.
Government Initiatives To Boost Infrastructure Across Sectors
---
On 24th June 2020, the Union Cabinet took several landmark decisions, which will go a long way providing a much needed boost to infrastructure across sectors, which are crucial in the time of pandemic.
Animal Husbandry Infrastructure Development Fund
Background
In pursuance of recently announced Atma Nirbhar Bharat Abhiyan stimulus package, government approved setting up of Animal Husbandry Infrastructure Development Fund (AHIDF).
Government had earlier approved the Dairy Infrastructure Development Fund (DIDF) for incentivizing investment by cooperative sector for development of dairy infrastructure.
Need
The MSMEs and Private companies need to be promoted and incentivized for their participation in processing and value addition infrastructure in the animal husbandry sector.
Key Points
Size of the fund is 15000 crore.
The eligible beneficiaries under the Scheme would be Farmer Producer Organizations (FPOs), MSMEs, Section 8 Companies, Private Companies and individual entrepreneur with only 10% margin money contribution by them.
The balance 90% would be the loan component to be made available to them by scheduled banks.
Government of India will provide 3% interest subvention to eligible beneficiaries.
There will be 2 years moratorium period for repayment of loan with 6 years repayment period thereafter.
Government of India would also set up a Credit Guarantee Fund of Rs. 750 crore to be managed by NABARD which would provide credit guarantee to the projects which are covered under the MSME defined ceilings.
Guarantee Coverage would be upto 25% of the Credit facility of borrower.
Impact
Increasing Farmer's Income
Since almost 50-60% of the final value of dairy output in India flows back to farmers, the growth in this sector can have significant direct impact on farmer's income.
The investment of Rs. 15,000 crores through AHIDF would not only leverage several times more private investment but would also motivate farmers to invest more on inputs thereby driving higher productivity leading to increase in farmers income.
Livelihood Creation
The measures approved today through AHIDF would also help in direct and indirect livelihood creation for about 35 lakh persons.
Benefits
Incentivizing Investment: The AHIDF would incentive infrastructure investments in dairy, meat processing and animal feed plants.
Ensuring Credit Availability: The AHIDF with the interest subvention scheme for private investors will ensure availability of capital to meet upfront investment required for these projects and also help enhance overall returns/ pay back for investors.
Export Promotion: Such investments in processing and value addition infrastructure by eligible beneficiaries would also promote exports.
Kushinagar Airport Declared as International Airport
Union Cabinet has approved the proposal to declare Kushinagar Airport in Uttar Pradesh as an International Airport.
Need
On any given day, around 200-300 devotees from Thailand, Cambodia, Japan, Burma, etc are coming and offering their prayers at Kushinagar. However, this International tourist destination has no direct connectivity, which has been a long pending demand of the visitors.
Historical Significance of Kushinagar
Kushinagar is an important Buddhist pilgrimage site, where Gautama Buddha attained Mahaparinirvana.
It is dotted with several other Buddhist sites in the nearby surroundings like Sravasti (238 km), Kapilvastu (190 km) and Lumbini (195 km) that makes it an attraction for both followers and visitors alike.
Kushinagar already serves as the presenting site for Buddhist circuit pilgrimage spanning across India and Nepal.
Benefits
Boosting Tourism
Declaration of Kushinagar Airport as an 'International Airport' will offer improved connectivity resulting in boosting of domestic/international tourism in the region.
Economic Development
Increase flow of tourists would further provide impetus to economic development of the region.
Shwe oil & gas project in Myanmar
Government has approved additional investment of US$ 121.27 million by ONGC Videsh Ltd (OVL) towards further development of Shwe oil & gas project in Myanmar.
Background
ONGC Videsh (OVL) has been associated with exploration and development of Shwe gas project in Myanmar since 2002, as part of a consortium of companies from South Korea, India and Myanmar.
The Indian PSU, GAIL, is also a co-investor in this project.
The first gas from Shwe Project was received in July 2013 and plateau production was reached in December 2014.
Benefits
Promoting Act East Policy: The participation of Indian PSUs in oil & gas exploration and development projects in neighbouring countries is aligned with India's Act East Policy.
Strengthening Energy Security: It also part of India's strategy to develop Energy Bridges with its neighbours in addition to further strengthening India's energy security needs.
About Shwe Gas Project
Shwe gas project comprises the development of three fields, namely Shwe, Shwe Phyu, and Mya, which are located in the Bay of Bengal, offshore Myanmar.
The gas project is located in Blocks A-1 and A-3 in the Bay of Bengal, offshore Rakhine, Myanmar.
The project is jointly owned by POSCO DAEWOO Corporation (PDC, 51%), Myanma Oil and Gas Enterprise (15%), ONGC Videsh (India) (17%), GAIL (India) (8.5%), and Korea Gas Corporation (8.5%). It is being developed in three phases with the first phase completed in 2013.
Indian Gas Exchange
---
On 15th June, 2020, the government has launched Indian Gas Exchange (IGX) –first nationwide online delivery-based gas trading platform.
Need
Domestically produced natural gas currently accounts for less than half the country's natural gas consumption; imported Liquefied Natural Gas (LNG) accounts for the other half.
LNG imports are set to become a larger proportion of domestic gas consumption as India moves to increase the proportion of natural gas in the energy basket from 6.2% in 2018 to 15% by 2030.
About Indian Gas Exchange (IGX)
IGX will be a delivery-based trading platform for delivery of natural gas.
Incorporated as a wholly owned subsidiary of the Indian Energy Exchange (IEX) - India's energy market platform, IGX will enable market participants to trade in standardised gas contracts.
The platform is fully automated with web-based interface to provide seamless trading experience to the customers.
Mode of Working
The IGX will offer six market products beginning from day-ahead market and forward contracts including - Daily, Weekly, Weekday, Fortnightly and Monthly at three physical hubs in Dahej, Hazira in Gujarat and Kakinada in Andhra Pradesh.
The gas exchanges are expected to work on the lines of power exchanges, which determines the price based on supply and demand and market forces.
The exchange also allows much shorter contracts – for delivery on the next day, and up to a month – while ordinarily contracts for natural gas supply are as long as six months to a year.
Imported Liquified Natural Gas (LNG) will be re-gassified and sold to buyers through the exchange, removing the requirement for buyers and sellers to find each other.
Limitation
As the price of domestically produced natural gas is decided by the government, so, it will not be sold on the gas exchange.
Significance
Through IGX, India's vision on mega investments on Liquefied Natural Gas (LNG) terminals, gas pipelines, CGD infrastructure and permission for market driven price mechanism will be materialized.
Impact
IGX will play an instrumental role in transforming India's gas markets, positioning India as a sustainable economy and enhancing industry's competitiveness.
The exchange will help bring down the price of natural gas through competitive trade, boosting usage in the country that relies heavily on cheaper coal for its energy needs.
IGX will drive industrial competitiveness, sustainability, spur investments in the gas value chain, deliver efficient utilisation of the pipeline infrastructure as well as ensure revival of gas-based power plants.
It will architect India as a market-based gas economy, whilst also leading to sustainable environmental benefits.
It would also help small consumers to get short-term supply of fuel at competitive rates.
Liquefied Natural Gas (LNG)
LNG is natural gas (predominantly methane, CH4, with some mixture of ethane, C2H6) that has been cooled down to liquid form for ease and safety of non-pressurized storage or transport.
To enable maritime transport, the natural gas is cooled down by means of a refrigerated cycle (compression, condensation, expansion, evaporation) that transforms the gas into a liquid form at -160°C: this is known as Liquefied Natural Gas (LNG).
The combustion of natural gas primarily emits water vapour and small amounts of carbon dioxide (CO2).
This property means that associated CO2 emissions are 30 to 50% lower than those produced by other combustible fuels.
Russia has the world's largest supply of natural gas, followed by Iran and Qatar.
It is used as a feedstock in the manufacture of fertilizers, plastics and other commercially important organic chemicals as well as used as a fuel for electricity generation, heating purpose in industrial and commercial units.
Opposing Draft Electricity (Amendment) Bill, 2020
---
Recently several states like West Bengal, Punjab, Puducherry, Kerala, Rajasthan, Jharkhand, Chhattisgarh, Maharashtra, Delhi, Telangana and Andhra Pradesh have voiced their concerns against the proposed bill.
Why the Bill is being opposed?
According to the states, the proposed Electricity (Amendment) Bill undermines India's federal structure and attempts to privatise distribution could be the next flashpoint between the government and the Opposition.
The amendments will take away the autonomy of state-owned discoms and state electricity regulators.
One of the sweeping changes proposed in the Bill is an end to subsidies. All consumers, including farmers, will face a crisis if the subsidy on electricity given to them for irrigation is not continued and thereby, it will affect the production of food grains.
The Seventh Schedule of the Constitution provides powers to both the Centre and states to make appropriate laws on matters related to electricity.
But the proposed amendments will "centralise power" and make "states weaker in the matters related to power sector.
The draft "divests" the States of their power to fix tariff and hands over the task to a Central government-appointed authority.
This is discriminatory, since the tariff can be tweaked according to the whims and fancies of the Central government.
Further, the proposed provision makes it compulsory for the State power companies to buy a minimum percentage of renewable energy fixed by the Centre. This would be detrimental to the cash- strapped power firms.
About Draft Electricity (Amendment) Bill, 2020
Following are major changes that this Amendment proposes to introduce in the Electricity Act, 2003:
Policy Amendments
Renewable Energy: It seeks to promote a legal and administrative eco-system which harbours special attention to renewable energy. It delegates the Central Government with the power to prepare and notify a National Renewable Energy Policy "for promotion of generation of electricity from renewable sources", in consultation with State Governments. It must be noted that the Amendment seeks to give special attention to hydro power.
Cross Border Trade: The Central Government has been delegated with the power to prescribe rules and guidelines to allow and facilitate cross border trade of electricity.
Electricity Contract Enforcement Authority: The Amendment has inserted a new chapter in the Act which prescribes the creation and functioning of the Electricity Contract Enforcement Authority. The Authority has been proposed to be given sole jurisdiction to adjudicate upon matters on performance of obligations under a contract regarding sale, purchase and transmission of electricity, which exclusion of this specialized authority's jurisdiction on determination of tariff or any other dispute regarding tariff.
Functional Amendments
Payment Security: Lack of payment security mechanism has created a large pool of unpaid dues. To disrupt any future trickle down of such unrealized revenues, this Amendment proposes a mechanism wherein "no electricity shall be scheduled or dispatched under such contract unless adequate security of payment as agreed upon by the parties to the contract has been provided.
Constitution of Selection Committee to Recommend Members for Commissions/ Authorities: There are a slew of provisions for the constitution of a Selection Committee for making recommendations of members to the Appellate Tribunal and the Chairperson and Members of Central Commission, Electricity Contract Enforcement Authority, State Commissions and Joint Commissions.
Grant of Subsidy Mandated: The benefit of subsidy to be granted directly to the consumer and the licensee shall charge the consumers as per the tariff determined by the Appropriate Commission. The determination of tariffs shall be fixed by the commission without accounting for subsidies. Further, basis the tariff policies, surcharges and cross subsidies shall be progressively reduced.
Time Limit for Adoption of Tariff: It has prescribed a period of 60 days to adopt the determined tariffs. Failing such timeline of 60 days, the tariff would be deemed to be accepted. Such deemed acceptance is a good method to not allow red-tapism to impact the functioning of the sector.
Inclusion of Distribution Sub-licensee and Franchisee: To ease the burden of distribution licensees and in order to promote some form of demographic specialization, the distribution licensees, can appoint another entity for distribution of electricity on its behalf, within its area of supply.
Enhancement of Powers of The Appellate Tribunal of Electricity: APTEL is proposed to have the powers of a High Court to deal with wilful disobedience of persons and entities under the Contempt of Courts Act, 1971. Additionally, any person can appeal the decisions of the Authority which is introduced by this Amendment in front of the APTEL.
Applicable to the Whole of India: It is needless to mention, that in addition to the above mentioned broad themes that the Amendment seeks to cover, the Act shall now be applicable to the territory which was erstwhile exempted from the State of Jammu and Kashmir.
Report On Impact Of Energy Efficiency Measures
---
Recently the Ministry of Power and New & Renewable Energy released a report on the Impact of energy efficiency measures for the year 2018-19.
The report has been prepared by an Expert agency PWC Ltd, who was engaged by Bureau of Energy efficiency (BEE) for an independent verification.
Objective
To assess the impact of all the energy efficiency schemes/ programmes in India in terms of total energy saved and reduction in the amount of CO2 emissions in 2018-19.
Background
With a total energy consumption of 553.9 Million Tonnes of Oil Equivalent (Mtoe) 1 in 2017-18, India stood the third largest energy consumer in the world after United States of America and China.
India also ranks highest in terms of growth rate of energy consumption in the world.
India's energy consumption is expected to grow fastest among global economies and account for 11% of global energy demand by 2040.
As India, submitted its Nationally Determined Contributions (NDC) target to United Nations Framework Convention on Climate Change (UNFCCC), intending to reduce emission intensity of its GDP, the role of energy efficiency would be crucial in complying with those targets.
Key Findings
Implementation of various energy efficiency schemes have led to total electricity savings to the tune of 113.16 Billion Units in 2018-19, which is 9.39% of the net electricity consumption.
Energy savings (electrical + thermal), achieved in the energy consuming sectors (e. Demand Side sectors) is to the tune of 16.54 Mtoe, which is 2.84% of the net total energy consumption in 2018-19.
The Energy Intensity of India (at 2011-12 prices) decreased from 65.5 toe per crore rupees in 2011-12 to 55.8 toe/Cr Rupees in 2017-18.This decline is attributed to the services sector having a growing share of the economy, and deployment of energy efficiency programmes among other factors.
Industry sector has the highest contribution (49.17%) in the total energy savings while domestic sector has contributed to 33.34% of the total savings achieved during FY 18-19.
These efforts have also contributed in reducing 151.74 Million Tonnes of CO2 emissions, whereas last year this number was 108 Million Tonnes of CO2.
The study focuses on following schemes/programmes, viz. Perform, Achieve and Trade Scheme, Standards & Labeling Programme, UJALA Programme, ECBC – Commercial Buildings Programme, BEE Star rated buildings, Building Energy efficiency Programme, Corporate Average Fuel Economy (CAFE), FAME Scheme, BEE – SME Programme, GEF – UNIDO – BEE Project, GEF – World Bank Project, Agriculture Demand Side Management Programme, and Municipal Demand Side Management Programme.
Significance
The study assesses the resultant impact of current schemes at national as well as state level for the FY 2018-19 and compares it with a situation where the same were not implemented.
Energy Efficiency in India
Government of India has undertaken a two pronged approach to cater to the energy demand of its citizens while ensuring minimum growth in CO2 emissions, so that the global emissions do not lead to an irreversible damage to the earth system.
On one hand, in the generation side, the Government is promoting greater use of renewable in the energy mix mainly through solar and wind and at the same time shifting towards supercritical technologies for coal based power plants.
On the other side, efforts are being made to efficiently use the energy in the demand side through various innovative policy measures under the overall ambit of Energy Conservation Act 2001.
Towards Energy Efficiency
The Energy Conservation Act (EC Act) was enacted in 2001 with the goal of reducing energy intensity of Indian economy.
Bureau of Energy Efficiency (BEE) was set up as the statutory body on 1st March 2002 at the central level to facilitate the implementation of the EC Act. The Act provides regulatory mandate for: standards & labeling of equipment and appliances; energy conservation building codes for commercial buildings; and energy consumption norms for energy intensive industries.
Schemes to Promote Energy Conservation and Energy Efficiency
Standards and Labeling
The Bureau initiated the Standards and Labeling programme for equipment and appliances in 2006 to provide the consumer an informed choice about the energy saving and thereby the cost saving potential of the relevant marketed product.
The Corporate Average Fuel Consumption Standards (CAFC) for passenger cars has been notified on 30th January, 2014.
Energy Conservation Building Codes (ECBC)
It was developed by Govt. of India for new commercial buildings on 27th May 2007. ECBC sets minimum energy standards for new commercial buildings having a connected load of 100kW or contract demand of 120 KVA and above.
Currently, Voluntary Star Labelling programme for 4 categories of buildings (day use office buildings/BPOs/Shopping malls/Hospitals) has been developed and put in public domain.
National Mission for Enhanced Energy Efficiency (NMEEE)
It is one of the eight missions under the National Action Plan on Climate Change (NAPCC). NMEEE aims to strengthen the market for energy efficiency by creating conducive regulatory and policy regime and has envisaged fostering innovative and sustainable business models to the energy efficiency sector.
Perform Achieve and Trade Scheme (PAT)
It is a market based mechanism to enhance the cost effectiveness in improving the Energy Efficiency in Energy Intensive industries through certification of energy saving which can be traded.
Bachat Lamp Yojana (BLY)
It is a public-private partnership program comprising of BEE, Distribution Companies (DISCOMs) and private investors to accelerate market transformation in energy efficient lighting.
Unnat Jyoti by Affordable LEDs for All (UJALA)
It was launched in 2015 with a target of replacing 77 crore incandescent lamps with LED bulbs and to nullify the high-cost of LEDs that acted as a barrier previously in the adoption of energy-efficient systems.
The objective is to promote efficient lighting, enhance awareness on using efficient equipment that will reduce electricity bills and preserve the environment.
It is the world's largest domestic lighting project.
First In-depth Review Of India's Energy Policies
---
On 10th January, 2020, International Energy Agency (IEA), in partnership with NITI Aayog, released the first in-depth review of India's energy policies.
This first in-depth review of India's energy policies examines the country's achievements in developing its energy sector as well as the challenges it faces in ensuring a sustainable energy future.
The IEA has been conducting in-depth peer reviews of its member countries energy policies since 1976. This is the first review carried out for India, which has been an IEA association country since March 2017.
Key Highlights
Significant Progress towards Affordable Cleaner Energy
The IEA report congratulates the Indian government on its outstanding achievements in extending citizens access to electricity, affordable efficient lighting and clean cooking in record time through historic schemes like SAUBHAGYA, UJALA and UJJWALA, while pursuing energy market reforms and the swift deployment of renewable technologies.
The report lauded the Indian government's effort to promote off-grid electrification solutions, including a shift toward using solar photovoltaics (PV) for cooking and charging batteries.
Major Energy Reforms Lead to Greater Efficiency
The IEA commends India for its continuous pursuit of market opening and greater use of market-based solutions through ambitious energy sector reforms. It welcomed the government's decisions to allow private-sector investment in coal mining, and to open up the country's oil and gas retail markets.
India now has the institutional framework it needs to attract more investment for its growing energy needs.
The IEA welcomed the reforms proposed by the Central Energy Regulatory Commission (CERC) and progress made to wards improved real-time markets.
India is Making Energy Security a Priority
IEA welcomed Indian government policies designed to conduct large-scale renewable energy auctions, opening up coal mining to private companies, and promoting access to oil and gas markets for foreign investors.
The report offers a wide range of recommendations for reforms in support of India's goal of promoting open and well-functioning energy markets in sectors such as coal, gas and electricity. These include building strong regulators to ensure non-discriminatory access, moving from state allocation to market pricing, and further rationalizing energy subsidies.
However, the IEA slammed India's natural gas pricing policy, saying linking domestic production to very low global reference prices has reduced incentives for producers to raise supplies.
Significant Progress towards Sustainable Development
India has made important progress towards meeting the United Nations Sustainable Development Goals (Goal 7) on delivering energy access.
The report highlights the achievements of India's energy policies and provides recommendations to support the government's goals of promoting well-functioning energy markets and boosting deployment of renewables.
India has been addressing energy-related environmental pollution including air, water, land, and waste issues.The government has been progressively strengthened rules to combat air pollution, and adopted the National Clean Air Programme (NCAP), which focuses on monitoring and enforcement.
Energy Technology and Innovation Enables "Make In India"
Energy research, development and deployment (RD&D) can be a strong enabler of India's energy policy goals while also contributing to broader national priorities such as the "Make in India" manufacturing initiative.
The government is strengthening its innovation efforts in a broad range of energy technology areas, including cooling, electric mobility, smart grids and advanced biofuels.
There has been a marked increase in clean energy RD&D funding, especially as India works to double its spending over five years under Mission Innovation.
However, funding efforts arespread both thinly and widely across the government and its public sector companies.
Key Recommendations for India's Energy Sector
Establish permanent energy policy co-ordination in the central government, with anoverarching national energy policy framework to support the development of a secure, sustainable and affordable energy system.
Continue to encourage investment in India's energy sector by:

ensuring full non-discriminatory access to energy transport networks
working with the states to implement power sector and tariff policy reforms with afocus on smooth integration of variable renewable energy and power system flexibility
moving from government allocation of energy supplies to allocation by market pricing
further rationalising subsidies and cross-subsidies.

Prioritise actions to foster greater energy security by:

reinforcing oil emergency response measures with larger dedicated emergency stocks and improved procedures, including demand-restraint action and proper analysis of risks by using oil disruption scenarios and capitalising on international engagement
strengthening the resilience of India's energy infrastructure, based on a robustanalysis of the water–energy nexus and cooling demand, notably when planning future investment.

Improve the collection, consistency, transparency and availability of energy data across the energy system at central and state government levels.
Adopt a co-ordinated cross-government strategy for energy RD&D, which enables impact-oriented measurement and dissemination of results.
Ensure India's international energy collaboration continues to be strong and mutually beneficial, highlighting the country's energy successes and supporting continued opportunities to learn from international best practices.
Significance of Report
The report provides insights into the rise of India in global energy markets. It analyses the full breadth of the country's energy sector and presents recommendations for strengthening energy policies in various areas.
This in-depth review aims to assist the government in meeting its energy policy objectives by setting out a range of recommendations in each area, with a focus on energy system transformation, energy security and energy affordability.
It also highlights a number of important lessons from the rapid development of India's energy sector that could help inform the plans of other countries around the world.
The report will help India to design implementation strategies to achieve secure and sustainable energy access for its citizens.
International Energy Agency (IEA)
Headquarters:Paris, France
IEA was created on 18th November 1974 by the Agreement on an International Energy Program (IEP Agreement).
It is an autonomous body within the Organization for Economic Co-operation and Development (OECD) framework.
The IEA works to ensure reliable, affordable and clean energy for its member countries and beyond.
The Agency's mandate has broadened to focus on the "3Es" of effectual energy policy: energy security, economic development, and environmental protection.
Members
Only the OECD member states can become members of the IEA. Except for Chile, Iceland, Israel, and Slovenia, all OECD member states are members of the IEA.
Currently, it has 30 member countries and 8 association countries.
National Infrastructure Pipeline
---
On 31st December, 2019, the government unveiled Rs. 102 lakh crore of infrastructure projects, under National Infrastructure Pipeline (NIP), that will be implemented in the next five years as part of the government's spending push in the infrastructure sector.
Background
In his Independence Day-2019 speech, Prime Minister highlighted that Rs.100 lakh crore would be invested on infrastructure over the next five years including social and economic infrastructure projects.
To achieve this objective, a Task Force was constituted in September, 2019, to draw up the National Infrastructure Pipeline (NIP) for each of the years from FY 2019-20 to FY 2024-25.
The Task Force is chaired by Secretary, DEA with CEO (NITI Aayog), Secretary (Expenditure), Secretary of the Administrative Ministries, and Additional Secretary (Investments), DEA as members and Joint Secretary (IPF), DEA as Member Secretary.
Terms of Reference
To identify technically feasible and financially/ economically viable infrastructure projects that can be initiated in fiscals 2020 to 2025.
To estimate annual infrastructure investment/capital costs.
To guide the ministries in identifying appropriate sources of financing.
To suggest measures to monitor the projects so that cost and time overruns are minimized.
National Infrastructure Pipeline(NIP)
It is estimated that India would need to spend $4.5 trillion on infrastructure by 2030 to sustain its growth rate. The endeavour of the NIP is to make achieve this goal in an efficient manner.
The NIP would include greenfield and brownfield projects costing above Rs 100 crore eac
Other qualifications for inclusion in the pipeline for the current year will include availability of a DPR, feasibility of implementation, inclusion in the financing plan and readiness/availability of administrative sanction.
Each Ministry/ Department would be responsible for monitoring of projects so as to ensure their timely and within-cost implementation.
Vision
To meet the aspirations of the changing demographic profile, creating new and upgrading existing infrastructure is an imperative.
Infrastructure services that raise the quality of life and ease of living in India to global standards.

Focus Areas
The other major focus areas are roads (19%) and railways (13%), urban (16%) and rural (8%) infrastructure, and irrigation (8%).
Social infrastructure, including health and education, will get 3% of the capital expenditure, with digital communication and industrial expenditure each getting the same amount as well.
Agriculture and food processing infrastructure will get 1% of the planned capital expenditure.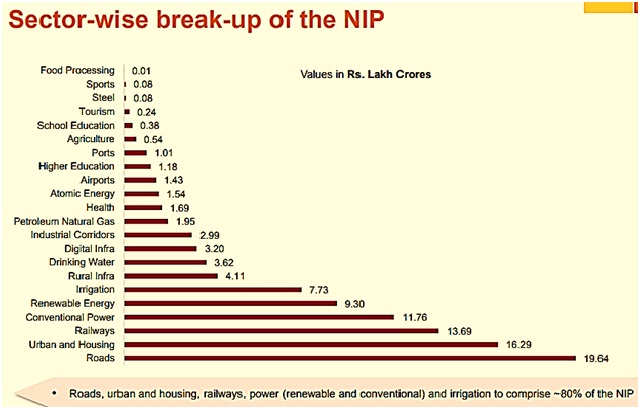 Impact
Economy
Well-planned NIP will enable more infra projects, grow businesses, create jobs, improve ease of living, and provide equitable access to infrastructure for all, making growth more inclusive.
Government
Well-developed infrastructure enhances level of economic activity, creates additional fiscal space by improving revenue base of the government, and ensures quality of expenditure focused in productive areas.
Developers
Provides better view of project supply, provides time to be better prepared for project bidding, reduces aggressive bids/ failure in project delivery, ensures enhanced access to sources of finance as result of increased investor confidence.
Banks/ financial institutions (FIs)/ Investors
Builds investor confidence as identified projects are likely to be better prepared, exposures less likely to suffer stress given active project monitoring, there by less likelihood of Non-Performing Assets(NPAs).
Way Forward
For faster growth to meet the target of $5 trillion economy by 2025, more supply-side reforms are needed. Creating new and upgrading existing infrastructure will be key to raising India's competitiveness and achieving this target.
It will specially be critical for the success of 'Make in India' program as manufacturing competitiveness critically depends on infrastructure. The supply additions through infrastructure development boost short-term as well as the potential rate of GDP growth.
Infrastructure creation is also labour absorbing, which boosts employment and income generation in the economy and further spurs domestic demand. Improved infrastructure capacities also create efficiency gains through improved logistics and networks, which would improve the competitiveness of the economy. This can help kick in a virtuous cycle of higher investments, growth and employment generation in the economy.
Transformational Organisational Restructuring Of Indian Railways
---
On 24th December, 2019, the Union Cabinet approved a transformational organisational restructuring of the Indian Railways. The reforms announced are in continuation with the series of decisions under which the Railway Budget was merged with the Union Budget, delegation of powers to empower GMs and field officers, allowing competitive operators to run trains.
This reform has been undertaken with the overwhelming support and consensus of Railway officers, at a two-day conference "Parivartan Sangoshthi" held in Delhi on 7th and 8thDecember, 2019.
It is to be noted that restructuring of the Railway Board was also recommended by the Bibek Debroy Committee on Indian Railways in 2015.
Aim
To modernise and envisage smooth working of Indian Railways.
Need
Indian Railways is plagued with the menace of Departmentalism, which was marked by inefficiency in work, infighting over control of assets and resources and delay in decision making, ultimately hampering the operation of Indian Railways.
The government has lined up a massive infrastructure development plan of nearly Rs. 50 trillion to modernise the national transporter in the coming years, with an aim of improving safety, speed, and services.This requires speed and scale, and a unified, agile organisation to work single-mindedly on this task and capable of responding to challenges.
Proposed Major Reforms
Reduced Board Members
At present, the railway board includes eight members; member (rolling stock), member (traction), member (traffic), member (engineering), member (staff), member (material management), members (signal & telecom) and financial commissioner.
Now, there will be five members for Rolling Stock and Traction (engines, coaches, wagons, etc), Operations and Business Development, Finance, Infrastructure (track, signalling and telecom, etc).
The Railway Board—the apex decision making body of the Indian Railways—will be headed by a chairman, who will be the chief executive officer (CEO).
Single Cadre
Indian Railways will now have only one cadre –Indian Railway Service, instead of current eight services for various departments including Engineering, Traffic, Mechanical and Electrical.
Indian Railway Management Service (IRMS)
Existing eight Group A services of the Railways will be unified into a Central Service called Indian Railway Management Service (IRMS).
Creation of the new service will be done in consultation with DoPT and UPSC to facilitate recruitment in the next recruitment year.
The Railways will also now have just two departments -Railway Protection Force and Medical Service Department, with all its other departments coming under one Railway Management System.
The existing service of Indian Railway Medical Service (IRMS) to be consequently renamed as Indian Railway Health Service (IRHS).
Impact
End of Departmentalism
This reform will help in breaking a 150-year-old tradition of 'working in silos' that can remove departmental tussles, seen as a roadblock in operation of railways.
Unification of services will put an end to the departmentalism and promote smooth working of Railways, expedite decision making, create a coherent vision for organisation and promote rational decision making and will set the path of Indian Railways to a high growth trajectory.
Ensuring Transparency
The modalities and unification of the services will lead to fairness and transparency in the Indian Railways.
Making Railway Growth Engine of India
This historic reform will go a long way in achieving Government's vision of making Indian Railways the growth engine of India's vikas yatra.
Important Railways Committees
The unification of services had earlier been mooted by various committees for reforming Railways including - the Prakash Tandon Committee (1994), Rakesh Mohan Committee (2001), Sam Pitroda Committee (2012) and Bibek Debroy Committee (2015).
Bibek Debroy Committee – 2015
The Bibek Debroy Committee high level committee for - Mobilization of Resources for Major Railway Projects and Restructuring of Railway Ministry and Railway Board, was constituted in September, 2014 in order to prepare a blueprint for reforming Indian Railways. The committee submitted its report in June, 2015.
Major Recommendations
Railway Regulatory Authority of India (RRAI): It recommended setting up an overarching Railway Regulatory Authority of India (RRAI) as an independent regulatory body.
Moving to Standard Commercial Accounting: Transition to commercial accounting Indian Railways should shed its complicated accounting and move to standard commercial accounting by following principles and norms accepted nationally and internationally.
Technical and Non-Technical Services: It recommended to reorganize the present eight organized Group - A services in Indian Railways in two bigger groupings viz. technical and non-technical services.
Merging Railway Budget with Central Government Budget: A separate Railway budget should be phased out progressively and merged with the General Budget.
Focus on Core Activities: Indian Railways should focus on core activities to efficiently compete with the private sector. It will distance itself from non-core activities, such as running a police force, schools, hospitals and production and construction units
Raising Resources: An Investment Advisory Committee may be set up, consisting of experts, investment bankers and representatives of SEBI, RBI, IDFC andother institutions for raising resources for investment.
Sam Pitroda Committee - 2012
Expert Group on Modernisation of Indian Railways was constituted by the Railway Ministry under the Chairmanship of Sam Pitroda in September, 2011. The Expert Group submitted its report in February, 2012.
Major Recommendations
Mission mode approach for 15 focus areas – track and bridges, signaling, rolling stock, stations, dedicated freight corridors, High speed trains, review of existing and proposed projects, ICT, indigenous development, safety, funding and human recourses.
Development of 34 multi modal logistic parks.
To set up real time information system.
To attract private investment through PP models for freight terminals, high speed railway lines, leasing wagons, coach and loco manufacturing renewable energy generation etc.
Construction of Eastern and Western Freight Corridors.
Construction of high speed Railway line between Ahmedabad and Mumbai with a speed of 300 kmph.
Establish Indian Institute of Railway Research.
To offer Graduate programme in Railway Technology in IITs and Railway Management in IIMs.
Revamping accounting system on business lines.
Empower Zonal Railways in investment decision with accountability for return on capital, transport output, safety and profitability.
National Industrial Corridor Development And Implementation Trust
---
Recently, the government approved development of following five industrial corridor projects to be implemented through National Industrial Corridor Development and Implementation Trust (NICDIT).
The government approved the expansion of the mandate of Delhi Mumbai Industrial Corridor Project Implementation Trust Fund (DMIC-PITF) and re-designated it as National Industrial Corridor Development and Implementation Trust (NICDIT).
National Industrial Corridor Development and Implementation Trust (NICDIT)
Established in 2017, NICDIT is an apex body under the administrative control of Department of Industrial Policy & Promotion (DIPP) for coordinated and unified development of all the five industrial corridors in the country.
Functions
It supports project development activities and appraisal, approval and sanction of projects as per extant delegation.
It channelize Government of India's funds as well as institutional funds while ensuring that the various corridors are properly planned and implemented keeping in view the broad national perspectives regarding industrial and city development.
Advantages
Holistic planning and development approach and sharing the learning from development of industrial corridors.
Enabling innovation in areas such as planning, design development and funding of such projects
Enhancing the share of manufacturing in the country, attract investment in manufacturing and service industry sectors.
Five Industrial Corridors
Five industrial corridor projects have been identified, planned and launched by the Government of India. These corridors are spread across India, with strategic focus on inclusive development to provide an impetus to industrialization and planned urbanization.
Objectives
Increasing overall share of manufacturing in GDP, leveraging the strenght of performing sectors.
Promoting high-tech and high value- added sectors to enhance overall economic prosperity.
Enhancing trade competitiveness penetration in the global production networks and Global Value Chains (GVC).
Driving inclusivity through gender parity and developing MSME capabilities.
| | | |
| --- | --- | --- |
| S.No. | Industrial Corridor | States |
| 1 | Delhi Mumbai Industrial Corridor (DMIC) | Uttar Pradesh, Haryana, Rajasthan, Madhya Pradesh, Gujarat, Maharashtra |
| 2 | Amritsar Kolkata Industrial Corridor (AKIC) | Punjab, Haryana, Uttar Pradesh, Uttarakhand, Bihar, Jharkhand, West Bengal |
| 3 | Chennai Bengaluru Industrial Corridor (CBIC) | Andhra Pradesh, Karnataka, Tamil Nadu, Kerala |
| 4 | East Coast Economic Corridor (ECEC) with Vizag Chennai Industrial Corridor (VCIC) as Phase-1 | West Bengal, Odisha, Andhra Pradesh, Tamil Nadu |
| 5 | Bengaluru Mumbai Industrial Corridor (BMIC) | Karnataka, Maharashtra |
Current Status of Industrial Corridors
Delhi Mumbai Industrial Corridor (DMIC)
Special Purpose Vehicles (SPVs) for all identified nodes/cities have been incorporated, trunk infrastructure works are nearing completion, land disposal policies have been finalized and the process of land allotment to investors has been initiated at the following locations:
Dholera Special Investment Region in Gujarat
Shendra-Bidkin Industrial Area in Maharashtra
Integrated Industrial Township Project at Greater Noida in Uttar Pradesh
Integrated Industrial Township Project 'VikramUdyogpuri' near Ujjain in Madhya Pradesh
Amritsar Kolkata Industrial Corridor (AKIC)
Perspective plan for the overall AKIC Corridor has been completed and one Integrated Manufacturing Cluster (IMC) site in following States has been finalized for further development:
Punjab (Rajpura-Patiala)
Uttarakhand (Prag-Khurpia Farms)
Uttar Pradesh (Bhaupur)
Bihar (Gamhariya)
Jharkhand (Barhi)
West Bengal (Raghunathpur)
Haryana (Saha)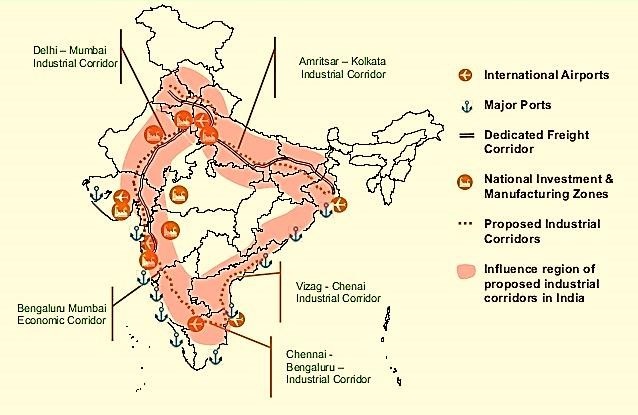 Chennai Bengaluru Industrial Corridor (CBIC)
Perspective plan for the overall corridor has been completed and following three nodes have been identified for further development:
Krishnapatnam (Andhra Pradesh)
Tumakuru (Karnataka)
Ponneri (Tamil Nadu)
A SPV for execution of the project at Krishnapatnam node in Andhra Pradesh has been incorporated. Detailed master planning and Preliminary Engineering activities for the Activation Area have been finalized and NICDIT in its meeting held on 30th August, 2019 considered the project proposal and recommended the same for seeking final approval from Cabinet Committee on Economic Affairs (CCEA).
Vizag Chennai Industrial Corridor (VCIC)
Government of Andhra Pradesh (GoAP) is implementing the VCIC project with ADB loan of US $631 million. Asian Development Bank (ADB) has carried out the initial project development activities for VCIC.
ADB has identified four nodes namely, Visakhapatnam, Chittoor, Donakonda and Machilipatnam for development. Amongst these, Visakhapatnam and Chittoor have been prioritized by the Government of Andhra Pradesh.
Bengaluru Mumbai Industrial Corridor (BMIC)
Perspective plan has been completed for the overall BMEC Project and Dharwad node in Karnataka has been identified as the priority node for further implementation.
NICDIT directed that project development works may not be undertaken for the time-being as it does not have any back-bone in terms of a Dedicated Freight Corridor and is quite distant from the coast.
Besides, Government of Maharashtra has not been able to finalize the nodes due to problems of land and water.
Significance of Industrial Corridors
Wheels of Progress: Industrial corridors recognize the interdependence of various sectors of the economy and offer effective integration between industry and infrastructure leading to overall socio-economic development. Industrial corridors lead to the creation of state-of-art infrastructure such as high-speed transportation (rail/road) networks, ports with advanced cargo handling equipment, modern airports, special economic regions/ industrial areas, logistic parks, etc. that are focused on fulfilling the requirements of the industry.
Boost to Manufacturing Sector: In each of these corridors, manufacturing will be a key economic driver and these projects are seen as critical in raising the share of manufacturing. Smart Industrial Cities are being developed along the Corridors. These cities are being developed to integrate the new workforce that will power manufacturing and will lead to planned urbanization.
Large Scale Employment: An industrial corridor is a package of infrastructure spending allocated to a specific geographical area, with the intent to stimulate industrial The promise of large-scale employment generation (both direct and indirect jobs) is a major driver of the corridors.
Economic Growth of States: The project will initiate a trend of reverse migration,attracting the young manpower from the state resorting to various manufacturing activities, including high-end engineering works within the respective states. The project is expected to trigger the overall economic growth of the States and its employment generation on a sustainable mode.
Reducing Logistic Costs: An industrial corridor is a multi-modal transport services that would pass through the states as main artery. Freight cargo from industrial and National Manufacturing and Investment Zones (NMIZ) located m on both sides of this main artery will be brought to the industrial corridor via rail and road feeder links that shall provide last mile connectivity. This will lower costs of logistics and enable firms to focus on their areas of core competence.
Push to Make in India: Programmes like Make in India, for instance, would get a push from upcoming industrial corridors in the country, attracting large-scale foreign investments leading to the economic growth of the country.
Increasing Social Integration: The corridors would provide jobs opportunities close to their homes and they would not have to migrate to far-off places thereby preserving family as an institution. This will also increase social integration in the country.
Challenges to Development of Industrial Corridors
Land Acquisition
Land acquisition is a state subject, and there have been issues with land acquisition in the corridor, which has delayed project implementations. Since the industrial corridor would cut across the length of the state, acquisition of land has been slow because of legal hurdles and the amount of compensation.
Massive investment in industrial corridor will pave the way for large human displacement and destruction of fertile agricultural land, posing serious threat to food security and other various social problems in the country.
Delay in Project Clearance
Any industrial activity in India requires multiple clearances right from concept to commission and industrial corridor is no immune to this.
Policy Bottlenecks
India has a much higher corporate tax rate compared to its neighboring countries such as Cambodia, Thailand and Vietnam. This makes India an unattractive investment destination compared to the competing countries.
Further, India has one of the highest import tariffs in the region which makes it challenging to establish global value chains.
Way Forward
The strategy of industrial corridors is poised to develop a sound industrial base,characterized by excellent infrastructure and uninhibited growth of manufacturing. However, all this would remain only rhetoric if stumbling blocks are not removed and issues plaguing industrial corridor projects are not resolved.
This requires a holistic approach and involvement of all the government departments, stakeholders such as farmers from whom land is to be acquired, manufacturers who would be setting units for production, transport operators, etc.
11th Nuclear Energy Conclave
---
Recently, the 11th Nuclear Energy Conclave, organized by the India Energy Forum, under the theme: "Economics of Nuclear Power- Innovation towards Safer & Cost Effective Technologies"
Key Highlights
Various achievements were highlighted during the conclave such as joint ventures and increase in budget in nuclear energy sector.
Earlier the Atomic power plants were restricted in Southern India, but now thegovernment is setting up the nuclear plants in other parts of the country. A nuclear power plant is to be constructed in Gorakhpur, Haryana.
The Department of Atomic Energy is working along with TATA Memorial Centre towards the implementation of flagship programmes of the Government with priority given to shifting towards cashless transactions.
A "Hall of Nuclear Energy" was opened in PragatiMaidan in Delhi to educate the students and general public about the applications of nuclear energy.
Three technical sessions were also being held on the following themes:

Growth of Nuclear Power for Meeting Base Load Demands-Opportunities & Challenges for Manufacturing Industry
Use of Nuclear Energy in Healthcare and Municipal Waste Treatment
Emerging Technologies for Economy and Enhanced Safety viz, Small & Medium Size reactors, Passive Safety features, Molten Salt Reactors
India Energy Forum (IEF)
Established in 2001, it is an independent, not-for-profit, research organization and represents the energy sector as a whole.
All major energy sector players in India such as the NTPC, NHPC, Power Grid, and other private players are members of the Forum.
Mission
To develop a sustainable and competitive energy sector in India
To promote a favourable regulatory framework for the development of the energy sector
To establish standards, for reliability and safety within the sector
To ensure an equitable deal for consumers, producers and the utilities
To encourage efficient and eco-friendly development and use of energy
Functions
It serves as an independent advocate of the industry promoting practical solutions to problems affecting project development and finance in India.
It works with companies and Government (Centre and States) to achieve consensus on such issues as regulatory structures and policies and the role of public organizations.
In addition, it closely with multilateral and domestic companies and agencies to ensure that their products and services are responsive to the needs of the project development in India.
Significance
It acts as a catalyst for the development of a sustainable and competitive energy sector in India.
Issues with Nuclear Sector in India
Land Acquisition Issue
One of the most politically contentious issues in recent times has been the government's right to acquire land for the development of nuclear plants.There has been significant opposition and local protests as seen in Kudankulam in Tamil Nadu and Jaitapur in Maharashtra.
Displacement and loss of Livelihoods
Land acquisition for the plants comes at the cost of displacement and loss of the livelihoods of entire community involved leading to various other problems.
Safety Issue
The biggest challenge in expansion of nuclear sector in India is the safety and security of nuclear power plants. In India, every region falls in seismic zone in some way and most of our nuclear plants are in weak seismic zones but lie in coastal areas. Their structure is earthquake-resistant but they have not been tested against tsunami.
A single nuclear accident can cause immense damage of unimaginable consequences to human life and the biodiversity in the surrounding areas, not to mention the sociological, economical and psychological disturbances. Three Mile Island, Chernobyl and in more recent times, Fukushima disasters stand testimonial to this harsh reality.
Nuclear Waste Management Issue
Nuclear waste production is an especially large obstacle to the widespread acceptance of nuclear power. Radioactive waste arising from civilian nuclear activities as well as from defence-related nuclear-weapon activities, poses a formidable problem for handling and protecting the environment to be safe to the present and future generations.
Manufacturing Related Issue
Nuclear power plants require heavy engineering components: All the nuclear powered countries have their own domestic manufacturing base that covered most of the supply chain of materials required for building a nuclear power plant.WhileIndia's current manufacturing capability only covers the supply chain for 700 MW PHWRs. It is not yet ready to cover other reactors and reactors with capacities of more than 1 GW.
As India is not a signatory of NPT and NSG, nuclear supply is severely contained by sanctioned against India.
Fuel Supply Issue
India has low reserves of uranium. Currently, a major portion of domestic production of uranium comes from the Jaduguda mines of Jharkhand, which are old and the ore is found at great depths. Moreover, the high extraction cost makes it unviable as compared to imported uranium, the panel noted.
Way Forward
Nuclear Energy offers both opportunities and challenges for any aspiring countries including India. Without nuclear power, achieving energy security will be much more difficult; and without nuclear security, nuclear power is destined to failure. Nuclear security is an important component of achieving energy security.
Although nuclear power accounts for only about two percent of India's installed power generation capacity, it will continue to play an important role in the overall energy mix of the country. The government has also announced plans to ramp up nuclear power from the present 7 GW to 63 GW by 2032.
The government has taken several measures to enable setting up of nuclear power reactors in the country. These include

Resolution of issues related to Civil Liability for Nuclear Damage (CLND) Act &

Creation of Indian Nuclear Insurance Pool (INIP).
Amendment of the Atomic Energy Act-1962 (as amended from time to time) to enable Joint Ventures of Public Sector Companies to set up nuclear power projects in the country.
Enabling agreements with the foreign countries for nuclear power cooperation including supply of fuel.
Identification and addressing of the issues in implementation of the projects through Pro-Active Governance and Timely Implementation "PRAGATI" platform.

India's ambition to overcome poverty and rise will remain a dream unless it has access to adequate sources of power. The importance of nuclear power for India cannot be overstated despite scepticism in some quarters.
One Nation One Tag – FASTag Scheme Launched
---
Recently, 'One Nation One Tag – FASTag' was launched by theUnion Ministry of Road Transport and Highways at the Indian Mobile Congress held in New Delhi in order to roll out the process for having a unified electronic system across the country.
Aim
It aims to integrate the collection of toll digitally and ensure seamless mobility of vehicles across India.
Need for FASTag
This has been done with a view to overcome the existing challenge in track and trace mechanism for GST E-Way Bill (EWB) System and enhance the efficiency in its monitoring.
Key Highlights
A Memorandum of Understanding(MoU) was signed between Indian Highways Management Company Ltd (IHMCL) and Goods and Services Tax Network (GSTN) for integration of FASTag with GST e-way bill system.
The GST Council has already accorded 'in-principle' approval for this integration.
IHMCL exchanged MoUs with several states/ authorities for integrating with FASTagscheme.
Karnataka, Andhra Pradesh and Haryana signed MoUs with IMHCL, an arm of National Highway Authority of India(NHAI), to accept FASTags on their state highway tolls.
About the FASTag
FASTags are part of the National Electronic Toll Collection (NETC) program developed by the National Payments Corporation of India (NPCI).
FASTags are stickers that are affixed to the windscreen of vehicles and usesRadio Frequency Identification (RFID) technology to enable digital, contactless payment of tolls without having to stop at toll gates.
FASTag is acceptable across over 490 National Highways toll plazas and selected 39+ State highways toll plazas. More than 6 Million FASTag were issued till last month, with overall cumulative ETC collection of over Rs. 12,850 Crore since inception
It is valid for five years and needs to be recharged only as per requirement.
From December 1, 2019, FASTags will be made mandatory on national highways throughout the country. Individuals not using a FASTag will be charged double the toll.
Mode of Working
Each tag and car pairing works with the GS1 unique identification numbers, which are encoded in the FASTags.
The tags are linked to bank accounts and other payment methods. As a car crosses a toll plaza, the amount is automatically deducted, and a notification is sent to the registered mobile phone number. Sensors are placed on toll barriers, and the barriers open for vehicles having valid FASTags.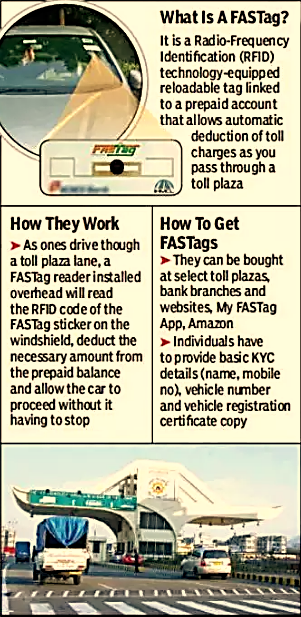 Source: ToI
Benefits of FASTag
Economic Benefits
Helps in Decongestion of Highways:
FASTag is a perfect solution for a hassle free trip on national highways. FASTag is presently operational at 180 toll plazas across national and state highways. More toll plazas will be brought under the FASTag program in the future
These devices will make passing through tolls considerably smoother since drivers will no longer have to carry cash or stop to make a transaction at the toll.This initiative will remove bottlenecks and ensure seamless movement of traffic and efficient collection of user fee.
Fuel Saving:
FASTag is read by the tag reader at the plaza and the toll amount is deducted automatically, when the vehicle approaches the toll plaza. So, it will cut down both the fuel and time consumptionbringing down loss of fuel while waiting at toll plazas.
Better Management of Toll Plaza:
It will help to reduce the efforts in managing the toll plazas, leading to better and efficient system of working at the tolls.
Tracking of Vehicle Movement:
The integration of e-way bill system with FASTag will help revenue authorities track the movement of vehicles and ensure that they are travelling to the same destination that the transporter or the trader had specified while generating the e-way bill, reducing the chances of mismanagement.
Benefit to Consumers:
The same FASTag affixed on the windscreen of a vehicle can be used at every toll plaza in country under jurisdiction of different states or agencies and other entities, thus providing seamless services to consumers across the country.
Environmental Benefits
Helps in Reducing Pollution:
Implementation of FASTag will help in reducing air pollution as it will cut down the fuel consumption, less traffic congestion, finally leading to less vehicular emissions.
Challenges
Loss of FASTag
The main concern that came up was the distress expressed by the drivers about loss of their FASTags. Since this card is affixed as a tag on the windscreen, it can be subject to theft or loss.
Technical Glitch
There may be times when the toll charge may be deducted twice from your account, in the wake of a technical error. Other than that, the issue of going through the RFID scanner and it not being able to detect your FASTag.
Unauthorised cars in the FASTag lanes
It is not uncommon for drivers to wait for their turns longer than expected in FASTag lanes due to vehicles without FASTag falling in the queue. This increases their wait time significantly. Moreover, drivers feel that this defeats the entire purpose of ETC and designated lanes.
Way Forward
FASTags are generally non-transferable and one FASTag can be used only for one vehicle. That is why the scheme of One Nation, One FASTag is put in here to encourage people to use this cashless facility.
Further, FASTag is being positioned as the "Aadhaar" for a vehicle; its data will also be used for tracking vehicles on national highways by various enforcement agencies.
Second Multi-Modal Terminal Dedicated To Nation
---
On 12th September, 2019, Prime Minister launched and dedicated to nation the second riverine multi-modal terminal (MMT) built at Sahibganj, Jharkhand on National Waterway-1(NH-1).
The PM inaugurated the state-of-the-art terminal through a two-way digital communication system at an event in Ranchi, Jharkhand.
India's first riverine multimodal terminal on Ganga at Varanasi, Uttar Pradesh was launched in November 2018.
Objective
To promote inland waterways as a cheaper and more environment-friendly means of transport, especially for cargo movement.
Sahibganj Multi-Modal Terminal
Built at a cost of Rs290 crore, the Sahibganj terminal is the second of three multi-modal terminals being constructed on river Ganga under Jal Marg Vikas Project (JMVP).
Inland Waterways Authority of India (IWAI) is the project implementing agency.
The capacity of the terminal is 30 lakh tonnes per annum. It will grow to 8 lakh tonnes per annum after an investment of Rs 376 crores for capacity enhancement in Phase II under PPP mode.The development in Phase II will be entirely made by the private concessionaire.
Further, a freight village is also proposed on 335 acres of land in contiguity with the terminal.
Impact
Positive Impact
MMT will open up industries of Jharkhand and Bihar to the global market, aiding in the growth and development of both the states.
It will help create a waterways route for Indo-Nepal cargo transport.
It will play an important role in transportation of domestic coal from the local mines in Rajmahal area to various thermal power plants located along NW-1.
Commodities other than coal, stone chips, fertilisers, cement and sugar are also expected to be transported through the terminal.
The MMT is expected to generate both direct jobs and indirect jobs in the region.
The convergence of road-rail-river transport at Sahibganj through the new multi-modal terminal will connect this part of the hinterland to Kolkata and further to the Bay of Bengal. In addition, it will also provide connection to North-East statesthrough Bangladesh by river-sea route.
Negative Impact
Social
The development of MMT has affected the people of Sahibganj and adjoining areas as they have lost their land and are on the edge of losing their livelihood.
Around 485 families have been identified as project affected families; resettlement of many families is yet to be done.
Further, the development of freight village (industrial cum logistic park and integrated vessel repair and maintenance complex) on 335 acres of land in contiguity with the terminal means more displacement is being lined up.
Environment
Loading/unloading and storage of coal, stone chips, fertilisers, and cement, etc. will impact seriously the riverine ecology.
The dredging process, the noise and disturbance due to movement of ship, leakage of oil and lubricants, will have a serious impact on the river flora and fauna, especially the GangeticDolphin (national aquatic animal).
Inland Waterways Authority of India (IWAI)
IWAI came into existence on 27th October 1986 for development and regulation of inland waterways for shipping and navigation.
The Authority primarily undertakes projects for development and maintenance of inland waterways transport infrastructure on national waterways through grant received from Ministry of Shipping.
National Waterway-1(NH-1)
NH-1 is an inland water transport route between Haldia in West Bengal to Prayagraj in Uttar Pradesh.
Declared as National Waterway in 1986, the 1,620 km long waterway passes through West Bengal, Jharkhand, Bihar and Uttar Pradesh, making it the longest waterway in India.
Jal Marg Vikas Project (JMVP)
JMVP is being implemented at a cost of Rs 5369.18 crore with the technical assistance and investment support of the World Bank, for capacity augmentation of navigation on National Waterway-1 (NW-1).
One of the major problems for a commercially viable and safe navigation on NW-1 is low depth upstream of Farakka due to low discharges from tributaries and difficult hydro morphological characteristics of river Ganga.
It aims to develop the stretch of Ganga between Varanasi to Haldia for navigation of large vessels upto1500-2000 tonnes weight, by maintaining a drought of 2-3 metres in this stretch of the river and setting up other systems required for safe navigation.
Objective
To enhance transport efficiency and reliability of national waterway 1 (NW-1)
Augmentation of institutional capacity for the development and management of India's inland waterway transport system in an environmentally sustainable manner.
Need for JMPV
The Rail and Road corridors in the proposed region are heavily saturated. The development of NW-1 would provide an alternative, viable, economical, efficient and eco-friendly mode of transport.
It will act as a catalyst in the socio-economic development of the regions by creating new business and employment opportunities.
States/districts Covered
States: Uttar Pradesh, Bihar, Jharkhand, West Bengal
Major Districts: Varanasi, Ghazipur, Ballia, Buxar, Chhapra, Vaishali, Patna, Begusarai, Khagaria, Munger, Bhagalpur, Sahibganj, Musrhidabad, Pakur, Hoogly, Kolkata.
Components of JMVP
Fairway Development
Construction of the multi-modal terminal at Varanasi
Construction of the multi-modal terminal at Sahibganj
Construction of the multi-modal terminal at Haldia
Construction of an inter-modal terminal at Kalughat
Construction of an inter-modal terminal at Ghazipur
Construction of a new navigation lock at Farakka
Construction of five pairs of Roll on-Roll off (Ro-Ro) terminals
Construction of Integrated Ship Repair and Maintenance Complexes
Provision of River Information System (RIS) and Vessel Traffic Management System (VTMS)
Advantages
It will lead to direct employment generation to the tune of 46,000 and indirect employment of 84,000 will be generated by vessel construction industry.
Availability of alternative mode of transport that will be environment friendly and cost effective.
The project will contribute in bringing down the logistics cost in the country.
It will reduce the handling cost, allows easier modal shift, reduces pilferage and damage.
It will help rejuvenate the river Ganga by creating a Room for River, a model that has proved to be an effective flood mitigating and river conservancy measure internationally, especially in low lying Netherlands.
Room for the River Program(Netherland)
It is a Dutch flood mitigation initiative that was started in 2006 and was active till 2015.
The basic premise of the project is to provide more space for the water body so that it can manage extraordinary high water levels during floods.
Effective flood mitigation is a national priority in the Netherlands as flooding is a regular occurrence and of significant concern.
The country lies in a delta where three rivers – the Rhine, the Meuse and the Scheldt - intersect and spill into the ocean.
The project comprises of nine measures for flood mitigation:
Deepening the Summer Bed
Water Storage
Dike Relocation
Strengthening Dikes
High Water Channel
Lowering Floodplains
Lowering Groynes
Depoldering
Removing Obstacles
Way Forward
No doubt, the MMT under JMVP represents the sweeping potentialities of public private partnership (PPP) undertakings, thereby opening up considerable business and investment opportunities in areas like water-based tourism and terminal construction.
Successful implementation of the project will help trade flourish in the region and act as a major socio-economic impetus for future initiatives.
But simultaneously, the government should consider the well-being of locals and the communities who are bearing the brunt due to the implementation of the project because a vital element of the JMVP is strategic communication campaigns that is aimed at securing citizen participation, particularly the communities living along the project corridor.
Augmenting Nature By Green Affordable New-habitat (ANGAN)
---
On 9th September, 2019, a three day international conference on Augmenting Nature by Green Affordable New-habitat (ANGAN) focused on Energy Efficiency in Building Sector commenced in New Delhi.
It is being organised by the Bureau of Energy Efficiency (BEE) under the aegis of the power ministry in collaboration with Deutsche Gesellschaftfür Internationale Zusammenarbeit(GIZ) under the Indo German Technical Cooperation.
Aim
It seeks to explore various alternative options and technologies in the field of design and construction of energy efficient commercial as well as residential buildings and will suggest the effective ways in implementing the same through policies and programmes.
Key Highlights
Experts from 16 countries will discuss various options and technologies for energy efficient buildings.
To discuss and deliberate on the aspects of sustainability in the context of inclusiveness, international cooperation and education.
Technologies demonstration in the area of insulation, AAC block, Glass window, Fenestration shooting etc.
To provide thrust in this direction so as to address such challenges faced by the stakeholders.
Apart from energy savings, the emphasis is also given to other resources like water and other materials that can be saved in building sector.
Bureau of Energy Efficiency (BEE)
It is a statutory body under the Ministry of Power, constituted on 1st March 2002 under the provisions of the Energy Conservation Act, 2001.
It launched the Energy Conservation Building Code (ECBC) in 2007 in order to set energy efficiency standards for the design and construction of buildings.It was revised in 2017.
Mission
To assist in developing policies and strategies with a thrust on self-regulation and market principles with the primary objective of reducing energy intensity of the Indian economy.
BEE co-ordinates with designated consumers, designated agencies and other organizations and recognize, identify and utilize the existing resources and infrastructure, in performing the functions assigned to it under the Energy Conservation Act.
Energy Conservation Building Code (ECBC), 2017
The purpose of the Energy Conservation Building Code (Code) is to provide minimumrequirements for the energy-efficient design and construction of buildings.
It also provides two additional sets of incremental requirements for buildings to achieve enhancedlevels of energy efficiency that go beyond the minimum requirements.
The Code is applicable to buildings or building complexes that have a connected load of 100kW or greater or a contract demand of 120 kVA or greater and are intended to be used for commercial purposes.
Building components covered by ECBC, 2017
Building envelope
Mechanical systems, includingHeating, Ventilation and Air-Conditioning(HVAC), water heating
Lighting
Electric power and Renewable energy.
Buildings intended for private residential purposes only are not covered by the Code.
ECBC 2017 is one of the first building energy codes to recognize beyondcode performance. There are now three levels of energy performance standards in the codes- ECBC, ECBCPlusand SuperECBC.
ECBC 2017 is technology neutral. Energy efficiency requirements have been framed to providearchitects and engineers artistic and technical freedom as long as minimum efficiencyrequirements are fulfilled.
Significance
The International Conference will provide a platform to deliberate on interdependence between organizations, systemic sustainability and feedback loops for better resource efficiency.
Energy Efficiency of Building(EEB)
It is the extent to which the energy consumption per square metre of floor area of the building measures up to established energy consumption benchmarks for that particular type of building under defined climatic conditions.
Need for Energy Efficient Building
The building sector in India consumes over 32% of the total electricity consumed annually in India making it second only to the industrial sector as the largest emitter of greenhouse gases.
According to the NitiAayog, energy demand from India's buildings will increase by more than 800 percent by 2047.
Under the current standards, the country will face higher energy costs and skyrocketing consumption for decades. At the same time, air pollution will worsen, adding to the impact of climate change.
Benefits
Environmental
Energy-efficient buildings reduce indoor as well as outdoor air pollution. It helps lowering greenhouse gas emissions and other pollutants, as well as decrease water use, therefore reducing the impact of global warming.
Economic
Energy efficient buildings typically have longer lifecycles, lower maintenance fees, and cost less to operate.
The incremental capital investment for a green building is recovered with paybacks of one to three years. The cash savings accrued from these green buildings not only compensate for this initial cost increment but provide benefits to the owners/occupants throughout the life time of the building.
In addition strong efficiency mandates for new buildings can create markets for jobs, materials and expertise.
Challenges towards Energy Efficient Buildings
Lack of Market Demand
There is an apprehension that energy efficiency and business would not go together. Building owners tend to delude energy efficiency during building design and construction due to the presence of a strong first cost bias as developers seem to believe that they don't directly gain from the initial investments towards energy efficiency.
Also financing energy efficiency is not too lucrative for financial institutions due to uncertainty about returns. There is a need for innovative financing schemes to promote energy efficiency in buildings.
Lack of Awareness
Lack of information to building owners and residents on energysavings potential in buildings is also one of the major challenges faced by this sector.
Lack of Materials and Related Technology
Situations of non-availability of energy-efficient equipment/materials in the local marketplace as most energy-efficient equipment and materials are imported, often ends up with the imposition of high cost mark-ups and duties.
Lack of Technical Expertise
Inadequate technical expertise and supply chains make it difficult for implementation agencies to embed the ECBC into building bye-laws, as compliance by the industry and the government's ability to enforce needs to go hand in hand.
Way Forward
Energy efficiency has become a pillar of the new United Nations Sustainable Development Goals (SDGs). The SDGs recognize the cross-cutting importance of buildings and cities in achieving global objectives related to sustainable energy and infrastructure. Better buildings can also make significant contributions to addressing climate change, one of the other SDGs.
By investing in them today, cities can yield "triple bottom line" benefits-including economic, social and environmental opportunities-long into the future.
Ocean Energy Now Declared As Renewable Energy
---
Recently, in a decision that would give boost to the ocean energy in India, Ministry of New and Renewable Energy (MNRE) approved a proposal to declare ocean energy as Renewable Energy.
Accordingly, the Ministry has clarified to all the stakeholders that energy produced using various forms of ocean energy such as tidal, wave, ocean thermal energy conversion shall be considered as Renewable Energy and shall be eligible for meeting the non-solar Renewable Purchase Obligations (RPO).
Objectives
To accelerate and enhance support for the resource assessment and deployment of ocean energy in the country
To harness ocean energy for power generation and to overcome the barriers.
Renewable Purchase Obligations (RPO)
It refers to the obligation either to buy electricity generated by specified green sources, or buy, in lieu of that, renewable energy certificates (RECs) from the market.
The 'obligated entities' are mostly electricity distribution companies and large consumers of power.
Renewable Energy Certificate
REC mechanism is a market based instrument to promote renewable energy and facilitate compliance of renewable purchase obligations (RPO). It is aimed at addressing the mismatch between availability of RE resources in state and the requirement of the obligated entities to meet the renewable purchase obligation (RPO).
One REC is treated as equivalent to 1 megawatt hour.
Ocean Energy
Oceans cover 70 percent of the earth's surface and represent an enormous amount of energy in the form of wave, tidal, marine current and thermal gradient.
Tidal Energy:
The tidal cycle takes place every 12 hours due to the gravitational force of the moon. The difference in water height from low tide and high tide is potential energy. Similar to traditional hydropower generated from dams, tidal water can be captured in a barrage across an estuary during high tide and forced through a hydro-turbine during low tide.
Issues with Tidal Energy:
The capital cost for tidal energy power plants is very high due to high civil construction and high power purchase tariff.
To trapenough power from the tidal energy potential, the height of high tide must be at least five meters (16 feet) greater than low tide.
Environmental concernsare also associated with it since it completely changes environment in this area and affects life of many ecosystems, especially for birds that rely on the tide uncovering the mud flats so that they can found food.
Wave Energy:
Regular disturbances on the surface of the water are called waves. The wave energy is a form of kinetic energy. This is used to power a turbine. Wave energy is captured from the directly from the surface of the waves produced in the oceans.
Issue with Wave Energy:
The main problem with wave energy is the fact that this energy source isn't the same in all parts of the world, since it varies significantly from place to place. This is the reason why wave energy can't be exploited in all parts of the world but there are many researches that work on solutions of how to solve this variability problem.
Ocean Thermal Energy Conversion (OTEC):
OTEC uses ocean temperature differences from the surface to depths lower than 1,000 meters, to extract energy. A temperature difference of only 20°C can yield usable energy.
The concept was first introduced by French engineer Jacques D'Arsonval in year 1881.
Issues with OTEC:
OTEC works best when the difference in temperature between the warm top layer and cold deep layer of the sea is around 20 °C (36 °F). This condition commonly exists in tropical coastal areas, therefore limiting its operation area.
There are several logistical issues that have prevented ocean thermal energy from really taking off. Apart, the cost of a conversion plant is enormous as the plants require an expensive, large-diameter intake pipe submerged to more than a mile into the ocean to bring cold water to the surface.
India's Ocean Energy Potential
According to MNRE, the total identified potential of tidal energy is about 12,455 MW, with potential locations identified at Khambat & Kutch regions, and large backwaters, where barrage technology could be used.
The total theoretical potential of wave energy in India along the country's coast is estimated to be about 40,000 MW – these are preliminary estimates. This energy is however less intensive than what is available in more northern and southern latitudes.
OTEC has a theoretical potential of 180,000 MW in India subject to suitable technological evolution.
Benefits of Ocean Energy
Renewable Energy Source: Wave energy and tidal energy both use the natural dynamics of the abundant ocean, and do not use any non-renewable fuels to generate electricity.
Clean Energy Source: They do not produce greenhouse gases or other pollution while operating, and reduce reliance on fossil fuels. There are no waste products created by ocean power generation.
Predictable Energy Source:Ocean energy for ex. tidal energy can be predicted with great regularity what the tidal tables are going to be. The same cannot be said of wind or solar energy, which can be disrupted due to simple weather changes.
Abundant Energy Source: As wave and tidal power generators are built along coastlines, there is huge potential, particularly in countries that have long coastlines. For ex. India
Low Running Costs: Though the initial set up cost is very high for these plants but once an ocean energy plant starts operating, it is anticipated that it's running costs are quite low, especially compared to more dominant forms of power generation such as oil and coal plants, as well as nuclear power.
Way Forward
The government needs to look over the horizon at development of new technology in harnessing ocean energy and considers the various options available to support its deployment. Though deployment is currently limited but the sector has the potential to grow, fuelling economic growth, reducing carbon footprint and creating jobs not only along the coasts but also inland along its supply chains.
It is time for the government to create a clear roadmap for promotion of tidal energy as individual and hybrid technologies and like solar energy;ocean energy needs to be incentivized for its better and sustainable utilization.
Cabinet Clears The Dam Safety Bill, 2019
---
On 17th July, 2019, the Cabinet Committee on Economic Affairs (CCEA) approved the Dam Safety Bill, 2019 to be introduced in the Parliament.
A version of the Bill was first introduced in the Lok Sabha in 2018(which subsequently lapsed).
Aim:
The Billaims to tackle all matters concerning dam safety including orderly inspection of dams, Emergency Action Plan, comprehensive dam safety review, sufficient repairs and maintenance funds for dam safety, instrumentation and safety Manuals.
Salient Features of the Bill:
Establishment of National Dam Safety Authority: It provides for establishment of National Dam Safety Authority as a regulatory body which shall discharge functions to implement the policy, guidelines and standards for dam safety in the country.
Creation of National Committee on Dam Safety: Under the proposed law, a national committee on dam safety will be set up to evolve dam safety policies and recommend necessary regulations.
Penal Provisions: The bill also lays onus of dam safety on the dam owner and provides for penal provisions for commission and omission of certain acts.
Issues of Dam Safety in India:
Dams Getting Older and Weaker: About 80% of the large dams in India are more than 25 years old and nearly 209 dams are older than over 100 years and had been built in an era when design practices and safety considerations were not up to the current design and safety norms.As the numbers of dams becoming older and older are increasing, the chances of dam failure in India arelikely to go up.
Poor Quality Construction:Majority of Indian dams has failed immediately after construction or at the time of first full-load, which can be clearly attributed to factors of either inadequate design or poor quality of construction. Some 5,254 large dams are in operation in the country currently and another 447 are under construction which requires strict safety and maintenance procedures.
Flaw in Design: Numerous dams have different structural deficiencies and shortcomings in operation and monitoring facilities, while few do not meet the present design standard-both structurally and hydrologically.Some of these dams may be facing distress and require attention for ensuring their structural safety and operational efficiency.
Inadequate Fund Allocation:Most of the states have not been able to deliver sufficient budgets for maintenance and repair of the dam. Many states are also deficient o the institutional and technical capacities fordealing with dam safety issues.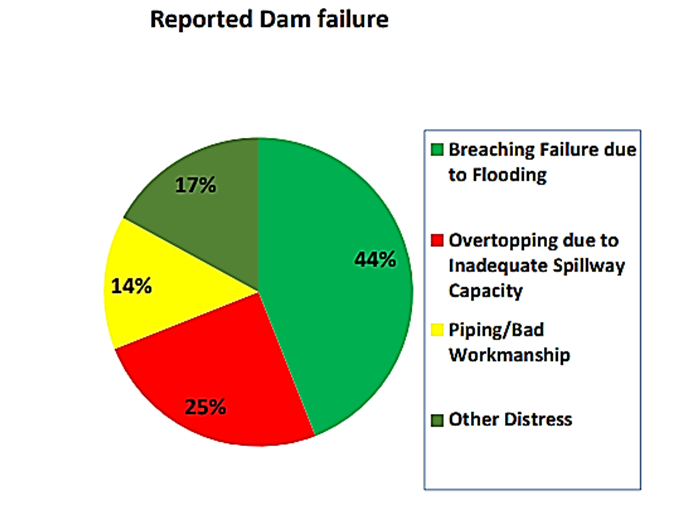 Government Measures Towards Dam Safety
Central Dam Safety Organization (CDSO):
Established in 1979
Objectives:

Assist in identifying causes of potential distress
Perform a coordinative and advisory role for the State Governments
Lay down guidelines, compile technical literature, organize trainings
Create awareness in the states about dam safety.
National Committee on Dam Safety (NCDS):
Constituted in 1987, it suggests ways to bring dam safety activities in line with the latest state-of-art consistent with the Indian conditions.
It acts as a forum for exchange of views on techniques adopted for remedial measures to relieve distress in old dams.
Dam Rehabilitation and Improvement Project(DRIP):
The project was launched in 2012 by Central Water Commission (CWC) under Ministry of Water Resources, River Development & Ganga Rejuvenation with assistance from World Bank. The DRIP has been given additional extension of two years with revised official closure now June 2020.
Objectives:
Rehabilitation and Improvement of dams and associated appurtenances
Dam Safety Institutional Strengthening in participating States and CWC
Project Management
Dam Health And Rehabilitation Monitoring Application (DHARMA):
It is a web-based software package to support the effective collection and management of Dam Safety data in respect of all large dams of India.
It has been drafted and developed to intensify the extent of individuals and organisations acrossthe country to handle their dam assets scientifically and professionally so as to sustain benefits of dams (irrigation and water supply, flood control, hydropower, etc) and avert disasters.
Presently, DRIP covers rehabilitation of 198 large dam projects located in seven States namely Jharkhand, Karnataka, Kerala, Madhya Pradesh, Odisha, Tamil Nadu, and Uttarakhand.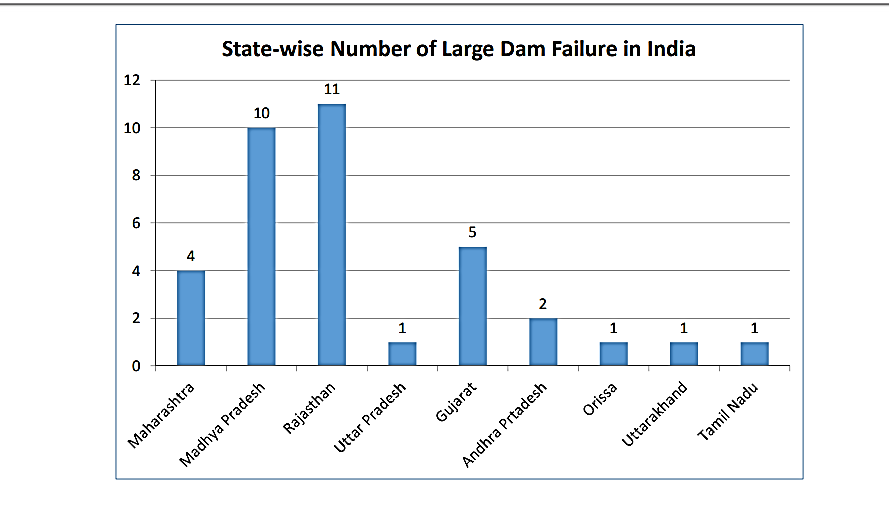 Impact of the Bill:
Adoption of Uniform Dam Safety Procedures: The legislation will help the states and Union territories to adopt uniform dam safety procedures for specified dams in the country. It will impact more than 5,600 dams which will now be under the ambit of Uniform Dam Safety Regulations.
Safeguard Mechanism: It will also help in safeguarding human life, livestock and properties against unwelcomed dam's disasters in India.
Final Word:
Dams play a vital role in water security and foster rapid and sustained growth in agricultural, rural, urban and industrial development, which have been key priorities for the Govt. of India since independence.
Citing the looming water crisis in India, the government should come out with strict dam safety and regulatory norms to ensure the better management of this critical infrastructure which is essentially required to store and manage limited surface water resources in reservoirs to ensure food, energy, and water security as well as to mitigate droughts and floods.
National Gas Grid
---
Why is it in News?
The Government of India is constructing the National Gas Grid to increase the share of gas in the energy mix of the economy.
About National Gas Grid & its Significance:
National Gas Grid will comprise the gas pipelines, regasified liquefied natural gas pipeline & city gas distribution network.
The government has decided to increase the share of gas mix in the Indian economy by 15% (at present it is 6%) by 2025.
The National Gas Grid together with providing gas connections to households will provide better infrastructure for automobiles using gas networks.
The National Gas Grid will also aid in renewing of the fertilizer sector and also give a boost to the power sector which are gas based (eg.- Rajahmundry Power Plant of GMR group is not running due to non-availability of gas).
Gas based combustion produces less particulate matters and polluting gases, so the National Grid Mission is a way towards sustainable development.
The National Gas Grid Mission will complement the development of cross national pipelines like- TAPI (Turkmenistan-Afghanistan-Pakistan-India) pipeline.
The National Grid Mission is in line with the SDG goal no. 7 which deals with access to affordable energy for all.
Who is the Authorizing Agency of National Gas Grid?
Petroleum and Natural Gas Regulatory Board (PNGRB) is the authority to grant authorization for the National Gas Grid Mission.
What is the Current Status of the Project?
At present about 16,788 km of the natural gas pipeline is operational and about 14,239 km gas pipelines are being developed to increase the availability of natural gas across the country.
About TAPI Pipeline:
TAPI pipeline was first proposed in 1995 with an aim to transport natural gas from energy rich Caspian Sea (Galkynysh gas field: fourth largest in the world) in Turkmenistan to India through Afghanistan and Pakistan.
The project will supply both India and Pakistan about 38 mmscmd of natural gas whereas Afghanistan will get 14 mmscmd supply.
Asian Development Bank is the lead sponsor of the TAPI Project.
Source: TH
Wind Energy & Related Issues
---
Why is it in News?
From 5,500 MW in 2016-17, capacity addition has plunged to 1600 MW in 2018-19 which have impacted 4000 SMEs that supply components to turbine makers.
About Wind Power Generation:
When the wind, a natural form of energy, is capable of creating electricity or a mechanical force, it is referred to as wind power.
The speed of the wind rotates the blades of a rotor (between 10 and 25 rpm), producing kinetic energy. The rotor then drives a generator that converts the mechanical energy into electricity.
How are Issues related to Wind Power different from Solar Power Generation?
Unlike solar, wind power plants cannot be put up anywhere but only in locations where winds blow strong.
In India, there are eight states where it is economically viable to put up wind turbines -Tamil Nadu, Gujarat, Karnataka, Maharashtra, Madhya Pradesh, Rajasthan, Telangana and Andhra Pradesh.
What is the Government's Target vis-à-vis Renewable Energy?
The Government has set a target of generating 175 GW of Renewable Energy by 2022of which the break-up is as follows:
Solar- 100GW
Wind- 60GW
Biomass & Small Hydro- 15GW
Why did the Capacity Addition drop in 2018-19?
Earlier, wind power generators used to sign agreement with the windy states (called as Feed in Tariff or FiT) for long term period (around 25 years), but recently the Solar Energy Corporation of India (SECI) changed the model and started buying from the different wind power generators and selling it to the non windy states which led to a huge competition and prices fell drastically below the FiT. This made the windy states wonder as to why they should buy electricity at higher prices when it is available at lower prices through SECI. Thus, they terminated the Agreements and the windy states market vanished.
What is wrong with the SECI Model?
As the best sites like Tamil Nadu & Gujarat were taken, the price of the electricity quoted by developers started to rise in the next round of bidding and due to initial low quoting of price the agreements were also terminated in windy states. The whole process led to crashing of the market in windy states and thus the demand of wind power crashed too.
Which were the Sectors most hit by this Mess?
The worst sufferers in the mess are the 4,000 SMEs who supply components to turbine manufacturers and their two million employees.
About Solar Energy Corporation of India (SECI):
Solar Energy Corporation of India is a CPSU under the administrative control of the Ministry of New and Renewable Energy.
SECI does not only look after solar energy but it also looks after wind, geothermal etc. Keeping this in mind it was renamed as Renewable Energy Corporation of India.
Source: TH
---