The Production Gap 2020
---
On 2nd December, 2020, the United Nations Environment Programme (UNEP)released the Production Gap Report, 2020.
About the Report
The first Production Gap Report was launched in November 2019.
Modelled after UNEP's Emissions Gap Report series and conceived as a complementary analysis, the Production Gap Report revealed that while the pandemic and resulting lockdowns led to "short-term drops" in coal, oil and gas production, pre-COVID plans and post-COVID stimulus measures point to a continuation of increasing fossil fuel production.
Key Findings
The report highlights the discrepancy between countries' planned fossil fuel production levels and the global levels necessary to limit warming to 1.5°C or 2°C. This gap is large, with countries aiming to produce 120% more fossil fuels by 2030 than would be consistent with limiting global warming to 1.5°C.
The COVID-19 pandemic and associated response measures have introduced new uncertainties to the production gap (the difference between national production plans and low-carbon (1.5°C and 2°C) pathways, as expressed in fossil fuel carbon dioxide (CO2) emissions).
The fossil fuel production gap will continue to widen if countries return to their pre-COVID plans and projections for expanded fossil fuel production.
To follow a 1.5°C-consistent pathway, the world will need to decrease fossil fuel production by roughly 6% per year between 2020 and 2030.
Countries are instead planning and projecting an average annual increase of 2%, which by 2030 would result in more than double the production consistent with the 1.5°C limit.
Between 2020 and 2030, global coal, oil, and gas production would have to decline annually by 11%, 4%, and 3%, respectively, to be consistent with a 1.5°C pathway.
This translates to a production gap similar to 2019, with countries aiming to produce 120% and 50% more fossil fuels by 2030 than would be consistent with limiting global warming to 1.5°C or 2°C, respectively.
To date, governments have committed far more COVID-19 funds to fossil fuels than to clean energy. Policymakers must reverse this trend to meet climate goals.
The COVID-19 pandemic has provided a reminder of the importance of ensuring that a transition away from fossil fuels is just and equitable.
Countries that are less dependent on fossil fuel production and have higher financial and institutional capacity can transition most rapidly, while those with higher dependence and lower capacity will require greater international support.
Key Recommendations
Six main areas of action for governments could help ensure a managed, just, and equitable transition away from fossil fuels that "builds back better" from the COVID-19 pandemic:
Ensure COVID-19 recovery packages and economic stimulus funds support a sustainable recovery and avoid further carbon lock-in
Many countries have begun to make investments in areas such as renewable energy, energy efficiency, green hydrogen, and improved pedestrian infrastructure.
But if this is accompanied by significant support for high-carbon industries, COVID-19 recovery measures still risk locking in high-carbon energy systems and development pathways for decades into the future.
Governments that choose to invest in high-carbon industries to boost economies and safeguard livelihoods in the short term — perhaps because they see few near-term alternatives — can nonetheless introduce conditions to that investment to promote long-term alignment with climate goals.
Provide local and international support to fossil-fuel dependent communities
Each country and region faces unique challenges in a transition away from fossil fuels, depending on their dependence on production and their capacity to transition.
Inclusive planning is essential, as is financial, technical, and capacity-building support for communities with limited financial and institutional capacity.
Reduce Existing Government Support for Fossil Fuels
Many long-standing forms of government support to fossil fuels — including consumer subsidies, producer subsidies, and public finance investment — stand in the way of a sustainable recovery to COVID-19 and need to be ended.
Introduce Restrictions on Fossil Fuel Production Activities and Infrastructure
Restricting new fossil fuel production activities and infrastructure can avoid locking in levels of fossil fuel production higher than those consistent with climate goals. It can also reduce the risk of stranded assets and communities.
Enhance Transparency of Current and Future Fossil Fuel Production Levels
A key barrier to aligning energy and climate plans is the lack of clarity on levels of fossil fuel production and planned or expected growth. To improve transparency, countries could ensure that relevant production data are more readily and publicly accessible.
They can also provide information on how their fossil fuel production plans align with climate goals, and on their support to the production of fossil fuels.
Governments can also take steps to disclose their level of exposure to fossil fuel asset stranding and associated systemic risk, and to require companies within their jurisdiction to do so.
Mobilize and Support a Coordinated Global Response
Policies to transition away from fossil fuels will be most effective if supported by countries collectively, as this will send consistent, directional signals to energy producers, consumers, and investors.
International cooperation, both through established channels and in new forums, can support a just and equitable wind down of fossil fuels.
The Paris Agreement's global stocktake, nationally determined contributions (NDCs), and long-term low greenhouse gas emission development strategies (LEDS) offer opportunities to facilitate a transition away from fossil fuel production through the UN climate change process.
International financial institutions can help shift financial support away from fossil fuel production while scaling up support for low-carbon energy.
United Nations Environment Programme (UNEP)
Founded in 1972 by Canadian businessman and philanthropist Maurice Strong, UNEP is the leading global environmental authority that sets the global environmental agenda, promotes the coherent implementation of the environmental dimension of sustainable development within the United Nations system, and serves as an authoritative advocate for the global environment.
Its mission is to provide leadership and encourage partnership in caring for the environment by inspiring, informing, and enabling nations and peoples to improve their quality of life without compromising that of future generations.
United Nations Environment Assembly (UNEA)
It was created during the United Nations Conference on Sustainable Development, also referred to as RIO+20 in 2012.
It is the world's highest-level decision-making body on the environment, with a universal membership of all 193 Member States.
Escaping The Era Of Pandemics
---
On 29th October, 2020, the Intergovernmental Science-Policy Platform on Biodiversity and Ecosystem Services (IPBES) released a report which warns future pandemics will emerge more often, spread more rapidly, do more damage to the world economy and kill more people than COVID-19 unless there is a transformative change in the global approach to dealing with infectious diseases.
Major Findings
Pandemics Emerge from the Microbial Diversity Found in Nature
The majority (70%) of emerging diseases (e.g. Ebola, Zika, Nipah encephalitis), and almost all known pandemics (e.g. influenza, HIV/AIDS, COVID-19), are zoonoses – i.e. are caused by microbes of animal origin. These microbes 'spill over' due to contact among wildlife, livestock, and people.
Human Ecological Disruption, and Unsustainable Consumption Drive Pandemic Risk
The risk of pandemics is increasing rapidly, with more than five new diseases emerging in people every year, any one of which has the potential to spread and become pandemic.
Unsustainable exploitation of the environment due to land-use change, agricultural expansion and intensification, wildlife trade and consumption disrupts natural interactions among wildlife and their microbes, increases contact among wildlife, livestock, people, and their pathogens and has led to almost all pandemics.
Pathogens of wildlife, livestock and people can also directly threaten biodiversity, and emerge via the same activities that drive disease risk in people.
Reducing Anthropogenic Global Environmental Change May Reduce Pandemic Risk
Pandemics and other emerging zoonoses cause widespread human suffering, and likely more than a trillion dollars in economic damages annually.
The true impact of COVID-19 on the global economy can only be accurately assessed once vaccines are fully deployed and transmission among populations is contained.
Pandemic risk could be significantly lowered by promoting responsible consumption and reducing unsustainable consumption of commodities from emerging disease hotspots, and of wildlife and wildlife-derived products, as well as by reducing excessive consumption of meat from livestock production.
Land-Use Change, Agricultural Expansion, Urbanization Cause More than 30% of Emerging Disease Events
Land-use change is a globally significant driver of pandemics and caused the emergence of more than 30% of new diseases reported since 1960.
Land-use change includes deforestation, human settlement in primarily wildlife habitat, the growth of crop and livestock production, and urbanization.
Destruction of habitat and encroachment of humans and livestock into bio-diverse habitats provide new pathways for pathogens to spill over and increase transmission rates.
Trade and Consumption of Wildlife is a Globally Important Risk for Future Pandemics
Wildlife trade has occurred throughout human history and provides nutrition and welfare for peoples, especially the Indigenous Peoples and Local Communities in many countries.
About 24% of all wild terrestrial vertebrate species are traded globally.
International, legal wildlife trade has increased more than five-fold in value in the last 14 years and was estimated to be worth US$107 billion in 2019.
The USA is one of the largest legal importers of wildlife with 10-20 million individual wild animals (terrestrial and marine) imported each year, largely for the pet trade.
Illegal and unregulated trade and unsustainable consumption of wildlife as well as the legal, regulated trade in wildlife, have been linked to disease emergence.
Suggestive Measures
The report offers following policy options that would help to reduce and address pandemic risk:
Launching a high-level intergovernmental council on pandemic prevention to provide decision-makers with the best science and evidence on emerging diseases; predict high-risk areas; evaluate the economic impact of potential pandemics and to highlight research gaps. Such a council could also coordinate the design of a global monitoring framework.
Countries setting mutually-agreed goals or targets within the framework of an international accord or agreement – with clear benefits for people, animals and the environment.
Institutionalizing the 'One Health' approach in national governments to build pandemic preparedness, enhance pandemic prevention programs, and to investigate and control outbreaks across sectors.
Developing and incorporating pandemic and emerging disease risk health impact assessments in major development and land-use projects, while reforming financial aid for land-use so that benefits and risks to biodiversity and health are recognized and explicitly targeted.
Ensuring that the economic cost of pandemics is factored into consumption, production, and government policies and budgets.
Enabling changes to reduce the types of consumption, globalized agricultural expansion and trade that have led to pandemics – this could include taxes or levies on meat consumption, livestock production and other forms of high pandemic-risk activities.
Reducing zoonotic disease risks in the international wildlife trade through a new intergovernmental 'health and trade' partnership; reducing or removing high disease-risk species in the wildlife trade; enhancing law enforcement in all aspects of the illegal wildlife trade and improving community education in disease hotspots about the health risks of wildlife trade.
Valuing Indigenous Peoples and local communities' engagement and knowledge in pandemic prevention programs, achieving greater food security, and reducing consumption of wildlife.
Closing critical knowledge gaps such as those about key risk behaviors, the relative importance of illegal, unregulated, and the legal and regulated wildlife trade in disease risk, and improving understanding of the relationship between ecosystem degradation and restoration, landscape structure and the risk of disease emergence.
Significance
The report is published at a critical juncture in the course of the COVID-19 pandemic, at whichits long-term societal and economic impacts are being recognized.
It provides yet another piece of scientific evidence that our health and society are seriously endangered by the disruption of nature as a result of factory farming, global free trade, and the current system based on unlimited economic growth
This report embraces the need for transformative change and uses scientific evidence to identify policy options to prevent pandemics.
Intergovernmental Science-Policy Platform on Biodiversity and Ecosystem Services (IPBES)
It is an independent intergovernmental body established by States to strengthen the science-policy interface for biodiversity and ecosystem services for the conservation and sustainable use of biodiversity, long-term human well-being and sustainable development.
Established in Panama City, on 21 April 2012 by 94 Governments, it is not a United Nations body.
IPBES has a collaborative partnership arrangement with UNEP, UNESCO, FAO and UNDP. Its secretariat is hosted by the German government and located on the UN campus, in Bonn, Germany.
The Commitment To Reducing Inequality Index-2020
---
On 7th October, 2020, Oxfam International along with the Development Finance International(DFI) published the third(previous two in 2017 and 2018) edition of The Commitment to Reducing Inequality Index(CRI) Index-2020.
About CRI-2020
It is a multidimensional index which ranks 158 countries on their policy performance to reduce inequality.
It primarily measures progress on tackling economic inequality, i.e. the gap betweenrich and poor
The index has three pillars and 19 different indicators, each of which relates to one policy area that has been found to be critical in reducing inequality: public services (previously known as spending); taxation; and labour.
Key Findings
World Specific Findings
Most of the countries near the top of the index are Organisation for Economic Co-operation and Development(OECD) countries.
With higher gross domestic products (GDP), they have much more scope to raise progressive tax revenues because they have more citizens and corporations with higher incomes.
Likewise, they have greater scope to spend those revenues on public services and social protection.
Norway tops the 2020 CRI Index, notably scoring top on labour rights.
At the bottom of the Index is South Sudan, which is new to the index and comes close to last on all three pillars.
Vietnam's response to the coronavirus pandemic has been among the best in the world.
The low ranking also reflects a failure of policy setting by the government for its citizens: for instance, South Sudan spends six times more on the military and on debt servicing than it does on vital public services, and it collects only around 15% of the tax that it should. This leads to failure to deliver on even the most basic of services.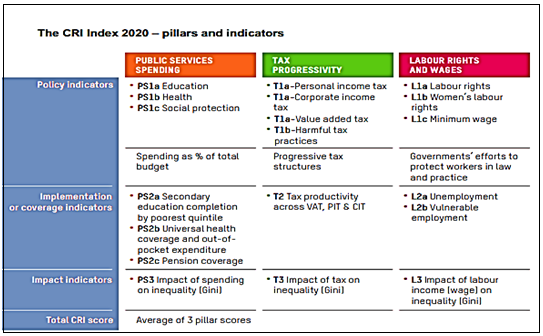 India Specific Findings
Ranked at 129 in the index, India's health budget is the fourth lowest in the world.
Just half of its population have access to even the most essential health services, and more than 70% of health spending is being met by people themselves, one of the highest levels in the world.
So far India's response to COVID-19 has been woeful, with huge numbers of deaths and millions of people forced into destitution.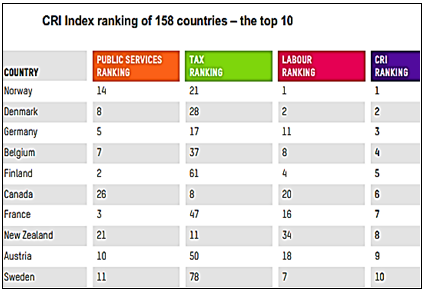 Fighting Inequality in the Time Of Covid-19
The index shows clearly how the majority of the world's countries were woefully unprepared for the coronavirus pandemic.
The coronavirus pandemic has magnified and increased inequalities across the world.
The poorest people are least able to isolate, to protect themselves. They are more likely to have pre-existing poor health, making them more likely to die.
Women are among the hardest hit economically, as they are more likely to be in precarious work and are also 70% of the world's health workers.
The crisis has also exacerbated racial inequality across the globe.
But, there have been significant expansions in health and social protection spending across the world.
Many countries have expanded worker rights and protections, particularly through short-time working, sick leave and unemployment benefit. But there have also been sharp rises in unemployment and underemployment, and increased attacks on workers' rights.
Role International Financial Institutions in Response to Pandemic
The International Monetary Fund (IMF) has disbursed US$88bn in support to 80 countries and has saved 28 countries $251m in debt servicing payments.
The World Bank has pledged US$160bn in emergency funding, mobilized US$6bn for its COVID-19 Fast Track Facility.

Recommendations
Urgent Government Action to Radically Reduce Inequality
In response to the coronavirus pandemic, governments must dramatically improve their efforts on progressive spending, taxation and workers' pay and protection as part of National Inequality Reduction Plans under SDG 10.
Spending on public services and social protection needs to be increased and its impact on coverage and inequality improved.
There also needs to be systematic tracking of public expenditures, involving citizens in budget oversight.
Workers need to receive living wages and have their labour rights better protected.
Women and girls especially need their rights to equal payand protection against sexual harassment and rape to be enforced including for vulnerable workers.
Inequality Policy Impact and Analysis
Governments, international institutions and other stakeholders should work together to rapidly improve data on inequality and related policies, and to regularly monitor progress in reducing inequality.
Coming Together to Fight Inequality
Governments and international institutions should come together in the fight against increasing inequality as a result of the coronavirus pandemic.
The most urgent policy measures include a global commitment and funding to ensure that COVID-19 vaccines will be free to all countries and expansion in social protection to protect workers in lower-income countries.
The international community must support them with Special Drawing Rights,debt relief and global solidarity taxes.
Confronting Carbon Inequality
---
According to a new report titled- Confronting Carbon Inequality, by Oxfam and the Stockholm Environment Institute (SEI), the extreme carbon inequality in recent decades that has driven the world to the climate brink.
Major Findings
The Era of Extreme Carbon Inequality
The 25 years from 1990 to 2015 saw a rapid escalation of the climate crisis, as global annual carbon emissions grew by around 60%.
Around half the emissions of the richest 10% (24.5% of global emissions) are today associated with the consumption of citizens of North America and the EU, and around a fifth (9.2% of global emissions) with citizens of China and India.
The richest 10% of humanity accounted for 52% of the cumulative emissions, depleting the global carbon budget for 1.5C by nearly a third (31%).
The poorest 50%accounted for just 7% of cumulative emissions, and a mere 4% of the budget.
Carbon Inequality is driving the World to the Climate Brink
The world's poorest 3.5 billion people contribute little to carbon emissions but are most affected by climate impacts like floods, storms, and droughts.
Extreme carbon inequality is the result of political choices made over the past 20-30 years.
It is a direct consequence of our governments'decades long pursuit of unequal and carbon intensive economic growth.
Unequal Growth and Climate Justice
Unequal economic growth slows poverty reduction rates.
Unequal growth has another implication: it means that the global carbon budget is being rapidly depleted, not for the purpose of lifting all of humanity to a decent standard of living, but to a large extent to expand the consumption of a minority of the world's very richest people.
Women also often experience the impacts of climate change differently from men:whether walking further to collect water, being last to eat during droughts, or assuming most of the household caring responsibilities in the wake of extreme weather.
Tackling Carbon Inequality
To limit global heating to 1.5C, global average per capita emissions should be approximately 2.1t/year by 2030.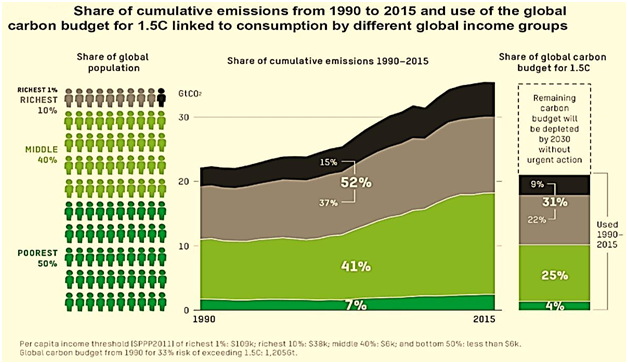 Recommendations for Economic Recovery from COVID-19
The right public policy measures, enacted now, can both cut the emissions and create healthier, more cohesive and resilient societies.
In addition to essential measures to rapidly shift energy supply to sustainable renewable sources, governments should consider:

Wealth taxes, luxury carbon taxes and wider progressive carbon pricing to fund the expansion of universal social services
Ending the tax-free status of aircraft fuel and tax breaks for company cars
Public investment to create decent job guarantees
Changing corporate governance to curtail company's short-termism
Setting science- and equity-based national targets to reduce carbon emission
Developing a wider set of gender-transformative indicators of economic progress beyond GDP, such as New Zealand's Wellbeing Budget
Incorporating principles of social dialogue at all levels to ensure the wellbeing of workers in affected industries, women, low-income and marginalized groups.
Corruption Perceptions Index – 2019
---
On 23rd January, 2020, Corruption Perceptions Index (CPI) was released by the Transparency International, which reveals that a majority of countries are showing little to no improvement in tackling corruption.
About the Index
First launched in 1995, the Corruption Perceptions Index has been widely credited with putting the issue of corruption on the international policy agenda.
The index ranks 180 countries and territories by their perceived levels of public sector corruption, according to experts and business people.
It uses a scale of zero to 100, where zero is highly corrupt and 100 is very clean. More than two-thirds of countries score below 50 on this year's CPI, with an average score of just 43.
The 2019 CPI draws on 13 surveys and expert assessments to measure public sector corruption in 180 countries and territories, giving each a score from zero (highly corrupt) to 100 (very clean).
Major Findings
Top Performers
The top countries are New Zealand and Denmark, with scores of 87 each, followed by Finland (86), Singapore (85), Sweden (85) and Switzerland (85).
Worst Performers
The bottom countries are Somalia, South Sudan and Syria with scores of 9, 12 and 13, respectively. These countries are closely followed by Yemen (15), Venezuela (16), Sudan (16), Equatorial Guinea (16) and Afghanistan(16).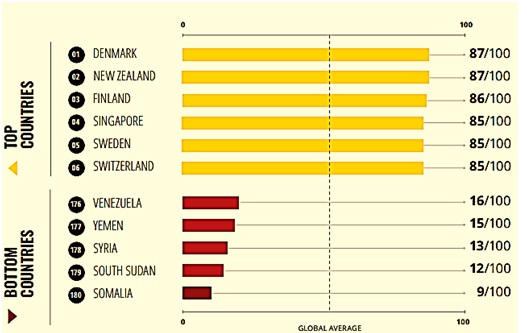 Source: Transparency International
Regional Findings and their Challenges
Americas Region
With an average score of 43 for the fourth consecutive year on the Corruption Perceptions Index (CPI), the Americas region fails to make significant progress in the fight against corruption.
Challenges
The region faces significant challenges from political leaders acting in their own self-interest at the expense of the citizens they serve.
Specifically, political party financing and electoral integrity are big challenges.
Asia-Pacific Region
A regional average of 45, after many consecutive years of an average score of 44, illustrates general stagnation across the Asia Pacific. Despite the presence of high performers like New Zealand (87), Singapore (85), Australia (77), Hong Kong (76) and Japan (73), the Asia Pacific region hasn't witnessed substantial progress in anti-corruption efforts or results.
India's ranking in the Corruption Perceptions Index (CPI-2019) has slipped from 78 to 80 compared to the previous year. Its score of 41 out of 100 remains the same.
Challenges
Many countries see economic openness as a way forward, however, governments across the region, continue to restrict participation in public affairs, silence dissenting voices and keep decision-making out of public scrutiny.
Opaque political financing, lobbying by corporate interests has caused control of corruption to fall in democracies like India and Australia, notes Transparency International.
Eastern Europe and Central Asia Region
With an average score of 35, this region is the second-lowest performing region on the CPI.
Challenges
Across the region, countries experience limited separation of powers, abuse of state resources for electoral purposes, opaque political party financing and conflicts of interest.
Middle East and North Africa Region
With the same average score of 39 as last year, there is little progress in improving control of corruption in the Middle East and North Africa region.
Challenges
The region faces significant corruption challenges that highlight a lack of political integrity.
Separation of powers is another challenge.
Sub-Saharan Africa
As the lowest-scoring region on the CPI, with an average of 32, Sub-Saharan Africa's performance paints a bleak picture of inaction against corruption.
Challenges
Across the region, money is used to win elections, consolidate power and further personal interests.
Tackling corruption in the context of fragile states presents unique challenges, as fragility is both a cause and an effect of any downward trends in development.
Western Europe & European Union
Fourteen of the top 20 countries in this year's CPI are from Western Europe and the European Union (EU), including nine countries from the EU alone.
Challenges
Issues of conflict of interest, abuse of state resources for electoral purposes, insufficient disclosure of political party and campaign financing, and a lack of media independence are prevalent in the region.
Most post-communist EU member states are struggling to address corruption effectively.
Recommendations
Transparency International recommends the following measures in order to prevent corruptions and foster the integrity of political systems:
Managing Conflicts of Interest: Governments should reduce the risk of undue influence in policy-making by tightening controls over financial and other interests of government officials.
Control Political Financing: In order to prevent excessive money and influence in politics, governments should improve and properly enforce campaign finance regulations. Political parties should also disclose their sources of income, assets and loans, and governments should empower oversight agencies with stronger mandates and appropriate resources.
Strengthen Electoral Integrity: For democracy to be effective against corruption, governments must ensure that elections are free and fair. Preventing and sanctioning vote-buying and misinformation campaigns are essential to rebuilding trust in government and ensuring that citizens can use their vote to punish corrupt politicians.
Regulate Lobbying Activities: Governments should promote open and meaningful access to decision-making and consult a wider range of groups, beyond well-resourced lobbyists and a few private interests. Lobbying activities should be public and easily accessible.
Tackle Preferential Treatment: Governments should create mechanisms to ensure that service delivery and public resource allocation are not driven by personal connections or are biased towards special interest groups at the expense of the overall public good.
Empower Citizens: Governments should protect civil liberties and political rights, including freedom of speech, expression and association. Governments should engage civil society and protect citizens, activists, whistleblowers and journalists in monitoring and exposing corruption.
Reinforce Checks and Balances: Governments must promote the separation of powers, strengthen judicial independence and preserve checks and balances.
Democracy Index-2019
---
On 22nd January, 2020, the Economist Intelligence Unit (EIU) released the Democracy Index under the title-A Year of Democratic Setbacks and Popular Protest.
Democracy Index
First published year 2006, Democracy Index provides a snapshot of the state of democracy worldwide for 165 independent states and two territories.
It based on the ratings for 60 indicators, grouped into five categories:

Electoral process and pluralism
Civil liberties
Functioning of government
Political participation
Political culture.

The category indexes are based on the sum of the indicator scores in the category, converted to a 0 to 10 scale. Adjustments to the category scores are made if countries do not score a 1 in the following critical areas for democracy:

Whether national elections are free and fair
The security of voters
The influence of foreign powers on government
The capability of the civil service to implement policies.

The index values are used to place countries within one of four types of regime:

Full democracies (scores of 8-10)
Flawed democracies ( score of 6 to 7.9)
Hybrid regimes (scores of 4 to 5.9)
Authoritarian regimes (scores below 4)
Key Findings
Worst Performance Since 2006
The average global score fell from 48 in 2018 to 5.44 (on a scale of 0-10). This is the worst score since the index was first produced in 2006.
The decline in the average global score was driven by sharp regressions in Latin America and Sub-Saharan Africa. Latin America was the worst-performing region in 2019.
The average score for Asia and Australasia, eastern Europe, North America and western Europe stagnated in 2019.
Almost one-half (48.4%) of the world's population live in a democracy of some sort, although only 5.7% reside in a full democracy.
Country Performance
The overall list was topped by Norway, followed by Iceland and Sweden, New Zealand and
Full Democracies
Three countries-Chile, France and Portugal, moved from the "flawed democracy" category to become "full democracies".
Other "full democracies" include Germany, the United Kingdom and France.
Flawed Democracies
The United States, with a score of 7.96 that is just below the benchmark for a "full democracy", is a "flawed democracy".
India, too, with a score of 7.23, find its place in the "flawed democracy" category, along with the Bangladesh (5.88).
Hybrid Regimes
Pakistan, with a score of 4.25, is categorised as a "hybrid democracy".
Authoritarian Regimes
China having score of 2.26 and North Korea (bottom-ranked with 1.08) are categorised as "authoritarian regimes".
SELECTED COUNTRIES, 2019

Country

Score

Rank

Norway

9.87

1

Iceland

9.58

2

Sweden

9.39

3

New Zealand

9.26

4

Germany

8.68

13

UK

8.52

14

France

8.12

20

United States

7.96

25

Israel

7.86

28

India

6.90

51

Brazil

6.86

52

Sri Lanka

6.27

69

Bangladesh

5.88

80

Nepal

5.28

92

Pakistan

4.25

108

Myanmar

3.55

122

Russia

3.11

134
Source: Indian Express
India's Performance
The world's biggest democracy slipped 10 places in the 2019 global ranking to 51st place.
India's overall score fell from 7.23 to 6.9, on a scale of 0-10, within a year (2018-2019) — the country's lowest since 2006.
The Index categorises India under "flawed democracies", countries that hold free and fair elections and where basic civil liberties are respected, but have significant weaknesses in aspects of democracy, such as problems in governance, an under developed political culture and low levels of political participation.
India was graded in electoral process and pluralism (8.67), government functioning (6.79), political participation (6.67), political culture (5.63) and civil liberties (6.76).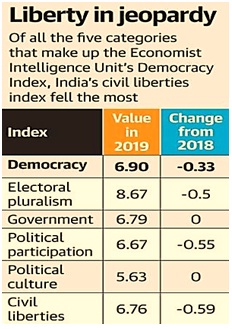 Source: The Hindu
Causes of Democratic Regression
The primary cause of the democratic regression was an erosion of civil liberties in the country. According to the report, the following events led to Democratic Regression in the country.
Revocation of the special status of Jammu and Kashmir with the repeal of Articles 370 and 35 and the various security measures that followed the bifurcation of the state including deployment of large number of troops, restriction of internet access and placing local leaders under house arrest.
The NRC exercise in Assam excluded 1.9 million people from the final list, and that the vast majority of people excluded from the NRC being Muslims.
According to the report, the Citizenship Amendment Act law has enraged the large Muslim population, stoked communal tensions and generated large protests in major cities, across the country.
Full Democracies
Countries in which not only basic political freedoms and civil liberties arerespected, but also tend to be underpinned by a political culture conducive to the flourishing of democracy. The functioning of government is satisfactory.
Media are independent and diverse. There is an effective system of checks and balances. The judiciary is independent and judicial decisions are enforced. There are only limited problems in the functioning of democracies.
Flawed Democracies
These countries also have free and fair elections and, even if there are problems (such as infringements on media freedom), basic civil liberties are respected.
However, there are significant weaknesses in other aspects of democracy, including problems in governance, an underdeveloped political culture and low levels of political participation.
Hybrid Regimes
Elections have substantial irregularities that often prevent them from being both free and fair. Government pressure on opposition parties and candidates may be common. Serious weaknesses are more prevalent than in flawed democracies—in political culture, functioning of government and political participation.
Corruption tends to be widespread and the rule of law is weak. Civil society is weak. Typically, there is harassment of and pressure on journalists and the judiciary is not independent.
Authoritarian Regimes
In these states, state political pluralism is absent or heavily circumscribed. Some formal institutions of democracy may exist, but these have little substance.
Elections, if they do occur, are not free and fair. There is disregard for abuses and infringements of civil liberties. Media are typically state-owned or controlled by groups connected to the ruling regime. There is repression of criticism of the government and pervasive censorship. There is no independent judiciary.
World Employment And Social Outlook-Trends 2020
---
On 20th January, 2020, the International Labour Organisation (ILO) released the World Employment and Social Outlook: Trends 2020 (WESO) report, which examines employment and social trends for the world as a whole and for each region, and analyses structural transformation and implications for future job quality.
The annual WESO report analyses key labour market issues, including unemployment, labour underutilisation, working poverty,income inequality, labour income share and factors that exclude people from decent work.
Major Highlights
Global Unemployment
More than 470 million people worldwide are currently unemployed or underemployed, warning that a lack of access to decent jobs was contributing to social unrest.
Global unemployment has been roughly stable for the last nine years but slowing global economic growth means that, as the global labour force increases, not enough new jobs are being generated to absorb new entrants to the labour market.
More than 60% of the global workforce currently works in the informal economy, often toiling for substandard wages and lacking basic social protections.
Declining Global Labour Income
Unequal access to decent work translates into high and persistent income inequalities.
In high income countries, the decreasing labour income of the self-employed, compared with that of employees, is a key driver of the aggregate decline.
Work Related Inequality
Persisting and substantial work-related inequalities and exclusion are preventing the people from finding decent work and better futures. This in turn, has profound and worrying implications for social cohesion.
Decent Work Deficit
Significant inequalities in access to decent work opportunities and outcomes continue to be a persistent feature of current labour markets. Decent work deficits are especially pronounced in the informal economy.
Gender Inequality
Contemporary labour markets also continue to be characterized by gender inequality. In 2019, the female labour force participation rate was just 47 percent, 27 percentage points below the male rate (at 74 percent). There is strong regional variation in gender disparities in access to employment.
Rising Working Poverty
In 2019, more than 630 million people— a fifth of the global working population lived in so-called working poverty, meaning they made less than $3.20 per day in purchasing power.
Trade Restrictions and Protectionism
The report cautions that intensifying trade restrictions and protectionism could have a significant impact on employment, both directly and indirectly.
Future Projection
According to the report, a moderate or extreme working poverty is expected to edge up in 2020-21 in developing countries, increasing the obstacles to achieving Sustainable Development Goal 1 on eradicating poverty everywhere by 2030.
Projected lower economic growth and the lack of inclusiveness are very likely to impair the ability of lower-income countries to reduce poverty and improve working conditions.
Significance
The report provides an overview of global and regional trends in employment, unemployment, labour force participation and productivity.
This report also presents the labour market situation and prospects of rural and urban workers, which is a key line of segmentation that divides the economic and social prospects among the world's workforce.
It also examines income and social developments, and provides an indicator of social unrest.
Way forward
Countries all over the world must ensure that economic growth and development occurs in a way that leads to the reduction of poverty and better working conditions in low-income countries, through structural transformation, technological upgrading and diversification.
International Labour Organization (ILO)
Headquarters: Geneva, Switzerland
The ILO is a United Nations agency, created in 1919, as part of the Treaty of Versailles that ended World War I, to reflect the belief that universal and lasting peace can be accomplished only if it is based on social justice.
It is devoted to promoting social justice and internationally recognized human and labour rights, pursuing its founding mission that social justice is essential to universal and lasting peace.
India is a founding member of the ILO and has been a permanent member of the ILO Governing Body since 1922.
First Global Social Mobility Report –2020
---
On 20th January, 2020, the World Economic Forum (WEF) released its first-ever Global Social Mobility Report to provide a much needed assessment of the current state of the paths to social mobility around the world.
Aim
It seeks to measure parameters necessary for creating societies where every person has the same opportunity to fulfill his potential in life irrespective of socio-economic background.
Need
Not with standing fast global growth, inequalities have been growing across the world. The rise of inequality has not only created massive social unrest but also adversely affected the global consensus on the kind of economic policies that countries follow.
Social mobility has become the pressing issue of modern life, and as the index highlights, while major improvements have been made in some areas, notably extreme poverty, in others, the situation is deteriorating.
About the Index
The WEF's Global Social Mobility Index assesses the 82 economies on "10 pillars" spread across the following five key dimensions of social mobility:

Health
Education (access, quality and equity, life-long learning)
Technology
Work (opportunities, wages, conditions)
Protection and Institutions (social protection and inclusive institutions)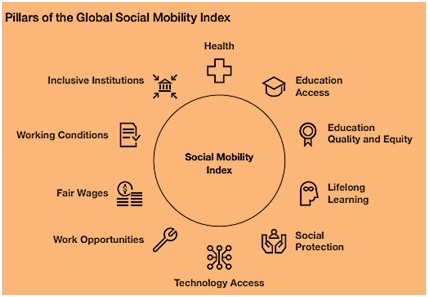 Source: WEF
Key Findings
Need for Social Mobility Agenda to Tackle Inequality
The Index shows that very few economies have the right conditions to foster social mobility and consequently income inequalities have become entrenched. On average, across key developed and developing economies, the top 10% of earners have nearly 3.5 times the income of the bottom 40%.
Greatest Global Challenges
Low wages, lack of social protection and poor lifelong learning systems are the greatest challenges globally.
In many countries, the root cause of low social mobility is related to economic development issues that go beyond income—namely, qualityof and access to education, access to work, poor working conditions and health disparities. Digital leapfrogging will not happen unless these issues are addressed decisively.
Fourth Industrial Revolution, Globalization and Technology
Globalization and the Fourth Industrial Revolution have generated significant benefits, but have also exacerbated inequalities. The Fourth Industrial Revolution, and with it, continuing and future disruption to labour markets, will likely compound differences in social mobility for those countries unprepared to take advantage of new opportunities.
Increasing Social Mobility
If countries included in this report were to increase their social mobility index score by 10 points, this would result in an additional GDP growth of 41% by 2030 in addition to vast social cohesion benefits.
Countries that adhere to the "stakeholder capitalism" model tend to perform better than countries with a focus on "shareholder value maximization" or "state capitalism".
Country Rankings
Top Performers
Denmark tops the rankings with a social mobility score of 85.2, closely followed by Finland (83.6), Norway (83.6), Sweden (83.5) and Iceland (82.7).
Low Performers
Cote d'Ivoire (82nd rank) is last on the Index preceded by Senegal, Cameron, Pakistan and Bangladesh.
Emerging Economies
Among the world's large emerging economies, the Russian Federation is the most socially mobile of the BRICS grouping, ranking 39th, with a score of 64 points, followed by the China (45th), Brazil (60th), India (76th) and South Africa (77th).
Top Gainer in Social Mobility
The economy with the most to gain is China, whose economy could grow by an extra USD 103 billion a year or USD 1 trillion dollars over the decade.
USA would make the second-largest gains, at USD 87 billion a year.
Next is India, followed by Japan, Germany, Russia, Indonesia, Brazil, the UK and France.
India's Performance
India is ranked at 76th out of 82 economies. It ranks 41st in lifelong learning and 53rd in working conditions.
The Areas of improvement for India include social protection (76th) and fair wage distribution (79th).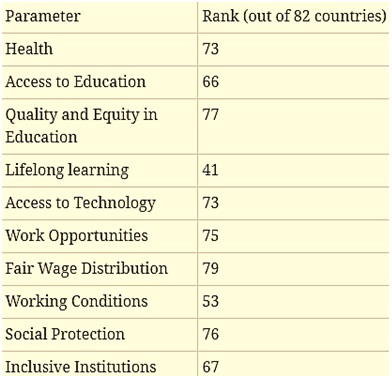 Source: Indian Express
Significance
Benchmarking Tool: The index benchmarks a country's ability to foster social mobility across its population. It measures the extent to which fundamental drivers—both old and new—of equality of opportunity are in place as well as the enabling environment factors that help translate these drivers into actual social mobility out comes.
Guidance to Policy-Makers: The Index is designed to equip policy-makers and other leaders seeking to take informed action on a reinvigorated social mobility agenda with a useful tool to identify areas for improving social mobility and promoting equally shared opportunities in their economies and societies.
Tool to Improve Social Mobility: It aims to point the way toward the need for establishing a new standard to identify priority policy actions and business practices focused on improving social mobility, as part of a global shift towards stakeholder capitalism and equitable and sustainable economies.
Suggestive Measures to Increase Social Mobility
Creating a New Financing Model
A new financing model for social mobility is necessary through taxation but must be complemented by a new mix of spending and tailored approaches.
Improving tax progressivity on personal income, policies that address wealth accumulation and broadly re-balancing the sources of taxation can support the social mobility agenda.
Forging a New Social Contract
Forging a new social contract that provides adequate social protection beyond full-time employment contracts is important across economies.
A new policy agenda aimed at creating holistic protections and support for all individuals irrespective of their status in employment is urgently needed.
Improving Education and Embracing Lifelong Learning
Countries should consider increasing their spending on education focusing on programmes targeted on disadvantaged children and the youth.
Improving Health Outcomes
Public investment in health has the potential to improve social mobility over the life course and across generations—for example, by cushioning income losses or necessary labour market changes when health issues arise.
Role of Businesses
Businesses should promote a culture of meritocracy based on performance, aptitude, potential and interest, and prevent any form of discrimination when hiring, developing and promoting talent.
Further more, paying fair wages and eliminating the gender pay gap will also be crucial to boost social mobility.
What is Social Mobility?
Social mobility can be understood as the movement in personal circumstances either "upwards" or "downwards" of an individual in relation to those of their parents. In absolute terms, it is the ability of a child to experience a better life than their parents.
On the other hand, relative social mobility is an assessment of the impact of socio-economic background on an individual's outcomes in life.
It can be measured against a number of outcomes ranging from health to educational achievement and income.
The concept was introduced by the Russian-born American sociologist and political activist Pitirim Sorokin in his book "Social and Cultural Mobility."
Dimensions of Social Mobility
Intra-generational Mobility: The ability for an individual to move between socio-economic classes within their own lifetime.
Intergenerational Mobility: The ability for a family group to move up or down the socio-economic ladder across the span of one or more generations.
Absolute Income Mobility: The ability for an individual to earn, in real terms, as much as or more than their parents at the same age.
Absolute Educational Mobility: The ability for an individual to attain higher education levels than their parents.
Relative Income Mobility: How much of an individual's income is determined by their parent's income.
Relative Educational Mobility: How much of an individual's educational attainment is determined by their parent's educational attainment.
Factors Responsible Social Mobility
Motivation: Each individual has a desire not only to have a better way of living but also to improve his social status. This desiremotivates and without such motivation social mobility is not possible.
Achievements and Failures: Remark able achievements affect status. For instance, instance,a poor man who has acquired wealth or anun known writer who has won a literary prize will improve his status.
Education: Education not only helps an individual to acquire knowledge and works like a passport to a higher prestige – occupational/ positional. Education facilitates upward mobility,where as lack of education can lead to downward mobility.
Skills and Training: Each society makes provision to impart skill and training to the younger generation. Skill and training facilitate in theim provement of social position, thus leading to social mobility.
Migration: People migrate from one place to another either dueto push or pull factors. Migration affects one's position and results in social mobility; it can be both ways – upward or downward.
Industrialization: The industrial revolution ushered new social system in which people were given status according to their ability and training. There fore, industrialization facilitates social mobility.
Urbanization: Urban settlements offer lots of work and educational facilities to people keeping aside their ascribed status. There fore, urbanization facilitates social mobility by removing those factors which hinder social mobility.
Legislation: Enactment of new laws also facilitates social mobility.Legislations like right to education to all, property rights to women and secularisation and so on help people to grab opportunities and prosper, therefore resulting in social mobility.
Women, Business And The Law 2020
---
On 15th January, 2020, the World Bank released a report - Women, Business and the Law 2020, which analyzes the laws and regulations affecting women's economic opportunity all over the world.
Goal
The ultimate goal is to encourage governments to reform laws that hold women back from working and doing business.
About the Women, Business and the Law
Women, Business, and the Law (WBL) is a World Bank Group project that collects unique data on the laws and regulations that restrict women's economic opportunities to improve gender equality.
WBL 2020, sixth in the series, measure 190 economies, track how laws affect women at different stages in their working lives and focusing on those laws applicable in the main business city.
It covers reforms in eight areas that are associated with women's economic empowerment, conducted from June 2017 to September 2019.
The indicators are used to build evidence of the relationship between legal gender equality and women's entrepreneurship and employment.
Eight Indicators
Mobility, Workplace, Pay, Marriage, Parenthood, Entrepreneurship, Assets, and Pension

Key Highlights
The global average score in 2019 is 2, up from 73.9 in 2017 but the overall pace of reform has been slow.
On average, women have just three-fourths of the legal rights afforded to men.
The areas of Workplace and Marriage saw many reforms, especially in the enactment of laws that protect women from violence. In the last two years, eight economies enacted legislation on domestic violence for the first time. Seven economies now have new legal protections against sexual harassment in employment.
Since 2017, forty economies have enacted 62 reforms enhancing gender equality.
Performance
Eight economies—Belgium, Canada, Denmark, France, Iceland, Latvia, Luxembourg and Sweden—score 100, meaning that women are on an equal legal standing with men across all eight indicators.
The economies that improved the most are Saudi Arabia, the United Arab Emirates, Nepal, South Sudan, Sao Tome and Principe, Bahrain, the Democratic Republic of Congo, Djibouti, Jordan, and Tunisia.
Region-wise Performance
Regional distribution patterns have remained unchanged since 2017. The Organisation for Economic Co-operation and Development (OECD) high income economies score the highest, followed by the Europe and Central Asia, Latin America and the Caribbean, and East Asia and the Pacific regions.
Economies in Sub-Saharan Africa have an average regional score of 69.9, while economies in South Asia score 62.3 on average.
Economies in the Middle East and North Africa have the lowest average score, 49.6.
By contrast, no economy in East Asia and the Pacific, Europe and Central Asia, or Latin America and the Caribbean is a top reformer.
India and its Neighbouring Countries
India is placed 117th among 190 countries. Maharashtra has eliminated restrictions on women's ability to work in jobs deemed dangerous.
Nepal, the economy with the third-largest improvement in the index, introduced a new labor law that makes women's entry into the labor market easier by prohibiting discrimination in employment.
Pakistan and Sri Lanka both increased the period of paid maternity leave to exceed 14 weeks.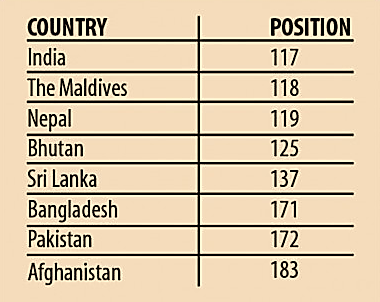 Limitations
Use of Standardized Assumptions
It reduces scope of data; only regulatory reforms in the areas measured can be systematically tracked.
Coverage of Largest Business City Only
In non-federal economies, women in rural areas and small towns could face more restrictive local legislation. Such restrictions are not captured by WBL.
Focus Only on Most Populous Group
WBL data focus on the most populous group, which may mean that restrictions that apply only to minority populations are missed.
Emphasis on Formal Sector
It is unable to reflect reality for women in the informal sector, which may be a significant population in some economies.
Significance
By examining the economic decisions women make as they go through different stages of their working lives and the pace of reforms, WBL makes an important contribution to research and policy discussions about the state of women's economic opportunities and empowerment all over the world.
India Slips 5 Places On Global Peace Index 2019
---
Why is it in News?
Global Peace Index 2019 Report released on 12th June, highlights that India's rank has slipped by five places to 141 among 163 countries from previous year.
Relevance of the News: It highlights the state of peace and harmony prevailing in the society and the need of government intervention.
India's Report:
India's rank is 141 in 2019 which is 5 places down from its previous position of 136 out of 163 countries in 2018.
India fares at the fifth place in South Asia.
The score for 'internal conflicts fought' had the highest rating (at 5) in both India and Pakistan which highlights rising internal disturbances.
This year the report has also highlighted the possible effects of climate change on 'peace' in the world. The findings include:
oIndia scores in the bottom half of the GPI and has significant exposure to climate hazards, with 393 million people in high climate hazard areas.
oIndia together with the Philippines, Japan, Bangladesh, Myanmar, China, Indonesia, Vietnam and Pakistan are the nine countries with the highest risk of multiple climate hazards.
oIndia has the seventh highest overall natural hazard score.
India along with the US, China, Saudi Arabia, and Russia is among the top five countries which have the largest total military expenditure in the world. This means that India spends huge amount on maintaining peace internally and externally.
What does the Report say on other Countries?
Iceland remains the most peaceful country in the world, a position it has held since 2008.
Iceland is followed by New Zealand, Austria, Portugal, and Denmark.
Afghanistan is now the least peaceful country in the world. Last year Syria was branded as the least peaceful, which is second least peaceful this year.
86 countries improved their score in the 2019 report, while 76 deteriorated.
South Sudan, Yemen, and Iraq comprise the remaining five least peaceful countries.
While global peacefulness improved for the first time in five years, as per the index findings, the world remains less peaceful than a decade ago.
Since 2008 global peacefulness has deteriorated by 3.78 per cent, the report revealed.
Report on South Asia:
In South Asia, Bhutan topped the index with 15th rank, followed by Sri Lanka 72, Nepal 76 and Bangladesh 101. Pakistan has been ranked 153rd on the index.
Bhutan has recorded the largest improvement of any country in the top 20, rising 43 places in the last 12 years
Global Peace Index (GPI):
GPI is a report produced by the Institute for Economics and Peace (IEP) and developed in consultation with an international panel of peace experts from peace institutes and think tanks with data collected and collated by the Economist Intelligence Unit.
The IEP is an international and independent think tank and its report covers 99.7 per cent of the world's population.
GPI measures the state of peace using three thematic domains:
oThe level of Societal Safety and Security
oThe extent of Ongoing Domestic and International Conflict
oThe degree of Militarisation.
Global Report On Food Crises 2019
---
Why is it in News?
The Global Report on Food Crises 2019 was jointly released by Food & Agriculture Organisation (FAO), World Food Programme (WFP) and International Food Policy Research Institute (IFPRI).
Key Highlights of Report:
As per the report, approximately 113 million people in 53 countries experienced high levels of food insecurity last year. These crises were primarily driven by conflict and climate-related factors.
The two-third (66.66%) of the total number of people facing acute food crisis were in 8 countries namely- Yemen, Congo, Afghanistan, Ethiopia, Syria, Sudan and North Nigeria.
The report also provides a short-term forecast of food insecurity in 2019.
What is the Need of Hour?
The report calls for increased collaboration to end conflicts, empower women, feed and educate children, improve rural infrastructure, and reinforce social safety nets in order to address the root causes of food crises caused by man-made shocks such as conflict and civil unrest.
Food and Agricultural Organisation (FAO):
The Food and Agriculture Organization (FAO) is a specialized agency of the United Nations that leads international efforts to defeat hunger. It was founded on 16th October, 1945.
Their goal is to achieve food security for all and make sure that people have regular access to enough high-quality food to lead active, healthy lives.
It is headquartered in Rome,Italy.
Codex Alimentarius/ Food Code:
It was established by the FAO and WHO to protect consumer health and promote fair practices in food trade.
The Codex Alimentarius, or 'Food Code' is a collection of internationally adopted food standards presented in a uniform manner. The main purpose is to maintain the hygiene and ensuring fair practices in food trade. These food codes deter the adulteration of food material.
Source: www.fao.org
---