Global Energy Review-2020
---
On 1st May, 2020, the International Energy Agency (IEA) released a report Global Energy Review, detailing the impact of Covid-19 on global energy demands and CO2 emissions.
Key Findings
Global Energy Scenario
Coal
Global coal demand was hit the hardest, falling by almost 8% compared with the first quarter of 2019.
Three reasons converged to explain this drop. China – a coal-based economy – was the country the hardest hit by Covid19; cheap gas and continued growth in renewables elsewhere challenged coal; and mild weather also capped coal use.
Oil
As a consequence of global lockdown measures,
Road transport in regions mobility – 57% of global oil demand – has declined at an unprecedented scale.with lockdowns in place has dropped between 50% and 75%, with global average road transport activity almost falling to 50% of the 2019 level by the end of March 2020.
Natural Gas
The impact of the pandemic on gas demand was more moderate, at around 2%, as gas-based economies were not strongly affected in the first quarter of 2020.
Renewable Energy
Renewable energy has so far been the energy source most resilient to Covid19 lockdown measures
Renewable electricity has been largely unaffected while demand has fallen for other uses of renewable energy and the total global use of renewable energy is expected to rise by 1 per cent by 2020.
Electricity
Lockdown measures have significantly reduced electricity demand, affecting in turn the power mix.
Increases in residential demand were far outweighed by reductions in commercial and industrial operations.
Demand reductions have lifted the share of renewables in electricity supply, as their output is largely unaffected by demand. Demand fell for all other sources of electricity, including coal, gas and nuclear power.
Nuclear
Global nuclear power generation fell by about 3% in Q1 2020 compared with Q1 2019, pulled down by electricity demand reductions.
For 2020, it is estimated that nuclear power declines by 2.5% from 2019 due to lower demand and delays for planned maintenance and construction of several projects.
Carbon Dioxide Emission
Carbon emissions were five percent lower than during the same time in 2019.
This year saw an 8 percent decline in coal emissions, 4.5 percent from oil and 2.3 per cent from natural gas.
Emissions declined the most in regions which were impacted the highest by the disease.
Overall, the emissions decline in 2020 could be 8 percent lower than in 2019, which would be the lowest level of emissions since 2010 and the largest level of emission reduction — six times larger than what was witnessed during the 2009 financial crisis, and twice as large as the combined total of all reductions witnessed since World War II.
Indian Energy Scenario
India, which is one of the IEA association countries, has seen a reduction in its energy demands by over 30 percent as a result of the nation-wide lockdown.
Moreover, in India, where "economic growth and power production are slowing significantly", the demand for coal will decline steeply.
Implications
The energy industry is feeling the financial impact throughout value chains, with most energy companies losing substantial revenues.
In effect, they are being hit twice, first by lower demand for their products – including oil, gas, coal and electricity – and again by lower prices for these products.
The smallest impact is on coal: as the supply chain is less affected by logistical constraints than oil and natural gas.
Low prices and low demand in all subsectors will leave energy companies with weakened financial positions and often strained balance sheets.
Business lines that are insulated to a degree from market signals, including those with renewable electricity projects, will emerge in the best financial position.
Across the energy sector, the Covid19 crisis will have a significant impact on investment. This could raise concerns about energy security because investment is necessary even if global energy demand takes a long time to return to the pre-crisis trajectory.
The Covid‑19 crisis is also influencing the path for clean energy transitions.
Suggestions for Policy Makers
Policymakers and regulators need to ensure that operational, maintenance and safety expenditures are prioritised and appropriately maintained.
Governments will play a major role in shaping the energy sector's recovery from the Covid‑19 crisis, just as they have long been in the driving seat in orienting energy investment.
In particular, the design of economic stimulus packages presents a major opportunity for governments to link economic recovery efforts with clean energy transitions – and steer the energy system onto a more sustainable path.
While the clean energy transitions and stimulus discussions are gathering momentum, a co-ordinated policy effort will be needed to harvest its opportunities and lead to a more modern, cleaner and more resilient energy sector for all.
International Energy Agency
The International Energy Agency is a Paris-based autonomous intergovernmental organization established in the framework of the Organisation for Economic Co-operation and Development (OECD) in 1974 in the wake of the 1973 oil crisis.
Its mission is guided by four main areas of focus: energy security, economic development, environmental awareness and engagement worldwide.
Members
Only the OECD member states can become members of the IEA. Except for Chile, Iceland, Israel, and Slovenia, all OECD member states are members of the IEA.
Currently, it has 30 members and 8 association countries.
Association countries
Brazil, China, India, Indonesia, Morocco, Singapore, South Africa and Thailand
Important Reports Published by IEA
Global Energy & CO2 Status Report
World Energy Outlook
World Energy Statistics
World Energy Balances
Energy Technology Perspectives
Global Investment Trend Monitor Report
---
On 20th January, 2020, the United Nations Conference on Trade and Development (UNCTAD) released its Global Investment Trend Monitor Report.
Key Highlights
Global Foreign Direct Investment Trend
Global foreign direct investment (FDI) remained flat in 2019, a 1% decline from a revised $1.41 trillion in 2018. It was attributed to weaker macroeconomic performance and policy uncertainty for investors, including trade tensions.
FDI flows to developed countries remained at a historically low level, decreasing by a further 6%.
FDI to the European Union (EU) fell by 15%.
FDI increased by 16% in Latin America and the Caribbean
Africa continued to register a modest rise (+3%) while flows to developing Asia fell by 6%. Despite a decline, flows to developing Asia continued to account for one-third of global FDI in 2019.
There was zero-growth of flows to United States, which received USD 251 billion FDI in 2019, as compared to USD 254 billion in 2018.Despite this, the United States remained the largest recipient of FDI, followed by China and Singapore.
In West Asia, FDI flows declined by 16% in 2018.
FDI in South East Asia
South-East Asia continued to be the region's growth engine. It recorded a 10% increase in FDI to $60 billion.
The growth was driven by India, with a 16% increase in inflows. The majority went into services industries, including information technology.
Inflows into Bangladesh and Pakistan declined by 6% and 20% respectively.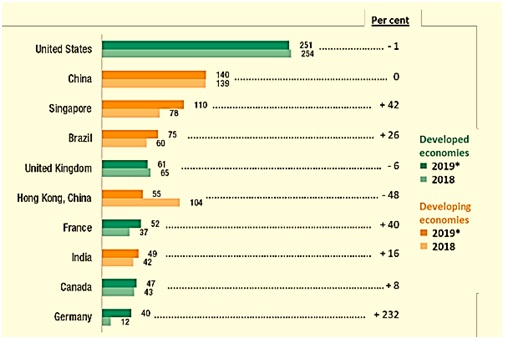 FDI Inflows by Region (2018 and 2019)
Source:UNCTAD
Cross-Border Mergers & Acquisitions (M&As)
As per the report, Cross-border M&As decreased by 40% in 2019– the lowest level since 2014. European M&A sales were halved due to slowdown in Eurozone growth and Brexit.
Deals targeting United States companies remained significant – accounting for 31% of total M&As.
The fall in global cross-border M&As sales was deepest in the services sector, followed by manufacturing and primary sector. In particular, sales of assets related to financial and insurance activities and chemicals fell sharply.
The decline in M&A values was driven also by a lower number of megadeals. In 2019, there were 30 megadeals above $5 billion compared to 39 in 2018.
Future Prospects: Growth with Significant Risks
FDI flows are still expected to rise moderately in 2020, as current projections show the global economy to improve some what from its weakest performance since the global financial crisis in 2009.
GDP growth, gross fixed capital formation and trade are projected to rise, both at the global level and, especially, in several large emerging markets.
However, significant risks persist, including high debt accumulation among emerging and developing economies, geopolitical risks and concerns about a further shift towards protectionist policies.
United Nations Conference on Trade and Development (UNCTAD)
Headquarters: Geneva, Switzerland
UNCTAD is a permanent intergovernmental body established by the United Nations General Assembly in 1964.
It is a part of the United Nations Secretariat dealing with trade, investment, and development issues.
The primary objective of UNCTAD is to formulate policies relating to all aspects of development including trade, aid, transport, finance and technology.
What is Foreign Direct Investment?
Foreign direct investment (FDI) is when a company takes controlling ownership in a business entity in another country.
FDI is when an individual or business owns 10% or more of a foreign company. If an investor owns less than 10%, the International Monetary Fund defines it as part of his or her stock portfolio.
With FDI, foreign companies are directly involved with day-to-day operations in the other country. This means they aren't just bringing money with them, but also knowledge, skills and technology.
Where is FDI made?
FDIs are commonly made in open economies that offer a skilled workforce and above-average growth prospects for the investor, as opposed to tightly regulated economies. FDI frequently involves more than just a capital investment. It may include provisions of management or technology as well.
The key feature of FDI is that it establishes either effective control of or at least substantial influence over the decision-making of a foreign business.
Types
Horizontal FDI: A horizontal foreign direct investment refers to the investor establishing the same type of business operation in a foreign country as it operates in its home country. For example, McDonald's opening restaurants in Japan would be considered horizontal FDI.
Vertical FDI: It is one in which different but related business activities from the investor's main business are established or acquired in a foreign country. For example, McDonald's could purchase a large-scale farm in Canada to produce meat for their restaurants.
Conglomerate: It is one where a company makes a foreign investment in a business that is unrelated to its existing business in its home country. An example of this would be if Virgin Group, which is based in the United Kingdom, acquired a clothing line in France.
Advantages
Increased Employment and Economic Growth
Human Resource Development
Improved Capital Flow
Increase in Exports
Development of Backward Areas
Access to Global Technological Developments
Exchange Rate Stability
Stimulation of Economic Development
Creation of a Competitive Market, Consumers Benefit
Disadvantages
Uncertainty in Government Policies
Loss of Domestic Investment
Unethical Access to Local Markets
Exploitation of the Resources of Host Countries
Profit Repatriation
Global Gender Gap Index – 2020
---
On 14th December, 2019, the World Economic Forum (WEF) published the Global Gender Gap Index-2020, which provides a comprehensive overview of the current state of the global gender gap and of efforts and insights to close it.
Aim
It aims to serve as a compass to track progress on relative gaps between women and men on health, education, economy and politics
About the Index
The Global Gender Gap Index was first introduced by the WEF in 2006 as a framework for capturing the magnitude of gender-based disparities and tracking their progress over time.
To be included in the Index, a country must have data available for a minimum of 12 indicators out of the 14 that compose the index.
The Index has been measuring the extent of gender-based gaps among four key dimensions-
Economic Participation and Opportunity: It contains three concepts the participation gap, the remuneration gap and the advancement gap.
Educational Attainment: This captures the gap between women's and men's current access to education through ratios of women to men in primary-, secondary- and tertiary-level education.
Health and Survival: It provides an overview of the differences between women's and men's health through the use of two indicators.
Political Empowerment: It measures the gap between men and women at the highest level of political decision-making through the ratio of women to men in ministerial positions and the ratio of women to men in parliamentary positions.
Key Findings
Global Specific Findings
Iceland is once again the most gender-equal country in the world for the 11th time in a row.
Iceland is followed by Norway (2nd), Finland (3rd) and Sweden (4th). Other economies in the top 10 include Nicaragua (5th), New Zealand (6th), Ireland (7th), Spain (8th), Rwanda (9th) and Germany (10th).
Yemen is ranked the worst (153rd).
On average, the eight regions assessed by the report have closed between 60.5% (the average score in Middle East and North Africa) and 76.7% (the average score in Western Europe).
North America is a few percentage points below Western Europe (72.9%) and Latin America and the Caribbean (72.2%) has almost caught up with Eastern Europe and Central Asia (71.3%). They are followed by East Asia and the Pacific (68.5%), Sub-Saharan Africa (68.2%) and South Asia (66.1%).
Globally, the average (population-weighted) distance completed to parity is at 6%, which is a further improvement since last edition.The political gender gap will take 95 years to close, compared to 107 years last year.
The largest gender disparity is reported in the Political Empowerment gap. Despite being the most improved dimension this year only 24.7% of the global Political Empowerment gap has been closed in 2020.
The second-largest gap is on Economic Participation and Opportunity; 57.8% of this gap has been closed so far, which represents a slight step back since last year.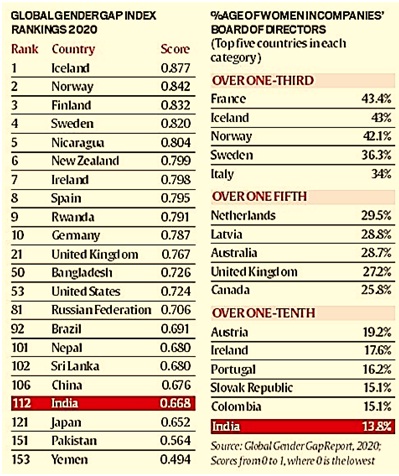 Source: IE
India Specific Findings
India has been ranked at 112th globally in terms of gender gap,below countries like China (106th), Sri Lanka (102nd), Nepal (101st), Brazil (92nd), Indonesia (85th) and Bangladesh (50th). This slip is attributed to the widening disparity in terms of women's health and survival and economic participation in the country.
India has improved to 18th place on political empowerment; it has slipped to 150th on health and survival, to 149th in terms of economic participation and opportunity and to 112th place for educational attainment.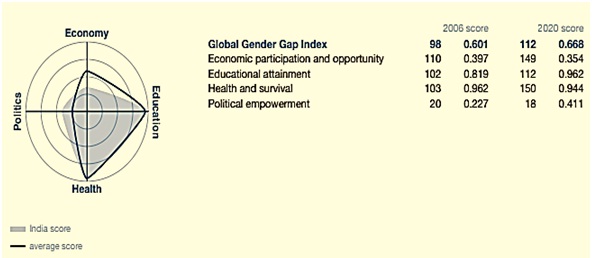 Source: WEF
Significance
Tool to Track Progress: It provides a comprehensive overview of the current state of the global gender gap and of efforts and insights to close it. The index offers a benchmarking tool to track progress and to reveal best practices across countries and subjects. Through this annual yardstick, stakeholders within each country are able to set priorities relevant in each specific economic, political and cultural context.
Providing Picture of Country's Legal and Social Framework: It highlights wide performance variation across countries, which not only allow users to understand how close each country has come to the equality benchmark in each of the four dimensions, but also provide a snapshot of the legal and social framework within which these outcomes are produced.
Providing Latest Research on Gender Equality:It highlight the strong correlation between a country's gender gap and its economic performance and summarizes some of the latest research on the case for gender equality.
Message to Policy-Makers:The report highlights the message to policy-makers that countries that want to remain competitive and inclusive will need to make gender equality a critical part of their nation's human capital development.\
World Economic Forum
Established in 1971 by Klaus Schwa, as a not-for-profit foundation and is headquartered in Geneva, Switzerland.
The Forum engages the foremost political, business, cultural and other leaders of society to shape global, regional and industry agendas.
Important Reports Published by WEF
Global Competitiveness Report
Global Risk Report
Global Travel and Tourism Report
Global Information Technology Report
Human Development Report – 2019
---
On 9th December, 2019, United Nations Development Programme (UNDP) released the Human Development Report (HDR), 2019.
The HDR, 2019 entitled "Beyond income, beyond averages, beyond today: inequalities in human development in the 21st Century,"says that just as the gap in basic living standards is narrowing for millions of people, the necessities to thrive have evolved.
The 2019 Report retains all the composite indices from the family of human development indices—the Human Development Index (HDI), the Inequality
adjusted Human Development Index (IHDI), the Gender Development Index (GDI), the Gender Inequality Index (GII) and the Multidimensional Poverty Index (MPI).
Major Findings
Top and Worst Performers
Globally, Norway, Switzerland, Ireland occupied the top three positionson the 2019 Human Development Index (HDI respectively.
Germany is placed fourth along with Hong Kong, and Australia secured the fifth rank on the global ranking.
While, Niger, the Central African Republic, South Sudan, Chad and Burundi have the lowest scores in the HDI's measurement of national achievements in health, education and income.
India and its Neighbouring Countries Performance
India ranks 129 out of 189 countries on the 2019, HDI — up one slot from the 130th position last year i.e. 2018.
Between 1990 and 2018, India's HDI value increased by 50 percent (from 0.431 to 0.647), which places it above the average for countries in the medium human development group (0.634) and above the average for other South Asian countries (0.642).
Among India's neighbours, Sri Lanka (71) and China (85) are higher up the rank scale while Bhutan (134), Bangladesh (135), Myanmar (145), Nepal (147), Pakistan (152) and Afghanistan (170) were ranked lower on the list.
In the Gender Inequality Index (GII), India is at 122 out of 162 countries.China (39), Sri Lanka (86), Bhutan (99), Myanmar (106) were placed above India.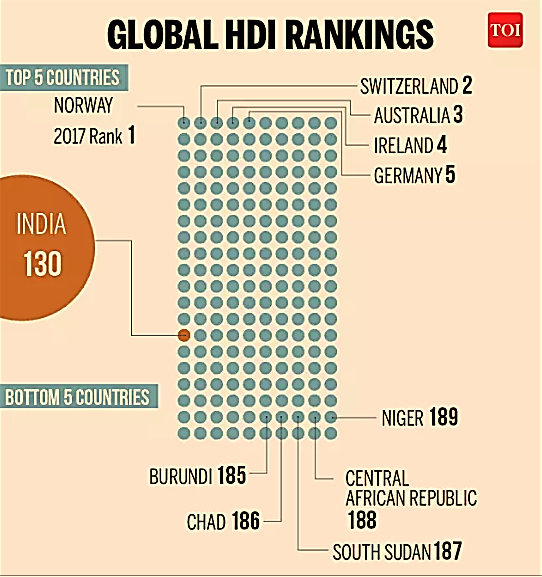 Source: ToI
Regional Performance
As per the report, South Asia was the fastest growing region in human development progress witnessing a 46% growth over 1990-2018, followed by East Asia and the Pacific at 43%.
Significance of Report
Focus on Inequalities: The HDR, 2019 is significant because it focuses on inequalities in development. It shows inequalities beyond income which exist in society. It gives us a much broader understanding of the factors shaping unequal life chances, from birth and through life.
Opening of New Generation of Inequalities: The report warns that new forms of inequalities will manifest in future through climate change and technological transformation which have the potential to deepen existing social and economic fault lines.
Sustainable Development Goals (SDGs) Still Too Far: It notes that the world is not on track to achieve gender equality by 2030 as per the UN's Sustainable Development Goals. With the current development scenario, it may take 202 years to close the gender gap in economic opportunity.
Focus on Gender Inequality: The report presents a new index indicating how prejudices and social beliefs obstruct gender equality, which shows that only 14% of women and 10% of men worldwide have no gender bias.
Human Development Index(HDI)
The HDI is a statistical tool used to measure a country's overall achievement in its social and economic dimensions. Nations that rank higher on this index have a higher level of education, a higher lifespan, and a higher gross national income per capita than nations with a lower score.
The HDI was first launched in 1990 and has been released annually ever since, with the exception of 2012.
Indicators
Longevity: It is measured by life expectancy at birth. Life expectancy at birth means how many years a newly born infant can hope to live in this world. This represents element of health in the Human Development Index (HDI).
Education or Knowledge: It is measured by the weighted average of adult literacy and mean years of schooling. For this 2/3rd weight is given to adult literacy and 1/3rd weight is given to the mean years of schooling.
Standard of Living: It is measured by real per capita income of a country at purchasing power parity (PPP) prices, which is, adjusted for purchasing power of currencies of different countries.
Significance
HDI is one of the best tools to keep track of the level of development of a country, as it combines all major social and economic indicators that are responsible for economic development.
Shortcomings
It omits several factors that can have a significant influence on quality of life, such as environmental degradation. Industrial pollution and deforestation, for example, can lead to complex health problems (e.g. lymphatic filariasis) or mental health conditions that do not necessarily have an impact on mortality rates but which can severely impair one's mobility or quality of living.
On the other hand, for estimating literacy rate, expected years of schooling by children at the entrance age is used which overstates the literacy rate as in many countries (including India) many children who join primary school later drop out at some stage.
Besides, human development index still does not take into account social, economic and political freedoms as well as human rights.
UNICEF Report On Sanitation, Drinking Water And Hygiene
---
On 18th June, a Joint Monitoring Programme Report by UN organizations on drinking water, sanitation and hygiene has been released by the UNICEF.
Relevance of the News: The report has highlighted the status of sanitation and drinking water availability in India. It evaluates the status of the government efforts in these domains and future areas of focus.
Highlights of the Report:
Positive Achievements of India:
India has made great gains in providing basic sanitation facilities since the start of the millennium. India accounts for almost two thirds of the 650 million people globally who stopped practicing open defecation between 2000 and 2017.
The South Asian region, including India, accounted for almost three-fourths of the population who stopped defecating in the open between 2000 and 2017.
Of the 2.1 billion people who gained access to basic sanitation services over this time period globally, 486 million are Indians.
India has increased the percentage of its population with access to a protected drinking water source less than 30 minutes away, from 79% in 2000 to 93% in 2017.
Areas of Concern for India as per the Report:
There has been absolutely no growth in the population with access to piped water facilities between 2000 and 2017.Households getting piped water supply have remained stagnant at 44% over the 17-year period.
Large inequalities exist between rural and urban areas when it comes to access to piped water facility.
India does not have the ability to treat and dispose of safely the large amounts of solid and liquid waste being produced by millions of toilets constructed under Swachch Bharat Mission.
Only 30% of the India's wastewater is treated at plants providing at least secondary treatment, in comparison to an 80% global average.
According to the report, the Right to Sanitation implies not only the right to a hygienic toilet but also the right of not being negatively affected by unmanaged faecal waste. This is most relevant to poor and marginalized groups who tend to be the major victims of other people's unmanaged faecal sludge and sewage.
---