Niti Aayog Releases Draft Model Act On Land Titles
---
NITI Aayog has released the draft model Act and rules for states for regulation on conclusive land titling.
Aim
To reduce litigations and ease the land acquisition process for infrastructure projects.
Salient Features
It provides state governments power to order for establishment, administration and management of a system of title registration of immovable properties.
Under the model Act, the land dispute resolution officer and land title appellate tribunal are one-shot institutions which will fade away as the work reduces.
Also, after three years of its notification, the register of title attains conclusivity without any external action. Conclusive land titles are guaranteed by the state for correctness and entail provision for compensation by the state in case of any dispute.
Any person aggrieved by an entry in the Record of Titles may file an objection before the Title Registration Officer within three years from the date of such notification.
Following this, the Title Registration Officer shall make an entry to that effect in Register of Titles and in the Register of Disputes and refer the case to the land dispute resolution officer.
A party aggrieved with an order of the land dispute resolution officer may file an appeal before the Land Titling Appellate Tribunal within 30 days of passing of such an order.
A special bench of High court shall be designated to deal with appeals against the orders passed by the Land Titling Appellate Tribunal.
Land Title
Land title is a document that determines the ownership of land or an immovable property.Having a clear land title protects the rights of the title holder against other claims made by anyone else to the property.
In India, land ownership is determined through various records such as sale deeds that are registered, property tax documents, government survey records, etc.
The current system of land records was inherited from the Zamindari system of pre-independence days. Currently, the rules for title of land, is provided by the Transfer of Property Act, 1882.
The primary law that regulates the registration of land related documents is Registration Act, 1908.
Issues with Land Title in India
Land Ownership in India is Presumptive
In India, land ownership is primarily established through a registered sale deed (a record of the property transaction between the buyer and seller).
Other documents used to establish ownership include the record of rights (document with details of the property), property tax receipts, and survey documents.
However, these documents are not a government guaranteed title to the property, but only a record of the transfer of property.
Therefore, land ownership in India, as determined by such sale deeds, is presumptive in nature, and subject to challenge.
Land Records are Poorly Maintained
Land records consist of various types of information (property maps, sale deeds) and are maintained across different departments at the district or village level.
These departments work in silos, and the data across departments is not updated properly.Hence, discrepancies are often noted in land records.
Therefore, in several records, the property documents do not match the position on the ground.
Poor land records also affect future property transactions. It becomes difficult and cumbersome to access land records when data is spread across departments and has not been updated.
One has to go back several years of documents, including manual records, to find any ownership claims on a piece of property.Such a process is inefficient and causes time delays.
Registration of Property is not Mandatory for all Transactions
Under the Registration Act, 1908, registration of property is not mandatory for all transaction
These include acquisition of land by the government, court decrees, land orders, heirship partitions, and property that is, leased for less than one year.
Since heirship partitions do not require registration, several property divisions are not recorded, and hence, do not correctly reflect who is in possession of the property.
This often leads to litigation related to rightful owner among heirs.
Government Initiative to Improve the System of Land Records
Around 1988-89, the central government started the Computerisation of Land Records scheme to computerise all land records. Other schemes to improve land records and administration that were introduced around the same time were the Strengthening of Revenue Administration and the Updating of Land Records schemes.
In 2008, all these schemes were merged into a centrally sponsored scheme, the National Land Records Modernization Programme (NLRMP).
The scheme has now been renamed as the Digital India Land Records Modernization Programme (DILRMP) and is a part of the Digital India initiative.
The scheme was changed into a Central Sector Scheme in April 2016.
Way Forward
While conclusive titling has been suggested as the solution to solve the problem around land records in India, several steps need to be completed before the government starts giving out guaranteed land titles.
These steps include-
amending laws across centre and states;
administrative changes at the state level that streamline the collection and maintenance of land data; and
ensuring that all data is regularly updated and easily accessible (on a digital platform).
Vaibhav Summit On Precision Agriculture
---
On 5th October, 2020, Indian Council of Agricultural Research(ICAR) organized a session on "Sensors and Sensing for Precision Agriculture" as a part of the Vaishwik Bhartiya Vaigyanik (VAIBHAV) Summit 2020.
It aims at strengthening the S&T base for providing the impetus to endeavour of Aatma Nirbhar Bharat.
Key Points
The initiative sought to bring together the thought process, practices, R&D culture of Overseas and Indian scientists/academicians and develop a road map for translational research/academic culture for tangible output.
A total of 18 verticals have been identified for deliberation of which "Agro-economy and Food Security" deals directly with agriculture with several horizontals.
The horizontal on "Precision Agriculture" aims at discussing recent advances in the field on sensors, remote sensing, deep learning, artificial intelligence and IoT for monitoring and quantification of soil, plant and environment to enhance farm productivity with increased input use efficiency and environmental sustainability.
Precision Agriculture(PA)
It can be defined as a whole-farm management strategy that utilises information technology and that the aim of management is to improve production and minimise environmental impact.
It also refers to the farming system which in modern agriculture may include the supply chain from the farm gate to the consumer.
Need for PA in India
The decline in the total productivity, diminishing and degrading natural resources, stagnating farm incomes, lack of eco-regional approach, declining and fragmented land holdings, trade liberalization on agriculture, limited employment opportunities in non-farm sector, and global climatic variation have become major concerns in agricultural growth and development.
Therefore, the use of newly emerged technology adoption is seen as one key to increase agriculture productivity in the future.
Benefits
Enhances agricultural productivity and prevents soil degradation in cultivable land resulting in sustained agricultural development.
Help reducing excessive chemical usage in crop production.
Allow efficient use of water resources.
Applying sensing devices throughout the field will allow a continuous monitoring of the chosen parameters and offers real-time data to help inform decisions.
Provides opportunities for better resource management and hence reduce wastage of resources.
Challenges
Technology related Challenges
Precision farming requires some degree of competence in the use of software and hardware.Illiteracy among Indian farmers reduces technology adoption and trial possibilities.
The lack of awareness and absence of dedicated education of precision agriculture among farming communities is major obstacle for its adoption.
Lack of local technical expertise and assistance is another obstacle for precision agriculture.
Economy related Challenges
Indianagricultureispredominantlyfeaturedassmallandmarginallandholdings, which is major constraint in adoption of precision agriculture.
It's quite difficult and impractical to expect this segment to adopt high cost involvement technologies used in precision farming.
Further, PA involves highinitial cost which includes many expensive machine sand tools which are beyond the economic reach of small and marginal farmers.
Social and Behavioral related Challenges
Indian farming is predominated by age old farming practices.
The same agriculture practices are being carried out from generations. Resistance and rigidity are two major hurdles in adoption of precision farming.
Way Forward
The policy approach to promote precision agriculture at farm level-
Identify the niche areas for the promotion of crop specific precision farming.
Creation of multidisciplinary teams involving agricultural scientists in various fields, engineers, manufacturers and economists to study the overall scope of precision agriculture.
Provide complete technical backup support to the farmers to develop pilots or models, which can be replicated on a large scale.
Pilot study should be conducted on farmers'fields to show the results of precision agriculture implementation.
Evolve policy for efficient technology transfer and ensure complete end to end technical support to farmers.
Agricultural Reform Bills
---
On 20th September, 2020, Rajya Sabha passed two farm reforms Bills- Farmer's Produce Trade and Commerce (Promotion and Facilitation) Bill, 2020, and the Farmers (Empowerment and Protection) Agreement of Price Assurance and Farm Services Bill, 2020.
About the Bills
Bill on Agriculture Market
Farmer's Produce Trade and Commerce(Promotion and Facilitation) Bill, 2020
Key Provisions
To create an ecosystem where farmers and traders enjoy the freedom to sell and purchase farm produce outside registered mandis under state's Agricultural Produce Market Committees (APMCs).
To promote barrier-free inter-state and intra-state trade of farmers' produce.
To reduce marketing/transportation costs and help farmers in getting better prices.
To provide a facilitative framework for electronic trading.
Impact
Ends the monopoly of traders.
Creating competition among buyers.
Yields better returns to farmers and raises incomes.
Farm produce can move freely from surplus to deficit regions.
Creates national market; high intimidation cost of mandis will end.
Consumer gets better and cheaper products.
Reasons for Opposition
States will lose revenue as they won't be able to collect 'mandi fees' if farmers sell their produce outside registered APMC markets.
What happens to 'commission agents' in states if entire farm trade moves out of mandis?
It may eventually end the minimum support price(MSP) based procurement system.
Electronic trading like in e-National Agriculture Market(e-NAM) uses physical 'mandi' structure. It will hamper the functionality and usefulness ofthe electronic trading portal.
Bill on Contract Farming
The Farmer (Empowerment and Protection) Agreement of Price Assurance and Farm Services Bill, 2020
Key Provisions
Farmers can enter into a contract with agribusiness firms, processors, wholesalers, exporters or large retailers for sale of future farming produce at a pre-agreed price.
Marginal and small farmers, with land less than five hectares, to gain via aggregation and contract (Marginal and small farmers account for 86% of total farmers in India).
To transfer the risk of market unpredictability from farmers to sponsors.
To enable farmers to access modern tech and get better inputs.
To reduce cost of marketing and boost farmer's income.
Farmers can engage in direct marketing by eliminating intermediaries for full price realization.
Effective dispute resolution mechanism with redressal timelines.
Impact
Farmers will have assured price before sowing.
Transfers market risk from farmer to sponsor.
Gives farmers access to high quality seeds, fertilisers, pesticides.
Will attract private investment in farming and link farms to global markets.
Reasons for Opposition
Farmers in contract farming arrangements will be the weaker players in terms of their ability to negotiate what they need.
The sponsors may not like to deal with a multitude of small and marginal farmers.
Being big private companies, exporters, wholesalers and processors, the sponsors will have an edge in disputes.
Government's Stand over the Bills
Accelerating Agricultural Growth:It will accelerate agricultural growth through private sector investment in building agricultural infrastructure and supply chains for Indian farm produce in national and global markets.
Strengthening Economy:The bills are aimed at creating employment opportunities and strengthening the economy.
e-NAM
Launched in April 2016, it is an online trading platform for agriculture produce aimed to help farmers, traders, and buyers with online trading and getting a better price by smooth marketing.
Advantages
For the farmers, it offers more options for sale. It would increase his access to markets through warehouse based sales and thus prevent the need to transport his produce to the mandi.
For the local trader, it offers the opportunity to access a larger national market for secondary trading.
Bulk buyers, processors, exporters, etc. benefit from being able to participate directly in trading at the local mandi/market level through the NAM platform, thereby reducing their intermediation costs.
It also facilitates the emergence of value chains in major agricultural commodities across the country and help to promote scientific storage and movement of agricultural goods.
High Level Group On Agricultural Exports
---
On 31st July, 2020, the High Level Group (HLEG) on Agricultural Exports set up by the Fifteenth Finance Commission submitted its report to the Commission.
The HLEG was set up in February, 2020 under the Chairmanship of Sanjiv Puri (ITC Chairman) to recommend measurable performance incentives for states to encourage agricultural exports and to promote crops to enable high import substitution.
Objectives
To assess export & import substitution opportunities for Indian agricultural products in the changing international trade scenario.
To recommend strategies and measures to increase farm productivity, enable higher value addition, ensure waste reduction, strengthen logistics infrastructure, etc.
To identify the impediments for private sector investments along the agricultural value chain and suggest policy measures and reforms.
To suggest appropriate performance-based incentives to the state governments for the period 2021-22 to 2025-26, to accelerate reforms in the agriculture sector.
Key Findings
India's agricultural export has the potential to grow from USD 40 billion to USD 70 billion in a few years.
The estimated investment in agricultural export could be in the tune to USD 8-10 billion across inputs, infrastructure, processing and demand enablers.
Additional exports are likely to create an estimated 7-10 million jobs.
It will lead to higher farm productivity and farmer income.
Major Recommendations
Crop Value Chains
It recommended a greater focus on 22 crop value chainswith a demand driven approach.
It has also suggested solving Value Chain Clusters (VCC) holistically with focus on value addition and performance-based incentives to the state governments for the period 2021-22 to 2025-26, to accelerate reforms in the agriculture sector.
State-led Export Plan
It recommended a State-led Export Plan - a business plan for a crop value chain cluster that will lay out the opportunity, initiatives and investment required to meet the desired value chain export aspiration.
These plans will be action-oriented, time-bound and outcome-focused.
For the success of the State-led Export Plan, the following factors need to be considered:
Plans should be collaboratively prepared with private sector players and Commodity Boards.
Leveraging of state plan guide and value chain deep dives.
Institutional governance should be promoted across state and centre.
Funding through convergence of existing schemes, Finance Commission allocation and private sector investment.
Centre should be an Enabler
As per the suggestions of the group, the Centre should enable state-led plans and institutional governance should be promoted across states and Centre.
Thus, robust institutional mechanisms need to be enforced to fund and support implementation.
Pivotal Role of Private Sector
The HELG pushed for private sector players to have a pivotal role in ensuring demand orientation, feasible project plans and in providing funds for technology, based on business case and for creating urgency and discipline for project implementation.
Finance Commission
Set up under Article 280 of the Constitution, its core responsibility is to evaluate the state of finances of the Union and State Governments, recommend the sharing of taxes between them, and lay down the principles determining the distribution of these taxes among States.
Under Article 281 of the Constitution, the President of India is required to cause laying of the Finance Commission report before each House of Parliament along with an explanatory note and the action taken by the government on the Commission's recommendations.
15th Finance Commission
It was constituted on 27thNovember 2017 against the backdrop of the abolition of Planning Commission (as also of the distinction between Plan and non-Plan expenditure) and the introduction of the goods and services tax (GST), which has fundamentally redefined federal fiscal relations.
The Terms of Reference of the current Commission have some distinctive features, including recommending monitorable performance criteria for important national flagship programmes and examining the possibility of setting up a permanent non lapsable funding for India's defence needs.
Its recommendations will cover a period of five years from April 2020 to March 2025.
Genetically Modified Seeds Debate
---
Recently, Shetkari Sanghatana — the farmers' union — announced fresh plans in its agitation for use of genetically modified seeds
In the current kharif season, farmers would undertake mass sowing of GM seeds for maize, soyabean, mustard brinjal and herbicide tolerant (Ht) cotton, although these are not approved.
What is the movement about?
The Sanghatana has announced that this year they are going to undertake large-scale sowing of unapproved GM crops like maize, Ht Bt cotton, soyabean and brinjal across Maharashtra.
Farmers who plant such variants will put up boards on their fields proclaiming the GM nature of their crop.
This action will draw attention to the need for introduction of the latest technology in the fields.
Farmers will not be deterred by any action taken against them by the authorities.
What are genetically modified seeds?
Conventional plant breeding involves crossing species of the same genus to provide the offspring with the desired traits of both parents.
Genetic engineering aims to transcend the genus barrier by introducing an alien gene in the seeds to get the desired effects.
The alien gene could be from a plant, an animal or even a soil bacterium.
What is the legal position of genetically modified crops in India?
In India, the Genetic Engineering Appraisal Committee (GEAC) is the apex body that allows for commercial release of GM crops.
In 2002, the GEAC had allowed the commercial release of Bt cotton. More than 95 per cent of the country's cotton area has since then come under Bt cotton.
Use of the unapproved GM variant can attract a jail term of 5 years and fine of Rs 1 lakh under the Environmental Protection Act ,1989.
Bt cotton, the only GM crop that is allowed in India, has two alien genes from the soil bacterium Bacillus thuringiensis (Bt) that allows the crop to develop a protein toxic to the common pest pink bollworm.
Ht Bt, on the other, cotton is derived with the insertion of an additional gene, from another soil bacterium, which allows the plant to resist the common herbicide glyphosate.
In Bt brinjal, a gene allows the plant to resist attacks of fruit and shoot borer.
In DMH-11 mustard, developed by Deepak Pental and colleague in the South Campus of University of Delhi, genetic modification allows cross-pollination in a crop that self-pollinates in nature.
Why are farmers rooting for GM crops?
In the case of cotton, farmers cite the high cost of weeding, which goes down considerably if they grow Ht Bt cotton and use glyphosate against weeds.
Brinjal growers in Haryana have rooted for Bt brinjal as it reduces the cost of production by cutting down on the use of pesticides.
Unauthorised crops are widely used. Industry estimates say that of the 4-4.5 crore packets (each weighing 400 gm) of cotton sold in the country, 50 lakh are of the unapproved Ht Bt cotton.
Haryana has reported farmers growing Bt brinjal in pockets which had caused a major agitation there.
In June, 2029, in a movement led by Shetkari Sanghatana in Akola district of Maharashtra, more than 1,000 farmers defied the government and sowed Ht Bt cotton.
Environmentalists argue that the long-lasting effect of GM crops is yet to be studied and thus they should not be released commercially.
Banning Use Of TB Drug On Crops
---
Recently, the Registration Committee (RC) under the Central Insecticides Board and Registration Committee (CIBRC) recommended banning the use of antibiotics streptomycin and tetracycline on various crops.
Need for Ban
Misuse on Various Crops: Although streptocycline use is allowed for eight crops by the CIBRC, it was found to be used on many more crops in practice across the country.
Indiscriminate Use: In the assessment carried out in agricultural farms of Delhi, Punjab and Haryana, CSE had found that streptocycline, a 90:10 combination of streptomycin and tetracycline, was being routinely and indiscriminately used by farmers in high doses in crops.
Antibiotic Resistance: Exposure to antibiotics can lead to development of antibiotic resistance in humans and animals.
Key Points
The committee recommended a complete ban with immediate effect on crops where other options were available for bacterial disease control.
The final report accepted the recommendation of the sub-committee on production, sale and use of streptomycin sulphate (9 percent) and tetracycline hydrochloride (1 per cent).
It recommended that streptomycin and tetracycline use be phased out by 2022-end for crops for which no alternatives were available.
Till then, the antibiotics could be used on crops strictly as per the label claim.
Suggested Measures
Antibiotics should not be used as pesticides for crops, but preserved for treatment of bacterial infections in humans.
It also acknowledged that diseases in crops can be managed by using integrated pest management and other practices.
Impact
With this ban / phase-out, misuse of streptomycin and tetracycline in crops for which it was not approved will be checked.
This will also help plug gaps such as registering them in the name of pesticides or using them in an unregulatory fashion in the absence of prescription.
Streptomycin
It is an aminoglycoside antibiotic derived from Streptomyces griseus with antibacterial activity.
It is on the World Health Organization's (WHO) List of Essential Medicines, the safest and most effective medicines needed in a health system.
The WHO classifies it as critically important for human medicine
Applications
It used to treat a number of bacterial infections.
This includes tuberculosis, Mycobacterium avium complex, endocarditis, brucellosis, Burkholderia infection, plague, tularemia, and rat bite fever
Pesticide
Streptomycin also is used as a pesticide, to combat the growth of bacteria beyond human applications.
It controls bacterial diseases of certain fruit, vegetables, seed, and ornamental crops.
Integrated Pest Management
Integrated Pest Management (IPM) is an effective and environmentally sensitive approach to pest management that relies on a combination of common-sense practices.
Also known as integrated pest control (IPC) is a broad-based approach that integrates practices for economic control of pests.
IPM aims to suppress pest populations below the economic injury level (EIL).
Applications
IPM is used in agriculture, horticulture, forestry, human habitations, preventive conservation and general pest control, including structural pest management, turf pest management and ornamental pest management.
Components
An IPM system is designed around six basic components-
Monitoring: This includes regular site inspections and trapping to determine the types and infestation levels of pests at each site.
Record-Keeping: A record-keeping system is essential to establish trends and patterns in pest outbreaks. Information recorded at every inspection or treatment should include pest identification, population size, distribution, recommendations for future prevention, and complete information on the treatment action.
Action Levels: Pests are virtually never eradicated. An action level is the population size which requires remedial action for human health, economic, or aesthetic reasons.
Prevention: Preventive measures must be incorporated into the existing structures and designs for new structures. Prevention is and should be the primary means of pest control in an IPM program.
Tactics Criteria: Under IPM, chemicals should be used only as a last resort only, but when used, the least-toxic materials should be chosen, and applied to minimize exposure to humans and all non-target organisms.
Evaluation: A regular evaluation program is essential to determine the success of the pest management strategies.
Central Insecticides Board & Registration Committee
It was set up by the Ministry of Agriculture and Farmers Welfare in the year 1970 to regulate the import, manufacture, sale, transport, distribution and use of insecticides.
It advises the Central Government and State Governments on technical matters arising out of the administration of Insecticides Act and to carry out the other functions assigned to the Board by or under Insecticides rules.
To import or manufacture any insecticide, registration is required at the Registration Committee.
Biofortified Carrot Variety
---
Madhuban Gajar, a biofortified carrot variety with high β-carotene and iron content developed by Shri Vallabhhai Vasrambhai Marvaniya, a farmer scientist from Junagadh district, Gujarat is benefitting more than 150 local farmers in the area.
The variety is being cultivated in more than 1000 hectares of land in Gujarat, Maharashtra, Rajasthan, West Bengal, Uttar Pradesh during the last three years.
Background
National Innovation Foundation (NIF), India an autonomous institute under the Department of Science and Technology conducted validation trials for this variety at Rajasthan Agricultural Research Institute (RARI), Jaipur, between 2016 and 2017.
In the trials, it was found that Madhuban Gajar carrot variety possesses a significantly higher root yield (74.2 t/ha) and plant biomass (275 gm per plant) as compared to check variety.
About Madhuban Gajar
It is a highly nutritious carrot variety developed through the selection method with higher β-carotene content (277.75 mg/kg) and iron content (276.7 mg/kg) dry basis and is used for various value-added products like carrot chips, juices, and pickles.
Among all the varieties tested, beta-carotene and iron content were found to be superior.
National Innovation Foundation (NIF)
NIF, set up in March 2000 with the assistance of Department of Science and Technology, is India's national initiative to strengthen the grassroots technological innovations and outstanding traditional knowledge.
Its mission is to help India become a creative and knowledge-based society by expanding policy and institutional space for grassroots technological innovators.
It helps grassroots innovators and outstanding traditional knowledge holders get due recognition, respect and reward for their innovations.
It also tries to ensure that such innovations diffuse widely through commercial and/or non-commercial channels, generating material or non-material incentives for them and others involved in the value chain.
New Features Added To E-NAM
---
On 2nd April, 2020, the Centre launched new features on the electronic national agriculture market (e-NAM) platform to make it more convenient for farmers to sell their produce at warehouses and collection centres set up by farmer producer organisations (FPOs).
Need
The features have been launched at the time when there is a critical need to decongest mandis to effectively fight against COVID-19.
To strengthen agriculture marketing by farmers across the country.
New Features
Electronic-Negotiable Warehouse Receipt (e-NWRs) Module
Warehouse (Registered with WDRA) trading module with payment feature is to enable small & marginal famers to directly trade their stored produce from selected WDRA registered warehouses which are declared deemed market by the State.
Farmers will be able to place their produce in WDRA accredited warehouses.
Benefits of eNWRs integration with e-NAM
Depositor can save the Logistics expenses and will have better income.
Farmers can sell the produce across the Nation to get better Price and at the same time can save himself from hassle of mandi.
Farmers will be able to place their produce in WDRA accredited warehouses avail the benefit of pledge loan if required.
Price stabilization by matching supply and demand through time and place utility.
Farmers Producer Organisation (FPO) Trading Module
FPO trading module will help to enable FPOs to upload their produce from their premise/ collection centres for bidding.
FPOs have the option for delivery of produce either from their premises or by bringing to mandi premise after successful bidding.
Facility provided to FPO to upload assaying report / photo of their produce from their premise to enable traders to visualise the produce before bidding.
Benefits of FPO trading module
This will not only decongest the mandis but also reduce the hassle of FPOs to deal with mandis.
This will help FPOs by reducing transaction costs (Transportation) and enhancing their bargaining power.
Facilitates FPOs to avail online payment facility with ease of doing business.
Logistic Module
As s a quantum response to logistic need by traders, provision has been made for linking large logistic aggregator platforms, which will provide choices to users.
Traders would be able to use the link to navigate to the logistics provider's website and select appropriate services.
Benefits of Logistic Module
Will help in seamless transportation of agri produce.
Will promote inter-State trade under e-NAM by providing online transport facilities for distant buyers.
National Agriculture Market (eNAM)
Launched in 2016, eNAM is a pan-India electronic trading portal which networks the existing APMC mandis to create a unified national market for agricultural commodities.
Small Farmers Agribusiness Consortium (SFAC) is the lead agency for implementing eNAM under the aegis of Ministry of Agriculture and Farmer's Welfare.
SFAC through open tender selected Nagarjuna Fertilizers and Chemicals Ltd / Ikisan Division as Strategic Partner (SP) to develop, operate and maintain the NAM e-platform.
Vision
To promote uniformity in agriculture marketing by streamlining of procedures across the integrated markets.
Removing information asymmetry between buyers and sellers and promoting real time price discovery based on actual demand and supply.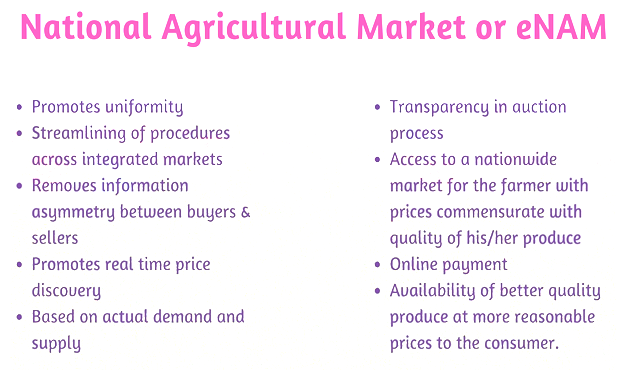 Salient Features
It allows states to have their own agri-marketing platforms that can be linked with NAM.
The highlight of the scheme is the single point levy of market fees, i.e. on the first wholesale purchase from the farmer.
The provision lets farmers to showcase their produce in nearby markets and facilitate traders from anywhere to quote price.
Under the scheme, a provision of Soil Testing Laboratories in or near the selected mandi (market) has been set up. This will help visiting farmers access the facility in the mandi itself.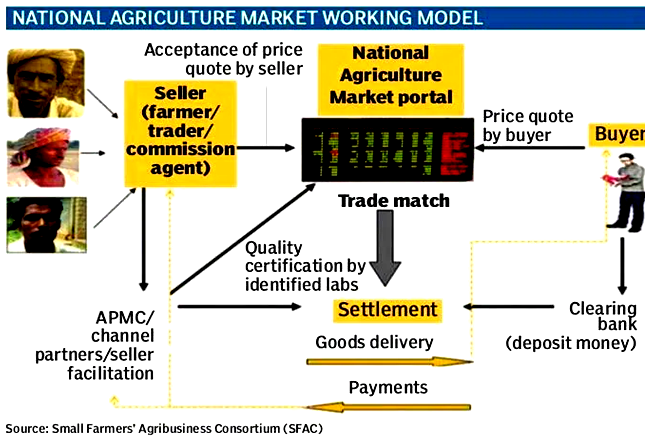 Benefits
Farmers
They can sell products without the interference of any brokers or middlemen thereby making competitive returns out of their investment.
Traders
Traders will be able to do secondary trading from one APMC to another one anywhere in India.
Local traders can get access to the larger national market for secondary trading.
Buyers, Processers & Exporters
Buyers like large retailers, processors or exporters will be able to source commodities from any mandi in India thereby reducing the inter-mediation cost.
Their physical presence and dependence on intermediaries will not be needed.
Consumers
NAM will increase the number of traders and the competition among them increases. This translates into stable prices and availability to the consumers.
Mandis
There will be a reduction in bookkeeping and reporting system as it will be generated automatically.
Monitoring and regulation of traders and commission agents become easy.
Transparency in the process eliminates the scope of manipulation of tendering/auctioning process.
Market allocation fee will increase due to an accounting of all transactions taking place in the market.
It will reduce the manpower requirements as the tendering/auctioning process is carried out electronically.
Others
With one license for the entire state and single point levy, an entire state becomes a market and the market fragmentation within the same state gets abolished.
It will improve the supply chain of commodities and reduces wastages.
New Bio Fortified Wheat Variety
---
Scientists from Agharkar Research Institute (ARI), Pune, an autonomous institute under the Department of Science & Technology, Government of India, have developed a biofortified durum wheat variety MACS 4028, which shows high protein content.
The wheat variety MACS 4028 has been notified by the Central Sub-Committee on Crop Standards, Notification and Release of Varieties for Agricultural Crops (CVRC) for timely sown, rainfed condition of Peninsular Zone, comprising Maharashtra and Karnataka.
Indian Council of Agricultural Research (ICAR) has also tagged this variety under the Biofortified category during the year 2019.
Need
In the peninsular zone of India ( for ex. Maharashtra and Karnataka states), wheat cultivation is majorly done under rainfed and limited irrigation conditions.
Under such conditions, the crop experiences moisture stress. Hence, there is a high demand for drought-tolerant varieties.
About MACS 4028
It is a semi-dwarf variety, which matures in 102 days.
The wheat variety has a high protein content of about 14.7%.
It has better nutritional quality having zinc 40.3 ppm, and iron content of 40.3ppm and 46.1ppm respectively, good milling quality and overall acceptability.
It has shown the superior and stable yielding ability of 19.3 quintals per hectare.
Benefit
The new variety has shown the superior and stable yielding ability It is resistant to stem rust, leaf rust, foliar aphids, root aphids, and brown wheat mite
Significance
The MACS 4028 variety is also included by the Krishi Vigyan Kendra (KVK) programme for United Nations Children's Fund (UNICEF) to alleviate malnutrition in a sustainable way.
An endeavor to tackle the hidden hunger in the rural areas of India is being continued using traditional plant breeding approach to achieve the Vision 2022 "Kuposhan Mukt Bharat", the National Nutrition Strategy.
Hidden Hunger
Hidden hunger is a form of undernutrition that occurs when intake and absorption of vitamins and minerals (such as zinc, iodine, and iron) are too low to sustain good health and development.
Factors that contribute to micronutrient deficiencies include poor diet, increased micronutrient needs during certain life stages, such as pregnancy and lactation, and health problems such as diseases, infections, or parasites.
National Nutrition Strategy
National Nutrition Strategy (NNS) has been published by NITI Aayog in 2017.
Vision 2022: "Kuposhan Mukt Bharat".
Objectives and targets
3 point percentage / year reduction in underweight prevalence in children (0-3 years) by 2022 from NFHS-4 levels
1/3rd reduction in anaemia in children, adolescent & Women of Reproductive Age (WRA)
Key strategic areas of action
Governance reform
Leading by example
Convergence
Prioritise action
Intensification of Counselling to reach the critical age group
Continuum of care
Innovative service delivery models
Community based monitoring
Enabling actions
Durum wheat (Triticum durum L.)
It is an economically important crop grown worldwide including India. It is being cultivated in 10 to 11% of world area and accounts about 8% of the total wheat production.
It is the best wheat for drought conditions or under restricted irrigation conditions of Punjab, M.P., Karnataka, Tamil Nadu, Gujarat, West Bengal and Himachal Pradesh.
Durum wheat is mostly used in fast food like noodles, spaghetti, lasagna, vermicelli, macaroni, pasta and many other products.

Biofortification
Biofortification is the process by which the nutritional quality of food crops is improved through agronomic practices, conventional plant breeding, or modern biotechnology.
The main underlying assumption for this strategy holds that there can be an increase in nutrient accumulation to plants and, subsequently, to humans, without changing consumption patterns of traditional crop staples.
Examples of biofortification-
iron-biofortification of rice, beans, sweet potato, cassava and legumes;
zinc-biofortification of wheat, rice, beans, sweet potato and maize;
provitamin A carotenoid-biofortification of sweet potato, maize and cassava; and
amino acid and protein-biofortification of sourghum and cassava
The Process
Biofortification can be achieved in three ways-
Conventional biofortification: Selecting plants which naturally contain higher amounts of a micronutrient of interest and cross‐breeding using conventional methods to produce staple crops with desirable nutrient and agronomic traits.
Agronomic biofortification: Use of micronutrient‐rich fertilisers or sprays which are temporarily taken up by the edible portion of the crop.
Transgenic biofortification: Inserting genes needed for the accumulation of a micronutrient which would not otherwise exist in that particular crop (either at all, or in a bioavailable form).
Difference with Food Fortification
Biofortification differs from conventional fortification in that biofortification aims to increase nutrient levels in crops during plant growth rather than through manual means during processing of the crops.
Biofortification may therefore present a way to reach populations where supplementation and conventional fortification activities may be difficult to implement and/or limited.
Advantages
Biofortified crops offer a sustainable and long-term solution in providing micronutrients-rich crops to people.
Furthermore, biofortified crops with increased bioavailable concentrations of essential micronutrients are deployed to consumers through traditional practices used by agriculture and food trade which therefore provides a feasible way of reaching undernourished and low income group families with limited access to diverse diets, supplements, and fortified foods.
From an economic viewpoint, biofortification is a one-time investment and offers a cost-effective, long-term, and sustainable approach in fighting hidden hunger because once the biofortified crops are developed; there are no costs of buying the fortificants and adding them to the food supply during processing.
Biofortified crops are also often more resilient to pests, diseases, higher temperatures and drought – essential qualities as many countries become increasingly susceptible to climate change.
Pradhan Mantri Kisan Sampada Yojana
---
Recently, the government sanctioned 32 projects under the 'Unit' scheme of Pradhan Mantri Kisan Sampada Yojana (PMKSY).
The projects approved are running across quadrilaterals of the country covering over 100 agro-climatic zones, in 17 States across the country.
About Pradhan Mantri Kisan Sampada Yojana
The Central Sector Scheme - SAMPADA (Scheme for Agro-Marine Processing and Development of Agro-Processing Clusters) was approved by the cabinet in May 2017 for the period of 2016-20 coterminous with the 14th Finance Commission cycle.
In 2017, SAMPADA was renamed as the Pradhan Mantri Kisan Sampada Yojana (PMKSY).
Objective
PMKSY focuses on the reduction of agricultural waste, modernizes the procedure of processed food products, and supplement agriculture.
Schemes to be implemented
Under PMKSY the following schemes are to be implemented:
Mega Food Parks
Integrated Cold Chain and Value Addition Infrastructure
Creation/ Expansion of Food Processing/ Preservation Capacities (Unit Scheme)
Infrastructure for Agro-processing Clusters
Creation of Backward and Forward Linkages
Food Safety and Quality Assurance Infrastructure
Human Resources and Institutions
Operation Greens
Benefits
It is a comprehensive package which will result in creation of modern infrastructure with efficient supply chain management from farm gate to retail outlet.
It will provide a big boost to the growth of food processing sector in the country.
It will help in providing better prices to farmers and is a big step towards doubling of farmer's income.
It will create huge employment opportunities especially in the rural areas.
It will also help in reducing wastage of agricultural produce, increasing the processing level, availability of safe and convenient processed foods at affordable price to consumers and enhancing the export of the processed foods.
Indian Food Processing Sector
The food sector has emerged as a high-growth and high-profit sector due to its immense potential for value addition, particularly within the food processing industry.
The Processed food market is expected to grow to $ 543 bn by 2020 from $ 322 bn in 2016, at a CAGR of 14.6%.
The sector contributes around 11% of agricultural value-added and 9% of manufacturing value-added. According to the ministry of food processing industries annual report, the sector employs 12.8% of the workforce in the organised sector and 13.7% of the workforce in the unorganised sector.
Government Measures to Boost Food Processing
100% FDI is permitted under the automatic route in food processing industries.
100% FDI is allowed through Government Approval route for trading (including e-commerce) in respect of food products manufactured in India
Under the Make in India initiative, the Government plans to stimulate growth in the Food Processing sector through the creation of a strong infrastructure, reduction of food wastage and promotion of Ease of Doing Business (EODB) measures.
MoFPI is having a dedicated investor portal in which a range of information like resource base, availability of land, state specific policies, fiscal incentives, etc. are shared with potential investors to attract investments in the food processing sector.
The Food Safety and Standards Act, 2006,envisage regulation of manufacture, storage, distribution, sale and import of foods to ensure availability of wholesome and hygienic food for human consumption.
Analysis of Indian Food Processing Sector
Strengths
Abundant availability of diverse types of raw material and varied agro-climatic zones.
Leading producer of various agricultural commodities such as milk, fruits and vegetables, marine products, etc.
Priority sector status for agro-processing given by the central Government.
Growing domestic market.
Proximity to growing international markets like Gulf, Middle East etc. with a sea route.
Weaknesses
Lack of adequate infrastructural facilities, viz., Power, Road & Rail connectivity, Storage, etc.
Large number of intermediaries in the supply chain leading to wastage and price rise at each level. Capital intensive - High requirement of working capital because of the seasonal nature of raw material.
Lack of established linkages between R&D labs and the industry
Challenges
Lack of comprehensive national food processing policy leading to inconsistency in Central and State policies.
Delays in land acquisition due to requirement of conversion of land use (non-agricultural use permission).
Lengthy procedures for Government clearance.
Inadequate facilities for mentoring of Start Ups & pilot testing of technologies and innovations. There is also lack of applied research on processes and technology.
High cost of manufacturing and packaging making the products as luxury items and unaffordable to common population.
Fluctuation of raw material prices leading to viability issues in food industries.
Inadequate flow of credit, especially for working capital requirement.
Non-availability of skilled man power for food processing is a big challenge.
Poor adoption of quality standards by food industry leading to lowering of brand value of Indian Food Industry.
Lack of market intelligence and brand building of Indian Food Processing Industries.
Suggested Action Plan
A National Food Processing Policy may be formulated to follow a uniform approach for food processing sector on Pan-India basis.
Relax non-agricultural land use permission for food industry procuring raw materials directly from the farmers and to Farmer Producer Organisations.
The Single Window approach for Government clearances may need to be in place in all the States.
Providing affordable credit to food processing Industry to promote creation of investments in the sector.
Enlarging the scope of credit guarantee fund / creation of a risk fund will help in mitigating stress on banking industry on financing the sector which is mostly of seasonal nature and capital and labour intensive.
Creation of a National Brand EquityFund for Food Industry with a contribution from Industry Associations, GoI, etc. to India brands internationally.
Make in India to give focus on manufacture of plant and machinery and packaging materials locally to reduce cost of production.
One Year Of PM-KISAN Scheme
---
Pradhan Mantri Kisan Samman Nidhi, popularly known as (PM-KISAN) scheme completed one year on 24th February, 2020.
The scheme was launched by the government on 24th February, 2019, in Gorakhpur district, Uttar Pradesh.
About PM-KISAN Scheme
PM-KISAN is a Central Sector scheme with 100% funding from Government of India with an aim to increase the income of farmers by offering income support to all landholding farmers' families across India.
The Scheme is effective from 1st December, 2018.
Under the Scheme an amount of Rs.6000/- per year is transferred in three 4-monthly installments of Rs. 2000/- directly into the bank accounts of the farmers, subject to certain exclusion criteria relating to higher income status.
The financial benefits are released to the beneficiaries on the basis of the data of farmers prepared and uploaded by them on the PM-Kisan web-portal.
At present, all states except West Bengal are implementing the scheme.
Eligibility Criteria
It initially provided income support to all Small and Marginal Farmer's (SMF) families across the country, holding cultivable land upto 2 hectares.
Later, its ambit was expanded e.f. 1st June, 2019 to cover all farmer families in the country irrespective of the size of their land holdings.
Exceptions
Affluent farmers have been excluded from the scheme such asIIncome Tax payers in last assessment year, professionals like Doctors, Engineers, Lawyers, Chartered Accountants, etc. and pensioners drawing at least Rs.10,000/- per month (excluding Multi Tasking Staff (MTS)/Class IV/Group D employees).
Special provisions have been made for the North-Eastern States where land ownership rights are community based, Forest Dwellers, and Jharkhand, which does not have updated land records and restrictions on transfer of land.

Progress So Far
The Central Government has already released more than Rs. 50850 crores till now.
Total number of beneficiaries to be covered under the scheme is about 14 crore, based on estimates of the Agriculture Census 2015-16.
As on 20th February 2020, farmer families of 8.46 crores have been given the benefits.
Significance
The significance of PM-KISAN is that, for the first time, an attempt has been made to transfer income directly to farmers without using price policy (of either inputs or output).
In most of the programmes in the past, the policy instrument used has always been price.
Advantages
The main advantage is that the benefits are not linked to production of any crop. And since the benefits are not linked to production, the resultant supply-demand imbalance is expected to be minimal, unlike in the case of minimum support prices (MSPs).
Also, there is no need of procurement, storage and distribution of all the commodities. Instead, procurement can be limited to only those commodities that are needed for public distribution system. This should lead to much lower fiscal costs and lesser storage infrastructure.
Issues with PM-KISAN

Implementation Issue
In India, majority of the States have incomplete tenancy records and land data are not digitized.
For example, Bihar has registered only one third of its farmers because of lack of digital data. Madhya Pradesh, Rajasthan, Maharashtra, Andhra Pradesh and Karnataka have identified 55-60% of their farmers as beneficiaries while Chhattisgarh has verified less than half of its farmers. Uttar Pradesh has verified 85% of the 25 million farmers it has, as per the agricultural census of 2016, while Rajasthan has registered 80% of its farmers.
Difficulty in Identifying Beneficiary Farmers
According to agricultural census of 2015-16, number of landholdings in the country was projected at Rs 14.65 crore. But, landholdings do not determine the number of farmer families present in the country, as there are multiple owners for a single land. In such scenario, all the farmer families which own the land are eligible for the scheme.
It may also happen that a single farmer holds multiple lands. The agricultural census may record multiple landholdings which PM-Kisan scheme would otherwise recognise as single farmer.
Infrastructure Issues
PM-KISAN payments have to be direct bank transfers. This involves, inter alia, two big problems: (i) lack of last-mile banking connectivity in the country and (ii) possibility of banks offsetting the transferred amount to settle outstanding loans of the beneficiary, leaving the beneficiary high and dry.
Way Forward
PM-KISAN is an ambitious scheme that has the potential to deliver significant welfare outcomes. However, the current top-down, rushed approach of the government ignores governance constraints and is therefore likely to result in failure.
An alternative bottom-up strategy and well-planned implementation mechanism would allow weaknesses to be identified and rectified at the local level. The most effective modalities can then be scaled nationally ensuring success.
Despite the initial challenges, the scheme can pave the way for a slew of fresh measures in near future to support the farm sector and help to achieve the target of doubling farmers' income by the year 2022.
Revamping Of Crop Insurance Schemes
---
On 19th February, 2020, the Union Cabinet approved revamping of "PradhanMantri Fasal Bima Yojana (PMFBY)" and "Restructured Weather Based Crop Insurance Scheme (RWBCIS)" to address the existing challenges in implementation of Crop Insurance Schemes.
These changes are proposed to be implemented from Kharif2020 Season throughout the country.
Aim
The move is aimed at increasing the coverage rate and enabling farmers to manage their agricultural risk in a better way.
Need
The Centre was under pressure to make necessary changes in PM FasalBimaYojana after Andhra Pradesh, West Bengal and Bihar decided to exit the scheme citing high costs and the need to customize it based on geographical diversities.
Major Changes Made
Reduced Premium Share of Centre
Until now, farmers pay a fixed share of the premium: 2% of the sum insured for kharif crops, 1.5% for rabi crops and 5% for cash crops. Currently, the Centre and State split the balance of the premium equally.
Now it is decided to cap the Centre's premium subsidy under these schemes for premium rates up to 30% for un-irrigated areas/crops and 25% for irrigated areas/crops.
Districts having 50% or more irrigated area will be considered as irrigated area/district for both the schemes.
However, Central share in Premium Subsidy to be increased to 90% for North Eastern States from the existing sharing pattern of 50:50.
Advance Technology Solution for Loss Estimation
For estimation of crop losses/admissible claims, two-Step Process to be adopted based on defined Deviation Matrixusing specific triggers like weather indicators, satellite indicators, etc. for each area along with normal ranges and deviation ranges.
Crop Cutting Experiments (CCEs) will not be mandatory for crop estimation, which is used to determine claim payouts.
Only areas with deviations will be subject to Crop Cutting Experiments (CCEs) for assessment of yield loss (PMFBY).
Cut-off Date

Now cut-off dates for states to release their share of premium subsidy has been fixed.
Cut-off dates for invoking this provision for Kharif and Rabi seasons will be 31st March and 30th September of successive years respectively.
If states don't release their share before the stipulated date, they won't be allowed to implement the scheme.
Flexibility for States to Select Risk Cover

The government has given flexibility to states/UTs to implement PMFBY and RWBCIS, and given them the option to select any number of additional risk covers/features like prevented sowing, localised calamity, mid-season adversity, and post-harvest losses. Earlier, these risk covers were mandatory.
Further, States/UTs can offer specific single peril risk/insurance cover, like hailstorm, etc. under PMFBY even with or without opting for base cover.
Voluntary Enrollment

In another significant change, enrolment in the two schemes has also been made voluntary for all farmers, including those with existing crop loans. When the PMFBY was launched in 2016, it was made mandatory for all farmers with crop loans to enroll for insurance cover under the scheme.
Compulsory Time Period for Insurance Companies
It is proposed to modify certain parameters and provisions of the ongoing schemes of PMFBY and RWBCIS under which allocation of business to insurance companies will be done for three years.
Currently, the tenders floated by the States are for one-year, two-year or three-year periods.
Expected Benefits
Stabilizing Farm Income:With these changes it is expected that farmers would be able to manage risk in agriculture production in a better way and will succeed in stabilizing the farm income.
Better Risk Management and Increased Coverage:Further, it will increase coverage in north eastern region enabling farmers to manage their agricultural risk in a better way.
Accurate Loss Estimation:The proposed two-step loss estimation processwill enable quick and accurate yield estimation leading to faster claims settlement.
Analysis
The Centre's decision has invited criticismfrom many with some saying the move foretells the impending death of the scheme.According to the critics, reduction in premium subsidy means that the states will have to bear extra burden on premiums. As such, many states have been unable to bear their share of premiums.
By capping the subsidy for premium rates up to 30%, the Centre wants to dis-incentivise certain crops in such areas where growing these crops involve high risks in terms of crop insurance premiums.
Additionally, it will lead to a rise in the rates of premium, as the area covered under insurance and the number of enrolled farmers is expected to come down significantly.
Further, making participation voluntary is one way of lifting the security net of farmers.Non-loanee farmers under the crop insurance schemes are much fewer than loanee farmers. If the latter opt out of the schemes, the number of insured farmers will drastically come down.
PMFBY drew flak from a wide variety of stakeholders. Farmer groups and opposition politicians have claimed that private insurance companies have made windfall gains on the scheme.
Contrarily, several major insurers, including ICICI Lombard and Tata AIG, have opted out of the scheme in 2019-20, reportedly due to losses because of high claims ratios.
Pradhan Mantri Fasal Bima Yojana (PMFBY)
PMFBY was launched in 2016, after scraping down the earlier insurance schemes viz. Modified National Agricultural Insurance Scheme (MNAIS),Weather-based Crop Insurance Scheme and the National Agriculture Insurance Scheme (NAIS).
Objectives
To provide insurance coverage and financial support to the farmers in theevent of failure of any of the notified crop as a result of natural calamities,pests & diseases.
To stabilise the income of farmers to ensure their continuance in farming.
To encourage farmers to adopt innovative and modern agricultural practices.
To ensure flow of credit to the agriculture sector.
Restructured Weather Based Crop Insurance Scheme (RWBCIS)
Launched in 2016, RWBCIS aims to mitigate the hardship of the insured farmers against the likelihood of financial loss on account of anticipated crop loss resulting from adverse weather conditions relating to rainfall, temperature, wind, humidity, etc.
WBCIS uses weather parameters as "proxy" for crop yields in compensating the cultivators for deemed crop losses.
Pay-out structures are developed to the extent of losses deemed to have been suffered using the weather triggers.
Coverage of Crops
Food Crops (Cereals, Millets and Pulses)
Oilseeds
Commercial/ Horticultural Crops
Five Years Of Soil Health Card Scheme
---
The Central government's flagship programme - Soil Health Card Scheme completed 5 years of its implementation.
Soil Health Card Scheme (Swasth Dhara Khet Hara)
The International year of soils was celebrated in 2015 and the same year India's unique programme of 'Soil Health Card' was launched on February 19, 2015, from Suratgarh (Rajasthan) to assess the nutrient status of every farm holding in the country.
The scheme is promoted by the Department of Agriculture & Co-operation under the Ministry of Agriculture and Farmer's Welfare. It is being implemented through the Department of Agriculture of all the State and Union Territory Governments.
Punjab became the first state in India to issue Soil Health Cards (SHCs) to its farmers in May, 2015
Objective of the Programme
To issue soil health cards to farmers every 2 years so as to provide a basis to address nutritional deficiencies in fertilization practises.
To diagnose soil fertility related constraints with standardized procedures for sampling uniformly across states.
To develop and promote soil test based nutrient management in the districts for enhancing nutrient use efficiency.
To strengthen functioning of Soil Testing Laboratories (STLs) through capacity building
Need
Due to rapid industrialization & urbanization, over exploitation of natural resources, excessive use of agro-chemicals, unauthorized cutting of forest, intensive & extensive cultivation, intensive cropping pattern, high yielding varieties of crops and increased use of high analysis chemically pure fertilizers, etc., soil fertility is depleting at an alarming rate, across the country.
Key Features
Soil Health Card is field-specific detailed report of soil fertility status and other important soil parameters that affect crop productivity.
Details in a Soil Health Card-

Information regarding soil fertility
Dosage of fertilizer application in crops
Information on soil amendments of saline or alkaline soil
Recommendation on integrated nutrient management

Soil Test Laboratory (STL): It provides the status of soil with respect to 12 parameters:

Macro nutrients – Nitrogen, Phosphorus, Potassium
Secondary nutrient – Sulphur, Calcium
Micro nutrients – Zinc, Ferrous, Manganese, Copper
Physical parameters – pH, electrical conductivity (EC) and organic carbon (OC)

Soil samples are being drawn in a grid of 2.5 ha in irrigated area and 10 ha in rain-fed area with the help of GPS tools and revenue maps.
Based on this, the SHC provides information to farmers on nutrient status of their soil along with recommendation on appropriate dosage of nutrients to be applied for improving soil health and its fertility.
SHC provides two sets of fertilizer recommendations for six crops including recommendations of organic manures. Farmers can also get recommendations for additional crops on demand. SHC portal has farmers' database of both the cycles and is available in 21 languages for the benefit of the farmers.
Significance
SHC will ensure that farmers do not spend money unnecessarily on purchase of fertilizers by adding more than required and will help in restoring the degraded status of soil profile across the country.
Impact
According to a study conducted by the National Productivity Council (NPC), the overall impact of the scheme has been positive, leading to maximisation and sustainable growth at farm level by cost minimisation and through efficient utilisation of resources.
Application of fertilisers as per the recommendation of SHC led to savings in nitrogen fertilisers like urea thereby reduction in cost of cultivation. For example, Paddy- the cost of cultivation has been reduced by 16-25% and savings of nitrogen is found to be around 20kg/acre.
Savings on fertilisers and increase in production also resulted in increased income to the farmers. For example, Paddy: Increase in income around Rs.4500/- per acre.
Judicious use of fertilisers also resulted in increased production of crops. For example, increase in production 10 - 20 % in paddy, 10 -15 % in wheat and jowar.
Challenges
The scheme is lagging behind due to gaps in manpower, both technical and non-technical staff, for collecting soil samples and thereafter testing them in labs.
No uniform norms are followed in the country for soil analysis and distribution of soil health cards. Farmers often complain irregularity in soil sample collection and the soil test values are not representative of their fields.
States are responsible in some cases for poor implementation; Uttar Pradesh, Bihar and West Bengal didn't have coherence and coordination with the policies of the Central Government, they didn't release ample funds for the project and hence poor facilities like lack of STLs and unfilled vacancies in labs.
In addition, many farmers are unable to understand the content, hence unable to follow the recommended practices.
Way Forward
Through Soil Health Card Scheme, the Government is promoting integrated nutrient management (INM)e. balanced and judicious use of chemical fertilizers, along with bio-fertilizers and locally available organic manures based on soil testing to maintain soil health and crop productivity.
This, in turn, ushering a new era of healthy soil management, leading closer achieving the goal of 'Doubling the Farmer's Income' as well sustainable development across the country.
Pesticide Management Bill – 2020
---
On 12th February, 2020, the Union Cabinet approved the Pesticides Management Bill, 2020, which seeks to replace the Insecticides Act, 1968, for regulating the pesticide sector by fixing prices and setting up an authority.
Objective
To regulate the business of pesticides and to promote the use of organic pesticides in the country.
Need
The current state of regulation of pesticides in India, using the extant law called Insecticides Act, 1968, has not caught up with post-modern pest management science nor has taken cognizance of a huge body of scientific evidence on the ill effects of synthetic pesticides.
It is reported that eight states consume more than 70% of the pesticides used in India. Amongst the crops, paddy accounts for the maximum share of consumption (26-28%), followed by cotton (18-20%).
The acute pesticide poisoning deaths and hospitalizations that Indian farmworkers and farmers fall prey to are ignominious by now. It is not just human beings but wildlife and livestock that are poisoned routinely by indiscriminate use of toxic pesticides across the country.
Background
The centre had released a draft of the Pesticides bill in February 2018 to replace the existing Insecticides Act of 1968. The draft bill proposed to raise penalties on the sale of prohibited pesticides to Rs. 50 lakh and a jail term up to five years from the current fine of Rs 2,000 and jail term up to three years.
However, the Centre for Science and Environment, in 2018, had criticised the Bill for falling short as it provided inadequate representation to States in both pesticide board and the registration committee. According to it, the states should have a say in final decision making on pesticide, as they have the best understanding on the agro-ecological climate, environment and soil conditions.
Key Features
Complete Information: It provides farmers to be empowered to get all information about the strength and weakness of pesticides, the risk and alternatives as the data would be in open source and available in all languages. The information will also include details on the pesticide's potential effects on the environment.
Compensation Provision: It provides for compensating farmers in case of losses from use of spurious agro chemicals or low quality of pesticides. For this, if required, the government will form a central fund which will take care of compensation.
Registration Requirement: Any person who wants to import, manufacture, or export pesticides would have to register under the new bill and provide all details regarding any claims, expected performance, efficacy, safety, usage instructions, and infrastructure available to stock that pesticide.
Strict Regulatory Norms: It intends regulate pesticide-related advertisements to prevent manufacturers from making false claims about their products.
Impact
Way to Sustainable Development: It will provide an opportunity to set right many shortcomings of the existing regulatory regime around pesticides in India and to clean up our food and farming systems, leading towards the sustainable development of the country.
16 Action Points
---
Reiterating the government's commitment towards "Sabka Saath, Sabka Vikas , Sabka Vishwas" and "Ease of Living" for people of India, the Finance Minister, in Budget 2020-21, proposed 16 action points focusing on doubling Farmers income, Horticulture sector, Food storage, Animal Husbandry and Blue economy.
Doubling Farmers Income
Resource efficiency is the first step in doubling farmer's income and keeping this in mind, stress will be given on the balanced use of all kinds of fertilizers and Zero Budget Natural Farming (ZBNF)
With the aim of doubling farmers' income by 2022, it proposed to expand PM-KUSUM to 20 lakh farmers for setting up standalone solar pumps and help another 15 lakh farmers solarise their grid connected pump sets.
Operationalize scheme to enable farmers to set up solar power generation capacity on their fallow/barren lands and to sell it to grid.
The portal on "Jaivikkheti" – online national organic products market will also be strengthened.
Integration of negotiable warehousing receipts (e-NWR) and National Agricultural Market (e-NAM).
Water Related Stress
To address concerns related to water stress in various parts of the country, government proposed comprehensive measures for one hundred water stressed districts.
Storage and Logistics
To promote storage infrastructure and reduce wastage of food grains, creation of warehouses through viability gap funding on a PPP mode at block level has been proposed.
Warehouse construction will be done by Food Corporation of India (FCI) and Central Warehousing Corporation (CWC). As a backward linkage, village storage scheme to be run by Self Help Groups (SHG). Women SHGs can use this opportunity to regain their position as "DhanLakshi" and they can avail Mudra loans for opening storage facilities.
To build a seamless national cold supply chain for perishables, inclusive of milk, meat, Indian Railways will set up Kisan Rail-through PPP arrangements.
To help improve value realization especially in North-East and tribal districts Krishi Udaan will be launched by the Ministry of Civil Aviation.

Animal Husbandry
Recognizing the contribution of animal husbandry sector in farmer's income, government aimed to eliminate Foot and Mouth disease, brucellosis in cattles and peste des petits ruminants (PPR) in sheep and goat by 2025 and to increase coverage of artificial insemination from 30 percent to 70 percent.
Agriculture Credit
Setting agriculture credit target of rupees 15 lakh crore for the year 2020-21.
All eligible beneficiaries of Pradhan Mantri Kisan Samman Nidhi (PM-KISAN) will be covered under the Kisan Credit Card (KCC) scheme.
Horticulture
For better marketing and export, government will support the states which, adopting a cluster basis will focus on one product one district.
Blue Economy
Government proposes to put in place a framework for development, management and conservation of marine fishery resources and promotion of algae, sea weed and cage culture that will assist in raising fish production to 200 lakh tonnes by 2022-23.
Further, government will involve youth in fishery extension through Sagar Mitras and fish farmer producer organizations.
20th Livestock Census Released
---
Recently, the Department of Animal Husbandry & Dairying, Ministry of Fisheries, Animal Husbandry and Dairying released the 20th Livestock Census report.
It was carried out in about 6.6 lakhs villages and 89 thousand urban wards across the country covering more than 27 Crores of Households and NonHouseholds
Background
The Livestock Census has been conducted in the country periodically since 1919-20.
So far 19 such censuses have been conducted in participation with State Governments and UT Administrations.
The 20th Livestock Census was launched in October, 2018. The enumeration was done in both rural and urban areas.
For the first time, livestock data were collected on line in 20th Livestock Census.
Another important feature of 20th Livestock Census is it has been designed to capture Breed-wise number of animals and poultry birds.
The breeds of various major species including Poultry as registered by National Bureau of Animal Genetic Resources(NBAGR) will be covered in the Livestock Census.
Key Outcomes
The total Livestock population is 78 million in the country showing an increase of 4.6% over Livestock Census-2012.
Total Bovine population (Cattle, Buffalo, Mithun and Yak) is 302.79 Million in 2019 which shows an increase of about 1% over the previous census.
The total number of cattle in the country in 2019 is 192.49 million showing an increase of 0.8 % over previous Census.
However, the number of indigenous cattle has gone down from 2012 to 2019. The number of milch animals has gone up by 6 percent.
The total buffaloes in the country is 109.85 million showing an increase of about 1.0% over previous Census.
The total sheep in the country is 74.26 million in 2019, increased by 14.1% over previous Census.
The Goat population in the country in 2019 is 148.88 million showing an increase of 10.1% over the previous census.
It shows a sharp increase in backyard poultry.
Among the States, Uttar Pradesh has the highest number of livestock of 67.8 million (68.7 million in 2012), followed by Rajasthan 8 million (57.7 million), Madhya Pradesh: 40.6 million (36.3 million) and West Bengal: 37.4 million (30.3 million).
Unfortunately, in Uttar Pradesh, the number of cattle is down from 19.6 million in 2012 to 18.8 million (down 3.93 percent).
Apart from Uttar Pradesh, the cattle count is down in Madhya Pradesh (by 4.42 percent), Maharashtra (10.07 percent) and Odisha (01 percent ).
West Bengal has seen a rise in cattle population by 15.18 per cent, Bihar by 25.18 per cent, and Jharkhand by 28.16 per cent between 2012 and 2019.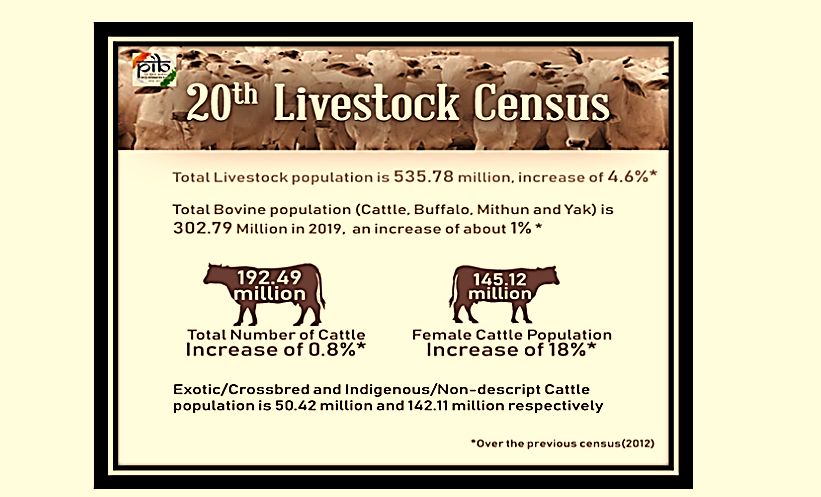 Source:PIB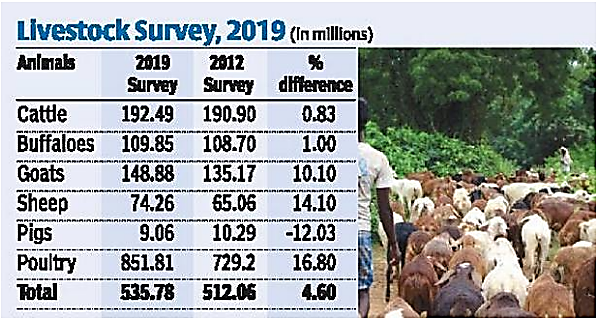 Source: BusinessLine
Government Schemes for Livestocks
Rashtriya Kamdhenu Aayog (RKA)
Established in Februrary, 2019, it aims to upscale sustainable genetic up-gradation of cow resources and to enhance production and productivity of cows.
The Aayog will also look after effective implementation of laws and welfare schemes for cows. Besides advising Gaushala and gausadan involved in protecting cows, the body will also help in coordination between livestock farmers and cooperatives, dairy entrepreneurs etc.
National Livestock Mission
Launched in 2014-15, it is designed to cover all the activities required to ensure quantitative and qualitative improvement in livestock production systems and capacity building of all stakeholders.
This Mission is formulated with the objective of sustainable development of livestock sector, focusing on improving availability of quality feed and fodder.
The scheme is being implemented as a sub scheme of White Revolution - Rashtriya Pashudhan Vikas Yojana since April, 2019.

It has following four sub-Missions:

--Sub-Mission on Livestock Development

--Sub-Mission on Pig Development in North-eastern Region

--Sub-Mission on Fodder and Feed Development

--Sub-Mission on Skill Development, Technology Transfer and Extension
Rashtriya Gokul Mission (RGM)
RGM has been launched in December 2014 for development and conservation of indigenous breeds through selective breeding in the breeding tract and genetic upgradation of nondescript bovine population.
The scheme comprises of two components namely National Programme for Bovine Breeding (NPBB) and National Mission on Bovine Productivity (NMBP).
It also envisages establishment of integrated cattle development centres 'Gokul Grams' to develop indigenous breeds including upto 40% nondescript breeds.
Objectives
Development and conservation of indigenous breeds
Breed improvement programme for indigenous breeds so as to improve the genetic makeup and increase the stock.
Enhancing milk production and productivity of bovine population by increasing disease free high genetic merit female population and check on spread of diseases.
Significance of Report
Help in Conservation of Indigenous Breed:
The initiatives on collection of breed-wise reliable information of various species will give vital information for determination of threatened indigenous breeds and to take initiatives accordingly for their conservation.
It will be helpful for framing policies or programmes for Breed improvement.Breed-wise information of livestock and poultry.
Fulfiling Digital India Objective:
The major thrust of 20th Livestock Census would be data collection through tablets computers which is aimed to fulfil the objective of Digital India Programme.
Wide Range of Beneficiaries:
The Census will prove beneficial not just for policy makers but also for agriculturists, traders, entrepreneurs, dairying industry and masses in general.
Way Forward
Indian livestock sector makes up for a significant amount of world's livestock resources. Both the national economy as well as the socio-economic growth of the country is backed by the livestock sector. Besides, offering great potential and outstanding contribution in the agricultural sector over the past years.
Rapid growth and transformation in the livestock sector offer both challenges and opportunities for smallholders and require a difficult balancing act by policy-makers.
Growth in the livestock sector offers significant opportunities to enhance food security and reduce poverty, but concerted gender-sensitive action is required to help those smallholders who can compete to take advantage of the emerging opportunities.
A mix of policy change, technological and institutional innovation and investment is needed. Building locally specific capacity that can respond to change is especially important.
Propelling livestock production into 'mission mode' is one of the keys for the present government as it will help in achieving the ambitious target of making India a $5 trillion economy by 2024.
Centre To Undertake Study With IBM To Use AI In Agriculture
---
On 3rd July, 2019, Ministry of Agriculture and Farmers Welfare signed a Statement of Intent (SoI) for undertaking a pilot study with IBM India.
It will be launched in the three districts of Bhopal, Rajkot and Nanded in the States of Madhya Pradesh, Gujarat and Maharashtra respectively.
As part of the collaboration, IBM's Watson Decision Platform (WDM) for Agriculture will be leveraged to obtain farm level weather forecast and village level soil moisture in three districts.
Actions Sought under SoI:
WDM will give solution in the field of agriculture through Artificial Intelligence (AI) and weather technology at village level/ farm level.
It will provide information on weather forecast and soil moisture on pro bono basis to aid farmers in taking decisions regarding water and crop management for finer production and productivity.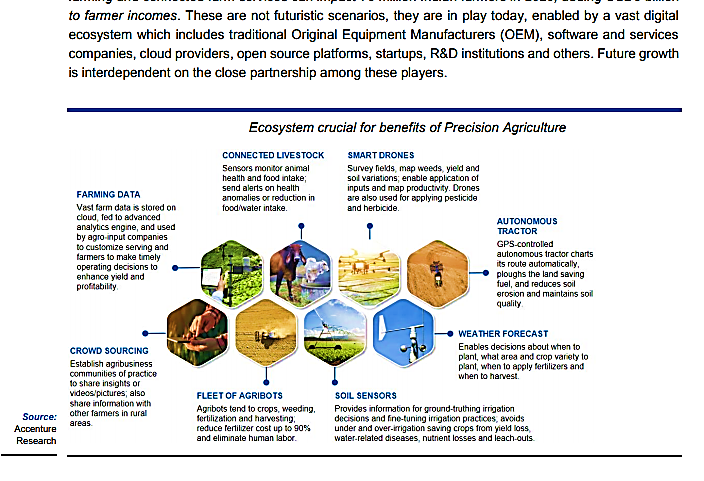 Benefits of AI in Agriculture
Soil Health Monitoring and Restoration
Image recognition and deep learning models have allowed distributed soil health monitoring without the need of laboratory testing infrastructure. AI solutions integrated with data signals from remote satellites, as well as local image capture in the farm, have made it viable for farmers to take immediate actions to restore soil health.
Crop Health Monitoring and Providing Real Time Action Advisories to Farmers
AI can be used to predict advisories for sowing, pest control, input control can help in ensuring increased income and providing stability for the agricultural community. For example, many agronomic factors (such as vegetation health and soil moisture) can be monitored up to the farm level through remote sensing.
Using remote sensed data, high resolution weather data, AI technologies, and AI platform, it is possible to monitor crops holistically and provide additional insights to the extension workers/farmers for their farms as & when required.
Increasing Efficiency of Farm Mechanization
Image classification tools combined with remote andlocal sensed data can bring a revolutionary change in utilisation and efficiency of farm machinery,in areas of weed removal, early disease identification, produce harvesting and grading.Horticultural practices require a lot of monitoring at all levels of plant growth and AI tools provide round the clock monitoring of these high value products.
Increasing the Share of Price Realisation to Producers
Current low levels of price realisation to farmers are primarily due to ineffective price discovery and dissemination mechanisms, supply chain intermediary inefficiency and local regulations.Predictive analytics using AI tools can bring more accurate supply and demand information to farmers,thus reducing information asymmetry between farmers and intermediaries. Data from e NAM, Agricultural Census, AGMARKET and over 110 million Soil Health Samples provide the volumes required for any predictive modelling.
Helps in Determining the Best Crop Choice
It could help in identification of the best crop choice or the best hybrid seed choices for a crop mix adapted to various objectives, conditions and which are suited better for farm's requirements.
By examining and matching up information about weather, seed types, types of soil or infestations in a particular area, possibility of diseases, year to year outcomes, marketplace trends, prices or consumer needs, farmers can make decisions to maximize return on crops.
Automated Irrigation and Water Management
Agriculture in India uses massive amounts of freshwater reserves to irrigate farmland. However, the real concern here is the sloppiness of manual irrigation and the amount of water wasted.AI can guide it in through automated irrigation and assist to narrow down the accurate amount of water needed. It could aid farmers evaluate exactly how much water a particular patch of agricultural land would need. It performs directly to lower freshwater waste.
Challenges for AI in India:
Lack of Expertise:
Owing to the age-old inept curricula adhered in most of the educational institutes in India, there's a deficiency of appropriate talent to raise and deploy AI systems at scale.
Low Awareness of AI
Low awareness of AI for resolving business problems in most public enterprises and government agencies, especially given the scarcity of AI professionals, is obstructing adoption. Most of the public enterprises and government agencies find the technology unreliable and, hence, refrain from adopting it for their businesses.
Lack of Adequate Computing Infrastructure
Unreasonable price and little availability of computer infrastructure have made the development and deployment of AI systems difficult. For example, although swiftly growing, the cloud infrastructure in India not as capable as that followed by developed countries.
Lack of infrastructure0 has led to many Indian AI startups to incorporate their business outside the country, which makes AI outside the reach of Indian researchers in government labs and many industries.
Concentration of Power
It is difficult for new entrants to deliver tailor made services that can compete with data rich incumbents such as Facebook or Google. This phenomenon results in the creation of a virtuous cycle which reinforces the hegemony of the big few, creating a huge entry barrier for startups.
Impact of the Decision:
Ensuring Better Productivity: It will help the farmers to take decisions regarding water and crop management for better production and productivity.
Boosting Farmer's Income: It will help in fulfilling government's assurance to bring digital technologies in helping the farmers to increase their income and transform Indian agriculture.
Implementation Drawbacks In PMFBY
---
Why is it in News?
As per Agriculture Ministry officials, of the total earmarked amount of Rs 1,400 crore for north-eastern States under PMFBY, only half a percent or Rs 8 crore was spent in 2018.
Drawbacks in Implementation:
Four north-eastern States — Arunachal Pradesh, Nagaland, Manipur, and Mizoram — are not covered under the scheme at all.
In the States of North-East and Union Territory of Daman and Diu, insurance companies have not shown their interest and there is lack of state budgetary resources to pay the premium.
The reasons for the lack of interest among insurance companies are:

High administrative costs and lack of proper land records.
Historic yield data is not available for these States.
It is difficult to conduct crop-cutting experiments needed for many of the horticulture crops.

Lack of insurance coverage in these areas has resulted in thousands of devastated maize farmers due to the attack of armyworm pest there.
Some of the states like Bihar and West Bengal have decided to withdraw from the scheme as they are developing their own State-level schemes, while Punjab never participated in the scheme.
Pradhan Mantri Fasal Bima Yojana:
It provides for a uniform premium to be paid by farmers at 2% for all Kharif crops, 5% for commercial and horticultural crops and 1.5% for rabi crops.
The scheme will encourage the use of technology, such as smartphones to capture and upload data of crop cutting to reduce the delays in claim payment to farmers and use of remote sensing to reduce the number of crop cutting experiments.
Comprehensive risk insurance is provided to cover yield losses due to non-preventable risks, such as Natural Fire and Lightning, Storm, Hailstorm, Cyclone, Typhoon, Tempest, Hurricane, Tornado. Risks due to Flood, Inundation and Landslide, Drought, Dry spells, Pests/ Diseases also will be covered.
Fall Armyworm
---
Why is it in News?
A pest 'fall armyworm' (FAW) had damaged 3,082.5 MT maize across 2,055 hectares of land in Lunglei district, Mizoram. The FAW spread to all the eight districts of Assam from Lunglei and have also damaged crops in Manipur.
No Insurance Scheme:
An estimated loss of Rs 6.47 crore may not be able to be compensated due to the absence of any insurance scheme.
The reason for the farmers and their crops not being insured is due to the inability of Pradhan Mantri Fasal Bima Yojana (PMFBY) being introduced in Mizoram for want of a worthwhile company when the tender was floated for the purpose.
It has been said by the officials that farmers could still be compensated under the PMFBY. A fresh tender has been floated to which a few companies have also shown interest.
Relevance of the News:
The news throws light on the importance of crop insurance for ensuring farmer security.
Fall Armyworm (FAW):
FAW is an insect that is native to tropical and subtropical regions of the Americas which in the lack of nature control can cause crop destruction.
Though it prefers maize but can feed on more than 80 other species of crops, including rice, sorghum, millet, sugarcane, vegetable crops and cotton.
First detected in Central and Western Africa in early 2016 it was confirmed in India and Yemen in July 2018.
Because of the crop trade and the moth's strong flying ability, it has the potential to spread further.
Technology In Farming
---
Why is it in News?
The Agriculture Ministry plans to start a pilot project which would use technology to determine yield estimates at the Panchayat level this summer. This would reduce the delay of crop insurance claim settlements and increase the accuracy of compensation due to farmers.
The Pradhan Mantri Fasal Bima Yojana (PMFBY) requires the States to carry out minimum of four crop-wise Crop Cutting Experiments (CCEs) in every gram panchayat for the submission of the yield data to insurance companies within 30 days of harvest.
Crop Cutting Experiment (CCE):
CCE (Crop Cutting Experiment) is a process used to analyse the overall crop yield of the village and forms the basis for the Government to disburse crop insurance claims to farmers, under the PMFBY.
The current methodology of yield estimation is affected by the shortage of current year data at the time of planning of CCEs, affecting the accuracy of estimates.
How will the Pilot Project carried out?
Now a pilot project is to be carried out in the kharif 2019, aims to directly estimate yields without using CCEs.
Technologies such as satellite and remote sensing data, unmanned aerial vehicles and artificial intelligence will be used to assess yield estimates without the need of time-consuming and laborious crop-cutting experiments, according to the parameters of the project issued.
The pilot project will focus on paddy, soybean, cotton, bajra, maize, sorghum and groundnut.
Bt Brinjal Cultivation
---
Why is it in News?
A legal notice to the Union Environment Minister has been sent by Prashant Bhushan, asking for a freeze on all genetically modified organisms, including field trials after reports of illegal Bt Brinjal cultivation in Haryana were cited.
About Bt Brinjal:
Grown on nearly 550,000 hectares, it makes India the second largest producer of Brinjal after China with a 26% world production share.
Brinjal is vulnerable to damage from insect pests and diseases, the most serious and ruinous of which is the fruit and shoot borer (FSB) Leucinodesorbonalis.
Bt Brinjal, India's First Vegetable Biotech Crop, consists of an insecticidal protein, called 'cry1ac' gene sourced from the genes of the soil bacterium, Bacillus thuringiensis which confers resistance against FSB.
Its commercial release was sanctioned by the Genetic Engineering Appraisal Committee under the Environment Ministry in 2009, but then its release was halted by the then Union Environment Minister Jairam Ramesh in February 2010 and it was banned indefinitely. Cultivation of Bt Brinjal is illegal in India.
Pros & Cons of Bt Brinjal:
The use of pesticides and costs will go down, yield of Brinjal will increase.
The impact on human health and environment is not clear, introducing Bt Brinjal will open gates for other genetically-modified crops.
Source: TH
Cotton Production In India
---
Why is it in News?
The Confederation of Indian Textile Industry, in a recent report has estimated a drop in the production of cotton in India due to the droughts in cotton growing states.
About Cotton Crop:
It is a kharif crop that is generally sown in April and harvested in December.
Temperature- It needs 20-30 degree Celsius temperature.
Rainfall- 75-100 cm of moderate rainfall required
Cotton is very sensitive to rainfall; it needs rain during the sowing season only, if rain happens during harvesting, it will lead to pest attacks on the cotton balls as these balls will absorb the moisture which favour pests.
It needs 210 frost free days.
Regur soil of Deccan region is more favourable for cotton production in India, but it is also produced in regions having Loamy & Alluvial Soil.
Cotton quality is decided by its Fibre Length, which is called Staple.
a)Long Staple Cotton- 24-27 mm length
b)Medium Staple Cotton- 20-24mm length
c)Short Staple Cotton: 20mm length
Related Facts:
India is the only country where all 4 cultivated species of cotton is grown.
India has the largest area under cotton production in the world.
India is the 2nd largest producer of cotton in the world after China.
India is the 2nd largest exporter of cotton in the world after US.
India is the 2nd largest consumer of cotton in world.
States where cotton is grown in India- Gujarat, Maharashtra, Karnataka, Odisha etc.
Source: TH, G.C. Leong
Category: Current Affairs
Mariculture
---
Why is it in News?
Experts are of the opinion that India shall focus on mariculture, the same way as that it focuses on agriculture as due to increase in population there is a need to focus on other food sources as the land available for crops will reduce. Therefore, the immediate need is to try and improve the efficiency of food production.
What is Mariculture?
Mariculture is a specialized branch of aquaculture involving the cultivation of marine organisms for food and other products in the open ocean, an enclosed section of the ocean, or in tanks, ponds or raceways which are filled with seawater.
Production of seaweeds, oysters, shrimps, prawns etc. falls under the ambit of mariculture.
About Seaweeds
Marine macroalgae or seaweeds are plant-like organisms that generally live attached to rock or other hard substrata in coastal areas.
These seaweeds have very high medicinal value and are eaten in most parts of the world like-Philippines, Japan, China, Indonesia etc. as these seaweeds have low calorific value and are rich in calcium, zinc, omega 3, omega 6 etc.
How are Seaweeds different from Sea Grass?
Sea grass looks like grass but is marine flowering plant having well developed root system. They generally grow in shallow waters with sandy/ muddy bottoms. Sea cow/ Dugong depend on sea grass for food.
Seaweeds on the other hand are not plants but are usually protists i.e. they attach themselves to some substrate like- rock, corals etc.
Source:
TH
---