US-India Strategic Energy Partnership
---
On July, 17, 2020, India and the USA have participated in a virtual ministerial meeting of the US-India Strategic Energy Partnership (SEP) to review progress, highlight major accomplishments, and prioritize new areas for cooperation.
India and the US are leading joint research and development (R&D) through Partnership toAdvance Clean Energy-Research (PACE-R) on smart grids and energy storage to increase resilience and reliability of the electric grid.
Major Outcomes of the Meeting
Enhancing Energy Security
A Memorandum of Understanding (Mou) has been signed to begin cooperation on Strategic Petroleum Reserves operation and maintenance, including exchange of information and best practices.
Harnessing Innovation
A public-private Hydrogen Task Force would be set up to help scale up technologies to produce hydrogen from renewable energy and fossil fuel sources.
They also signed an MOU to collaborate on India's first-ever Solar Decathlon India in 2021, establishing a collegiate competition to prepare the next generation of building professionals to design and build high efficiency buildings powered by renewables.
The two sides jointly launched collaboration between the U.S. DOE National labs and the Indian National Institutes as part of the newly launched South Asia Group for Energy (SAGE).
Modernising the Power System
It has been agreed to modernize the Distribution Sector through various reform measures for achieving reliable quality 24X7 power supply.
This will be achieved through increased private participation; enhancing consumer centricity; deployment of Smart Meters across India; and, establishing Smart Grid Knowledge Centre in India as a "Global Centre of Excellence" for Smart Grids.
The sides agreed to collaborate on advanced high-efficiency coal technologies with low-to-zero emissions through carbon capture, utilization, and storage (CCUS), focusing on USDOE's Coal FIRST (Flexible, Innovative, Resilient, Small, Transformative) initiative to develop 21st Century coal energy systems.
Enhancing Energy Efficiency
The United States and India have been working to enhance building an appliance efficiency through enhanced building codes, design and operation of smart buildings of the future, smart meters and demand side response, as well as retrofit of buildings to improve building performance, promote energy conservation, and improve in-door air quality.
Both sides are also working to enhance energy efficiency in the industrial sector and will work to advance a comprehensive energy management system in accordance with ISO50001.
In response to the COVID-19 pandemic, USAID and Energy Efficiency Services Ltd (EESL) jointly initiated a new activity, "Retrofit of Air Conditioning to Improve Air Quality for Safety and Efficiency" (RAISE) for healthy and energy efficient buildings. The initiative will be scaled in public sector buildings.
Promoting Energy Trade and Investment
The sides noted the significant increase in bilateral hydrocarbon trade since the establishment of SEP and affirmed to promote greater hydrocarbon trade between the two countries.
Through the US-India Natural Gas Task Force,S.and Indian industry forged new commercial partnerships on innovative projects and developed a series of policy and regulatory recommendations to support the Government of India's vision to increase the share of natural gas in India's energy sector.
Commitment to advance civil nuclear cooperation e. recent progress on the Westinghouse (USA's Electric Company) nuclear reactor project at Kovvada, Andhra Pradesh were also discussed.
Promoting Inclusive and Sustainable Economic Growth
USAID and NITI Aayog jointly launched the India Energy Modeling Forum to build a network of modeling community and its linkage with Government for analytical work and policy making exercise.
Empowering Women in the Energy Sector
USAID launched the South Asia Women in Energy (SAWIE) platform focused on the power sector and the sides are working to incorporate gender-focused activities across the technical pillars.
Strategic Energy Partnership (SEP)
Established in April 2018, SEP recognises the strategic importance of energy to the US-India bilateral relationship.
Build upon long-standing energy partnership, SEP sets the stage for meaningful engagements through robust government-to-government cooperation and industry engagement.
Focus Areas
It focuses on 4 pillars of cooperation -
Power and Energy Efficiency
Oil and Gas
Renewable Energy
Sustainable Growth
Through these pillars both countries are working to
strengthen and modernize the power grid and distribution utilities for clean, affordable, and reliable energy access;
improve efficiency, flexibility, and environmental performance in the power sector;
promote inclusive and sustainable economic growth through long-term energy development;
enhance energy security through oil and gas trade, and infrastructure investment;
advance the development, deployment, and integration of renewable energy;
expand access to finance for renewable energy projects; and
reduce market barriers to energy trade and investment.
India Energy Modeling Forum
In the joint working group meeting of the Sustainable Growth Pillar on July 2, 2020, an India Energy Modeling Forum was launched.
Sustainable Growth Pillar is an important pillar of India–US Strategic Energy Partnership co-chaired by NITI Aayog and USAID.
The SG pillar entails energy data management, energy modelling and collaboration on low carbon technologies as three key activities.
Aims and Objectives
Provide a platform to examine important energy and environmental related issues;
Improve cooperation between modelling teams, government, and knowledge partners, funders;
Facilitate exchange of ideas, ensure production of high-quality studies;
Identify knowledge gaps at different levels and across different areas; and
Build capacity of Indian institutions.
US-Taliban Pact
---
On 29th February, 2020, the US and Taliban signed an agreement for "Bringing Peace to Afghanistan", which will enable the US and NATO to withdraw troops in the next 14 months and to facilitate intra-Afghan dialogue in Oslo (Norway) starting from 10th March, 2020.
India attended the signing ceremony which was held in Doha, Qatar.
Key Elements of the Pact
Troops Withdrawal: The US will draw down to 8,600 troops in 135 days and the NATO or coalition troop numbers will also be brought down, proportionately and simultaneously.
Counter-terrorism Assurances: The main counter-terrorism commitment by the Taliban is that it will not allow any of its members, other individuals or groups, including al-Qaeda, to use the soil of Afghanistan to threaten the security of the United States and its allies.
Sanctions Removal: UN sanctions on Taliban leaders to be removed by three months (by May 29, 2020) and US sanctions by August 27, 2020.
Prisoner Release: The US-Taliban pact says up to 5,000 imprisoned Taliban and up to 1,000 prisoners from "the other side" held by Taliban "will be released" by 10th March, 2020.
Ceasefire: The agreement states that, ceasefire will be simply "an item on the agenda" when intra-Afghan talks start and indicates actual ceasefire will come with the "completion" of an Afghan political agreement.

Source: The Hindu
Challenges
There are still many issues remain to be worked out during intra-Afghan negotiations, including sharing power, disarming and reintegrating Taliban fighters into society, and determining the future of the country's democratic institutions and constitution.
The process could be complicated by a weak central government, afflicted by ethnic, sectarian, and tribal differences, which may descend into open conflict and might start the next round of civil war, hampering the peace deal.
At the same time, experts say the Taliban is stronger now than at any point in the last eighteen years. It earns millions of dollars from opium poppy cultivation and the illegal drug trade. Some analysts are also worried that rank-and-file Taliban fighters might not abide by a peace deal.
Impact on Afghanistan
The U.S. withdrawal will invariably weaken the Kabul government, altering the balance of power both on the battlefield and at the negotiating table.
The Taliban have got what they wanted: Troops withdrawal, removal of sanctions, and release of prisoners. This has also strengthened Pakistan, Taliban's benefactor, and the Pakistan Army and the ISI's influence appears to be on the rise.
Further, the social change brought about by two decades of US presence in Afghanistan — human rights, female emancipation, entertainment — could be in peril.
The future for the people of Afghanistan is uncertain, and will depend on how Taliban honours its commitments and whether it goes back to the mediaeval practices of its 1996-2001 regime.
Impact on India
The Taliban perceived India as a hostile country, as India had supported the anti-Taliban force Northern Alliance in the 1990s.
India never gave diplomatic and official recognition to the Taliban when it was in power during 1996-2001.
The peace deal holds strategic and geopolitical implications for the country, which has invested billions of dollars in Afghanistan.
The decision to withdraw precipitously from Afghanistan is likely to have far-reaching consequences for India – an increase in Taliban's influence in Afghanistan could negatively impact the security situation in the restive Kashmir valley.
Further, the pact is silent on other terrorist groups — such as anti-India groups like Lashkar-e-Toiba or Jaish-e-Mohammed. Again, India, not being an US ally, is not covered under this pact.
The deal also holds significance in terms of the strained relations with Pakistan which has interests in the region.
With US withdrawal from Afghanistan, Pakistan will indeed become an important player. And India's security in the region would be far more vulnerable than it is today.
Way Forward
The withdrawal of US forces has the probability of the creation of vacuum in the region and possibility of filling the void by terrorists and extremists.
US, along with other stakeholders in the region like India, Russia and Chinashould be prepared for a long-term diplomatic engagement with Afghanistan, which will involve simultaneously strengthening the country's political mainstream and integrating the Taliban within it.
The challenges ahead are formidable. There is hope, but skepticism runs deeper.
Lucknow Declaration
---
The first India-Africa Defence Minister's Conclave was held on 6th February, 2020, on the sidelines of the ongoing Def Expo 2020 (5th to 9th February) in Lucknow.
During the conclave, India, along with counterparts from 12 African nations and heads of delegations from 38 other African countries adopted the Lucknow Declaration.
Background
India and African nations had previously adopted declarations during the India-Africa Forum Summit in New Delhi in April 2008, India-Africa Forum Summit-II in Addis Ababa in May 2011 and the Third India-Africa Forum Summit, held in Delhi in October 2015 and the India-Africa Framework for Strategic Cooperation.
All these declarations had worked to strengthen the multi-faceted partnership between India and Africa.
Major Highlights of the Declaration
Peace and Security
Emphasizing the need for peace and security in both India and African region, the countries committed to continue their collaboration in the fields conflict prevention, resolution, management and peace building through-

exchange of expertise and training
strengthening regional and continental early warning capacities and mechanisms
enhancing the role of women in peace keeping and propagating the culture of peace.

In this regard, establishment of the African Union's International Centre for Conflict Resolution, Peace keeping and Peace building in Cairo as a major contribution to peace and security in Africa has been lauded by the countries.
Terrorism
Stating that terrorism is a major threat in the region, the declaration urged all the signatories' countries to take resolute action in rooting out terrorism in all its forms and manifestations, terrorist safe havens and infrastructure, disrupting terrorist networks and eliminating financing channels and halting cross-border movement of terrorists.
This must be done by enhancing cooperation and coordination between Africa and India to combat terrorism in all its forms and manifestations and to combat transnational crime.
In order to strengthen the UN Counter-Terrorism mechanisms and to ensure strict compliance with the UN Security Council sanctions regime on terrorism, it was urged that international community to envisage the adoption of Comprehensive Convention on International Terrorism in the United Nations General Assembly.
Maritime Security
It emphasized to strengthen the Maritime security across both the region as it is a pre-requisite for the development of Blue and Ocean economy.
It was decided to increase mutual cooperation in securing sea lines of communication, preventing maritime crimes, disaster, piracy, illegal, unregulated and unreported fishing through sharing of information and surveillance.
Indo-Pacific Region
Regarding the aligning views of India and the African nations on the importance of the Indo-Pacific, the declaration stated that all member countries to encourage enhanced cooperation between India and Africa on the evolving concept of Indo-Pacific.
It welcomed the African Union (AU) vision for peace and security in Africa that coincides with India's vision of Security and Growth for all in the Region (SAGAR).
Defence Cooperation
The countries called for deeper cooperation in the domain of defence industry including through investment, joint ventures in defence equipment software, digital defence, research & development, provisioning of defence equipment, spares and their maintenance on sustainable and mutually beneficial terms.
The leaders also appreciated the initiation of Africa -India Field Training Exercises (AFINDEX) and agreed to further strengthen cooperation in defence preparedness and security.
Africa-India Joint Field Training Exercise (AFINDEX)
First ever AFINDEX between the Indian Army and 17 African nations was conducted in Pune, Maharashtra, from March 18 to 27 March, 2019.
Participants: Contingents of the 17 African Nations i.e. Benin, Botswana, Egypt, Ghana, Kenya, Mauritius, Mozambique, Namibia, Niger, Nigeria, Senegal, South Africa, Sudan, Tanzania, Uganda, Zambia and Zimbabwe along with a contingent of Maratha Light Infantry (Jangi Paltan).
African Union (AU)
AU is a continental body consisting of the 55 member states that make up the countries of the African Continent. It was officially launched in 2002 as a successor to the Organisation of African Unity (1963-1999).
Vision: An Integrated, Prosperous and Peaceful Africa, driven by its own citizens and representing a dynamic force in the global arena.
Agenda 2063
AGENDA 2063 is Africa's blueprint and master plan for transforming Africa into the global powerhouse of the future.
The AU adopted the agenda in 2015 with the aim of having a roadmap for a strong, peaceful, integrated and prosperous Africa by 2063, 100 years after the establishment of AU's predecessor, the Organization for African Unity (OAU) It is the continent's strategic framework that aims to deliver on its goal for inclusive and sustainable development and is a concrete manifestation of the pan-African drive for unity, self-determination, freedom, progress and collective prosperity pursued under Pan-Africanism and African Renaissance.
Impact
The Lucknow Declaration will provide a major impetus to the India-Africa relation and will further help both the region to deal effectively against the critical challenges such as terrorism and extremism, piracy, human trafficking, drug trafficking, weapon smuggling, etc. and maintaining order and peace across both the regions.
Importance of Africa
Africa is a continent on the move, characterised by rapid economic growth, rising educational and health standards, increasing gender parity, and expanding infrastructure and connectivity.
In recent years, the African continent has been accorded top priority in Indian foreign and economic policy; there has been an unprecedented intensification of political engagemen.t
A resurging Africa and a rising India can give a strong impetus to South-South Cooperation, especially when it comes to addressing challenges in areas like clean technology, climate-resilient agriculture, maritime security, connectivity, and Blue economy.
On Economy side. African subcontinent provides a good market for Indian companies of different sectors whether it is automobile, IT or defence sector.
Trade between Africa and India has increased more than eight-fold from USD 7.2 billion in 2001 to USD 59.9 billion in 2017, accounting for over 8 percent of India's total trade.
To meet its energy security, India sources nearly 18% of its crude oil and also LNG requirement mostly from the West African region.
Primary commodities and natural resources account for around 75 percent of Africa's total exports to India.
In the perspective of geopolitics, having these 54 African nations as allies in the United Nations is favourable to India as these nations might support in passing any resolution.
Second India-US 2+2 Dialogue
---
The second two-plus-two dialogue between India and the US took place on 18th December, 2019, in Washington during which the two countries made a comprehensive review of cross-cutting foreign policy and defence and security issues in bilateral ties.
Important Agreements
Industrial Security Annex (ISA)
The ISA to the India-U.S. General Security of Military Information Agreement (GSOMIA) will provide a framework for exchange and protection of classified military information between the U.S. and Indian defence industries.
It will enable greater industry-to-industry collaboration for co-production and co-development in the defence sector, in line with the GOI's objective of promoting Make in India in the defence sector.
It will open the door for U.S. defence companies to partner with the Indian private sector for several multi-billion dollar deals in the pipeline, especially the deal for fighter jets.
Finalisation of Defense Technology and Trade Initiative (DTTI)
DTTI will harmonise the two side's processes for identification, development and execution of projects under the DTTI.
This will enable expedited decision making and help to establish a standing mechanism for dialogue and exchanges between the U.S. and Indian defence companies and their governments on defense technology and industrial cooperation.
Coalition for Disaster Resilient Infrastructure (CDRI)
The United States has announced its commitment to being the founding member of the CDRI whose headquarters will be located in India.
Communications Compatibility and Security Agreement (COMCASA)
The two sides also took stock of the steps being taken to operationalise the foundational agreement COMCASA
COMCASA allows India to procure transfer specialised equipment for encrypted communications for US origin military platforms like the C-17, C-130 and P-8Is.
It will allow both sides to operate on the same communication systems, enabling an "interoperable" environment for militaries.
Tiger Triumph Exercise
Both the parties decided to hold the India-U.S. joint tri-services and amphibious exercise 'Tiger Triumph' on an annual basis.
The maiden exercise was held in November 2019 as a Humanitarian Assistance and Disaster Relief (HADR) to develop synergies between the tri-services of both countries in conducting HADR operations.
Science & Technology Agreement
Both the countries concluded the S&T agreement, which replaced the 2005 Agreement.
As part of the S&T Agreement both sides have agreed on a common framework on Intellectual Property Rights, consistent with national IPR policy.
Space Situational Awareness
Both sides have agreed to cooperate for exchange of information in Space Situational Awareness, including space debris and space traffic management.
The U.S. has established expertise in this field and possesses considerable SSA data, which will be of significant value in ensuring navigational safety of Indian space assets.
Water MoU
A Memorandum of Understanding (MoU) was signed between India's Ministry of Jal Shakti and the U.S. Geological Survey to promote technical cooperation in water resources management and water technology.
Both sides will be cooperating in the area of management of river basins, flood management and forecasting, water management, water quality, waste-water recycling and capacity building in testing and instrumentation.
Young Innovators Internship Programme (YIIP)
YIIP between India and the U.S. will create short-term internship opportunities in the U.S. for Indian students at post-secondary level or recent graduates, in key areas of scientific and economic endeavour.
It will provide networking opportunities for young entrepreneurs besides helping develop entrepreneurial skills.
Parliamentary Exchange
Both Governments hope to strengthen bilateral Parliamentary exchanges through facilitation of reciprocal visits by Parliamentarians from both countries.
Judicial Cooperation
Both the countries seek to expand their satisfactory and mutually beneficial cooperation in the area of counterterrorism jurisprudence to new areas of criminal jurisprudence including money laundering, drug trafficking etc.
Peacekeeping for Indo-Pacific Region
Both have agreed to deepen their bilateral cooperation in areas of defence, counter-terrorism and trade, and to work with like-minded countries for a free and open Indo-Pacific region.
This will help to counter the China which is flexing its muscle both in the South China Sea and East China Sea.
Basic Exchange and Cooperation Agreement (BECA)
Both countries agreed to continue discussions on BECA.
Once finalized, it will enable exchange of geo-spatial information between the two countries, enhancing the operational efficiency of the U.S. platforms currently being operated by India.
2+2 Dialogue
India and the United States of America established a 2+2 Ministerial dialogue in June 2017, in Washington DC, USA.
The first 2+2 dialogue was held in New Delhi in September, 2018.
It is the highest-level institutional mechanism between the two countries and provides for a review of the security, defence and strategic partnership between India and the United States.
Purpose
The India-US Strategic and Commercial Dialogue is an effort to generate sustainable economic growth, create jobs, improve business and investment climate, enhance livelihoods, and sustain the rules-based global order.
Significance
It has given has given a new height to bilateral defence partnership. The two sides are now engaging in a tri-service military exercise, enhancing coordination on the Indo-Pacific and even facilitating private sector collaboration in defence.
Global Value Chain
---
Opting out of the Regional Comprehensive Economic Partnership (RCEP), will likely result in India missing out on the regional and Global Value Chains (GVC) crisscrossing this region.
Due to the fragmented nature of global trade which is best captured in the phrase Global Value Chain, ignoring the RCEP might be a big mistake by India.
What is a Global Value Chain?
It is a chain of separate but inter-linked and coordinated activities, which can be undertaken within a single firm or be divided among multiple firms in different geographical locations to bring out a product or a service to complete production and delivery to final consumers.
According to the World Bank, "a GVC is the series of stages in the production of a product or service for sale to consumers. Each stage adds value, and at least two stages are in different countries.
For example, a bike assembled in France with parts from Germany, Italy, and Malaysia and exported to the Arab Republic of Egypt is a GVC.
So according to this definition, a country, sector, or firm participates in a GVC, if it engages in (at least) one stage in a GVC.
Difference between Value Chain and Global Value Chain
A value chain can be contained within a single geographic location or even a single firm (for ex.a fruit that is grown, packaged, sold and consumed within one country).
Value chains become "global" when their component activities are geographically dispersed across borders to multiple country locations.
The GVC Initiative is particularly interested in understanding value chains that are divided among multiple firms and spread across several locations, hence the term global value chain."
Importance of GVC
Tool to Economic Growth: GVCs are a powerful driver of productivity growth, job creation, and increased living standards. Countries that embrace GVC grow faster, import skills and technology, and boost employment.
Diversifying Country's Export Sector: It provides opportunities for developing countries to diversify their exports and intensify their integration into the global economy.
Access to International Market: Participation in GVCs provides important opportunities for firms to access international markets, absorb new technology, and rapidly expand their economies of scale.
Magnifying Trade Scenario: Itallows resources to flow to their most productive use, not only across countries and sectors, but also within sectors across stages of production. As a result, GVCs magnify the growth, employment, and distributional impacts of standard trade.
Boost to Development Process: With GVC-driven development, countries generate growth by moving to higher-value-added tasks and by embedding more technology and know-how in all their agriculture, manufacturing, and services GVCs provide countries the opportunity to leap-frog their development process.
Boon to Developing Countries: Global value chains have been a boon to developing countries because they make it easier for those countries to diversify away from primary products to manufactures and services.
India and GVC
India's integration with GVCs is among the lowest in G20 countries.
Compared with the ASEAN group of countries, India's GVC integration is far lower with a decline in both its backward (that is, import content of exports) and forward (domestic value added embodied in other country exports as a share of gross exports) GVC linkages.
Reasons for Low GVC Integration
Poor Trade Infrastructure
India still lags behind in trade infrastructures which not only increases cost and time of export operations but also it almost prohibit a country from participating in GVCs is not sufficiently known.
China, Japan, South Korea, Thailand and Malaysia have become part of GVCs through the quality trade infrastructure route. India could not as it does not meet the benchmarks for efficient entry/exit at the most ports/customs.
Small size of Small Basket Products
Ironically, 70 percent of India's export earnings come from the small basket products (Agri- based products). The small size of the global basket limits the potential for future growth. Also, most products face intense competition from low-cost countries such as Bangladesh and Vietnam.
A country that exports products that belong to the large basket will have higher chances to grow.
Weak Global Share
India has an insignificant presence in large basket products (Electronics, telecom, and high-end engineering products) that have become important in world trade. It contribute to 30 percent of India's export earnings.
India has a weak global export share in commodities such as mobile phones (0.19 per cent), integrated circuits (0.01 per cent), computers (0.04 per cent), solar-powered diodes, transistors (0.14 per cent), LCDs (0.04 per cent).
Way Forward
In current time, around 70 percent of the world trade is structured within GVCs of multinational corporations.Harnessing the potential of GVCs for broad-based economic development requires active and purposeful policies. It also requires an understanding of the characteristics and dynamics of GVCs across different regions and industries.
For many countries, especially developing and low-income countries, the ability to effectively insert themselves into GVCs is a vital condition for their development. This supposes an ability to access GVCs, to compete successfully and to "capture the gains" in terms of national economic development, capability building and generating more and better jobs to reduce unemployment and poverty.
To strengthen the benefits that countries obtain from participating in GVCs, it will need to support the upgrading process by strengthening the business environment, supporting investment in knowledge assets such as R&D and design, and fostering the development of important economic competencies, notably skills and management.
GVC participation leads to job creation in developing countries, provided it occurs with increased and high-skill based value addition. So, to gain a part of GVCs, countries like India need an education system based on skilldevelopment. As well as a competition policy enhancing rivalry, and a tax system and intellectual property laws encouraging investment.
GVC is a world-wide phenomenon. It works effectively when there is active participation from different economies in various stages of growth. It has a strong foundational link to roles, regulations, products and services, and processes across markets. So understanding it's functioning and assimilating it is crucial for countries like India, that are ready for next level of growth.
India To Not Join RCEP
---
On 4th November, 2019, during the 3rd Regional Comprehensive Economic Cooperation (RCEP) meeting in Bangkok (Thailand), India decided not to join the RCEPuntil significant outstanding issues were resolved.
Remaining 15 countries involved in the negotiation decided to sign the mega trade deal in 2020.
Negotiations for this agreement have been ongoing since 2013, with several countries, including India, trying to resolve problems with other countries with regard to tariffs.
Regional Comprehensive Economic Cooperation (RCEP)
RCEP is a trade deal that involved the 10 member countries of the Association of Southeast Asian Nations (ASEAN), and the five countries with which the ASEAN bloc has free trade agreements (FTA).
The ASEAN, which includes Brunei, Cambodia, Indonesia, Laos, Malaysia, Myanmar, the Philippines, Singapore, Thailand, and Vietnam, has FTAs with Australia, China, South Korea, Japan and New Zealand.
Purpose
To create an integrated market spanning all 16 countries, making it easier for products and services of each of these countries to be available across the region.
To boost economic growth and equitable economic development, advance economic cooperation and broaden and deepen integration in the region.
Significance
It was billed as the largest regional trading agreement ever these countries account for almost half of the world's population, contribute over a quarter of world exports, and make up around 30% of global Gross Domestic Product (the value of all goods and services produced in a year).
The deal would have created the world's largest trading bloc. These 16 countries account for about half of the world's population, 25 percent of global GDP, nearly a third (30 percent) of global trade and the 26 percent of world foreign direct investment flows (FDI).
Why India decided not to Join RCEP?
Below are the reasons which forced India to walk off the RCEP trade deal:
Economic Slowdown
India's economy is passing through a difficult time. The rate of GDP growth has been slowing down for five consecutive quarters, that is, since January-March 2018.
In such adverse scenario, a massive free trade pact like RCEP would have exposed the Indian businesses and agriculture to unequal competition from countries which are lurking like giant sharks in the export arena.
Trade Deficit
India has massive trade deficits with almost all economic powerhouses of the world. Of the 15 RCEP countries, India has serious trade deficits with at least 11.
India's trade deficit with these countries has almost doubled in the last five-six years - from $54 billion in 2013-14 to $105 billion in 2018-19.
Of India's $105 billion trade deficit with RCEP countries, China alone accounts for $53 billion, which is one of the major reasons for India not to join.
No Resistance against Import Surge
Signing RCEP could force India to cut duties on about 90 percent of the goods that are currently imported to India over the next 15 years as a result India will be flooded with cheaper imported goods, particularly from China, hitting hard its domestic market.
Concern over Non-Tariff Barriers
RCEP countries, like China have used non-tariff barriers in the past to prevent India from expanding its exports to the country.
Concern over Rules of Origin
Another issue is threat of circumvention of Rules of Origin due to tariff difference.India wanted strict rules of origin to prevent Chinese goods from flooding the country through member countries that may have lower or no duty levels.
Chinese garments are making their way into India through the duty-free route under the South Asia Free Trade Pact and the Duty-Free Quota-Free window from Bangladesh.
Issue over Base Year
India is opposed to the proposal that 2013 be treated as the base year for reducing tariffs, effectively implying that member countries should slash import duties on products to the level that existed in 2013.
India is pushing for 2019 as the base year, given that import duties on many products such as textiles and the electronic products have gone up in the last six years.
Lack of Market Access for India
There were no assurances on getting access to markets like China while the trade pact would have opened up India's market.
Most Favoured Nations
India also raised the unviability of Most Favoured Nation obligations where India would be forced to give similar benefits to RCEP countries that it gave to others.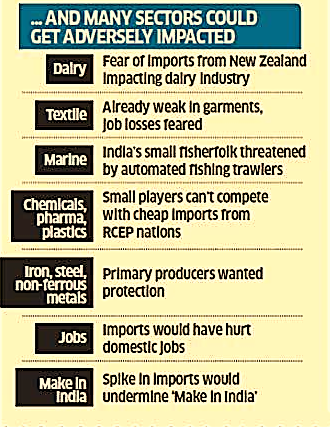 Source: ET
What India Wanted?
Auto- Trigger Mechanism
India wants an auto-trigger mechanism to be institutionalised in the pact which would serve as a kind of protective mechanism that a member country can invoke to safeguard in case of an unexpected flow of imports after RCEP comes into effect.
Ratchet Obligations
India wants exemptions built into the ratchet obligations as part of the pact. A ratchet obligation implies that a member country cannot raise tariffs once the pact comes into effect. An exemption would imply that a country will be able to erect restrictive measures later on grounds of protecting national interest.
Data Localisation
India wants all countries to have the rights to protect data. This would imply that countries can share data only where it is necessary to achieve a legitimate public policy objective or necessary in the country's opinion, for the protection of its essential security interests or national interests.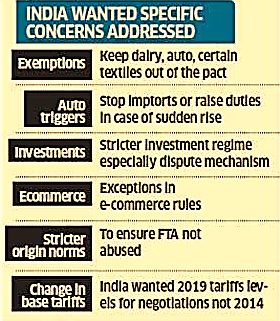 Source: ET
Way Forward
China needs greater access to Indian market to sustain its manufacturing industries. A failure to find a market will have cascading effect on Chinese economy.
RCEP has come up as a Chinese game plan to save its manufacturing industries from crumbling under their own weight. Several industrial players in India red-flagged the Chinese agenda of flooding the Indian market using the RCEP countries as a connecting network.
India, with its 1.3 billion population, offers the biggest free access market to the Chinese companies that are feeling the pinch of US-China trade war with Donald Trump administration taking on the manufacturing giant in the past one-and-a-half years.
Critics are also not confident that India would be able to take advantage of the deal, given its poor track record of extracting benefits from the FTAs with these countries. India's trade gap with these countries may widen if it signs the RCEP deal.
However, joining the RCEP would have given more substance to its Act East policy. The economic pillar of this policy has remained weak compared to those pertaining to political ties, strategic and security aspects and people to people relations.
Opting out of the RCEP implies there is need for greater exertion now on strengthening connectivity, trade and investment bilaterally.
---