UN Experts Flag Concerns On EIA Notification
---
Recently, a group of Special Rapporteurs to the United Nations has written to the Centre expressing concern over the proposed Environment Impact Assessment (EIA) notification 2020.
It has sought the government's response on how the provisions of the notification were consonant with India's "obligations under international law".
Vital Concerns raised by UN Special Rapporteurs
Under the Clauses 14 (2) and 26, the notification provide an exemption to a number of giant industries such as chemical manufacturing and petroleum merchandise, constructing, widening of nationwide highways, etc. from public consultation — as part of the environment impact assessment process.
The rapporteurs argued that the exemptions were unwarranted, particularly when there was a serious gas leak from (LG Polymers) chemical plant in Visakhapatnam on May 12, 2020 and oil gas blowout in Assam's Dibrugarh in June, 2020.
The draft notification doesn't require publication of data or holding of public session for tasks labelled by the Central authorities as 'involving strategic concerns'.
There is clause on "post-facto clearance" is worrisome. These are forprojects which began without acquiring the required environmental clearances or permissions.
Overall, it contradicts fundamental ideas associated to the environmental rule of regulationthat obstructed people's rights to a safe, clean and healthy environment.
Indian Government's Response over the Concerns
The government said that nothing in the proposed EIA, 2020 violated the UN Declaration of Human Rights and that the rapporteur's concerns were "misplaced".
The proposed EIA is still a draft and issued for public consultation and that there were several imperfections in the existing EIA that were to be amended in the new notification.
With regard to post-facto clearances, the violation of not taking prior approval would be punished as per law and projects that were already running would be considered only on merit.
UN Special Rapporteurs
They are independent experts working on behalf of the United Nations.
The mandate of the Special Rapporteur was created by the Human Rights Council to protect and promote freedom of opinion and expression, offline and online, in light of international human rights law and standards.
Furore over Draft Environment Impact Assessment Notification, 2020
The draft Environmental Impact Assessment (EIA) notification 2020 proposed by the Ministry of Environment, Forest and Climate Change has met with massive opposition.
Contentious Clauses in Draft EIA, 2020
Re-Categorisation of Projects: It re-categorises all the projects and activities related to the production of bulk drugs and intermediates for several ailments from 'A' category to 'B2' category.This re-categorisationwill seriously affect the environment, since these will be carried out without oversight.
Post-facto Approval: The new draft allows for post-facto approval for projects. It means that the clearances for projects can be awarded even if they have started construction or have been running phase without securing environmental clearances.It implies that those projects can also seek clearance that violate the Environment (Protection) Act, 1986 (EPA).
Reducing Public Participation: Numerous provisions of the new EIA also endanger the basic tenets of public participation. The period for public consultation has been reduced from 30 days to 20 days. Considering the socio-political context of the vulnerable population typically affected by 'development' projects, this reduction could literally exclude some groups of people from consultation.
Exemption of Strategic Projects: The introduction of the category of "strategic projects'', which has been clubbed with Defence projects, has also been a cause of concern — they do not require public consultation, and information need not to be made public.These points to excessive executive discretion.
Compliance Report Issue: The 2006 EIA required that the project proponent submit a report every six months, showing that they are carrying out their activities as per the terms on which permission has been given.However, the new draft requires the promoter to submit a report only once every year.During this period, certain irreversible environmental, social or health consequences of the project could go unnoticed because of the extended reporting time.
Exemption to Construction Projects up to 150,000 sq m: It also exempts up to 150,000 sq m construction projects from the assessment. These projects can now gain environment clearance after scrutiny by state-level expert appraisal committee. Earlier, the exemption was granted to construction projects of up to 20,000 sq. m or above.
Critical Analysis
Though established to safeguard the environment, the EIA process, argue activists, often achieved the opposite by offering a facade of legal paperwork for a range of de facto concessions enjoyed by industries.
For example, reports on project's potential (damaging) impact on the environment — the bedrock of the EIA process — are frequently shoddy and consultant agencies that prepare those reports for a fee are rarely held accountable.
Lack of administrative capacity to ensure compliance often renders long lists of clearance conditions meaningless.
On the other hand, developers complain that the EIA regime dampened the spirit of liberalisation, leading to red tape and rent-seeking. Delay in project clearance during the UPA-II rule became an election issue in 2014 when then prime ministerial candidate Narendra Modi hit out at the Congress by claiming that files did not move in the Environment Ministry till "Jayanthi tax" was paid.
The 2020 draft offers no remedy for the political and bureaucratic stronghold on the EIA process, and thereby on industries. Instead, it proposes to bolster the government's discretionary power while limiting public engagement in safeguarding the environment.
The government's actions on environmental regulation (as opposed to its bon mots and rhetoric) show that it considers it an impediment to the ease of doing business.
Conclusion
India is a party to the Rio declaration adopted by the United Nations Conference on Environment and Development (UNCED) in 1992, which enunciated a catalogue of environmental principles including sustainable development, precautionary principle, and EIA.
India is also party to the Convention on Biological Diversity (CBD) and United Nations Framework on Climate Change (UNFCCC), which contain a requirement to have a prior EIA in situations having a significant threat to the environment.
Weakening the EIA process is essentially anti-democratic. For affected communities, where seismic shifts in the local environment can threaten livelihoods, flood a valley or destroy a forest, public consultation is a referendum on existential threats.
The Environment Ministry must make sure that the final EIA draft does justice to the complex relations between environment, development and local communities that the public consultation process has brought to light.
The dilution of environmental standards in the EIA needs to be evaluated in the background of the robust environmental principles operating at the national and international levels.
Also, decisions that will lock-in carbon-intensive infrastructure in the long term need to be scrutinised, particularly in light of India's commitments under the Paris Agreement process.
The Environment Ministry needs to be clear about its role — its mandate is to create and sustain a regulatory framework that prevents the plunder of our natural resources, not actively accelerate the pace of environmental devastation.
As India is a highly vulnerable country, it should be the government's priority to ensure that regulatory approvals do not make parts of the country more vulnerable or adversely impact the adaptive capabilities of communities.
Environmental Impact Assessment(EIA)
It is a process of evaluating the likely environmental impacts of a proposed project or development, taking into account inter-related socio-economic, cultural and human-health impacts, both beneficial and adverse.
It prevents the proposed activity/project from being approved without proper oversight or taking adverse consequences into account.
UNEP defines EIA as a tool used to identify the environmental, social and economic impacts of a project prior to decision-making.
It aims to predict environmental impactsat an early stage in project planning and design, find ways and means to reduce adverse impacts, shape projects to suit the local environment and present the predictions and options to decision-makers.
Strict Conditions For Commercial Use Of Groundwater
---
Recently, in a major revamp of regulations, the National Green Tribunal (NGT) has set out stringent conditions for commercial groundwater use.
The NGT order came while hearing a plea filed by a Haryana-resident alleging illegal extraction of groundwater and discharge of polluted water into drain by an industrial unit in Panipat (Haryana).
In addition, NGT has also struck down the Central Ground Water Authority's (CGWA) 2020 guidelines, saying they were against the law.
The 2018 version of the guidelines had been struck down by the NGT last year.
Need for Conditions
Extraction of groundwater has been liberalised, adding to the crisis, unmindful of the ground situation and likely impact it will have on the environment.
India was at the bottom of the water quality index, at 120 among 122 countries.
54% of India's groundwater wells have decreased in levels, with 21 major cities across the country expected to run out of groundwater by 2020.
India accounted for 25 percent of the total annual global water extracted, with the extraction level steadily increasing.
According to a report by the Central Water Commission (CWC), the annual replenishable groundwater resources in India (2017) are 432 BCM, out of which 393 BCM is the annual "extractable" groundwater availability.
No state in India has shown any confidence inspiring attempt to regulate groundwater use or ensure that groundwater recharge mechanisms are protected and enhanced.
If the present rate of groundwater depletion persists, India will only have 22% of the present daily per capita water available in 2050, possibly forcing the country to import its water.
New Conditions laid by NGT
NGT has specifically banned the general permission for the withdrawal of groundwater, especially to the commercial entities without an Environment Impact Assessment (EIA).
Industries must expect a complete overhaul in the manner in which the permits are issued for the extraction of groundwater for commercial activities. They must ensure that all the conditions are complied with.
Permits must be for the specified quantity of water and must be monitored with digital flow metres and audited every year by the third parties.
Strict actions, including prosecution and blacklisting, must be taken against those who will fail the audit.
As per the new rules, the authorities are given three months to make water management plans for all the overexploited, semi-critical, and critical areas.
Impact and Associated Concerns
The policy vacuum triggered by a NGT order on the use of groundwater has impacted businesses across sectors.
These directions may put rigorous requirements on the businesses at a time when they have been trying to find their way amid COVID-19.
Further, the restrictions make access of groundwater very difficult.
The move by NGT has also been interfering with the legislative functions of the Jal Shakti Ministry.
Way Forward
In order to address various issues related to ground water, keeping in view the climatic change, there is a need to prepare a comprehensive road map with identified strategies for scientific and sustainablemanagement of the available ground water resources in the country so as to avert the looming watercrisis.
The strategies should also focus on the imbalances in ground water development in the country, reasons thereof and suggesting measures including accelerated development of ground water in areas with low stage of ground water development.
There is an urgent need to change the status quo with tough regulations. Besides appropriate pricing of groundwater, policies that promote judicious use of groundwater in every sector is required.
Efforts also needed to institutionalise and strengthen community-based groundwater management.
Generating awareness about the status of local groundwater resources, education and social mobilisation should form the core elements of community-based groundwater management.
State governments need to take policy action to facilitate formation of Groundwater User's Associations which possess the power to manage, maintain and distribute water resources efficiently.
A groundwater literacy movement should be launched to highlight the irreparable consequences of its over-exploitation.
National Green Tribunal
Established in 2010 under the National Green Tribunal Act, it is a specialized environmental court that deals with cases relating to environmental protection and the conservation of forests.
It has judicial powers that allow it to exclusively decide civil environmental matters.
The tribunal is guided by principles of natural justice and is not bound by the mainstream code of civil procedure.
Scrapping Of Jalyukta Shivar Abhiyan
---
Recently, the Maharashtra Government scrapped the flagship water conservation project-Jalyukta Shivar.
Reasons for Scrapping the Project
Corruption: One of the main corruption charges levied against the previous government in Maharashtra was against the Jalyukta Shivar project. The then CM had announced completion of 10,094 tasks in January, 2019. But in March, charges of discrepancies were levelled against 1,300 tasks carried out under the Jalyukta Shivar scheme, which the then government later accepted.
Improper Fund Allocation: Another reason is improper fund allocation during the final leg of the scheme which led to the substandard quality of work being carried out during the last three years.
Niti Aayog Report: According to the NITI Aayog's Composite Water Management Index-2019, Maharashtra's performance in preserving existing water sources, restoring encroached water bodies, water distribution through canals and irrigation management has worsened since 2015. Despite the Jalyukta Shivar programme, the state has performed poorly in the groundwater recharge. This emboldened government's decision to scrap the project.
Jalyukta Shivar
Launched in December 2014 after Maharashtra experienced consecutive droughts. The project was aimed at rolling out measures that could potentially mitigate water scarcity in the most drought-prone villages in a systematic manner.
Objectives
To arrest maximum runoff in the village area
To create Decentralized Water Bodies
To increase the Groundwater Level in Drought areas
Rejuvenation of the water storage capacity of various existing structures like Village Tank, Percolation Tank Cement Nalla Bandh (CNB) through repairs and renovations
To increase storage capacity of water bodies by removing silt through people's participation.
To sensitize the concept of Water Budgeting
Need for Jalyukta Shivar
Since 2014, hundreds of villages in Marathwada, Madhya Maharashtra and Vidarbha have experienced droughts for consecutive years.
About 82 per cent area of Maharashtra falls is rainfed sector while 52 per cent of area is drought prone. This, when coupled with natural rainfall variability and long dry spells during the monsoons, severely hampers agricultural activities.
Key Features
The project was targeted at strengthening and streamlining existing water resources like canals, bunds and ponds by arresting maximum run-off rainwater during monsoon.
To widen and deepen natural water streams and connect them to nearby water storage facilities like earthen or concrete check-dams was proposed.
Success of Jalyukta Shivar
By January 2019, the scheme had transformed 16,000 drought-prone villages of Maharashtra. The irrigation cover had been increased by 34 lakh hectares. In the process, thereby, increasing the crop yield each year, particularly the kharif crops. Until mid-2019, interventions resulted in stocking of water measuring 24 lakh trillion cubic metres.
Villages that gained called the scheme a game changer, but critics raised issues like sustainability, the contractor-based model and even the lack of data gathering to show the utility of the scheme while the state-run ground water and survey development agency had submitted a report, saying water levels in 31,000 villages had drastically gone down.
Future of Water Conservation in Maharashtra
Geologists and hydrologists, who worked on implementing the project, shared similar views and hailed Jalyukta Shivar programme. This was mainly due to the interventions undertaken in the existing water reserves, planned de-silting activities, among many others.
However, experts agreed that the scheme was not appropriately implemented. Now with Jalyukta Shivar no longer in existence, focused efforts of the past five years, in most likelihood, will go down the drain unless a similar scheme is introduced.
With rainfall variations getting more pronounced, in addition to depleting groundwater reserves, the state will need concrete interventions to tackle its future water requirements.
Torrefaction Technology
---
Pollution from stubble burning in winter is the key contributor to the sharp decline in air quality in northern India. In order to curb the menace of stubble burning, India is currently testing a Swedish technology — Torrefaction, that can convert rice stubble into bio-coal.
The Government of India, in association with Bioendev, (Swedish company) has funded a pilot project to set up a pilot plant at the National Agri-Food Biotechnology Institute in Mohali, Punjab to evaluate the feasibility of the technology.
What is Torrefaction Technology?
Torrefaction is a thermochemical pretreatment process at 200–300 °C in an environment with low oxygen, which transforms biomass into a relatively superior handling, milling, co-firing and clean renewable energy into solid biofuel (coal-like pellets).
Torrefaction technology enables processing various kinds of biomasses:
Woody biomass
Forrest residuals
Saw mill residuals (e.g. saw, dust, chips, bark)
Straw, grass
Parameters
The different parameters that influence the torrefaction process are (a) reaction temperature, (b) heating rate, (c) absence of oxygen, (d) residence time, (e) ambient pressure, (d) flexible feedstock, (e) feedstock moisture, and (f) feedstock particle size.
Process
Torrefaction carries devolatilisation, depolymerization and carbonization of lignocellulose components in order to generate bio-coal.
During this process, 70% of the mass is retained as a solid product, and retains 90 % of the initial energy content.

End Products of Torrefaction
Three different products are produced:
Brown to black uniform solid biomass, which is used for bioenergy applications
Condensable volatile organic compounds comprising water, acetic acid, aldehydes, alcohols, and ketones
Non-condensable gases like carbon dioxide, carbon monoxide and small amounts of methane.
Bio-Coal
Bio-Coal (briquette) is made from agricultural, wooden and forestry wastes by high compression process without adding any chemical, glue or binder.
It is thus 'binder-less' technology product resulting in 100% natural eco-friendly, pollution-free solid fuel. Biomass briquettes are a renewable source of energy and avoid adding fossil carbon to the atmosphere.
A popular biomass briquette takes a waste produce such as sawdust, groundnut shells, cotton stalk, castor seed shells etc. compresses it and then extrudes it to make a reconstituted log that can replace firewood and coal.
Advantages
Economic
Torrefied biomass is believed to be a superior solid fuel for combustion, especially when co-fired with coal due to its higher energy density and coal-like handling proper-ties. Typically during torrefaction, 70% of the mass is retained as a solid product, containing 90% of the initial energy content.
Torrefaction releases combustible gases that can be used to generate the required heat, making the process self-powering.
It addresses some of the difficulties which have hindered the large-scale utilisation of biomass feedstock, namely: low energy density and high water content.
Torrefied product is stable, brittle, easier to grind than the parent biomass material and less liable to biological degradation in storage.
These can be transported economically due to their high energy density. Compaction through pelletizing is suitable forlong hauls via open rail car and ocean vessel, reducing the transportation cost.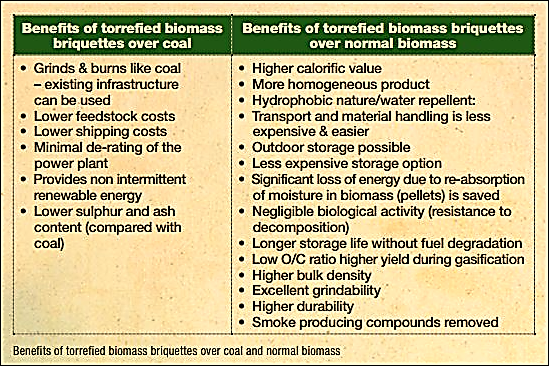 Environment
The main advantage of the torrefaction process is that obtained (in the form of pellets torrefied product on the main thermo technical characteristics is similar to coal, and can be used to coal replacement in different energy units. According to the content of harmful components and, above all, sulfur and heavy metals, from the total ash content and etc., torrefied product is preferable than modern energy coal.
Therefore, it provides an opportunity to replace a significant portion of the coal by torrefied product, thereby reducing the total ecological impact on the environment.
Way Forward
The potential of biomass as a replacement to fossil fuels leads to a number of issues, such as the increase in their price and environmental consequences due to their excessive harvesting and plantation, which leads to deforestation and a consequent decrease in biodiversity.
Widespread consumption of biomass could affect various ecosystems by creating negative impacts on the quality of water and soil and affecting food chains.
However, the torrefaction of biomass has proved to be an ideal process for improving the biomass characteristics as this energy source has proved to be a good alternative to theuse of fossil fuels.
Wastelands Atlas – 2019
---
Recently, Ministry for Rural Development released the fifth edition of Wastelands Atlas – 2019, eight years after the last edition was published in 2011.
The Atlas has been prepared by the Department of Land Resources in collaboration with National Remote Sensing Centre (NRSC).
The changes in wastelands between 2008-09 and 2015-16 have been presented in the Atlas. Earlier, the Wasteland Atlas was published in the year 2000, 2005, 2010 & 2011.
Key Findings
India with 4% of total land area of the world is supporting 18% of the world's population.
The per capita availability of agriculture land in India is 0.12 ha whereas world per capita agriculture land is 0.29 ha.
The effort has resulted in estimating the spatial extent of wastelands for entire country to the tune of 55.76 Mha(16.96 % of geographical area of the country i.e. 328.72 Mha) for the year 2015-16 as compared to 56.60 Mha (17.21%) in the year 2008-09. During this period 45 Mha of wastelands are converted into non wastelands categories.
Majority of wastelands have been changed into categories of croplands (0.64 Mha),forest-dense / open (0.28 Mha), forest plantation (0.029 Mha),plantation (0.057 Mha) and industrial area (0.035 Mha)
Positive changes can be seen in wastelands in the states of Rajasthan, Bihar, Uttar Pradesh, Andhra Pradesh, Mizoram, Madhya Pradesh, Jammu & Kashmir and West Bengal.
There is a net conversion of 0.84 Mha (0.26%) of different wasteland categories in the country during 2008- 09 to 2015-16.
A reduction in wasteland area was observed in the categories of land with dense scrub, waterlogged and marshy land, sandy areas, degraded pastures / grazing land and gullied and / or ravenous land.
Significance
Providing Data about Unmapped Area: The Wastelands Atlas-2019 provides district and state wise distribution of different categories of wastelands area including mapping of about 12.08 Mha unmapped area of Jammu &Kashmir.
Boost to Wasteland Reclamation Schemes: Robust geospatial information on wastelands assumes significance and effectively helpful in rolling back the wastelands for productive use through various land development programmes.
Contribution to International Efforts: It can contribute to the globalresearch agenda operative in India on the implementation of the conservationagriculture and preservation of our natural resources and environment.
Tool to Climate Studies: Land degradation and data on the wastelands can also be used as an effective indicator in the climate change studies at the regional and global scales.
Wasteland
Wasteland is a degraded land which can be brought under vegetative cover, with reasonable effort, and which is currently under utilised and land which is deteriorating for lack of appropriate water and soil management or on account of natural causes.
Categories
Culturable Wasteland- The land which is has potential for the development of vegetative cover and is not being used due to different constraints of varying degrees, such as erosion, water logging, salinity etc.
Unculturable Wasteland- The land that cannot be developed for vegetative cover, for instance the barren rocky areas and snow covered glacier areas.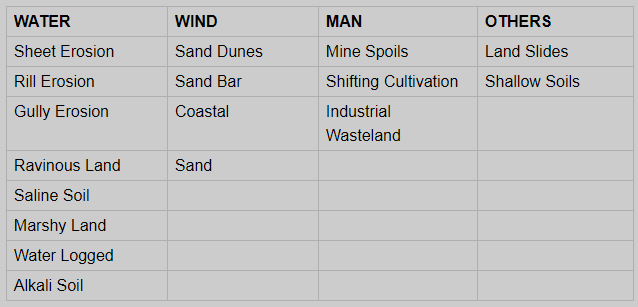 Wasteland based on Causative Agent
Cause of Increasing Wasteland
Increasing biotic pressure
Absence of adequate investments and appropriate management practices
High rate of Population growth and high incidence poverty in rural areas
Over-exploitation of National Resources
The break-down of traditional institutions for managing common property resources and failure of new institutions to fill the vacuum
Faulty land use practices
Reclamation of Wastelands:
The different methods used for the reclamation of wastelands are:
These lands can be brought under cultivation by using excess water and fertilizers. Afforestation and agronomical methods are used to conserve the soil, which help us to use it for agriculture.
Contour bunds are constructed which afford safe disposal of water of the catchment areas.
These lands can be used for settling the landless agricultural laborers.
Government Initiatives
National Wastelands Monitoring Project (NWMP)
Launched by the Ministry of Rural Development in 2006, it aims to providespatial information on wastelands with respect to their nature, magnitude of degradation, extent, spatial distribution of wasteland across the country.
Integrated Wastelands Development Programme (IWDP)
The basic objective IWDP is an integrated wastelands development based on village/micro watershed plans. These plans are prepared after taking into consideration the land capability, site condition and local needs of the people. The thrust of the scheme continues to be on development of wastelands.
The scheme also aims at rural employment besides enhancing the contents of people's participation in the wastelands development programmes at all stages, which is ensured by providing modalities for equitable and sustainable sharing of benefits and usufructs arising from such projects.
Drought Prone Area Programme(DPAP)
It focuses on the non-arable land and drainage lines for in-situ soil and moisture conservation programmeincludes agro- forestry, pasture development, horticulture and alternate land use.
The objective is of environmental protection and restoration of ecological balance through appropriate natural resource management technologies.
Desert Development Programme (DDP)
Objectives
To mitigate the adverse effects of desertification and adverse climatic conditions on crops, human and livestock population, combating desertification.
To restore ecological balance by harnessing, conserving and developing natural resources i.e. land, water, vegetative cover and rising land productivity.
​To implement developmental works through the watershed approach, for land development, water resource development and afforestation/pasture development.
Way Forward
The relentlessly increasing pressure of human and livestock population and the demands of urbanization and economic development have put a severe strain on our limited land resources with the result that the quality of land resources has been deteriorating threatening the ecological balance.
There is need to develop policies, which would result in the best use and sustainablemanagement of land and water resources so as to prevent land becoming degraded and waste in the light of country's food and livelihood security.
Addressing the threat will entail thinking outside the box, which could include focusing on wasteland reclamation to offset anticipated crop production losses.
Besides augmenting production, investments in wasteland reclamation can also help restore ecosystem services such as climate regulation and aesthetics, and also increase biodiversity.
In order to accelerate the progress under various schemes there is need for initiating actions, viz. peoples' participation and community organization need to be made very effective by building their capacity through structured training programs to ensure proper planning, implementation and monitoring that can achieve quantitative and qualitative objectives of the programmes.
Second Phase Of LOTUS-HR Project Launched
---
On 14th October, 2019, India and Netherlands launched the second phase of the Local Treatment of Urban Sewage streams for Healthy Reuse(LOTUS-HR) plant as a part of joint collaboration in New Delhi.
The launch programme was held during the visit of Netherlands King and the Queen to the India-Netherlands water laboratory at the Barapullah drain in Delhi.
Aim
To develop universal water management and risk assessment strategies that are applicable for megacities all around the world
To demonstrate a novel holistic waste-water management approach that will produce clean water that can be reused for various purposes (e.g. industry, agriculture, construction etc.)
To recover nutrients and energy from the urban waste water, thus converting drain into profitable mines
Need for the Project
The Barapullah drain, where the pilot of the program is being implemented, witnesses the flow of 1.6 million litres of waste water produced by New Delhi which eventually drains in to the Yamuna River polluting it severely.
New Delhi is also dependent on the water from the Yamuna thereby further contributing to water scarcity and treatment costs.
About LOTUS-HR Project
The project was started in 2017 at the Sun Dial Park, New Delhi as part of collaboration between the governments of India and the Netherlands.
The project is jointly supported by the Department of Biotechnology of the Indian government's Ministry of Science and Technology and Netherlands Organisation for Scientific Research/STW of the government of the Netherlands.
IIT-Delhi and The Energy and Resources Institute (TERI) are partners in this project.
The programme consists of 3 research line-

Water Reuse Safety Plans and their socioeconomic and legal impact in combination with quantitative risk assessments of the produced water qualities.
Focus on the pre- and post-treatment of wastewater from the Barapullah drain, to make it available for safe reuse.
Special attention will be paid to pathogen removal and removing conventional and emerging pollutants.
A Hybrid Anaerobic Reactor is being used to the waste water. The idea behind it is that is that these bacteria not only eat away the pollutants but also generate methane gas which can be used later for feeding a Solid Oxide Fuel Cell (SOFC), compact wastewater treatment and anaerobic digestion followed by flotation, high production photobioreactors(PBR) and compact easy replaceable wetlands, based on innovative filling material (e.g. Hydrorock).
Plant has capacity to convert 10 lakh litres of sewage to 3 tonne of bio-fuel per day.
Wet Lab
Jointly supported by Department of Biotechnology and Netherlands Enterprise Agency, WetLab is a competition that will enable unique learning and networking for young India and Dutch professionals and students.
Aim
It aims to build a platform for innovative ideas to solve India's urban water challenges and contribute to cleaning up India's rivers.
Significance
The intent of Wet lab is focussed on making best ideas becoming an input for the realisation of the Water Experience Center that may further lead to turning the project site into an attractive center for education and technology demonstration for students, young professionals and creating opportunities for startups.
Significance
Sustainable Business Model: The Indo-Dutch collaboration would pave new ways to create techno entrepreneurship and encourage a sustainable business model to convert sewage water into clean water for healthy re-use.
Market Development for Water Reuse Strategies: Thiswill leadto development of reliable technologies, tools, models and approaches for local stakeholders enabling market development for water reuse strategies and solutions for other Indian Mega Cities.
Tool-Box Treatment Technology: This pilot scale facility will employ multiple technologies so that the data generated at the pilot scale becomes a tool-box of treatment technologies for replication at other sites in Delhi as well as other parts of India where similar drains exist.
Ground water Recharge:This collaborationwill help in the revamping of drains and will play an important role in aiding ground water recharge which in the long run will provide water for potable and non-potable purposes.
Boost to Swachh Bharat Abhiayaan: This initiative will provide a boost to the attempt to meet the goals set by the Swachh Bharat Abhiyaan and contribution of the Department of Biotechnology, "Swachhta Hi Seva" movement launched by Prime Minister recently.
Way Forward
Wastewater treatment infrastructure available is highest in the metropolitan cities; even there the gap between wastewater generated and treated is considerable with the population and wastewater generated increasing day by day. The existing treatment capacity is not fully utilized in most cities because of lack of sewage pipe lines bringing sewage to the treatment plants
Thus, there is a need for new wastewater infrastructure construction and improvement of the existing wastewater treatment systems. Upgrading of the wastewater treatmenttechnologies also needs to be undertaken, for better treatment of the sewage.
There is also a need for renovation of the sewer system from time to time. New wastewater treatment systems need to be constructed with more focus on economic viability and environmental sustainability. Importance should also be given to create awareness on sanitation and pollution issues among users so that their cooperation in maintaining their own environments can be assured
Given the magnitude of the problem, wastewater treatment in India cannot be just government responsibility. The truth is that the government simply does not have the resources to meet the massive demand. The obvious solution is to look for private-public partnership. By inviting private partnership in wastewater and sewage management, we can take advantage of better technology and localized systems and find efficiency.
An integrated approach needs to be evolved balancing infrastructural and socio-economic measures for water quality management.
Further success of the ongoingSwachh Bharat campaign will beensured only if water is available in the toilets constructed and if the wastewater generated isalso treated and the treated water reused or disposed-off in a sustainable manner.
India's First E-waste Clinic
---
On 5th October, 2019, the Central Pollution Control Board (CPCB) and the Bhopal Municipal Corporation (BMC) signed a Memorandum of Understanding (MoU) to set up the country's first e-waste clinic in Bhopal, Madhya Pradesh.
Initially, it will be a three-month pilot project and being successful, it would be replicated elsewhere in the country.
The clinic is being conceived in compliance with the Solid Waste Management Rules, 2016.
Objective
The initiative would enable segregation, processing and disposal of waste from both household and commercial units.
Mode of Action
Under this, electronic waste will be collected door-to-door or could be deposited directly at the clinic in exchange for a fee.
Door-to-door collection will happen in two ways.-
Separate carts for the collection of e-waste will be designed
Separate bins will be attached to existing ones meant for solid and wet waste.
Significance
In the absence of a safe disposal mechanism, electronic waste at present is being disposed of along with other waste. The new initiative would ensure scientific handling, disposal and recycling of e- waste leading towards more sustainable e- waste management system in the country.
Electronic-waste Scenario in India
Electronic waste (e-waste) typically includes discarded computer monitors, motherboards, mobile phones and chargers, compact discs, headphones, television sets, air conditioners and refrigerators.
According to the Global E-Waste Monitor 2017, India generates about 2 million tonnes (MT) of e-waste annually and ranks fifth e-waste producing countries, after the US, China, Japan and Germany.
In 2016-17, India treated only 0.036 MT of its e-waste.
In India, among top ten cities, Mumbai ranks first in generating e-waste followed by Delhi, Bangalore, Chennai, Kolkata, Ahmadabad, Hyderabad, Pune, Surat and Nagpur.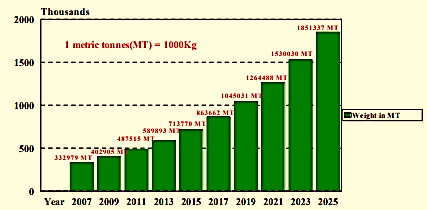 Source: Department of Information Technology
Impact of e-waste
Effect on Human Health
In India, 90 percent of the recycling and disposal of e-waste is done by the informal/ unorganised sector. Additionally, the amount of human health issues increases significantly the closer these people are to informal e-waste recycling areas.
Many of the workers are children who work with their bare hands, dealing with enormous quantities of toxic metals. The heavy metals present in e-waste are known to cause neurological and skin diseases, genetic defects and cancer in workers who handle them.
The cathode ray tubes (CRTs) present in computer monitors, with heavy metals like lead, barium and cadmium, may be harmful during the improper processing and cause an adverse impact on the human nervous and respiratory systems.
Lead and cadmium present in the printed circuit boards, beryllium of the motherboards, mercury in switches and flat-screen monitors, cadmium in the computer batteries, polyvinyl chloride (PVC) in the cable insulation and bromine in plastic housing may cause damage to the human body parts such as nervous system, kidney and liver, lungs and skin, heart, lever and muscles, brain and skin, kidney and liver, immune system and endocrine system respectively.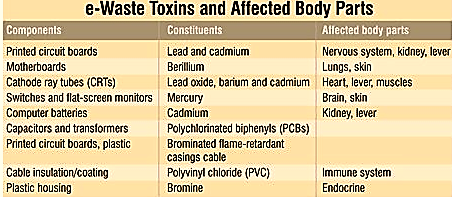 Source: electronicsforu
Impact on Environment
Effects on air

One of the most common effects of e-waste on air is through air pollution. These wastes are often burned in open air in order to extract valuable metals from the.(for ex. Copper metal), which can release hydrocarbons into the air.

Effects on soil

Due to unscientific recycling methods, toxic heavy leaches out into the soil, leading to soil contamination. These chemicals are not biodegradable—they persist in the environment for long periods of time, increasing the risk of exposure.

Effects on water

When electronics containing heavy metals such as lead, barium, mercury, lithium (found in mobile phone and computer batteries),are improperly disposed, these heavy metals leach through the soil to reach groundwater channels which eventually run to the surface as streams or small ponds of water, leading to serious health issues.
Government Initiatives
E-Waste management Rule, 2016
The Ministry of Environment, Forest and Climate Change has notified the E-Waste Management Rules, 2016 in supersession of the e-waste (Management & Handling) Rules, 2011.
It now includes Compact Fluorescent Lamp (CFL) and other mercury containing lamps, as well as other such equipment.
It brings the producers under Extended Producer Responsibility (EPR), along with targets. Producers have been made responsible for collection of E-waste and for its exchange.
The ministry is also implementing a scheme called the 'Creation of Management Structure for Hazardous Substances', which includes an awareness programme about the new Rules and its implementation.
Awareness Programme on Environmental Hazards of Electronic Waste
The Ministry of Electronics and Information Technology has initiated a pilot project 'Awareness Program on Environmental Hazards of Electronic Waste' under the 'Digital India Initiative'.
The Scheme aims to provide financial support to Societies, Academic Institutions, Industry Associations and professional organisations for organizing workshops/ seminars for schools/ colleges/ Resident Welfare Associations (RWAs)/ Bulk Consumers/ Regulatory bodies, media engagement etc. and making campaign material for wide circulation on ill-effects associated with e-waste.
Besides awareness, the programme would also undertake inventory study for estimation of the quantum of e-waste in few selected cities.
Central Pollution Control Board (CPCB)
Constituted in September 1974 under the Water (Prevention and Control of Pollution) Act, 1974, it is a statutory body, entrusted with the powers and functions under the Air (Prevention and Control of Pollution) Act, 1981.
It also provides technical services to the Ministry of Environment and Forests regarding the provisions of the Environment (Protection) Act, 1986.
Functions
To promote cleanliness of streams and wells in different areas of the States through prevention, control, and abatement of water pollution.
To improve the quality of air and to prevent, control or abate air pollution in the country.
Extended Producer Responsibility (EPR)
EPR is as an environmental policy approach in which a producer's responsibility for a product is extended to the post-consumer stage of a product's life cycle.
It can help an organisation to demonstrate a deeper commitment to reducing its environmental impact.
An EPR policy is characterised by:
the shifting of responsibility (physically and/or economically; fully or partially) upstream toward the producer and away from municipalities.
the provision of incentives to producers to take into account environmental considerations when designing their products.
Benefits of EPR
Generation of positive producer responsibility opportunities
Improved environmental credentials
Competitive advantage over others in your industry
Can create jobs in local communities
Strengthened customer loyalty
International Initiative
Basel Convention
The Basel Convention on the Control of Transboundary Movements of Hazardous Waste and their Disposal controls the international trade in hazardous wastes.
The Convention was adopted in 1989 and entered into force in 1992. Under the Convention's provisions, trade in hazardous wastes generally cannot take place:
without the importing country's written consent to a particular export
where the exporting country has reason to believe that the particular wastes will not be handled in an environmentally sound manner.
Objective
To protect human health and the environment against the adverse effects of hazardous wastes.
Aim
Reduction of hazardous waste generation and the promotion of environmentally sound management of hazardous wastes, wherever the place of disposal
Restriction of transboundary movements of hazardous wastes except where it is perceived to be in accordance with the principles of environmentally sound management
A regulatory system applying to cases where transboundary movements are permissible.
Way Forward
E-waste generation in India is estimated to increase by 500 percent by 2020. Producers, recyclers and policy-makers need to work together simultaneously to cover this gap in waste-management.
Lack of awareness at all levels including corporate is a major challenge that hampers or slows down the collection.
Governments should assist producers in driving awareness of proper disposal options and should also promote awareness of current and pending legislation as well as of available producer recycling programs.
Legislation should require recycling standards equivalent with globally-recognised standards to ensure those materials are managed in a socially and environmentally sound manner, ensuring a level playing field for all recyclers.
Apart from better implementation of existing policies, a need for strengthening of existing infrastructure through public-private partnership can play a pivotal role in balancing the deficit in recycling capabilities. Recycling infrastructure need huge boost and attention from the Government as well as from electronic and electrical product manufacturers.
Immense potential is there in augmenting e-waste recycling in the country. There are some forward movements in this direction, however, lots of ground has to be covered through awareness campaign, skill development, building human capital and introduction of technology while adopting adequate safety measures in the country's informal sector.
World Bank Report On Water Quality
---
Why is it in News?
On 20th August, 2019, the World Bank published a report according to which, one-third of the potential economic growth will be affected in heavily water polluted areas leading to invisible crisis of water quality.
The report, titled 'Quality Unknown: The Invisible Water Crisis' is the biggest-ever database assembled on global water quality using monitoring stations, satellite data, and machine learning models.
Key Findings of the Report
Deteriorating Water Quality across the Globe: Water quality challenges are not unique to developing countries but universal across rich and poor countries alike. High-income status does not confer immunity with pollutants grow alongside GDP.As countries develop; the mixture of chemicals and biological vectors from fecal bacteria to nitrogen to pharmaceuticals and plastics makes the quality of water worse.
Overhauling Waste Water Treatment Infrastructure:Standing assumptions about wastewater treatment infrastructure need to change, investments must be scaled up but also need to become more effective. More than 80 % of the world's wastewater and more than 95 % in some developing countries is still being released into theenvironment without treatment.
Huge Investment Required in Treatment Plant: There is an urgent need for greater investment in wastewater treatment plants, especially in heavily populated areas.
Poor Water Quality Hinders Economic Growth: Water pollution endangers economic growth. The release of pollution upstream acts as a headwind that lowers economic growth downstream. Poor water quality stalls economic progress, stymies human potential and reduces food production severely affecting the development of any nation in the world.
Biological Oxygen Demand (BOD): When BOD, a measure of how much organic pollution is in water and a proxy measure of overall water quality, passes a certain threshold, GDP growth in downstream regions is lowered by a third.
BOD & Middle Income Countries:In middle-income countries - where BOD is a growing problem because of increased industrial activity - GDP growth downstream of highly polluted areas drops by half.
Microplastics in Fresh Water: Pollutants of emerging concern such as microplastics and pharmaceuticals illustrate the complex nature of water quality issue with no immediate or obvious solutions. These are found in nearly 80% of global freshwater sources, 81% of municipal tap water, and even 93% of bottled water. Removal of plastics, once in water, is difficult and costly.
World Bank
Headquarters: Washington DC, United States.
Established in 1944, the World Bank is one of the world's largest sources of funding and knowledge for developing countries.
Its five institutions share a commitment to reducing poverty, increasing shared prosperity, and promoting sustainable development.

The International Bank for Reconstruction and Development(IBRD)
The International Development Association(IDA)
The International Finance Corporation(IFC)
The Multilateral Investment Guarantee Agency(MIGA)
The International Centre for Settlement of Investment Disputes(ICSID)
Factors Contributing to Poor Water Quality
Nitrogen
Nitrogen which is applied as fertilizer eventually enters rivers, lakes and oceans where it transforms into nitrates.
Nitrates in water are responsible for fatally inflicting Blue Baby Syndrome, which starves infants' bodies of oxygen.
Salinity
Salinity diminishes agricultural productivity. Saline waters and soils are spreading throughout much of the world because of increasing rates of water extraction, droughts and rainfall shocks, sea-level rise, and poorly managed irrigation systems.
The agricultural yields fall almost exactly in line with increased salt concentrations in water.
Enough food is lost due to saline waters each year to feed 170 million people every day – that's equivalent to a country the size of Bangladesh. Such a sizable loss of food production to saline waters means food security will continue to be jeopardized unless action is taken.
Other factors responsible for water quality deterioration:

Intensification of agriculture
land use changes
more variable rainfall patterns due to climate change
growing industrialization
Suggestions to Improve Water Quality
The report recommends a set of actions that countries can take to improve water quality. These include:

Environmental policies and standards
Accurate monitoring of pollution loads
Effective enforcement systems
Water treatment infrastructure supported with incentives for private investment
Reliable, accurate information disclosure to households to inspire citizen engagement
Way Forward
Poor water quality threatens growth, harms public health and imperils food security. The world needs reliable, accurate, and comprehensive information so that policy makers can have new insights, decision making can be evidence based, and citizens can call for action.
With water scarcity expected to increase as populations grow and the climate changes, the world cannot afford to waste and contaminate its precious water resources.
The large gap in public sector resources need for new action models that attract private investments, accompanied by appropriate incentive structures that monitor performance, penalize profligacy, and reward the success.
India Now Largest Emitter Of Sulphur Dioxide
---
On 19th August, 2019, environmental NGO Greenpeace released a report according to which India overtook China to become the largest emitter of Sulphur Dioxide (SO2) in the world, contributing more than 15 per cent of global anthropogenic emissions.
The analysis is based on hotspots detected by NASA's Ozone Monitoring Instrument (OMI) satellite data that captured more than 500 major source points of SO2 emissions across the globe including natural sources such as volcanoes.
Key Points of the Report
India was found at the top position in emitting SO2 as it has the maximum hotspots as per the nation-wise rankings.
Major Hotspots in India: This includes Singrauli (Madhya Pradesh), Neyveli and Chennai (Tamil Nadu), Talcher and Jharsuguda (Odisha), Korba (Chhattisgarh), Kutch (Gujarat), Ramagundam (Telangana) and Chandrapur and Koradi (Maharashtra).
Hotspots across the Globe: It also highlights other hotspots across the globe, with the Norilsk smelter complex in Russia being the largest SO2 emission hotspot in the world, followed by Kriel in Mpumalanga province in South Africa and Zagros in Iran.
Individual Hotspots: The Norilsk smelter site in Russia continues to be the largest anthropogenic SO2 emission hotspot in the world, followed by the Kriel area in Mpumalanga province of South Africa, Zagroz in Iran, and Rabigh in Saudi Arabia. Singrauli in Madhya Pradesh is at number five.
Reasons for India's Emission
Expansion of Coal Based Electric Plants:The primary reason for India's high emission output is the expansion of coal-based electricity generation over the past decade.Five of the top 10 SO2 emission hotspots from coal/power generation industry across the world are in India.
Lack of Flue-Gas Desulfurization(FGD) Technology: The vast majority of plants in India lack flue-gas desulfurization technology to reduce the pollution from the sulphur.
Flue-Gas Desulfurization( FGD) Plant
FGD plant removes SO2from flue gas produced by boilers, furnaces, and other sources.
There are two main methods for cleaning flue gases from coal combustion at electric generating stations: dry scrubbing and wet scrubbing.
Lime is used in both systems. Dry scrubbing is also used at municipal waste-to-energy plants and other industrial facilities, primarily for Hydrochloric acid control.
Impact of Sulphur Emission
Effect on Environment
When SO2 combines with water and air, it forms sulfuric acid, which is the main component of acid rain.Acid rain can:

acidify water sourcesaffecting badly the aquatic life
corrode building materials posing a significant danger to human

It is absorbed by soils and plants, affecting our land and water ecosystems, and it can even be captured within and below clouds, which increases the chance of acid rain.
Even small amounts of SO2can harm plants and trees and slow down their growth and development.
It can form secondary particles (sulphates) that cause haze and reduce visibility.
Effect on Health
SO2 can cause various health issues which include respiratory problems such as bronchitis, irritation nose, and throat. It has been linked to cardiovascular disease.
Sensitive groups such as elderly, children or asthmatics will notice strongest symptoms and effects. They are also more susceptible to develop diseases, in case they do not have them yet.
High concentrations of SO2 in the atmosphere commonly create other sulphur oxides, which reacts with other compounds to form particulate matters(PM). As a result, long-term exposure can seriously damage lungs since PM can penetrate deeply into living organisms.
Government's Initiative against Sulphur Emission
The Government in September, 2016, mandated Bharat Stage VI (BS-VI) mass emission standards for various classes of motor vehiclesdirectly from BS-IV norms, throughout the country from April 1, 2020.
The level of sulphur is the most significant difference between Bharat Stage IV and Bharat Stage VI norms.BS-IV fuels contain 50 parts per million(ppm) sulphur, the BS-VI grade fuel only has 10 ppm sulphur.
In December 2015, the Ministry of Environment, Forest and Climate Change, had introduced for the first time SO2 emission limits for coal power plants with an initial deadline to retrofit technology to control SO2 emissions from power generation by December 2017.
However, this was later extended till December 2019 for power plants in Delhi-NCR and till 2022 for some other power plants across the country through a Supreme Court order.
Way Forward
Of the world's major emitters, China and the United States have been able to reduce emissions rapidly by switching to clean energy sources. China, in particular, has achieved success by dramatically improving emission standards and enforcement for SO2
India should accelerate implementation of the emission standards and stop any new investment on coal and move aggressively towards renewable energy sources which are not just environment friendly but are overall sustainable and cheaper than polluting coal.
Significant Decline In Stubble Burning: ICAR
---
According to the Indian Council of Agricultural Research (ICAR), there was 41 percent reduction in crop residue burning in Punjab, Haryana, Uttar Pradesh and Delhi-NCR,North India in 2018 compared with that in 2016.
Reduction in Incidents of Crop Residue Burning
The incidents of crop residue burning have reduced by 40-45% in Haryana, 25% in western Uttar Pradesh and 14-15% in Punjab after farmers switched to happy seeder machine that helps them to earn more while also reducing air pollution.
So far, 4,500 villages (covering 8 lakh hectare) in Punjab, Haryana and UP have been declared as 'zero stubble burning' during 2018 as not a single crop burning incident was reported from these villages during the year.
This significant success was achieved due to the various efforts under the Central Sector Scheme on 'Promotion of Agricultural Mechanization for In-Situ Management of Crop Residue in the State of Punjab, Haryana, Uttar Pradesh and NCT of Delhi'. Under which the farmers switched to happy seeder machine that helps them to earn more while also reducing air pollution.
Impact of Stubble Burning
Impact on Environment
The burning of one tonne of paddy straw releases 3 kg particulate matter, 60 kg CO, 1460 kg CO2, 199 kg ash and 2 kg SO2, increasing the air pollution.
In addition, a large number of toxic pollutants like methane, volatile organic compound and carcinogenic polycyclic aromatic hydrocarbons are released in the burning process giving rise to the formation of smog. Smog, further, increases the level of air pollution in nearby cities and completely wrecking the air quality index, hampering the atmospheric visibility, further impacting the reasons for climate change.
Impact on Soil Fertility
Stubble burning destroys the existing minerals present in the soil which adversely hampers the cultivation of the next crop. The on field impact of burning includes removal of a large portion of the organic material, making it less fertile.
The heat from burning paddy straw penetrates 1 centimetre into the soil, elevating the temperature to 33.8 to 42.2 degree Celsius. This kills the bacterial and fungal populations critical for a fertile soil, thus adversely affecting the soil ecology.
Due to the loss of friendly pests, the impact of harmful pests increases and as a result, crops are more prone to disease. The solubility capacity of the upper layers of soil is also reduced drastically.
In addition to these, other soil properties like soil temperature, pH, moisture, available phosphorus are greatly affected due to burning.
Impact on Human Health
Burning crops release particulate matter(PM) 2.5 thatis easily carried away along the wind, causing numerous health issues.These particles are tiny enough to get trapped deep inside the lungs, increasing the risk of lung cancer by 36 percent.
The smog-formation and poisonous gases arising from the stubble burning in Punjab and Haryana turns Delhi and other regions of the Gangetic plains into a gas chamber.
Children (below 5 years) and elderly (above 59 years) in urban areas are at high risk of acute respiratory infection (ARI) associated with crop burning, compared to those living in rural areas.
Impact on Economy
According to a report published by the International Food Policy Research Institute (IFPRI) in January, 2019, India loses $30 billion every year from crop fires.
The estimated the economic cost of exposure to air pollution from crop residue burning at USD 35 billion or nearly Rs. 2.35 lakh crore annually for the three north Indian states of Punjab, Haryana and Delhi.
Further, it warns that in next five years economic loss because of burning of crop residue would be $190 billion.
Government Initiatives towards Reducing Stubble Burning
Laws that are in operation pertaining to crop residue burning:
The Section 144 of the Civil Procedure Code (CPC) to ban burning of paddy
The Air Prevention and Control of Pollution Act, 1981
The Environment Protection Act, 1986
The National Tribunal Act, 1995
National Policy for Management of Crop Residue (NPMCR)
Objectives:
Boost the technologies for optimum utilization and in-situ management of crop residue,
Prevent loss of valuable soil nutrients, and branch out uses of crop residue in industrial applications.
Develop and promote suitable crop machinery in farming practices such as modification ofthe grain recovery machines.
Offer discounts and incentives for purchase of mechanized sowing machinery such as the happy seeder, turbo seeder, shredder and baling machines.
Use satellite-based remote sensing technologies to monitor crop residue management with the National Remote Sensing Agency (NRSA) and Central Pollution Control Board (CPCB).
Promotion of Agricultural Mechanization for in-situ Management of Crop Residue:
The government launched this scheme in 2018 in in the States of Punjab, Haryana and Uttar Pradesh and NCT of Delhi, in order to reduce stubble burning and its effect on the environment.
ICAR is implementing the scheme through 60 KrishiVigyanKendras (KVKs) of Punjab (22), Haryana (14), Delhi (1) and UP (23).
Components of the Scheme:
Put in placefarm machinery banks for custom hiring of in-situ crop residue management machinery.
Financial aid to the farmers for procurement of agriculture machinery and equipment for in-situ crop residue management;financial assistance @50% of the machinery/ equipment will be advanced to individual farmers for crop residue management.
Information, education and communication for awareness on in-situ crop residue management;financial assistance will be extended to the State Government/ KVKs, ICAR Institutes, Central Government Institutes, PSUs, etc. for the activities to be undertaken towards information, education and communication.
Possible Alternatives to Stubble Burning
Subsidizing the stubble collecting machines at rent
Provision of reasonable labor to reap the paddy to refrain from stubble generation
To let cattle graze or feed upon to clear away husk and stubble
Decomposing stubble in the farm field and turning it into the useful manure
Making fodder for livestock out of collected stubble
Setting up Bio-mass fuel plants to generate fuel using paddy husk.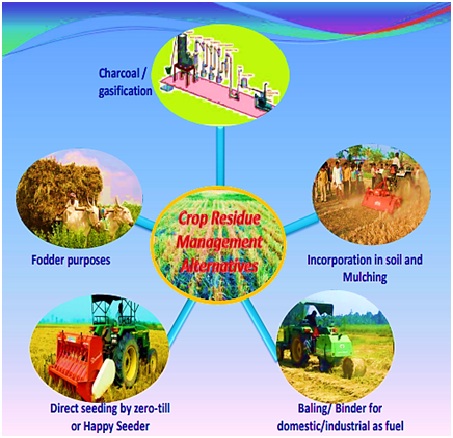 Additionally, farmers can also manage crop residues effectively by employing agricultural machines like:
Happy Seeder(used for sowing of crop in standing stubble)
Rotavator (used for land preparation and incorporation of crop stubble in the soil)
Zero till seed drill (used for land preparations directly sowing of seeds in the previous crop stubble)
Baler (used for collection of straw and making bales of the paddy stubble)
Paddy Straw Chopper (cutting of paddy stubble for easily mixing with the soil)
Reaper Binder (used for harvesting paddy stubble and making into bundles)
Way Forward
Despite efforts from the Indian government, farmers continue to burn crop residues due to lack of convenient and affordable alternatives. Therefore, educating the farming community and other related stakeholders is crucially important to bring them out of generational thinking that they are used to that the waste management is not their responsibility. It is even more important to empower them with technical as well as socioeconomic assistance.
The government needs to design effective policy interventions, agricultural cooperatives, farmer unions, even individual farmers have to work collectively to ensure successful implementation of policies, leading to development of the country, both economically as well as environmentally.
Protest Over Uranium Mining In Nallamala Hills
---
On 11th August, 2019, a protest was staged again by the Joint Forum for People's Democratic Rights against the Uranium mining in the ecologically fragile area of Nallamala hills of Andhra Pradesh.
Andhra Pradesh, and more recently Telangana, is the other state where uranium deposits have been found. The Cuddapah basin in Telangana has been found to have the potential for high grade and extensive uranium deposits.
The Department of Atomic Energy(DAE) has zeroed-in on the lush forest of the Amrabad Tiger Reserve for the mining of the Uranium.
Nallamala Hills
Also called the Nallamalla Range, these are a section of the Eastern Ghats which stretch primarily over Kurnool, Nellore, Guntur, Prakasam, Kadapa and Chittoor districts of the state of Andhra Pradesh and Mahabubnagar, Nalgonda districts of the state of Telangana, in India.
These hills comprises of NagarjunasagarSrisailam Tiger Reserve which is the largest reserve in India and the Amrabad Tiger Reserve, the second largest tiger reserve.
Reasons for Protest
Environmental Issues:
Threat to Forest Ecology:
The uranium mining in the forests would inevitably damage the delicate ecology of the protected areas. Further, the construction of roads and other infrastructures will fragment and degrade the dry forests, which may never recover after such a massive exercise
Water Pollution:
The exploration will expose and pollute surface water, groundwater and leech minerals and dangerous chemicals into the Krishna River as well as Nagarjunasagar Dam. Improper toxic waste management will further aggravate the situation giving rise to serious health issues.
Social Issues:
The exploration in the region has particularly triggered concerns about the Chenchus, a Particularly Vulnerable Tribal Group (PVTG) in Telangana, who already are witnessing a decline in their population. Most of them reside deep in the Nallamala forest.
First this PVTG may face relocation problem and second the uranium mining will affect livelihood of these people, who solely dependon the forest for their living. The major concern is that they will be exposed to uranium contamination, resulting in serious health related problems.
Wildlife Protection Issues:
The Nallamala Hills comprises of Nagarjunasagar-Srisailam and the Amrabad Tiger Reserves. Mining here will adversely impact its variety of wildlife thriving in both the reserves. The project seems poised to destroy the entire ecology of both the tiger reserves.
Way Forward
Given the rising demand of energy across the country, the nuclear energy will definitely provide a long lasting solution to country's energy scenario but at what cost. Despite large investment of money and resources, nuclear energy remains a small blip on India's energy horizon, providing barely 3% of the electricity produced in the country.
Of course the uranium mining will benefit country's people and economy but destroying entire ecosystems and scarce water bodies can hardly be compensated. Uranium mining which provides fuel for the nuclear energy can be substituted with other renewable sources of energy such as solar, wind, geothermal, etc., to meet both the public and country's energy demand.
MGNREGS To Focus On Water Conservation
---
Ministry of Rural Development on 1st July 2019 said that at least 75% of the work under MGNREGS would be geared at water conservation.
Reforming the MGNREGS:
The government is reorienting the Mahatma Gandhi National Rural Employment Guarantee Scheme (MGNREGS) towards water conservation by reserving at least 75% person days during 2019-20 to boost water storage and agricultural activities in the country.
This is an 8% increase from the previous year when 67% work was devoted to this sector.
In terms of funds, 74% of MGNREGS funds have been earmarked for water management this year, up from 63% last year.
The Centre has also targeted completing one million natural resource management (NRM) projects linked to water during its first 100 days. These projects include both individual and community assets such as farm ponds, dug wells, check dams and trenches.
Emphasis of MGNREGS is especially geared on water conservation in the states of Maharashtra, Madhya Pradesh and Jharkhand.
Looming Water Crisis:
India has only 4% of the world's water resources and 16% of the global population, according to the National Water Policy 2012.
The country's per capita availability of usable fresh water is about 1,123 cubic metres, down from about 4,000 cubic metres in 1947, and against the current global average of 3,000 cubic metres.
According to McKinsey, India will be one of the largest centres of agricultural demand for water by 2030. This will require a doubling of its usable water generation. About 90% of India's available water goes into agriculture, according to government data.
UNCCD COP Meet Scheduled In India In September 2019
---
For the first time, India will host the 14th session of the Conference of Parties (COP-14) of the United Nations Convention to Combat Desertification (UNCCD) in September 2019.
Relevance of the News: UNCCD is an important convention of the UN to combat desertification which is a major concern in India also. The meeting will help India to highlight its concerns in this area and to steer the global debate on desertification.
Details of the Proposed Meeting:
To be held between September 2 and 14, 2019 in Delhi, at least 5,000 delegates from nearly 197 countries will be participating in COP-14.
India will take over the COP presidency from China for two years until the next COP in 2021.
Before the COP meeting the Union Environment Ministry has launched a flagship project, which is a part of a larger international initiative called the Bonn Challenge, to enhance India's capacity for forest landscape restoration (FLR).
Bonn Challenge is a global effort to bring 150 million hectares of the world's deforested and degraded land under restoration by 2020, and 350 million hectares by 2030.
At the previous edition of the COP, India had committed to rehabilitate 13 million hectares of degraded and deforested land by the year 2020, and an additional 8 million hectares by 2030.
The Flagship Project:
The project launched by the Environment Ministry will aim to develop and adapt the best practices and monitoring protocols for the country, and build capacity within the five pilot States.
It will be implemented during a pilot phase of three-and-a-half years in Haryana, Madhya Pradesh, Maharashtra, Nagaland and Karnataka, which will be scaled up across India eventually.
Desertification in India:
India faces a severe problem of land degradation, or soil becoming unfit for cultivation.
A 2016 report by the Indian Space Research Organisation found that about 29% of India's land (in 2011-13) was degraded, this being a 0.57% increase from 2003-05.
UNCCD:
Established in 1994, the UNCCD is the only legally binding international agreement linking environment and development issues to the land agenda.
The permanent secretariat of the Convention has been located in Bonn, Germany since January 1999.
The Convention addresses specifically the arid, semi-arid and dry sub-humid areas, known as the drylands, where some of the most vulnerable ecosystems and peoples can be found.
The United Nations has three major Conventions: the United Nations Framework Convention on Climate Change (UNFCCC), the Convention on Biological Diversity (CBD) and the United Nations Convention to Combat Desertification (UNCCD).
India's Waste Dumping Proposal
---
Relevance of the news: The news highlights the developments in the field of global waste management and India's role in it.
Why is it in News?
A proposal by India to avert developed countries from dumping their electronic and plastic waste onto developing countries was defeated at a meeting of the Basel Convention in Geneva.
The Basel Convention:
Basel Convention lays down the guidelines on the movement of hazardous waste in the world.
The text of the agreement, in the current form, still allows countries to export various categories of plastic waste and countries continue to ship different kinds of plastics and e-waste to Indian ports. They may not make it to the mainland but they end up becoming India's problem as we have to spend money and recycle or dump it.
India and Nigeria were the only countries that had strongly opposed the guidelines, pushed by the European Union, to dilute safeguards against the trans-boundary movement of e-waste.
Indian laws currently don't allow electronic and plastic waste to be imported into the country. Plastic and electronic waste recyclers in Special Economic Zones were permitted to import waste for recycling. However, they will not be allowed to do so after August 31 this year.
A key outcome of the meeting was an amendment to the Convention that includes plastic waste in a legally-binding framework which would make global trade in plastic waste more transparent and better regulated, whilst also ensuring that its management is safer for human health and the environment.
Pollution from plastic waste has reached epidemic proportions with an estimated 100 million tonnes of plastic now found in the oceans, 80%-90% of which comes from land-based sources.
India, too, grapples with the problem of having piles of electronic and plastic waste that aren't recycled or treated.
Basel Convention on the Control of Trans-boundary Movements of Hazardous Wastes and their Disposal:
Adopted in 1989 in Basel, Switzerland, the Convention came into force in 1992. It aims to reduce the movement of hazardous waste between countries and especially focuses on preventing transfer of hazardous waste from developed to less developed countries.
It provides for cooperation between the parties, including exchange of information on issues relevant to the implementation of the Convention.
Ambient Air Quality Standards In India
---
Why is it in News?
In a study undertaken by IIT Delhi, it has been found that use of kerosene, fire woods and coal in household contribute to 40% of the PM2.5 level in Gangetic basin districts of India.
National Ambient Air Quality Standards (NAAQS):
Ambient air quality refers to the condition or quality of air surrounding us in the outdoors.
National Ambient Air Quality Standards are the standards for ambient air quality set by the Central Pollution Control Board (CPCB) that is applicable nationwide.
The CPCB has been conferred this power by the Air (Prevention and Control of Pollution) Act, 1981.
The current National Ambient Air Quality Standards were notified on 18 November 2009 by the Central Pollution Control Board. It consists of 12 pollutants namely- PM10, PM2.5, NO2, SO2, CO, O3, NH3, Lead (Pb), Benzene, Benzopyrene, Arsenic and Nickel.
If India already has NAAQS, then why was National Air Quality Index (AQI) launched in 2014?
National Air Quality Index (AQI) was launched by the government under Mission in 2014.
NAAQS becomes a little tedious for the common man to comprehend the air quality, so the government decided that they should come up with a mechanism in which the common man is able to comprehend the air quality in his/her vicinity.
The AQI was launched to simplify the things with 'One Number-One Colour-One Description' for the common man to judge the air quality within his vicinity.
The AQI considers eight pollutants (PM10, PM2.5, NO2, SO2, CO, O3, NH3, and Pb) for which short-term (up to 24-hourly averaging period) National Ambient Air Quality Standards are taken for calculation.
There are six AQI categories, namely Good, Satisfactory, Moderately Polluted, Poor, Very Poor, and Severe depending upon the eight pollutants level.
Related Facts:
Carbon Dioxide (CO2) is not considered as a pollutant in NAAQS & AQI.
It is important to note that CO2 is greenhouse gas, but is not a pollutant.
System of Air Quality and Weather Forecasting (SAFAR):
Ministry of Earth Sciences has unveiled state of the art air quality and weather forecasting system SAFAR in Chandni Chowk, Delhi. Such systems are to be implemented in other cities like Mumbai, Ahmedabad and Pune too.
SAFAR was developed indigenously by Indian Institute of Tropical Meteorology, Pune and operationalized by the India Meteorological Department (IMD).
In addition to regular air quality parameters like PM2.5, PM10, Sulfur Dioxide, Ozone, Nitrogen Oxides, Carbon Monoxide, the system also monitors the existence of Benzene, Toluene and Xylene.
It also measures Sun's UV Index and Mercury levels.
SAFAR also monitors the weather parameters like temperature, humidity, wind speed, wind directions etc.
Source: PIB, cpcb.nic.in, TH
Periyar River
---
Why is it in News?
Periyar River has witnessed extensive discoloration of its water due to eutrophication.
About Periyar River:
Periyar (means big) is a perennial river of Kerala that originates from Sivagiri Hills of the Western Ghats.
It is 2nd largest river of Kerala that flows through Periyar National Park and finally drains into the Arabian Sea.
Periyar River is the backbone to the economy of Kerala as its water is used for agriculture, drinking purposes etc. and so it is referred to as the 'Lifeline of Kerala'.
The largest hydroelectricity project - Idukki Hydro Project - is built on this river.
Tributaries of Periyar River:
Its major tributaries are - Muthirapuzha River, Mullayar River, Cheruthoni River, Perinjankutti River and Edamala River.
Causes of Discoloration of Water of Periyar River:
Reduced water flow to the river led to the stagnant streams of water in few pockets leading to algal boom.
Discharge of pollutants from industries and sewage from households.
The main cause for discoloration is 'Eutrophication'.
Eutrophication:
Eutrophication is the process through which lakes, streams, or bays become overloaded with nutrient-rich water.
When this occurs, large blooms of algae and aquatic plants occur, fed by the excess nitrogen and phosphorus.
When the algae dies, microorganisms in the water begin feeding on the remains as part of the decomposition process and consequently use up the available oxygen in the water.
This leaves little oxygen for fish and other aquatic animals, resulting in the suffocation of aquatic life which finally leads to death of the water body itself.
Sources of Nutrients to the Water Body:
Sources of excess nutrients to these systems include agricultural runoff, overuse of synthetic fertilizers, septic tank or sewage leaks, and erosion etc.
Source: Down to Earth, Livemint, IE
Municipal Solid Waste
---
Why is it in News?
According to an analysis by the Centre for Science and Environment, nearly half of India's waste-to-energy (WTE) plants, meant to convert non-biodegradable waste, are defunct. Further, the country's inability to segregate waste has resulted in even the existing plants working below capacity.
Waste to Energy Plants in India:
Since 1987, 15 WTE plants have been set up across the country. However, seven of these plants have since shut down. Apart from Delhi, these include plants at Kanpur, Bengaluru, Hyderabad, Lucknow, Vijayawada and Karimnagar.
Reason for Inefficiency of these Plants:
The key reasons for closure are the plants' inability to handle mixed solid waste and the high cost of electricity generated by them that renders it unattractive to power companies.
Another reason is the quality and composition of waste. MSW (municipal solid waste) in India has low calorific value and high moisture content. As most wastes sent to the WTE plants are unsegregated, they also have high inert content. These wastes are just not suitable for burning in these plants. To burn them, additional fuel is required which makes these plants expensive to run.
Moreover, the plants are expensive because they produce power at nearly Rs.7 per unit, which is more than the Rs.3-5 offered by thermal as well as solar sources.
The Smoke coming out from plants due to the burning of the wastes have the traces of Furan /Dioxins which are carcinogenic. These smokes must be treated before discharging into the atmosphere, which further adds upon the cost of production.
Government Schemes/ Proposals related to Municipal Solid Waste:
The NITI Aayog, as part of the Swachh Bharat Mission, envisages 800 megawatt from WTE plants by 2018-19, which is 10 times the capacity of all the existing WTE plants put together.
It also proposes setting up a Waste-to-Energy Corporation of India, which would construct incineration plants through PPP models. Currently, there are 40-odd WTE plants at various stages of construction
Source:
TH
---