3 Indian Cities in UNESCO Network of Learning Cities
---
Recently, three cities in India have joined the UNESCO Global Network of Learning Cities. These include two cities Thrissur and Nilambur in Kerala and Warangal in Telangana.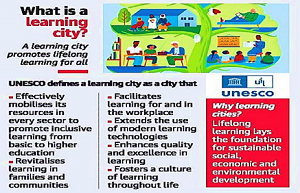 About the Cities
Thrissur - Cultural Capital of Kerala
Popularly known as the cultural capital of Kerala, Thrissur is home to academic and research institutions. It is also known for its jewellery industry, especially gold.
As a member of the UNESCOI GNLC, Thrissur hopes to contribute to the intellectual and peer learning processes, focusing on equitable access to learning for all, digital learning ecosystems and skills for sustainability.
Thrissur ticked UNESCO's check boxes in aspects of good practices, equity and inclusion among other factors. For eg, the presence of a MSME-Development Institute of India regional centre in Thrissur offers institutional support in promoting decent work and entrepreneurship through upskilling.
Nilambur- Kerala's Eco-Tourism Destination
It is a city with various socio-economic patterns marked by an urban and rural mix. The majority of the population depends on agriculture and allied industries.
The city offers free healthcare facilities to all citizens and utilizes health volunteers to provide door-to-door treatment for bedded patients. It also promotes first-aid training for students and young citizens.
Nilambur aims to promote sustainable development, gender equality, inclusivity and democracy through community ownership.
It also aims to ensure employment opportunities and UN Sustainable Development Goal (SDG) 2, 'zero hunger'.
Warangal- The Tourism Spot
The city is a major tourism venue, welcoming 3.2 million tourists every year. Warangal's economy is primarily composed of agricultural, industrial and service sectors.
The city promotes equity and inclusion, for which it has implemented several strategies, including Women and Child Welfare policy, Urban Policy, and the creation of an advisory committee to monitor and evaluate the impact of initiatives on marginalized groups.
About UNESCO Global Network of Learning Cities (GNLC)
Launched in 2013 by the UNESCO Institute for Lifelong Learning, the key objective of UNESCO GNLC is to promote social cohesion, economic development and sustainability in urban areas.
As part of this, the institute recognizes cities which promote lifelong learning among local communities and connects them with each other for knowledge transfer.
In 2019, UNESCO made Sustainable Development Goals part of its core policy framework and it was adopted as one of the key ingredients of UNESCO GNLC.
In line with this, the cities that are identified and inducted under Learning Network also have to comply with all 17 SDGs, especially SDG 4 ('Ensure inclusive and equitable quality education and promote lifelong learning opportunities for all') and SDG 11 ('Make cities and human settlements inclusive, safe, resilient and sustainable').
What is a Learning City?
According to UNESCO, a learning city is one that-
effectively mobilizes its resources in every sector to promote inclusive learning from basic to higher education;
revitalizes learning in families and communities;
facilitates learning for and in the workplace;
extends the use of modern learning technologies;
enhances quality and excellence in learning;
fosters a culture of learning throughout life.
Dharohar – National Museum of Customs and GST
---
As part of the Azadi Ka Amrit Mahotsav Iconic week of the Ministry of Finance, Union Finance Minister Nirmala Sitharaman on 11th June, 2022 dedicated to the nation, Dharohar - the National Museum of Customs and GST in Goa.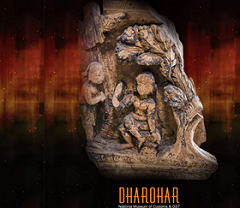 It is the first museum of its kind in India, show casing the rich history of the Department of Customs and Indirect Taxes.
The Central Board of Indirect Taxes and Customs decided to set up the Customs and GST Museum at the heritage Customs building, popularly known as Blue Building, in Goa on the banks of the Mandovi River.
The heritage two‑storeyed building is of particular interest to the Customs department as the root of the word Mandovi comes from the Arabic word 'mand' for tax.
The two-storey building, which was earlier known as Alfandega during Portuguese rule, is 400 years old.
Dharohar is one of its kind museums in the country that showcases not only the artefacts seized by Indian Customs but also depicts various aspects of work performed by the Customs Department while safeguarding the economic frontiers of the country, its heritage, flora and fauna and the society.
The museum houses eight galleries: Introductory gallery, History of Taxation Gallery, Guardians of our economic frontiers gallery, Guardians of our Art & Heritage, Guardians of Flora & Fauna, Custodians of our social well-being, Journey of Indirect taxes –Salt Tax to GST and the GST gallery.
Further, the tour de force of the museum is a unique 'Battle of Wits' gallery which showcases the cerebral battle between the smugglers and the Customs officers. It contains chronicled seizures of antique coins, statues, endangered wildlife, weapons and narcotics.
It also displays the manuscript of Ain-i-Akbari intercepted by the Indian Customs at the Indo-Nepal border at Raxaul, replica of Amin pillars from Kaurkshetra, medieval period astronomical instruments, seized metal and stone artefacts, ivory items and wildlife items.
Amin Pillars

(Replicas at Dharohar)
The Amin pillars were part of the Surajkund temple in Amin Village near Kurukshetra, Haryana.
Amin Village, as the local lore goes, was the site of t h e Chakravyuha during the epic battle of Mahabharata where Abhimanyu, son of Arjun was killed. The well‐preserved red sandstone pillars are dated to the Sunga period of the 2nd Century BCE. They are carved with yaksha‐yakshi mithuna figures which are placed in the temple precincts as they are believed to be auspicious and symbolise fertility and abundance.
The pillars were smuggled to London 1967 and were duly returned to India later and found their new home at the National Museum in New Delhi.
Dharohar Museum's GST Gallery
This is a brand-new addition to the Dharohar Museum. A first of its kind initiative in the country, the GST Gallery shows the long and arduous journey to GST spanning two decades. Beginning with the Atal Behari Vajpayee Government initiating discussions on GST in 2000, the Gallery chronicles various stages and processes that paved the way for introduction of reformed unified indirect taxation in the form of GST on July 1, 2017.
New Finds at Rakhigarhi - A Harappan Site
---
A recent three-month-long excavation (in 2022) at Rakhigarhi – a 5,000-year-old Harappan site has revealed new insights of this settlement.
So far, seven mounds have been excavated in Rakhigarhi, each of which has revealed a range of artefacts. This time, the digging was done in three of the seven mounds, out of which mounds number 6 and 7 have been notified by ASI as sites of national importance.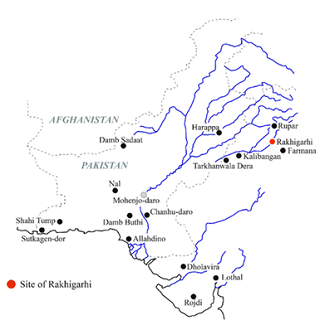 New Finds
Jewellery-Making Unit: The highlight among the finds this time seems to be that of a jewellery-making unit/factory.
Walled Settlement: At burnt-brick wall has been traced leading to a possibility of a walled settlement.
The antiquities found at mounds include steatite seals, terracotta unbaked sealing with relief of elephants and Harappan script.
The structures and frameworks of tiered houses, a kitchen complex, lanes, a drainage system, graveyards, thousands of clay pots and seals, terracotta toys, statues and figures, as well as jewellery of copper, gold, agate and other semi-precious stones have also been found all over the site.
Skeletons of two Women: The skeletons of two women were found at mound number 7 (named RGR 7 by the Archaeological Survey of India), believed to be nearly 5,000 years old. Pots and other artefacts were also found buried next to them in a pit, part of the funerary rituals back in the Harappan Civilisation era. The outcome of the DNA analysis will help tell about the ancestry of the people who lived at this ancient city, whether they were native or had migrated from elsewhere to settle.
Animal bones were also found at the site.
Cultural Span of Harappan Civilisation
The cultural span of Harappan Civilisation can be broadly subdivided into three periods — early (3300 BC to 2600 BC), mature (2600 BC to 1900 BC), and late (1900 BC to 1700 BC), as per archaeology experts.
Five major urban sites — Mohenjo-Daro, Harappa, Ganweriwala, all three sites now in Pakistan, and Rakhigarhi and Dholavira in India, have been identified as regional centers of the Harappan Civilisation.
Rakhigarhi: One of the Five Iconic Sites
Rakhigarhi site is one of the "five iconic sites" declared by the central government as per the Union budget 2020-21.
The iconic sites which would be developed are Rakhigarhi in Haryana, Hastinapur in Uttar Pradesh, Shivsagar in Assam, Dholavira in Gujarat, and Adichanallur in Tamil Nadu.
'Devayatanam' – An Odyssey of Indian Temple Architecture
---
The Archaeological Survey of India (ASI) of Ministry of Culture is organizing a two-day international conference 'Devayatanam' – An odyssey of Indian temple architecture during 25th - 26th February, 2022 at Hampi, Karnataka.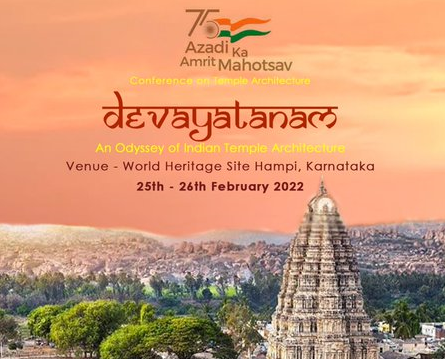 Aim of the Conference
The conference aims to deliberate upon the philosophical, religious, social, economic, technical, scientific, art and architectural aspects of temple.
It also intends to initiate a dialogue on the evolution and development of the various styles of temple architecture.
Three Main Styles of Temple Architecture
There are three main kinds of temple architecture in India: Nagara or the Northern Style, Dravida or the Southern style, and Vesara or the Mixed styles.
A Brief on different Temple Architecture Styles

Nagara

The Nagara style has two particular features:

The first being presence of several graduated projections or rathakas in the centre of all sides of the square temple, thus bearing a cross-shape with several re-entrant angles on all sides.
The second feature includes design of the spire or Shikhara that follow principles of concentric squares and circles and gradually taper in a convex curve while stretching upwards.

Example: The Kandariya Mahadeva Temple in Khajuraho in Madhya Pradesh is a fine example of this style.

Dravidian

Predominantly comprise of temples built of sandstone, soapstone or granite. The square-shaped temple called Vimana has one or more storied pyramidal roof while its cell houses the image or emblem of the God.
The Mandapas/Mandapams or porches are built in such a way that these precede and cover the door that leads to the cell. The Gopurams/Gopuras or elaborate gateway-towers or gate-pyramids encloses the temples.
The Chaultris or pillared halls employed for different purposes forms one of the principal and constant features of this style.
Example: Thanjavur temple of Tamil Nadu

Badami-Chalukya

Indian architecture saw an illustrious phase during the Badami Chalukyas rule. The foundation of cave temple architecture was laid by them on the banks of Malaprabha River in Karnataka during 500 and 757 CE.
Examples: Badami Cave temples (Karnataka), Virupaksha temple, Mallikarjuna temple

Gadag

The Western Chalukya architecture or Gadag style of architecture is a specific style of decorative architecture that originated from the old Dravida style and defines the Karnata Dravida tradition.
A distinct feature of this style was articulation.
Examples: Kasivisvesvara Temple at Lakkundi and Saraswati temple in the temple complex of Trikuteshwara at Gadag

Kalinga

This style having three specific types of temples prospered in Odisha and Northern Andhra Pradesh.
The three styles are Pidha Deula, Rekha Deula and Khakhara Deula with the first two linked with Shiva, Surya and Vishnu and the latter is predominantly associated with Goddesses Durga and Chamunda.
Example: Jagannath Temple of Puri and Lingaraj Temple of Bhubaneswar portray Rekha Deula style while Vaital Deula of Bhubaneswar typifies Khakhara Deula and the Sun Temple at Konark remains a prominent example of Pidha Deula.

Maru-Gurjara

This temple architecture with two notable styles namely Maru-Gurjara and Maha-Maru originated in Rajasthan and its vicinity.
Maru-Gurjara temple architecture is considered as an exclusive Western Indian architectural style that differs distinctly from temple architecture of North India. However, it is regarded to have some associative features with Hoysala temple architecture as sculpturally rich architecture is palpable in both the styles.
Example: Nagda temple in Rajasthan
Republic Day Parade Awards 2022
---
Best Marching Contingent
Among Three Services: The Indian Navy
Central Armed Police Forces (CAPF)/other Auxiliary Forces: Central Industrial Security Force
Best Tableau among States & UTs
First Place: Uttar Pradesh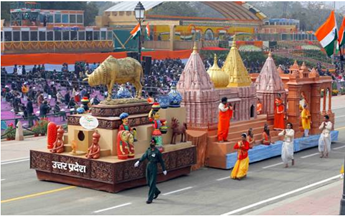 The tableau of Uttar Pradesh has been selected as the best tableau among the 12 States/UTs.
The tableau of Uttar Pradesh was based on the theme 'One District One Product and Kashi Vishwanath Dham'.
Second Place: Karnataka
The second place went to Karnataka for its tableau based on 'Cradle of Traditional Handicrafts'.
Third Place: Meghalaya
The third position went to Meghalaya for its tableau on 'Meghalaya's 50 years of Statehood and its tribute to women-led cooperative societies & SHGs'.
Best Tableau among Central Ministries/Departments
The tableaux of Ministry of Education and Ministry of Civil Aviation have been declared as joint winners.
The theme of the tableau of Ministry of Education & Ministry of Skill Development & Entrepreneurship was 'National Education Policy', while the tableau of Ministry of Civil Aviation was based on the theme 'Ude Desh Ka Aam Nagrik'.
Note: The tableaux of Ministry of Housing & Urban Affairs (CPWD), based on the theme 'Subhash @125' and the 'Vande Bharatam' dance group have been selected for the special prize category.
Popular Choice Awards
This year, for the first time, the general public was invited to vote for the best marching contingents and best tableaux in the popular choice category through the MyGov platform.
Best Marching Contingent
Among Three Services: Indian Air Force
Central Armed Police Forces (CAPF)/other Auxiliary Forces:Central Reserve Police Force (CRPF)
Best Tableau among States & UTs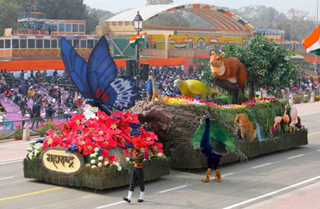 First Place
Maharashtra was voted as the best Tableau among the States/UTs in the popular choice category. The tableau of Maharashtra was based on the theme 'Biodiversity and State Bio-symbols of Maharashtra'.
The Maharashtra tableau had depicted five bio-diversity symbols of the state that include the state animal 'Shekru' or the Indian giant squirrel, the state bird 'Hariyal', state butterfly 'Blue Mormon', state flower 'Jarul' and the state tree 'Mango'.
It also showcased Icius tukarami – a new spider species named after Mumbai policeman Tukaram Ombale, who captured terrorist Ajmal Kasab during the 26/11 attack.
Second and Third Place
The second place went to Uttar Pradesh (popular choice), while the tableau of Jammu and Kashmir, on the theme 'Changing face of Jammu & Kashmir', finished third.
Best Tableau among Central Ministries/Departments
The tableau of Ministry of Communication/Department of Posts was adjudged as the best tableau. The theme of this tableau was 'India Post: 75 years @ Resolve - Women Empowerment'.
India nominates Hoysala Temples for inscription in the World Heritage List
---
On 31st January 2022 three Hoysala temples - Chennakeshava Temple (Belur), Hoysaleswara Temple (Halebidu), and the Keshava Temple (Somanathapura) in Karnataka were nominated by India for consideration as World Heritage for the year 2022-2023.
The 'Sacred Ensembles of the Hoysala' are on UNESCO's Tentative list since 15th April, 2014 and represent one of the highest points of human creative genius and stand testimony to the rich historical and cultural heritage of our country.

Hoysala Empire
The Hoysala Empire ruled most of what is now Karnataka between the 10th and the 14th centuries. The capital of the Hoysalas was initially located at Belur but was later moved to Halebidu.
The Hoysala era was an important period in the development of art, architecture, and religion in South India. The empire is remembered today primarily for Hoysala architecture.
Few Distinguished Features of Hoysala Architecture
Hoysala temples are hybrid or vesara in nature as their unique style seems neither completely Dravida nor Nagara, but somewhere in between.
Vimana (shikara) in pyramidal shape.
They are made out of soapstone which is a relatively soft stone that gives artists room for intricate design.
The temples come with star-like ground-plans and a profusion of decorative carvings.
The jagati around the temple is the open pradakshinapatha.
India gets back Goat-Headed Yogini Statue
---
A 10th century stone idol of goat-headed Yogini was handed over to India by the High Commission of India, London.
The idol was illegally removed from Uttar Pradesh's Banda from a temple in Lokhari.
The theft had taken place somewhere in the 1980s.
The goat-headed Yogini sculpture belonged to a group of stone deities carved in sandstone and installed in the Lokhari temple.
Notably, another similar sculpture of the buffalo-headed Vrishanana Yogini was stolen from the same temple in Lokhari and was recovered by India in the year 2013. It was repatriated by the Embassy of India in Paris.
Yoginis are a group of powerful female divinities associated with the Tantric mode of worship. They are worshipped as a group, often 64, and are believed to possess infinite powers.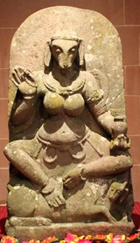 'Mera Gaon, Meri Dharohar': First ever Cultural Survey of India's Villages
---
The Union Ministry of Culture is going to survey the cultural aspects of Indian villages.
It has partnered with the Common Services Centres (CSC), a special purpose vehicle under the Ministry of Electronics & IT (MeitY), to undertake the first ever cultural survey of India's villages.
The survey titled 'Mera Gaon, Meri Dharohar' seeks to document the cultural identity at the village level by involving citizens to share what makes their village, block, or district unique.
CSC will develop a mobile application and train the VLEs in conducting the survey.
Over 4 lakh Village Level Entrepreneurs (VLEs), managing the CSCs across the country, will conduct the survey in 6.38 lakh villages and upload the details on to the application.
VLEs will conduct meetings with citizens at the villages and then upload interesting facts about their village, its places of interest, customs and traditions, famous personalities, festivals and beliefs, art and culture, etc., on the application.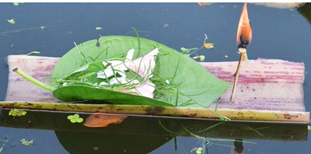 Representative List of Intangible Cultural Heritage (ICH) of Humanity
---
The Intergovernmental Committee of UNESCO's 2003 Convention on Safeguarding of the Intangible Cultural Heritage has inscribed 'Durga Puja in Kolkata' on the Representative List of Intangible Cultural Heritage (ICH) of Humanity during its 16th session being held at Paris, France, from 13th to 18th December 2021.
The Committee commended Durga Puja for its initiatives to involve marginalized groups, and individuals as well as women in their participation in safeguarding the element.
Intangible Cultural Heritage: Intangible cultural heritage means the practices, representations, expressions, knowledge, skills – as well as the instruments, objects, artifacts and cultural spaces associated with them that communities, groups and, in some cases, individuals recognize as a part of their cultural heritage.
Its relevance is not in the cultural manifestation itself, but in the wealth of knowledge, know-how and skills that are transmitted from one generation to the next.
Significance: This is a recognition of the confluence of our rich heritage, culture, rituals and practices and a celebration of the feminine divinity and the spirit of womanhood.
India's ICH Elements: With the inscription of Durga Puja in Kolkata, India now has 14 intangible cultural heritage elements on the prestigious UNESCO Representative List of ICH of Humanity.
Recent Additions: The ICH elements that saw inscriptions in recent years are Kumbh Mela (inscribed 2017), Yoga (inscribed 2016) among others.
India is a signatory of the 2003 UNESCO Convention which aims for the safeguarding of the intangible cultural heritage along with traditions and living expression.
Rani Gaidinliu Tribal Freedom Fighters Museum
---
On 22nd November 2021, Union Home Minister laid foundation stone for setting up the Rani Gaidinliu Tribal Freedom Fighters Museum at Luangkao village in Manipur's Tamenglong district.

About Rani Gaidinliu
Rani Gaidinliu was born on January 26, 1915 at Nungkao village in Tamenglong district of Manipur.
She was a spiritual and political leader who belonged to the Rongmei tribe of Manipur.
At the age of 13, she joined the freedom movement and later spearheaded the socio-political movement to drive out the British.
In 1932, she was arrested and sentenced to life imprisonment. She spent 14 years in jail and was released only after India's Independence in 1947.
In 1972, she was awarded Tamara Patra by the Government of India for her contribution to the freedom movement. She also received the Padma Bhushan in 1982.
'Pochampally' wins UNWTO's 'Best Tourism Villages' Award
---
Pochampally village in Telangana has been selected as one of the best Tourism Villages by United Nations World Tourism Organisation (UNWTO).
The Award will be given on the occasion of the 24th session of the UNWTO General Assembly on 2nd December 2021 in Madrid, Spain
The Ministry of Tourism recommended three villages for the UNWTO Best Tourism Village entry from India - Kongthong in Meghalaya, Ladhpura Khas, Madhya Pradesh and Pochampally in Telangana.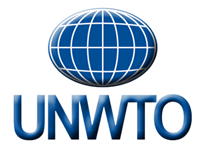 Importance of Pochampally Village
Silk City of India: Pochampally is a town in Nalgonda district of Telangana and is often referred to as the Silk City of India for the exquisite sarees that are woven through a unique style called Ikat. This style, Pochampally Ikat, received a Geographical Indicator (GI Status) in 2004.
Ikat
Ikat is a Malaysian, Indonesian word which means "Tie and Dye".
Ikat involves the process of wrapping (or tying) and dyeing sections of bundled yarn to a predetermined colour pattern before they are woven.
The dye penetrates into exposed sections while the wrapped section remains undyed.
This pattern formed by the yarn in this process is woven into fabric.
Bhoodan Pochampally: Pochampally is also known as Bhoodan Pochampally to commemorate the Bhoodan Movement that was launched by Acharya Vinobha Bhave from this village on April 18th, 1951. Currently a two room Vinobha Bhave Mandir exists within the village which was earlier the place where Vinobha Bhave resided during his visit to the village.
About the Award
The Best Tourism Villages by UNWTO Pilot initiative aims to award those villages which are outstanding examples of rural destinations and showcase good practices in line with its specified nine evaluation areas.
It also aims to support villages to enhance their rural tourism potential through training and access to opportunities for improvement.
Rani Kamlapati: The Last Hindu Queen of Bhopal
---
The Habibganj railway station in Bhopal, Madhya Pradesh has been renamed after 18th-century Gond Queen of Bhopal, Rani Kamlapati – the last Hindu Queen of Bhopal.
Kamlapati was daughter of Raja Kirpal Singh Sarautia of the princely state of Salkanpur, Sehore. She is known for her intelligence and courage.
Rani Kamlapati was an expert horse rider, wrestler and an archer. She fought wars with her father's military and her female team and she protected her kingdom from invaders.
Rani Kamlapati was married to Nizam Shah, the son of Suraj Singh Shah who reigned over the state of Ginnaurgarh.
Nizam Shah had built a palace, the Kamlapati Mahal, for the queen in Bhopal, which was completed in 1722. The monument is designated as one of national importance and is protected by the Archaeological Survey of India (ASI).
After Rani Kamlapati's death in 1723, the rule of Nawabs started in Bhopal, led by Dost Mohammad Khan.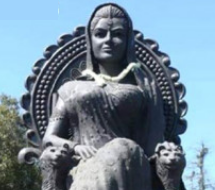 Meghalaya celebrates 'Wangala' Festival
---
This year, Wangala Festival was started in Meghalaya on 12 November. Usually, this celebration lasts for two days, but sometimes it can continue for a week also.
The Wangala Festival, also known as the 100 drum festival is celebrated in Meghalaya.
It's the most important festival of the Garo tribe.
Wangala is a post-harvest festival, when the Garos give thanks to Misi Saljong (also known as Pattigipa Ra∙rongipa), the Sun God, for blessing the people with a rich harvest. (Shad Sukra is a festival celebrated in Meghalaya every year before the sowing season by the Jaintia people. Only after the commencement of this festival that the sowing of seeds takes place).
The celebration of the Wangala Festival marks the end of a period of toil, which brings good output of the fields. It also signifies the onset of winter.
Wangala is celebrated with different forms of dance. These dances are performed on the tunes of folk songs that are played on drums and primitive flute (made of buffalo horns).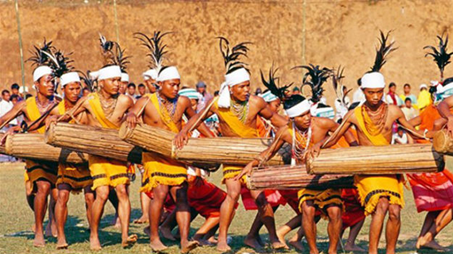 Ragula: On the first day of the festival, people celebrate it with a ceremony called Ragula. This ceremony is performed in the house of the village's chief. On this day, people dress up in colourful costumes along with feathered headgears.
Kakkat: On the second day of celebration, which is called Kakkat, people begin the ceremony by dancing to the rhythms of long oval-shaped drums. In this celebration, young and old join together while men play the drums and women perform traditional dance forms. The dance form is known as Dama Dagota which is done to please God Saljong.
Ganga Utsav 2021
---
The 5th edition of Ganga Utsav-The River Festival 2021 was celebrated recently.
The annual event is organised by the National Mission for Clean Ganga (NMCG) jointly with the Ministry of Jal Shakti to mark the anniversary of the announcement of River Ganga as the 'National River' on November 04, 2008.
The "Ganga Utsav 2021 – The River Festival" celebrated the glory of the river Ganga as well as all the rivers of the country to promote the celebration of 'Nadi Utsav' (River Festival).
At the event among several other initiatives, Continuous Learning and Activity Portal (CLAP) was launched. It is a learning portal to keep children and youth engaged throughout the year towards protection and restoration of our rivers.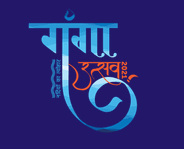 NMCG
NMCG is the implementation wing of National Ganga Council, set up in 2016, which replaced the National Ganga River Basin Authority (NRGBA).
Srinagar joins UNESCO Network of Creative Cities
---
Srinagar, the summer capital of Jammu and Kashmir, is among the 49 cities selected worldwide to join the UNESCO Creative Cities Network (UCCN).

It has been designated as a creative city of craft and folk arts.
These 49 cities were added to the network of 246 cities following their designation by UNESCO Director-General Audrey Azoulay, in recognition of "their commitment to placing culture and creativity at the heart of their development and to sharing knowledge and good practices".
The Indian National Commission for Cooperation with UNESCO (INCCU) had recommended Srinagar and Gwalior for inclusion in the coveted list, only Jammu and Kashmir's summer capital made it.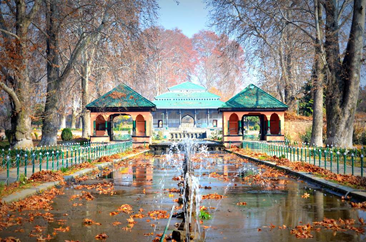 (Image Source: The Kashmir Pulse)

Other Indian Cities on the List
Chennai and Varanasi - UNESCO Cities of Music
Jaipur - UNESCO City of Crafts and Folk Arts
Mumbai - UNESCO City of Film
Hyderabad - UNESCO City of Gastronomy
The network now numbers 295 cities reaching 90 countries that invest in culture and creativity — crafts and folk art, design, film, gastronomy, literature, media arts, and music — to advance sustainable urban development.
About UCCN
The UNESCO Creative Cities Network (UCCN) was created in 2004 to promote cooperation with and among cities that have identified creativity as a strategic factor for sustainable urban development.
The cities under this network work together towards a common objective: placing creativity and cultural industries at the heart of their development plans at the local level and cooperating actively at the international level.
Aim of the Initiative
The UNESCO Creative Cities aims to achieve Sustainable Development Goals through innovative thinking and action (Sustainable Development Goal 11 aims for Sustainable Cities and Communities).
What does it mean to join UNESCO' Creative Cities Network?
By joining the UNESCO Creative Cities Network (UCCN), cities commit to sharing their best practices and developing partnerships involving the public and private sectors as well as civil society in order to strengthen the creation, production, distribution and dissemination of cultural activities, goods and services.
They also pledge to develop hubs of creativity and innovation and broaden opportunities for creators and professionals in the cultural sector.
On Abhidhamma Day 2021, Kushinagar gets Intl. Airport
---
The Union Culture Ministry and International Buddhist Confederation, in association with the government of Uttar Pradesh, is organising the Abhidhamma Day (20th October 2021) on the auspicious occasion of Ashwin Poornima.
The day marks the end of three-month rainy retreat - Varshavaas or Vassa - for the Buddhist monks and nuns during which time they stay at one place and pray.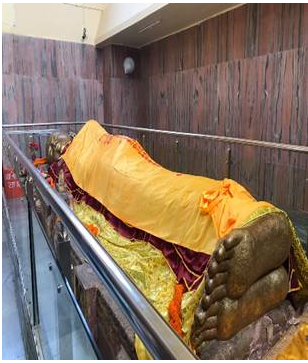 (Image Source: PIB)

Popular Belief
According to widely held belief, this is the day when Lord Buddha came back to earth from heaven. He is believed to have gone to the heaven to teach Abhidhamma Pitaka (a basket of ultimate things) to his mother. The teaching took three months after which Buddha came back to Earth. His followers too mark the three-month time by staying at one place and praying.
Kushinagar
On 20th October 2021, Prime Minister of India will attend 'Abhidhamma Day' event in UP's Kushinagar on occasion of inauguration of Kushinagar International Airport.
The ancient city of Kushinagar is the final resting place of Gautama Buddha, where he attained Mahaparinirvana after his death. The prime tourist attractions in Kushinagar includes the ancient Mahaparinirvana Temple- one of the most sacred shrines for Buddhists, Rambhar Stupa, Kushinagar Museum, Sun Temple, Nirvana Stupa, Matha Kuar Shrine, Watt Thai Temple, Chinese Temple, Japanese Temple.
Observation Highlights
The highlight of the event is the exposition of Holy Buddha Relic being brought from Waskaduwa Sri Subuddhi Rajvihara Temple in Sri Lanka by the Mahanayaka of the temple.
These relics are accepted as real relics (bone fragments, ashes, pieces of Jewels) of the Buddha.
These relics were found in Piprahwa, Sidharthnagar district of Uttar Pradesh, about 160 km from Kushinagar, in 1898. A part of the relics was sent to the King of Thailand and another part was sent to the King of Burma.
The Prime Minister will offer prayers to the Holy Relic and also visit the Mahaparinirvana temple to offer flowers and Chivar (a monk's robe) to the reclining statue of Buddha.
Chivar Dana
Chivar refers to a "monk's robe". The period after three month long Varshavas, observed as retreat by monks and nuns by staying in vihara during rainy season, is a time of giving, for the laity to express gratitude to Sangha.
Lay Buddhists bring donations to temples, especially new robes for the monks and nuns.
Also the gift of the atthaparikara (in Sri Lanka it is known as Atapirikara) - the Eight Requisites - is part of the offerings.
However, Dana of Chivara can also be given on other occasions.
The Reclining Buddha
A reclining Buddha statue or image represents the Buddha during his last illness, about to enter Parinirvana, the stage of great salvation after death that can only be attained by enlightened souls.
Statues and images of the Reclining Buddha show him lying on his right side, his head resting on a cushion or on his right elbow. It is a popular iconographic depiction in Buddhism, and is meant to show that all beings have the potential to be awakened and be released from the cycle of death and rebirth.
The Reclining Buddha was first depicted in Gandhara art, which began in the period between 50 BC and 75 AD.
'Gulabi Meenakari of Benaras' and India's Soft Diplomacy
---
During his recent visit to the US, PM Narendra Modi gifted Kamala Harris (US Vice President) a copy of old notifications related to her grandfather, PV Gopalan, in a wooden handicraft frame (PV Gopalan was a respected government officer who served in various positions in India) and a gulabi meenakari chess set. Later, while meeting with other Quad leaders, he gifted Australian PM Scott Morrison a silver gulabi meenakari ship and a sandalwood Buddha statue to Japan's Prime Minister Yoshihide Suga. He also presented Joe Biden with documents that could help him if he had any relatives in India.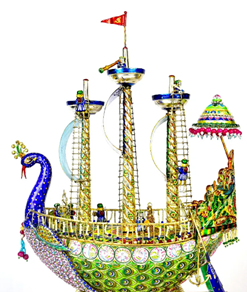 Silver Gulabi Meenakari Ship (Image Source: timesnownews.com)
Meenakari
Meenakari is an art of painting or embellishing various types of metals (gold, silver, faux, etc.) with vibrant colors in dramatic motifs of birds, flowers and leaves. There are various kinds of Meenakari work depending on whether the enamel is to appear opaque, transparent or translucent.
The process is often applied to kundan—articles of jewellery studded with gemstones set with a layer of gold foil between the stone and the mount on one side, while the reverse is lavishly enamelled using the meena technique.
Origin and History
Meenakari work originated in Persia, and was later introduced to India through the Mughal invaders. Raja Man Singh of Amber was instrumental in establishing skilled artisans who he brought from Lahore. Today Jaipur is the hub of Meenakari work.
Meenakari gold is primarily done in Jaipur, Benaras and Delhi. Silver enameling or Meenakari is majorly done in Udaipur, Bikaner and Nathdwara whereas glass enameling is done in Pratapgarh.
Gulabi (Pink) Meenakari of Benaras
Gulabi meenakari or pink enamelling of Banaras is a unique art form of the city.
It is characterized by pink strokes on white enamel.
Unlike the vibrant enamelling in red, green and blue of Jaipur and Delhi, where the white enamel is left stark, the Varanasi craftsmen delicately add pink to the predominant white enamel.
The motifs have been lotus blooms and buds.
Artisans make items like religious figures of gods and goddesses on silver and gold sheet, various types of traditional ornaments and decorative items, motifs, including flowers, birds and animals on gold and silver metal.
The colours used in the Banaras Gulabi Meenakari are predominately natural and leadless dyes.
Banaras stands next to Jaipur in the art of enamelling and the nature of Banaras pink is similar to Jaipur red.
Unlike the red enamel of Jaipur, which has still maintained the high quality and fine workmanship of the 19th century, the pink enamel of Banaras was short-lived. It ended here in the first quarter of 20th century. After a gap of about half a century, there has been a revival of pink enamelling in Benaras, chiefly as a trade to meet the demands of tourists and of women, who have taken to old jewellery more as a fashion than out of love for its charm and grace.
Banaras Gulabi Meenakari Craft got GI Tag in 2015 under Handicraft category.
Gupta Era Temple found with Inscriptions in 'Shankha' Lipi
---
The Archaeological Survey of India (ASI) has discovered the remains of an ancient temple from the reign of the Gupta Empire in Bilsarh village in Etah district of Uttar Pradesh.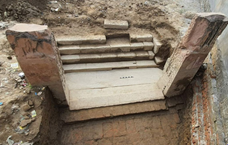 Highlights
An ancient staircase bearing inscriptions in the Shankhalipi (conch script or shell script) script (used between the 4th and 8th centuries CE) was found.
The text on the staircase bore the title of 'Sri Mahendradity' - a title accorded to Gupta ruler Kumaragupta I. He ruled over north-central India during the 5th century (CE).
The ancient stairs led to an undiscovered structural temple that was built during the Gupta era for Brahmins, Jains and Buddhists.
The recent discovery is significant in the sense that to date only two other structural temples from the Gupta age have been found- Dashavatara Temple (Deogarh) and Bhitargaon Temple (Kanpur Dehat).
Guptas were the first to build structural temples (use of stone blocks), a distinct change from the ancient rock-cut temples (rock cut temples are monolithic structure, i.e. they are cut out of a single stone).
India to organise First-ever Global Buddhist Conference
---
From 19th to 20th November 2021, India will organise the first-ever Global Buddhist Conference that will become an annual feature.
It will be held in Nalanda, Bihar in the campus of the Nava Nalanda Mahavihara.
The event is being planned by Indian Council for Cultural Relations (ICCR).
Aim of this Conference
This is an academic conference to make India a center of Buddhism, not about tourism.
It is about making center for Buddhist activities, like academics, cultural, seminars, people traveling for festival - Buddha Purnima, Vesak. ICCR is also going to have a manuscript repository.
New Award for Promotion of Buddhism
ICCR has announced an award for the promotion of Buddhist studies which will be given on 21st November in Delhi by Prime Minister Narendra Modi.
The award carries a cash reward of $20,000 (around Rs 14.7 lakh), a plaque, and a gold-plated medallion.
Four Regional Conferences before Main Conference
In the run-up to the conference, four regional conferences in India - Telangana, Saranath, Gangtok and Dharamshala and abroad - in Japan, South Korea, Thailand and Cambodia will be organised. Reports of these regional conferences will be presented at the Global Buddhist Conference.
Kakatiya Rudreswara Temple: India's 39th 'World Heritage Site'
---
Telangana's Kakatiya Rudreswara Temple (popularly known as Ramappa temple), located at Palampet village in the newly formed Mulugu District has been inscribed by UNESCO as World Heritage Site.
It was declared at the World Heritage Committee's 44th session being organized at Fuzhou (China) from 16 to 31 July.
After this, India has 39 (31 are cultural, 7 are natural, and 1 is mixed) World Heritage Sites.
About Kakatiya Rudreswara Temple
The Rudreswara temple was constructed in 1213 AD during the reign of the Kakatiya Empire by Recharla Rudra, a general of Kakatiya king Ganapati Deva.
The presiding deity here is Ramalingeswara Swamy.
It is also known as the Ramappa temple, after the sculptor who executed the work in the temple for 40 years and probably the only temple in the country to be known by the name of its sculptor.
The temple is built with bricks that are so light that they can float on water. The bricks were believed to be made spongy using something like saw-dust.
The temple stands on a 6-feet high star-shaped platform with walls, pillars and ceilings adorned with intricate carvings which are the hallmarks of the Kakatiya sculptors.
The carvings -- mythical animals, female dancers - are considered as masterpieces of Kakatiya art.
Italian merchant and explorer Marco Polo had remarked that the Ramappa temple was the "brightest star in the galaxy of medieval temples of the Deccan."
Liverpool stripped of 'World Heritage' Status
---
The English city of Liverpool was removed from UNESCO's list of world heritage sites on 21 July 2021 because new buildings undermined the attractiveness of its Victorian docks, making it only the third site to be removed from the prestigious list.
Liverpool was named a World Heritage Site by the United Nation's cultural organization in 2004, joining landmarks such as the Great Wall of China, the Taj Mahal, and the Leaning Tower of Pisa.
After a vote in China by members of its World Heritage Committee, UNESCO said the new buildings in Liverpool were undermining the city's "authenticity and integrity."
Liverpool was put on the heritage list in recognition of its role as one of the world's most important ports during the 18th and 19th centuries and for its architectural beauty.
The only other sites stripped previously of the title are a wildlife sanctuary in Oman in 2007 after poaching and habitat loss and the Dresden Elbe valley in Germany in 2009 when a four-lane bridge was built over the river.
The heritage label gives historic sites access to UN conservation funding as well as featuring in tourist guidebooks across the world.
Pallava Era 'Hero Stone' discovered in Tamil Nadu
---
A group of local archaeology enthusiasts from Tamil Nadu have unearthed a Pallava era hero stone near Harur. It is the third in the line of hero stones discovered in the same location and bearing the name of Eachuvara Varaman, a Pallava ruler.
The hero stone is engraved with Tamil Brahmi script that speaks of the death of a lieutenant of one Vanaathiarasar, during a conflict and his death in the conflict.
Two more hero stones were recovered from the same area. An earlier hero stone bears the name "Paramthaayar, which literally would mean big family taking after the word "Param". The name was that of a clan chief, or chief of a pastoral land nurtured along river banks.
While all the three hero stones were attributed to the rule of Eachuvara Varman, the names in the hero stones is supposed to have been that of the local chiefs, who directly led the people.
The hero stones were erected valorising the martyrdom of those men, who had fought to claim pastoral lands in the conflicts that arose between clans that contested over pastoral lands in the area.
About Hero Stone
Hero Stone is a memorial commemorating the honorable death of a hero in battle.
Erected between the 6th century BC and the 18th century AD, hero stones are found all over India.
They often carry inscriptions displaying a variety of adornments, including bas relief panels, frieze, and figures on carved stone.
Usually they are in the form of a stone monument and may have an inscription at the bottom with a narrative of the battle.
About Pallava Dynasty
The Pallava dynasty was an Indian dynasty that existed from 275 CE to 897 CE, ruling a portion of southern India. They gained prominence after the eclipse of the Satavahana dynasty, whom the Pallavas served as feudatories.
Pallava Dynasty was founded by Simhavishnu in 560 A.D. Their capital was at Kanchipuram.
Pallavas became a major power during the reign of Mahendravarman I and Narasimhavarman I. Throughout their reign they were in constant conflict with both Chalukyas of Badami in the north and the Tamil kingdoms of Chola and Pandyas in the south. Pallavas were finally defeated by the Chola ruler Aditya I in the 9th century CE.
The territory of the Pallavas was known as Tundaka Visaya or Tundaka Rashtra.
Pallavas are most noted for their patronage of architecture, the finest example being the Shore Temple, a UNESCO World Heritage Site in Mamallapuram.
Chinese traveller Xuanzang visited Kanchipuram during Pallava rule and extolled their benign rule.
Palaeolithic Cave Paintings found in Aravalli
---
Archaeologists have discovered cave paintings in Haryana that they believe belong to the Upper Palaeolithic age, which could potentially make them one of the oldest cave arts in the country.
The caves are in the Aravalli mountain ranges, just outside the national capital, near the region's only surviving patch of primary forest, a holy grove called Mangar Bani.
So far Bhimbetka in Madhya Pradesh is home to the oldest known cave art in India, dating back to the Mesolithic Age (around 10,000 years ago).
The Mangar cave art is 20,000-40,000 years old, according to archaeologists, but this is something that can be established through archaeological dating.
The Find: Paintings
Cave paintings comprising images of human figurines, animals, foliage, and geometric, some that have paled over time, but others that are still very visible.
Rock art and open-air ceremonial sites were also found.
About Colours of Painting
Most of the paintings are ochre, but some are white.
According to experts, cave paintings in white are usually from a later stage (early contemporary era), while Stone Age paintings are more often than not, ochre.
Stone Age paintings generally have red and ochre colours. Stones of these colour used to be available locally and inhabitants crushed the stones for preparing the colour for paintings.
Upper Paleolithic Age
The Upper Paleolithic Age began around 40,000 years ago and lasted till around 10,000 years ago.
Earlier Finds in this Area
Tools from the Palaeolithic Age have been identified earlier in parts of the Aravallis but, it is for the first time that cave paintings and rock art of a large magnitude have been found in Haryana.
The Aravallis demonstrate the earliest evidence of the Stone Age which we call the Lower Palaeolithic Acheulean culture.
India returns Holy Relic of Queen St. Ketevan to Georgia
---
External Affairs Minister Dr S Jaishankar during his recent visit (first by an external affairs minister to Georgia, since the country's independence) to Georgia, returned one part of holy relic of Queen St Ketevan to Georgia.
One part of the holy relics still remains in India as a reminder of shared past of India and Georgia.
In 2017, at the request of the Georgian government, India sent the relics to Georgia for exhibition for six months. This loan of relics was extended for another six months. The relics returned to India on September 30, 2018.
The holy relics were preserved at the St. Augustine Church in Goa since the 17th century.
Her relics were taken to India by two devoted Augustinian monks who witnessed the last years of her life.
About Queen Ketevan
Ketevan (1560-1624) was the queen of Kakheti, a kingdom located in a region of eastern Georgia.
Kakheti was a small kingdom, which was nestled between two mighty Islamic empires: The Ottoman Empire (in present-day Turkey) and the Safavid empire (in present-day Iran).
She was killed at Shiraz, Iran, after prolonged tortures by the Safavid suzerains of Kakheti for refusing to give up the Christian faith and convert to Islam.
Queen Ketevan was canonised as a saint by the Georgian Orthodox Church shortly after her death.
Her place as a subject of veneration is attributed to her courageous stand against the demand for forcible conversion.
Kesaria Buddha Stupa:Largest in the World
---
Kesaria Buddha stupa in east Champaran district of Bihar has been recently in news due to waterlogging followed by floods.
It is regarded as the largest Buddhist stupa in the world.
The sputa's exploration had started in the early 19th century after its discovery led by Colonel Mackenzie in 1814. Later, it was excavated by General Cunningham in 1861-62 and in 1998 an ASI team led by archaeologist K.K. Muhammad had excavated the site properly.
The original Kesaria stupa is said to date back to the time of emperor Ashoka (circa 250 BCE) as the remains of an Ashokan pillar was discovered there.
The ASI has declared it a protected monument of national importance.
Nihangs
---
Recently, in Patiala (Punjab), a group of Nihangs attacked a Punjab police party, has put the spotlight on the Nihangs.
About Nihang
Nihang is an order of Sikh warriors, characterised by blue robes, antiquated arms such as swords and spears, and decorated turbans surmounted by steel quoits.
Etymologically the word nihang in Persian means an alligator, sword and pen but the characteristics of Nihangs seem to stem more from the Sanskrit word nihshank which means without fear, unblemished, pure, carefree and indifferent to worldly gains and comfort.
Origin
The Nihangs trace their origins to the founding of the Khalsa Panth by the 10th Sikh Guru, Gobind Singh, around 1699.
Many claim the sect to be "guru di laadli fauj" (the guru's favourite army).
The armed sect is believed to have emerged from the Akaal Sena, a band of soldiers of Guru Hargobind, the sixth guru.
Later, the Akaal Sena metamorphosed into the 'Khalsa Fauj' of the 10th guru.
Social Structure
The Nihangs are not one consolidated sect or group
There are very divided and while following the same traditions and norms, they have their own independent deras, some of which are at loggerheads with one another for prominence,
Men and women both train in horsemanship, swordsmanship, and in the Punjabi martial art known as gatka.
Difference with other Sikh warriors
Nihangs did not consider themselves subordinate to any Sikh chief and thus maintained their independent existence.
They observe the Khalsa code of conduct in its strictest sense. They do not profess any allegiance to an earthly master.
Instead of saffron they hoist a blue Nishan Sahib (flag) atop their shrines.
Nihangs use the slogans 'chhardi kala' (forever in high spirits) and 'tiar bar tiar' (state of ever preparedness) for unforeseen events.
The Nihangs are fond of a popular drink called shardai or sharbati degh (sacrament drink) which contains grounded almonds, cardamom seeds, poppy seeds, black pepper, rose petals and melon seeds.
When a small measure of cannabis is added to it, it is termed sukhnidhan (treasure of comfort).
A higher dose of cannabis in it was known as shaheedi deg, sacrament of martyrdom. It was taken (while) battling enemies.
Role in Sikh History
Nihangs had a major role in defending the Sikh panth after the fall of the first Sikh rule (1710-15) when Mughal governors were killing Sikhs, and during the onslaught of Afghan invader Ahmed Shah Durrani (1748-65).
Nihangs also took control of the religious affairs of the Sikhs at Akal Bunga (now known as Akal Takht) in Amritsar.
Their clout came to an end after the fall of Sikh Empire in 1849 when the British authorities of Punjab appointed a manager (sarbrah) for the administration of the Golden Temple in 1859.
GI For Panchamirtham Of Palani Temple
---
On 14th August, 2019, the famous PalaniPanchamirtham, given as 'prasadam' at the Murugan temple there, has been granted the Geographical Indication (GI) tag.
This is the first time a temple 'prasadam' from Tamil Nadu(TN) has been bestowed with the GI tag.
Interestingly, the geographical area for production of PalaniPanchamirtham is not just the temple, but the entire Palani town in Dindigul district of Tamil Nadu.
Madurai Jasmine and the Nilgiris Tea are some of the other products from TN that have earned the GI tag.
Palani Panchamirtham:
It is a combination of five natural substances - banana, jaggery, cow ghee, honey and cardamom. Dates and diamond sugar candies are added for flavour.
It is an 'abhishegaprasadam' (food that is a religious offering), which is served in a semi-solid state. It is sweet in taste and one of the main offerings for Lord Dhandayuthapani Swamy, the presiding deity of Arulmigu Dhandayuthapani Swamy Temple.
Not even a single drop of water is added during the preparation of the panchamirtham. This gives it its classic semi-solid consistency and taste. No preservatives or artificial ingredients are used.
Arulmigu Dhandayuthapani Swamy Temple, Palani
It is one among the six Padaiveedu's (Abode) of Lord Muruga which is the sub temple of Arulmigu Dhandayuthapani Swamy Temple, located in the city of Palani in Dindigul district, northwest of Madurai in the foot-hills of the Palani hills, Tamil Nadu, India.
It belongs to 9th century and the Cheran king Cheraman Peruman constructed this temple.
Thai Poosam and Panguni Uthiram festivals are notified festivals of this temple.
Geographical Indication(GI)
A GI is a sign used on products that have a specific geographical origin and possess qualities or a reputation that are due to that origin. In order to function as a GI, a sign must identify a product as originating in a given place.
In addition, the qualities, characteristics or reputation of the product should be essentially due to the place of origin.
Since the qualities depend on the geographical place of production, there is a clear link between the product and its original place of production.
Thrissur Pooram Festival
---
Why is it in News?
The temple festival of Thrissur Pooram was held in Thrissur, Kerala on 13th May, 2019.
About the Festival:
It is a one day annual festival which involves ten temples in and around Thrissur. The history of Pooram dates back to the late 18th century. It was started by Sakthan Thampuran, the Maharaja of the former Kochi state.
In the Pooram ceremony the deities of these temples come together to pay obeisance to Lord Shiva at the Vadakumnathan Temple, located in the centre of the town.
One of the hallmarks of the 'Thrissur Pooram' is the musical percussion ensemble consisting of traditional instruments like chenda, maddalam, edakka, thimila and kombu.
Elephants are important part of Pooram festivities. The replicas of the deities, participating in the Pooram are carried atop the elephants as they proceed towards the Vadakumnathan temple. While 30 elephants are part of the main Pooram festivities, another 60 or 70 tuskers form a part of the smaller processions of the participating temples.
Although a Hindu ritual, Pooram has grown to encompass all religious and cultural strains of Kerala. Both the Muslim and Christian communities participate in the festival in a variety of ways.
Source: IE
Hampi Architecture
---
Why is it in News?
Tourist footfall in Hampi is down by nearly a lakh between April 2018 and March 2019, despite the fact that group of monuments at Hampi was listed on number two in 'Must see' tourist spot by the New York Times.
About Hampi:
Hampi, also referred to as the Group of Monuments at Hampi, is a UNESCO World Heritage Site located in state of Karnataka.
It became the centre of the Hindu Vijayanagara Empire capital in the 14th century.
Vijaynagara was the capital of Vijaynagara Empire which is present day Hampi.
Hampi is situated on the bank of Tungbhadra (or Pampa), hence is also referred to as Pampakshetra.
How did we come to know about Vijaynagara Empire?
Various travelers came under the different rulers during this period and they have left the account of systems prevalent during this phase. For eg.,
Nicolas Conti (Italian) came during Dev Raya 1
Abdul Razzak (Arabian) came during Dev Raya II
Domingo Paes (Portugese) came during Krishna Dev Raya I
These travellers have explained the prevalent administrative culture, traditions etc. during the period of Vijayanagara Empire.
Hampi Architecture:
Mainly Dravidian in nature
Indo Islamic influence can be seen in almost all the temples.
Combinations of Cholas, Pandyas & Chalukya Style.
Temples were built mainly from local granite along with the lime, mortar etc.
Some temples during this period are - Vittala temple, Virupaksha temple (dedicated to Shiva etc.)
Source: TH, CCRT, NCERT
River Ganga
---
Why is it in News?
As per a study of CSIR-NEERI, it has been found that River Ganga contains significantly higher proportion of organisms with antibacterial properties.
River Ganga:
Source of origin: The Ganga rises from the Gangotri glacier near Gomukh in Uttarkashi district of the state of Uttarakhand.
The river basin of Ganga is bounded by the Himalayas in the north, Aravalli on the west, by the Vindhyas and Chota Nagpur Plateau on the south and by the Brahmaputra Ridge on the eastern front.
At Devprayag, River Alaknanda meets Bhagirathi and from here it is called Ganga; before Devprayag it is called Bhagirathi.
The largest tributary to the Ganga is the Ghaghara, which meets it before Patna, in Bihar, bearing much of the Himalayan glacier melt from Northern Nepal. The Gandak, which comes from near Katmandu, is another big Himalayan tributary.
Related Facts for Prelims:
River Yamuna is the right-bank tributary of the Ganga. It rises from the Yamunotri glacier on the Banderpunch peaks of the Lower Himalaya in Uttarakhand.
Rudraprayag is the place of confluence of Mandakini River and Alaknanda River.
Nandaprayag is the place of confluence of Nandakini River and Alaknanda River.
Ganga meets Bay of Bengal at Sagar Island.
Yamuna and Ganga meets at Prayagraj (Allahabad).
River Kali meets Ganga at Chhapra in Bihar.
Sangeet Natak Akademi (SNA)
---
Why is it in News?
This year marks the 100th century of Jallianwala Bagh Massacre and SNA had organised a drama on the Jallianwala Bagh Massacre to showcase the atrocities done to the unarmed masses.
About Sangeet Natak Akademi:
The Sangeet Natak Akademi is India's national academy for music, dance and drama and is the first national academy of the arts set-up by the Republic of India.
It was created by a resolution of the (then) Ministry of Education, Government of India in 1952.
The Sangeet Natak Akademi is presently an autonomous body of the Ministry of Culture, Government of India and is fully funded by the government for implementation of its schemes and programmes.
It is SNA that coordinates the matters related to Intangible Cultural Heritage and various UNESCO Conventions.
Source:
sangeetnatak.gov.in.
Jallianwala Bagh Massacre
---
Why is it in News?
This year (2019) marks the 100th year of the Jallianwala Bagh tragedy.
How is it Relevant for Prelims 2019?
In UPSC 2018, a question on 'Champaran Satyagraha' was asked as Champaran Satyagraha completed 100 years in 2017. Likewise, this segment becomes important for Prelims 2019.
Historical Background of the Jallianwala Bagh Massacre:
Since the beginning of the World War I, there had been an increasing resentment and civil unrest throughout the country especially in the states of West Bengal and Punjab.
It was due to the terrible repercussions of the war, like- inflation, and heavy taxation, a huge number of dead and wounded soldiers that contributed immensely in uniting the nation against the British Rule.
The Rowlatt Act:
The worsening civil unrest led to the formation of Rowlatt Committee in 1919. The Rowlatt Act (Anarchial & Revolutionary Crimes Act 1919) was a legislative act that allowed certain political cases to be tried without the presence of a jury and permitted internment of suspects without any trial (it was referred in Hindi by our nationalists to as 'No Vakil, No Appeal & No Dalil').
This is the time when Mahatma Gandhi came to light as a revolutionary and organised 'Rowlatt Satyagraha'.
Trigger Points of the Event and Massacre:
The crowd was peacefully protesting the arrest of two national leaders Saifuddin Kitchlew and Satya Pal; seeing this Dyer banned all the public meetings and imposed curfew, but this message was not widely circulated and people gathered in huge numbers at the Jallianwala Bagh.
Dyer went there with the troops and ordered firing on the unarmed masses leading to death of thousands of people (around 1000 people died and 1500 people were injured).
Repercussion of the Massacre:
Rabindranath Tagore renounced his 'Knighthood' in protest to this barbaric incident.
Mahatma Gandhi renounced his 'Kaiser-i-Hind'.
On April 18, 1919, Gandhi withdrew the movement and termed it as the 'Himalayan Blunder'.
Killing of Michael O'Dwyer:
Udham Singh was acting as a volunteer (supplying water to the crowd) in the Jallianwala Bagh protests, he witnessed the killing of thousands of people and this led to a deep sense of revenge and he killed Michael O'Dwyer (Lieutinent Governor ofPunjab, who approved of Reginald Dyer's action) on 13th March 1940, at Caxton Hall London.
Hunter Commission:
On 14th October 1919, Hunter Commission was made to look into the killing of innocent people. This commission found Dyer guilty and reported that Dyer overstepped the bounds of his authority.
But the tragic situation was that it did not impose any penal or disciplinary action against Dyer, which finally culminated in Non-cooperation Movement (one of the cause was Punjab injustice)
Source: TH, Livemint
Sirsi Supari
---
Why is it in News?
'Sirsi Supari', grown in Uttara Kannada has become the 1st product from the arecanut sector to get a Geographic Indication (GI) tag.
About Sirsi Supari:
'Sirsi Supari' arecanut is grown in Sirsi, Siddpaur and Yellapur taluks of Uttara Kannada district in Karnataka.
Sirsi Supari is medium-sized, round in shape, close to the color of ash with hard seed.
The annual production of Sirsi Supari is estimated to be around 40,000 tonnes grown on an area of nearly 40,000 acres.
What makes Sirsi Supari different?
Sirsi Supari is said to be unique in taste from arecanuts grown in other parts of the country due to the differences in the chemical composition of different arecanuts.
The arecanut grown in these taluks have unique features like a round and flattened coin shape, particular texture, size, cross-sectional views, taste, etc. These features are not seen in arecanut grown in any other regions.
The total average flavonoid content in Sirsi Supari is around 90 whereas in others it is around 80.
What is a Geographical Indication Tag?
The World Intellectual Property Organisation defines GI as a sign used on products that have a specific geographical origin and possess qualities or a reputation that are due to that origin.
GI Tag finds mention under the TRIPS (Trade related Aspects of Intellectual Property Rights) of WTO.
Registrar of Geographical Indicators under Controller General of Patents, Designs & Trademarks (Ministry of Commerce) look into the issues of GI.
Darjeeling Tea became the first product to get a GI Tag in India in 2004-05; 343 had been added to the list of GI tags in India since then.
Other Examples of GI Tag:
Bhagalpuri Silk of Bhagalpur
Sujini Embroidery of Bihar
Tangaliya Shawl of Gujarat
Kadaknath Black Chicken of Madhya Pradesh
Source: TH
Kulhadar Miniature Painting
---
What are the Different Styles of Indian Painting?
Indian Paintings can be broadly classified into two groups:
1. Mural Paintings- Found predominantly before 11th Century A.D.
2. Miniature Painting- Found predominantly after 11th Century A.D.
Mural Paintings:
Usually done on walls and has its genesis in the Gupta Period.
The best examples of this style of painting are paintings on the Ajanta & Ellora Caves.
Miniature Paintings:
Miniature is derived from the word 'MINIA' in Renaissance period which means 'RED'. Miniature painting does not mean small.
Size of the Miniature Paintings cannot be greater than 25inches.
Scaling of size shall not be greater than 1/6.
It can be executed on books, clothes, paper and even glass.
One of the finest examples of Miniature Painting is 'Bani Thani' by Nihal Chand of Marwar School of Painting.
About Kulhadar Painting:
This miniature painting originated in 16th Century A.D. and is completely indigenous i.e. it has no tinge of either Persian or Mughal style of painting.
What is Unique about this Painting?
The style of these miniatures is marked by the use of brilliant contrasting colours, vigorous and angular drawing, transparent drapery and the appearance of conical caps 'Kulha' on which turbans are worn by the male figures.
This group of painting includes illustrations of the 'Chaurapanchasika' – 'Fifty Verses of the Thief by Bilhan, the Gita Govinda, the Bhagavata Purana and Ragamala.
Source: TH
Tholpavakoothu
---
Tholpavakoothu is a form of shadow puppetry that is practiced in Kerala.
Genesis of this Puppetry:
It is believed to have originated in the late 9th Century A.D. and this puppetry uses Kamban Ramayana as its basic text. This art form is dedicated to Bhadrakali.
When is this Art Form Performed?
This art form is performed generally in the months of January to May. It is performed using leather puppets in Devi temples in specially built theatres called koothumadams.
Source: TH
Ambubachi Mela
---
The Ambubachi Mela is an annual Hindu fair held at the Kamakhya Temple in Guwahati, Assam. It is four day fair to mark the menstruation of Kamakhya Goddess.
Significance of the Festival:
The ritualistic fair celebrating the goddess' annual menstruation period is one of the reasons why the taboo associated with menstruation is minimal in Assam compared to other parts of India.
Celebration of this festival leads to dissemination of knowledge related to menstruation hygiene.
Source: TH
Theyyam
---
About the Dance form:
Theyyam is derived from a Sanskrit word 'Daivam' which means God's Dance.
Theyyam is a popular ritual form of worship in Kolathunadu area of Kerala, which is performed by men only.
Theyyam is usually performed in front of sacred groves which are locally called as 'Kaavu'.
Theyyam is a ritualistic performance where pantheistic deities are summoned to the body of the performing man, one who is almost always from a subaltern community.
In this dance form, dancers spin and twirl to the frantic drums and they enter a state of trance before collapsing. It takes a while for them to revive after which devotees seek their blessings.
Striking Features of Theyyam:
People wear colorful costumes and elaborate makeup.
Performers of Theyyam wear headgears of around 5 to 6 ft.
Instruments used in this Dance Form: Chenda, Tudi, Kuzhal, Veekni etc.
Source: TH
Gita Govind
---
Why is it in news?
The Victoria Memorial Hall (VMH) in Kolkata displayed the handwritten script of Gita Govind from the 17th century to mark International Mother Language Day (21 February).
About Gita Govind:
The Gita Govinda (songs of Govind/ Krishna) is a work composed by the 12th-century Indian poet, Jayadeva. It describes the relationship between Krishna and Radha. This book puts Radha on higher pedestal than Krishna and the poems/ texts of this book have been an inspiration for many compositions and choreographic works in Indian classical dances. Jaydeva was the courtier of Laxman sena of Sena Dynasty, Bengal.
Source: TH
Battle Of Sinhagad
---
Why is it in News?
The original commemorative memorial of Tanaji Malusare was recently found while restoring the Sinhagad Fort, 35 km from Pune. Tanaji Malusare was a Maratha warrior after whom Shivaji is said to have named Sinhagad Fort (Lion's fort).
The Battle of Sinhagad:
The Battle of Sinhagad took place in 1670 on the fort of Sinhagad near the city of Pune. The battle was fought between Tanaji Malusare, a Koli commander of Maratha ruler Shivaji Maharaj and Udaybhan Rathod. In this battle Tanaji Malusare died and Shivaji Maharaj renamed the fort of Kondhana as Sinhagad Fort (Lion's Fort) in his remembrance.
Source:
TH
Kattaikoothu
---
Why is it in News?
The Kattaikkuttu Sangam recently completed the performance of their drama 'Abhimanyu'.
What is it?
It is a Tamil-language based physical and vocal form of rural, open-air ensemble theatre. It is widespread in the northern and central parts of the state of Tamil Nadu in South India.
Kattaikkuttu uses different kinds of song, music, articulated prose, acting, movement, make-up and elaborate costumes. It produces all-night narrative events most of which are based on the pan-Indian epic, the Mahabharata.
The performers – by tradition only men - sing, act and dance and the musicians accompany them on the harmonium, the mridangam and the mukavinai.
It uses a wide range of media that require multiple skills, including a strong voice, versatile acting and movement skills and a talent for spontaneous comedy.
---