Atmanirbhar Bharat 3.0
---
On 12th November 2020, Government launched Atmanirbhar Bharat 3.0 to boost Covid-hit economy
Aim
To boost job creation, provide liquidity support to stressed sectors and encourage economic activity in housing and infrastructure areas.
12 Key announcements under Aatmanirbhar Bharat 3.0
1. Atmanirbhar Bharat Rozgar Yojana
It aims to incentivise the creation of new employment opportunities during the COVID-19 recovery phase.
The scheme will be effective from 1st October, 2020 and operational till 30th June 2021.
Beneficiaries (new employees) under Scheme
Any new employee joining employment in EPFO registered establishments on monthly wages less than Rs.15000/.
EPF members drawing monthly wage of less than Rs.15000/- who made exit from employment during COVID Pandemic from 01.03.2020 to 30.09.2020 and is employed on or after 01.10.2020
Eligibility Criteria
Establishments registered with EPFO if they add new employees compared to reference base of employees as in September, 2020. Scheme to be operational till 30th June 2021-
Establishments, with up to 50 employees, would have to add a minimum of two new employees.
The organisations, with more than 50 employees, would have to add at least five employees.
Subsidy Support from Central Govt.
Establishments employing up to 1000 employees: Employee's contributions (12% of Wages) & Employer's contributions (12% of wages) totalling 24% of wages.
Establishments employing more than 1000 employees: Only Employee's EPF contributions (12% of EPF wages).
The subsidy support to get credited upfront in Aadhaar seeded EPFO Account (UAN) of eligible new employees.
2.Emergency Credit Line Guarantee Scheme
It is for MSMEs, businesses, MUDRA borrowers, and individuals (loans for business purposes).
Under this credit scheme, banks will be able to lend to stressed sectors from 26 sectors identified by the K.V. Kamath committee.
The new scheme will have a 1-year moratorium and 5 years of repayment.
3. Atmanirbhar Manufacturing Production-linked incentives for 10 Champion Sectors
10 more Champion Sectors will be covered under the Production Linked Incentives Scheme to help boost the competitiveness of domestic manufacturing.
Ten Sectors–Advance Cell Chemistry Battery, Electronic/Technology Products, Automobiles & Auto Components, Pharmaceuticals Drugs, Telecom & Networking Products, Textile Products, Food Products, High Efficiency Solar PV Modules, White Goods (ACs & LED) & Specialty Steel.
This will give a big boost to the economy, investment, exports and job creation.
4. PM Awas Yojana - Urban
A sum of Rs. 18000 crore is being provided for PMAY- Urban over and above Rs. 8000 crore already allocated this year.
This will help ground 12 Lakh houses and complete 18 Lakh houses, create additional 78 Lakh jobs and improve production and sale of steel and cement, resulting in a multiplier effect on the economy.
PMAY - Urban Mission was launched in 2015 with an intention to provide housing for all in urban areas by year 2022.
5. Support for Construction & Infrastructure – Relaxation of Earnest Deposit Money & Performance Security on Government Tenders
To provide ease of doing business and relief to contractors whose money otherwise remains locked up, performance security on contracts has been reduced from 5-10% to 3%.
It will also extend to ongoing contracts and Public Sector Enterprises.
EMD for tenders will be replaced by the Bid Security Declaration. The relaxations in the General Financial Rules will be in force till December 31, 2021.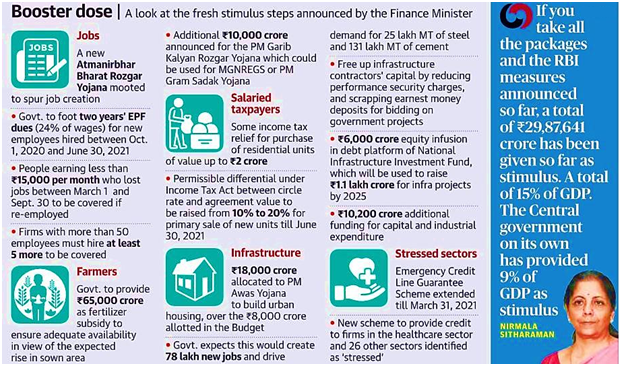 6. Income Tax relief for Developers & Home Buyers
The differential between circle rate and agreement value in real estate income tax under Section 43 CA of IT Act has been increased from 10% to 20%.
This is for the primary sale of residential units up to Rs 2 Crore (from date of announcement of this scheme, till June 30 2021).
Consequential Relief up to 20% shall also be allowed to buyers of these units under section 56(2)(x) of the IT Act for the said period.
Income Tax relief provides incentives to the middle class to buy homes.
7. The Platform for Infra Debt Financing
The government will make Rs 6,000 Crore equity investment in the debt platform of the National Investment and Infrastructure Fund (NIIF).
It will help NIIF provide a debt of Rs. 1.1 Lakh Crore for infrastructure projects by 2025.
8. Support for Agriculture
As fertilizer consumption is going up significantly, Rs. 65,000 Crore is being provided to ensure an increased supply of fertilizers to farmers to enable the timely availability of fertilizers in the upcoming crop season.
9. Boost for Rural Employment
An additional outlay of Rs.10, 000 Crore is being provided for PM Garib Kalyan Rozgar Yojana to provide rural employment.
This will help accelerate the rural economy.
10. Boost for Project Exports
Rs. 3,000 Crore boost is being provided to EXIM Bank for promoting project exports under Indian Development and Economic Assistance Scheme (IDEAS Scheme).
It will help EXIM Bank facilitate Lines of Credit development assistance activities and promote exports from India.
11. Capital and Industrial Stimulus
Rs.10, 200 Crore additional budget stimulus is being provided for capital and industrial expenditure on domestic defense equipment, industrial infrastructure, and green energy.
12. R&D Grant for COVID Vaccine
Rs. 900 Crore is being provided to the Department of Biotechnology for Research and Development of Indian COVID Vaccine.
Significance
These measures provided by the government reinforce the 'fiscal conservatism' ideology of the government — rather than large cash transfers, the growth philosophy centres around creating an ecosystem that aids domestic demand, incentivises companies to generate jobs and boost production, and simultaneously extends benefits to those in severe distress, be it firms or individuals.
Analysis
As per the government, the total stimulus announced by the Government and Reserve Bank of India (RBI) till date (including Atmanirbhar 1.0 and Atmanirbhar 2.0), to help the nation tide over the Covid-19 pandemic, works out to Rs. 29.87 lakh crore, which is 15% of national GDP.
Out of this, the stimulus worth 9% of GDP has been provided by the government.
While the fiscal stimulus has been small, monetary policy has been extremely accommodative.
The focus should extend from announcement of reforms to their effective implementation.
Also, nurturing an environment of policy certainty with regard to taxes, foreign direct investment rules and payment of dues to small businesses can have a meaningful impact on kick-starting the private capital spending cycle.
The economic rebound from the debilitating impact of the Covid-19 pandemic seems stronger than what most analysts had predicted.
The estimates for the fourth quarter gross domestic product (GDP) have already been upgraded by many institutions. The government will hope that the green shoots visible in the high-frequency data further translate into GDP uplift.
The measures announced under Atmanirbhar Bharat 3.0 – pragmatic and specific – should help towards that cause.
Atmanirbhar Bharat Abhiyan
---
While addressing the nation on 12th May, , 2020, PM Narendra Modi announced an "Atmanirbhar Bharat Abhiyan" worth Rs 20 lakh crores ($265 billion) to tide over the economic downturn induced by the coronavirus crisis and emphasised on the need for India to become "self-reliant" as the pandemic sweeps across the world, paralysing economies in its wake.
Self-Reliant India Mission
In order to fulfill the dream of making the 21st century India's, the way forward is through ensuring that the country becomes self-reliant.
The mission is aimed towards cutting down import dependence by focusing on substitution while improving safety compliance and quality goods to gain global market share.
Five Pillars of a Self-Reliant India
A self-reliant India will stand on five pillars-
Economy, which brings in quantum jump and not incremental change
Infrastructure, which should become the identity of India
System, based on 21st century technology driven arrangements
Vibrant Demography, which is our source of energy for a self-reliant India
Demand, whereby the strength of our demand and supply chain should be utilized to full capacity.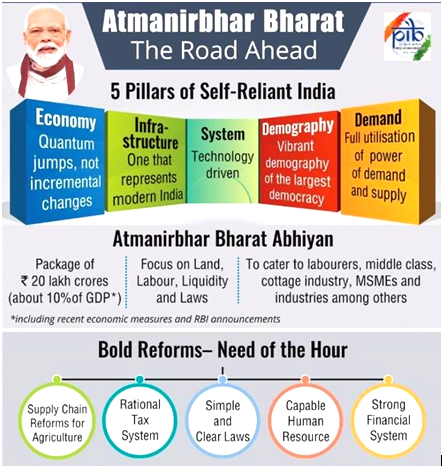 Atmanirbhar Bharat: COVID-19 Special Economic Package
The package, taken together with earlier announcements by the government during COVID crisis and decisions taken by RBI, is to the tune of Rs 20 lakh crore, which is equivalent to almost 10% of India's GDP.
The package will provide a much needed boost towards achieving 'Atmanirbhar Bharat'.
Key Points
The package will focus on land, labour, liquidity and laws.
It will cater to various sections including cottage industry, MSMEs, labourers, middle class, and industries, among others.
It will also focus on empowering the poor, labourers, migrants, etc., both from organized and unorganized sectors.
Emphasis has been given on the importance of local manufacturing, local market and local supply chains.
It's time to be vocal about the local products and help these local products become global.
Reforms towards Self-reliance
These reforms include –
supply chain reforms for agriculture,
rational tax system,
simple and clear laws,
capable human resource and
a strong financial system.
Impact
These reforms are expected to promote business, attract investment, and further strengthen Make in India.
Self-reliance will prepare the country for tough competition in the global supply chain, helping it to propel towards the goal of overall growth and development.
It will not only increase efficiency in various sectors but also ensure quality.
COVID-19 Stimulus Packages around the World
The US has committed to the largest rescue package by any country in pure dollar terms of USD 2.7 trillion but as percentage of GDP it trails behind Japan.
The US measures work out at an estimated 13 percent of GDP.
Japan has announced a package equivalent to 21.1 percent of its GDP.
It is followed by Sweden with a stimulus equal to 12 percent of its GDP and Australia (10.8 percent).
Germany has announced a spending of around USD 815 billion, equal to 10.7 percent of its GDP.
Spain and Italy have endured devastating coronavirus outbreaks, the size of stimulus packages are estimated to be 7.3 percent and 5.7 percent of GDP, respectively.
France announced a package equal to 9.3 per cent of its GDP.
Smaller countries like Luxembourg and Belgium have spent a fifth of their GDP on COVID-19 related stimulus measures, at 20.7 percent and 19.2 percent, respectively.

Way Forward
Atma Nirbhar Bharat resonates well with the core philosophy of ongoing Swadeshi, or being indigenous, and the PM's announcement was perceived as the first steps for reshaping this policy in keeping with their long-pending demand.
India would need to focus on six areas such as decentralising its policymaking; taking rural-centric decisions; keeping the poor at the core of its policies; moving away from jobless growth; formulating environment-friendly policies and also taking decisions that are rooted in swadeshi traditions.
To become truly self-reliant efforts must be made to not replicate the global work patterns that don't sit well with the traditional way of life and focus should be on ensuring that from raw material to the final production, the country relies only on its own resources.
Atmanirbhar Gujarat Sahay Yojana (Gujarat Self Reliant Scheme)
Taking Prime Minister's self-reliant India mission forward, the Gujarat government announced a scheme- Atmanirbhar Gujarat Sahay Yojna, on 14th May, 2002.
Aim
To benefit small businessmen and cross section of people falling under the lower middle income group.
Key Features
Rs. 1,00,000/- Loan provided Co-Operative Bank, Credit Society & District Bank
Only Based on Application done to bankers no additional documents submission
Unsecured Collateral Free Loan
The loan shall be available @ 2% Per Annum Interest Rate
6% Interest shall be borne by State Government
6-month Moratorium – No interest + Principal payable during that period
3 Years Loan Period
Quantum of Assistance:- 5000 Crore
Amendments To FDI Policy
---
On 18th April, 2020, the government amended the extant Foreign Direct Investment (FDI) policy, mandating neighbouring countries to require government approval, effectively closing the "automatic route" used by firms and individuals to set up business in the country.
Need
India's move was attributed to the rising possibility of "opportunistic takeovers" of its companies, as the coronavirus pandemic wreaks havoc on the economy.
Several Indian start-ups have existing investment from Chinese investors. For instance, Flipkart has an investment from Tencent (about 5 percent) and Alibaba owns a significant stake in Paytm.
The decision came days after China's central bank, the People's Bank of China (PBoC) had raised its shareholding in HDFC to over 1 percent.
It is to be noted that China's FDI has grown five-fold since 2014 and, as of December 2019, its cumulative investment in India exceeded $8 billion — "far more" than investments by other countries that share borders with India.
Present FDI Norms for Neighbouring Countries
FDI in India is allowed under two modes - automatic (companies don't need government approval) or via the government (companies need a go-ahead from the centre).
A non-resident entity can invest in India, subject to the FDI Policy except in those sectors/activities which are prohibited.
However, a citizen of Bangladesh or an entity incorporated in Bangladesh can invest only under the Government route.
Further, a citizen of Pakistan or an entity incorporated in Pakistan can invest, only under the Government route, in sectors/activities other than defence, space, atomic energy and sectors/activities prohibited for foreign investment.
Changes Made
The existing FDI policy as applicable to investments from India's neighbourhood, was confined to Bangladesh and Pakistan, while the new policy brings China, Nepal, Bhutan and Myanmar within its ambit.
Firms in neighbouring countries wanting to invest in Indian companies would first need its approval.
An entity of a country that shares a land border with India can now invest in firms here "only under the Government route".
This also applies to "beneficial" owners — even if the investing company is not located in a neighbouring country, it would still be subject to these conditions if its owner is a citizen or resident of such a country.
In the event of the transfer of ownership of any existing or future FDI in an entity in India, directly or indirectly, resulting in the beneficial ownership, such subsequent change in beneficial ownership will also require Government approval.
China's response
China said that the additional barriers set by Indian side for investors from specific countries violate WTO's (World Trade Organization) principle of non-discrimination, and go against the general trend of liberalization and facilitation of trade and investment.
China has called for India to revise these "discriminatory practices" and treat investments from different countries equally.
Further, China said that the new norms do not conform to the consensus of G20 leaders and trade ministers to realize a free, fair, non-discriminatory, transparent, predictable and stable trade and investment environment, and to keep our markets open.
India's Argument
India maintains the policy is not aimed at any one country and that the move is aimed at curbing "opportunistic" takeovers of Indian firms, many of which are under strain.
The amendments are not prohibiting investments. There are many sectors in India that are already subject to this approval route.
International Measures
On March 25, 2020, the European Commission issued guidelines to ensure "a strong EU-wide approach" to foreign investment screening at such a time. The aim was to preserve EU companies and critical assets, notably in areas like health, medical research, biotechnology and infrastructures essential for security and public order, without undermining the EU's general openness to foreign investment.
On March 30, 2020, Australia temporarily tightened rules on foreign takeovers over concerns that strategic assets could be sold off cheaply. This followed warnings that distressed Australian companies in the aviation, freight and health sectors could become vulnerable to buyouts by state-owned enterprises, especially China. All foreign takeover and investment proposals will now be scrutinised by Australia's foreign investment review board.
Spain, Italy and the US too has implemented investment-related restrictions.
Concerns and Unintended Effects
The amended policy makes every type of investment by Chinese investors subject to government approval. Such a blanket application could create unintended problems.
It does not distinguish between Greenfield and Brownfield investments. It may pose obstacles to Greenfield investments where Chinese investors bring fresh capital to establish new factories and generate employment in India.
Further, the amendments do not distinguish between the different types of investors, such as industry players, financial institutions, or venture capital funds.
The restrictions on Venture capital funds may impact the prospects of many start-ups in the Indian market.
According to the experts, there are different sets of procedures for the same set of investments based on which country the company is investing from. This is where the potential issue of discrimination arises. While India can discriminate in favour of domestic investment, discrimination against certain countries for non-security reasons may not be seen favourably on the global stage.
Helicopter Money
---
With no quick escape in sight for Covid-ravaged economies, authorities the world over are going back to the drawing board to find strategies to deal with this nightmare.
In India, Telangana chief minister K. Chandrashekhar Rao suggested printing of currency and called for implementing a 'Helicopter Money' scheme.
Key Points
Telengana CM urged the Centre to make RBI pump at least 5% per cent of Gross Domestic Product (GDP) which was ₹203 lakh crore.
At this rate, the RBI could inject ₹10 lakh crore into the economy. Otherwise, neither the Centre nor the State governments had the money to revive the economy.
Citing the example, he said US was releasing 2% and UK 15% GDP, in order to provide some ease to their sagging economies.
About Helicopter Money
Helicopter money is the term used for a large sum of new money that is printed and distributed among the public, to stimulate the economy during a recession or when interest rates fall to zero.
It is also referred to as a helicopter drop, in reference to a helicopter scattering supplies from the sky.
American economist Milton Friedman coined this term in 1969.
Difference with Quantitative Easing (QE)
Central banks use quantitative easing to increase the money supply and lower interest rates by purchasing government or other financial securities from the market to spark economic growth.
While, Helicopter money basically means non-repayable money transfer from the central bank to the government, central banks use QE to create money and then purchase assets using the printed money.
QE does not have a direct impact on the public, while helicopter money is made directly available to consumers to increase consumer spending.
Recent Example
If a country faces slow or no growth, it could consider a helicopter drop.
For example, in 2016, Japan considered using helicopter money to assist with the country's slowing growth.
Financial markets showed concerned with the decision, as participants feared hyperinflation and currency devaluation.
So, the Bank of Japan (BoJ) opted for an alternative method to increase monetary supply.
This included different partnerships and purchases such as government bonds, infrastructure outlays and payments to lower-income earners.
Benefits of Helicopter Money
Helicopter money does not rely on increased borrowing to fuel the economy, which means that it doesn't create more debt and interest rates can remain unchanged.
Generally, it boosts spending and economic growth more effectively than quantitative easing because it increases aggregate demand – the demand for goods and services – immediately.
While government money drops that come from debt might not boost consumer spending, due to the debt needing to be repaid, it is often thought that 'money finance' will stimulate the economy.
Will Helicopter Money Help Indian Economy?
Helicopter money refers to a last resort type of monetary stimulus strategy used to spur inflation and output to boost the economy.
Here the basic principle is to increase broader economic activity and pushing the inflation up by putting more money in circulation in the market.
As printing of money to finance deficit increases inflation and is believed to be an attempt to extract more output in an underperforming economy, it is potentially loaded with huge risks.
One of the primary risks associated with helicopter money is that the policy may lead to significant currency devaluation in the international foreign exchange markets.
The currency devaluation would be primarily attributed to the creation of more money.
For eg, in August 1921, Germany began to buy foreign currency with Marks at any price, but that only sped up devaluing the Mark considerably. In 1923, the Mark had lost meaning with the exchange rate of one trillion Marks to one dollar.
Zimbabwe too was caught in this precarious situation in the first part of this century. The facts reveal that there was a time when a 100 trillion Zimbabwe dollar bill wasn't enough to buy a bus ticket in the country's capital.
And this kind of hyperinflation scenario has gripped Venezuela right now.
As this helicopter money boosts inflation, increases interest rates and borrowing costs, it then becomes a dire need to print money every year to fund burgeoning deficit.
So, while looking at the experience of printing currency in other countries, it can easily be concluded that such a move doesn't increase economic output in any way, it merely causes inflation.
And this increase in inflation is not good for economic health of the country.
Need of the Hour
The government or central bank could implement a version of helicopter money by spending money on tax cuts, and thereafter, the central bank would deposit money in a Treasury account.
Additionally, the government could issue new bonds that the central bank would purchase and hold, but the central bank would return the interest back to the government to distribute to the public.
Therefore, these forms of helicopter money would provide consumers with money and theoretically spark consumer spending.
Currency Swap Line
---
In the wake of the coronavirus pandemic, India is working with the United States to secure a dollar swap line that would help in better management of its external account and provide extra cushion in the event of an abrupt outflow of funds.
Current Status of India's Foreign Exchange Reserves
As per the latest data reported by the RBI, India's foreign exchange reserves have fallen by nearly $13 billion — from $487.23 billion on March 6 to $474.66 billion as on April 3, 2020.
According to RBI, 7% of India's foreign currency assets — or $256.17 billion — are held in overseas securities, mainly in the US treasury.
Reason
Despite the slump in global crude oil prices and reduction in imports due to the pandemic outbreak, a sharp outflow of funds resulting from foreign portfolio investors (FPIs) looking for safer havens amidst the current global uncertainty, has pulled down India's foreign exchange reserves.
While India is largely expected to tide over any challenge posed by continued outflows of funds from the markets, a swap line with the US Federal Reserve provides additional comfort to the forex markets.
About Swap Facility
In a swap arrangement, the US Fed provides dollars to a foreign central bank, which, at the same time, provides the equivalent funds in its currency to the Fed, based on the market exchange rate at the time of the transaction.
The parties agree to swap back these quantities of their two currencies at a specified date in the future, which could be the next day or even three months later, using the same exchange rate as in the first transaction.
Most swap lines are bilateral, which means they are only between two countries' banks.
Purpose
The purpose of a swap line is to keep liquidity in the currency available for central banks to lend to their private banks to maintain their reserve requirements.
It reassures banks and investors that it's safe to trade in that currency.
It also confirms that the central banks won't let the supply of that currency dry up.
It's another monetary policy tool.
India Swap Line with Other Country
In 2019, India signed a $75 billion bilateral currency swap line agreement with Japan, which has the second largest dollar reserves after China.
This facility provides India with the flexibility to use these reserves at any time in order to maintain an appropriate level of balance of payments or short-term liquidity.
In November, 2019, the RBI put in place a revised framework on currency swap arrangement for SAARC countries for 2019-22 in order to provide financial stability and economic cooperation within the SAARC region.
RBI Framework Regarding Swap Line
This facility originally came into operation on November 15, 2012 to provide a backstop line of funding for short-term foreign exchange liquidity requirements or balance of payment crises until longer term arrangements were made.
Under the framework for 2019-22, RBI will continue to offer a swap arrangement within the overall corpus of $2 billion.
Other countries can withdraw funds in the US dollar, the euro, or the Indian rupee.
US Swap Line with Other Country
The Fed already has permanent swap arrangements with the Bank of Canada, the Bank of England, the European Central Bank, the Bank of Japan, and the Swiss National Bank.
On March 19, 2020, the U.S. Federal Reserve( Fed) opened temporary swap arrangements with the central banks of Australia, Brazil, Denmark, South Korea, Mexico, Norway, New Zealand, Singapore, and Sweden, to be in place for at least six months for a combined $450 billion.
Other large economies including India, China, Russia, Saudi Arabia and South Africa — all part of the G-20 grouping — currently do not have a currency swap line with the US.
Significance of Swap Line
While swap lines were initially used by central banks to fund certain market interventions, in recent years they have become an important tool for preserving financial stability and preventing market tension from affecting the real economy.
Benefits
These swap operations carry no exchange rate or other market risks, as transaction terms are set in advance.
The absence of an exchange rate risk is the major benefit of such a facility.
Drawing on the swap line increases the dollar money supply. Because this meets an increase in demand for dollars by recipient country banks, it is in principle consistent with controlling inflation.
Regulation Of Payment Aggregators And Payment Gateways
---
On 17th March 2020, the Reserve Bank of India (RBI) released guidelines for the activities payment aggregators (PAs) and provides baseline technology-related recommendations to payment gateways (PGs) in the country.
PAs and PGs are intermediaries playing an important function in facilitating payments in the online space.
These guidelines are issued under Section 18 read with Section 10(2) of the Payment and Settlement Systems Act, 2007 and shall come into effect from April 1, 2020.
Objective
To make digital payments more safer and transparent
Background
The RBI released a discussion paper in September, 2019 to regulate these entities.
The paper suggested three ways to look at the issue- no regulation, light touch regulation or full regulation, the final guidelines seem to have favoured the third alternative.
It is to be noted that banks are already regulated entities of RBI, the payment gateway services provided by them need not require a separate authorisation as these activities form part of regular banking business.
Need for Regulation
Potential Source of Risk: The activities of payment gateways and payment aggregators in online transactions are extremely crucial and the payment gateway ecosystem for online transactions could be a source of risk if operators have lax governance practices.This in turn could impact the confidence and experience of the customers.
Lack of Redressal Mechanism: Further, the lack of proper redress mechanism and uniformity in practice across the entities is also a matter of concern.
About the Guidelines
Applicability
The guidelines shall be applicable to PAs. PAs shall also adopt the technology-related recommendations.
Domestic leg of import and export related payments facilitated by PAs shall also be governed by these instructions.
Guidelines are not applicable to Cash on Delivery (CoD) e-commerce model.
Authorisation
The criteria of authorization has been arrived at based on the role of the intermediary in handling of funds.
Banks, which provide payments aggregation services as part of their regular banking relationship, do not require a separate authorisation from RBI.
But non-bank payments aggregators will require authorisation from RBI under the Payment and Settlement Systems Act (PSSA), 2007.
Existing non-bank entities offering PA services shall apply for authorisation on or before June 30, 2021.
E-commerce marketplaces, according to the guidelines, providing payment aggregator services will have to be separated from the marketplace business and they will have to apply for authorisation on or before June 30, 2021.
The biggest examples of this- PhonePe, a Flipkart company, and Paytm's payment aggregator business are already separate entities from the marketplace models.
Capital Requirements
Existing PAs shall achieve a net-worth of ₹15 crore by March 31, 2021 and a net-worth of ₹25 crore by the end of third financial year, i.e., on or before March 31,
New PAs shall have a minimum net-worth of ₹15 crore at the time of application for authorization and shall attain a net-worth of ₹25 crore by the end of third financial year of grant of authorisation.
PAs that are not able to comply with the net-worth requirement within the stipulated time frame shall wind-up payment aggregation business.
Governance
PAs shall have a Board approved policy for disposal of complaints / dispute resolution mechanism / time-lines for processing refunds, etc., in such a manner that the RBI instructions on Turn Around Time (TAT) for resolution of failed transactions.
PAs shall appoint a Nodal Officer responsible for regulatory and customer grievance handling functions.
Safeguards against Money Laundering (KYC / AML / CFT) Provisions
The Know Your Customer (KYC) / Anti-Money Laundering (AML) / Combating Financing of Terrorism (CFT) guidelines issued by the Department of Regulation, RBI, in their "Master Direction – Know Your Customer (KYC) Directions" updated from time to time, shall apply mutatis mutandis to all entities.
Settlement and Escrow Account Management
Non-bank PAs shall maintain the amount collected by them in an escrow account with any scheduled commercial bank.
For the purpose of maintenance of the escrow account, the operations of PAs shall be deemed to be 'designated payment systems' under Section 23A of the PSSA (as amended in 2015).
Customer Grievance Redressal and Dispute Management Framework
PAs shall put in place a formal, publicly disclosed customer grievance redressal and dispute management framework, including designating a nodal officer to handle the customer complaints / grievances and the escalation matrix.
Security, Fraud Prevention and Risk Management Framework
A strong risk management system is necessary to meet the challenges of fraud and ensure customer protection. PAs shall put in place adequate information and data security infrastructure and systems for prevention and detection of frauds.
Impact
Bringing Transparency and Accountability
PGs are regulated through banks, which creates opaqueness in the system. Regulations will help eliminating opaqueness and make things clearer for the entire industry in terms of capital requirement, governance and KYC norms for example.
PGs such as Paytm, Mobikwik, Bharat Bill and aggregators like BillDesk, PayU India, CCAvenue, Razorpay now will be directly regulated by the RBI to bring more transparency, accountability and security for consumers.
Driving towards Less cash Society
Industry would continue to work with RBI closely for smoother transition of industry players from indirectly regulated to directly regulated and help to achieve the overall vision of less cash society.
Payment Aggregators (PAs)
PAs are entities that facilitate e-commerce sites and merchants to accept various payment instruments from the customers for completion of their payment obligations without the need for merchants to create a separate payment integration system of their own. For ex. Billdesk, CCAvenue, Firstdata, Techprocess Razorpay
PAs facilitate merchants to connect with acquirers. In the process, they receive payments from customers, pool and transfer them on to the merchants after a time period.
Payment Gateways (PGs)
PGs are entities that provide technology infrastructure to route and facilitate processing of an online payment transaction without any involvement in handling of funds. PGs in India mainly include banks.
ADB Lists Masala Bonds On India INX
---
On 25th February, 2022, Asian Development Bank (ADB) listed its 10-year Masala Bonds worth Rs 850 crore on the Global Securities Market (GSM) of the India International Exchange (INX) at GIFT City, Gujarat.
The proceeds would be used to support local currency lending and investment in India.
Key Points
GSM, the primary market platform of India INX, has evoked significant interest since its establishment in 2018 and has more than $48 billion medium-term notes established and over $21 billion of bond listings till date.
ADB's Masala Bonds are listed on both Luxembourg exchange and India INX.
The listing rules and processes at India INX are modelled on global standards making time to market fast and efficient.
Bonds were distributed to investors in the US (21 per cent) and Europe (79 per cent), with 28 per cent placed with banks and 72 per cent with fund managers.
India International Exchange Limited (India INX)
INX is India's first international exchange in International Financial Services Centre (IFSC) located at the Gujarat International Finance-Tec City (GIFT City).
India INX is a subsidiary of Bombay Stock Exchange (BSE) Limited.
Operating on an advanced technology platform of EUREX T7, the Exchange is the fastest in the world with a turn-around time of 4 micro seconds.
The exchange offers a first of its kind single segment approach for all asset classes - equities, currencies, commodities, fixed income securities providing significant cost advantages to participants.
Impact
This is the first time a foreign issuer and a supranational is doing a primary listing with India INX. This will help further in making GIFT IFSC a global hub for fund raising by Indian and Foreign issuers.
What are Masala Bonds?
Masala Bonds are the bonds which are issued by the Indian firms (in rupee denomination) to foreign investors with an aim to attract funds for projects.
Since these bonds are issued outside of India, they are settled in US dollars (USD) in markets.
The term was used by International Finance Corporation (IFC) to popularise the culture and cuisine of India on foreign platforms.
The first Masala Bond was issued by IFC in November 2014 when it raised 1,000 crore bonds to fund infrastructure projects in India.
The framework for issuance of these bonds falls within the External Commercial Borrowings (ECB) policy.
Who Issues these Bonds?
Any corporate or body corporate, Indian banks, Real Estate Investment Trusts (REITs) and Infrastructure Investment Trusts (InvITs) are eligible to issue these denominated bonds overseas.
Resident entities like Limited Liability Partnerships and Partnership firms are, however, not eligible to issue these bonds.
Where can these bonds be issued and who can subscribe?
Masala Bonds can be issued only in countries that have an arrangement for Financial Action Task Force (FATF) or are a member of a FATF-Style Regional body along with securities market regulator is a signatory to the International Organization of Securities Commission's (IOSCO's) or a signatory to bilateral MoU with the SEBI for information sharing arrangements.
While residents of such countries can subscribe to the bonds, it can also be subscribed by multilateral and regional financial institutions where India is a member country.
Who is eligible to invest in these Bonds?
Investors from outside of India who would like to invest in Indian assets can invest in Masala Bonds.
Indian entities like HDFC, NTPC, and Indiabulls Housing have raised funds via Masala Bonds.
What is the minimum maturity period of such bonds?
According to RBI, the minimum maturity period for Masala Bonds raised up to Rupee equivalent of USD 50 million in a financial year should be 3 years and for bonds raised above USD 50 million equivalent in INR per financial year should be 5 years.
The conversion for such bonds happens at the market rate on the date of settlement of transactions undertaken for issue and servicing of the bonds, including its redemption.
What are the benefits of Masala Bonds?
Benefits to Economy
Masala Bonds help to internationalize the Indian Rupee and give value to the Indian Financial system and economy
Liquid rupee-denominated debt markets stimulate financial stability.
It helped to open up new avenues for Bond investments by retail savers by increasing their rupee structure.
These bonds help in building up foreign investor's confidence in Indian economy and currency which will strengthen the foreign investments in the country.
Benefits to the Issuer
The issuer of these bonds is shielded against the risk of currency fluctuation, typically associated with borrowing in foreign currency. In simpler words, as Masala Bonds are rupee-denominated bonds, the risk goes directly to the investor.
Benefits to the Investors
Investor can earn more money as interest rate of Masala Bond is higher compared to developed countries.
India-Norway Task Force On Blue Economy
---
On 19thFebruary, 2020, India along with Norway opened the India-Norway Task Force on Blue Economy, in order to promote Sustainable Development, of both the countries.
Background
The idea of Task Force on Blue Economy was mooted during the visit of Norwegian Prime Minister in January, 2019.
Both the countries signed a MoU on India-Norway Ocean Dialogue and the establishment of the Joint Task Force on 'Blue Economy' in order to promote multi-sectoral cooperation in various aspects of Blue Economy.
Key Points
The purpose of the task force is to develop and follow up joint initiatives between the two countries. The bilateral collaboration intends to manage the resources in the oceans in a sustainable manner.
The ultimate goal is to promote sustainable value creation and employment in the ocean-based industries.
The strength and value added of the India-Norway Joint Task Force on Blue Economy is its ability to mobilise relevant stakeholders from both Norway and India at the highest level, and ensure continued commitment and progress across ministries and agencies.
The two countries also commenced a new collaboration on Integrated Ocean Management & Research.
Blue Economy
The idea was introduced by Gunter Pauli in his 2010 book- "The Blue Economy: 10 years, 100 innovations, 100 million jobs".
The term 'Blue Economy' was first coined by representatives of Small Island Developing States (SIDS) and other coastal countries during the 2012 Rio Summit.
The Blue Economy aims to move beyond business as usual and to consider economic development and ocean health as compatible propositions.
It seeks to promote economic growth, social inclusion, and the preservation or improvement of livelihoods while at the same time ensuring environmental sustainability of the oceans and coastal areas. At its core it refers to the decoupling of socioeconomic development through oceans-related sectors and activities from environmental and ecosystems degradation.
Sustainable Development Goal (SDG) 14 intends to conserve and sustainably use the oceans, seas and marine resources for sustainable development.
Components of Blue Economy
The Blue Economy has diverse components, including established traditional ocean industries such as fisheries, tourism, and maritime transport, but also new and emerging activities, such as offshore renewable energy, aquaculture, seabed extractive activities, and marine biotechnology and bio-prospecting.
In order to qualify as components of a Blue Economy, activities need to:

provide social and economic benefits for current and future generations
restore, protect, and maintain the diversity, productivity, resilience, core functions, and intrinsic value of marine ecosystems
be based on clean technologies, renewable energy, and circular material flows that will reduce waste and promote recycling of materials.
Components of Blue Economy
Importance of Blue Economy
Key to Food Security
Fisheries, which is a vital oceanic resource forms the core of the Blue Economy, provides food to hundreds of millions of people and greatly contribute to the livelihoods of coastal communities. It plays an important role in ensuring food security, poverty alleviation and also has a huge potential for business opportunities.
Immense Source of Renewable Ocean Energy
The world population is expected to increase to an estimated 9 billion people in 2050, which is 1.5 times greater than the current population, resulting in an increase in countries' demands on fossil fuels.
In this scenario, Blue Economy could be a major source of clean energy, where large renewable energy is not tapped.
Coastal Tourism Opportunities
Coastal tourism, a major sector of Blue Economy, presents huge potential for job creation and economic growth.
Sustainable coastal tourism can assist with the preservation of artisanal fishing communities, allow for subsistence fishing, protect the environment, and make positive contributions to sustainable economic development.
Shipping, Port infrastructure and Logistics
The seaport and maritime transport sector is one of the important priority sectors under the Blue Economy.
Sea is a cost-effective and carbon-friendly mode of transportation for global trade. About 90 per cent of world trade is conducted through the sea routes.
Seabed Mining
With the decreasing inland mineral deposits and increasing industrial demands, much attention is being focused on mineral exploration and mining of the seabed.
Deep-sea mining is viewed as a potential sector for promotion of Blue Economy. The seabed contains minerals that represent a rapidly developing opportunity for economic development in both the Exclusive Economic Zones (EEZs) of coastal nations and beyond the limits of national jurisdiction.
Marine Industry
Marine manufacturing, electricity generation from offshore sources, gas and water constitute the industrial sectors of Blue Economy. Marine manufacturing sector covers a wide range of activities such as boat manufacturing, sail making, net manufacturing, boat and ship repair, marine instrumentation, aquaculture technology, marine industrial engineering, etc.
Marine Biotechnology Research & Development
Marine biotechnology (or Blue Biotechnology) is considered an area of great interest and potential due to the contribution for the building of an eco-sustainable and highly efficient society.
A fundamental aspect is related to aquaculture, whereby new methodologies will help in: selective breeding of species; increasing sustainability of production; and enhancing animal welfare, including adjustments in food supply, preventive therapeutic measures, and use of zero-waste recirculation systems.
Challenges to Blue Economy
Unsustainable Exploitation of Marine Resources
Unsustainable extraction of marine resources, such as unsustainable fishing as a result of technological improvements coupled with poorly managed access to fish stocks and rising demand. The Food and Agriculture Organization (FAO) estimates that approximately 57 per cent of fish stocks are fully exploited and another 30 per cent are over-exploited, depleted, or recovering.
Fish stocks are further exploited by illegal, unreported, and unregulated fishing, which is responsible for roughly 11–26 million tons of fish catch annually or US$10-22 billion in unlawful or undocumented revenue.
Threat to Marine Ecology
Physical alterations and destruction of marine and coastal habitats and landscapes due largely to coastal development, deforestation, and mining. Coastal erosion also destroys infrastructure and livelihoods.
Unplanned and unregulated development in the narrow coastal interface and near shore areas has led to significant externalities between sectors, overlapping uses of land and marine areas, marginalization of poor communities, and loss or degradation of critical habitats.
Marine Pollution
Sea water is continuously getting polluted in the form of excess nutrients from untreated sewerage, agricultural runoff, and marine debris such as plastics.
Climate Change
Impacts of climate change, for example, in the form of both slow-onset events like sea-level rise and more intense and frequent weather events pose major challenges to Blue Economy. The changes in sea temperature, acidity, and major oceanic currents, among others, already threatening marine life, habitats, and the communities that depend on them.
Unfair and Unregulated Trade Practices
Many times fishing agreements allow access to an EEZ of country to foreign operators. These operators restrict transfer of specific fishing knowledge to national stakeholders leading to low appropriation of fisheries export revenues by national operators. So, the potential for national exploitation of those resources is reduced in the long run.
Blue Economy in India
Despite being surrounded by water on three sides, India is unable to utilise its marine resources due to lack technological advancement and skilled manpower.
For India, Blue Economy assumes high priority. The Indian Government has an integrated maritime development programme called Sagarmala Programme which is central on the government's maritime vision.
The Deep Ocean Mission, on the other hand, aims to explore the 75,000 sq km sea bed that comes under India's purview.
Sagarmala Programme
It was announced in 2015 and aims to turn the coastal areas into economic centers for regional and global maritime connectivity for trade to achieve the broad objective of promoting port-led development in India.
Components of Sagarmala Programme
Port Modernization & New Port Development: De-bottlenecking and capacity expansion of existing ports and development of new greenfield ports.
Port Connectivity Enhancement: Enhancing the connectivity of the ports to the hinterland, optimizing cost and time of cargo movement through multi-modal logistics solutions including domestic waterways (inland water transport and coastal shipping).
Port-linked Industrialization: Developing port-proximate industrial clusters and Coastal Economic Zones to reduce logistics cost and time of export-import and domestic cargo.
Coastal Community Development: Promoting sustainable development of coastal communities through skill development & livelihood generation activities, fisheries development, coastal tourism, etc.
Coastal Shipping & Inland Waterways Transport: Impetus to move cargo through the sustainable and environment-friendly coastal and inland waterways mode.
Abolition Of Dividend Distribution Tax
---
In order to increase the attractiveness of the Indian Equity Market, to provide relief to large class of investors and to make India an attractive destination for investment, the Union Budget proposed to remove the Dividend Distribution Tax (DDT).
Reasons to Abolish
India charges tax on domestic companies on the amount of dividends distributed by them. As a corollary, dividends are exempt in the hands of shareholders. It is a tax that has created much consternation among corporates.
The system of levying DDT results in increase in tax burden for investors and specially those who are liable to pay tax less than the rate of DDT, if the dividend income is included in their income.
Further, non-availability of credit of DDT to most of the foreign investors in their home country results in reduction of rate of return on equity capital for them.
DDT is considered as a surrogate tax and it obstructs the flow of foreign direct investment. Therefore, doing away with this tax can give a major push to investment.
Background
It is to be noted that removal of DDT was mooted Direct Tax Code Panel (Chairman –Akhilesh Ranjan) which was set up by the government to formulate a new direct tax code to replace the existing Income Tax Act.
The idea behind removal of DDT is to remove the cascading impact of taxation and the panel favoured no preferential treatment for any class of investor.
Key Changes
The dividend distribution tax (DDT) has been abolished at both the company and mutual fund levels.
It has been proposed to abolish DDT on dividends paid by the corporates and transfer the tax burden completely in the hands of the recipient.
Instead, dividends will be taxable in the hands of investors and will be taxed at their slab rates. In addition, tax will be deducted at source (TDS) on mutual fund dividends in excess of Rs 5,000 per year at the rate of 10%.
DDT has also been abolished on dividends paid out by mutual funds.Now, this amount will flow directly into the net asset value (NAV) of mutual funds.
While the Budget also proposed a 10% tax would be deducted at source for 'income' above Rs 5,000 in a year, there is a lack of clarity on whether the levy would be only on dividend income or overall equity returns.
Impact
Positive
Benefits to Investors
The move to abolish DDT and make dividend income taxable in the hands of individuals will benefit debt fund investors who are in the lower tax bracket.
Abolition of DDT would encourage low-income earners, who have total income up to Rs 5 lakh, to invest in capital market as the person with total income up to Rs 5 lakh will not have to pay tax on dividend income as against 20.56 percent paid by them indirectly.
Benefits to Mutual Fund Industry
The move could also lead to a churn in the mutual fund(MF) industry with investors likely moving from dividend plans to growth plans of equity mutual funds.
Negative
According to the experts of MF industry, the change can, however, would an adverse effect on the attractiveness of mutual funds.
The TDS provision also extends to capital gains on mutual funds. What was earlier an invisible tax will now be perceptibly deducted. Those who don't want the deduction will have to submit paperwork, as with other types of TDS. This could negatively affect the perception towards the dividend option of funds.
Further, abolishing DDT will not only impact tax collection, but also affect the investment cycle.
What is Dividend Distribution Tax (DDT)?
It is a tax levied on dividends that a company pays to its shareholders out of its profits, which is taxable at source, and is deducted at the time of the company distributing dividends. The dividend is the part of profits that the company shares with its shareholders.
India's DDT provisions were introduced in the Finance Act 1997.Interestingly, DDT was scrapped in 2002 only to be re-introduced in the next year on grounds of ease of tax administration.
Other than DDT, the Securities Transaction Tax (STT) and Long-Term Capital Gains (LTCG) tax are other major taxes levied on market instruments.
Who is required to Pay DDT?
Under Section 115-O, the Income Tax Act, any domestic firm which is declaring or distributing dividend has to pay DDT at the rate of 15 percent on the gross amount of dividend.
What are the Different Rates Charged?
DDT for distribution of income by debt fund was 25% for individuals and Hindu undivided family (HUF) and 30% for others.
While the rate of DDT by companies in India is 15%, which after grossing up, comes to 17.65% and taking the impact of surcharge at 12% and cess at 4%, this comes to 20.56%.
In 2017 an additional income tax of 10% became applicable if the aggregate dividend income exceeds Rs 10 lakh per annum. It is applicable on the excess amount above Rs 10 lakh.
Budget 2018 introduced dividend distribution tax on equity oriented mutual funds. It is taxed at 10% and including 12% surcharge and 4% cess it adds up to 648%.
On debt oriented mutual funds, DDT is 25% and after including 12% surcharge and 4% cess it adds up to 12%.
When is the Dividend Distribution Tax paid?
The tax has to be paid to the government within 14 days of the dividend declaration, distribution or payment whichever is earliest.
If DDT is not paid within the given time period, interest at a rate of 1 percent per month or part thereof starts getting accumulated till the amount is paid. The tax is paid separately, over and above the company's income tax liability.
Databank Of Independent Director Launched
---
On 2nd December, 2019, the Ministry of Corporate Affairs (MCA) launched the Independent Director's Databank in accordance with the provisions of the Companies Act, 2013.
Objective
Strengthening the institution of Independent Directors
Background
On 22nd October 2019, the MCA issued certain notifications relating to the creation and maintenance of the data bank for independent directors. These relates to the following:
Notification of the Companies (Creation and Maintenance of data bank of Independent Directors) Rules, 2019
Additional disclosure in board's report
Constitution of institute for data bank of independent directors
Compliances required by the independent directors
Need for Databank
In recent times, many individuals have come under the regulatory lens in connection with failure and default cases of the companies (for ex. Default of Infrastructure Leasing & Financial Services) where they were serving as independent directors.
These failures have given enough reason to believe that directors need to have greater awareness of their fiduciary responsibilities.
About the Databank
The Databank portal which has been developed and will be maintained by the Indian Institute for Corporate Affairs (IICA), is a first of its kind initiative from the Ministry
Section 150 of the Companies Act, 2013 provides that an independent director can be selected from a data bank maintained by anybody, institute or association, as may be notified by the Central Government.
It will serve as a comprehensive repository of existing as well as those eligible to be independent directors.
The data bank would contain names, addresses and qualifications of persons who are eligible and willing to act as independent directors.
The present independent directors are also required to pass a basic online proficiency self-assessment test which will available from March 2020.
MCA has realized the importance of strengthening the Institution of Independent Directors and enhancing its effectiveness by way of creating a pool of skilled professionals to act as Agents of Change.
Significance
Will provide a platform to individuals to help them acquire knowledge, develop new skills, assess their understanding, and apply best practices.
Will help in building capacities of Individuals by delivering eLearning courses on topics related to corporate governance, regulatory framework, financial prudence, and other important aspects.
Will help to create an eco-system of individuals looking for opportunities and corporate requiring to appoint independent directors.Companies may register them selves with the databank to search, select and connect with individuals who possess the right skills and attitude for being considered for appointment as independent directors.
Independent Directors (IDs)
An independent director is a non-executive director who does not have any pecuniary relationship with the company, its promoters, and senior management or affiliate companies, is not related to promoters or the senior management, and/or has not been an executive with the company in the three preceding financial years.
The Companies Act,1956 does not provide us the specific definition of an Independent Director.
The provisions relating to appointment of Independent directors are contained in Section 149 of the Companies Act, 2013 should be read along with Rule 4 and Rule 5 of the Companies (Appointment and Qualification of Directors) Rules, 2014.
Role
IDs should makeup at least two-thirds of the directors in the audit committees of listed companies to oversee the financial reporting process and disclosure of the company's financial information, ensure compliance with listing and other legal requirements, disclosure of related party transactions and qualification in the draft audit report, among other things.
They act as a guide to the company. Their roles broadly include improving corporate credibility and governance standards functioning as a watchdog, and playing a vital role in risk management.
Independent directors play an active role in various committees set up by company to ensure good governance.
Importance
IDs serve as an important Institution of corporate governance contributing significantly at the boards by bringing a diverse set of skills with an independent judgment on the significant issues.
IDs along with other directors on a board are an integral part of a company and are entrusted with the most crucial responsibility relating to the functionality and the overall governance of a company.
Companies Act, 2013
The Companies Act 2013 is the law covering incorporation, dissolution and the running of companies in India.
The Act came into force across India on 12th September 2013 and has a few amendments to the previous act of 1956.
The 2013 Act introduces significant changes in the provisions related to governance, e-management, compliance and enforcement, disclosure norms, auditors and mergers and acquisitions.
Objective
To consolidate and amend the law relating to companies.
Key Features
The maximum number of members (shareholders) permitted for a Private Limited Company is increased to 200 from 50.
One-Person company.
Section 135 of the Act which deals with Corporate Social Responsibility.
Company Law Tribunal and Company Law Appellate Tribunal.
Amendments
On July 31, 2019, the Ministry of Corporate Affairs introduced the Companies (Amendment) Act, 2019.
It aims to ensure more accountability and better enforcement to strengthen the corporate governance norms and compliance management in corporatesector as enshrined in the Companies Act, 2013.
High Level Advisory Group (HLAG) Report
---
Recently, Ministry of Commerce and Industry released the report of the High Level Advisory Group (HLAG).
The HLAG was constituted in September, 2018, led by the economist Surjit S. Bhalla, to identify and pursue opportunities and address challenges in the current global trade scenario.
Members
Subramaniam Jaishankar, Rajeev Kher, Sanjeev Sanyal, Adil Zainulbhai, Harsha Vardhana Singh, Shekhar Shah, Vijay Chauthaiwale, Pulok Ghosh, Jayant Dasgupta, Rajiv K Luthra, Chandrajit Banerjee
Objective
To assess the global environment and make recommendations for boosting India's share and importance in global merchandise and services trade
Managing pressing bilateral trade relations and mainstreaming new age policy making.
Major Recommendations
EXIM Bank and Credit Insurance for Exports
Enhance capital base of the EXIM Bank by another INR 20,000 crores by 2022 and infusethe balance capital in a sustained manner.
Increase the Bank's borrowing limit to 20 times Net Owned Funds (the current limit is 10 times).
Enhance capital base of the Export Credit Guarantee Corporation (ECGC) by INR 350 crores.
Exempt the ECGC from Insurance Regulatory and Development Authority (IRDA) regulations.
To make Effective Corporate Tax Rates more Competitive
India should cut corporate tax rate to 22% (with exemptions). This will yield an effective corporate tax rate of 18%.
Policy Rates Alignment with Competitors
India should aim to bring down the cost of capital to the average of 10 best performing OECD countries.
Policy operation should now fully incorporate the technology of Direct Benefit Transfers (DBT).
To re-establish linking of government savings schemes to repo rates.
To Build a Comprehensive Export Strategy
Create a database that details the utilisation of various FTAs, RTAs, CEPAs etc.
Use big-data analytics for identifying items at the 4-digitHarmonised System(HS)level where India has an export advantage and building up domestic competitiveness in these products.
Strengthening Investment Promotion Agency (Invest India ++)
Make Invest India the centralised authority for issuing licenses and empower it to grant incentives in cases meeting pre-defined criteria
Create one apex trade promotion organization established as a separate entity (replacing DGFT,ITPO, TCPI).
Create a world-class 'war room' to realize single-window clearance.
Optimising Free Trade Agreements (FTA) Negotiations
Begin process of identifying and resolving non-tariff barriers which prevent Indian exports from accessing key importing nations – begin with major countries with which India has FTAs.
Undertake sectoral analysis to assess price competitiveness of Indian products in markets of choice to help better negotiate FTAs.
Launch a five-year program for negotiation of FTAs identified based on complementarity and long-term sustainability.
Issuing Elephant Bonds
By issuing Elephant Bonds, India could recover up to $500 billion of black money stashed overseas.
People declaring undisclosed income will be bound to invest 40% with a coupon rate of 5% for a period of 20-30 years. The fund will be utilised only for infrastructure projects.
Reforming the Financial Services Sector
Simplify regulatory and tax framework for foreign investment funds and individual investors to enable on-shoring of fund management activity of India.
India must Join RCEP
The panel favours India joining Regional Comprehensive Economic Partnership(RCEP)
India gains even more from joining the RCEP-like free trade area when the USA and China are indulging in bilateral trade war.
The report will strengthen the NarendraModi government's resolve to go ahead with negotiations for the proposed Regional Comprehensive Economic Partnership (RCEP).
Sector Specific Recommendations
Agriculture
Implementation of Model Agricultural Produce and Livestock Marketing Act, 2017, should be fast tracked.
Promote export of fruits and vegetables, instead of rice and cereals.
Facilitate FDI in agro-processing sector.
Build conformity assessment to international standards in fertiliser and pesticide use.
Pharmaceuticals, Biotechnology and Medical Devices
Appoint an empowered independent commission on Pharmaceuticals and Biotechnology to enable coordination among various entities.
Separate regulation of medical devices from that of drugs/cosmetics
Create a single ministry for the regulation of medical devices across the entire value chain.
Rectify the inverted duty structure on medical devices manufacturing in India.
Textiles and Garments
De-link Export Promotion Capital Goods (EPCG) Scheme from exports for the sector.
Fast-track disbursal of Technology Upgradation Fund Scheme (TUFS) subsidies.
Electronics
Shift from a tariff-based policy to an incentive-based policy for manufacturing of electronics.
Establish Industrial Parks which would cater to specific needs of the electronics manufacturing sector.
Tourism and Hospitality
Create a Pan-India Tourism Board to coordinate among various parts of government and industry.
Accord infrastructure status to tourism infrastructure.
Simplifying the medical visa regime
Create a Medical Tourism campaign to create awareness and build on India's brand as a medical value destination.
Significance
Pathway to Economic Growth:It shows the way forward for India to become an attractive investment destination by grasping all the opportunities available so that India is able to achieve the target of exports contributing $1 trillion to the gross domestic product (GDP).
Boosting Indian Export:The recommendations of the HLAG will help government doubling India's exports of goods and services from $500 billion in 2018 to over $1,000 billion in 2025.
Push to Significant Policies:The report is concerned with policies which are needed, macro and micro, regulatory and taxation, infrastructure development, bureaucratic interference and ease of doing business to get India to aggressively move towards its potential of export growth (and indirectly GDP growth).
Finance Ministry Cuts Down Corporate Tax
---
On 20th September, 2019, the government slashed the corporate tax rate for companies by almost 10 percentage points to 25.17 percent and offered a lower rate to 17.01 per cent for new manufacturing firms.
For this the government brought in the Taxation Laws (Amendment) Ordinance 2019 to make certain amendments in the Income-tax Act 1961 and the Finance Act 2019.
The decision came a day after the announcement of a scheme for generous disbursal of loans to farmers, retail borrowers and micro, small and medium enterprises (MSMEs)
Aim
This step aims to boost economic growth rate by boosting investment by the private sector after economic growth slowed to a six-year low in the April-June quarter of financial year.
Objective
To turn India into an investor's favourite by restoring investor's confidence and boost sentiments and demand.
Need for Lowering Corporate Tax
India's gross domestic product (GDP) growth slowed for the fifth consecutive quarter in April-June 2019 to 5 percent, the lowest in six years. This was on the back of faltering domestic demand, with both private consumption and investment proving lackluster.
Key Highlights
Corporate tax rate has been slashed to 22 percent for domestic companies not availing any incentives/ exemptions; earlier rate 30 per cent.
Effective tax rate for such companies now stands at 25.17 percent including cess and surcharge; earlier it was 34.94 percent. Also, such companies shall not be required to pay Minimum Alternate Tax (MAT).
New domestic companies incorporated on or after Oct 1, 2019, making fresh investment in manufacturing can pay income-tax at a rate of 15 percent; earlier rate was 25 percent.
For companies who continue to avail exemptions/incentives, the rate of minimum alternate tax (MAT) has been reduced from 18.5 percent to 15 percent.
There will be no tax on buyback of shares by listed companies that have announced buyback plans before July 5, 2019.
Scope of corporate social responsibility (CSR) activities has been expanded. The mandatory 2 percent CSR spending to include government, Public Sector Undertaking (PSU) incubators and public-funded education entities.
Revenue foregone for reduction in corporate tax and other relief is estimated at Rs. 1.45 lakh crore.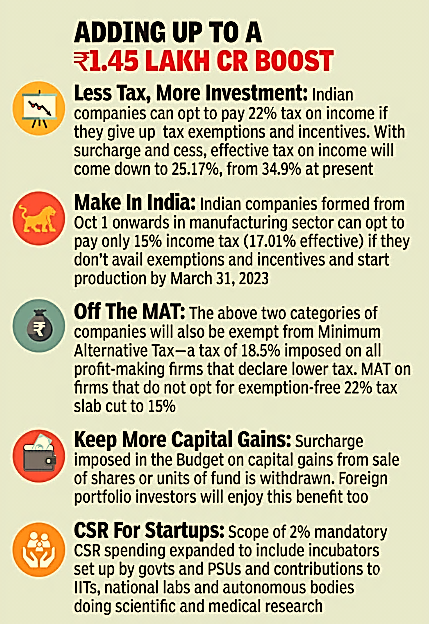 Source: Times of India
Corporate Tax around the Globe
The new rates bring India closer to the rates prevalent in many of the emerging and industrialised countries.
The new corporate income tax rates in India will be lower than USA (27 percent), Japan (30.62 percent), Brazil (34 percent), Germany (30 percent) and is similar to China (25 percent) and Korea (25 percent).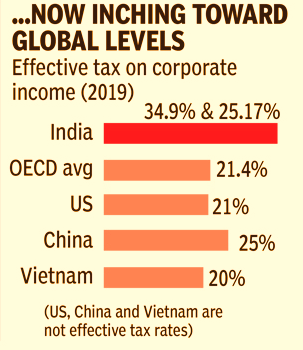 Source: Times of India
Impact
Pushing Economic Growth: India's reduction in the corporate may result in a virtuous cycle of increasing investments, consumption leading to economic growth and company profits. The will result in massive release of Rs. 1,45,000 crore immediately in the economy which will in turn boost sentiments and bring in real surplus to corporates across the country.
Alter the Profitability Dynamics: The move will likely alter the profitability dynamic of the Indian corporate ecosystem. For one, given the substantially lower rates would imply that many corporates will break even much ahead than what would have been the case with the earlier rates.
Raising Capital Expenditure of Companies: It will encourage companies to invest more, thereby, raising their capital expenditure (capex). This will be particularly true for those who have the funds, but have remained non-committal on deploying investible money in adding new capacity lines, which will eventually, through a secondary round effect, prompt these companies to hire more employees.
Benefits to Consumer Market: Consumer goods will be one of the biggest beneficiaries of the tax cut. Fast moving consumer goods (FMCG) are likely to fall after the slash in tax.
Cleaning Existing Taxation Maze: It will also help to clean up the existing taxation maze, which is full of exemptions, surcharges and cesses. Existing companies that decide to do without the benefit of exemptions can get away by paying 22% corporation tax, with the effective rate working out to 25.17%.
Pathway to RCEP Trade Deal Signing: The aggregate corporation tax rates are now lower than China, Japan, South Korean and Malaysia which could give the government more space to look to sign the Regional Comprehensive Economic Partnership (RCEP) deal between 16 Asian nations, including India.
Way Forward
This is a big respite and would give the required stimulus to the economy which will help create an environment of surplus in the hands of corporates for making further investments.
The reduction in corporation tax rates will not only lead to economic buoyancy but will also make Indian industry more competitive globally. Beyond the immediate benefit of an investment incentive for the manufacturing sector, these steps will also lead to a paradigm shift in the mindset.
It will give a great stimulus to Make in India initiative, attract private investment from across the globe creating more jobs, leading to the economic growth. Over all, this is a great step towards making India the $5-trillion economy.
Government To Link MNREGA Wages To Inflation
---
On 18th September, 2019, the Centre decided to inject more money into the flagship Mahatma Gandhi National Rural Employment Guarantee Act (MGNREGA) scheme by linking wages under the Act to an updated inflation index, which will be revised annually.
The Ministry of Statistics and Programme Implementation and the Labour Bureau had already begun the work to update the consumer price indices for rural areas (CPI-R) and agricultural labourers (CPI-AL)
The index is used for determining minimum wages and those for the government's rural jobs programme under the Mahatma Gandhi National Rural Employment Guarantee Act (MGNREGA).
Objective
To address the slowdown in economy.
To increase wages, thus increasing purchasing power and reviving rural demand.
Need for such Action
Wage Gap:The national average wage of an MGNREGA worker is 178.44 per day,less than half of the Rs.375 per day minimum wage recommended by a Labour Ministry. According to the latest Periodic Labour Force Survey, market wages for men were higher than MGNREGA wages by 74% in 2017-18, while for women, it was a 21% gap.
Drastic Change in Rural Consumption Pattern over Time:The consumption basket of CPI-AL (which determines MGNREGA wage revisions) has not been updated for more than three decadesand rural consumption patterns have changed drastically in that time.
Less Spending on Food Items:Food items make up more than two-thirds of the CPI-AL consumption basket, but rural workers today spend a much smaller percentage of their money on subsidised food, and an increasingly larger amount on health, education and transport costs.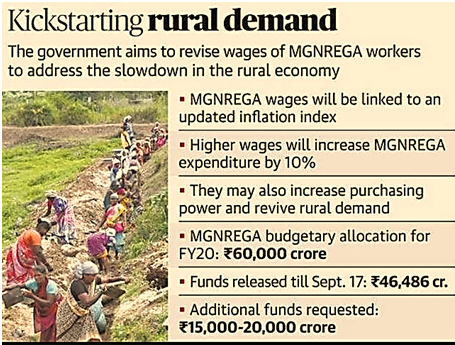 Consumer Price Index for Agricultural Labourers and Rural Labourers (CPI-AL/RL)
Labour Bureau has been compiling CPI Numbers for Agricultural Labourers since September, 1964.
The base of CPI(AL) was 1960-61=100. This series of CPI Numbers was then replaced by CPI for (i) Agricultural and (ii) Rural Labourers with base 1986-87=100 from November, 1995 onwards .
CPI for Agricultural and Rural labourers on base 1986-87=100 is a weighted average of 20 constituent state indices and it measures the extent of change in the retail prices of goods and services consumed by the agricultural and rural labourers as compared with the base period viz 86-87. This index is released on the 20th of the succeeding month.
CPI-AL is basically used for revising minimum wages for agricultural labour in different States.
As stated earlier, the Labour Bureau has kick-started the exercise of revising the base year for consumer price index for agricultural and rural labourers (CPIAL/RL) to 2019-20, from 1986-87, besides developing an index for all states and Union Territories (UTs).
The CPI basket combines over 45% expenditure on food and beverages, 10% on housing, over 6.8% on fuel and light, 6.5% on clothing and footwear, and 18% on miscellaneous expenditure, including on education and health.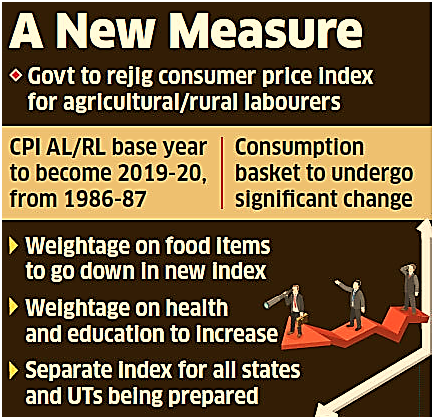 Issue
Currently, CPI-AL/RL with 1986-87 base is available for only 20 states. As a practice, states or UTs with no dedicated index often use the index of neighbouring states to determine their minimum or MNREGA, giving rise to various problems.
For example, Sikkim had recently refused to use the index for West Bengal, saying there is significant difference in the state's consumption baskets.
Hence, there has been a demand from states and UTs to determine a separate index for each of them, depending on their consumption basket, and revise the base year to reflect the current pattern of consumption.
Impact
The new index will take into account significant change in the consumption basket over the past three decades and could result in upward revision in MGNREGA wages as well as minimum wages that will be determined under the Code on Wages.
MGNREGA
It was introduced in 2005 through the National Rural Employment Guarantee Act, 2005.
Aim
Enhancing the livelihood security of people in rural areas by guaranteeing 100 days of wage-employment.
Implementing Agency
The Ministry of Rural Development (MRD)
Coverage
The scheme covers the entire country with the exception of districts that have a hundred percent urban population.
Significance
It creates livelihood opportunities for rural population and sets a minimum wage threshold for low income earners.
It provides an opportunity to rural households to earn minimum income.
It led to social inclusion with large scale participation of women, SCs/STs and other traditionally marginalised sections of society.
Led to the strengthening the rural economy through the creation of assets.
Has helped in strengthening Panchayati Raj Institutions (PRIs) like the gram sabha by involving them in planning and monitoring of the scheme.
Recent Developments
Skill training under 100- day Agenda
Under its 100-day agenda, the Centre is all set to revamp MGNREGA, which guarantees 100 days of employment to the rural poor.
To ensure maximum participation of workers, the ministry would make good the loss of daily livelihood of the family by providing Rs. 200-250 daily.
The MRD plans to undertake 10 lakh water conservation works under MNREGA under its 100-day programme.
Another major initiative under 100-day agenda is PradhanMantri Gram SadakYojana Phase III, which would involve building 1.25 lakh kilometres of roads connecting markets and mandis and other places of economic importance in rural India.
Direct Benefit Transfer under MGNREGS
To streamline the fund flow mechanism and bring down delay in payment of wages, the Ministry of Rural Development has implemented National Electronic Fund Management System (NeFMS).
Around 99% of the wages are being paid electronically (FY 2018-19) into the Bank/Post Office accounts of MGNREGA workers through Electronic Fund Management System (eFMS).
GeoMGNREGA
It is a unique endeavor of the Ministry of Rural Development in association with National Remote Sensing Centre (NRSC), ISRO and National Informatics Centre for geo-tagging therural assets created under MGNREGS in each gram panchayat.
Note: In January 2017, Kangra, in Himachal Pradesh became the first district in the country to geotag all the assets created under the MGNREGA.
Janmanrega - Citizen-centric Mobile Application
An initiative towards good governance, Janmanrega is an interface to improve quality of public services.
It enables for information flow to and from ground-level, which will connect citizens with the system.
e-Saksham:
It is a digital learning platform, a GIS supported course on Integrated Natural Resource Management planning under MGNREGA.
Capacity building of functionaries on planning, training of State/ District/ Block level Technical Resource team is taken up under e-Sakshamtraining programme.
Reasons for Under Performance of MNREGA
Less Number of Working Days
Even though the scheme aims at providing 100 days of guaranteed employment, below 50 days of employment was actually provided on an average at an all-India level in FY-18.
Low Wage Rate
MGNREGA wage rates of 17 states are less than the corresponding state minimum wages. The ridiculously low wage rates have resulted in lack of interest among workers in working for MGNREGA schemes, making way for contractors and middle men to take control, locally.
Insufficient Budget Allocation
Budget allocation over the years has been insufficient. The fund that centre allocates during the budget proves to be inadequate and more funds are sought by the rural development ministry to finance MGNREGA. This results in delay in payments which adversely affects workers.
Regular Payment Delays
According to a finding, 78 percent of payments were not made on time, and as many as 45 percent payments did not include compensation for delayed payment as per guidelines which is 0.05 percent per day of the wages earned.
In FY17 alone Rs 11,000 crore of wages remained unpaid to workers. Only 32 percent of the payments in the first two quarters of FY17-18 were made on time.
Late payment to existing workers discourages other labourers to work for MGNREGA.
Corruption
In 2012, a scam was uncovered in Karnataka where 10 lakh fake job cards were detected, which resulted in Rs. 600 crore losses to the exchequer.
In 2018, Rural Development and Panchayath Raj (RDPR) report pointed out that in just one financial year FY18, 596 cases were registered against officials and non-officials for violation of rules and guidelines.
Rural workers often complain that funds that are sanctioned for public works are going into the pockets of middlemen.
First Mega Food Park In Telangana Inaugurated
---
Recently, the first Mega Food Park (MFP) in Telangana located in the village Lakkampally, NandipetMandal of Nizamabad district was inaugurated making it the 17thoperational food Park in the country.
The Park will provide direct and indirect employment to 50,000 youth and benefit about 1 lakh farmers.
Mega Food Park Scheme (MFPS)
MFPS is the flagship program of the Ministry of Food Processing Industries which proposes a demand driven/pre-marketed model with strong backward/forward linkages and sustainable supply chain.
These parks are being implemented by the government under its Scheme for Agro-Marine Processing and Development of Agro-Processing Clusters (SAMPADA) and the Make in India initiatives.
It is based on "Cluster" approach and envisages creation of state of art support infrastructure in a well-defined agri-horticultural zone for setting up of modern food processing units with well-established supply chain.
It is implemented by a Special Purpose Vehicle (SPV) which is a Body Corporate registered under the Companies Act.
Features
A Mega Food Park located in the area of a minimum of 50 acres work in a cluster based approach based on a Hub and Spoke model.This includes a Central Processing Centre (CPC), which is the Hub, and Primary Processing Centres (PPCs) and Collection Centres (CCs), which act as the Spokes.
It includes common facilities and enabling infrastructure at Central Processing Centre like modern warehousing, cold storage, IQF, sorting, grading, packaging, pulping, ripening chambers and tetra packaging units roads, electricity, water, effluent treatment plant( ETP)facilities etc.
State Government, State Government entities and Cooperatives are not required to form a separate SPV for implementation of Mega Food Park project.
Under the scheme, the Centre provides financial assistance of up to Rs 50 crore.
Aims
To facilitate establishment of integrated value chain, with processing at the core and supported by requisite forward and backward linkage.
Providing a mechanism to link agricultural production to the market by bringing together farmers, processors and retailers.
To ensure maximizing value addition, minimizing wastage, increasing farmers income and creating employment opportunities particularly in rural sector.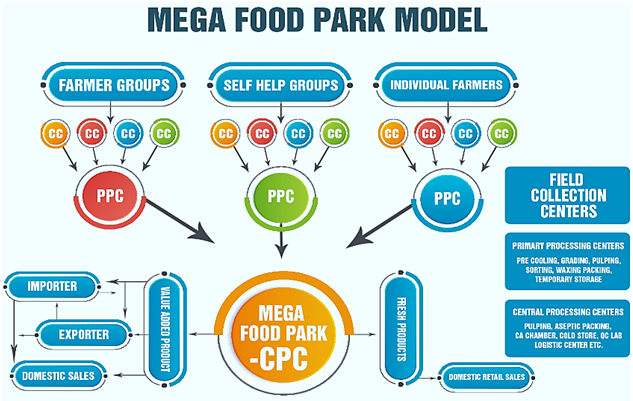 16 Mega Food Parks Operational in India
Srini Mega Food Park, Chittoor, Andhra Pradesh.
Godavari Mega Aqua Park, West Godavari, Andhra Pradesh.
North East Mega Food Park, Nalbari, Assam.
Gujarat Agro Mega Food Park, Surat, Gujarat.
Cremica Mega Food Park, Una, Himachal Pradesh.
Integrated Mega Food Park, Tumkur, Karnataka.
Indus Mega Food Park, Khargoan, Madhya Pradesh.
Paithan Mega Food Park, Aurangabad, Maharashtra.
Satara Mega Food Park, Satara, Maharashtra.
MITS Mega Food Park, Rayagada, Odisha.
International Mega Food Park, Fazilka, Punjab.
Greentech Mega Food Park, Ajmer, rajasthan.
Patanjali Food and Herbal Park, Haridwar, Uttarakhand.
Himalayan Mega Food Park, Udham Singh Nagar, Uttarakhand.
Jangipur Bengal Mega Food Park, Murshidabad, West Bengal.
Tripura Mega Food Park, West Tripura, Tripura.
Benefits
Modern infrastructure for food processing at the park would benefit the farmers, growers, processors and consumers immensely and prove to be a big boost to the growth of the food processing sector in the country.
Benefit to local population through full/partial direct and indirect employment generation
New employment opportunities within rural areas which will reduce rural-urban migration, unplanned urbanisation, slums/social problems in cities
Provide efficient supply chain management from farm gate to retail outlet.
Elimination/reduction in the layers of the middle-men, training and technology transfer.
Farmers can utilise the cold storages, ripening chambers, and warehouses. So, less wastage of productsand no distress sales, leading to higher income.
Benefit to Industry by helping in value addition by providing modern common infrastructure facilities, induction of advanced technology and exporting opportunities.
Benefit to traders through increase in product range and better quality and to consumers through availability of better products at lesser price.
Food entrepreneur can establish backward linkages (with farmers) and forward linkage (with retailers) which will provide compact supply chain and more profits.
Quality assurance of processed food products through better process control and meeting of environmental and safety standards are other major benefits of MFPs.
Significance
The MFPShelps in delivering a major impetus to the food processing sector by adding value and reducing food wastage at each stage of the supply chain with particular focus on perishables.
It helps in providing an environment that is smooth, transparent and easy for investors wanting to start an enterprise in India and in a bid to make India a resilient food economy.
Challenges to MFPS
Land AcquisitionIssues:Like most other infrastructure projects, the key challenge in setting up food parks lies in land acquisition. Most of the projects have failed to take off mainly because of the bottlenecks involved in land acquisition. For example, land acquisition is a problem in West Bengal as the West Bengal Land Reforms Act of 1955, puts a land ceiling limit of 24.7 acreson a piece of land for industrial use.
Financial Issues:Financial issues are found to be one of major reasons for incomplete Mega Food Park projects. One of the main reasons has been the failure of the promoters in raising finance for the MFPs as they have difficulties in convincing the banks about the new concept and hence failed to secure loans required for mounting the projects. The other challenge is in being able to attract the right set of tenants, basically, manufacturers and ancillary players, who can come forward and set up base in a food park.
Issues Related to Clearances:The process of creating infrastructure involves state clearances and approvals from different organisations like power, water, sanitation and environment. Often, projects get delayed due to non-approvals and in coordination with various state agencies. For examples, it took both Jharkhand Mega Food Park Private Limited and India Mega Food Park Private Limited, 36 months to get permission for sub-leasing of land and Satara Mega Food Park Private Limited (Maharashtra) and International Mega Food Park Limited reported facing issues in getting environmental clearance from the state.
Issues Related to Single Window Clearances: Even though single window facility exists in almost all states, yet they failed to provide timely and holistic clearances. For example, Integrated Food Park Private Limited (Karnataka) had to approach multiple departments to get respective approvals and clearances in-spite of presence of fast track single window clearance agency.
High Rental Issues:In order to create world class facilities, all the food parks has to import machineries from abroad which are expensive. Hence the rent or the lease amount for these facilities is also expected to be high. Even if the PPC has a state of the art infrastructure the users may not be willing or may not have the ability to pay a high rental.
Way Forward
The government is focused on boosting the food processing industry so that agriculture sector grows exponentially and becomes a major contributor to doubling farmer's income and Make in India initiative.
The timely completion of MFPswill provide a big boost to the growth of the food processing sector in the concerned state, help in providing better price to farmers and creating huge employment opportunities especially in rural areas. These will also help in stabilizing prices of food products and contain inflation in the country. Should it falter, it will only be adding yet another layer of middlemen which would make the scheme more of a liability than a panacea.
Cabinet Approves Proposal For Review Of FDI Policy
---
Recently, the Union Cabinet approved the proposal for Review of Foreign Direct Investment(FDI) in four different sectors-Coal Mining, Contract Manufacturing, Single Brand Retail Trading (SBRT) and Digital Media.
Coal Mining
It has been decided to permit 100% FDI under automatic route for sale of coal, for coal mining activities including Associated Processing Infrastructure (API) subject to provisions of Coal Mines (special provisions) Act, 2015 and the Mines and Minerals (development and regulation) Act, 1957. API would include coal washery, crushing, coal handling, and separation (magnetic and non-magnetic).
Contract Manufacturing
The extant FDI policy provides for 100% FDI under automatic routein manufacturing sector. There is no specific provision for Contract Manufacturing in the Policy. In order to provide clarity on contract manufacturing, it has been decided to allow 100% FDI under automatic route in contract manufacturing in India as well.
Single Brand Retail Trading (SBRT)
With a view to provide greater flexibility and ease of operations to SBRT entities, it has been decided that all procurements made from India by the SBRT entity for that single brand shall be counted towards local sourcing, irrespective of whether the goods procured are sold in India or exported.
The extant FDI Policy provides that 30% of value of goods has to be procured from India if SBRT entity has FDI more than 51%. Further, as regards local sourcing requirement, the same can be met as an average during the first 5 years, and thereafter annually towards its India operations. Further, the current cap of considering exports for 5 years only is proposed to be removed, to
It also mandates that SBRT entities have to operate through brick and mortar stores before starting retail trading of that brand through e-commerce.
Digital Media
The extant FDI policy provides for 49% FDI under approval route in Up-linking of 'News &Current Affairs' TV Channels.
It has been decided to permit 26% FDI under government route for uploading/ streaming of News & Current Affairs through Digital Media, on the lines of print media.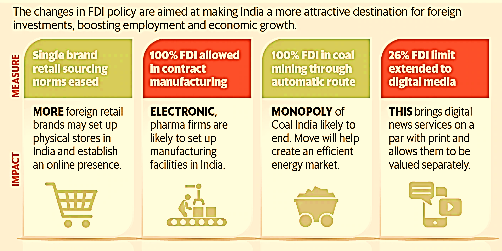 Need
Slowing Economic Growth: After rapidly expanding in last couple of years, India's economic growth momentum has been slipping since the last 3-4 quarters. Not only did GDP growth fall to a 20-quarter low of 5.8 percent in January-March, 2019, telltale signs of distress are visible in sectors like Non-Banking Financial Companys (NBFCs), automobile, real estate, and Fast-Moving Consumer Goods (FMCG).
Global Dip in FDI Flow: According to the World Investment Report 2019, released by the UN Conference on Trade and Development (UNCTAD), global FDI flows slid by 13 percent in 2018 to USD 1.3 trillion from USD 1.5 trillion the previous year the third consecutive annual decline.
Foreign Direct Investment (FDI)
It records the value of cross-border transactions related to direct investment during a given period of time, usually a quarter or a year.
Financial flows consist of equity transactions, reinvestment of earnings, and intercompany debt transactions.
FDI flows are measured in USD and as a share of GDP.
FDI under sectors is permitted either through Automatic route or Government route:
Under the Automatic route, the non-resident or Indian company does not require any approval from government.
Whereas, under the Government route, approval form the government is required prior to investment. Proposals for foreign investment under the Government route are considered by the respective Administrative Ministry/Department.
During 2018-19, India received the maximum FDI equity inflows from Singapore (US$ 16.23 billion), followed by Mauritius (US$ 8.08 billion), bUS$ 3.87 billion), USA (US$ 3.14 billion), and Japan (US$ 2.97 billion).
Significance
Apart from being a critical driver of economic growth, foreign direct investment (FDI) is a major source of non-debt financial resource for the economic development of the country.
FDI creates stable and long-lasting links between economies.
Impact
More FDI Inflow: The changes in FDI policy will result in making India a more attractive FDI destination, leading to benefits of increased investments, employment and growth.
Boost to Make in India: Further, manufacturing through contract contributes equally to the objective of Make in India. FDI now being permitted under automatic route in contract manufacturing will be a big boost to Manufacturing sector in India.
Ease of Doing Business:This will lead to greater flexibility and ease of operations for SBRT entities, besides creating a level playing field for companies with higher exports in a base year.
Creating Competitive Coal Market: In the coal sector, for sale of coal, 100% FDI under automatic route for coal mining, activities including associated processing infrastructure will attract international players to create an efficient and competitive coal market.
Boosting Investor Sentiment: This will boost investor sentiment and signal that the government is proactively responding to voices of distress in the industry.
Support to Digital India Initiative: Allowing single brand retailers to start online stores, while meeting local sourcing norms, aligns well with the 'Digital India' initiative, giving them time to build their brick-and-mortar presence in parallel.
More Employment:Online sales will also lead to creation of jobs in logistics, digital payments, customer care, training and product skilling.
Making India $5 Trillion Economy: It will help in achieving the government's goal of making India a $5 trillion economy by 2024.
Way Forward
The steps taken are meant to liberalize and simplify the FDI policy in order to provide ease of doing business in the country, leading to larger FDI inflows and thereby contributing to growth of investment, income and employment.
Despite the dim global picture, India continues to remain a preferred and attractive destination for global FDI flows. However, it is felt that the country has the potential to attract far more foreign investment which can be achieved inter-alia by further liberalizing and simplifying the FDI policy regime.
India needs to actively address implementation issues and policy irritants that arise for companies looking to use the FDI route to invest in the country-competition for FDI has been intensifying.
Besides the legislative aspect, the government must also step up to the challenge of convincing businesses of the certainty of its policies which will finally help the government to meet the target of attracting $100 billion in FDI over the next two years.
National Urban Livelihoods Mission Conferred SKOCH Award
---
On 29th August, 2019, Deendayal Antyodaya Yojana-National Urban Livelihoods Mission (DAY-NULM), a flagship mission under the Ministry of Housing and Urban Affairs has been conferred the prestigious SKOCH Governance Gold Award.
It has been awarded for its Portal for Affordable Credit and Interest Subvention Access (PAiSA).
Portal for Affordable Credit and Interest Subvention Access (PAiSA)
Launched in November 2018, it is a centralized IT platform which simplifies and streamlines release of interest subvention under the Mission.
It offers end to end online solution for processing, payment, monitoring and tracking of interest subvention claims from banks on a monthly basis.
The portal has been designed and developed by Allahabad Bank.
SKOCH Award
Instituted in 2003, it is the highest civilian honour in the country conferred by an independent organisation.
It recognises people, projects and institutions that go the extra mile to make India a better nation.
It covers the best of efforts in the area of digital, financial and social inclusion.
Deendayal Antyodaya Yojana-National Urban Livelihoods Mission
National Urban Livelihoods Mission (NULM) was launched by the Ministry of Housing and Urban Poverty Alleviation (MHUPA), Government of India in September, 2013 by replacing the Swarna Jayanti Shahari Rozgar Yojana (SJSRY).
Component of Day-NULM
The scheme has two component:
The Urban component named as DeenDayal Antyodaya Yojana will be implemented by the Ministry of Housing and Urban Poverty Alleviation.
The Rural component named as DeenDayal Upadhyaya Grameen Kaushalya Yojana will be implemented by the Ministry of Rural Development.
Aim
To reduce poverty and vulnerability of the urban poor households by enabling them to access self-employment and skilled wage employment opportunities.
Providing shelter equipped with essential services to the urban homeless.
To address livelihood concerns of the urban street vendors by facilitating access to suitable spaces, institutional credit, social security and skills to the urban street vendors for accessing emerging market opportunities.
It aims to achieve universal financial inclusion, through opening of basic savings accounts, facilitating access to financial literacy, credit, affordable insurance, and remittance facilities to the urban poor and their institutions
Salient Features of DAY-NULM
Employment through Skill Training and Placement: An expenditure of Rs.15, 000 per person is allowed on training of urban poor which is Rs.18, 000 in North-East and J&K. Moreover, Training urban poor to meet the enormous demand from urban citizens by imparting market-oriented skills through City Livelihood Centers.
Social Mobilization and Institution Development: It will be done through formation of Self-Help Groups (SHG) for training members and hand holding, an initial support of 10, 000 is given for each group. Assistance of Rs.50, 000 is provided to Registered Area Level Federations.
Subsidy to Urban Poor: An interest subsidy of 5% - 7% for setting up individual micro-enterprises with a loan of up to 2 lakh and for group enterprises with a loan limit of up to Rs.10 lakhs.
Shelters for Urban Homeless: Cost of construction of shelters for urban homeless is fully funded under the Scheme.
Other Means: Development of vendor markets and also the promotion of skills for the vendors through setting up infrastructure and special projects for the rag picker and differently abled etc.
Significance
Ownership and productive involvement of the urban poor and their institutions in all processes
Transparency in programme design and implementation, including institution building and capacity strengthening
Accountability of government functionaries and the community
Partnerships with industry and other stakeholders
Community self-reliance, self-dependence, self-help and mutual-help
Not Much Increase In Allocation For Child Welfare In Budget
---
Recently, on 5th July, the Union Budget was released by the Finance Minister.
Relevance of the News: It highlights the allocations made for child welfare in the budget.
Details of the News:
The outlay for children in the Union Budget has shown a marginal increase of 0.05%, going up from 3.24% in the last fiscal to 3.29% in the current fiscal.
The National Plan of Action for Children, 2016 had recommended a share of 5% for child welfare and this year's budget allocation of 3.29% is quite less from even that amount.
Four thematic areas of child rights include

Education
Health
Development
Child protection

The share of education has increased marginally to 68.54% from 68.2%, but has declined by more than 10 percentage points from the 79.02% of 2015-16.
Health-related financial allocation as a share of the child health budget has shown a decline of 0.39 percentage point — from 3.9% last fiscal to 3.51%.
The Anganwadi services and the Poshan Abhiyan (Nutrition Mission) aim at reducing stunting, anaemia, low weight and low birth weight.
While the former has registered an increase of 19% and the latter of 14% in this latest Budget announcement, experts have argued it is inadequate.
Blueprint For Growth: Economic Survey
---
Economic Survey was released on 4 July 2019 by the Union Minister of Finance in Parliament.
Relevance of the News: The Survey forwarded a private investment-led growth strategy to achieve Prime Minister's vision of making India a $5 trillion economy by 2024-25.
Highlights of Economic Survey:
It projected the Indian economy to grow at 7% during 2019-2020, slightly faster than 6.8% achieved in the previous year.
Sustained real GDP growth rate of 8% needed for a $5 trillion economy by 2024-25.
India needs to cut real interest rates, ease labour rules, reduce capital gains tax on startup investments and encourage infant firms to grow at a sustained 8% rate to reach the GDP target by 2024-25.
The Survey suggests a move towards a "virtuous cycle" of savings, investments and exports to transform India into a $5 trillion economy.
Virtuous cycle would require the adoption of certain practices and norms on data, legal reforms and policy certainty, and some micro-economic aspects such as boosting MSMEs and reducing the cost of capital.
When the economy is in a virtuous cycle, investment, productivity growth, job creation, demand and exports feed into each other and enable all sectors and energies in the economy to thrive.
Private Investment as the Key Driver of Growth, Jobs, Exports and Demand:
Investment is the "key driver" to catalyse the economy into a self-sustaining virtuous cycle. It is the key driver for demand, capacity, labor productivity, new technology, creative destruction and job creation.
It suggests protecting the private investment from being crowded out. In order to achieve this, the Survey suggests the government to follow its fiscal consolidation glide path. This includes being committed to a fiscal deficit of 3.4% of GDP in 2019-20, and 3% each in the subsequent two years.
The general apprehension is that a high investment rate would mean labour would be substituted out by capital but this has been proved as incorrect by the Chinese Model which has shown that how a country with the highest investment rates also created the most jobs.
According to Survey, capital investment fosters job creation since capital goods production, research and development, and supply chains also generate jobs.
Key ingredients for a self-sustaining virtuous cycle:
Presenting data as a public good.
Emphasizing legal reforms.
Ensuring policy consistency.
Encouraging behavior change using principles of behavioral economics.
Nourishing MSMEs to create more jobs and become more productive.
Reducing the cost of capital.
Rationalizing the risk-return trade-off for investments.
Data "Of the People, By the People, For the People":
Data must be viewed as a public good and used in a concerted way to deliver services.
It is of societal interest and is generated by the people which can be created as a public good within the legal framework of data privacy.
It suggests merging the distinct datasetsheld by the government into a single dataset, which would generate "multiple benefits."
MSME and 'Dwarf' Firms:
Dwarfs i.e. small firms that never grow beyond their small size despite surviving for more than 10 years, dominate the Indian economy.
Contribution of dwarf firms (firms with less than 100 workers) to employment is only 14% and to productivity is a mere 8% but large firms account for 75% employment and close to 90% of productivity despite accounting for about 15% by number.
Survey favours incentivizing firms (MSMEs) based on their lifespan rather than on size, which leads to "dwarfing" of MSMEs, encouraging them to remain small and hold back job creation and productivity.
Survey calls for unshackling MSMEs and enabling them to grow by way of:
A sunset clause of less than 10 years, with necessary grand-fathering, for all size-based incentives.
Deregulating labor law restrictions to create significantly more jobs, as evident from Rajasthan.
Re-calibrating Priority Sector Lending (PSL) guidelines for direct credit flow to young firms in high employment elastic sectors.
Policy for Real People, Not Robots: Leveraging the Behavioral Economics of "Nudge":
Survey calls for the usage of behavioral economics to 'nudge'/ guide people towards desirable behavior w.r.t. several issues including gender equality, a healthy and beautiful India, savings, tax compliance and credit quality.
Using insights from behavioral economics to create an aspirational agenda for social change:
From 'Beti Baco Beti Padhao' to 'BADLAV' (Beti Aapki Dhan Lakshmi Aur Vijay Lakshmi).
From 'Swachh Bharat' to 'Sundar Bharat'.
From 'Give it up" for the LPG subsidy to 'Think about the Subsidy'.
From 'Tax evasion' to 'Tax compliance'.
Boosting the reduction in government revenues:
The Survey highlights that government revenues for current fiscal year will witness a decline of about 1.6 lakh crore mainly because of fall in expected tax revenues due to slow growth.
This fall in revenue can be bridged by boosting the non-tax revenues through:
Releasing the land held by PSUs and monetizing them.
Higher disinvestment target should be set. Government could reduce its holdings in some PSUs to below the majority stake of 51% of direct control.
India's Demography at 2040: Planning Public Good Provision for the 21st Century
Sharp slowdown in population growth is expected in next 2 decades. Most of India will enjoy demographic dividend but some states will transition to ageing societies by 2030s.
It is forecast that the population rate will grow less than 1% from 2021 to 2031 and under 0.5% from 2031 to 2041 due to the fall in the total fertility rate (TFR), which is projected to decline between 2021 and 2041 and fall below replacement level fertility at 1.8 as early as 2021.
At the State level, southern States as well as West Bengal, Punjab, Maharashtra and Himachal Pradesh have below replacement level fertility and will see TFR decline to 1.5-1.6 by 2021. And by 2031, all States are likely to see below replacement level fertility.
The size of the elderly population, 60 years and above, is expected to nearly double from 8.6% in 2011 to 16% by 2041.
This will throw new policy challenges such as provision for health and old-age care, access to retirement-related financial services, public pension funding, and retirement age.
This will mean additional jobs will have to be created to keep pace with annual increase in working-age population of 9.7 million during 2021-31 and 4.2 million during 2031-41.
Increasing the retirement age for both men and women going forward could be considered in line with the experience of other countries like U.S., Germany and France.
A Minimum Wage For Inclusive Growth
Survey proposes a well-designed minimum wage system as a potent tool for protecting workers and alleviating poverty.
Present minimum wage system in India has 1,915 minimum wages for various scheduled job categories across states. Survey supports rationalization of minimum wages as proposed under the Code on Wages Bill.
'National Floor Minimum Wage' should be notified by the Central Government, varying across five geographical regions.
Minimum wages by states should be fixed at levels not lower than the 'floor wage'.
'National level dashboard' under the Ministry of Labour & Employment for regular notifications on minimum wages, proposed by the Survey.
Enabling Inclusive Growth through Affordable, Reliable and Sustainable Energy
5 times increase in per capita energy consumption is needed for India to increase its real per capita GDP by $5000 at 2010 prices, and enter the upper-middle income group. Currently India is in the lower-middle income group.
Share of renewable (excluding hydro above 25 MW) in total electricity generation increased from 6% in 2014-15 to 10% in 2018-19.
Market share of electric cars is only 0.06% in India while it is 2% in China and 39% in Norway.
Access to fast battery charging facilities needed to increase the market share of electric vehicles.
Phillip's Curve
---
Why is it in News?
Some economists are of the view that inflation in India is under control as the unemployment rate is high, and the relation between inflation and unemployment rate is depicted by the Phillip's curve.
What is the Phillip's Curve?
The inverse relationship between unemployment rate and inflation when graphically charted is called the Phillips curve.
William Phillips pioneered the concept first in his paper "The Relation between Unemployment and the Rate of Change of Money Wage Rates in the United Kingdom, 1861-1957,' in 1958.
Graphical Representation:
When the unemployment rate is less, inflation will be more and when unemployment rate is high, inflation will be less.
Breaking the Concept further:
This curve points out that when economic growth happens, it creates job and due to jobs there will be money with the public and thus the demand of the products will increase leading to inflation.
In a nutshell it means 'high levels of employment can be achieved only at high levels of inflation'.
---