Government Initiatives To Boost Infrastructure Across Sectors
---
On 24th June 2020, the Union Cabinet took several landmark decisions, which will go a long way providing a much needed boost to infrastructure across sectors, which are crucial in the time of pandemic.
Animal Husbandry Infrastructure Development Fund
Background
In pursuance of recently announced Atma Nirbhar Bharat Abhiyan stimulus package, government approved setting up of Animal Husbandry Infrastructure Development Fund (AHIDF).
Government had earlier approved the Dairy Infrastructure Development Fund (DIDF) for incentivizing investment by cooperative sector for development of dairy infrastructure.
Need
The MSMEs and Private companies need to be promoted and incentivized for their participation in processing and value addition infrastructure in the animal husbandry sector.
Key Points
Size of the fund is 15000 crore.
The eligible beneficiaries under the Scheme would be Farmer Producer Organizations (FPOs), MSMEs, Section 8 Companies, Private Companies and individual entrepreneur with only 10% margin money contribution by them.
The balance 90% would be the loan component to be made available to them by scheduled banks.
Government of India will provide 3% interest subvention to eligible beneficiaries.
There will be 2 years moratorium period for repayment of loan with 6 years repayment period thereafter.
Government of India would also set up a Credit Guarantee Fund of Rs. 750 crore to be managed by NABARD which would provide credit guarantee to the projects which are covered under the MSME defined ceilings.
Guarantee Coverage would be upto 25% of the Credit facility of borrower.
Impact
Increasing Farmer's Income
Since almost 50-60% of the final value of dairy output in India flows back to farmers, the growth in this sector can have significant direct impact on farmer's income.
The investment of Rs. 15,000 crores through AHIDF would not only leverage several times more private investment but would also motivate farmers to invest more on inputs thereby driving higher productivity leading to increase in farmers income.
Livelihood Creation
The measures approved today through AHIDF would also help in direct and indirect livelihood creation for about 35 lakh persons.
Benefits
Incentivizing Investment: The AHIDF would incentive infrastructure investments in dairy, meat processing and animal feed plants.
Ensuring Credit Availability: The AHIDF with the interest subvention scheme for private investors will ensure availability of capital to meet upfront investment required for these projects and also help enhance overall returns/ pay back for investors.
Export Promotion: Such investments in processing and value addition infrastructure by eligible beneficiaries would also promote exports.
Kushinagar Airport Declared as International Airport
Union Cabinet has approved the proposal to declare Kushinagar Airport in Uttar Pradesh as an International Airport.
Need
On any given day, around 200-300 devotees from Thailand, Cambodia, Japan, Burma, etc are coming and offering their prayers at Kushinagar. However, this International tourist destination has no direct connectivity, which has been a long pending demand of the visitors.
Historical Significance of Kushinagar
Kushinagar is an important Buddhist pilgrimage site, where Gautama Buddha attained Mahaparinirvana.
It is dotted with several other Buddhist sites in the nearby surroundings like Sravasti (238 km), Kapilvastu (190 km) and Lumbini (195 km) that makes it an attraction for both followers and visitors alike.
Kushinagar already serves as the presenting site for Buddhist circuit pilgrimage spanning across India and Nepal.
Benefits
Boosting Tourism
Declaration of Kushinagar Airport as an 'International Airport' will offer improved connectivity resulting in boosting of domestic/international tourism in the region.
Economic Development
Increase flow of tourists would further provide impetus to economic development of the region.
Shwe oil & gas project in Myanmar
Government has approved additional investment of US$ 121.27 million by ONGC Videsh Ltd (OVL) towards further development of Shwe oil & gas project in Myanmar.
Background
ONGC Videsh (OVL) has been associated with exploration and development of Shwe gas project in Myanmar since 2002, as part of a consortium of companies from South Korea, India and Myanmar.
The Indian PSU, GAIL, is also a co-investor in this project.
The first gas from Shwe Project was received in July 2013 and plateau production was reached in December 2014.
Benefits
Promoting Act East Policy: The participation of Indian PSUs in oil & gas exploration and development projects in neighbouring countries is aligned with India's Act East Policy.
Strengthening Energy Security: It also part of India's strategy to develop Energy Bridges with its neighbours in addition to further strengthening India's energy security needs.
About Shwe Gas Project
Shwe gas project comprises the development of three fields, namely Shwe, Shwe Phyu, and Mya, which are located in the Bay of Bengal, offshore Myanmar.
The gas project is located in Blocks A-1 and A-3 in the Bay of Bengal, offshore Rakhine, Myanmar.
The project is jointly owned by POSCO DAEWOO Corporation (PDC, 51%), Myanma Oil and Gas Enterprise (15%), ONGC Videsh (India) (17%), GAIL (India) (8.5%), and Korea Gas Corporation (8.5%). It is being developed in three phases with the first phase completed in 2013.
National Infrastructure Pipeline
---
On 31st December, 2019, the government unveiled Rs. 102 lakh crore of infrastructure projects, under National Infrastructure Pipeline (NIP), that will be implemented in the next five years as part of the government's spending push in the infrastructure sector.
Background
In his Independence Day-2019 speech, Prime Minister highlighted that Rs.100 lakh crore would be invested on infrastructure over the next five years including social and economic infrastructure projects.
To achieve this objective, a Task Force was constituted in September, 2019, to draw up the National Infrastructure Pipeline (NIP) for each of the years from FY 2019-20 to FY 2024-25.
The Task Force is chaired by Secretary, DEA with CEO (NITI Aayog), Secretary (Expenditure), Secretary of the Administrative Ministries, and Additional Secretary (Investments), DEA as members and Joint Secretary (IPF), DEA as Member Secretary.
Terms of Reference
To identify technically feasible and financially/ economically viable infrastructure projects that can be initiated in fiscals 2020 to 2025.
To estimate annual infrastructure investment/capital costs.
To guide the ministries in identifying appropriate sources of financing.
To suggest measures to monitor the projects so that cost and time overruns are minimized.
National Infrastructure Pipeline(NIP)
It is estimated that India would need to spend $4.5 trillion on infrastructure by 2030 to sustain its growth rate. The endeavour of the NIP is to make achieve this goal in an efficient manner.
The NIP would include greenfield and brownfield projects costing above Rs 100 crore eac
Other qualifications for inclusion in the pipeline for the current year will include availability of a DPR, feasibility of implementation, inclusion in the financing plan and readiness/availability of administrative sanction.
Each Ministry/ Department would be responsible for monitoring of projects so as to ensure their timely and within-cost implementation.
Vision
To meet the aspirations of the changing demographic profile, creating new and upgrading existing infrastructure is an imperative.
Infrastructure services that raise the quality of life and ease of living in India to global standards.

Focus Areas
The other major focus areas are roads (19%) and railways (13%), urban (16%) and rural (8%) infrastructure, and irrigation (8%).
Social infrastructure, including health and education, will get 3% of the capital expenditure, with digital communication and industrial expenditure each getting the same amount as well.
Agriculture and food processing infrastructure will get 1% of the planned capital expenditure.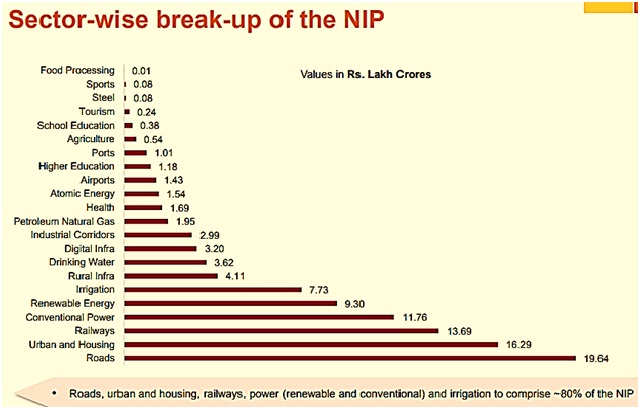 Impact
Economy
Well-planned NIP will enable more infra projects, grow businesses, create jobs, improve ease of living, and provide equitable access to infrastructure for all, making growth more inclusive.
Government
Well-developed infrastructure enhances level of economic activity, creates additional fiscal space by improving revenue base of the government, and ensures quality of expenditure focused in productive areas.
Developers
Provides better view of project supply, provides time to be better prepared for project bidding, reduces aggressive bids/ failure in project delivery, ensures enhanced access to sources of finance as result of increased investor confidence.
Banks/ financial institutions (FIs)/ Investors
Builds investor confidence as identified projects are likely to be better prepared, exposures less likely to suffer stress given active project monitoring, there by less likelihood of Non-Performing Assets(NPAs).
Way Forward
For faster growth to meet the target of $5 trillion economy by 2025, more supply-side reforms are needed. Creating new and upgrading existing infrastructure will be key to raising India's competitiveness and achieving this target.
It will specially be critical for the success of 'Make in India' program as manufacturing competitiveness critically depends on infrastructure. The supply additions through infrastructure development boost short-term as well as the potential rate of GDP growth.
Infrastructure creation is also labour absorbing, which boosts employment and income generation in the economy and further spurs domestic demand. Improved infrastructure capacities also create efficiency gains through improved logistics and networks, which would improve the competitiveness of the economy. This can help kick in a virtuous cycle of higher investments, growth and employment generation in the economy.
Transformational Organisational Restructuring Of Indian Railways
---
On 24th December, 2019, the Union Cabinet approved a transformational organisational restructuring of the Indian Railways. The reforms announced are in continuation with the series of decisions under which the Railway Budget was merged with the Union Budget, delegation of powers to empower GMs and field officers, allowing competitive operators to run trains.
This reform has been undertaken with the overwhelming support and consensus of Railway officers, at a two-day conference "Parivartan Sangoshthi" held in Delhi on 7th and 8thDecember, 2019.
It is to be noted that restructuring of the Railway Board was also recommended by the Bibek Debroy Committee on Indian Railways in 2015.
Aim
To modernise and envisage smooth working of Indian Railways.
Need
Indian Railways is plagued with the menace of Departmentalism, which was marked by inefficiency in work, infighting over control of assets and resources and delay in decision making, ultimately hampering the operation of Indian Railways.
The government has lined up a massive infrastructure development plan of nearly Rs. 50 trillion to modernise the national transporter in the coming years, with an aim of improving safety, speed, and services.This requires speed and scale, and a unified, agile organisation to work single-mindedly on this task and capable of responding to challenges.
Proposed Major Reforms
Reduced Board Members
At present, the railway board includes eight members; member (rolling stock), member (traction), member (traffic), member (engineering), member (staff), member (material management), members (signal & telecom) and financial commissioner.
Now, there will be five members for Rolling Stock and Traction (engines, coaches, wagons, etc), Operations and Business Development, Finance, Infrastructure (track, signalling and telecom, etc).
The Railway Board—the apex decision making body of the Indian Railways—will be headed by a chairman, who will be the chief executive officer (CEO).
Single Cadre
Indian Railways will now have only one cadre –Indian Railway Service, instead of current eight services for various departments including Engineering, Traffic, Mechanical and Electrical.
Indian Railway Management Service (IRMS)
Existing eight Group A services of the Railways will be unified into a Central Service called Indian Railway Management Service (IRMS).
Creation of the new service will be done in consultation with DoPT and UPSC to facilitate recruitment in the next recruitment year.
The Railways will also now have just two departments -Railway Protection Force and Medical Service Department, with all its other departments coming under one Railway Management System.
The existing service of Indian Railway Medical Service (IRMS) to be consequently renamed as Indian Railway Health Service (IRHS).
Impact
End of Departmentalism
This reform will help in breaking a 150-year-old tradition of 'working in silos' that can remove departmental tussles, seen as a roadblock in operation of railways.
Unification of services will put an end to the departmentalism and promote smooth working of Railways, expedite decision making, create a coherent vision for organisation and promote rational decision making and will set the path of Indian Railways to a high growth trajectory.
Ensuring Transparency
The modalities and unification of the services will lead to fairness and transparency in the Indian Railways.
Making Railway Growth Engine of India
This historic reform will go a long way in achieving Government's vision of making Indian Railways the growth engine of India's vikas yatra.
Important Railways Committees
The unification of services had earlier been mooted by various committees for reforming Railways including - the Prakash Tandon Committee (1994), Rakesh Mohan Committee (2001), Sam Pitroda Committee (2012) and Bibek Debroy Committee (2015).
Bibek Debroy Committee – 2015
The Bibek Debroy Committee high level committee for - Mobilization of Resources for Major Railway Projects and Restructuring of Railway Ministry and Railway Board, was constituted in September, 2014 in order to prepare a blueprint for reforming Indian Railways. The committee submitted its report in June, 2015.
Major Recommendations
Railway Regulatory Authority of India (RRAI): It recommended setting up an overarching Railway Regulatory Authority of India (RRAI) as an independent regulatory body.
Moving to Standard Commercial Accounting: Transition to commercial accounting Indian Railways should shed its complicated accounting and move to standard commercial accounting by following principles and norms accepted nationally and internationally.
Technical and Non-Technical Services: It recommended to reorganize the present eight organized Group - A services in Indian Railways in two bigger groupings viz. technical and non-technical services.
Merging Railway Budget with Central Government Budget: A separate Railway budget should be phased out progressively and merged with the General Budget.
Focus on Core Activities: Indian Railways should focus on core activities to efficiently compete with the private sector. It will distance itself from non-core activities, such as running a police force, schools, hospitals and production and construction units
Raising Resources: An Investment Advisory Committee may be set up, consisting of experts, investment bankers and representatives of SEBI, RBI, IDFC andother institutions for raising resources for investment.
Sam Pitroda Committee - 2012
Expert Group on Modernisation of Indian Railways was constituted by the Railway Ministry under the Chairmanship of Sam Pitroda in September, 2011. The Expert Group submitted its report in February, 2012.
Major Recommendations
Mission mode approach for 15 focus areas – track and bridges, signaling, rolling stock, stations, dedicated freight corridors, High speed trains, review of existing and proposed projects, ICT, indigenous development, safety, funding and human recourses.
Development of 34 multi modal logistic parks.
To set up real time information system.
To attract private investment through PP models for freight terminals, high speed railway lines, leasing wagons, coach and loco manufacturing renewable energy generation etc.
Construction of Eastern and Western Freight Corridors.
Construction of high speed Railway line between Ahmedabad and Mumbai with a speed of 300 kmph.
Establish Indian Institute of Railway Research.
To offer Graduate programme in Railway Technology in IITs and Railway Management in IIMs.
Revamping accounting system on business lines.
Empower Zonal Railways in investment decision with accountability for return on capital, transport output, safety and profitability.
National Industrial Corridor Development And Implementation Trust
---
Recently, the government approved development of following five industrial corridor projects to be implemented through National Industrial Corridor Development and Implementation Trust (NICDIT).
The government approved the expansion of the mandate of Delhi Mumbai Industrial Corridor Project Implementation Trust Fund (DMIC-PITF) and re-designated it as National Industrial Corridor Development and Implementation Trust (NICDIT).
National Industrial Corridor Development and Implementation Trust (NICDIT)
Established in 2017, NICDIT is an apex body under the administrative control of Department of Industrial Policy & Promotion (DIPP) for coordinated and unified development of all the five industrial corridors in the country.
Functions
It supports project development activities and appraisal, approval and sanction of projects as per extant delegation.
It channelize Government of India's funds as well as institutional funds while ensuring that the various corridors are properly planned and implemented keeping in view the broad national perspectives regarding industrial and city development.
Advantages
Holistic planning and development approach and sharing the learning from development of industrial corridors.
Enabling innovation in areas such as planning, design development and funding of such projects
Enhancing the share of manufacturing in the country, attract investment in manufacturing and service industry sectors.
Five Industrial Corridors
Five industrial corridor projects have been identified, planned and launched by the Government of India. These corridors are spread across India, with strategic focus on inclusive development to provide an impetus to industrialization and planned urbanization.
Objectives
Increasing overall share of manufacturing in GDP, leveraging the strenght of performing sectors.
Promoting high-tech and high value- added sectors to enhance overall economic prosperity.
Enhancing trade competitiveness penetration in the global production networks and Global Value Chains (GVC).
Driving inclusivity through gender parity and developing MSME capabilities.
| | | |
| --- | --- | --- |
| S.No. | Industrial Corridor | States |
| 1 | Delhi Mumbai Industrial Corridor (DMIC) | Uttar Pradesh, Haryana, Rajasthan, Madhya Pradesh, Gujarat, Maharashtra |
| 2 | Amritsar Kolkata Industrial Corridor (AKIC) | Punjab, Haryana, Uttar Pradesh, Uttarakhand, Bihar, Jharkhand, West Bengal |
| 3 | Chennai Bengaluru Industrial Corridor (CBIC) | Andhra Pradesh, Karnataka, Tamil Nadu, Kerala |
| 4 | East Coast Economic Corridor (ECEC) with Vizag Chennai Industrial Corridor (VCIC) as Phase-1 | West Bengal, Odisha, Andhra Pradesh, Tamil Nadu |
| 5 | Bengaluru Mumbai Industrial Corridor (BMIC) | Karnataka, Maharashtra |
Current Status of Industrial Corridors
Delhi Mumbai Industrial Corridor (DMIC)
Special Purpose Vehicles (SPVs) for all identified nodes/cities have been incorporated, trunk infrastructure works are nearing completion, land disposal policies have been finalized and the process of land allotment to investors has been initiated at the following locations:
Dholera Special Investment Region in Gujarat
Shendra-Bidkin Industrial Area in Maharashtra
Integrated Industrial Township Project at Greater Noida in Uttar Pradesh
Integrated Industrial Township Project 'VikramUdyogpuri' near Ujjain in Madhya Pradesh
Amritsar Kolkata Industrial Corridor (AKIC)
Perspective plan for the overall AKIC Corridor has been completed and one Integrated Manufacturing Cluster (IMC) site in following States has been finalized for further development:
Punjab (Rajpura-Patiala)
Uttarakhand (Prag-Khurpia Farms)
Uttar Pradesh (Bhaupur)
Bihar (Gamhariya)
Jharkhand (Barhi)
West Bengal (Raghunathpur)
Haryana (Saha)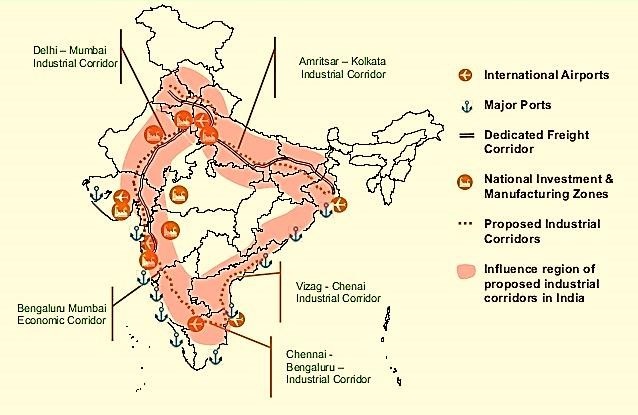 Chennai Bengaluru Industrial Corridor (CBIC)
Perspective plan for the overall corridor has been completed and following three nodes have been identified for further development:
Krishnapatnam (Andhra Pradesh)
Tumakuru (Karnataka)
Ponneri (Tamil Nadu)
A SPV for execution of the project at Krishnapatnam node in Andhra Pradesh has been incorporated. Detailed master planning and Preliminary Engineering activities for the Activation Area have been finalized and NICDIT in its meeting held on 30th August, 2019 considered the project proposal and recommended the same for seeking final approval from Cabinet Committee on Economic Affairs (CCEA).
Vizag Chennai Industrial Corridor (VCIC)
Government of Andhra Pradesh (GoAP) is implementing the VCIC project with ADB loan of US $631 million. Asian Development Bank (ADB) has carried out the initial project development activities for VCIC.
ADB has identified four nodes namely, Visakhapatnam, Chittoor, Donakonda and Machilipatnam for development. Amongst these, Visakhapatnam and Chittoor have been prioritized by the Government of Andhra Pradesh.
Bengaluru Mumbai Industrial Corridor (BMIC)
Perspective plan has been completed for the overall BMEC Project and Dharwad node in Karnataka has been identified as the priority node for further implementation.
NICDIT directed that project development works may not be undertaken for the time-being as it does not have any back-bone in terms of a Dedicated Freight Corridor and is quite distant from the coast.
Besides, Government of Maharashtra has not been able to finalize the nodes due to problems of land and water.
Significance of Industrial Corridors
Wheels of Progress: Industrial corridors recognize the interdependence of various sectors of the economy and offer effective integration between industry and infrastructure leading to overall socio-economic development. Industrial corridors lead to the creation of state-of-art infrastructure such as high-speed transportation (rail/road) networks, ports with advanced cargo handling equipment, modern airports, special economic regions/ industrial areas, logistic parks, etc. that are focused on fulfilling the requirements of the industry.
Boost to Manufacturing Sector: In each of these corridors, manufacturing will be a key economic driver and these projects are seen as critical in raising the share of manufacturing. Smart Industrial Cities are being developed along the Corridors. These cities are being developed to integrate the new workforce that will power manufacturing and will lead to planned urbanization.
Large Scale Employment: An industrial corridor is a package of infrastructure spending allocated to a specific geographical area, with the intent to stimulate industrial The promise of large-scale employment generation (both direct and indirect jobs) is a major driver of the corridors.
Economic Growth of States: The project will initiate a trend of reverse migration,attracting the young manpower from the state resorting to various manufacturing activities, including high-end engineering works within the respective states. The project is expected to trigger the overall economic growth of the States and its employment generation on a sustainable mode.
Reducing Logistic Costs: An industrial corridor is a multi-modal transport services that would pass through the states as main artery. Freight cargo from industrial and National Manufacturing and Investment Zones (NMIZ) located m on both sides of this main artery will be brought to the industrial corridor via rail and road feeder links that shall provide last mile connectivity. This will lower costs of logistics and enable firms to focus on their areas of core competence.
Push to Make in India: Programmes like Make in India, for instance, would get a push from upcoming industrial corridors in the country, attracting large-scale foreign investments leading to the economic growth of the country.
Increasing Social Integration: The corridors would provide jobs opportunities close to their homes and they would not have to migrate to far-off places thereby preserving family as an institution. This will also increase social integration in the country.
Challenges to Development of Industrial Corridors
Land Acquisition
Land acquisition is a state subject, and there have been issues with land acquisition in the corridor, which has delayed project implementations. Since the industrial corridor would cut across the length of the state, acquisition of land has been slow because of legal hurdles and the amount of compensation.
Massive investment in industrial corridor will pave the way for large human displacement and destruction of fertile agricultural land, posing serious threat to food security and other various social problems in the country.
Delay in Project Clearance
Any industrial activity in India requires multiple clearances right from concept to commission and industrial corridor is no immune to this.
Policy Bottlenecks
India has a much higher corporate tax rate compared to its neighboring countries such as Cambodia, Thailand and Vietnam. This makes India an unattractive investment destination compared to the competing countries.
Further, India has one of the highest import tariffs in the region which makes it challenging to establish global value chains.
Way Forward
The strategy of industrial corridors is poised to develop a sound industrial base,characterized by excellent infrastructure and uninhibited growth of manufacturing. However, all this would remain only rhetoric if stumbling blocks are not removed and issues plaguing industrial corridor projects are not resolved.
This requires a holistic approach and involvement of all the government departments, stakeholders such as farmers from whom land is to be acquired, manufacturers who would be setting units for production, transport operators, etc.
One Nation One Tag – FASTag Scheme Launched
---
Recently, 'One Nation One Tag – FASTag' was launched by theUnion Ministry of Road Transport and Highways at the Indian Mobile Congress held in New Delhi in order to roll out the process for having a unified electronic system across the country.
Aim
It aims to integrate the collection of toll digitally and ensure seamless mobility of vehicles across India.
Need for FASTag
This has been done with a view to overcome the existing challenge in track and trace mechanism for GST E-Way Bill (EWB) System and enhance the efficiency in its monitoring.
Key Highlights
A Memorandum of Understanding(MoU) was signed between Indian Highways Management Company Ltd (IHMCL) and Goods and Services Tax Network (GSTN) for integration of FASTag with GST e-way bill system.
The GST Council has already accorded 'in-principle' approval for this integration.
IHMCL exchanged MoUs with several states/ authorities for integrating with FASTagscheme.
Karnataka, Andhra Pradesh and Haryana signed MoUs with IMHCL, an arm of National Highway Authority of India(NHAI), to accept FASTags on their state highway tolls.
About the FASTag
FASTags are part of the National Electronic Toll Collection (NETC) program developed by the National Payments Corporation of India (NPCI).
FASTags are stickers that are affixed to the windscreen of vehicles and usesRadio Frequency Identification (RFID) technology to enable digital, contactless payment of tolls without having to stop at toll gates.
FASTag is acceptable across over 490 National Highways toll plazas and selected 39+ State highways toll plazas. More than 6 Million FASTag were issued till last month, with overall cumulative ETC collection of over Rs. 12,850 Crore since inception
It is valid for five years and needs to be recharged only as per requirement.
From December 1, 2019, FASTags will be made mandatory on national highways throughout the country. Individuals not using a FASTag will be charged double the toll.
Mode of Working
Each tag and car pairing works with the GS1 unique identification numbers, which are encoded in the FASTags.
The tags are linked to bank accounts and other payment methods. As a car crosses a toll plaza, the amount is automatically deducted, and a notification is sent to the registered mobile phone number. Sensors are placed on toll barriers, and the barriers open for vehicles having valid FASTags.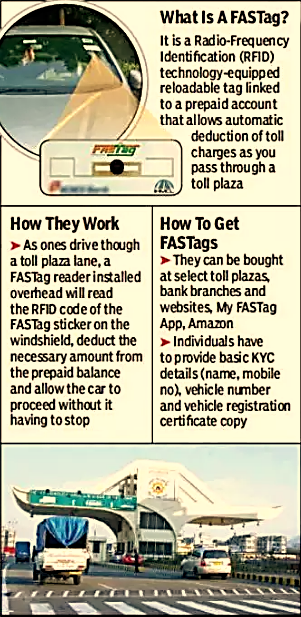 Source: ToI
Benefits of FASTag
Economic Benefits
Helps in Decongestion of Highways:
FASTag is a perfect solution for a hassle free trip on national highways. FASTag is presently operational at 180 toll plazas across national and state highways. More toll plazas will be brought under the FASTag program in the future
These devices will make passing through tolls considerably smoother since drivers will no longer have to carry cash or stop to make a transaction at the toll.This initiative will remove bottlenecks and ensure seamless movement of traffic and efficient collection of user fee.
Fuel Saving:
FASTag is read by the tag reader at the plaza and the toll amount is deducted automatically, when the vehicle approaches the toll plaza. So, it will cut down both the fuel and time consumptionbringing down loss of fuel while waiting at toll plazas.
Better Management of Toll Plaza:
It will help to reduce the efforts in managing the toll plazas, leading to better and efficient system of working at the tolls.
Tracking of Vehicle Movement:
The integration of e-way bill system with FASTag will help revenue authorities track the movement of vehicles and ensure that they are travelling to the same destination that the transporter or the trader had specified while generating the e-way bill, reducing the chances of mismanagement.
Benefit to Consumers:
The same FASTag affixed on the windscreen of a vehicle can be used at every toll plaza in country under jurisdiction of different states or agencies and other entities, thus providing seamless services to consumers across the country.
Environmental Benefits
Helps in Reducing Pollution:
Implementation of FASTag will help in reducing air pollution as it will cut down the fuel consumption, less traffic congestion, finally leading to less vehicular emissions.
Challenges
Loss of FASTag
The main concern that came up was the distress expressed by the drivers about loss of their FASTags. Since this card is affixed as a tag on the windscreen, it can be subject to theft or loss.
Technical Glitch
There may be times when the toll charge may be deducted twice from your account, in the wake of a technical error. Other than that, the issue of going through the RFID scanner and it not being able to detect your FASTag.
Unauthorised cars in the FASTag lanes
It is not uncommon for drivers to wait for their turns longer than expected in FASTag lanes due to vehicles without FASTag falling in the queue. This increases their wait time significantly. Moreover, drivers feel that this defeats the entire purpose of ETC and designated lanes.
Way Forward
FASTags are generally non-transferable and one FASTag can be used only for one vehicle. That is why the scheme of One Nation, One FASTag is put in here to encourage people to use this cashless facility.
Further, FASTag is being positioned as the "Aadhaar" for a vehicle; its data will also be used for tracking vehicles on national highways by various enforcement agencies.
Second Multi-Modal Terminal Dedicated To Nation
---
On 12th September, 2019, Prime Minister launched and dedicated to nation the second riverine multi-modal terminal (MMT) built at Sahibganj, Jharkhand on National Waterway-1(NH-1).
The PM inaugurated the state-of-the-art terminal through a two-way digital communication system at an event in Ranchi, Jharkhand.
India's first riverine multimodal terminal on Ganga at Varanasi, Uttar Pradesh was launched in November 2018.
Objective
To promote inland waterways as a cheaper and more environment-friendly means of transport, especially for cargo movement.
Sahibganj Multi-Modal Terminal
Built at a cost of Rs290 crore, the Sahibganj terminal is the second of three multi-modal terminals being constructed on river Ganga under Jal Marg Vikas Project (JMVP).
Inland Waterways Authority of India (IWAI) is the project implementing agency.
The capacity of the terminal is 30 lakh tonnes per annum. It will grow to 8 lakh tonnes per annum after an investment of Rs 376 crores for capacity enhancement in Phase II under PPP mode.The development in Phase II will be entirely made by the private concessionaire.
Further, a freight village is also proposed on 335 acres of land in contiguity with the terminal.
Impact
Positive Impact
MMT will open up industries of Jharkhand and Bihar to the global market, aiding in the growth and development of both the states.
It will help create a waterways route for Indo-Nepal cargo transport.
It will play an important role in transportation of domestic coal from the local mines in Rajmahal area to various thermal power plants located along NW-1.
Commodities other than coal, stone chips, fertilisers, cement and sugar are also expected to be transported through the terminal.
The MMT is expected to generate both direct jobs and indirect jobs in the region.
The convergence of road-rail-river transport at Sahibganj through the new multi-modal terminal will connect this part of the hinterland to Kolkata and further to the Bay of Bengal. In addition, it will also provide connection to North-East statesthrough Bangladesh by river-sea route.
Negative Impact
Social
The development of MMT has affected the people of Sahibganj and adjoining areas as they have lost their land and are on the edge of losing their livelihood.
Around 485 families have been identified as project affected families; resettlement of many families is yet to be done.
Further, the development of freight village (industrial cum logistic park and integrated vessel repair and maintenance complex) on 335 acres of land in contiguity with the terminal means more displacement is being lined up.
Environment
Loading/unloading and storage of coal, stone chips, fertilisers, and cement, etc. will impact seriously the riverine ecology.
The dredging process, the noise and disturbance due to movement of ship, leakage of oil and lubricants, will have a serious impact on the river flora and fauna, especially the GangeticDolphin (national aquatic animal).
Inland Waterways Authority of India (IWAI)
IWAI came into existence on 27th October 1986 for development and regulation of inland waterways for shipping and navigation.
The Authority primarily undertakes projects for development and maintenance of inland waterways transport infrastructure on national waterways through grant received from Ministry of Shipping.
National Waterway-1(NH-1)
NH-1 is an inland water transport route between Haldia in West Bengal to Prayagraj in Uttar Pradesh.
Declared as National Waterway in 1986, the 1,620 km long waterway passes through West Bengal, Jharkhand, Bihar and Uttar Pradesh, making it the longest waterway in India.
Jal Marg Vikas Project (JMVP)
JMVP is being implemented at a cost of Rs 5369.18 crore with the technical assistance and investment support of the World Bank, for capacity augmentation of navigation on National Waterway-1 (NW-1).
One of the major problems for a commercially viable and safe navigation on NW-1 is low depth upstream of Farakka due to low discharges from tributaries and difficult hydro morphological characteristics of river Ganga.
It aims to develop the stretch of Ganga between Varanasi to Haldia for navigation of large vessels upto1500-2000 tonnes weight, by maintaining a drought of 2-3 metres in this stretch of the river and setting up other systems required for safe navigation.
Objective
To enhance transport efficiency and reliability of national waterway 1 (NW-1)
Augmentation of institutional capacity for the development and management of India's inland waterway transport system in an environmentally sustainable manner.
Need for JMPV
The Rail and Road corridors in the proposed region are heavily saturated. The development of NW-1 would provide an alternative, viable, economical, efficient and eco-friendly mode of transport.
It will act as a catalyst in the socio-economic development of the regions by creating new business and employment opportunities.
States/districts Covered
States: Uttar Pradesh, Bihar, Jharkhand, West Bengal
Major Districts: Varanasi, Ghazipur, Ballia, Buxar, Chhapra, Vaishali, Patna, Begusarai, Khagaria, Munger, Bhagalpur, Sahibganj, Musrhidabad, Pakur, Hoogly, Kolkata.
Components of JMVP
Fairway Development
Construction of the multi-modal terminal at Varanasi
Construction of the multi-modal terminal at Sahibganj
Construction of the multi-modal terminal at Haldia
Construction of an inter-modal terminal at Kalughat
Construction of an inter-modal terminal at Ghazipur
Construction of a new navigation lock at Farakka
Construction of five pairs of Roll on-Roll off (Ro-Ro) terminals
Construction of Integrated Ship Repair and Maintenance Complexes
Provision of River Information System (RIS) and Vessel Traffic Management System (VTMS)
Advantages
It will lead to direct employment generation to the tune of 46,000 and indirect employment of 84,000 will be generated by vessel construction industry.
Availability of alternative mode of transport that will be environment friendly and cost effective.
The project will contribute in bringing down the logistics cost in the country.
It will reduce the handling cost, allows easier modal shift, reduces pilferage and damage.
It will help rejuvenate the river Ganga by creating a Room for River, a model that has proved to be an effective flood mitigating and river conservancy measure internationally, especially in low lying Netherlands.
Room for the River Program(Netherland)
It is a Dutch flood mitigation initiative that was started in 2006 and was active till 2015.
The basic premise of the project is to provide more space for the water body so that it can manage extraordinary high water levels during floods.
Effective flood mitigation is a national priority in the Netherlands as flooding is a regular occurrence and of significant concern.
The country lies in a delta where three rivers – the Rhine, the Meuse and the Scheldt - intersect and spill into the ocean.
The project comprises of nine measures for flood mitigation:
Deepening the Summer Bed
Water Storage
Dike Relocation
Strengthening Dikes
High Water Channel
Lowering Floodplains
Lowering Groynes
Depoldering
Removing Obstacles
Way Forward
No doubt, the MMT under JMVP represents the sweeping potentialities of public private partnership (PPP) undertakings, thereby opening up considerable business and investment opportunities in areas like water-based tourism and terminal construction.
Successful implementation of the project will help trade flourish in the region and act as a major socio-economic impetus for future initiatives.
But simultaneously, the government should consider the well-being of locals and the communities who are bearing the brunt due to the implementation of the project because a vital element of the JMVP is strategic communication campaigns that is aimed at securing citizen participation, particularly the communities living along the project corridor.
Cabinet Clears The Dam Safety Bill, 2019
---
On 17th July, 2019, the Cabinet Committee on Economic Affairs (CCEA) approved the Dam Safety Bill, 2019 to be introduced in the Parliament.
A version of the Bill was first introduced in the Lok Sabha in 2018(which subsequently lapsed).
Aim:
The Billaims to tackle all matters concerning dam safety including orderly inspection of dams, Emergency Action Plan, comprehensive dam safety review, sufficient repairs and maintenance funds for dam safety, instrumentation and safety Manuals.
Salient Features of the Bill:
Establishment of National Dam Safety Authority: It provides for establishment of National Dam Safety Authority as a regulatory body which shall discharge functions to implement the policy, guidelines and standards for dam safety in the country.
Creation of National Committee on Dam Safety: Under the proposed law, a national committee on dam safety will be set up to evolve dam safety policies and recommend necessary regulations.
Penal Provisions: The bill also lays onus of dam safety on the dam owner and provides for penal provisions for commission and omission of certain acts.
Issues of Dam Safety in India:
Dams Getting Older and Weaker: About 80% of the large dams in India are more than 25 years old and nearly 209 dams are older than over 100 years and had been built in an era when design practices and safety considerations were not up to the current design and safety norms.As the numbers of dams becoming older and older are increasing, the chances of dam failure in India arelikely to go up.
Poor Quality Construction:Majority of Indian dams has failed immediately after construction or at the time of first full-load, which can be clearly attributed to factors of either inadequate design or poor quality of construction. Some 5,254 large dams are in operation in the country currently and another 447 are under construction which requires strict safety and maintenance procedures.
Flaw in Design: Numerous dams have different structural deficiencies and shortcomings in operation and monitoring facilities, while few do not meet the present design standard-both structurally and hydrologically.Some of these dams may be facing distress and require attention for ensuring their structural safety and operational efficiency.
Inadequate Fund Allocation:Most of the states have not been able to deliver sufficient budgets for maintenance and repair of the dam. Many states are also deficient o the institutional and technical capacities fordealing with dam safety issues.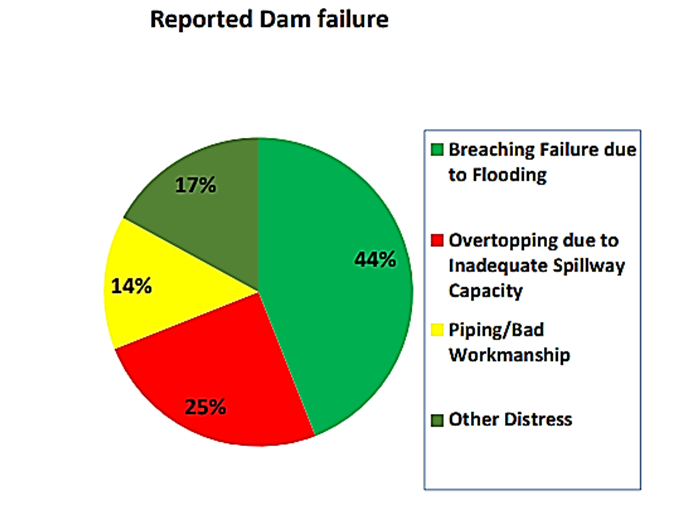 Government Measures Towards Dam Safety
Central Dam Safety Organization (CDSO):
Established in 1979
Objectives:

Assist in identifying causes of potential distress
Perform a coordinative and advisory role for the State Governments
Lay down guidelines, compile technical literature, organize trainings
Create awareness in the states about dam safety.
National Committee on Dam Safety (NCDS):
Constituted in 1987, it suggests ways to bring dam safety activities in line with the latest state-of-art consistent with the Indian conditions.
It acts as a forum for exchange of views on techniques adopted for remedial measures to relieve distress in old dams.
Dam Rehabilitation and Improvement Project(DRIP):
The project was launched in 2012 by Central Water Commission (CWC) under Ministry of Water Resources, River Development & Ganga Rejuvenation with assistance from World Bank. The DRIP has been given additional extension of two years with revised official closure now June 2020.
Objectives:
Rehabilitation and Improvement of dams and associated appurtenances
Dam Safety Institutional Strengthening in participating States and CWC
Project Management
Dam Health And Rehabilitation Monitoring Application (DHARMA):
It is a web-based software package to support the effective collection and management of Dam Safety data in respect of all large dams of India.
It has been drafted and developed to intensify the extent of individuals and organisations acrossthe country to handle their dam assets scientifically and professionally so as to sustain benefits of dams (irrigation and water supply, flood control, hydropower, etc) and avert disasters.
Presently, DRIP covers rehabilitation of 198 large dam projects located in seven States namely Jharkhand, Karnataka, Kerala, Madhya Pradesh, Odisha, Tamil Nadu, and Uttarakhand.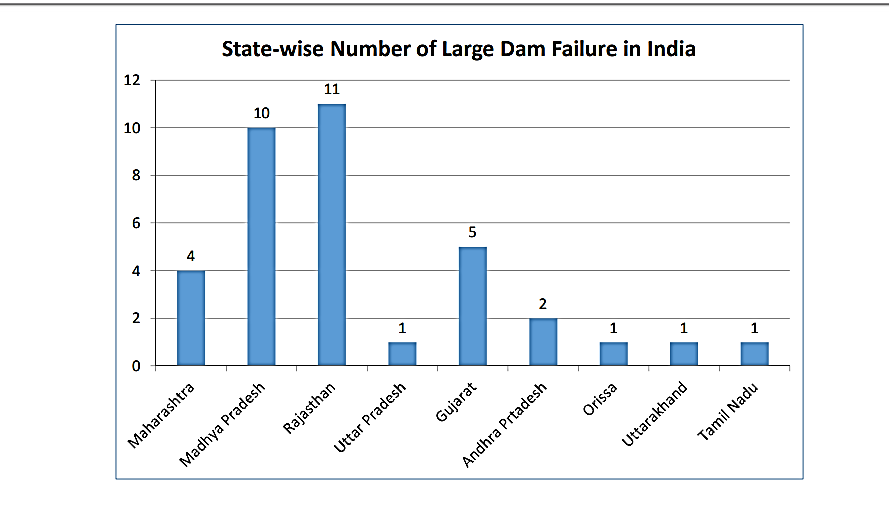 Impact of the Bill:
Adoption of Uniform Dam Safety Procedures: The legislation will help the states and Union territories to adopt uniform dam safety procedures for specified dams in the country. It will impact more than 5,600 dams which will now be under the ambit of Uniform Dam Safety Regulations.
Safeguard Mechanism: It will also help in safeguarding human life, livestock and properties against unwelcomed dam's disasters in India.
Final Word:
Dams play a vital role in water security and foster rapid and sustained growth in agricultural, rural, urban and industrial development, which have been key priorities for the Govt. of India since independence.
Citing the looming water crisis in India, the government should come out with strict dam safety and regulatory norms to ensure the better management of this critical infrastructure which is essentially required to store and manage limited surface water resources in reservoirs to ensure food, energy, and water security as well as to mitigate droughts and floods.
---